Find out which restaurants retained their stars, which new entries joined the list, and other special awards accorded to industry professionals this year
Last night saw congratulatory remarks and celebrations amongst chefs and professionals in Singapore's culinary scene as the Michelin Guide Singapore made a return to its physical format at the Marina Bay Sands after a two-year hiatus.
The much-anticipated event was graced by restaurateurs, chefs and gourmands who eagerly awaited to find out which restaurants would be included (or dropped) from the esteemed list. This year, a total of 52 restaurants were awarded stars, up from 49 last year.
World-renowned French restaurants Les Amis and Odette, as well as modern European restaurant Restaurant Zén retained their three stars—an impressive feat considering the struggles of the F&B industry over the course of the pandemic. The number of two-starred restaurants also increased from five to seven, with Cloudstreet and Thevar joining the list this year.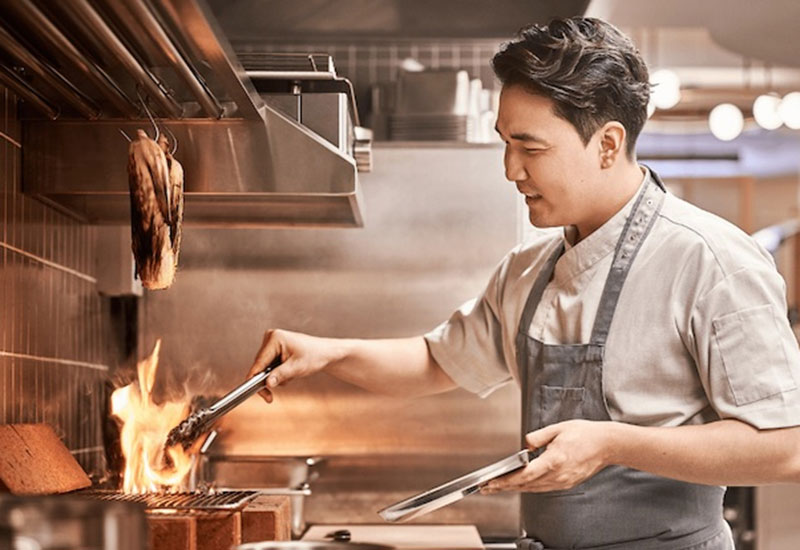 In addition, seven new restaurants have made it onto the one-Michelin star list, including Burnt Ends, Raffles Hotel's La Dame de Pic, Japanese restaurant Hamamoto, French-Japanese restaurant Reve, gastro-botanical restaurant Euphoria, and modern Korean restaurant Nae:um, Chef Louis Han, who helms Nae:um, was also awarded the Young Chef Award for 2022 for his innovative ways of presenting modern Korean cuisine.
Meanwhile, 35 restaurants retained their one-star, including Hill Street Tai Hwa Pork Noodle, the only hawker on the list. However, Italian restaurant Garibaldi, French-Asian restaurant Corner House, and Shinji by Kanesaka's at St Regis each lost their one-star (although the latter's Carlton Hotel outlet kept its star).
Two special awards were given out to restaurant staff for their efforts in making the dining experience more memorable. These are the Welcome and Service Award, which went to Saint Pierre's restaurant manager, Samantha Goh; and the Sommelier Award, conferred to Les Amis' sommelier, Eric Eu.
Without further ado, here's the complete list of Michelin-starred restaurants in Singapore for 2022.
Three Stars
Classification: Exceptional cuisine, worth a special journey
Two Stars
Classification: Excellent cooking, worth a detour
One Star
Classification: High-quality cooking, worth a stop
Hill Street Tai Hwa Pork Noodle
Imperial Treasure Fine Teochew Cuisine (Orchard)
*Indicates new entries
Watch the full Michelin Guide Singapore 2022 Star Restaurant Selection below.
For more information, visit Michelin Guide Singapore's website.