Food + Drink
Eats-A-Review: RasaNya, Black Tap Craft Burgers & Shakes, and Fire & Slice
What's on the menu?
RasaNya Images: Amos Yip for BURO Malaysia | Black Tap Craft Burgers and Shakes images: Courtesy of establishment | Fire & Slice images: Courtesy of establishment & Marissa Chin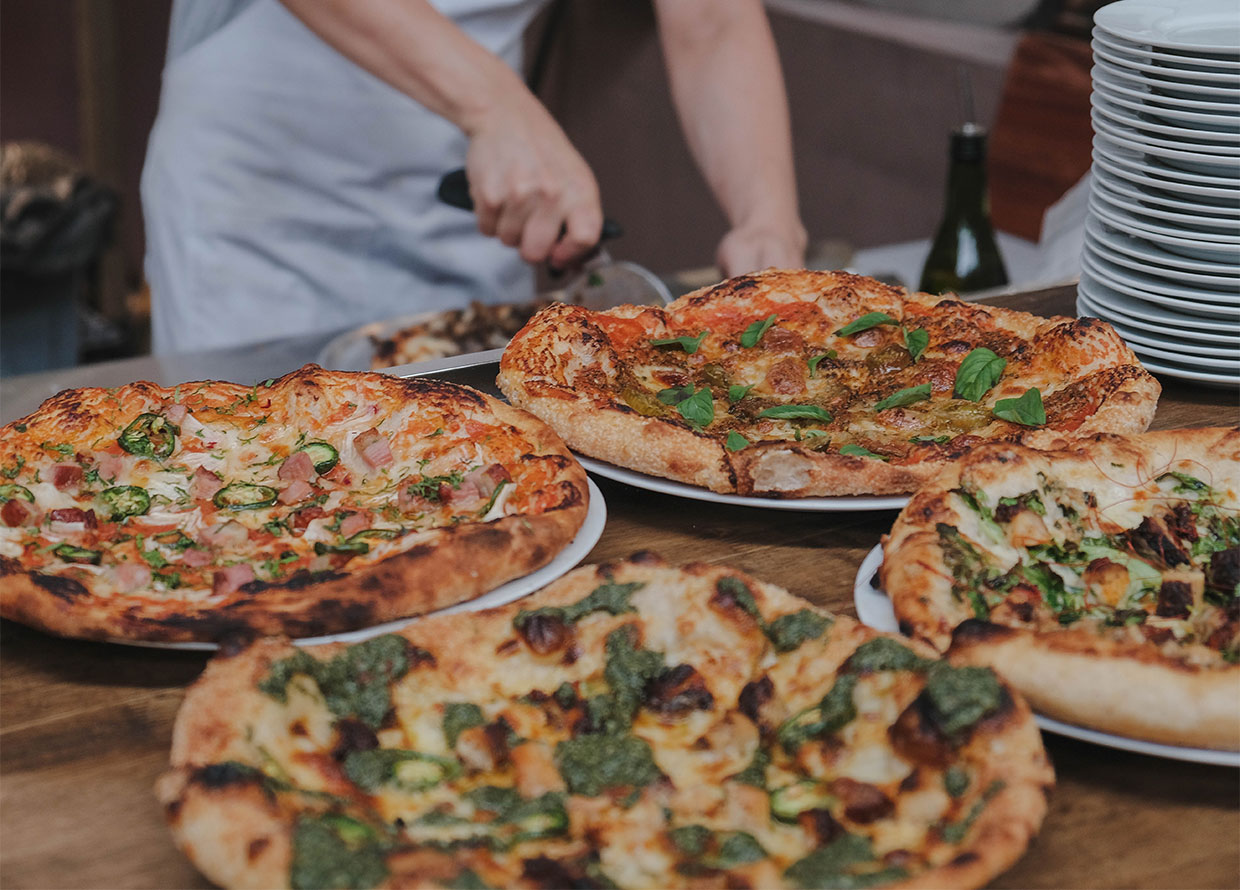 In this edition of Eats-A-Review, we had a taste of the Ramadan menu at RasaNya Steamboat in Pavilion Elite; the highly anticipated Black Tap Craft Burgers & Shakes of New York fame in Sunway Resort; and the latest pizzeria to hit Tiffin at the Yard, Fire & Slice. Ahead, we dish out what to expect on their respective menus and which dishes you should order. 

RasaNya Steamboat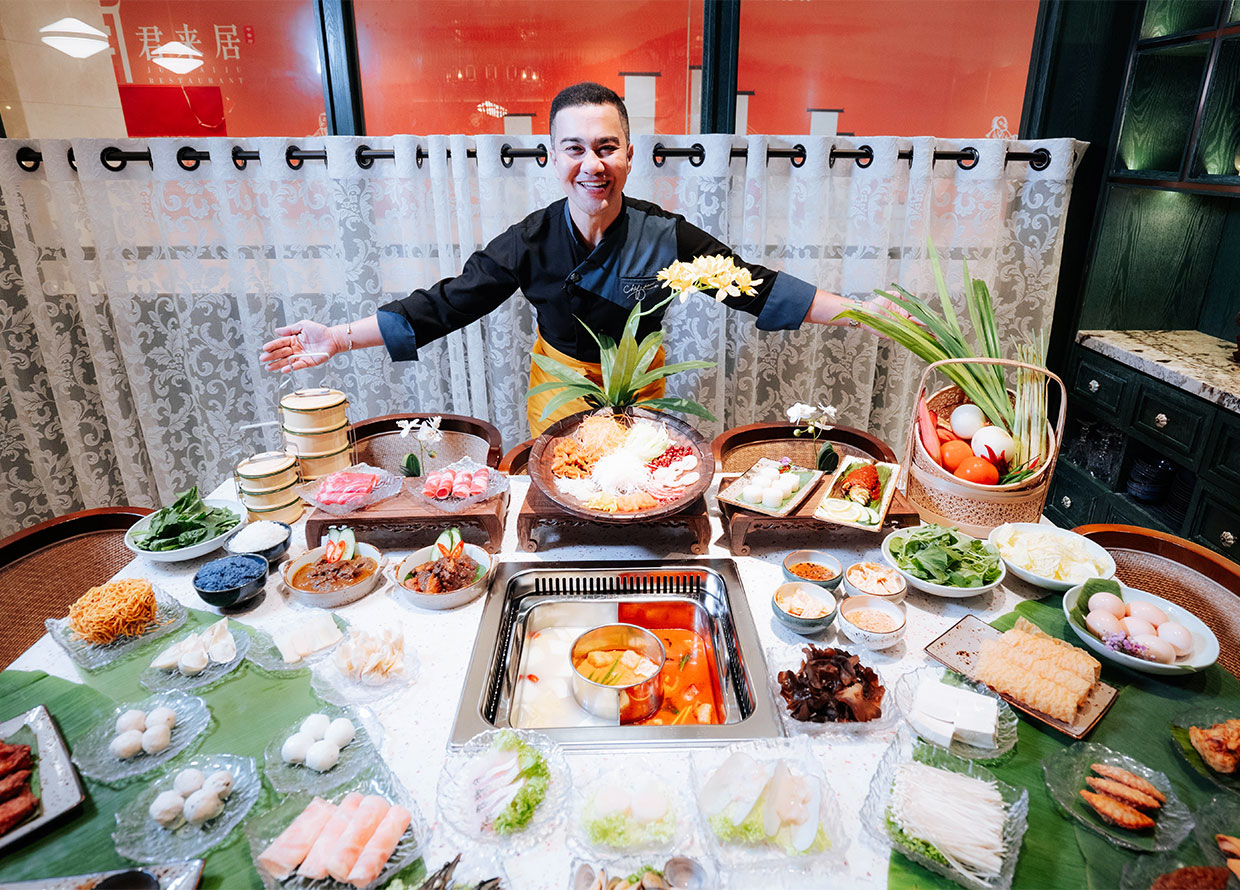 "Hotpot has been all the rage in recent years, with new outlets mushrooming all around the Klang Valley and beyond. Having said that, the recently opened RasaNya is far from your typical hotpot restaurant. Tucked on the eighth floor of Pavilion Elite, RasaNya Steamboat takes pride in being the first premium Peranakan Steamboat restaurant in Malaysia. Since opening last November, it has attracted a stream of locals, expats and tourists with a comprehensive menu of Nyonya dishes and steamboat offerings. In conjunction with Ramadan, the restaurant has collaborated with celebrity chef, Chef Zam, for a special festive menu. Cue our visit to sample the Ramadan feast.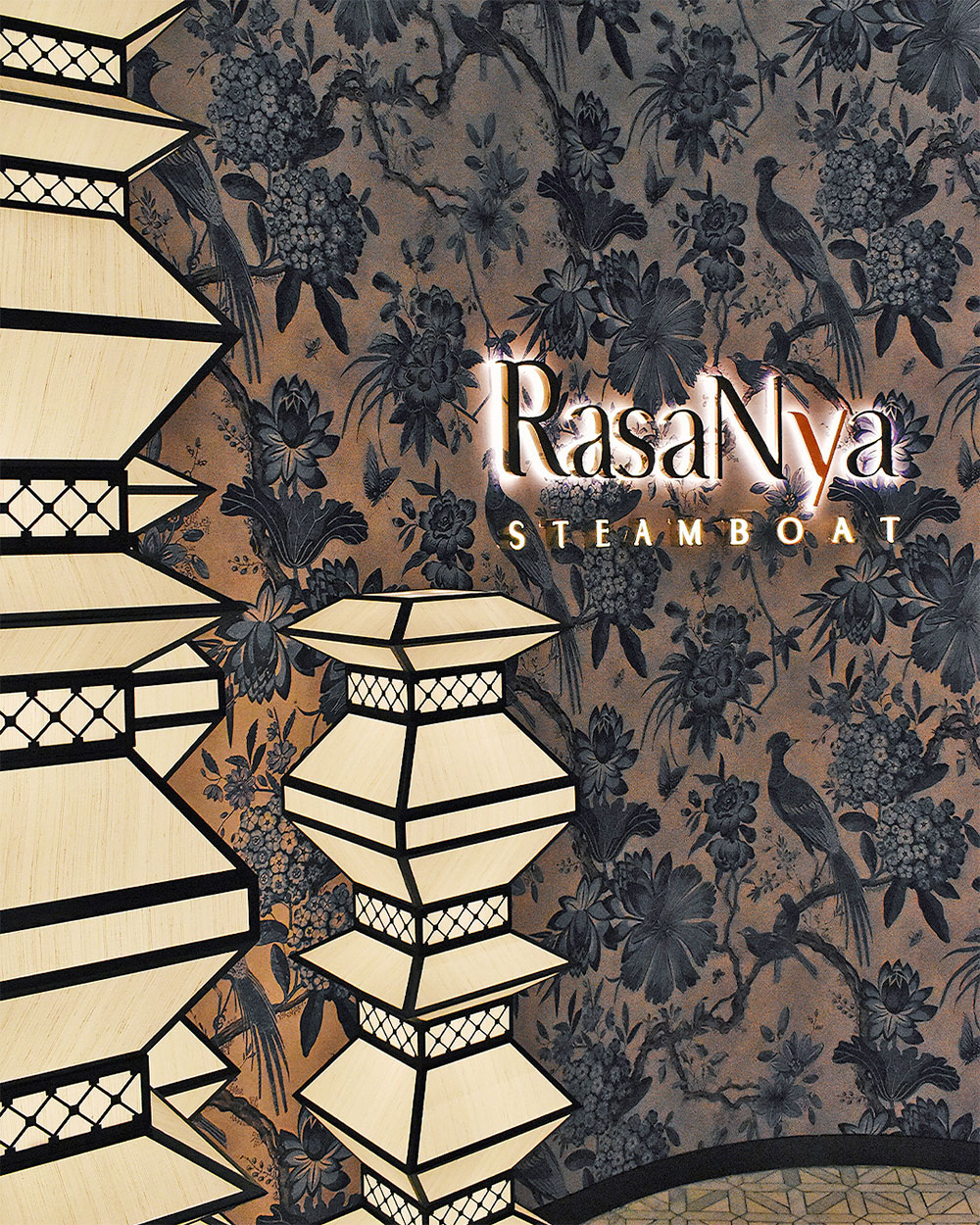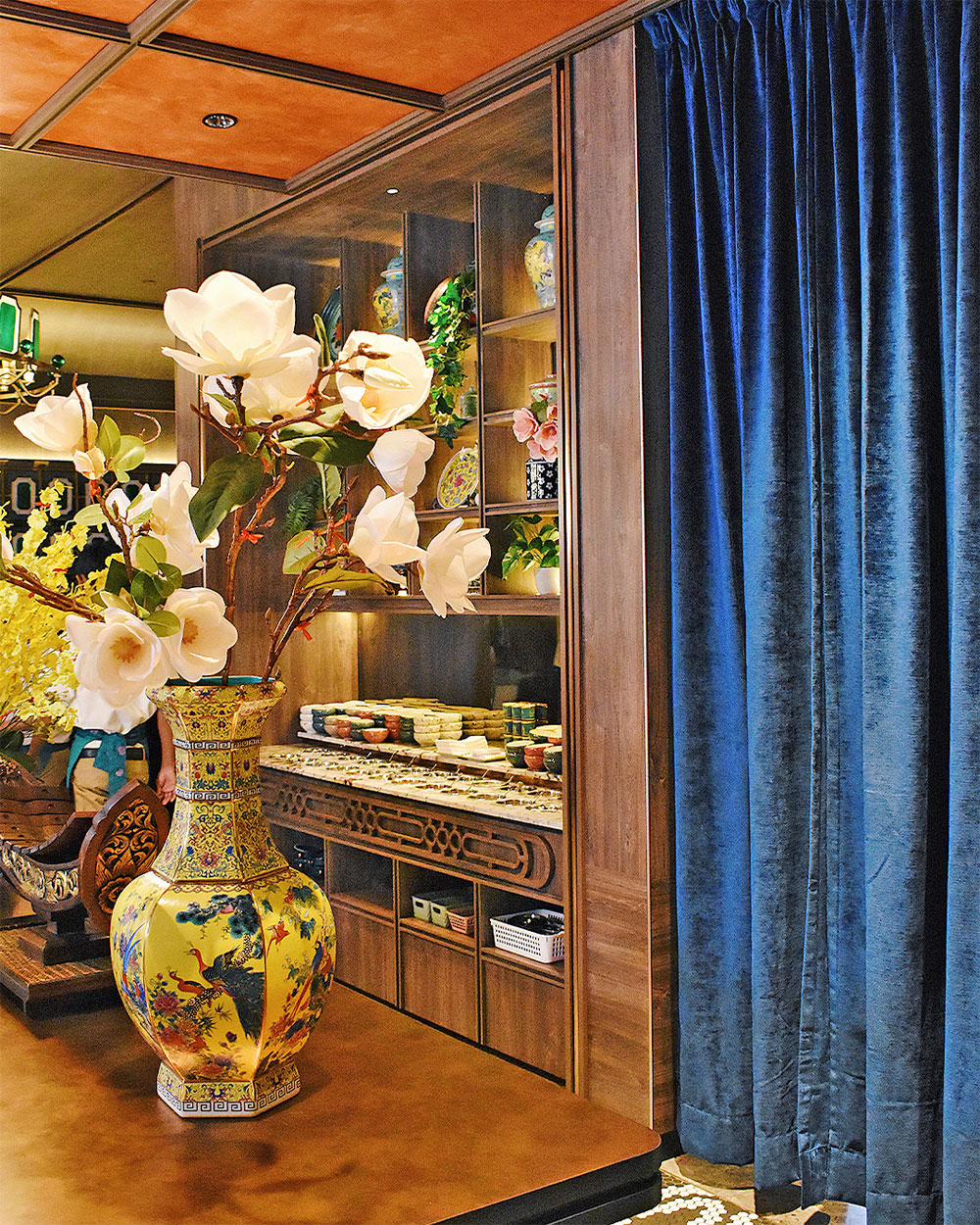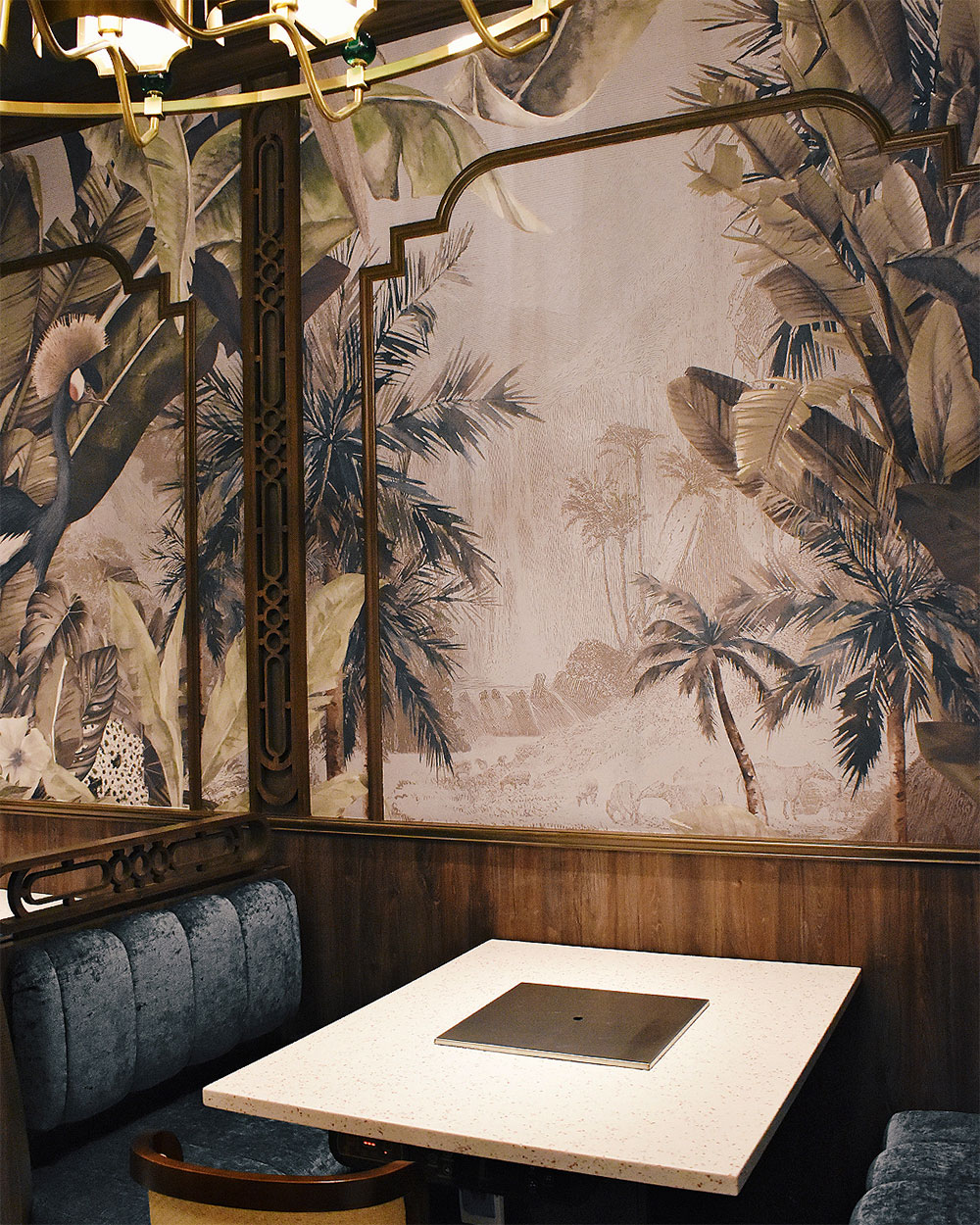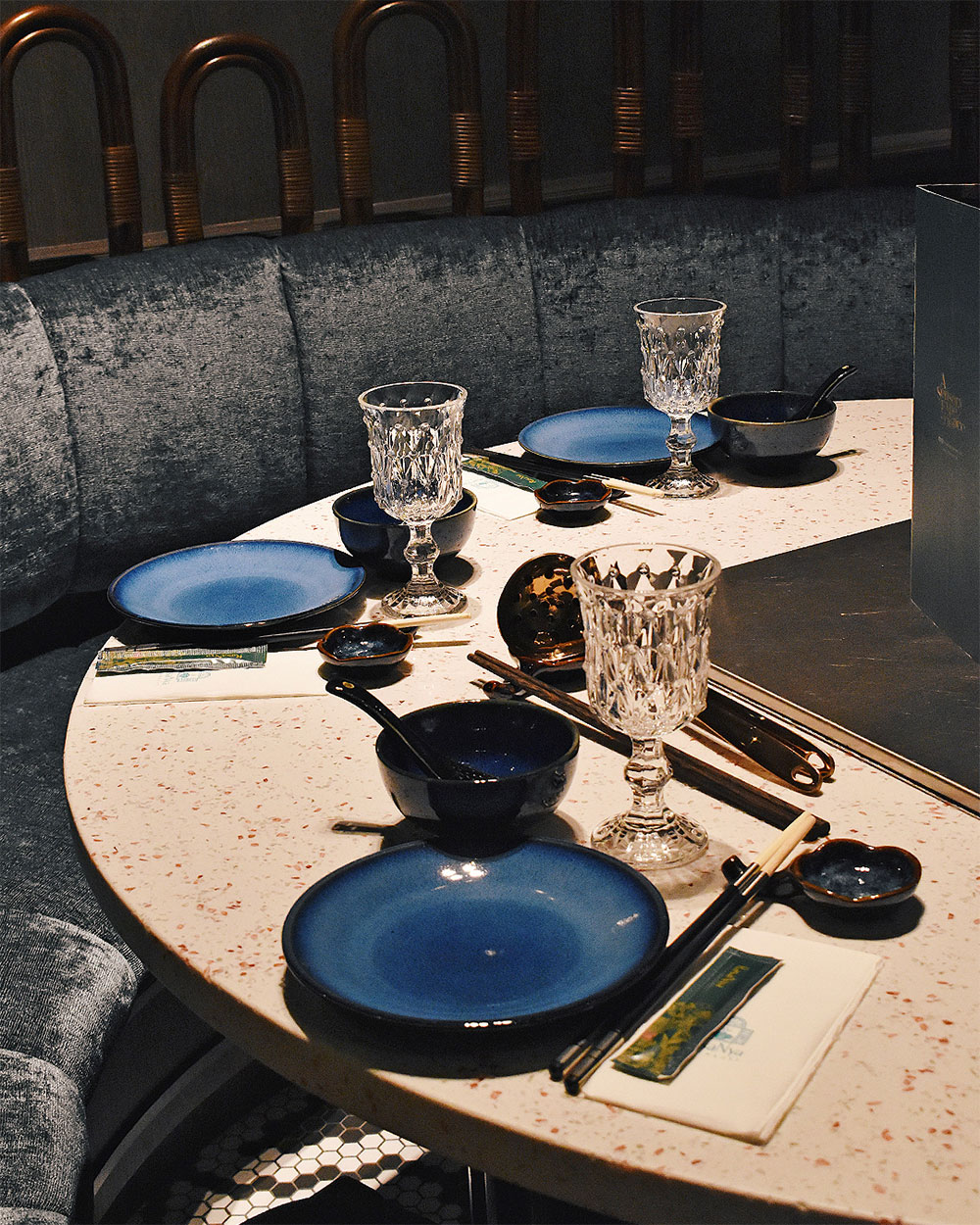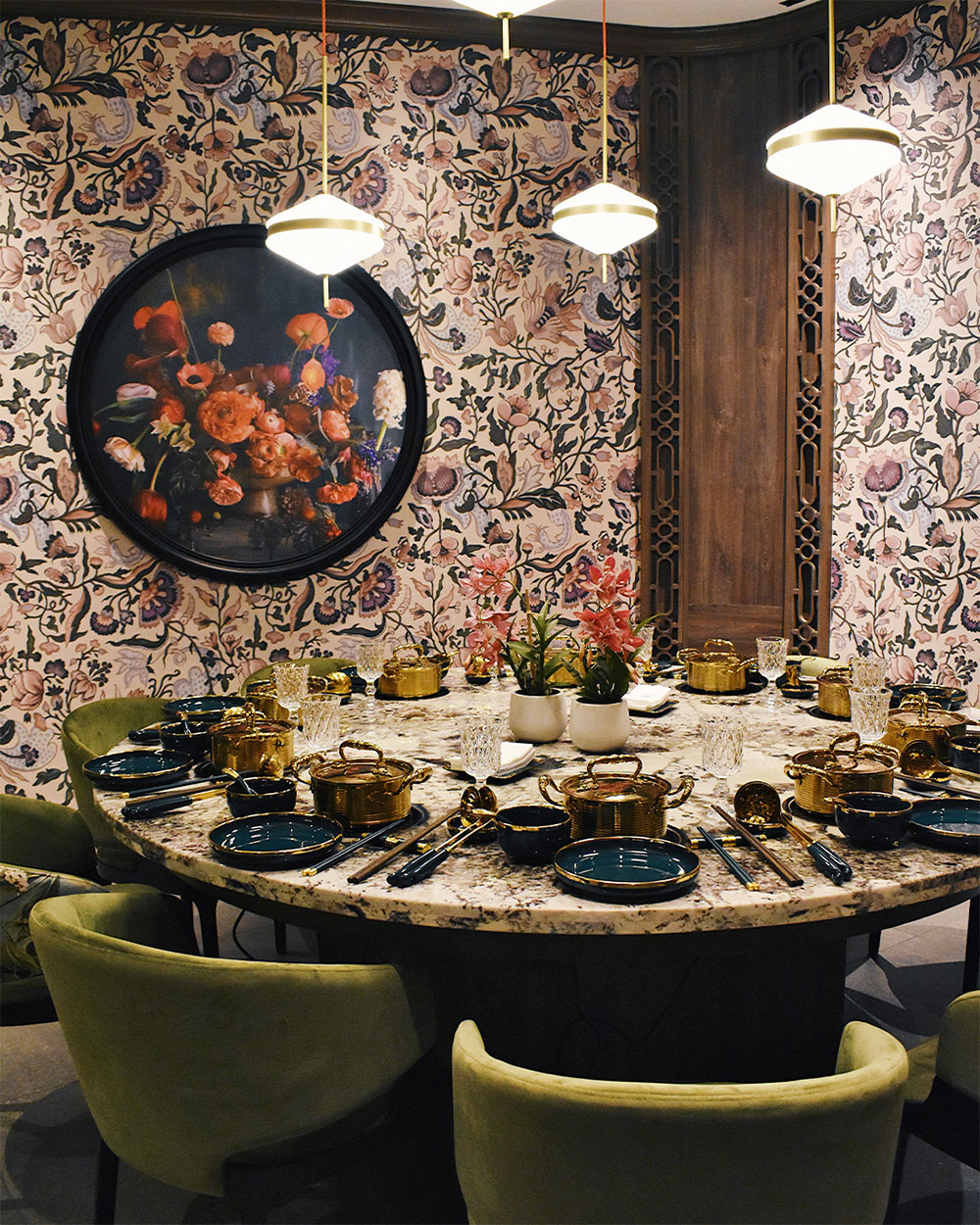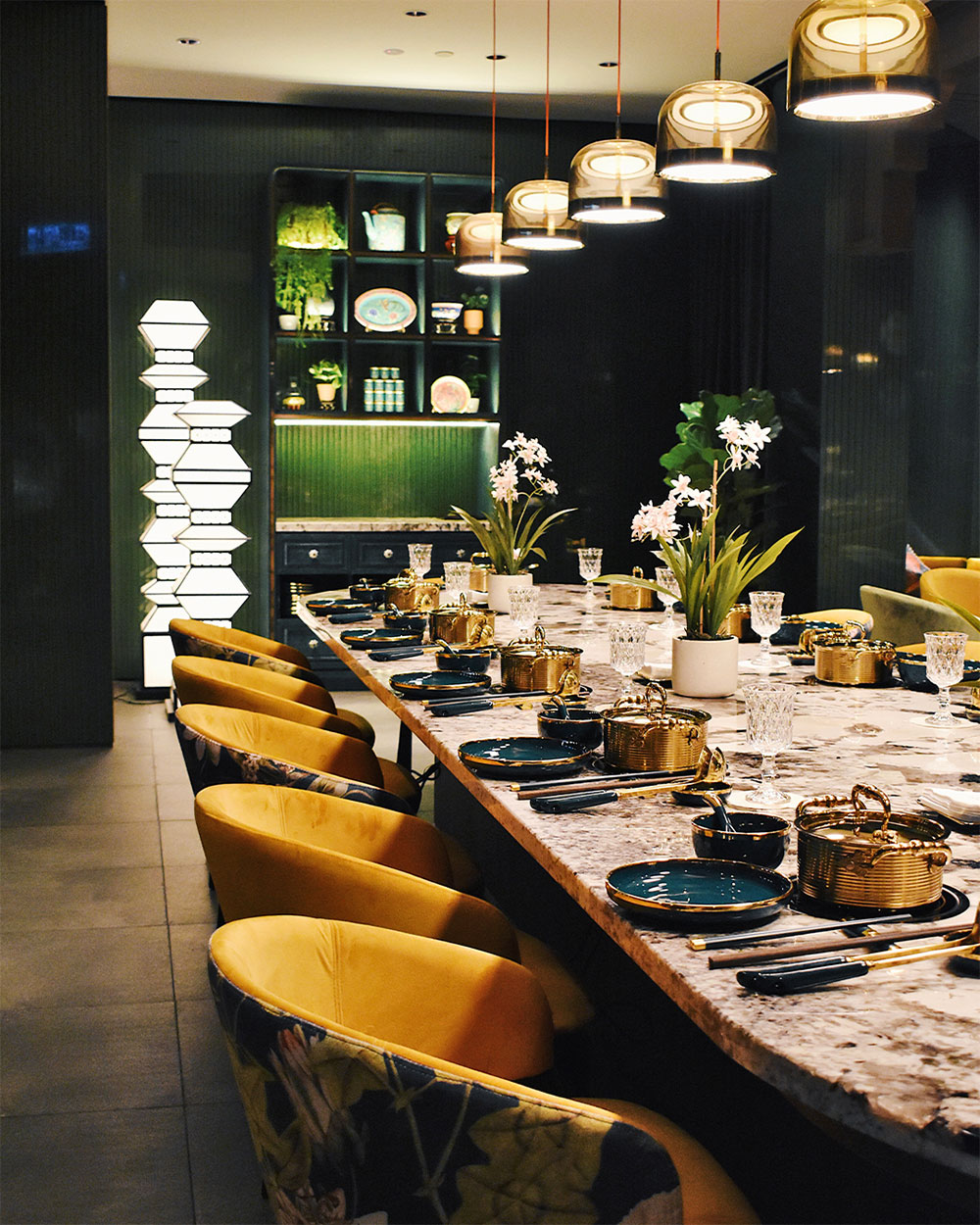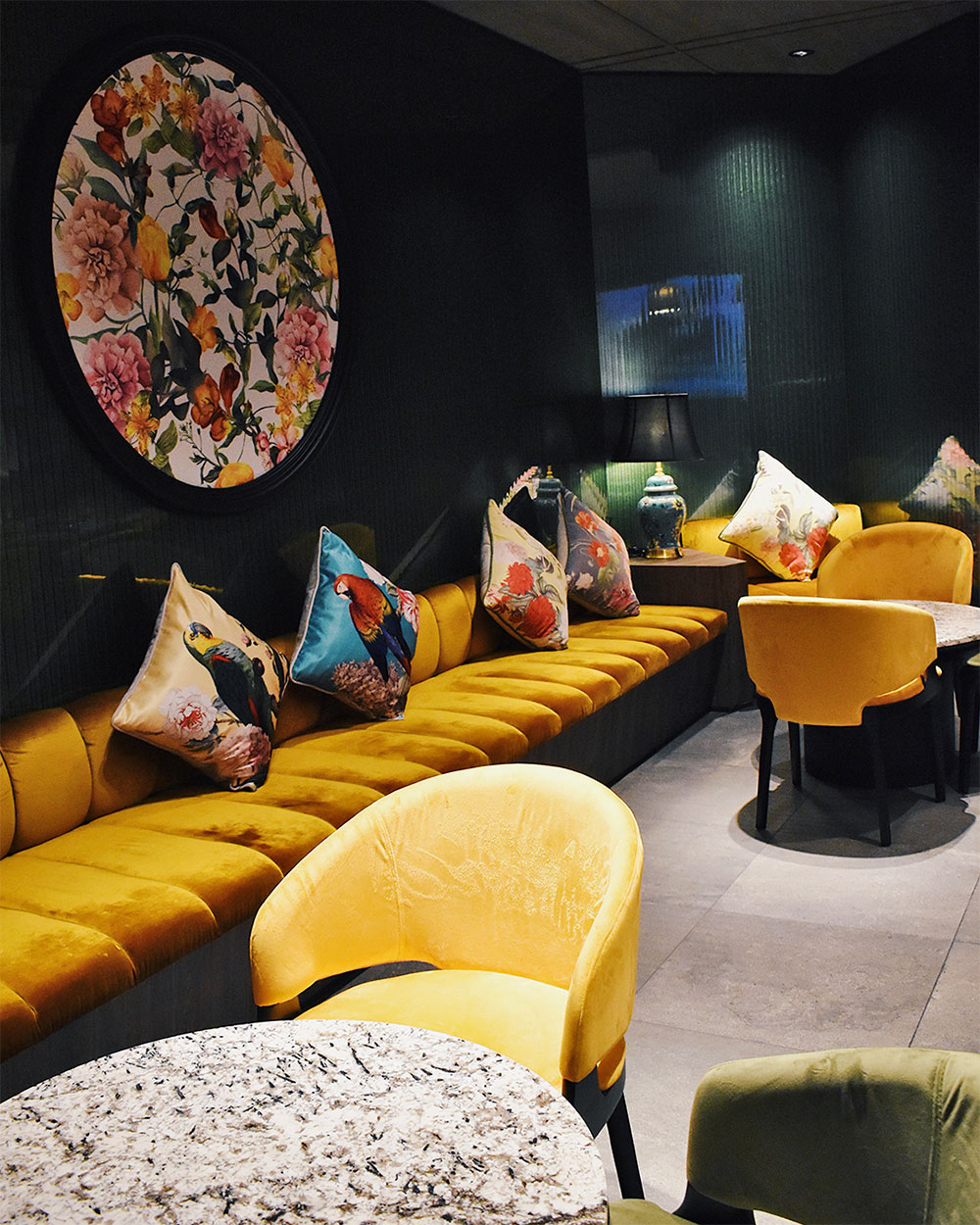 "It's easy to tell the Peranakan inspirations from the moment you step into the restaurant. Lanterns—which are traditionally hung outside Peranakan homes—light the way in, revealing intricate tiles, textures and furnishings inside the space. There are two private rooms for intimate dining, decked in colourful interior flourishes and luxurious tableware for special celebrations. The larger of the two even comes with a karaoke set and hidden entrance—perfect for VIPs or anyone avoiding attention. In case you're wondering, it took about RM3 million and 12 months to complete renovations, so that should tell you something about the interior design.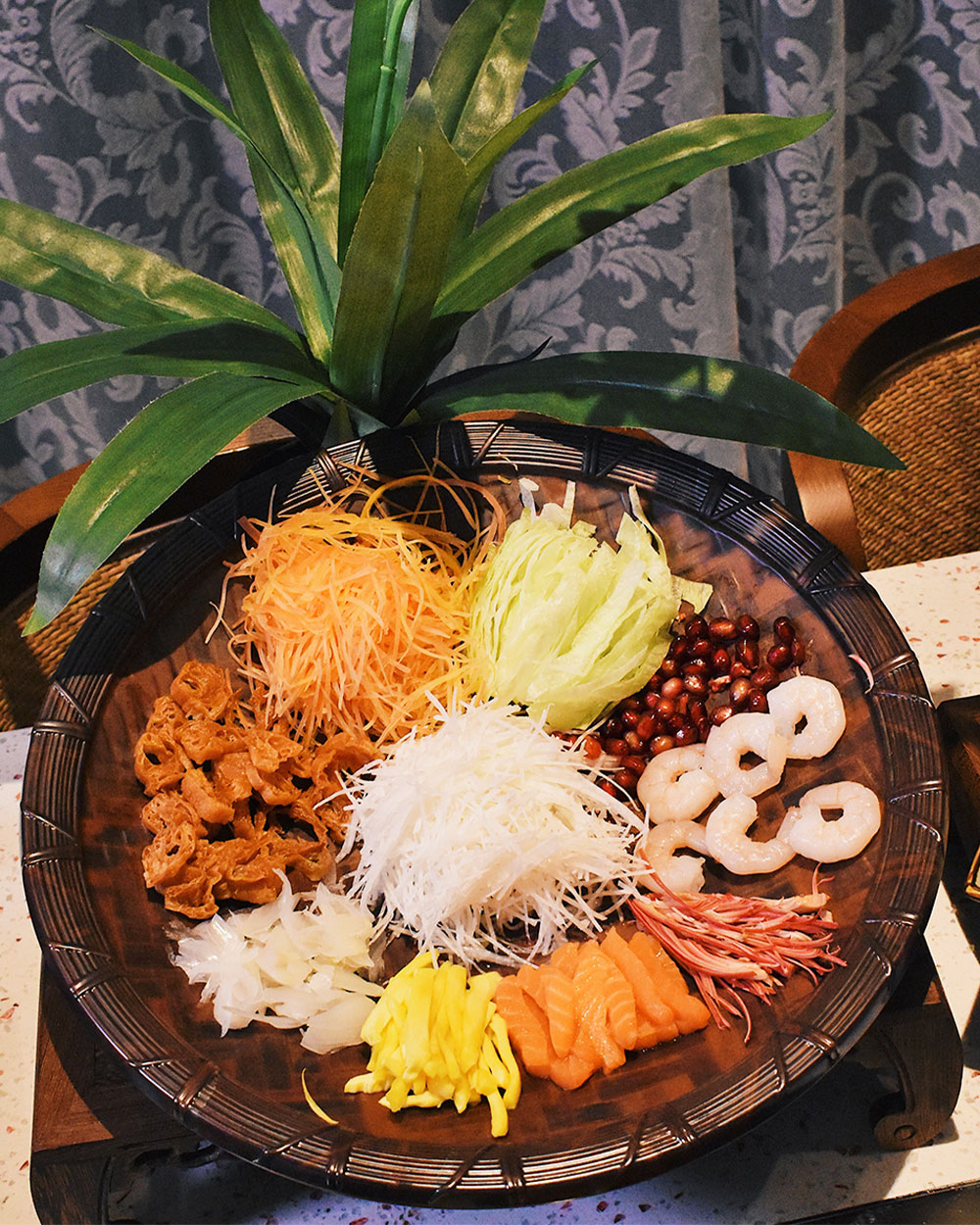 "My meal started off with what seemed like a customary yee sang toss. Yes, Chinese New Year is over, but the Warna-Warni RasaNya (RM68 per portion) is making a return for Ramadan due to popular demand. The colourful salad dish comprises juicy prawns, salmon, pomegranate, fresh vegetables and a passionfruit sauce that ties it all together with sweet and tangy flavours. If you can't get enough of yee sang, this dish is not one to miss (while stocks last)!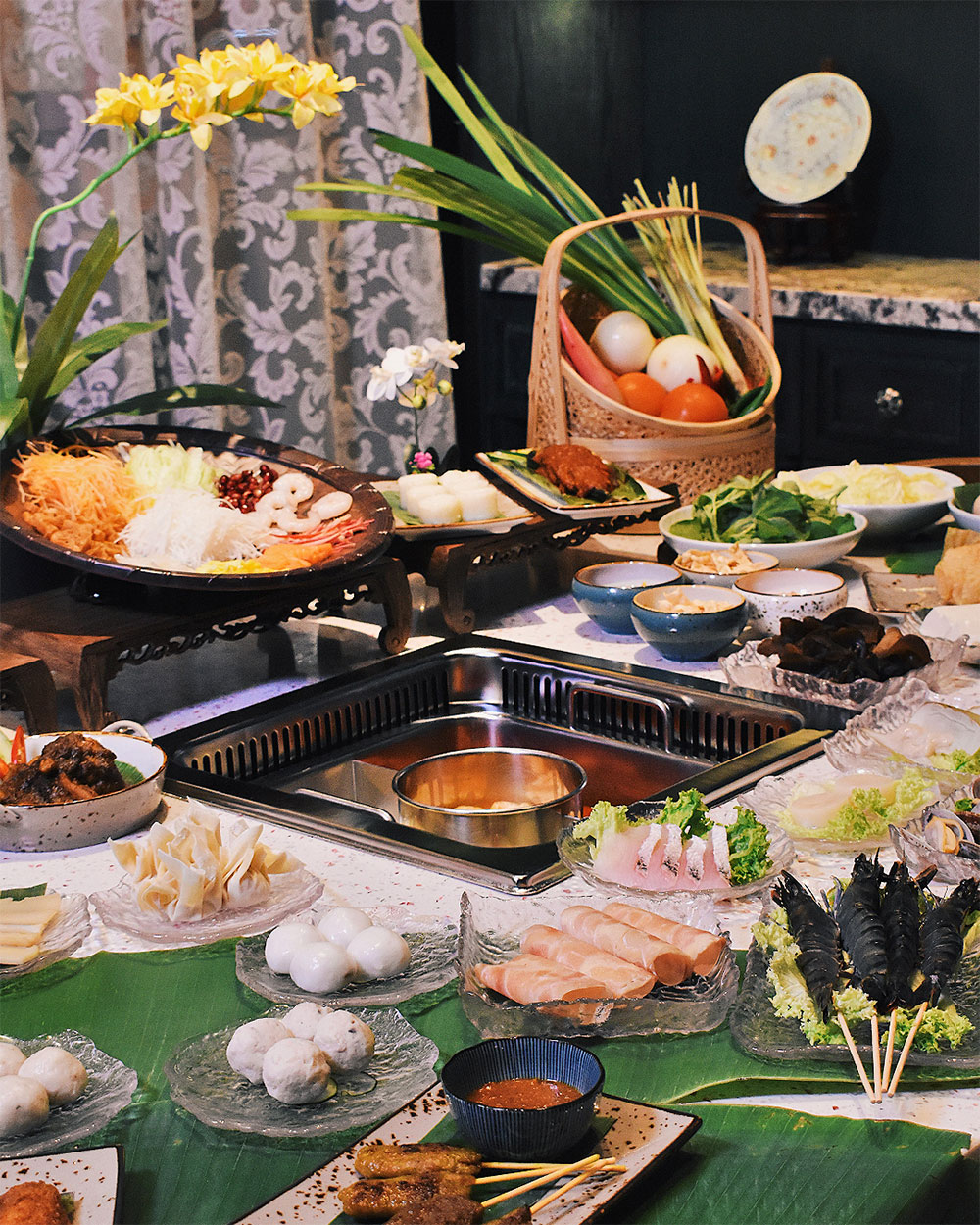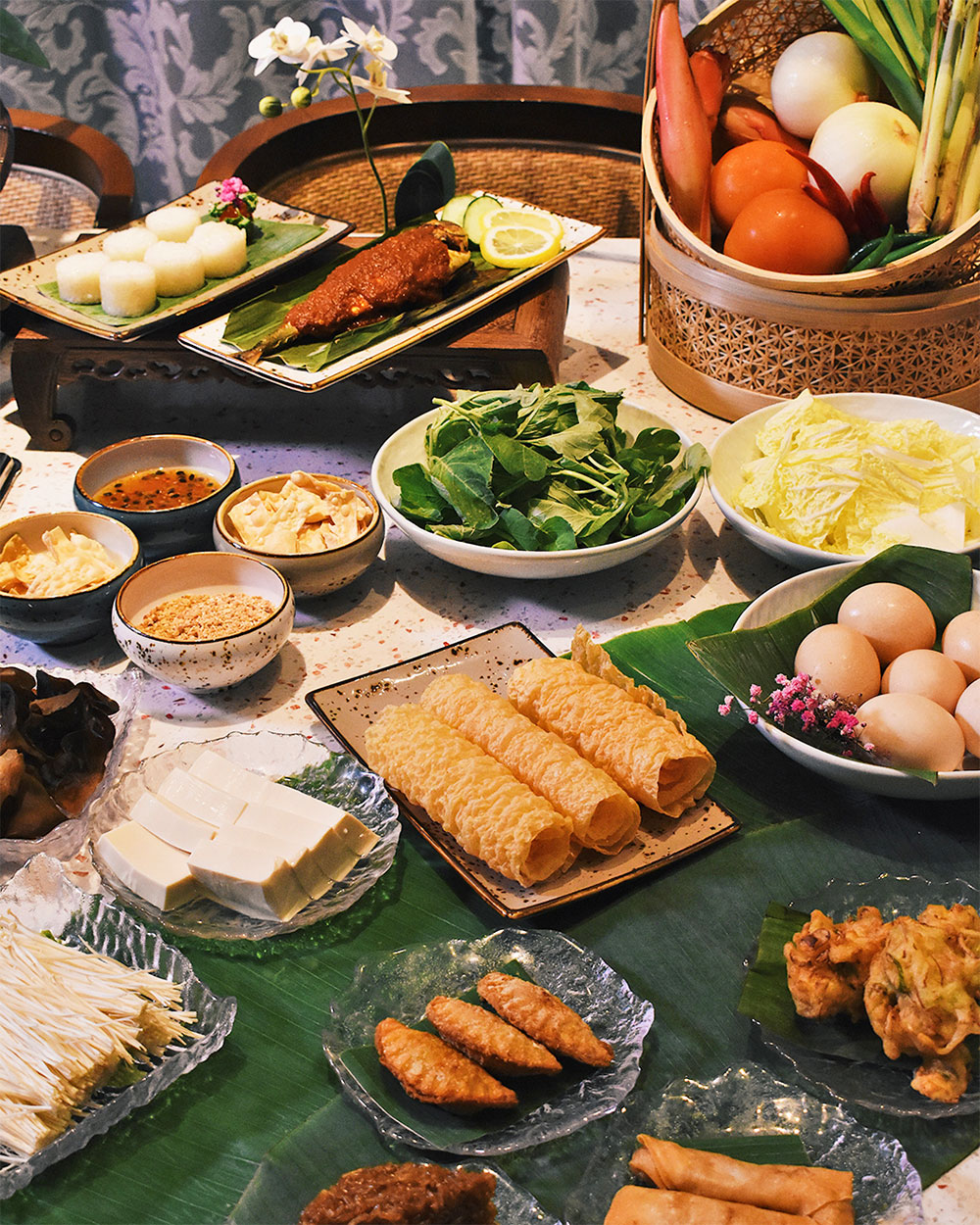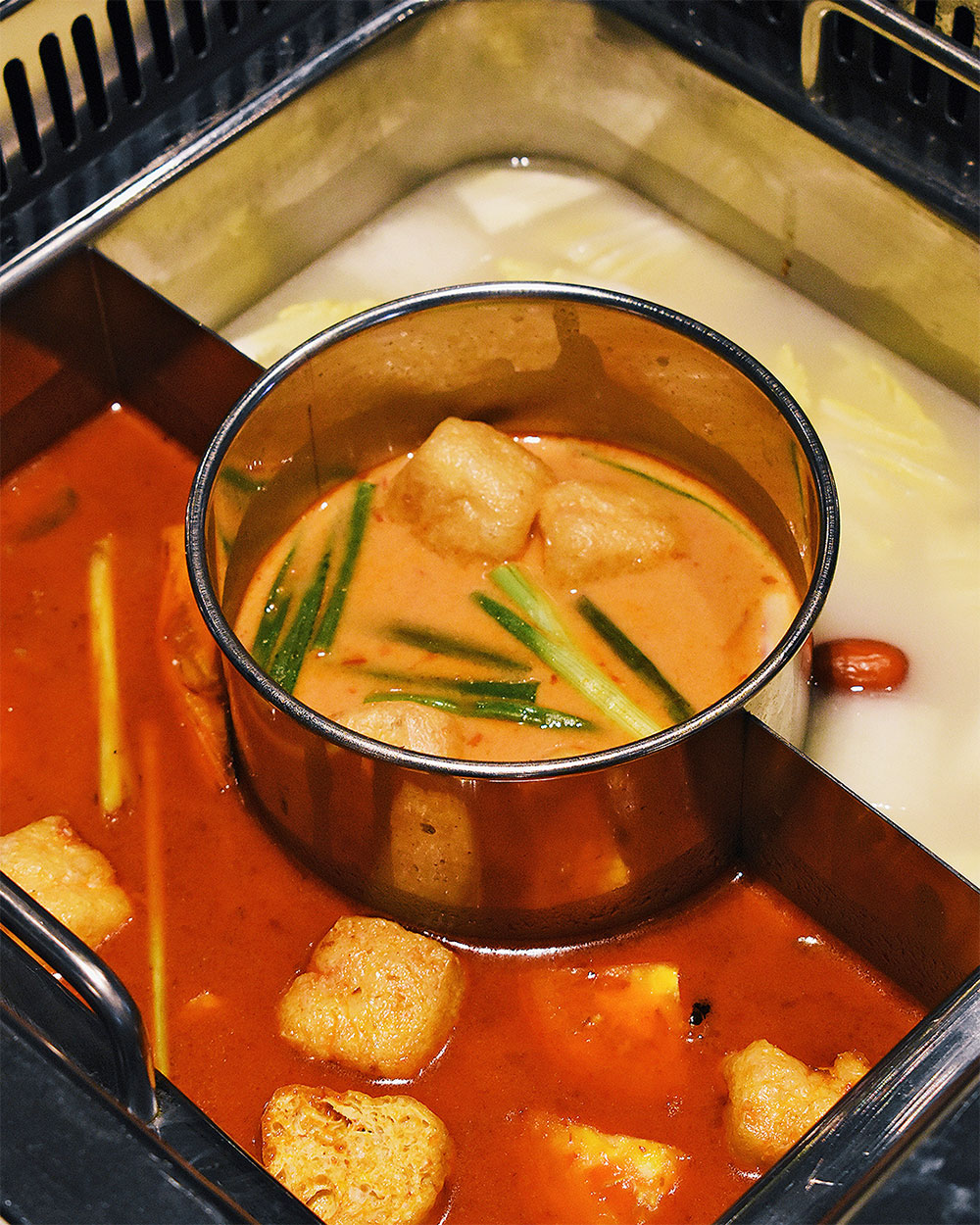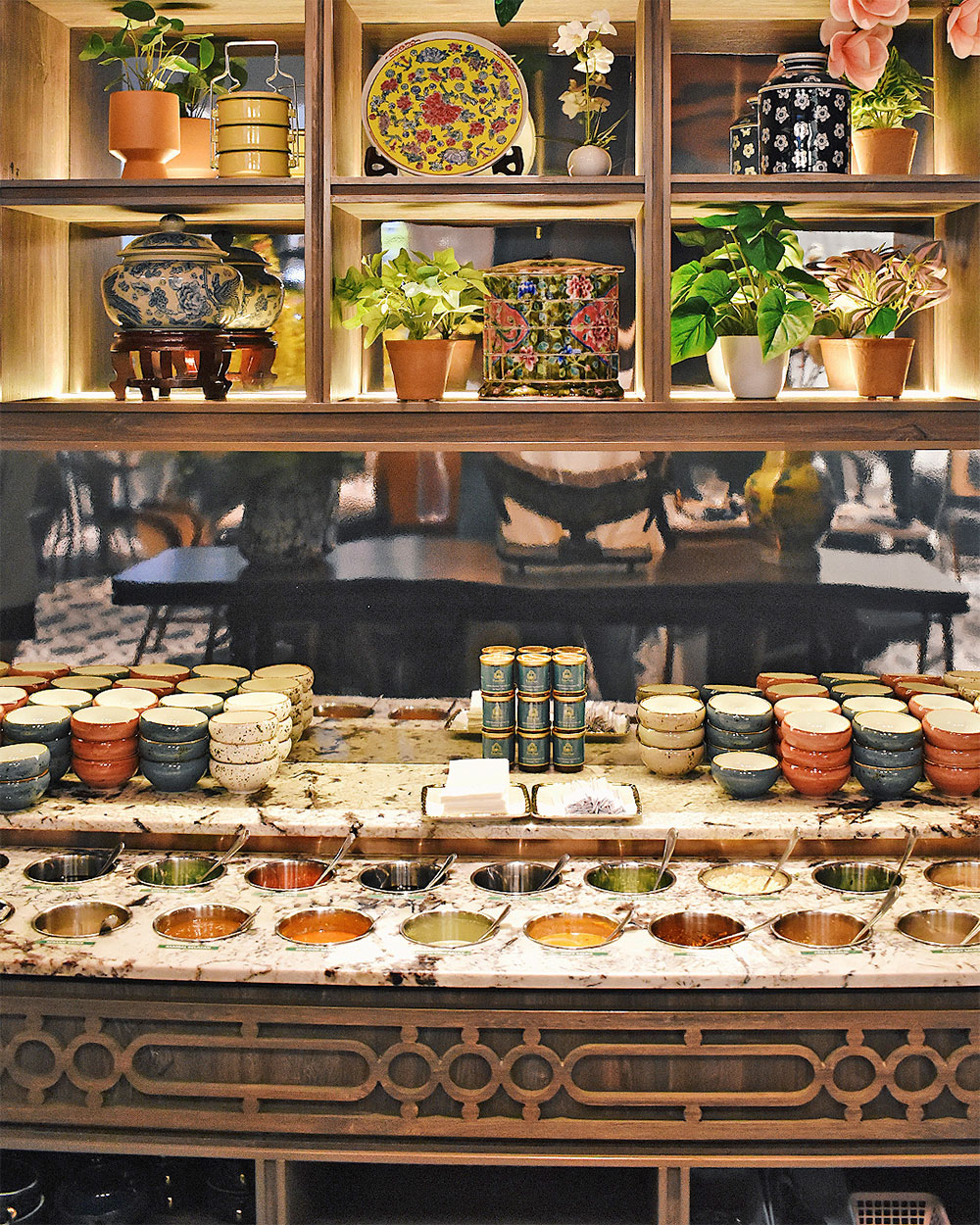 "RasaNya Steamboat's specialities are in its name, offering nine signature soup bases that reimagine Malaysian and Southeast Asian flavours. Options include Kak Nya's Signature Black Truffle, Laut Tomato Merah, Satay Celup Special Style, and Harimau in the Laut. For Ramadan, Chef Zam has cooked up a special recipe aptly called 'RahsiaNya', which consists of slow-cooked chicken broth infused with fresh coconut water, chilli peppers and soybeans with a hint of fermented broad beans and tofu. Taste-wise, it's unique, complex and on the sweeter side, which may not be for everyone but fits well with the festive theme.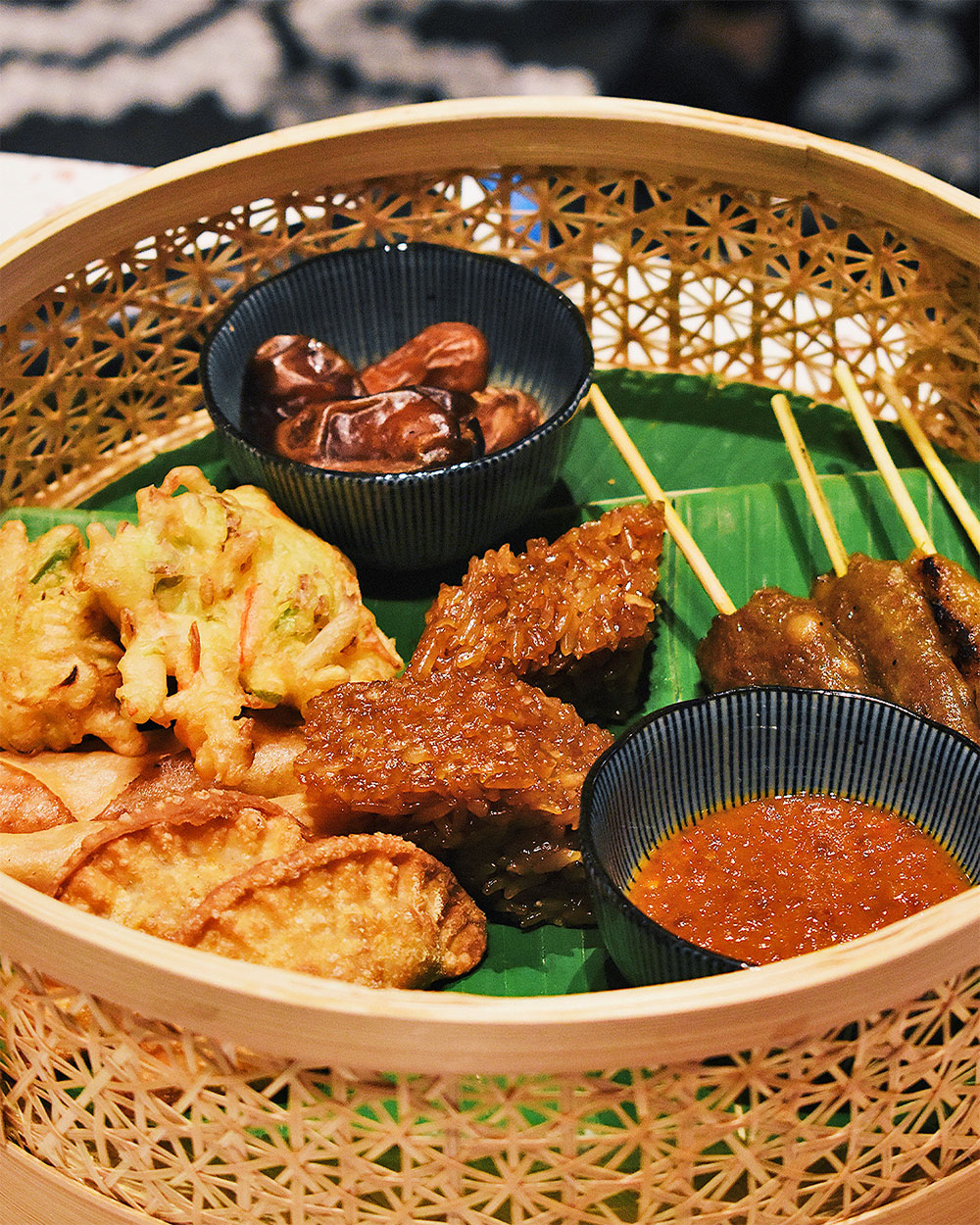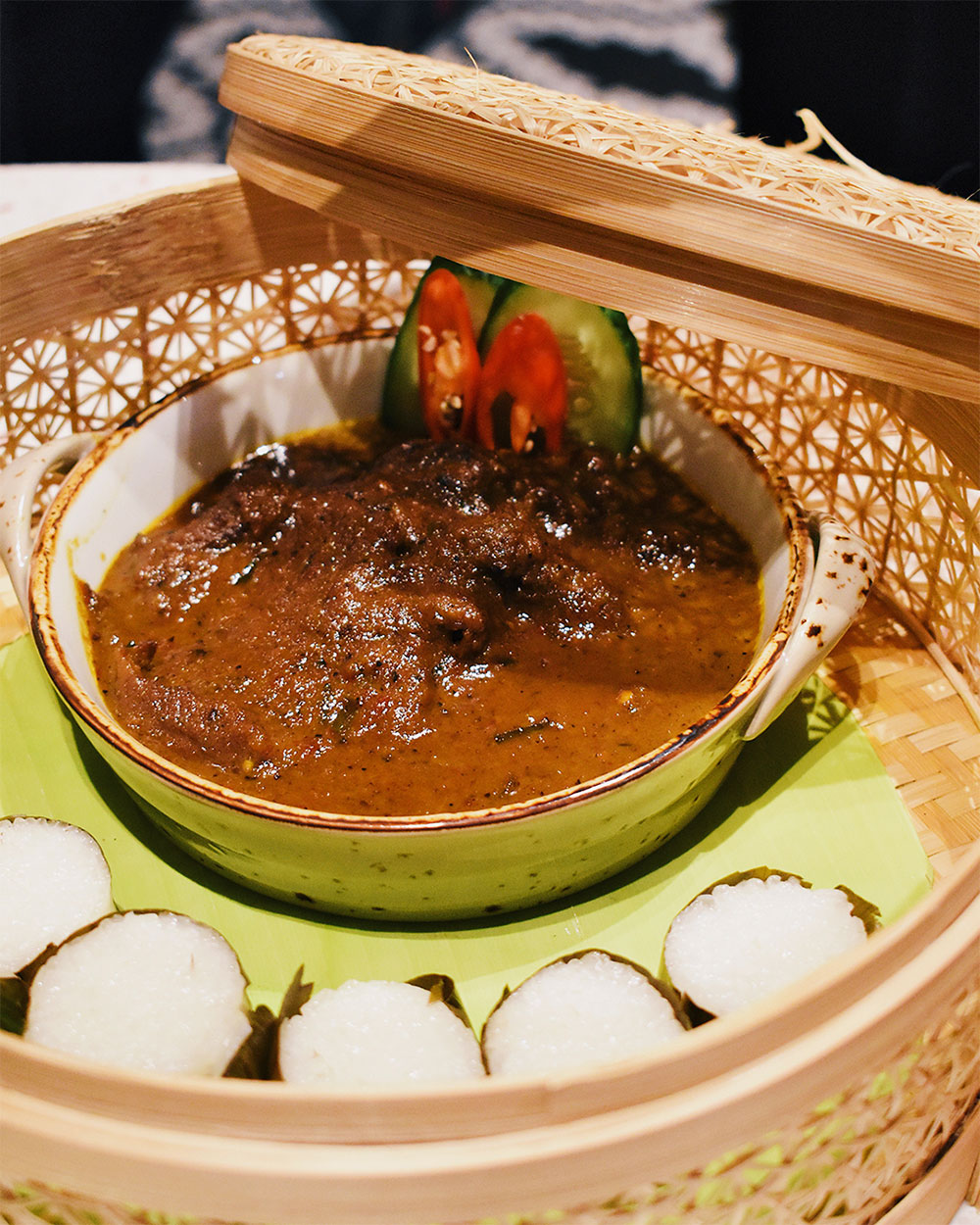 "Customers can choose three different soups to enjoy in one steamboat. Aside from the Ramadan-themed soup base, I had the Sedap-Nya Laksa and Winter Melon & Herbs. The former is a thick, savoury laksa broth that is slow-boiled for 12 hours, whilst the latter is a lighter, herbal base that builds and absorbs flavours as more ingredients are added in. The Ramadan buffet (priced from RM118++/pax) also comes with a selection of Kak Nya's Specials (order the satay and rendang!), noodles or rice, butcher's selections, fine seafood, vegetables, and drinks. Alternatively, there are also Ramadan sets available for two or four pax. Don't forget to try the complimentary selection of sauces and condiments to enhance the steamboat dishes!
"Besides the festive offerings, customers can savour the regular steamboat menu featuring the ocean's finest bounty, premium wagyu from Australia and Japan, a butcher's selection, local appetisers, as well as homemade dumplings and wantons. Meanwhile, a la carte RasaNya dishes like Ayam Buah Keluak and Nyonya Asam Udang are available for add-ons or smaller appetites. All in all, RasaNya's Ramadan feast is great for a hearty steamboat meal that's uniquely Malaysian, but there are plenty more Nyonya-style options to come back for too." —Natalie Khoo, Deputy Editor
Address: Level 8, Lot 8.105.00, Pavilion Elite, Bukit Bintang, 55100 Kuala Lumpur
Opening hours: 11am to 10pm daily 
Contact: +6010 773 0223
Website | Facebook | Instagram

Black Tap Craft Burgers & Shakes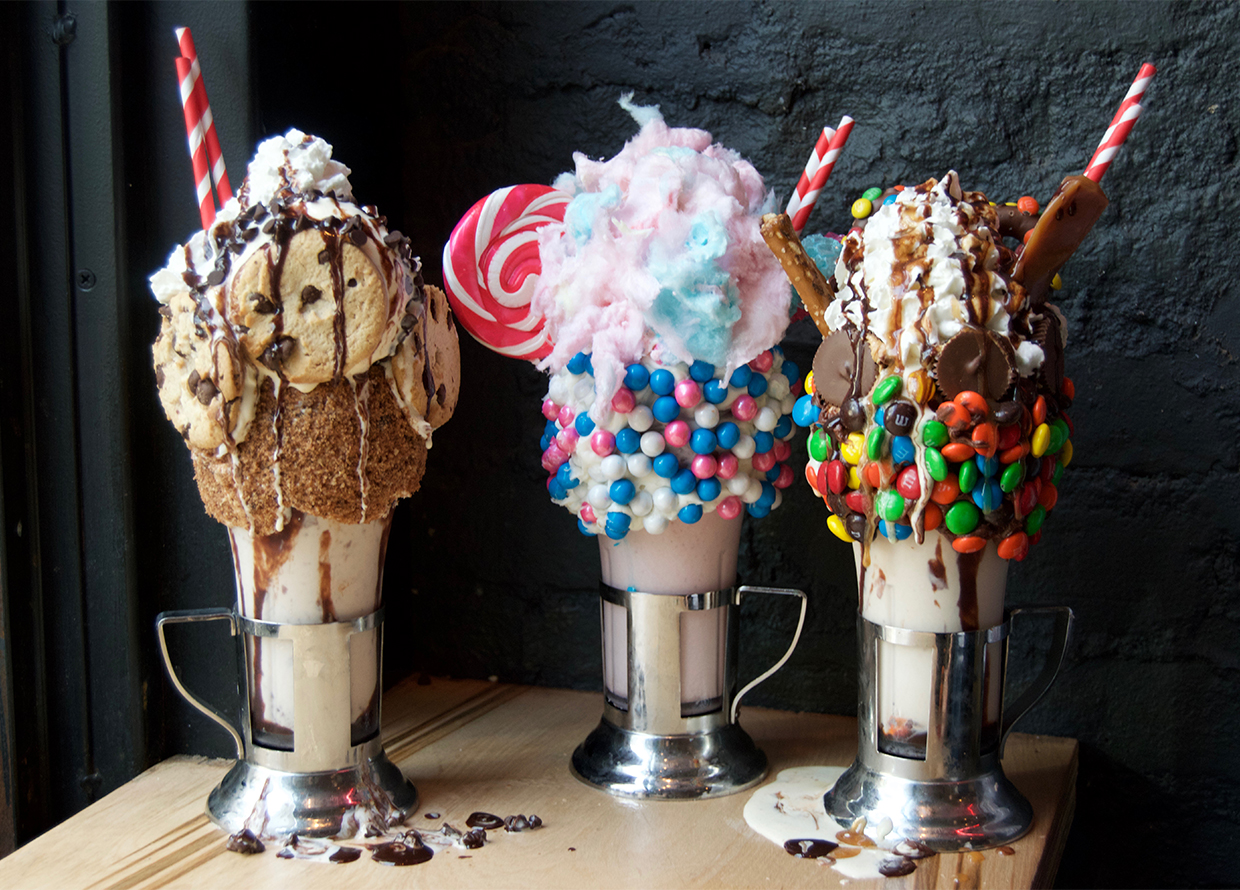 "Fresh from New York City, Black Tap Craft Burgers & Shakes has brought its popular and award-winning craft burgers and CrazyShake® milkshakes to Malaysia. Stepping into the restaurant in Sunway Resort was like walking into a classic American diner or New York bar, with its mix of booth seats, monochrome interiors, and cool wall murals by famed Malaysian street artist Kenji Chai. Owned by husband-and-wife team Chris Barish and Julie Mulligan, Black Tap first debuted in the New York food scene in 2015 and has since expanded to several locations in the US, including The Venetian Resort Las Vegas and the Downtown Disney® District at Disneyland® Resort, as well as in Bahrain, Singapore, Switzerland, and the UAE. But I digress, let's get into the food.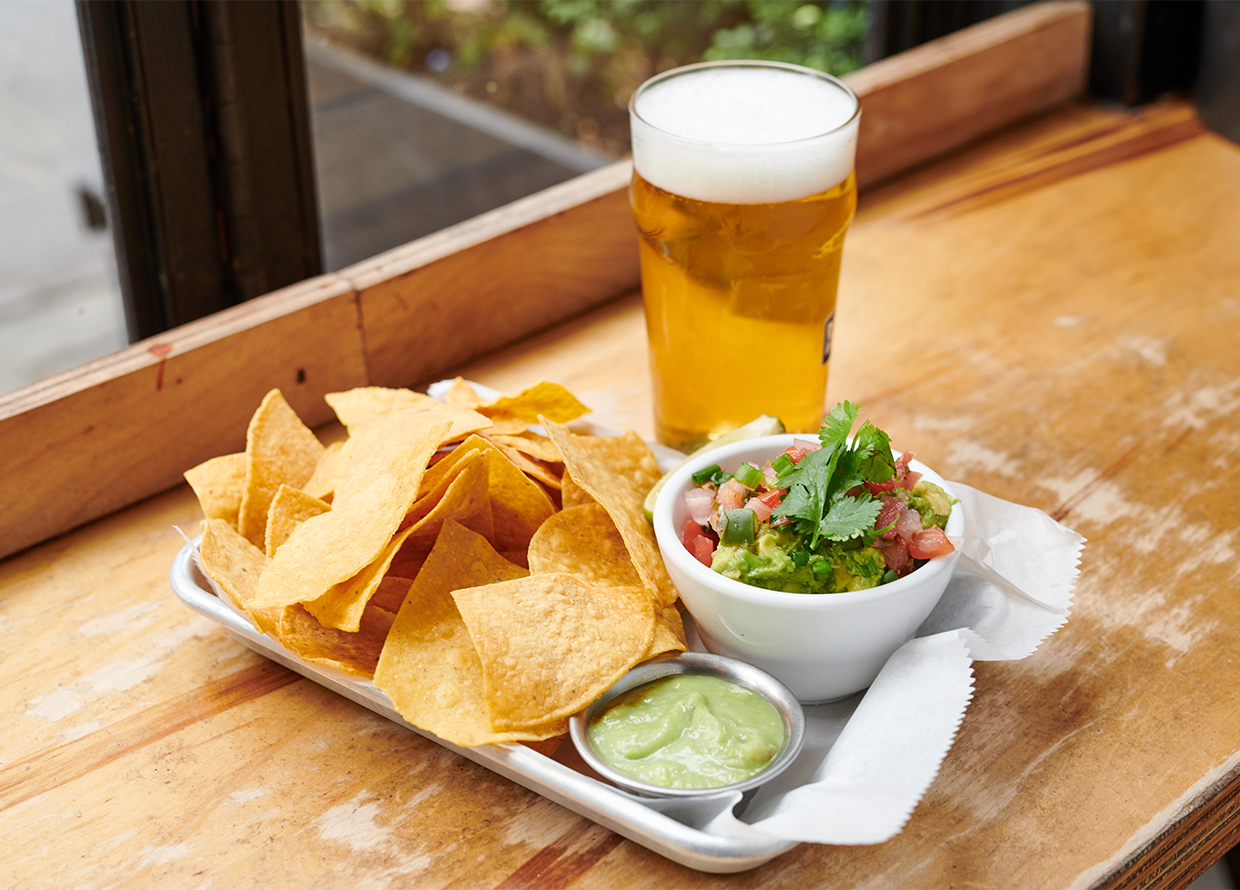 "For starters, I had bites of the Guac and Chips and Fried Mozzarella. I preferred the mozzarella as it's not a commonly found dish around here and it had a nice crispy bite with a chipotle tomato sauce that keeps you coming back for more. The Crispy Brussel Sprouts were addictive too, and had a nice char to them.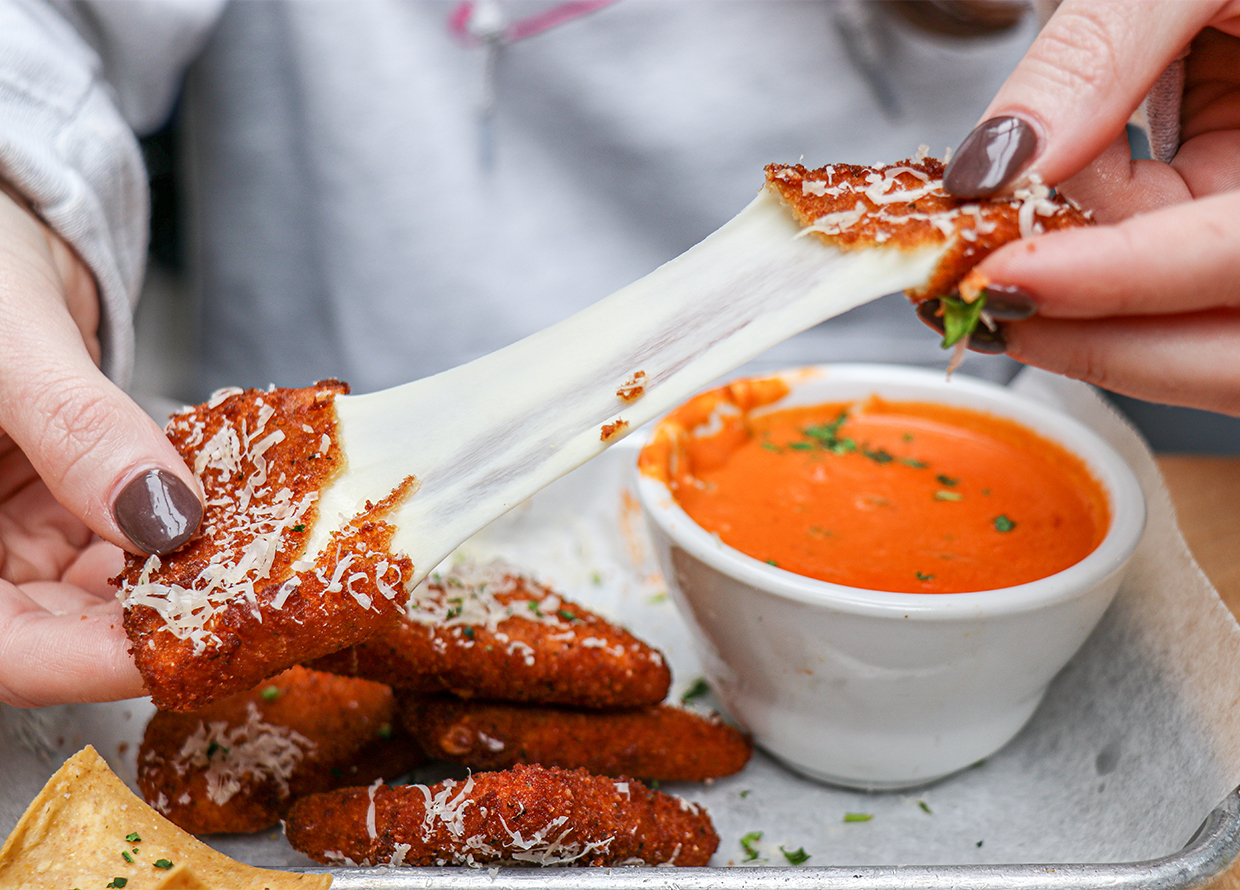 "Apart from that, I got to nosh on Black Tap's award-winning burger, The Greg Norman—a wagyu burger with house buttermilk-dill, blue cheese, and arugula—which left an impression with the pungent blue cheese and juicy beef patty. Personally, I would prefer it with another lighter cheese so that it doesn't overpower other elements of the burger. Next, I sampled the local special craft burger, Percik Grilled Chicken Sandwich—a grilled marinated spicy chicken thigh with percik sauce, chili caramelised onion, pico de gallo, tzatziki sauce, red chili, spring onion, and coriander—which was delicious. The chicken thigh was tender and flavourful, and the spices were well-balanced with the tzatziki yogurt sauce.
"Then, they brought out the CrazyShake® which were a sight to behold with their over-the-top toppings. Believe me when I say that they need to be shared because they arrive in a tall glass. Some of the flavours that I tried were the Cotton Candy, The Cakeshake®, Brooklyn Blackout, and Cookies 'N Cream Supreme. My favourites were The Cakeshake® and Cookies 'N Cream Supreme.
"I may be biased, but as a fan of anything with rainbow sprinkles, I thought this was a well-made shake with the perfect ratio of sprinkles, ice-cream and milk, while the funfetti cake is a bonus treat! On the other hand, the Cookies 'N Cream Supreme—a vanilla frosted rim with crushed oreos topped with a 'cookies 'n cream' sandwich, crumbled oreo, whipped cream and chocolate drizzle—was creamy and had the right amount of cookie bits without being overly sweet. To sum it up, I would go back to try the other craft burgers and milkshake flavours whenever I'm craving for a good ol' burger and shake." —Lung Kye Lin, Senior Lifestyle Writer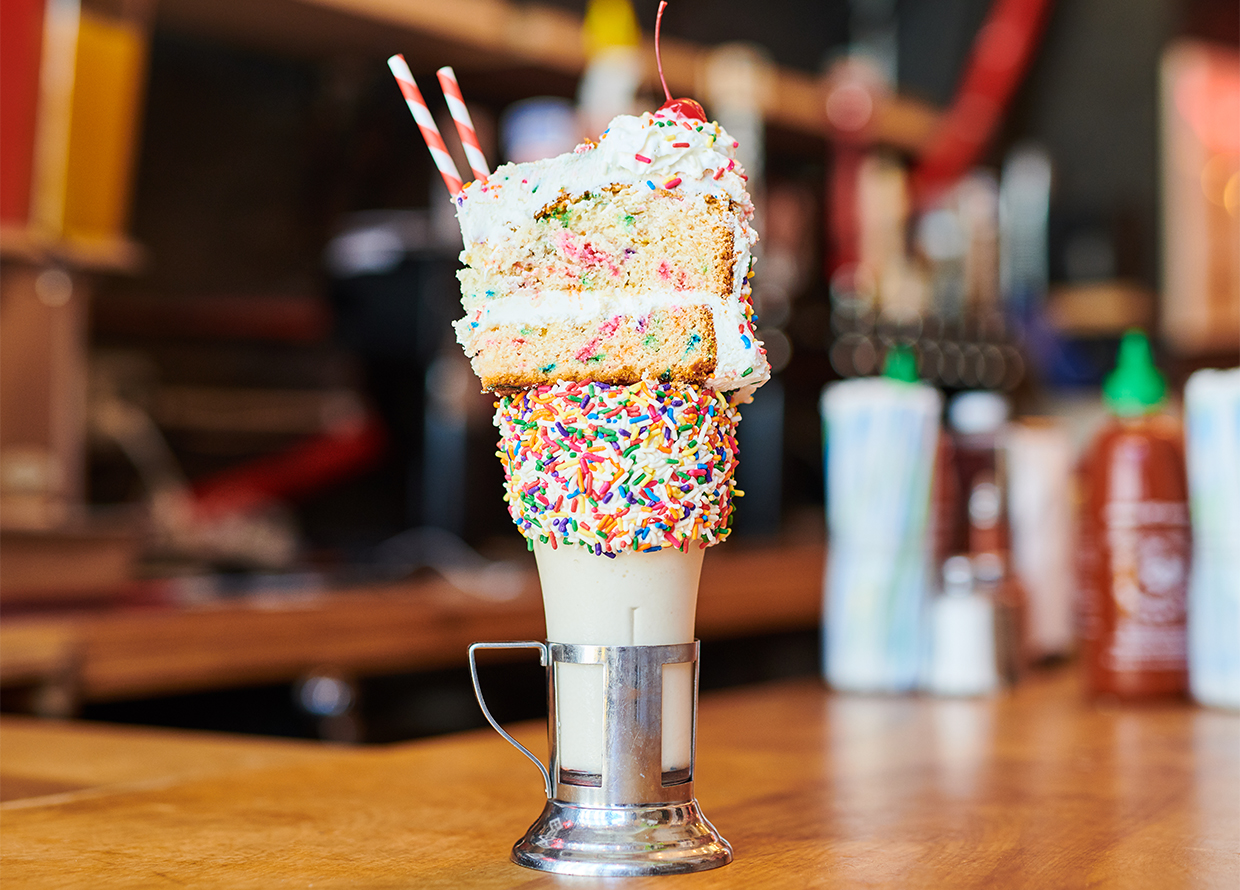 Address: Main Street, Sunway Resort Hotel, Persiaran Lagoon, Bandar Sunway, 47500 Selangor
Opening hours: 11am to 1am (Daily)
Contact: +603 7492 8000
Website | Facebook | Instagram 

Fire & Slice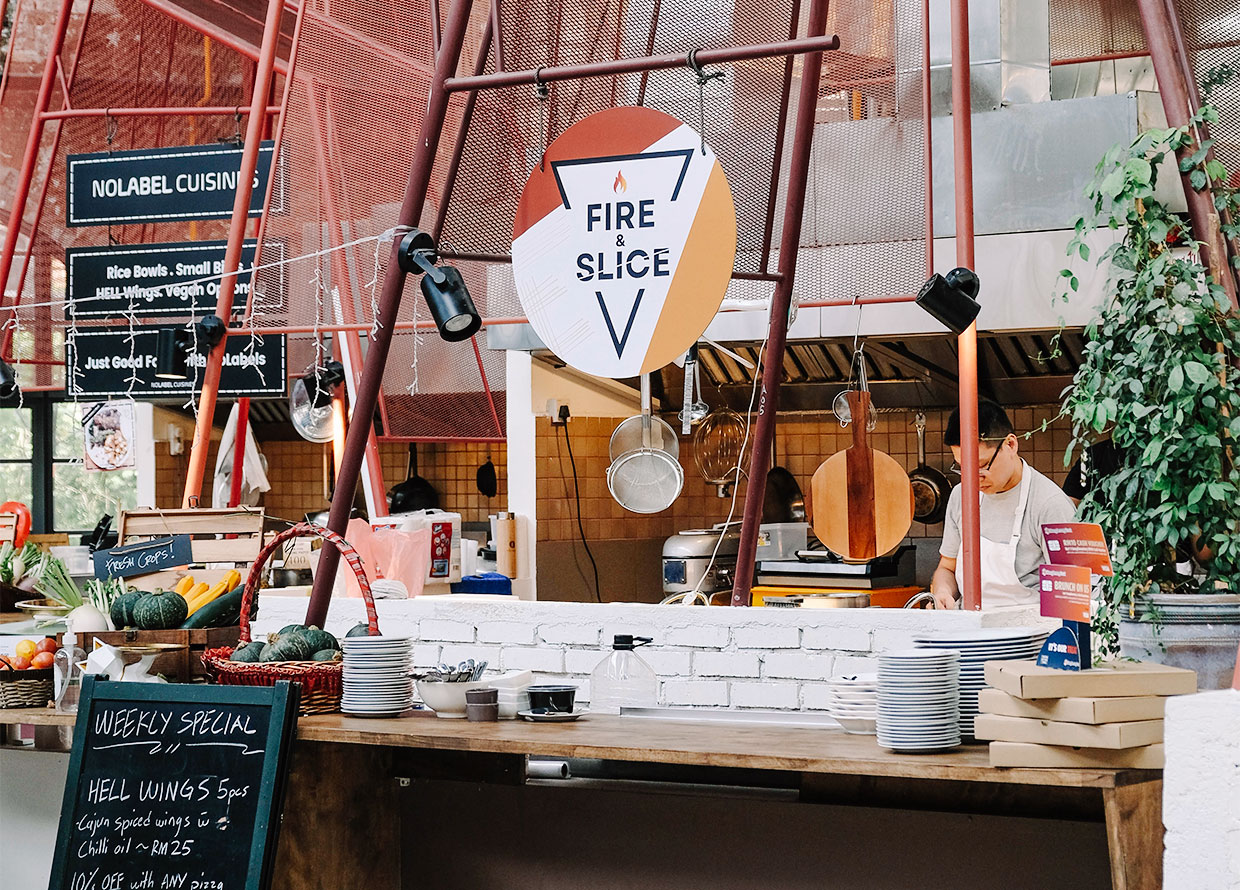 "There's a new pizzeria in town and it's tucked inside the bustling hip food court that is Tiffin By the Yard. Founded and helmed by Shawn Koh, Shane Law, Chien Yow Sin, and Goh Ki Hong, they come with a combined 60 years of culinary experience, especially in pizzas due to their work experience at Pizzeria Mozza in Singapore. Chef Koh began his culinary career in the kitchens of Marina Bay Sands and W Hotel Singapore and worked his way up the ranks in reputable restaurants. With a passion for fresh produce, the team worked to bring the first farm-to-table pizza concept to Malaysia with an emphasis on locally-sourced and pesticide-free ingredients exclusively from their farms, to elevate the essence of Asian and Malaysian flavours.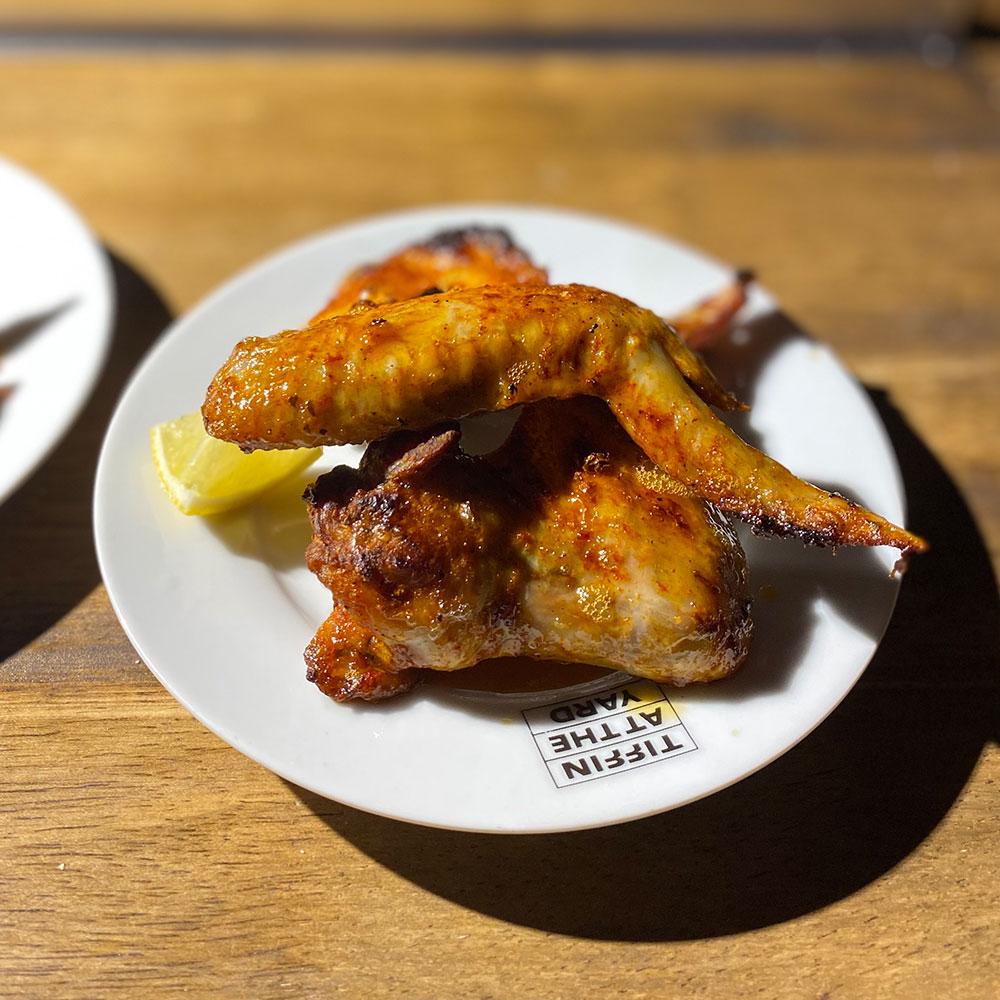 "As a mean devourer of pizzas, I was excited to try out Fire and Slice and witness chef-patron Chef Koh's Italian pizza-making techniques. It's hard to miss the establishment when you walk into Tiffin, what with its giant wood-fire oven, crates full of huge produce and of course, the smell of freshly toasted bread. With an open kitchen concept, you can see chefs rolling out and tossing the dough in the air which made me giddy with anticipation. While I waited for the pizzas, I was served a plate of Hell Wings. For a pizza place, the chicken wings were lip-smackingly good. They actually had a nice kick to them (I have this thing against dishes being called spicy when they're not) and were roasted to perfection whilst still being juicy on the inside. Definitely get a plate or two of these to go with your mains!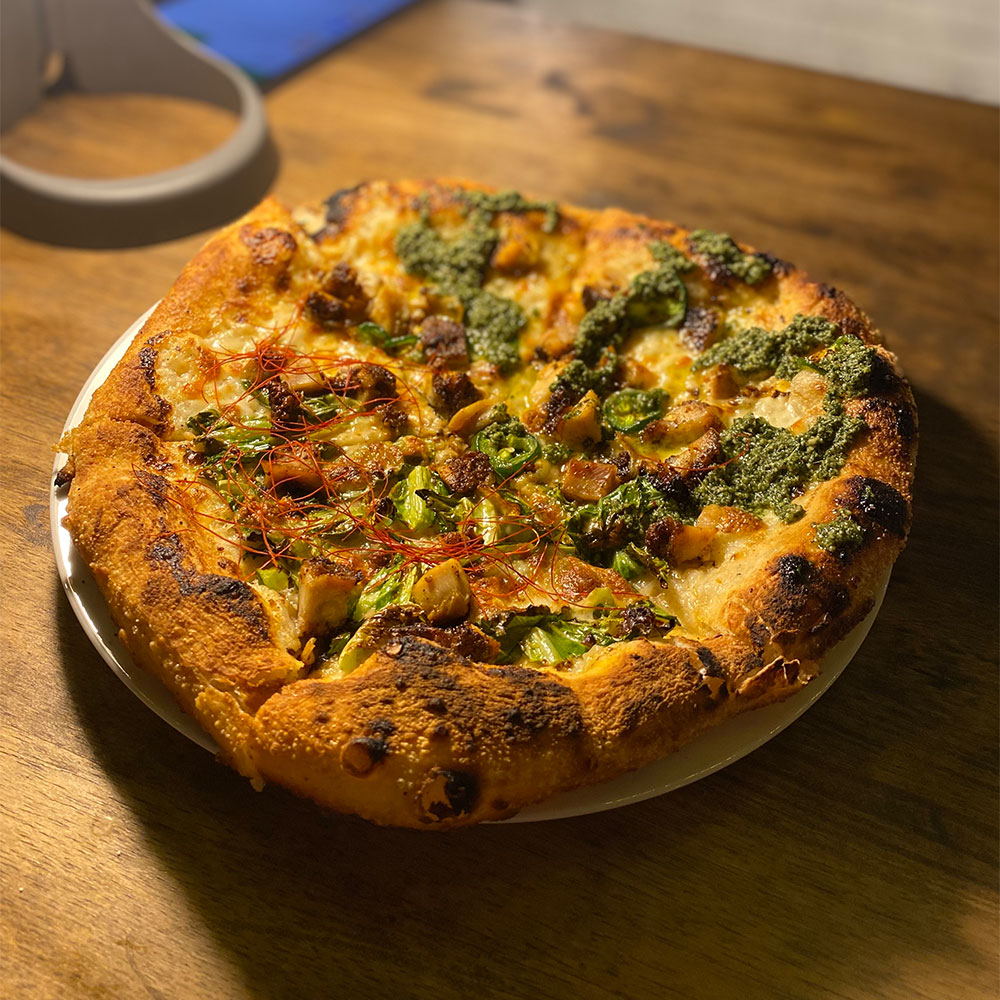 "Then came the pizzas. The menu is split into two: Pizzas for traditionalists who like their Cream Mushrooms and Pepperonis; and Signature for unique fusion dishes. The first one to roll around was Baby Kai Lan served with Garlic Cream, Mui Heong Bagna Cauda Angel Hair Chilli and Fennel Marinated Chicken. Everyone and their grandmothers have had stir-fried Kai Lan with garlic before but Fire and Slice was able to turn this staple dish into something special. For one, roasted Kai Lan is a revelation. The leaves turned out crunchy and even tasted a bit like kale (rest assured, I will be cooking my kai lan in the oven from now on). The Mui Heong chilli with anchovies was also not overpowering and the garlic cream perfectly complemented it. This is a seasonal item on the menu so if the Kai Lan pizza is still available, do give it a try.
"The next pizza was the Laksa Pesto Chicken that came with Fennel Marinated Chicken,  Jalapeno, Mozzarella Panna and Signature Laksa Pesto. If you're worried that it might be too jarring for your tastebuds, fret not as Chef Koh consciously made sure it would suit the general palate. If you want more, simply scoop more of the pesto onto your slice. In saying that, I did wish it had a stronger laksa flavour as it was a bit too subtle for my liking. The third pizza was Langkawi, Fire and Slice's reinterpretation of the classic Hawaiian pizza. While I'm not a pineapple-on-pizza person, the pineapple infused with Bunga Kantan was admittedly delightful. The momo-doro sauce and smoked duck were also nicely seasoned.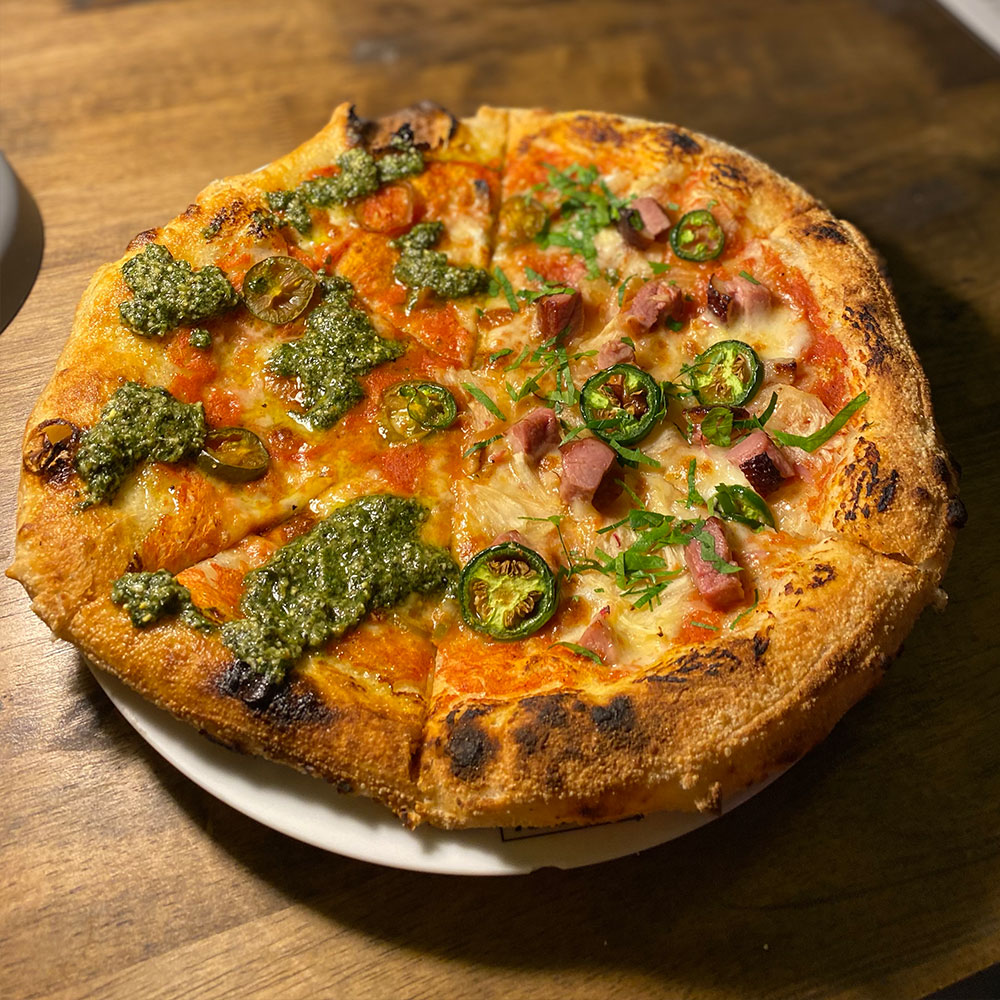 "Last but not least was the Margherita v2.2023 which is actually my next favourite after the Baby Kai Lan. Fire and Slice prides itself in its high-quality fresh produce from its farms and I could definitely taste that in the Margherita. The heirloom tomatoes were ripe, sweet and juicy whilst the Thai basil pesto is something I need pots of. Definitely not the typical Margherita you would expect! Apart from the toppings, a pizza is only as good as its dough. I'm happy to say that Fire and Slice's dough is really good—Chef Koh didn't divulge his secret dough recipe but did share that it's a blend of Italian and Japanese dough—resulting in a satisfying chew and a light and airy texture. No crust was left in sight.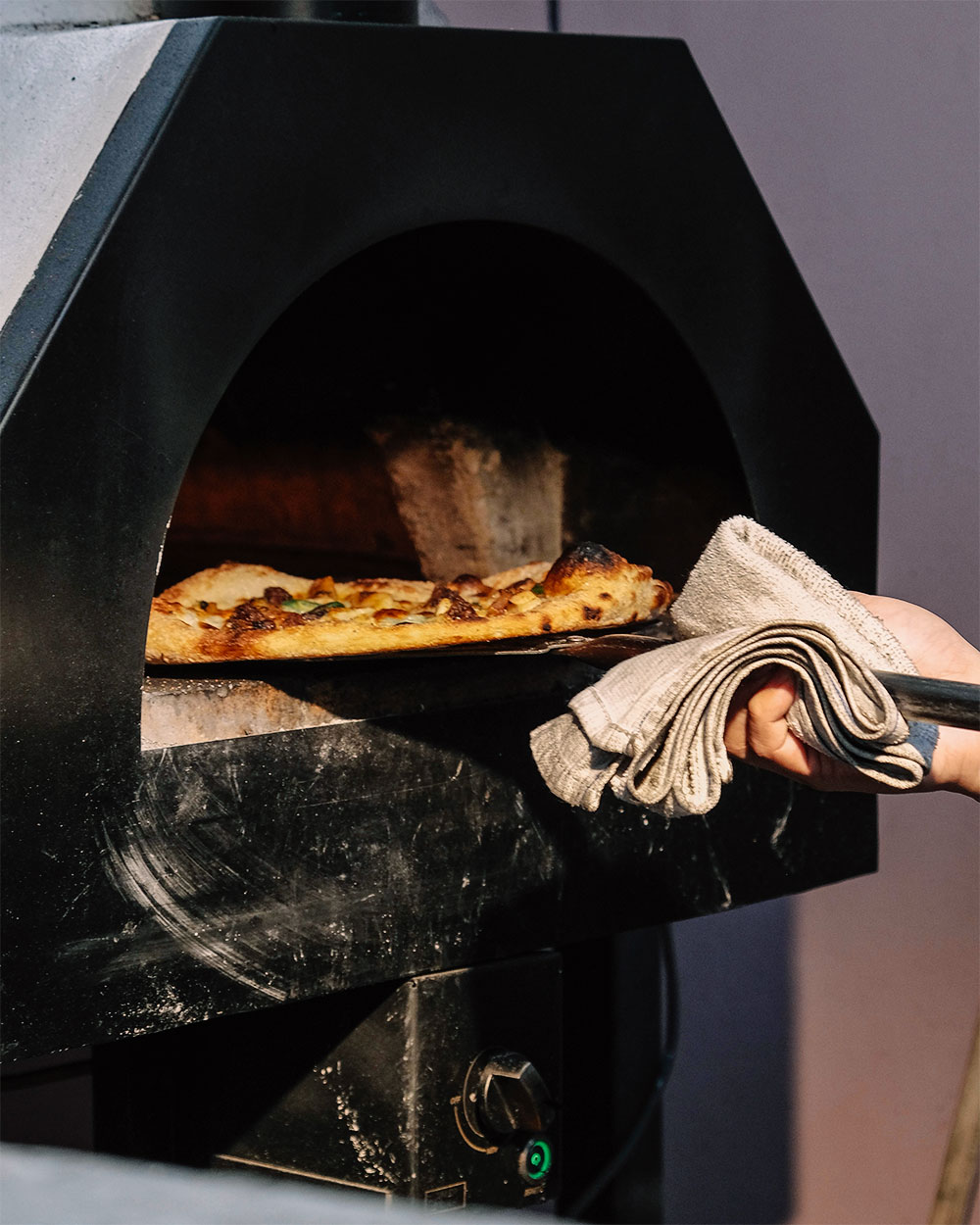 "Overall, Fire and Slice offers an array of unique locally-infused pizzas as well as the classics for the conservatists. If you're looking for a pizzeria that delivers excellent wood-fired pizza using fresh and quality ingredients, excellent dough and serves a good cause (Fire and Slice is committed to sustainable farming and reducing their carbon footprint), this is where you need to be." — Marissa Chin, Lifestyle & Culture Writer
Address: Tiffin by the Yard, Sentul Depot
Opening hours: 5pm to 10pm (Thursdays and Fridays),  10am to 10pm (Weekends) | Closed on Mondays to Wednesdays 
Contact: 017 988 0696
Find more food reviews here. 
| | |
| --- | --- |
| SHARE THE STORY | |
| Explore More | |