Food + Drink
Review: The Kappo omakase experience at Sushi Kazu KL, Pavilion at The Five
It'll surely be your 'kappo' tea
PHOTOS: Kazu Kuala Lumpur / Writer's own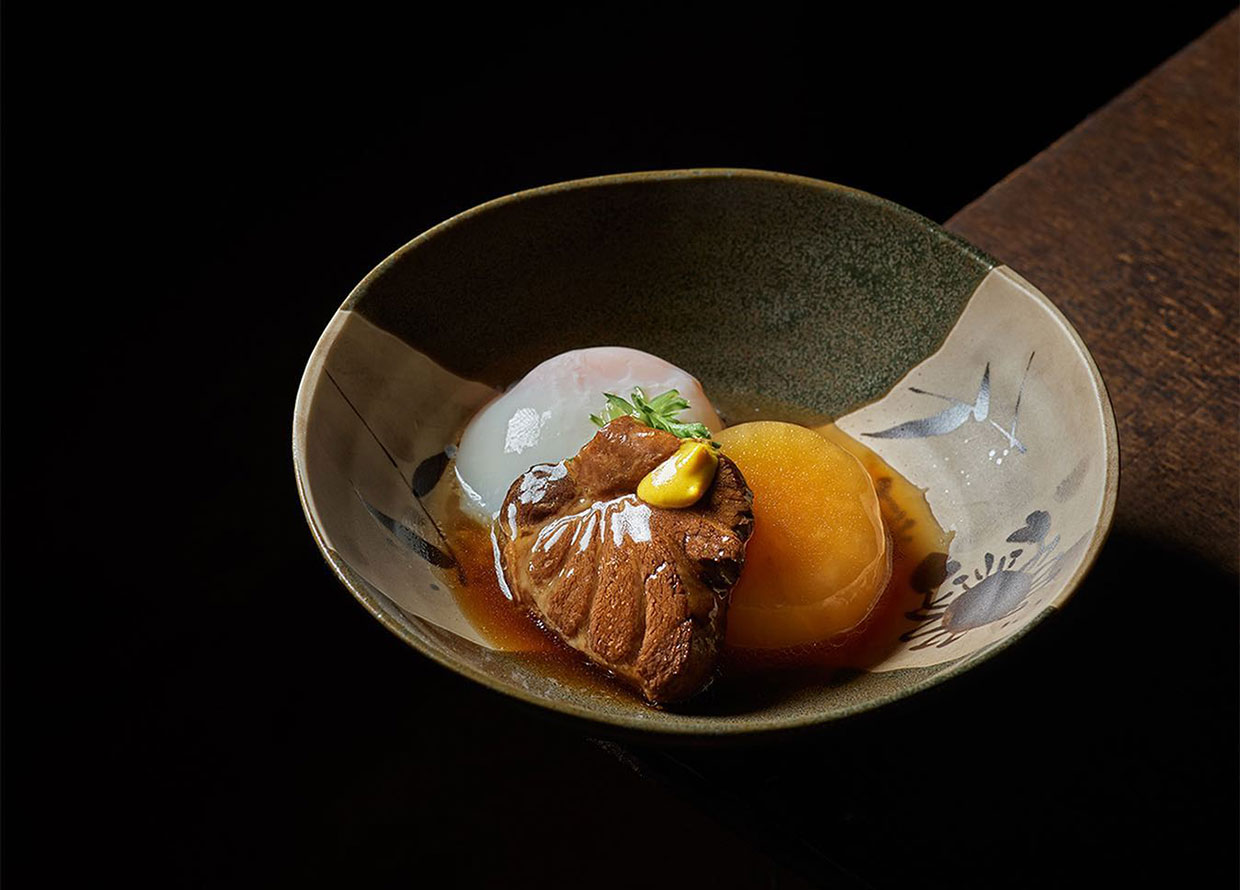 Sushi Kazu has found a new gorgeous home and even expanded the family to include Kazu Kappo and Kazu Ba by 61 Monarchy.
Omakase restaurants in KL are aplenty but few leave as lasting of a first impression as Sushi Kazu. Having opened a few months shy of the global lockdown, the establishment persevered throughout, gaining with it a fanbase loyal enough to be better known as friends. Since then, Sushi Kazu has moved from its humble beginnings at Plaza Batai, and into a larger playground with the same cosiness and an even more ambitious vision. As such, they're now rebranded to Kazu Kuala Lumpur (or Kazu KL, for short).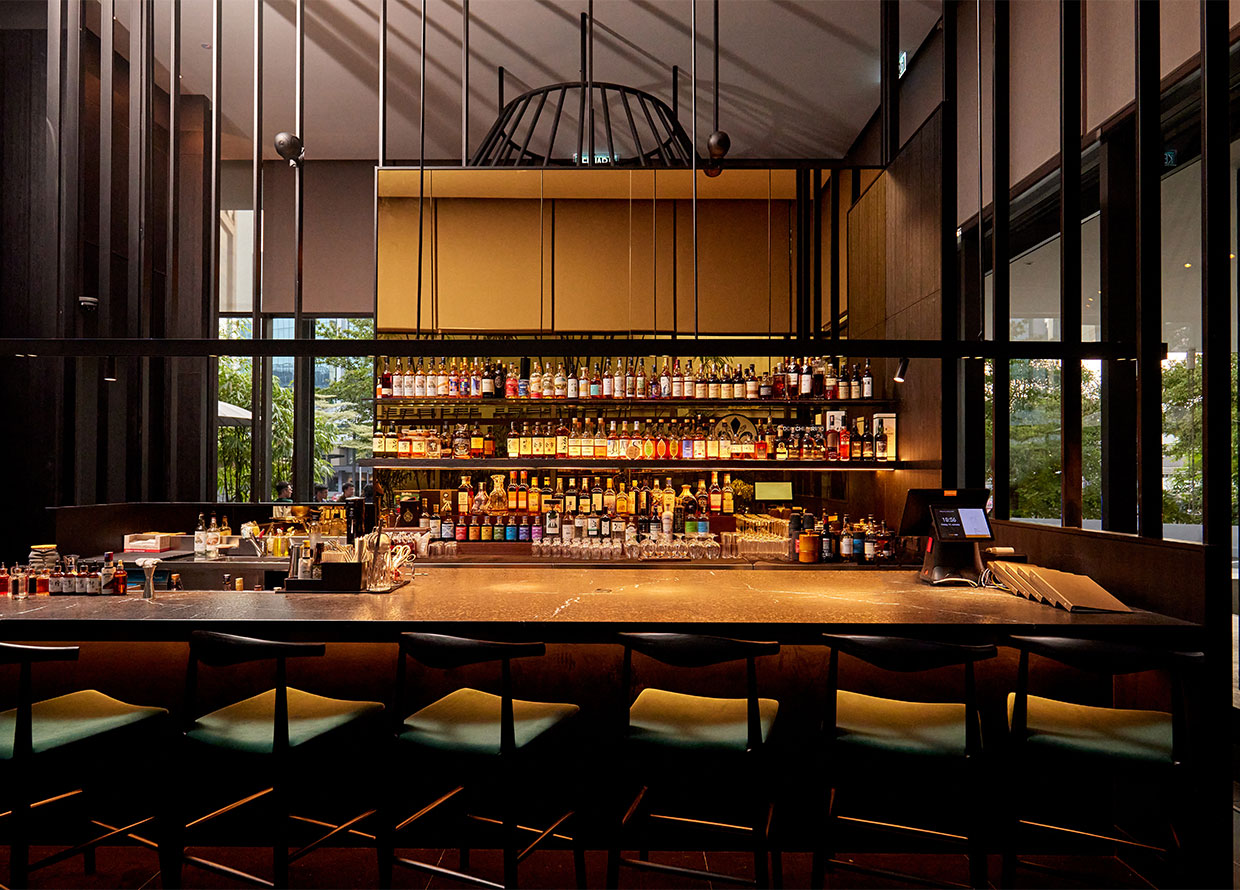 The Five and its surroundings of late have become a popular destination for new eateries and offices. Sushi Kazu resides at Pavilion at The Five, granting plenty of space and parking after-hours, and a Zen-like escapade thanks to a detailed architect (the same one who did the first Sushi Kazu!) and a dedicated landscaper. Right next to the front doors is Kazu Ba by 61 Monarchy, offering a pleasing sanctuary for happy hours and late-night chats, complemented by a varied menu of drinks, ranging from delicious Japanese-inspired cocktails to IB (Independent Bottling) tasting flights to leaving it entirely up to the bartender. The best seats are by the counter, upfront with the bartender, where you can learn about some of the unique bottles they have and the stories that come with them.
Past Kazu Ba is a door leading to the soon-to-be private dining space that could sit up to 20 persons, and across the corridor, beyond the glass windows is an outdoor seating area for drinks and bar bites. This area is only a quarter of the entire entity that Kazu KL. As we were ushered past the entrance area and down a long walkway, we caught glimpses of Chef Norikazu Shibata charming guests in another dining area—this was the familiar Sushi Kazu. But our dinner was behind the doors next to it, which was marked 'Kappo'.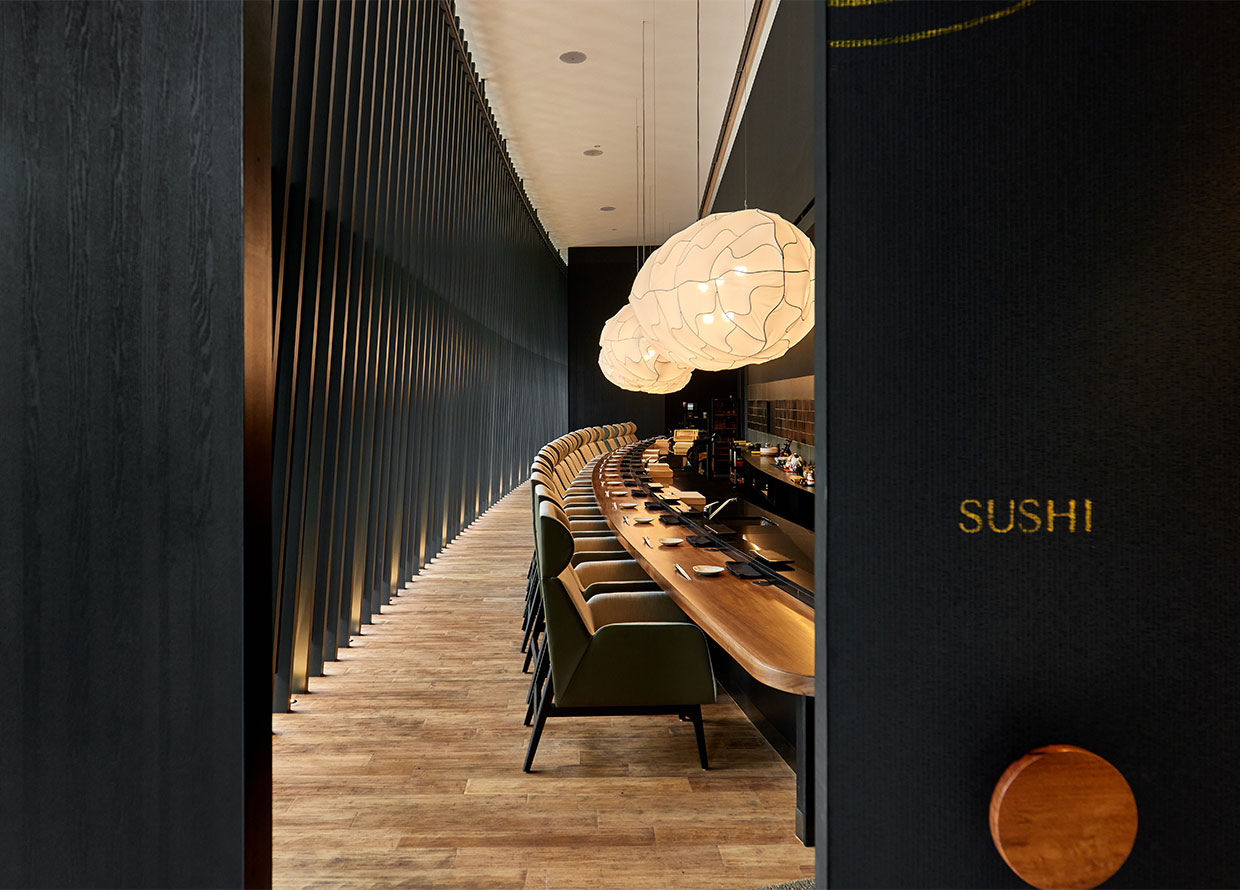 According to the Michelin Guide, 'kappo' boils down to 'to cut and to cook'. It's a similar concept to 'kaiseki', where you'll find a seasonal multi-course menu of dishes, only less formally presented, with fewer restrictions and leeway for slight experiments. As such, kappo chefs are usually skilled in a variety of cooking styles, be it grilling, frying or even whipping up a stew. Counter seats are another standard feature of kappo dining, mimicking the intimate yet casual relationship a diner would have with the chef behind it. To play this role, Kazu Kappo has enlisted the wits of Chef Ricky, formerly of Ebisu at Pavilion Kuala Lumpur Hotel to man the fires, the kitchen counters and the friendly conversations with guests.
Kappo is still an omakase experience and our 'Sakura' Omakase Course menu (RM598++) even provided the option of upgrading it to include a wine pairing (RM250++). As Kazu Kappo is still in its early stages, the co-owner tells us that the menu might change monthly but the theme is always surrounding the seasonal produce. At this point, Chef Ricky mused that Kazu KL came as the perfect opportunity as he was considering opening his own restaurant. After all, "cooked food is my [speciality] cuisine," he told us.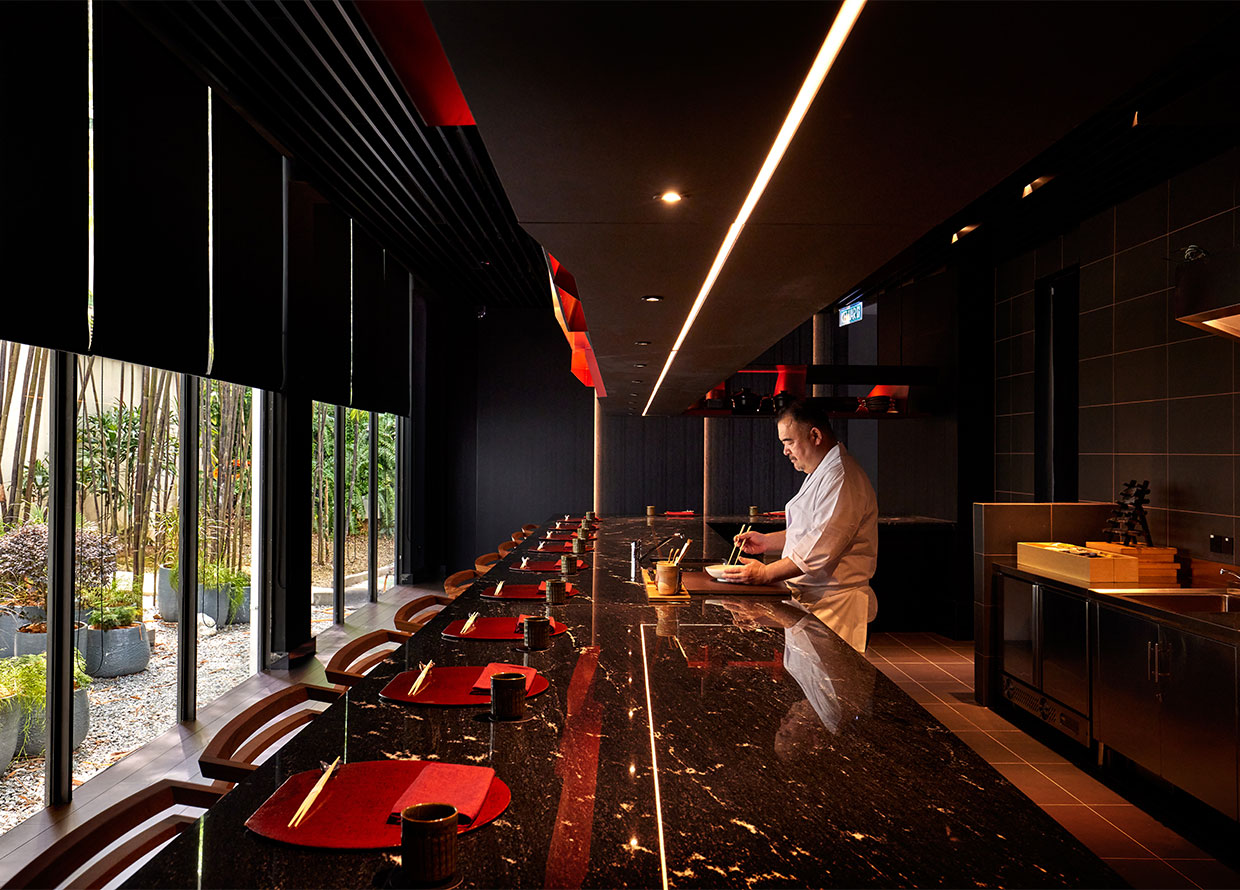 Spoiler alert: It wasn't an empty boast. The 'Sakura' Omakase Course menu kicked off strong with king crab served atop silky beancurd skin, surrounded by clear dashi jelly for texture. For the hors d'oeuvre, a small ceramic box arrived with simple-looking mackerel sushi and boiled prawn with a headband of caviar. Within the box, however, was a unique combination of salted fermented squid and sweet prawn. Both were paired with a glass of airy champagne from Spain.
The party truly started with the steamed chawanmushi, which has been embedded in my mind ever since the first scoop. The egg custard was soft, smooth and delicate, but embroiled within its flawless shape was a fluffy, brown item I had mistaken to be beancurd. It was bread. A refreshing experience from a slight confusion, the steamed bread with egg worked surprisingly well. When asked the reason behind this unexpected ingredient, Chef Ricky sheepishly admitted it was his signature to use bread and he thought it levelled up the impression of a simple chawanmushi. Mission accomplished, I'd say.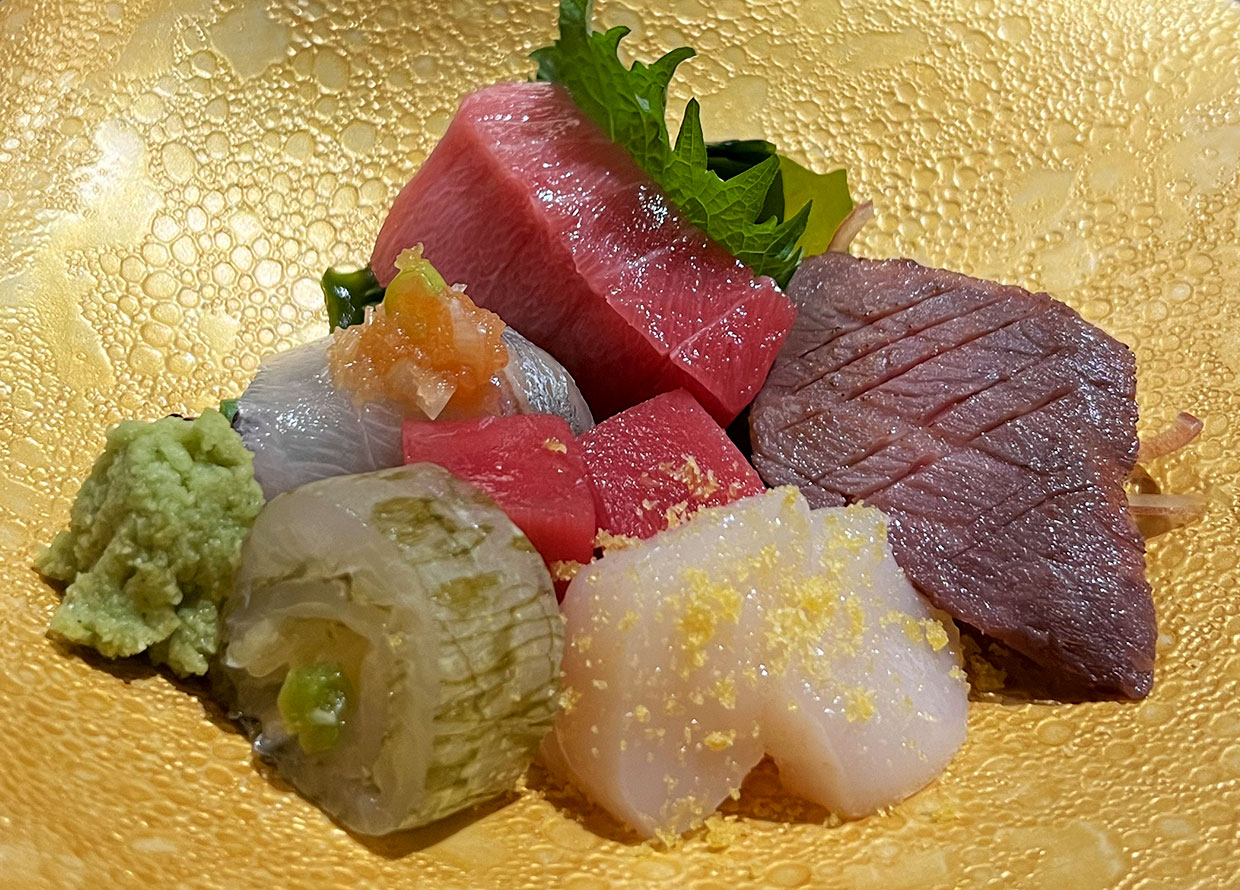 At this point, it's worth remarking that once again, Kazu KL pays immaculate attention to detail. The tableware is beautiful beyond words and the co-owner replied that they were all hand-carried back from Japan—even Chef Ricky was not spared of the chore. 
Next, it was a garden of fresh sashimi selections such as tuna belly, flounder, yellow jack and A5 Wagyu. While the raw fish were all tender and fresh, the standout was the flounder that had been wrapped with kombu for a green patterned exterior. Chef Ricky shared that they receive fresh fish delivery twice a week. 
Moving on to the more cooked segments of the menu, a porcelain teacup was placed in front of me. Within it was a thick cube of simmered A5 Wagyu sitting in sweet sauce and mashed potatoes as velvety as the beef. It all simply melted on the palate. Despite being a loyal fan of whites, the wine pairing of choice, Lucien Crochet Sancerre Cuvee Prestige 2015, was a beautifully aged vintage that was crisp, clean and woody. One might assume a sake pairing would be the obvious choice, but Kazu KL's co-owner opted for wine as it was lighter and placed more emphasis on the food. Discovering wines like that was also a personal interest, he added.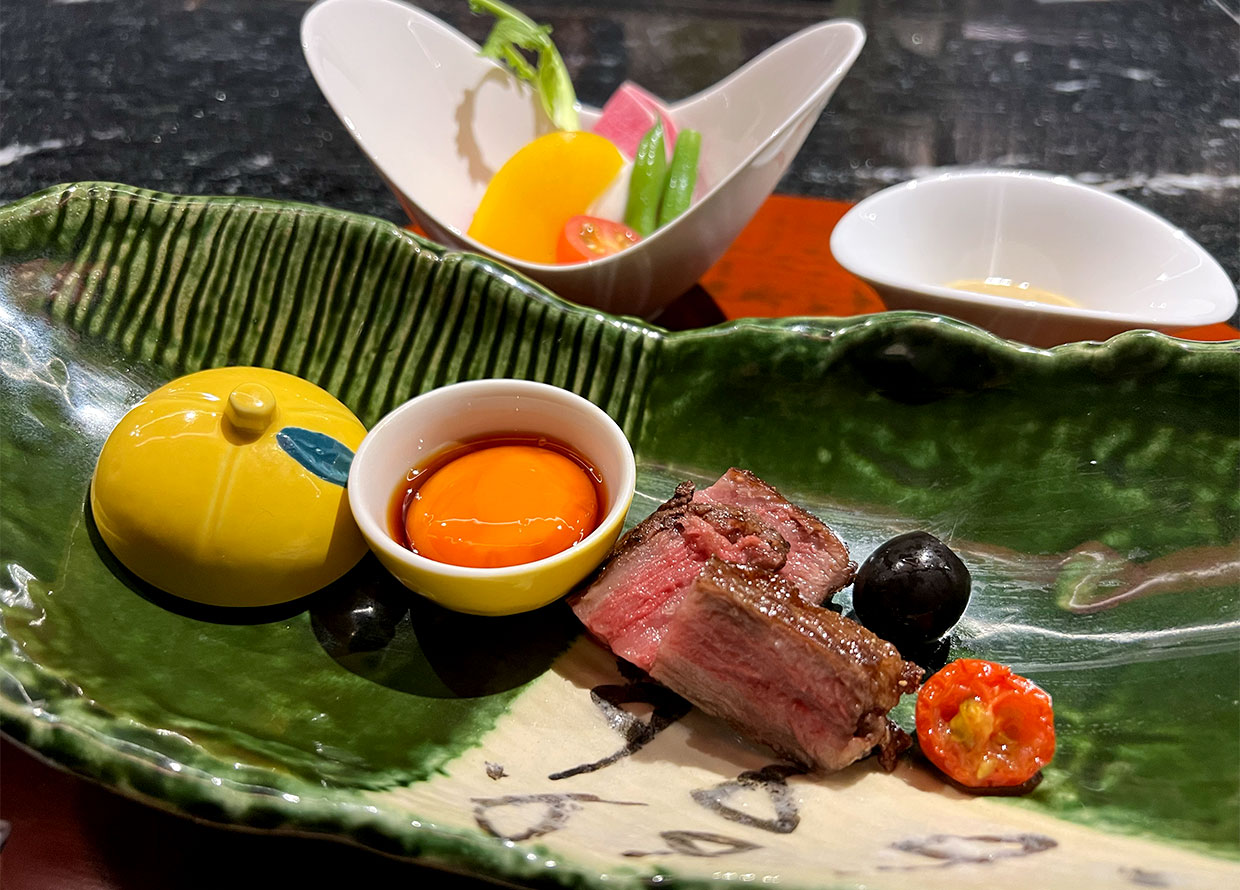 The kappo omakase menu continued with tempura and a magnificent charcoal grilled A5 Wagyu that offered two 'dipping' options, bagna cauda or the dollop of golden egg yolk in soy sauce. Personally, the egg yolk was a better accompaniment to the Wagyu's buttery umami. The savoury festivities concluded with a much humbler dish, cooked rice with chicken and burdock, and red soybean paste soup on the side. Simple but comforting. 
For dessert, it was lightly fried Japanese pastry warabimochi, fruit and yuzu sorbet, concluding what felt like the perfect meal. The portions were perfect, and the journey of flavours was the rollercoaster ride that kept my palate on an excited edge. The presentation was a quiet sidekick that enhanced the experience while doing the dishes justice. To put it simply, Kazu Kappo's omakase felt like a performance you'd want to experience again, and again. 
---
KAZU KUALA LUMPUR
Address: Pavilion At The Five, Lot 54303 & 54304, Jalan Gelenggang, Bukit Damansara, 50490 Kuala Lumpur
Phone number: +603 2011 8211 
Opening hours: 12PM – 3PM | 7PM – 10PM (closed on Mondays)
| | |
| --- | --- |
| SHARE THE STORY | |
| Explore More | |