Sushi Kazu welcomed its first guests in early 2020, and I left its doors back in March, with my stomach adequately full and my palate immensely satiated. MCO happened not long after and hence, it took me this long to finally be able to write a review that does my experience (and Sushi Kazu) just. From the headline of this article to this very word, it's obvious this quaint omakase restaurant has my approval. This is how it earned it.
For starters, Sushi Kazu is literally a hidden gem. Head to the end of Plaza Batai where Yum-Me-Place and its famous pork noodles reside. Next to it is an unassuming door which will lead you up the stairs to Sushi Kazu. Behind that door is an intimate, elegant setting that welcomes 26 eager patrons at one time. The decor is simple but understandably so. It's the sea's bounty and what Executive Masterchef Norikazu Shibata does with it that takes the spotlight, after all.
Chef Shibata, who specialises in Edomae sushi, plays a crucial role in the innovative dining experience at Sushi Kazu. With over 36 years of experience that has led him from a sushi-ya in Tokyo to working with some of the greatest chefs in Hong Kong, Chef Shibata has only one principle: "Simplicity is the best test of quality." And it's this very simplicity that will have you going back again, and again.
Naturally, Sushi Kazu is highly dependent on what the sea has to offer according to its seasons. At the time of my visit, Chef Shibata began my omakase journey with something as simple as the squid of the season. Pure white in colour, glistening even, it would seem like a very humble start. And yet, the combination of added squeezed lemon juice, a sprinkle of charcoal salt and a rich smidge of wasabi is all it took to elevate its succulent texture into something more.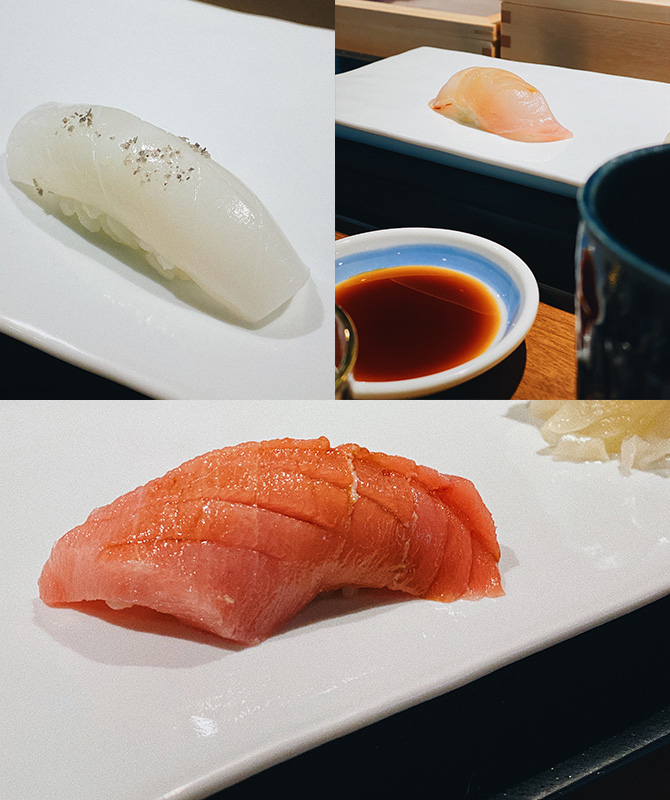 Even the wasabi, though often favoured yet overlooked at the same time, was given a lot of precedences. Freshly imported and grounded on the spot, it's rich, well-bodied and has that unmistakable kick. At Sushi Kazu, a little goes a long way. The next sushi was an aged one. Chef Shibata explained that certain fresh fish might not be in the best condition for taste so to make the best out of the situation, he places seaweed in between to infuse the flavour.
He also served the popular kanpachi (greater amberjack) and chuutoro (medium fatty tuna). Taking the middle part of the fish, the amberjack was plump, fresh and accompanied by a small bit of wasabi. The chuutoro, on the other hand, was sweet, soft and the real kicker was its sidekick of red vinegar rice.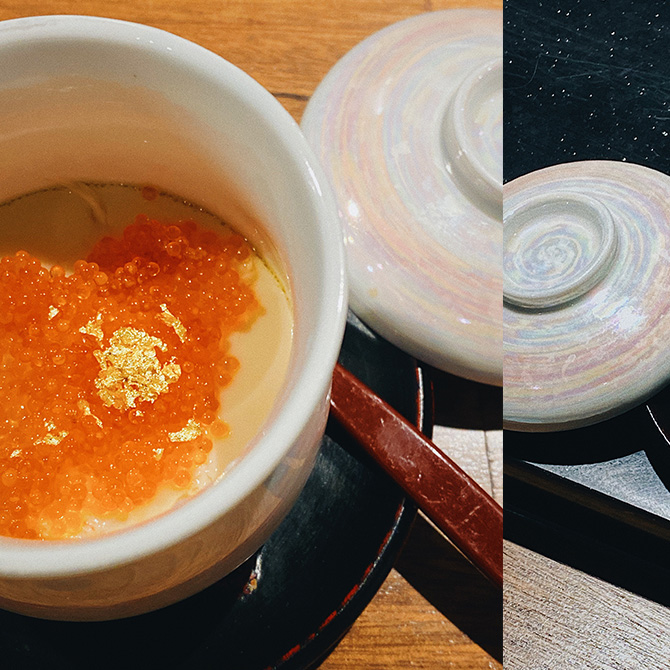 Fans of chawanmushi will take pride in Sushi Kazu's version—an abundance of bright orange fish roe sits atop the silky smooth egg custard that envelops a generous portion of sweet snow crab meat. The cherry on top is a golden leaf. Bewitched by the cup that holds this comfort food (and my attraction to housewares), I learnt that the tableware was sourced directly from Kappabashi in Tokyo, the town that is known to supply the restaurant trade. Good tip, Chef Shibata!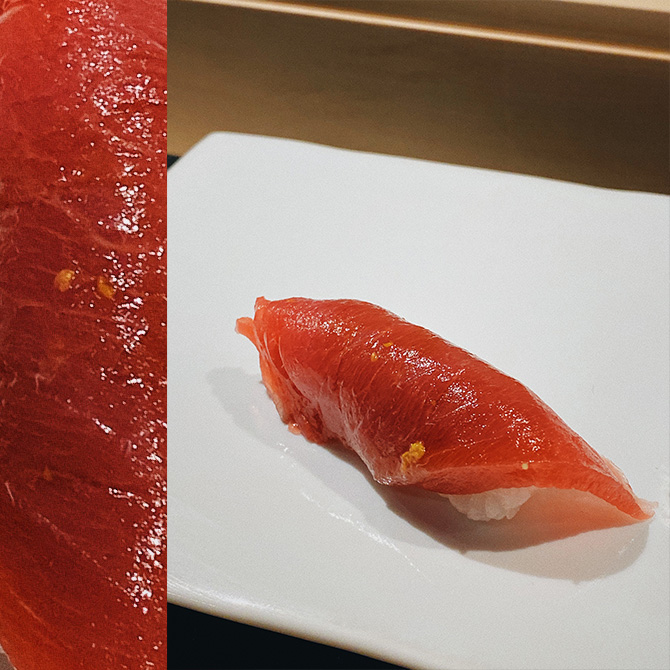 After that slight detour, it was off to tuna sushi that has been given the touch of yuzu zest. In one mouthful, there was first, the fresh, tangy fragrance of the yuzu before diving down to the velvety texture and umami flavours of the tuna. What a trip! Before our next 'destination', Chef Shibata served a side of pickled daikon and ginger to wash the palate. Necessary, seeing as the next dish was the crowd favourite mini bara chiraishi.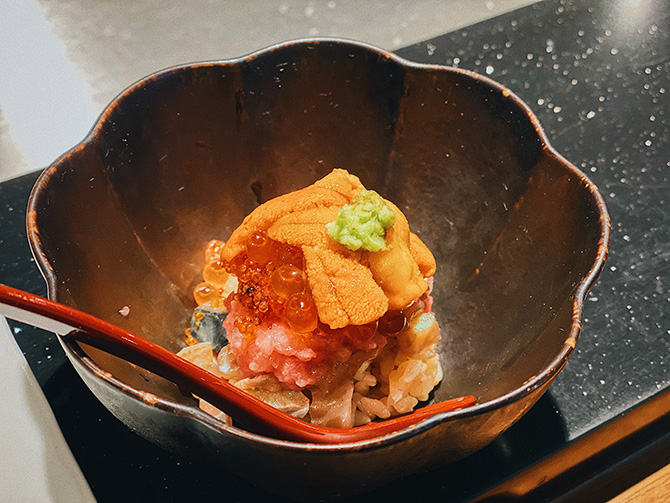 A sight to behold, the mini bara chiraishi (a Kazu special) was hands down the best thing I had at Sushi Kazu. If the ocean was to have a savoury kakigori of its finest offerings, this would be how it looked: Chunks of tuna, a handful of ikura and tobiko and a bed of uni on top. While I was happy to end my omakase here, Chef Shibata probably didn't think so as he then served a well-cured shime saba and a warm, roasted anago (sea eel).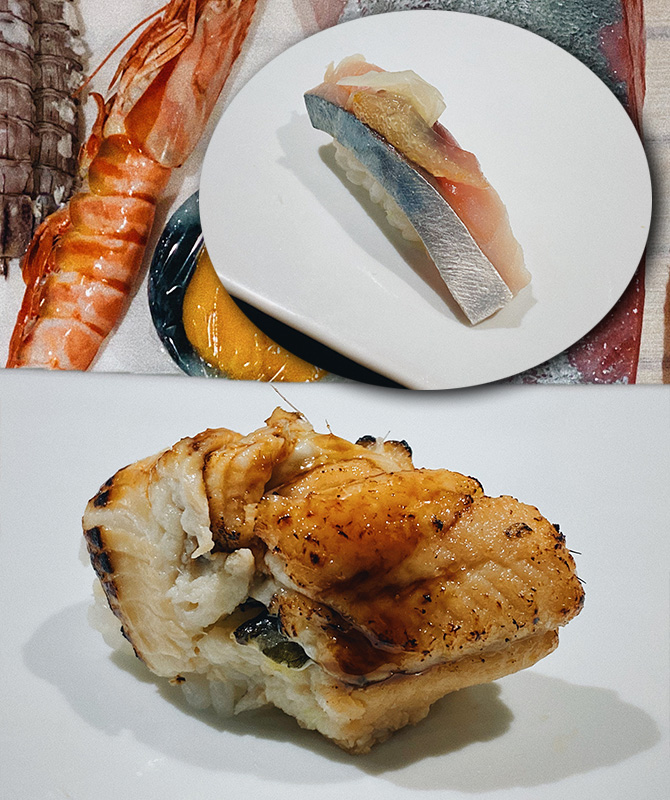 As I write this, I'm not ashamed to admit I'm salivating at the memories but that's enough to guarantee a second (third and more) visit to Sushi Kazu soon. Chef Shibata knows what he was talking about when he spoke of simplicity. The beautiful treasures of the sea deserve the spotlight. Finely and masterfully cut and prepared, the meat holds just enough fat and texture. Considerably pieced together, the additional condiments or companions complement rather than compete. What you get is the true taste of the sea. Add that with a competitive price point—for example, Tsuki lunch menu is priced at RM178 for a salad, appetiser, miso soup, eight pieces of nigiri sushi, maki sushi and dessert—and you'll remember Sushi Kazu as fondly as I do.
DIRECTORY
---
Sushi Kazu
Lot 8-A, Jalan Batai, Damansara Heights, 50490 Kuala Lumpur
Phone number: 03 7490 2208
| | |
| --- | --- |
| SHARE THE STORY | |
| Explore More | |