Put your hands up if you love food! Alright, you can put them down now. Welcome to Eats-A-Review—a monthly food review column from BURO Malaysia. The premise is simple. We review cafes and restaurants; and we talk about the best dishes from the respective establishments.
In the September edition of Eats-A-Review: we checked out Yun House (Four Seasons KL), Chow Kit Kitchen & Bar (The Chow Kit), and Quan's Kitchen (Four Points by Sheraton Chinatown).
1. Yun House, Four Seasons Kuala Lumpur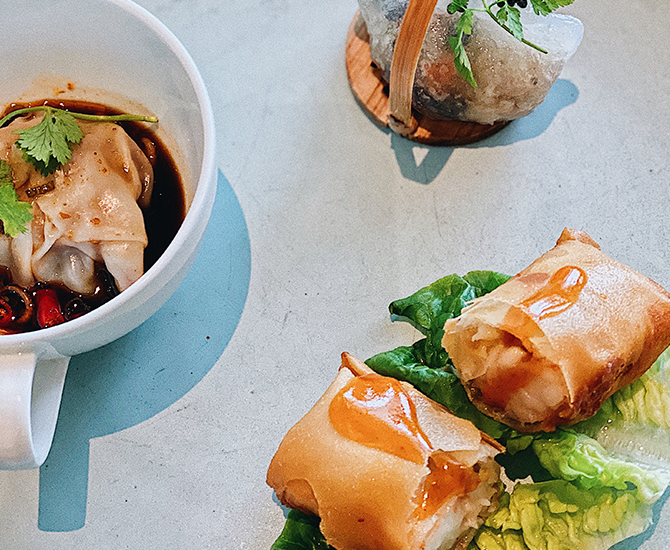 Chinese food is comfort food in my books, and Yun House's refreshed menu of dim sum delights and dishes was a treat. It started with the Chef's Special Combination Platter: steamed wanton with crab roe in Szechuan style; crispy spring roll with foie gras; and steamed dumpling with fish roe. If anything, Yun House is reminiscent of meals at grandma's—they really know how to feed you with its sizeable portions.
Next came the steamed xiao long bao in fish broth, which was yet another step up from the usual xiao long bao one might be used to. The broth was thick with rich flavour and while the dumpling skin was a tad thicker than I would have preferred, it did pair nicely with the broth in a spoonful.
Ying Yang crispy prawns with wasabi aioli and salt-cured egg yolk, as a whole, was definitely my favourite dish of the afternoon. Using juicy, fresh and big prawns, it was an interesting clash of bold flavours, yet each stood well on its own. Then again, I'm a sucker for salted egg anything. The braised Inaniwa noodles with fresh crab meat and preserved vegetables was another nostalgic nod with a generous smash of crab meat on top and a tinge of rice wine, it was the right savoury ending.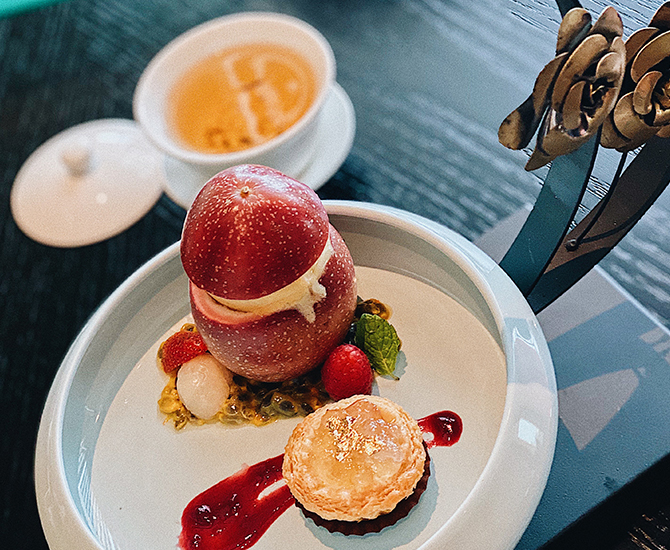 However, the dessert duo might be the one that attracts more patrons (and their Instagrams). Plated on a birdcage-like contraption are a baked bird's nest egg tart (looking like a luxurious nest indeed) and passion fruits sorbet placed within a passion fruit itself (resembling a red egg). Sweet endings are made of Instagram-worthy desserts, after all. — Rachel Au, Editor
For more information or to make a reservation, visit their website.
2. The Chow Kit Kitchen & Bar, The Chow Kit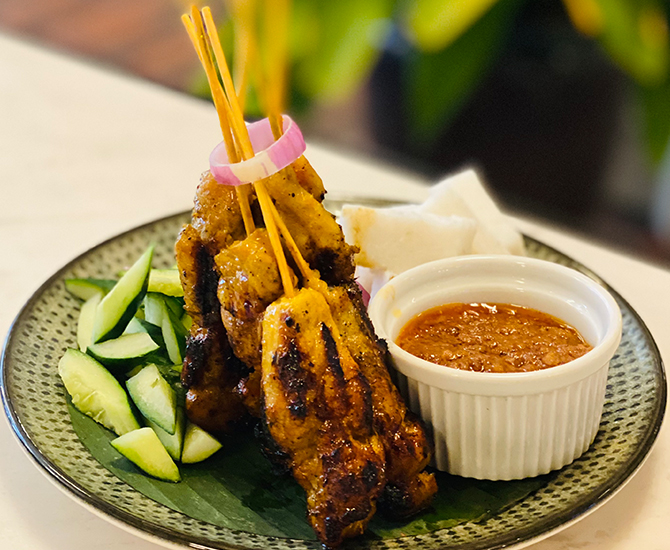 Although it has been a year since I stepped foot in The Chow Kit, I've always heard amazing things about the hotel. Listed as one of the best new restaurants to try in Asia Pacific this year by CNN (Cable News Network), The Chow Kit Kitchen & Bar has successfully cemented a reputation for itself despite having only been opened for a year. On 16 September 2020, they launched a whole new menu that's curated by Chef Juwahir Mustafa (or Chef Ell)—featuring Malaysian classics drawing from the north and south of the country.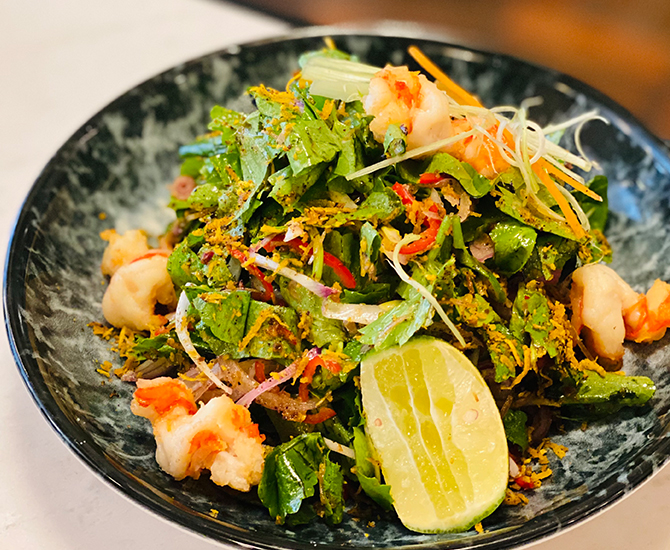 The menu is extensive but definitely filled with unique yet recognisable concoctions—including Pegaga Salad (pegaga leaf tossed with spicy dried shrimp serunding, grilled shrimp, and calamansi lime dressing) and succulent Chicken Satay grilled on a charcoal fire (you can also go for beef or tofu options). What I love best about the Pegaga Salad is how light and refreshing it is. While it is a tad too spicy for me (yes, I'm sorry I'm not Malaysian enough), the heat complemented the citrusy undertones of the appetiser perfectly. I'd even go out of the way and say that this is the ideal opener to most (if not all) meals. Remember to have a bottle of water by your side, if you're anything like me.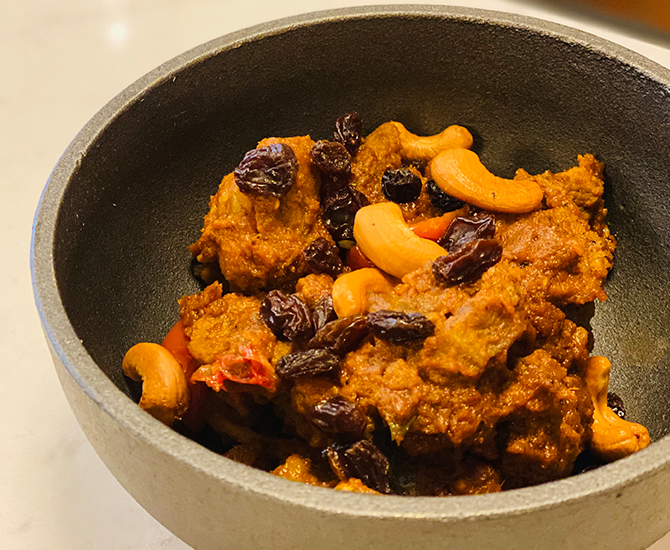 The Chow Kit Kitchen & Bar's new menu includes signature dishes that require advance booking, such as Claypot Curry Fish Head and Signature Chilli Crab. However, if you didn't make a booking, fret not—there are other amazing dishes to try. The Kambing Kuzi (braised five-spiced Australian lamb shoulder with cashews and black raisins) is everything a food lover could ask for. Cooked amazingly tender and spiced adequately, you get a palatable and ambrosial aftertaste with every bite. I'd prefer a stronger and more intense flavour profile but all you have to do is pair the lamb dish with the crunchy and fragrant Nasi Ulam for an amalgamation of gastronomic dimensions.
Another main that I had the opportunity to try is the Ikan Assam Pedas—yes, another spicy dish. The Golden pomfret is served in a spicy tamarind broth with ladies finger, ginger flower, and laksa leaf. Although true to flavours I grew up experiencing, I do think that the broth is a tad too mild. Apart from smelling divine, the meat was prepared exquisitely tender and is actually really good on its own. While you're there, experiment for yourself and see if you prefer the fish with the Assam pedas broth or without. It's the latter for me. — Ronn Tan, Lifestyle Writer
For more information or to make a reservation, visit their website.
3. Quan's Kitchen, Four Points by Sheraton Kuala Lumpur Chinatown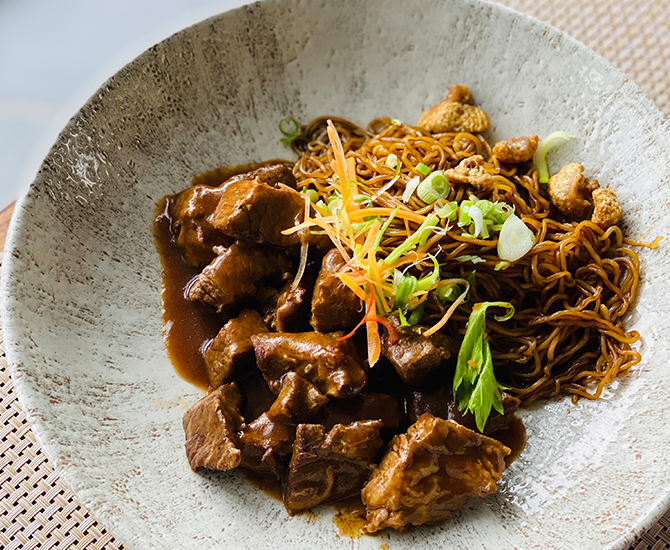 While Jann has cemented quite a reputation of its own with special cocktails inspired by Chinatown and its legacy, Quan's Kitchen deserves a spotlight too—for its setting and of course, culinary offerings. With the recent reopening of the hotel, Quan's Kitchen also has a whole new menu called Nourish that's customisable. Available for dine-in, takeaway, and delivery, Nourish consists of seven Asian and seven Western chef-crafted meals made using freshly sourced local ingredients from organic farms and sustainable fisheries. They are all priced at RM33 nett each and the menu is perfect for a lunch time meal.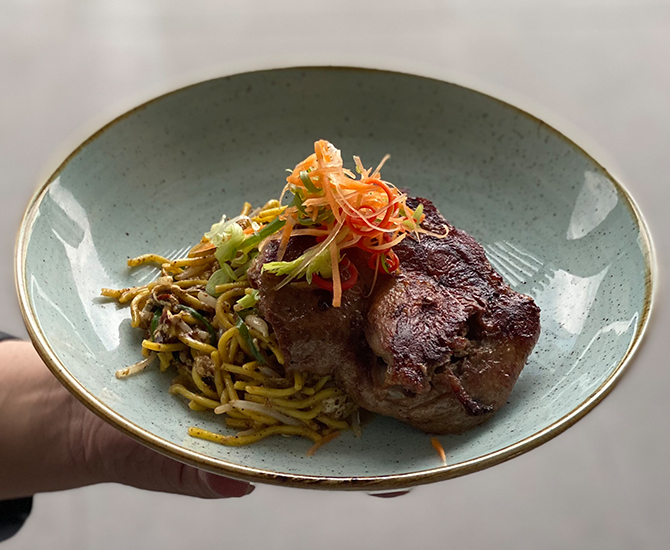 A must-try is the 48-Hour Sous Vide Beef. I paired my main with Kon Loo Noodles and sambal squid. Adequately briny and delectable, my favourite thing about the beef is how supple it is. It's soft and inviting; perfect when eaten on its own but also goes really well with the noodles. Another option on the menu is Dry Rubbed Crispy Duck Confit—paired with dry laksa noodles. While the noodles are a tad too moist (yes, it's the "m" word) for my liking, I really enjoyed the spices infused in the duck confit. The flavour profile is mellow but saccharine enough. Don't forget to check out the banana cake with caramelised bananas and Pan Seared Salmon too. — Ronn Tan, Lifestyle Writer
For more information, visit their website.
Have you tried any of these places yet? If you have, share your thoughts with us! Take a look at the previous list here or stay tuned for the next edition of Eats-A-Review in October!
| | |
| --- | --- |
| SHARE THE STORY | |
| Explore More | |