Food + Drink
Food Review: Ushi x Kinobu, Babe by Jeff Ramsey x Kenichiro Yamauchi, and Chef Wai at The Library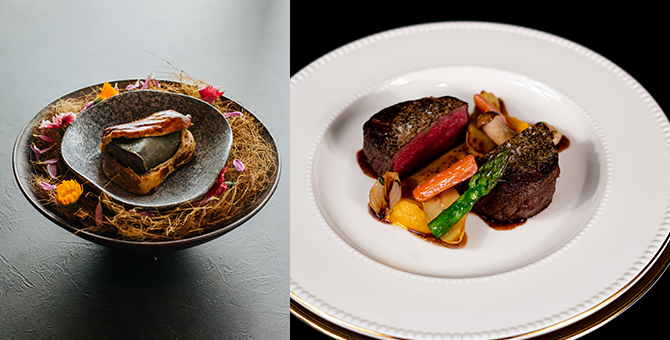 With a plethora of restaurants in Kuala Lumpur, it will take a lifetime (or more) to try them all. Malaysia is a nation of food-lovers and Malaysians take the quality of their culinary adventures seriously. This is why food reviews were written in the first place. Commentaries on places to eat help us pick out the best from the rest. We have seen immense improvements in the level of restaurants here in the city—from new ventures by veteran chefs to ambitious and exclusive one-of-a-kind projects. This time, the roundup of reviews include the Ushi and Kinobu omakase collaboration at The St. Regis KL, the Perrier-Jouet Four-Hands dinner menu with Babe by Jeff Ramsey and Kenichiro Yamauchi, and the autumn menu from Chef Wai at The Library in The Ritz-Carlton KL.
Chef Wai at The Library, The Ritz-Carlton KL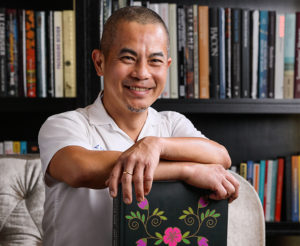 Chef Wai portrait
Dining at The Ritz has been a life-long dream of mine. It's one of those things you see in films as a young child. I don't go to The Ritz-Carlton often and the last time I did was during my brief stint with Louis Vuitton in Starhill. Last month, I had the opportunity to dine at the hotel's The Library (helmed by Executive Chef Wai Look Chow). To be more specific, I was there to feast on their new seasonal dégustation menu that was launched on 24 October. It's easy to be intimidated by the ambience of the establishment—adorned by dim lighting and books on shelves befitting of the restaurant's name. However, all first impressions will be thoughts of the past as soon as your meal arrives.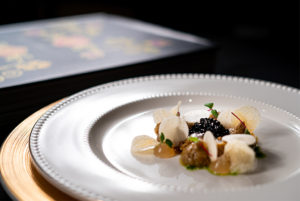 Poached Nasu at The Library by Chef Wai
One of my favourite dishes from the night is Poached Nasu (Japanese eggplant served with Avruga caviar and verjus jelly). Remember what I said about first impressions earlier? The stark contrast between the appearance of this dish and the restaurant's decor is astounding. With a massive hill of caviar in the middle and surrounded by other ingredients, the dish is akin to an island of some sort. Or a diaspora that revolves around a worshipping icon. From the subtle but thorough saltiness from the caviar to the added crunch from sliced watercress, the aphrodisiac entity known as Poached Nasu was anything but dull. Truth be told, I haven't been the biggest fan of eggplants (also aubergine or brinjal)—mainly due to the slight bitterness that comes with the vegetable. However, and you probably saw this coming with the way the sentence was structured, the addition of verjus jelly helped provide a palatable sweetness to the overall flavours. The usage of verjus in place of lemon juice for acidity was a brilliant move on Chef Wai's part. I really appreciate the natural sweetness from white grapes instead of the sharper touches of the latter. An ambrosial and wholesome starter, it is. Definitely not about to refuse extra portions of this!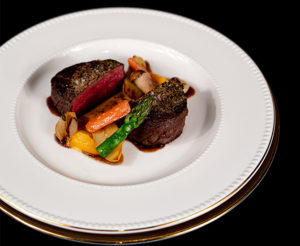 Wagyu Medallion at The Library
Another must-have is one of Chef Wai's most popular dishes—Wagyu Medallion. Known for his meat dish, Chef Wai is giving his signature choice a slightly different rendition; a twist if you will. The grain-fed Australian marble nine Wagyu Medallion is pan-roasted and served with Café de Paris butter. The chef aims "to take the palate of diners on a gastronomic journey that transcends borders and delights in the true essence of flavours in natural ingredients". Does he succeed? Tens across the board, I'd say. My meat was prepared medium as requested and what arrived on the table was beautiful. This is the highest grade of Wagyu beef after all. Shades of red and pink intertwined with the intricacies of the steak. With a trusty fork on my left and a hardworking knife on my right, I went in. The deeper the cut went, the succulence of the meat became more apparent. The intramuscular fat was so juicy that, as cliché as it sounds, it gave a melt-in-your-mouth sensation. There's this sense of welcomed betrayal—how can meat be adorably soft yet so full of character? It's lush, opulent, and gustatory. Everything you would want in a divine dish.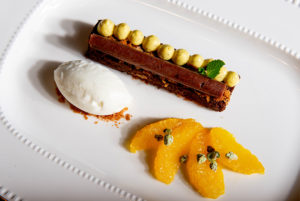 Chocolate Torte at The Library
The Dégustation menu consists of four dishes, including the likes of Poached Nasu, Surf Clam, Whelk & Geoduck, Tai Fish, Wagyu Medallion, and Chocolate Torte. It is priced at RM300 nett per person and RM450 nett per person with wine pairing.
For more information, call 03 2142 8000 or make a reservation here.
Babe by Jeff Ramsey
Chef Jeff Ramsey and Chef Kenichiro Yamauchi
"Four hands" might just mean four hands to many but did you know that the term signifies something significant in the culinary world? According to the Michelin Guide, "these collaborative dinners are the perfect platform for chefs to mingle and learn from each other". It's a break from monotony, a learning opportunity, and a chance to network among chefs. This is why Four-Hands Dinners are popular these days. Recently, Chef Jeff Ramsey of Babe partnered with Chef Kenichiro Yamauchi of Restau K Yamauchi in Nagoya for Perrier-Jouet's second edition of their Four-Hands dinner series. The best of their respective cuisines were showcased using fine and seasonal Japanese and local ingredients. This special collaboration was held for two days only and consisted of eight-course and 12-course menus.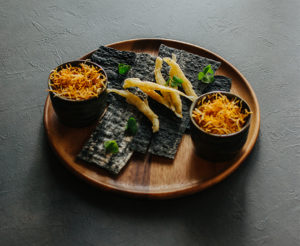 Shirako Bandade
I had the pleasure to indulge in the 12-course menu and it is definitely not an easy task choosing my favourite from the lot. The dishes were ambitious, full of flair, and came packed with personality. However, if I do have to choose, I'll first go with the Shirako Brandade by Chef Jeff Ramsey. The dish consisted of konbu flatbread, crispy potatoes, and yuzu kimizu. Just look at the presentation! To deface such a beautiful creation would be a crime but to not dig in would be worse. I definitely dug into the meal placed in front of me—without any shame to boot. Yes, carbs. I haven't been the biggest eater of carbohydrates—mainly because they aren't the most weight-friendly. For me, at least. However, I couldn't stop devouring those beautiful-looking strips of crispy potatoes. The yuzu kimizu dip, a Japanese version of mayonaisse or Hollandaise made with vinegar and egg yolk, is so light yet filled with zest. Did I just use "enthusiastic" to describe sauce? Yes, I did and that's because the yuzu kimizu (akin to sabayon) was the perfect companion to the potatoes. I thoroughly enjoyed the combination of faint acidity and delicate sweetness that the sauce provided. The soft consistency also meant that you won't feel bloated (even after a bowl!). The inclusion of salted fish and konbu flatbread options allowed me to examine the strength of the sauce; the core of the dish. My verdict: Chef Jeff Ramsey has created a culinary ecosystem. Not an easy feat but to have everything work so well together while revolving around one entity is brilliance at its very best.
Beef Pie at Babe by Jeff Ramsey
The other dish that I really love is the Beef Pie by Chef Kenichiro Yamauchi. If Gordon Ramsay's known for his Wellingtons, then this is definitely one that conjures the rightful thought of Chef Kenichiro. First presented on the table as it is in the image above, the dish was then reclaimed to be served in portions. The Wagyu Tenderloin came with nori, leek, smoked dijon mustard, and kinome sauce. I have to reiterate on the presentation; playful and inspiring. As a child, I remember how much I longed for my first taste of Beef Wellington. In fact, my first experience wasn't Mr. Ramsay's but at Chef Jason Atherton's Berners Tavern in London. I don't plan to ride on that for too long so I shall just say that it was an otherworldly ordeal. One that I would give up a lot to have again. However, the Beef Pie during the Four-Hands dinner at Babe should not be compared to a Beef Wellington. Alright, they might look similar but one thing's for sure—they taste different. On one hand, you have the expected golden pastry and mushroom duxelles-wrapped tender beef, and on the other two hands, you have a dish reminiscent of all things Land of the Rising Sun. Cooked the way it should be (adequately), the beef was toothsome and rich. What I have to rave about, though, is the sauce. I'm excited for the Jennifer Lopez and Shakira Super Bowl half-time performance next year but I'm thrilled for the kinome (prickly ash leaves) dressing even more. Citrusy, zesty, and fresh, the sauce elevated an already pleasing dish. The Beef Pie is, without a doubt, one of the better dishes from the special menu—especially when paired with the 2015 Manuel Olivier Hautes-Cotes de Nuits "Vielles Vignes".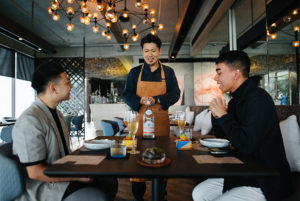 Me with Chef Kenichiro Yamauchi
Other dishes I would love to have again are Kan Buri Nigiri smoked in a 1000-year-old cedar, braised and grilled unagi with sunchoke purée, and Takiawase (Japanese vegetables served in different styles). This is a successful celebration of food and fine champagne. Accompanied with Maison Perrier-Jouët's top quality ABVs, this is a collaboration that needs to happen again. Sooner than later, please.
For more information, visit this website or call 03 2095 8599.
Ushi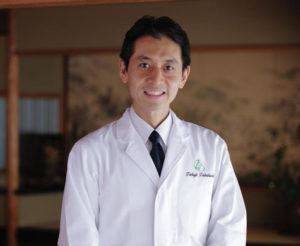 Chef Take of Kinobu
Wait, is this really my first ever omakase experience? Fortunately, it is—because this seems to be an impeccable start to my omakase adventure. The St. Regis KL's Ushi Restaurant is known for its premium selection of beef, especially the Ozaki beef. After all, ushi is cow in Japanese. But that's not Chef Satoshi Uehara in the picture above. You are right, it's not—that's Michelin-starred Master Chef Takuji Takahashi. He came all the way from his restaurant, Kinobu, in Kyoto to prepare a kaiseki (traditional multi-course dinner) omakase meal that was available from 5 to 8 December 2019. The nine-course menu featured the likes of amadai (red tilefish), ebi-imo (shrimp-shaped taro), kani (male crab), and karasumi (dried mullet roe)—all seasonal ingredients. Before we began, Chef Taka said that there are a total of 46 ingredients in the special menu and 50 percent of them are vegetables. Furthermore, the entire menu amounted to only 800 calories! Is that even possible? Definitely not about to doubt Chef Taka.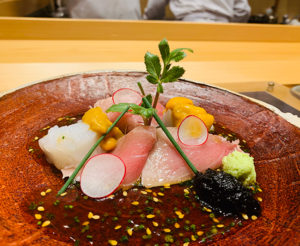 Tsukiri in Ushi
As part of the omakase experience, I was sat at the counter where Chef Taka, Chef Uehara, and their team prepared the dishes. According to Chef Taka, he usually cooks in the kitchen so it's really rare that he does that in front of guests. I was amazed by his poise and tenacity, especially when it came to explaining every dish. Every course was given a name, in the following order—Sakizuke, Tsukuri, Suimono, Agemono, Takiawase, Gohan, Miso Soup, Konomono, and Mizumono. One of the earlier dishes in the menu was Tsukuri which consisted of tuna, squid, sea urchin, winter vegetables, wasabi, and citrus sauce jelly. There were so many components to this multi-dimensional dish. Two separate sauces were prepared; ponzu and nori. The former brings to the party some citrus and acid whereas the latter provides a briny and saline flavour. The way the seafood melted in my mouth was proof that all good things come to an end. The salad-like dish is similar to a garden party but in the sea. The glistening appearance of the tuna and squid can be credited to sprays of water to give them fresher outlooks. The entire dish came together perfectly—like hands that fit in mine.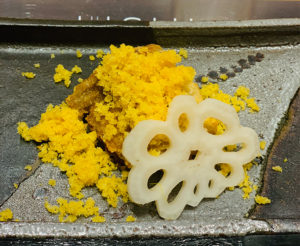 Fish dish in Ushi
Agemono. That's the name of the next dish; also known as "fried" in English. For this specific menu, Chef Taka presented us with the red tilefish, or amadai. Before serving us the plate in its entirety, I had the pleasure to watch Chef Taka prepare the dried mullet roe. He grated the frozen fish to produce the yellow roe you can see in the image above. The natural saltiness of the mullet roe (from Kochi Prefecture in Japan) played a huge part in the overall flavour profile of the fourth course of the night. Expectations ran high when this was revealed as one of the most popular creations at the chef's own establishment in Kyoto. "This is going to be genius", I said to myself. And I was correct—as right as Taylor Swift winning the Artist of the Decade award at the 2019 American Music Awards. Chef Taka explained that fried or grilled dishes in Japan always come with vinegar that's customised based on the choice of seafood. Rice vinegar with yuzu citrus and chilli was used this time. Usage of salt on the fish is minimised to allow the mullet roe to take centre stage and lead in taste train. Accompanied by pickled lotus root, this might seem like a normal dish but that's not the case. In fact, the brackish and melodious bites I get were sublime; with adequately-cooked fish (as expected of a Master Chef). If I ever get to go to Kyoto, the first stop in my itinerary will be Kinobu! Well, Chef Taka did say that he will be giving me a discount.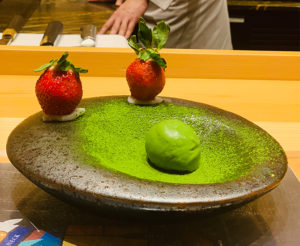 Matcha ice cream at Ushi
I had high hopes going into this because of two reasons—this is my first rodeo with omakase and I will be tasting food prepared by world-renowned Michelin Star Master Chef Takuji Takahashi. In my opinion, this was the best meal I had in 2019. There were many contenders but the Ushi and Kinobu collaboration won me over. From the simmered male crab with shrimp-shaped taro to the female crab with jelly of Happo vinegar to top-notch matcha ice cream with strawberries, every stage throughout the night was a progression. This is why I'm excited for 5 March 2020 (which happens to be my birthday). Chef Takasaki Masahiko of Asuke (with one Michelin star) will be serving Edomae-style omakase.
For more information, visit this website or call 03 2727 6688.
For more food reviews, click here.
| | |
| --- | --- |
| SHARE THE STORY | |
| Explore More | |