Hello, there! It's me again, your accidental resident food person. A mere three months ago, my daily diet consisted of mainly greens, granola, and the occasional chicken (#meat). Fast forward to the present, I have finally arrived at a realisation. Food is love and love is food. Good news for me: the abundance of restaurants and cafes in Kuala Lumpur complements my newfound adoration for all things delicious. Here's a little story about a spot I visited a few weeks ago—Borneo Restaurant and Bar in Jalan Telawi, Bangsar.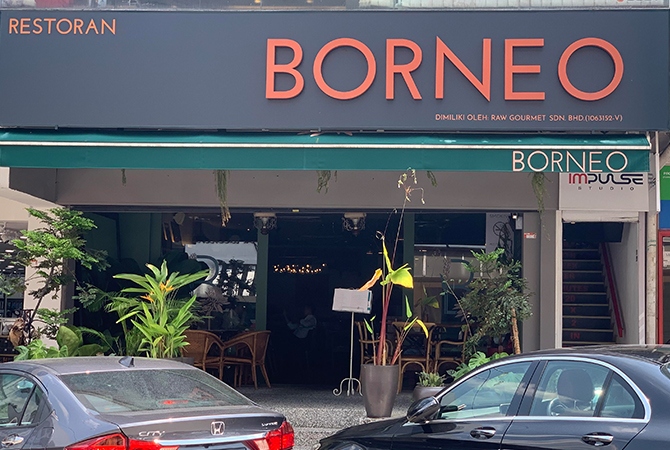 Before I begin though, let me disseminate some Borneo trivia. The third largest island in the world is home to three countries: Malaysia (Sabah and Sarawak), Brunei, and Indonesia (Kalimantan). It has some of the world's most wildlife-rich equatorial rainforests, incredible landscapes, and lush indigenous culture. One thing you should also know is that Borneo is a culinary melting pot. Cuisines there are wide-ranging due to varied ethnic and cultural backgrounds. Whether it's Chinese, Malay, Indonesian, Kelabit, or Iban, culinary traditions there thrive with the availability of fresh, natural offerings everywhere.
As I think about all the ingredients from the island—most of which I've probably never heard of—I am reminded of Sheela Velappan's (founder of Borneo Restaurant and Bar) anecdotes on her experiences foraging for resources in Borneo. Some good, some not as good; you'll just have to ask her and she'd be happy to spill the tea let you know. In collaboration with Sabahan chef, Emily Chak, the restaurant aims to help people gain a deeper appreciation and understanding of Bornean food through modern, contemporary dishes. I tried quite a number of dishes and these are my favourites!
Borneo Satay (RM25)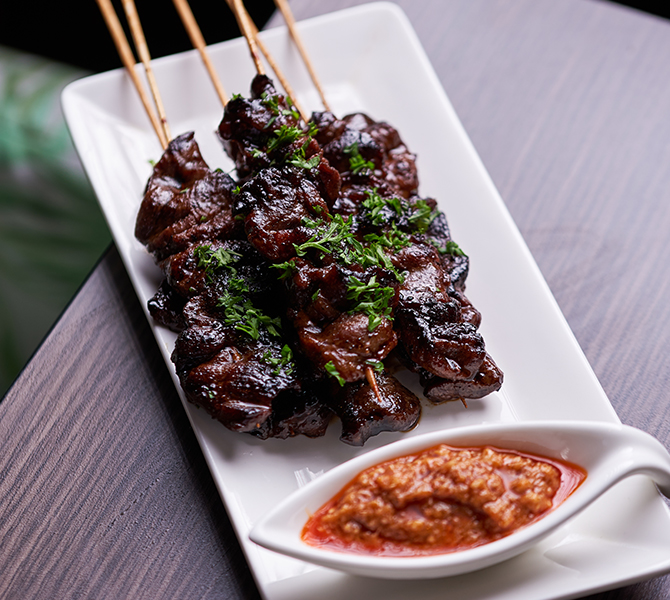 I remember clearly how I felt when this dish was first placed on the table. The meat glistened and sparkled—almost as if it's calling out for attention (which clearly succeeded!). So, what's a Borneo Satay? The restaurant's version is olive-fed pork marinated in gula apong (Sarawak palm sugar) and served with nutty keranji (velvet tamarind) gravy. Did I like it? Let me break it down for you. On first bite (dipped in sauce), flavours I've never experienced came bursting through. The subtle sweetness of the gula apong combined with hints of sourness from the gravy enhanced the essence of the meat. Mind you, the pork on its own already packs a punch, both from the lushness of the meat and the palm sugar coating. Unlike conventional satays one can get at the mamak or hawker stall—which can be quite burnt and thin—the Borneo Satay was adequately grilled and inviting. I didn't even have to remove any black parts (you know what I mean). However, it's truth bomb time. Personal opinion: Take the satay without the gravy. Why? The meat already has its own natural aroma and piquancy, and the plum-like sourness would have taken away its opulence. I've always preferred my meat raw (as in just slightly salted without additional sauces) so dunking it in dressing is a no-no. Try it for yourself and let me know if you fancy the Borneo Satay with or without the nutty keranji relish.
Cangkuk Manis (RM12)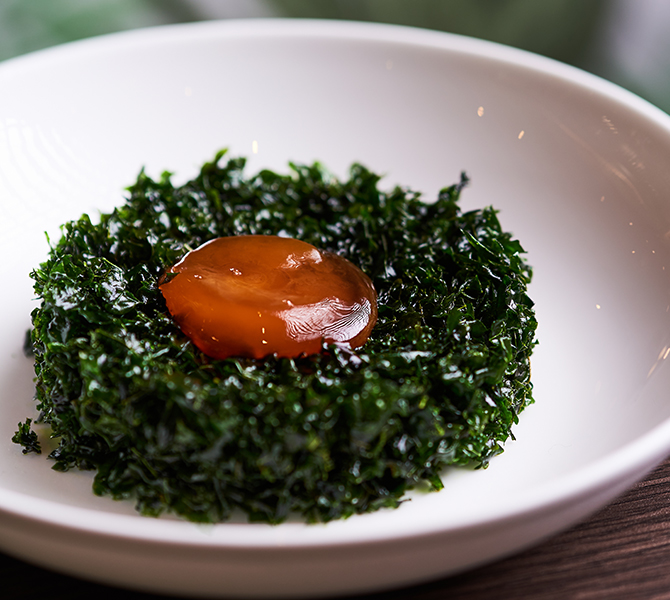 I get it. It looks pretty normal. Oh, it's also really, really green. But fret not if you're not into fibre (you should be, by the way), this is one dish that everyone can enjoy. Really. Anyone. This sweet, leafy vegetable is more commonly known as 'Mani Chai'. Served fried and crispy, the plate came with cured egg yolk. I began my journey through the cangkuk manis forest with a teaspoon-full of crunch. The bad news is that it was bland. The good news, however, is that it was that exact mildness that made the dish so addictive. It's light, refreshing, and perfect as a bar snack (especially when paired with tuak). Yes, it was somewhat oily, which took some points off. Dilemma alert; so unhealthy yet I couldn't stop eating it. No, I did not forget about the beautiful topping. I mentioned earlier that the cangkuk manis did not have any a lot of taste to it, but that was also why it came with the cured egg yolk. According to Sheela, it is better to add bits of the yolk to your spoon when needed rather than stir everything together. I did the latter but still enjoyed the upgraded flavours nevertheless. While thorough saltiness isn't everyone's cup of tea, the cangkuk manis went from meh to savoury (even with a pinch). At the end of the day, it depends massively on how you intend to eat it—as a snack, go without the egg yolk, and vice versa.
Kong Pia (RM20)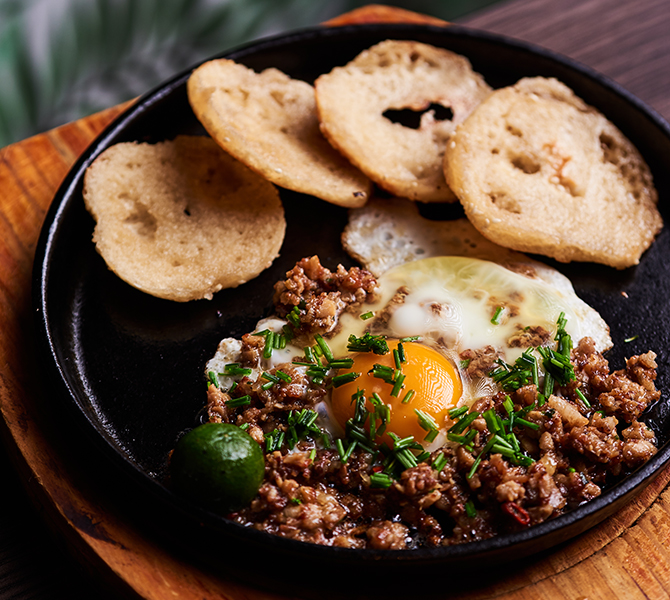 Kong pia, or roti kompyang in Malay (and kompia in Indonesian) can be found wherever there are Foochows. Hence, kong pia is available in places such as Sitiawan in Perak and Sibu in Sarawak. The bread is usually made with lard, onions, salt, and flour in addition to meat fillings. As you can see from the photo above, there is some kind of deconstruction going on with Borneo Restaurant's interpretation of the dish. The fried sesame pastry buns are accompanied by minced pork, salted fish, and raw egg yolk—outside the doughnut. That's new. Presented sizzling hot, the first reaction will be from the prodigious smell exuded from the plate. Breathe it all in, squeeze the lime and mix everything together (including the egg but sans the bread).
Is it time to eat yet? Let's dig in! First, I took a bite of the pastry alone; just naked and ambitious. What I liked: as they were fried, there was extra crunch and the somehow-burnt-but-not-really aroma gave an extra push. There's just something about charred (or mildly seared) food that tastes so good to me. They play with my senses and are fairly pleasing. As for the part about health, we'll go there some other time (#EatFirst). Alright. What I didn't like: even though this is a contemporary take on the traditional kong pia, I still wanted an ounce of nostalgia—which I found to be absent. A lot of my childhood was spent growing up in Sitiawan, Perak and kong pia is something I ate a lot (maybe too much). Therefore, saying I love it is a major understatement. Of course, this is just a personal opinion and I know many who actually enjoyed the pastry in the restaurant.
Enough about the bun! What about the fillings? Unlike the bread, I did not have any expectation for the minced pork, salted fish, and egg mixture. My mistake was not stirring them up right away as they do get lumpy after awhile. However, in all truthfulness, the fillings were divine and that slight mishap did not affect the outcome of the dish. Remember childhood games such as Street Fighter and Marvel vs Capcom? It's pretty similar because you literally get one good hit after another—say yes to combo points! While a tad brackish, it was still palatable. You get the lavishness of the pork, and the stimulating flavours of the salted fish. Truth be told, I would not mind eating these without the pastry and if I have to recommend one dish from the menu, this would definitely be it.
Engkabang Pasta (RM24)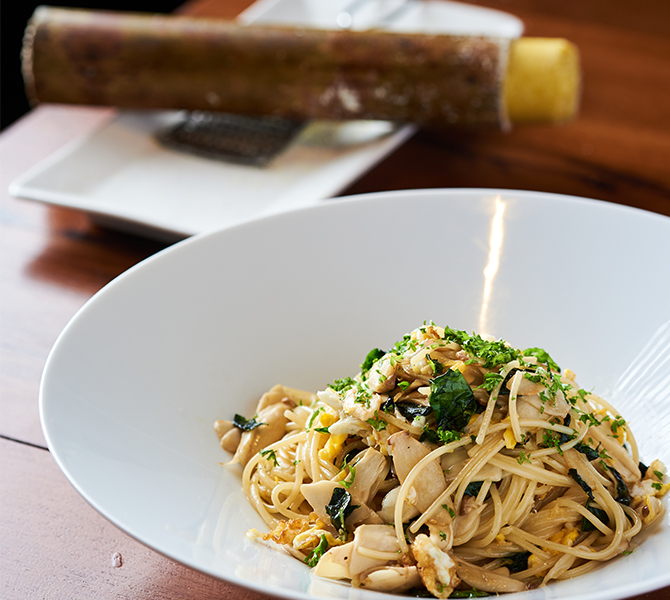 Are you thinking what I'm thinking? I know there probably isn't any correlation between pasta and Borneo but hey—leave all your assumptions at the door. Apart from that, it is also understandable if you thought mee goreng. This isn't fried noodles. Well, the pasta was coated with Engkabang butter (vegan butter from Sarawak rainforest) and egg white sauce that came with eryngii mushroom and cangkuk manis. Fun fact: the rare Engkabang flower only blooms every three to five years. Textbook example of uniqueness. Cooked firm to the bite, the pasta was al dente—albeit lacking in taste—and that's extremely important. No room for undercooking! We've established that the resident carbohydrates are perfectly prepared but something was missing. A superhero was required to save the world pasta and then, in came the butter. Just a few sprinkles of that and there was a huge transformation. The ghee has a mellow taste and oily texture, but added a subtle richness to the dish as a whole. If I have to describe the end result in two words, I'd use "simply edible". Definitely made everything more enjoyable. Ironically, for a dish that seemed heavy, it was actually light and refreshing. Vegans Anyone would love this.
Borneo Rajah (RM60)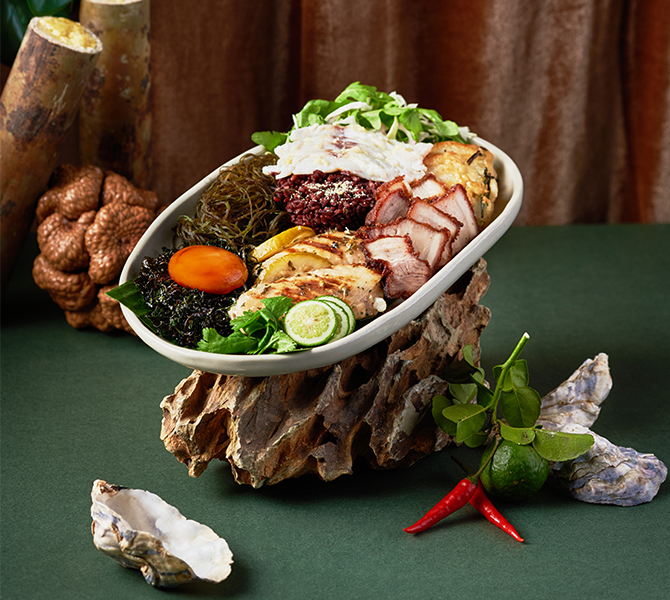 This is one massive dish. You can either share this or go all out on your own. I chose the former, of course. The Borneo Rajah consists of terubok roe (highly sought after Chinese herring) and seafood pancake, grilled kacangma (Chinese motherwort herb) chicken and hinava (Kadazan-Dusun version of ceviche) as well as Bario rice salad and tuhau (wild ginger stem) sambal. There is also a choice between fried pork—which I had—and squid. As with most, if not all, restaurants in the world, there will always be hits and misses. Even for the best of places. Let's begin with my favourite of them all—the hinava (or umai). Made with fresh fish, lime juice, chilli, and shallots, it is the perfect way to begin your way through this gigantic offering. It's vivid without being overpoweringly zesty and tart but not harsh. You can also return to the hinava (treat it like a checkpoint) after trying out other components because it cleanses your palate. Oh, it sure was appetising.
If you're unfamiliar with Bario rice, it is indigenous rice produced in the highlands of Sarawak. What sets Bario apart from other grain varieties is its sweetness. Hence, it is complements the meats on the plate perfectly. The grilled kacangma chicken, while cooked to perfection, had an unfortunate yet understandable bitter taste. Yes, it's credited to the kacangma. As I have never tried or seen the motherwort herb ever, expectation was as good as none. Post-first bite, I can say that it's an acquired taste, especially if you are not into anything acrid. On a positive note, the grub was succulent and delectable. Can't fault that at all.
The Borneo Rajah also comes with tuhau sambal (wild ginger stem with high fibre content) and fried pork. There really isn't much to say about the pork—crispy on the sides and not too dry. It went really well with the Bario rice. Try this out and let me know what you think!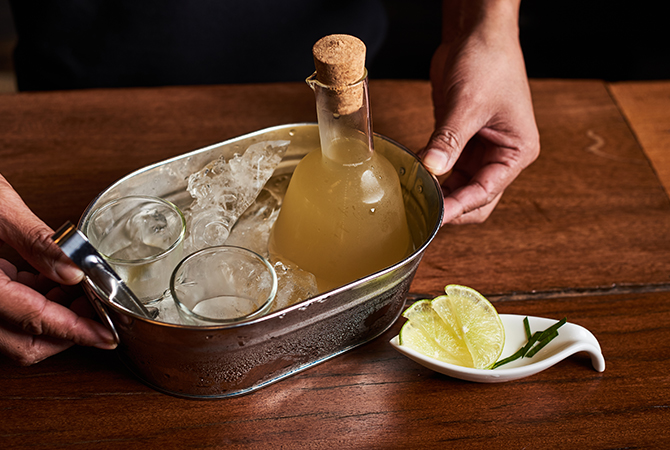 If there's one thing you have to try when you're at Borneo Restaurant and Bar, it's their collection of tuak (Sarawakian term for rice wine). Sheela introduced me to Kuching Girl (tuak made in KL), and the Tuak Flight, which includes six different types, such as Bad Cat Asap, Rollercoaster, Big Apple, Wedding, Cider Tuak, and The Red. My personal favourite—Bad Cat Asap, for its sweetness unlike the general bitterness one gets from tuak. Pair them with the dishes mentioned above and you're good to go!
What makes Borneo in Bangsar unique is its ingredients and the dishes formed around them. They aren't usually found in establishments in West Malaysia and hence, worth trying out.
Borneo Restaurant and Bar
Address: 11, Jalan Telawi 3, Bangsar Baru
Opening Hours
Wednesday – Monday: 11am – 1am
Contact: 010 250 2255
| | |
| --- | --- |
| SHARE THE STORY | |
| Explore More | |