Next stop: Milano! Milan Fashion Week returns from February 22 to 28 with a jam-packed line-up for the Autumn/Winter 2022 season, and like New York and London, the Italian capital is transitioning back to a largely in-person event with 57 physical shows and 59 physical presentations, according to the official schedule released by Camera Nazionale della Moda Italiana. Of the 169 appointments taking place across the seven days, only eight shows and 10 presentations will be fully digital.
Fendi, Prada, Bottega Veneta, Emporio and Giorgio Armani, Moschino, Tod's, Versace and more are scheduled to show in-person alongside the return of 111-year-old Italian house Trussardi after a five-year hiatus, and Gucci, which, for the past few seasons, has hosted various events outside the typical schedule, such as its star-studded theatrical Hollywood Love Parade in Los Angeles last fall. Trussardi's return marks the first collection from new creative directors and Gmbh founders Serhat ​​Işık and Benjamin A Huseby, while Matthew Blazy will be unveiling his debut collection for Bottega Veneta since Daniel Lee's surprise exit last year. Meanwhile, Armani will also be returning after sitting out men's fashion week in January, and Onitsuka Tiger will be presenting its latest collection via a runway show for the first time since its participation in Milan Fashion Week in 2021.
A host of new names have also been added to the schedule, including Dior Men's director of jewellery Yoon Ahn's brand Ambush, London-based new-gen couturier Miss Sohee, Palm Angels, Ferrari, Tokyo James and Andreadamo, who are all presenting for the first time at Milan Fashion Week. As per usual, we'll be updating this page with the shows you want to read about as things go down in Milan. So sit back, hit the bookmark button and as the Italians put it: Prego!
Highlights
Fendi
When: Wednesday, February 23 at 9pm Malaysia time
Joining forces once again with Silvia Venturini Fendi, Artistic Director of Accessories and Menswear, as well as Delfina Delettrez, the Artistic Director of Jewellery, Kim Jones is set to captivate with another in-person RTW show. While last season saw his perspective on powerful femininity and disco-age glamour, we anticipate this season's incorporation of fur and winterwear to be even more dramatic. Are you excited? Catch the show live here and check back for our post-runway review.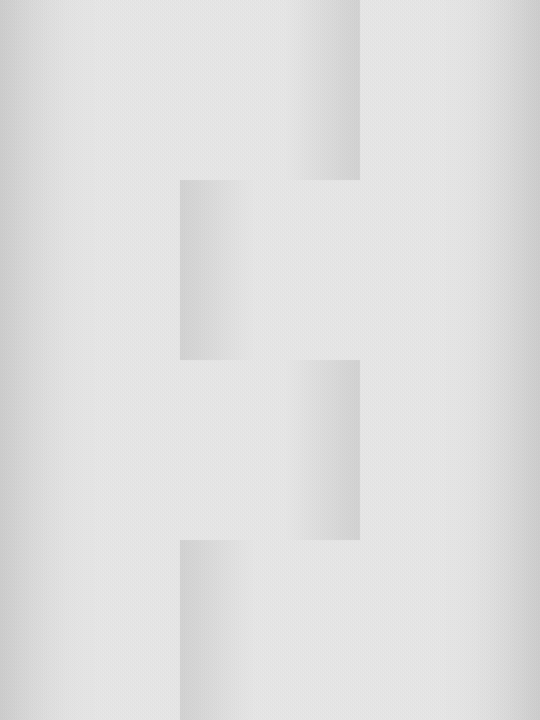 Post-show highlights:
An industrial, tunnel-like space with two long runways sets the scene for Fendi's latest fashion show. It wasn't long before a familiar figure, Bella Hadid, walked down the strip in a wispy chiffon slip dress layered under a shaved shearling vest, punctuated by elbow-length cashmere gloves. Simple yet, seductive, Hadid's ensemble set the tone for the subsequent nine looks in the form of tops, trousers and jumpsuits made from diaphanous fabrics, all carrying the same airy and ethereal disposition.
View this post on Instagram
As the show continues, the pieces transitioned from soft and feminine in hues of seamfoam, coral, blush and such to Fendi's classic utilitarianism vibe in colour schemes of grey, brown, navy and even black. Merging form and functionailty, the show progressed to an exploration of power dressing—boned bustier tops were worn over shirts, tailored jackets are designed with mandarin collars, while leather skirts, panelled pants, cinched waists and structured tweed sets were out in full force.
Zooming in on leather accessories designed by Silvia Venturini Fendi, the house's iconic Baguette celebrates its 25th anniversary and we see previous iterations revived in three materials: cashmere, shealing-lined leather and intarsia mink.
Per the show notes, this season, the label's Creative Director Kim Jones, was inspired by an item of clothing worn by fellow designer, Delifna Delettrez–specifically a printed top borrowed exclusively from her mother, Silvia Venturini Fendi herself. A quick check in the archives led to the rediscovery of Karl Lagerfeld's Spring/Summer 1986 collection. Combining the sartorial styling of '86 with the lightness of the A/W 2000 collection, what emerged was the perfect balance of softness and strength.
As Jones puts it, "The best place to explore the archives is through the Fendi wardrobes. And these are collections which, although they come from the past, feel very now. It's a wardrobe designed for every aspect of a woman's life, for every generation."
See the entire collection in photos here. 
Max Mara
When: Thursday, February 24 at 4.45pm Malaysia time
After celebrating its 70th anniversary last year where the brand reintroduced some of its iconic coats such as the legendary 101801 (stunningly worn by fashion influencer Leonie Hanne here), the celebrity-approved Teddy Coat, and the sophisticated Ludmilla, what's next on the cards for the Italian brand led by Creative Director, Ian Griffiths? Watch the show live below and find out for yourself!
Post-show highlights:
If there's one thing Ian Griffiths is good at, it's creating clothes that the everyday woman will want to wear. Sticking to the label's minimalist DNA, sharply-tailored monochromatic looks comprising long teddy bear coats, cashmere sweaters, balaclavas, turtlenecks and cosy-looking quilted skirts in brown, yellow, grey, black, and a pop of red, the AW22 collection summarised our dream fall and winter wardrobe.
This season, Max Mara celebrates Sophie Taeuber-Arp, a Swiss painter, sculptor, interior designer and architect—who is considered to be one of the most multitalented modern artists of the 20th century—known for her works highlighting geometric abstraction and concrete art.
Her influence is firstly reflected in the sleek, darkened-out show space that featured an optical white runway underscored by subtly curved walls at the entrance where the models walked out.
View this post on Instagram
Next, one of Taeuber-Arp's most notable works—the marionettes and stage sets for an adaptation of the 18th-century play, King Stag—inspired the collection's powerful, pragmatic and elegant silhouettes. "What I recognised in her work was the sense of the ability to fuse modernism with a sense of folkloristic fairy-tale magic. That was precisely the ingredient I wanted to inject in this collection," said Griffiths.
View this post on Instagram
And magical it was indeed! The runway saw regal, bell-shaped dresses paired with balaclavas and long gloves, snug knit sweaters juxtaposed with extra-wide tailored pants, and cuddly teddy bear fabric not just used as coats but transformed into shorts and miniskirts cinched at the waist for a playfully sophisticated winter look. Completing the charm of the whole collection were caressible furry bags in all shapes and sizes.
Prada
When: Thursday, February 24 at 9pm Malaysia time
Models are an integral facet of the industry, transforming looks by adding to a designer's vision and contributing to the fantasy of fashion. Set in the reimagined Deposito of Fondazione Prada, the Prada Autumn/Winter 2022 show was a salute to the profession of modelling and its history of women. As such, it was also a commemoration of life and living and an etymology of beauty, from the minds of Co-Creative Directors Raf Simons and Miuccia Prada, to shed light on the importance of appreciating each and every moment. The result? Intimate, everyday clothes that don't scream status or glitz.
Prior to the event, home videos and childhood photos of the runway cast were shared to the brand's feed, showcasing memories of their life before their careers in celebration of their individual histories.
View this post on Instagram
View this post on Instagram
Akin to the set of the recent Prada Menswear show, sci-fi-like tunnels of metal grating lit with pale pink neon light served as the passageway for models to enter the large showspace, where a zig-zag pathway was spotlighted between olive green theatre chairs organised into an orthogonal grid. While the front row consisted the likes of Kim Kardashian, Rita Ora and Euphoria actress Storm Reid, appearances on the catwalk was just as heavyweight, featuring supermodels like Kaia Gerber, Rianne Von Rompaey, Anok Yai and Chu Wong, alongside a slew of longtime muses from years gone by, including Liya Kebede, Erin O'Connor, Arizona Muse and Hunter Schafer, who closed the show.
View this post on Instagram
Titled "An Ideology of Prada", the collection itself continued last season's theme of stripped back elegance, with a recontextualisation of Prada's ladylike DNA for contemporary times. Gerber wore the show's opening look: a white ribbed tank with the brand's triangle logo, styled with a panelled slip skirt for a subtle grunge vibe. From crewnecks to geo-pattern knits, Prada's design vocabulary of uniform dressing, contradictions and fine tailoring was littered throughout the collection and presented through lens of the now. Elsewhere, exaggerated outerwear captivated audiences with a variety of statements, in the form of crystal flower-embellished bombers, sharp-shouldered blazers, and glossy leather trenches that ran a tad bit oversized.
View this post on Instagram
Fabrics were mixed and matched, as exemplified in panel skirts featuring transparent stripes of satin, knit or metallic mesh at different levels of conceal and reveal, which were then layered under geo-pattern knits and fluffy feather accents for an edge of drama. In addition to the joyful jewelled embellishments on display, looks were finished off with double triangle pouch bags, faded to aged perfection in evocation of bowling styles from the '90s. Rounding it all off was none other than Hunter Schafer in a finale look not too dissimilar from Kaia's: a white tank, panelled midi featuring an embellished sheer insert and black pointed Mary-Jane pumps.
Gucci
When: Friday, February 25 at 10pm Malaysia time
Named 'Exquisite Gucci', the label's teasers showcase multiple screens displaying collections of the past, including one very memorable Gucci Love Parade. Instead of its previous final-day slot closing all of MFW, Alessandro Michele will return with yet another seasonless collection that will undoubtedly be radical, innovative and yet, oozing glamour. Catch the show live below and come back for our recap.
Post-show highlights:
Typically, a house of mirrors with distorted reflections can feel creepy but Alessandro Michele's set in a hall comprising illusionistic mirrors feels anything but. In fact, with a glittering guest list that includes Jared Leto, Lee Jung-Jae, Chiara Ferragni and Fedez, Serena Williams and Alexis Ohanian (with little Olympia Ohanian in tow), as well as a surprise appearance by Rihanna—dressed in a laced crop top with her baby bump on full display—together with baby daddy A$AP Rocky, the Gucci Hub was buzzing with anticipation and excitement.
"I use the metaphor of the magical mirror to approach the phantasmagorical power of fashion. A sacred power that radiates from the surface of the fabric" says Michele in the show notes. "I celebrate the clothes as real optical labs: magical machines that can give birth to fairy tales of metamorphosis and re-enchantment."
Exquisite Gucci marks the label's return to the Milan runway after two years and this time, we see the Italian House presenting a new take on gender fluidity, a style it's so widely known for. Instead of men dressed in feminine pieces such as ethereal dresses and pussy-bow tops, the show saw most models wearing power suits with masculine tailoring in all shapes and forms, save for a few leather-skirt ensembles and one very glorious olive ruffle evening gown.
View this post on Instagram
The first look on the runway, an oversized '90s-style navy double-breasted suit, worn with a shirt and tie, contrasted by black, delicate pointy-toe heels felt assertive and timeless. Elsewhere, electric blues, royal purples, and emerald greens, along with studs, sequins, and plush velvets turned up the glamour factor of the show. The Gucci Diana bag also saw an overhaul, coming in an extra-large size.
However, the biggest highlight of the night was the reveal of Gucci x Adidas Originals. Word of this partnership came to light last December and it wasn't up until this show that the project was confirmed. Numerous sporty silhouettes, emblazoned with the Adidas trefoil logo and the words Gucci underneath, were dressed in high-fashion styles. Each hat or cap, whether beret, bucket, swim or baseball, bore the Adidas three-stripe logo. And the pièce de résistance: bustier tops designed with Adidas' primary colours in front with the Gucci monogram at the back. It was exquisite indeed!
Emporio Armani
When: Friday, February 25 at 12am Malaysia time
Giorgio Armani has made known his plans for the near future, appearing with his niece, Silvana, at the Emporio Armani Spring/Summer 2022 show in Milan last September, which celebrated the fashion line's 40th anniversary. Moving on, catch the live-stream of the forward-looking designer's Autumn/Winter 2022 menswear and womenswear shows for Emporio on Instagram. We'll be bringing you the post-show highlights too.
Post-show highlights:
Emporio Armani's 'Rhythm of Colour' beats with a glamorous equilibrium of contrasts. Set against a checkerboard runway, the co-ed show presented a dichotomy of muted dandyism and party-girl glitz, with echoes of military chic and athleisure in a nod to designer Giorgio Armani's recent creations for Italy at the Beijing Winter Olympics. In both the men's and women's collections, glamour is interpreted with a touch of introspection for the colder months. Silhouettes and fabrics are designed to accentuate personal charm, with bright colours in womenswear and a symphony of grey in menswear.
Emerging from the pandemic with a renewed appreciation for freedom, dresses are short, curved trousers reveal shapely legs, and silky necklines boldly expose the skin. Party-ready, but also with reminders of more sombre moments in the peak-shoulder jackets, insignia, thigh-high boots and buckled shoes.
This sobriety is all the more evident in Emporio's menswear, where shades of grey—from pale to dark—are punctuated by touches of bold colour. Macro and micro fabric patterns are mixed and matched in formalwear, puffer jackets, ski suits as well as oversized bags. Hints of velvet add additional elegance for the transition to evening.
View this post on Instagram
Emporio's Autumn/Winter 2022 collection is a reflection of today's tumultuous times, where joy is shadowed by a conscious awareness of gloom. Sig. Armani has once again demonstrated his uncanny ability to read the room and foresee its next move. Checkmate.
Moschino
When: Friday, February 25 at 2am Malaysia time
Following last season's show in New York, Jeremy Scott brings Moschino back to Milan for a live runway show in the Italian capital. Catch the livestream below and check back for post-show highlights.
Post-show highlights:
Kubrick fans, this one's for you. When the set design was revealed for Moschino's AW22 show, anyone who's watched the American film director's 2001: A Space Odyssey could instantly recognise the scene before them. With its illuminated floor panels, ornate Louis XVI decor and Rococo paintings, the space was a direct replica of the hotel bedroom in Stanley Kubrick's iconic film. Signalling the beginning of the show, the same Strauss fanfare enveloped the runway, bringing with it a futuristic atmosphere of surrealism that set the tone for Jeremy Scott's latest collection.
View this post on Instagram
It was luxury interiors come to life, served on a silver platter with a heaping side of pure escapism. Each model that emerged out of the dark doorway embodied a furnishing or detail from the interiors of an old money mansion, ranging from glittering chandeliers and a Persian rug to a grandfather's clock. Shiny cutlery were stacked down the front of busts, while drawer pulls served as bottoms and a gold gown featured an entire harp attached at the back. And if it wasn't evident enough that opulence was a key focus this season, there was even a sweatshirt that read "Gilt Without Guilt".
While Jeremy Scott turned up the amp for camp this extravaganza, there were still hints of wearability layered throughout: crisp-cut skirts that the brand is so well-known for; finely tailored blazers and outerwear; Bella Hadid's keyhole LBD; alongside a couple of draped velvet dresses embellished with fringe, embroidery and prints that, if removed from its context, would not look too out of place in the real world. For the grand finale, Gigi Hadid swept the room in a dramatic gilded gown that descended into a layered tulle train, paired with golden leaves that wrapped around her arms as gloves. Bravo!
See every look from the collection here.
Tod's
When: Friday, February 25 at 4.30pm Malaysia time
Under the creative direction of Walter Chiapponi, Tod's will interpret 'Italian Beauty' in its Autimn/Winter 2022 collection for women. Tune into the show live here and revisit this page for our post-show thoughts.
Post-show highlights:
In the eyes of Tod's creative director Walter Chiapponi, 'Italian Beauty' is everywhere in nature, architecture and culture. For the Autumn/Winter 2022 ​​womenswear show, artist Alberto Maria Colombo produced a backdrop of fluid, AI-generated animations of key Italian landmarks—providing visual context to a collection showcasing impeccable tailoring, '90s silhouettes and masculine suits.
The looks, worn by high-profile models including Gigi and Bella Hadid, were voluminous yet sensual. ​​Sleek, strong and elegantly chic outerwear in warm and natural hues dominated the collection. Knitwear was paired with leather, coats were cinched at the waist, and the iconic Di Bag was deconstructed to provide more functionality to today's multitasking woman.
The occasional hints of bohemian effervescence were balanced out in a collection characterised overall by lean silhouettes, measured precision and modern refinement.
Sportmax
When: Saturday, February 25 at 6.45pm Malaysia time
"Dial 'S' for…"? Last season, Sportmax unveiled a minimalist collection under creative director Grazia Malagoli, who drew direct inspiration from avant-garde classical music composer John Cage and his most famous composition "4'33. While not much has been revealed yet, AW22's show invite arrives in a shocking pink shade to tease a different direction for the upcoming collection. Catch the show live here and check back for post-show highlights.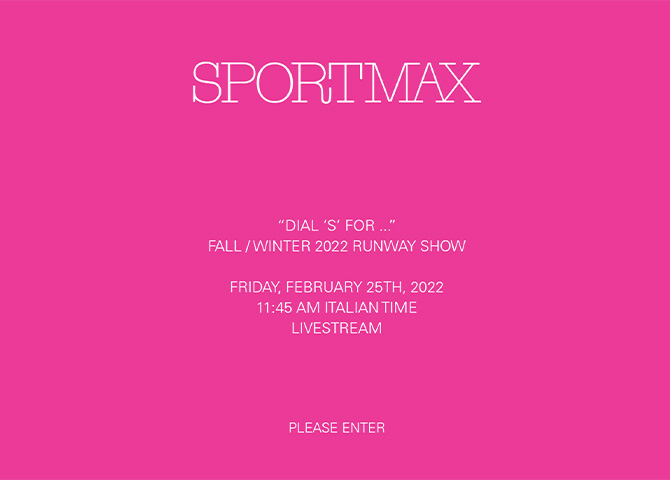 Post-show highlights:
Sensuality and seduction have been big in the last few seasons, and it doesn't look like fashion's fascination with exploring the trope will end anytime soon. Enter Sportmax, who's latest collection from Grazia Malagoli was all about deconstructing the femme fatale for the contemporary age. Iconic noir movies and dark heroines served as inspiration this season, from Kim Novak in Hitchcock's Vertigo and The Hunger's Catherine Deneuve to pin-ups like Jessica Rabbit, in an effort to explore female power dressing from the 1940s to now.
Staged in a long room bathed in hot pink, the show commenced with a thumping soundtrack produced by Teho Teardo, which added a sense of retro-futuristic, club-like feel to the space. The collection came drenched in a twilight palette, awashed in black, midnight blue with hints of coffee, merged with nude tins and splashes of fuchsia and red to complement the surrounding fluorescent accents. Sharp and tight, silhouettes were bold and hourglass to enhance the various contours of the female body with abstract necklines and exaggerated waists set in shape. In the name of empowerment, the tailoring was frighteningly feminine, with plenty of LBDs and square-shouldered suits presented in a variety of materials that range from structured and curated in patent leather to rendered elastic wool, alongside tech fabrics and luminescent rhinestones that gave its wearer an ethereal glow.
Elsewhere, fluid frocks were draped asymmetrically across the body to reveal the hips, shoulders and legs––erotic points of the body––while shiny vinyl looks that sculpted bodies in body-caressing concoctions leaned towards fetishwear. Dial S for self-empowering sensuality.
Onitsuka Tiger
When: Friday, February 25 at 9pm Malaysia time
Since 2021, Onitsuka Tiger has taken Milan Fashion Week with a variety of digital formats, such as last season's 'Milan-Tokyo' fashion film. For Autumn/Winter 2022, the brand will unveil their first-ever runway show under the direction of creative director Andrea Pompilio, and we can't wait he has up his sleeve this time. Catch the show live here, and check back for post-show highlights.
Post-show highlights: 
Mysterious, punk and brimming with youthful energy, Onitsuka Tiger's AW22 collection brought the label's sportswear vocabulary to new and versatile territory. For his first physical show since joining the Milan schedule amid the pandemic, Andrea Pompilio looked towards the '80s, exploring an era when Japanese fashion took Paris by storm to pay homage to its purity and rigour. Hints of Comme des Garçons and Yohji Yamamoto, whose aesthetic and designs shook up the industry and redefined that of the West, were seen as influences on silhouettes, monochromes and details throughout.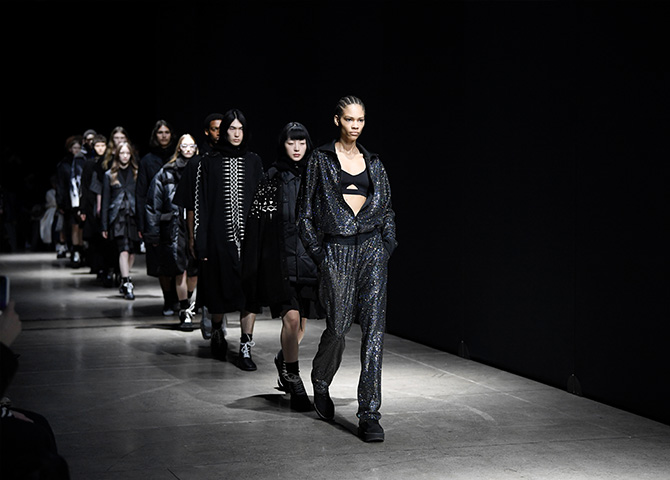 Staged in a dark brutalist space lit by succeeding spotlights, models took to the runway in all-black, layered looks that were genderless, unassuming and tinged with an edge of streetwear. Pompilio explored the underground culture of the time with Japanese traditions: the different layered materials of the kimono, the imperfect philosophy of Wabi-Sabi, and the mixing of masculine garments with the classic school uniform of Tsuppari fashion.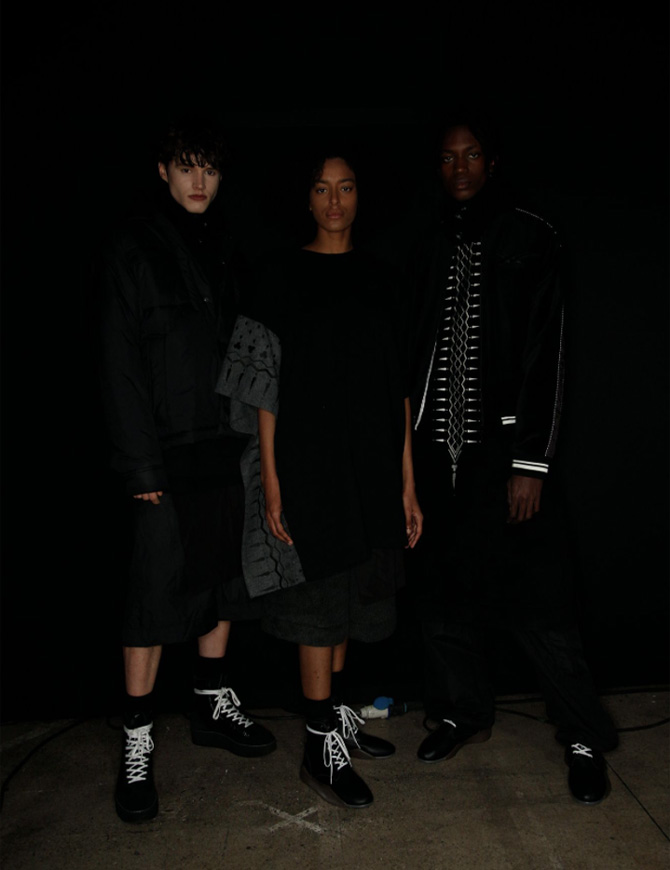 Ultra-oversized T-shirts made of heavy cotton and embroidered kaftans were reminiscent of the mischievous energy of the Tokyo youth, while the brand's sportswear DNA came through in puffers and parkas trimmed in fleece, worn over Bermudas and bombers. Nylon jackets, available in renditions of shaved teddy fabric or fleece, were worn with matching pleated apron-style skirts over pants, while combat boots and balaclavas completed the looks. Elsewhere, prints with flames and flowers––the only distinctive embellishment of the minimalist collection––adorned the hems of dresses to fuel that subtle yet burning notion of energy.
Versace
When: Saturday, February 26 at 2am Malaysia time
Save the date! Donatella Versace is back with a red-hot collection for the Autumn/Winter 2022 season. While not much has been revealed about the show, we can anticipate that there'll be plenty of sexy glamour that the designer is known for. Tune in to the live show here and refresh this page for post-show highlights.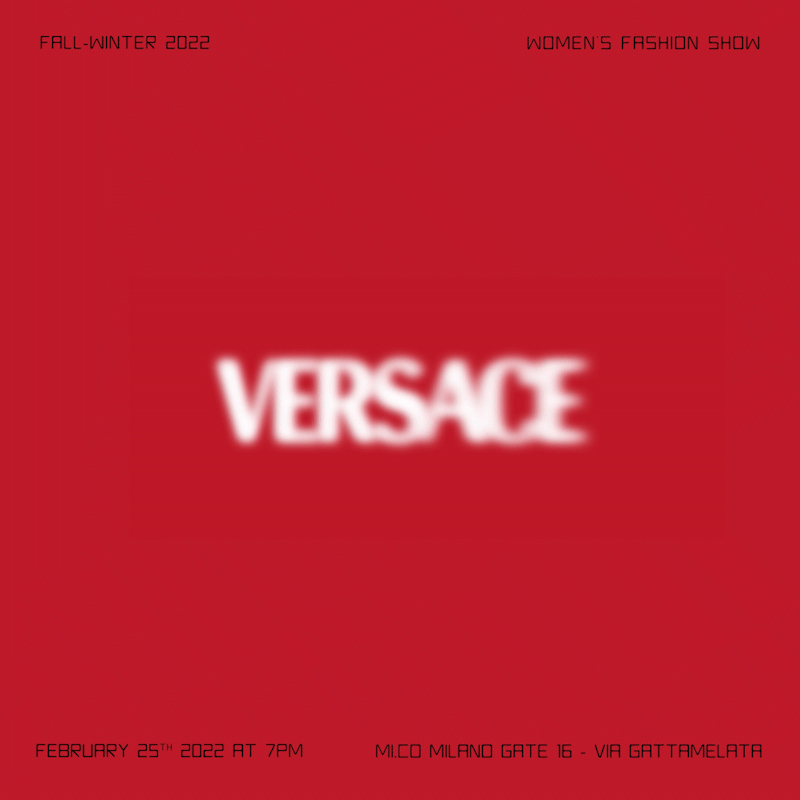 Post-show highlights:
Dreaming of a glamorous post-pandemic night out? Versace has you covered. Unleashed on a glossy red runway filled with giant room dividers and thumping music, the latest collection turned up the heat with a powerful and seductive sense of mystery that ushered the house forward for the next generation of modern It-girls. "Our cast of Versace Women for Fall-Winter 2022 is exciting," Donatella Versace said. "Girls like Avanti, Anyier and Tilly perfectly represent a Versace with new generation attitude and they champion diversity. They embody the energy running through the collection and the looks built on contrast and tension—like an elastic band pulled tight and about to snap-back with a build-up of energy. That feeling is just irresistible to me. It opens new possibilities and makes things happen."
The show opened with a swaggering all-black pantsuit, featuring a boned corset that emphasised a tightly cinched waist and sultry latex gloves. There were plenty nods to iconic Versace looks from the '90s, including contemporary interpretations of the brand's signature tweeds and bustiers as well as low-rise denim and tops that unravelled and dripped in crystal and metal chains. A running theme throughout the week, silhouettes were all about empowered seduction as the bustier was a running motif throughout, revealed under open suiting, peeking out from under exaggerated overcoats and even structured into the waist of a ballooning puffer jacket. The palette was equally as smouldering, with shades of deep red, plum charcoal and black tempered by pops of avocado, pink and DV blue.
Whereas last season's looks were brighter with detailed panelling, this season's Versace girl goes vamp with smudged eye liner and deep red lips in skintight ensembles punctuated by distinct oversized tailoring and cocooning outerwear. She's a girl of class but unafraid to show up and show out, wearing accessories that drew on boudoir classics: regal pearl jewellery disrupted by sharp punk spikes; needle-sharp pumps finished in a latex-like brushed leather with metal heels; and of course, all while toting a new line of Greca Goddess bags with gold chains and a hand-slip for more impulsive styling.
See every look from the collection here.
Salvatore Ferragamo
When: Saturday, February 26 at 5pm Malaysia time
Salvatore Ferragamo's Autumn/Winter 2022 show will be presented through a special video that will merge "runway" and images. Expect mirror effects, vibrant tones and subtle transparencies from the new collection, which will also reveal a new perspective of light, space and form. Tune in live here and check back for post-show highlights.
Post-show highlights:
The world has changed, and Salvatore Ferragamo moves forward with it. For the upcoming Autumn/Winter season, Ferragamo has opted for a presentation at Milan's Sala delle Cariatidi of Palazzo Reale instead of its usual fall show, offering a new take of the post-pandemic wardrobe that prioritises casualness and comfort. Entitled 'Intelligence Informal' and designed by an internal team, the new collection showed off the brand's luxe interpretation of relaxed, pared-down style and tailored casualisation for contemporary times.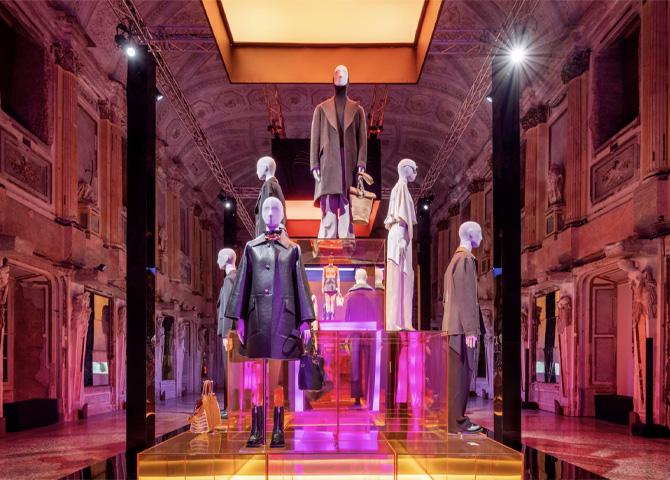 There were 36 looks in total, accompanied by a fashion film of models posing and strutting down a white corridor as the camera zoomed in, out and around. Silhouettes were slender and modern, with minimalist, 60s-leaning influences to unveil a versatile take of elegant informality through liberated feelings of self-expression. Outerwear was streamlined yet casual, arriving in the form of woollen men's coats to a new beige trench with built-in wrap scarf and belt. Tailoring was undeniably soft and featured panels and pockets for practicality, while jumpsuits, both roomy and fitted for both genders, arrived in neutrals and a bright orange-red shade. Pullovers and sweatshirts arrived in sustainable nylon, while a flame-red evening top featured a ruffled round cut-out at the front, paired with fluid pants that were high-wasted and wide-legged. There was also playful touches here and there via unorthodox motifs of striping and patches, while accessories were minimal with the same roped motif across belts, necklaces and bracelets.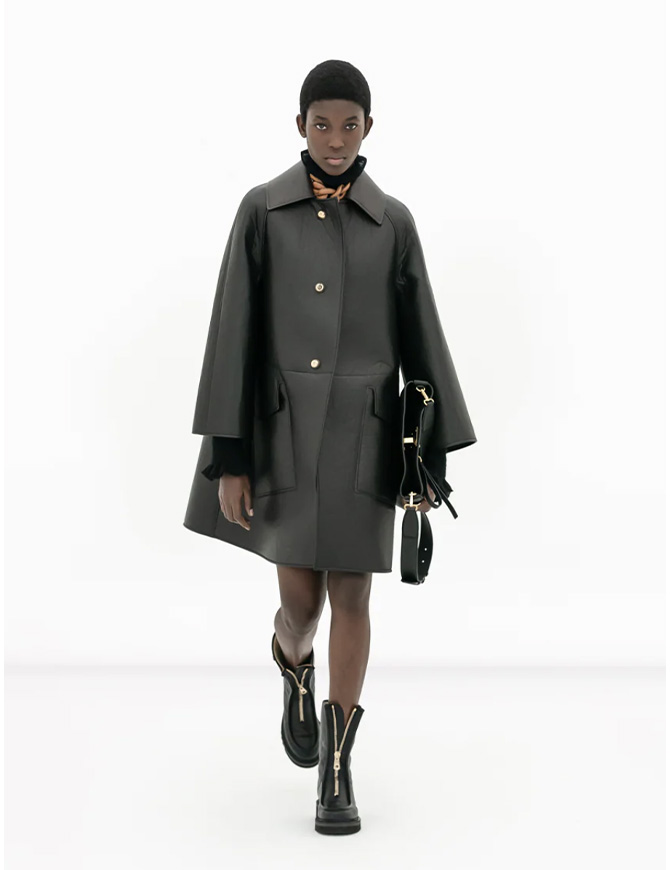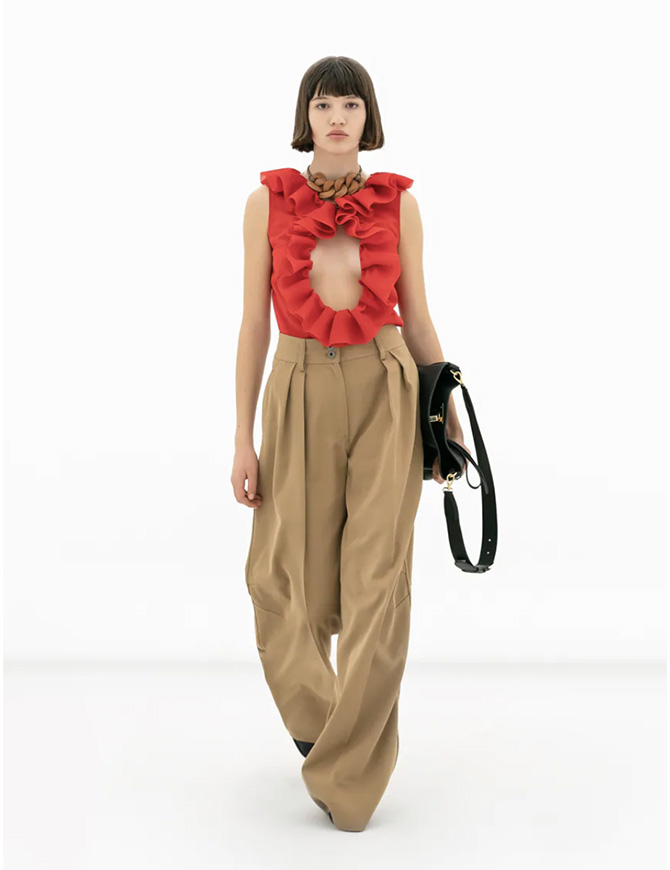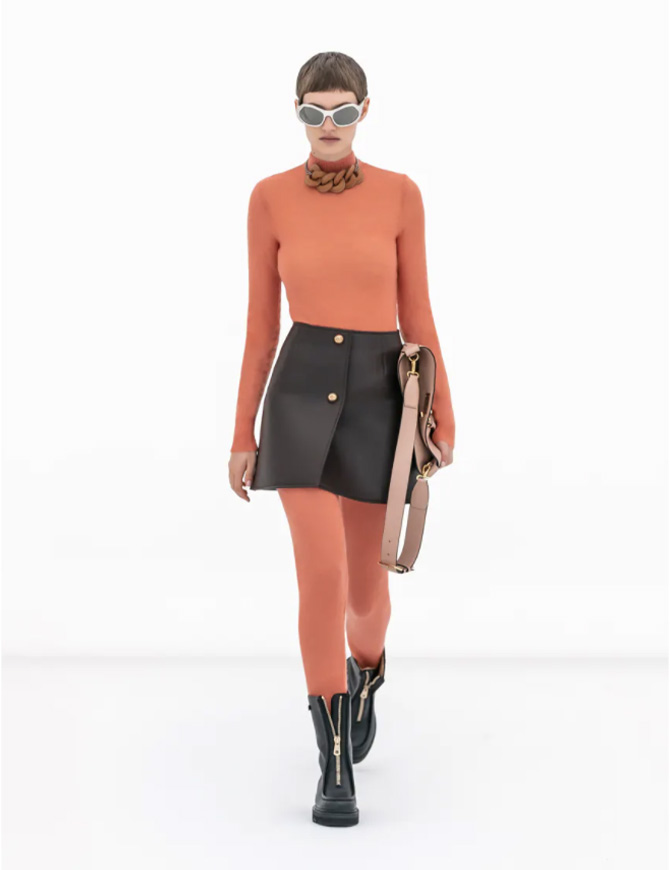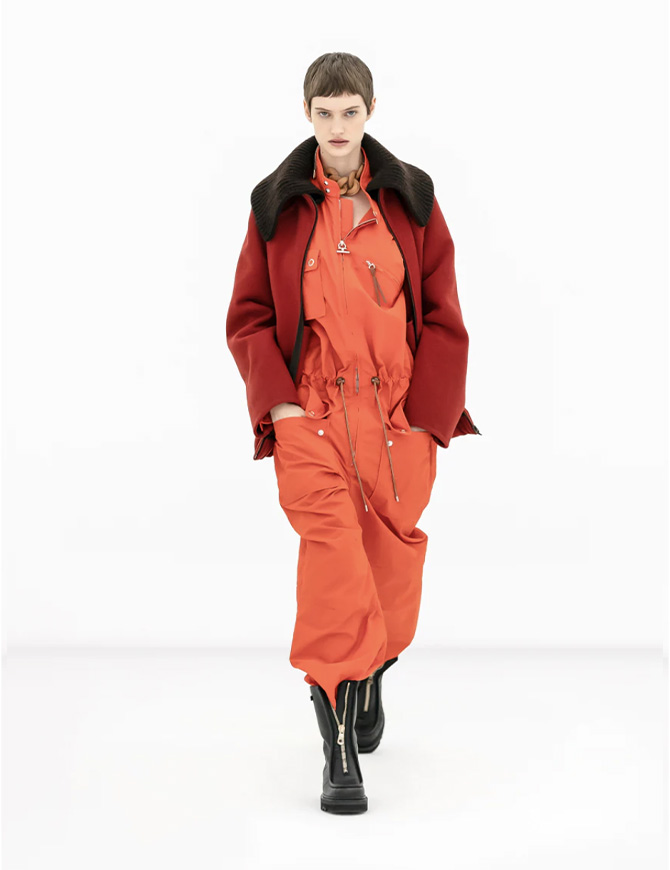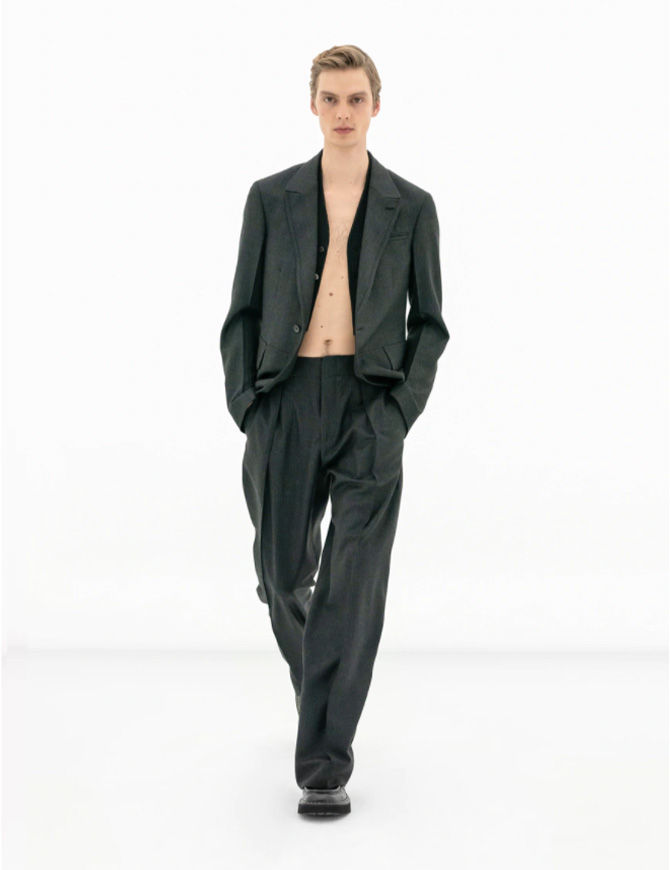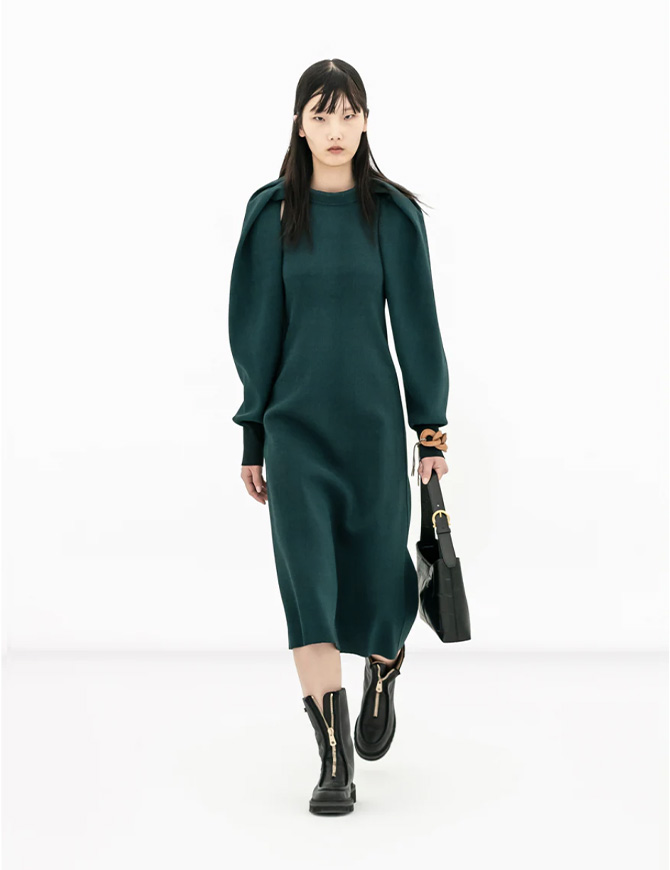 To amplify this sense of casual classicism, multiple Ferragamo icons were refashioned, with handbags like the Studio arriving in new textures and materials, alongside the debut of a new soft bucket bag that features the signature Gancini closure, luminous studs and saddlery finishes. Meanwhile, footwear was just as functional, arriving in unisex running styles with rainbow soles that reference the brand's iconic 1938 Rainbow show, and all-terrain shoes ranging from moon boots to hikers with ultra-light lug soles and iconic Gancini hardwares.
Practical yet sophisticated, the collection presented a wardrobe of impeccably edited individual pieces, punctuated by the high quality craftsmanship that the historian Florentine label has always been known for. Next season, a new creative director will take the ropes to mark a new chapter of their story, so it'll be interesting to see where things go here on out.
See every look from Salvatore Ferragamo's AW22 collection here.
Bottega Veneta
When: Sunday, February 27 at 3am Malaysia time
All eyes will be on Bottega Veneta as its new Creative Director, Matthieu Blazy debuts his very first collection for the Italian fashion house. Having launched an app just a week prior that's described as "a creative doorway into the world of the brand", we can't wait to see what other new innovations will come from his appointment. Watch it with us live from the screen below and stay tuned for our post-show recap!
Post-show highlights:
Amidst the glitz, glamour and drama we've seen of Milan Fashion Week this season, Matthieu Blazy's debut collection as the new Artistic Director of Bottega Veneta was rather a contradiction. That's not to say it's wasn't good. Pared-down and clean, the looks felt understated compared to what was on display all of MFW at first glance. But, as they say, the devil's in the details and Blazy made sure that there were plenty of them to take note of.
For instance, the first look on the runway was a white tank top paired with straight-cut blue denim jeans. While agreeably chic, these are essentials you can find in every woman's wardrobe. Now, what's revolutionary about Blazy's interpretation was that both items were crafted entirely in soft, buttery nubuck leather, allowing him subtly show off his skills and expertise in design. Subsequently, oversized borrowed-from-the-boys business shirts were designed the same way too; not with Oxford cotton but with smooth fine leather.
While the collection was pragmatic and somewhat reflective of old Bottega under the helm of Tomas Maier, fun and youthful elements pointing to Daniel Lee's tenure were also present here and there. Case in point: leather fringe peeking out from below midi skirts and cocktail dresses, colourful lace ruffle trimmings on sequinned slip dresses, as well as jewel-toned metallic thigh-high boots for an added touch of glamour.
As a leather goods company first, Blazy ensured plenty of excitement in the accessories department. Bottega's signature intrecciatoleather was seen on a new silhouette— the Kalimero. Part backpack, part tote, the bag is slung over the shoulder on models, however, we suspect that it can also be carried around like a tote. There were pillow-sized woven clutches. There were also mini leather totes with a looped silhouette, much like the Jodie, but with a gold handle. In the shoe department, all eyes were on the Intreciatto thigh-high boots paired with several looks.
Overall, as someone who has such extensive experience in fashion (he interned at Balenciaga, worked at Maison Martin Margiela under Raf Simons, Celine, Calvin Klein and Bottega Veneta) Blazy didn't need to put on a flashy runway to show he's got what it takes. This collection was evidence of that.
MSGM
When: Sunday, February 27 at 4.30pm Malaysia time
Titled 'Astrophilia' and with Instagram teasers depicting a rocket launch, planet earth and bright twinkling stars, one can only imagine Massimo Giorgetti's latest collection to be inspired by the cosmos. Join us as we find out the meaning behind the show's name live here and check back again for highlights of the collection.
Post-show highlights:
Working with a dark colour palette to elevate the intergalactic atmosphere, Massimo Girogetti's collection felt fresh and youthful, without the need for vibrant hues he has so often used in past runway shows.
In most looks, shimmering stars were scattered all over—be it in the form of metallic confetti on dresses, as cut-outs on a shirt and sweatshirt, or as all-over prints on tops and outerwear. Additionally, prints of colourful planets and constellations against a dark background, as well as high-shine leather ensembles completed the entire charm of the galaxy-inspired collection.
Ferrari
When: Sunday, February 27 at 5.30pm Malaysia time
Following Ferrari's arrival on the fashion circuit last June with a high-powered runway at its headquarters in Maranello, Italy, the luxury car company is speeding down the fast lane with its debut at Milan Fashion Week. Will its collection for Autumn/Winter 2022 retain the street style sensibilities of Rocco Ianone's Spring/Summer 2022 pieces? Watch the show live here to find out, and refresh this page later for our take on the runway.
Post-show highlights:
Rocco Iannone has once again interpreted Ferrari's story of speed in fashion inspired by racecar drivers and pit crew. Models strutted down a super-long runway accompanied by strobe lighting and electronic beats that seemed at times to reference the engine of a Formula One car.
For this second collection, Iannone examined the connections between speed and technology, light and surface, through the hybridisation of techniques and fabrics. Shearling is heat-sealed, nylon takes on a reflective sheen, technical fibre is waterproofed, and brass is galvanised—giving the menswear and womenswear a futuristic sportiness not lacking in the finesse required of eveningwear. Case in point: ​​silky cargo pants embellished with black crystals.
Giorgio Armani
When: Sunday, February 27 at 10pm Malaysia time
Post-show highlights: 
Staged in the intimate setting of a small theatre that had the personal feel of a jewellery box, Giorgio Armani returned to the signs that identity his style for Autumn/Winter 2022. With the unfolding tragedy taking place in Ukraine, Mr Armani chose not to use any music at the show as a sign of respect, and the softness and fluidity of the clothes spoke for themselves, becoming more powerful as it appeared down the runway in silence.
Mr Armani has always had a passion for art deco, which shone through subtle hints of geometries and abstract decorativism across the collection, where brilliant colours and prints expressed themselves across different textures on the body. Silhouettes were elongated and precise, fabrics dancing in elegance with every step and sparkling with a new glow under the stage lights. Jackets and trousers drew clear-cut figures, while touches of velvet covered them with silky reflections. Whether it was day or night, this sense of light dominated throughout the ready-to-wear from separates and gowns to the velvet bags and boots as tall as stockings that completed each look.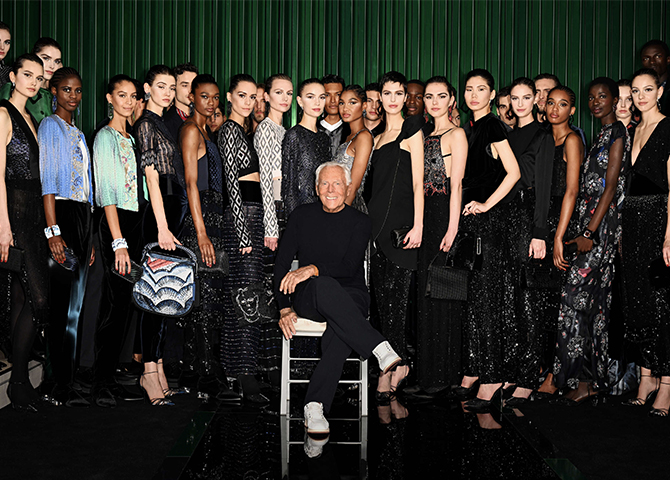 The same silky nocturnal glow permeated the men's wardrobe, where soft tailoring prevailed through shades of deep blue to dense grey and black. Completed with a white shirt and tie, jackets with fluid trousers expressed a conscious ease and certainty of style. It was Armani through an unexpected prism that was still 100 per cent Armani.
Read more stories on the AW22 season here.
| | |
| --- | --- |
| SHARE THE STORY | |
| Explore More | |