Your need-to-know guide to the Milan Fashion Week SS22 ready-to-wear shows, as they happen
We're halfway into fashion month! After two incredibly busy weeks in New York and London, the fashion circle touches down in Milan today for the commencement of Milan Fashion Week, which runs up until September 27 in a mostly physical format before final shows in Paris. As per usual, we'll be updating this page with the shows you want to read about as things go down in the Italian fashion capital. 
Ahead, find our rolling guide of the latest collections from your favourite designers as they showcase both physically and digitally, how to watch them and everything else you need to know: 
Fendi 
When: Wednesday, September 22 at 8pm Malaysia time
Following Kim Jones's debut ready-to-wear collection, Fendi returns with an in-person runway show this week. The AW21 collection was an extremely chic affair that saw Jones remix and rework iconic house styles in a luxurious palette of neutrals and upcycled fur and we can't wait to see what he has next in-store––watch the show live on Fendi.com and check back below for a post-show review. 
Highlights: 
Kim Jones's first live Fendi show was a playful celebration of letting loose and going out. Against the backdrop of a seventies-tinged modern-age disco, models strutted through repeating rows of mirrored Palazzo arches to reveal a decadent collection dedicated to the empowered modern-day woman and the diverse notions of femininity that punctuates brand identity.
The show began with a series of white-on-white ensembles––a summer classic––via slouchy-sleek multi-layered tailoring, flowing kaftans and fur coats that gradually began to change like a gradient, to cream, grey and pink emboldened by colourful graphic prints that were inspired by the works of visionary fashion illustrator Antonio Lopez. Turns out, a hand-sketched logo by the Picasso of fashion illustration had been the starting point of the collection.
"While I've been looking at Karl's legacy at the house, I've also been looking around him, at his contemporaries––at who he was interested in," Jones explained. "Lopez was a friend of Karl's and has always been someone who inspired me. He was forward-thinking; inclusive; looked up to by everyone from Andy Warhol to Steven Meisel and David Hockney. I wanted to introduce him to a new generation".
What resulted was a collaboration with the Estate and Archive of Antonio Lopez and Juan Ramos to revive and reimagine the artist's work through Jones's vision of high glamour fashion. Figurative drawings were translated into leather intarsias and shimmering jacquards across mini dresses, bags, and thigh-high boots; while Lopez's gestural brushstrokes appeared in sophisticated abstraction via silken shirting looks between a succession of flouncing fringe and feathers.
Bowing out the show were a series of evening-ready looks in classic black via suits and glittering lace get-ups, culminating in a confidently sexy tuxedo and mesh bikini top ensemble that you could easily imagine on one of the Studio 54 It-girls that Lopez (and Jones) was inspired by. And to accompany the power-party woman on the go? Bracelet bags, baguettes, and the hit of the AW21 season, the Fendi First––all re-envisioned in a twist of Lopez's fantastical drawings for the post-pandemic dance floor.
MORE: All the runway looks from Fendi SS22
Max Mara 
When: Thusrday, September 23 at 4.15pm Malaysia time 
Returning to the IRL runway this week, current designer Ian Griffiths unveiled a digital celebration of the brand's 70th milestone for AW21 with a tribute to the modern-day woman. Signature hues took centre stage across a strong focus on coats that include the house teddy-bear coat, quilted jackets and bombers that received a street-wise flair.Watch the Max Mara Spring/Summer 2022 show livestream below and check back post-show for more details. 
Highlights:
Are you excited to get dressed up again for the coming summer? We are! For Spring/Summer 2022, Max Mara took inspiration from French writer and literary rebel Françoise Sagan––and specifically, her acclaimed masterpiece classic Bonjour Tristesse––to unveil a collection in Milan's Bocconi University about rediscovering our inner landscapes.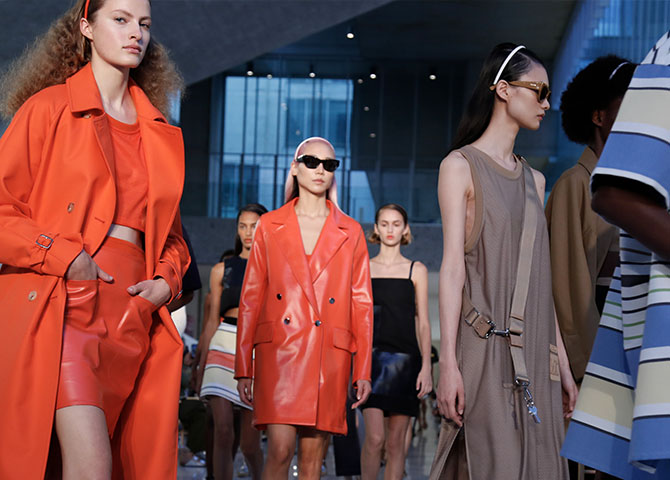 Evoking the sun-filled glamour and charm of the French Rivera, Ian Griffiths delivered utter sophistication to dissect the imagined persona of a bourgeois rebel. A focus on modern suiting was presented with feminine touches and bits of pastels and neons, alongside crop tops and colourful stripes to usher in the new season. Vittoria Ceretti opened the show in an elegant black, popped-collar coat and dress look that was swiftly followed by an eggshell rendition. In signature Max Mara fashion, monochrome ensembles were the order of the day––paired with roomy hand-held carryalls and strapping metallic sandals to match, alongside occasional splashes of utilitarian details, with crossbody key straps here and leather panelling there.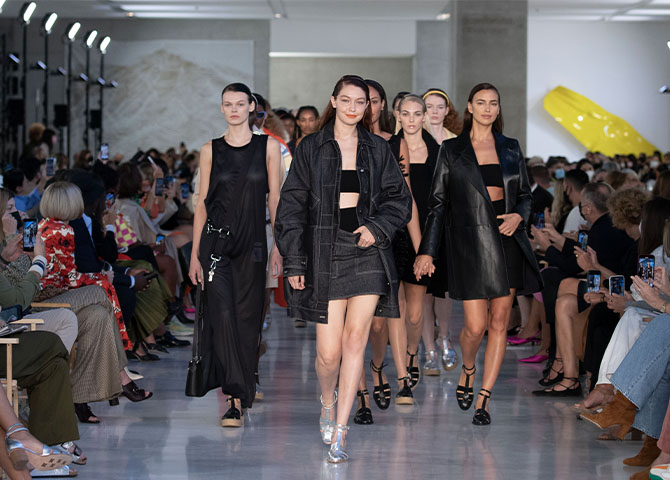 Amongst shiny vinyls, crotchet knits, and jacquard denim, there were also black swan-esque feathers to bring a touch of dark romance and playfulness to the runway in evocation of the novel portrayal of a self-indulgent haze of high summer. And closing off the show was Gigi Hadid, who showed off her freshly dyed red 'do in effortless denim co-ords that'll fold into our daily wardrobes as easily as separates.
MORE: See every look from the Max Mara SS22 collection

Boss 
When: Thursday, September 23 at 6pm Malaysia time 
Continuing their collaboration with American sportswear brand Russell Athletic, Boss will be unveiling a live runway show for the pre-Spring 2022 season in Milan. The brand released their Spring/Summer 2022 collection via a lookbook full of fresh brand codes and contemporary sophistication last week.
If their previous joint collection with Russell Athletic is anything to go by, it's that we can expect more expertly-tailored, retro-inspired pieces to come. Watch the livestream below: 
Highlights:
You wouldn't have thought that the Boss x Russell Athletic Pre-Spring 2022 show was in Milan by the looks of the set-up: A baseball environment at the Kennedy Sport Center, lit up by bright shades of orange and blue in the bleachers, preppy cheerleaders accompanied by mascots and a marching band on the field, and loud cheers from more than 1,300 spectators. It was, as Boss put it, "Game Day". On the runway, we spotted Gigi Hadid, Irina Shayk, Adut Akech, and closing (and perhaps, stealing) the show was TikTok star, Khaby Lame. Over on the bleachers, guests included Chiara Ferragni, Sam Suchiwa, S.Pri Noir, and Catrinel Marlon. Not to mention, top German athlete Alica Schmidt made her modelling debut here too.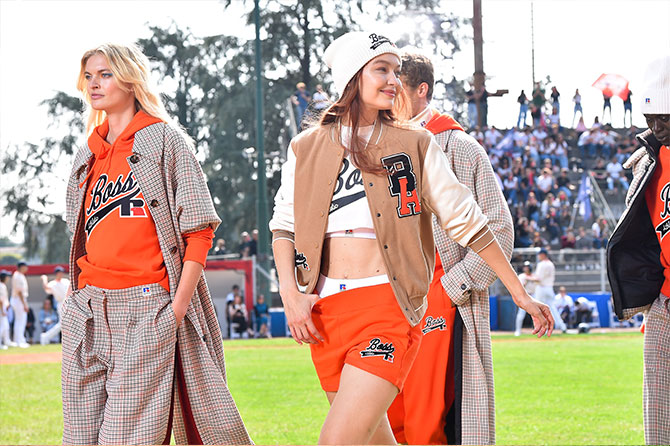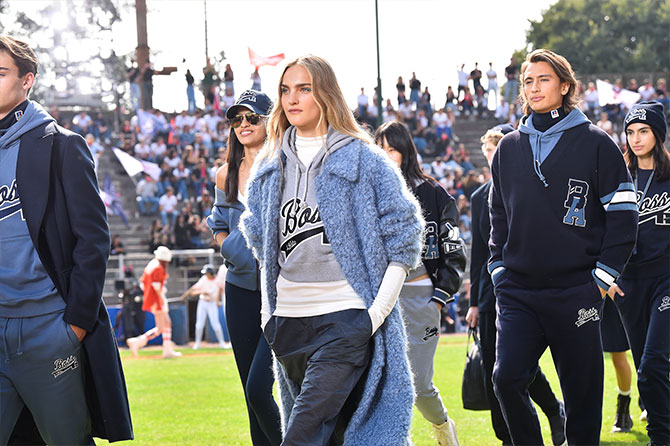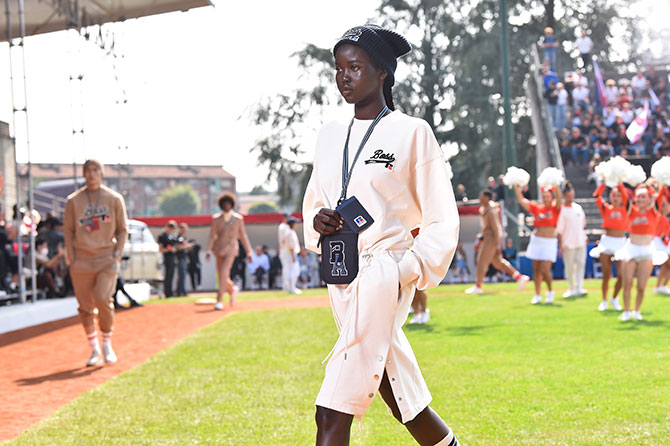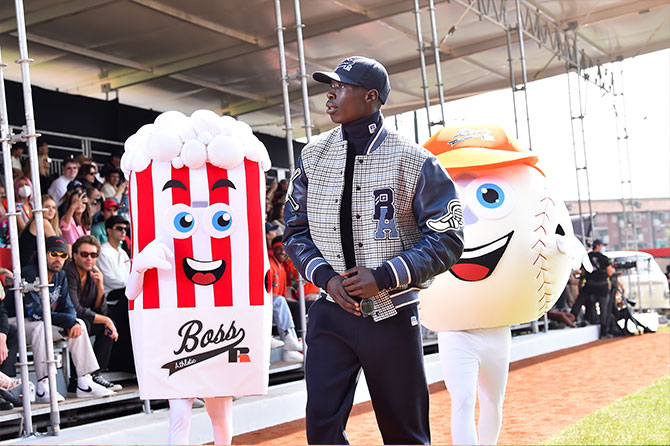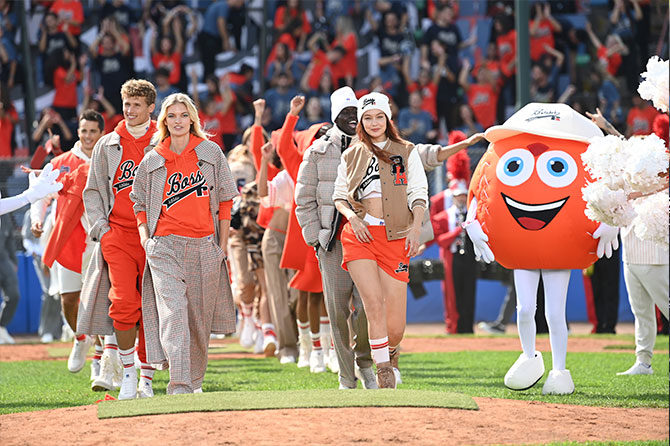 Synonymous with this year's Met Gala theme, the Pre-Spring 2022 collection—the second Boss x Russell Athletic collection, in fact—was brimming with archival American fashion elements, but particularly in the sporty casualwear arena with retro Americana references. From varsity jackets to track pants, blazers to hoodies, crewnecks to baseball-inspired shirts, the collection sported mostly a neutral colour palette (camel, grey, black and white) with pops of orange and blue too. Despite it looking seemingly simple, the collection was fun to look at where pieces could go well together as a monochrome look, or as separates for a wide variety of occasions. Looking past the 'rah-rah' energy—and the now-recognisable Boss x Russell Athletic logo (either as a statement on hoodies and beanies or as a 'BA' chenille patches on varsity jackets)—tailoring is what Boss does best, even on slouchy sweatshirts.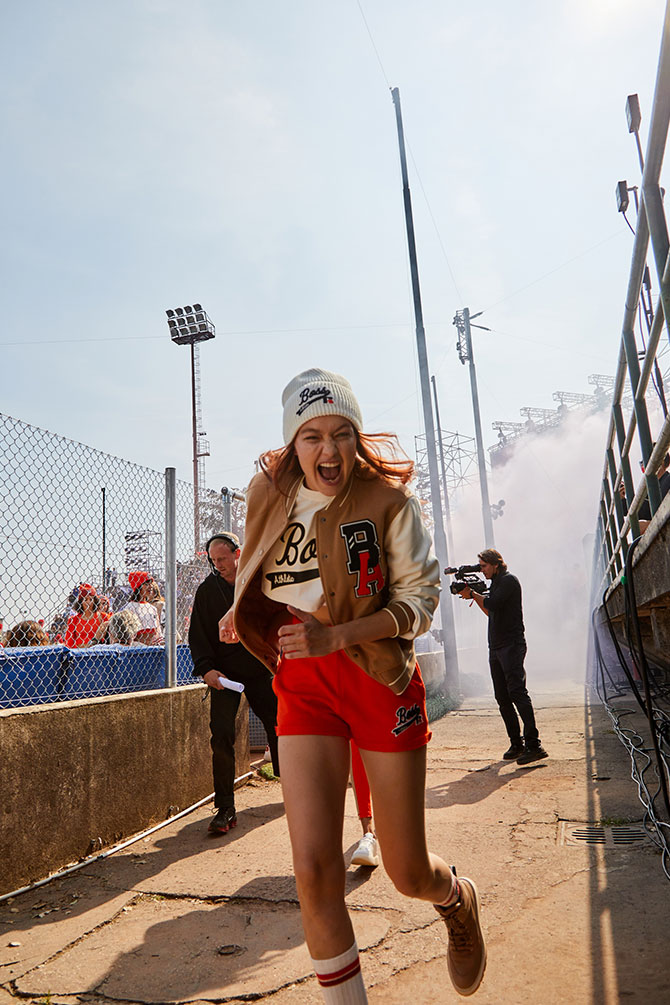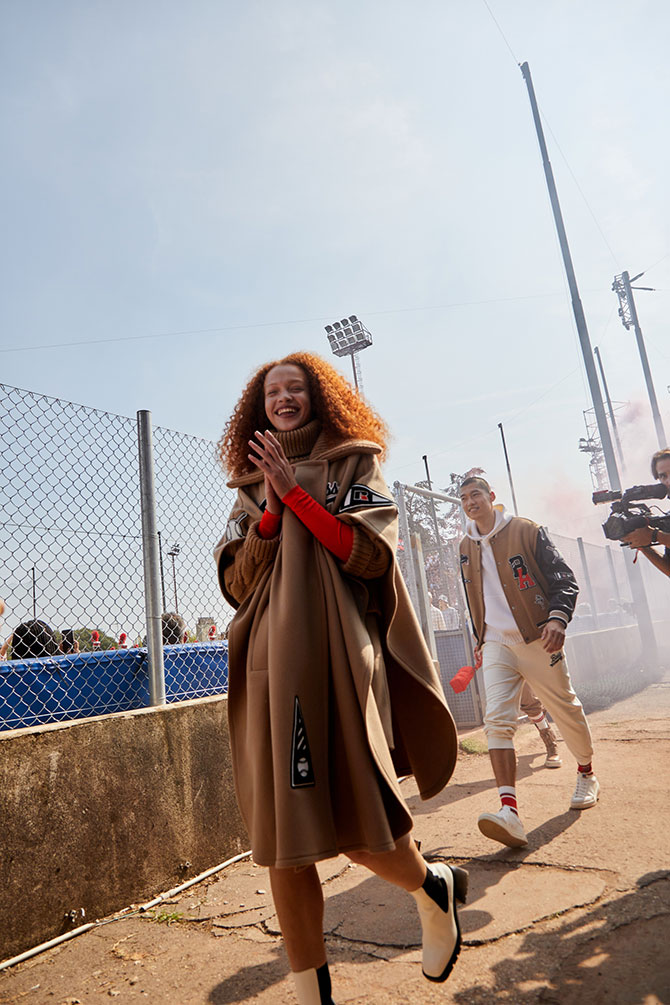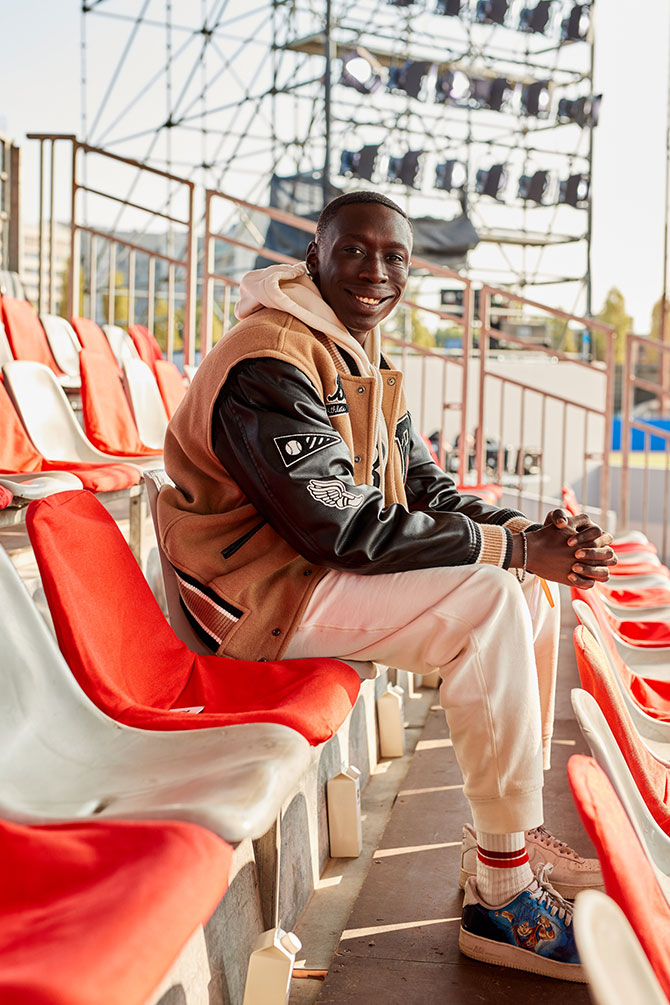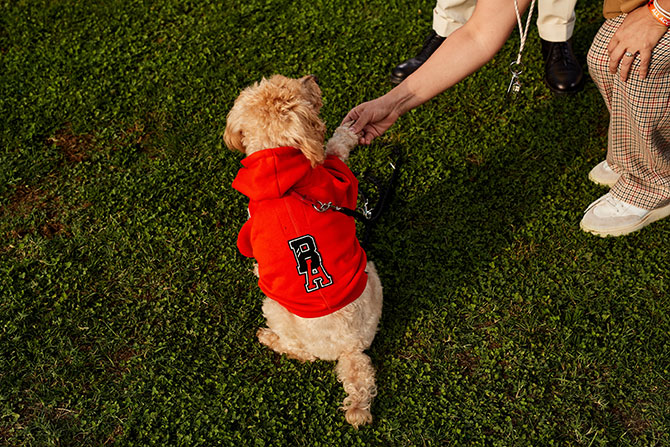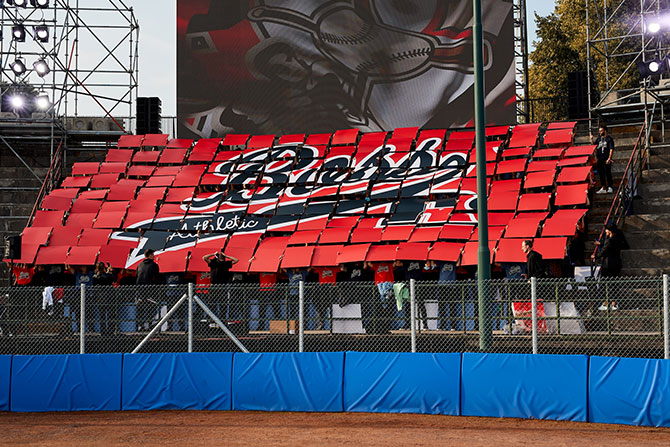 Let's just say, the show was a home run. Meanwhile, if you're interested in the collection, it will be available to shop at Boss Suria KLCC and Gurney Plaza, Penang from October 15, 2021.
MORE: All the looks from Boss x Russell Athletic Pre-Spring 2022 show
Emporio Armani
When: Thursday, September 23 at 11pm Malaysia time
The upcoming Emporio Armani men's and women's Spring/Summer 2022 fashion show isn't just about the unveiling of Giorgio Armani's new collection for the label. To be held at the Armani/Teatro, the show will see the brand's return to a live audience after several seasons of video projects. Plus, it'll kickstart the celebrations for Emporio Armani's fortieth anniversary, which includes 'The Way We Are' exhibition at the Armani/Silos. Catch the show at @EmporioArmani and check back here for the post-show review.
Highlights:
"Under the symbol of an eagle that flies high and knows no boundaries, for forty years, Emporio Armani has been expressing the joys of fashion free from imposed rules, that nevertheless maintains the harmony of shapes, balance, and the sense of nonchalant elegance that are the essence of Armani style" is what's written on the Instagram post by the brand accompanying the full video of the show. Indeed, just like how the symbol for Emporio Armani—the more youthful branch from Giorgio Armani's main line—is an eagle, the Spring/Summer 2022 collection was fluid, free and soft. Presenting the collection for both men and women, most of the pieces were otherwise gender-fluid anyway and a majority of the pieces used materials that were light, easy-breezy and almost sheer. While some brands opted for OTT dressing—in the case of NYFW with out-of-the-box silhouettes, bold prints and neon colours—Emporio Armani matches those who wish to continue a kind of comfort dressing with no constraints.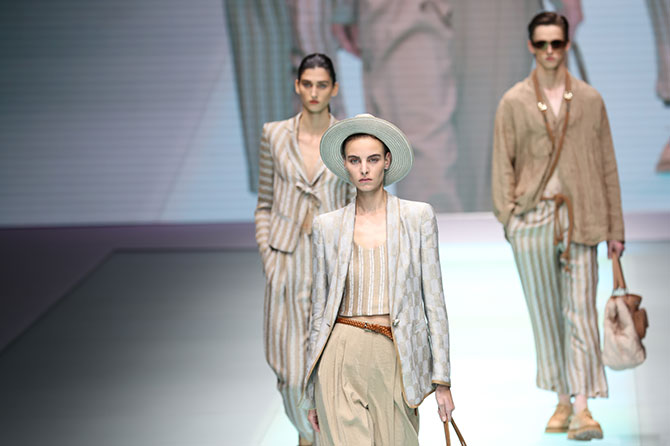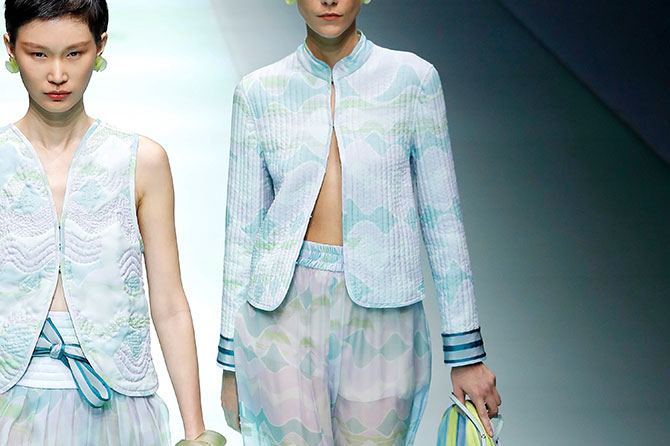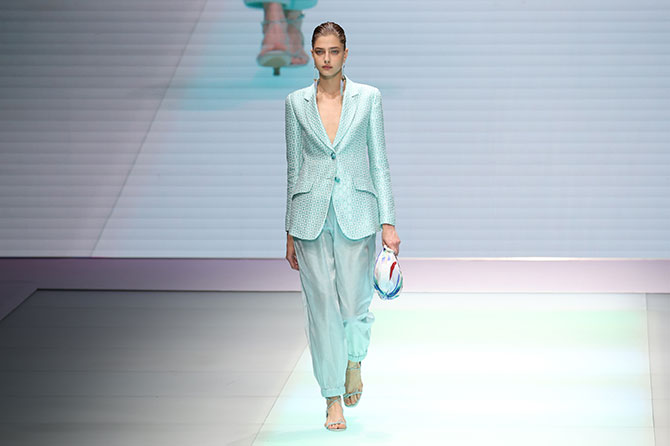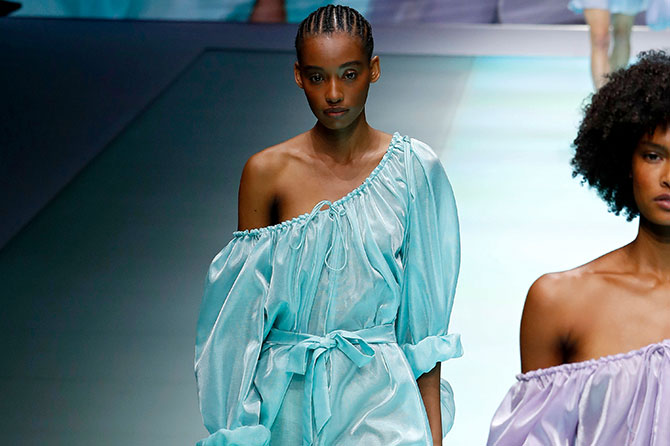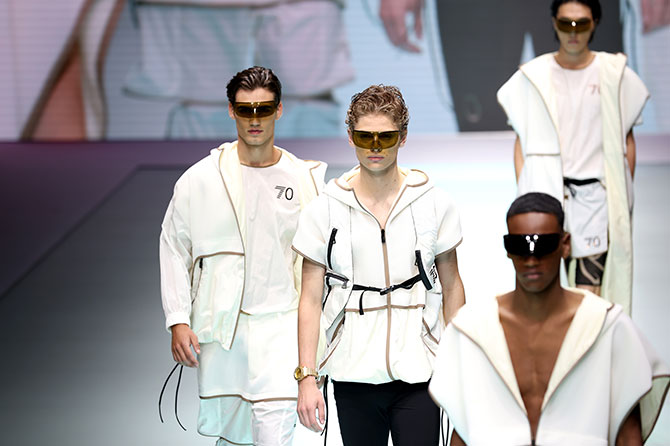 Don't get us wrong though—the eveningwear portion of the show consisted of brightly coloured and shimmery sequinned dresses, tops and skirts, whereas some cocktail fits were paired with heavy beaded necklaces. Of course, we're getting ahead of ourselves as the show first opened with several denim pieces followed by more structural pieces in navy blue. The colours from the collection transitioned beautifully, like the changing hues of the sky in a desert. After all, the show notes elaborated that the journey "begins in an imaginary desert, crossing its oasis and ending in vibrant colourways". From there, it continued on with a soft, slightly rigid pace of whites, beige, soft pastels before concluding with a festival of bright reds, greens, and blues (RGB pallette?)—some with a satin-like sheen, some were see-through and some glimmered. Besides being androgynous, it also came off as rather futuristic and timeless.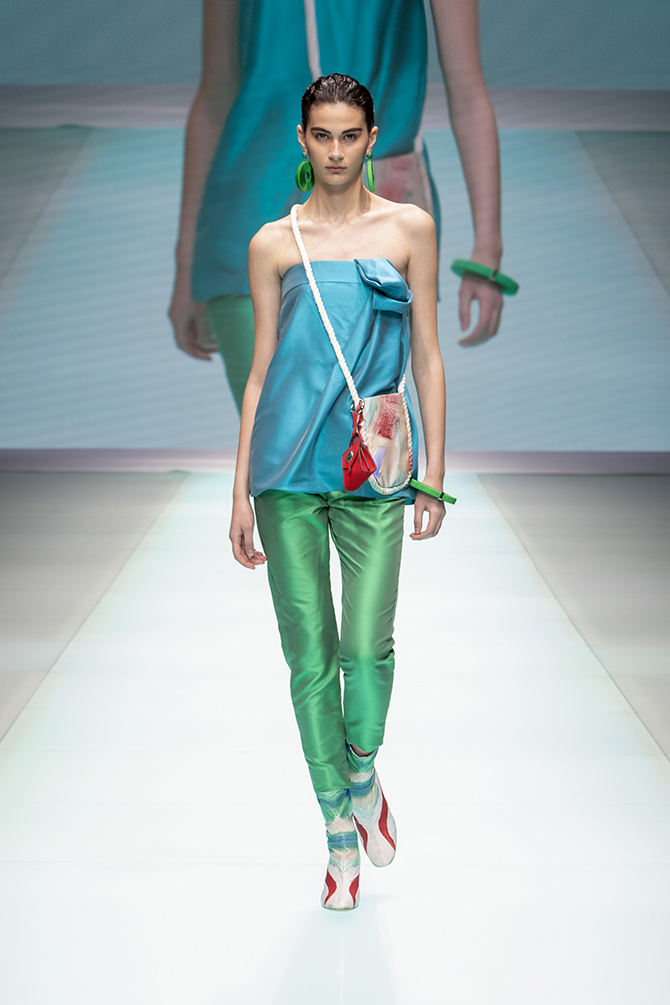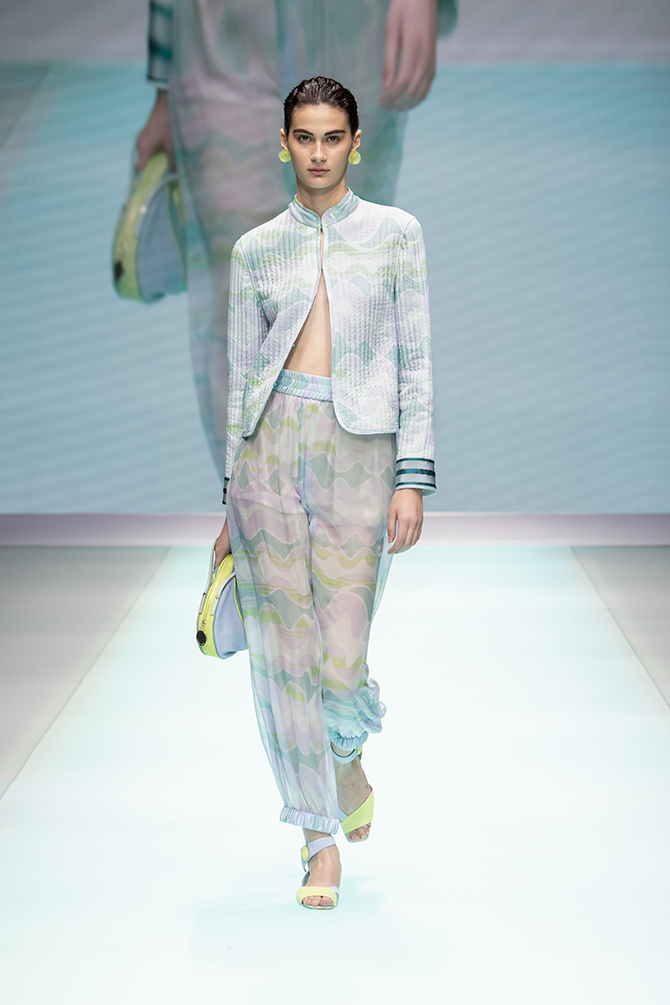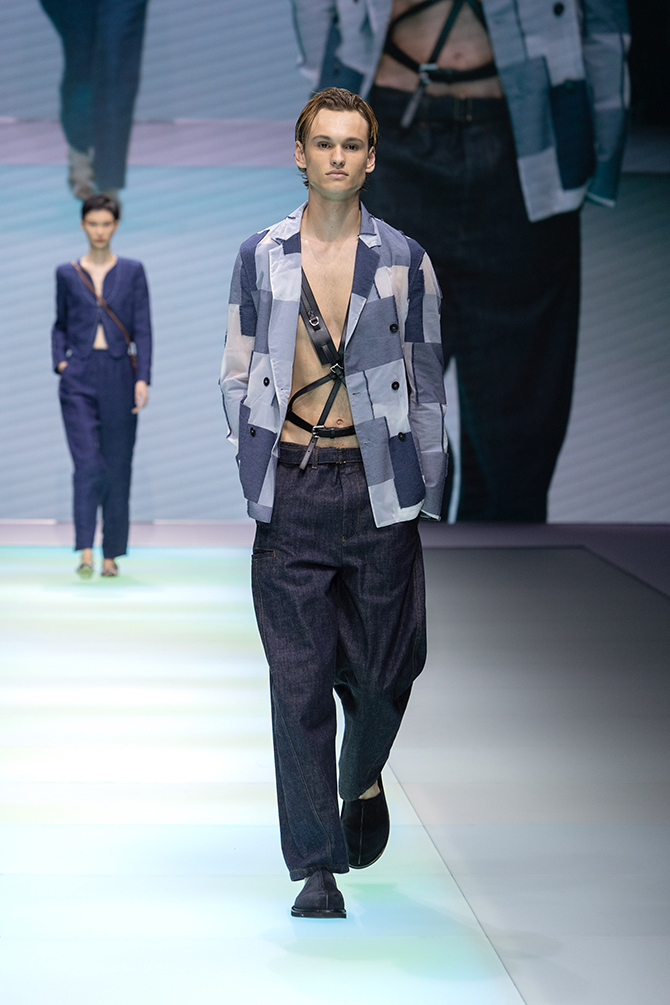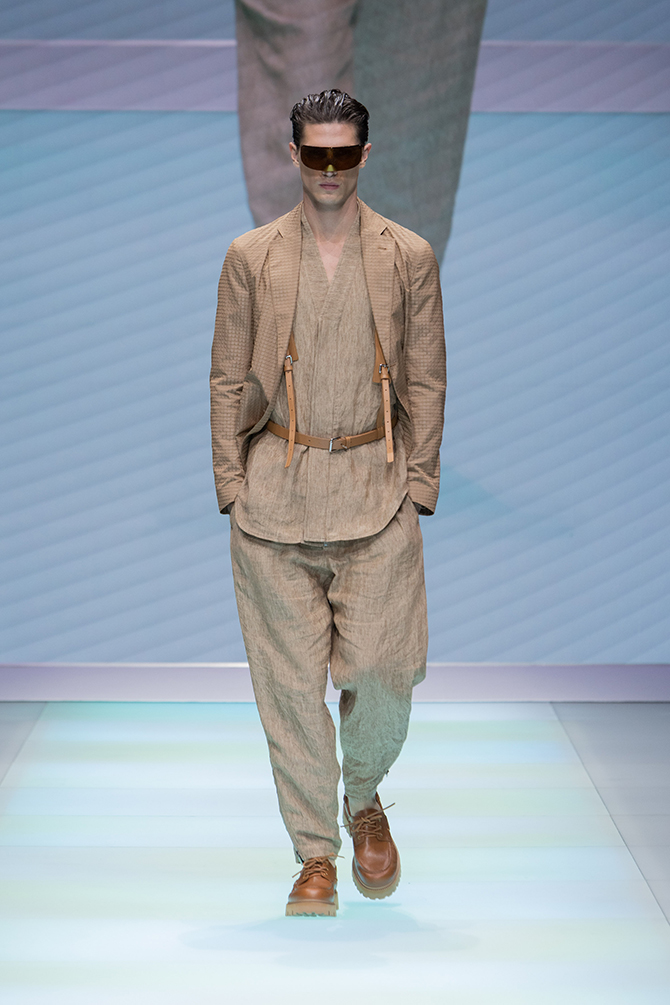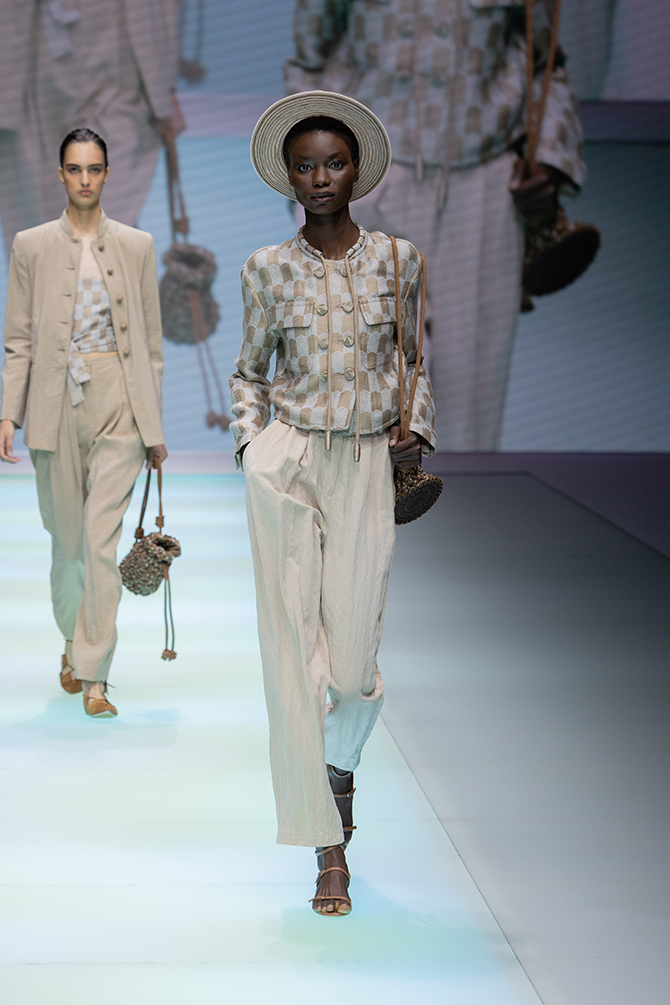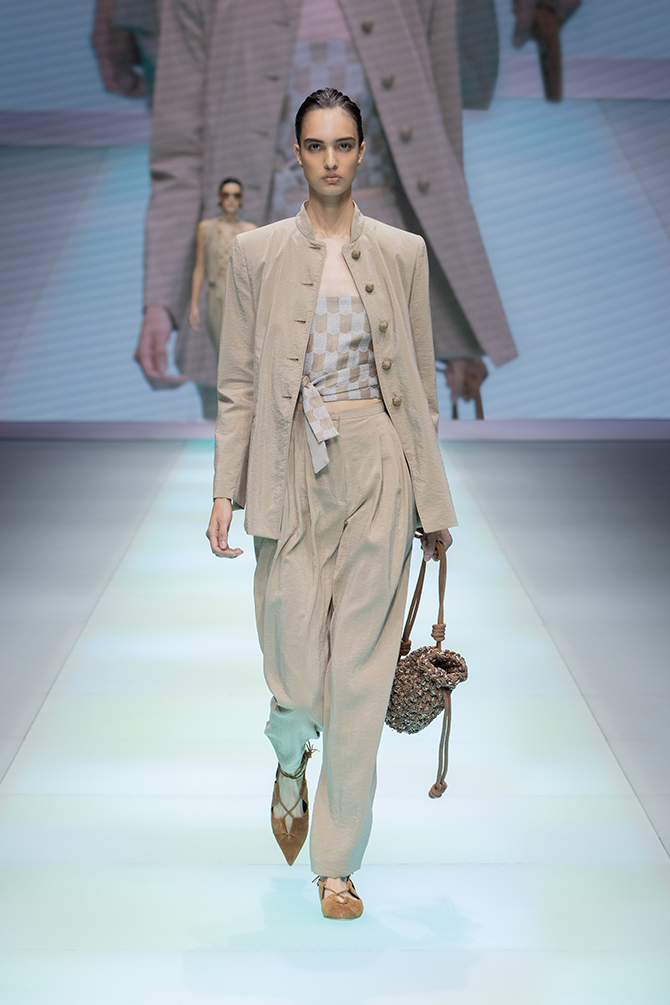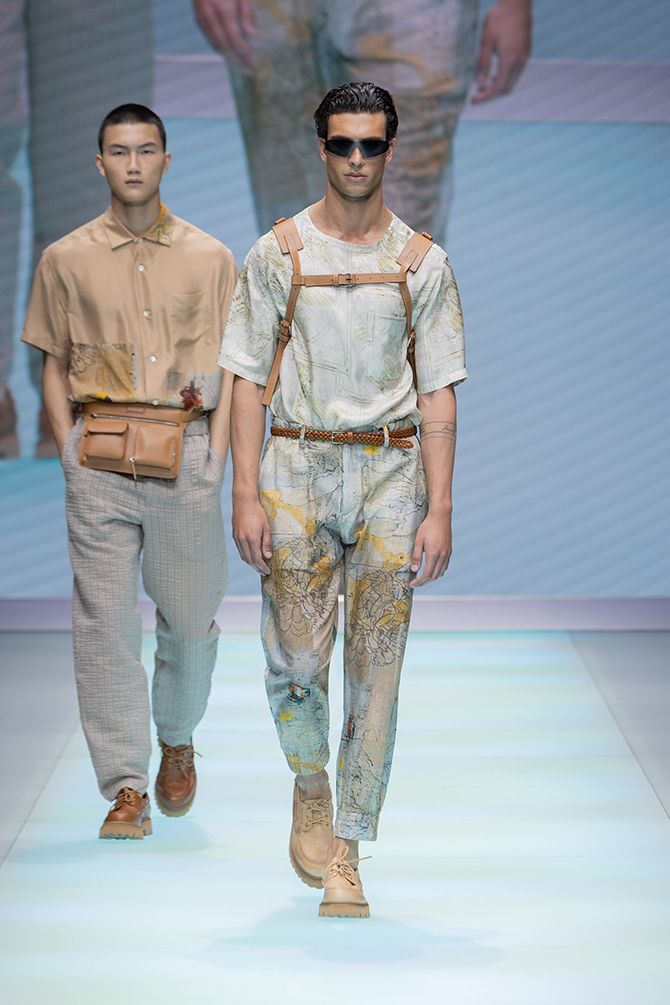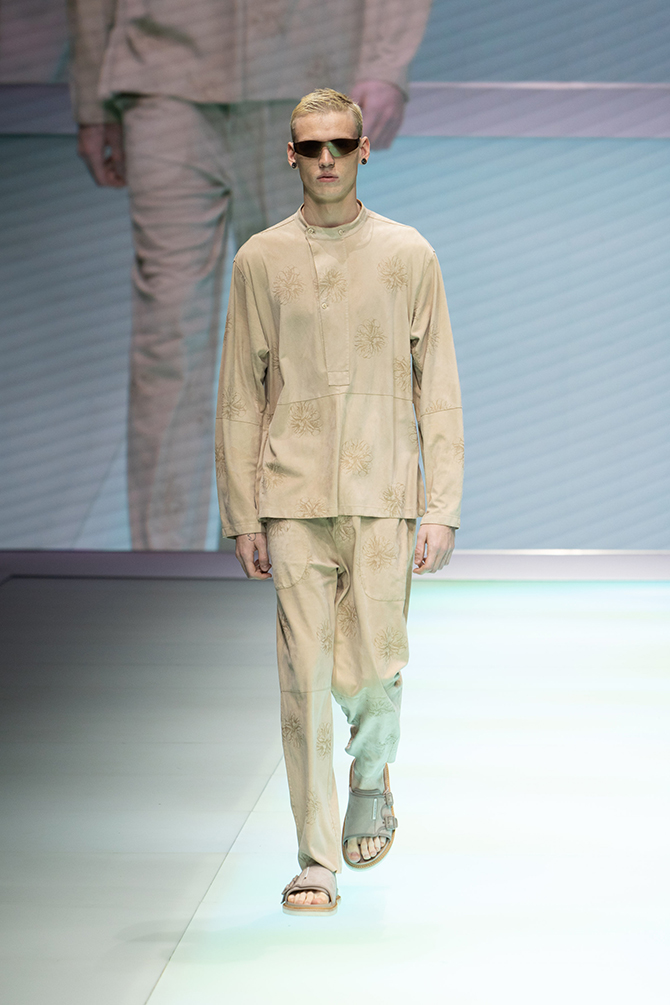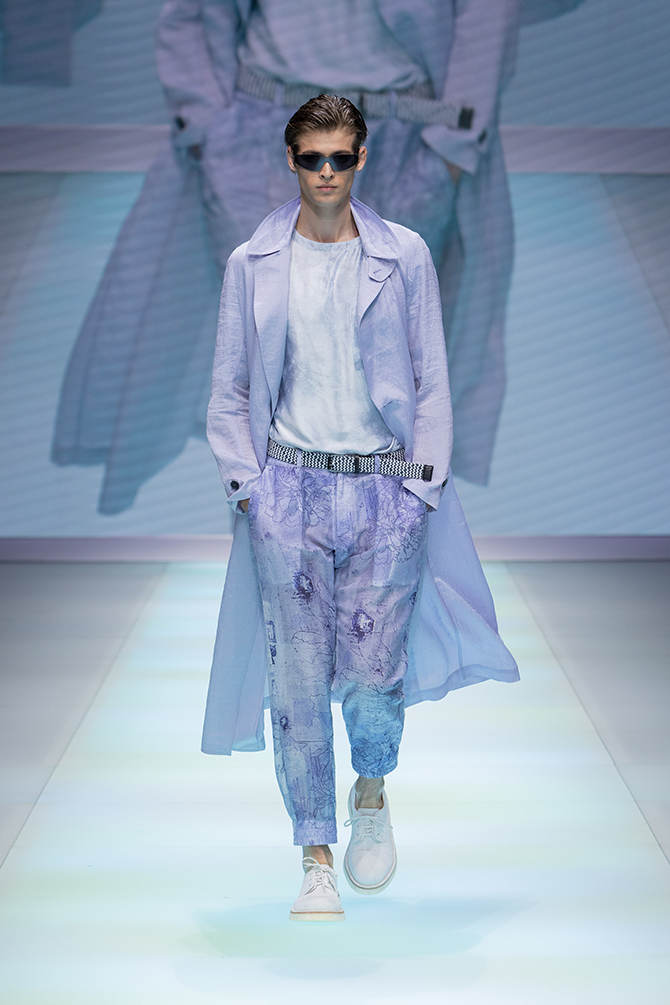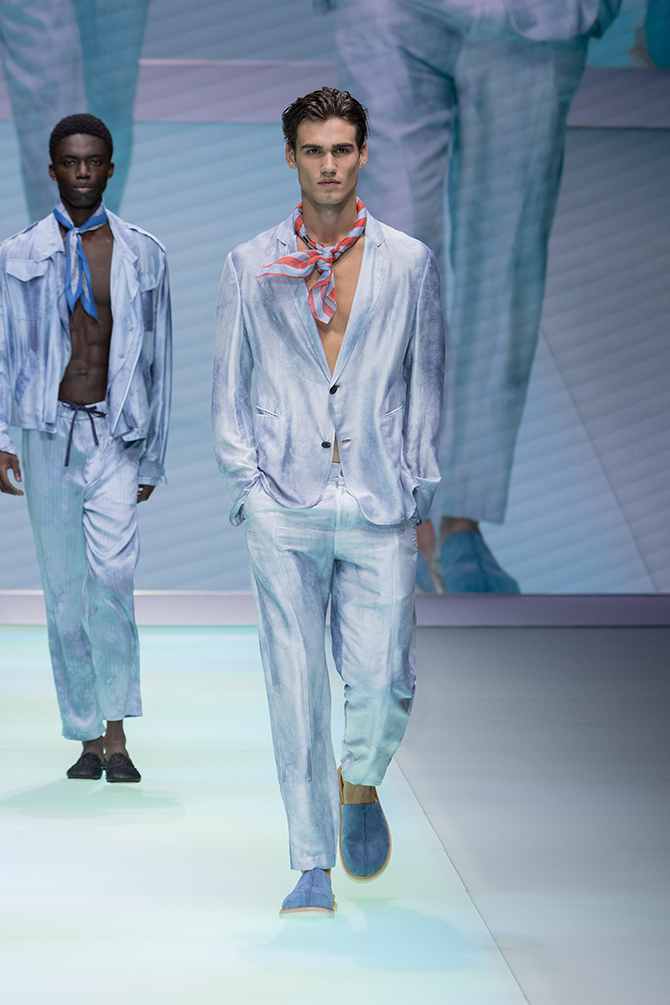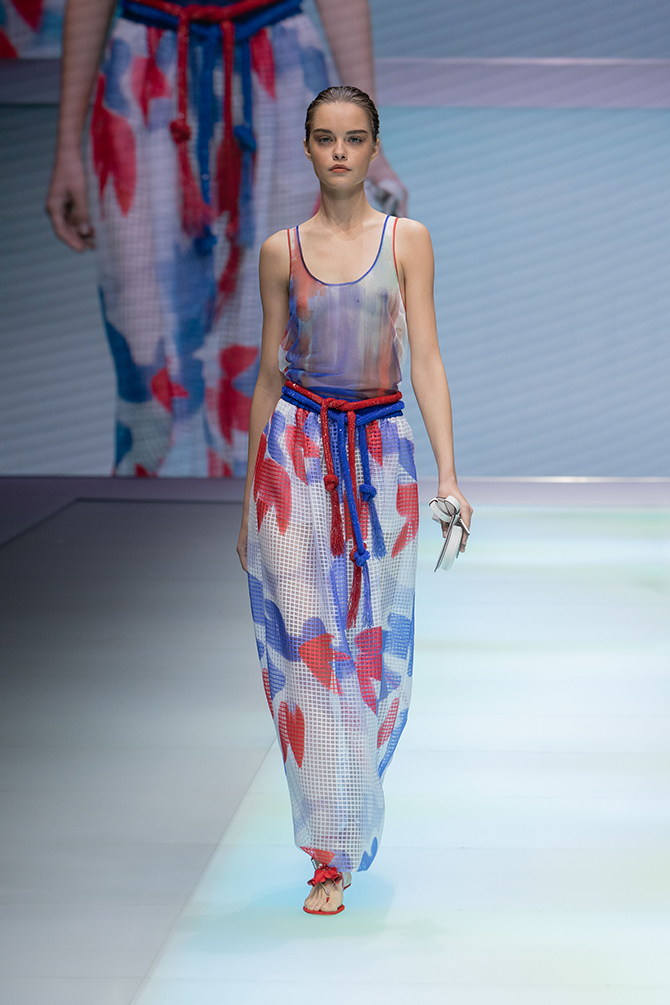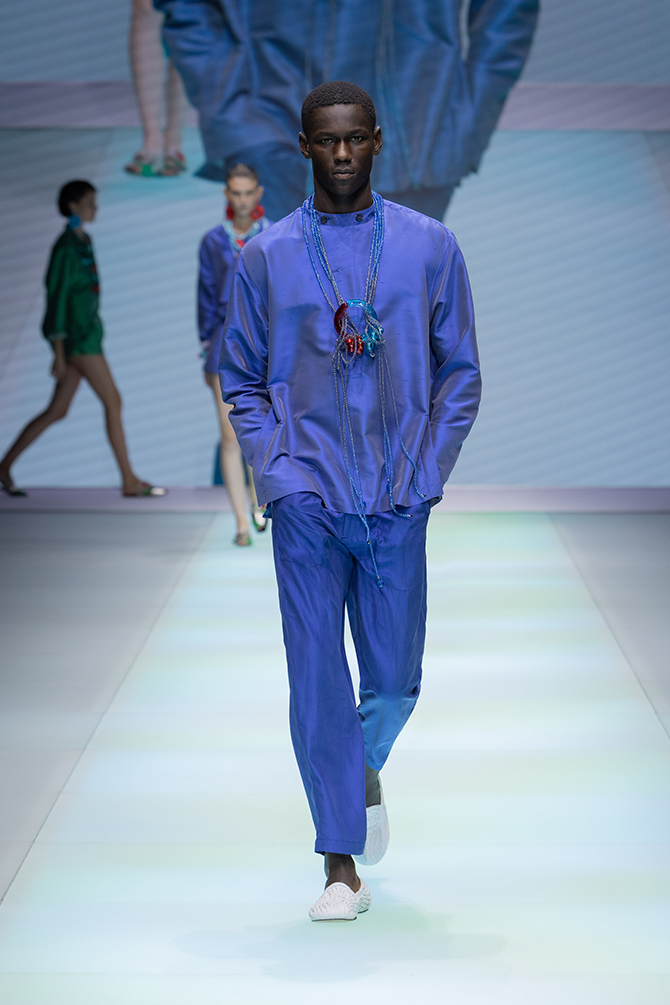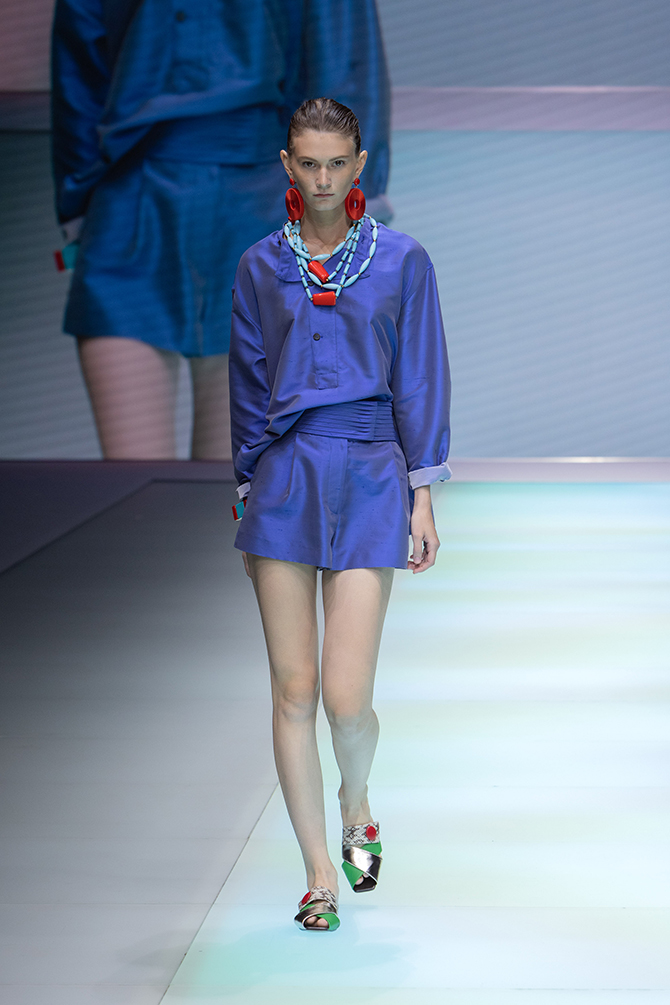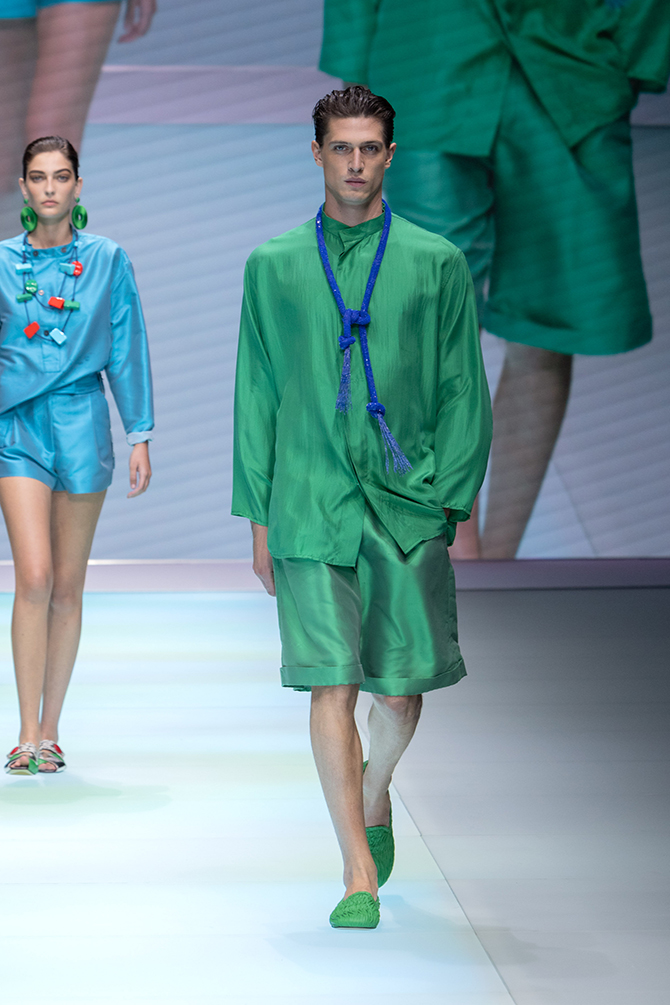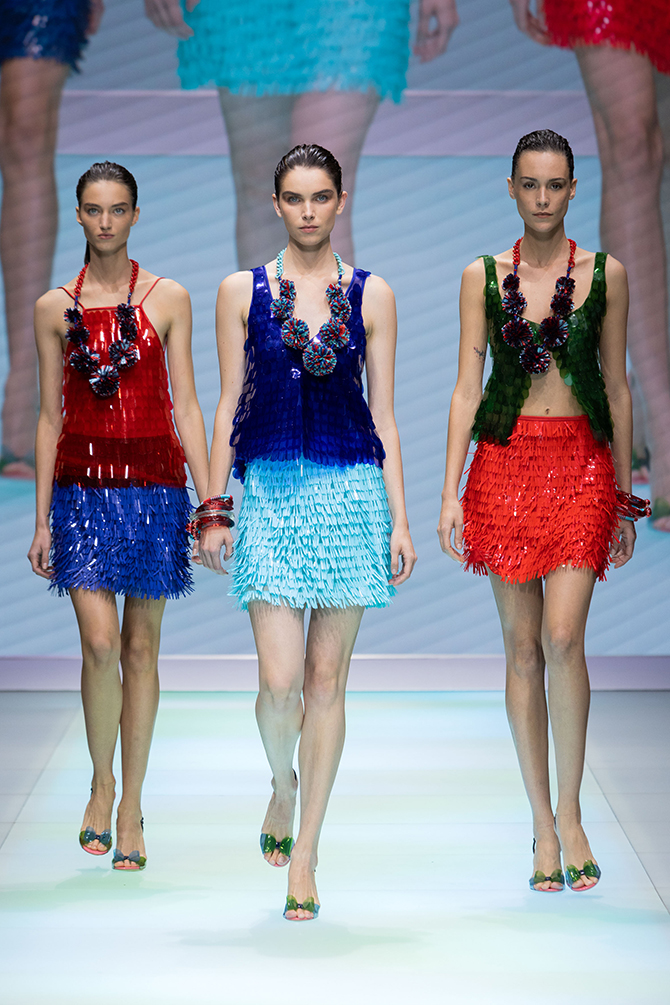 Other notable pieces include thin or tailored blazers, (lots of) chiffon (in varieties of tops, skirts, shorts and dresses), pyjama-like fits, tunic tops, silky shirts and prints that resembled a beautiful watercolour painting in soft hues. "Everything blends together, quite freely," as the show notes aptly put it.
Tod's 
When: Friday, September 24 at 4pm Malaysia time 
Tod's Spring/Summer 2022 show will be taking place with a live performance by Spanish artist Carlota Guerrero alongside a soundtrack by Rosalia. Catch the livestream at Tods.com and the brand's Instagram, and check back here for a post-show review. 
Highlights: 
The Tod's Spring/Summer 2022 show opened with seven women dressed in shades of brown moving together in a rite of union. Hair combing and handcrafting, they stood together in the performance video by Carlota Guerrero whose work blends feminism, nature and performance. In the IRL space, Gigi Hadid opened the show in front of photos of Guerrero's installation, in a chic city coat with leather details and matching tan accessories. Taking inspiration from Italian cinematic legends such as Federico Fellini, Isabella Rossellini and movies like La Dolce Vita and Rosemary's Baby, designer Walter Chiapponi translated Tod's signature of craftsmanship and femininity through a '60s-tinged collection packed with leather and knitwear that had plenty of legs on show.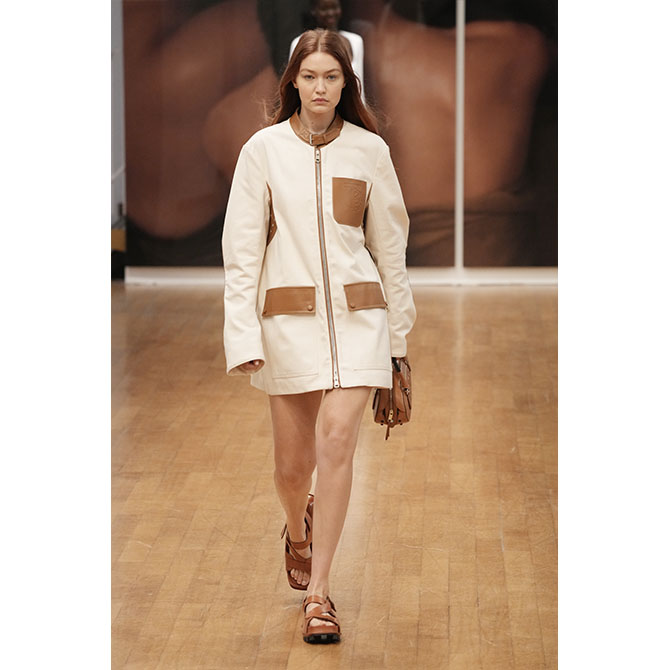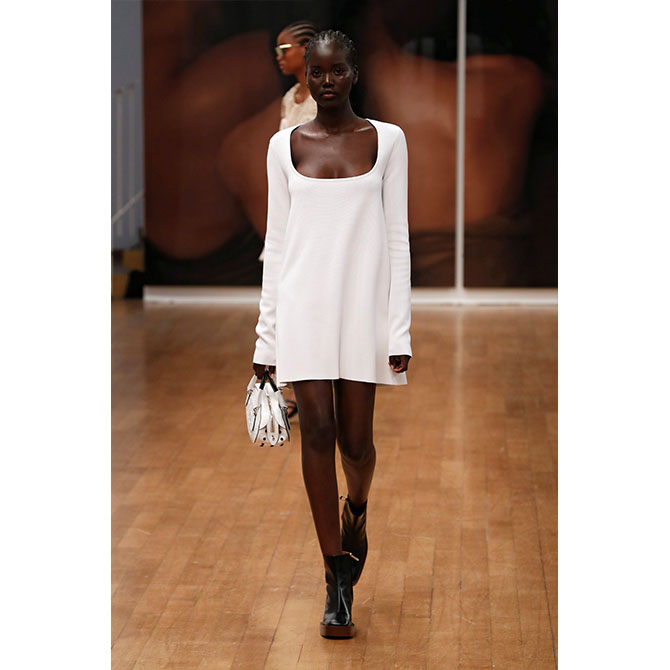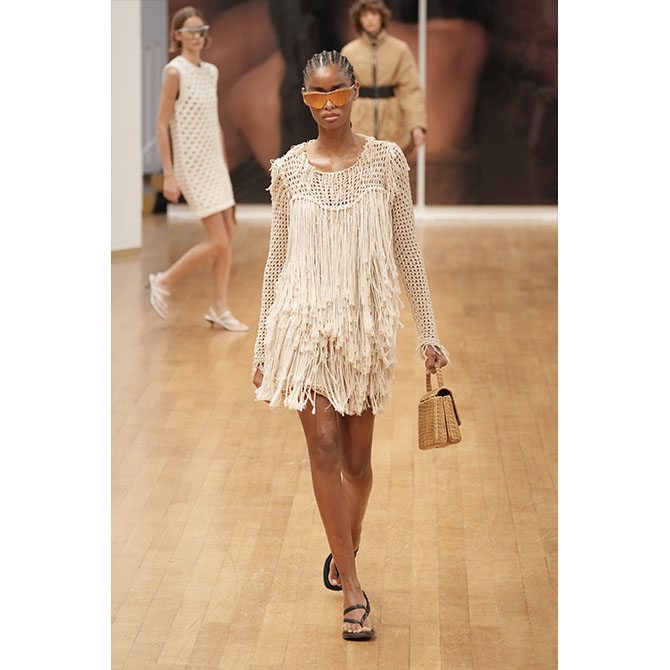 Dresses and belted jackets arrived in a mix of tailoring and sportier pieces, in slim-fitting silhouettes and neutral shades that transitioned into pops of brights and muted shades. There was also fringe, crotchet and quilting to add a touch of texture to the more elegant, simpler styles, alongside one standout salmon frock featuring all-over ruching and all-the-way zipper.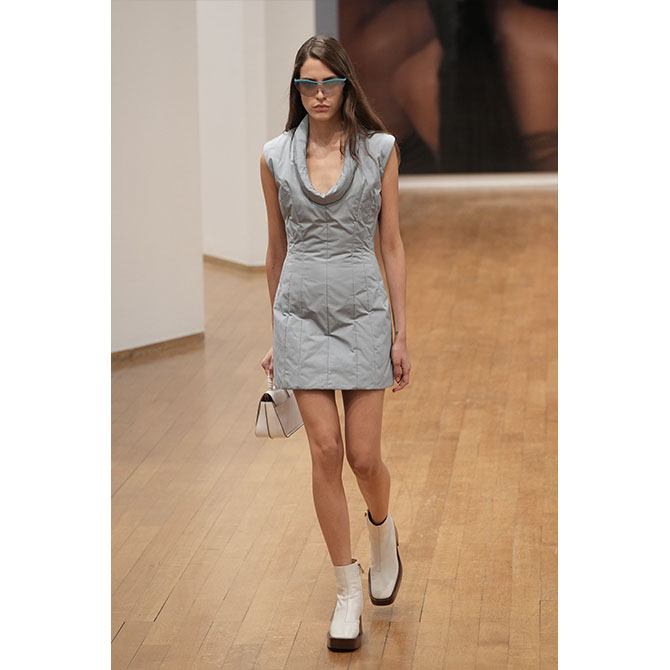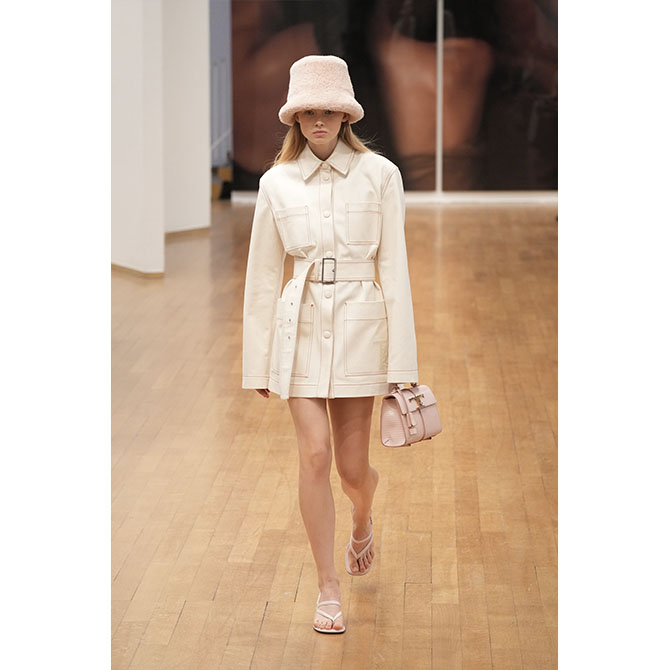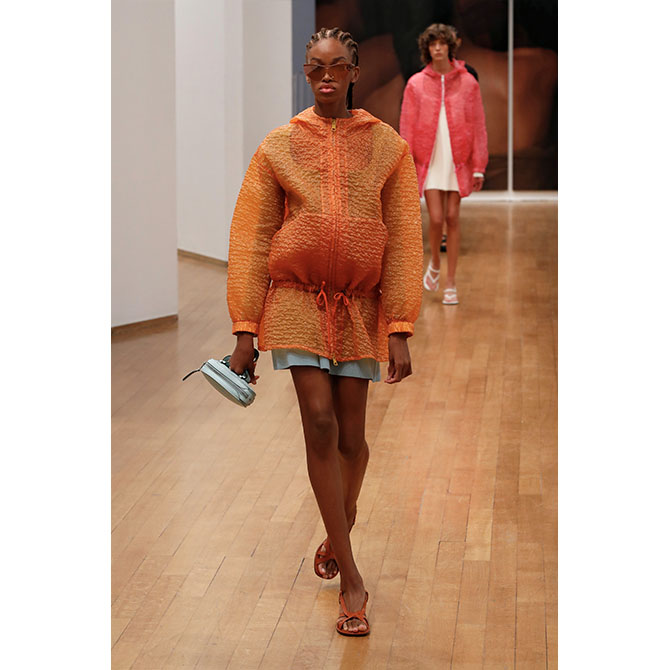 On the accessories front, plenty of pretty buckets hats, reflective visor glasses and a selection of satchels and top-handles from the brand's T Timeless project topped off each look, alongside rubber-soled sandals and dainty kitten heels. To close the show, the functional anorak was elevated to elegance in vivid colours of yellow, red and turquoise across puckered, layered fabrics for the girl on the go.
Sportmax 
When: Friday, September 24 at 6.15pm Malaysia time 
For AW21, the Sportmax team unleashed a triumphant show defined by their yearning to return to the dancefloor––oversized suiting mixed among satin slips and iridescent parachute gowns in grand proportions. This season, the brand will be presenting a physical show, 'The Anatomy of Silence' in Milan's East Market. Watch the livestream below and check back here for a post-show summary. 
Highlights: 
Art and fashion are inseparable––Sportmax's SS22 runway shows it. For the latest collection, creative director Grazia Malagoli drew direct inspiration from avant-garde classical music composer John Cage and his most famous composition "4'33, where not a single note is played. As such, models walked across a quiet pure-white environment as movement, music and clothes came together in diverse colours, shapes and textures to present a coolly charming collection down the runway.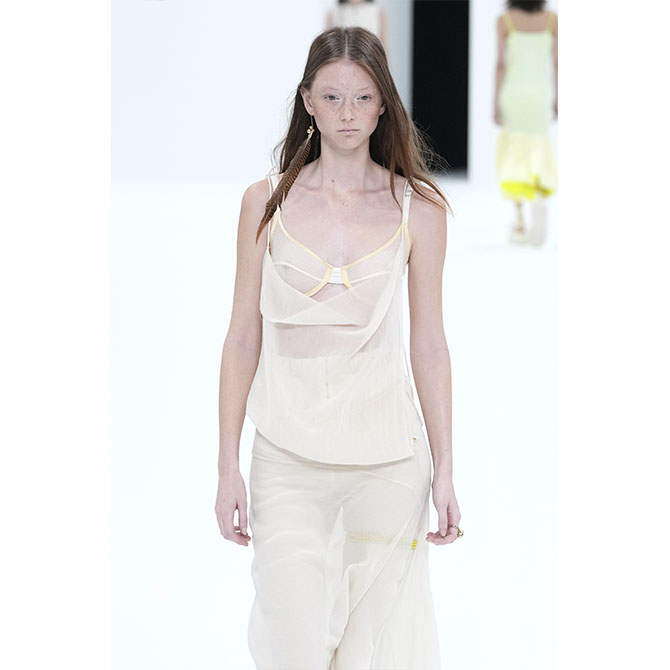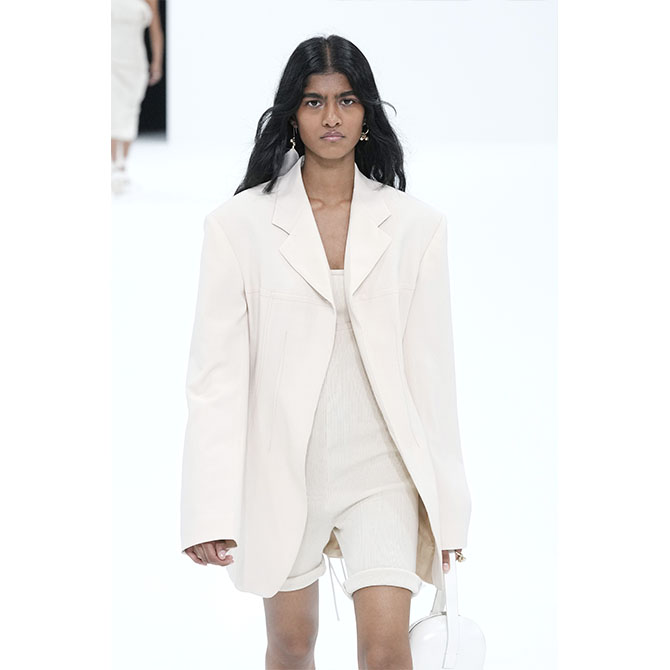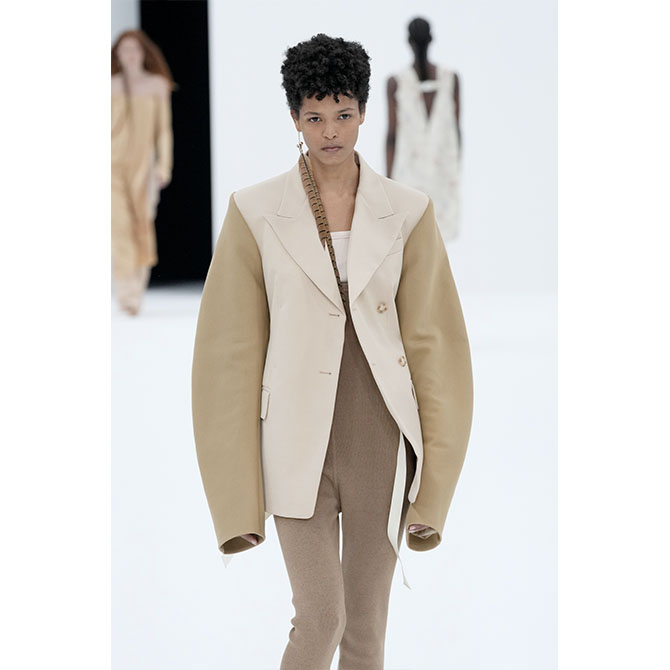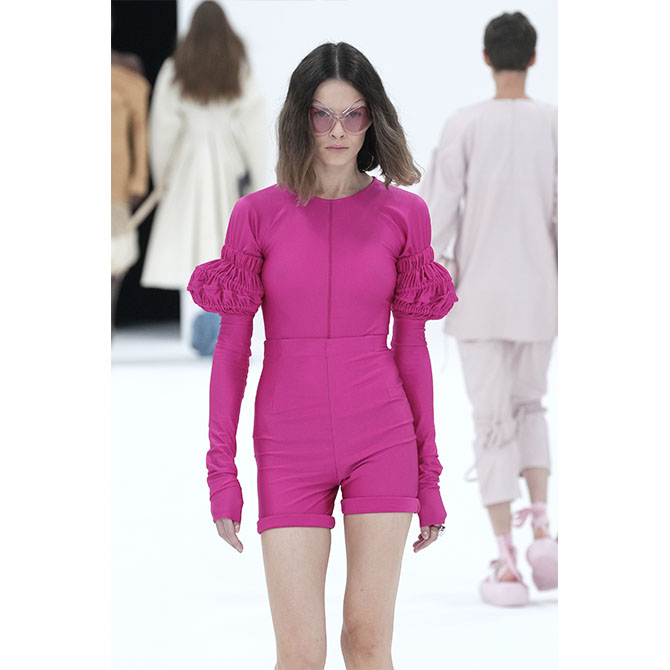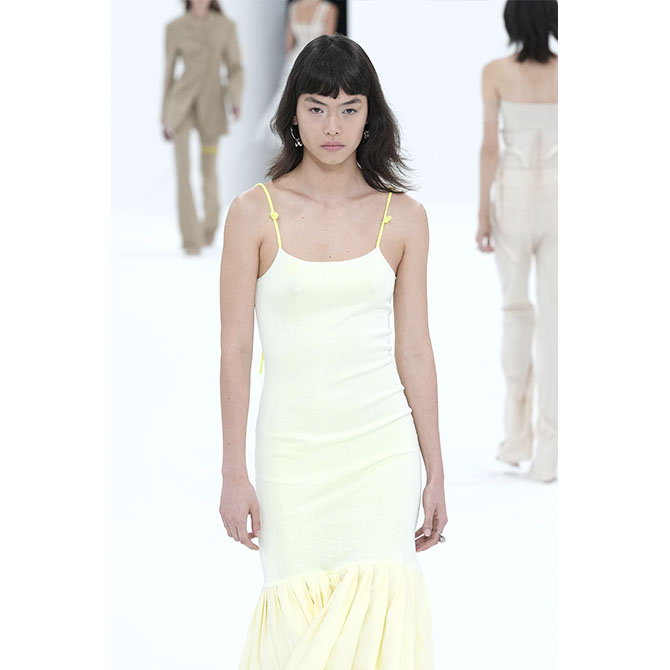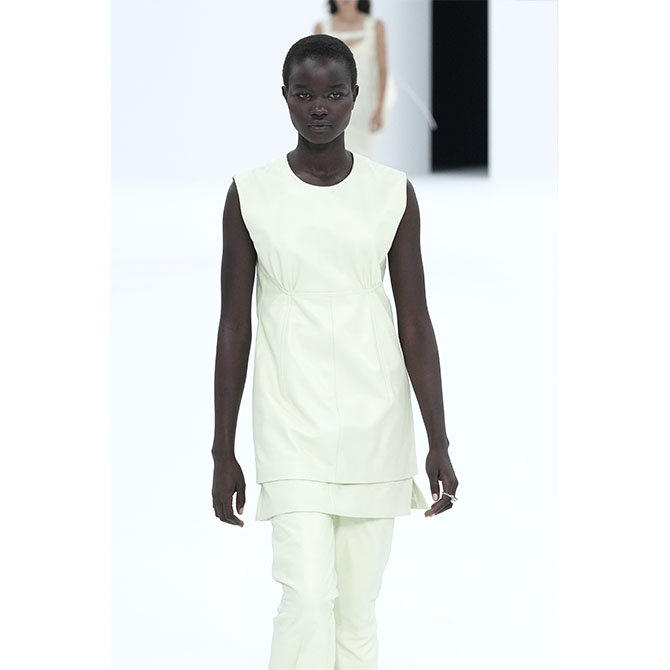 Malagoli introduced the sensibility of baroque into the brand's signature minimalism in order to explore contrasts––inspired by the dichotomy between "order and chaos, light and obscurity, noise and silence", which was something that had been a lifelong concern of Cage and his partner-choreographer Merce Cunningham. What transpired was a succession of form-fitting '90s-leaning pieces via a smooth interlude of flesh, ecrus and white tones that were juxtaposed against pops of orange, fuchsia, yellow and lilac. Light, elongated blazers and baggy cotton pants mixed against draped dresses in tulle, gauze and silk georgette, while an abundance of knitwear in second-skin silhouettes played out with details reminiscent of 18th-century corsetry.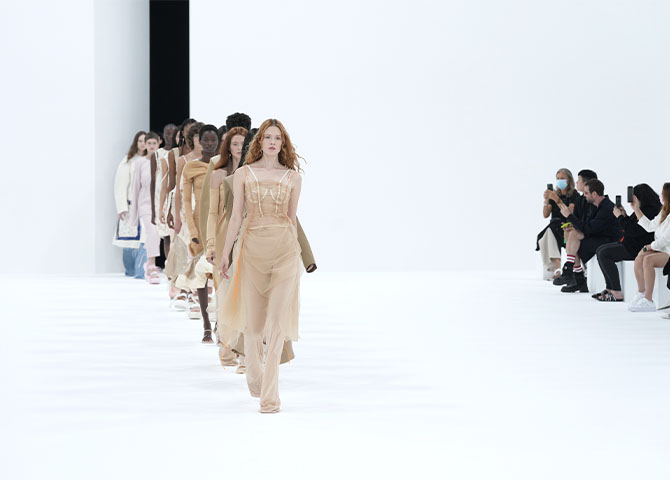 Adding to the experience of discovery, Teho Teardo composed a soundtrack infused with his signature microscope sounds to leave us feeling like we're about to step into the dawn of a bright new world. 
Prada
When: Friday, September 24 at 9pm Malaysia time
Highlights:
"Seduction, Stripped Down" is what Miuccia Prada and Raf Simons named their collaborative Spring/Summer 2022 Prada collection. After watching the show and then reading the show notes, it made sense. On the runways—the show was happening simultaneously in the Deposito of the Fondazione Prada, Milan, and in Bund 1, Shanghai—models strutted down in distressed leather jackets that neatly exposed the bare skin of the torso; mini satin sheath skirts with a single silk train that barely trailed the floor; mini shift dresses that looked simple on the front but surprises with a plunging V-line at the back that ends in a bow and train.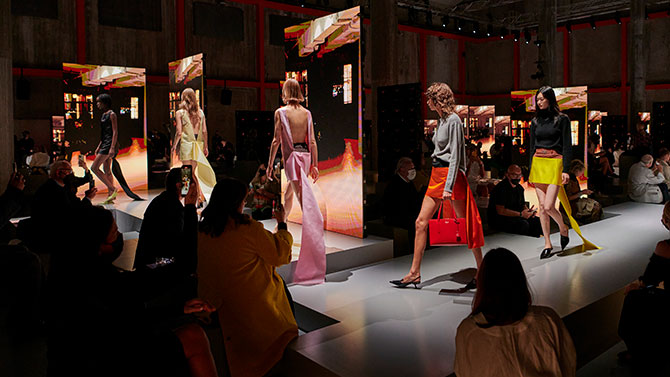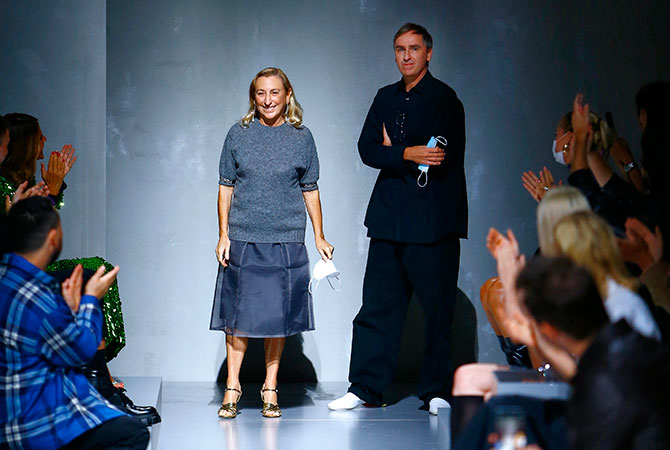 There were also tops that covered up the front completely but were left unbuttoned at the back to reveal a flirty sneak peek of lingerie and belt. On the note of lingerie, Prada and Simons also travelled back in time to relook, and then reinterpret, at the anatomy of female innerwear like corsets and brassiere. The result: Knitwear fitted with the bone structure of a corset. Also, trains, trains, and lots of trains.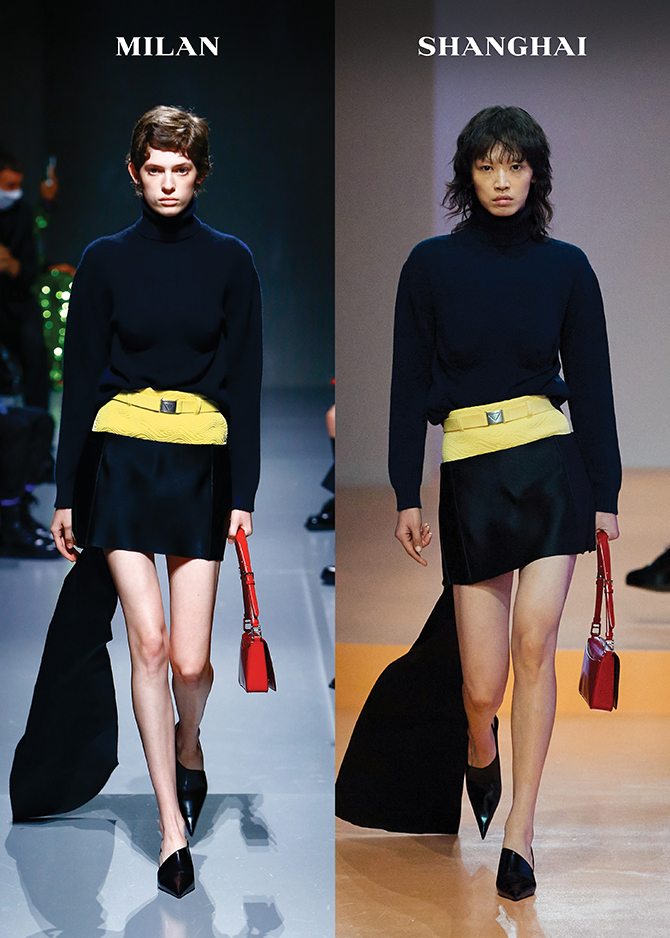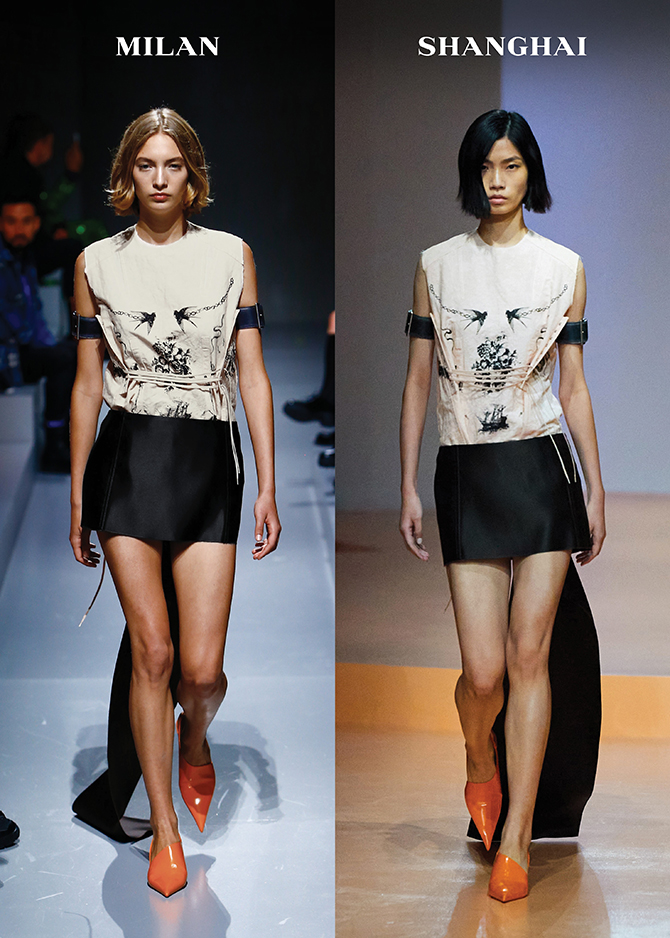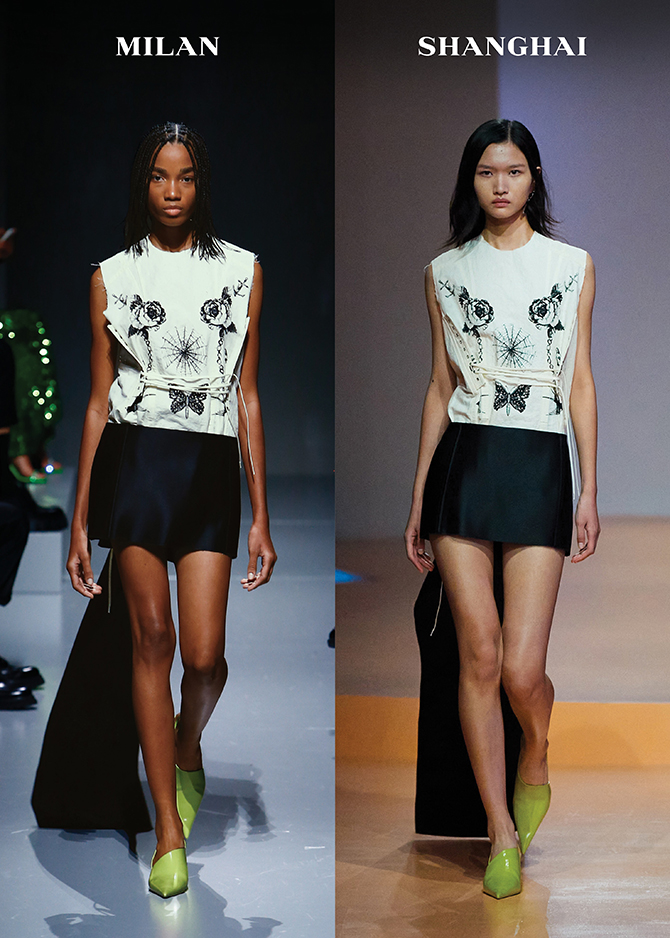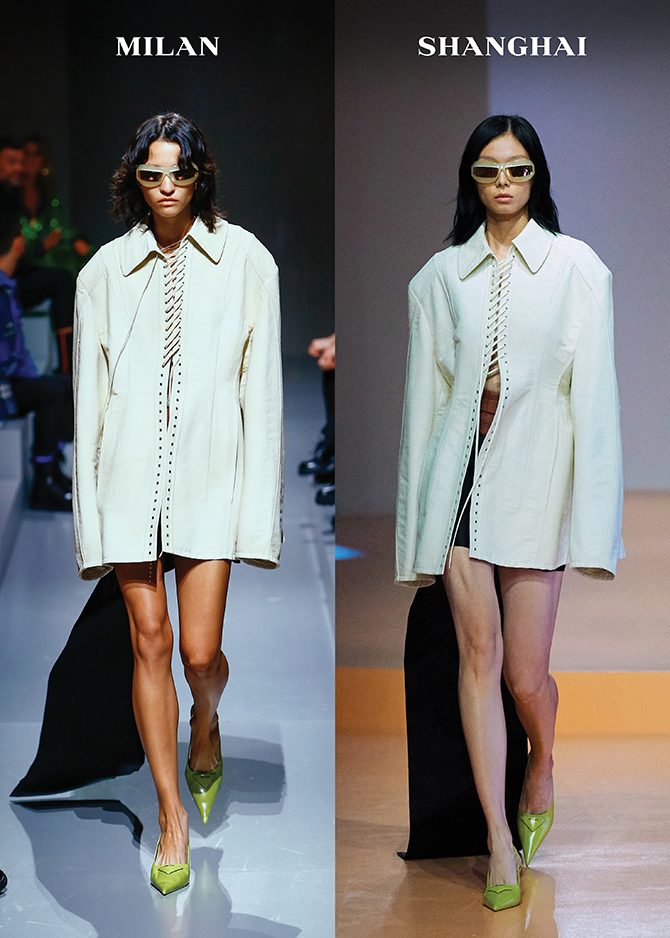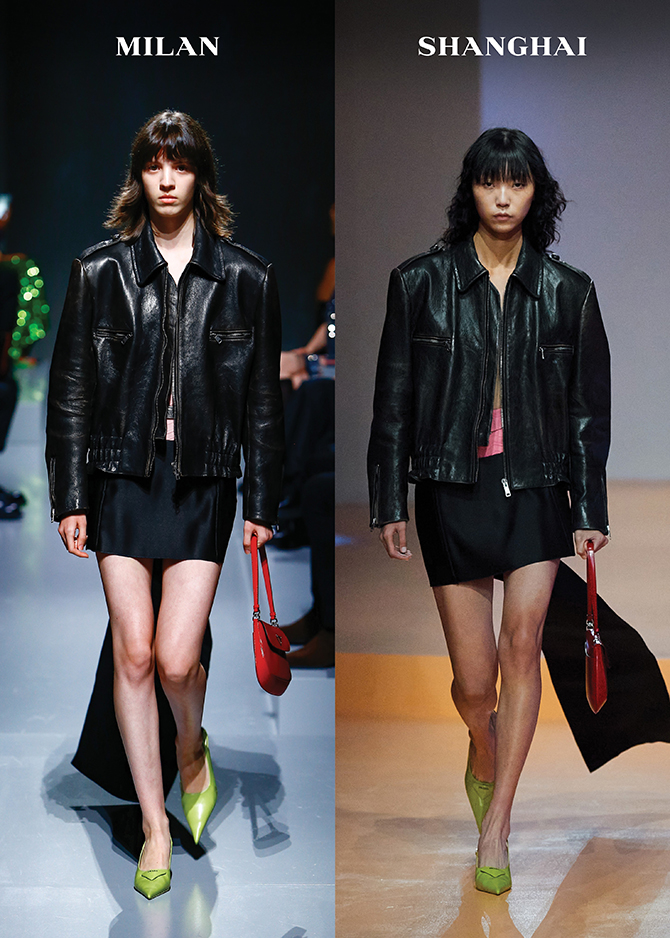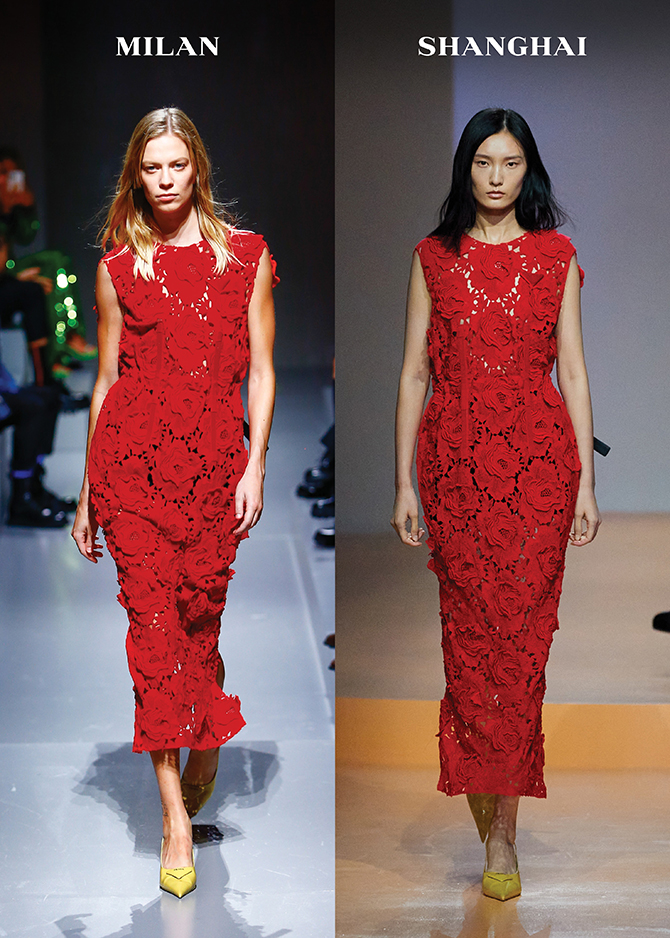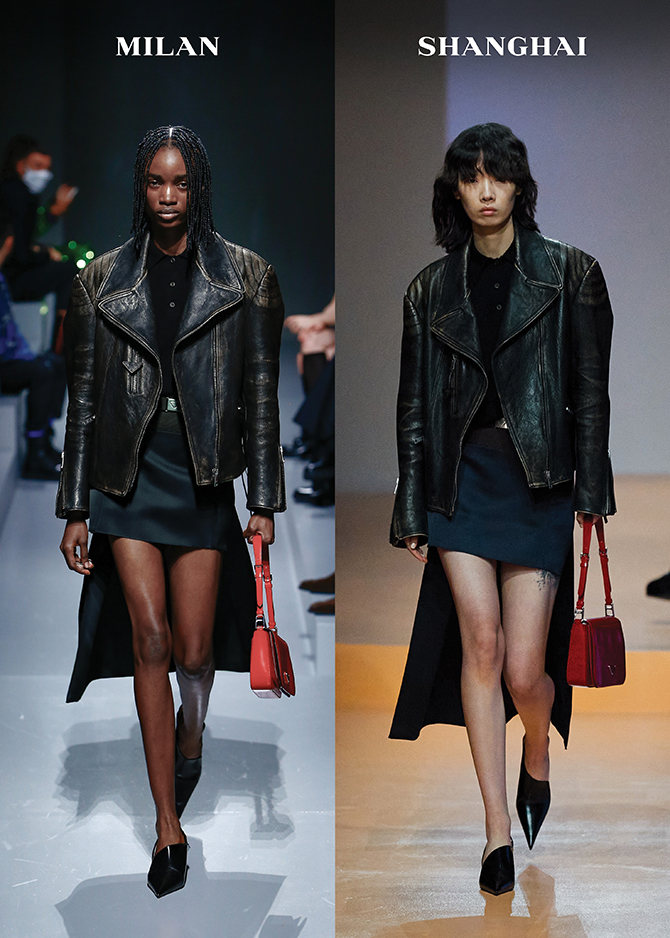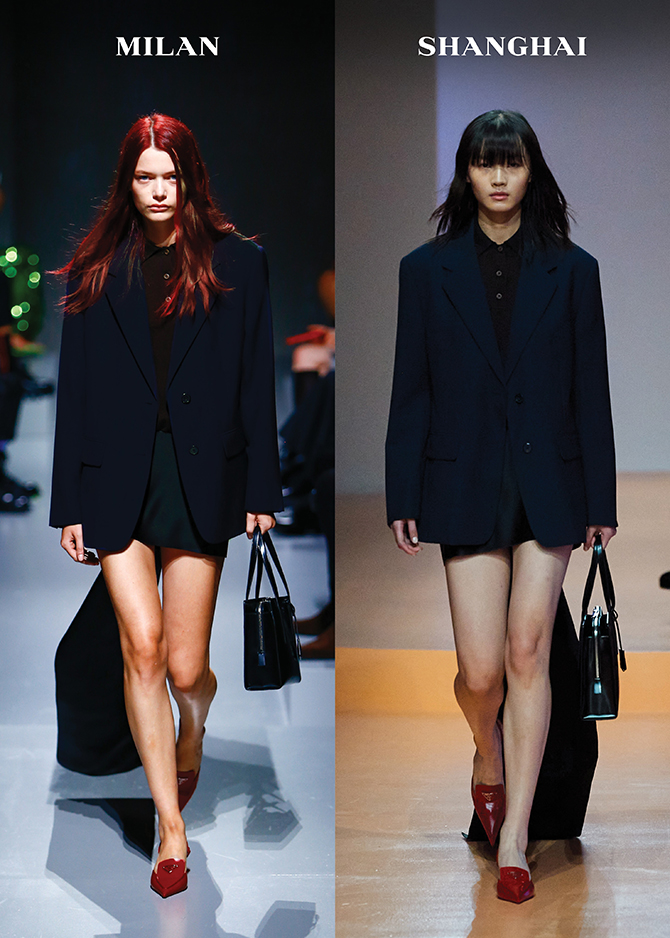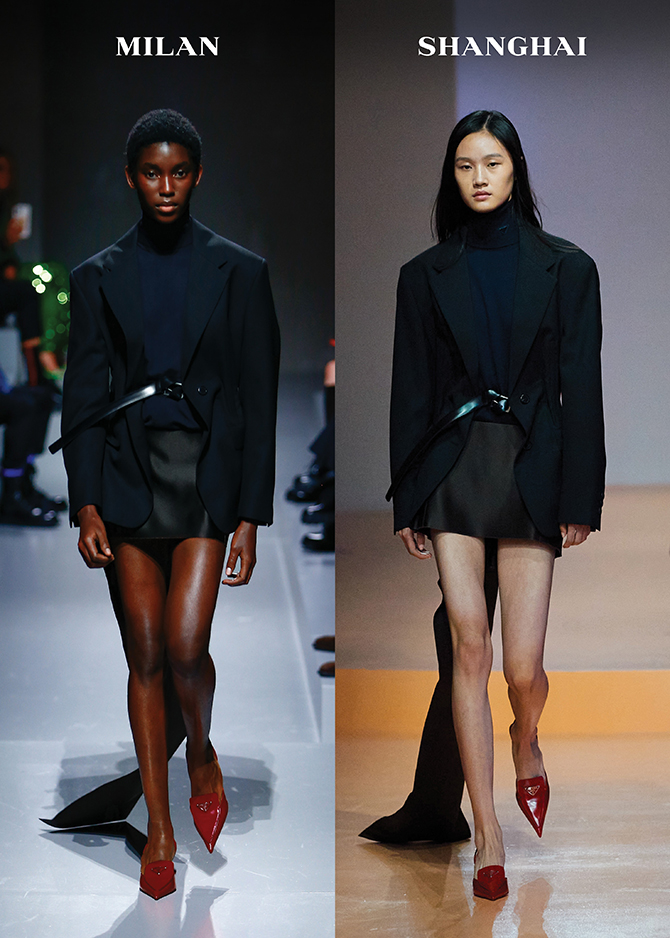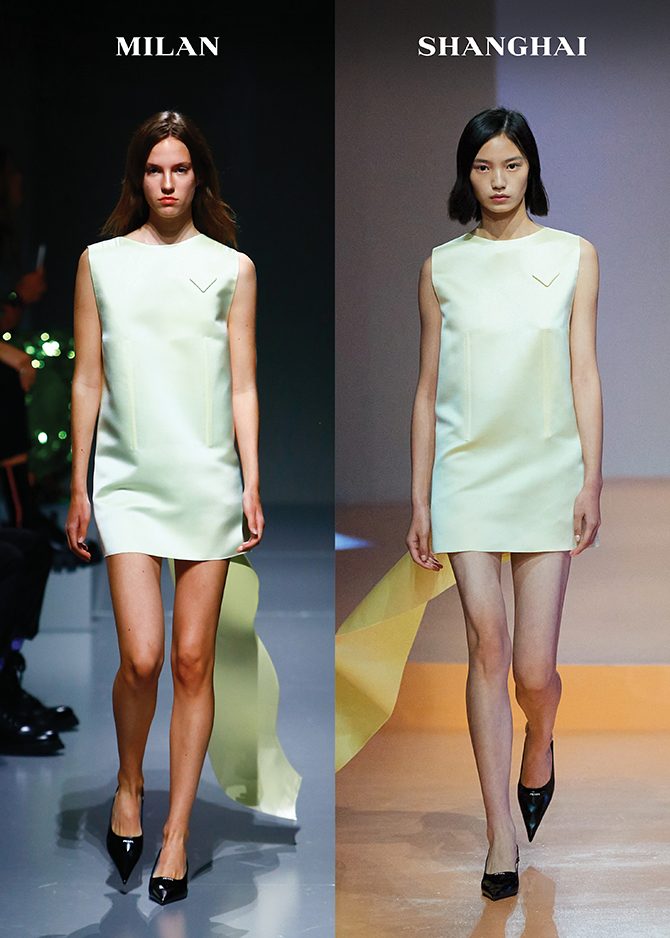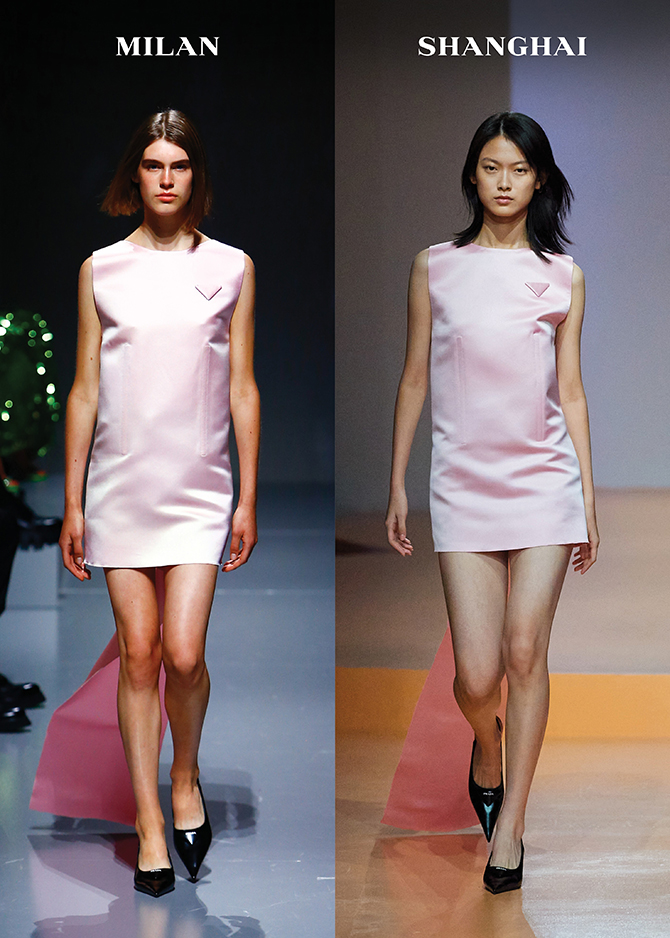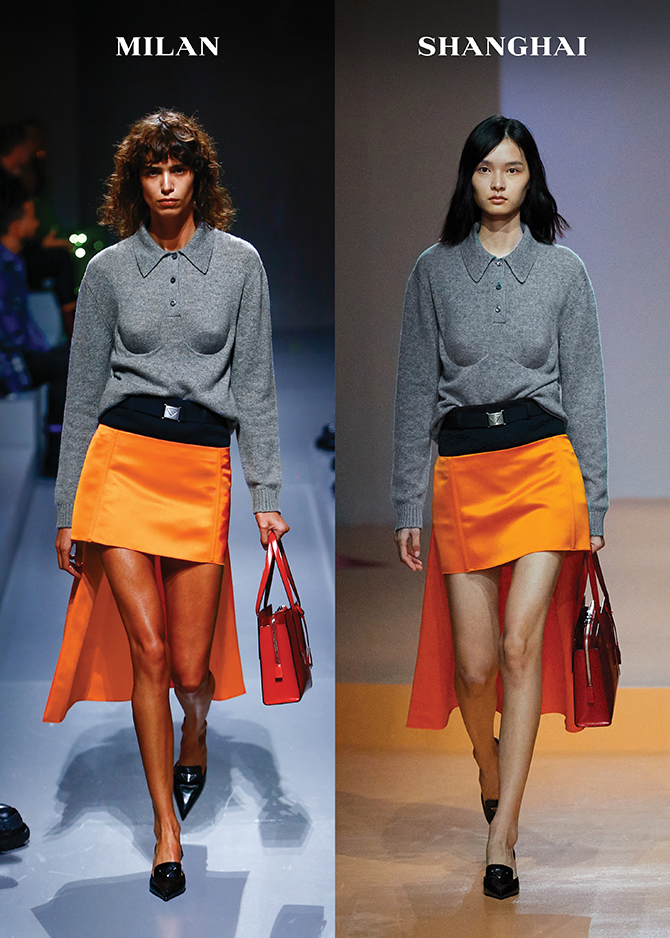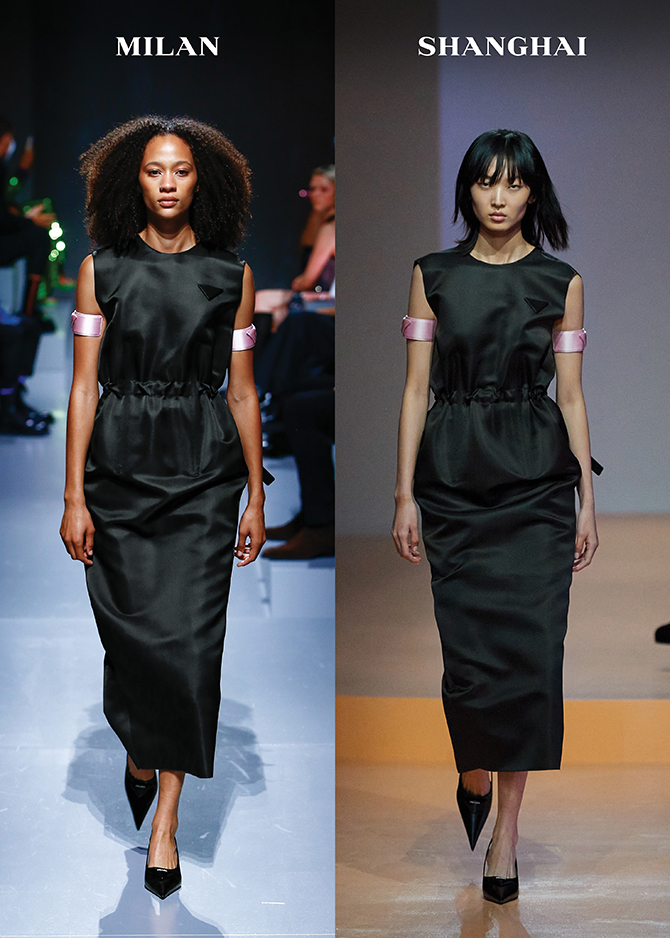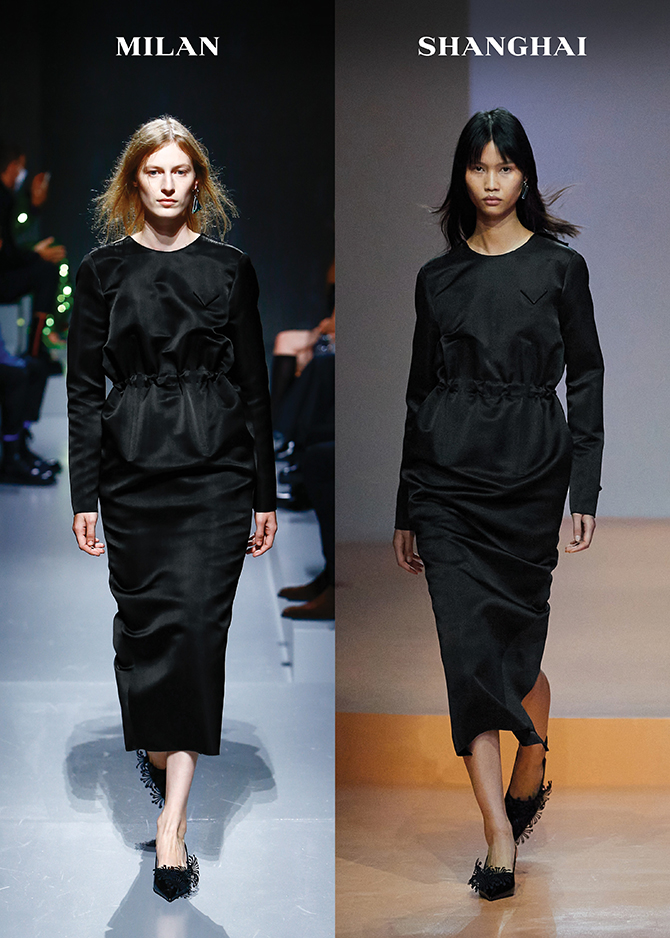 The show notes elaborate that Prada and Simons "consider ideas of seduction, of the expression of sexuality though clothing. A process of stripping down clothing leads, inevitably, to the body, emphasized or exposed." True enough, the entire collection is incredibly sexy, and it lets the wearer decide how much skin to reveal. The art of seduction, after all, leaves people wanting more. This new sexy is rather freeing, and we are hungry for more indeed.
Versace
When: Saturday, September 25 at 2am Malaysia time
Donatella Versace will unveil Versace's Spring/Summer 2022 show at at Milan's the Mall; catch the livestream on versace.com as well as the brand's social media platforms. Rumour has it that the brand will also be hosting a second show in collaboration with Fendi on Sunday––stay tuned for updates.
Highlights: 
Leave it to Donatella to create a social media frenzy in Milan. Alongside Gigi Hadid, Naomi Campbell, Emily Ratajkowski and Madonna's daughter, Lourdes Leon, new house muse Dua Lipa opened, closed and soundtracked the extravagant Versace runway. As for the space, it was taken over by a giant moving blanket of Versace silk scarves that was manned by shirtless, masked men in Versace boxers.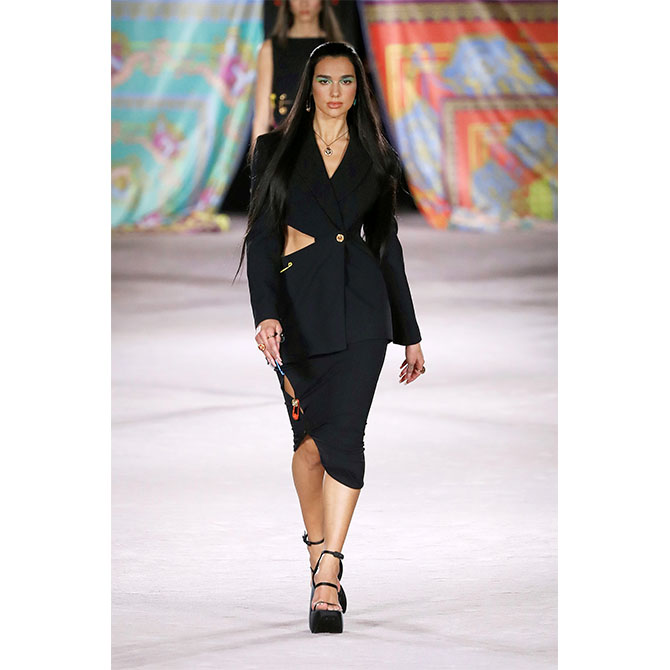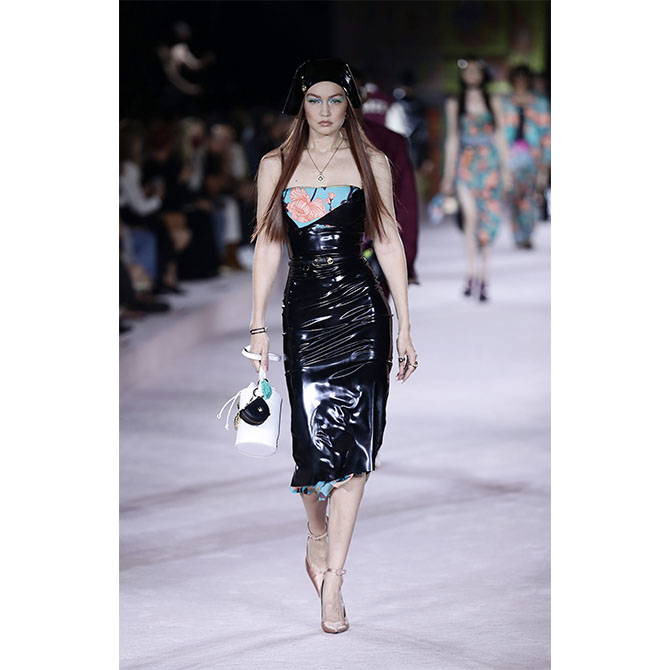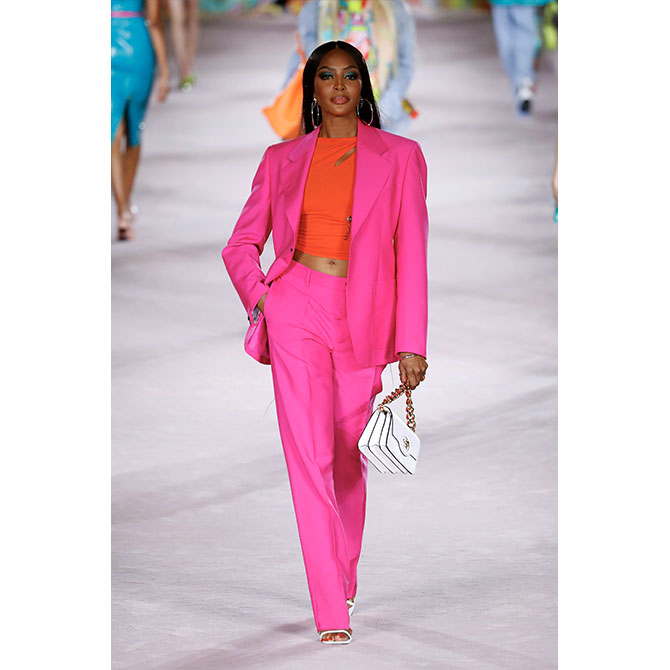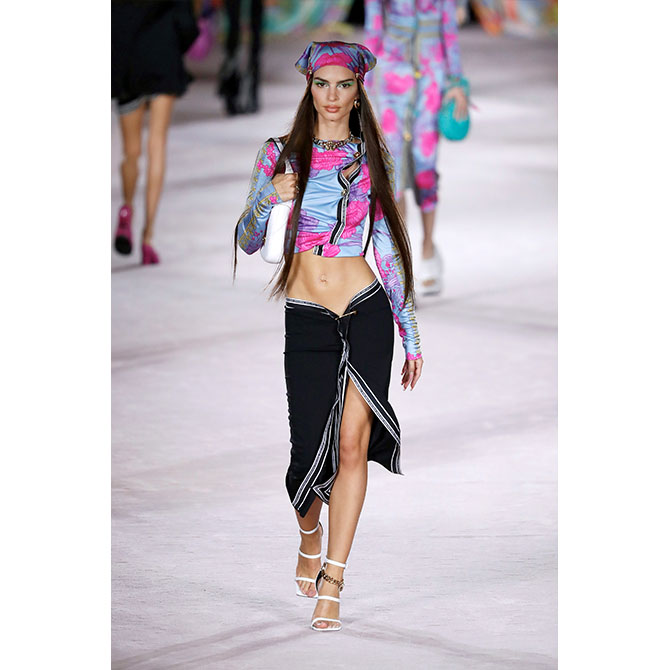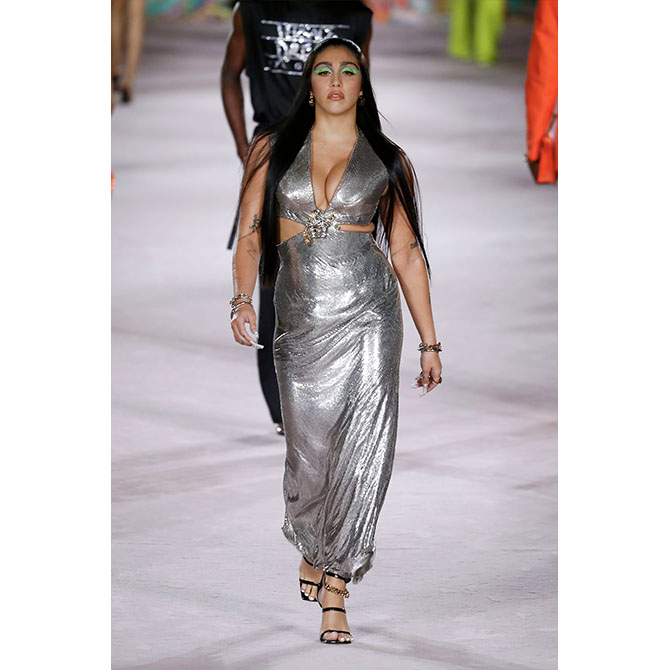 Starting off the first section of all-black uniform, Dua strutted down the catwalk in a black, cut-out blazer and a side-split pencil skirt embedded in signature safety pins. Classic LBDs and leather dominated the front through a succession of sleek, tailored outfits that were accented by splashes of colour and print. But as the show went on, looks screaming with Miami neons arrived in rainbow order through skin-tight silhouettes in the form of vinyl bustiers, glittering minis and high-waisted shorts.
While some sportier ensembles appeared in-between in collegiate red shades, there were also plenty of silks in archival Medusa print and the new La Greca print, scattered across soft suiting, halter tops, headscarves and flowing pyjama sets. After all, "the foulard is a fundamental component of Versace's heritage and character", Donatella said in show notes. "It's acted as a canvas for our iconic prints and is worn in multiple ways from knotted tops to headscarves to bag accessories, it's a way of adding Versace attitude to any look. The foulard has been with us since the very beginning of the brand, but this season turns everything on its head, it is no longer fluid or dreamy, the scarf is provocative, sexy, wound tight.
As the show drew to a close, a section of shimmering, floor-grazing evening gowns in black brought the collection back full circle before Dua took to the stage again––with her 2020 banger 'Physical' playing in the background––wearing a sultry, hot-pink chainmail dress that shimmered with every sway of the hips. It was classic Versace refreshed for the next generation. 
MORE: All the runway looks from the Versace SS22 show
Jimmy Choo 
When: Saturday, September 25 
For the first time since the pandemic hit, Jimmy Choo will be unveiling their Spring/Summer 2022 collection via an all-day presentation in Palazzo Clerici, one of Milan's most charming historical palaces. Check back post-show for collection photos and a review.  
Highlights: 
Rebirth, renewal and new beginnings––the arrival of Spring brings hope for the best to come. It is within this profound notion that Jimmy Choo found inspiration for their Spring/Summer 2022 collection to celebrate the natural world and the joy of fashion.
"This was a moment for two things: to pause, to consider what Jimmy Choo represents as we reach a major milestone. And to be instinctive––spontaneous," creative director Sandra Choi said about the collection. "Spring is a moment of newness, a natural point of rebirth––there was a sense of recharge, a new energy and I wanted this to inspire the collection, but in an unexpected, unanticipated way."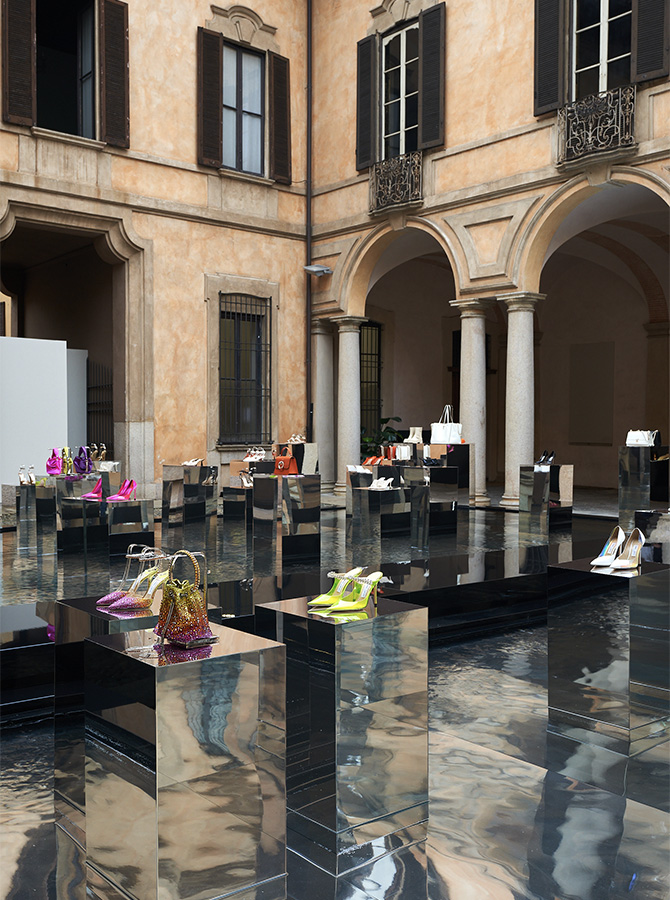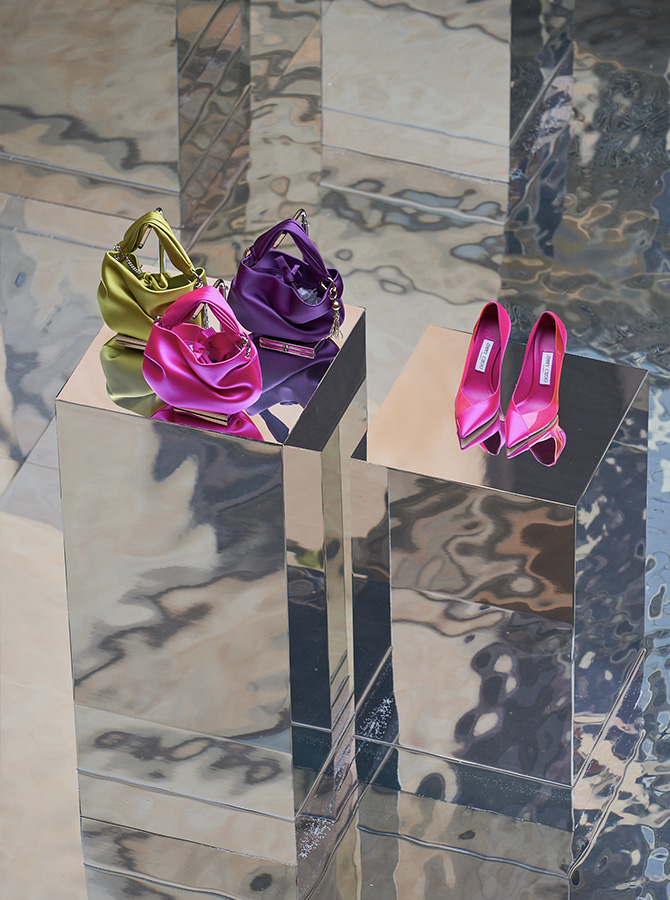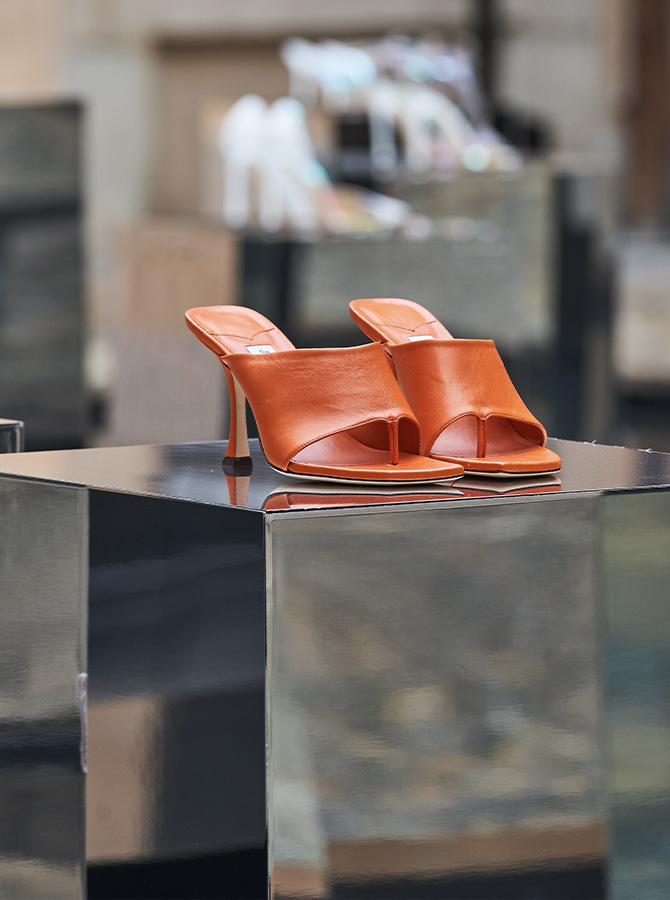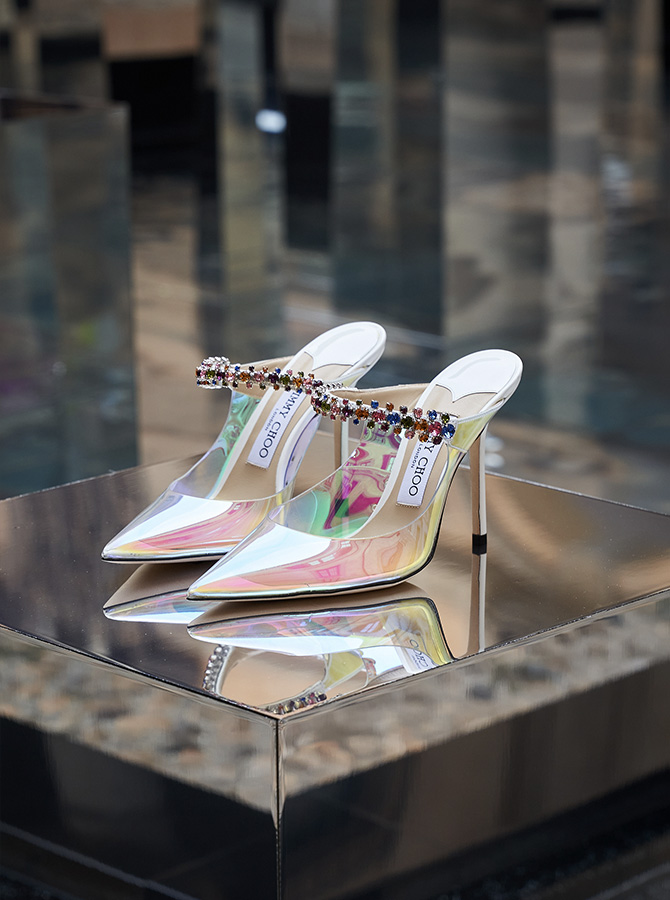 As such, in a courtyard of Palazzo Clerici, 'Euphoric Glamour' unveiled bold, vibrant styles displayed atop tranquil pools of mirrored water. Sharp silhouettes contrasted with natural curves in an exploration of juxtapositions; the Farley pump featured a nappa heel and toe-cap against transparent plexi to expose the skin under a surface of gloss, while ties wrap the ankle like vines to fuse the shoe to the body. Meanwhile, colours are drawn from flowers, foliage and landscapes, bringing together a gentle palette of earth tones with bright, captivating shades that include lime green to hues of fuchsia and pink-violet.
Also present is the integration of accessories across footwear, where studded metal D-rings allow a floral printed silk scarf to coil around the Satya sandal. In reference to the notion of hybridity that's often found in nature, the scarf's bloom-filled pattern injected a dose of feminine energy into the rugged leather shoe and is reflected across micro-clutches, small leather accessories and a stand-alone foulard.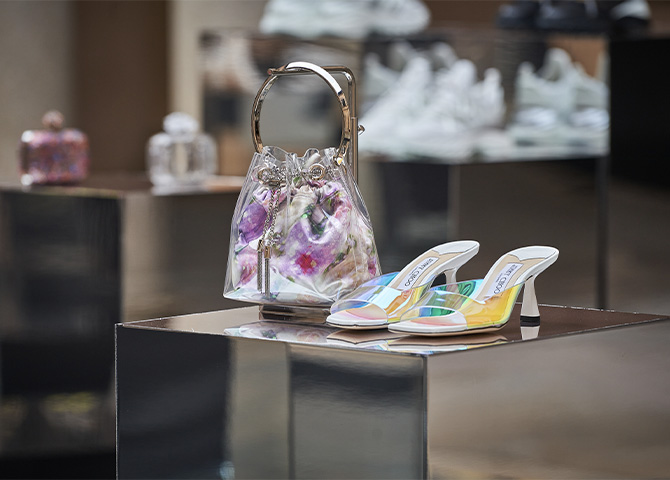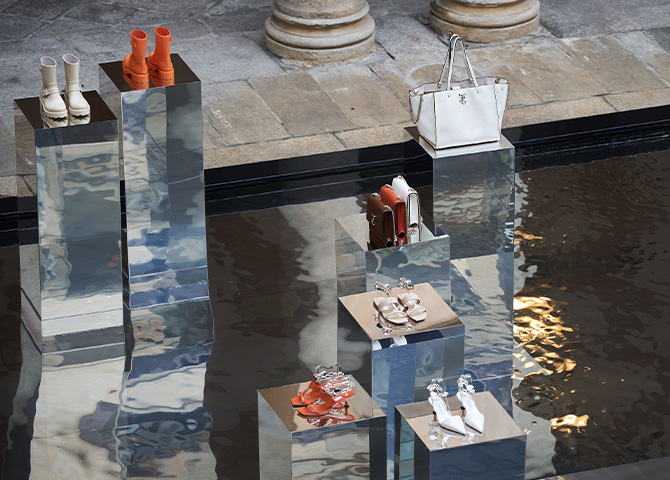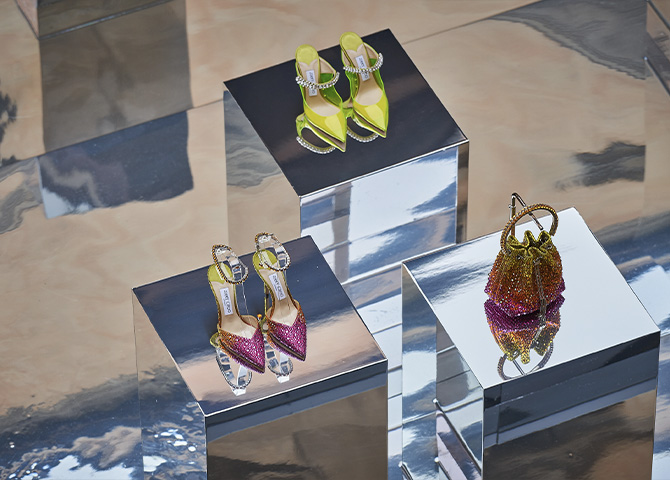 In line with the notion of rebirth, the crystal––integral to the DNA of Jimmy Choo––has also been reinvented and reworked in a different light. On the new Cosmos trainer, exoskeletons of neoprene and leather were mixed together in multiple colours and finishes to evoke the criss-crossing light refracted by prisms of jewels, while semi-precious quartz and malachite on the ankle imbue the Rue and Reed sandals with healing properties to harmonise and stabilise.
Lastly, the equestrian-inspired Varenne family welcomed new additions that include a multifunctional tote and structured shoulder bag, and the brand's Bon Bon bucket bags return in buoyant pavé crystals––a precious gem in itself.  
MSGM 

When: Saturday, September 25 at 6pm Malaysia time
For the Spring/Summer 2022 season, MSGM is marking their return to the catwalk with a new Chief Executive Officer at the helm––Veronica Bertozzi, who has previously worked at Stella McCartney, joined just this summer and will be working alongside Creative Director Massimo Giorgetti. As a result, expect a focus on shoes and bags as part of their new development strategy. ICYMI, their AW21 collection was an ode to Milan's underground nightlife, translated through a glossy assortment of vinyl puffers, slouchy trousers and sequinned tube dresses in saturated colours.
Catch the livestream below and check back for a post-show review.
Highlights: 
Heralding the return to the great outdoors, Massimo Giorgetti presented MSGM's Spring/Summer 2022 show with the atmosphere of a picnic in the park––more specifically, Milan's Biblioteca degli Alberi public park in the city's Porta Nuova area. This season, the creative director kept things fresh and simple, with an upbeat collection that paid tribute to the Italian capital in the '80s, a time when the creativity community was bubbling with opportunity and renewal.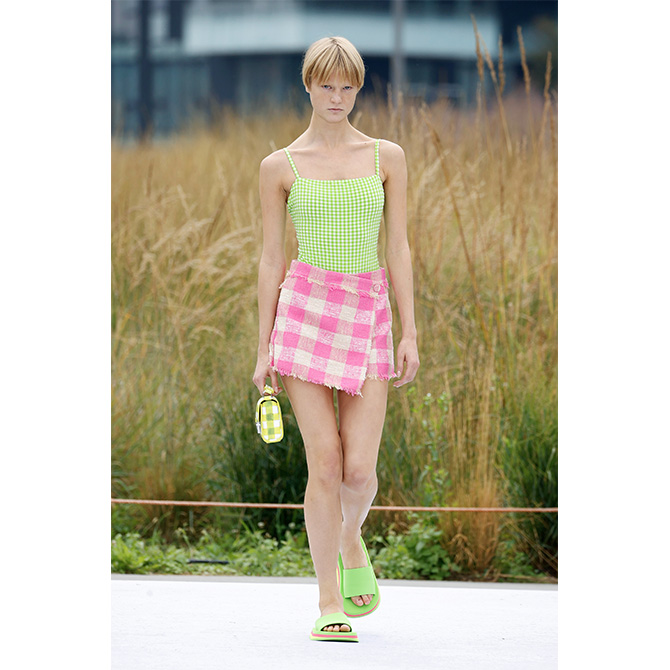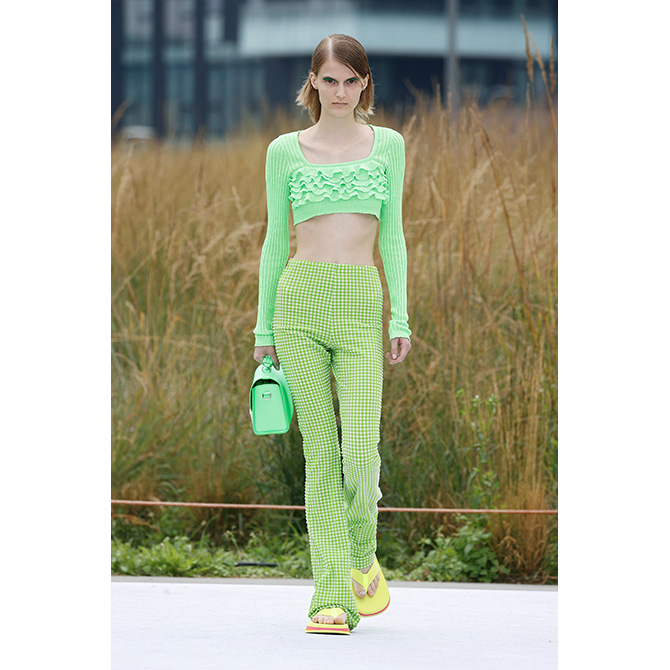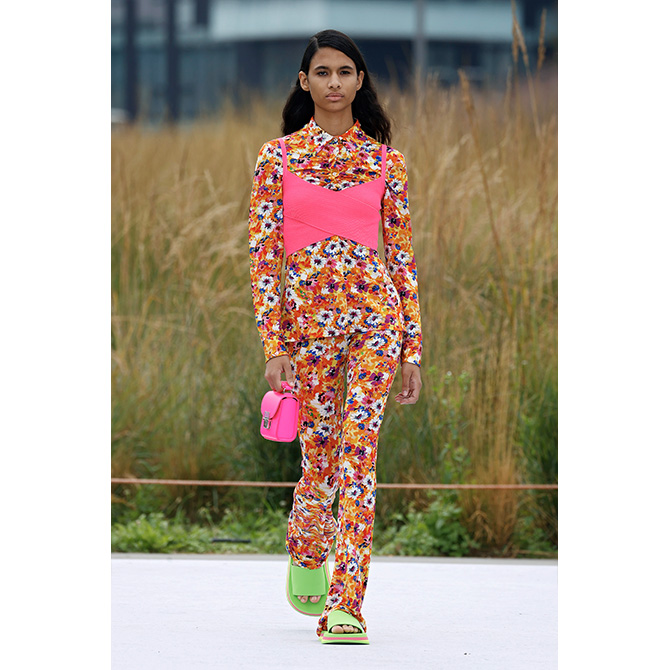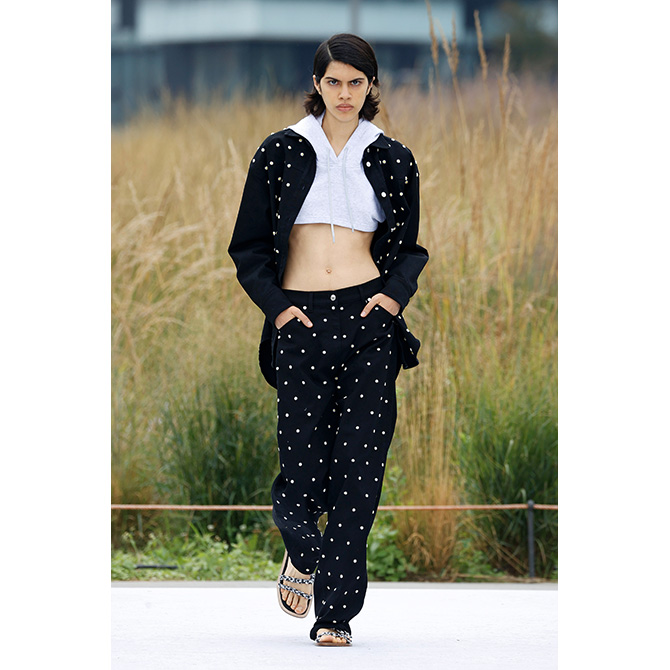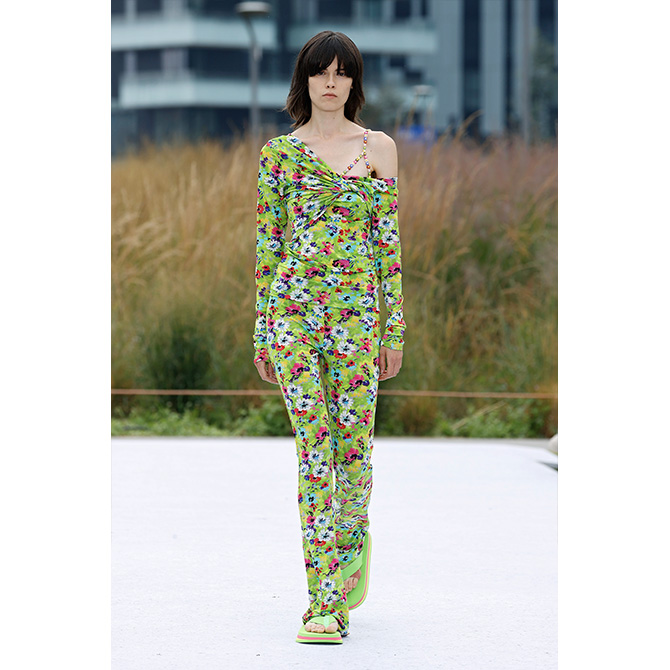 Summery, ebullient prints arrived down the runway through the form of ginghams in hues of watermelon and lime green, variations of wildflowers and painted berries on an airy, ankle-grazing off-the-shoulder dress. The silhouette was simple and streamlined with flashes of skin exposed here and there, ranging from shoulder-baring pieces that gather and wrap around the body to cropped hoodies under a boxy suit and elasticated criss-cross bralettes layered over matching sets. A touch of athleticism was peppered throughout via tricolour windbreakers and light eyelet anoraks, while the brand's signature ruffles injected doses of femininity across crop-ribbed tops, coordinated shorts and at the hems of sweeping skirts.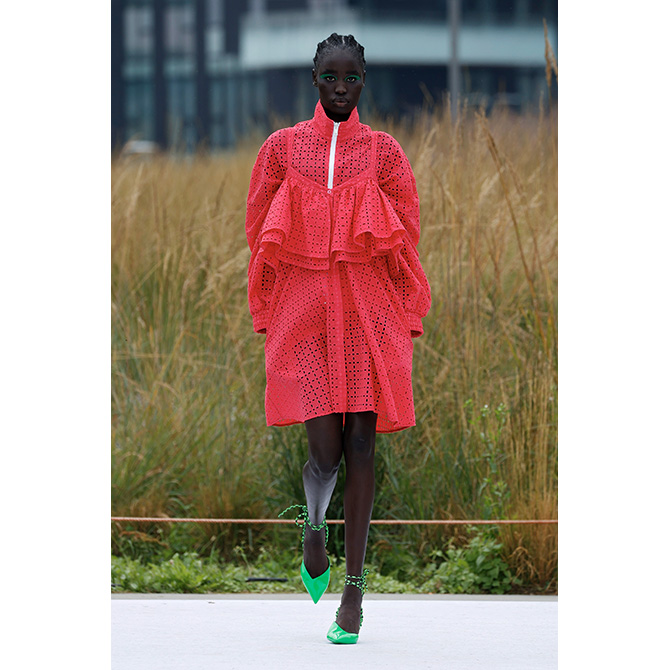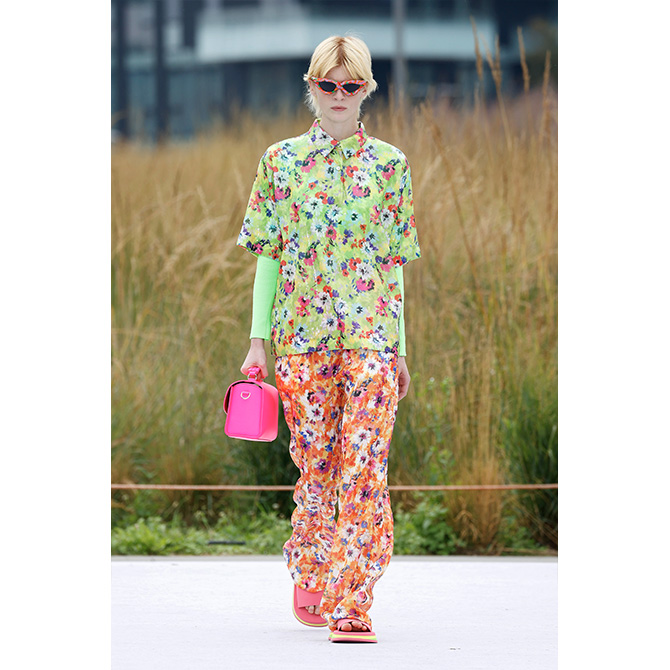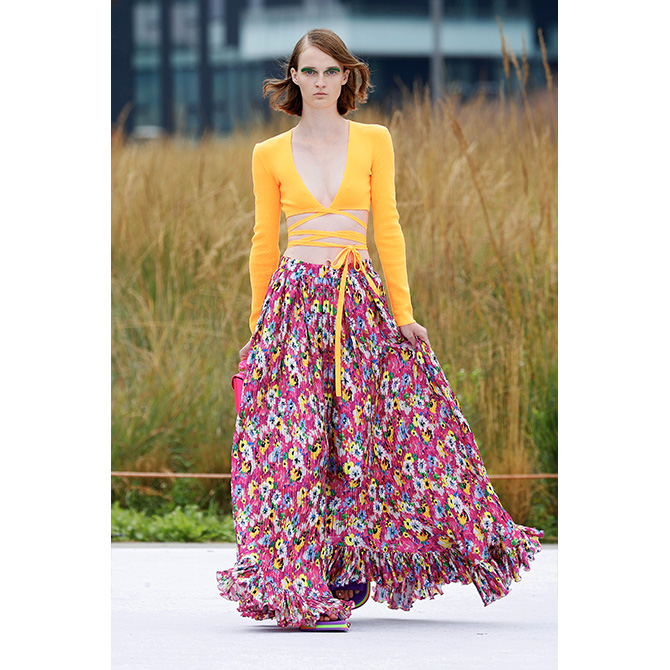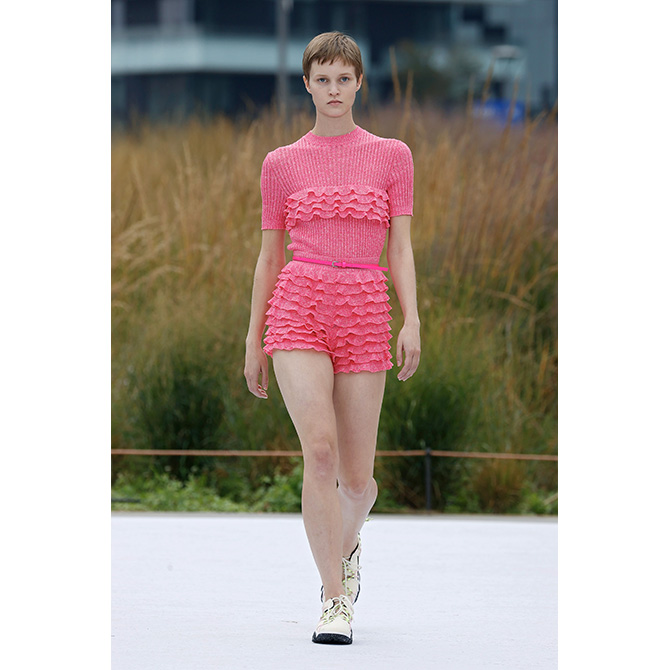 To go with the new collection, variations of a new clic bag crafted from eco leather was introduced in all-over vichy print and bright monochrome shades. The top-handle accessory features a distinctive snap closure in the front and arrived in a see-now-buy-now format that launched post-show on the brand's website. 
Salvatore Ferragamo 
When: Saturday, September 25 at 8.30pm Malaysia time 
Salvatore Ferragamo will be returning to MFW with a physical show displaying both its menswear and womenswear collection for Spring/Summer 2022. It'll be held at the Rotonda di Via Besana, a late baroque building complex with lush surrounding greenery serving as its backdrop. Watch the livestream below on September 25th and check back later for the highlights and show review.
Highlights:
After a full 12 months, Salvatore Ferragamo finally returns with a physical show format with its Spring Summer 2022 collection at the historic Rotonda della Besana. In the same manner where sunlight streams in after a storm, the pieces radiated with optimism and warm shades. Calling it a "Tale of Summer", the house drew "inspiration from the spectrum of beauty and recontextualises it for a new time: for the now", states the show notes. True enough: the colour spectrum for the pieces ranged from natural hues of whites to nudes to pastel pinks to saturated tones like deep yellow and orange, blues and blacks. You could say it resembled the changing tones of the skyline as the sun sets from evening to night, or when it rises from dusk to dawn.
In terms of the architecture of the pieces, the house took references from its rich archives and looked to 1960s and 1970s cinema to create clothing that defied traditional stereotypes. Cut-outs were placed asymmetrically on dresses, plunging necklines met at the waist to melt into pleats, and the tricky tiger print was fused with a repurposed 1970s Ferragamo floral foulard overprinted onto a loose-yarn tiger-stripe jacquard (a collaboration with Parisian artist Julien Colombier). Elsewhere, silhouettes were more fluid in the form of caftans, sarouels and column dresses.
When it comes to Ferragamo, let's not forget about the shoes and the bags. Weave patterns were seen on tops (for maximum peekaboo effect in every square) and also on mules for the uppers. Icons like the Vara and Varina are refreshed with new colourways and materials, while another eye-catching item was the Bohemian clogs with the signature double Gancini on the upper. Classic Ferragamo bag shapes like the Ferragamo Studio Bag and the Trifolio are also given a new lease of life with its fabrics and sizings. All in all, the palette of the collection was pleasing to the eyes.
MORE: All the looks from Salvatore Ferragamo Spring/Summer 2022 show
Giorgio Armani 
When: Sunday, September 26 at 1am Malaysia time 
The Giorgio Armani Spring/Summer 2022 show will be taking place in-person at their historic headquarters at Via Borgonuovo 21. Catch the livestream at armani.com and check back for a post-show review.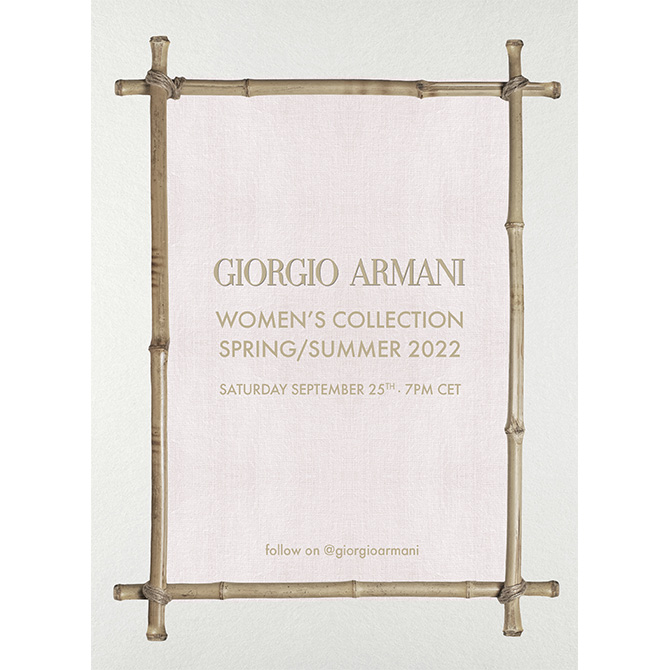 Highlights:
For Spring/Summer 2022, Giorgio Armani brought us back to the beginning. Taking place in the basement of his own Milano palazzo with a projected ocean as the runway's backdrop, Mr. Armani presented an in-person collection built on the Italian love for the sun and sea. 
"For me, resuming live shows instead of digital events is particularly relevant because it gives a sense of purpose and a sense of reality to what I do," the designer said on Instagram ahead of the show. "Staging live shows now is very important because the real danger for the industry is to fall into the trap of becoming completely virtual and fashion cannot survive for long in an exclusively virtual form, it needs to be seen in real life."
As such, models sauntered down the runway old-school style––with smiles on their faces––as maritime classics played in the background to complete the ambience of high summer blithe. In tune with the atmosphere, the collection was just as easy-going, ranging from loosely-fitted separates to free-flowing dresses with some that cinched at the waist in a palette that reflected the ocean. There was a variety of silks, crepe and tulle in shades of magenta, aqua and grey via a mix of relaxed blazers and tube tops paired with ballooning, wide-leg trousers, alongside splashes of abstracted florals screen-printed, embroidered and woven into jacquard.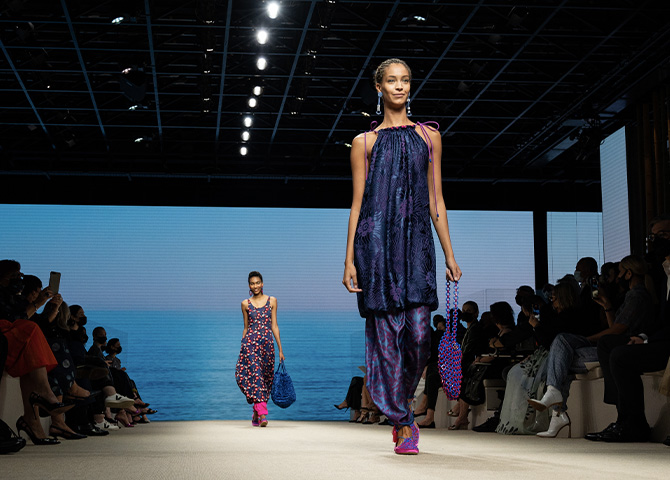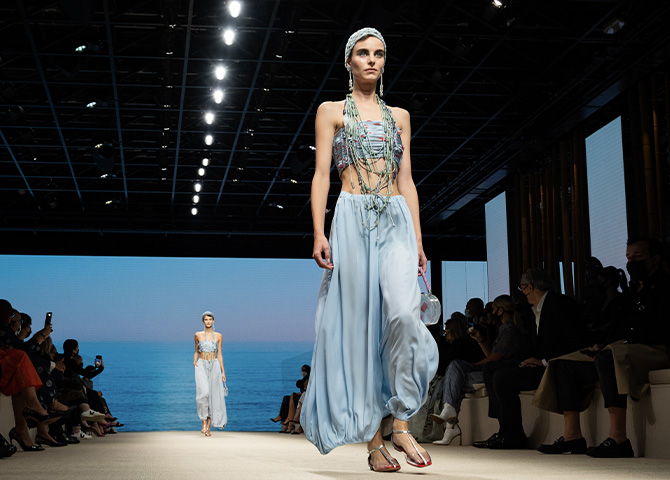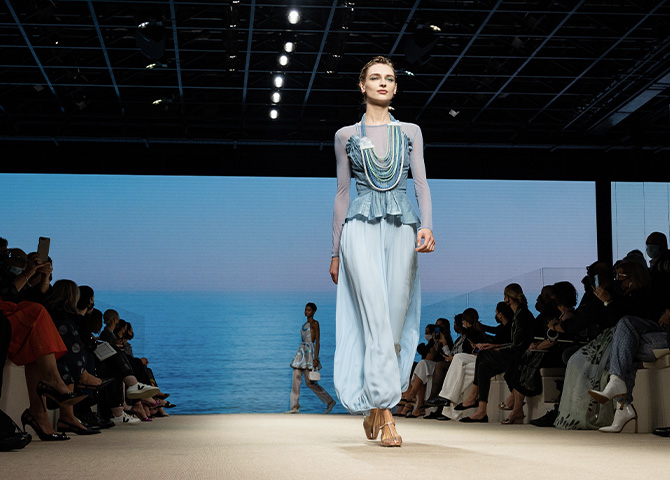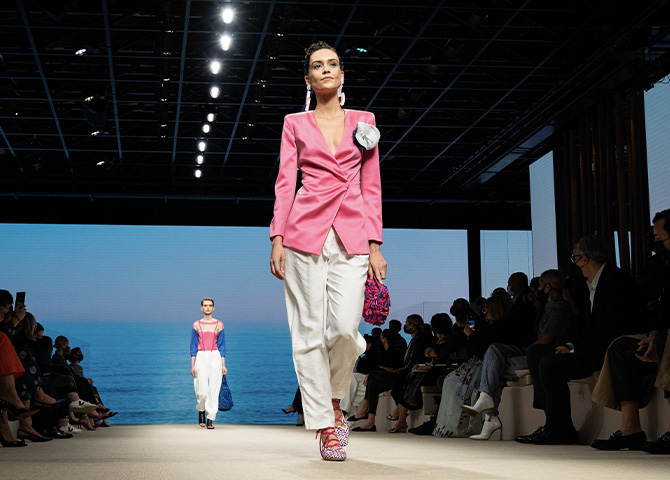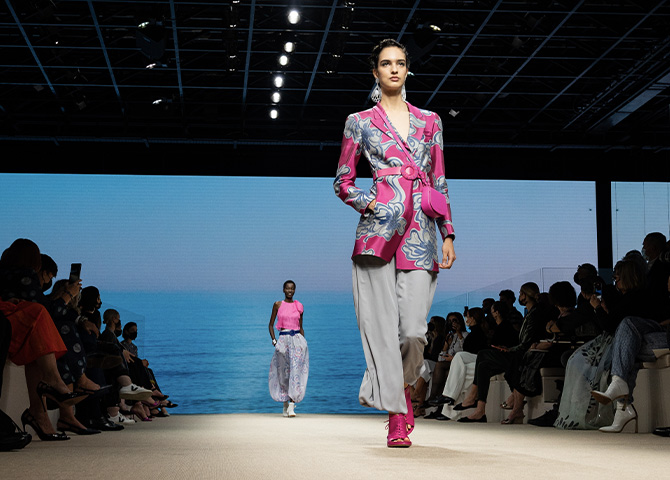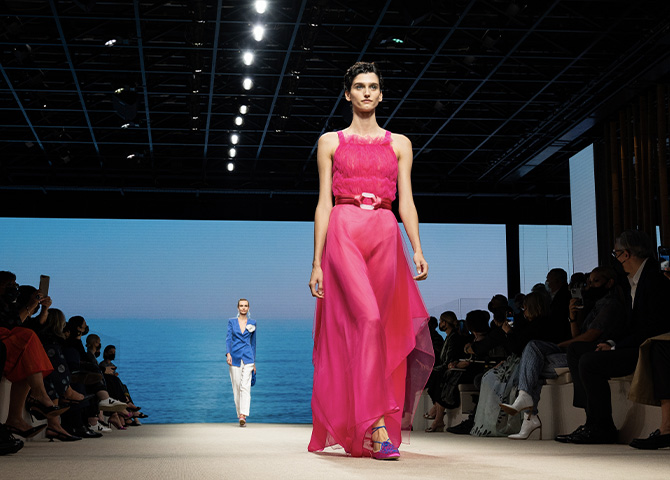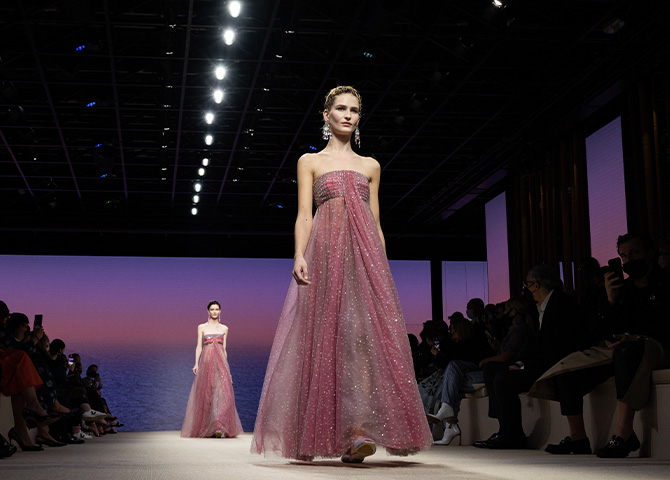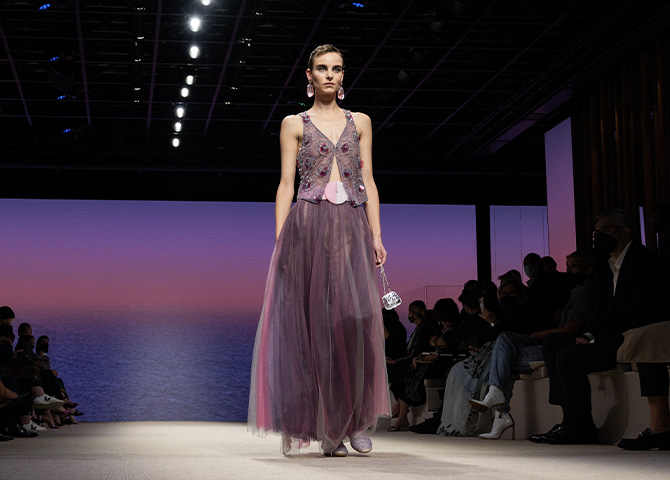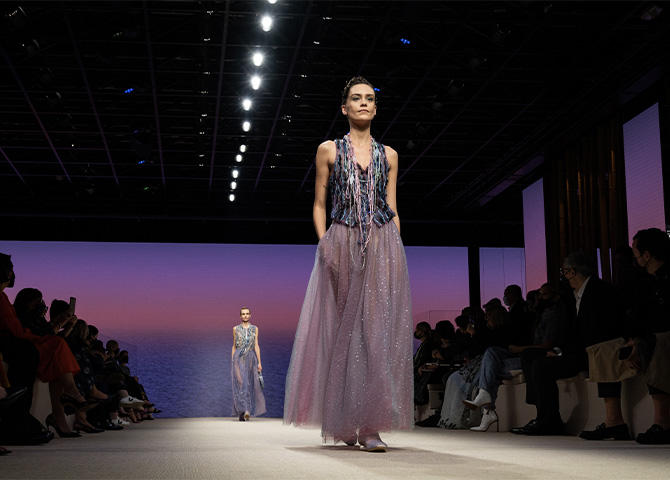 As the finale drew to an end, the screen faded to a sunset as a succession of gorgeous dresses and vest-and-skirt ensembles appeared down the runway. Coloured in the romance of purples and pinks, the final section boasted layers and layers of silver-speckled tulle that shifted gracefully in motion with the bunches of rope necklaces that hung low from the neck. 
Onitsuka Tiger 
When: Sunday, September 26 at 7pm Malaysia time 
Under the creative direction of Andrea Pompilio, Japanese fashion brand Onitsuka Tiger will present its second show in Milan via a fashion film to introduce its Spring/Summer 2022 collection. Watch it live on the official Milan Fashion Week website here and check back below for a post-show review. 
Highlights:
For its Spring/Summer 2022 collection, Japanese brand Onitsuka Tiger opted to showcase once again at Milan Fashion Week with a short movie titled Milan-Tokyo. Directed by Hideto Hotta, the digital format oozed with mystery as we watched model after model journey from the airport to the (almost) empty streets and alleys of Tokyo to a lookout point on a rooftop of a skyscraper. Beautifully shot with details of the collection lit by LED and neon lights of the Tokyo nightscape, it almost reminded us of an alternate version of Alice in Borderland—still dystopian but stylish. We'd definitely watch it.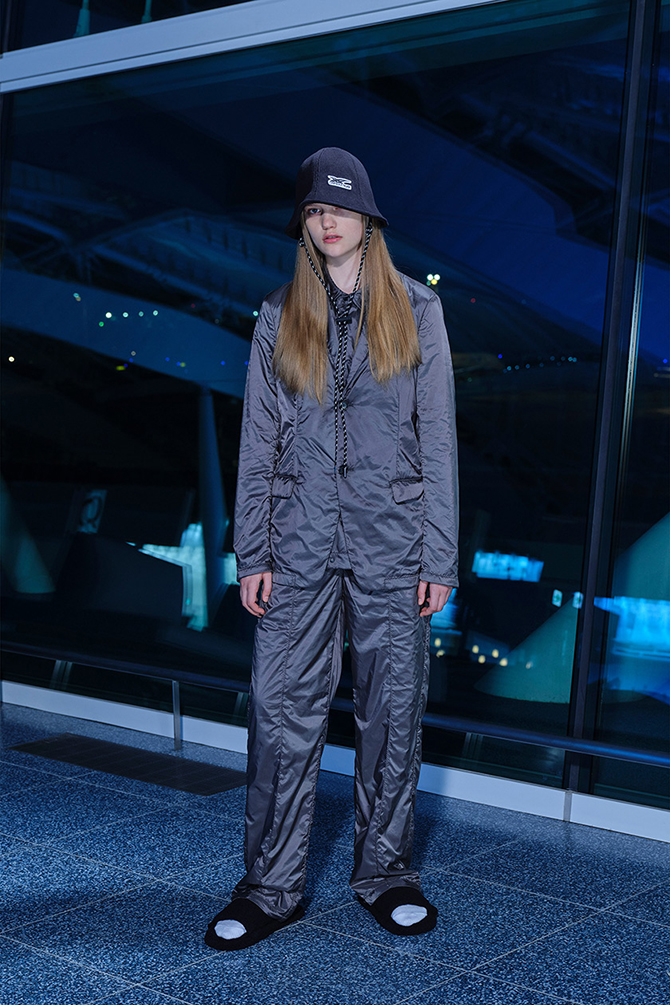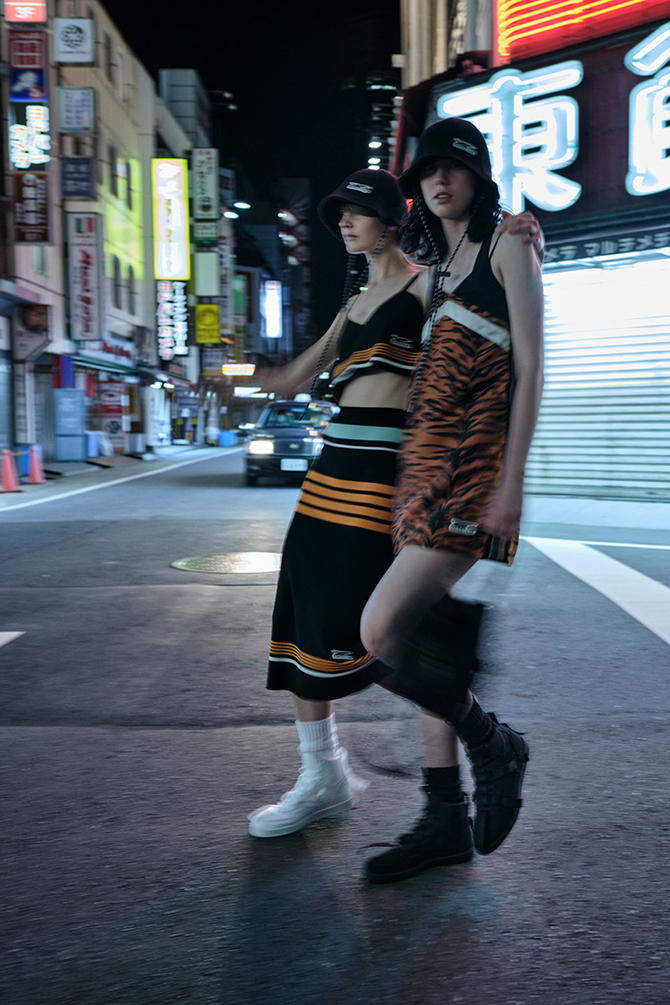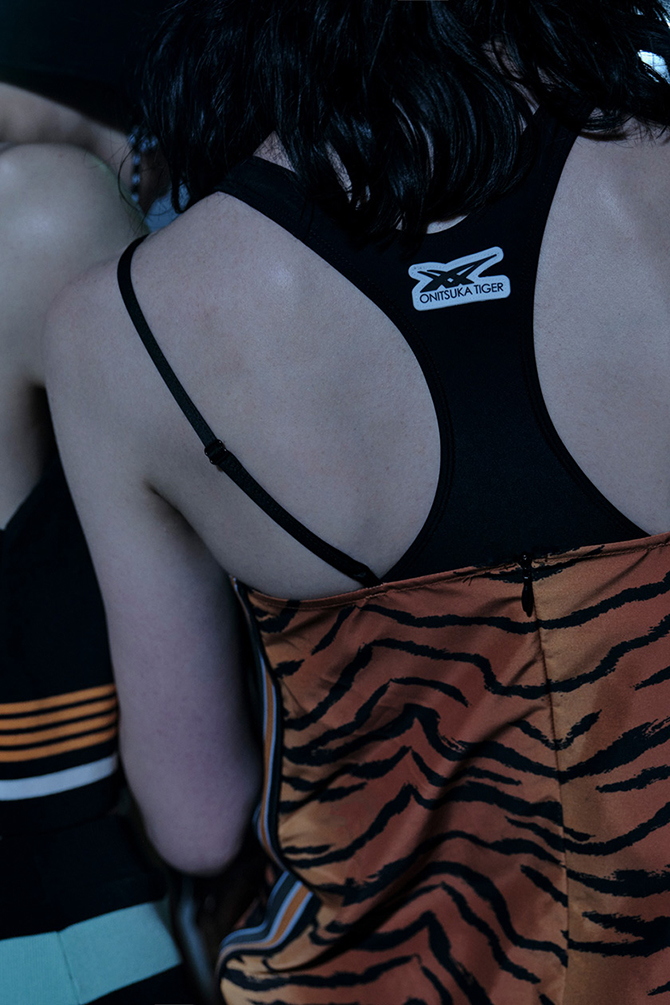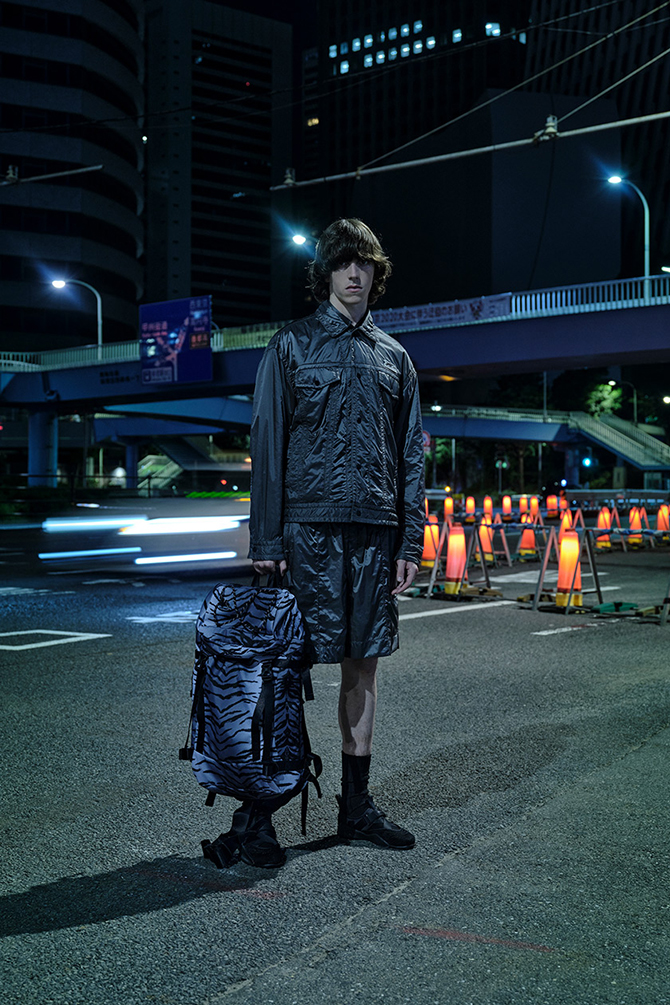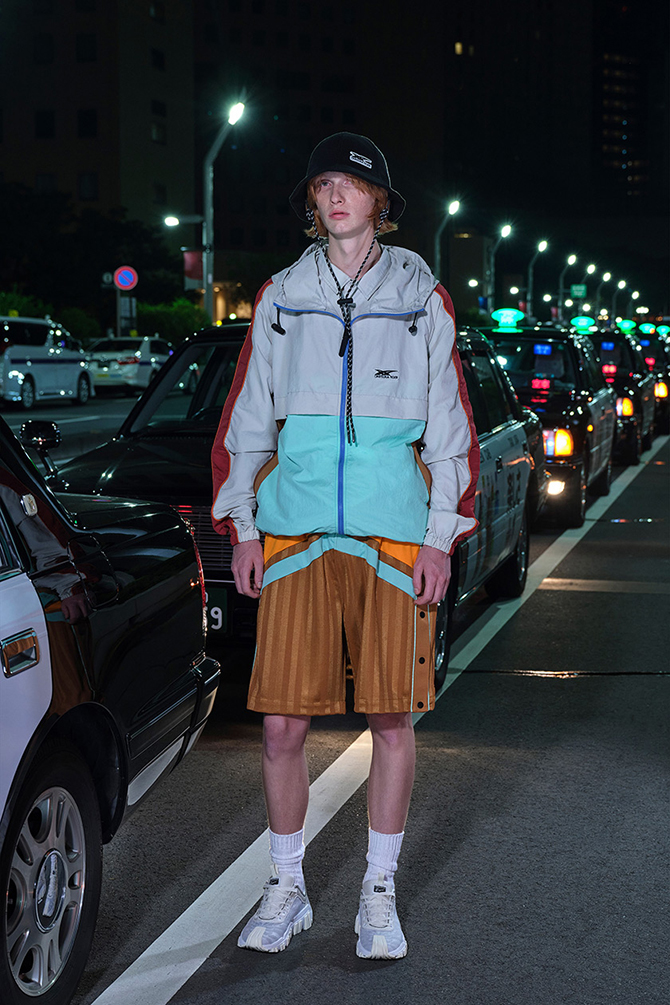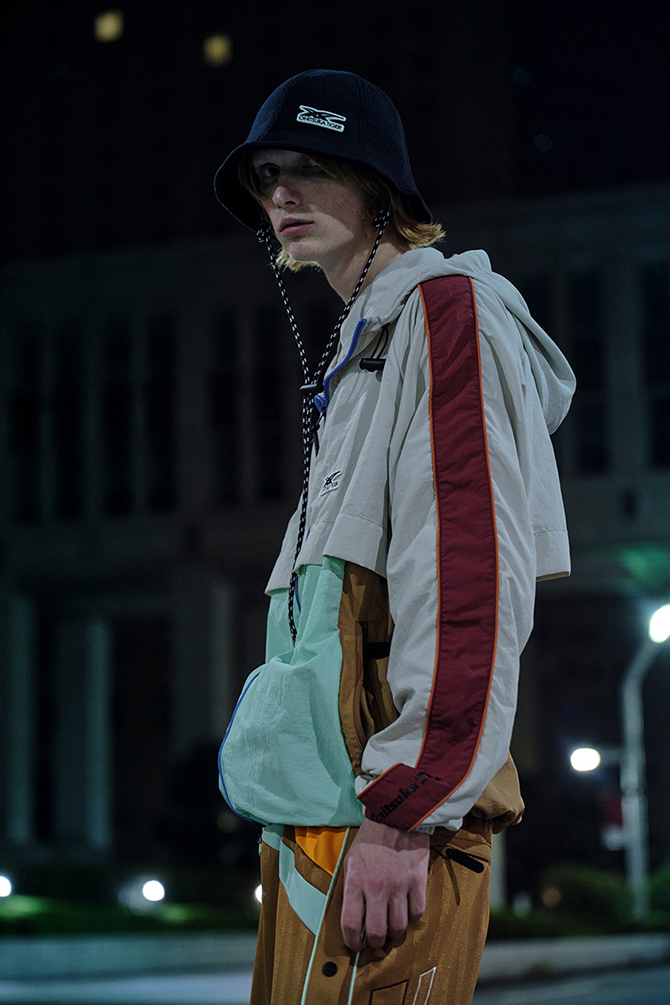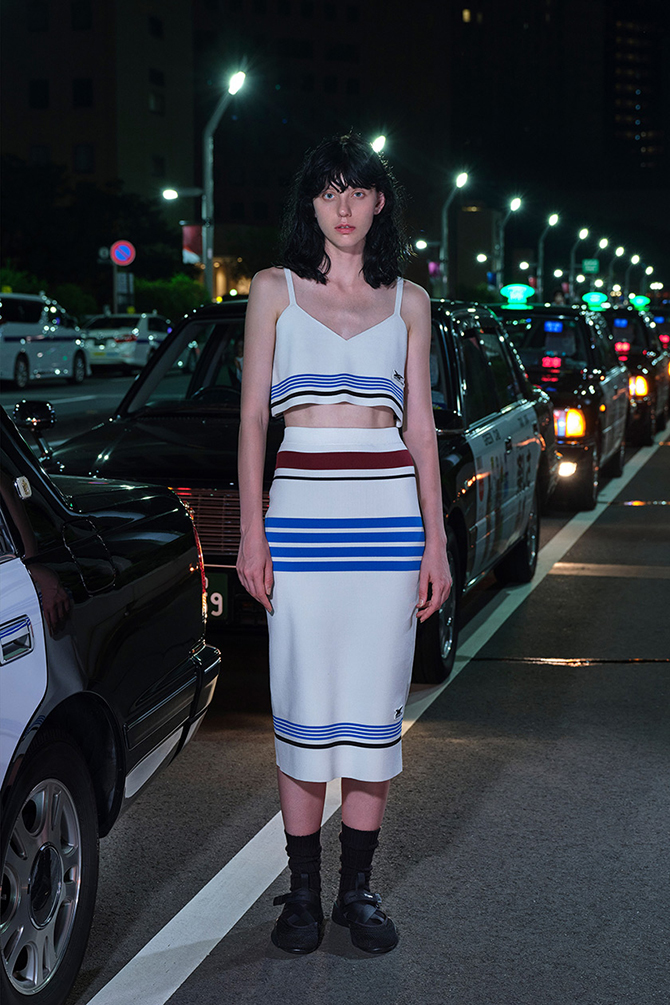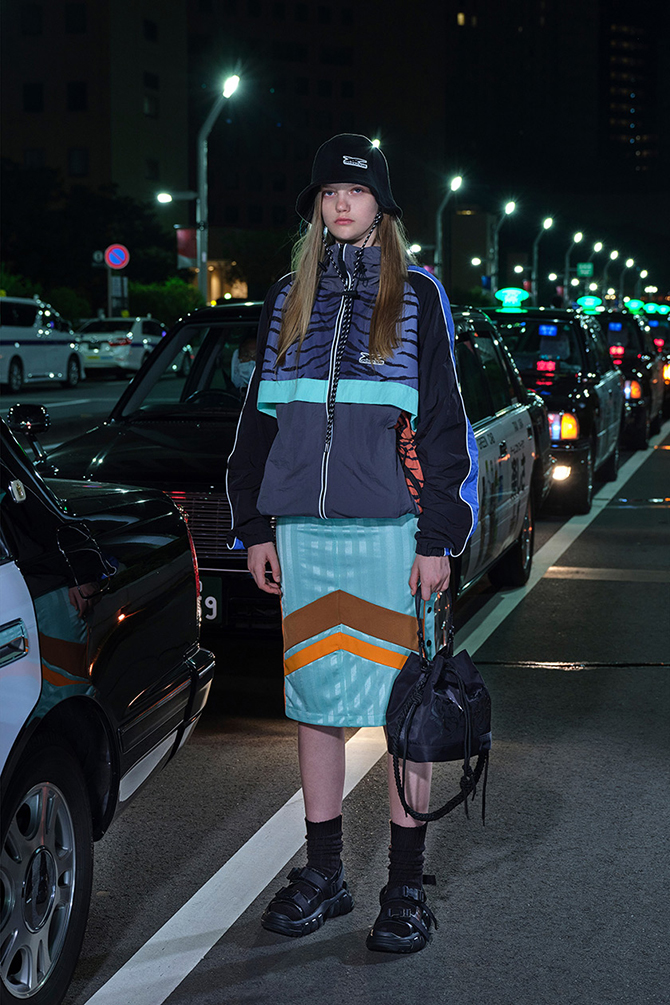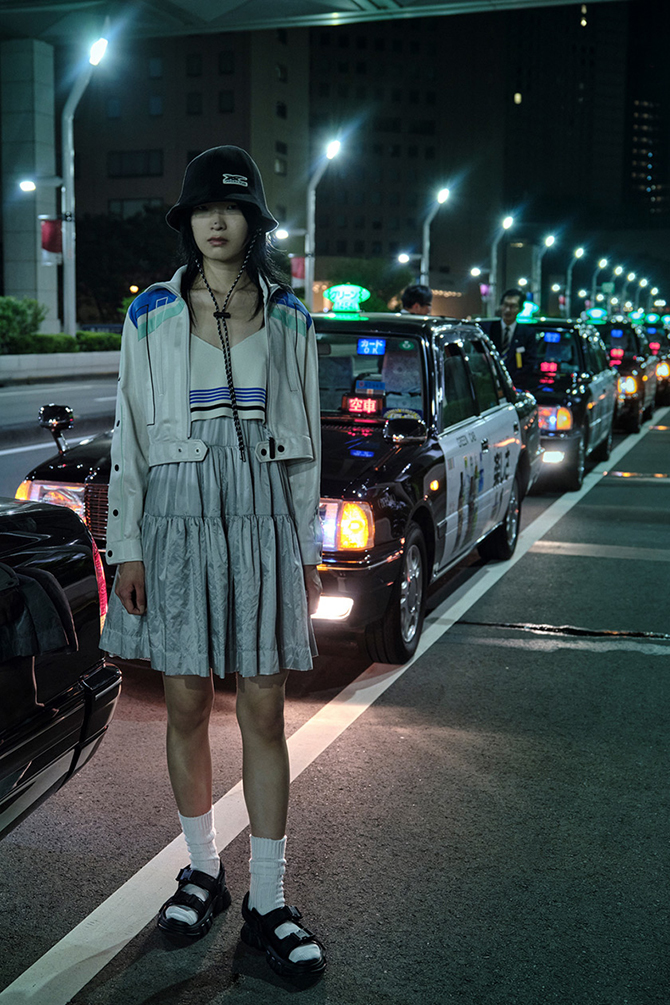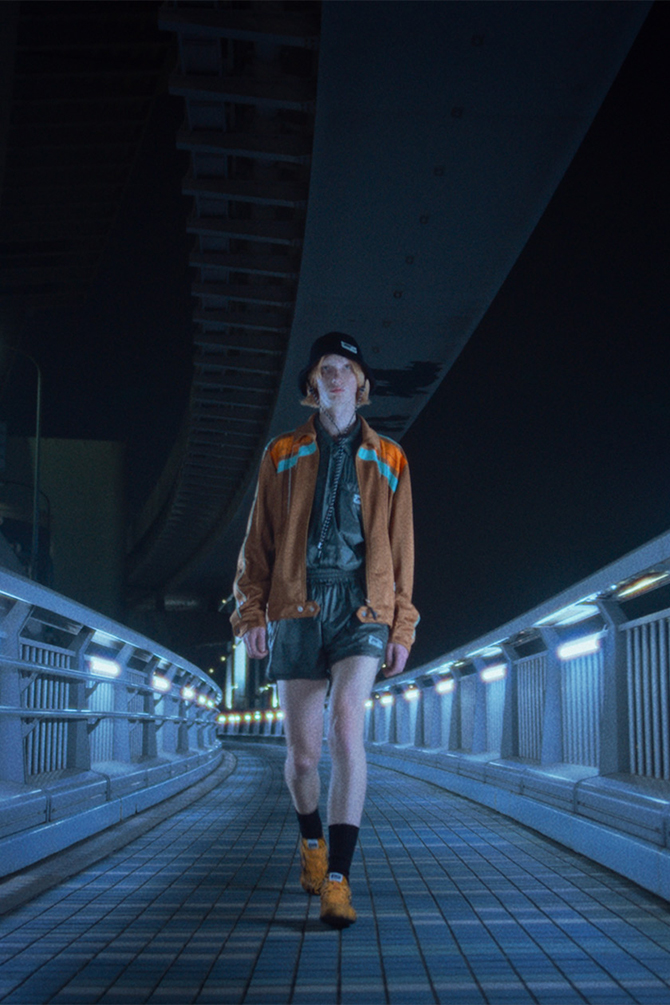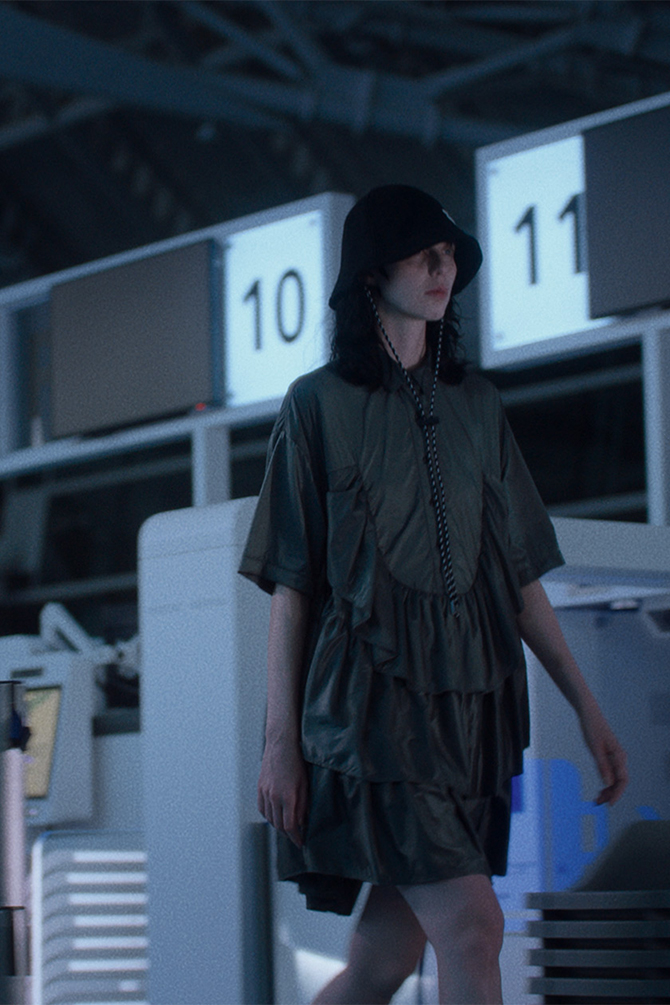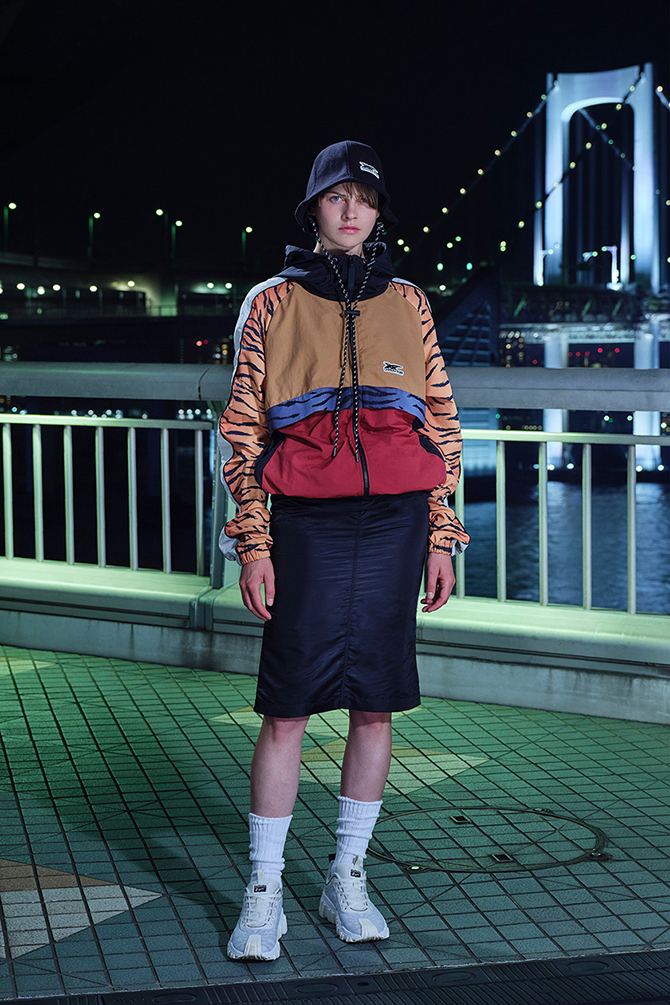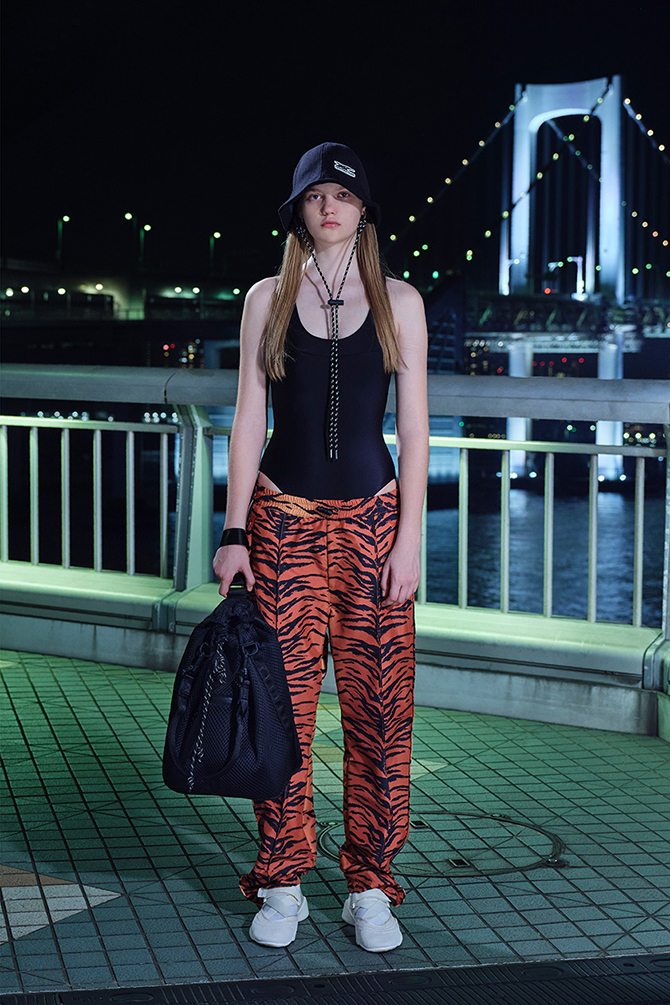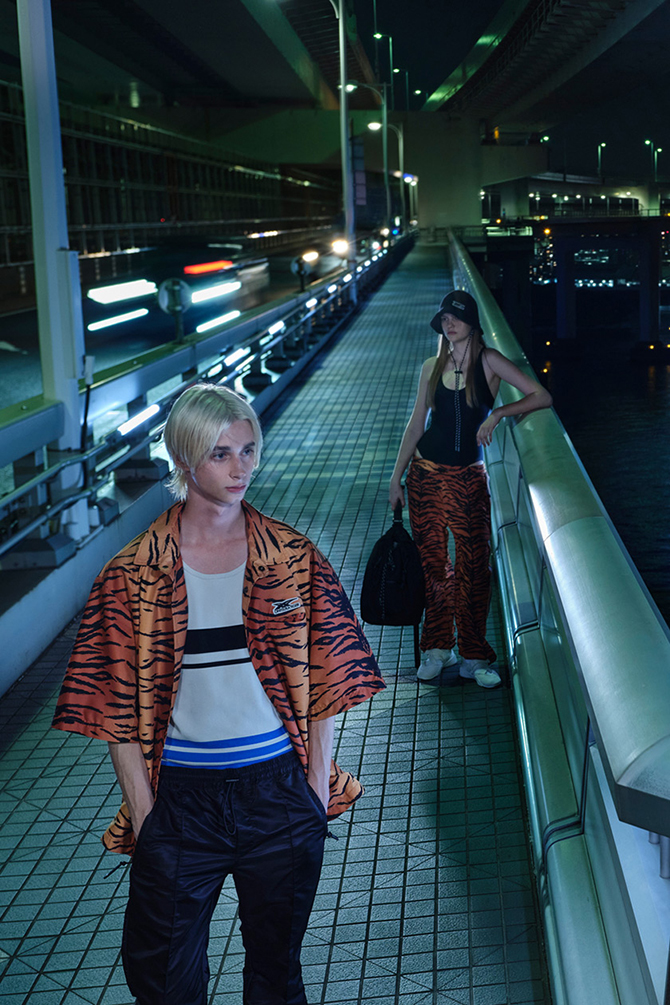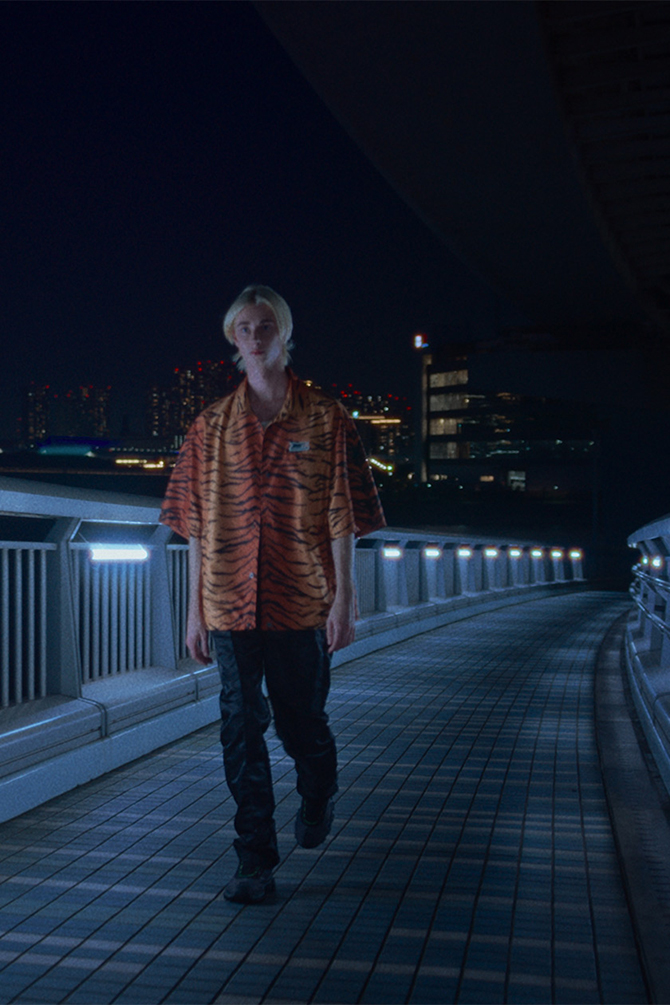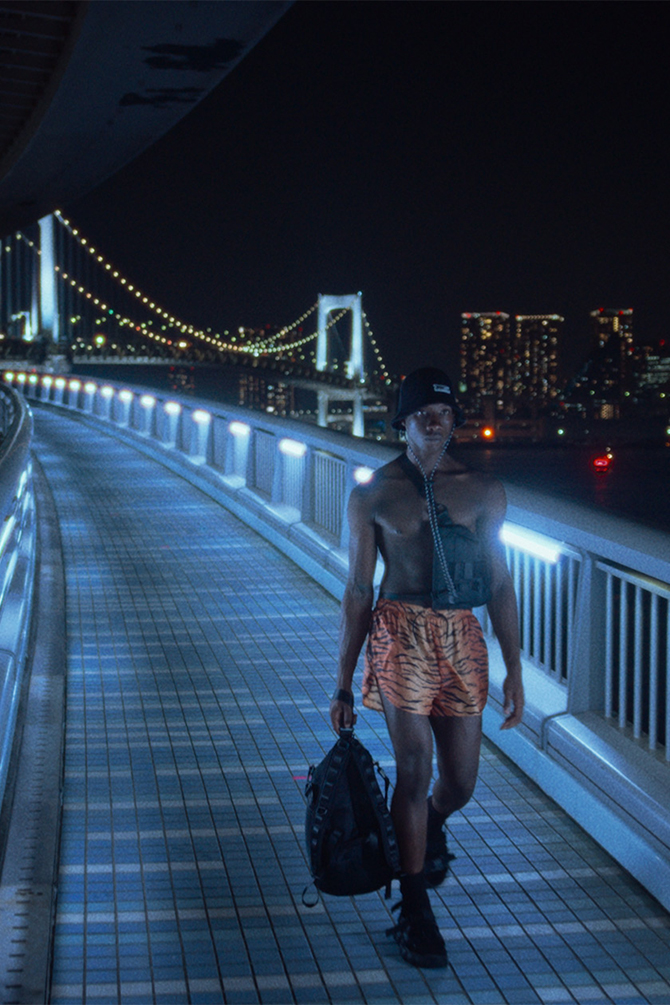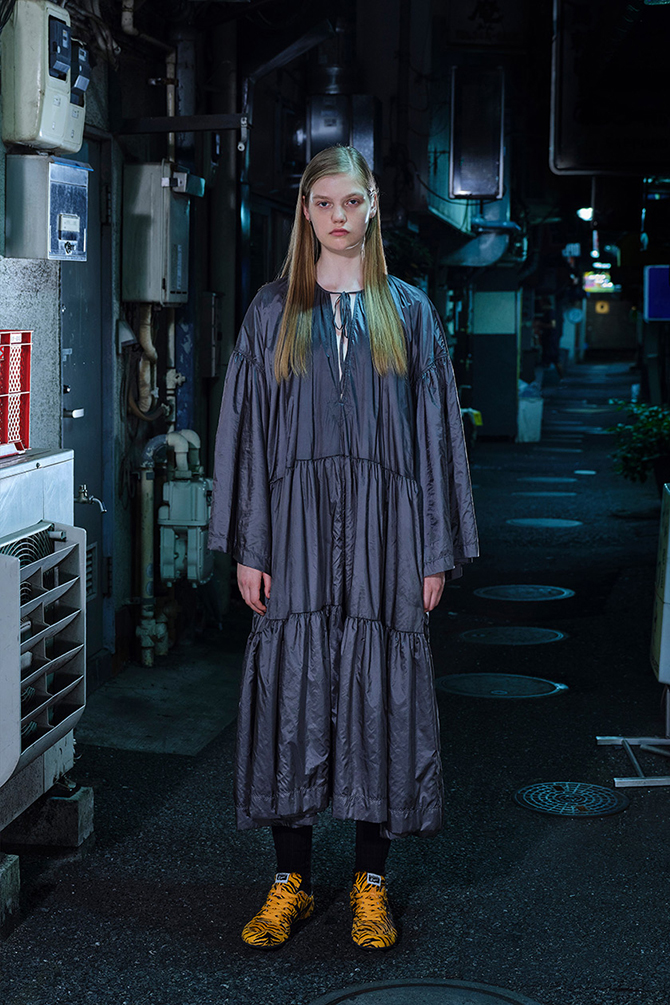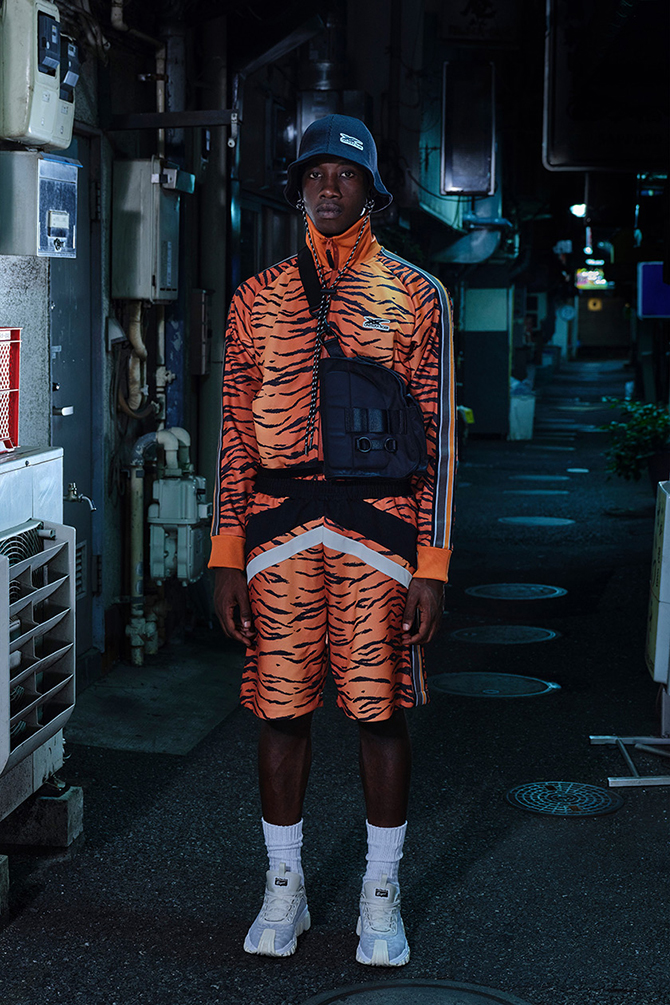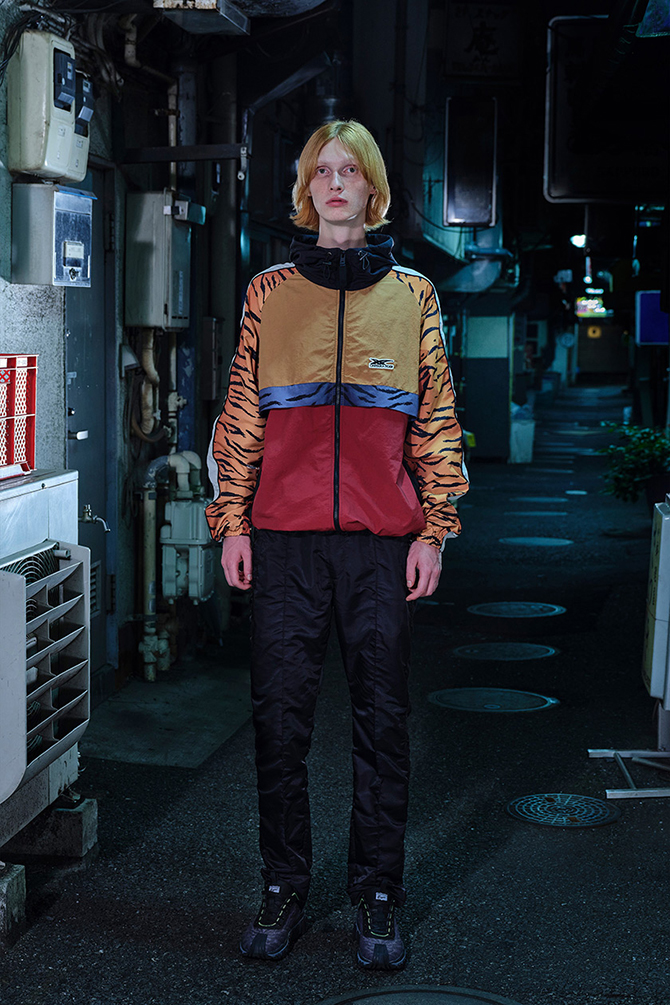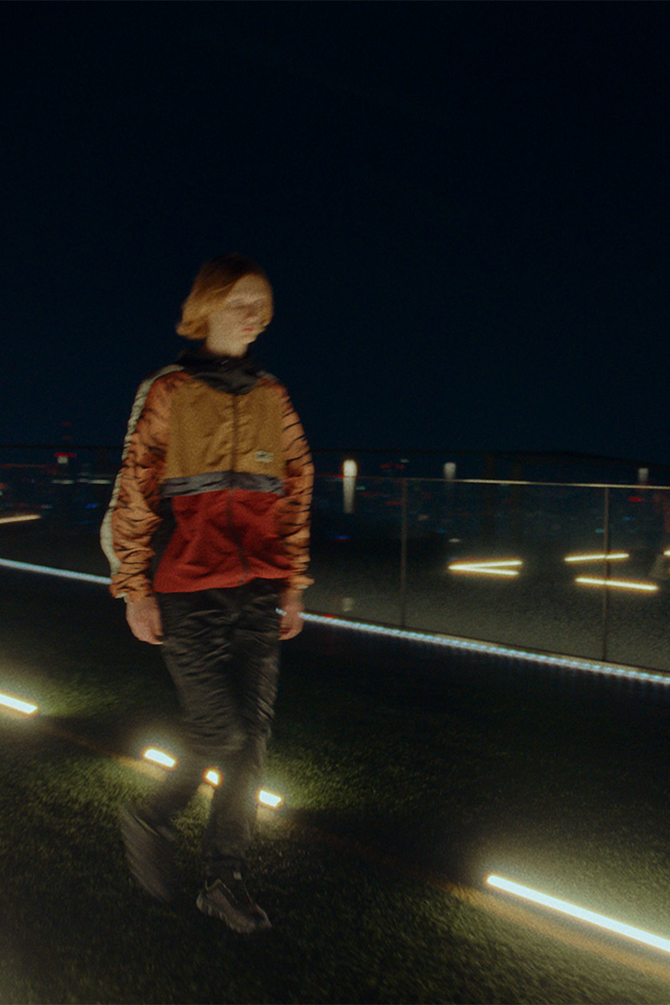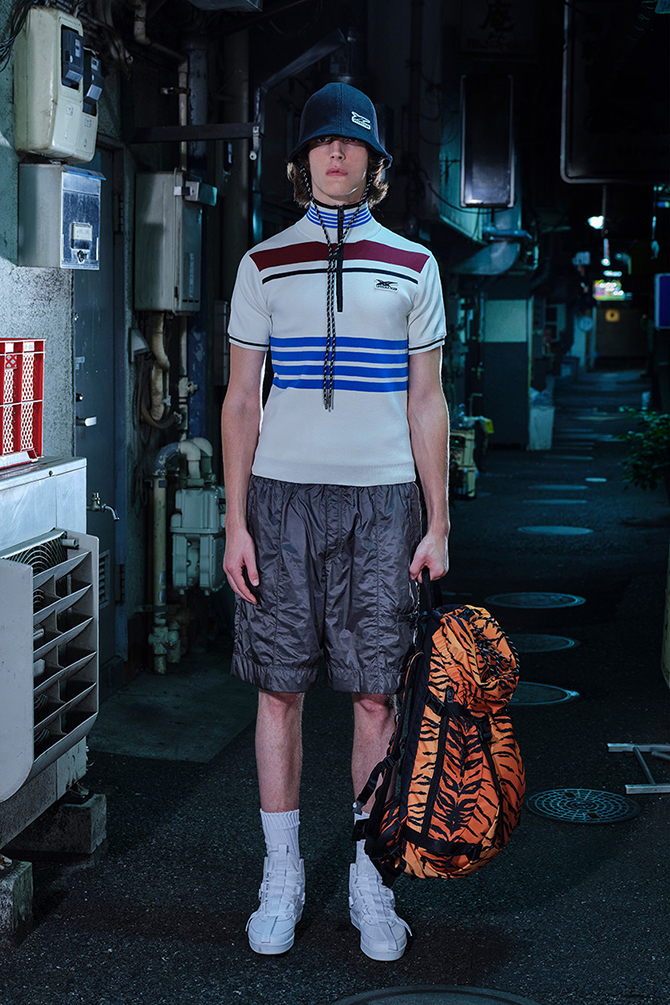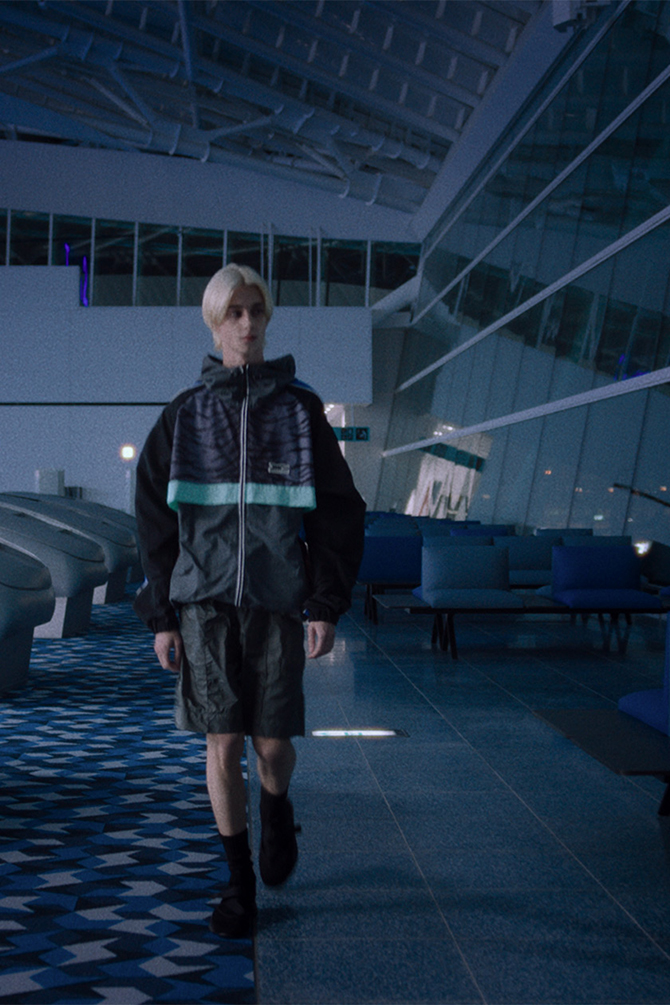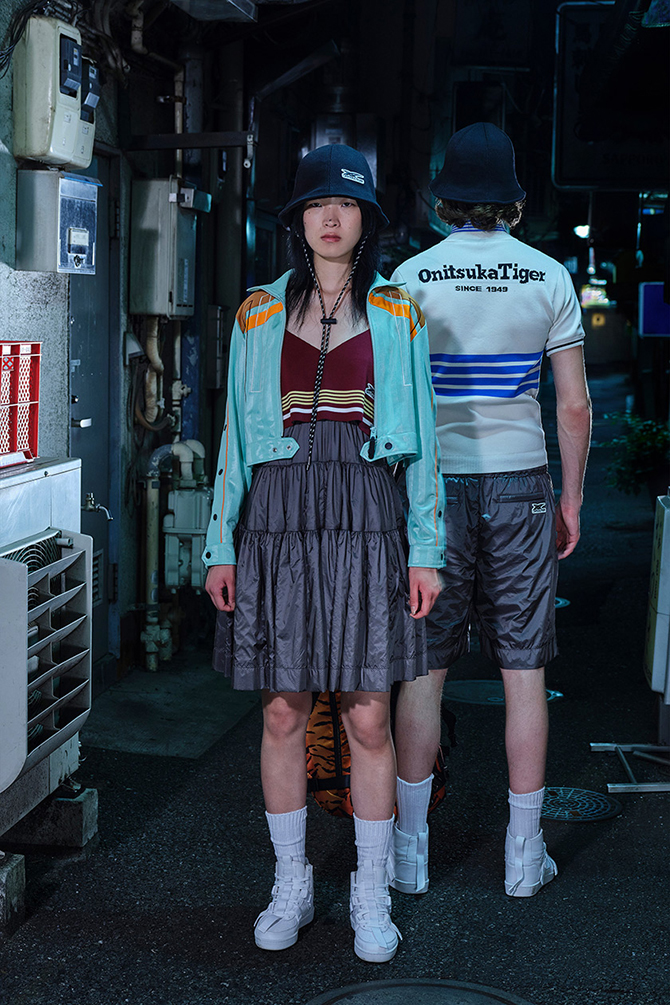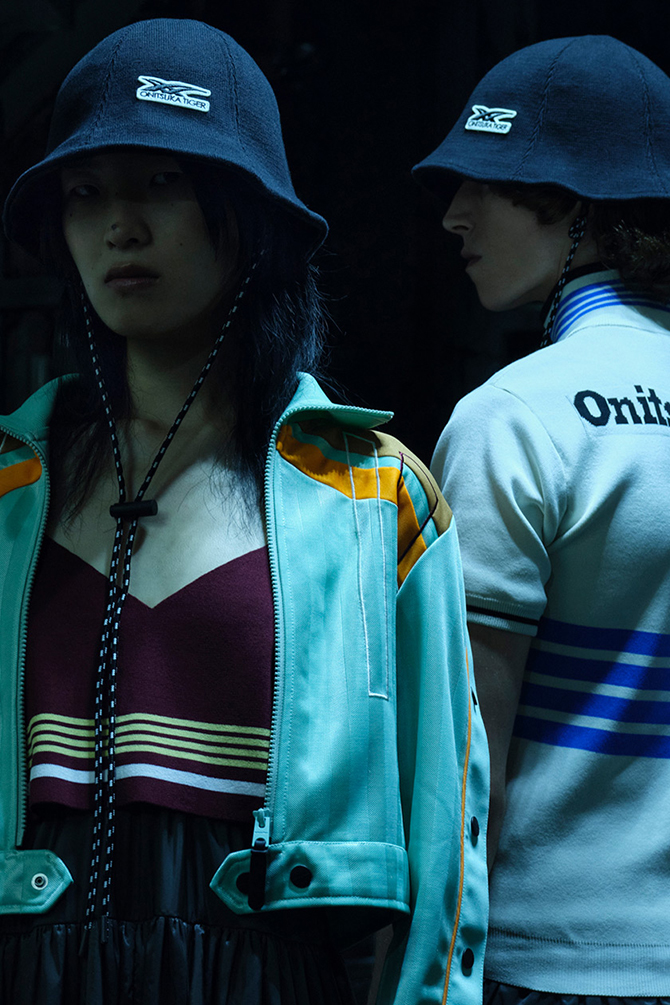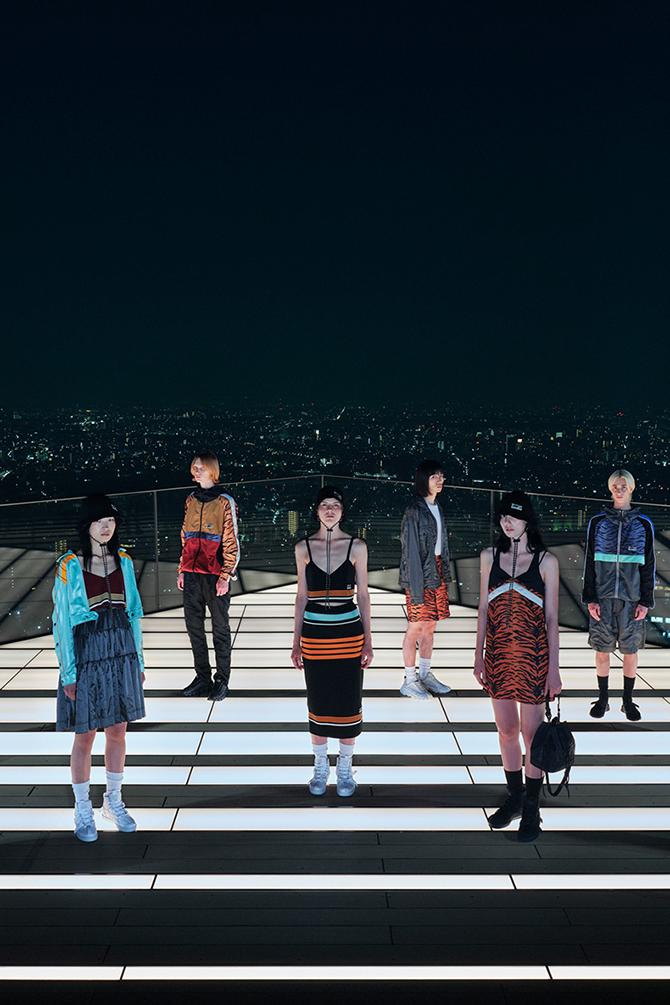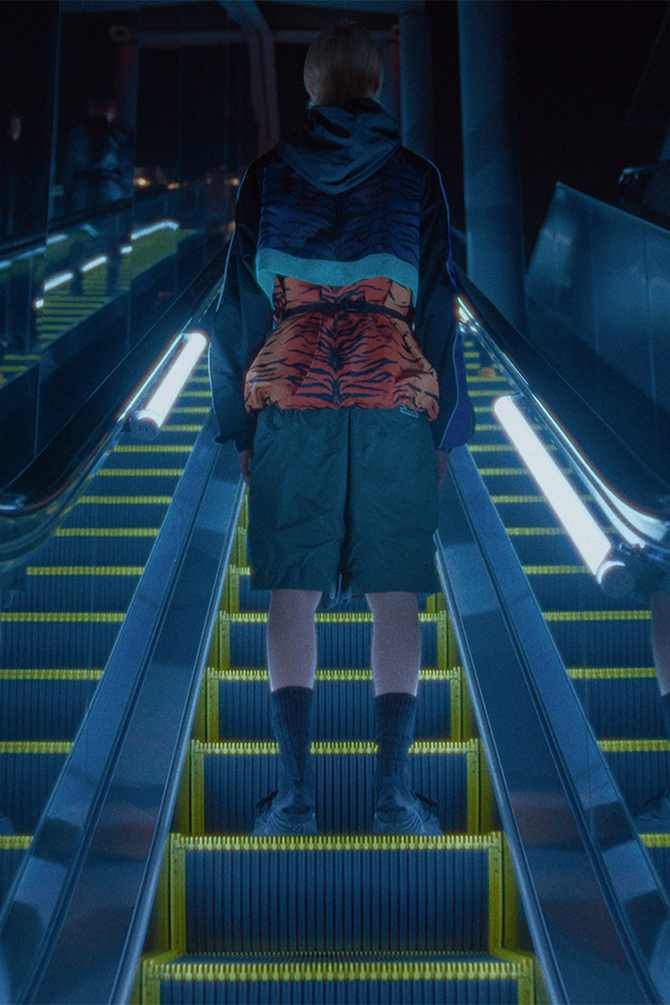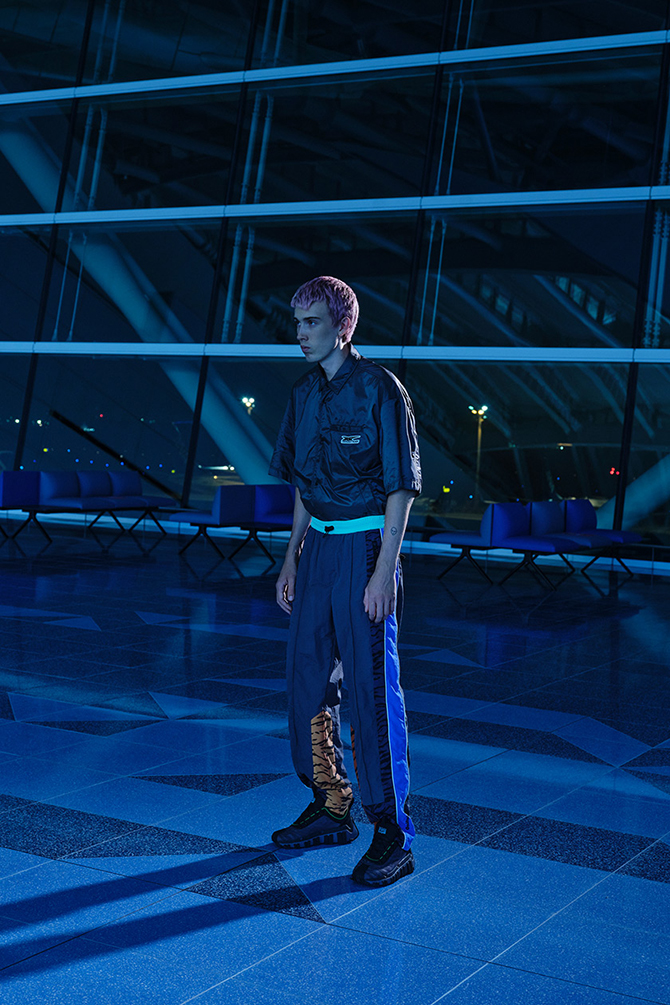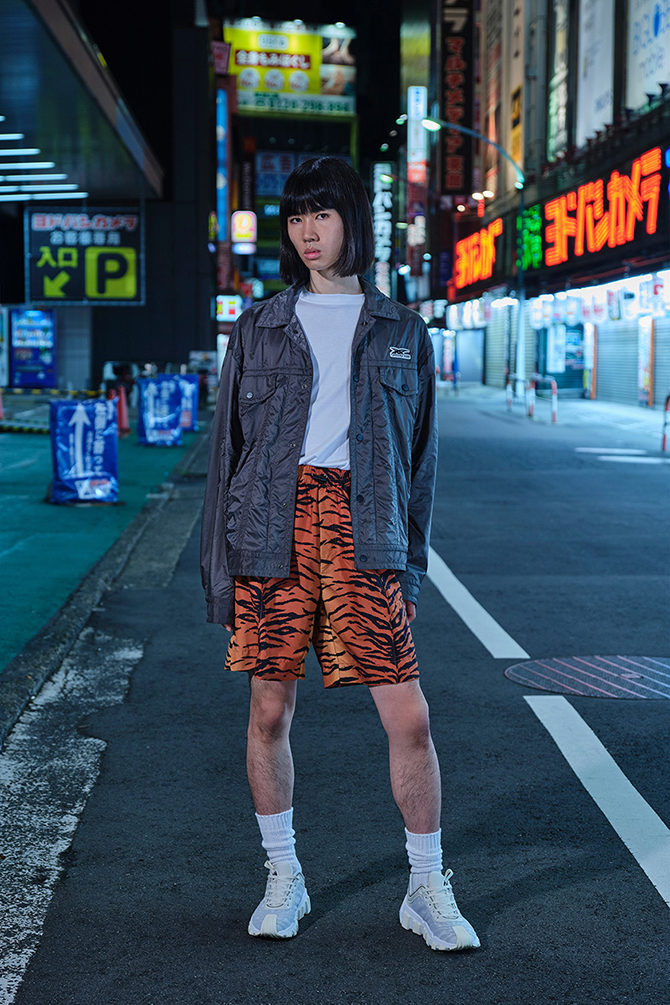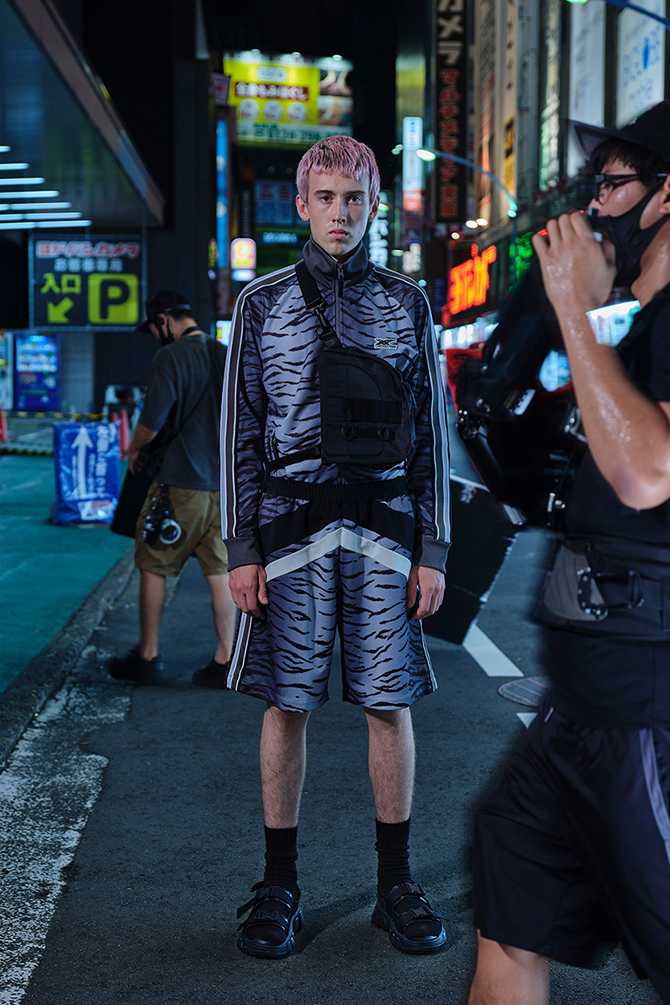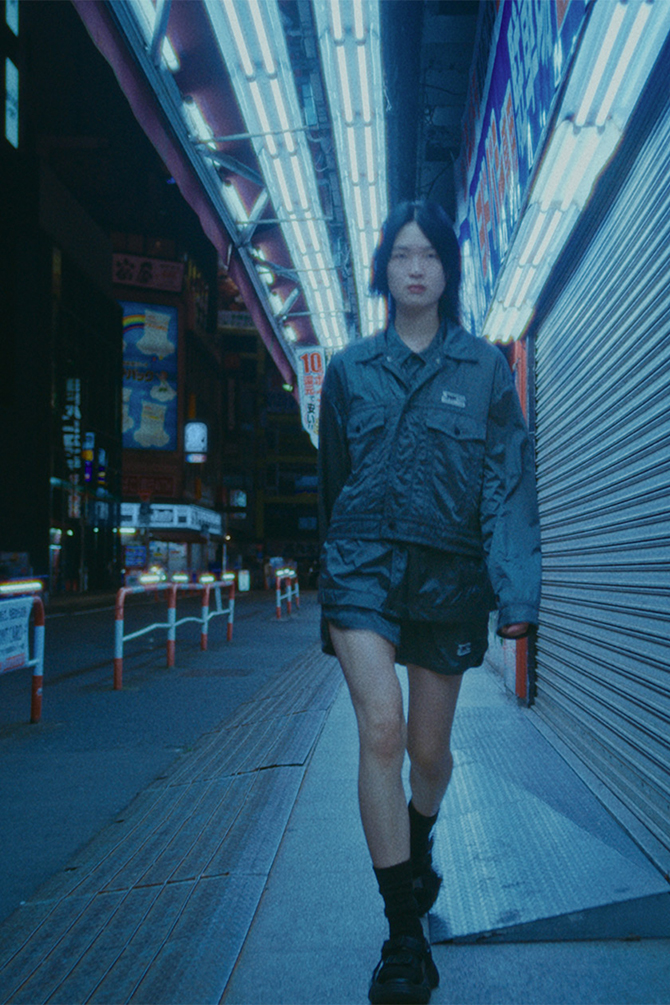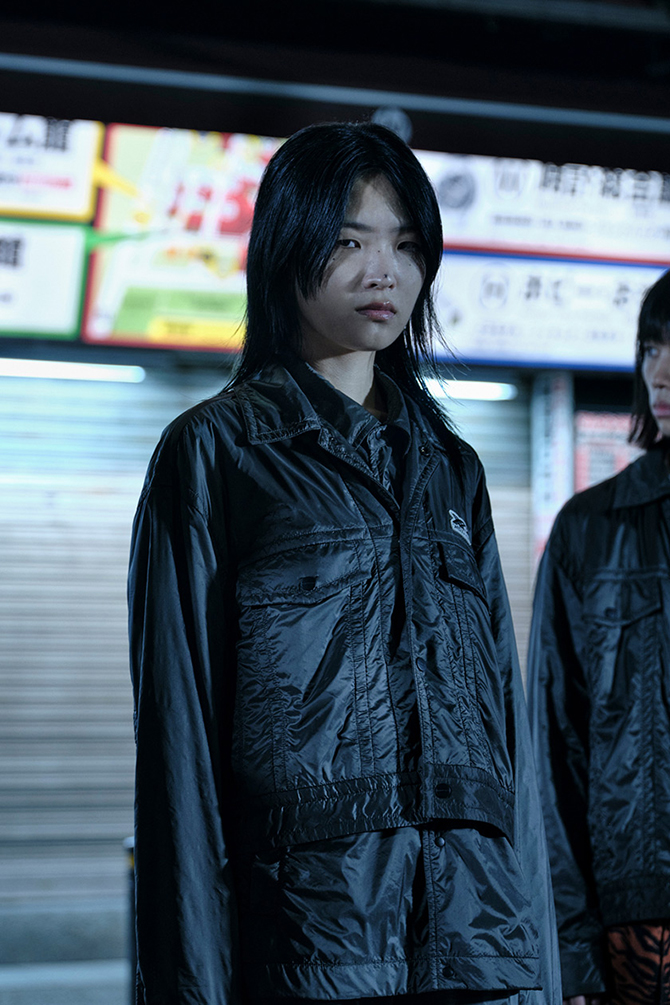 Tiger stripes were rather predominant throughout the seven-minute-ish short film—from sneakers to backpacks to windbreakers to dresses—but besides being the brand's core symbol, 2022 will also be the year of the tiger. Aside from the orange and black stripes, geometric prints were also a recurring theme throughout the collection, in various colour combinations. Most of the materials spotted were sleek, light and breezy, as expected of a brand that has managed to perfect the balance between sporty and fashionable. Some beachwear pieces were also added to complete a complementary and multipurpose set for everyday wear. Now, we just silently wish we would be in Tokyo too by spring 2022.
Read more stories on the Spring/Summer 2022 season here.