Features
Conscious shopping: How Looop is cultivating circular fashion and a better world
Give your clothes a new home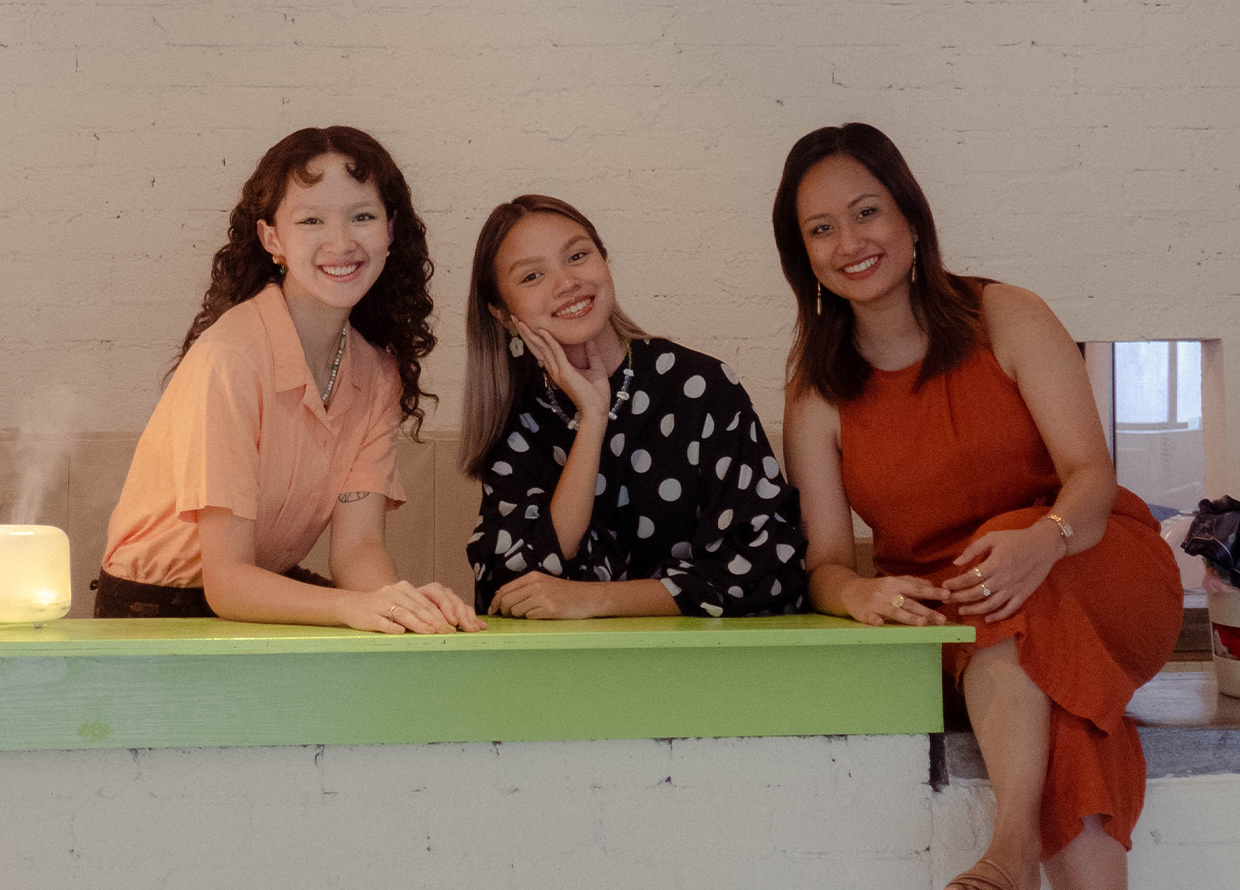 When founders Adani Bakhtiar, Bay Doucet, and Emma Khoo met each other while employed at Riuh in the City, they did not know that a few years down the line (and with a lot of blood, sweat and tears), they'd find space for their personal project to be realised in the trendy neighbourhood of Taman Tun Dr Ismail (TTDI). The project in question would lead to a cult following of sorts amongst locals in the greater Kuala Lumpur area, allowing them to rehome, reuse and repurpose pieces of clothing and accessories, and thus, starting a loop that is never-ending, one that leads to the better consumption of fashion.  
Founded in the month of May 2022, Looop functions as a consignment-based thrift store, allowing contributors to earn back a little money for every piece sold. To get a better grasp and understanding of what goes on behind the scenes at Looop, and the journey that led up to its eventual opening, we're shining a spotlight on the co-owners to get a sense of what it means to be green, sustainable and conscious in the very fashion-forward world that we live in today. 
Watch the video below for a quick introduction, and read on for the full interview.
What you were doing before founding Looop together?
Bay: "I'm formally trained in graphic design but now work as a freelance model and content creator. Graduating from university right before the pandemic gave me a strange relationship with work. I started my freelance career after spending a year working full-time and haven't looked back. I love exploring my many interests, and Looop was a happy and unexpected result of my love for thrifting and hunting down vintage pieces."
Adani: "I consider myself a walking directory as I'm always excited to see what's new around me, and I love giving suggestions to my friends and family from what I've gathered. I have a degree in Events Management and gained some experience in hosting creative events in the city. It was through these opportunities that I got to know of local brands that I've come to love today. Eventually, I pivoted my career towards design presentation at a consultancy and took on a role as a freelance manager for a few creators. What I do today, I have Bay and Emma to thank for. Each of us plays an important role in keeping each other accountable in our respective careers." 
Emma: "I'm a hybrid of many interests. While my new nine-to-five is in affiliate marketing, the first notch in my career belt was in events management and the creative arts, which is a jarring contrast to my formal law education. I always knew I'd take a path less trodden in my life, and starting Looop was precisely that."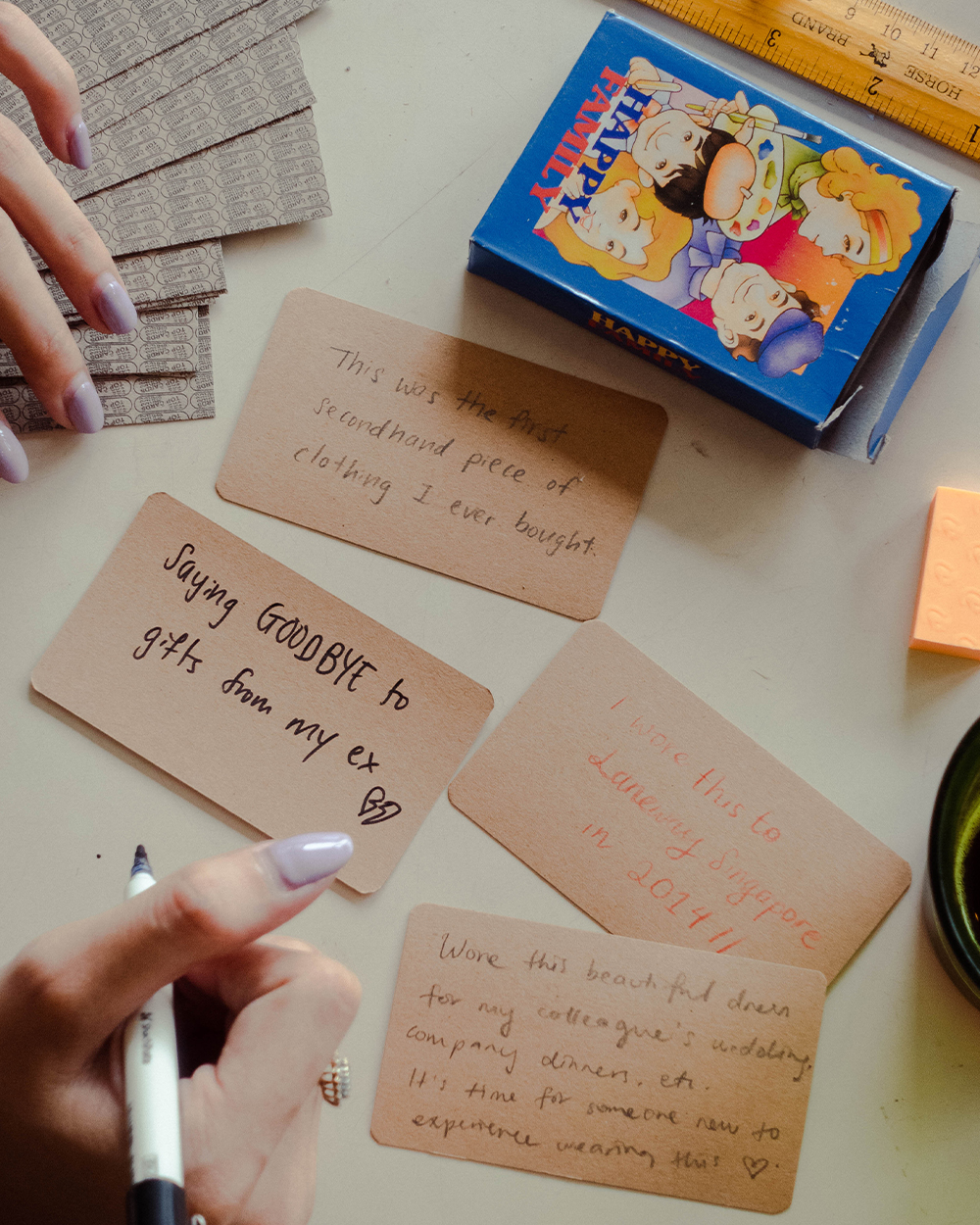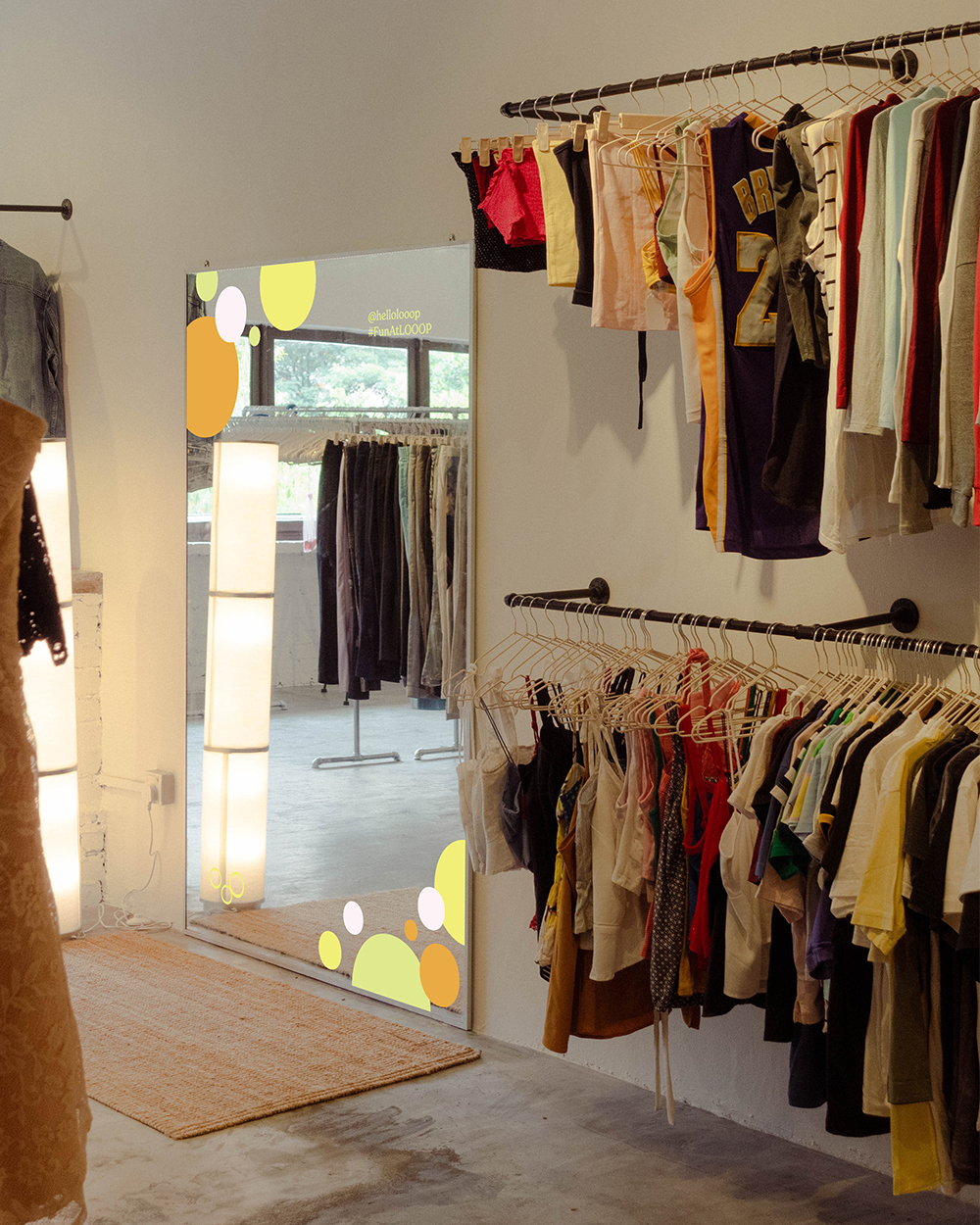 Explain what the concept is behind Looop.
E: "Looop is all about rehoming good quality pre-loved clothing. We're founded on three pillars—Community, Environment and the Joy of Discovery. Each of these pillars holds an individual meaning that leads back to the name of the store: 
Community: As a service to our community, we provide a platform where your pre-loved clothes can become someone else's, and others can become yours.
Environment: A big bonus of Looop is that it slows down clothes from ending up in landfills. We give a second (or third or fourth) chance to a piece of clothing and keep them in a cycle of wear.
Joy of Discovery: We wanted people to experience this feeling in our store, where they can find a pre-loved piece that really speaks to them and one that will end up being a permanent addition to their wardrobe. There's nothing quite like finding a piece that feels like it was meant for you."
What prompted each of you to form Looop?
B: "I love second-hand shopping, and I think for me, it was seeing the lack of options for second-hand shopping locally. There are great bundle stores and curated vintage stores, but nothing that really kept local clothing in circulation (apart from Carousell and other online resale platforms). I think having a range of options when it comes to shopping second-hand gives people more access points, and can inspire those who have a negative association with pre-loved clothes, to give it a shot."
A: "My family loves sourcing second-hand clothing! But ironically enough, even though I do have an adoration for it, I typically get my family members to shop for them for me. I wanted to shop somewhere that was already curated, less 'dusty' per se, and to feel comfortable trying out the pieces. Building Looop has allowed us to make the second-hand shopping setting more accommodating, and I hope a lot of people are able to feel comfortable while shopping here, just as we intended it to be." 
E: I purged my closet post-breakup and wanted to sell some good-quality pieces. I wanted to maintain my anonymity, which meant that I couldn't sell it on my Instagram or Carousell profile. At the same time, I also did not want to go through the hassle of taking photos and doing deliveries. That's when I was reminded of second-hand clothing stores in other countries that sell on a consignment basis. And Bay, Adani and I quickly saw there was a gap in the local market that we could fill, thus creating Looop."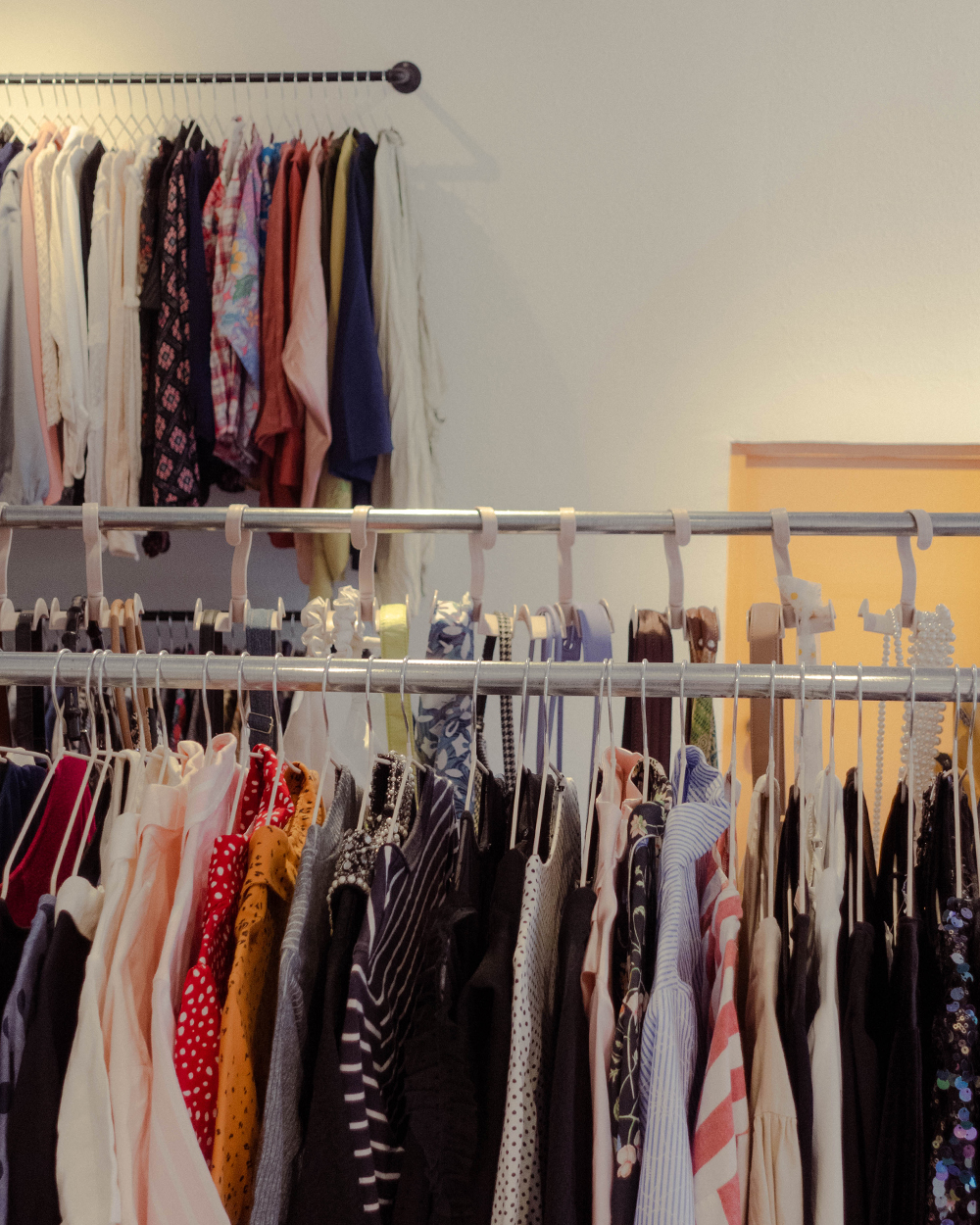 How do you see each of your individual personalities influencing the brand?
B: "I did the branding for Looop and it was inspired by my friendship with Emma and Adani. The three primary colours of the store—yellow, green and orange—were taken from our private conversations, where each of us used a distinct heart emoji with the colours of the store when texting. I love taking time to notice the little things and tell a story through visuals. I'm a little nostalgic as well, so honouring the stories behind each piece by letting consignors write out their item's past life definitely brings me a lot of joy!"
A: "My anxiety makes me micromanage things. I assist in many of the tedious management tasks that require me to have everything on record, schedule meetings, and arrange folders and documents just so that we have no loopholes for any audits. The three of us love to manifest and challenge the impossible. The first step in doing so is compiling and spitballing everything onto a deck. I'm very much the designated slides girl; I enjoy having these ideas converted into a visual setting so it can bring us a step closer to realising them."
E: "I love running a tight ship. It's probably what I picked up from event management. What's important to me is that behind the scenes of all the exterior fluff is a business that makes sense (and cents, if you will)! I manage the finances of our humble little store and keep track of our revenue, costs and consignor payouts. I also have a detailed system for how clothes are hung in the store (i.e. black pieces are not hung side-by-side and sleeved and sleeveless dresses are alternated so the hangers don't tangle)."
What does a typical day look like at Looop?
B: "During opening hours, we take in our appointments for clothes drop-offs where we curate items that are fit for selling. We also like to highlight some great finds in the store on our Instagram page by trying them on and photographing them. This leads to a little dress-up party of our own! We love chatting with our customers as well, and when the store isn't too busy, we even help them style outfits and pick out pieces for them. Other than that, it's pretty regular storekeeping."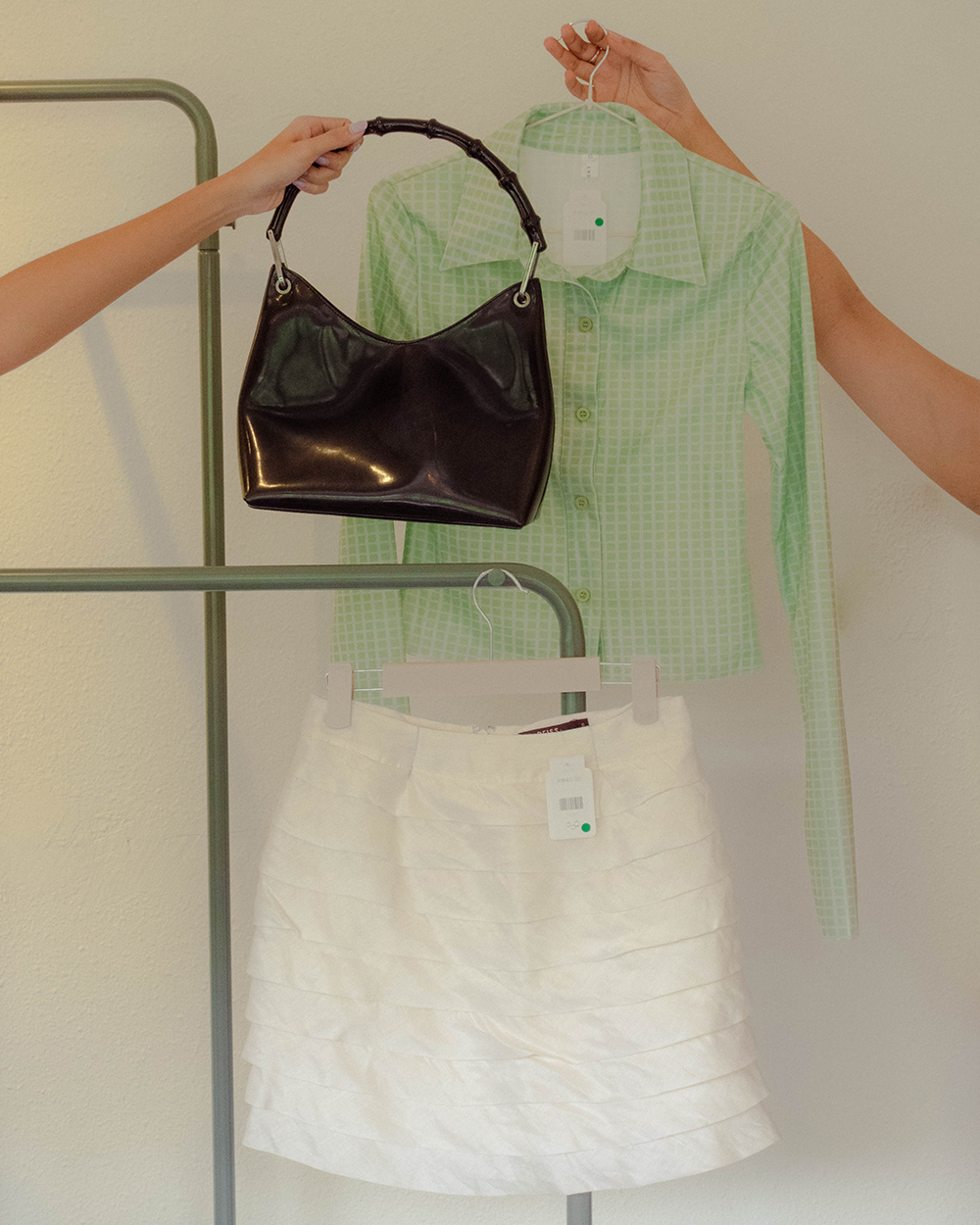 Could you explain the process for consigning items at the store?
A: "We've detailed the entire process on our website, but in short: after you've made an appointment to sell with us, you can bring in up to 20 items to the store where we have a quick look through of the quality and condition of each piece. After our curation process is complete, it takes us up to a week to price and onboard the items before they go out onto our racks for eight weeks.
It is during this period that we hope they get adopted into new homes! We pay out your 40 per cent cut of the sales price via bank transfer on the last Monday of each month. At the end of the eight weeks, you can opt to come in and pick up your unsold pieces, or we can donate them on your behalf."
Do you intend on opening an online platform, or are you focused on the physical space for the time being?
E: "We're definitely more focused on the physical space at the moment, but we're working towards creating an online platform for very special pieces that don't leave the floor in its eight-week cycle."
What are some of your future plans for Looop?
A: "We hope Looop is able to introduce circular fashion to a broader audience since it's relatively new in this region. We hope to expand our model beyond TTDI and Kuala Lumpur and continue to keep local clothing in a local cycle."
For more fashion stories, click here
| | |
| --- | --- |
| SHARE THE STORY | |
| Explore More | |