Paris Fashion Week will be setting the closing note for one of the most anticipated fashion months since the pandemic, and there are lots to revel in—from Chanel to Dior to Louis Vuitton. 
Nine days and 105 brands—Paris Fashion Week Spring/Summer 2023 will be full-on. Expect fashion favourites, such as Chanel, Dior, Valentino, Louis Vuitton, and Loewe; designer debuts; and the return of some labels, be it to Paris or physical shows. We're looking at you, Victoria Beckham, Mary Kate and Ashley Olsen's The Row, as well as Issey Miyake. With so much to catch up on, fret not, as we'll highlight some of the best looks and moments below.
We'll be updating this page in the coming days, so bookmark and scroll ahead for livestreams, highlights and runway photos.
DIOR
"Maria Grazia Chiuri continues to put on a beautiful show worthy of an equally gorgeous—almost otherworldly—collection that takes the mind to a different plane of imagination. Held at Jardin des Tuileries, Chiuri worked with artist Eva Jospin to bring to life a baroque grotto made of cardboard to set the stage. It started with a Dior scarf reference featuring a map of Paris, and then to the Tuileries Garden. The garden was commissioned by Italian noblewoman Catherine de Medici who inspires Chiuri with her political intelligence and innovations she presented to the royal manufactures such as heels, the corset, and Burano lace. And thus, Dior's spring/summer 2023 collection saw a stream of guêpière, wide court skirts, panniers in varying lengths, pyjama shorts, broderie Anglaise, raffia coats and, of course, Dior's signature floral and bird motifs. In Chiuri's signature style, dresses were flowy, airy and free. Yet, in all the soft, feminine energy presented in each look, there was power and confidence, just like the women of the past, present and future that we love to celebrate." —Rachel Au, managing editor
RUNWAY LOOKS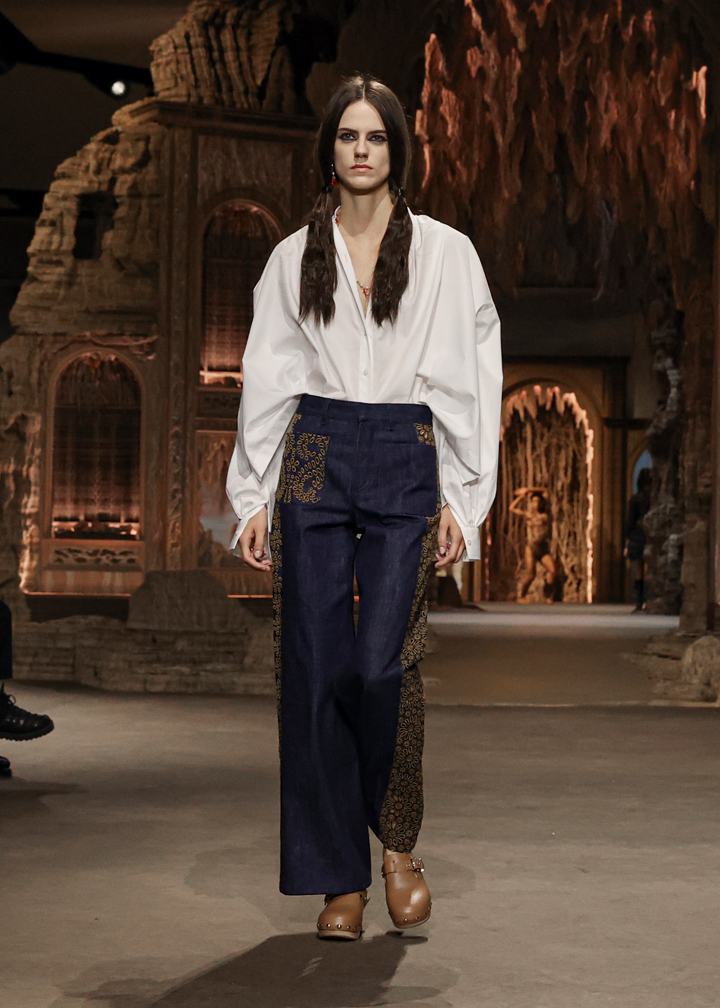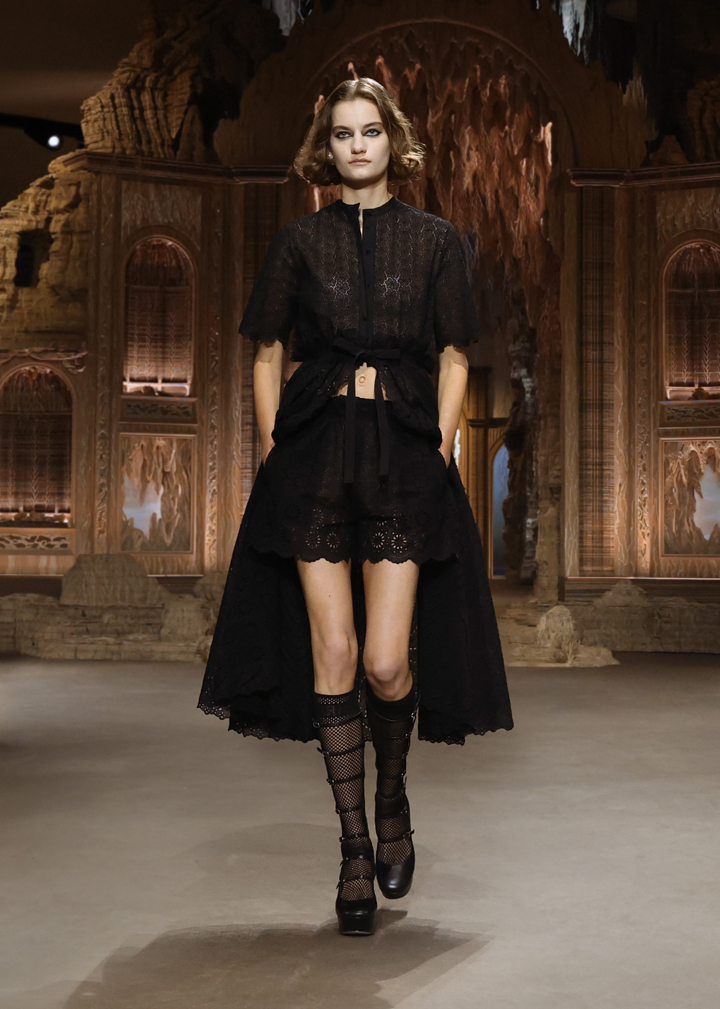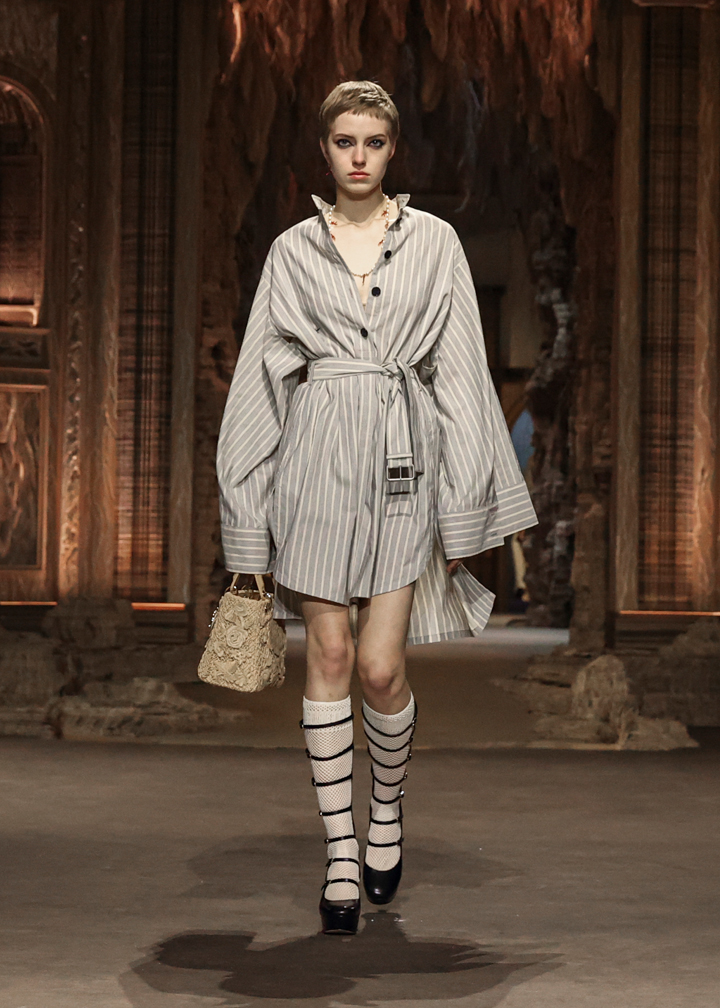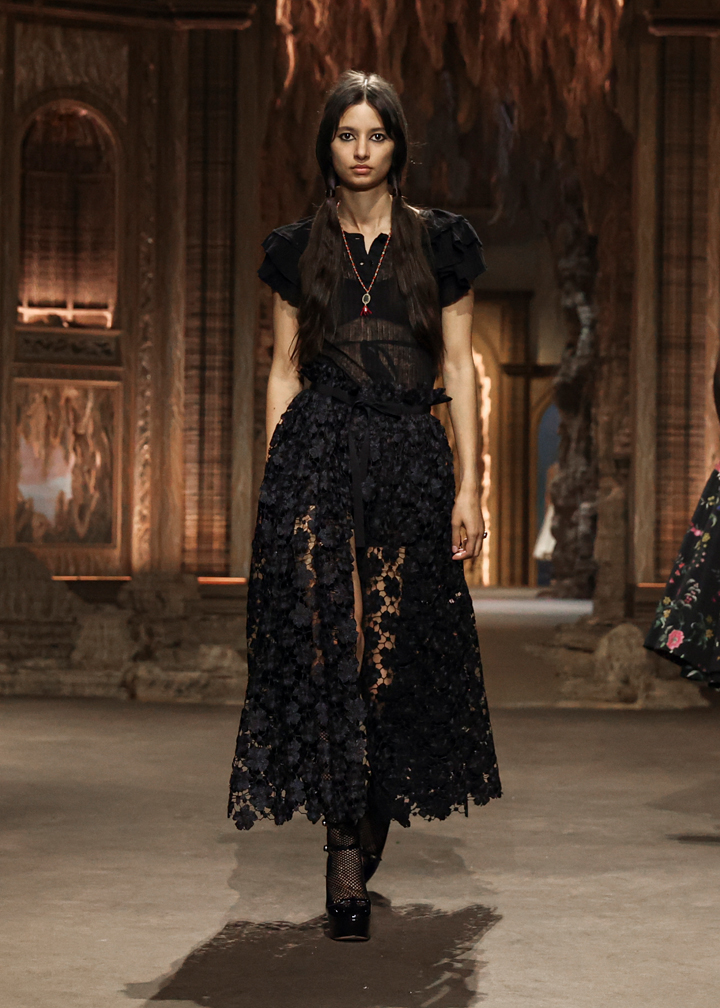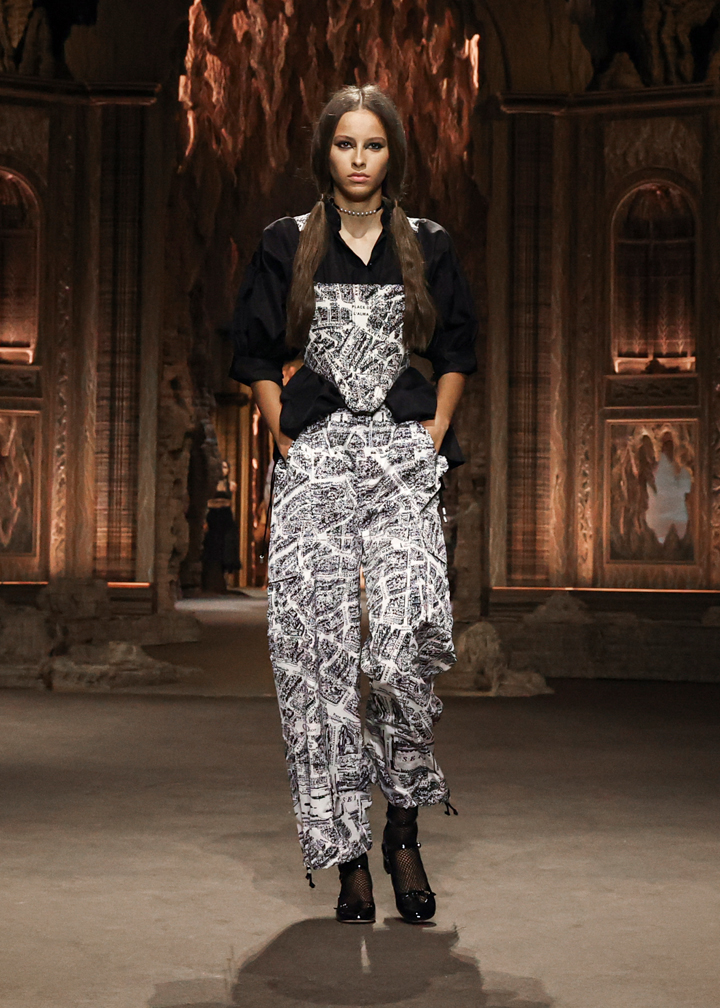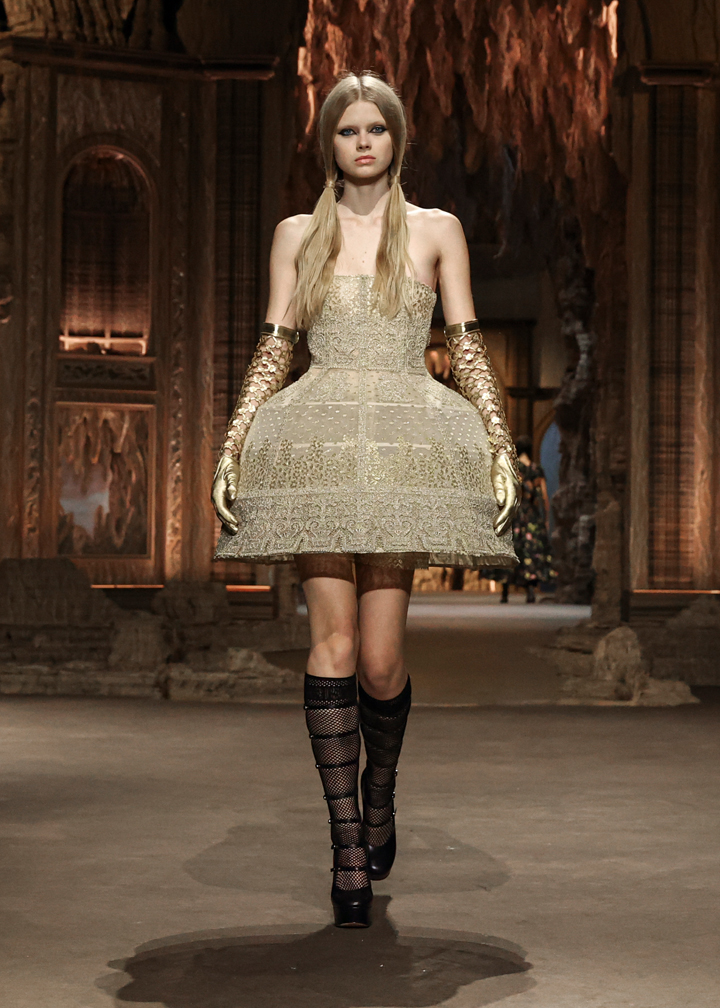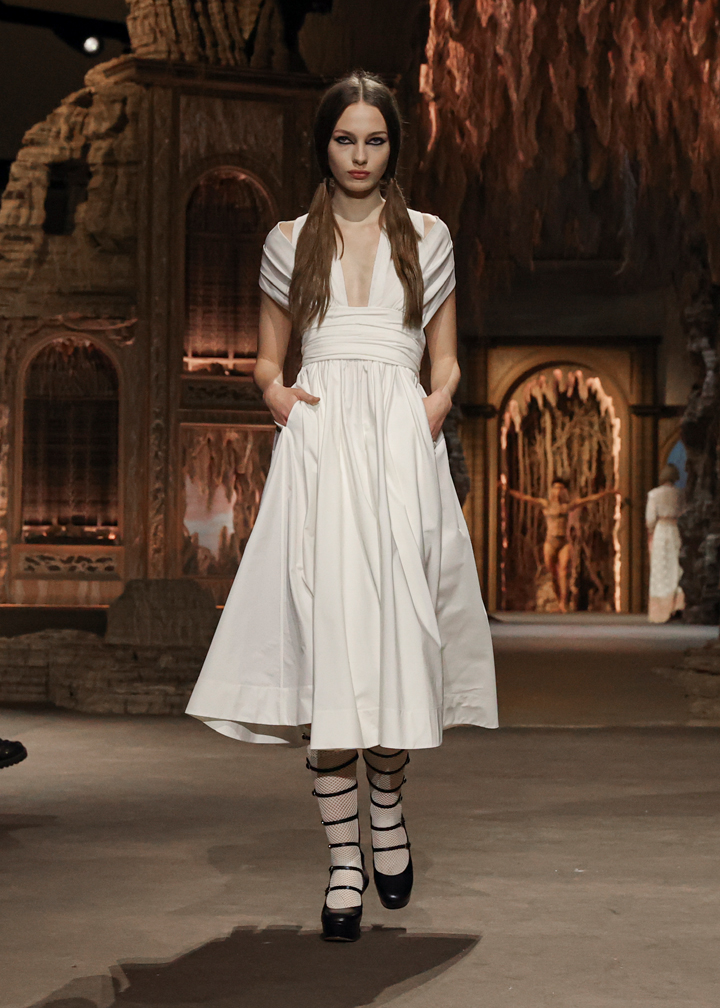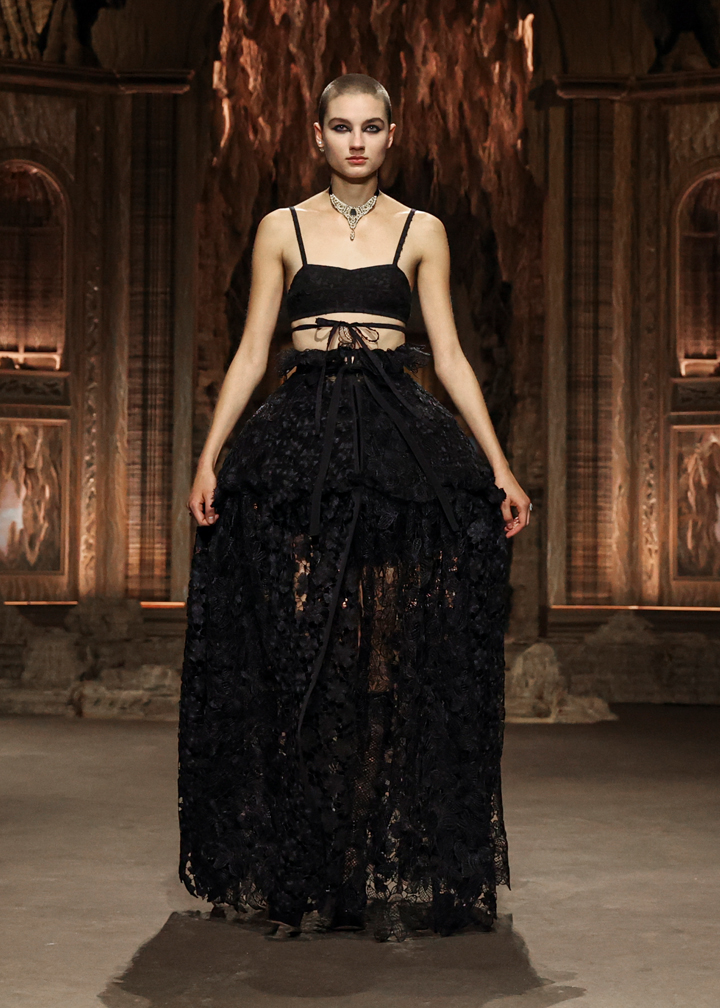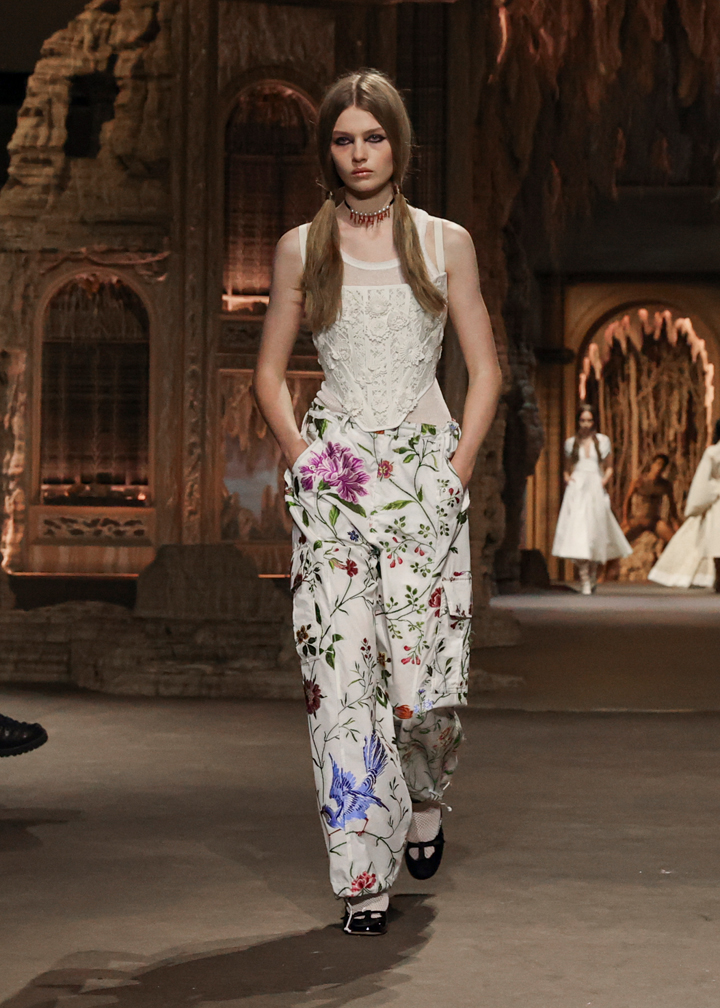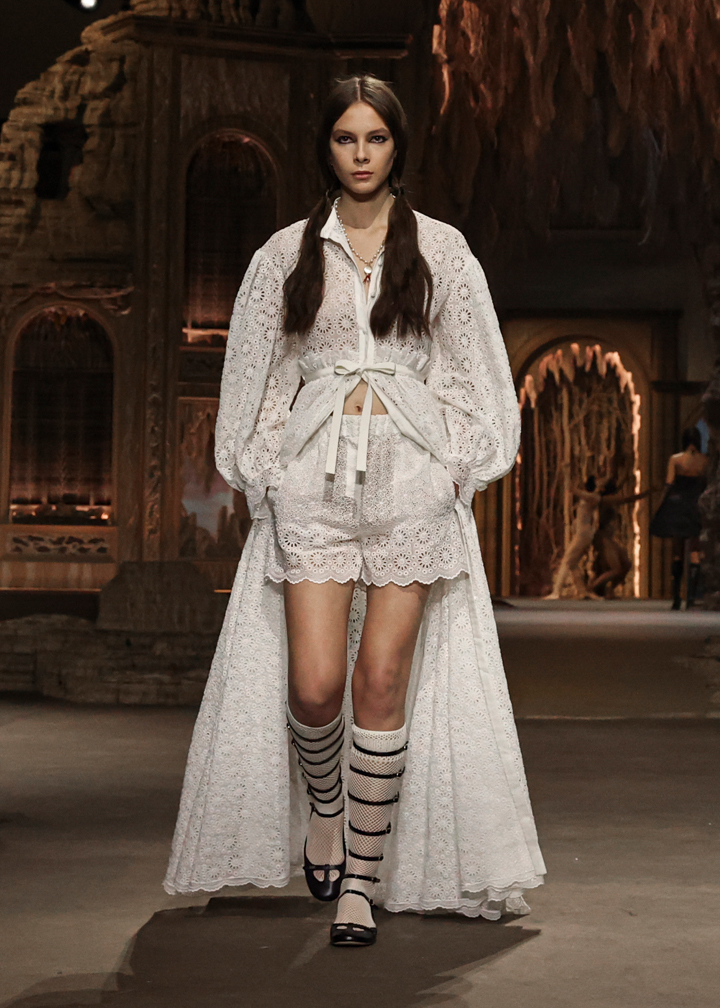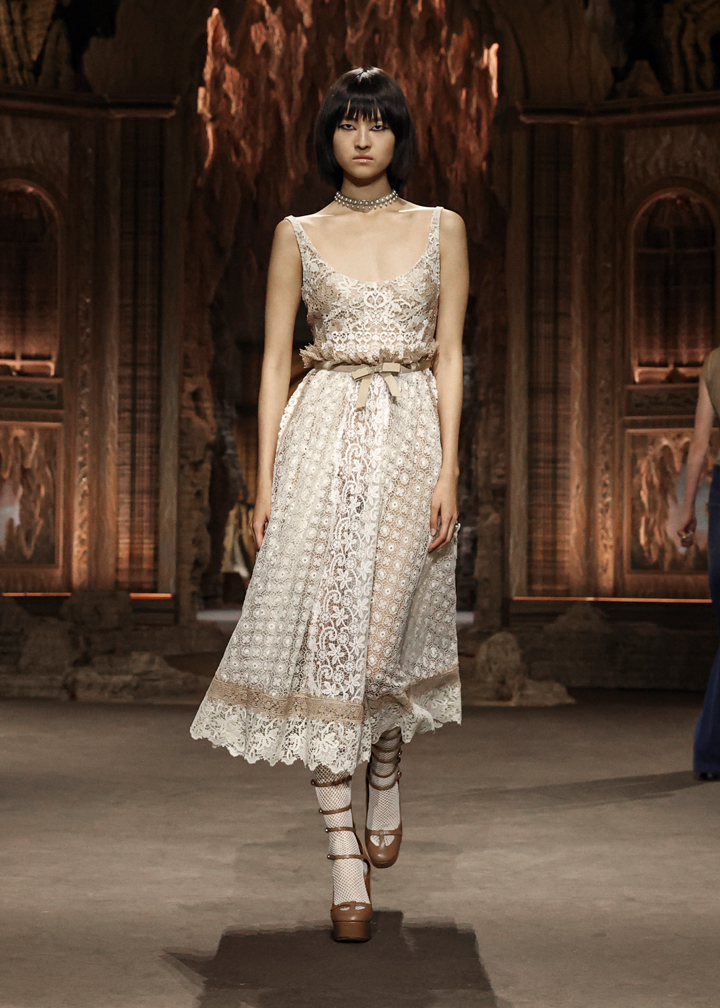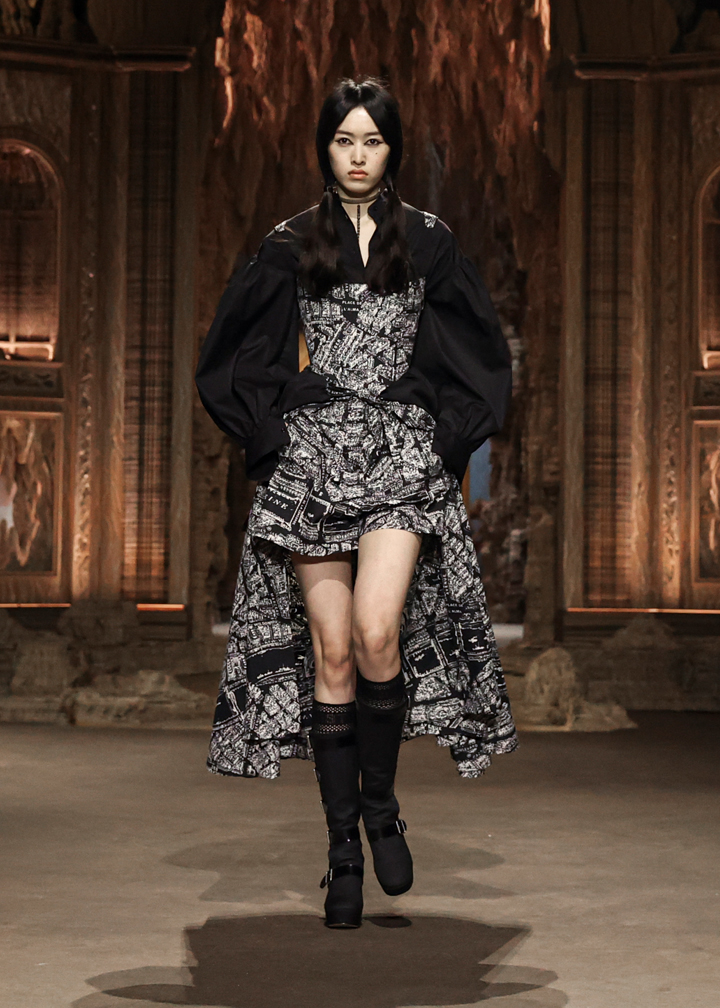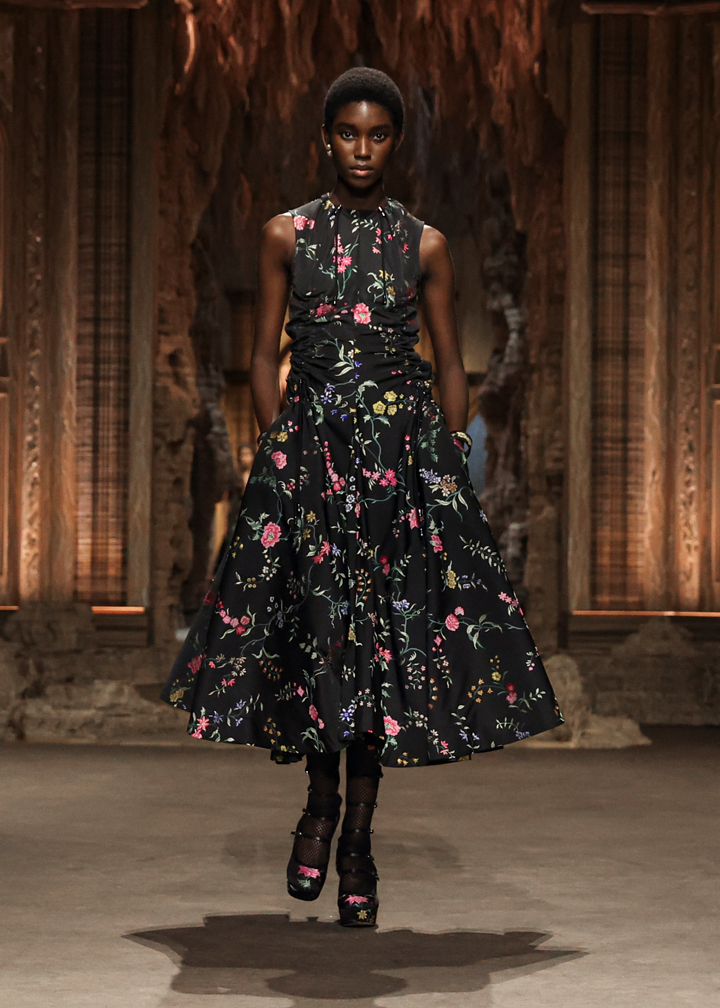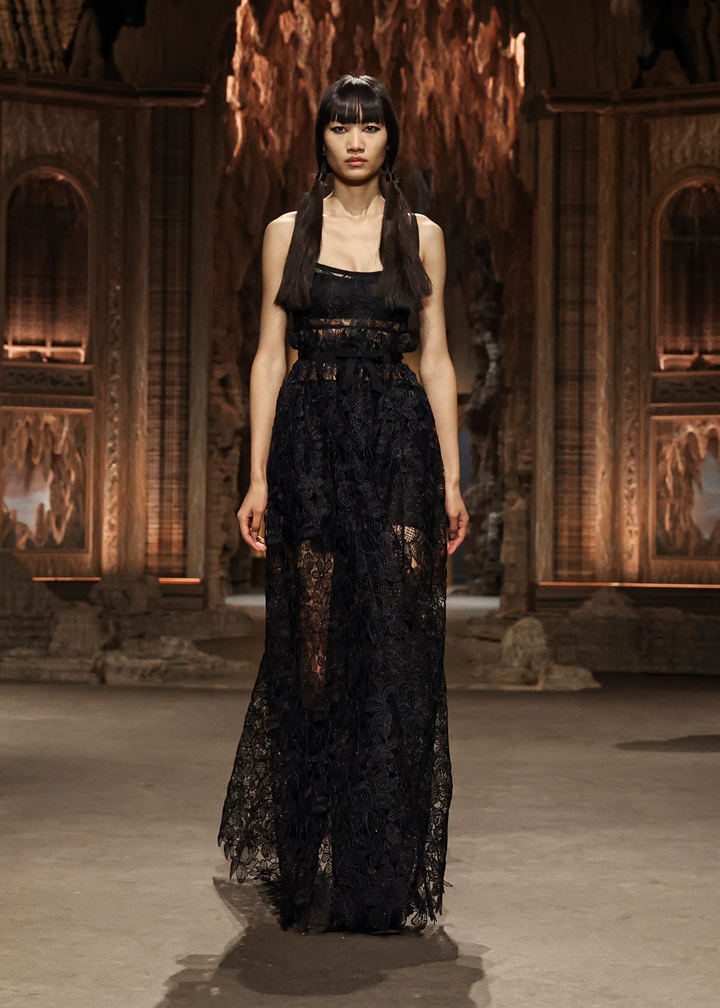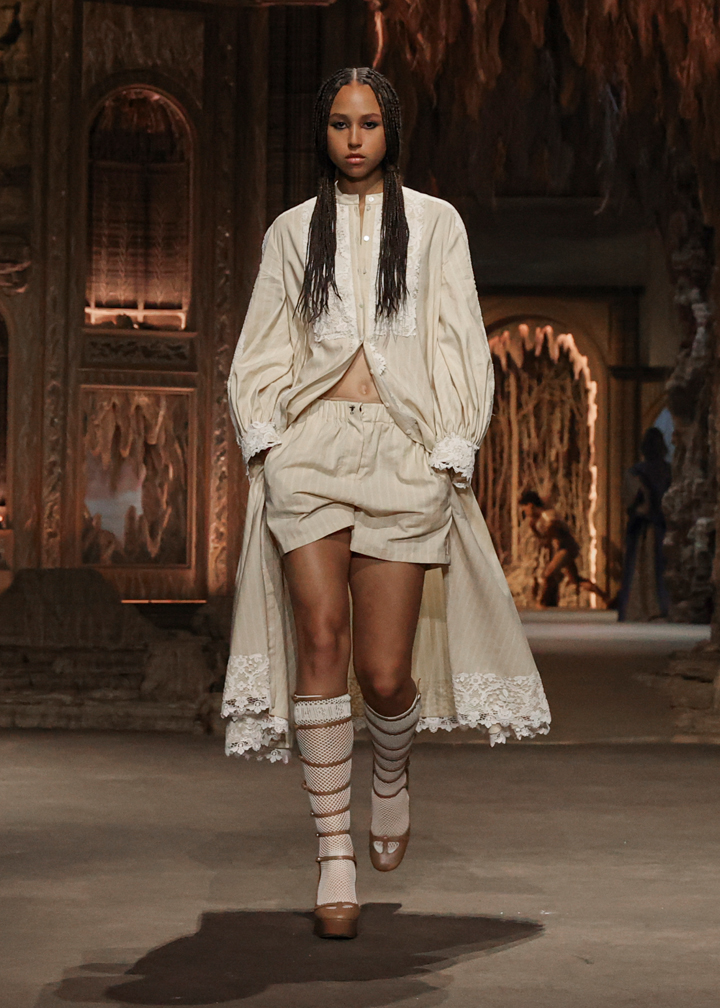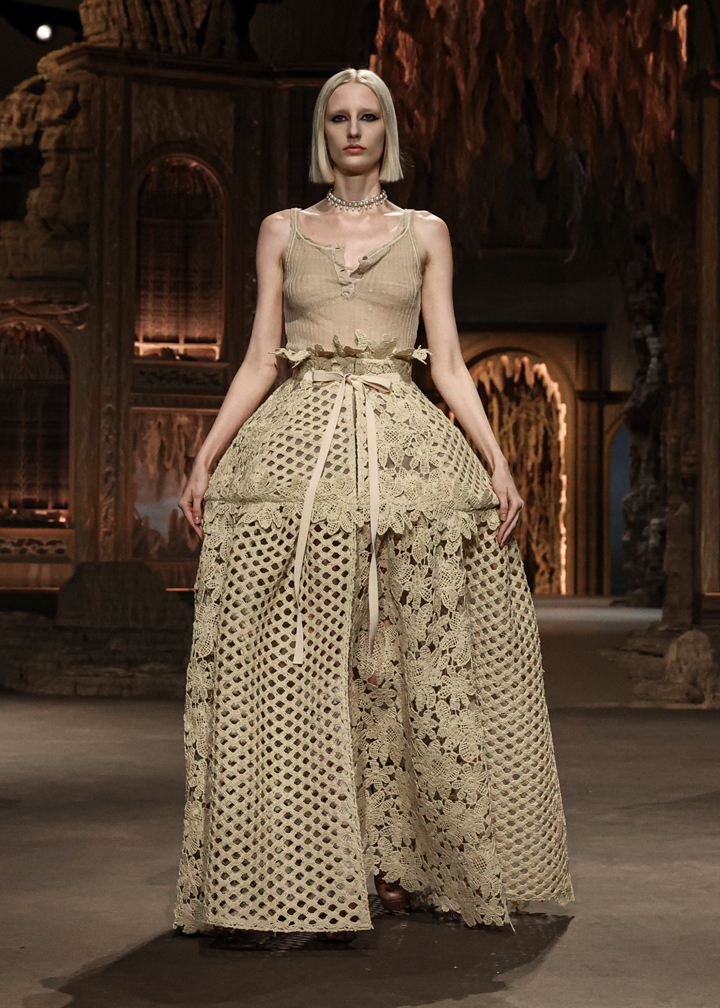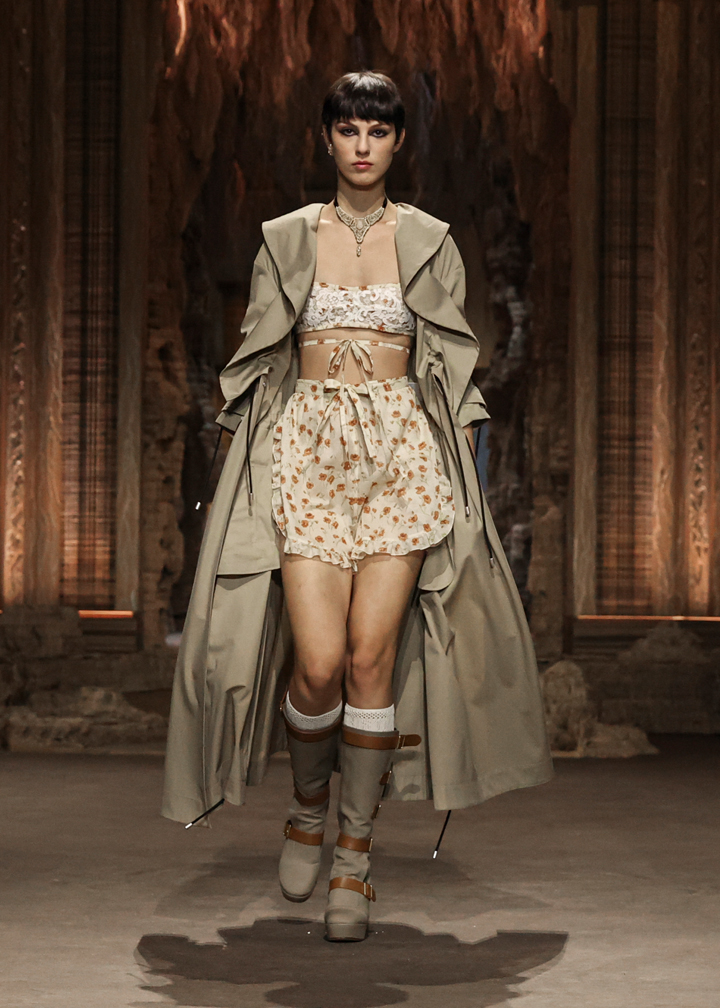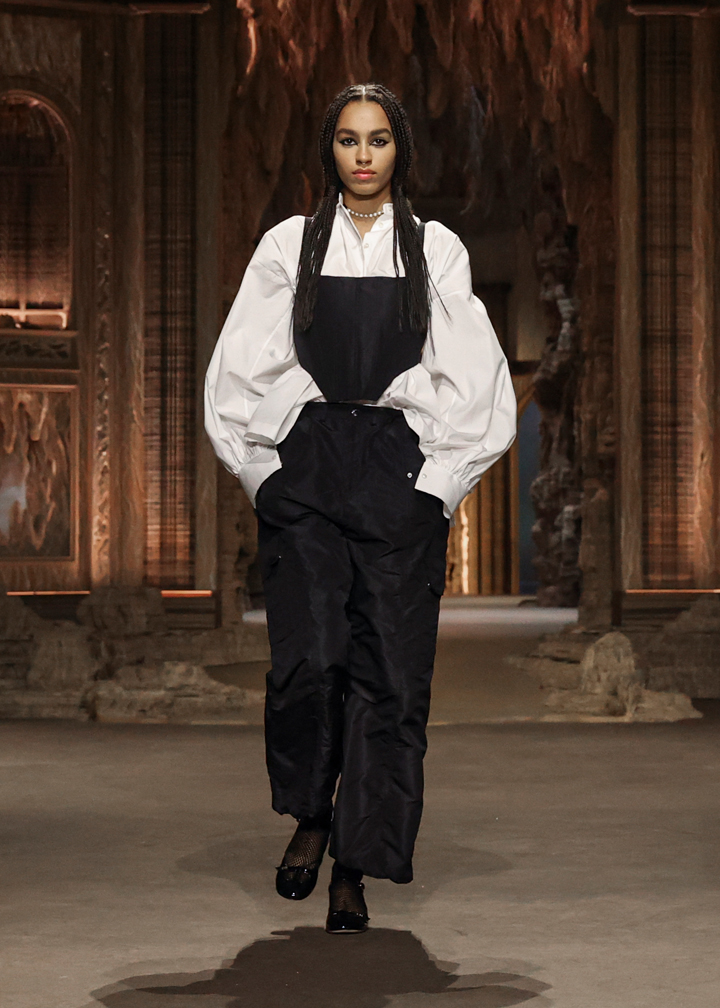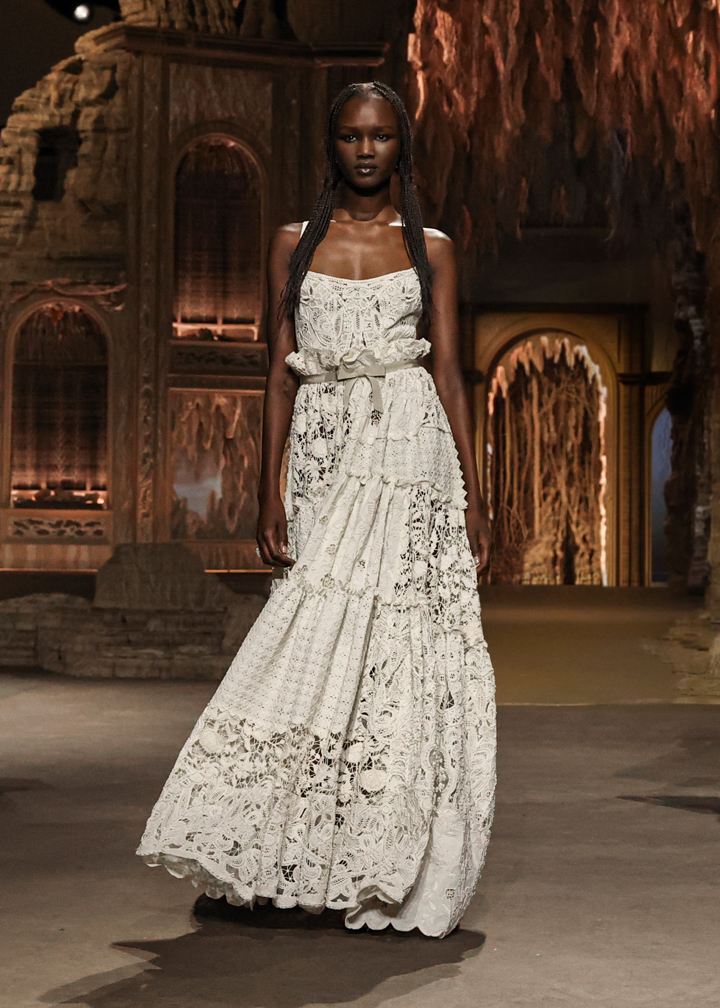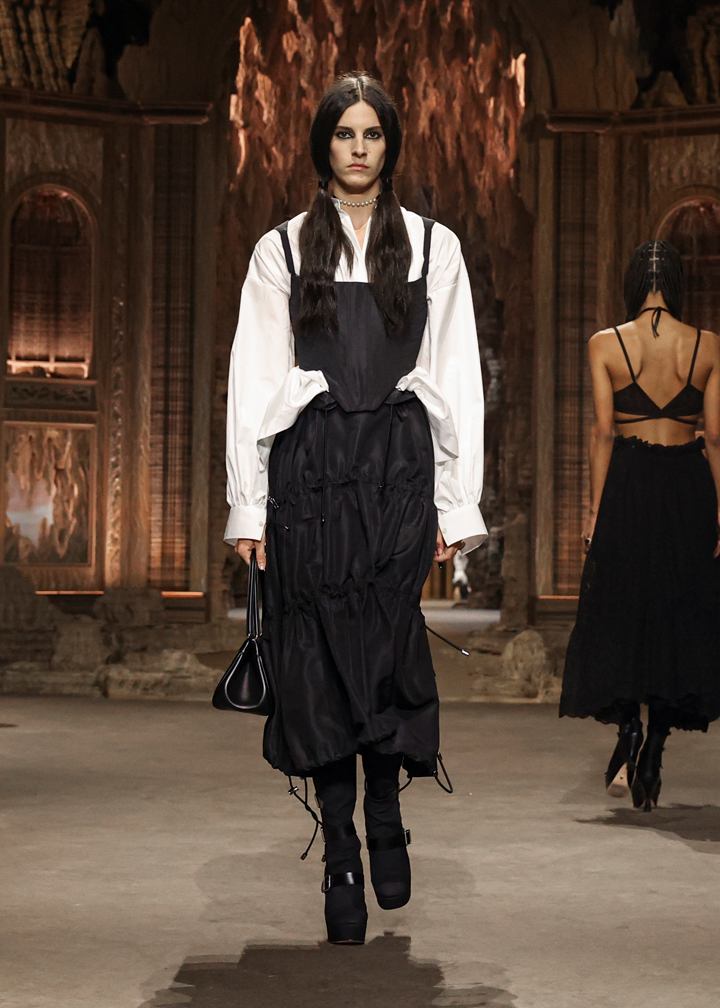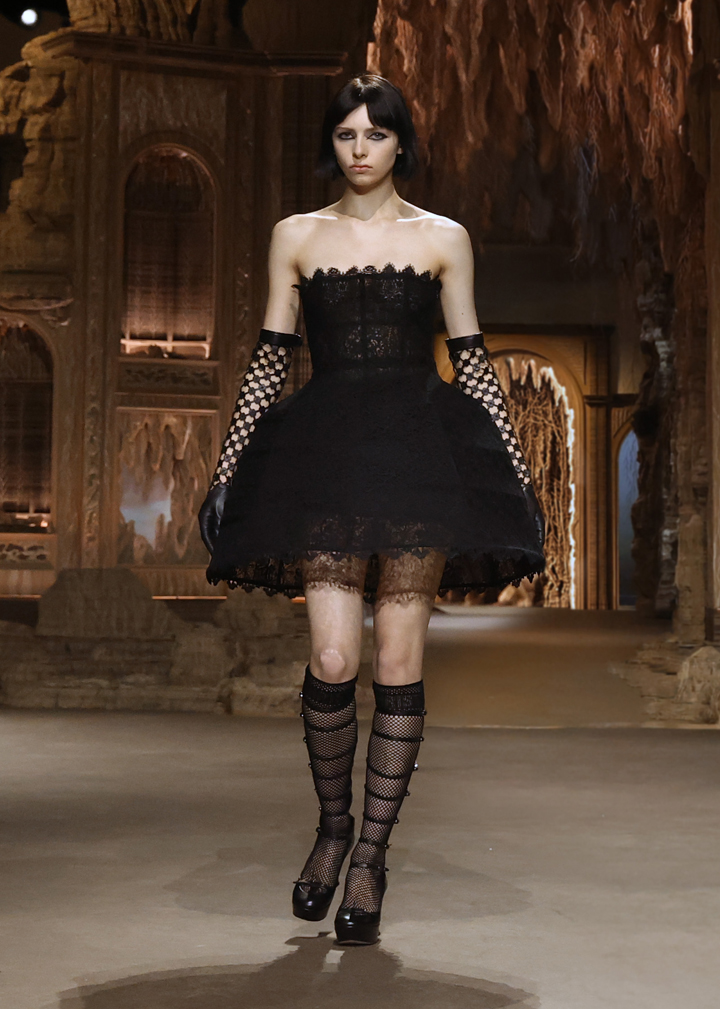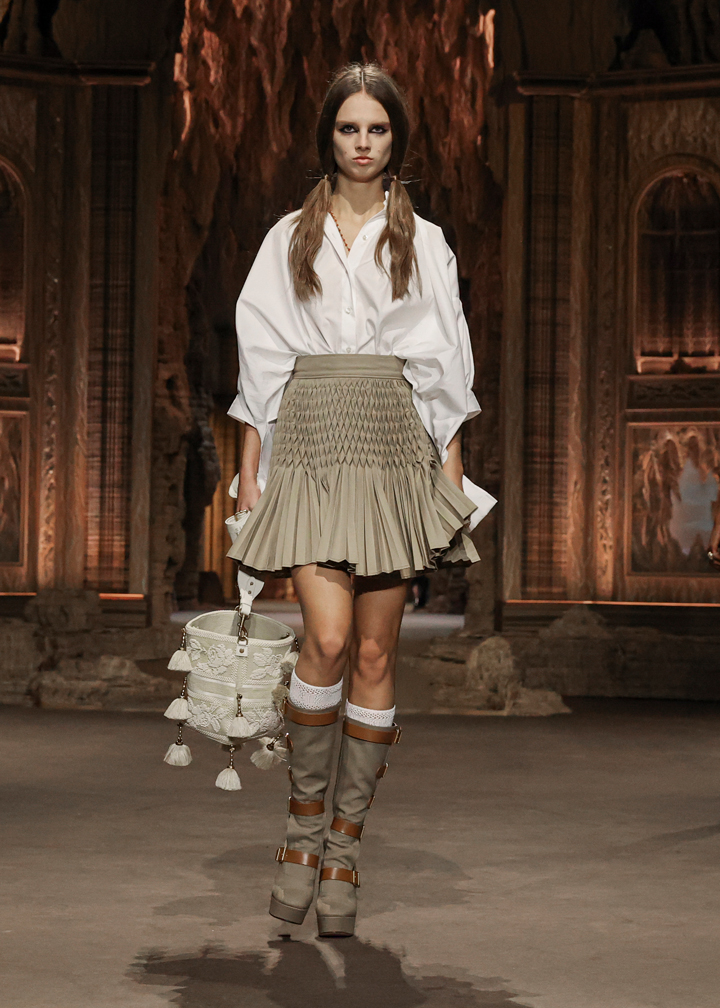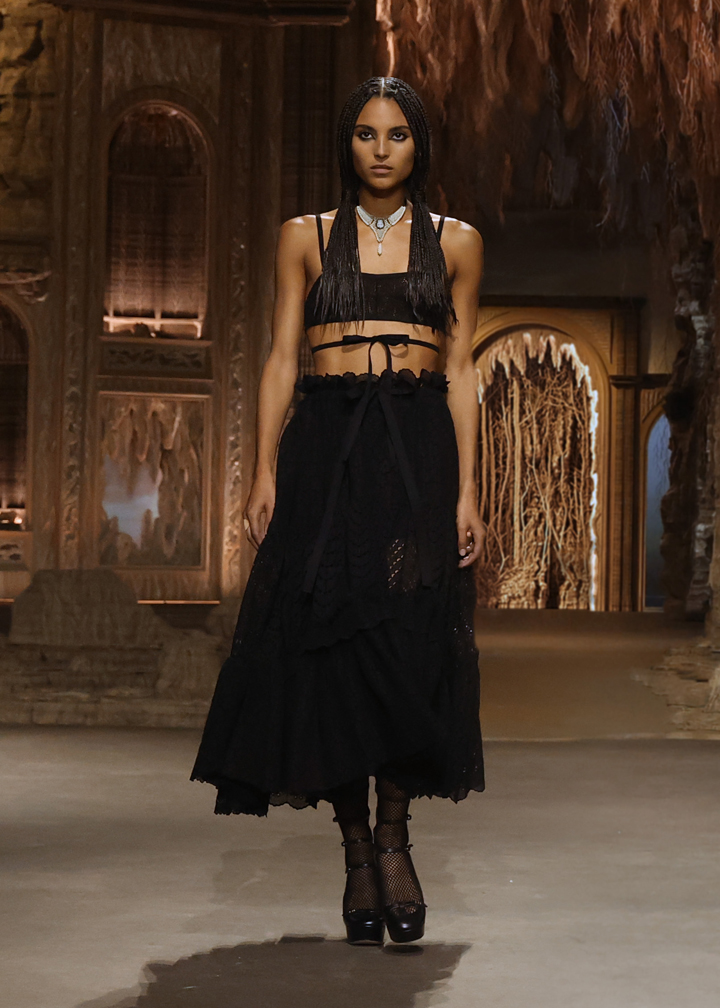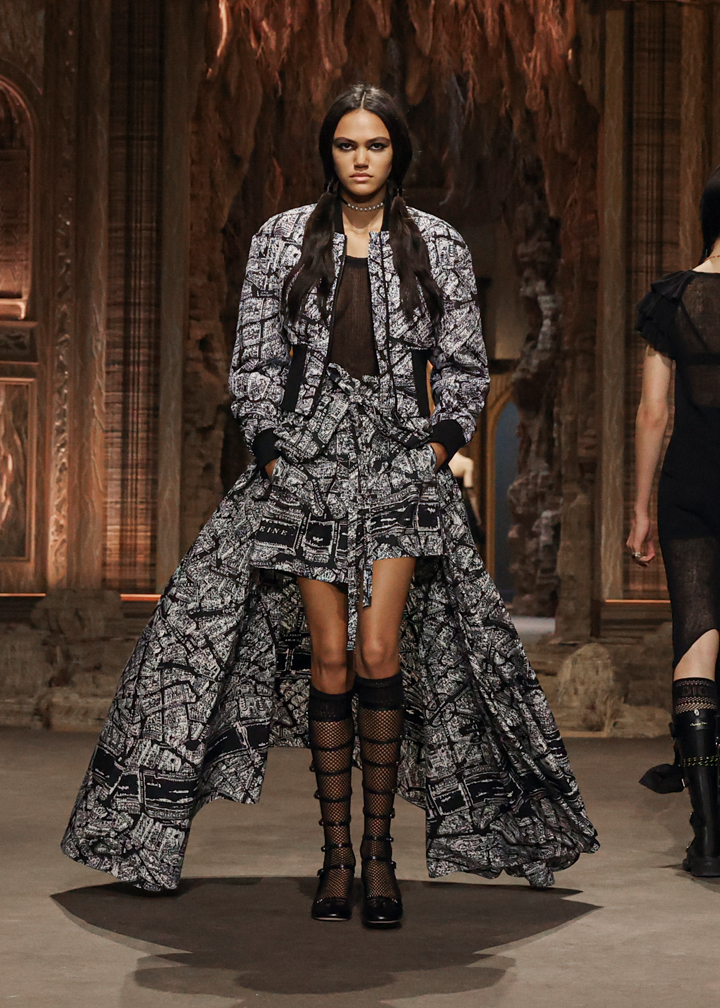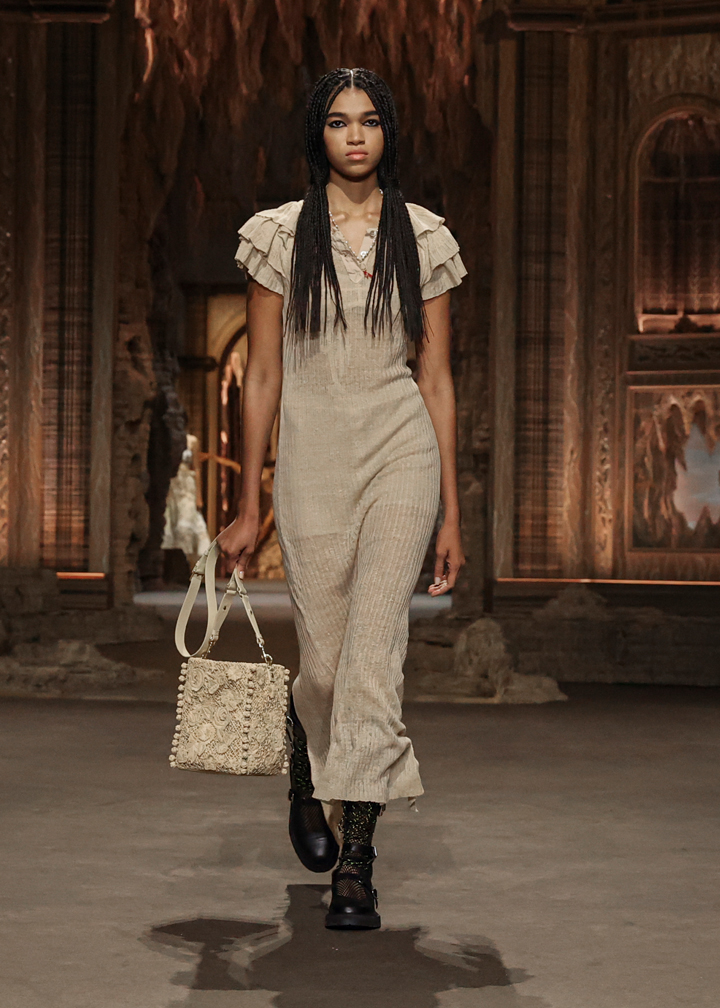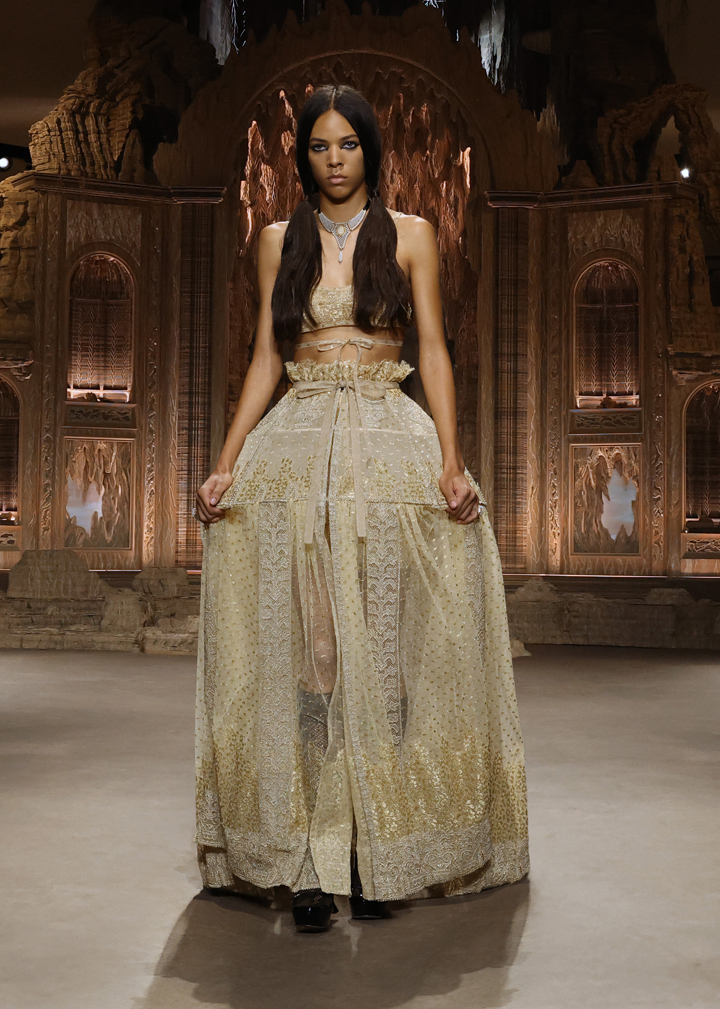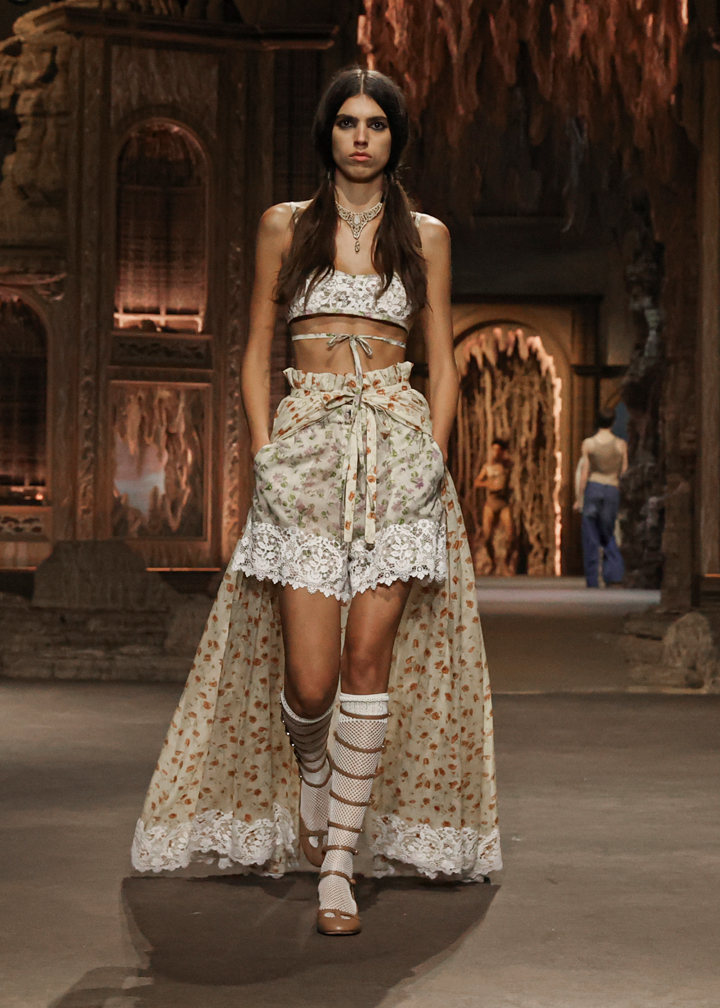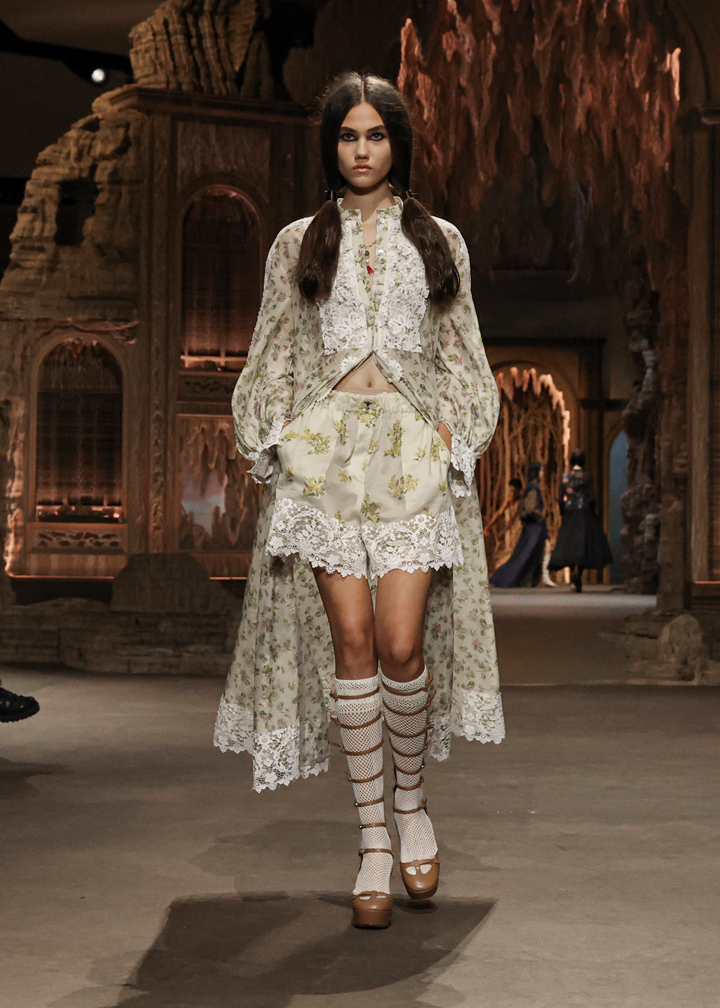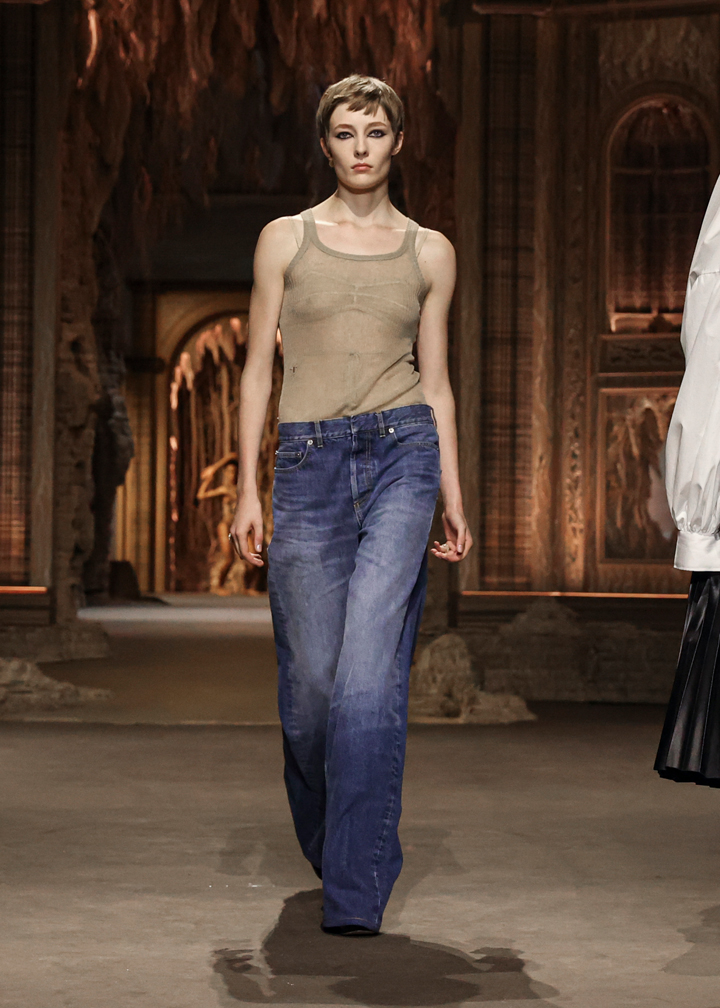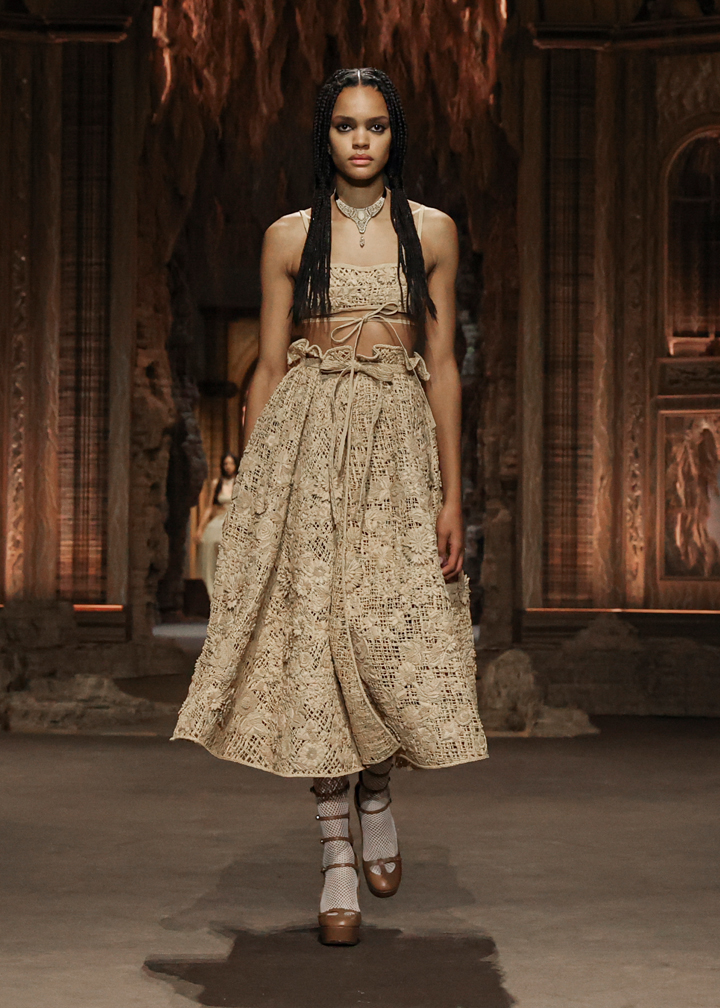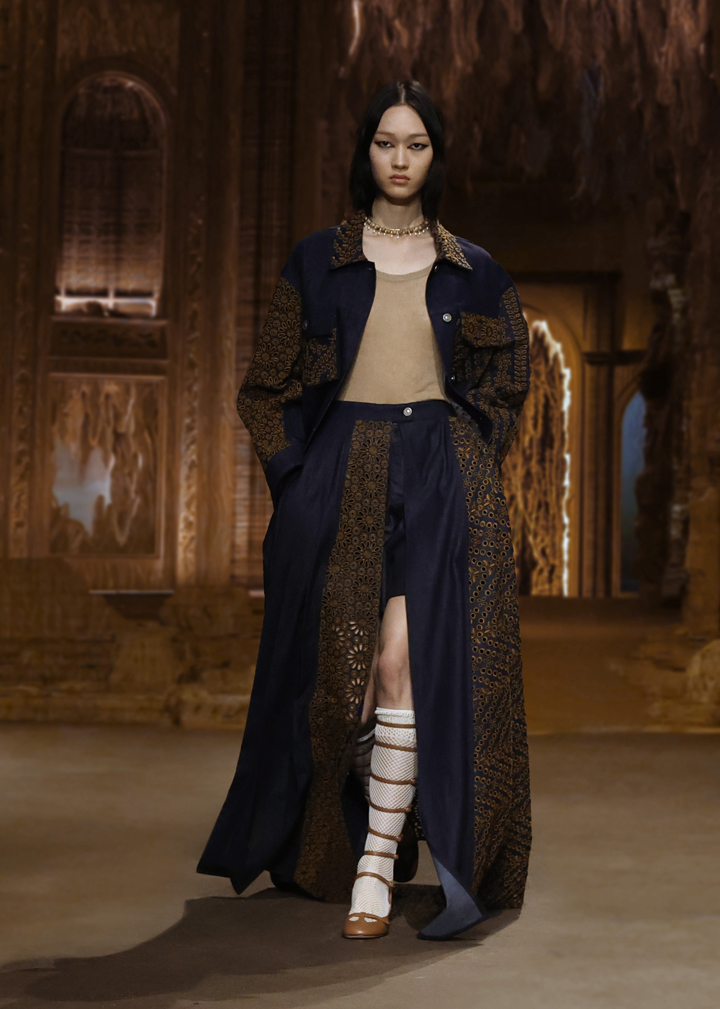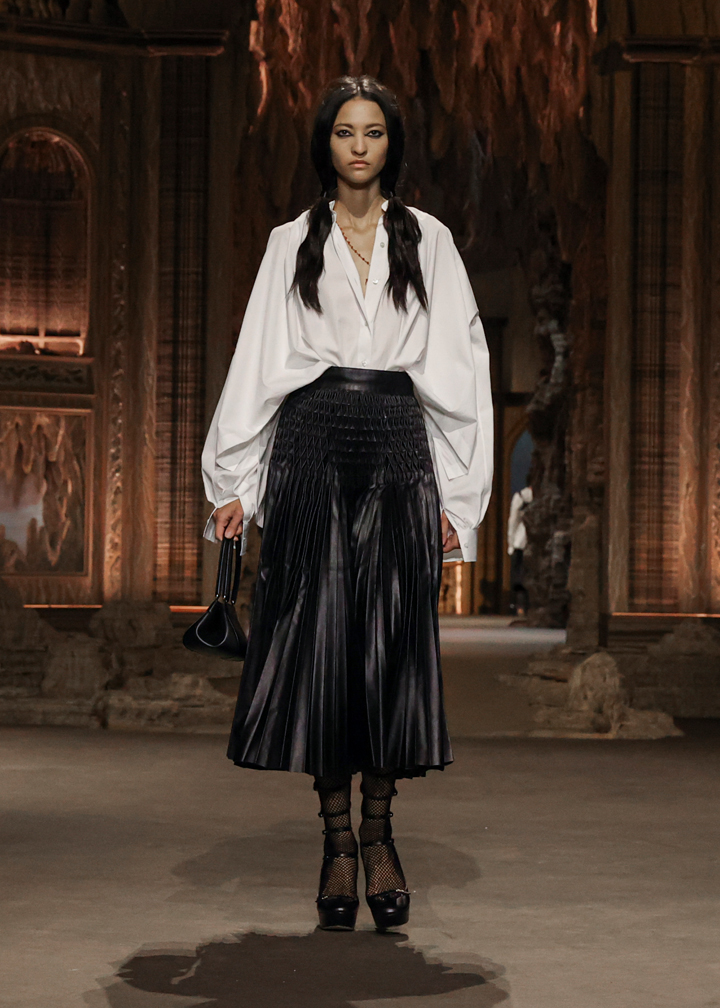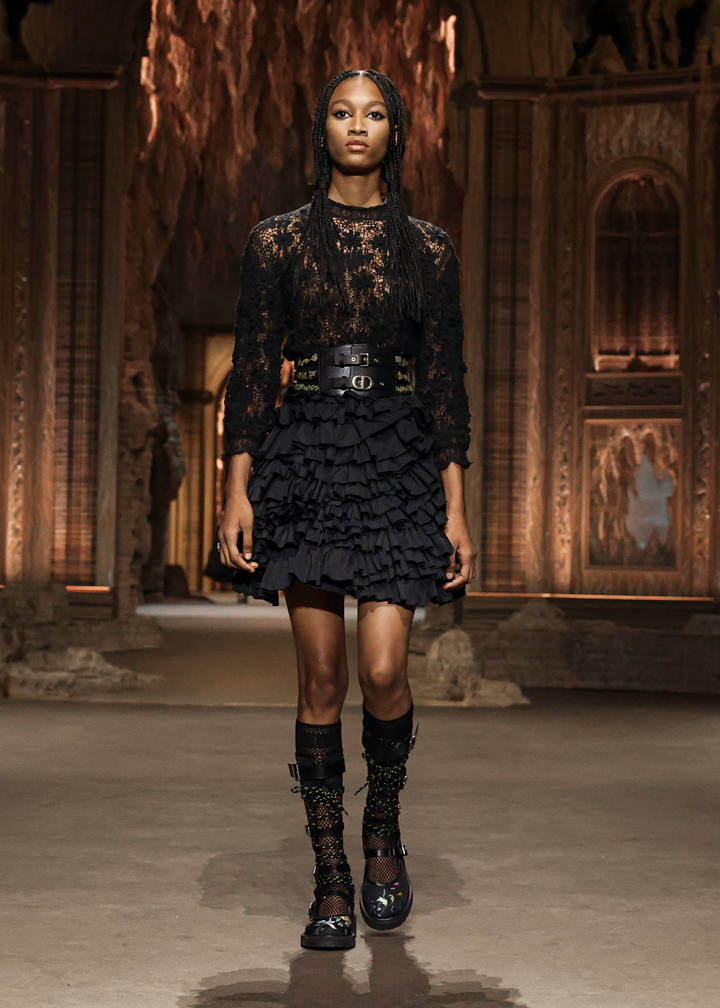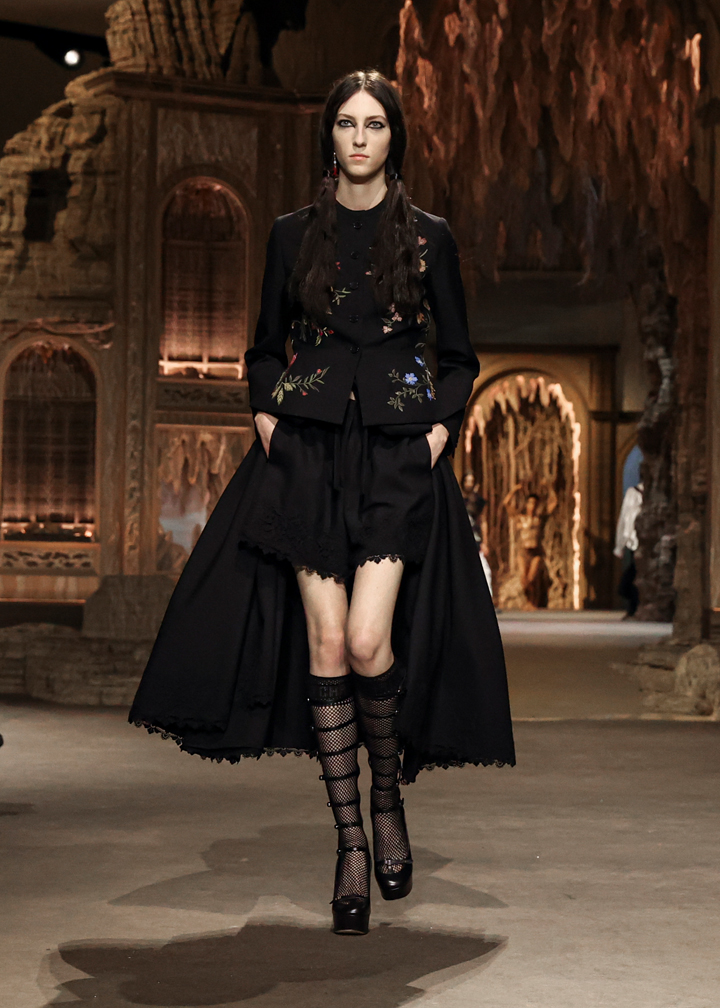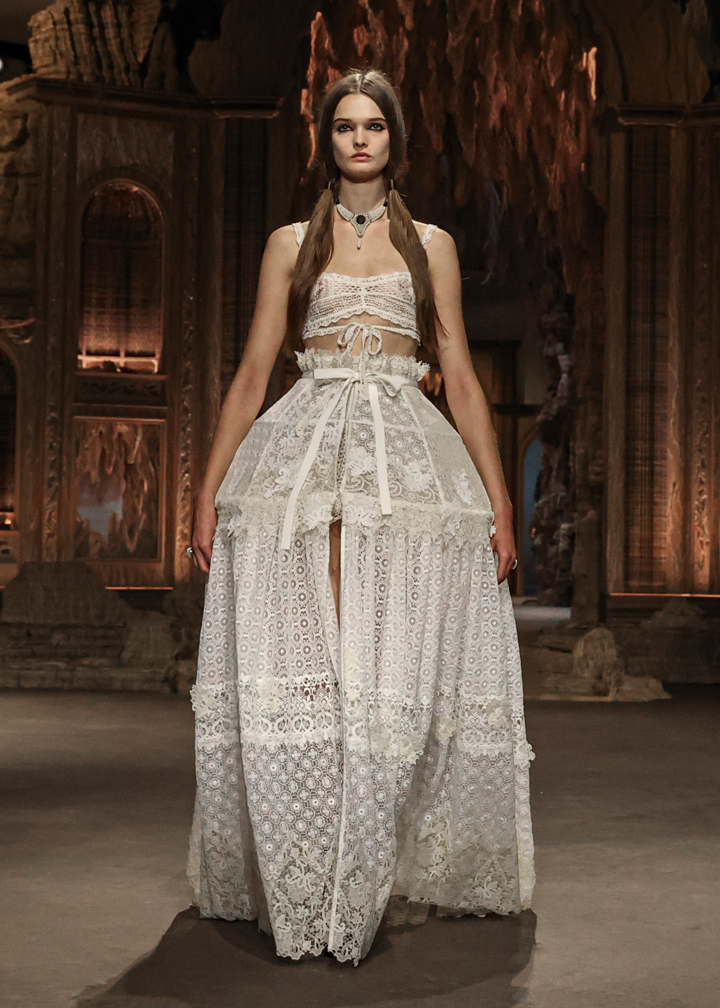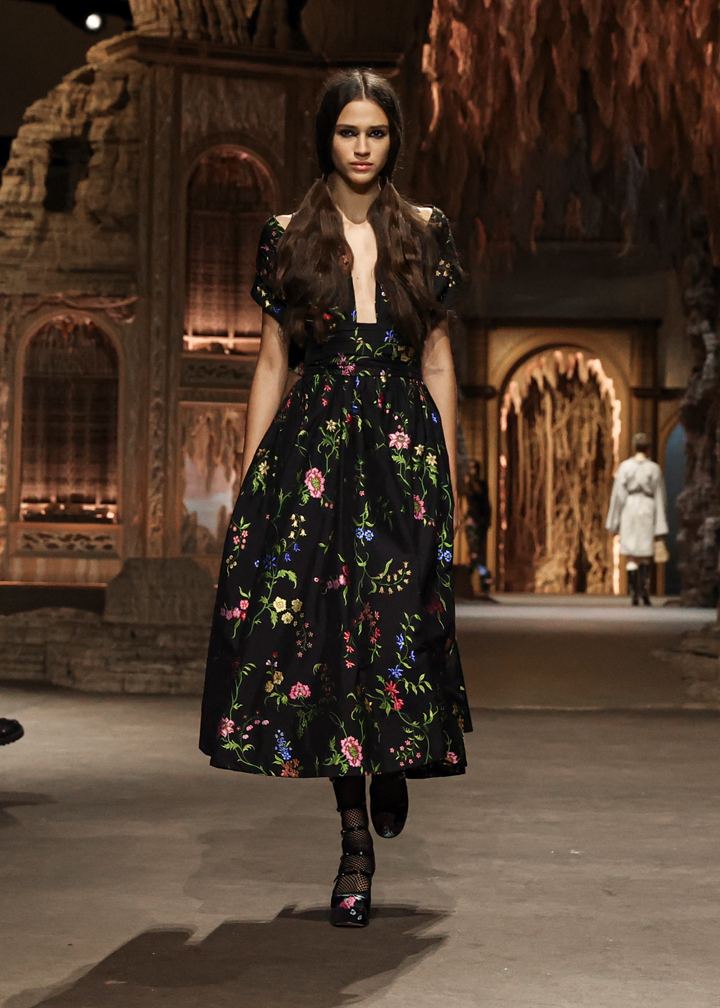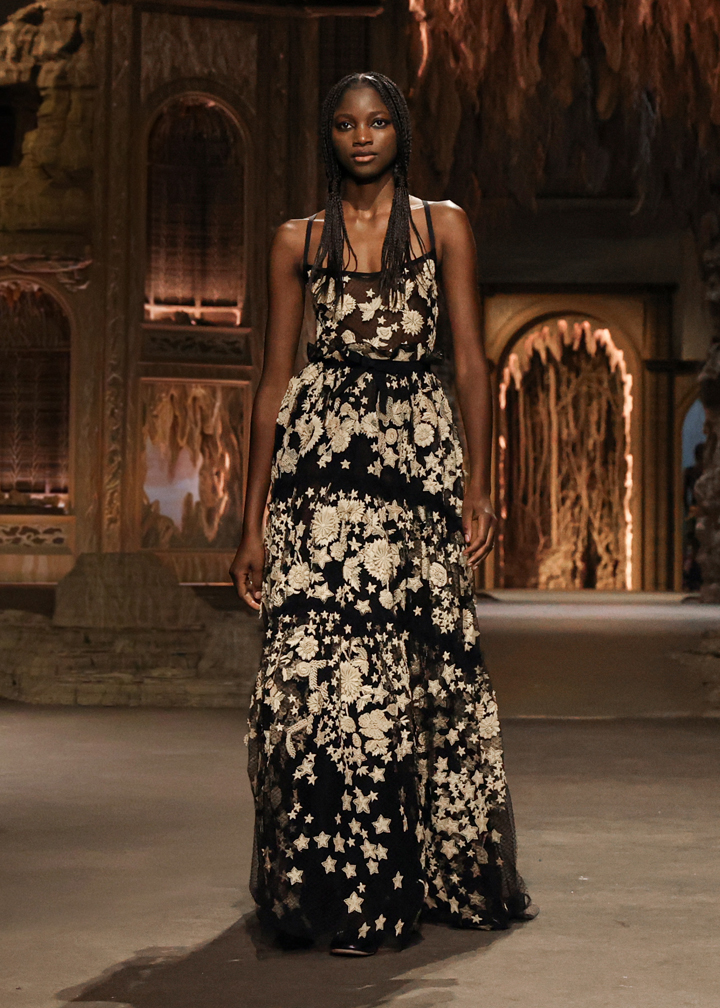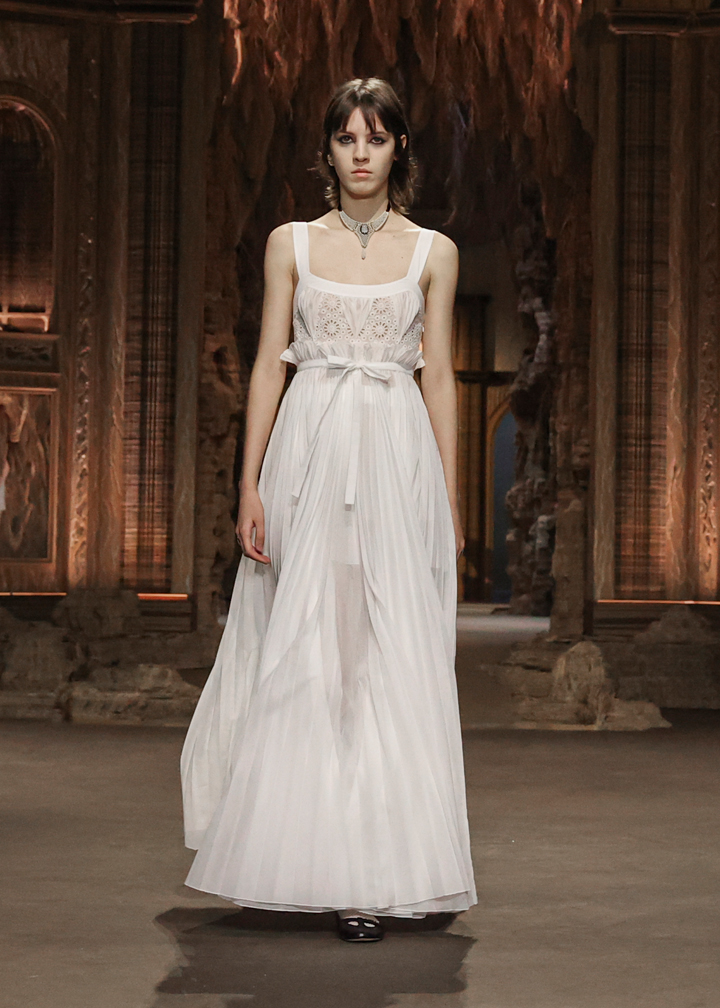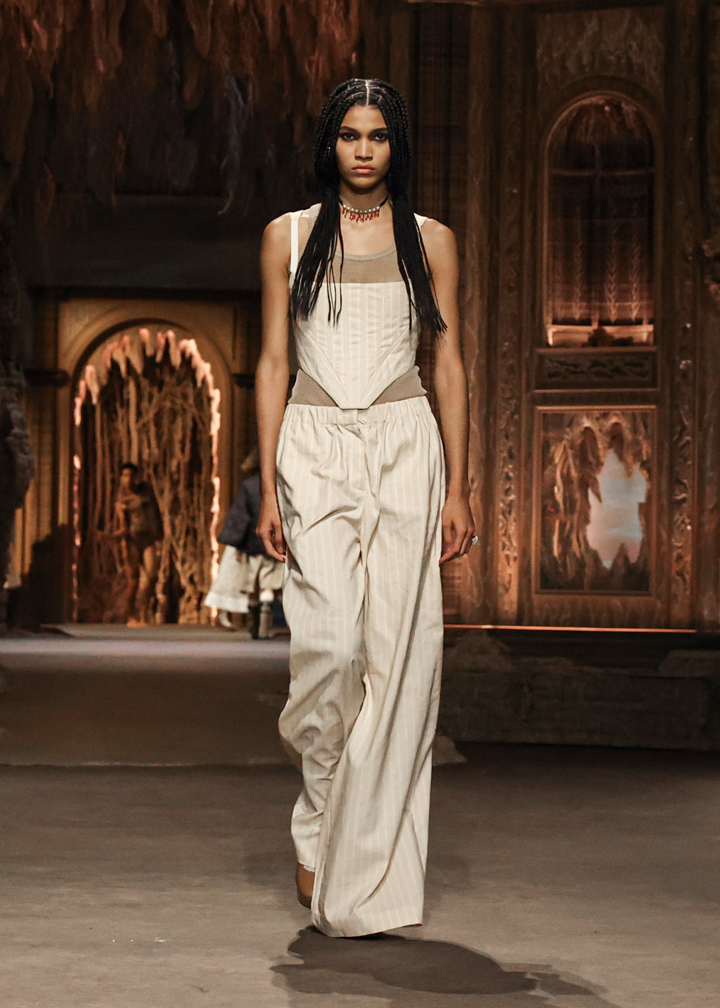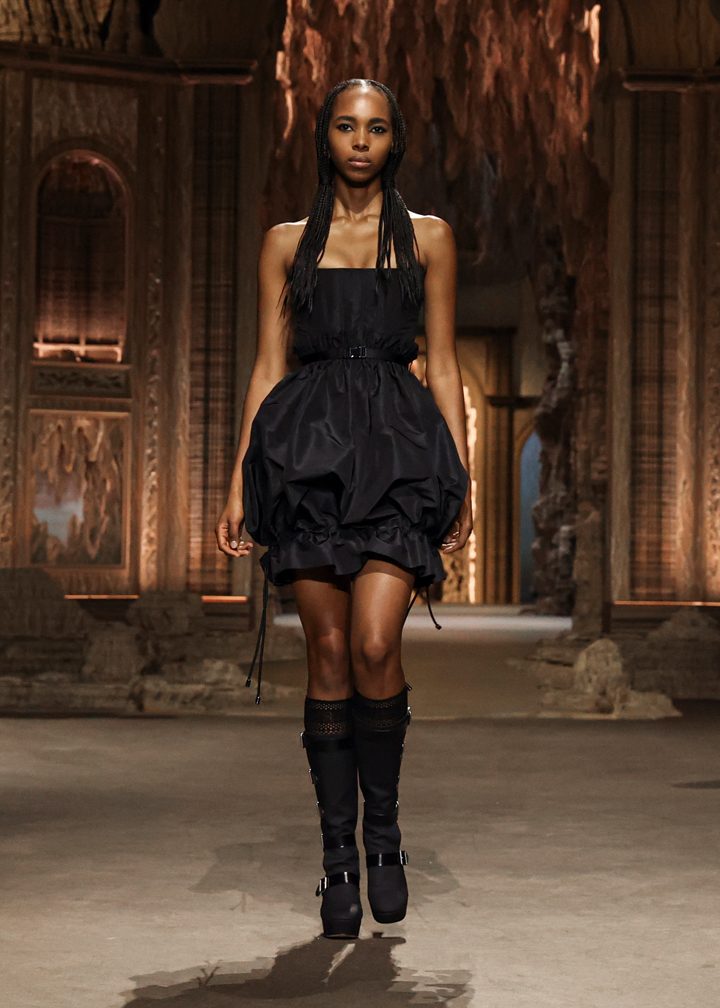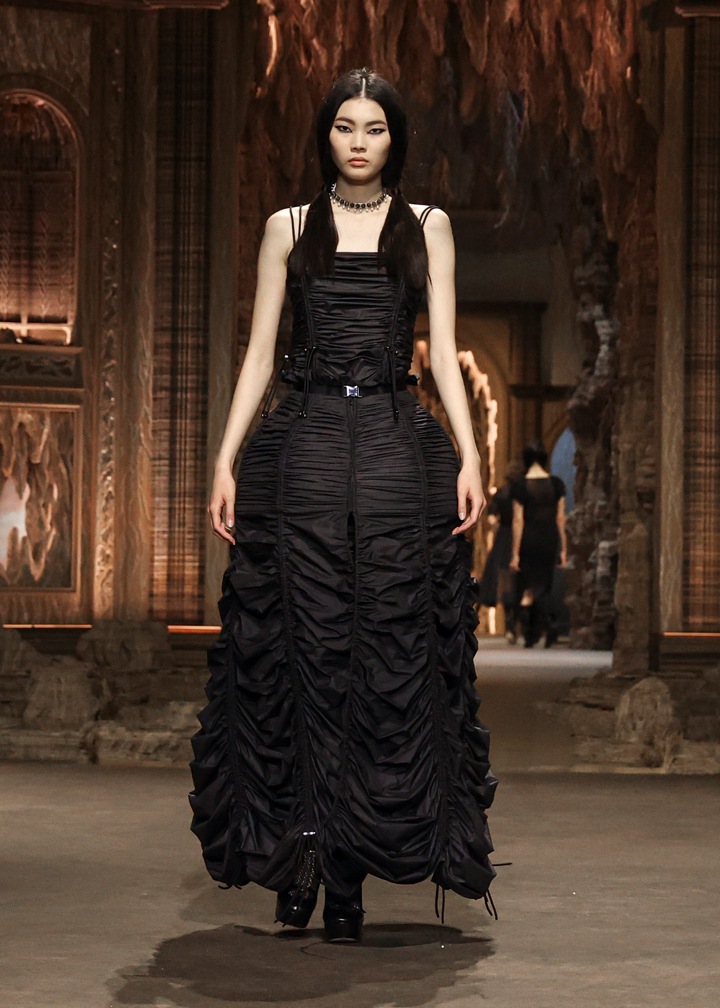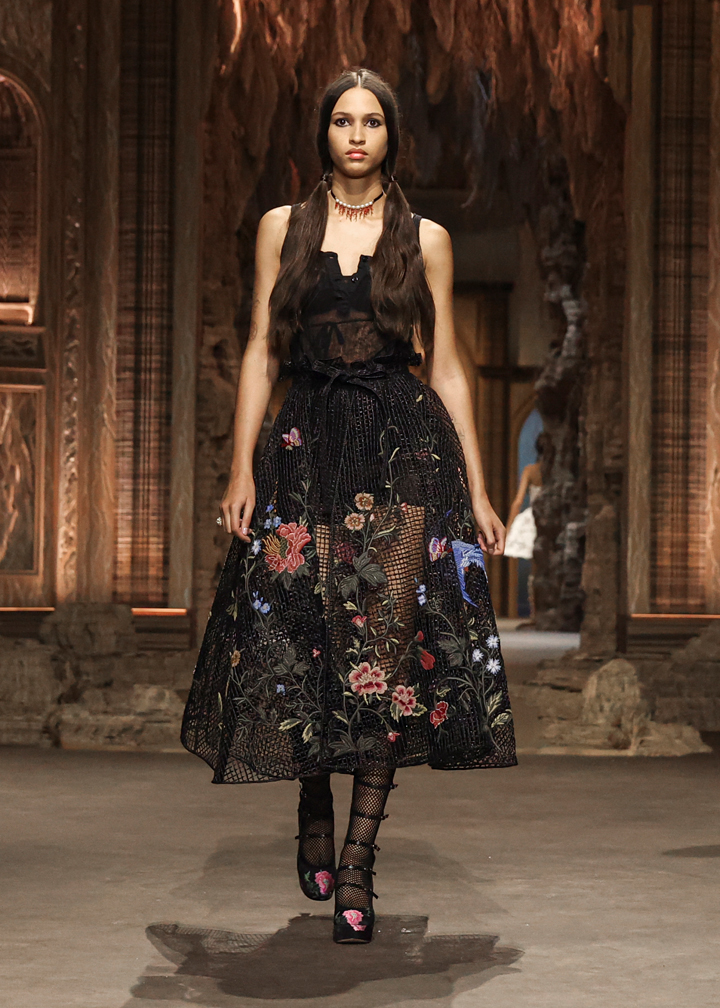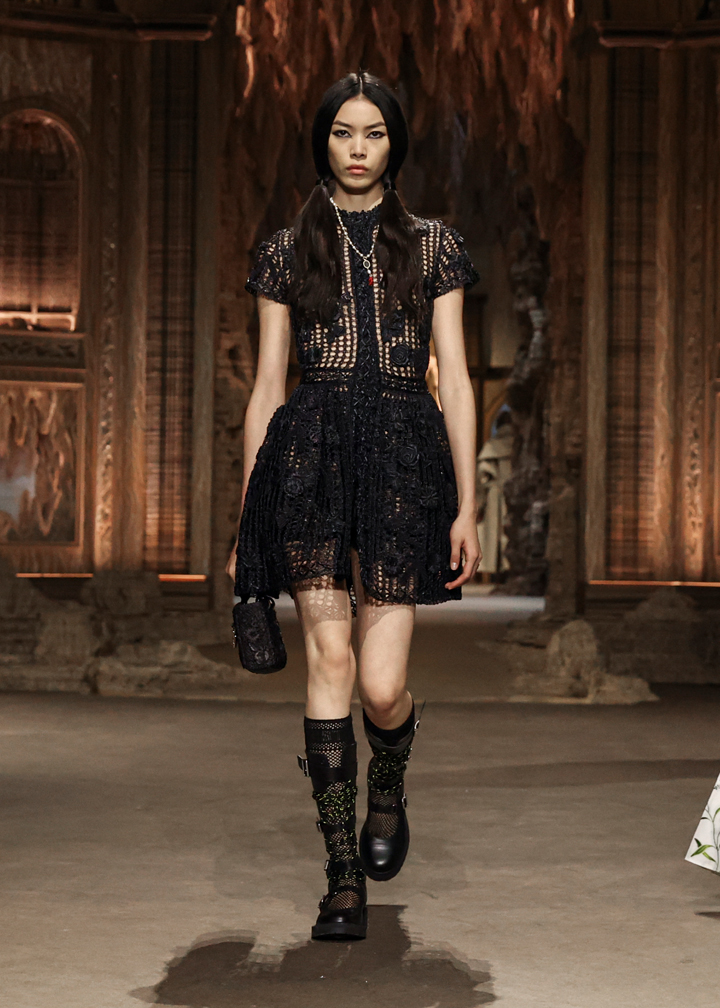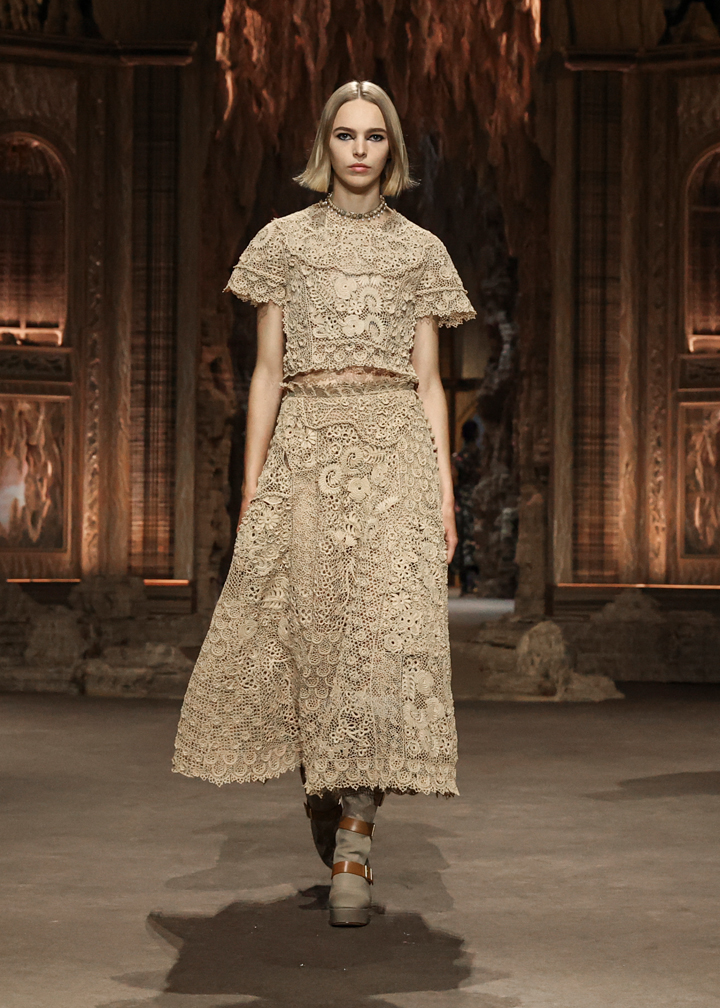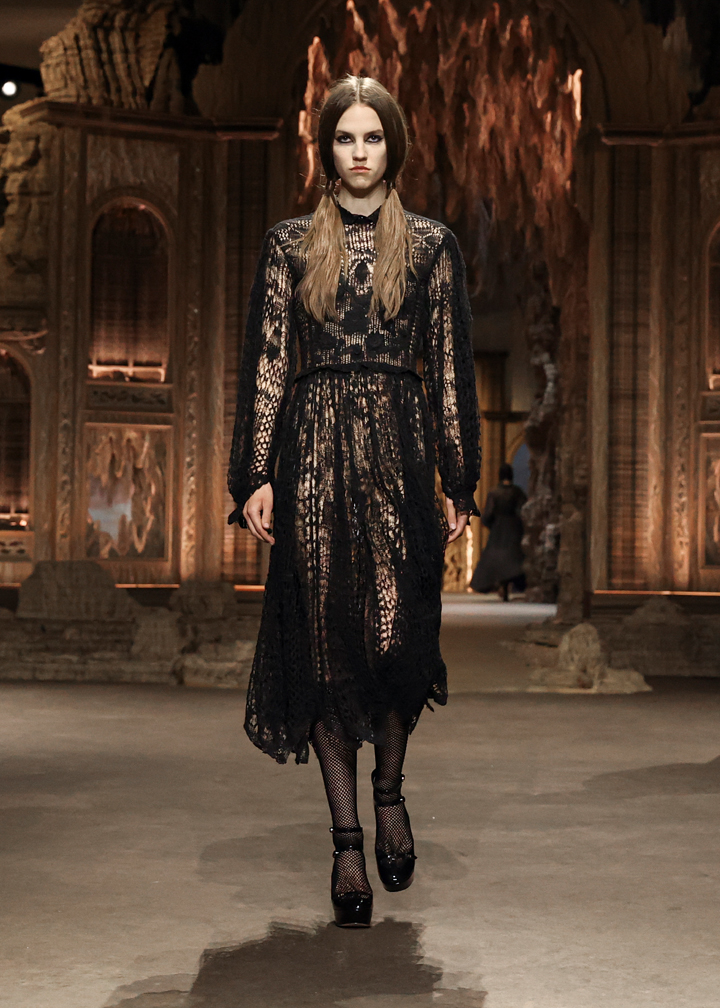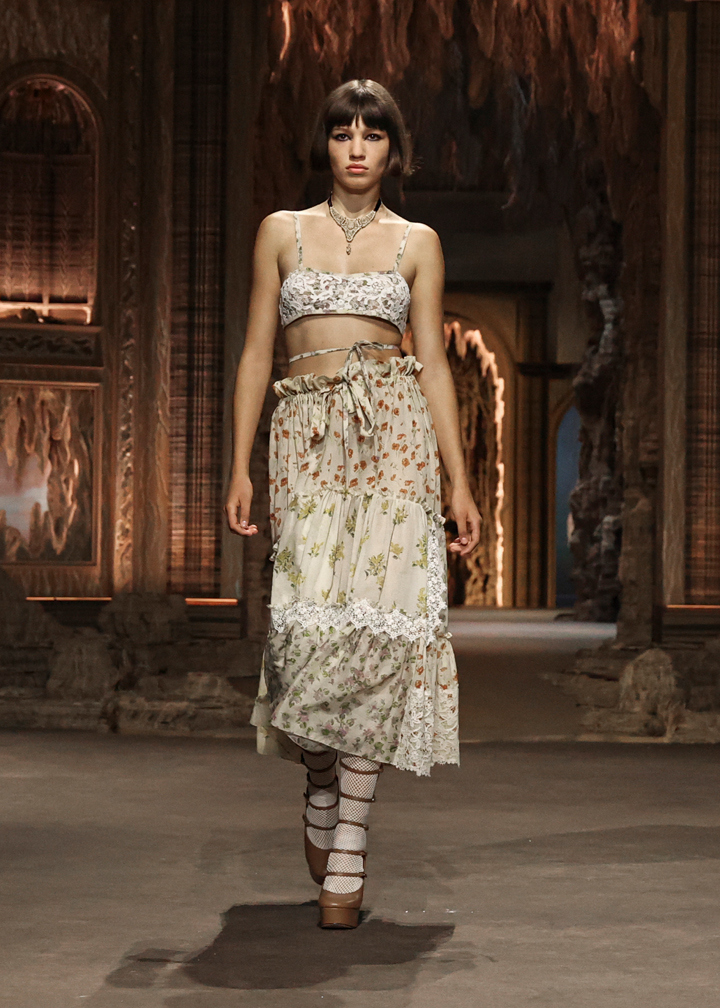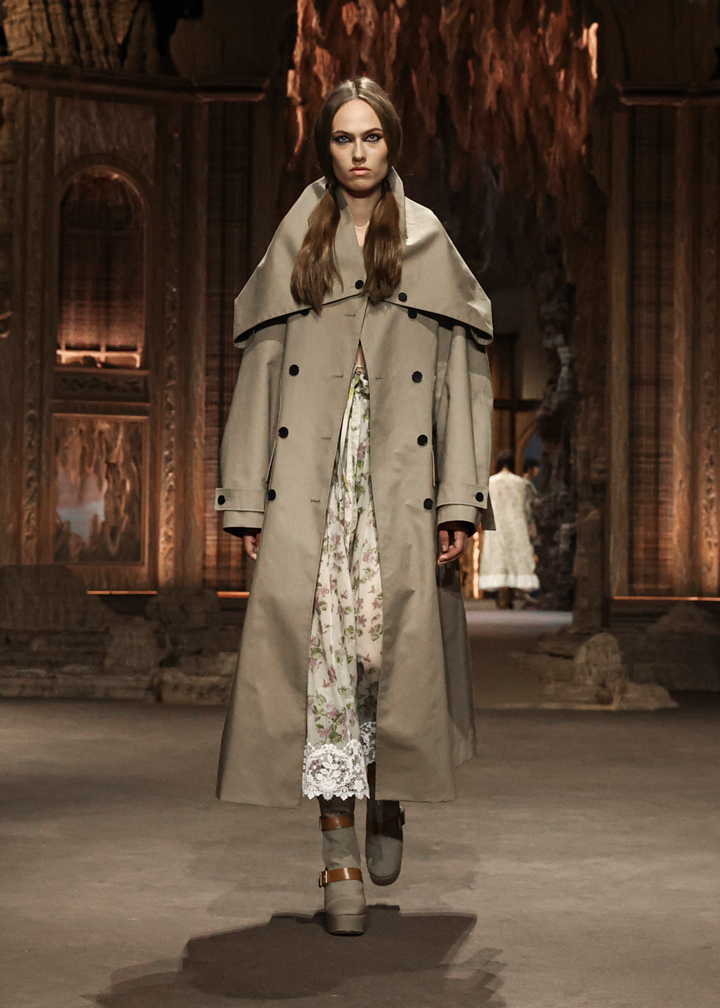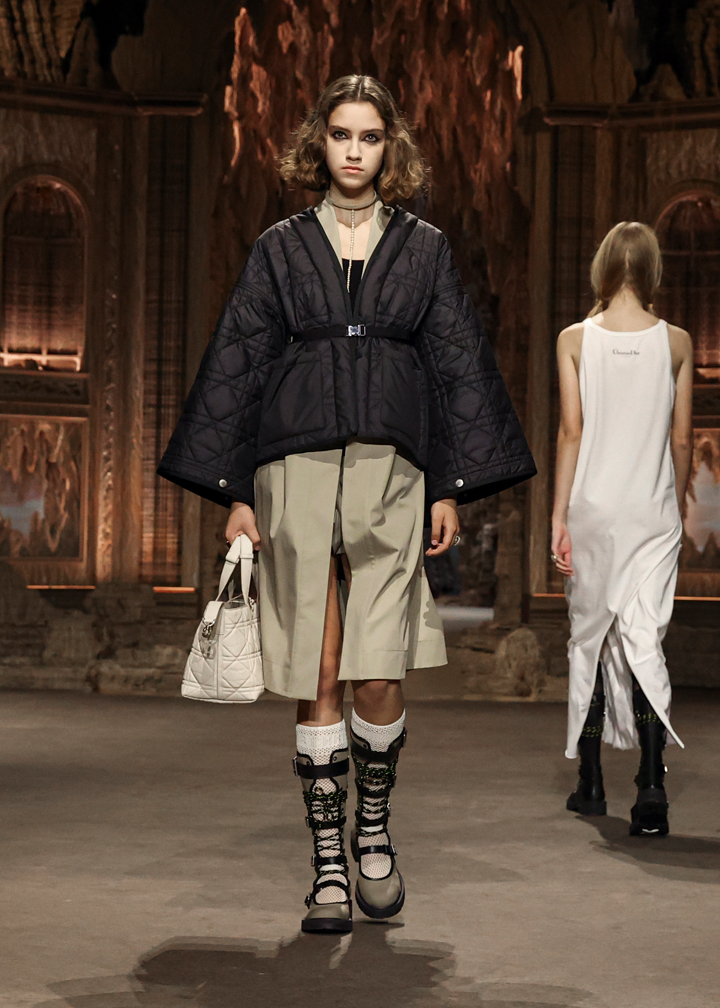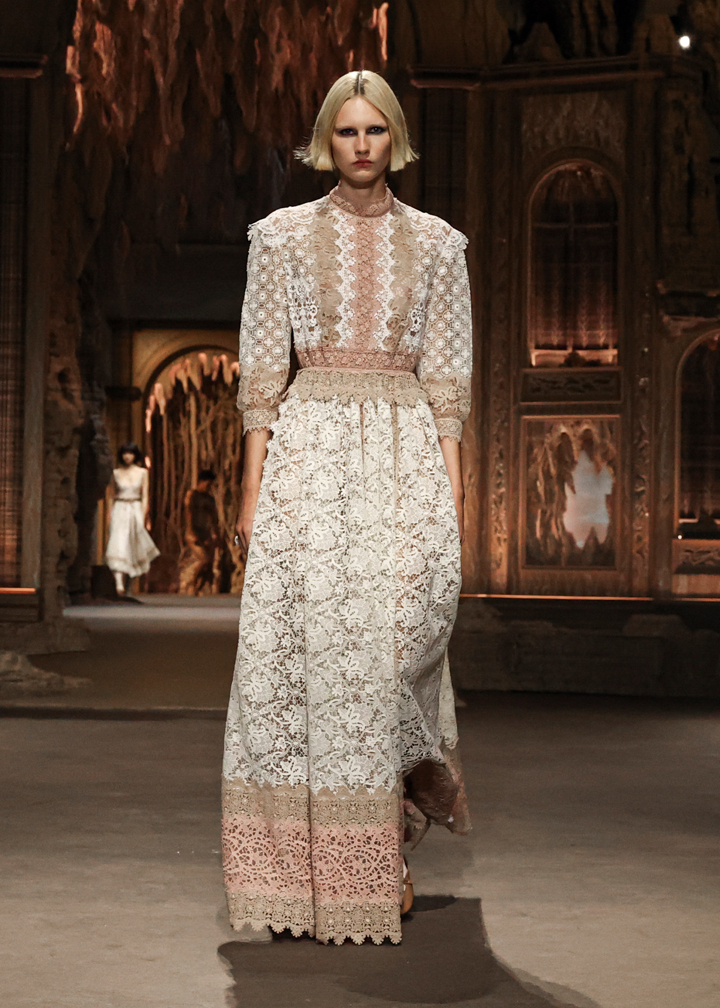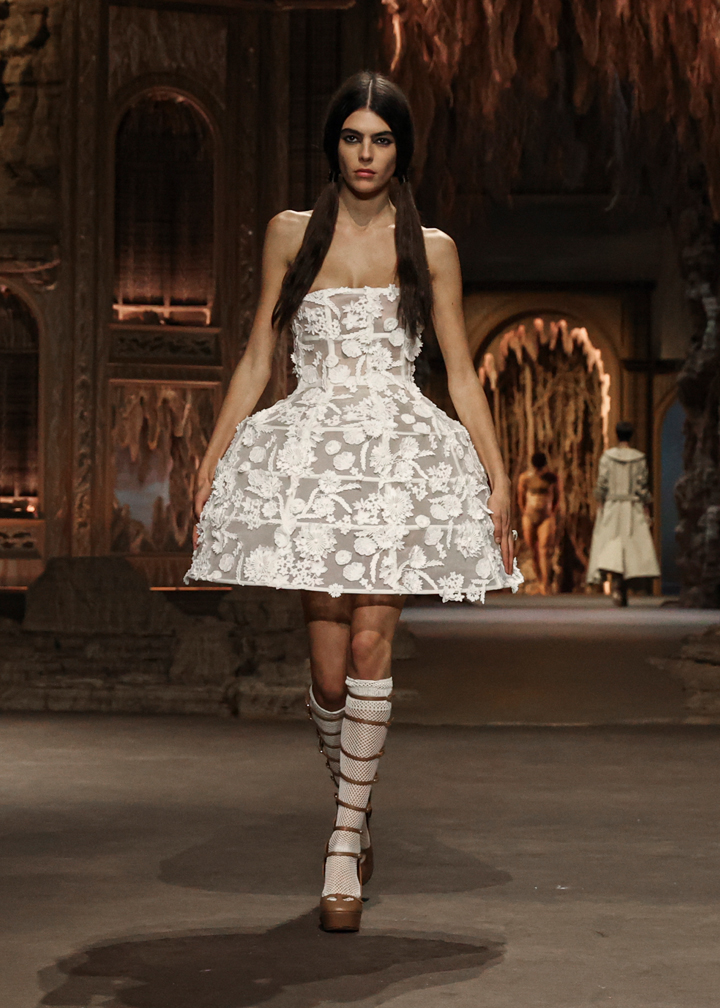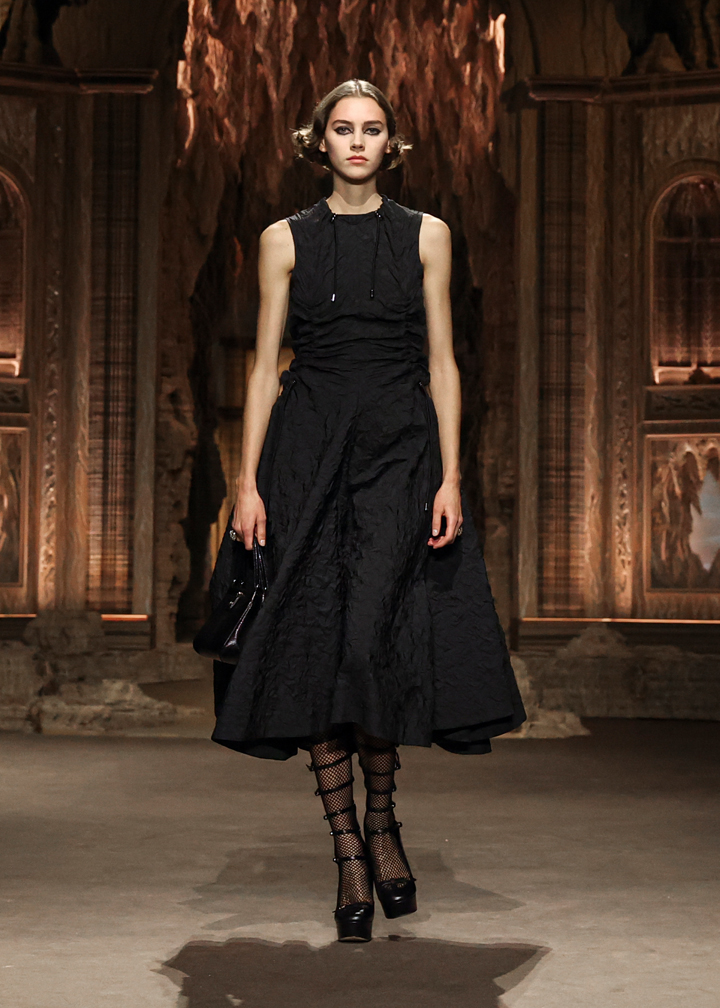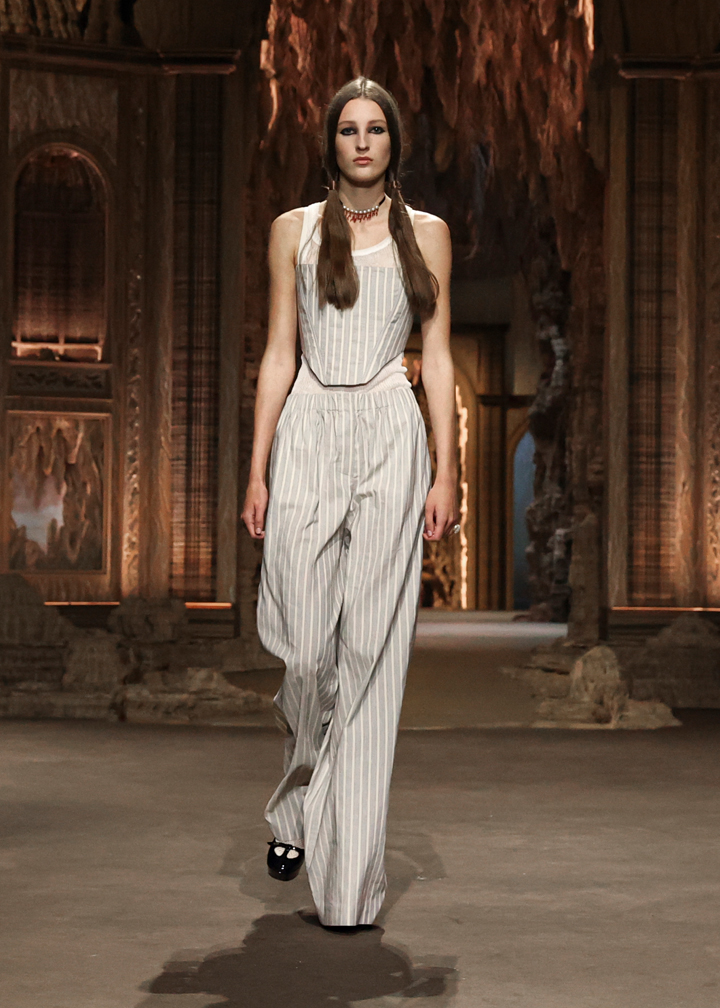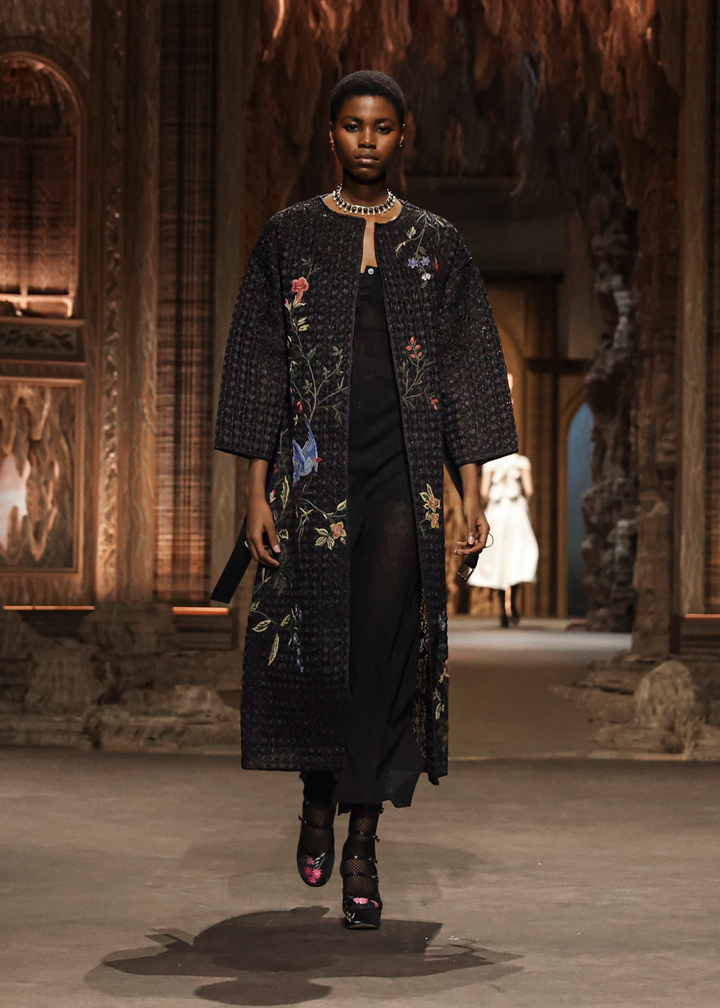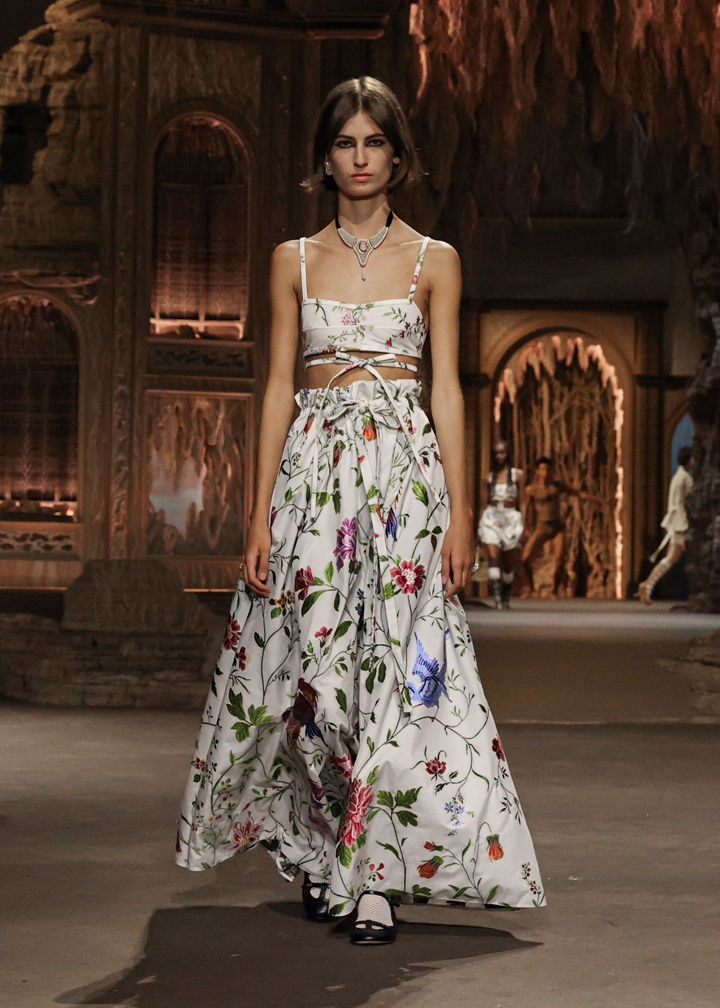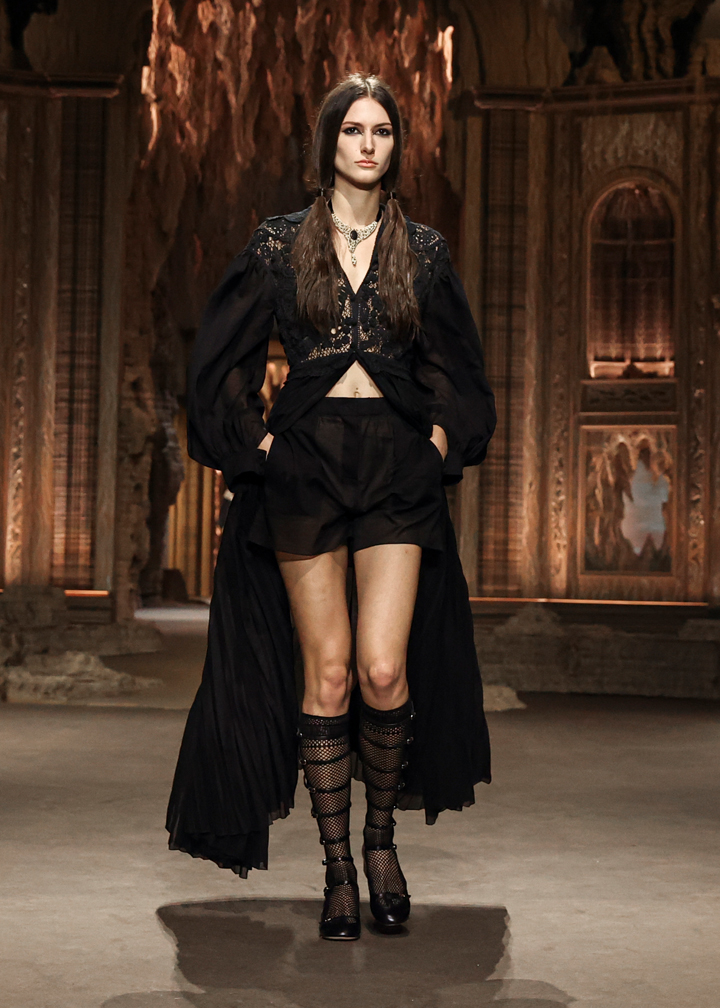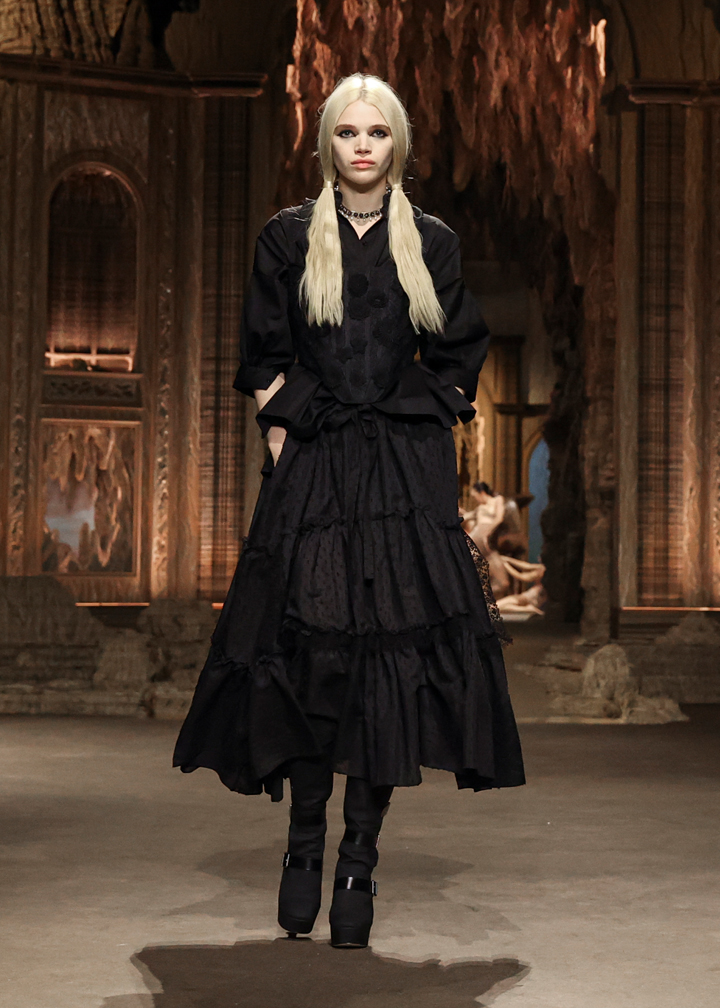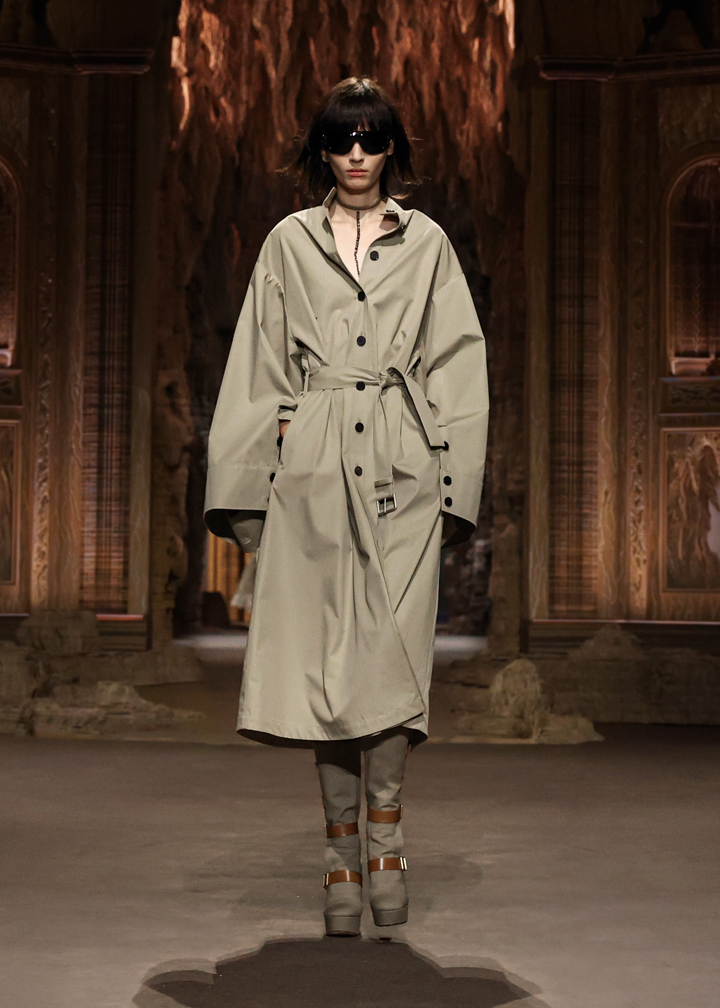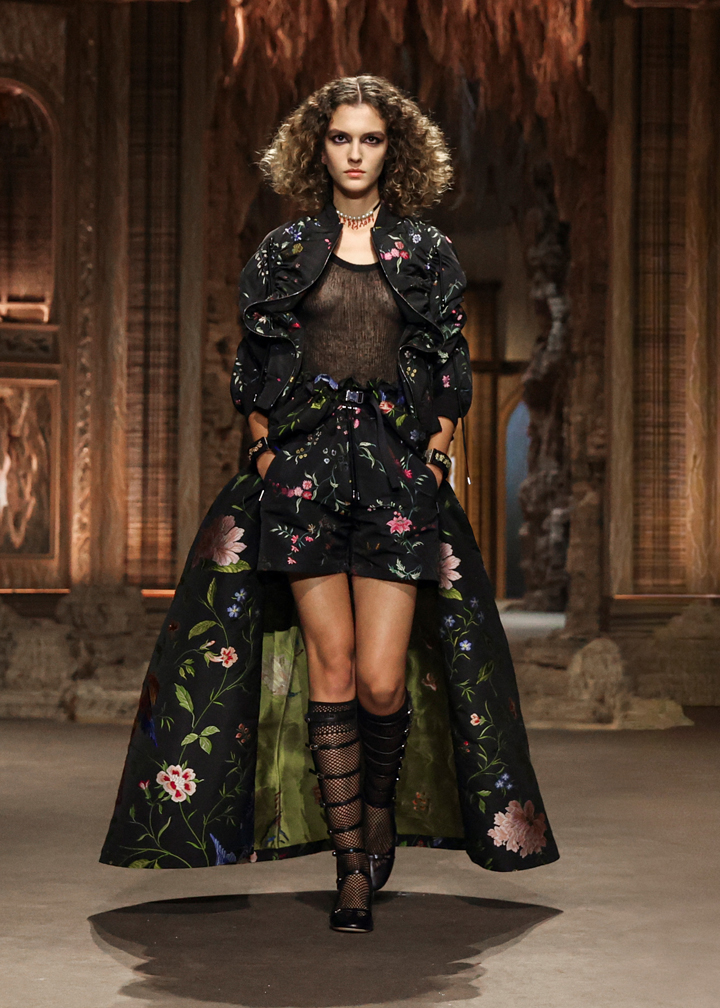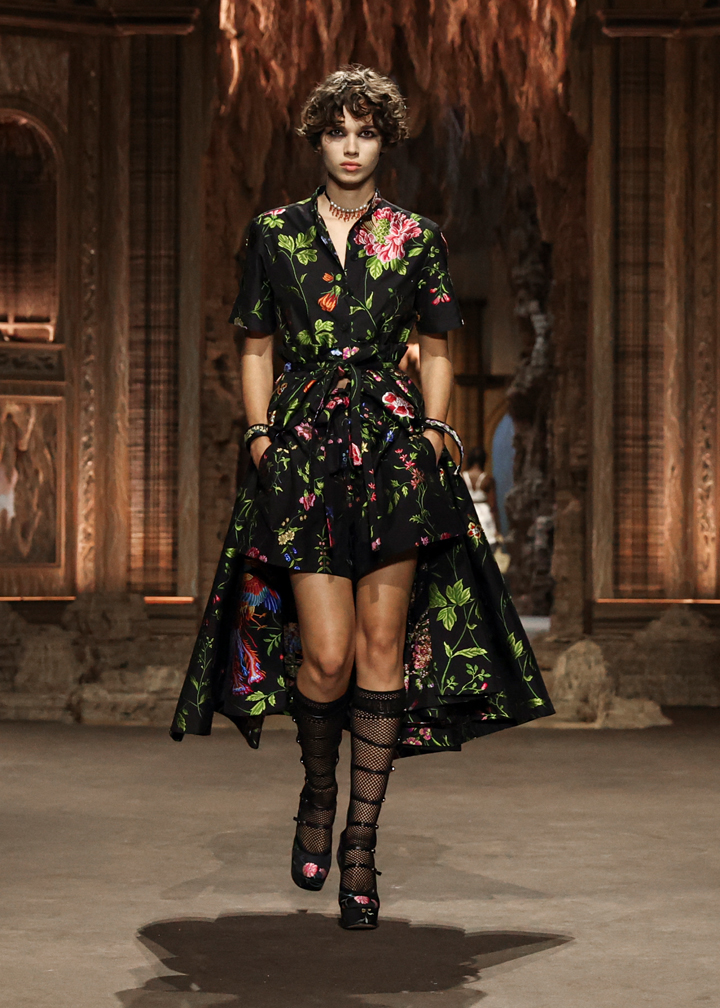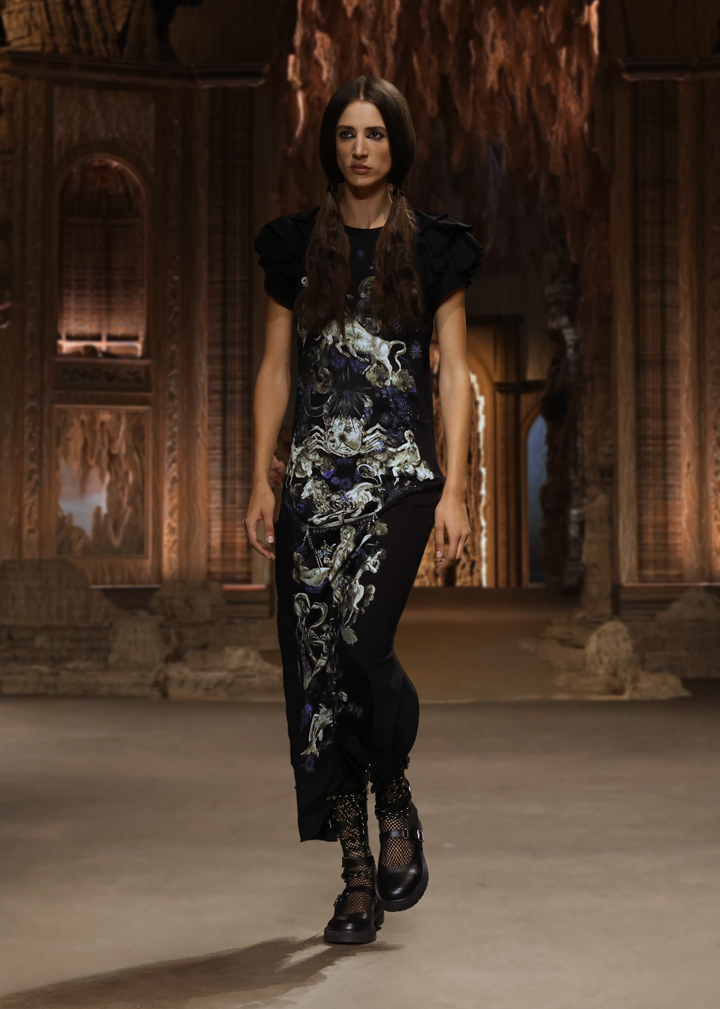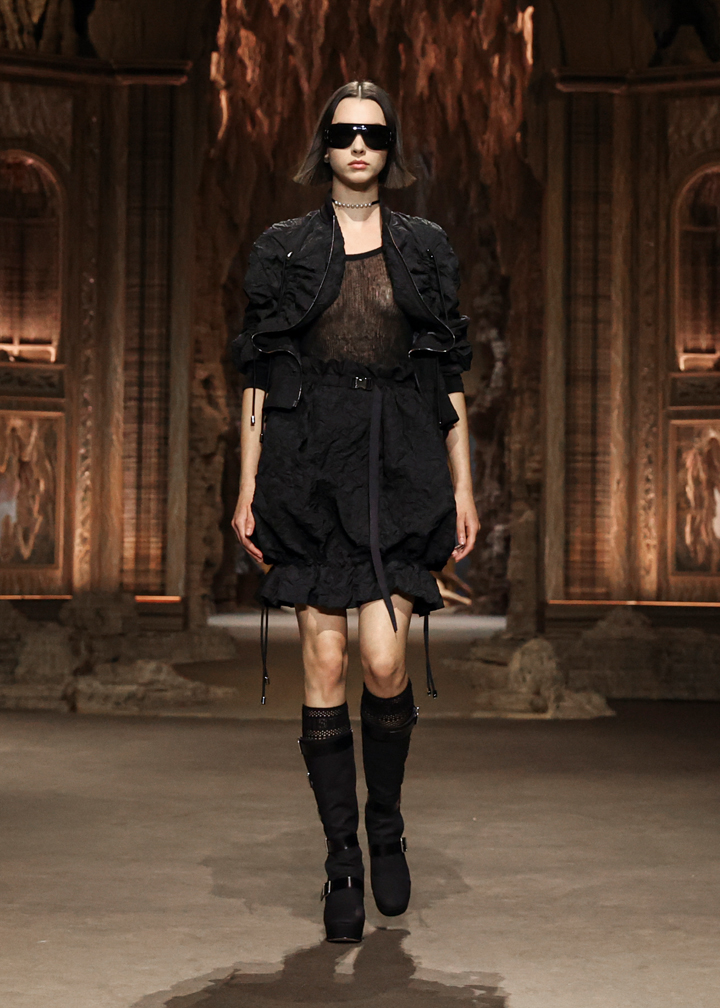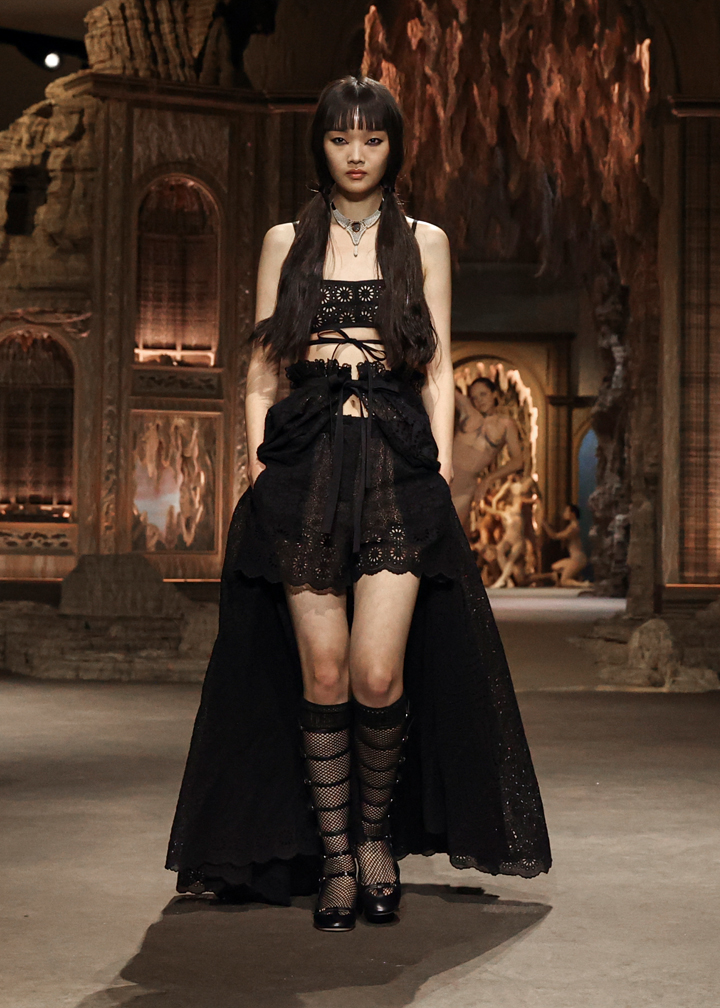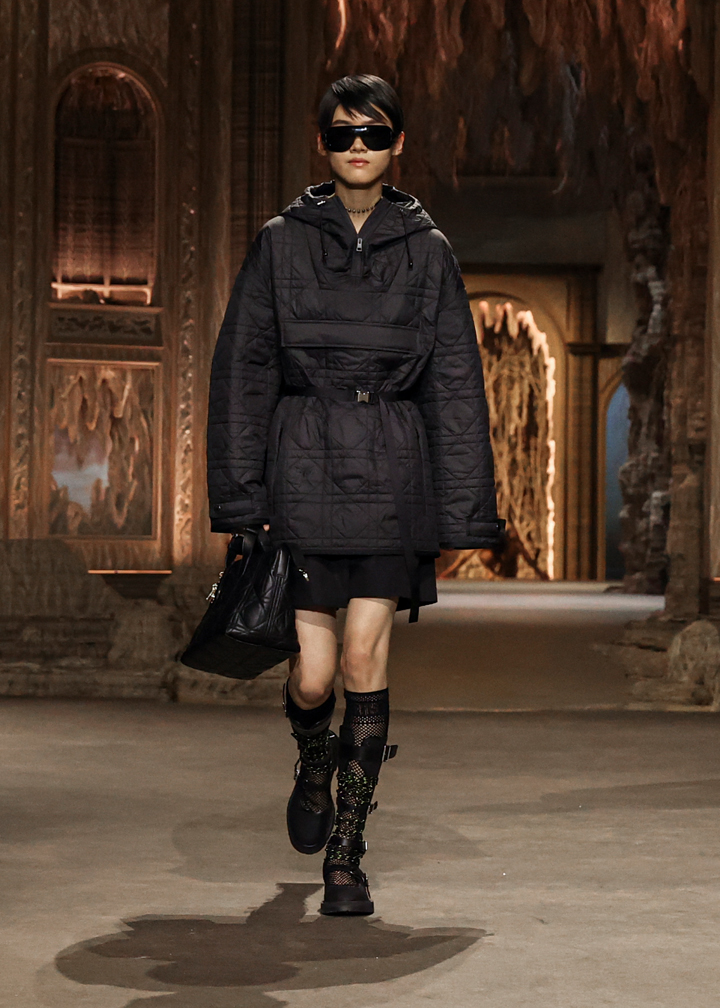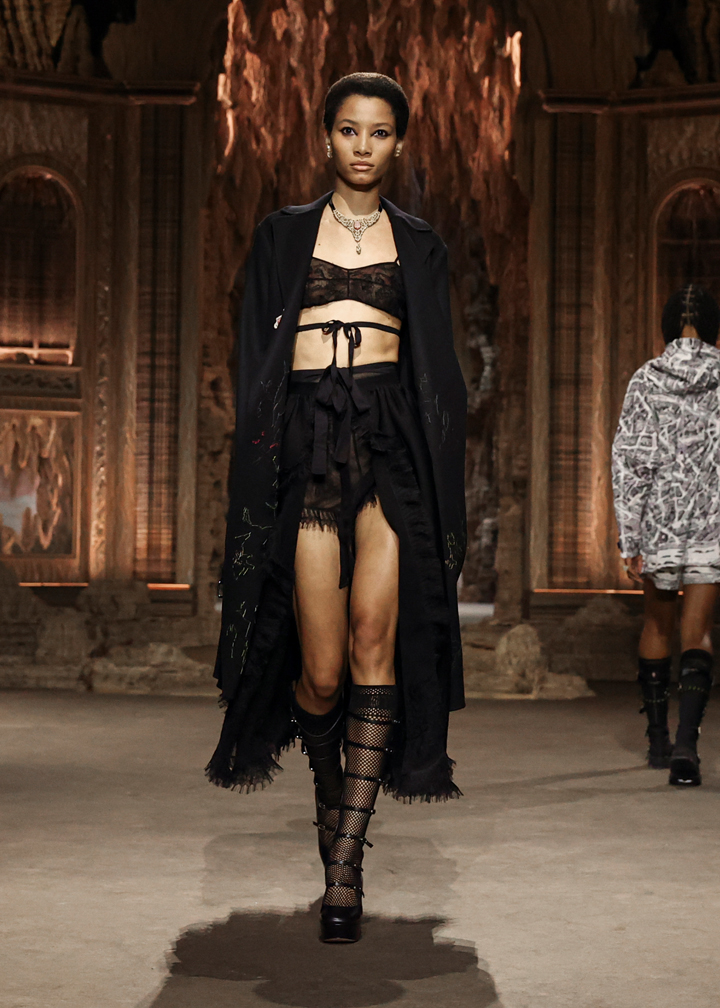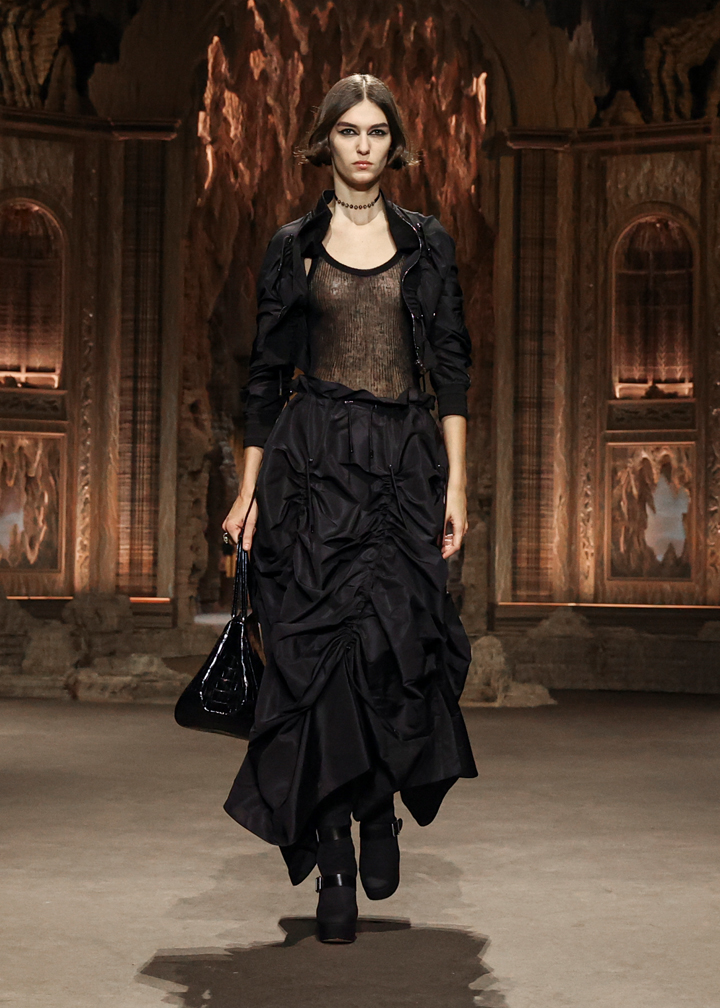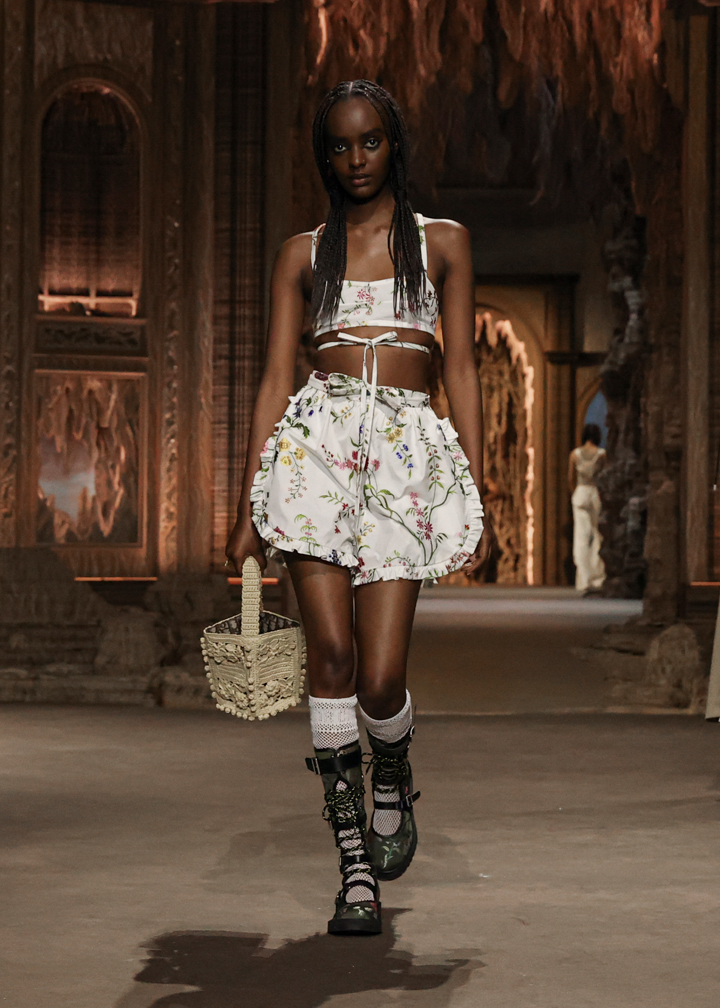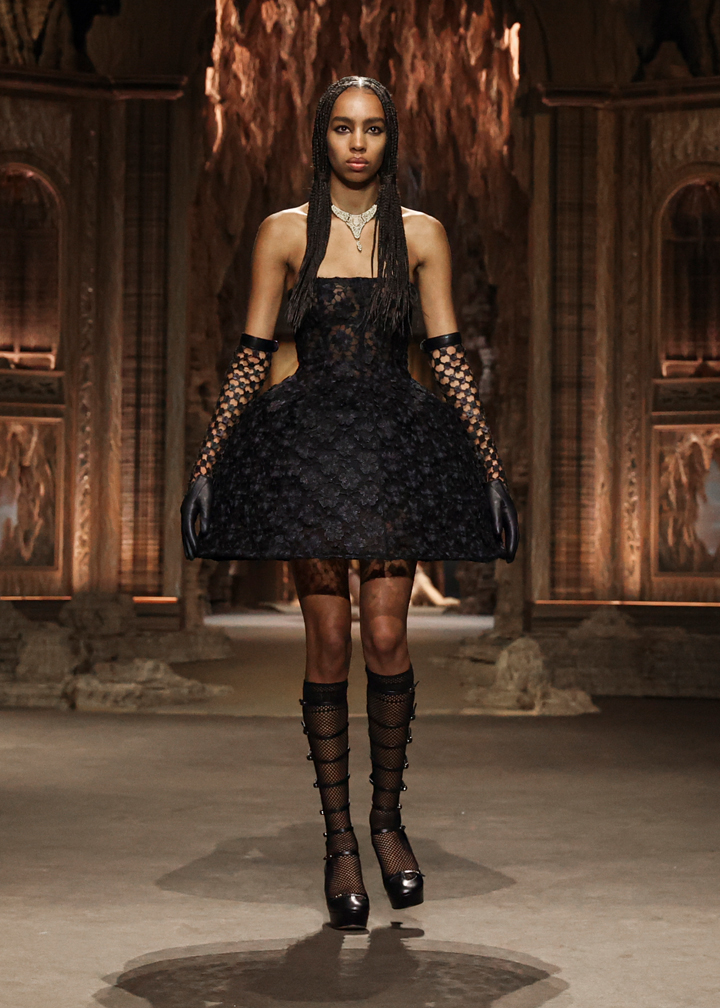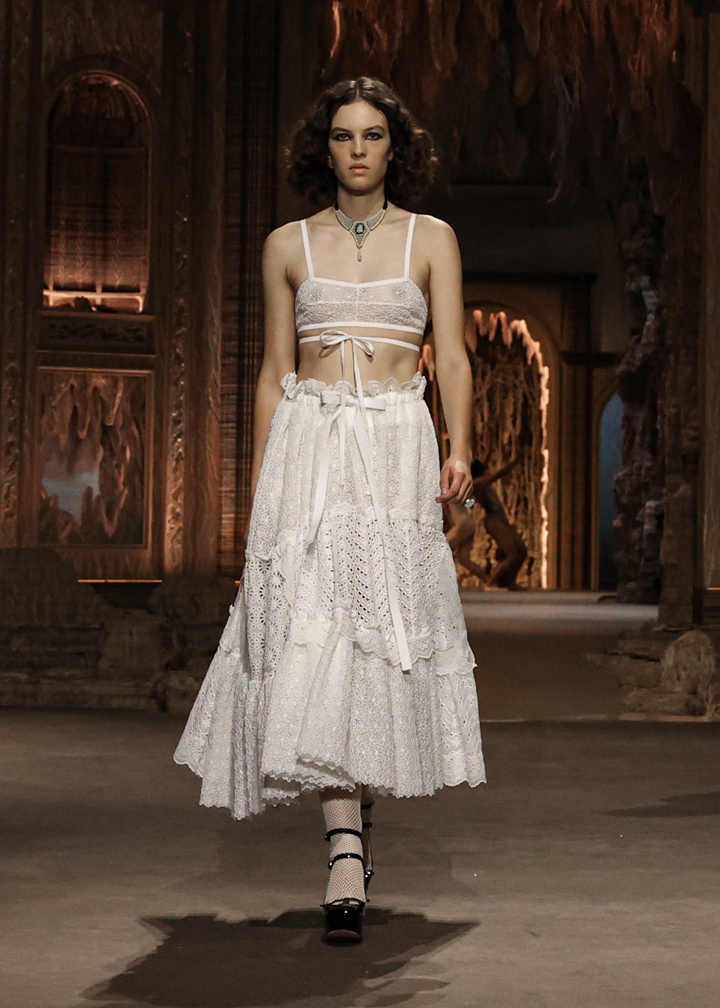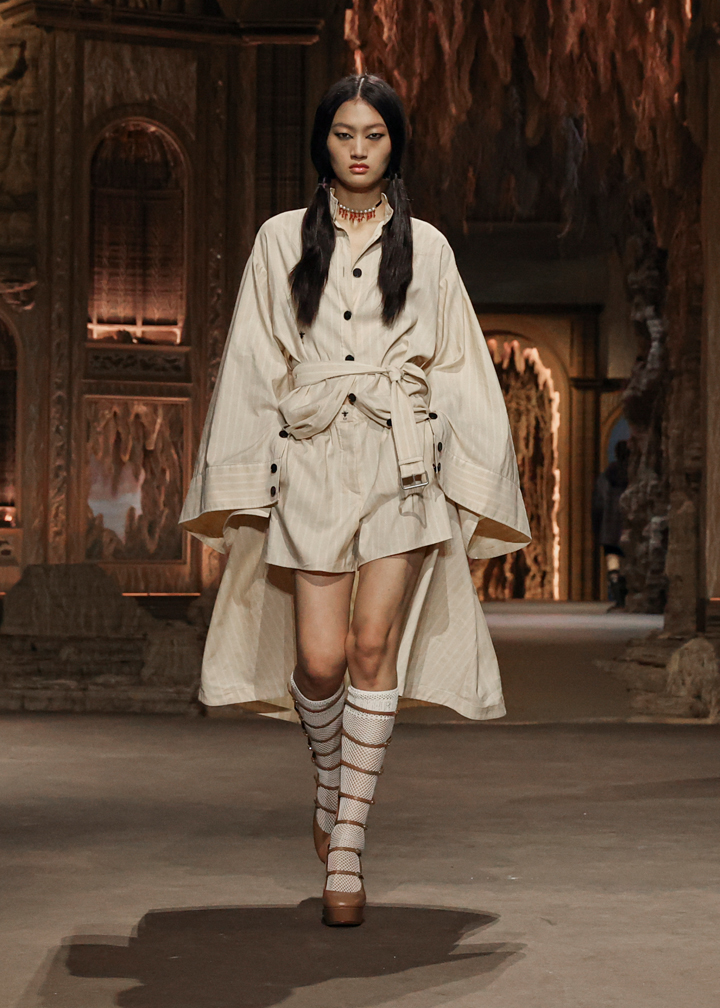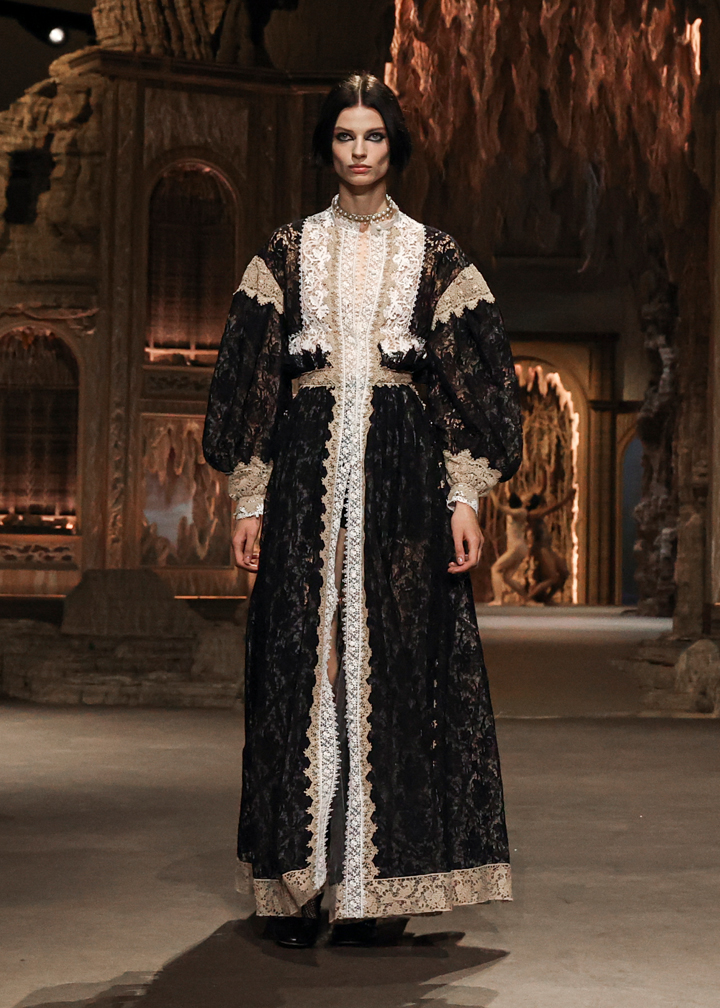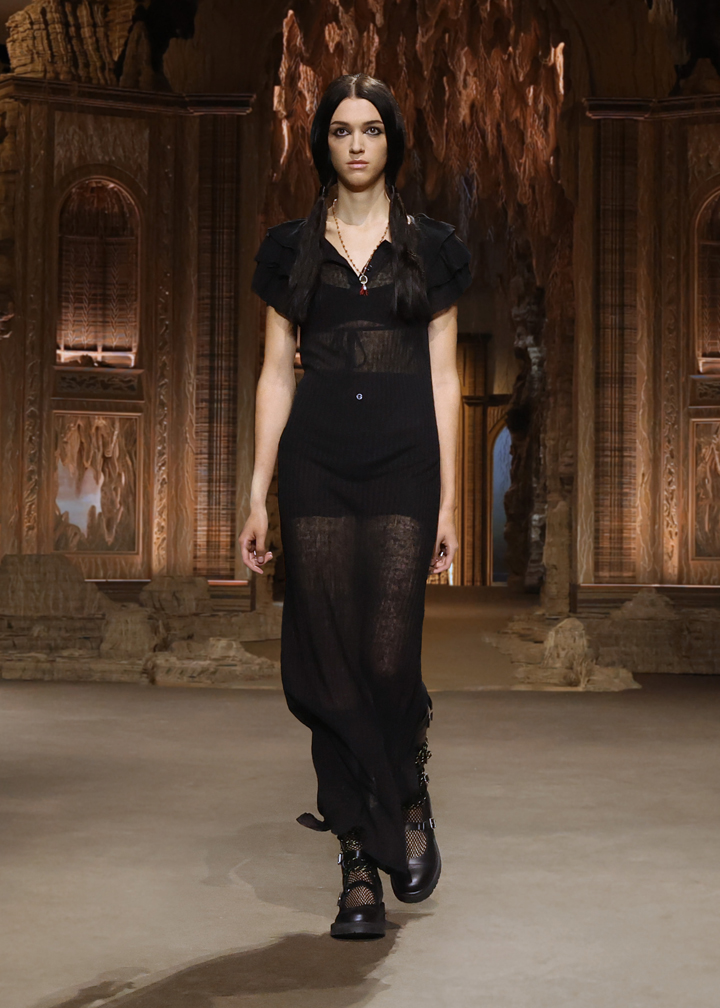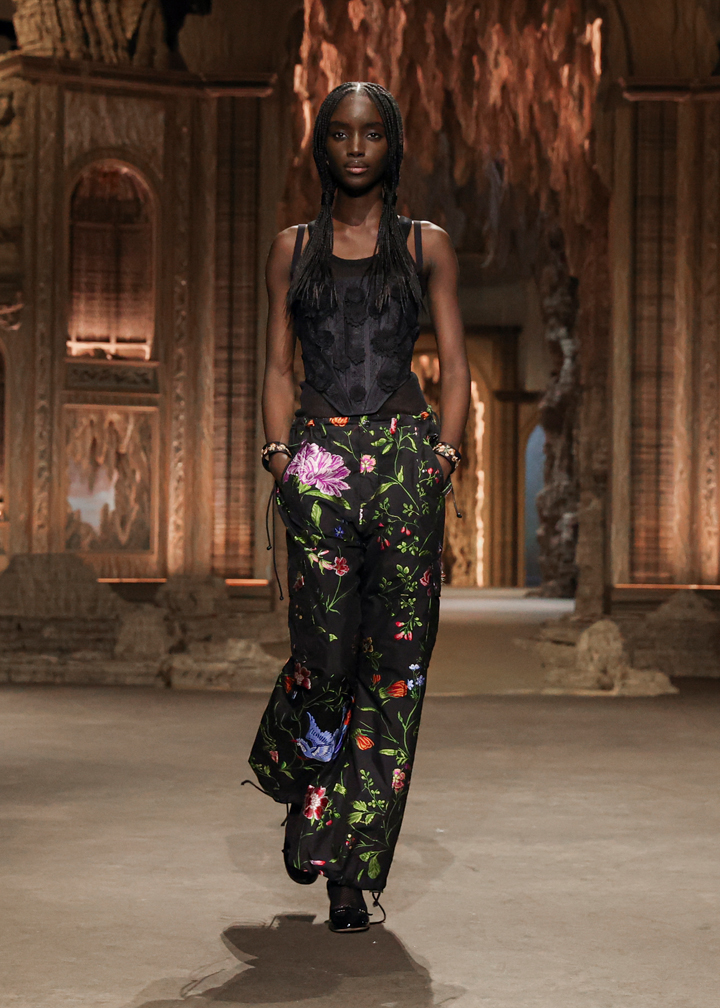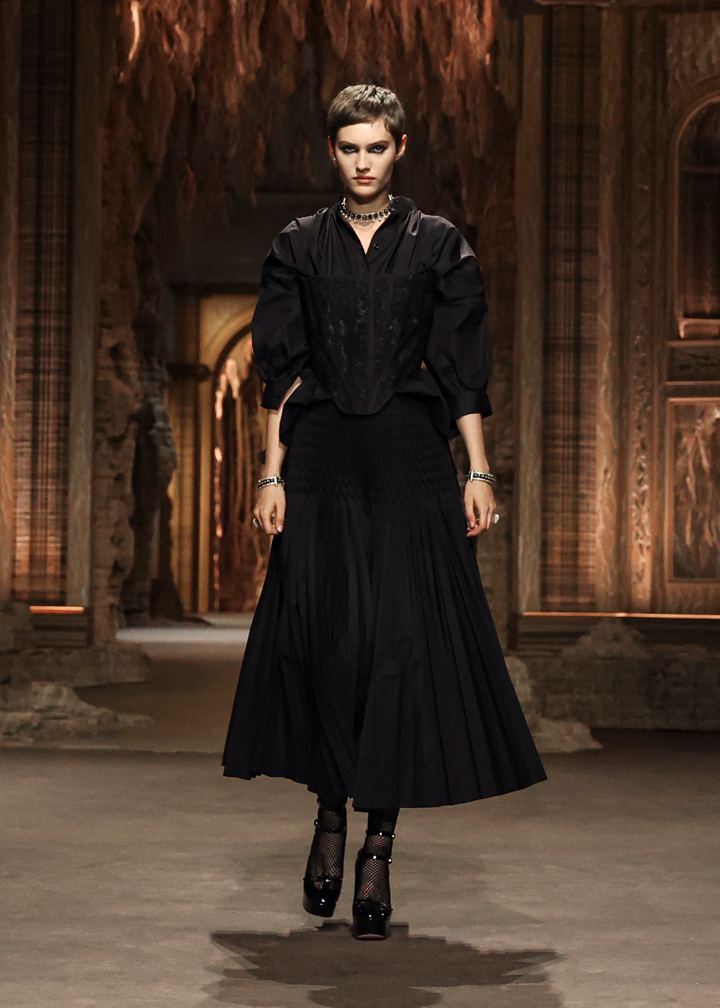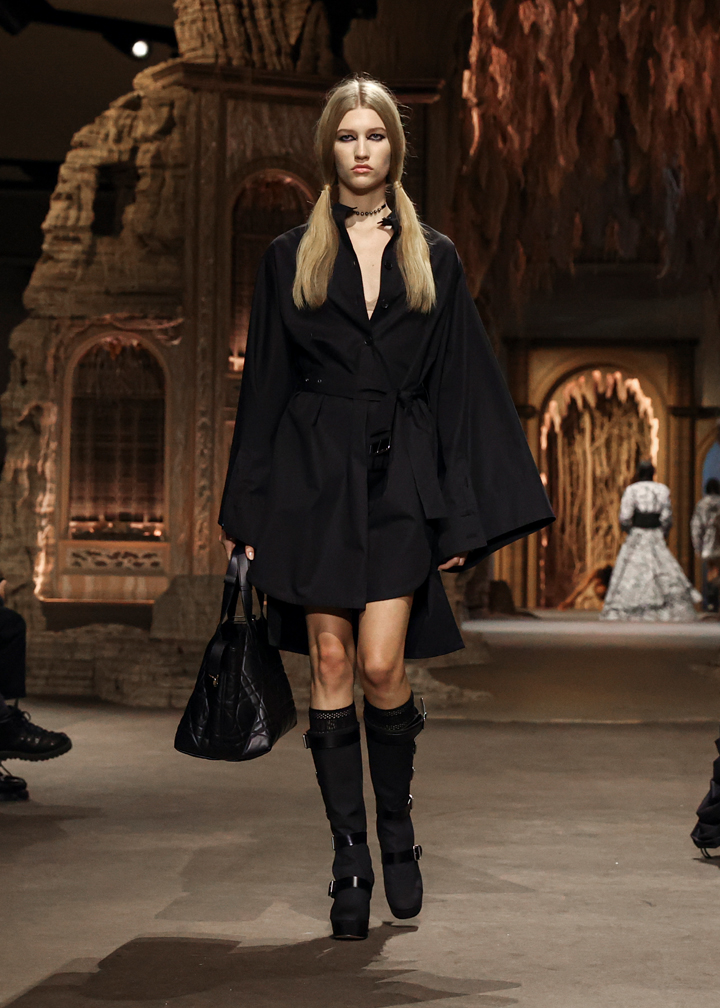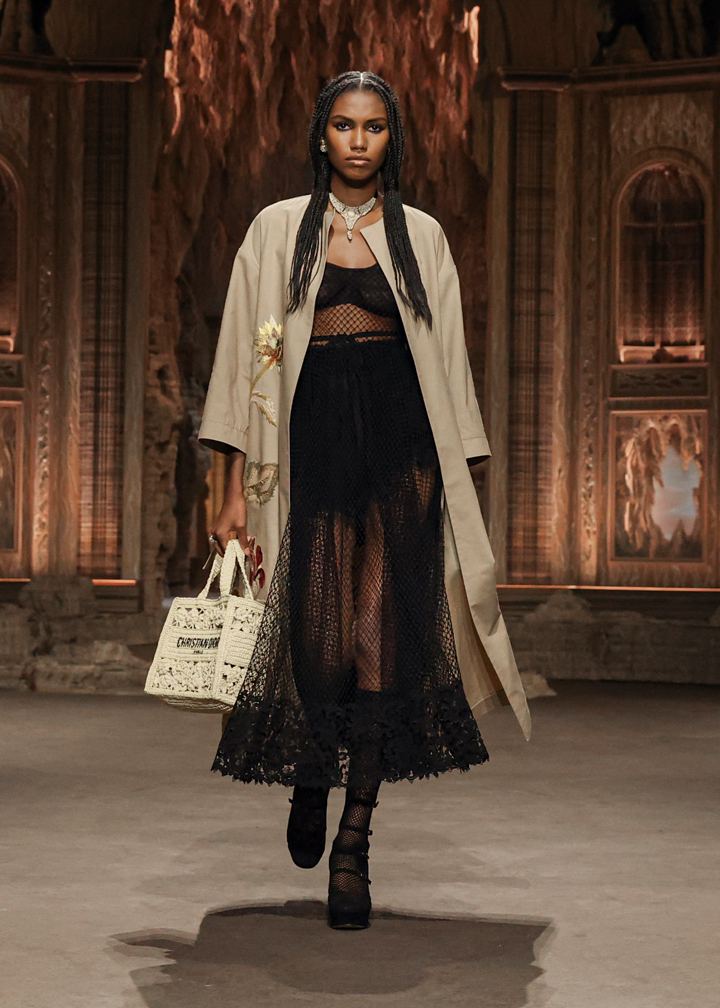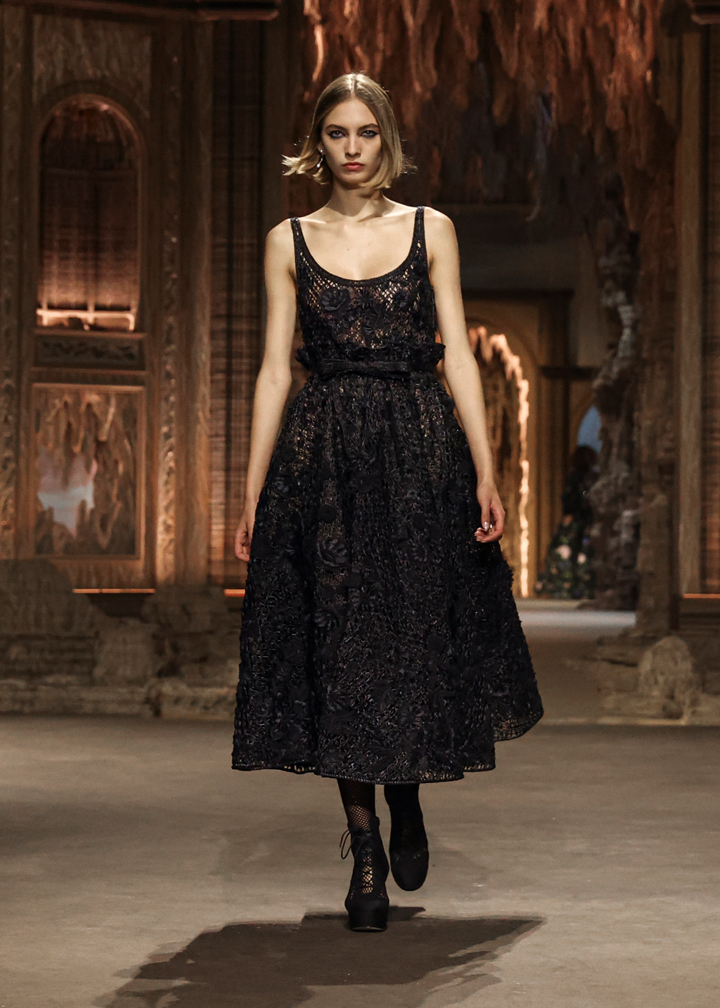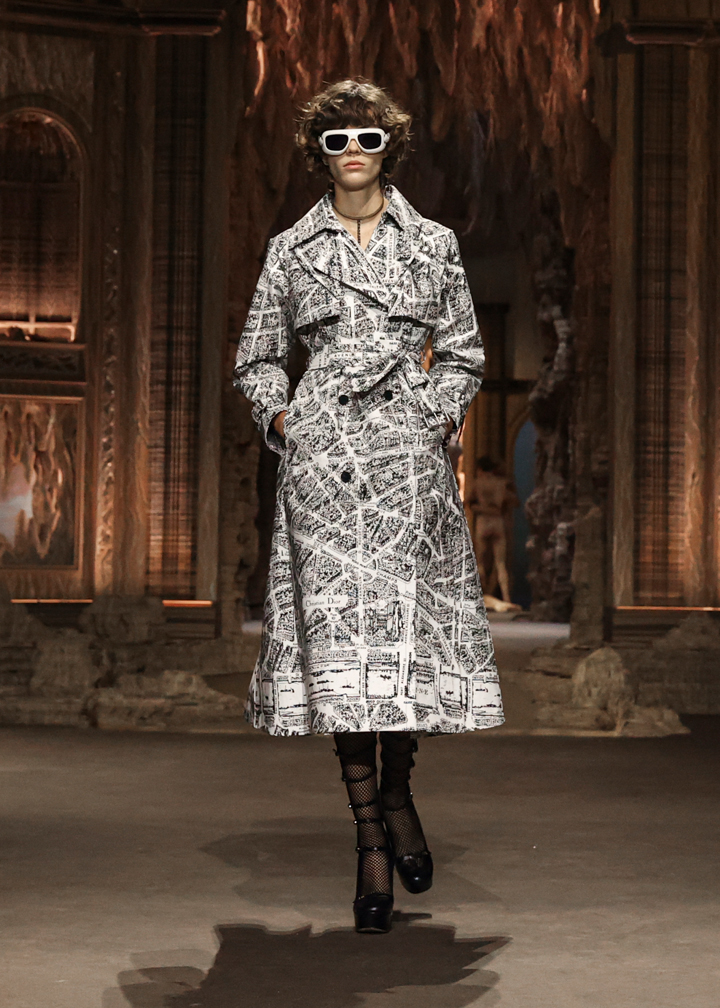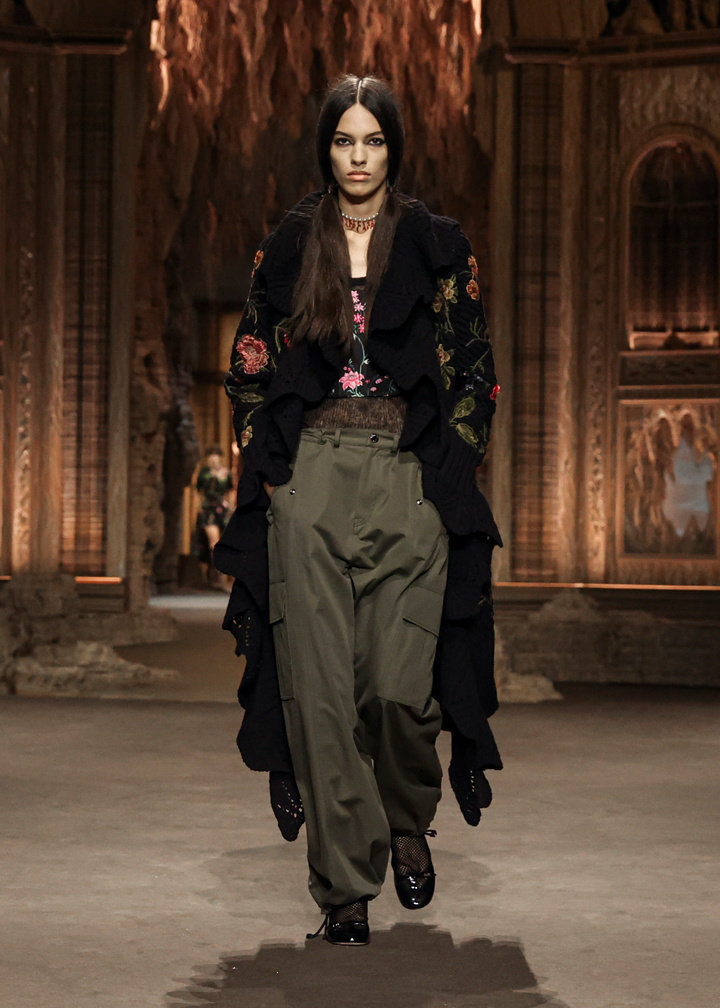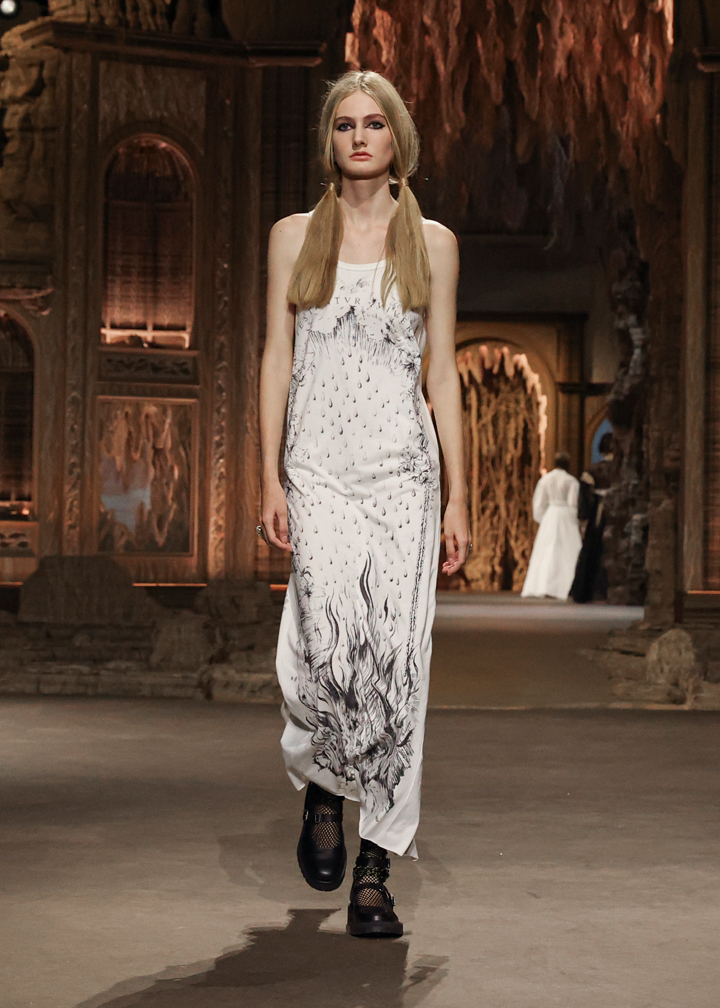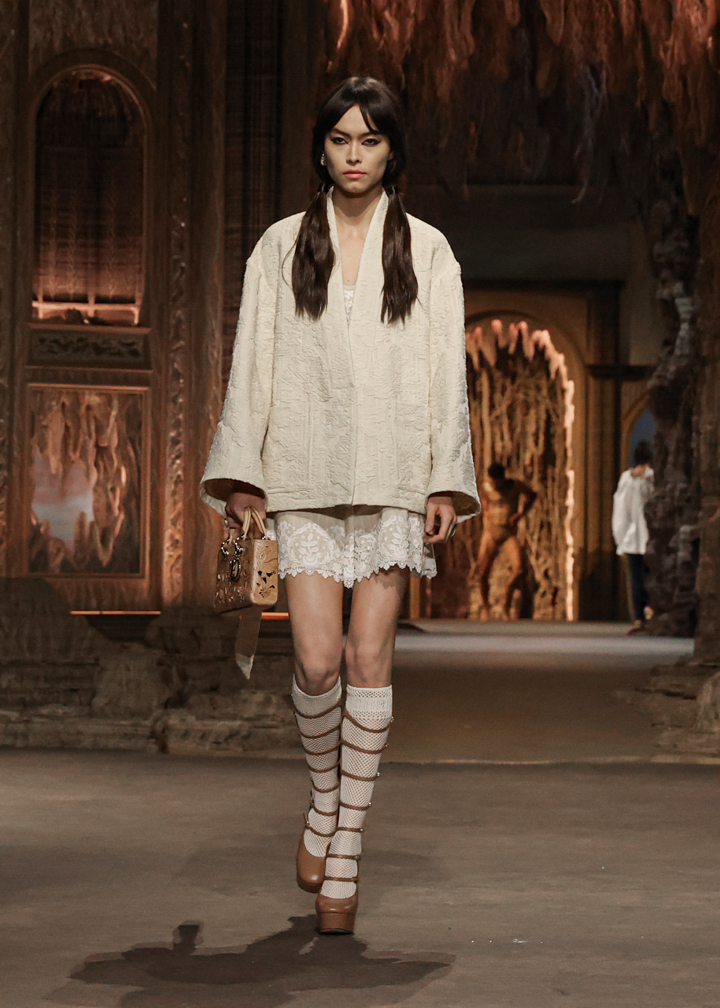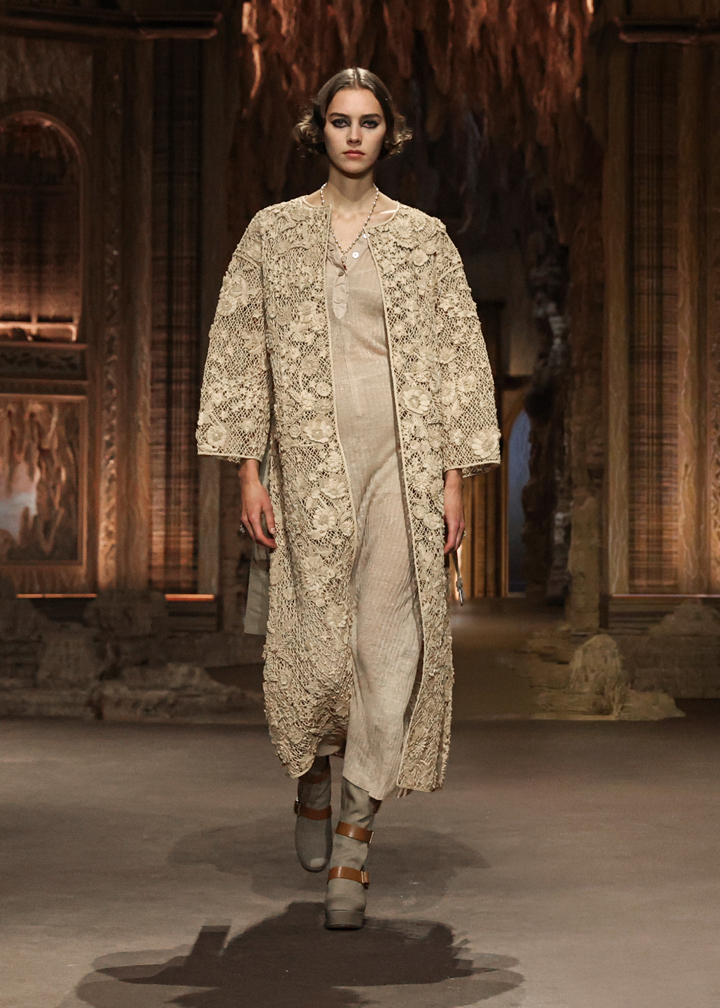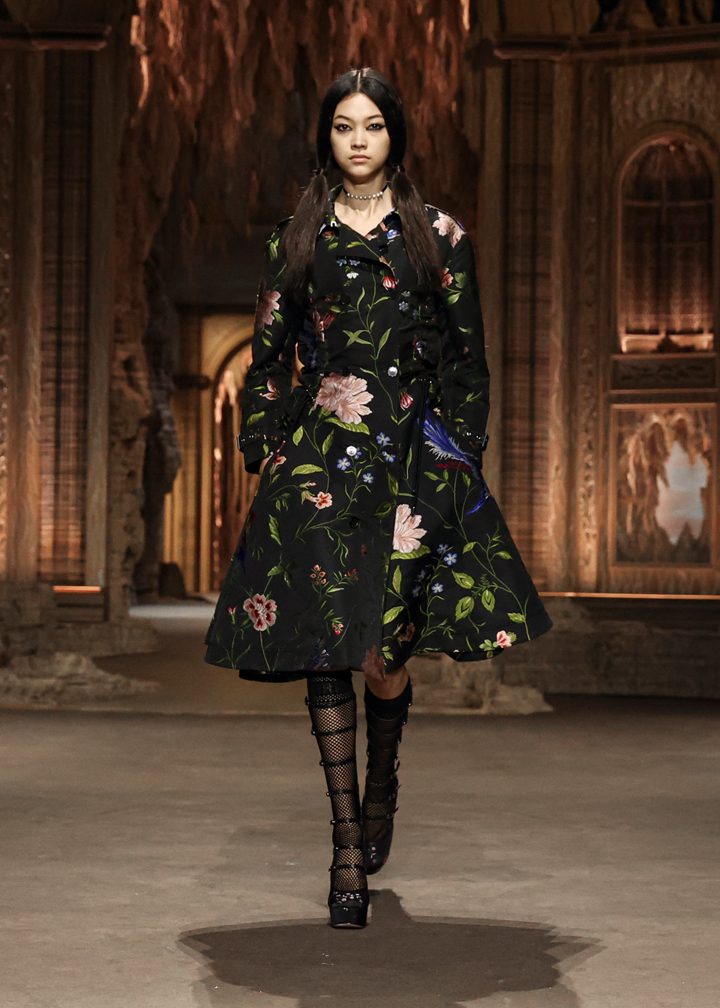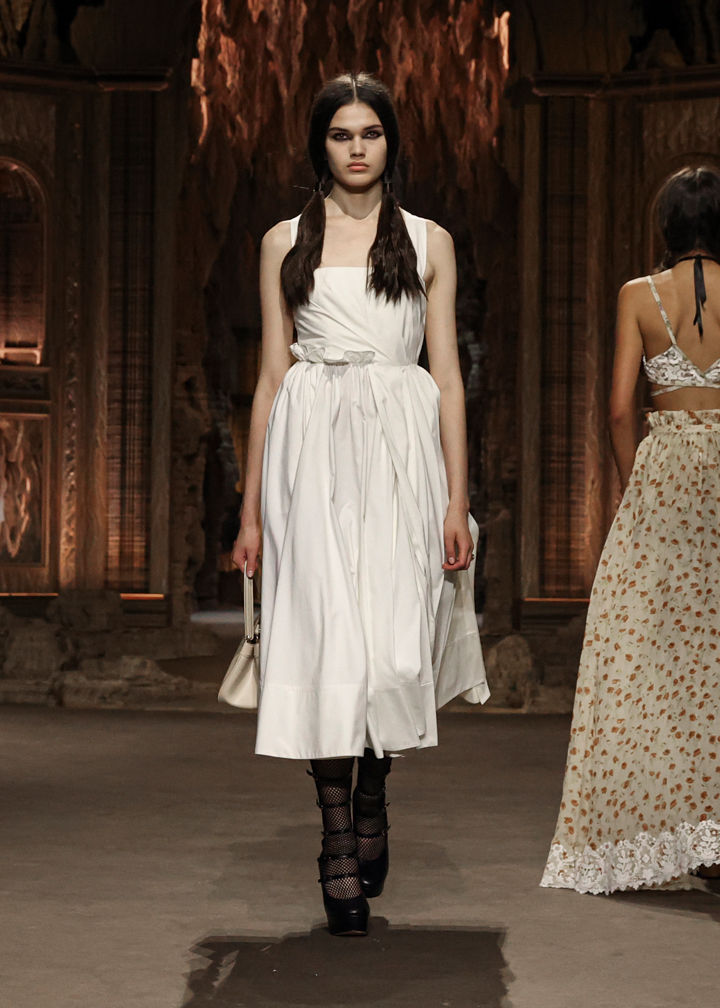 VALENTINO
"Yep, no pink. Not even a speck. After Pierpaolo Piccioli subverted the Maison's primary codes with the sensational Pink PP AW22 collection last season, we'd think the striking fuchsia would soak through his next collection. A fearless artist who has never been shy to switch things up, Piccioli sure knows how to keep us on our toes. This season, the ever-evolving creative director took a minimalist approach in the Unboxing Valentino SS23 collection, presenting a sophisticated medley of nudes with a harmonious balance of vibrance. The collection emanated a pristine elegance, elevated by dashes of suave and playful elements. Instead of saturation of a single hue, the house's 'V' monogram permeates the collection on flowy silhouettes, even spreading onto the model's faces courtesy of makeup artist extraordinaire, Pat Mgrath. Keeping it fresh and vivacious in true Piccioli fashion, some pieces featured feathered details, and others shone in sparkles. Inclusivity and the celebration of transparent, authentic identities are the very principles of Piccioli's work, and his message remains unchanged in this collection. In this age of fashion heavily influenced by modern cultural affairs, blasting social commentary through collections has become prevalent in the industry. That said, determined to demolish the industry's discriminatory conventions, Piccioli is especially brilliant in his ability to express his sentiments through sheer immaculate art that speaks for itself." — Phyll Wu, editorial assistant
RUNWAY LOOKS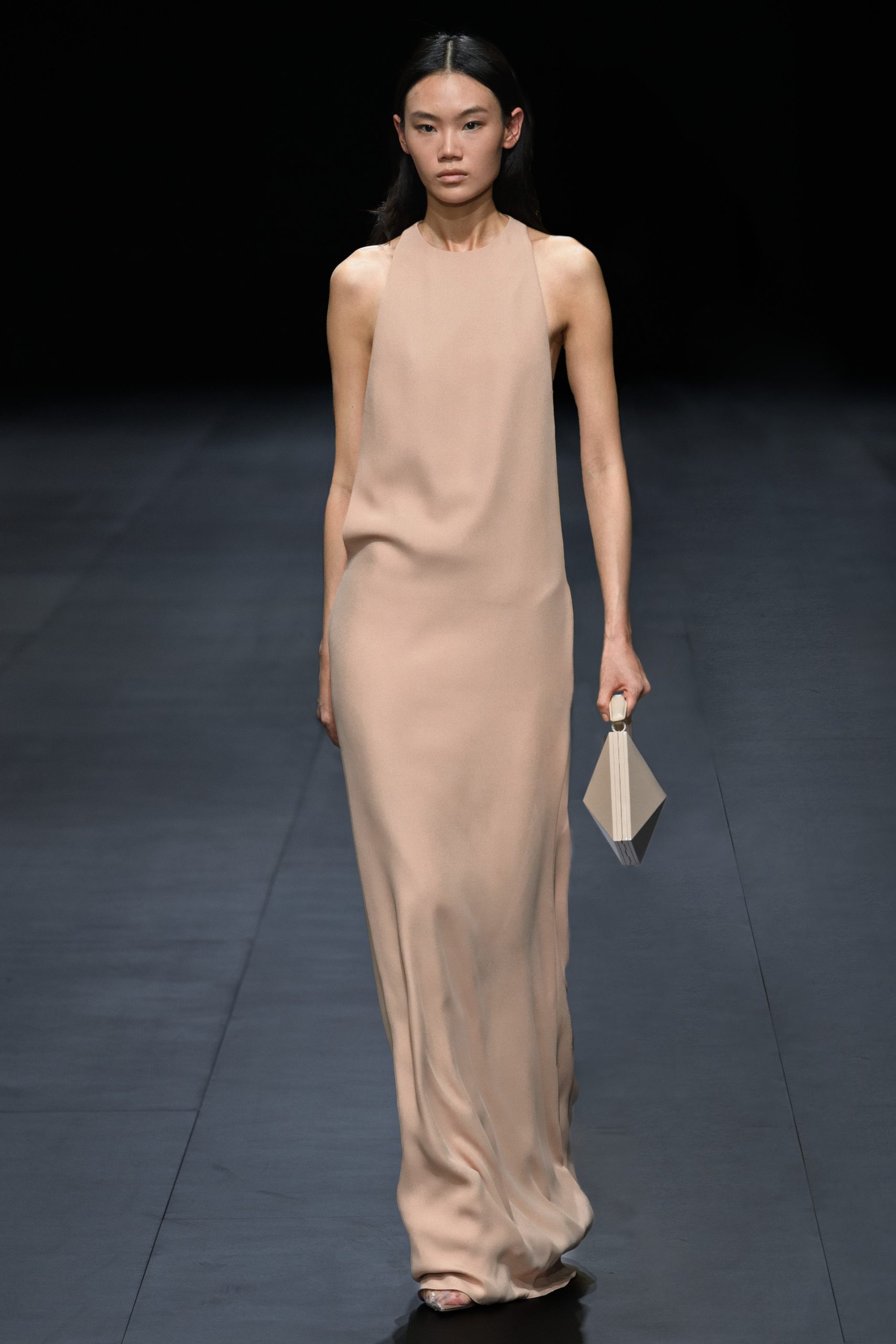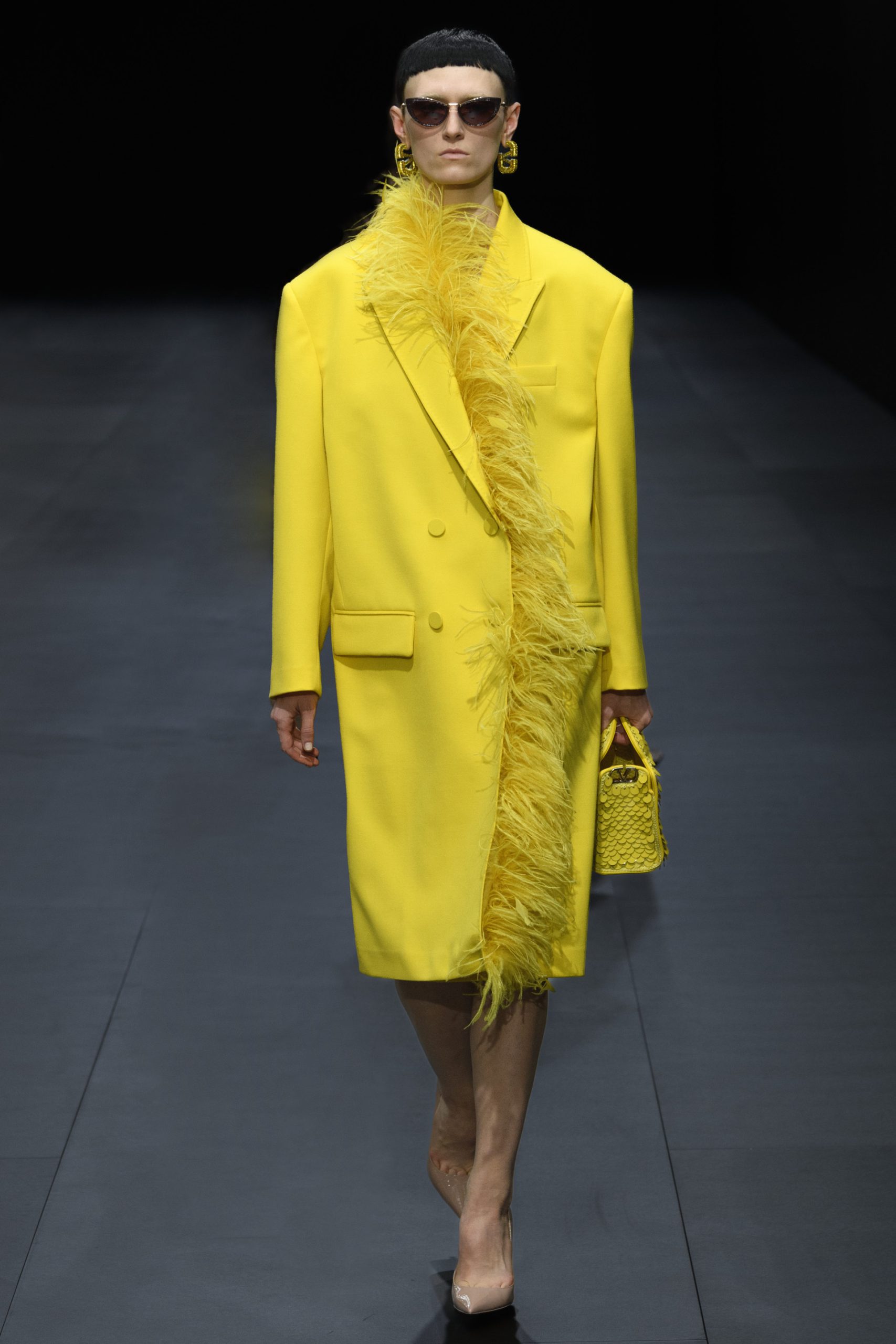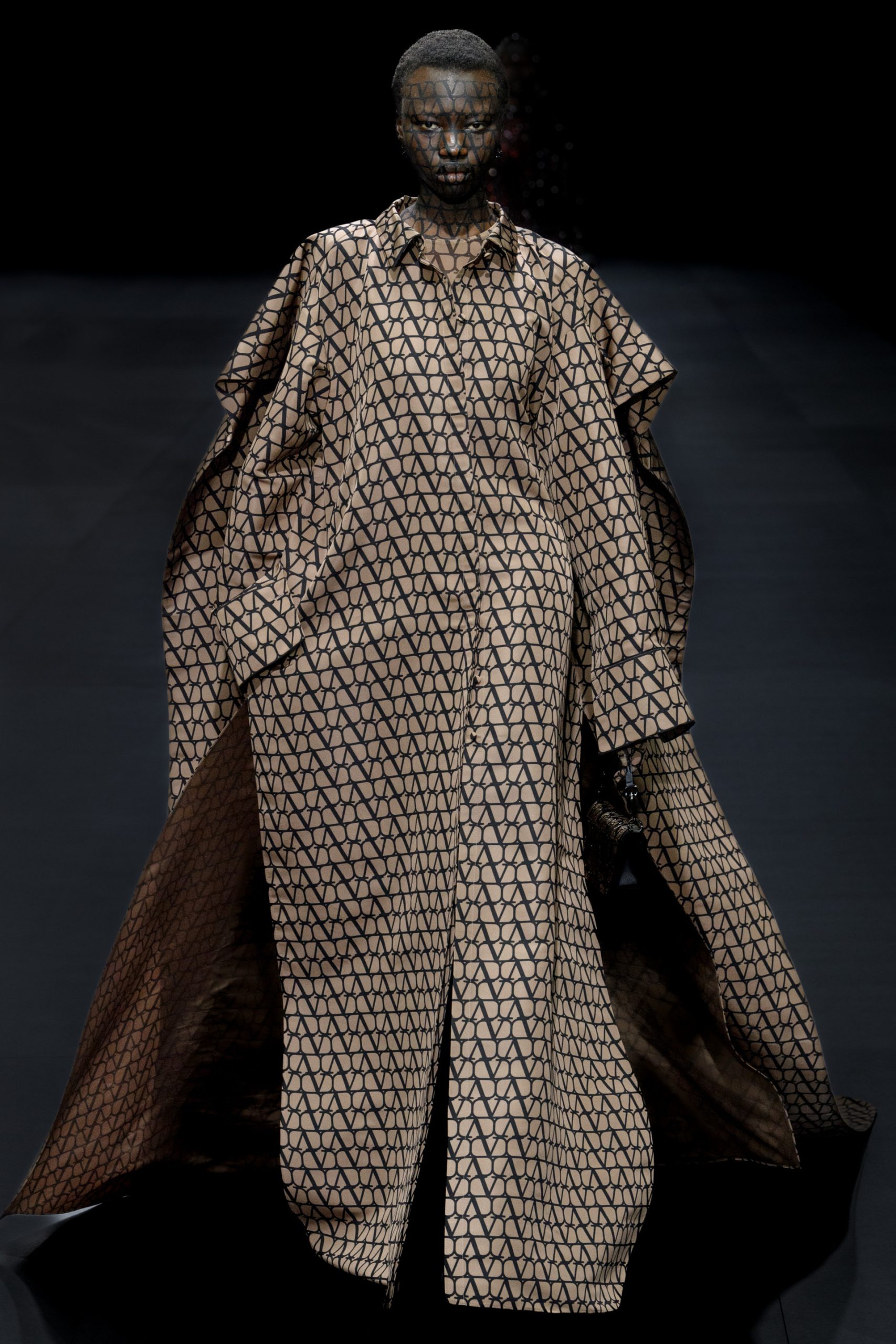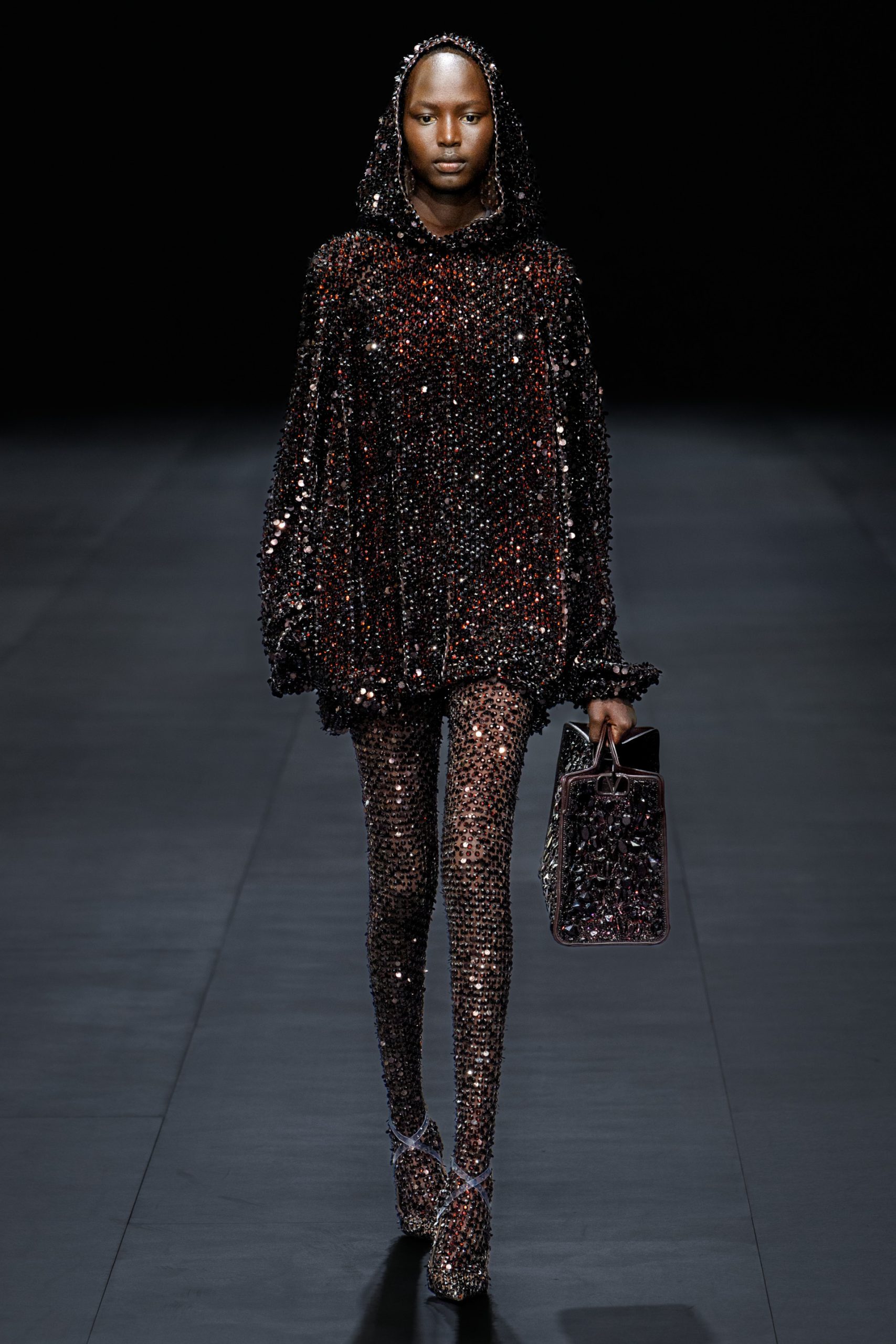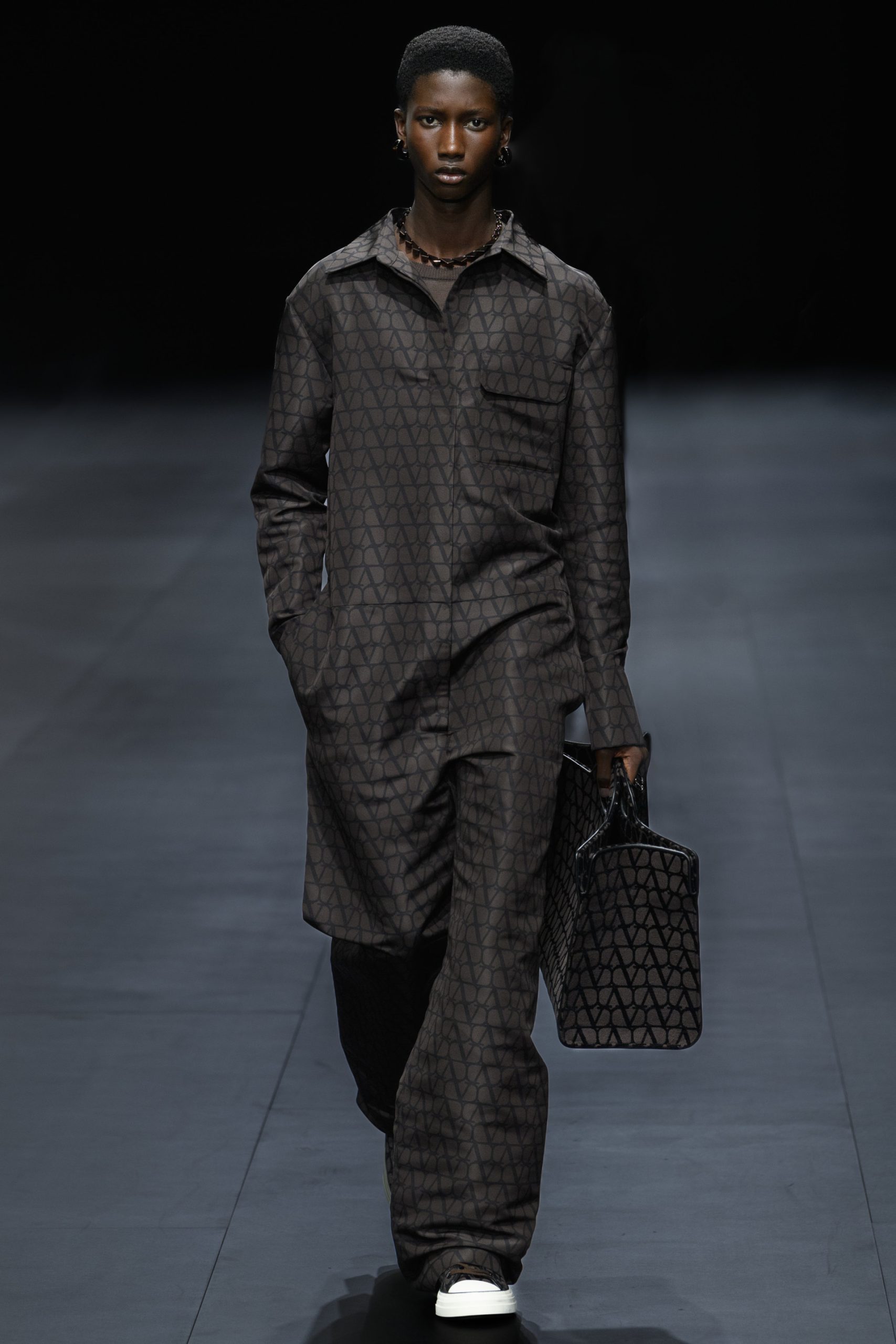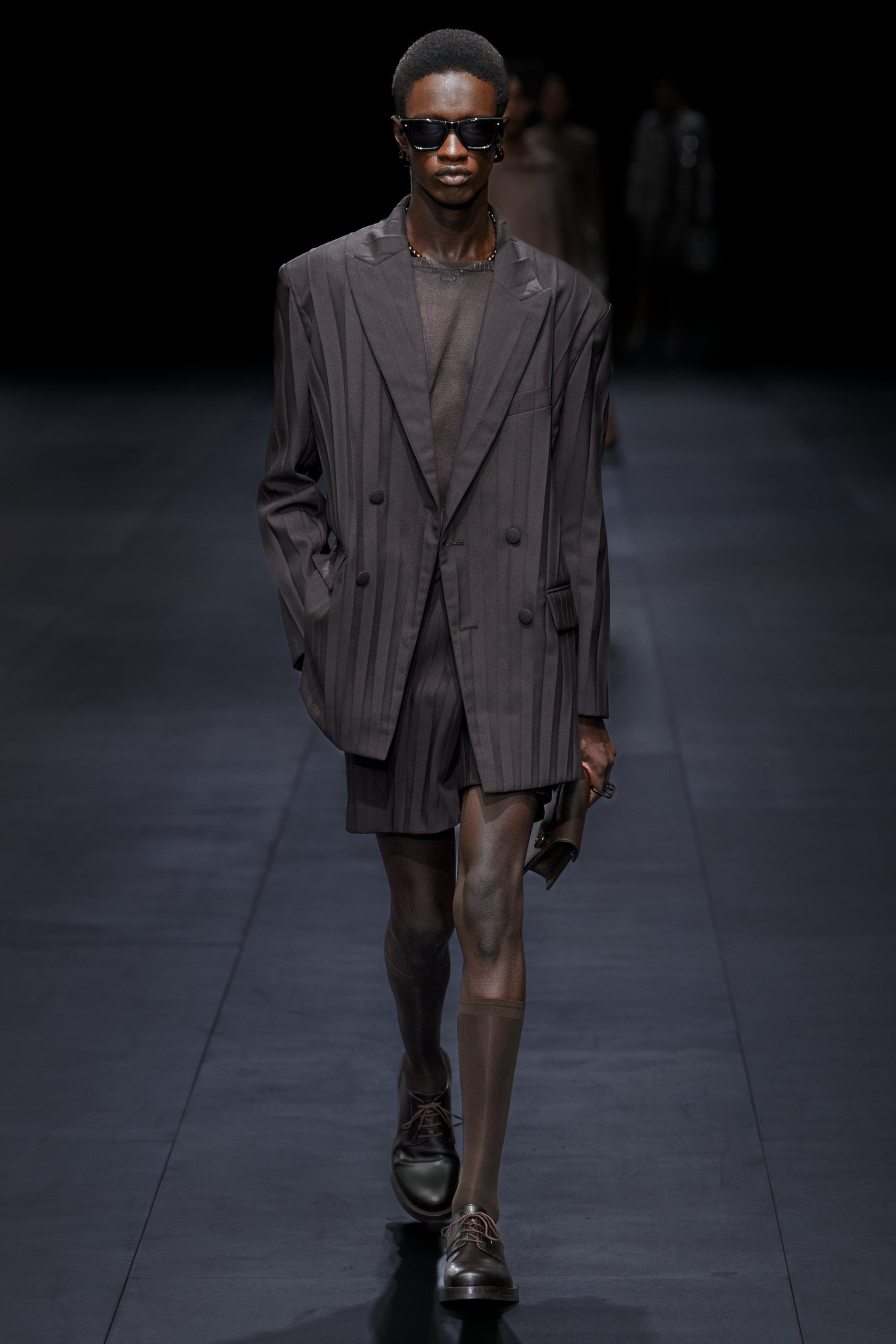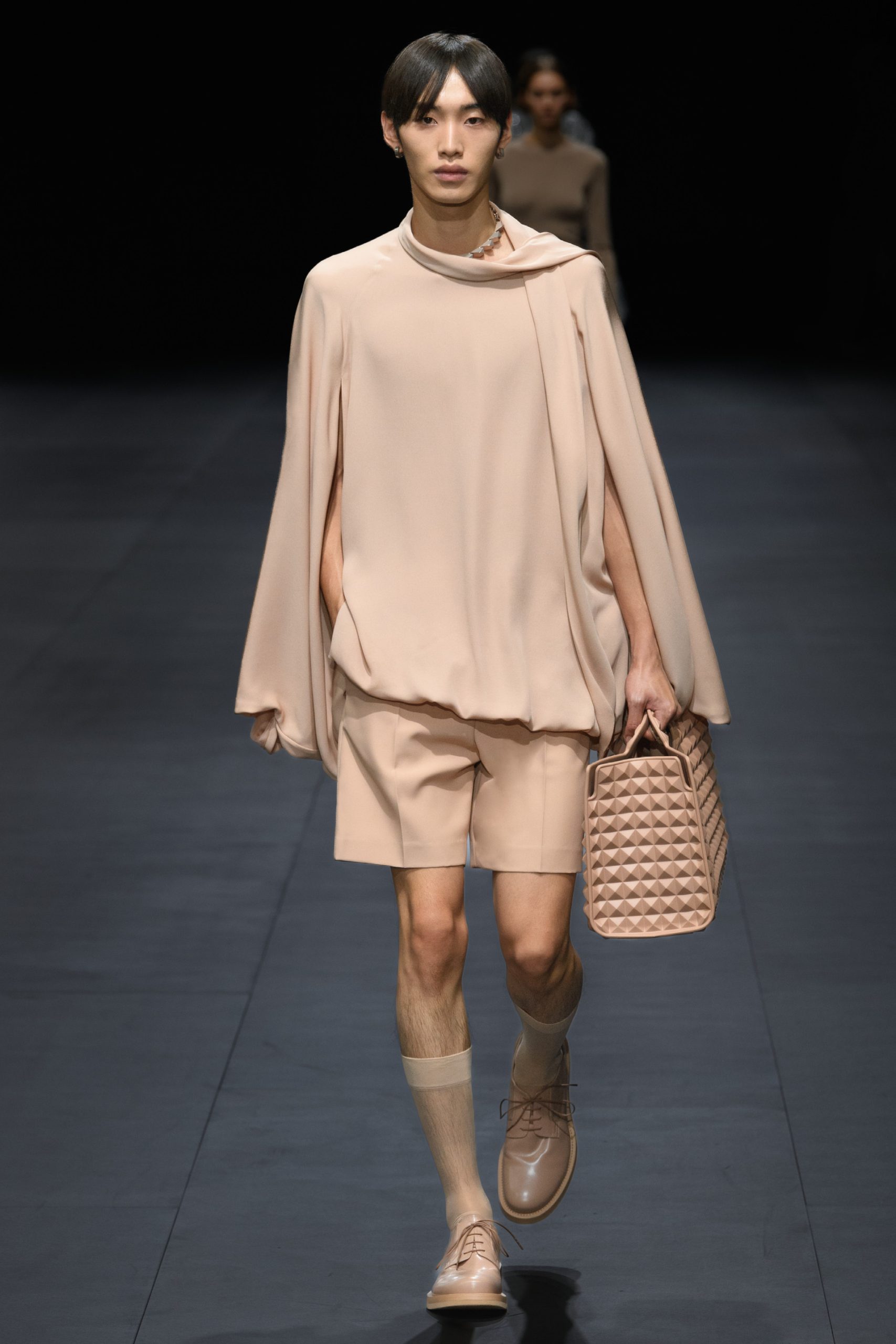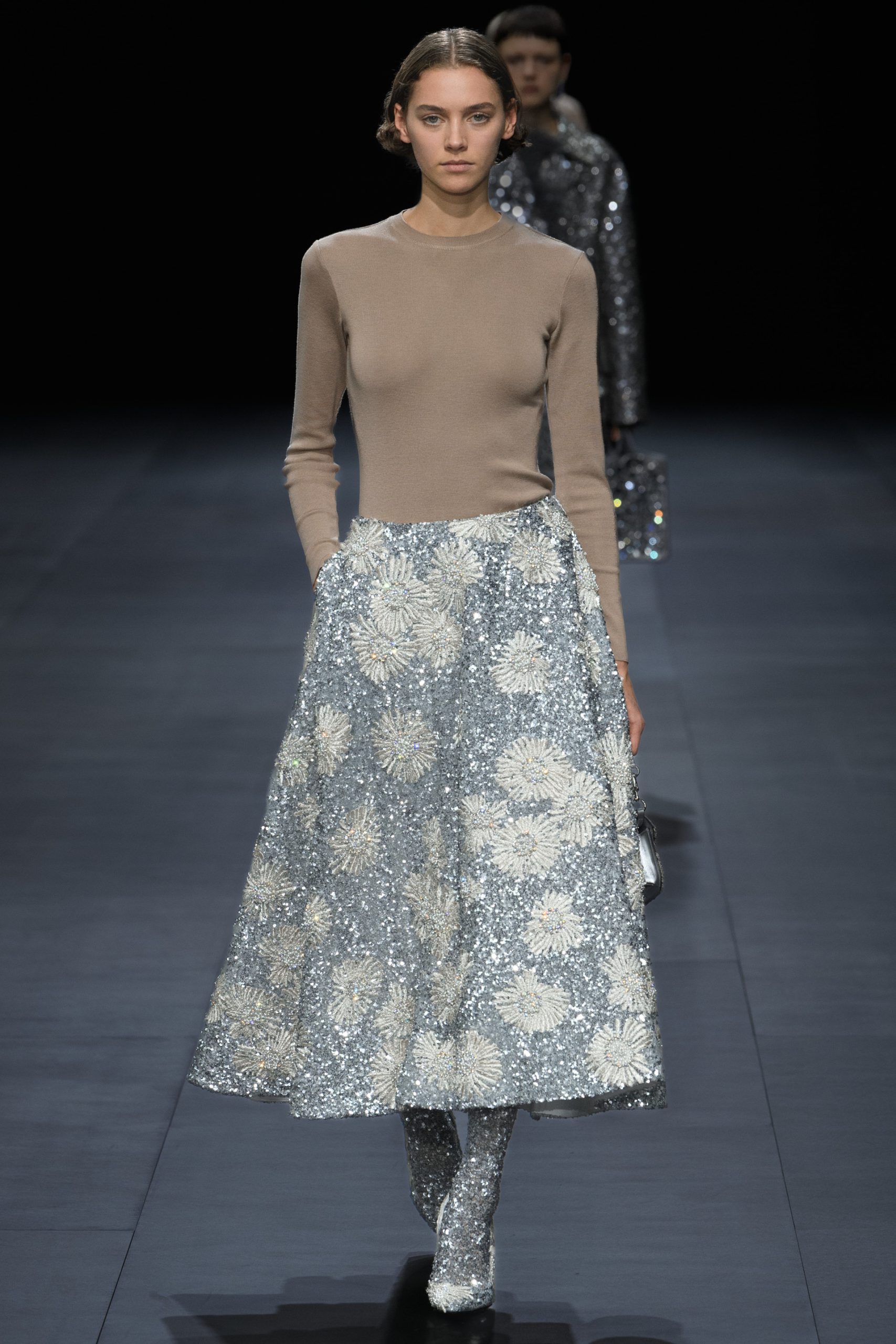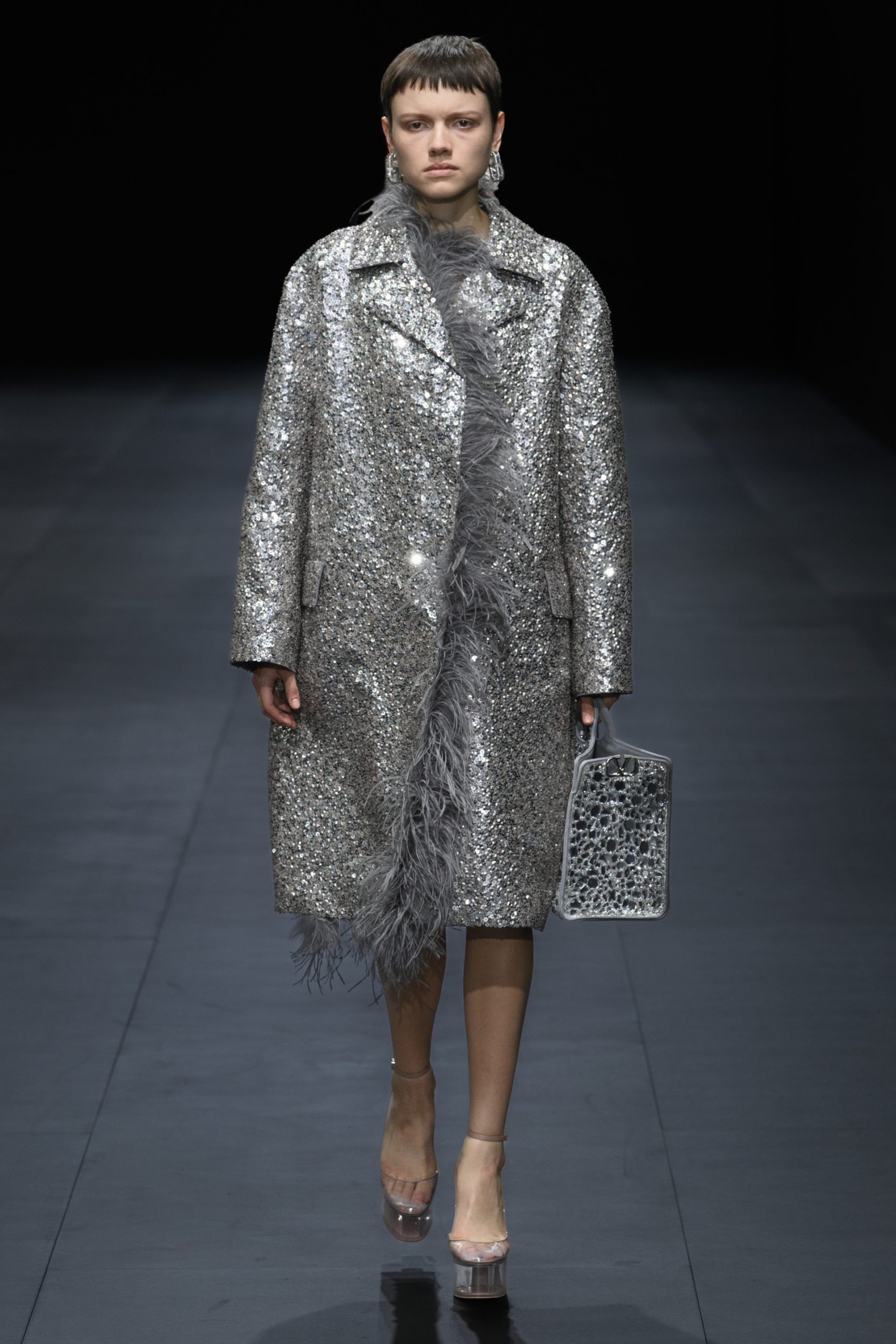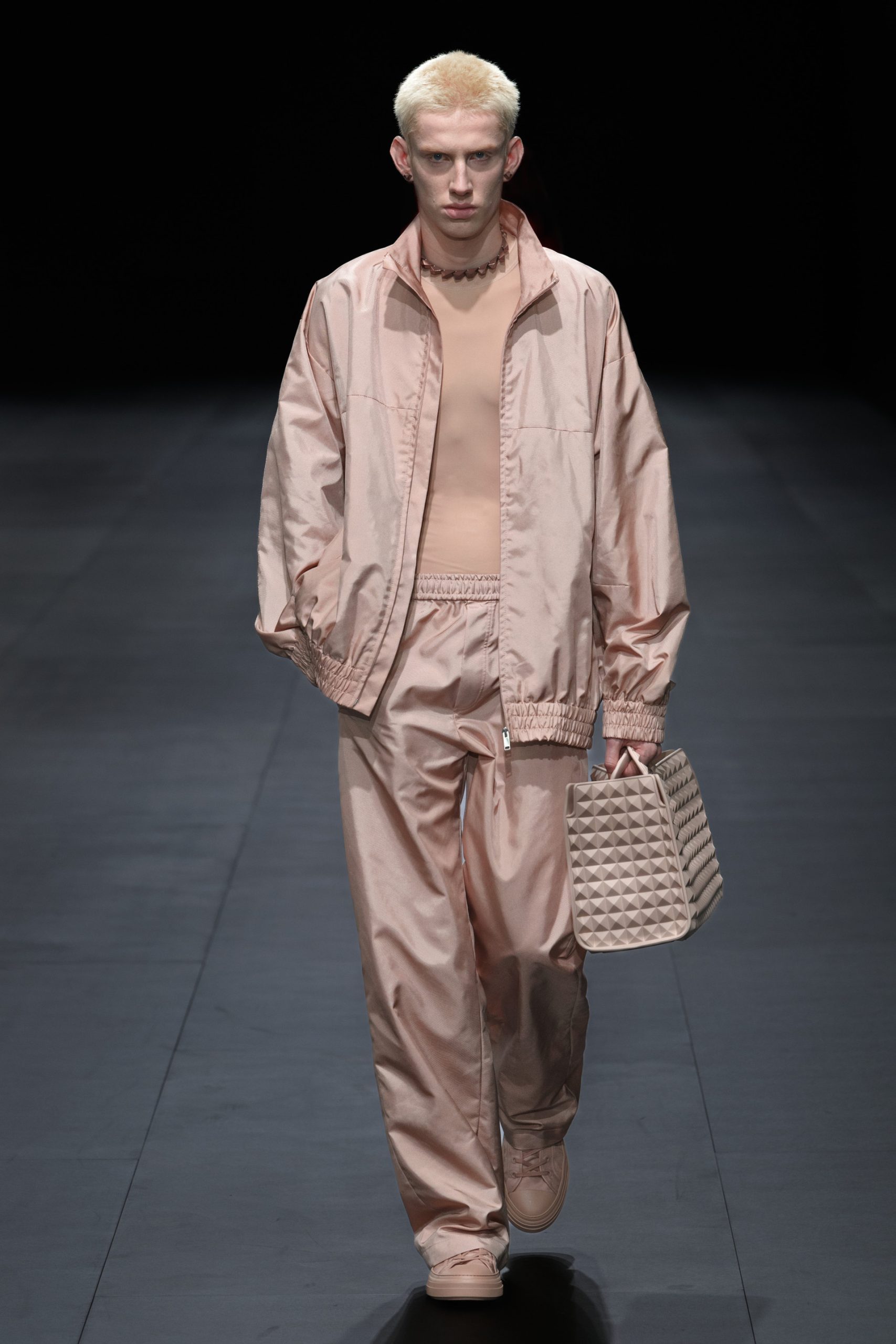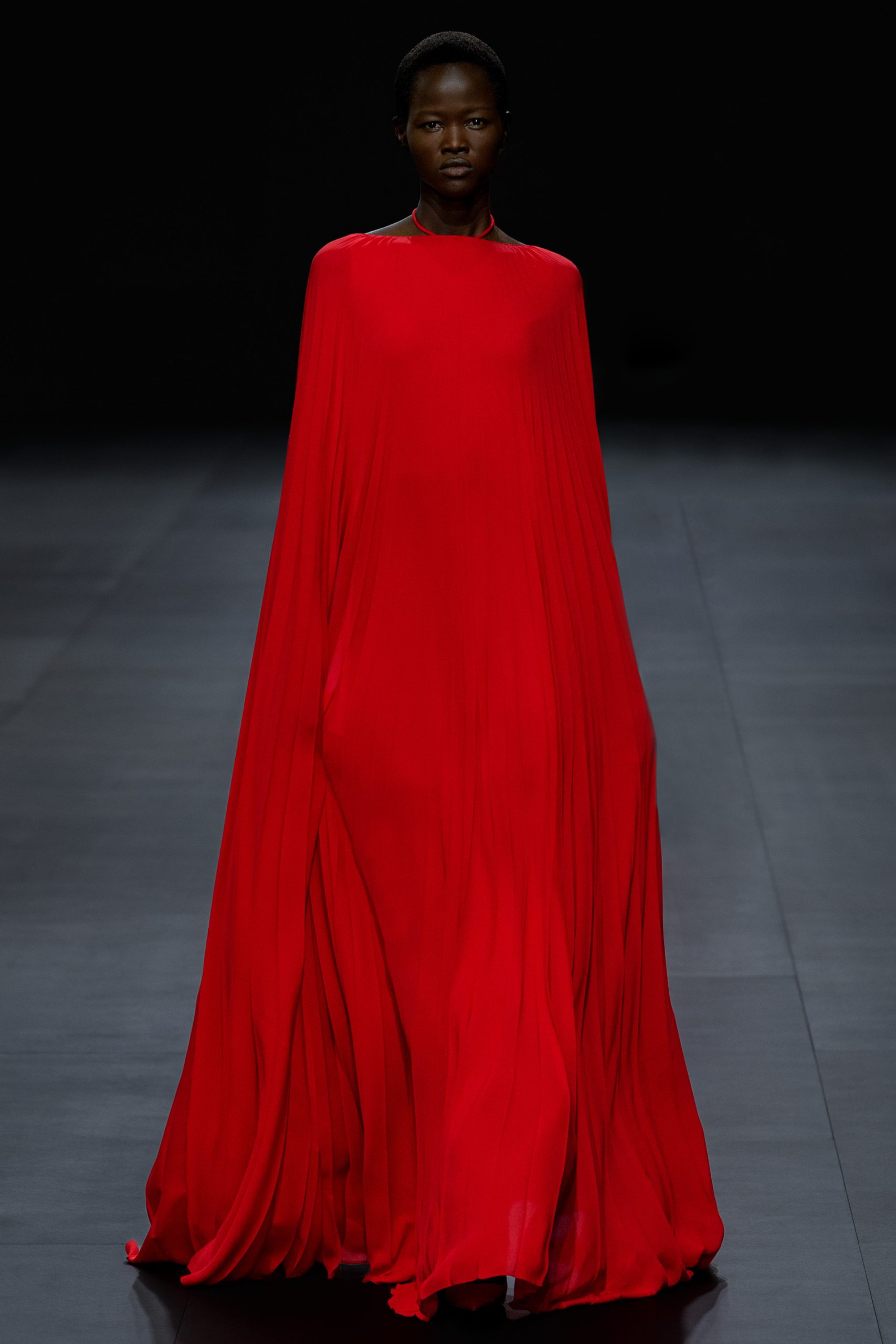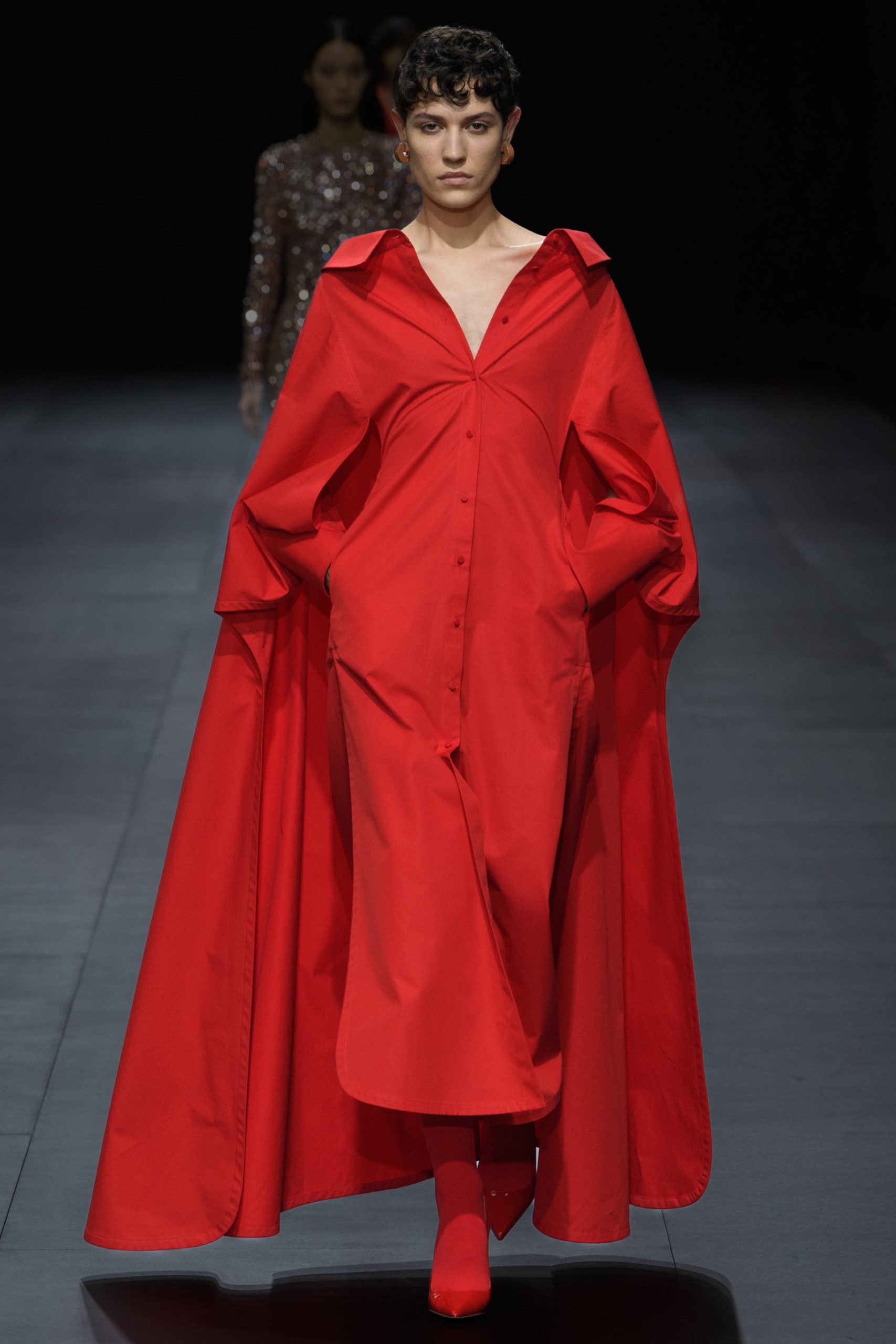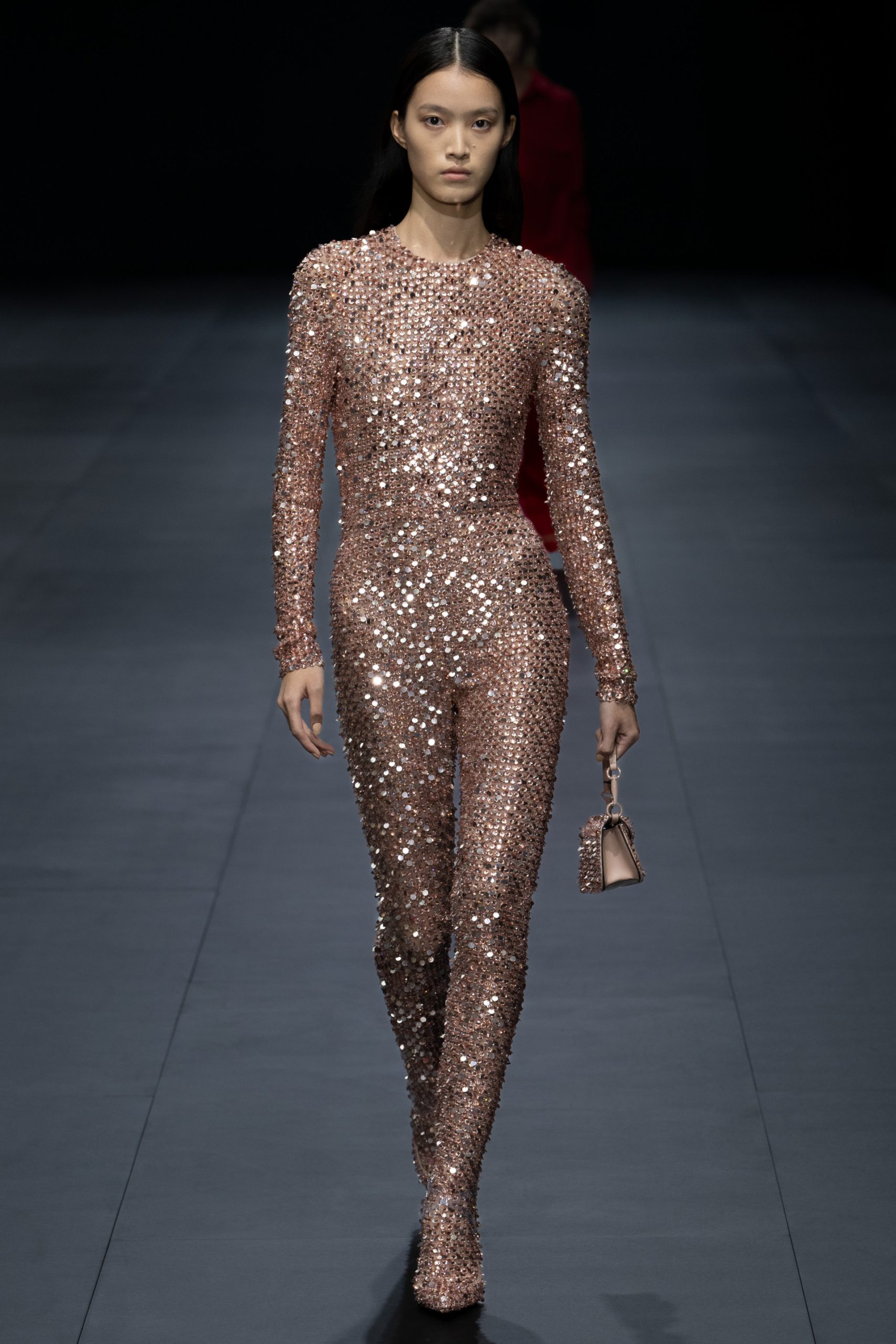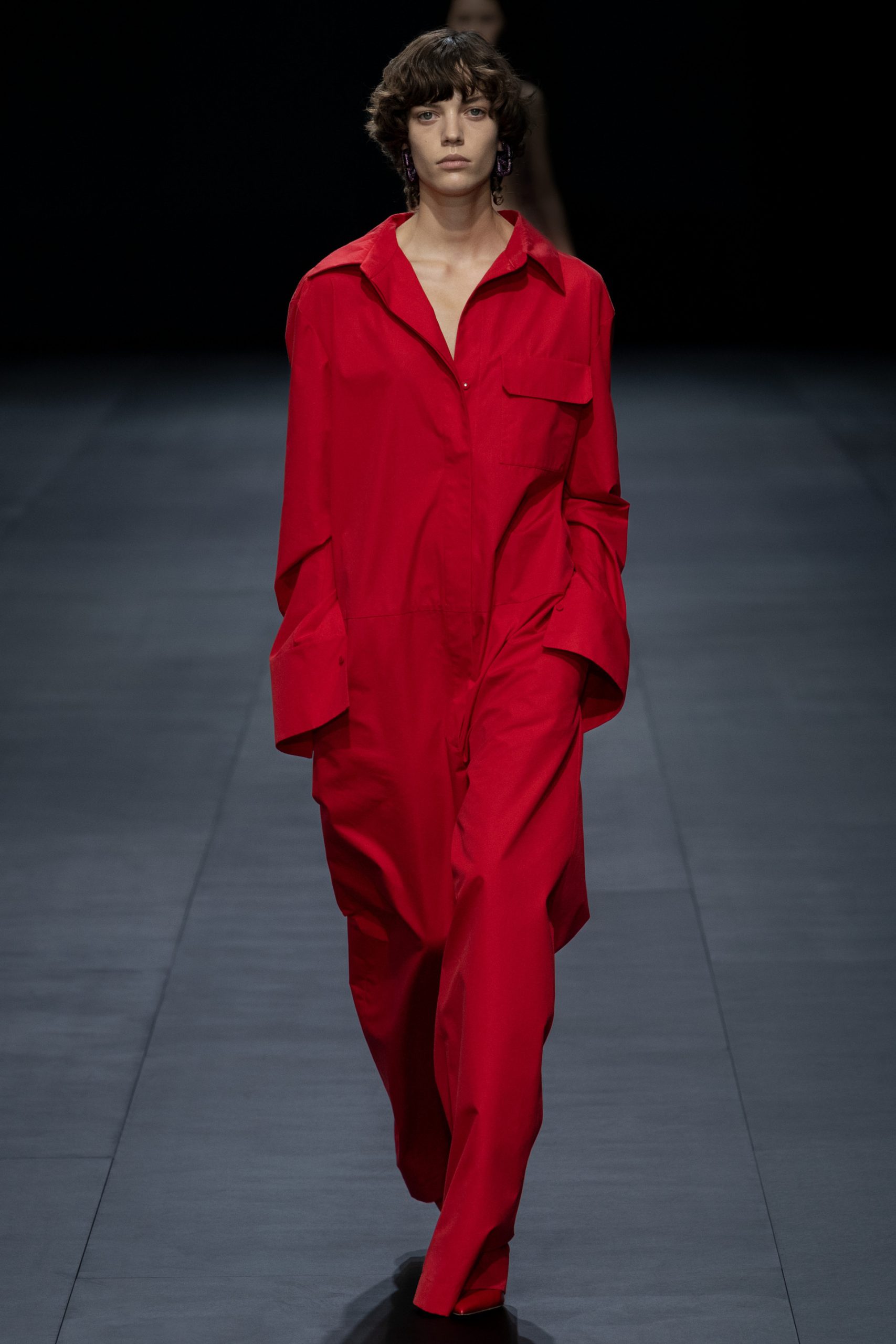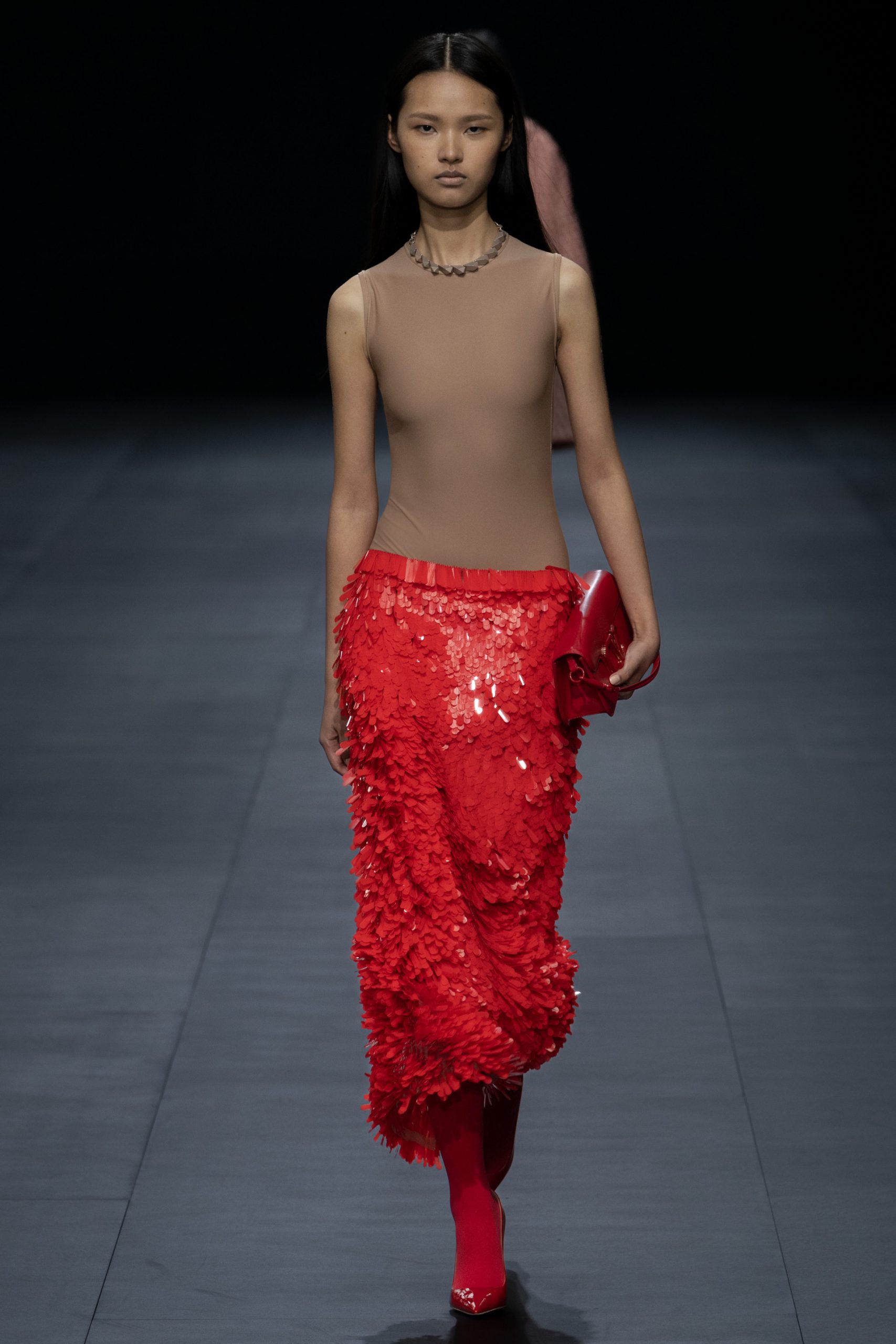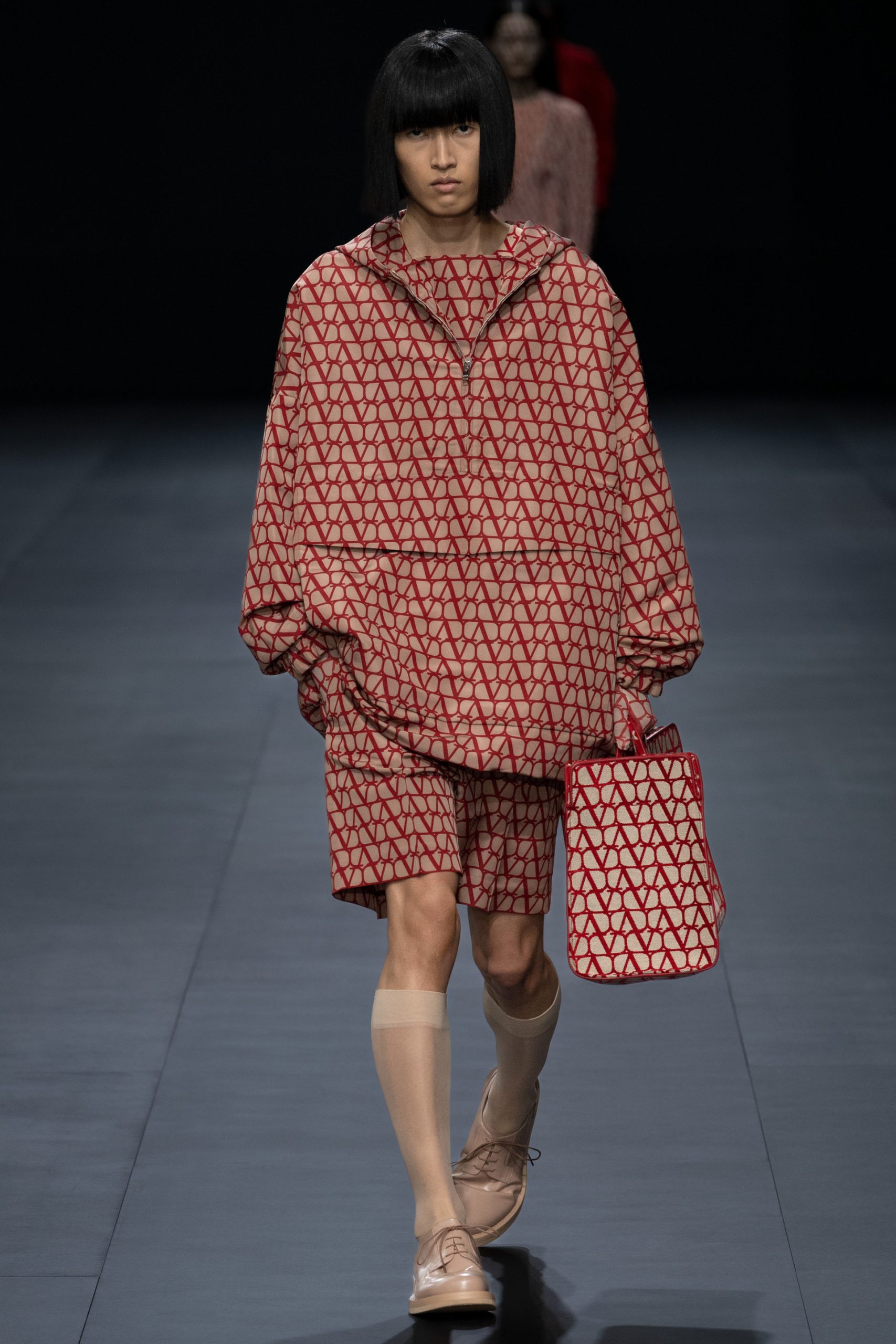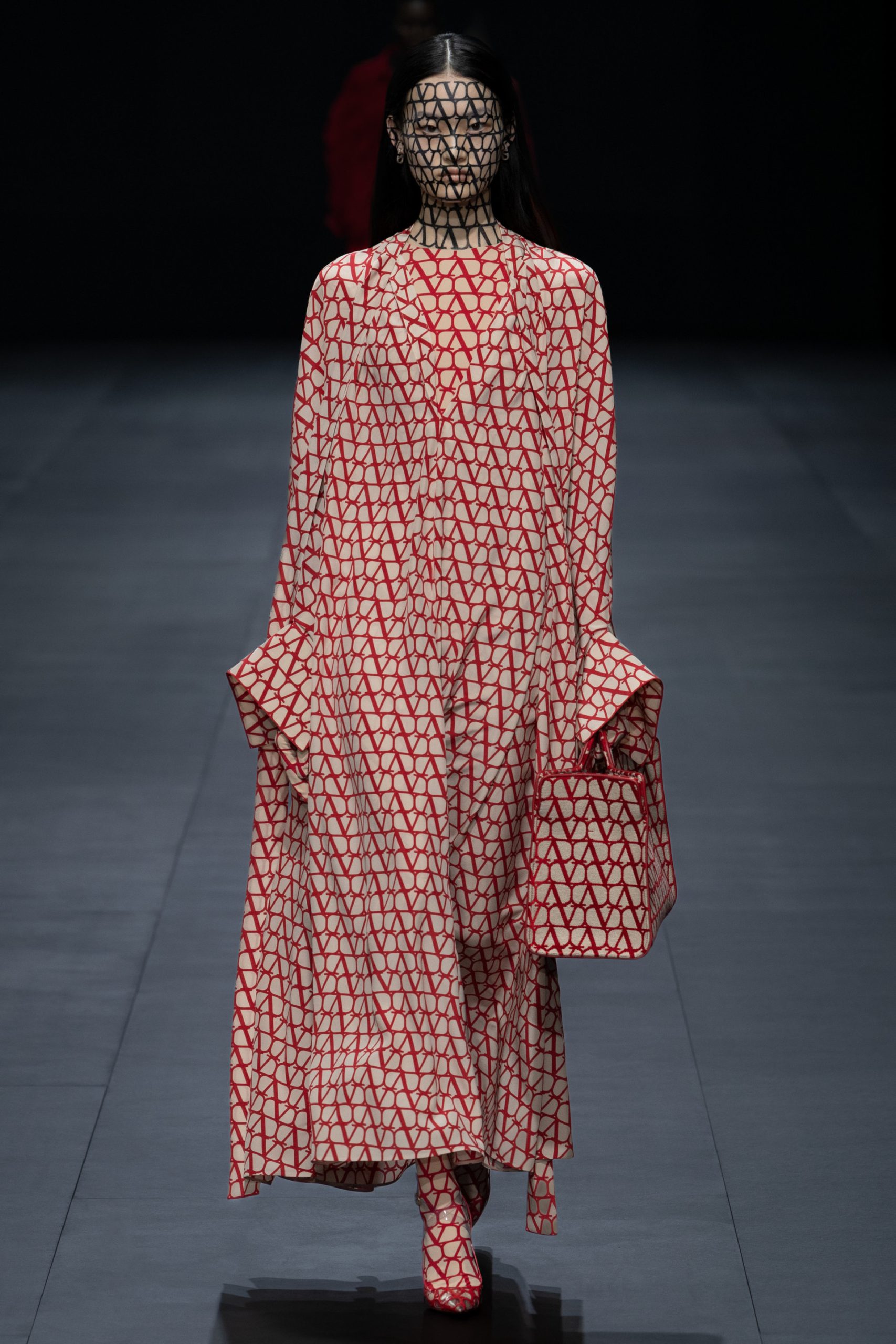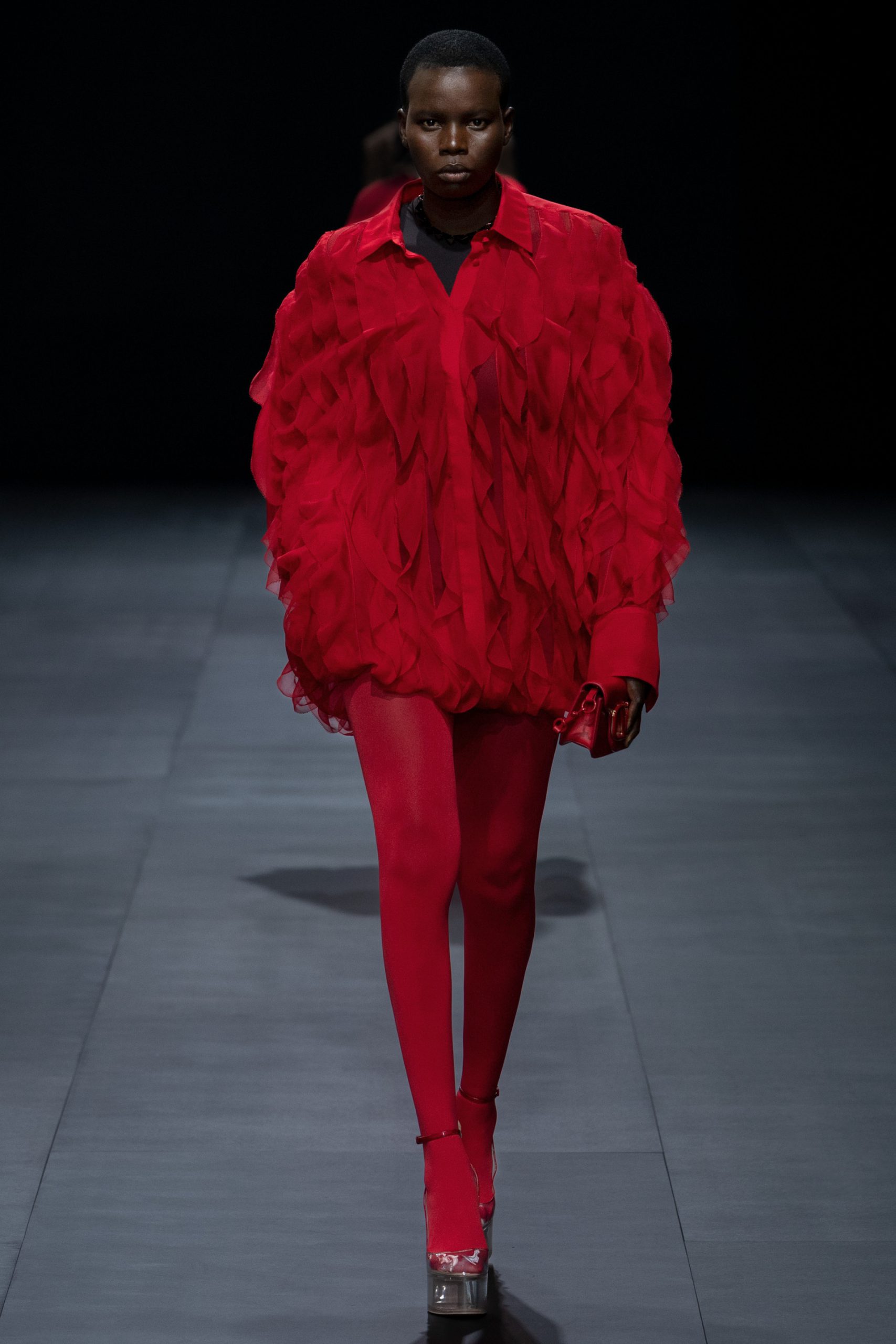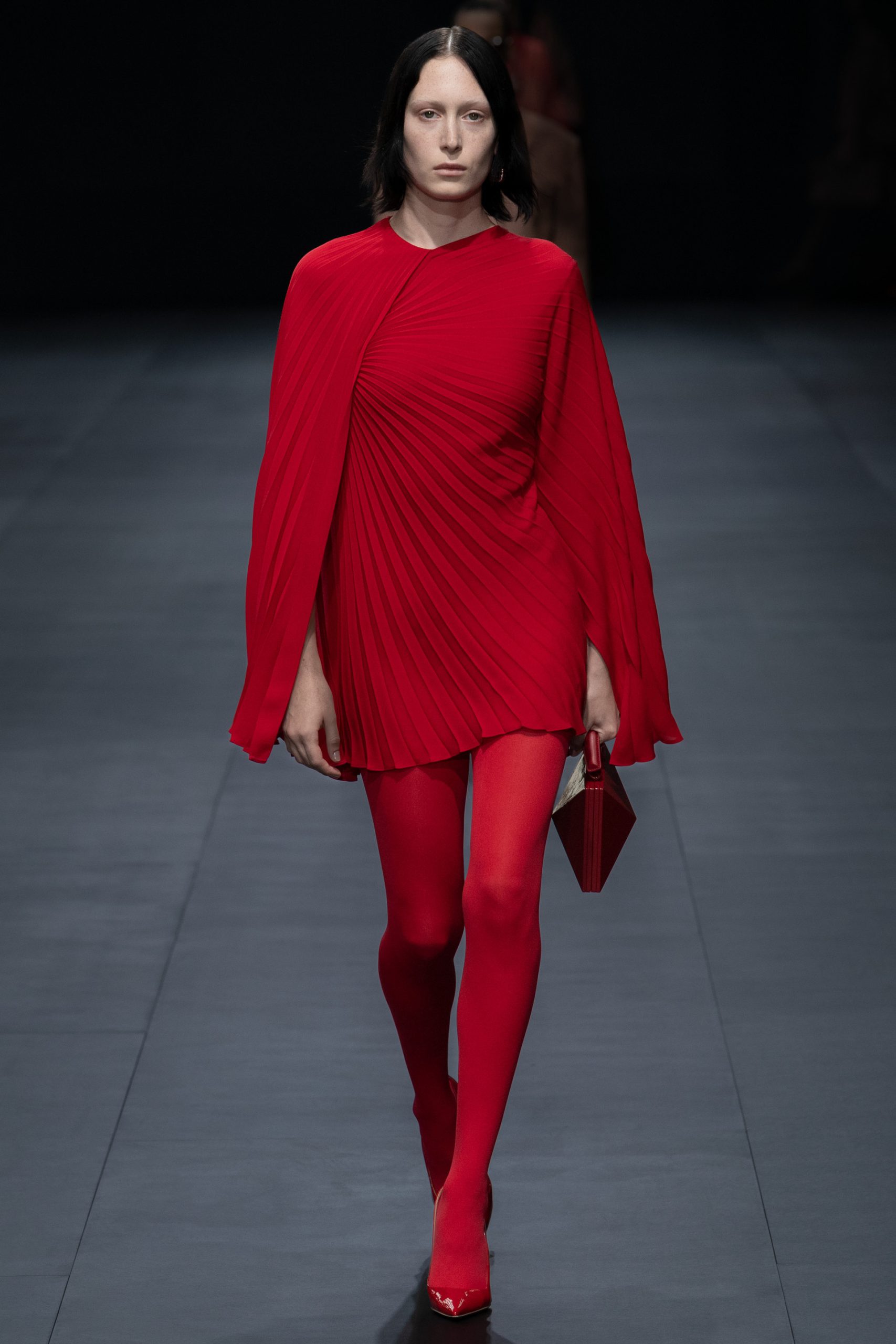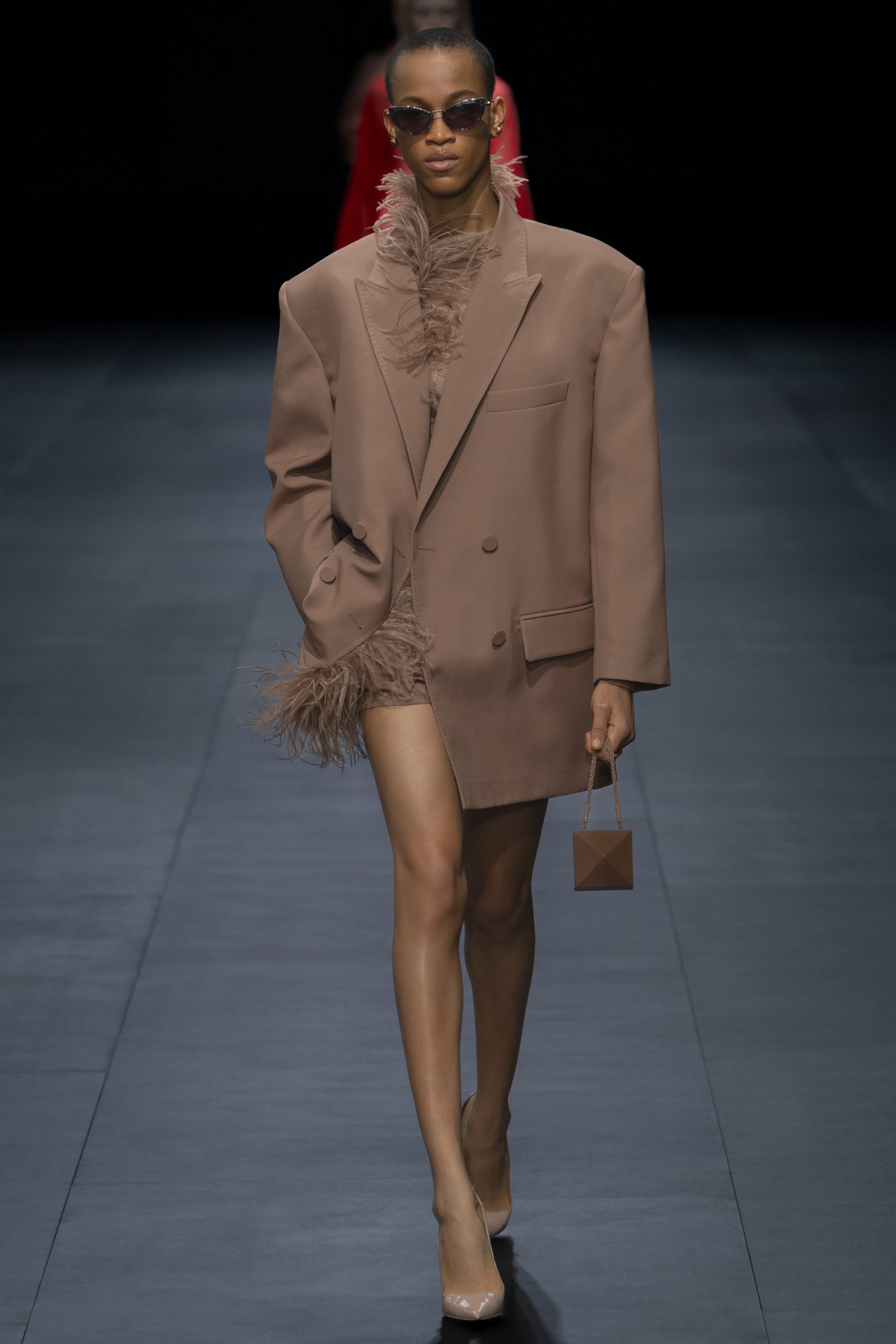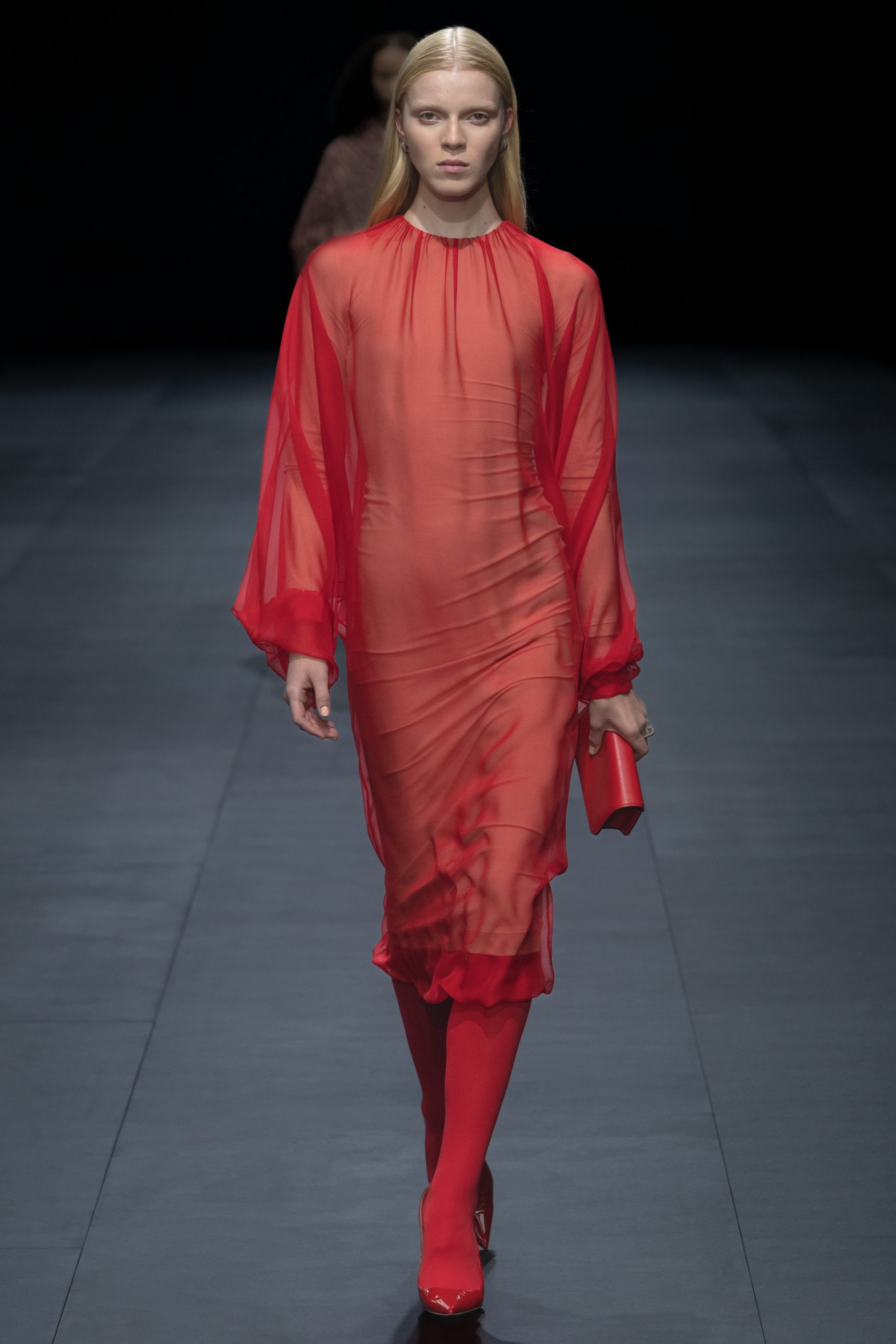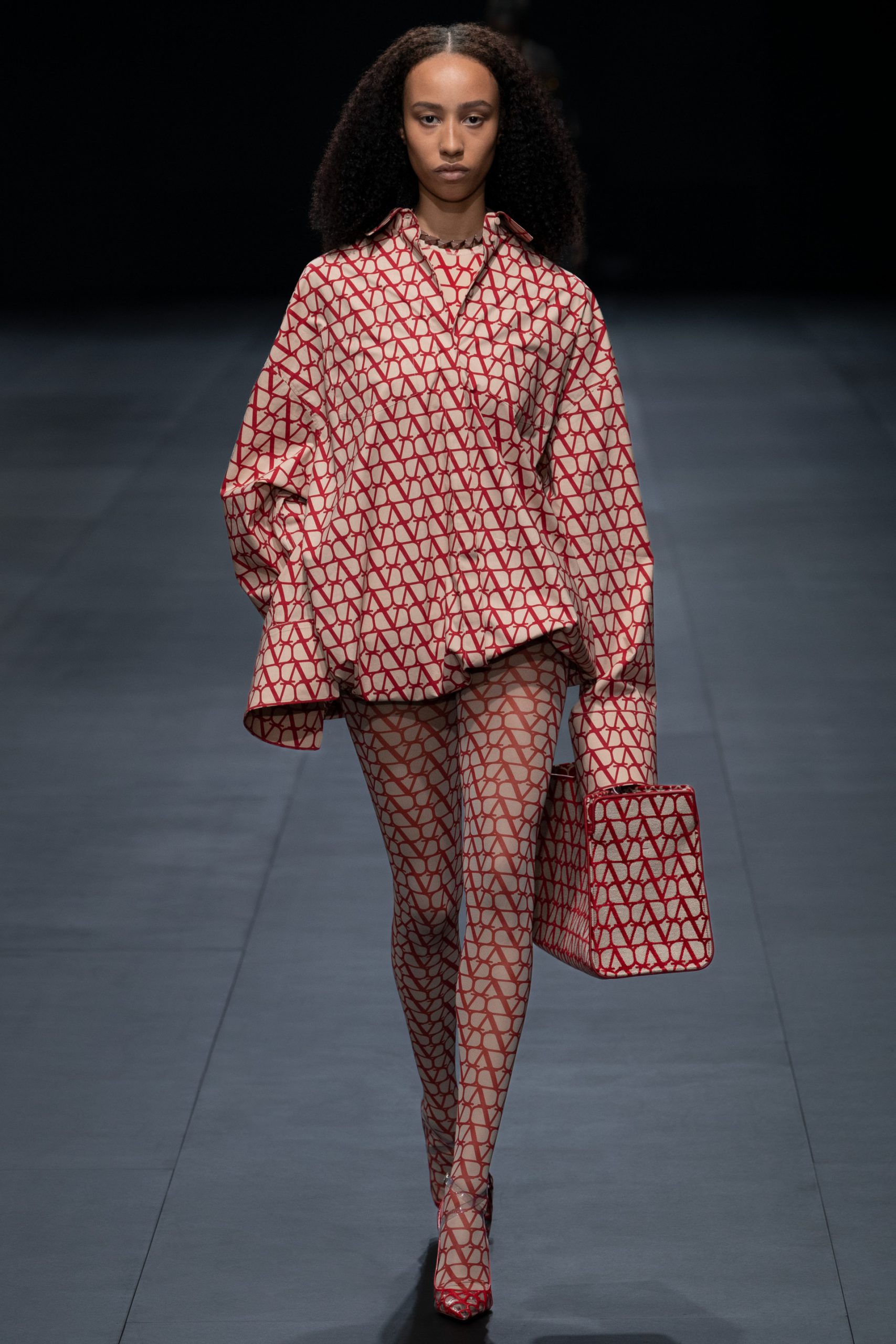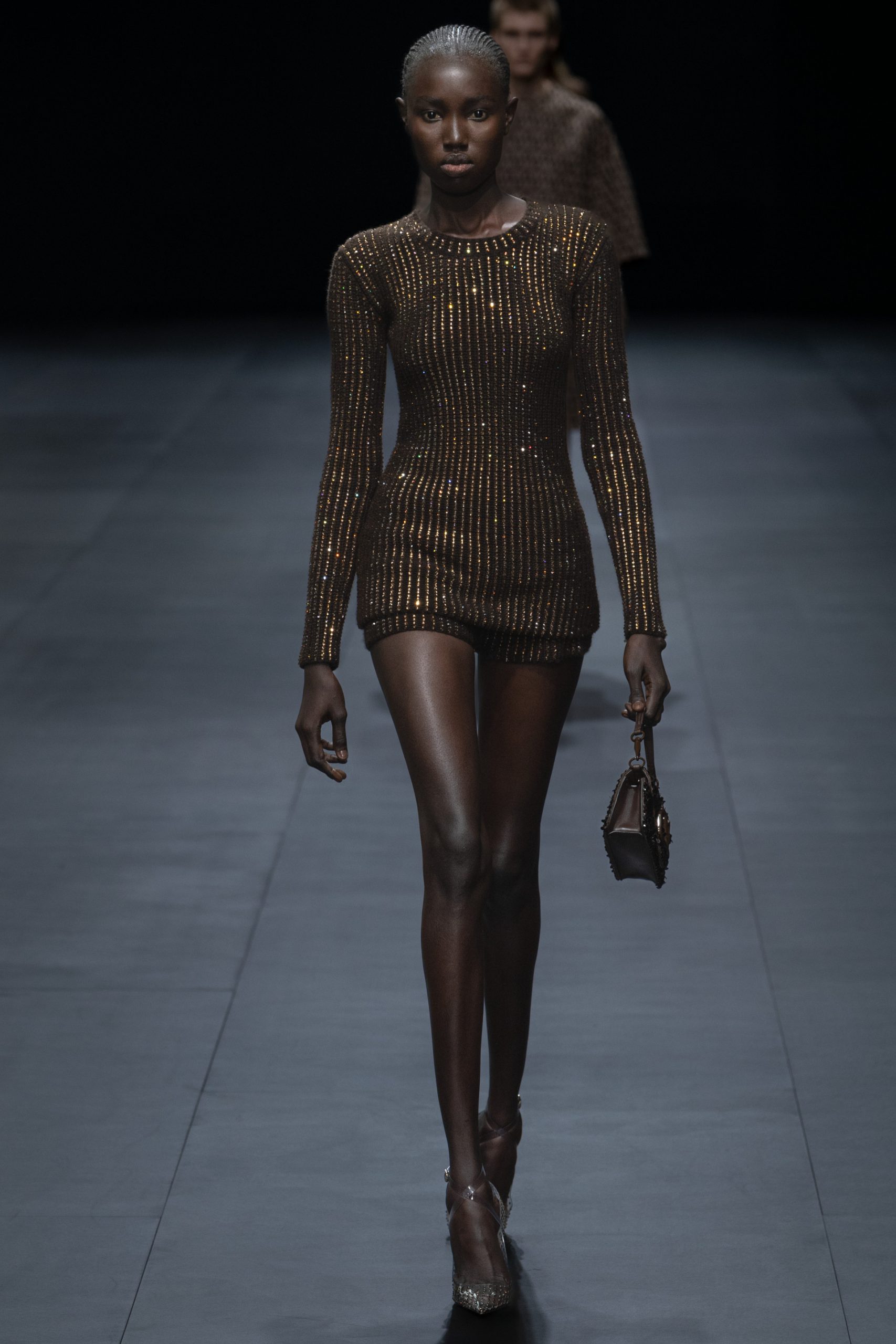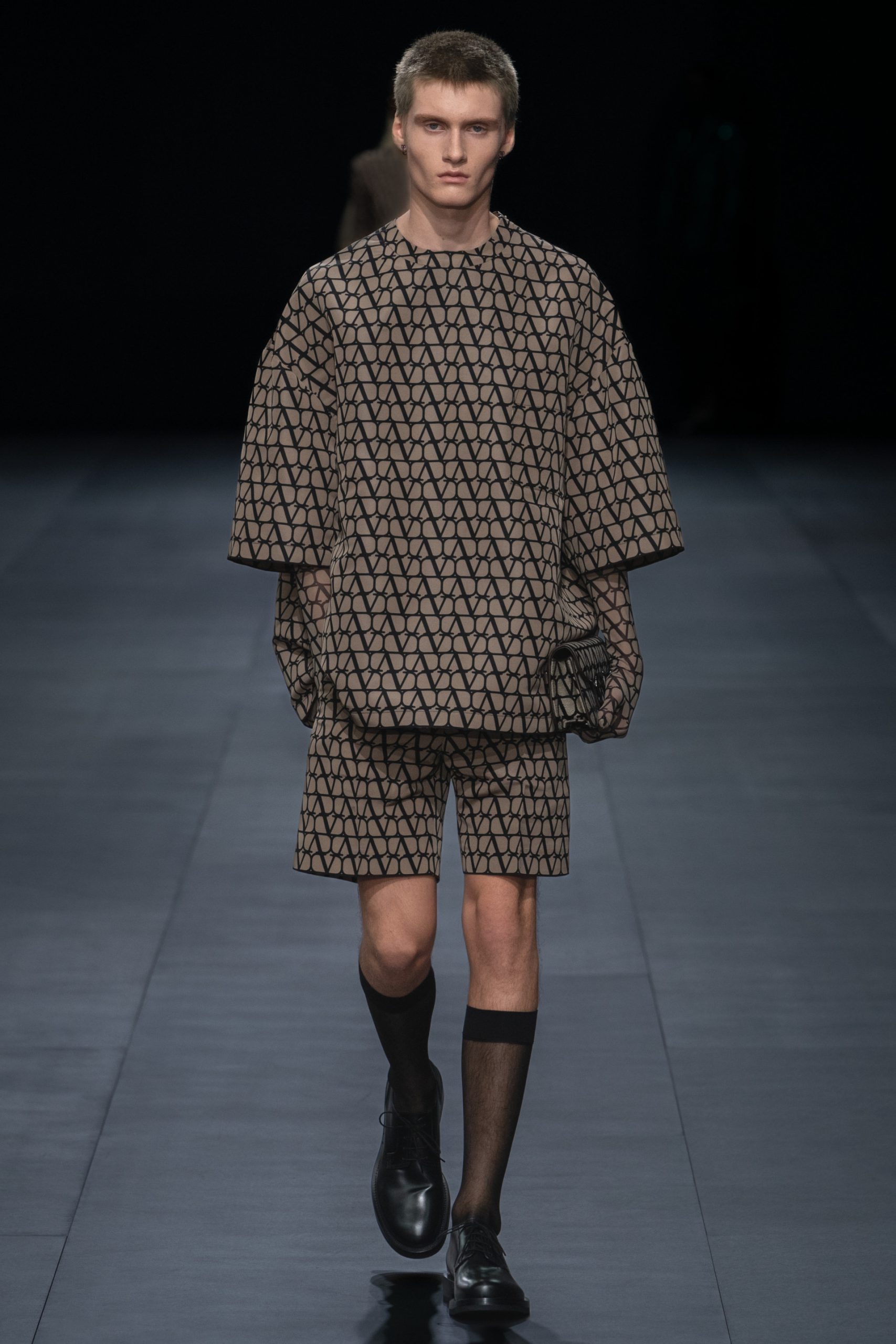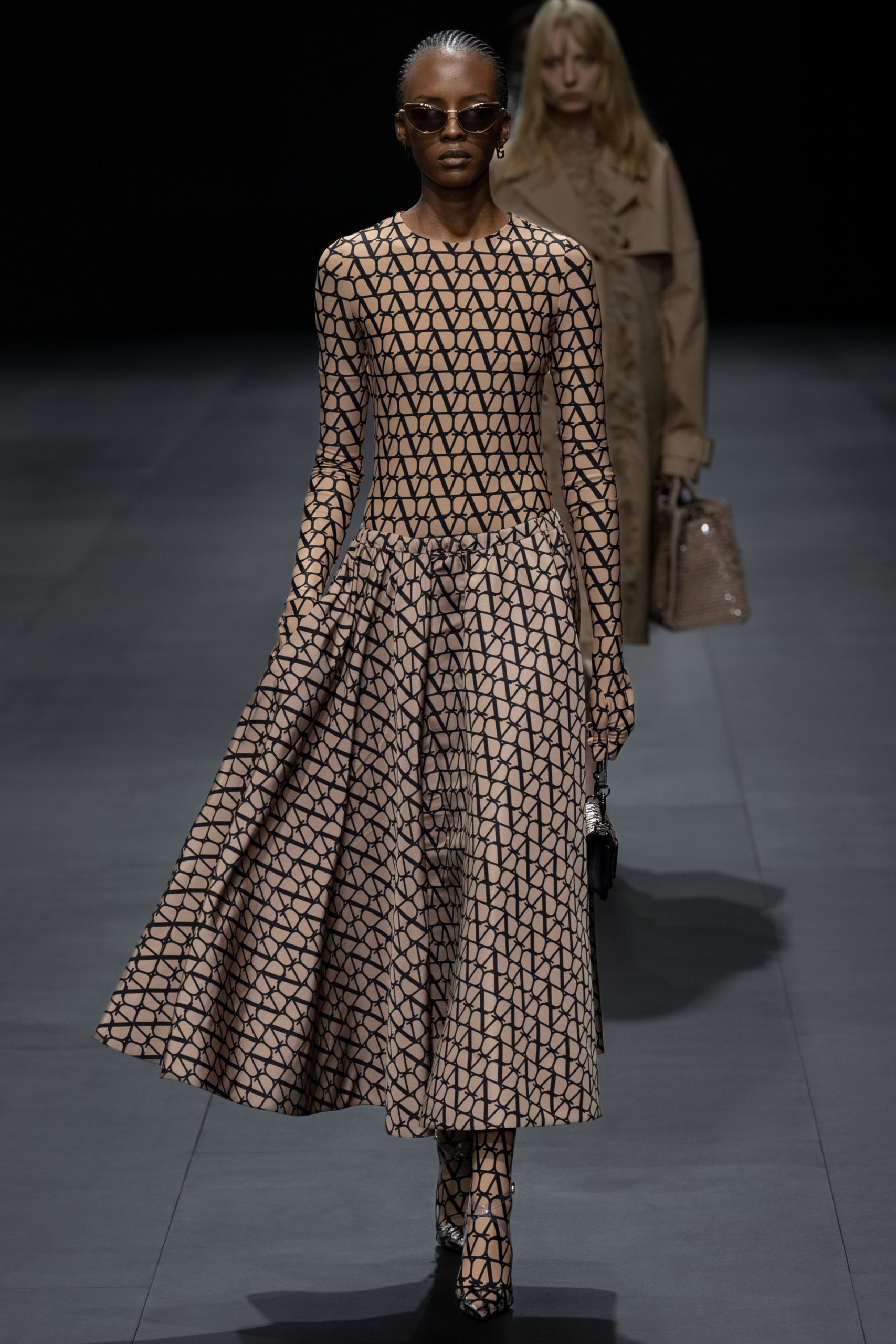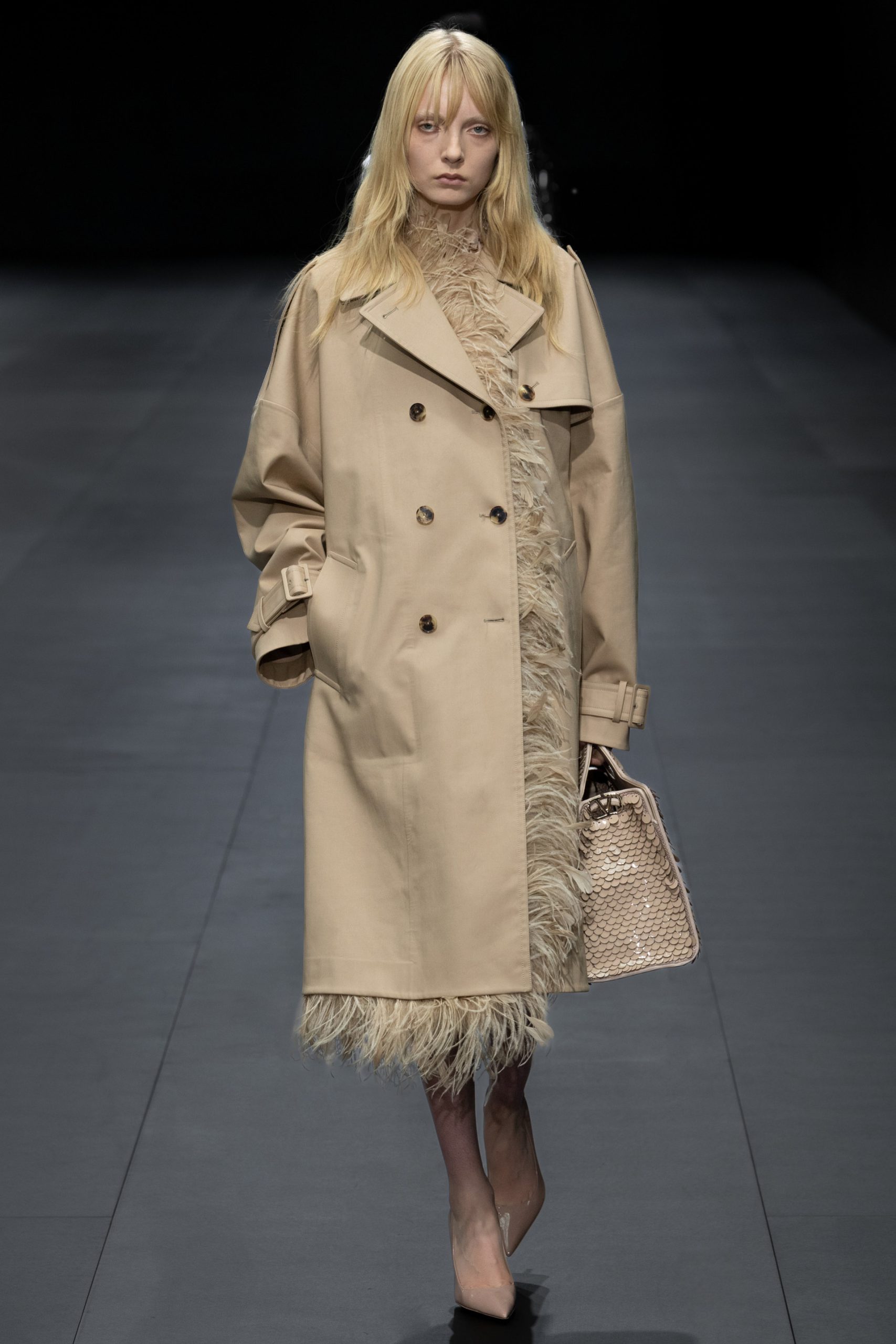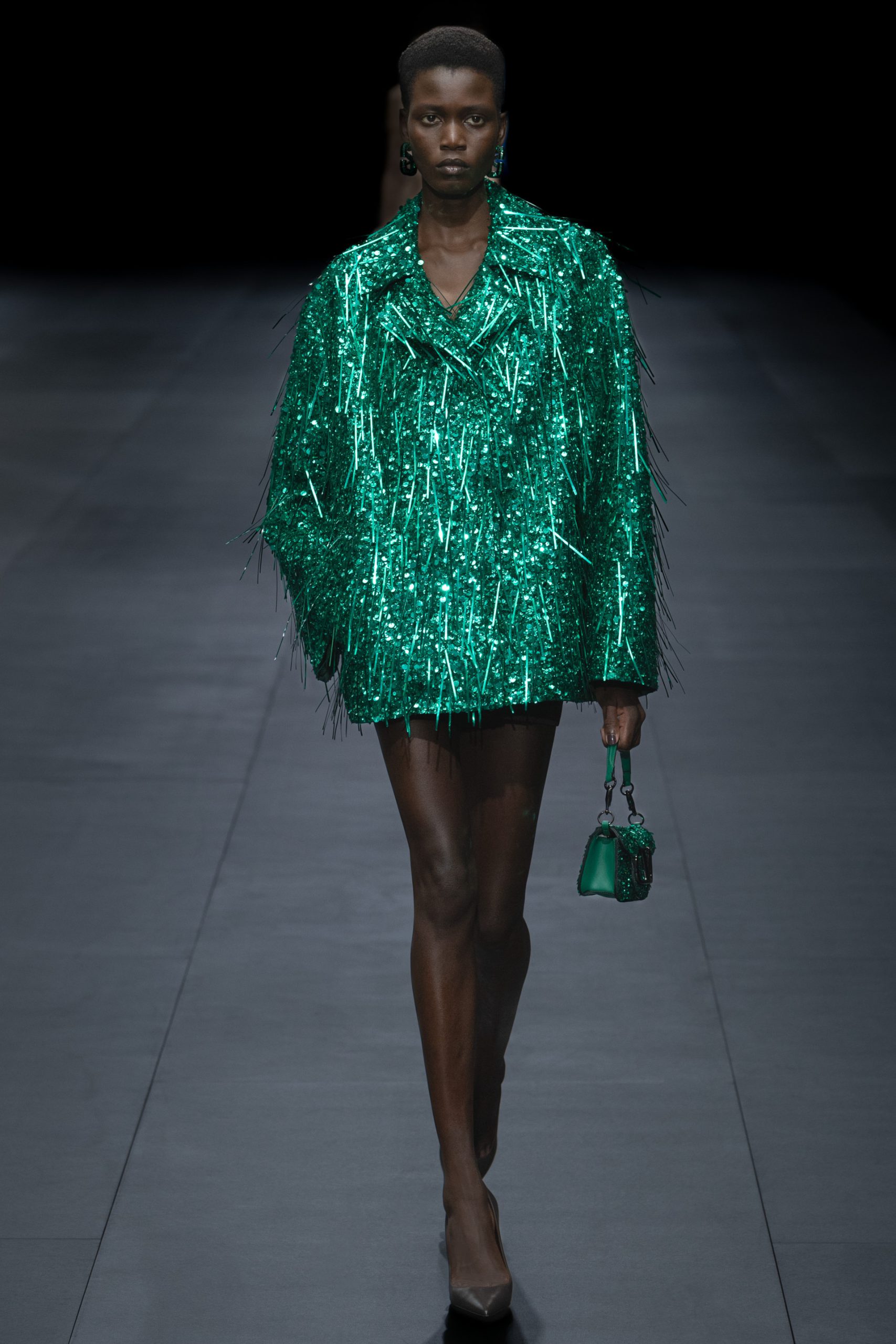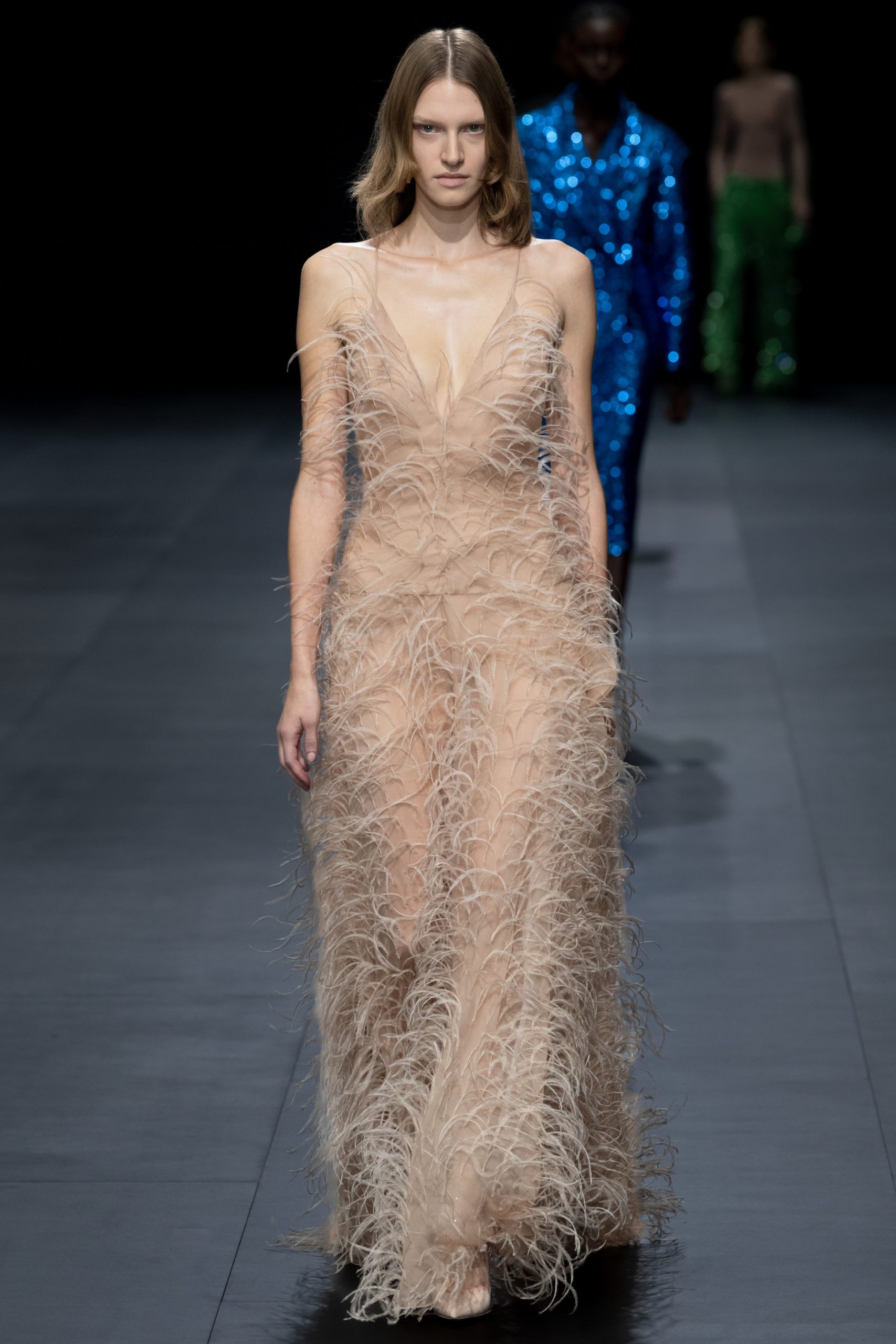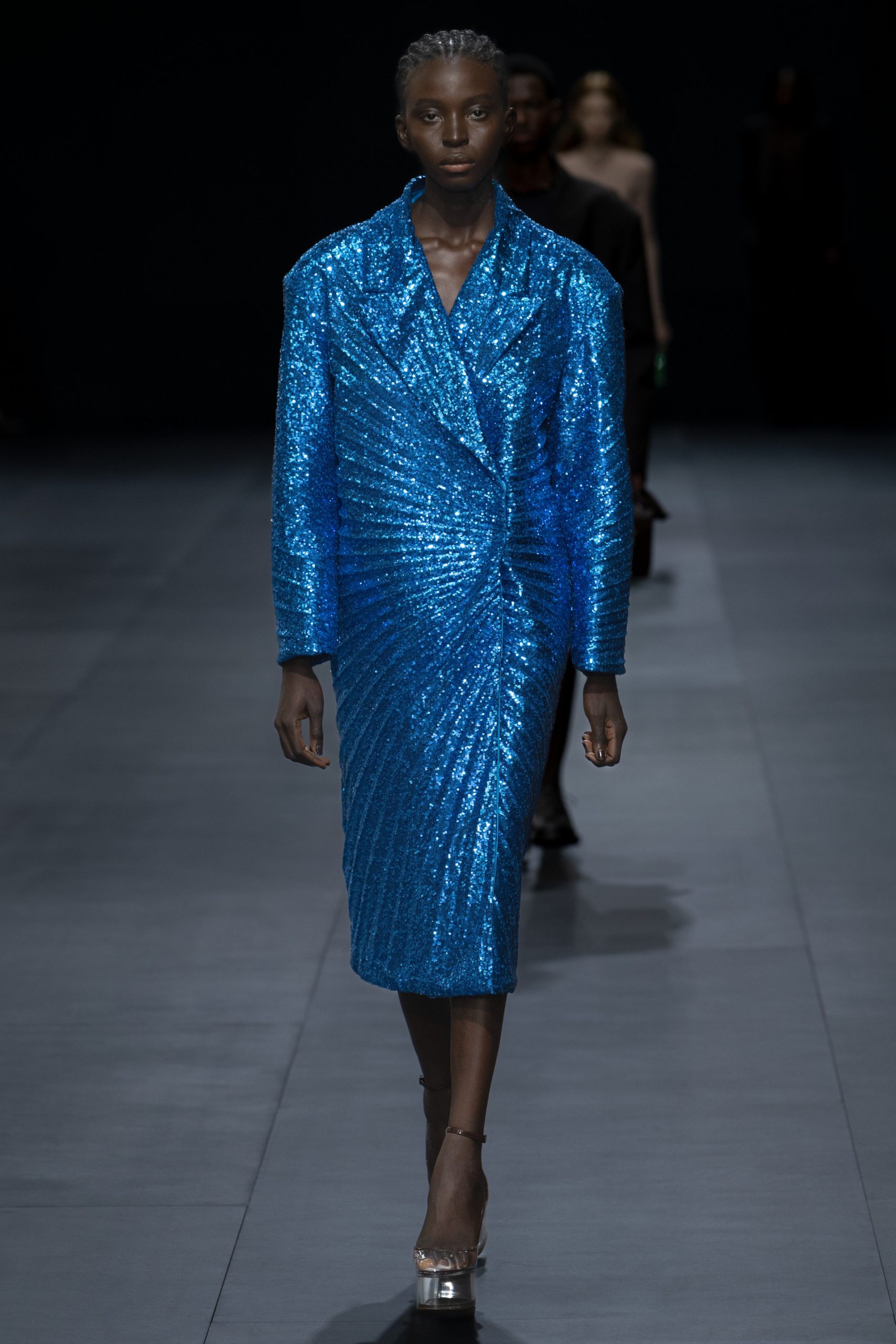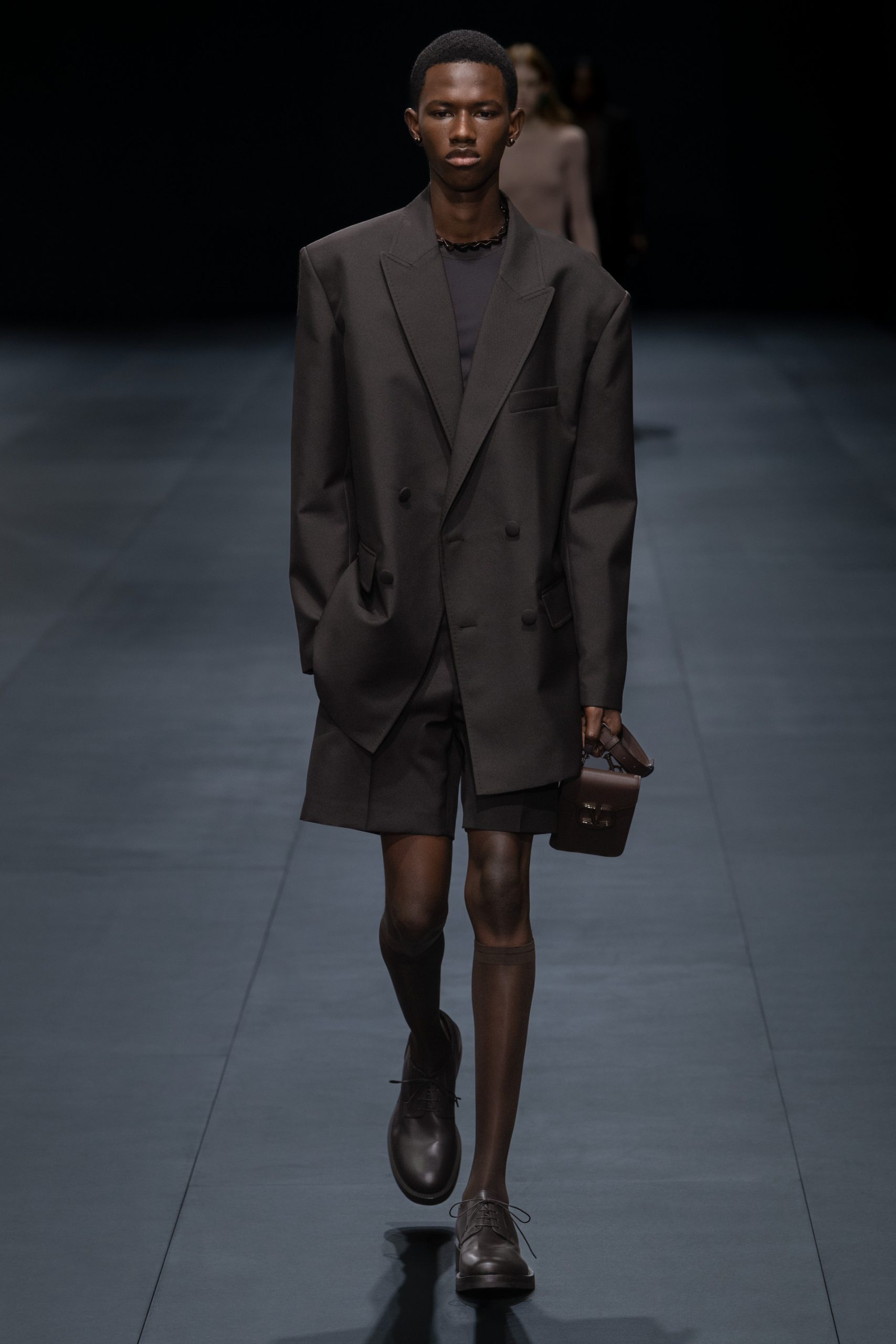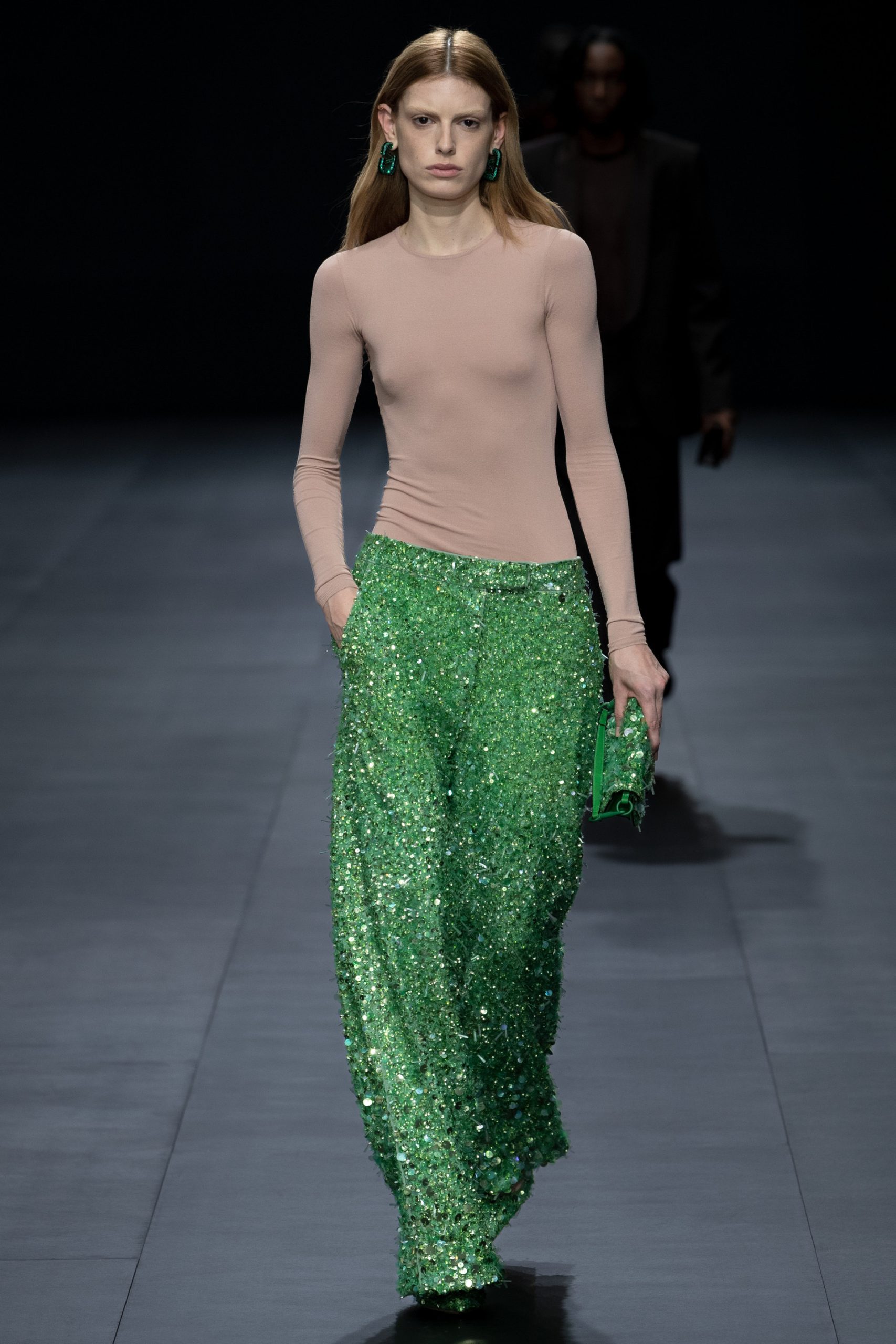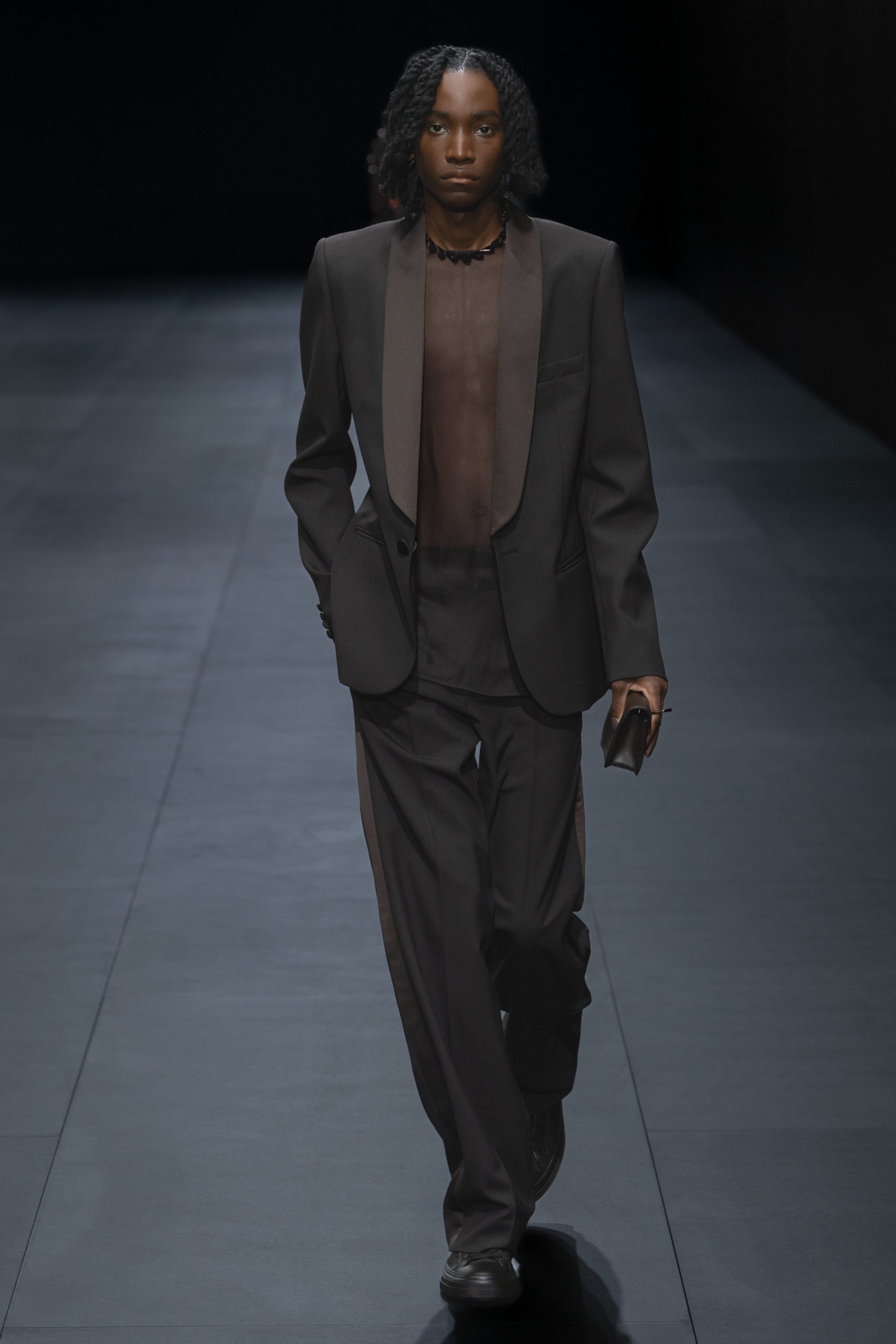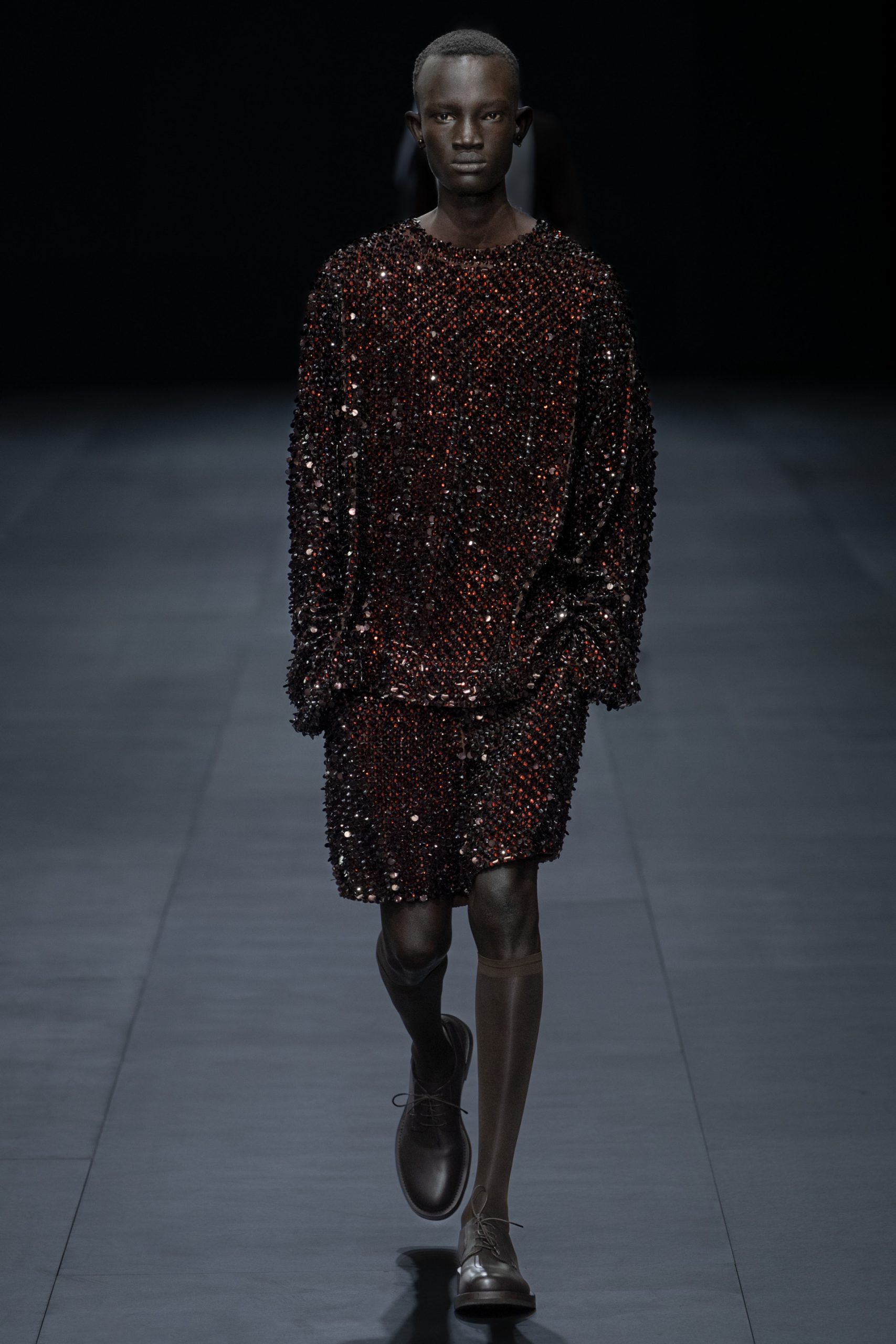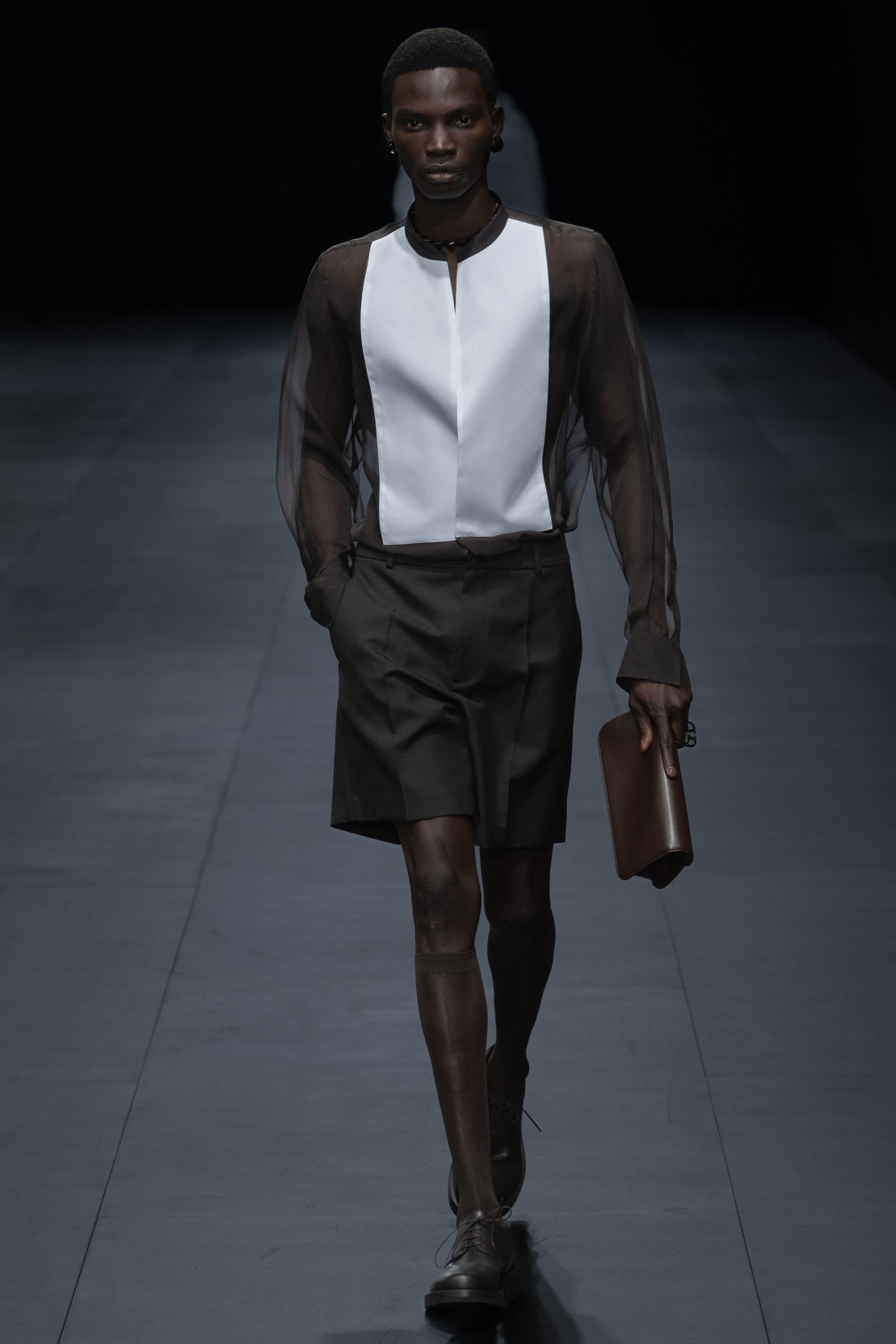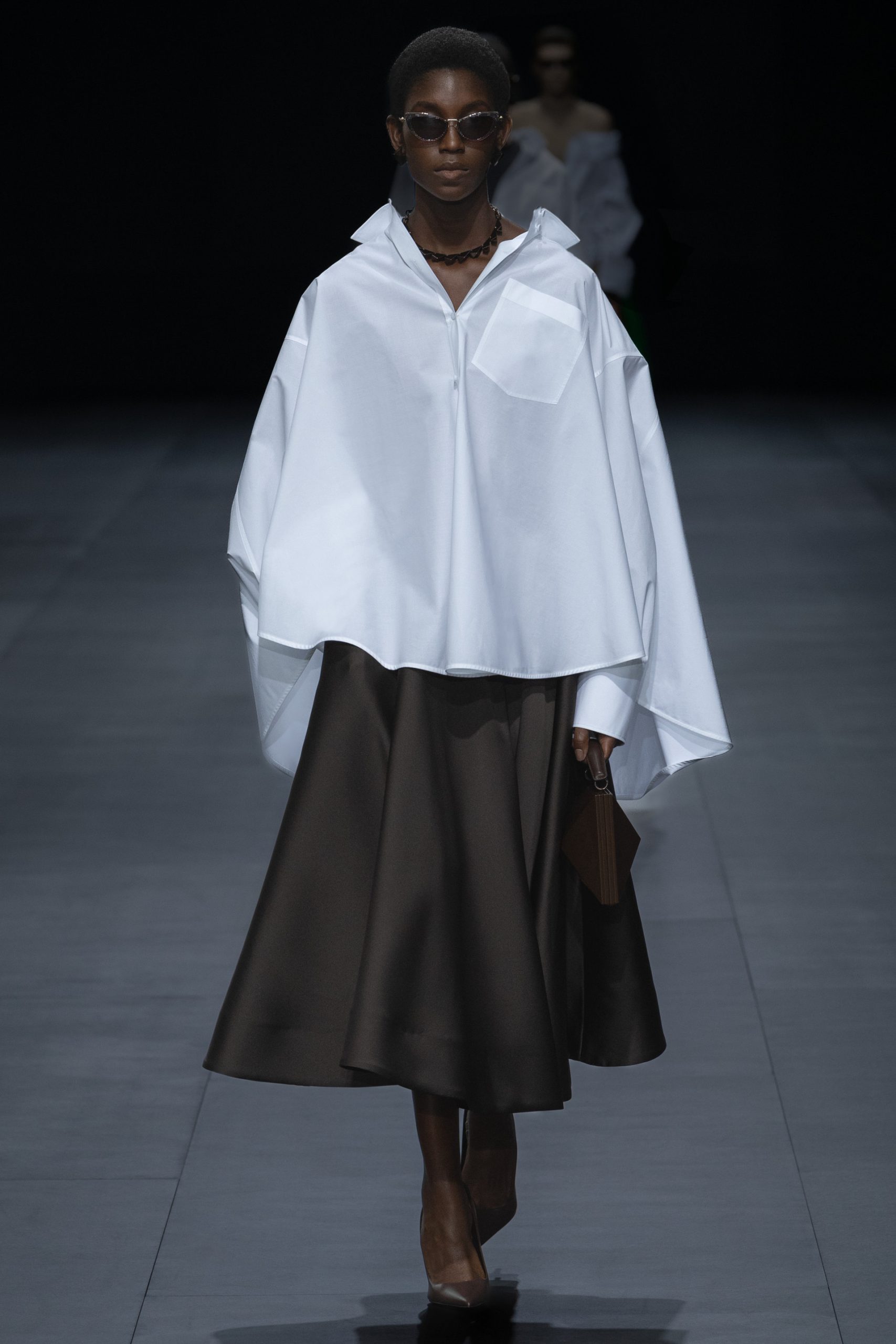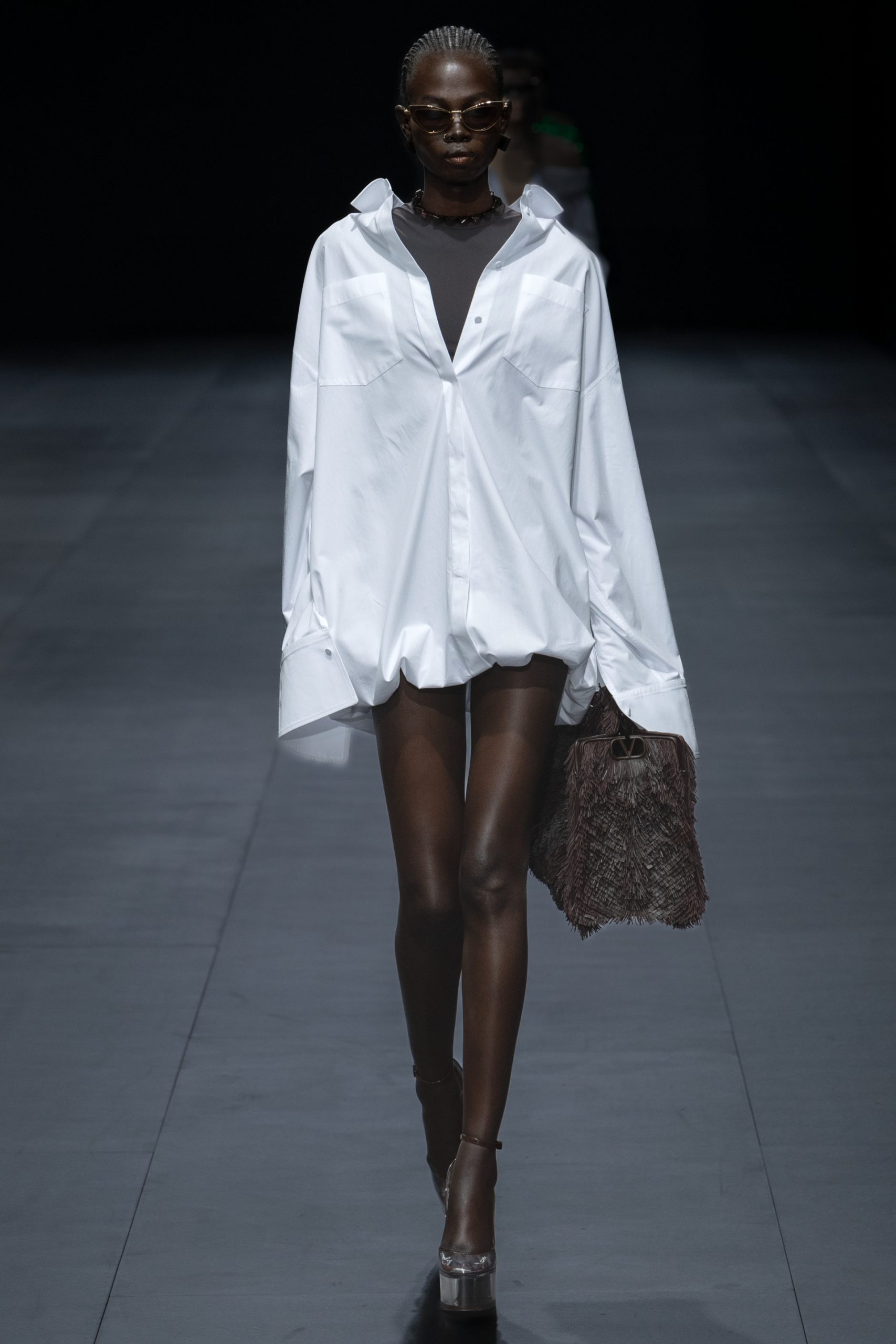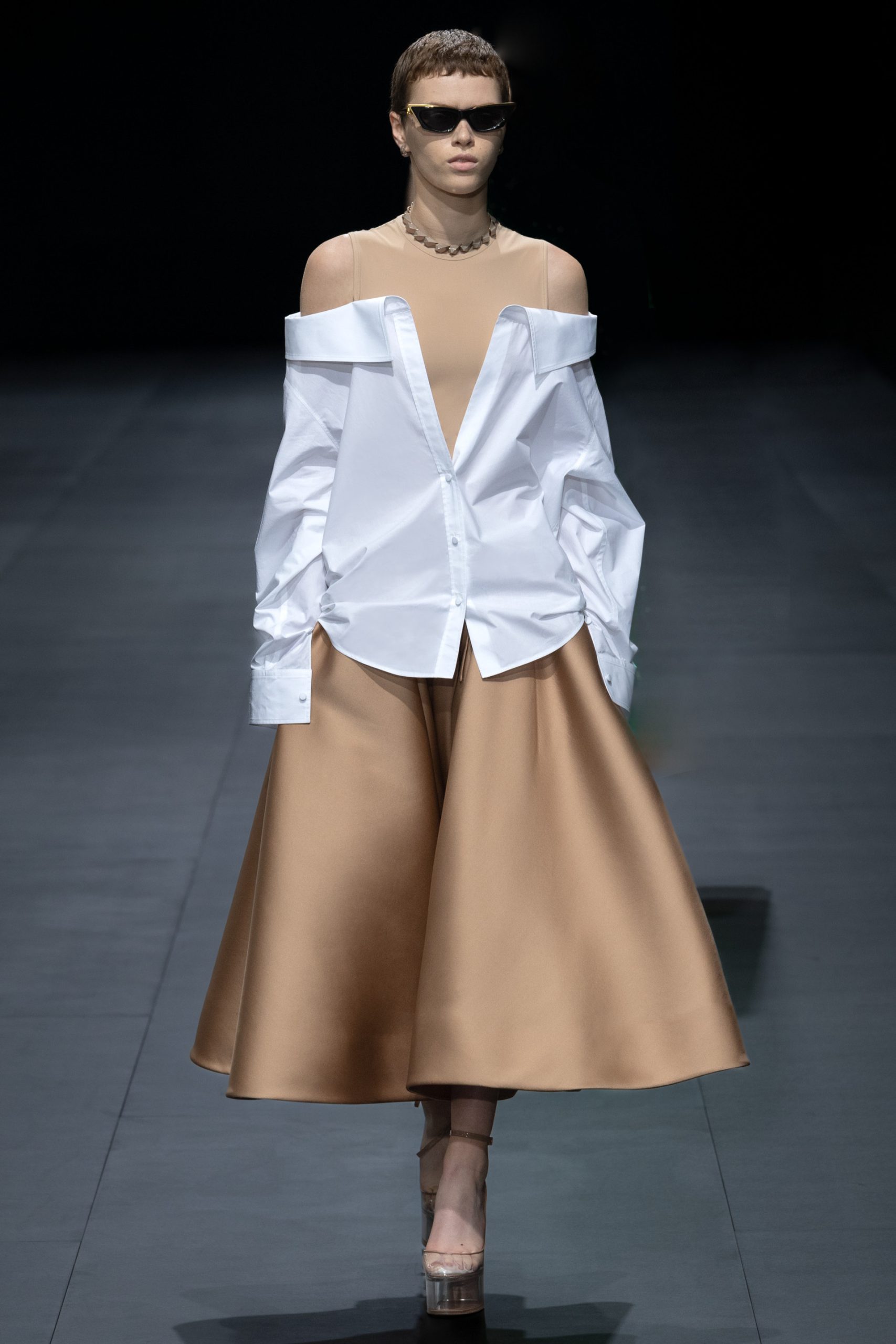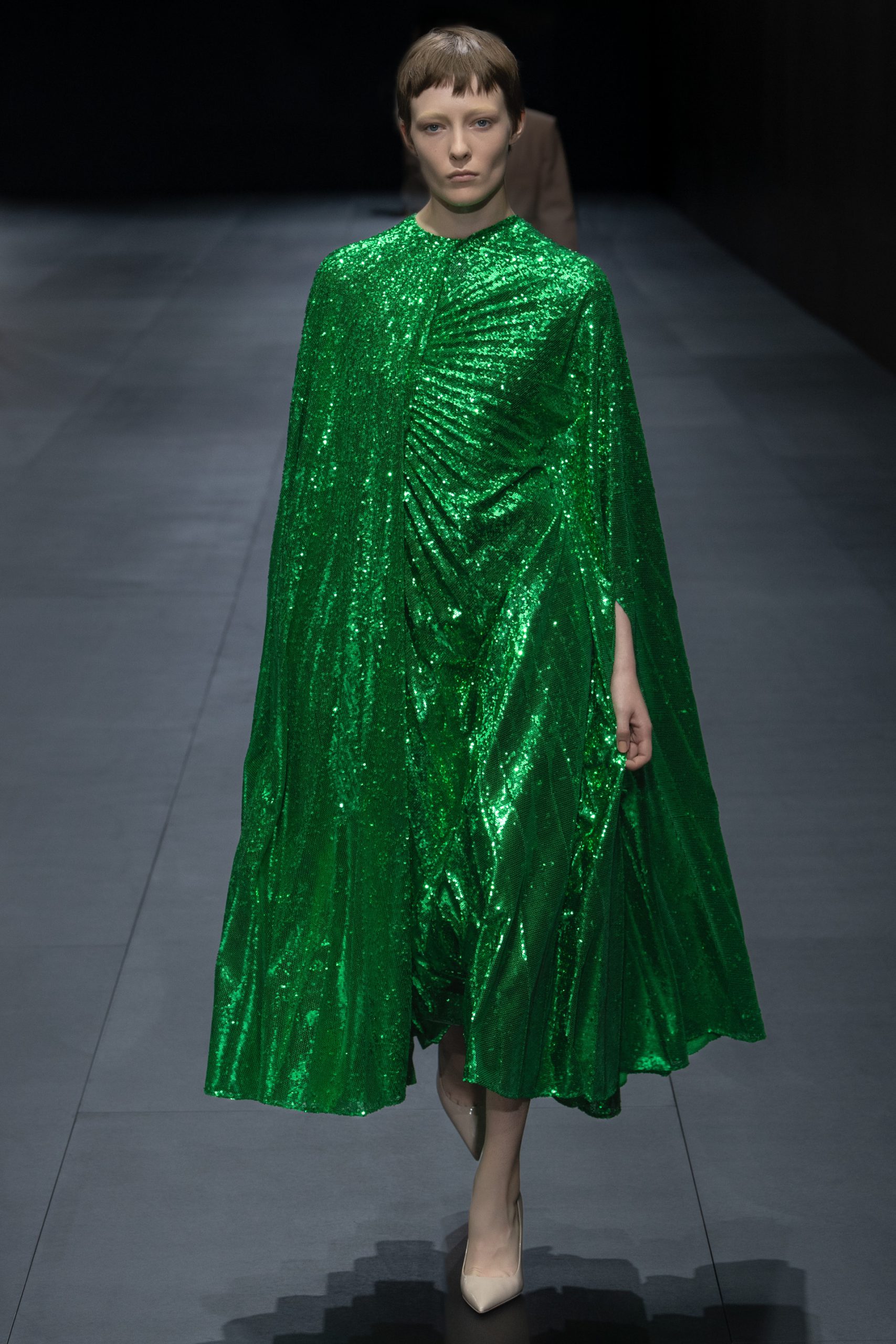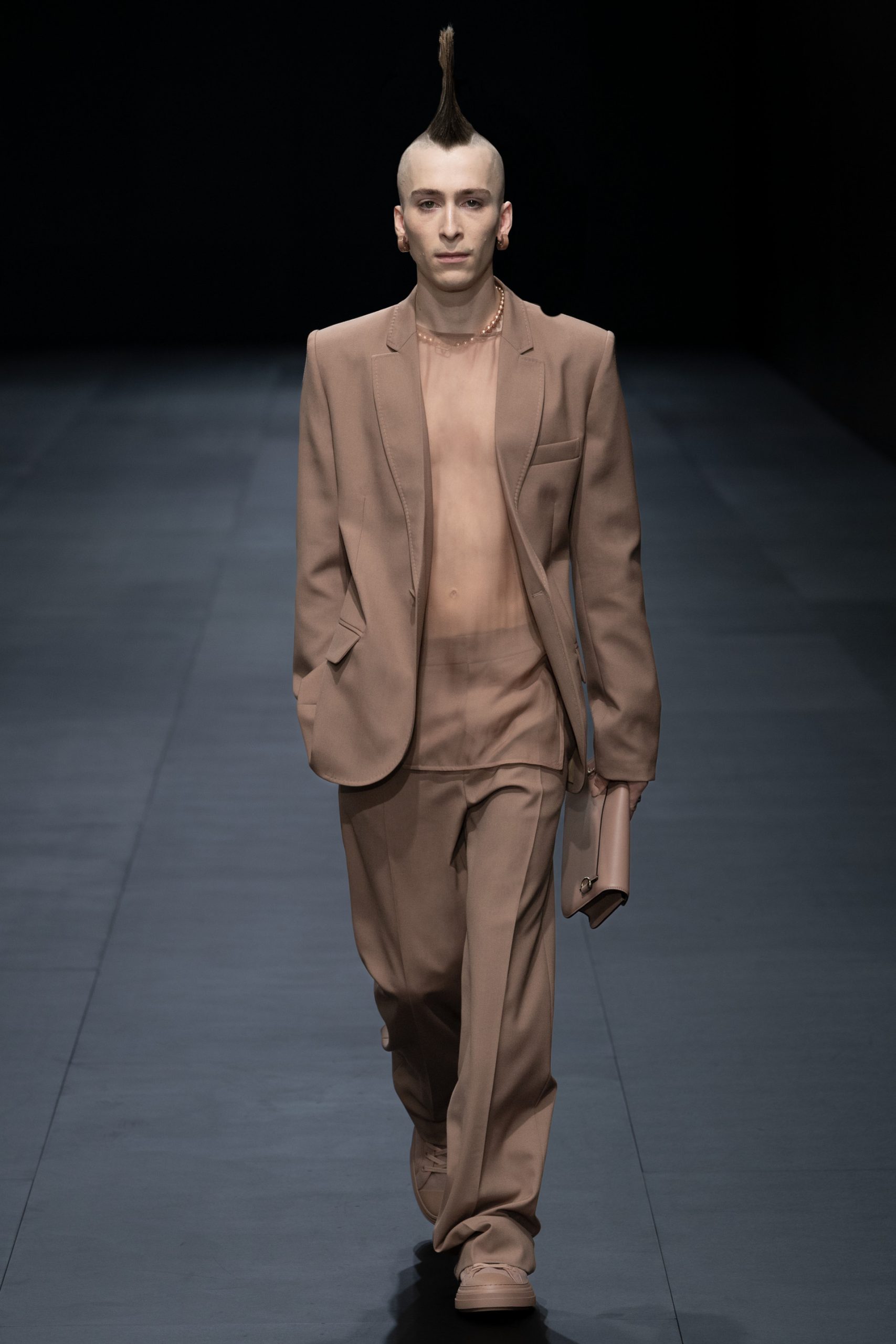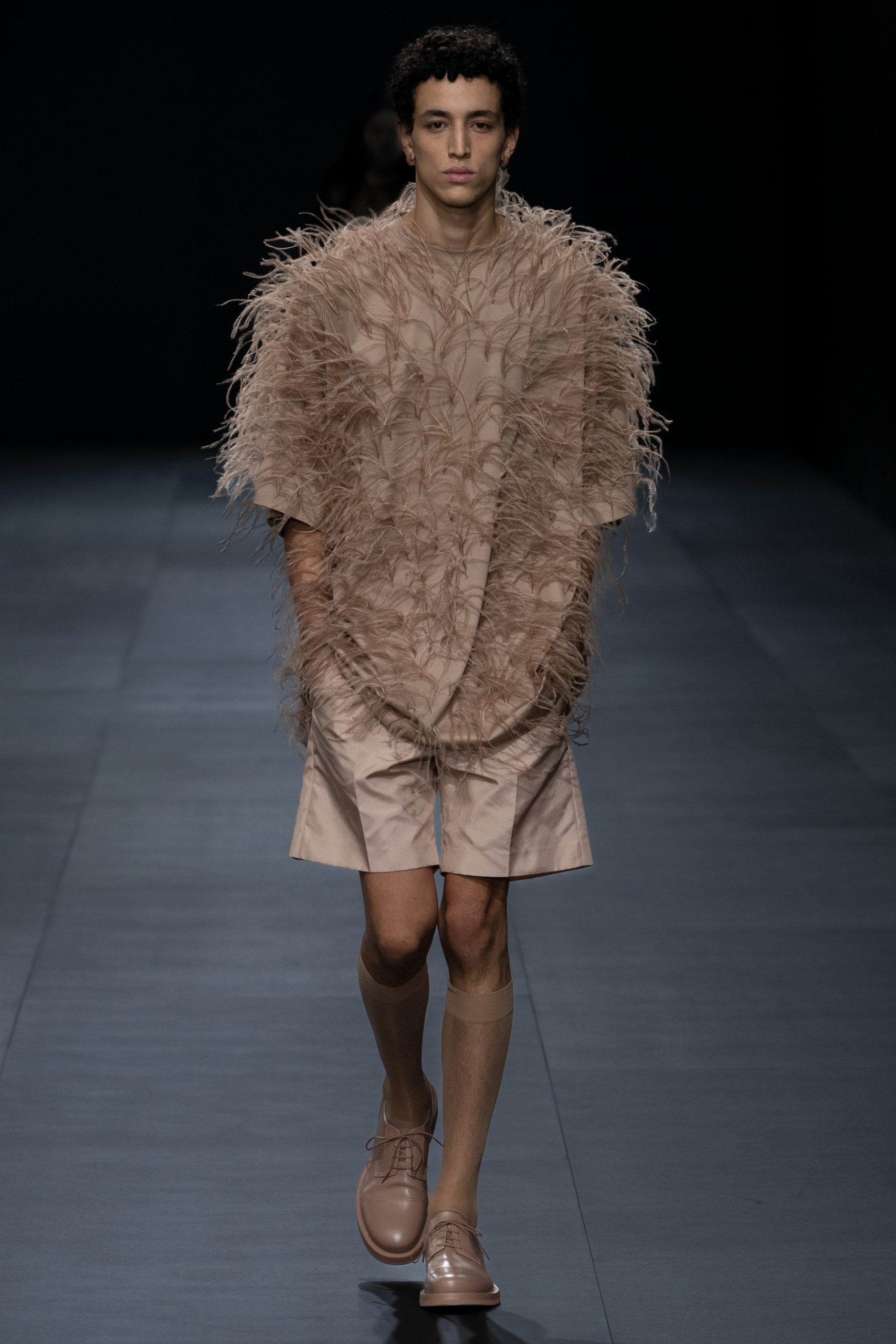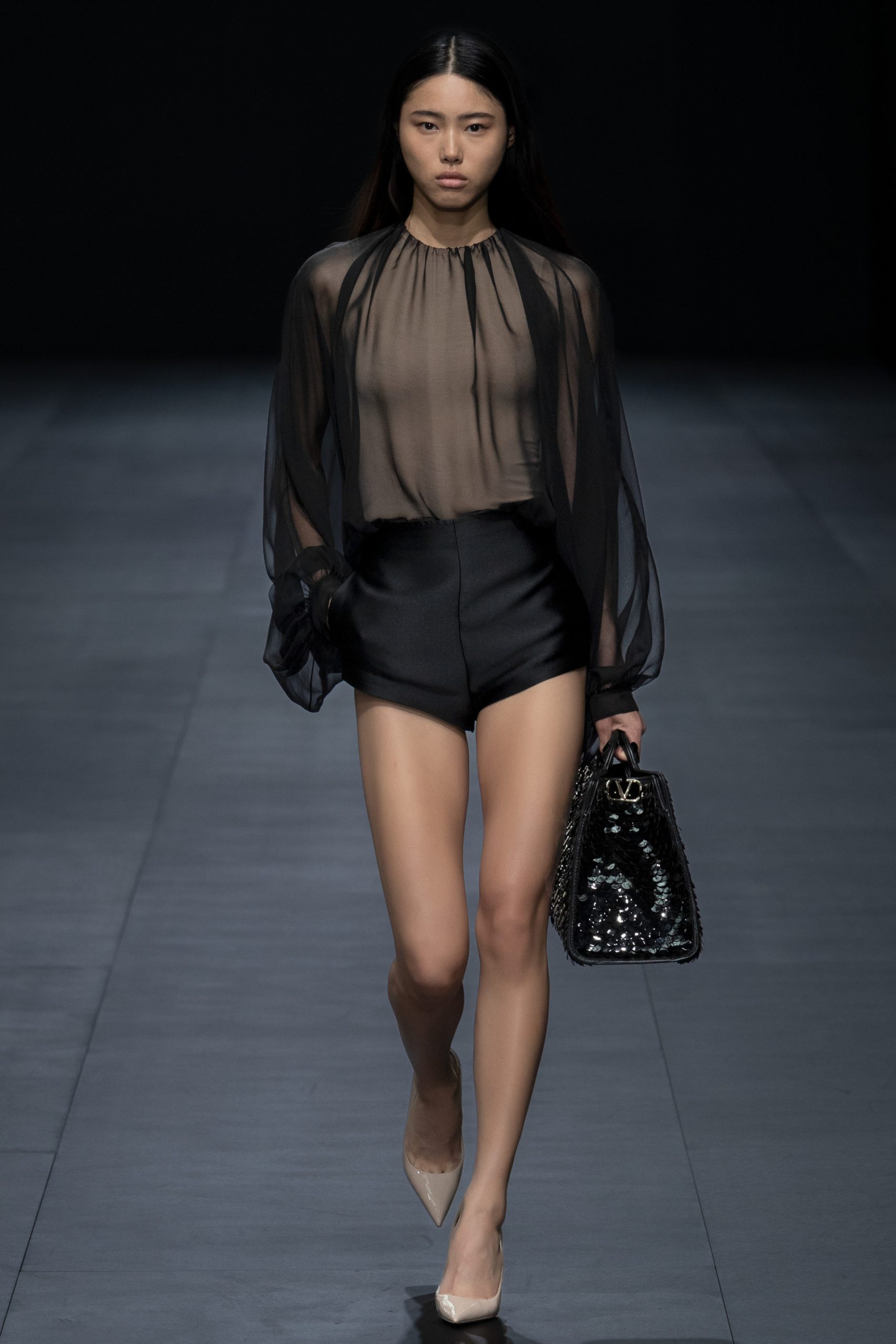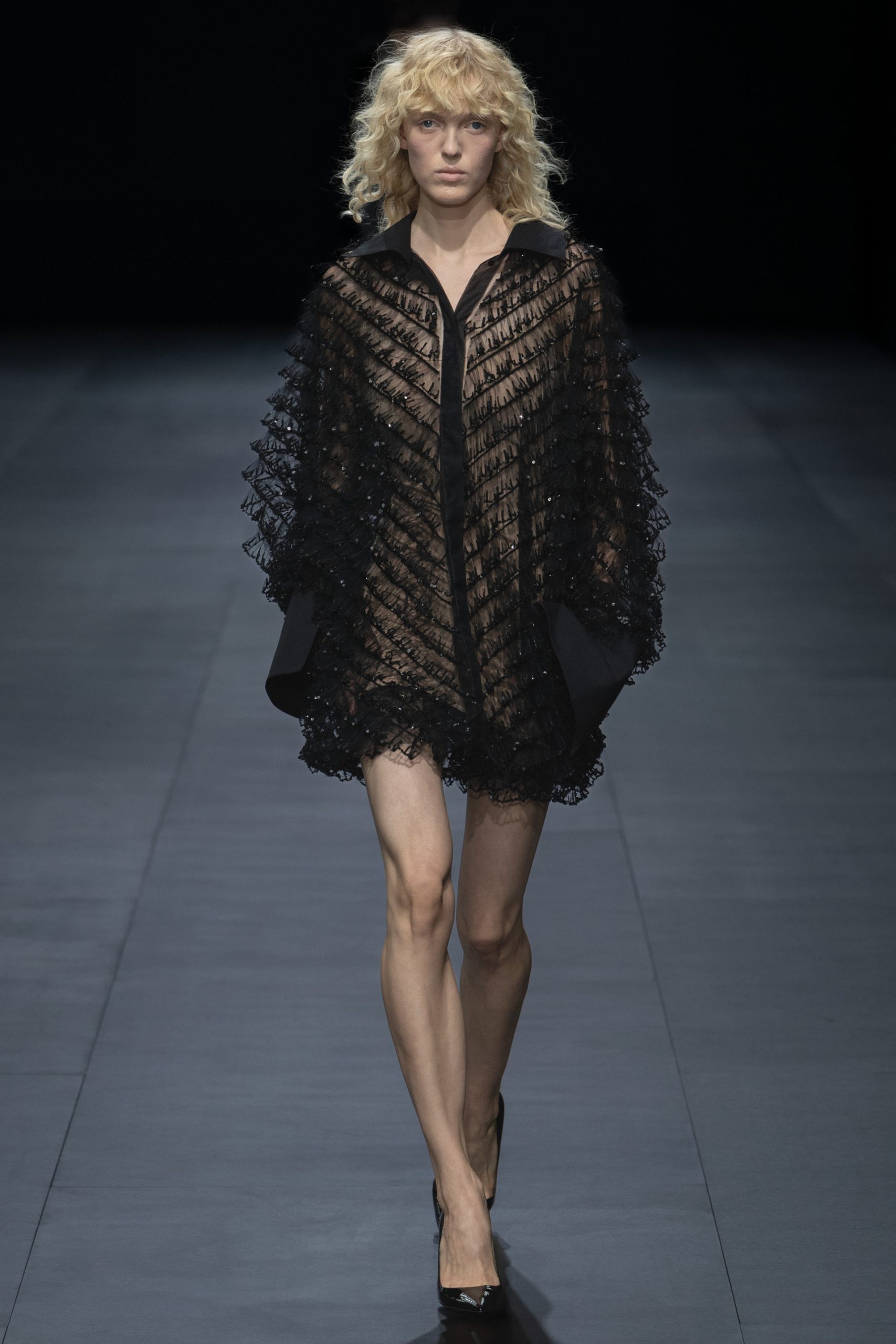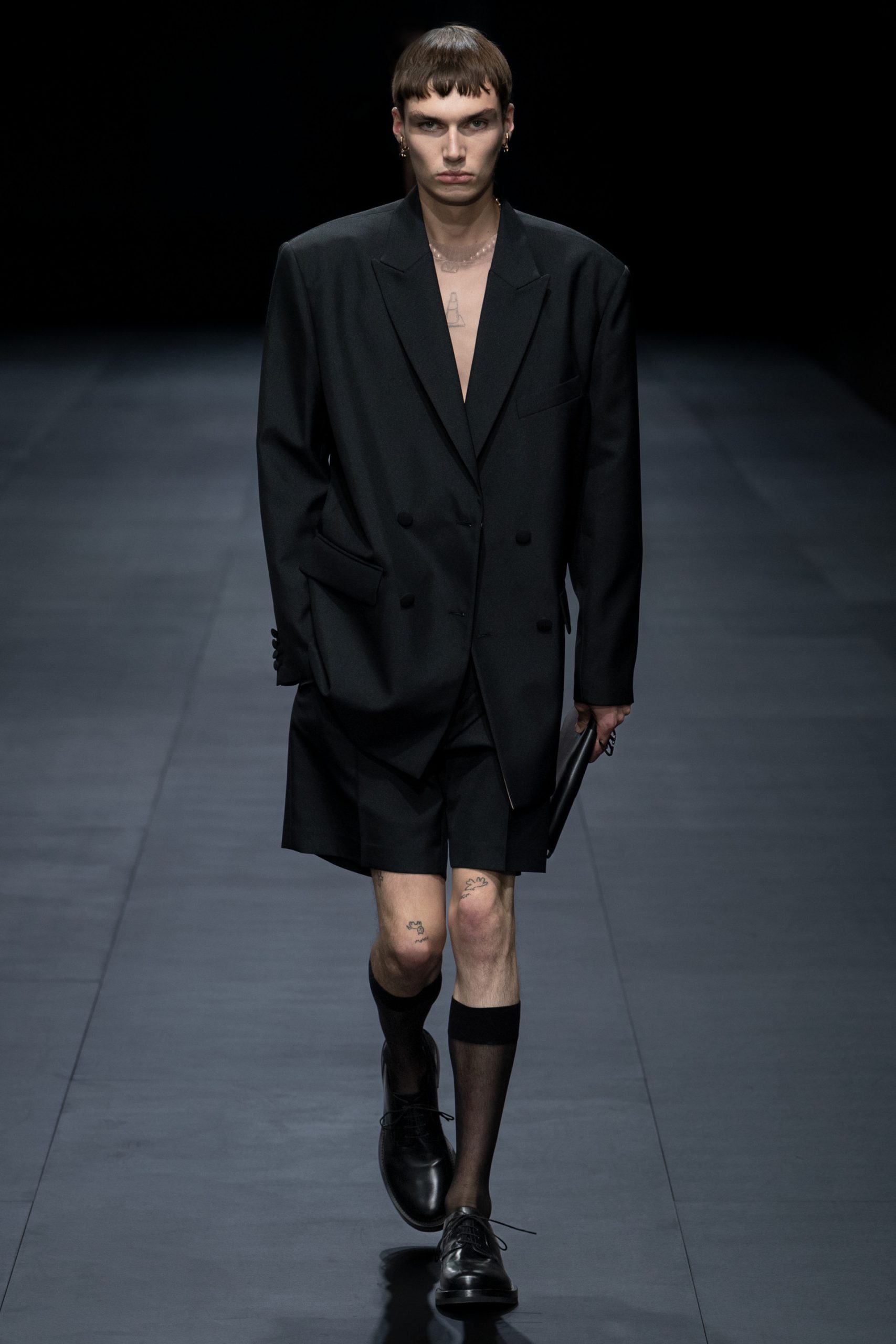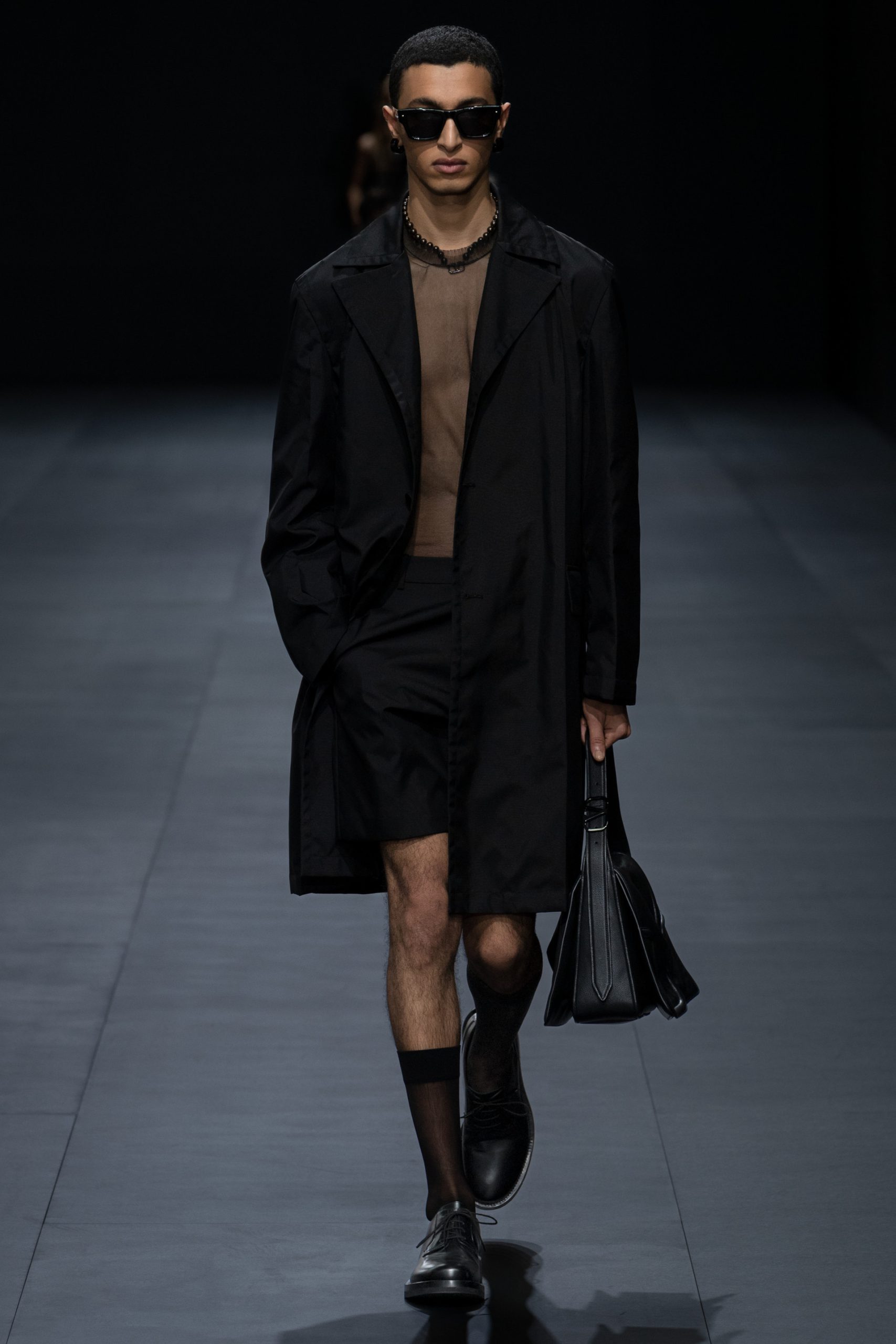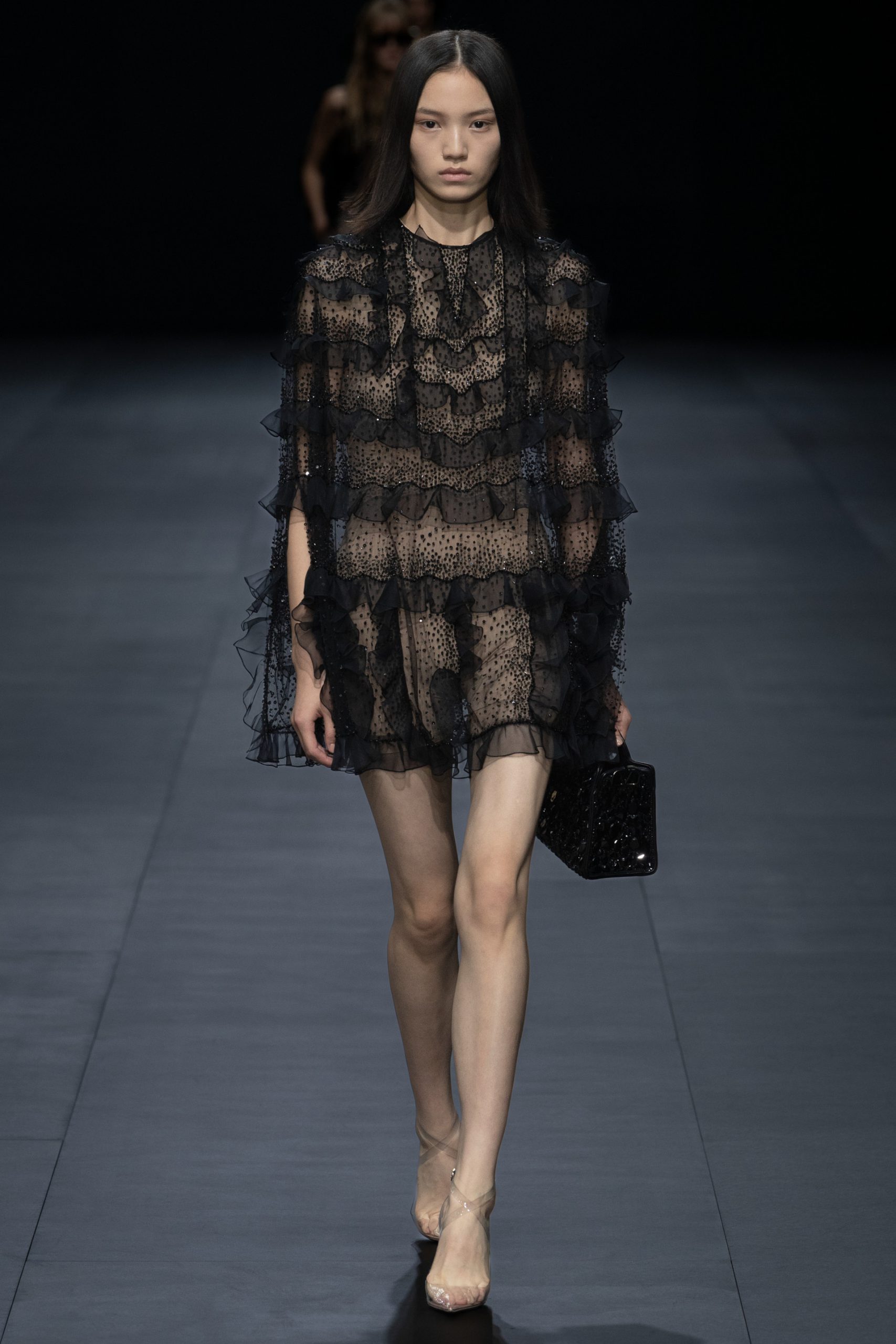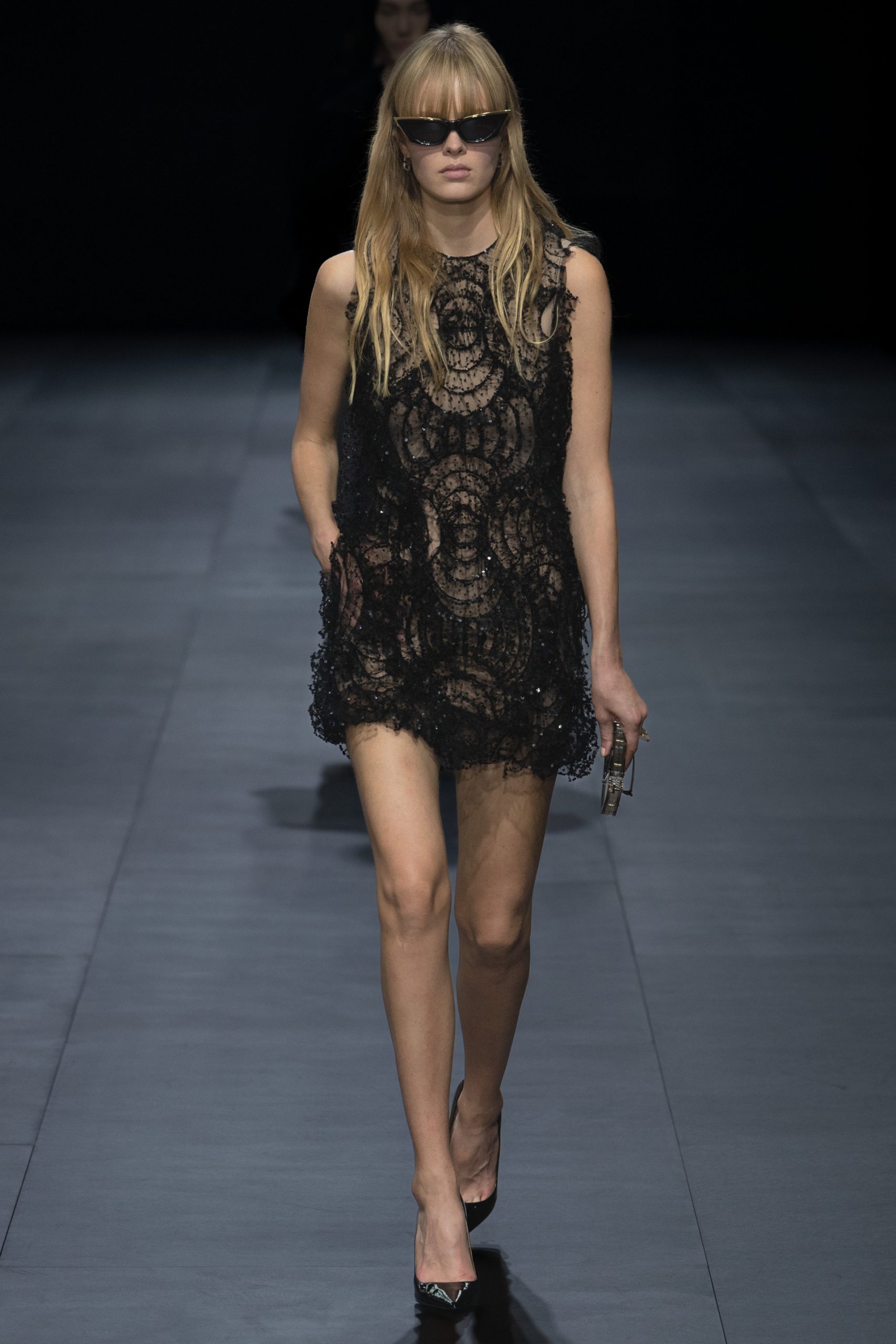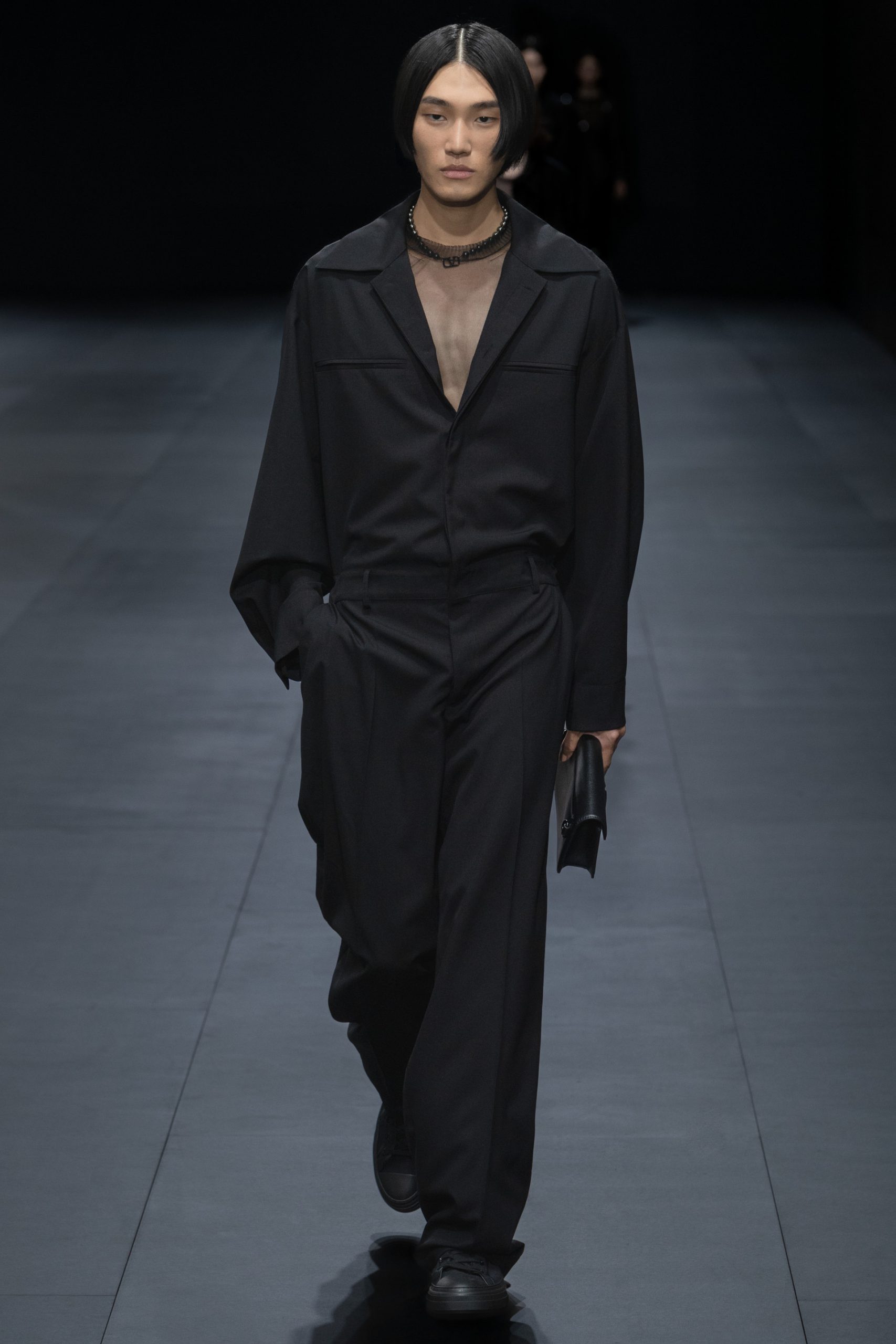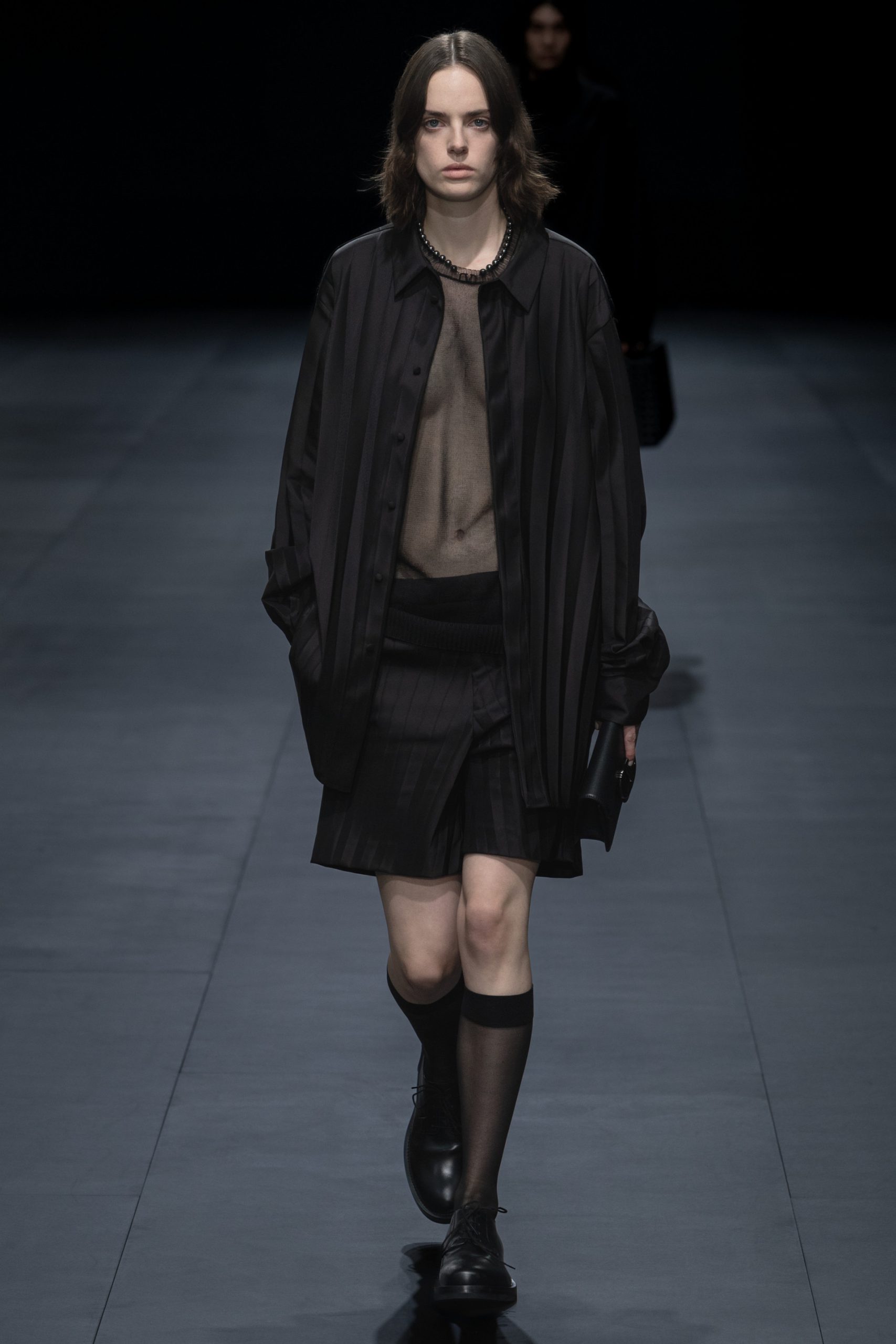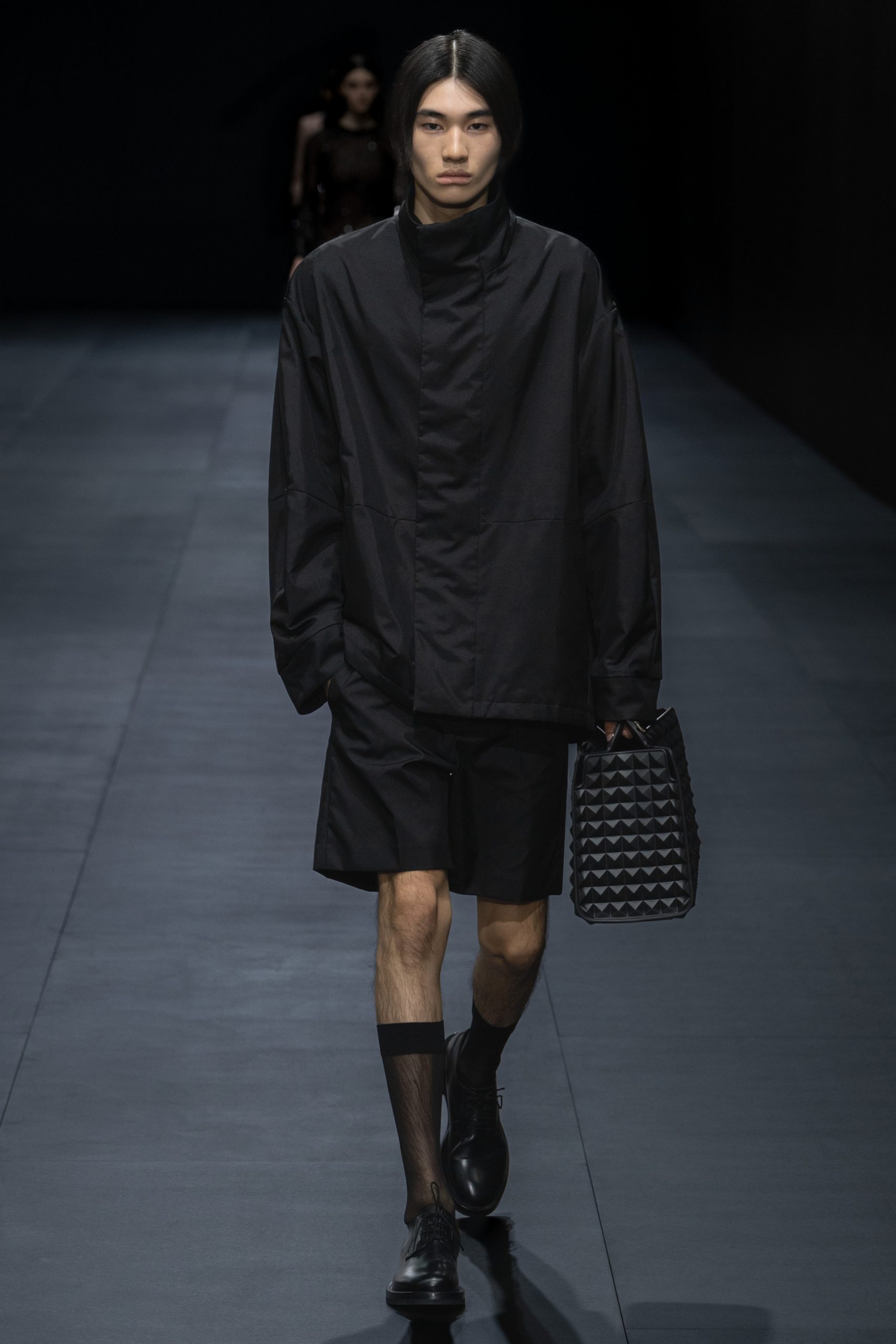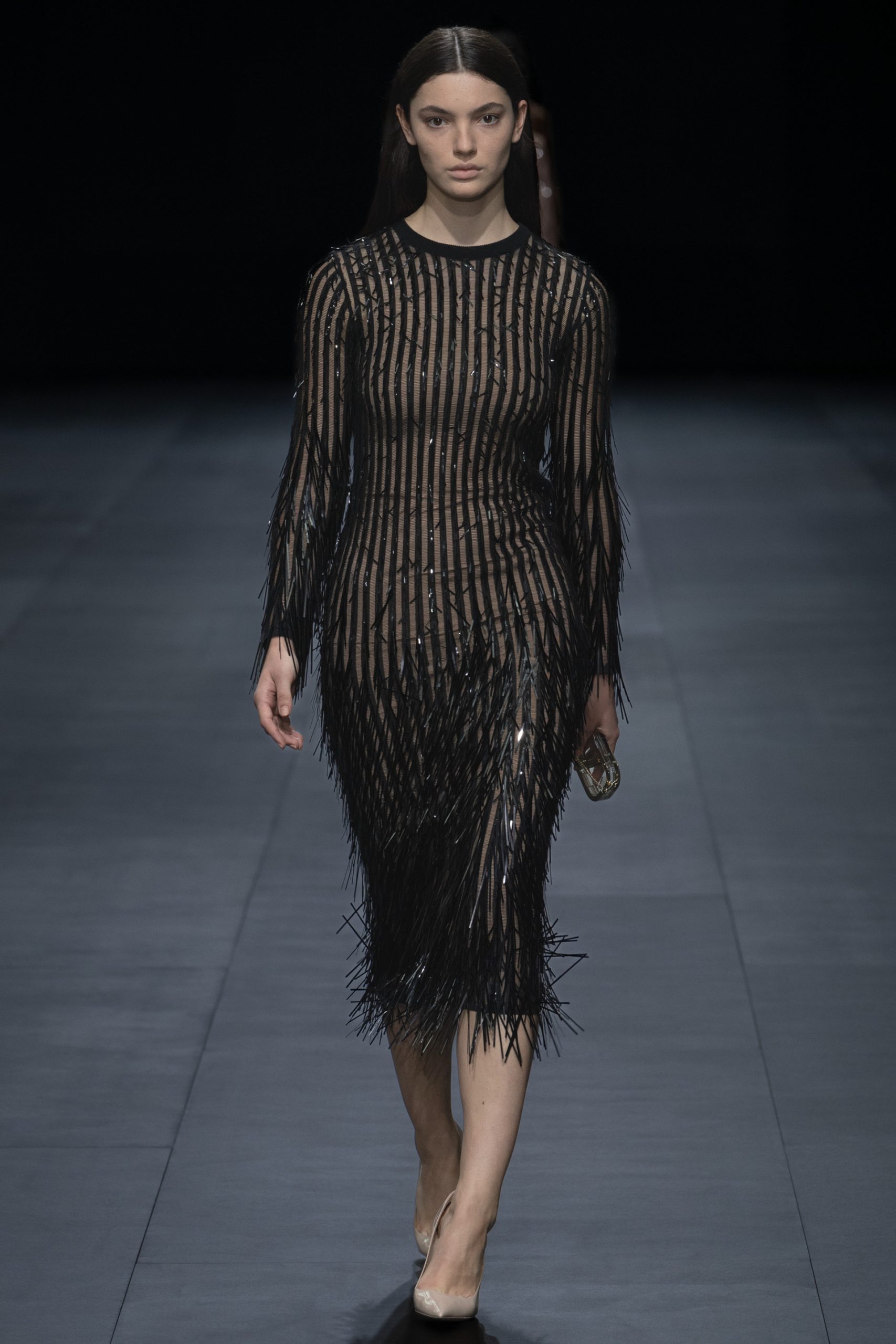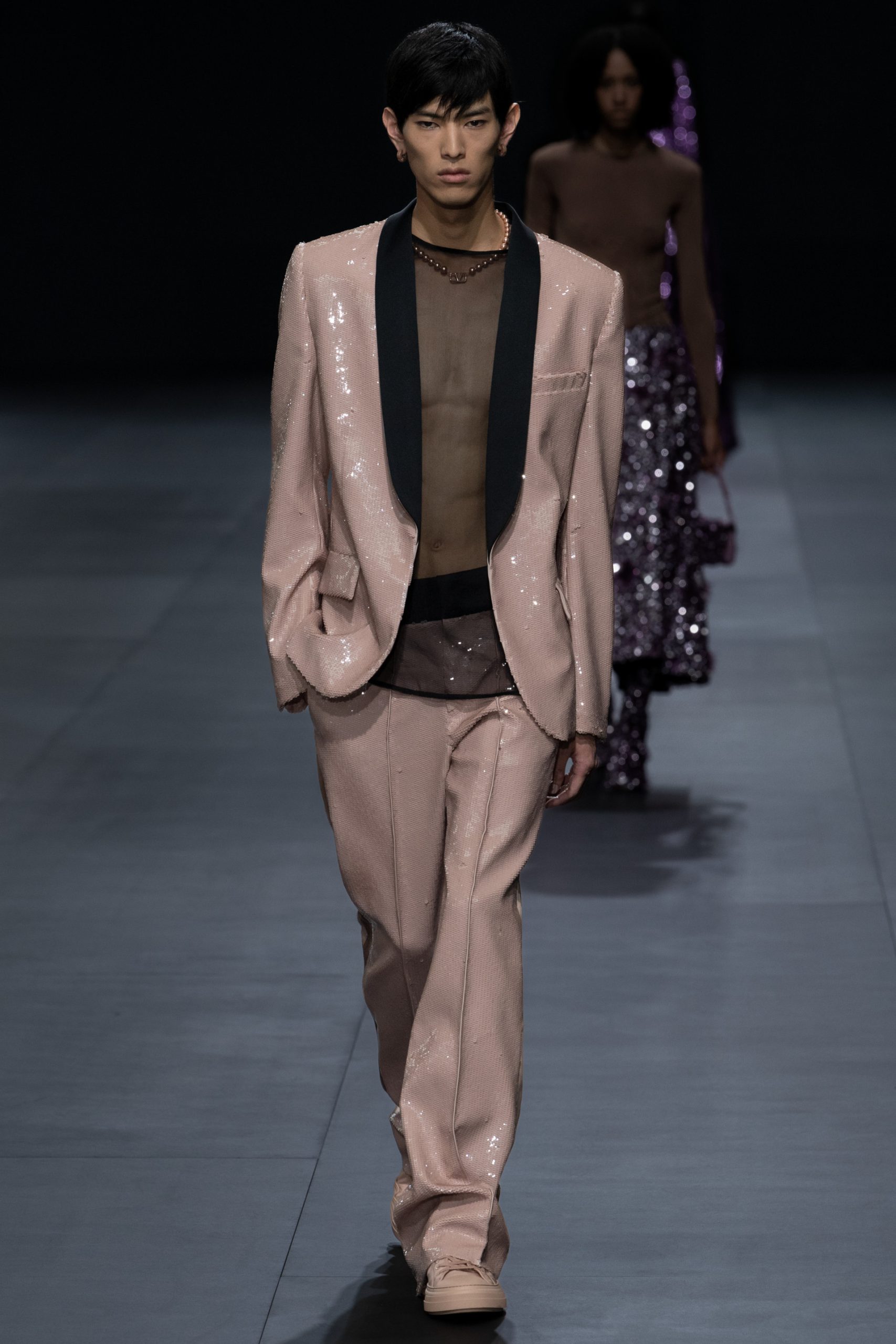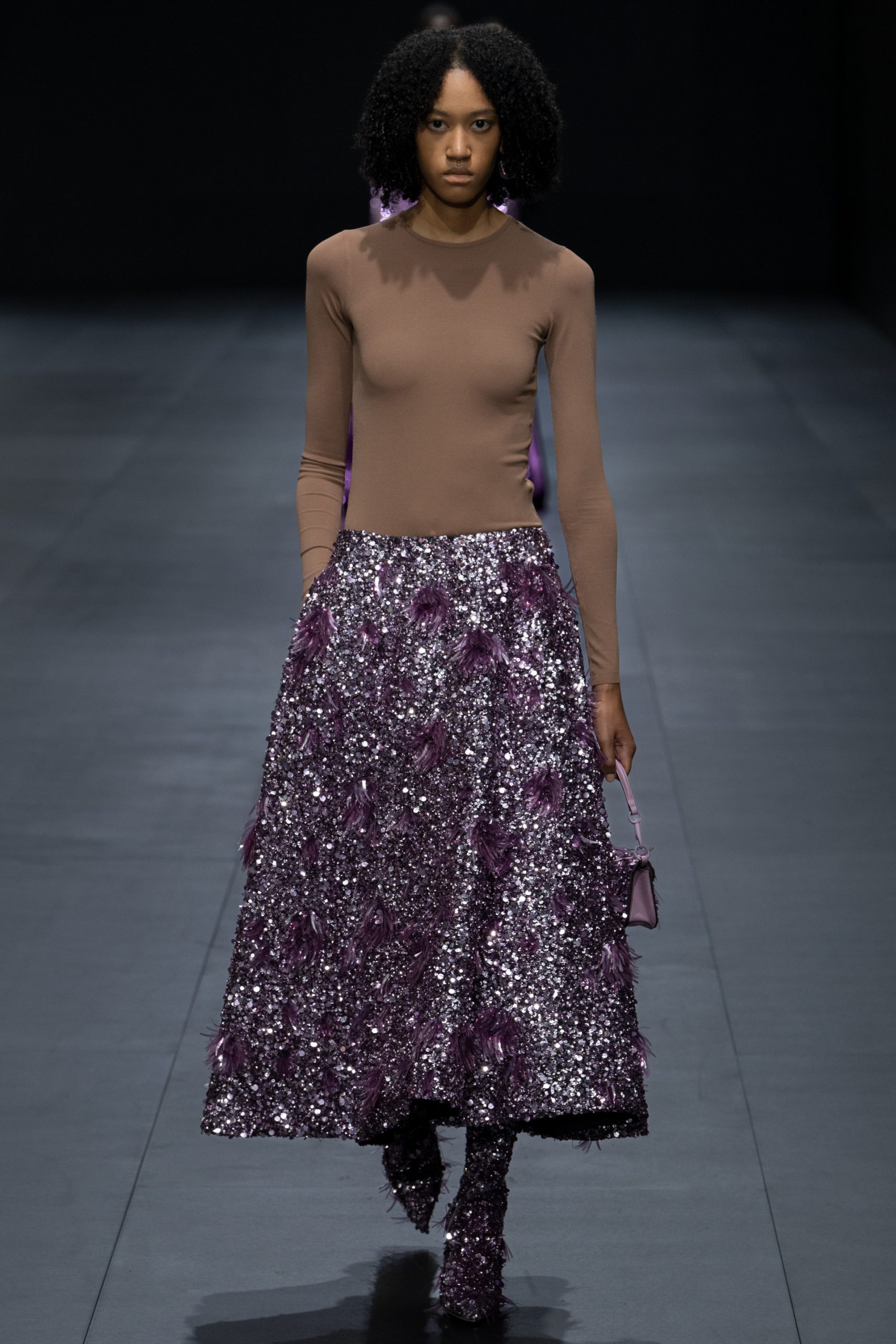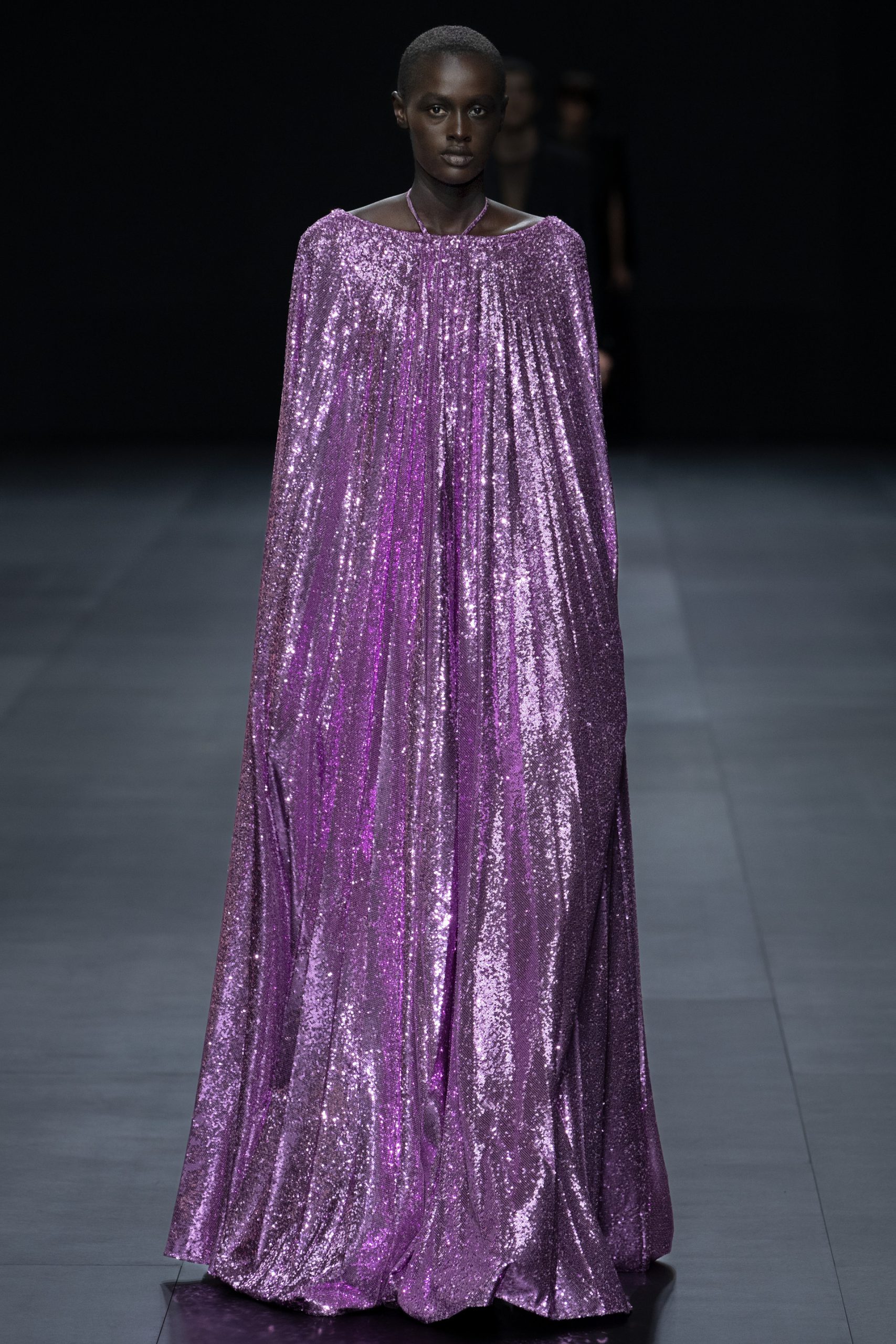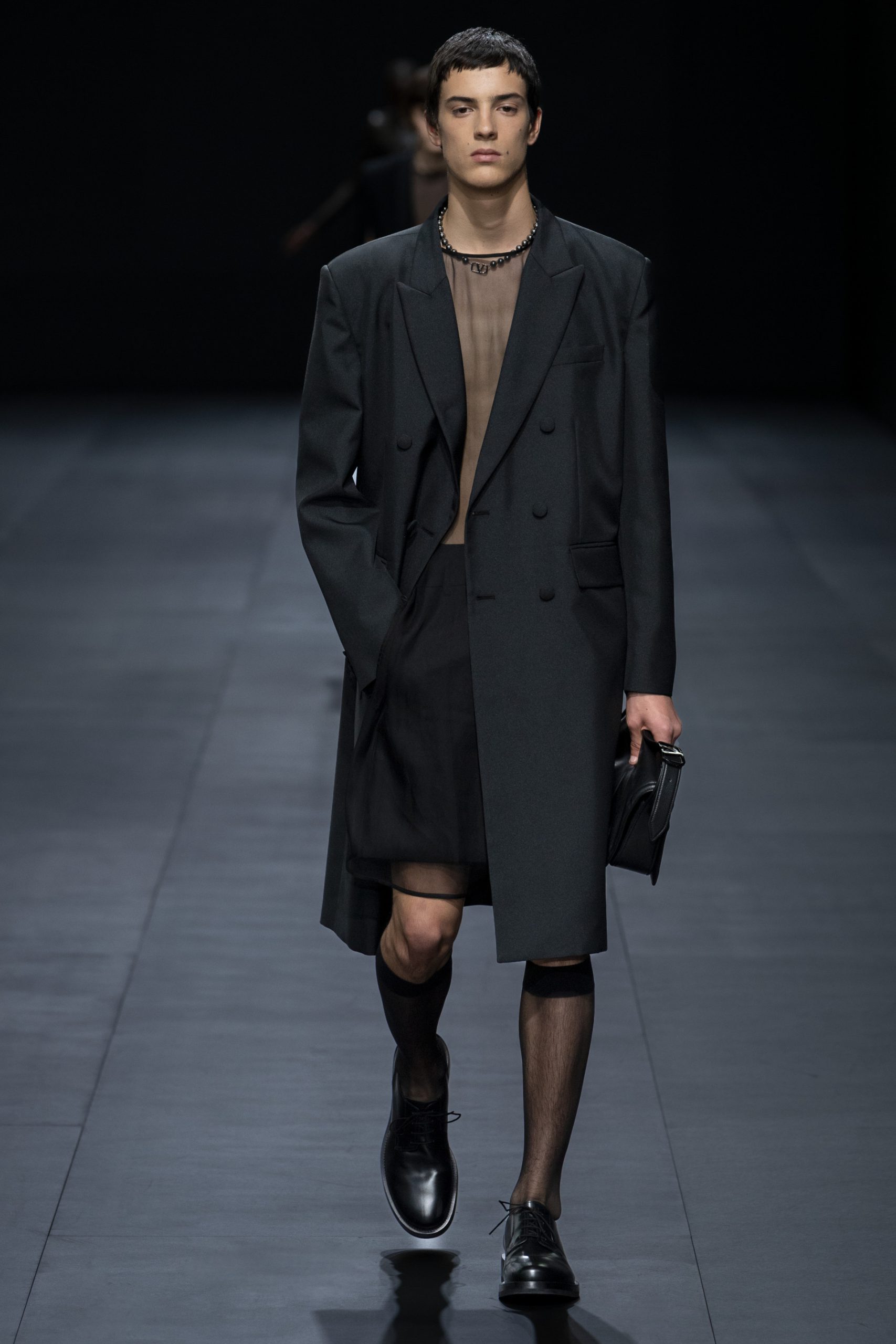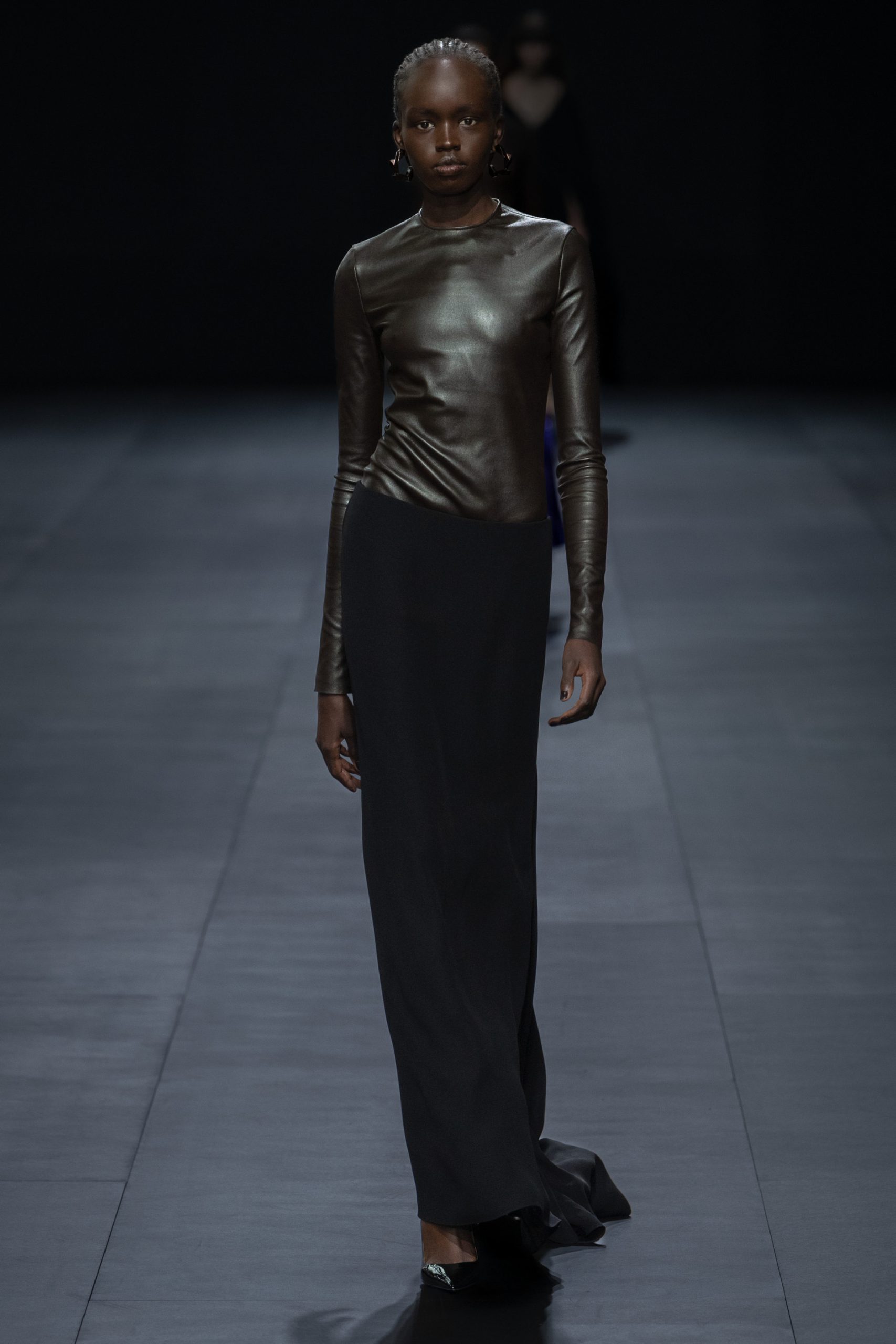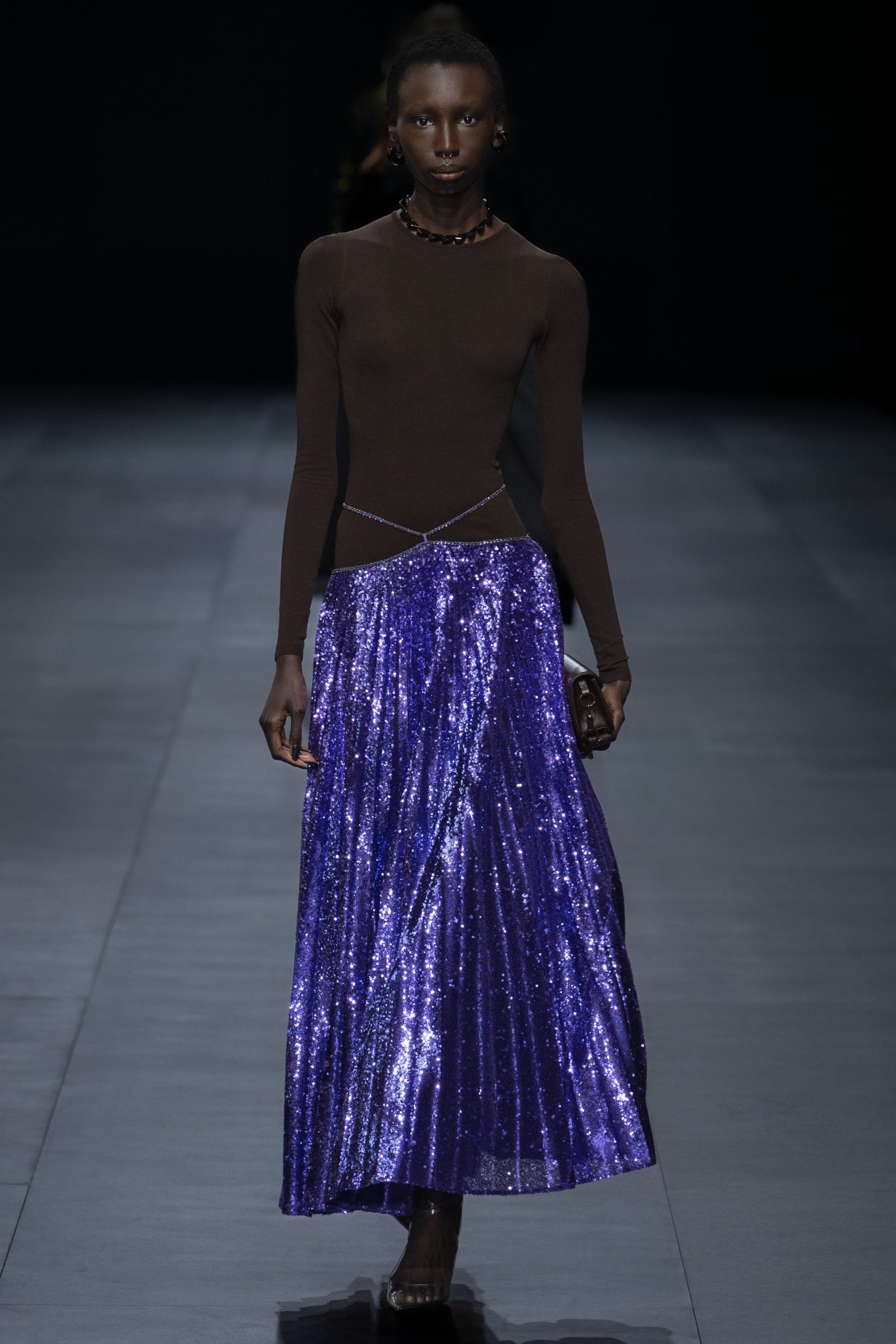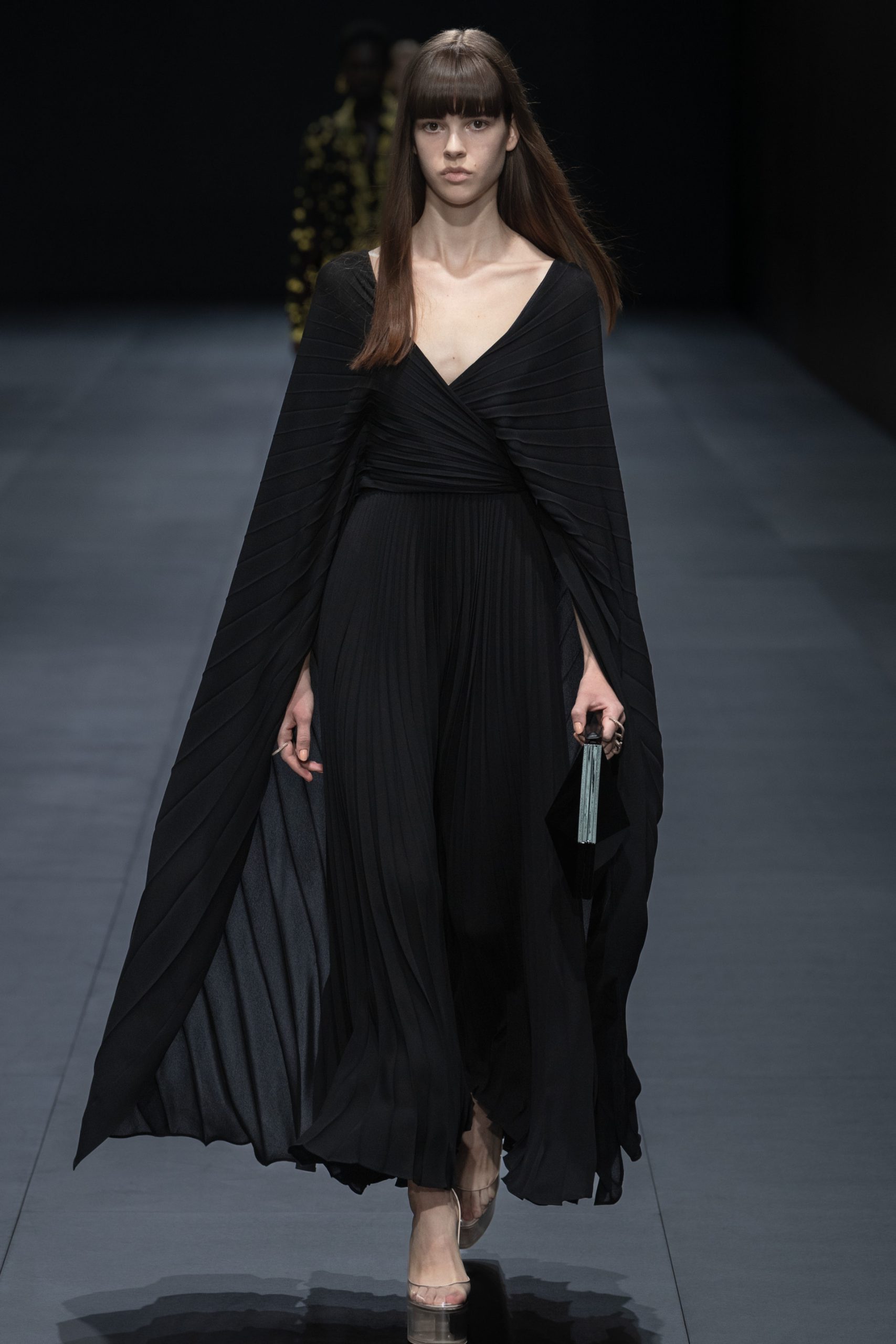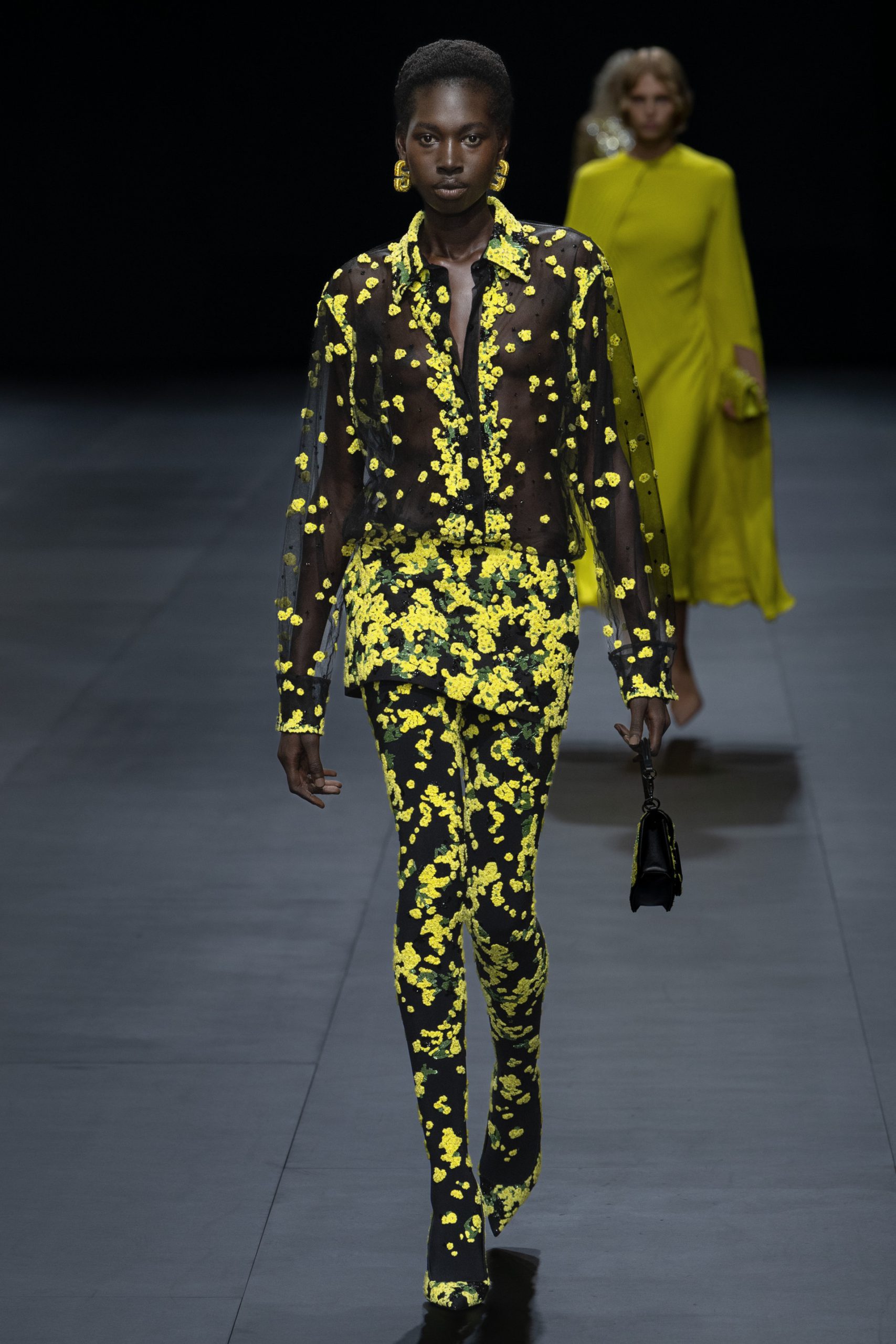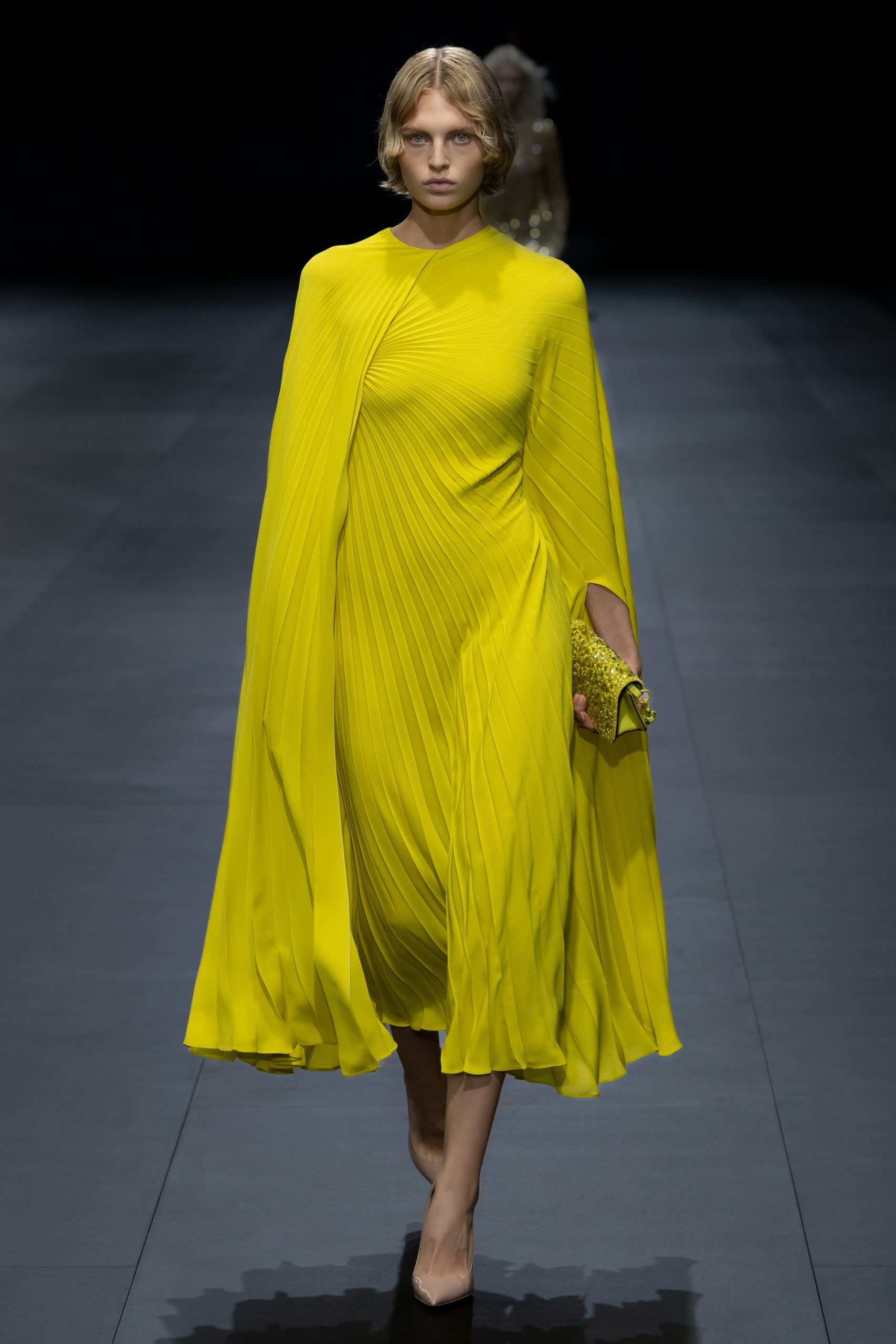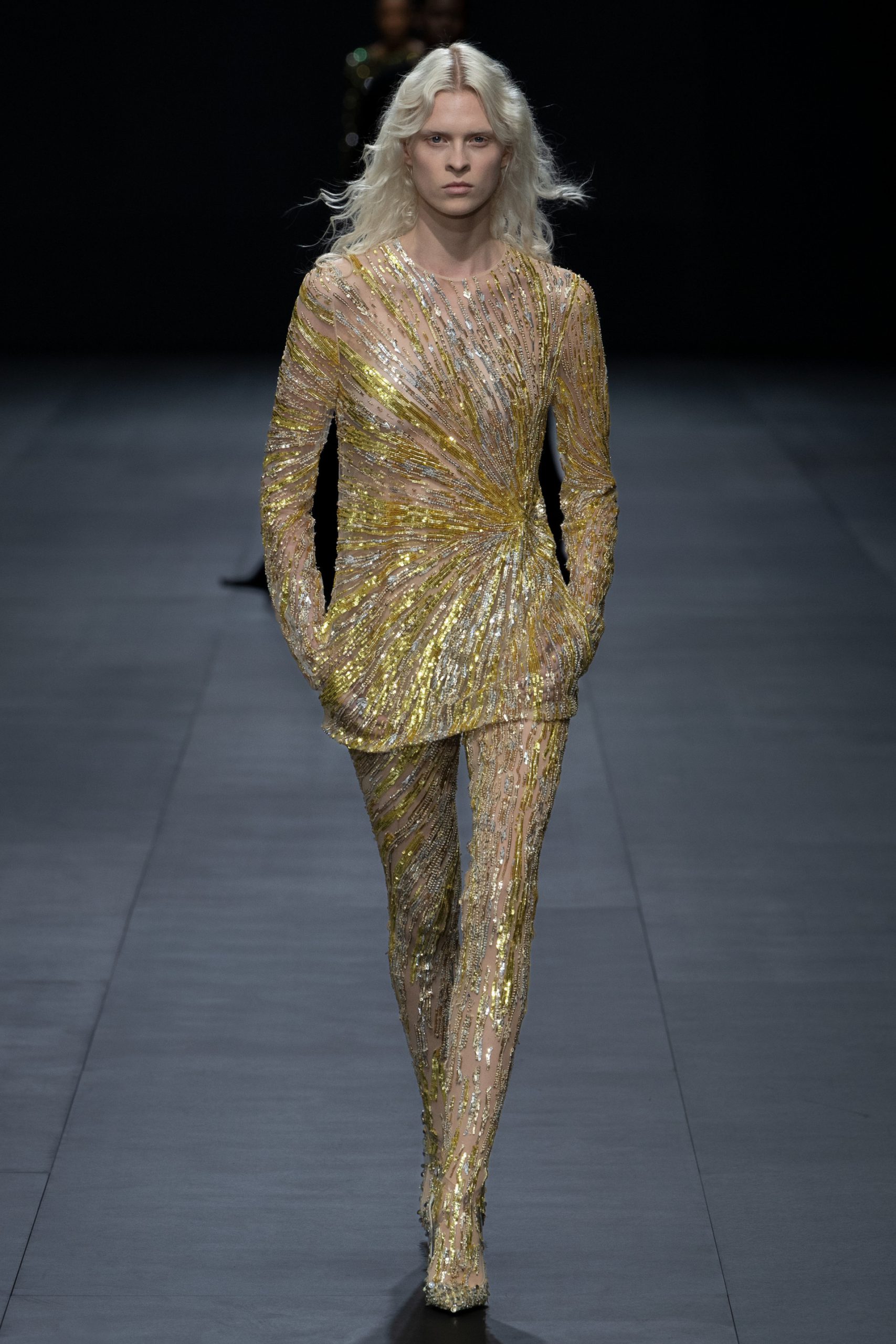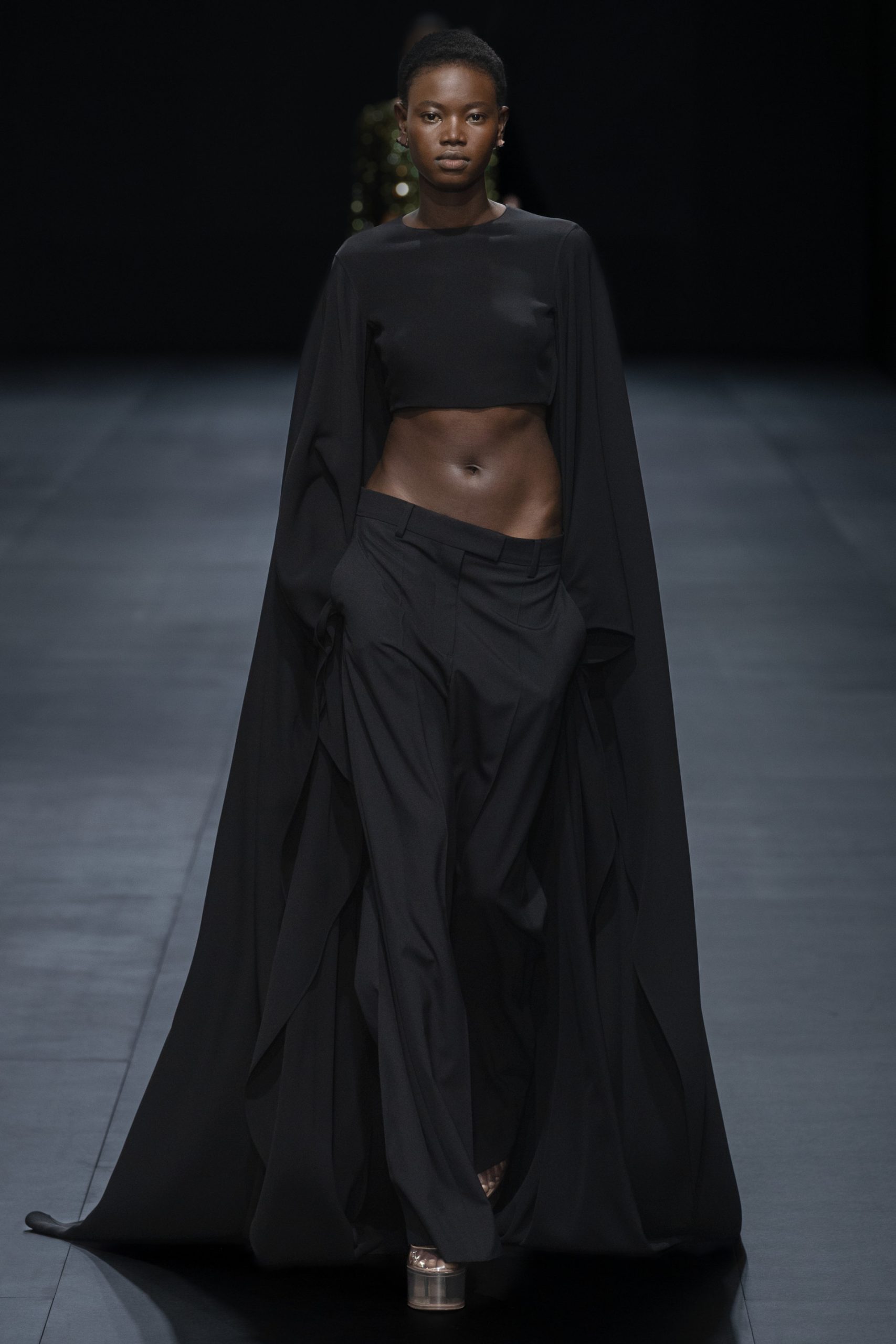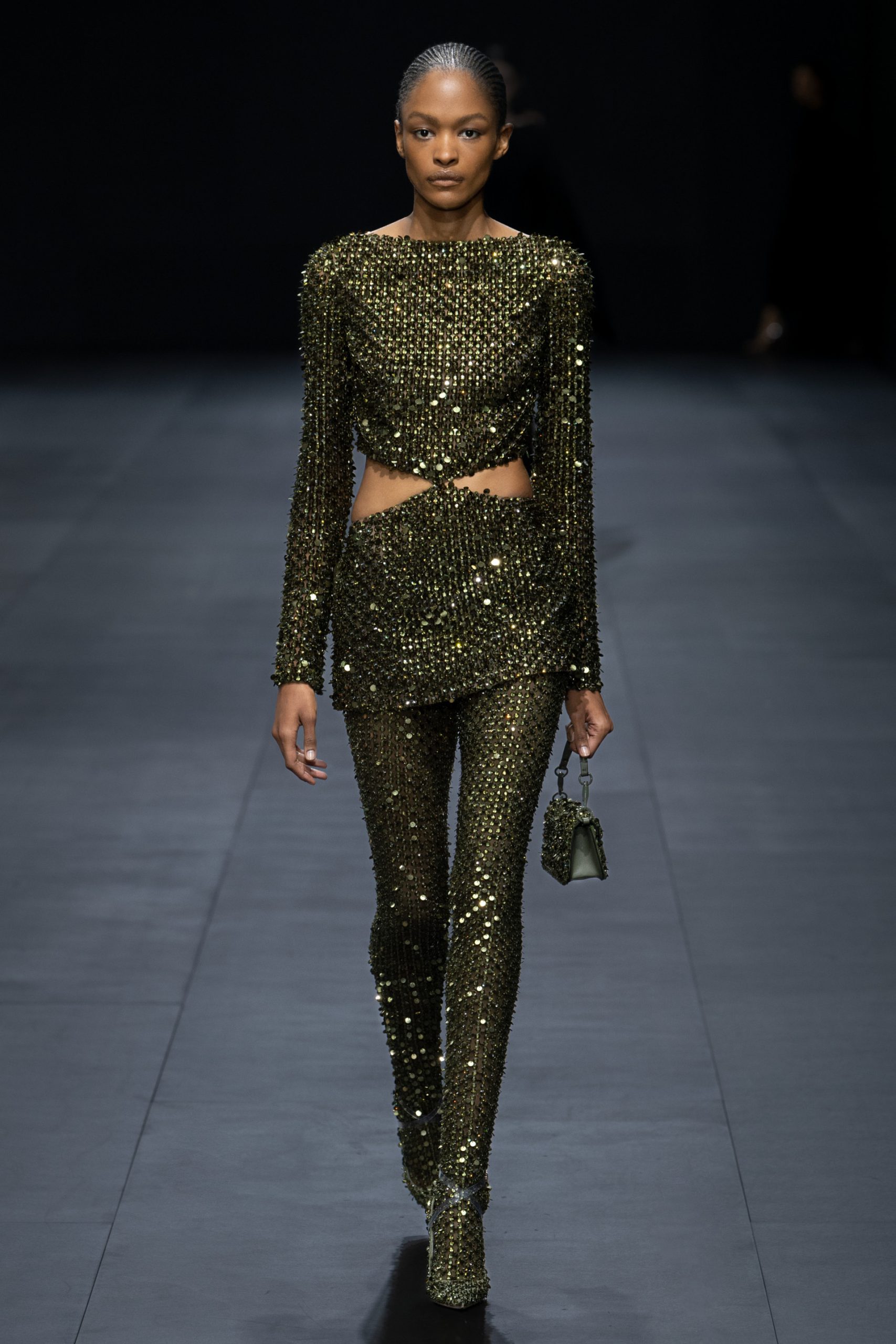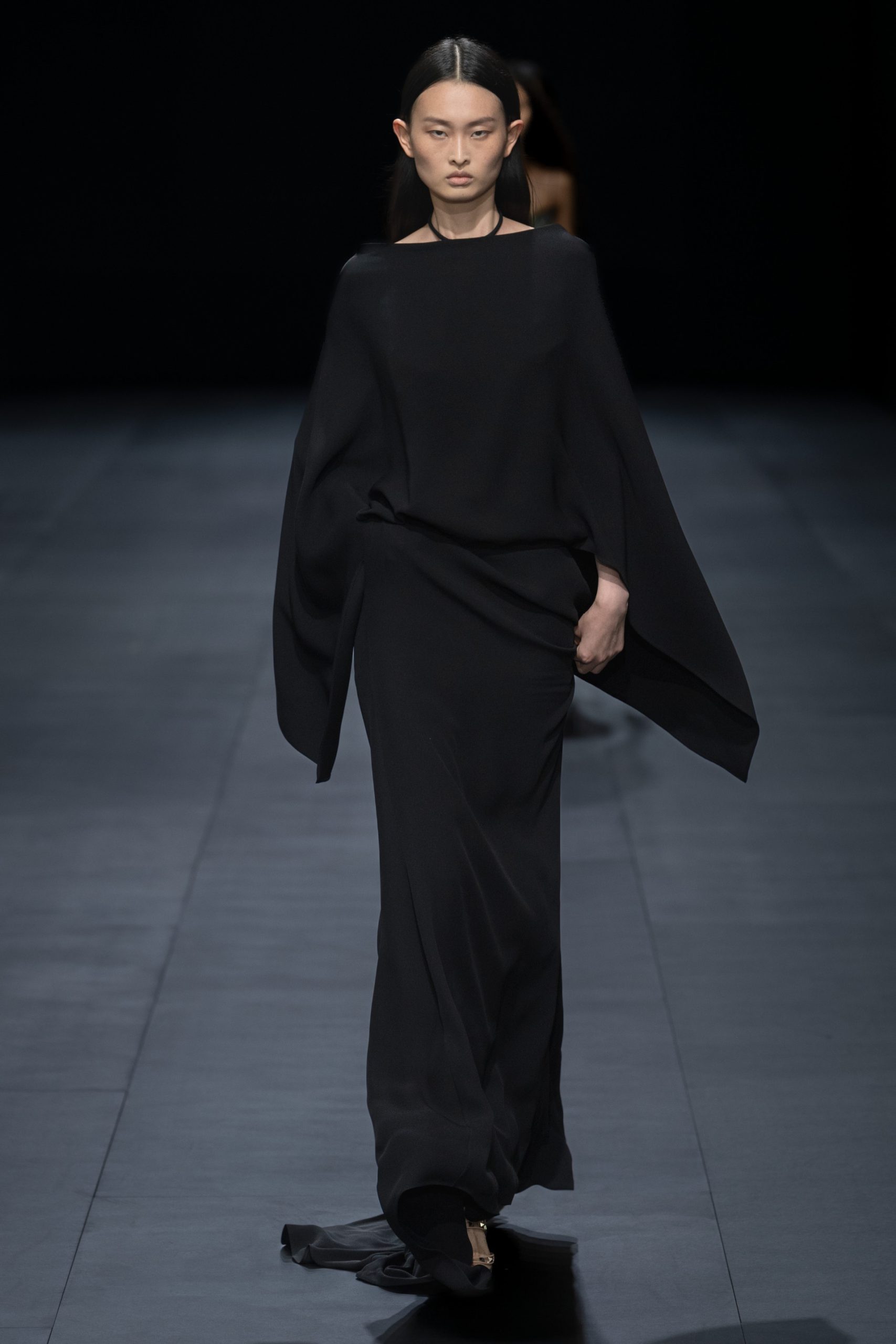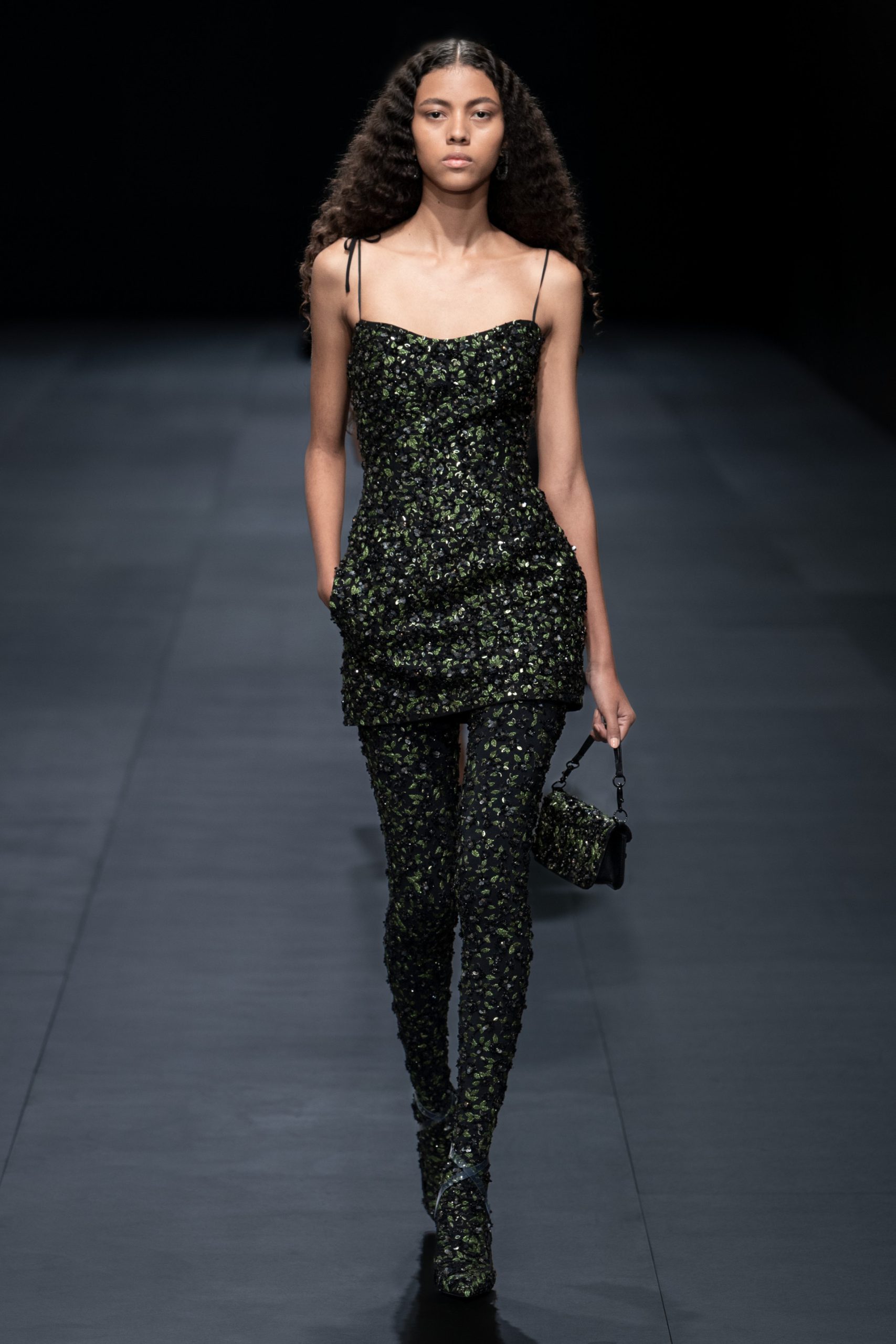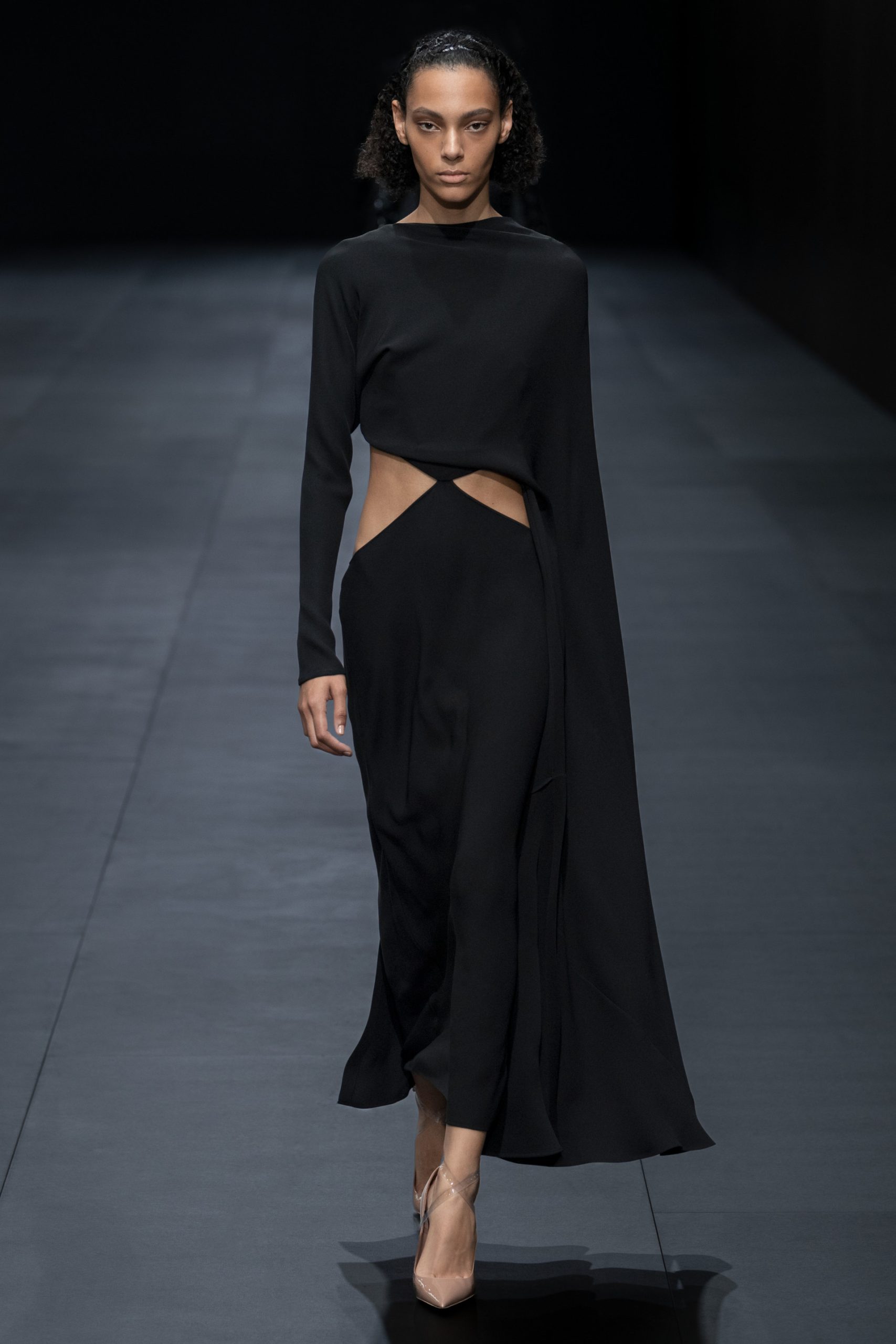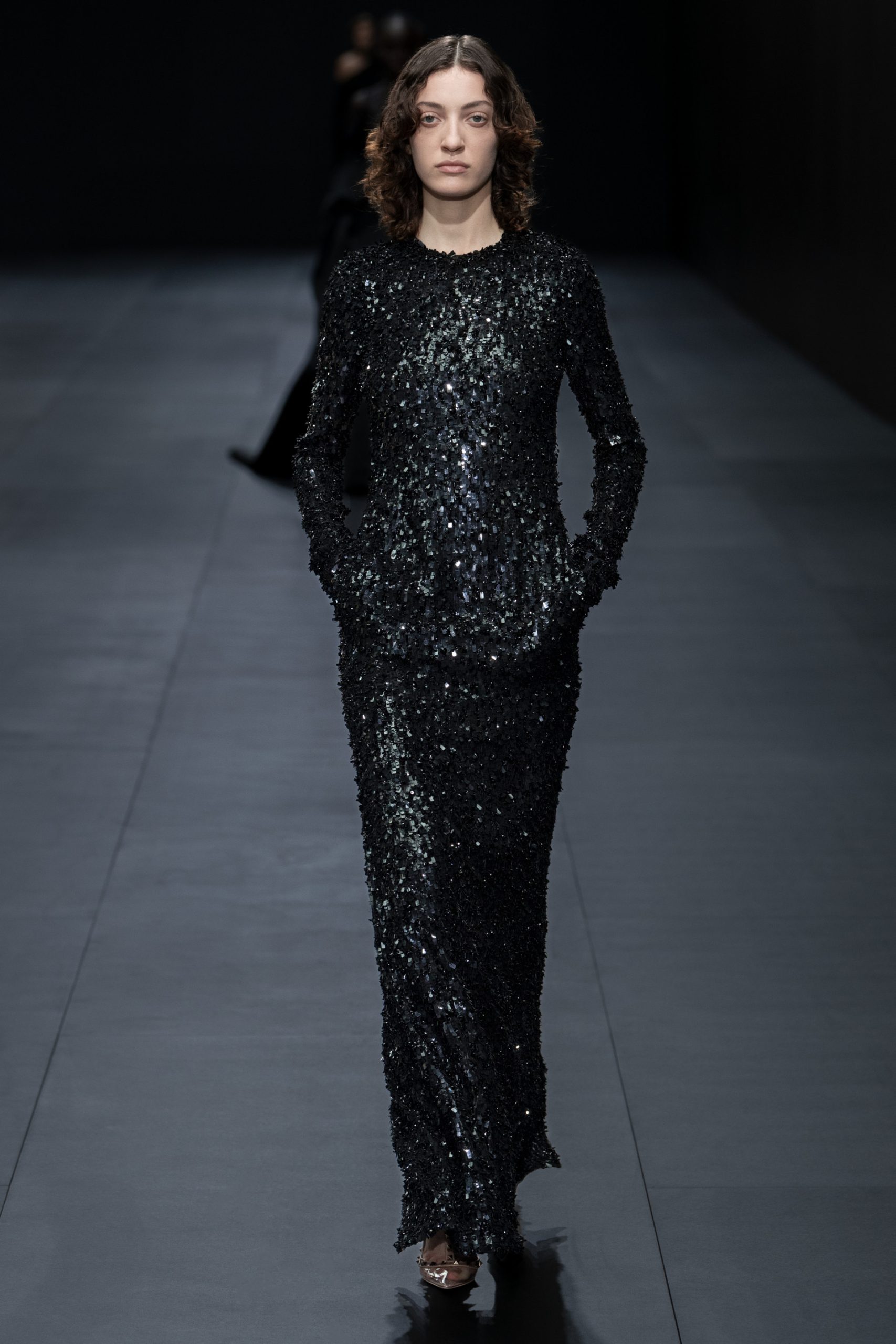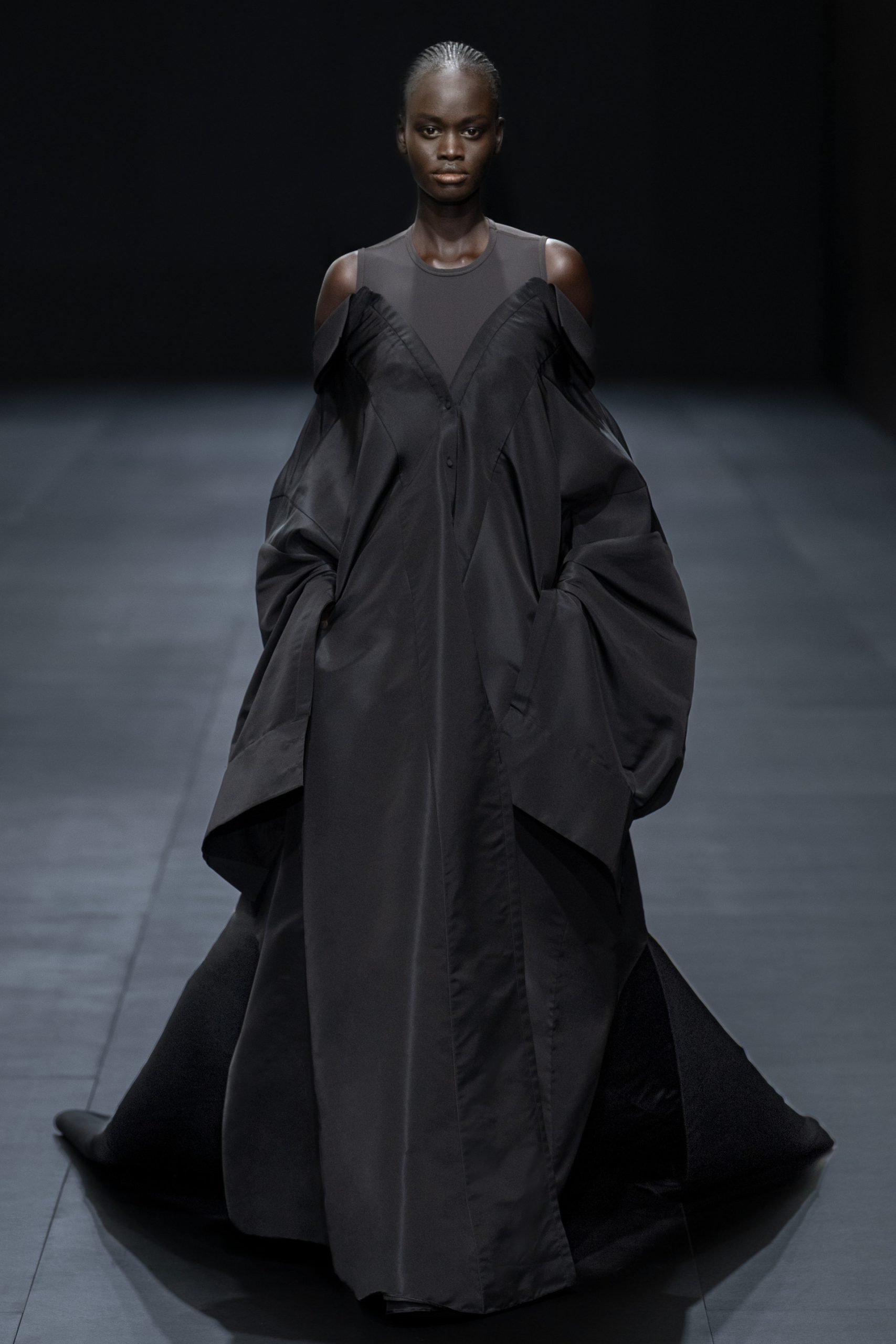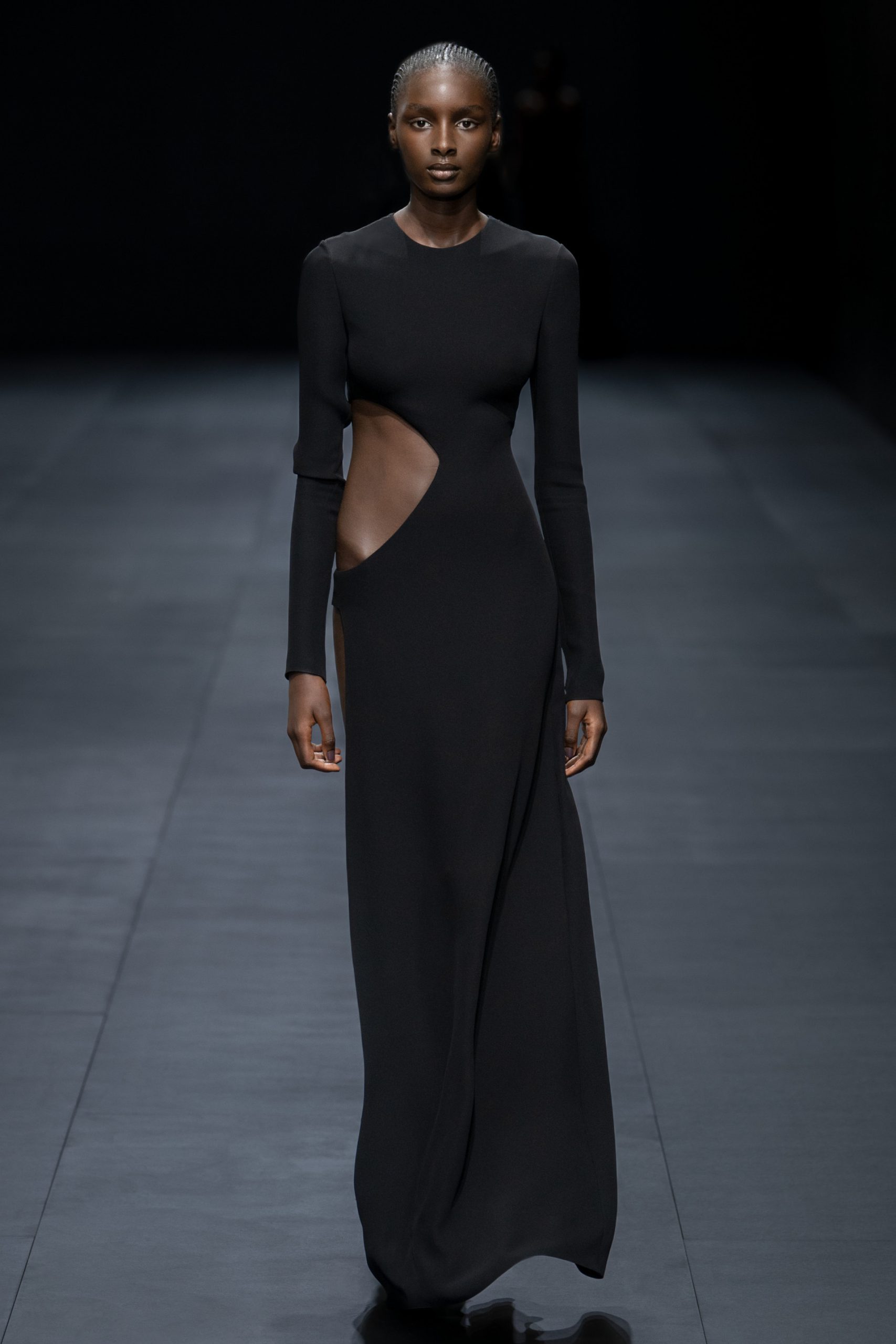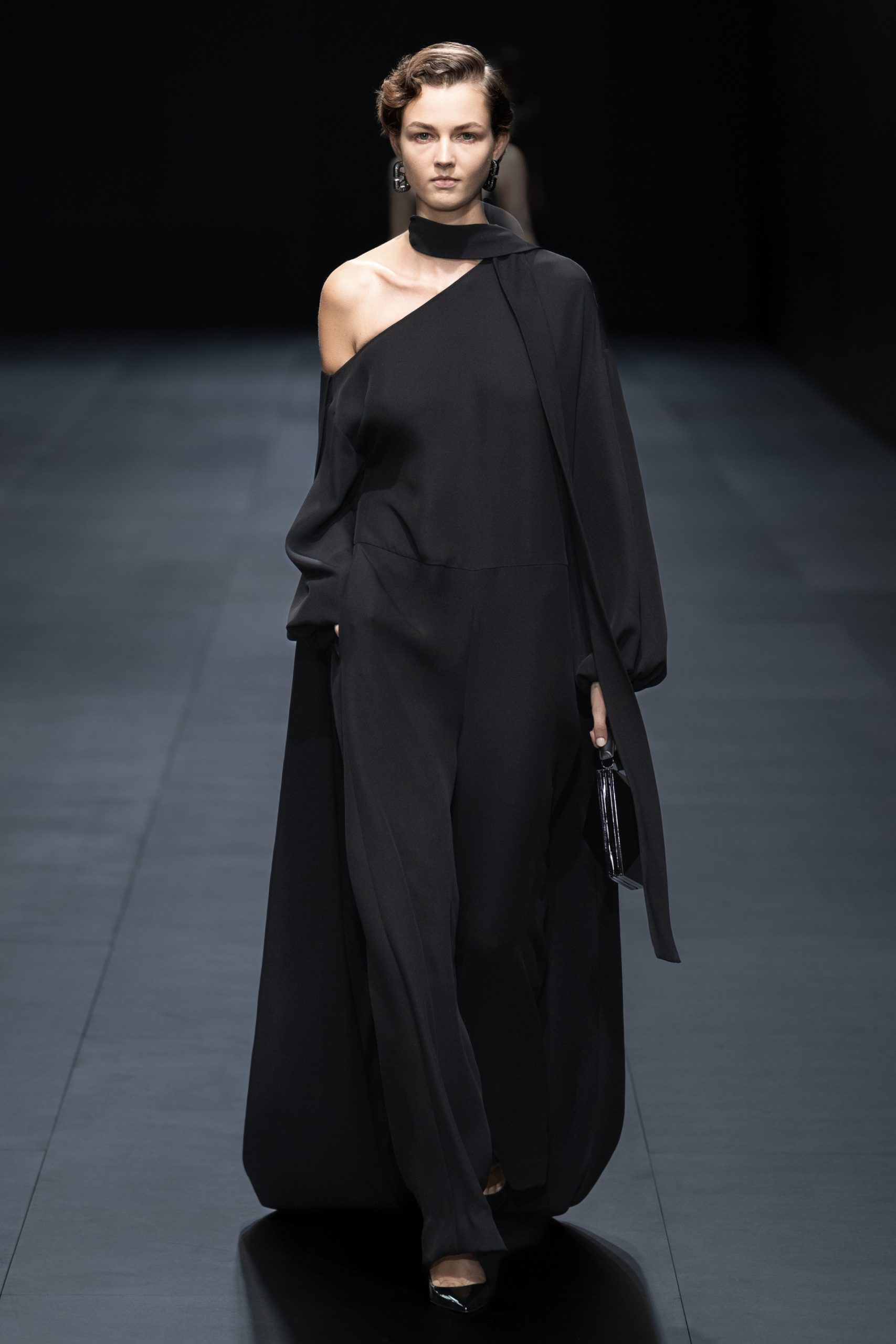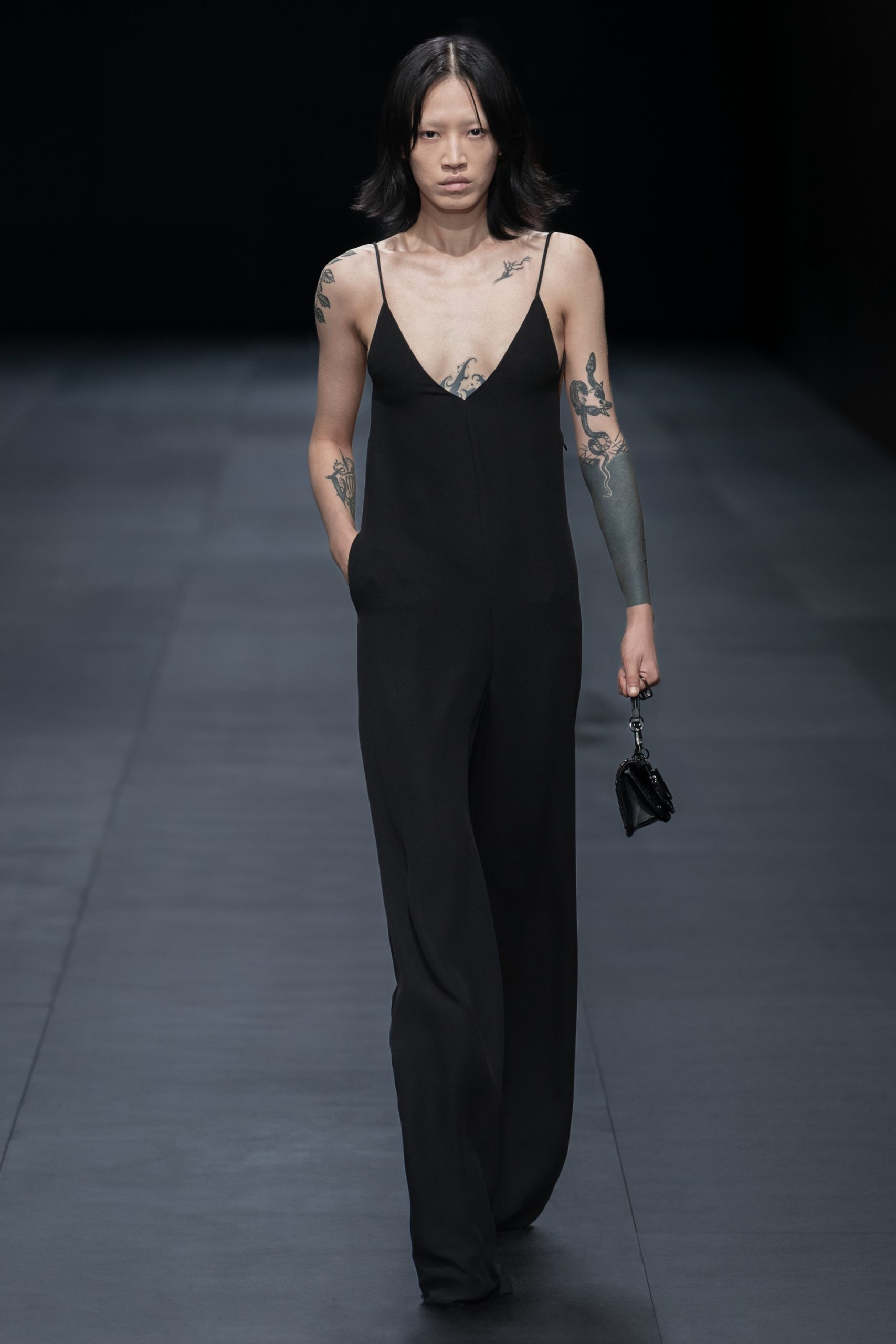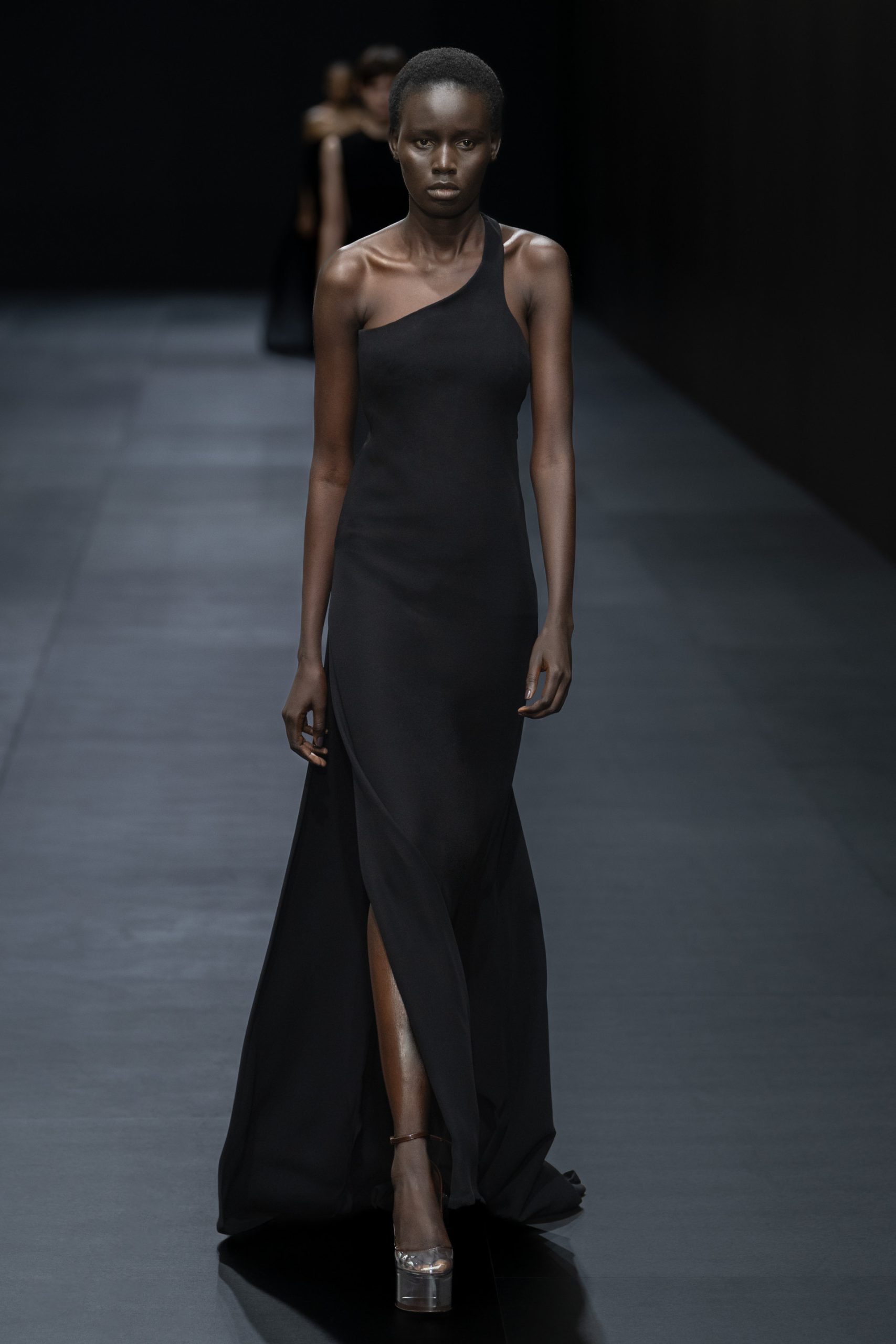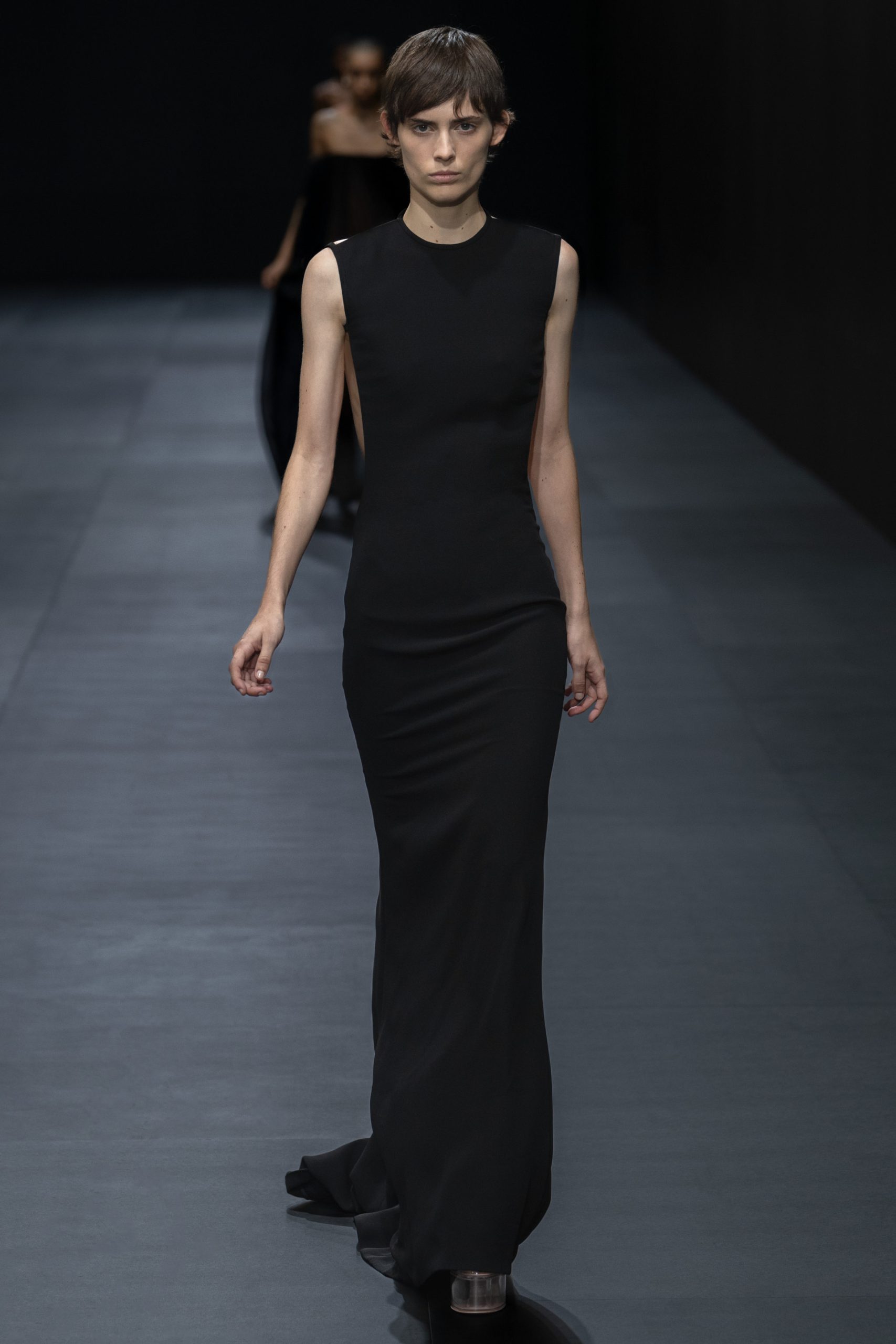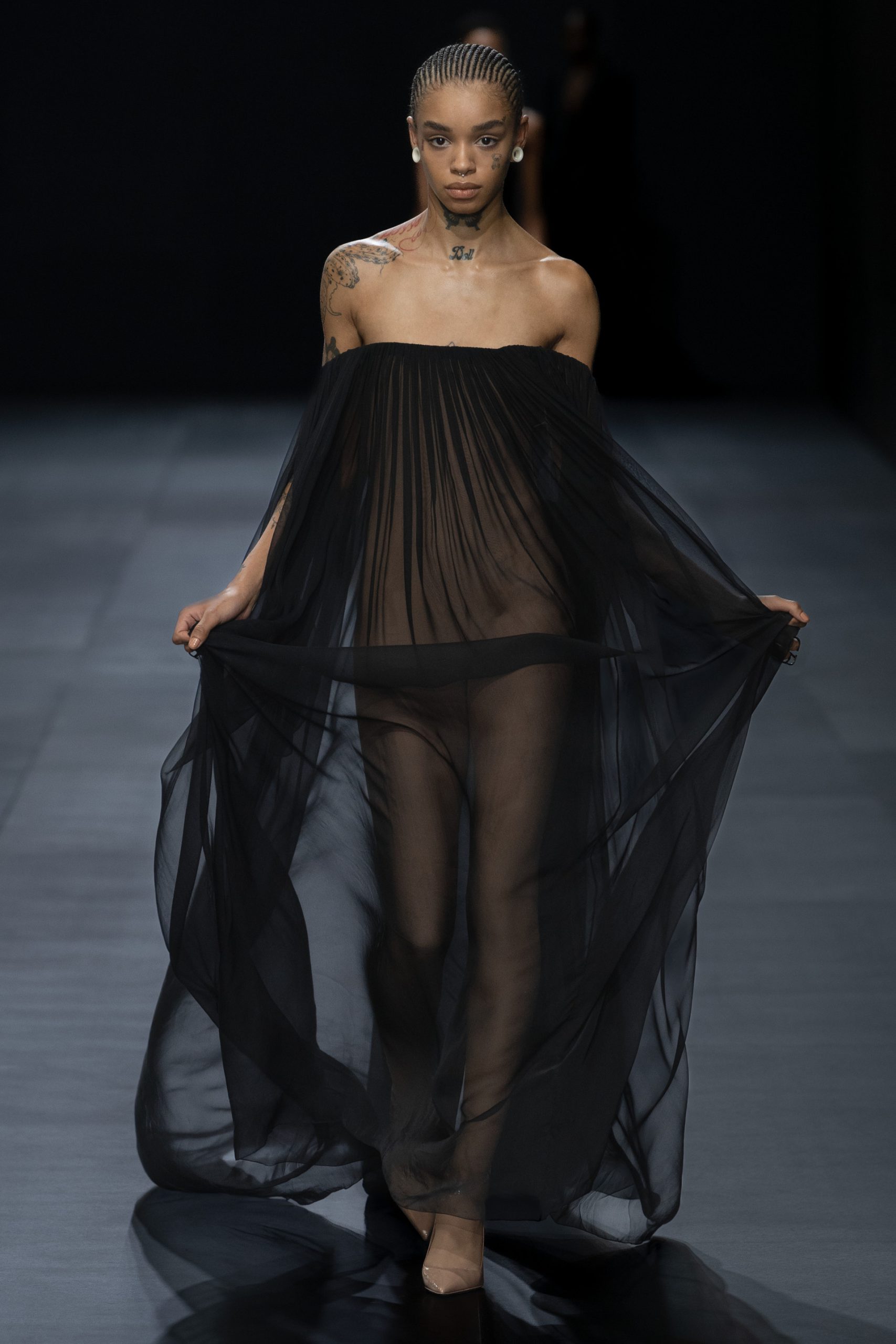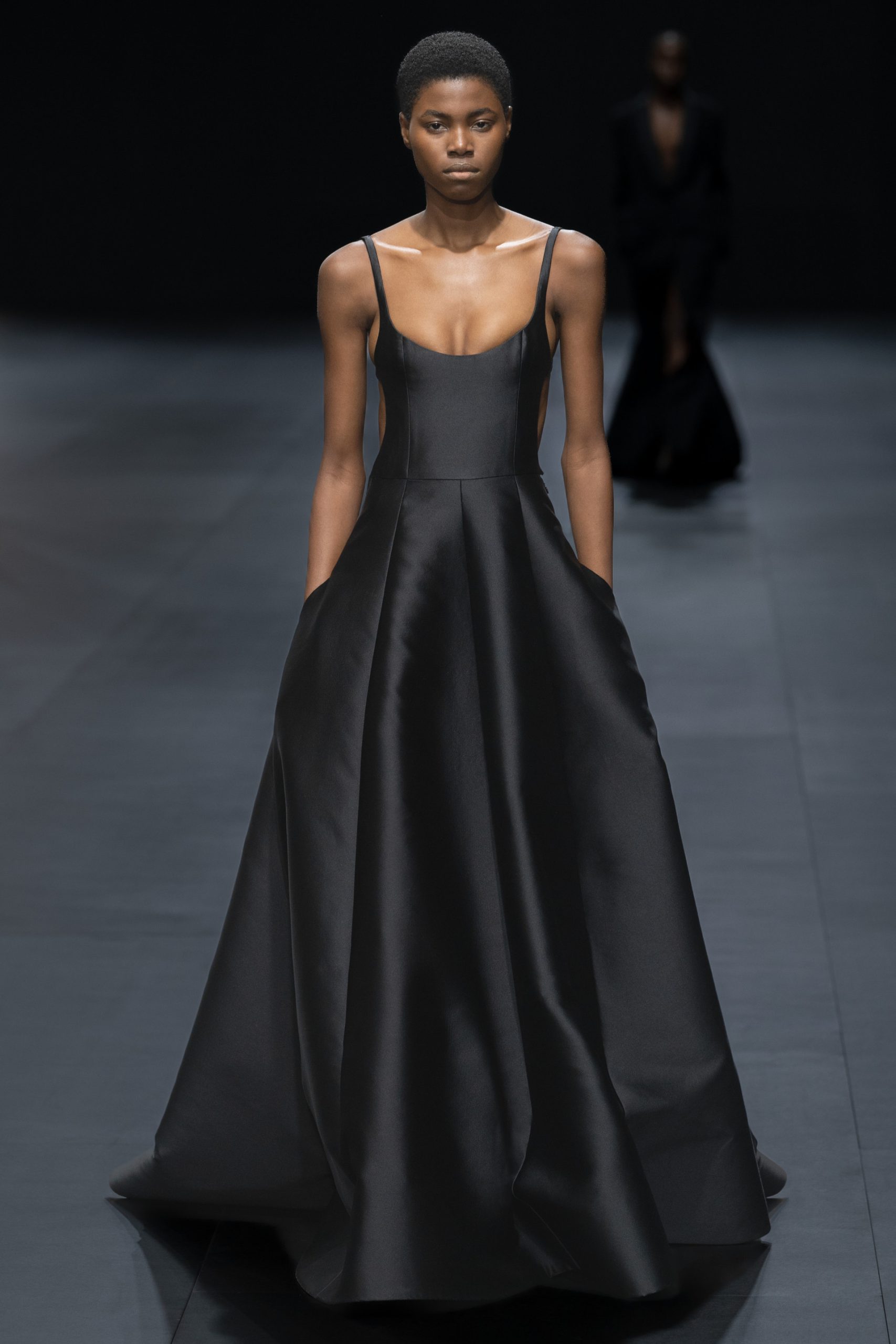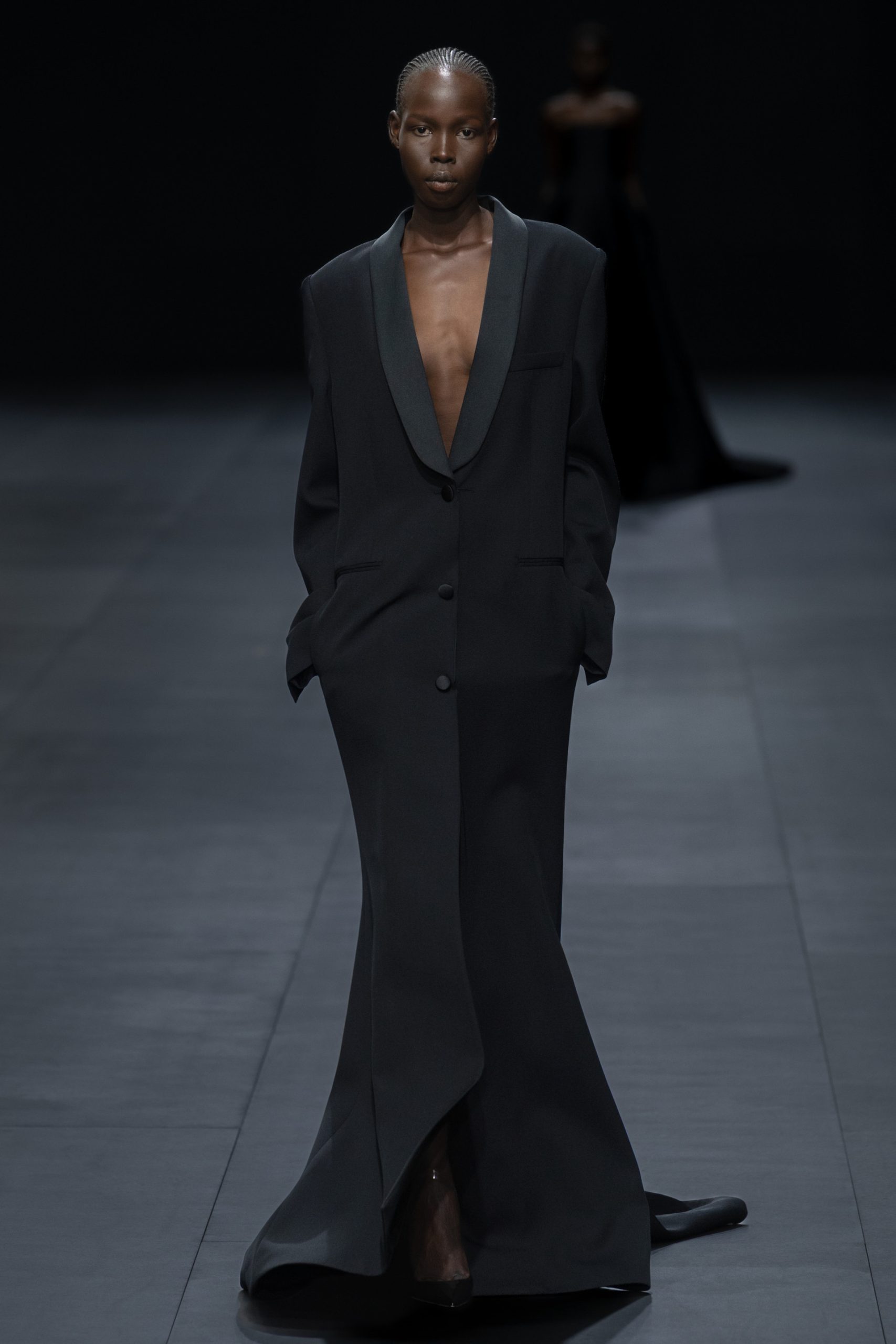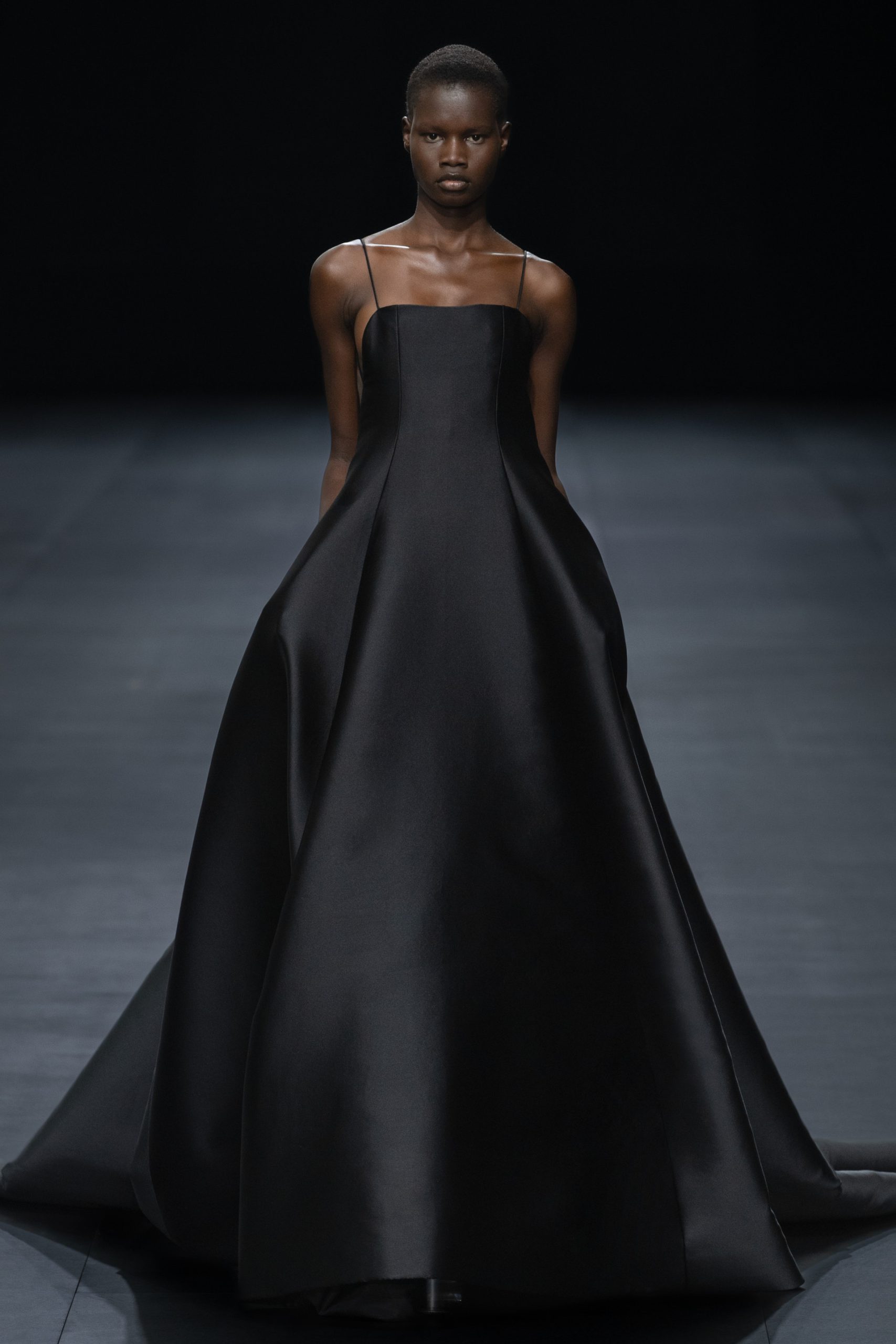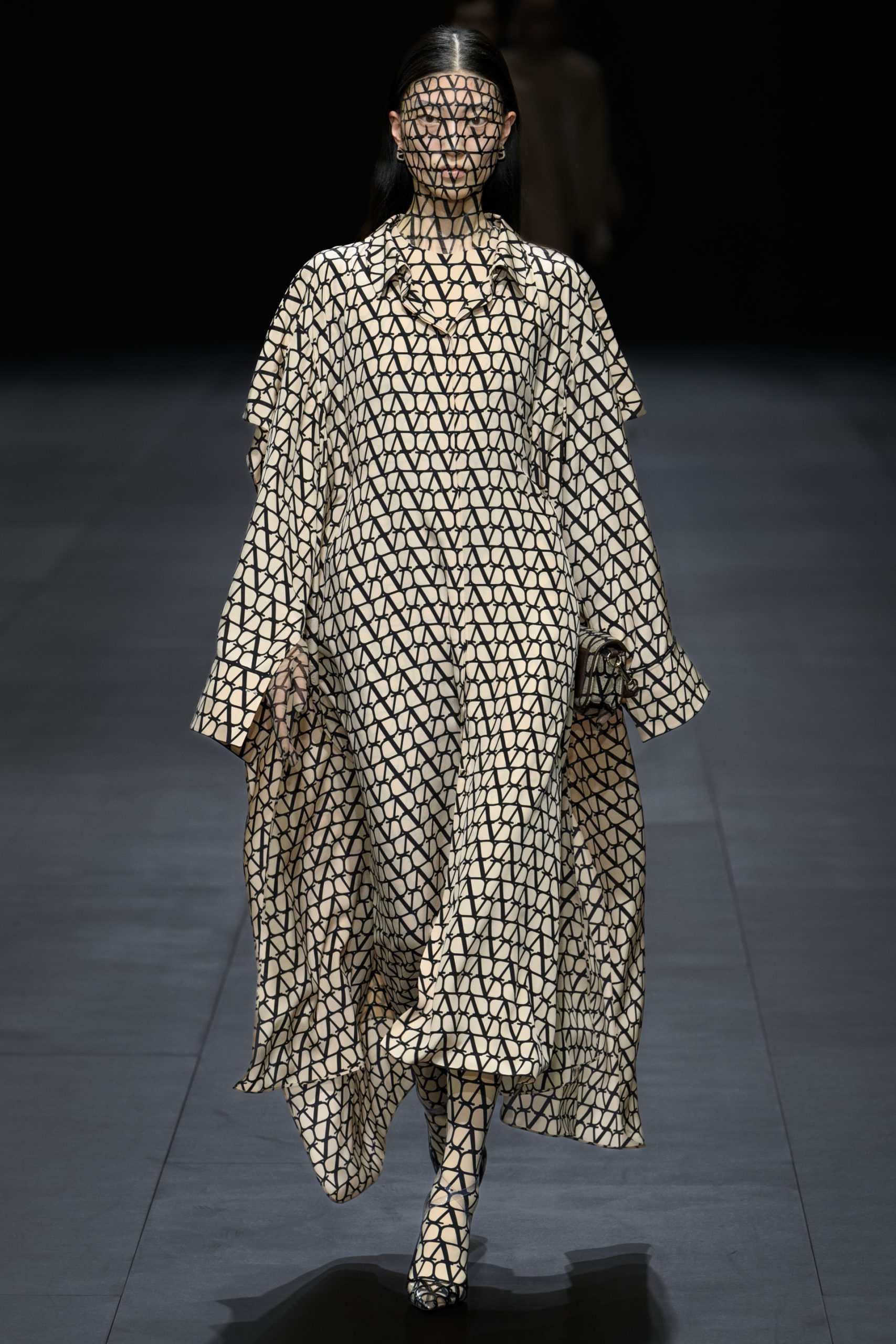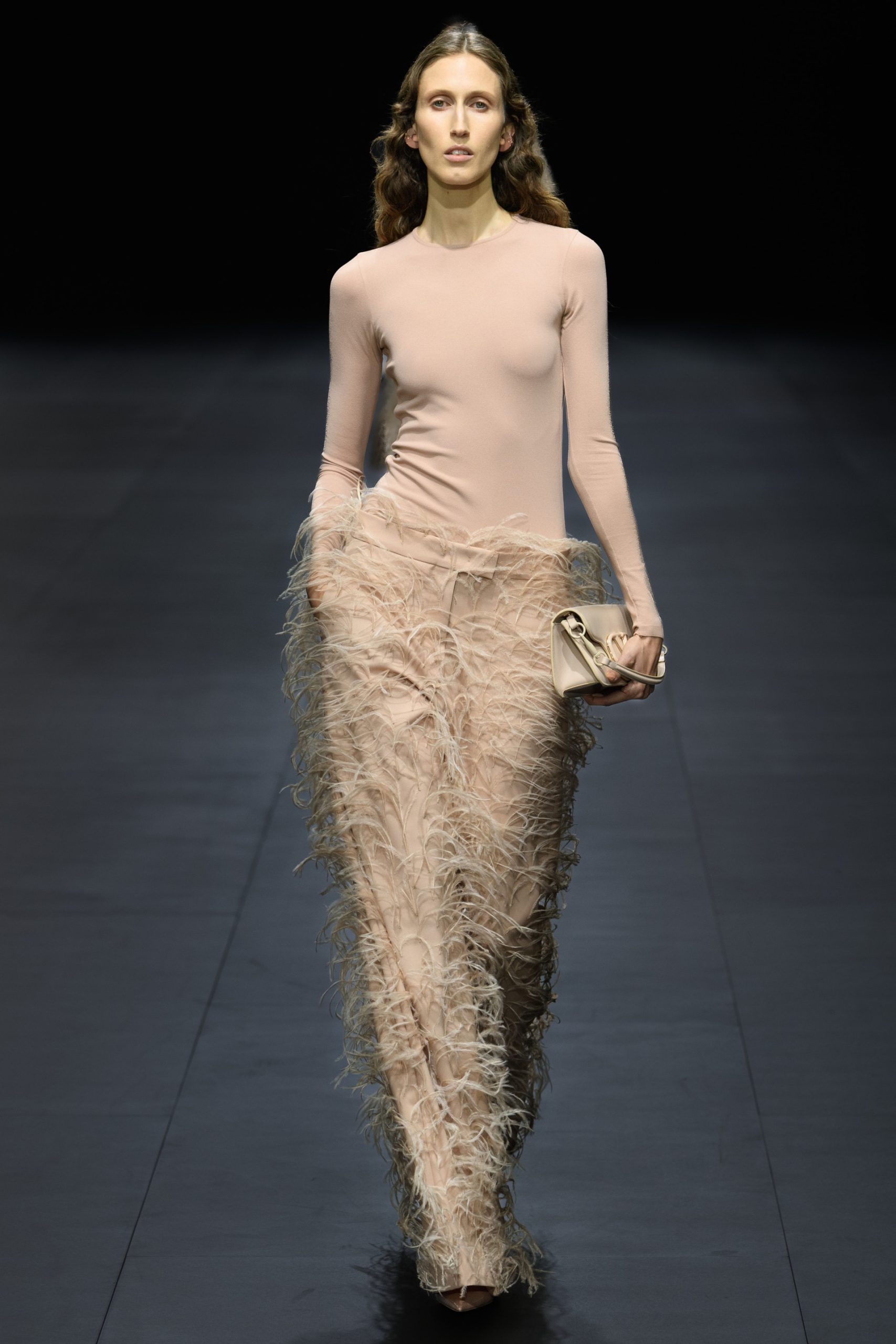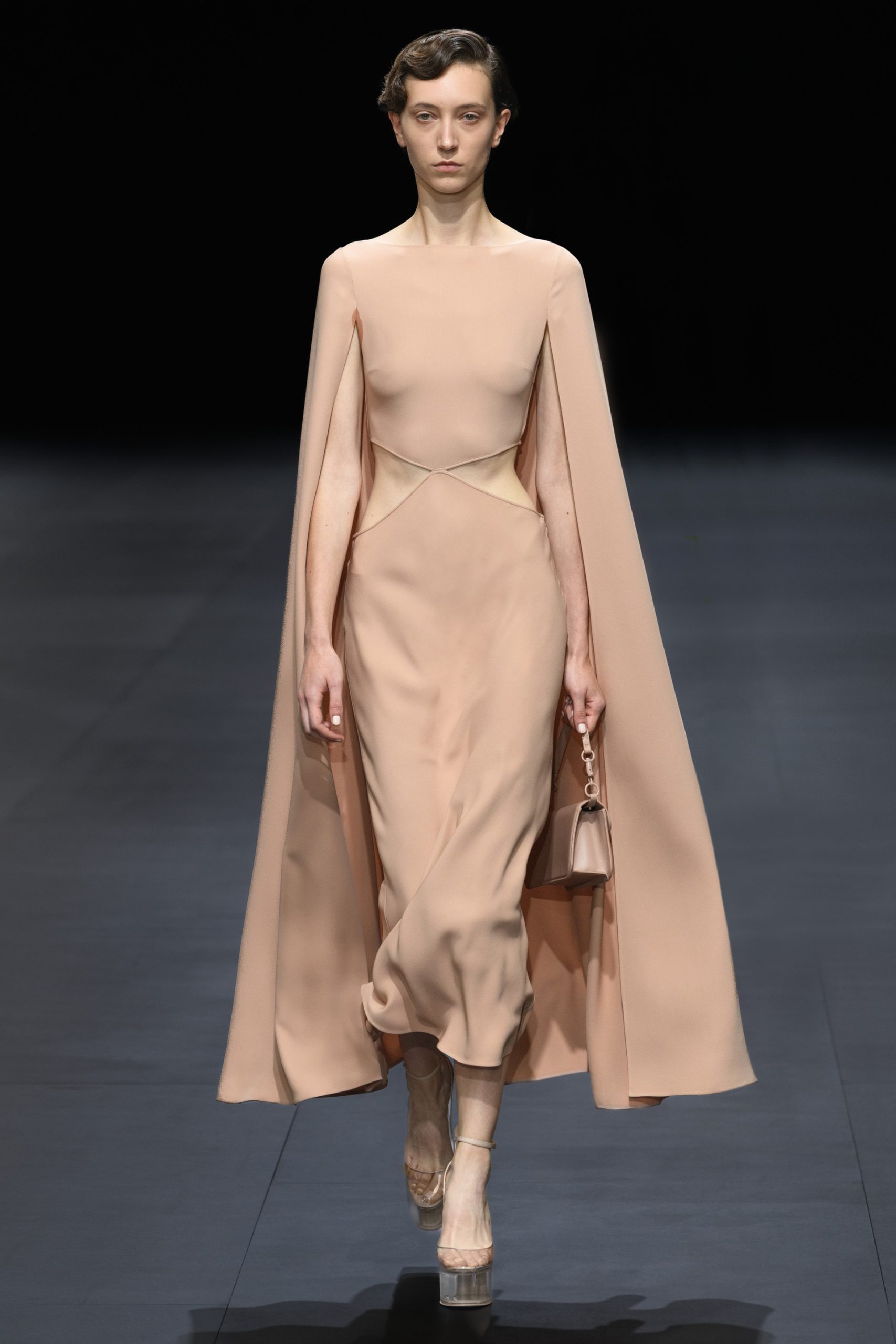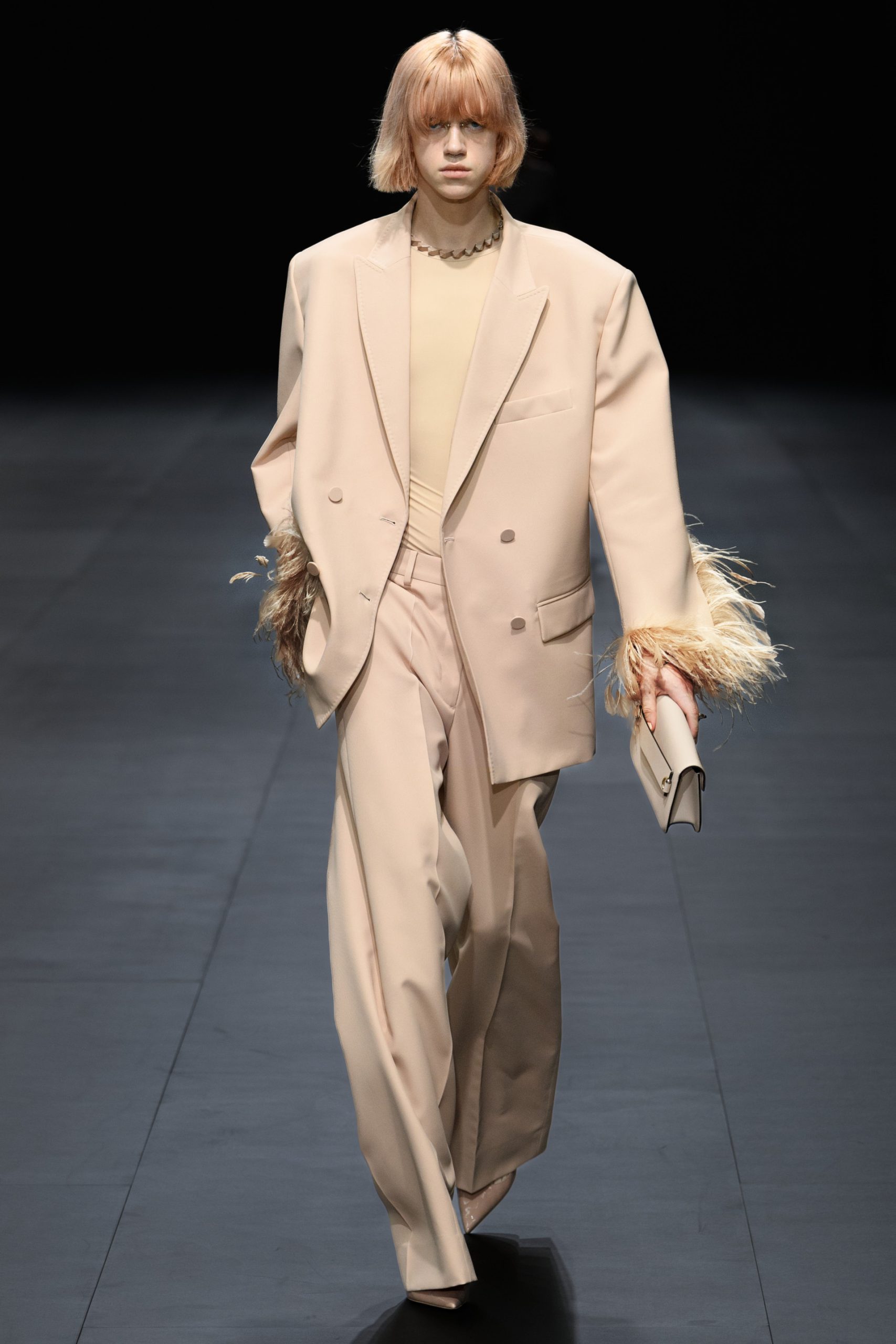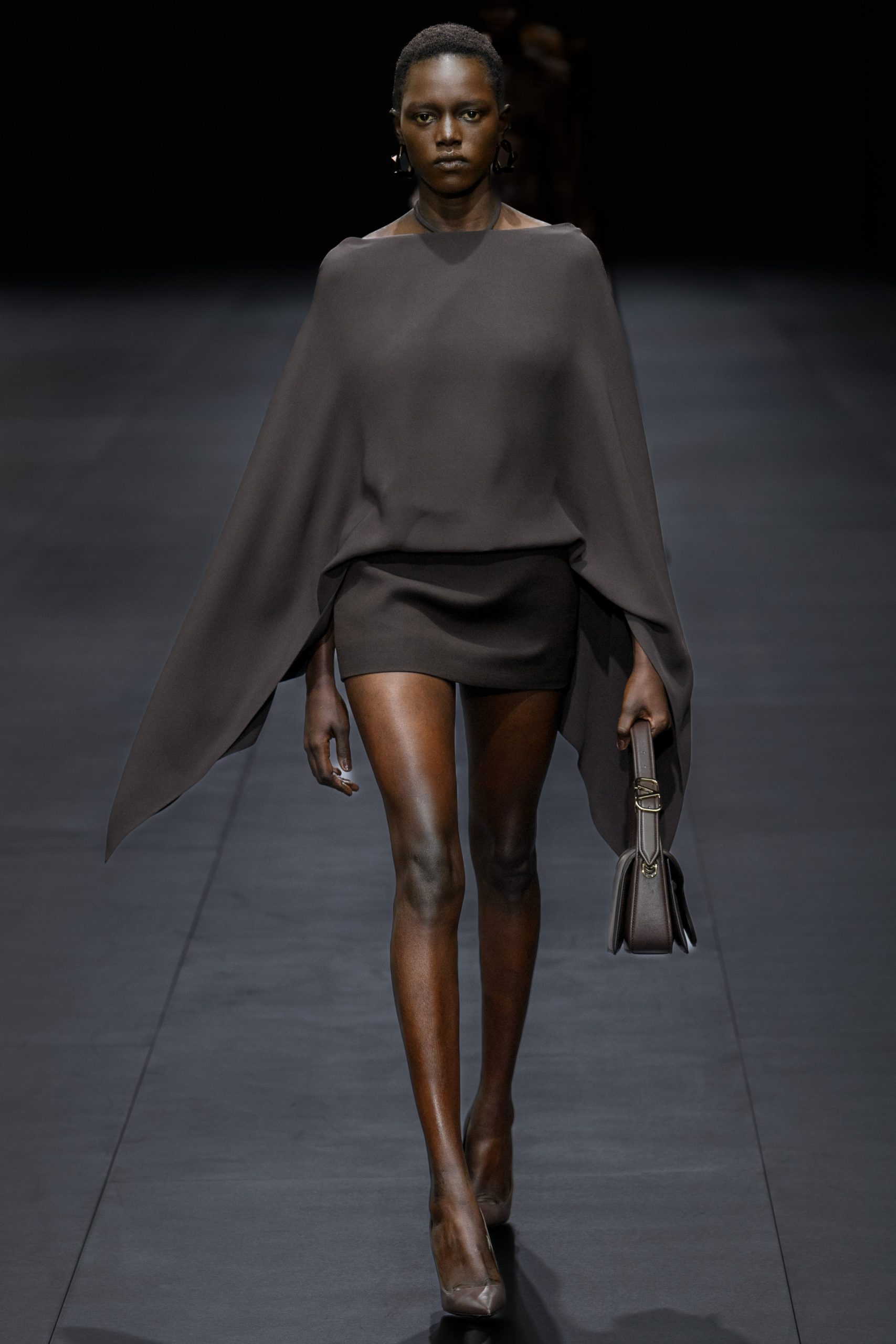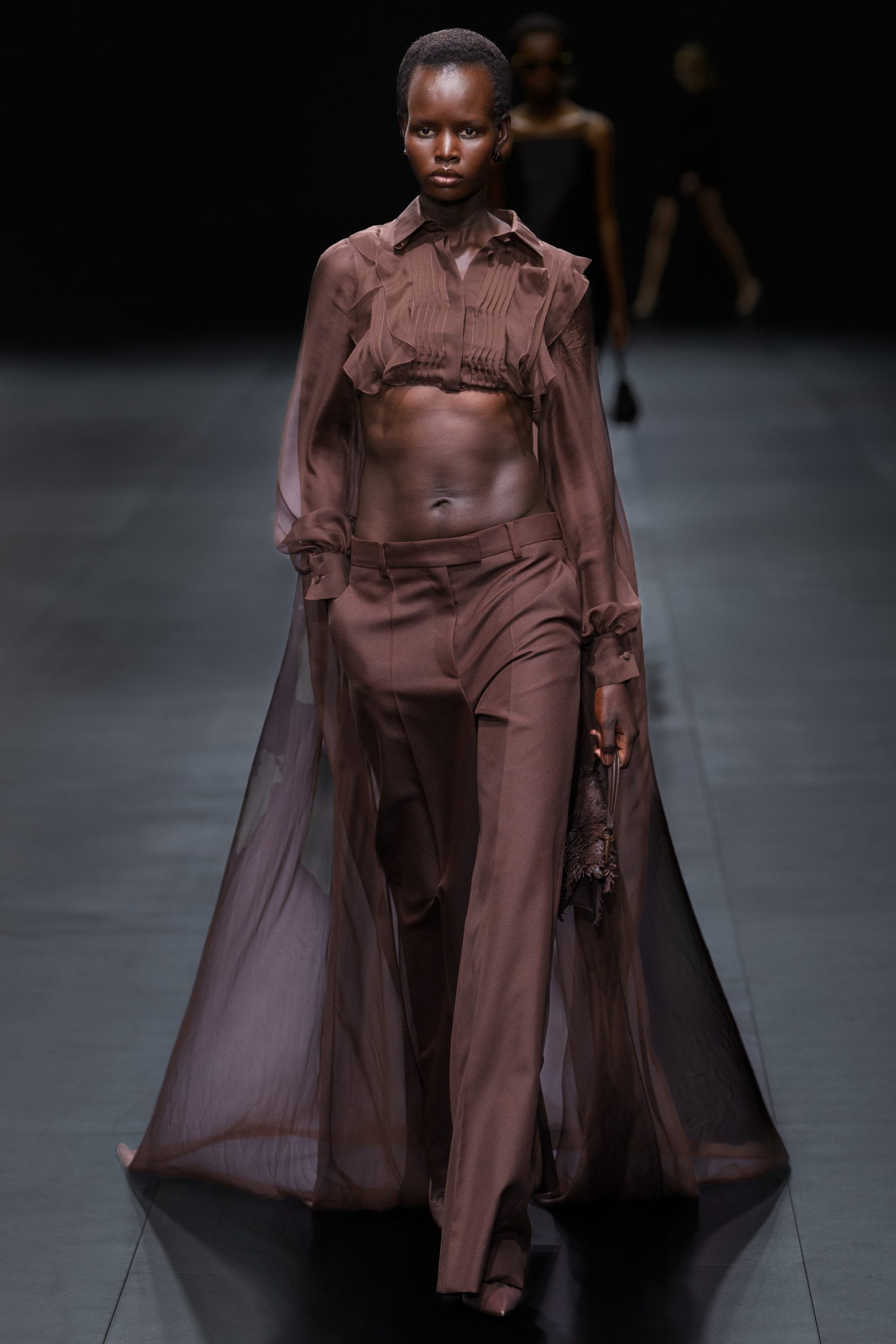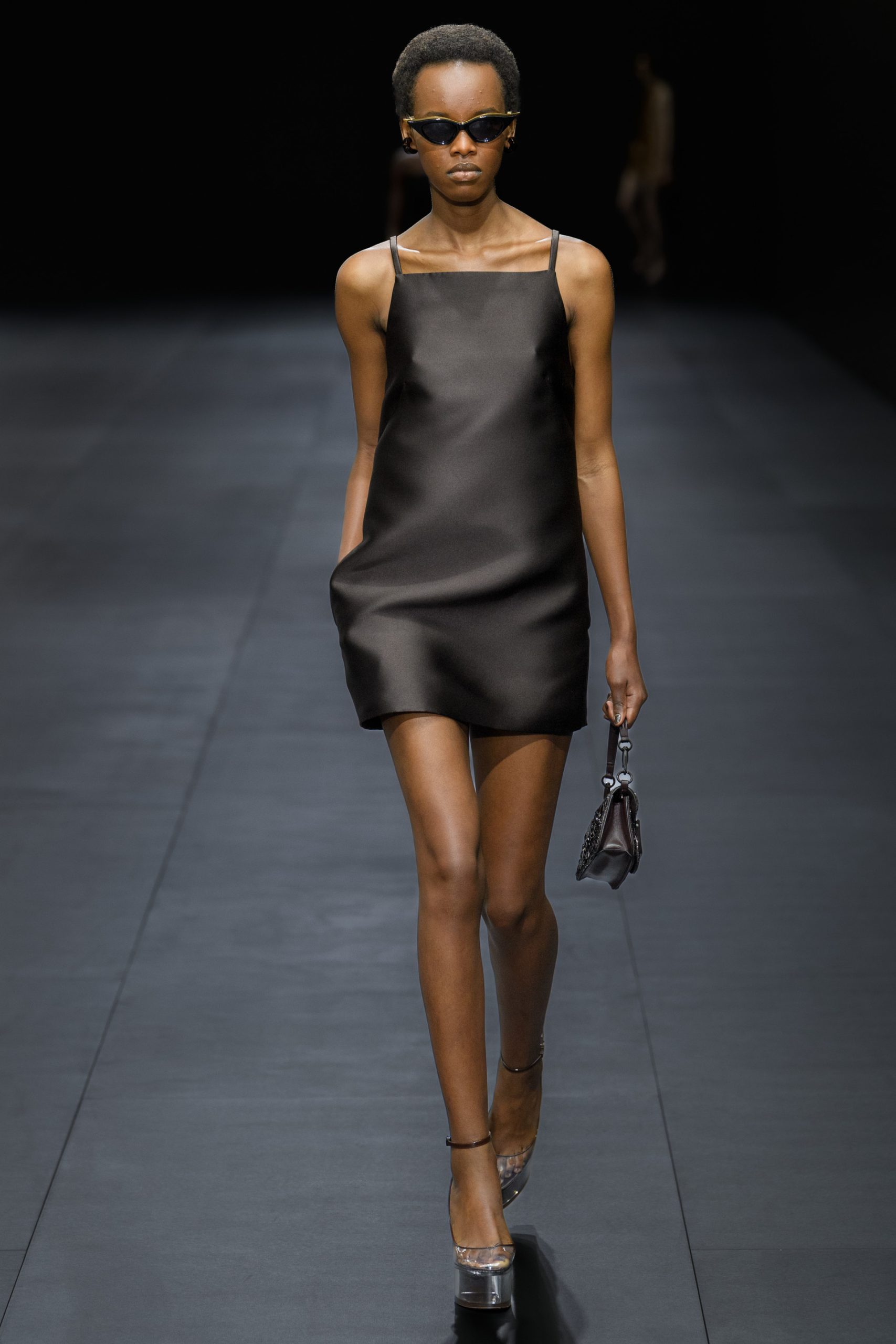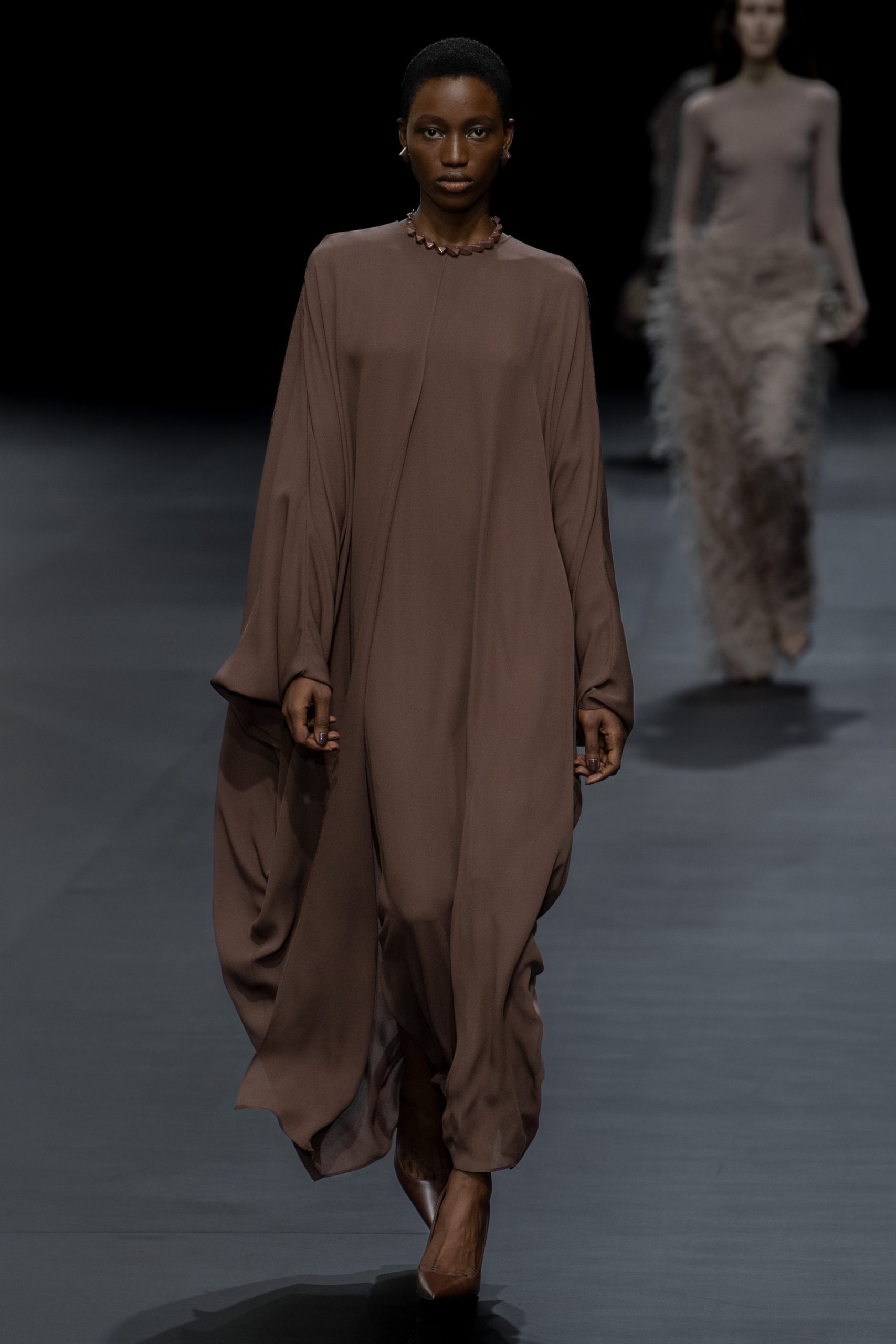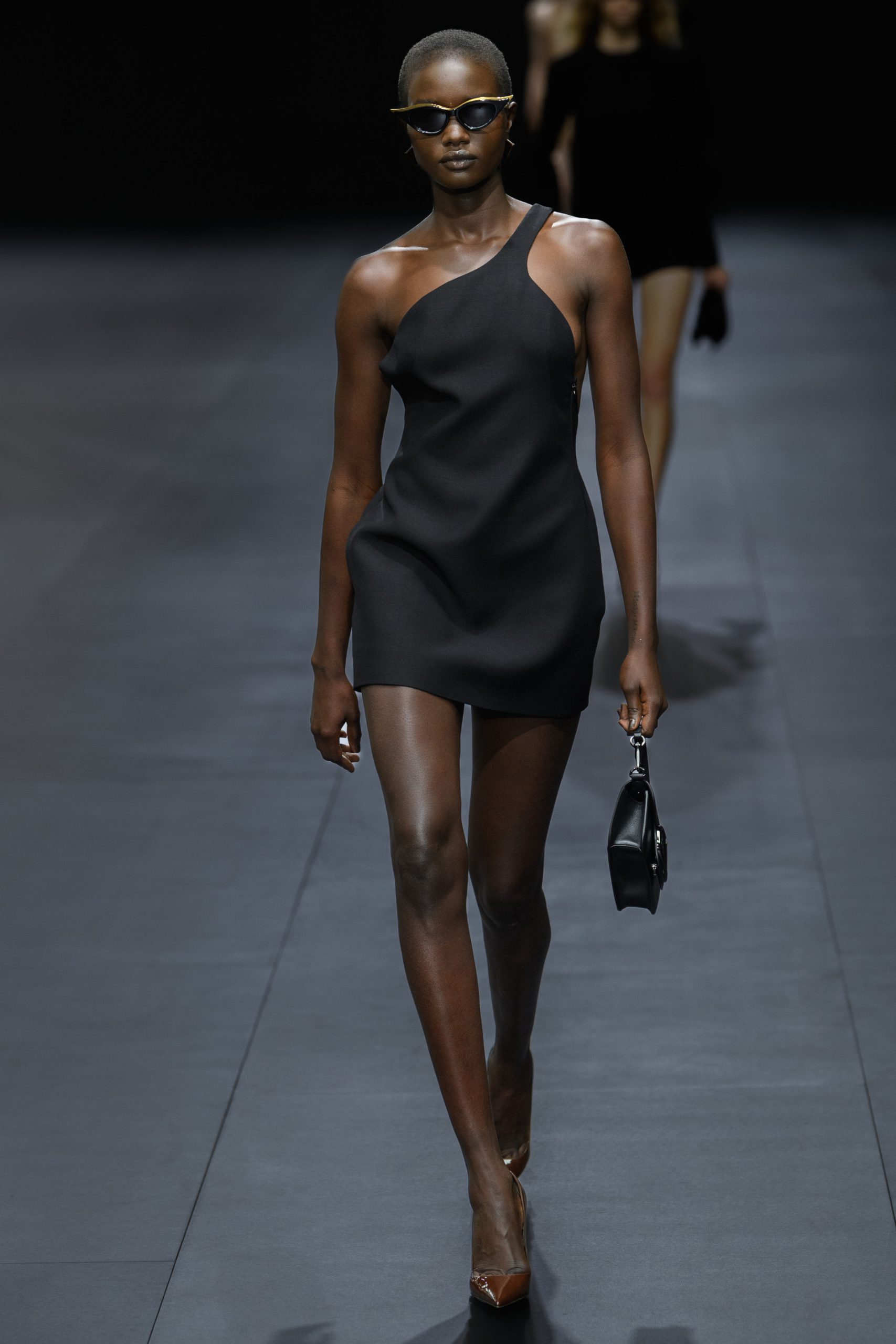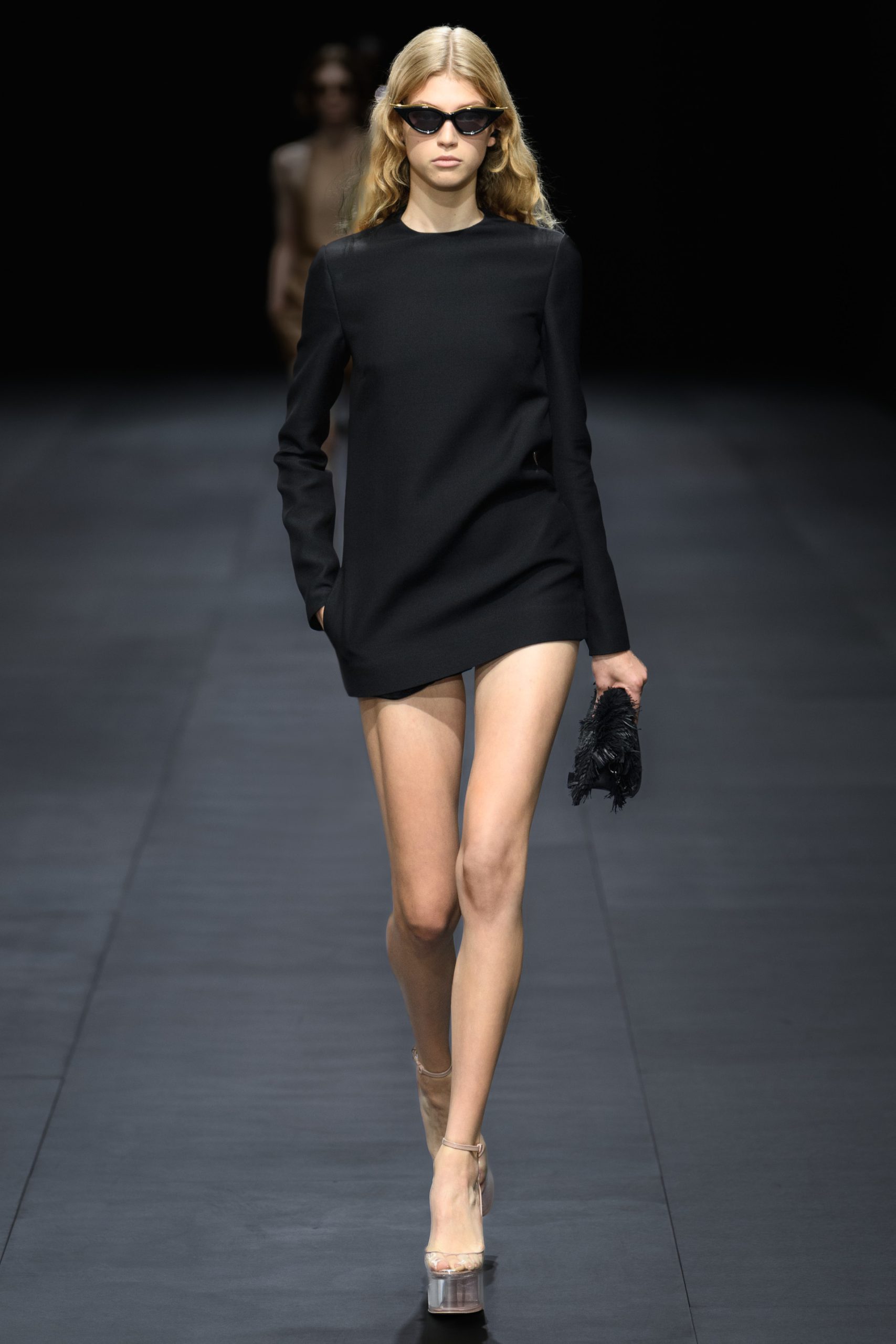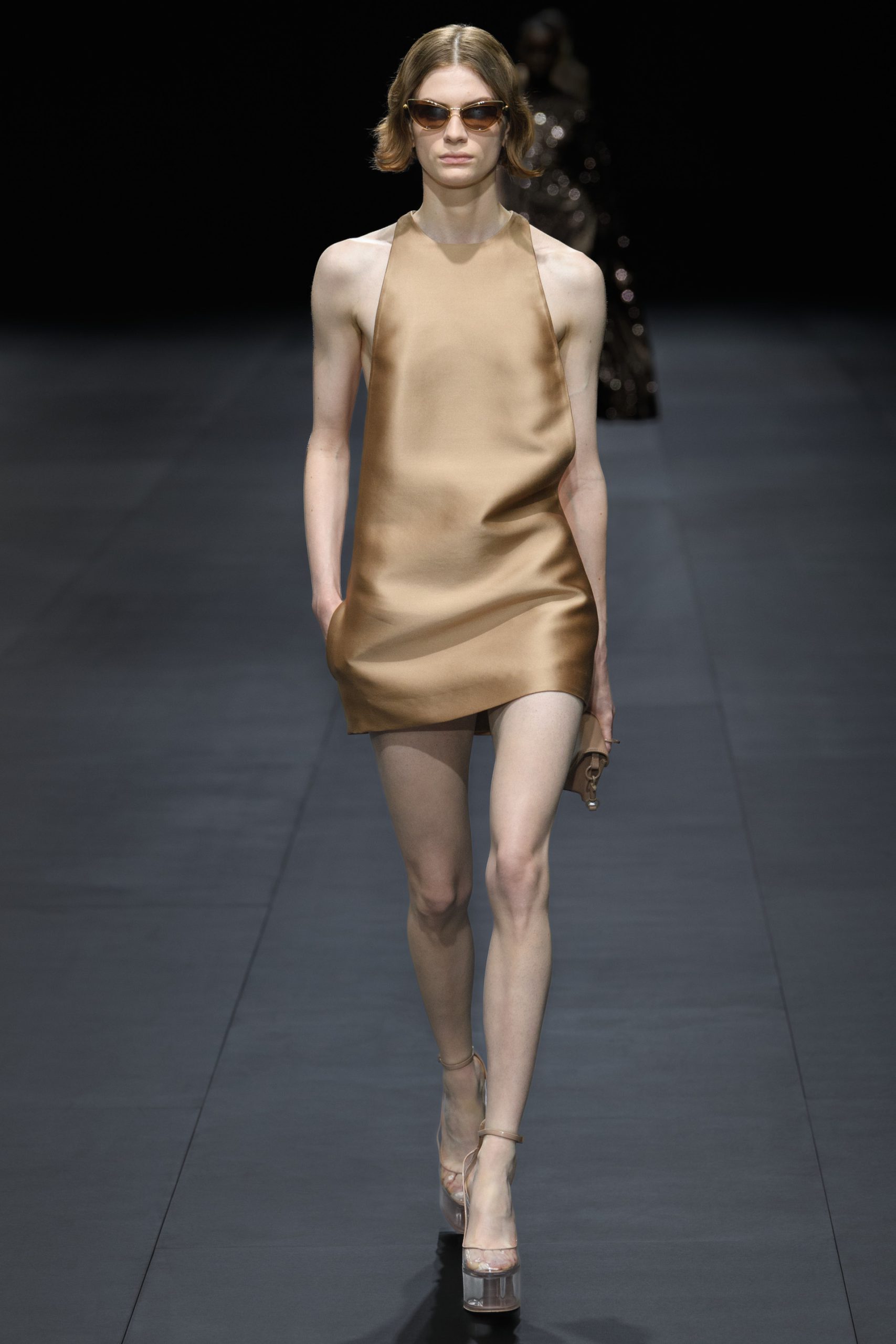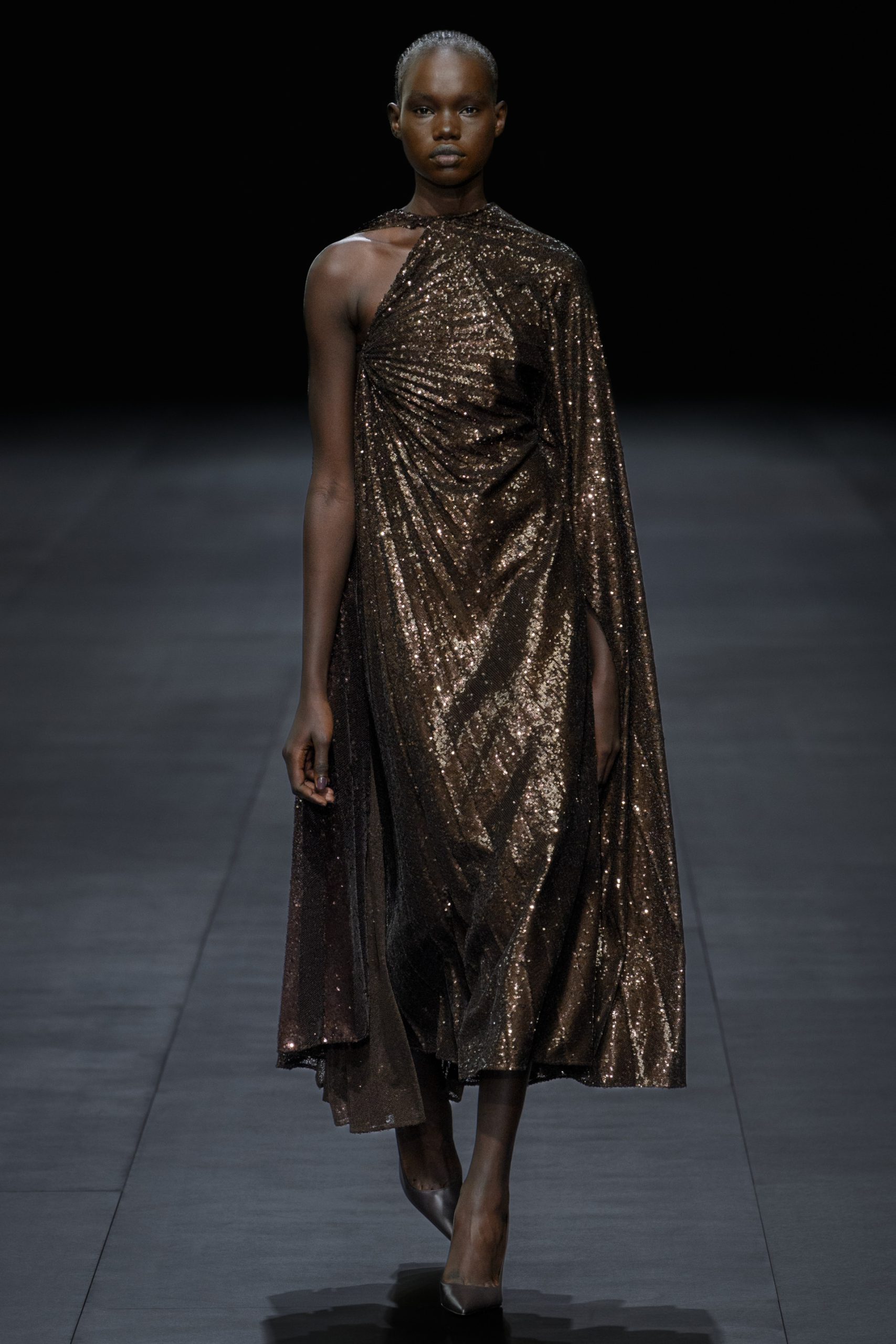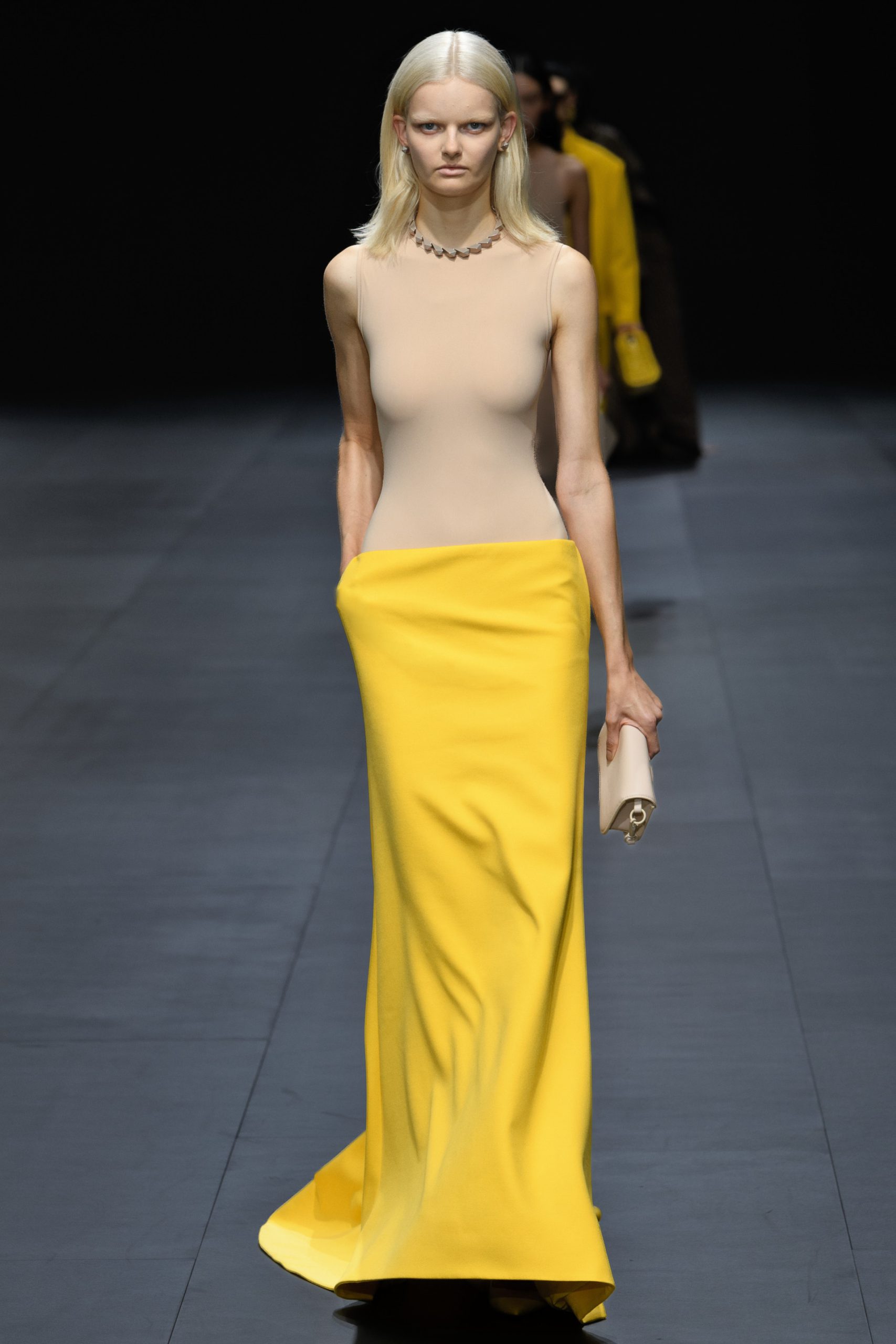 SAINT LAURENT
"Parisian glamour has never been about following trends and instead, looking as effortlessly stylish and nonchalant as possible and Anthony Vacarello returns to his spot in front of the glittering gold Eiffel Tower for Saint Laurent's SS23 runway to do just that. Rather than conventional breezy summer dressing, models walked down le Jardins du Trocadéro in buttery, floor-length leather jackets, slinky, body-hugging numbers, masculine outerwear, hooded dresses, and satin and sequin looks in a rich colour palette of brown, maroon, green, mauve, black and white that hark back to signature Saint Laurent moments since its inception. It is in the past where Vaccarello sought inspiration for this collection, namely the purple tubular swathe Martha Graham wore in her 1930s dance performance of Lamentation, and the many iterations of that fabric presented by Yves Saint Laurent over the years, specifically the hooded 'capuche' pieces from the mid-'80s. All in all, set against the backdrop of the iridescent city, the show was simply magical." –Sarah Hani, editor
RUNWAY LOOKS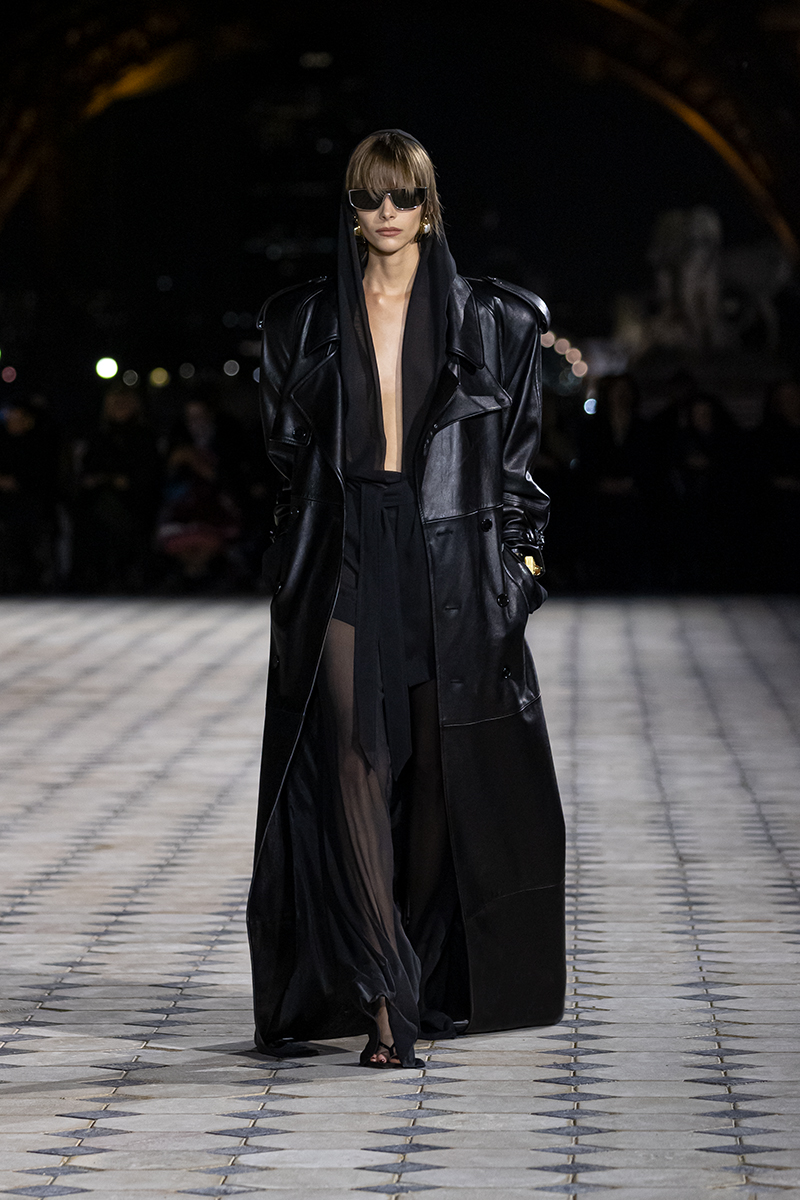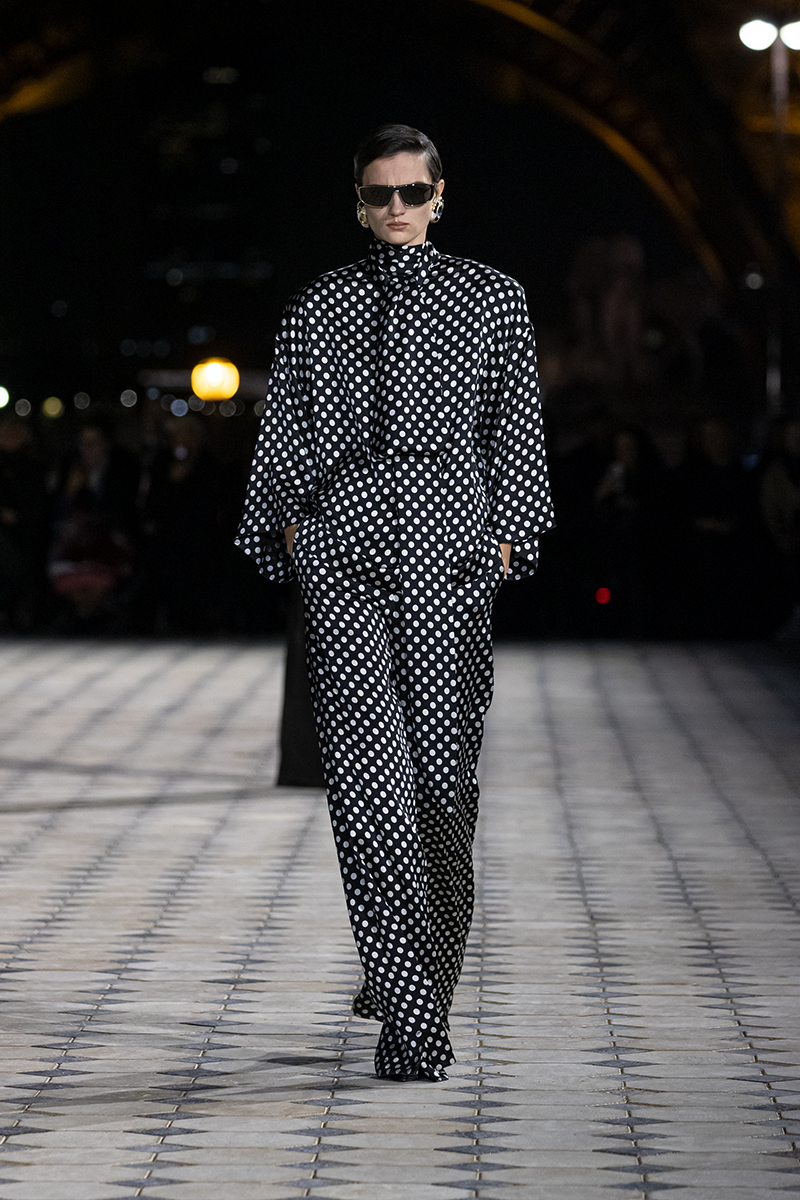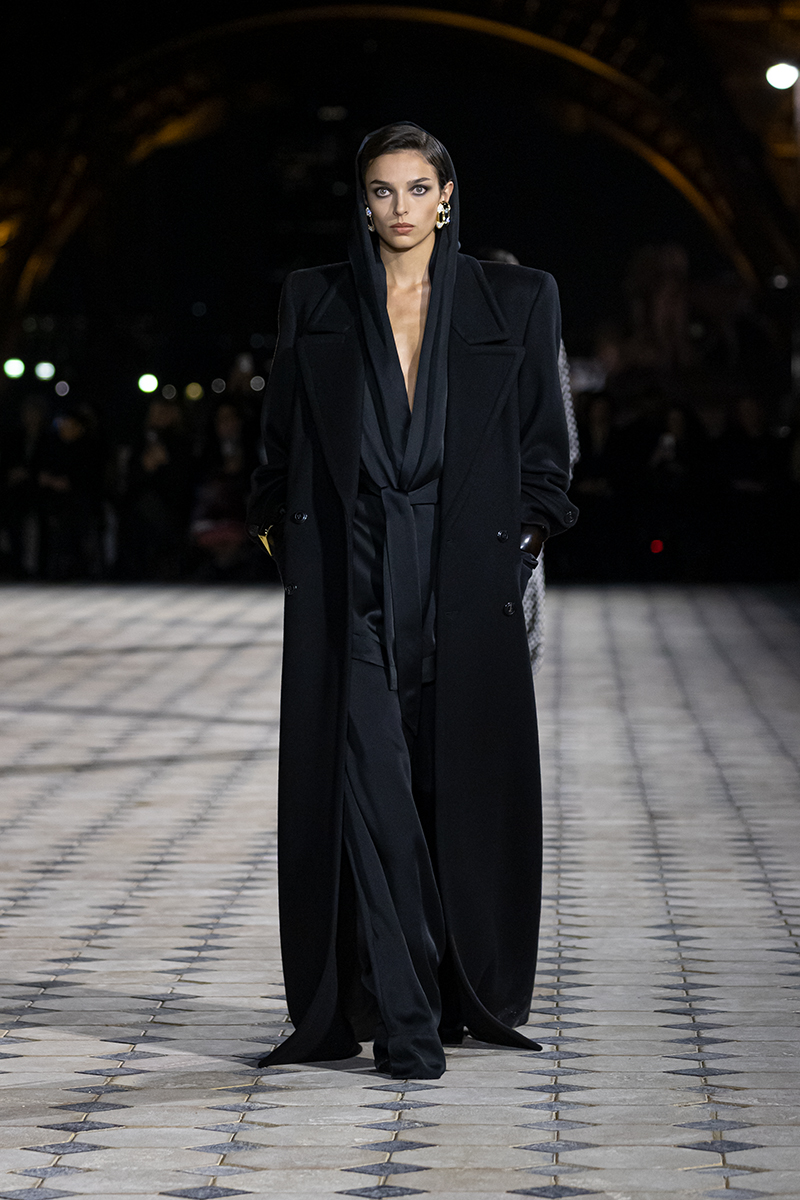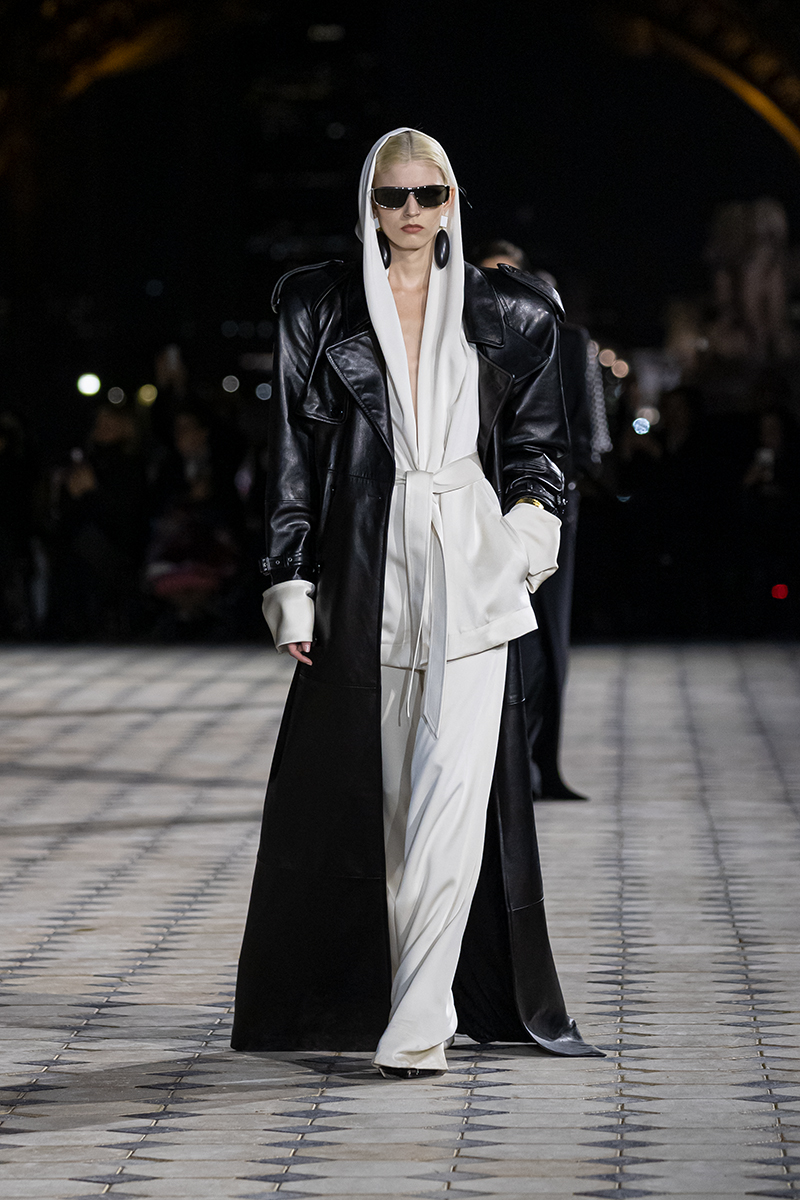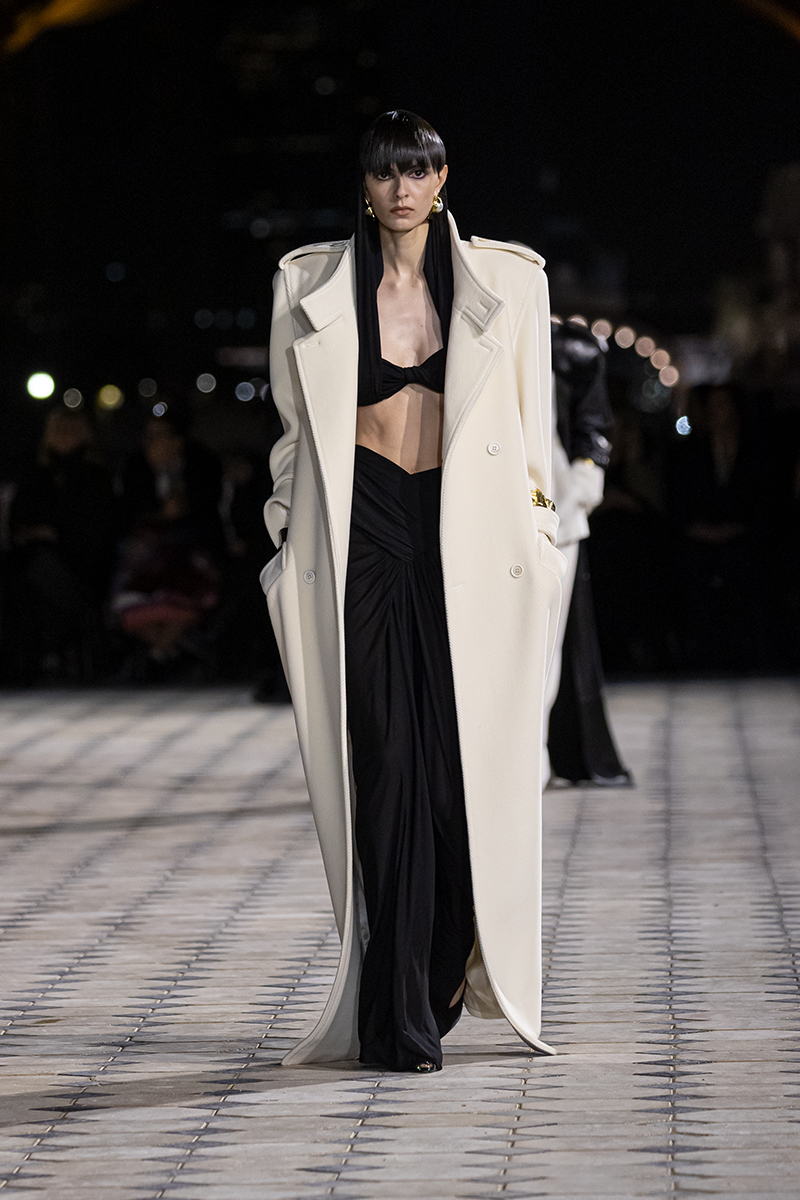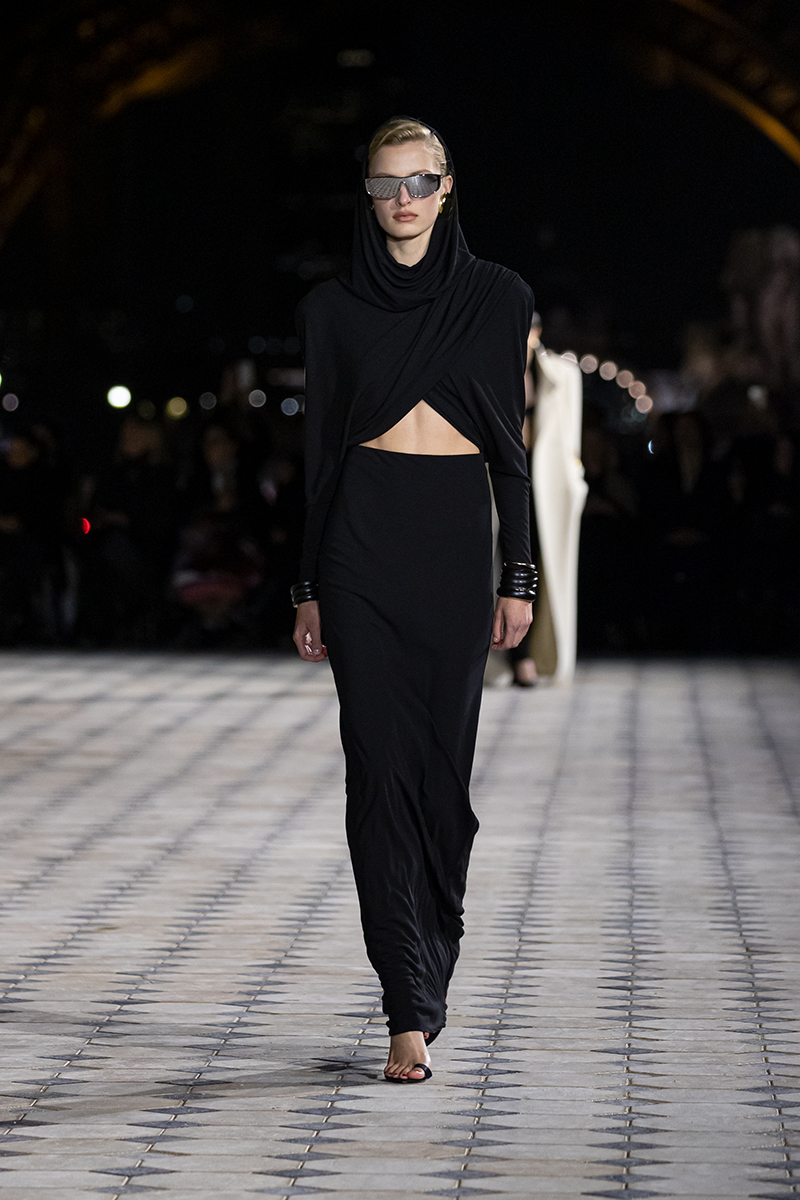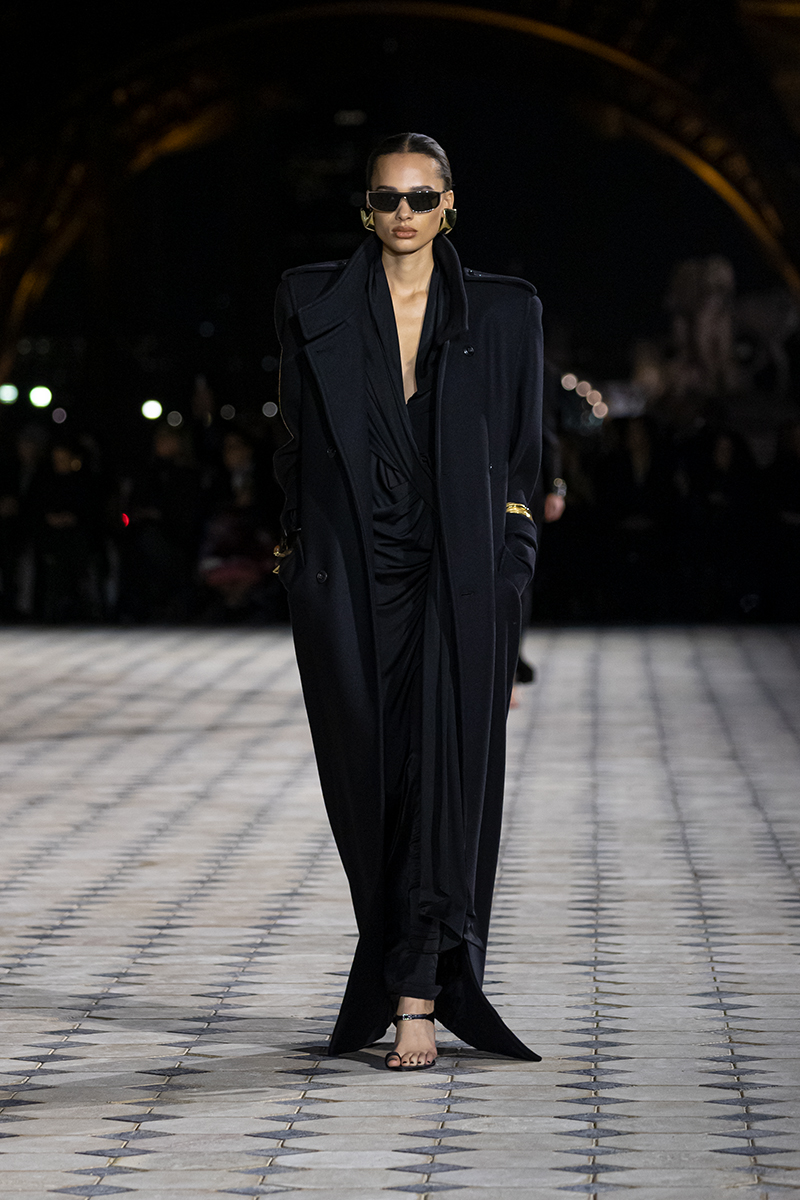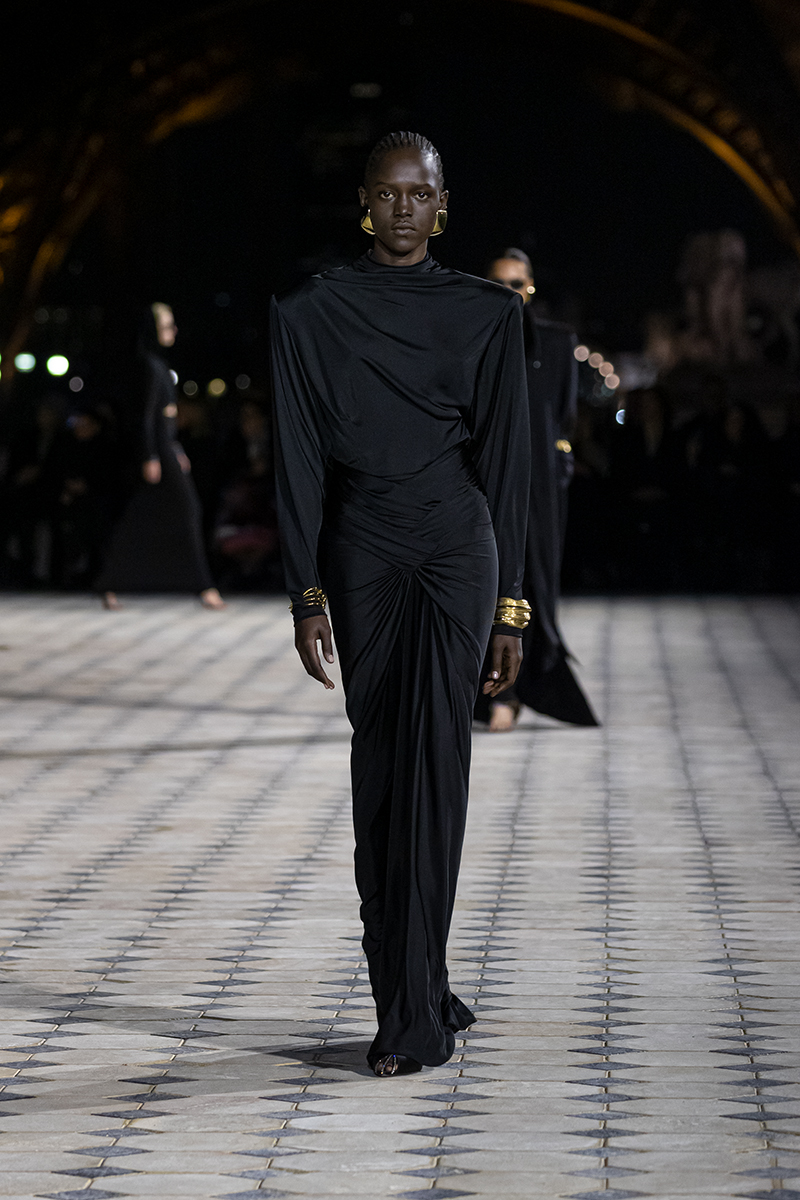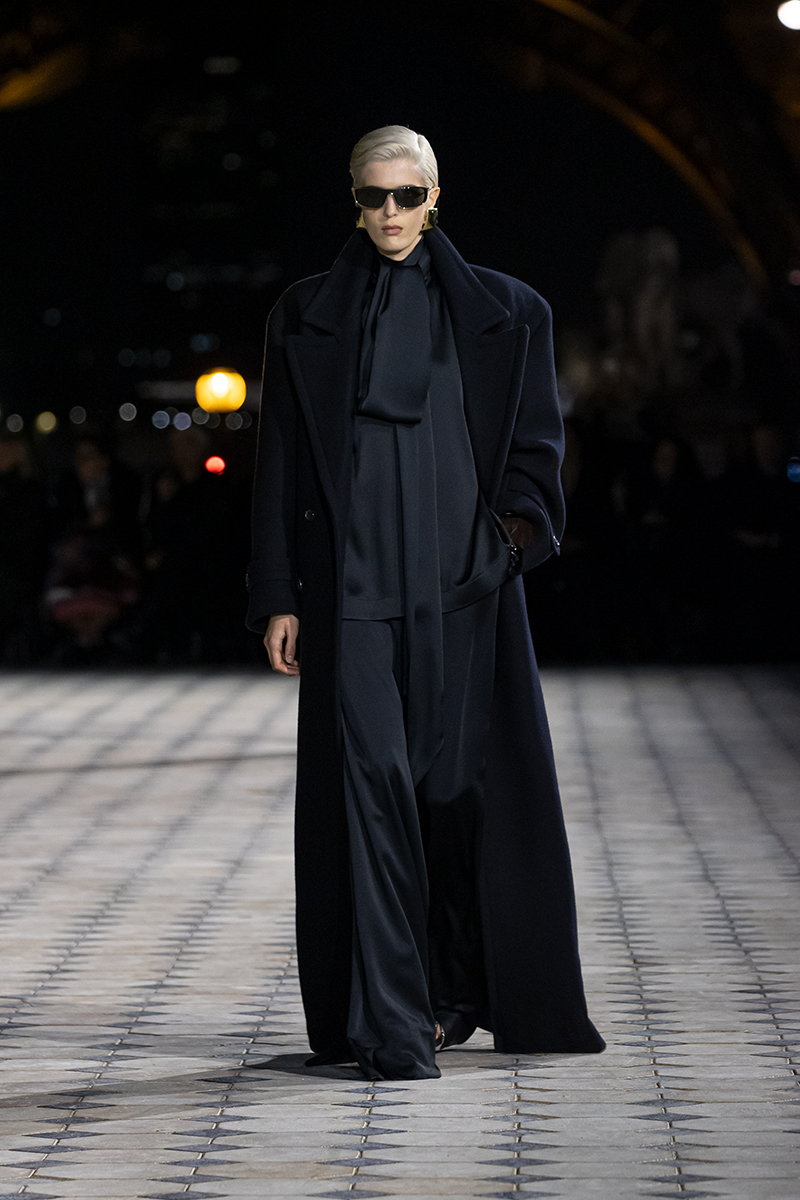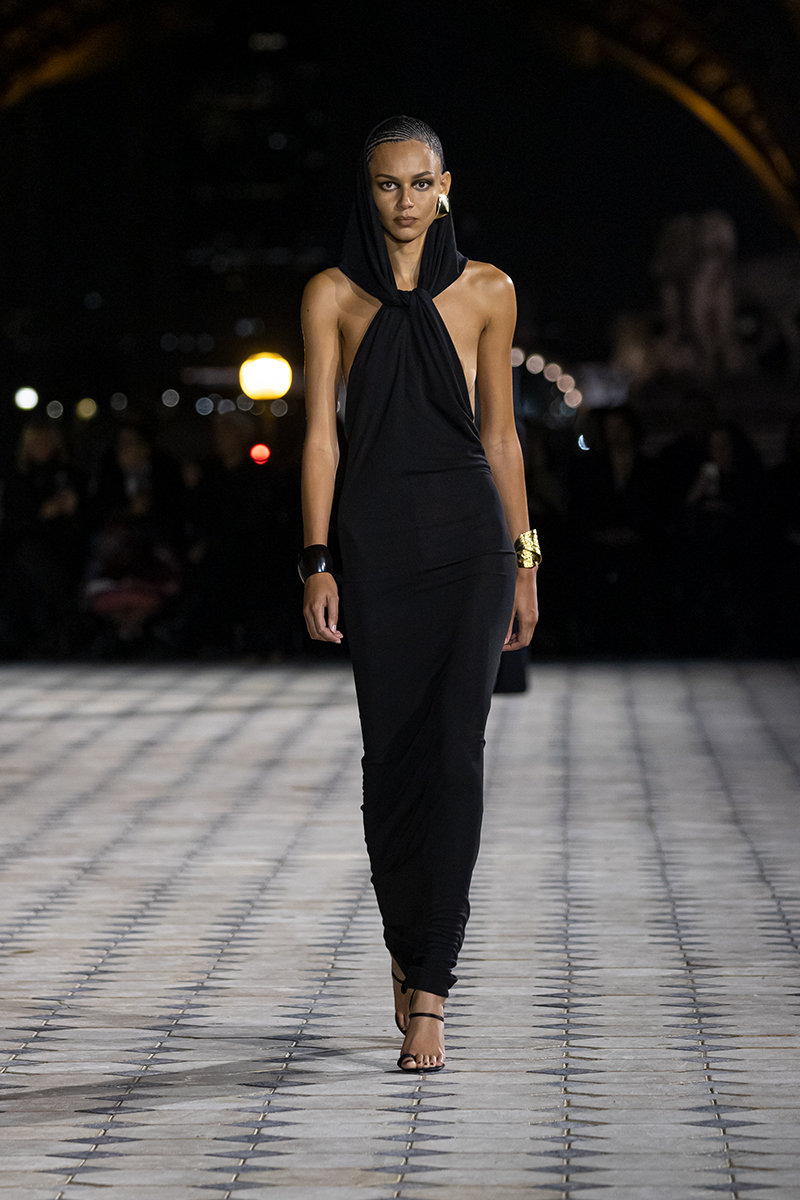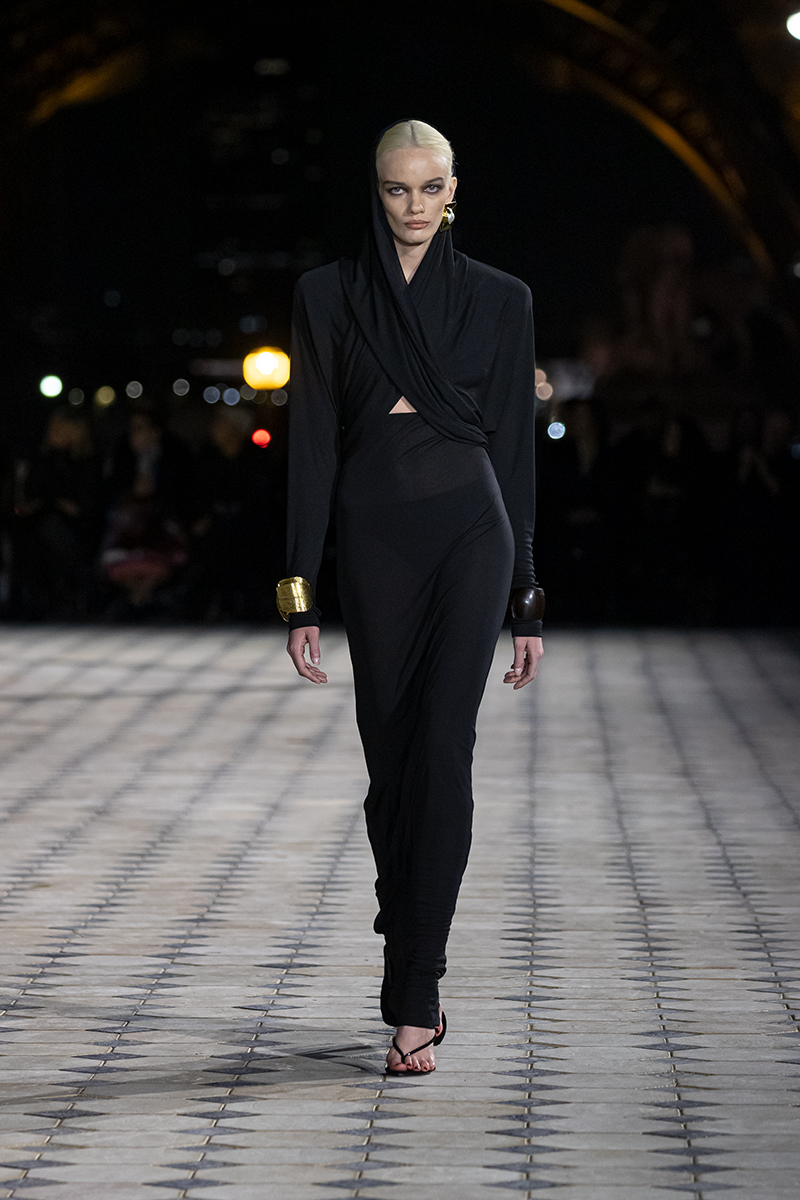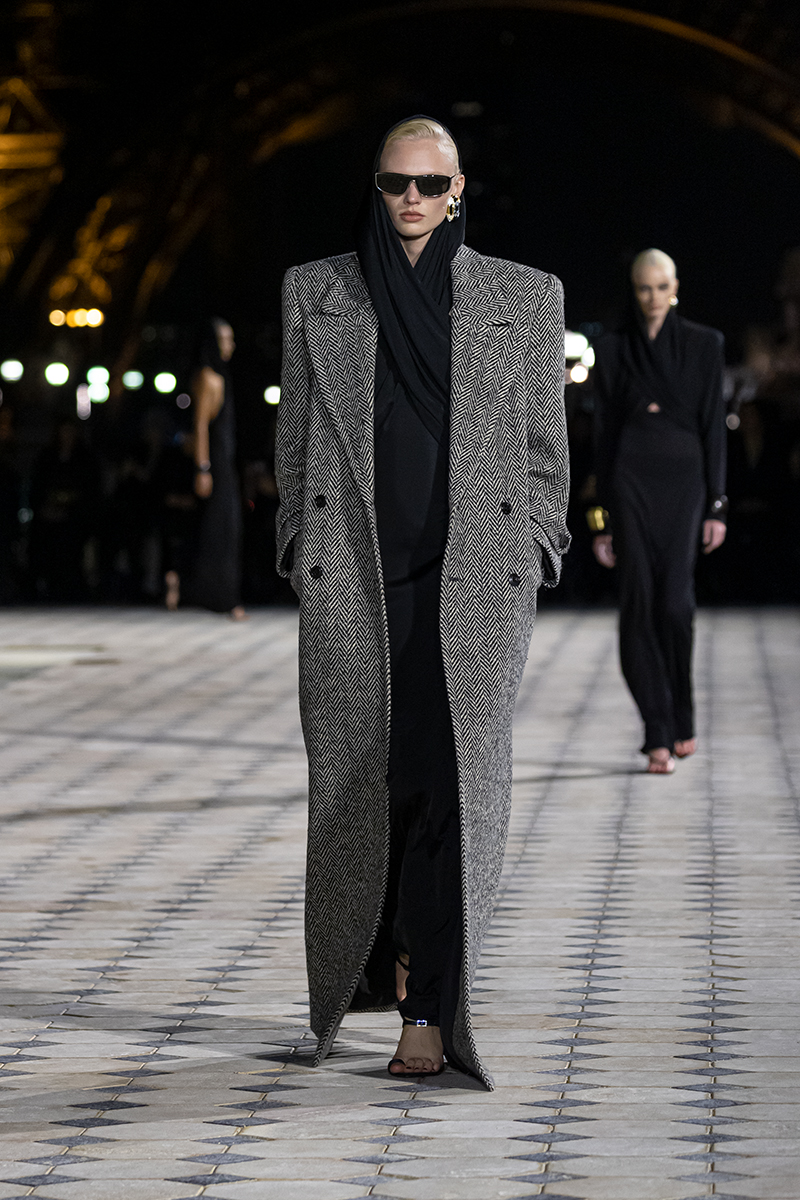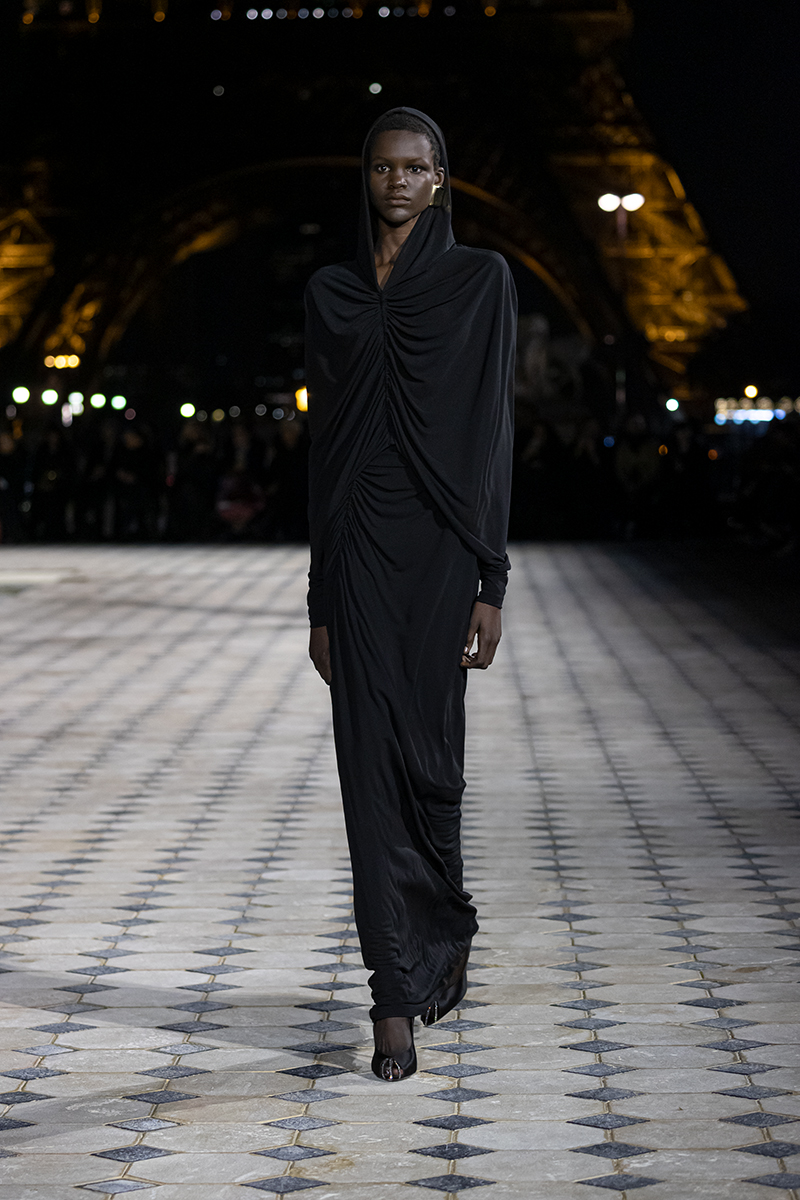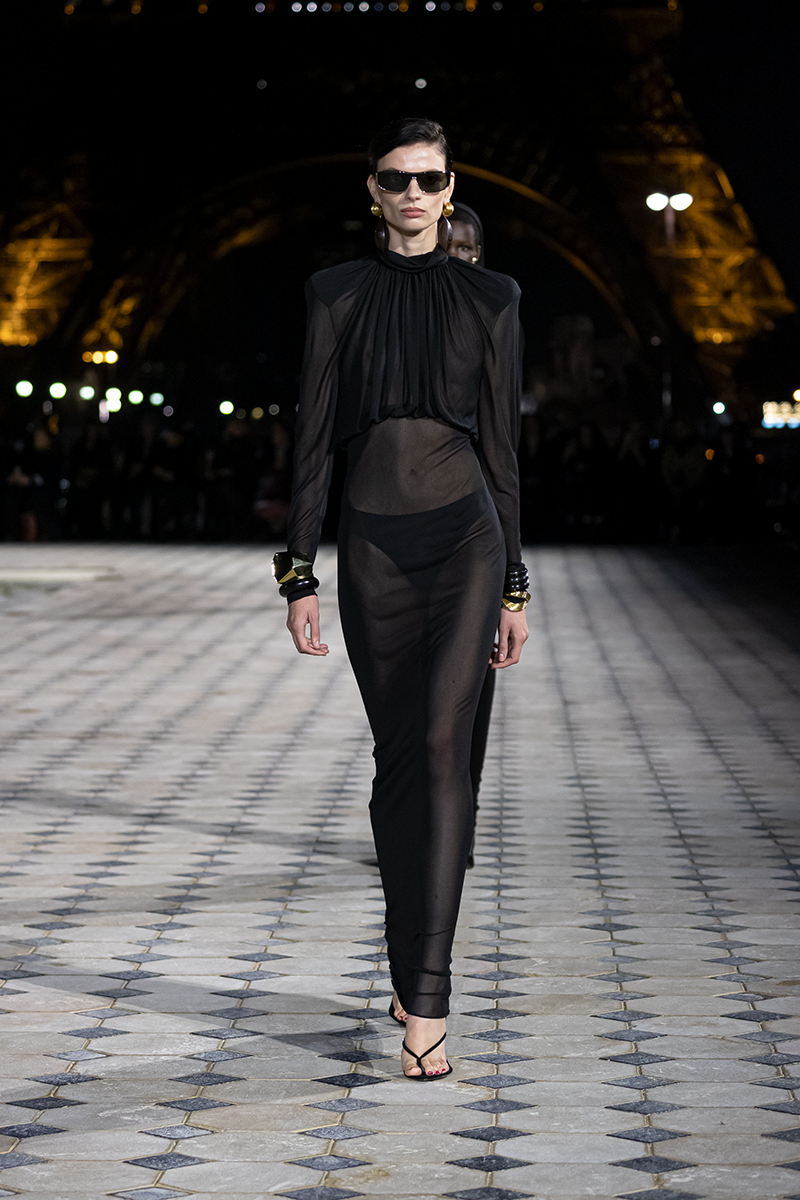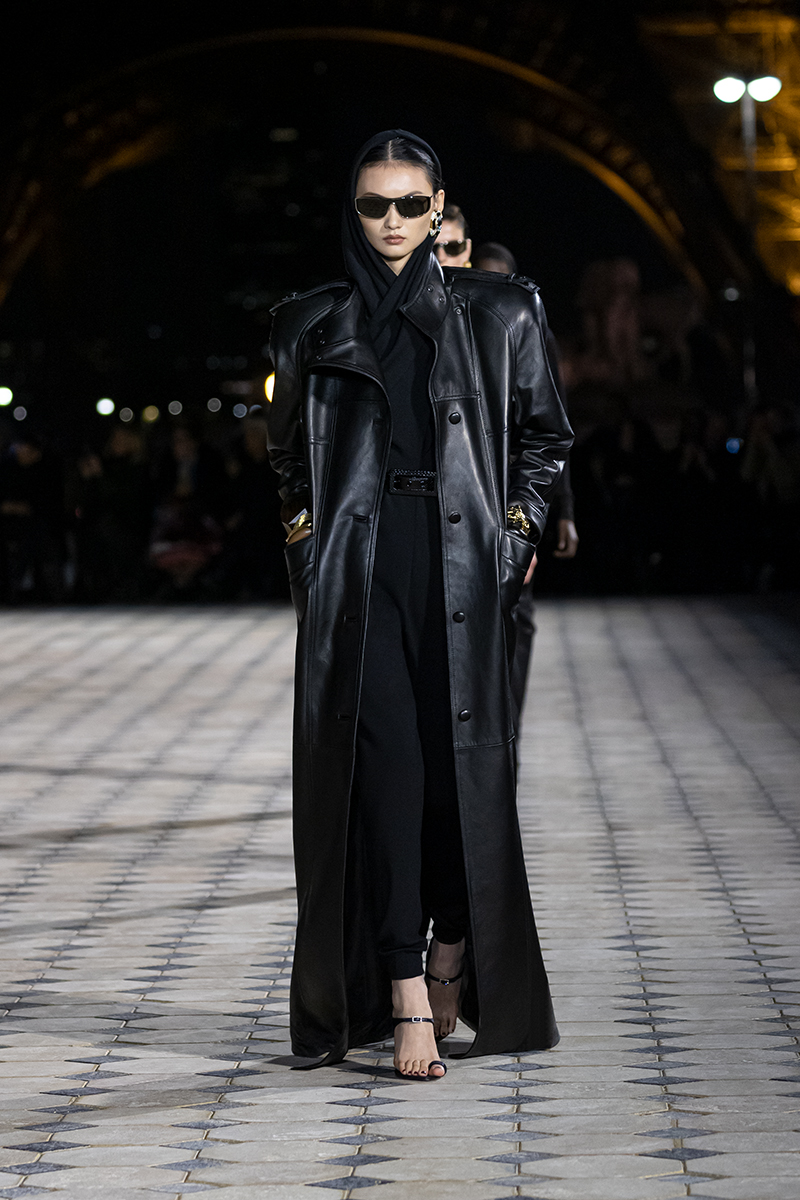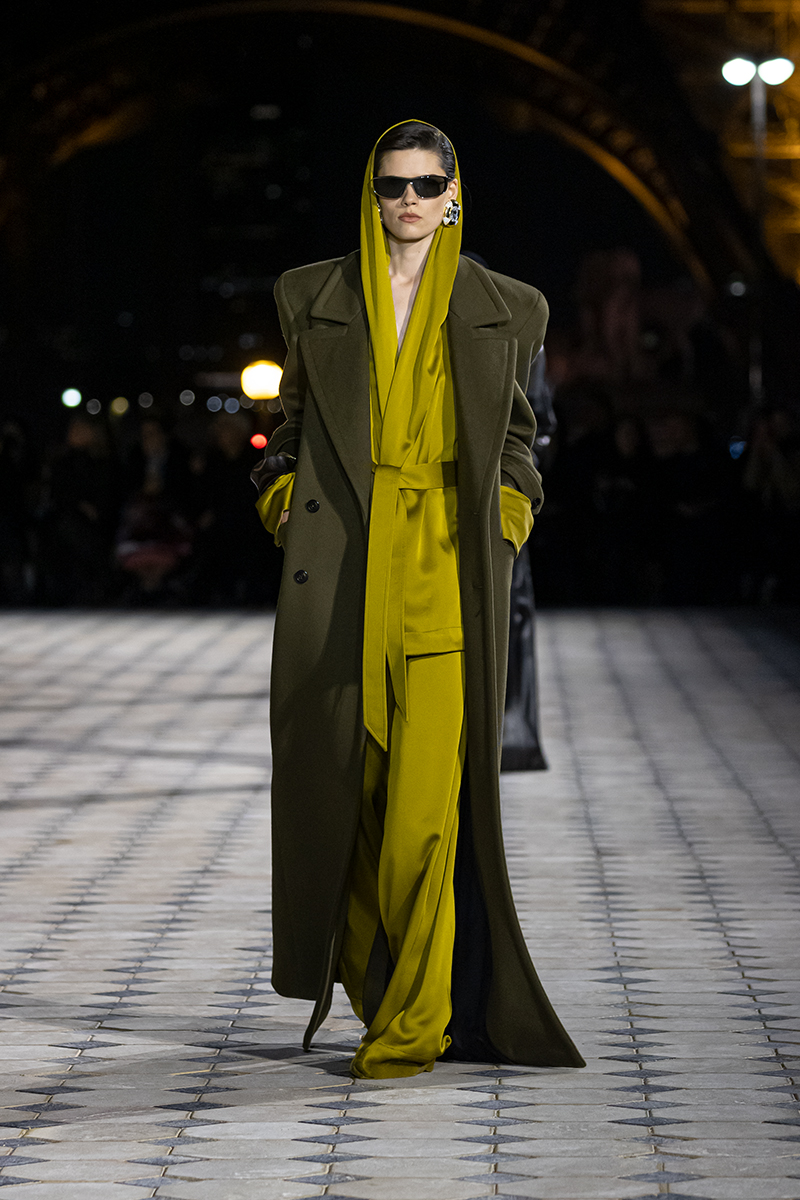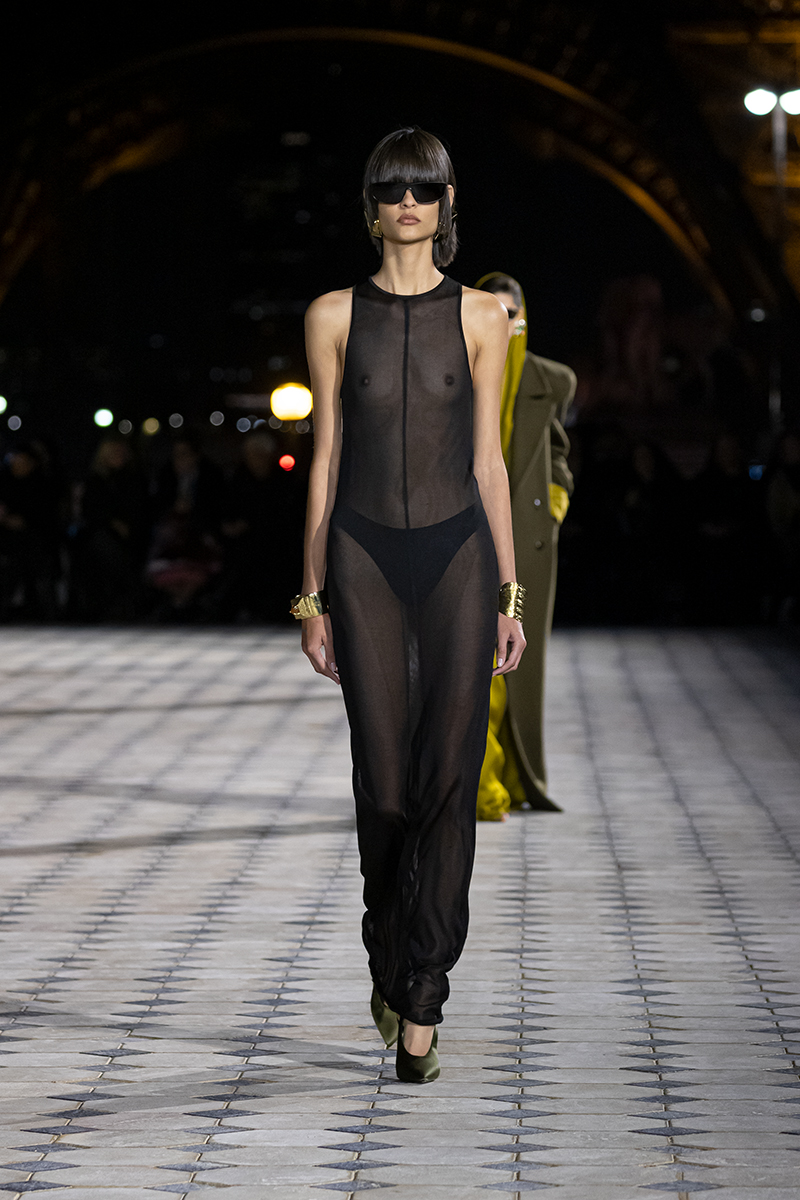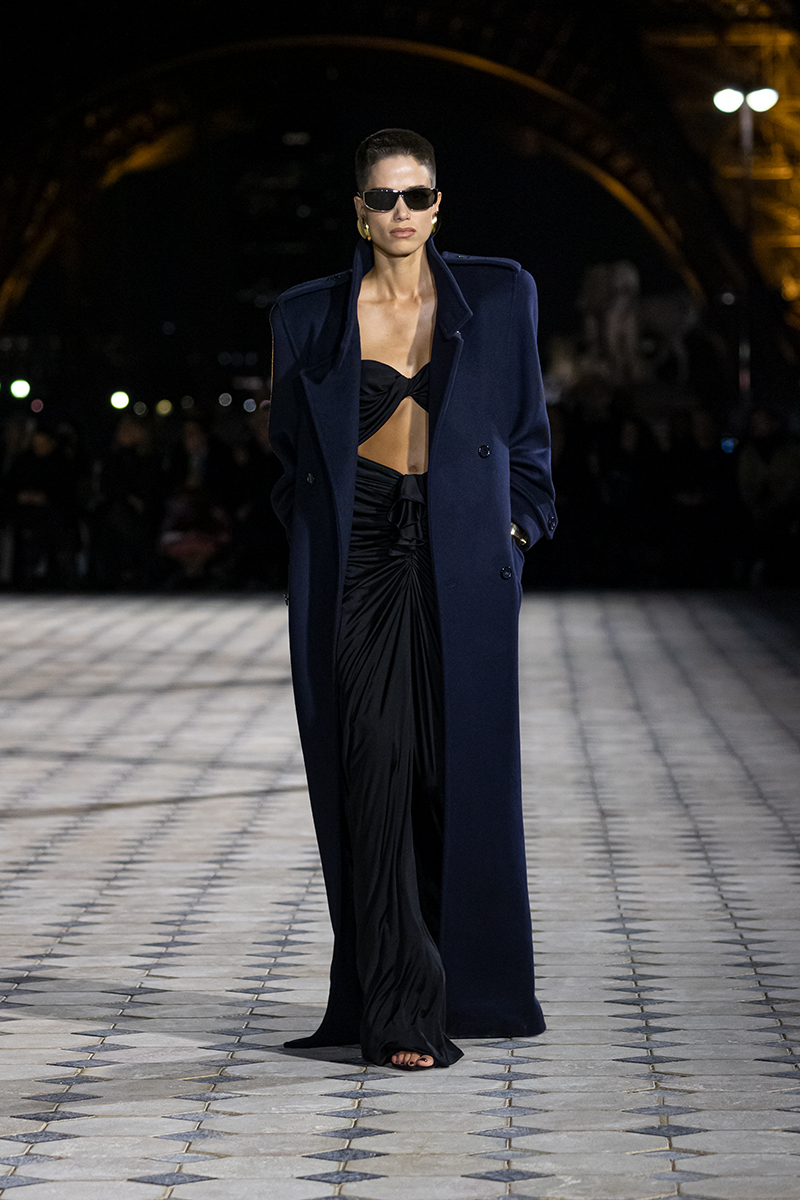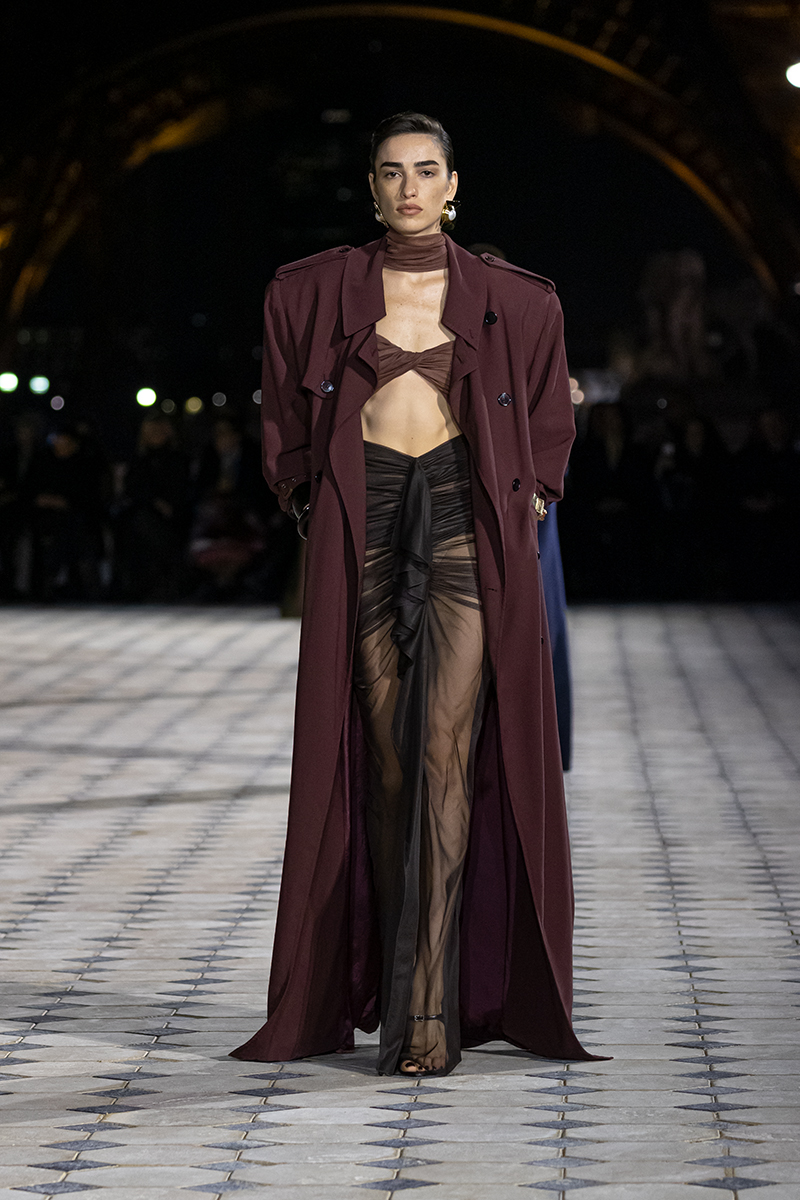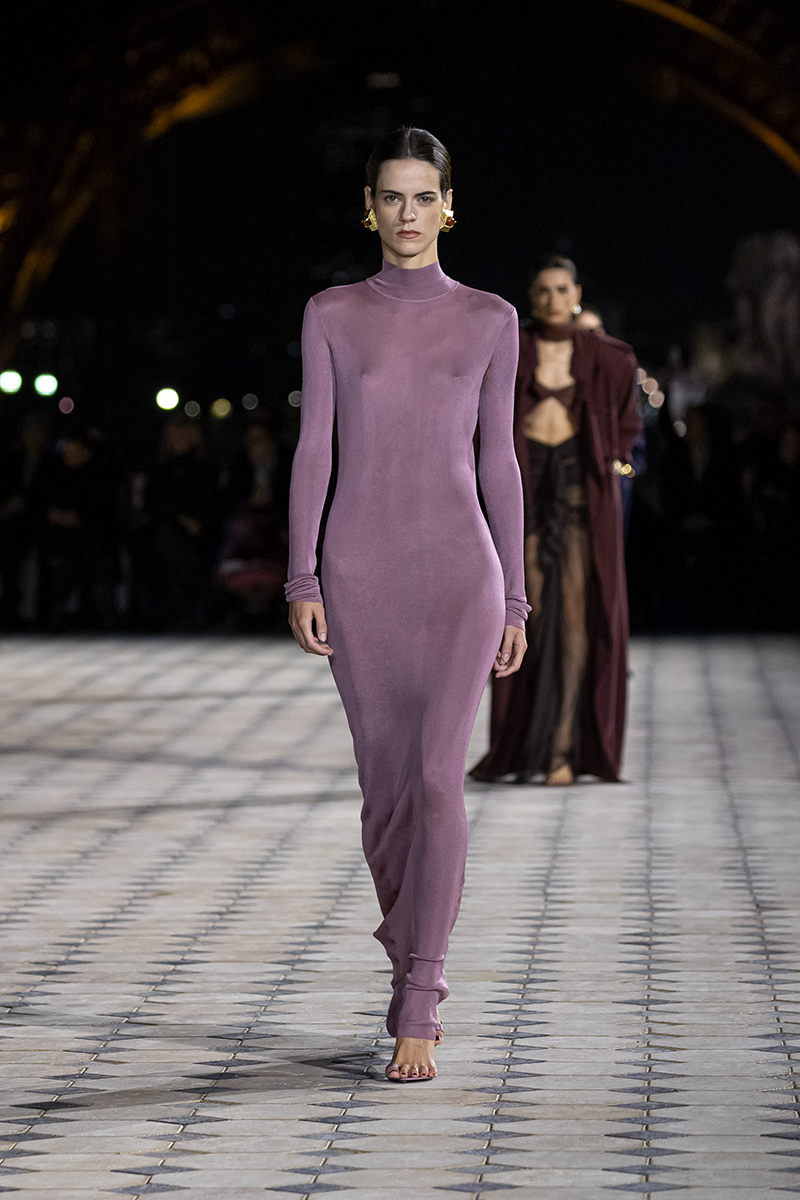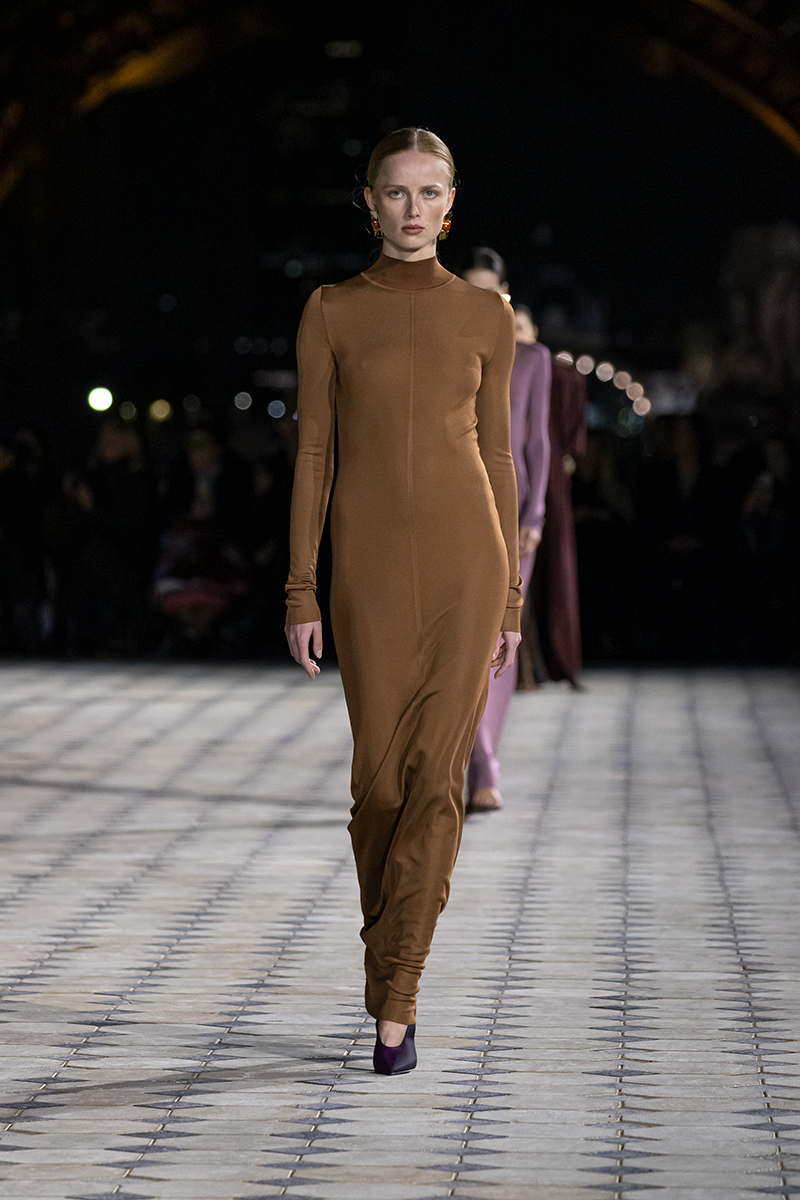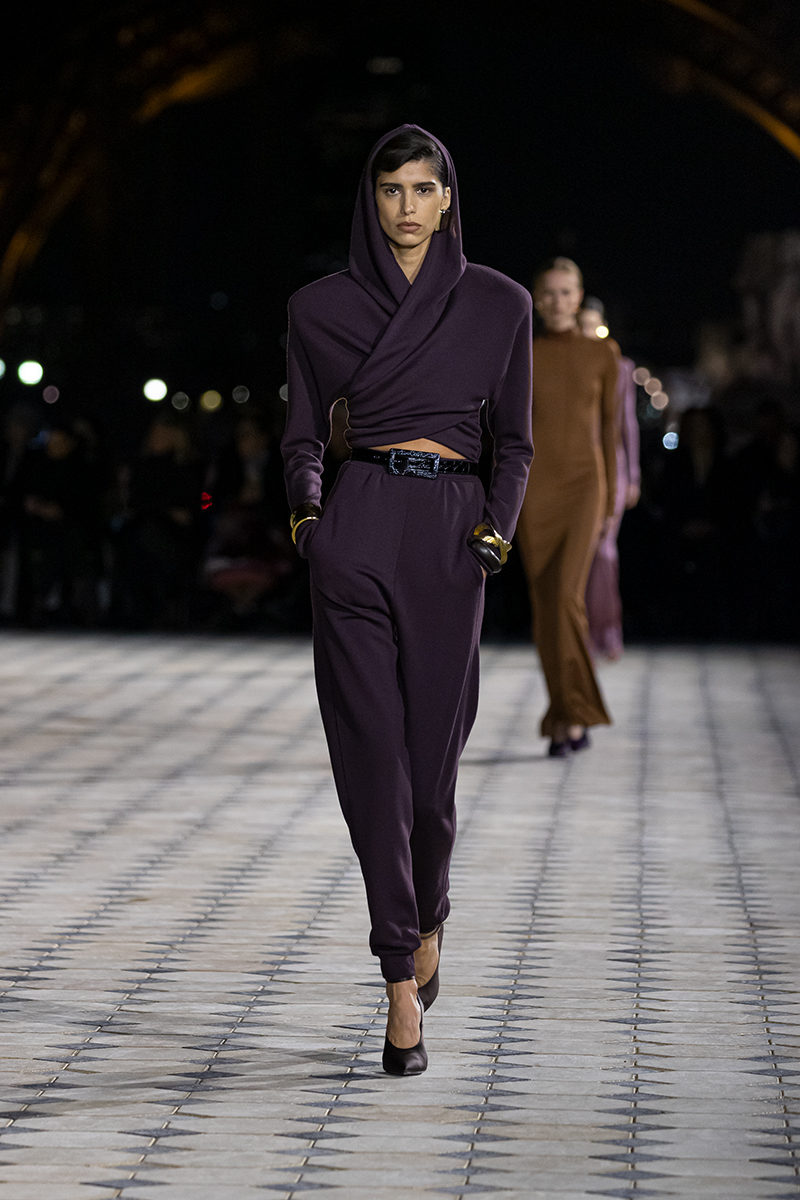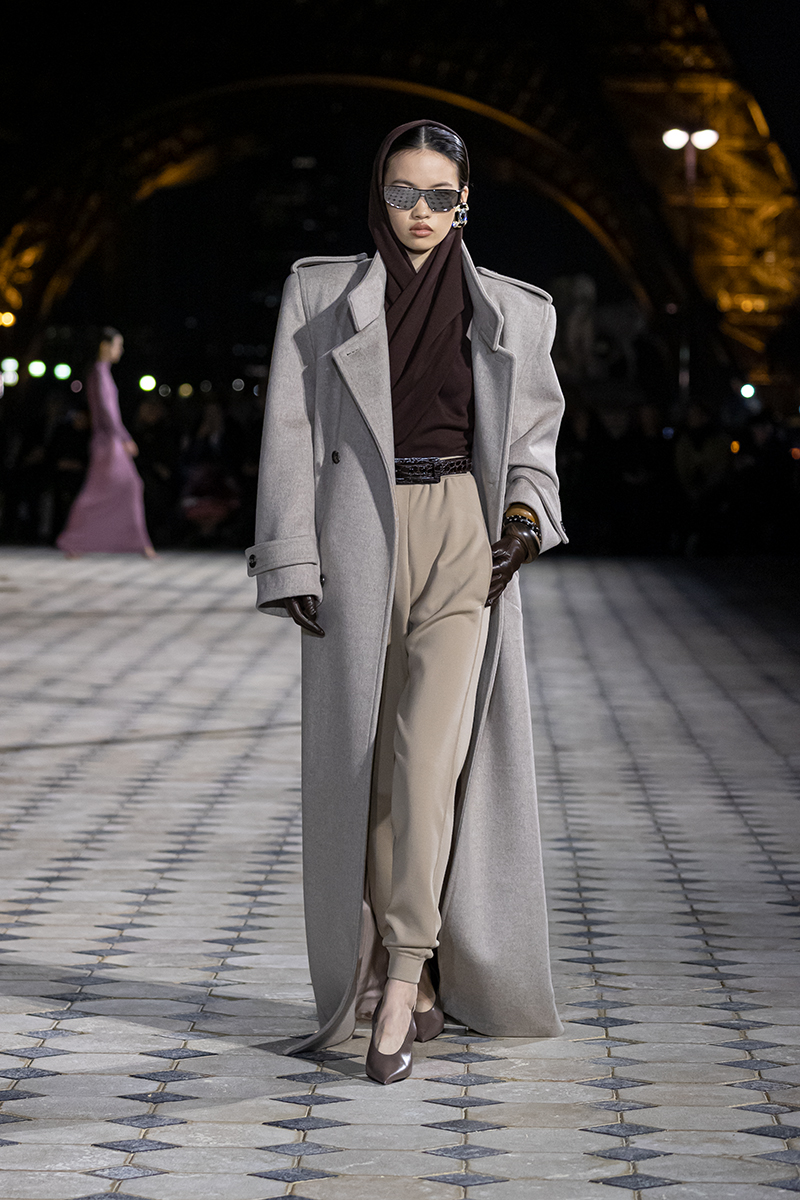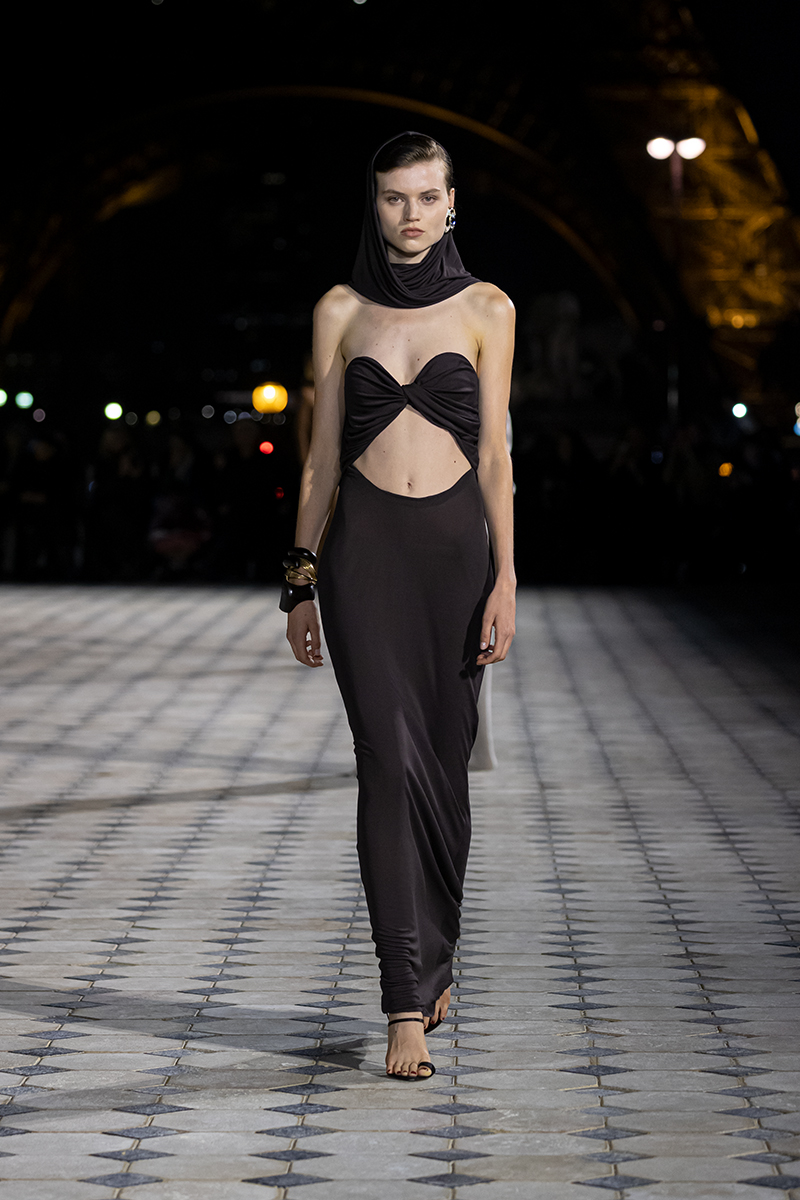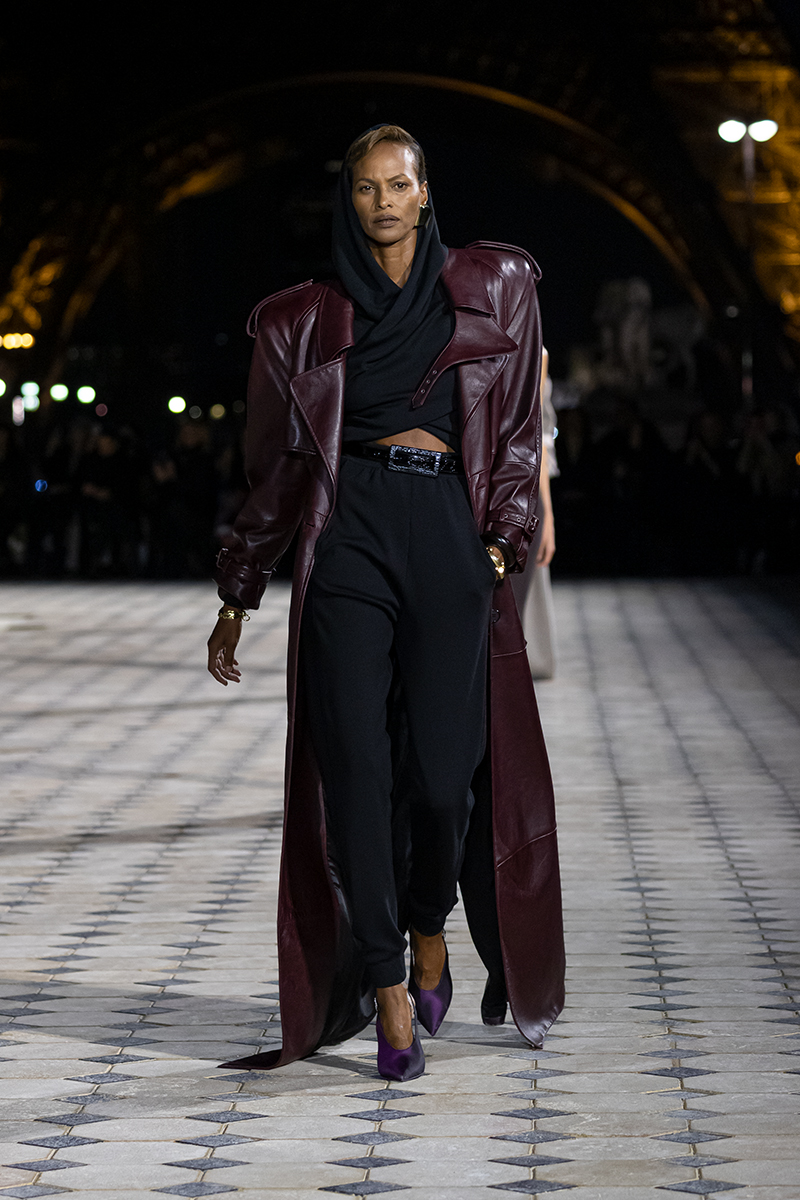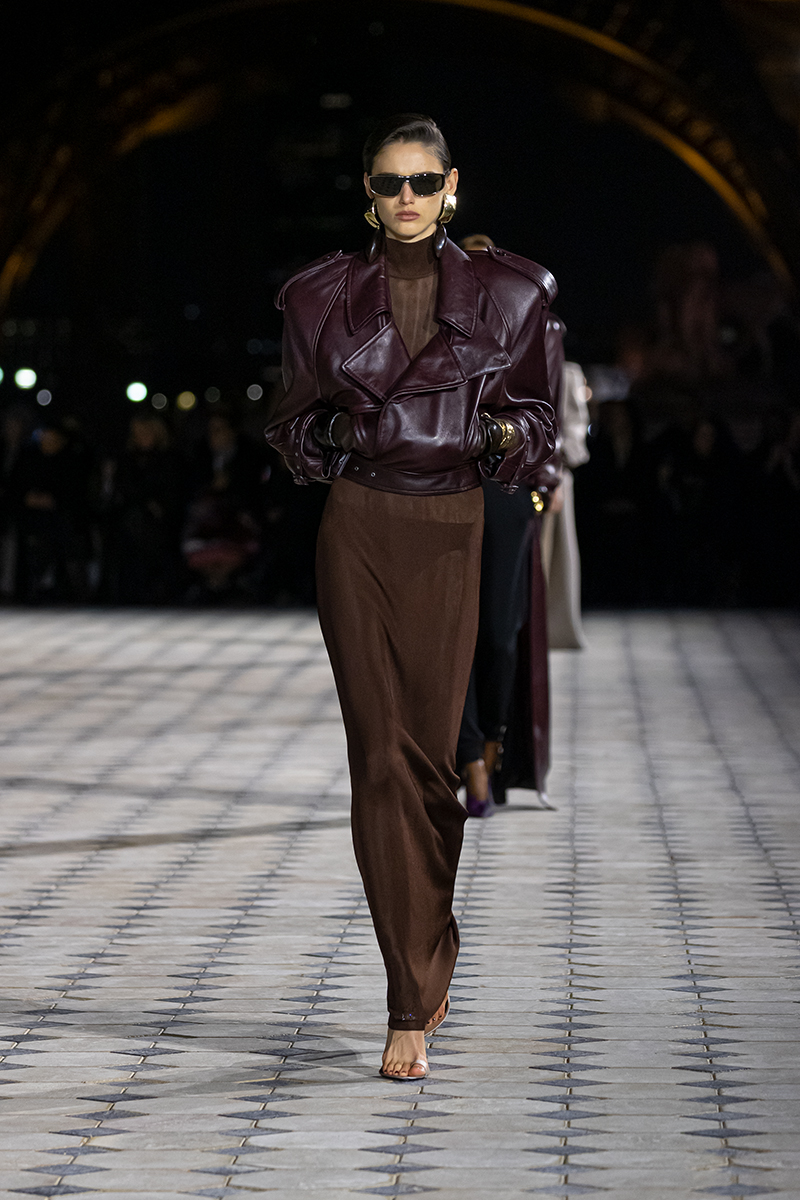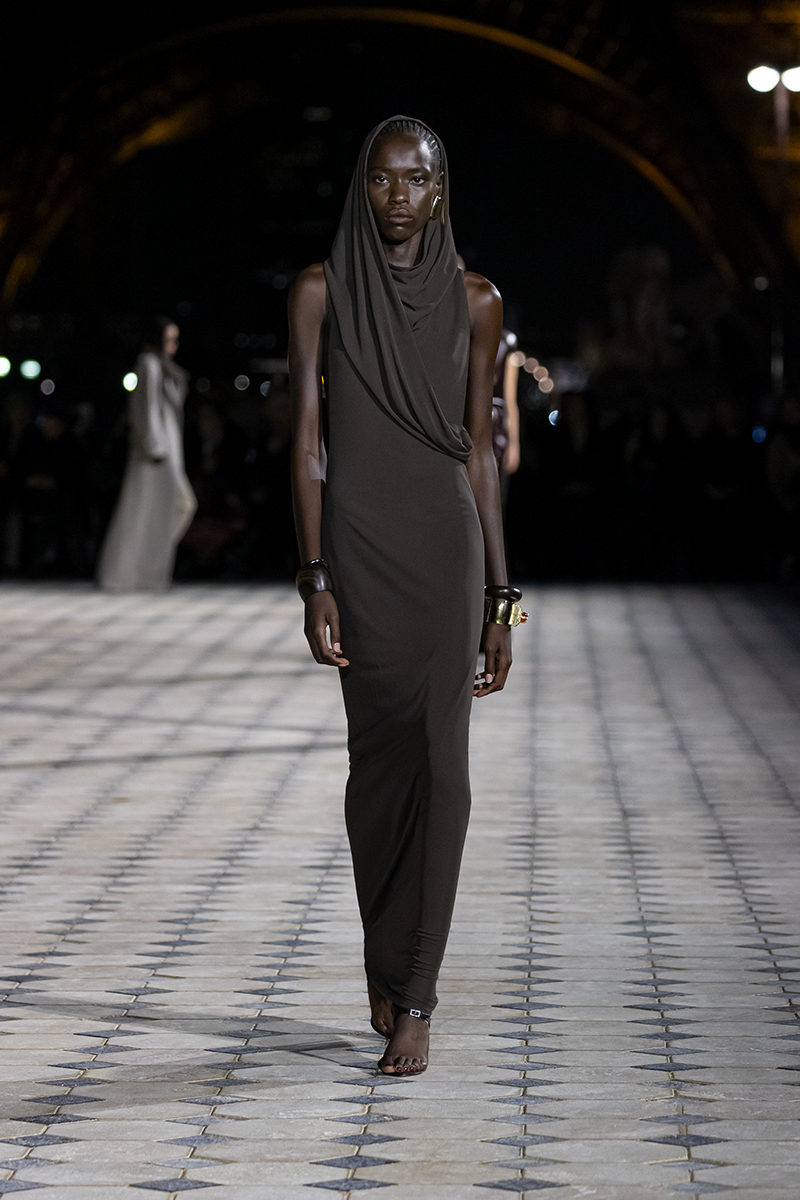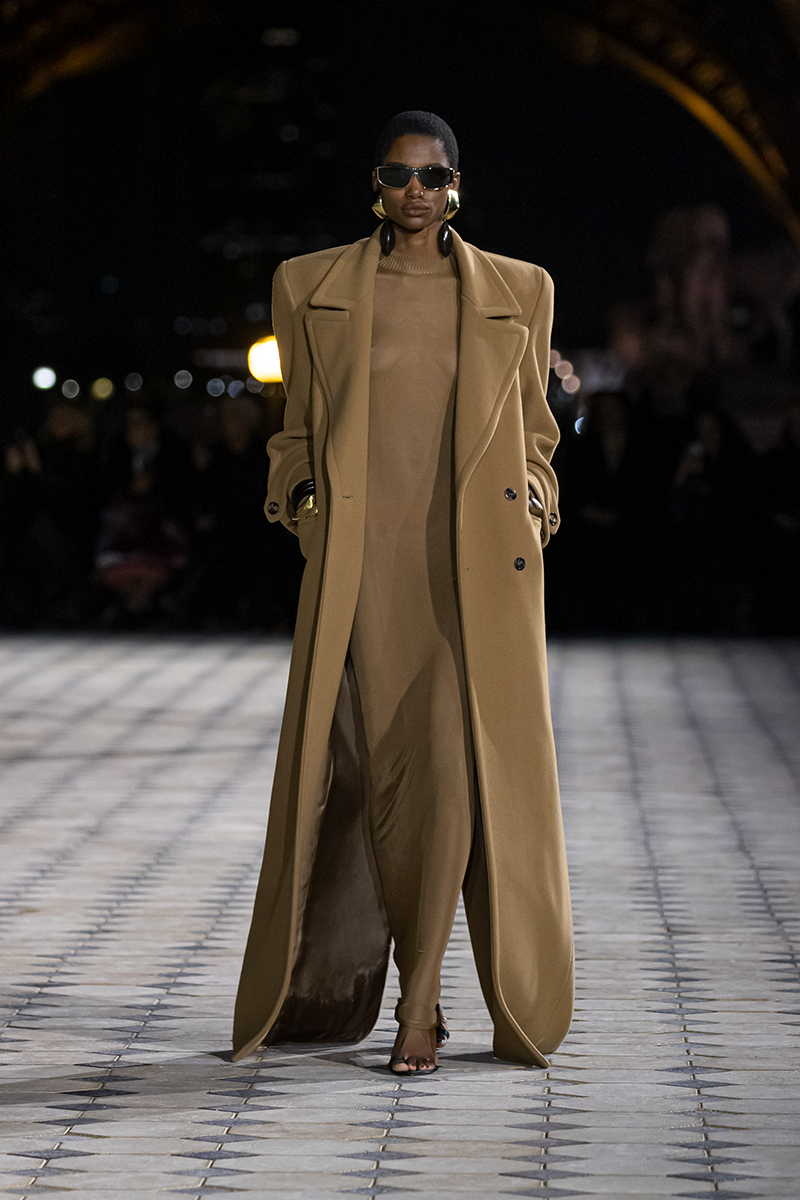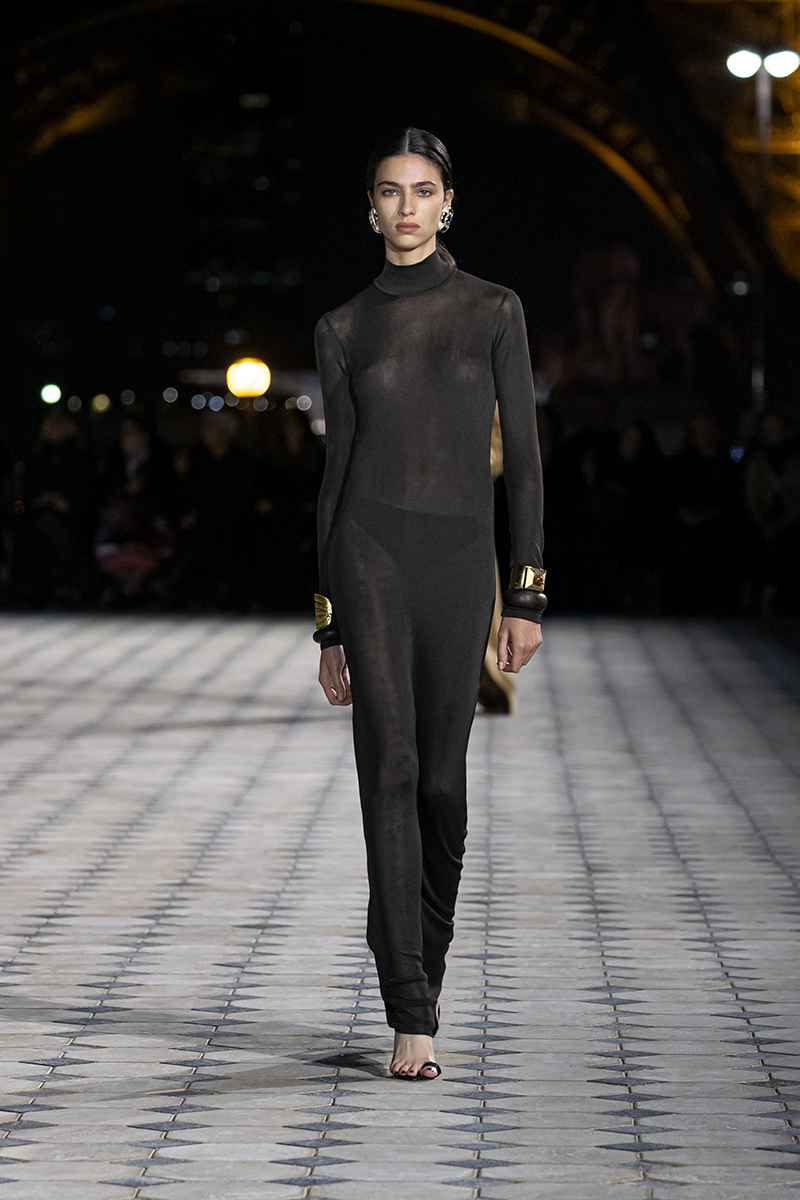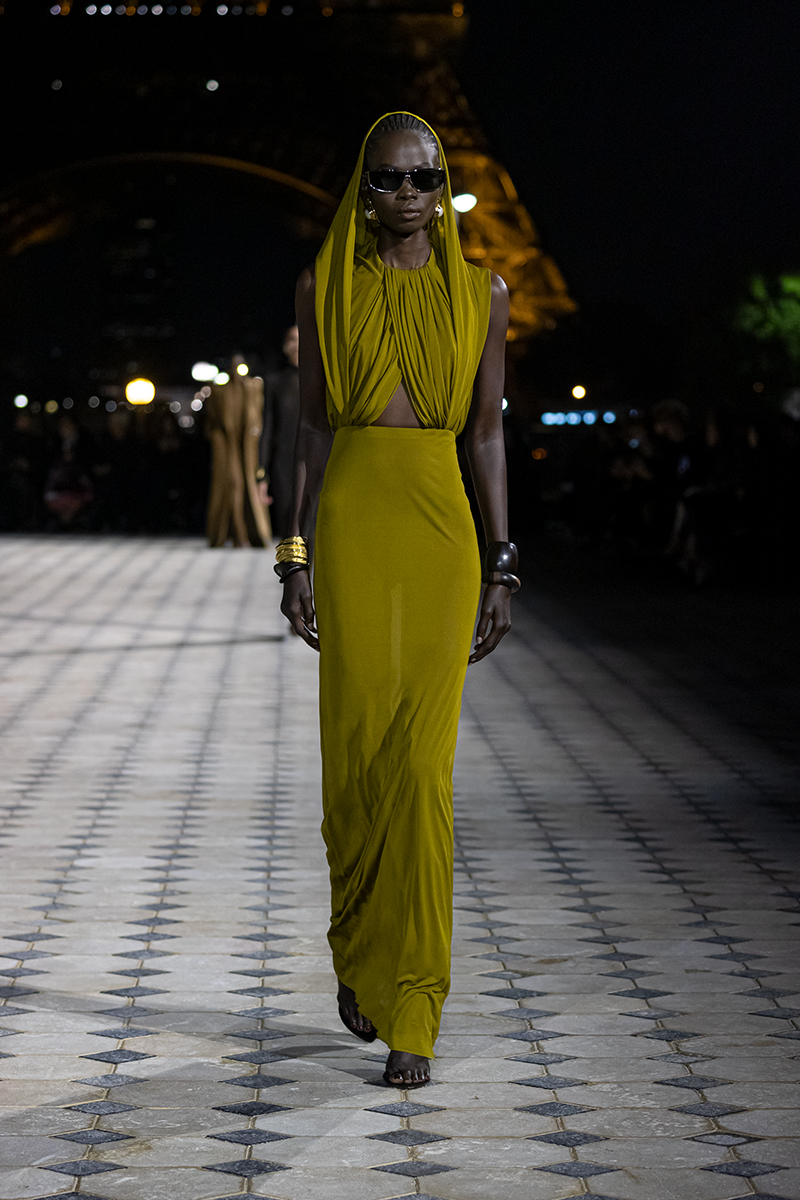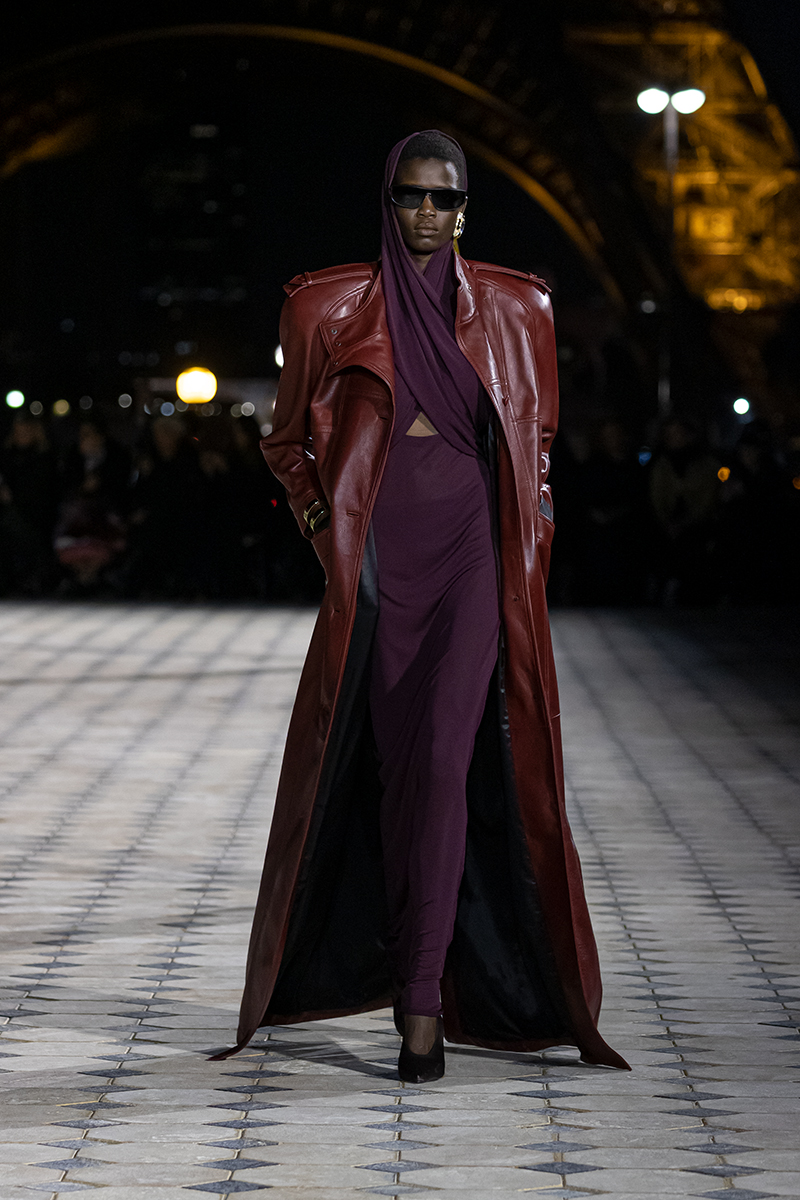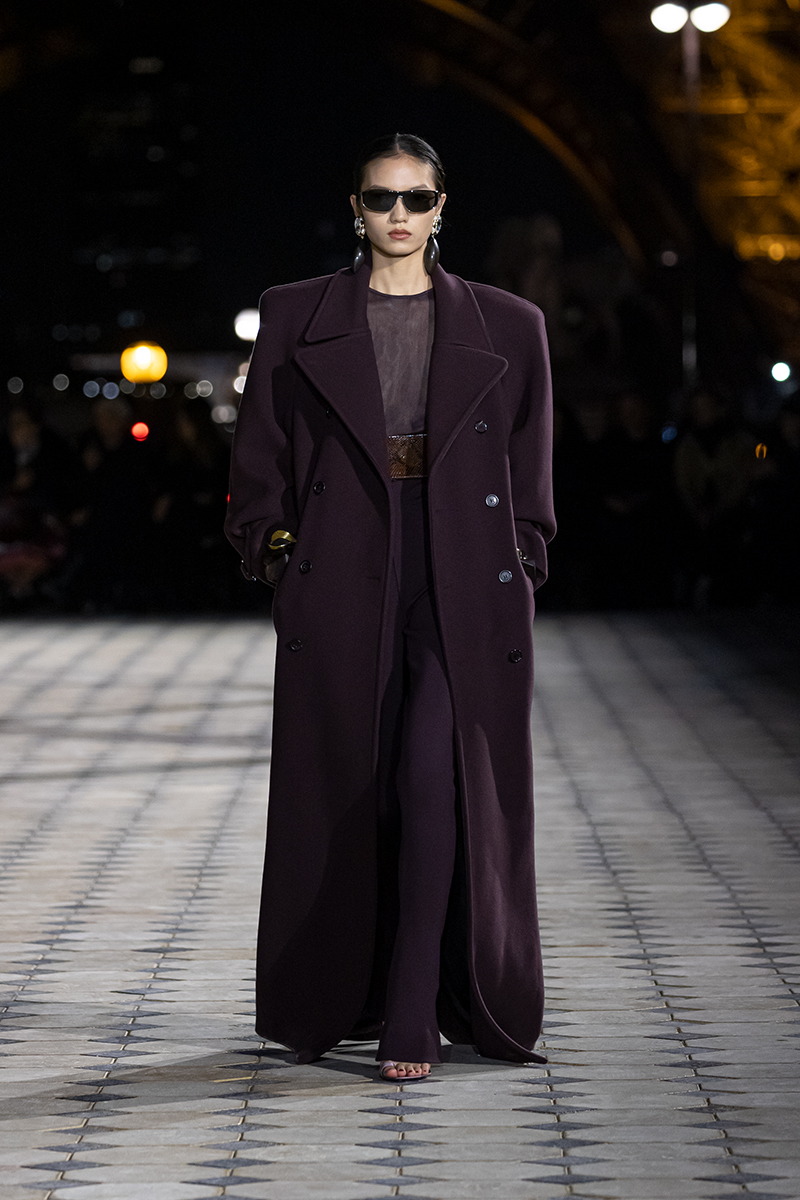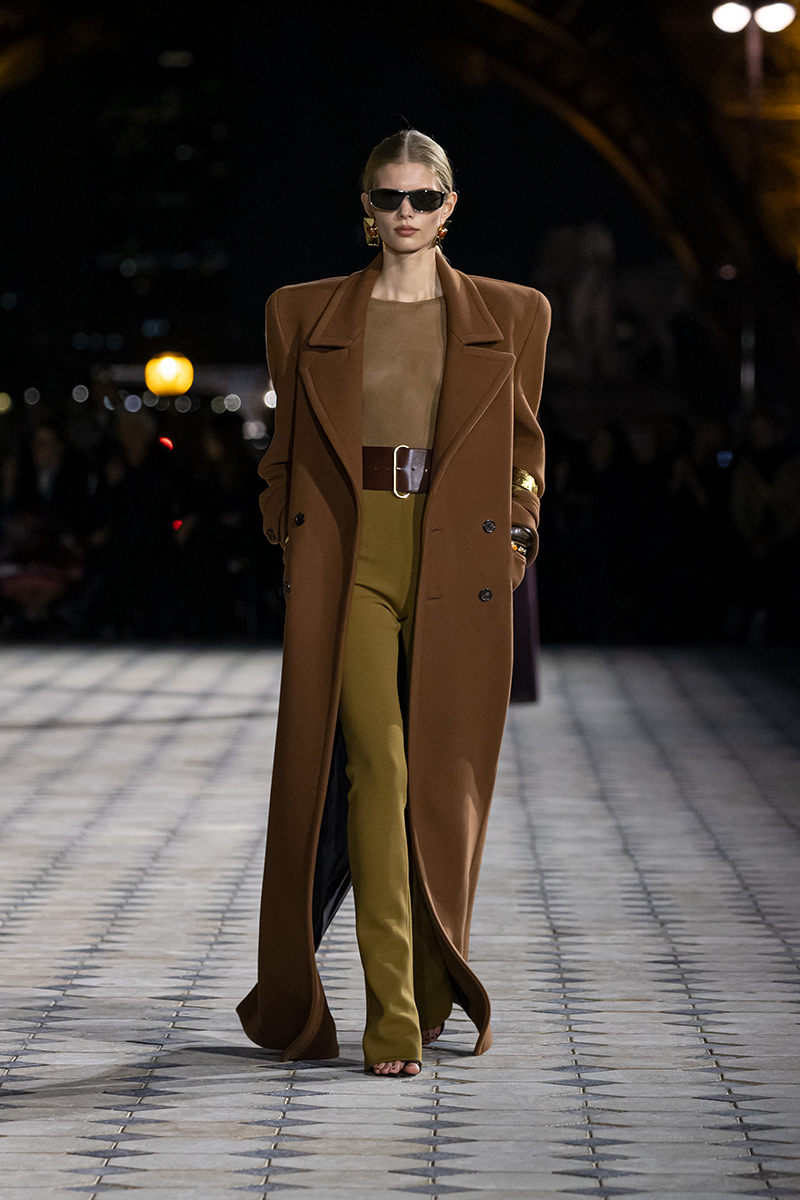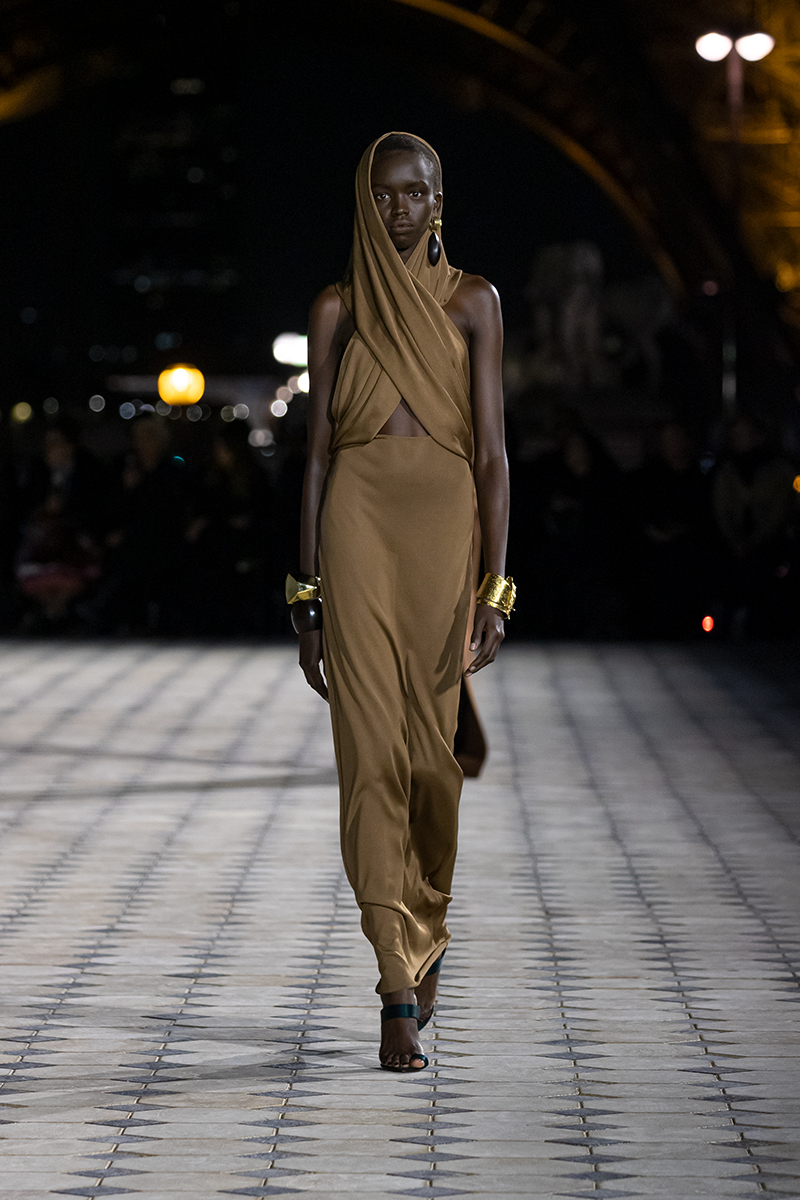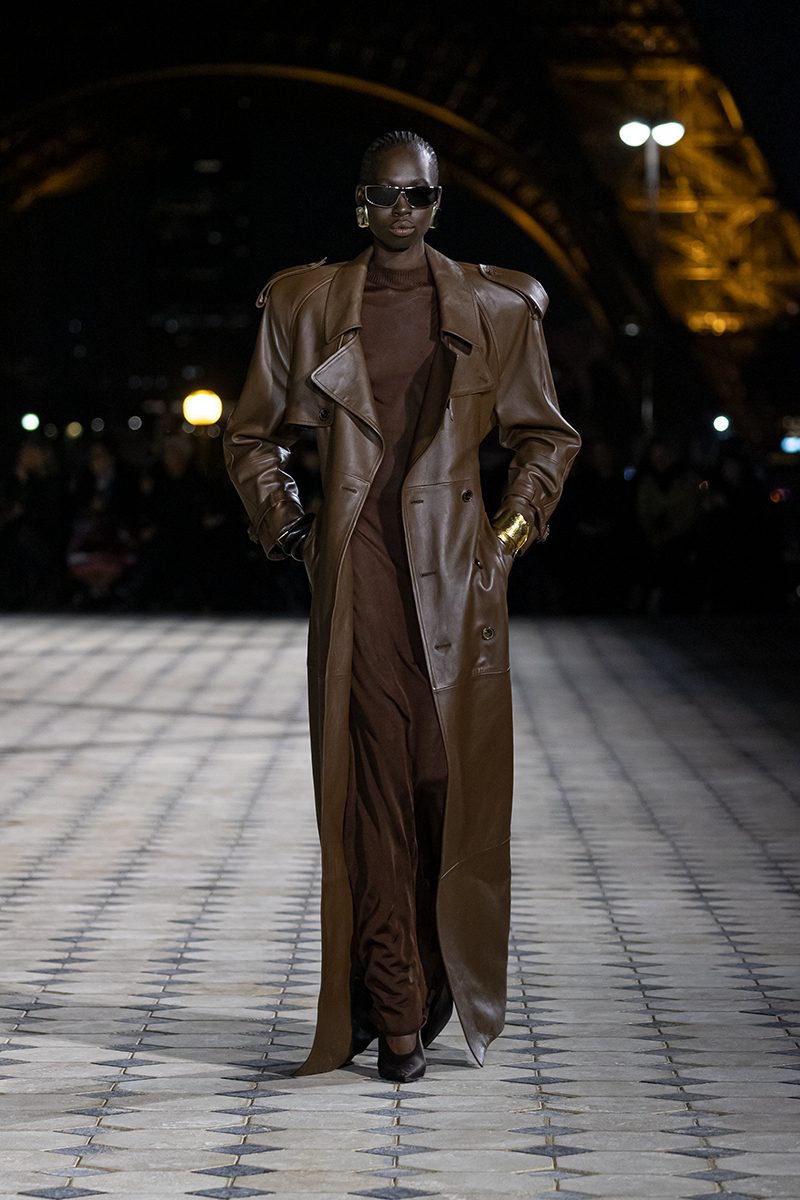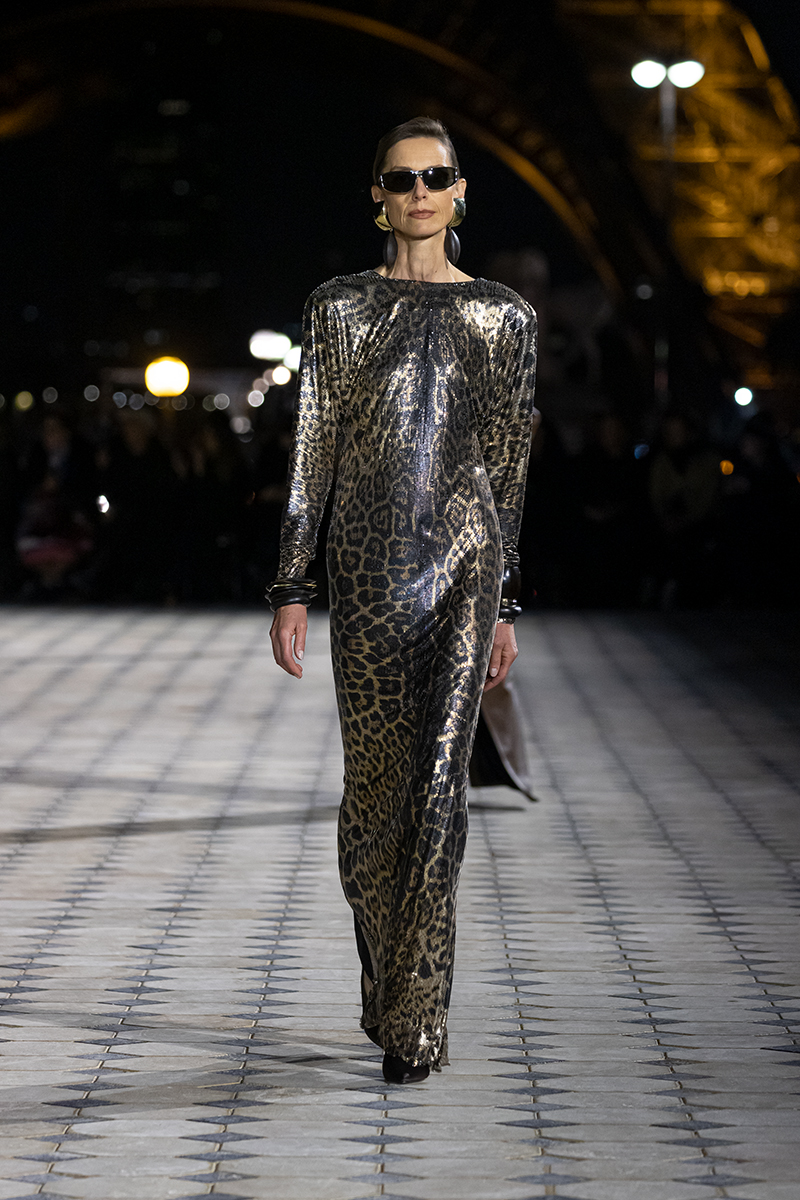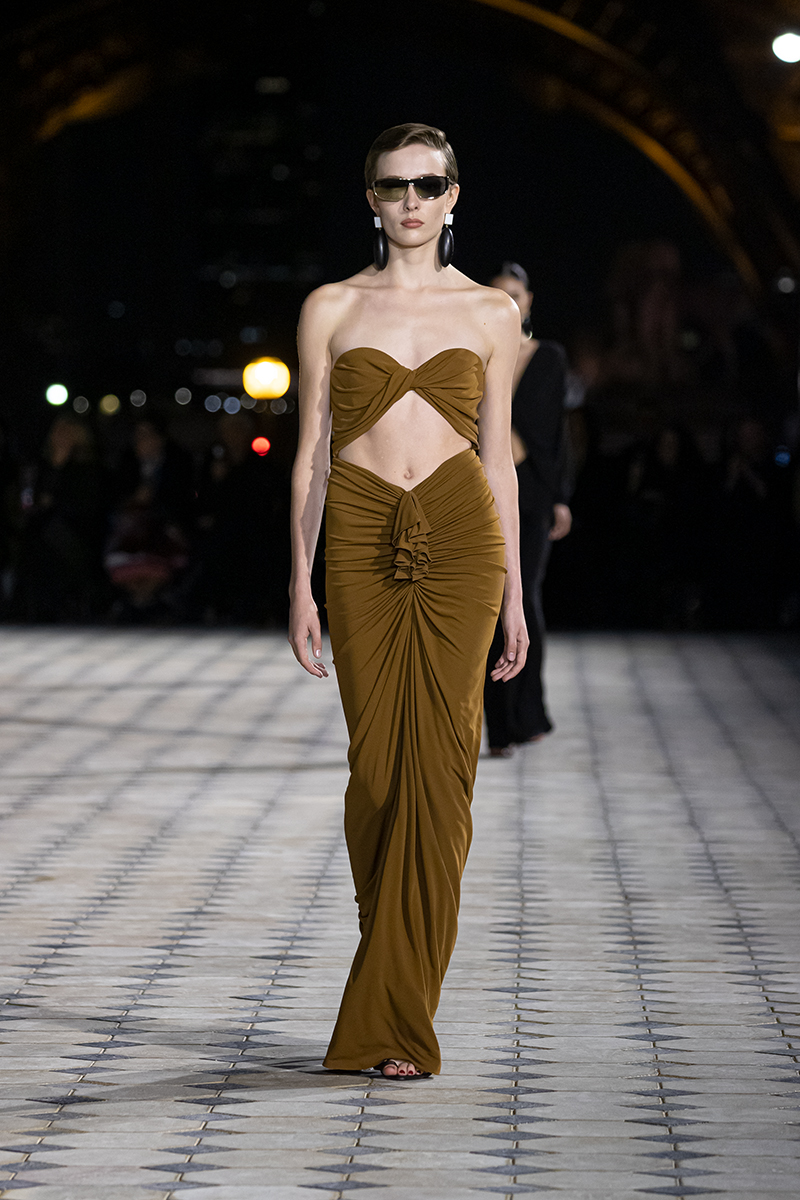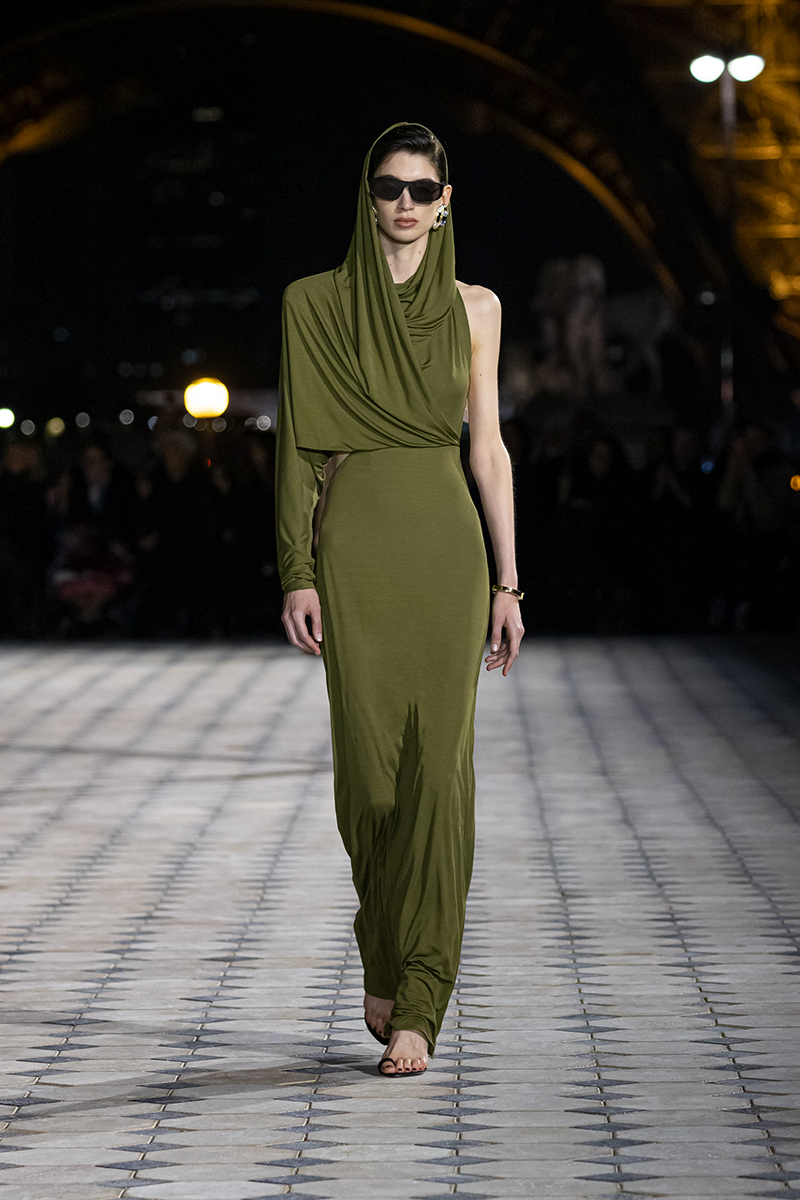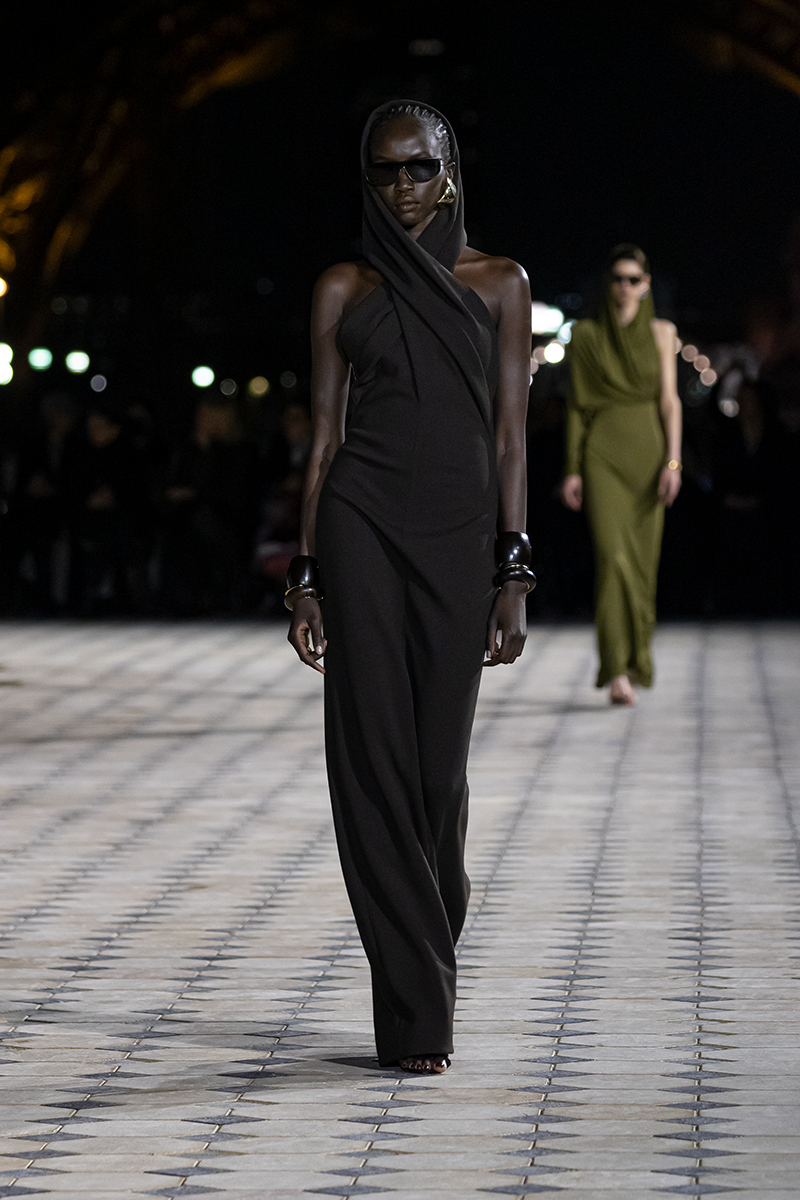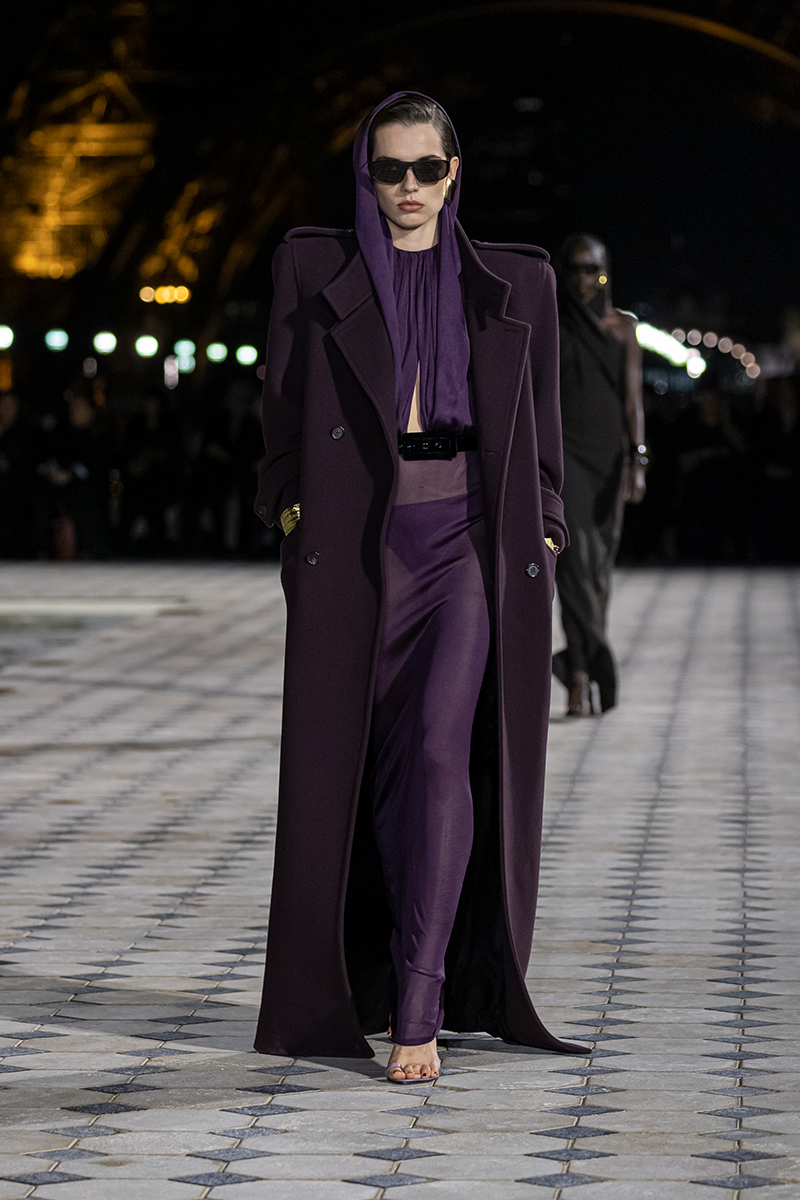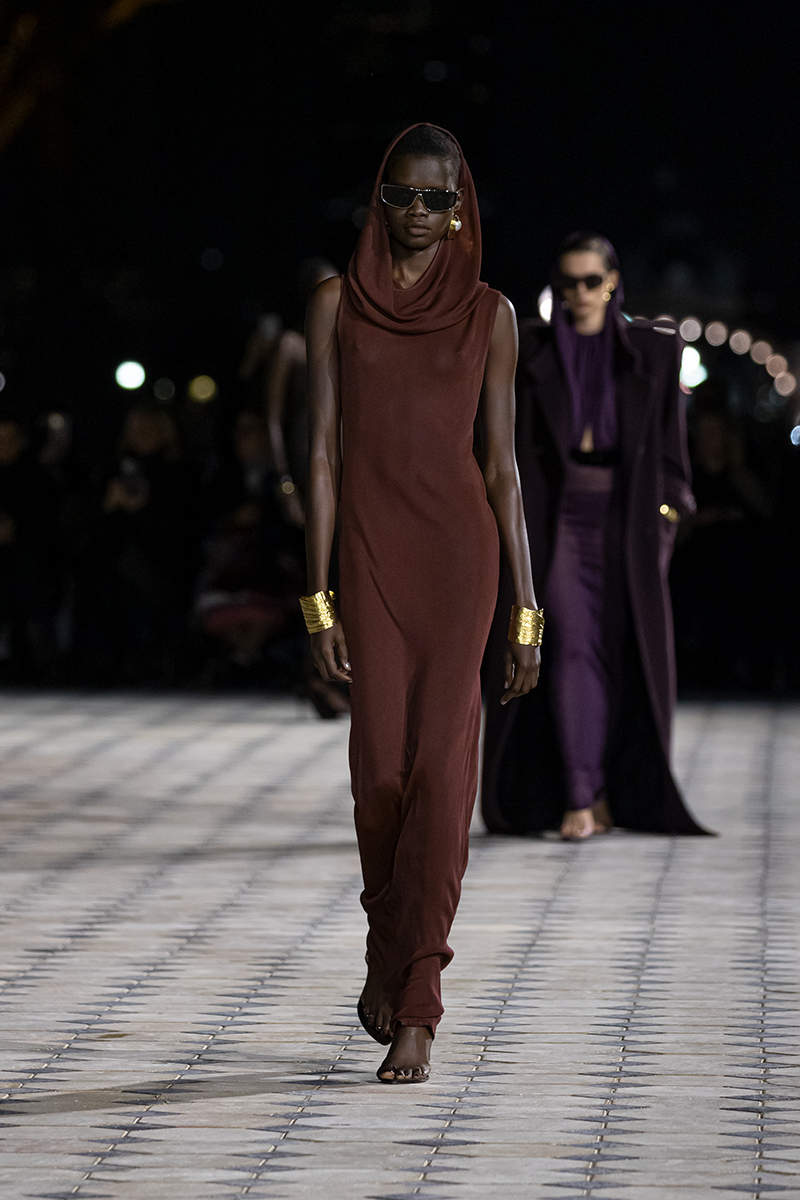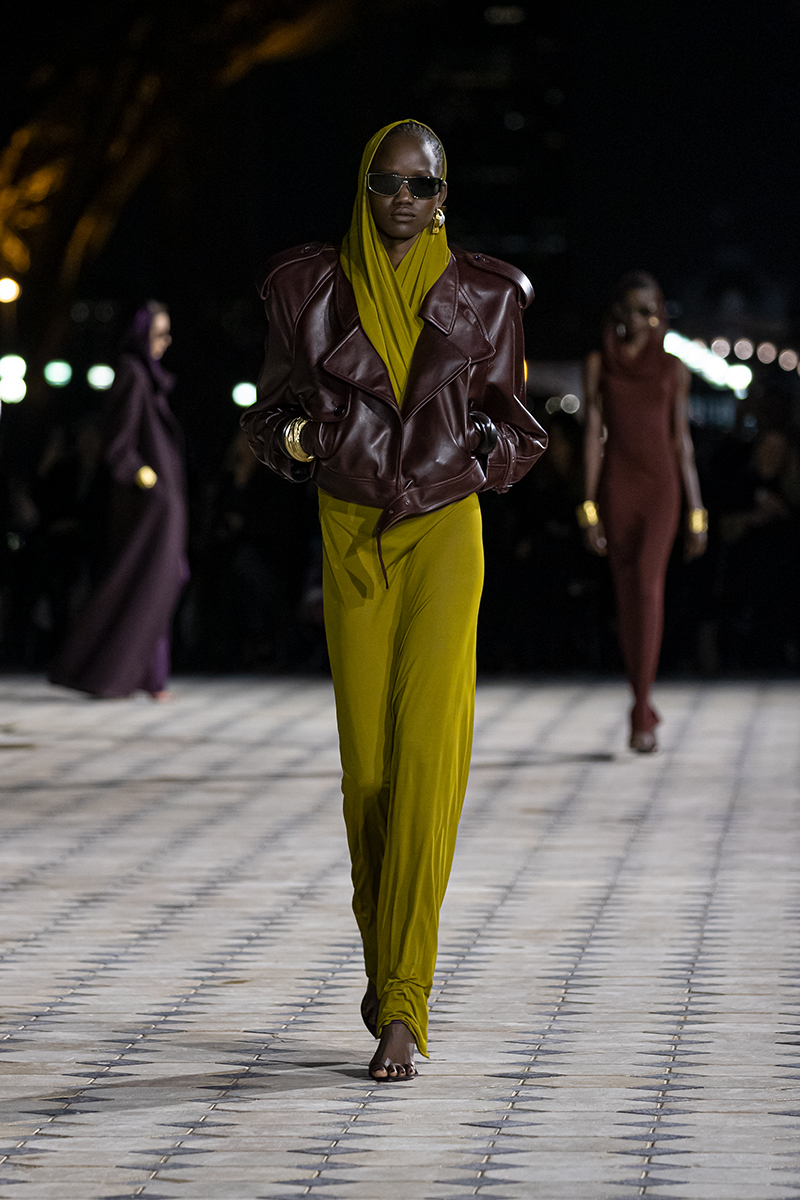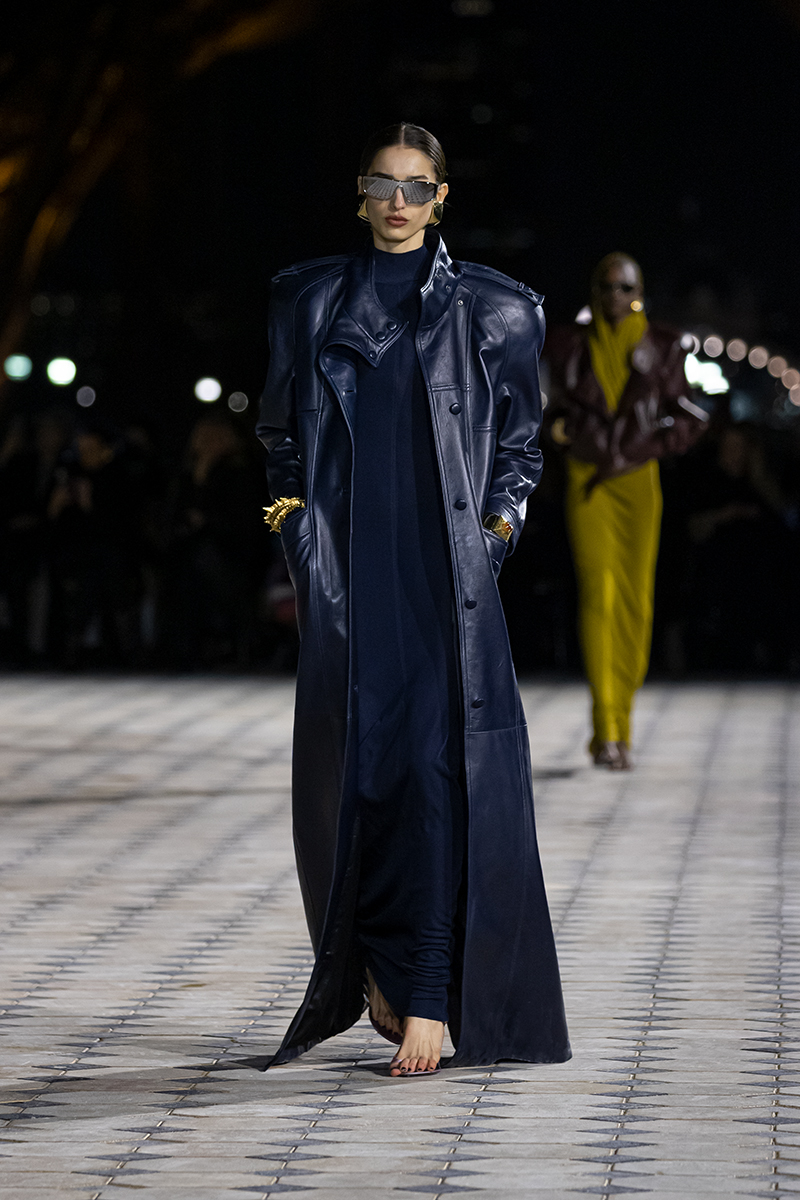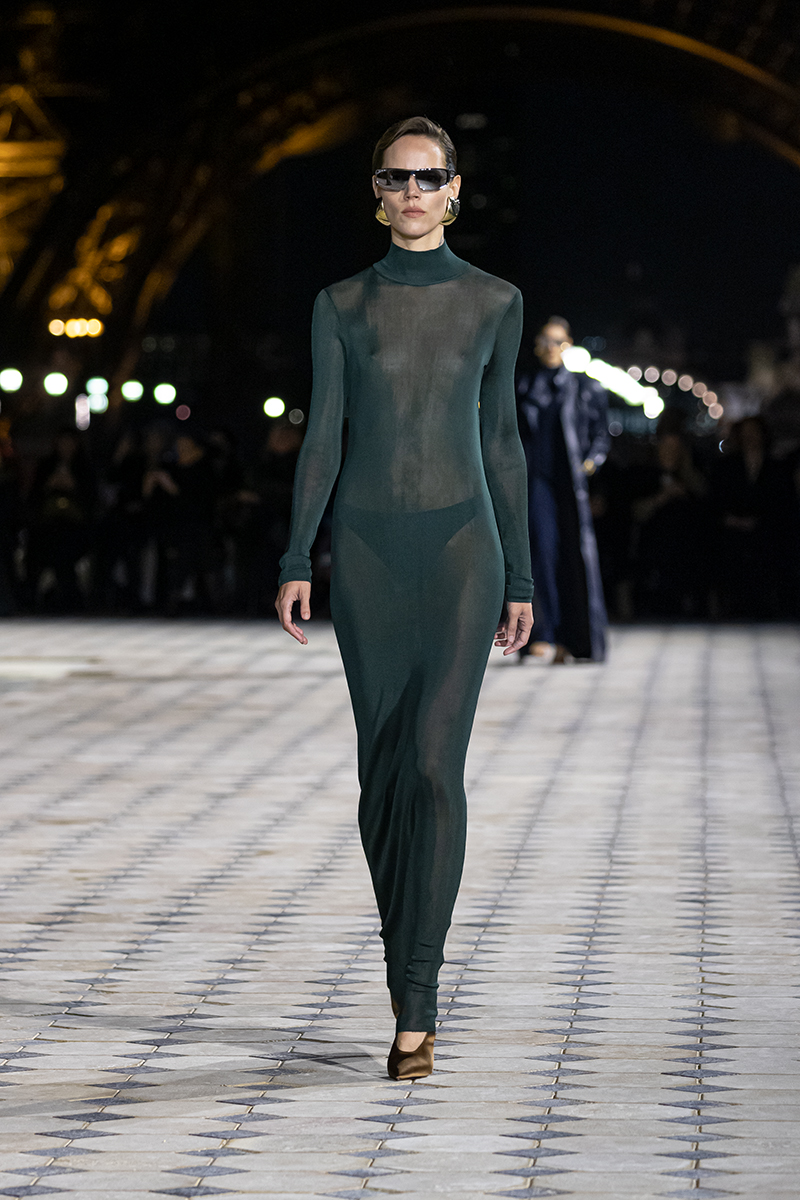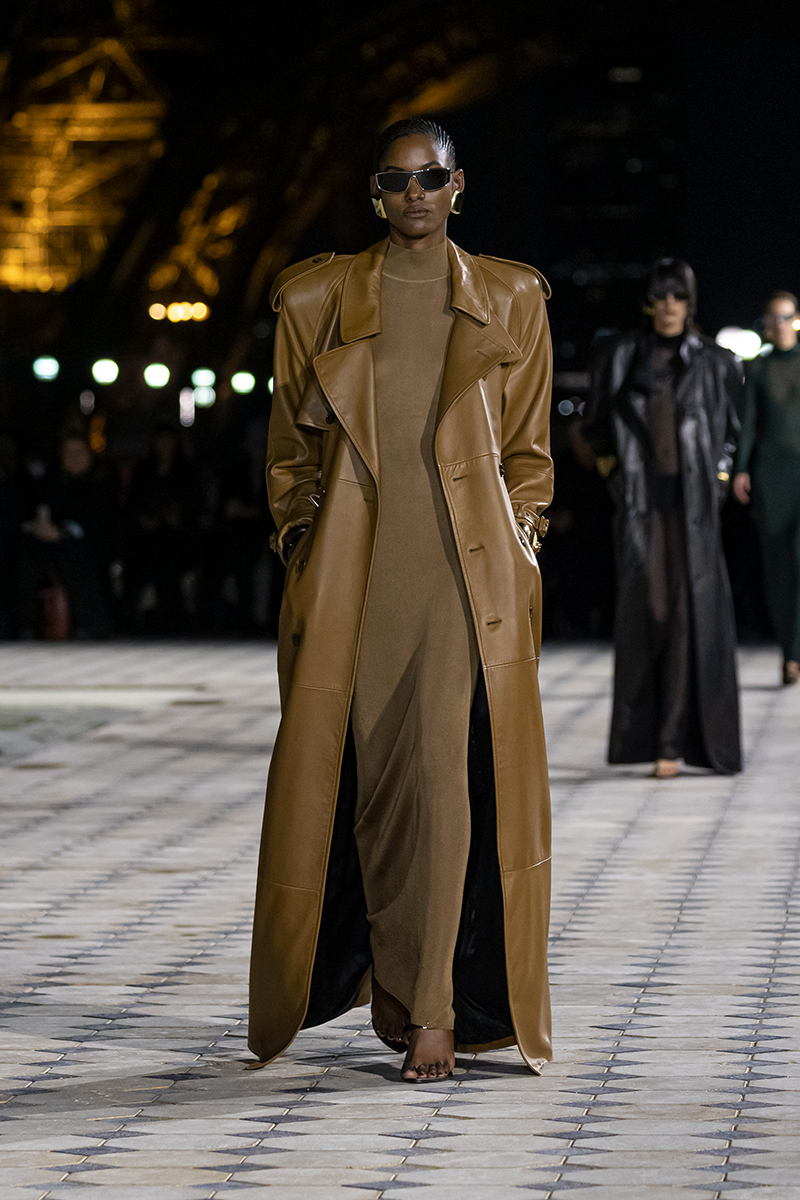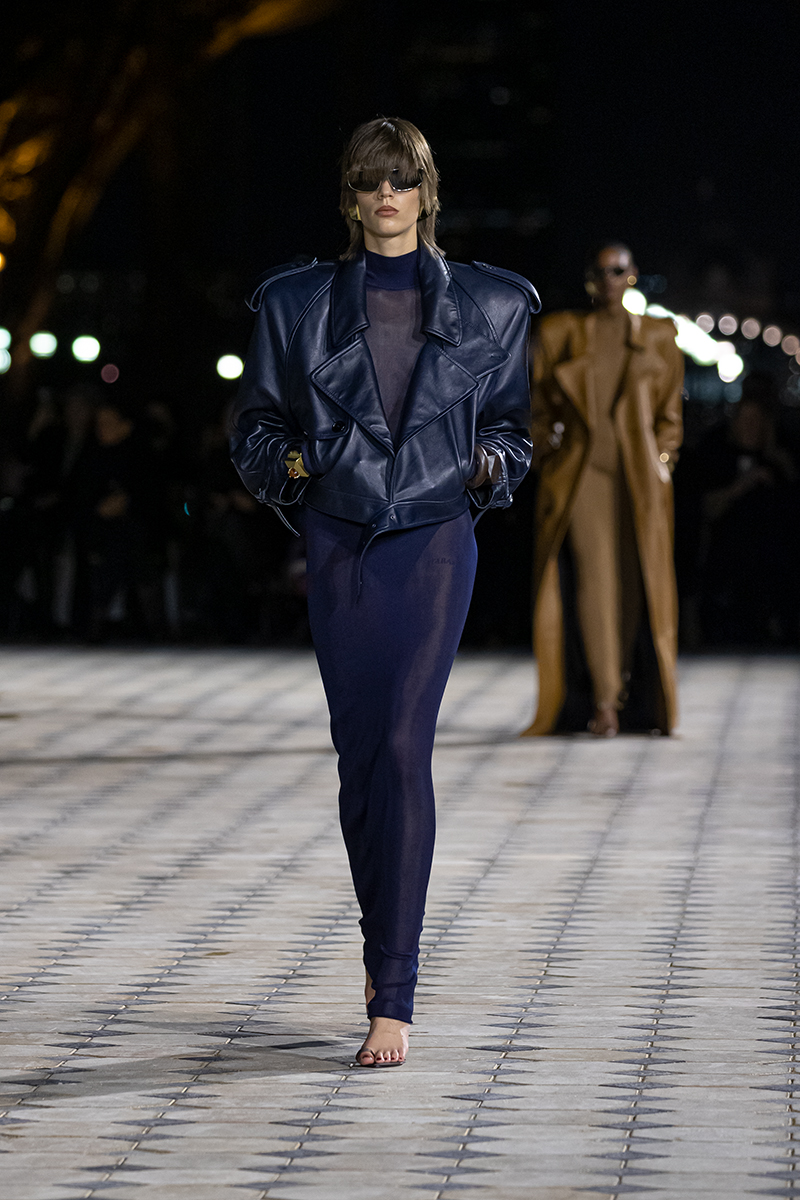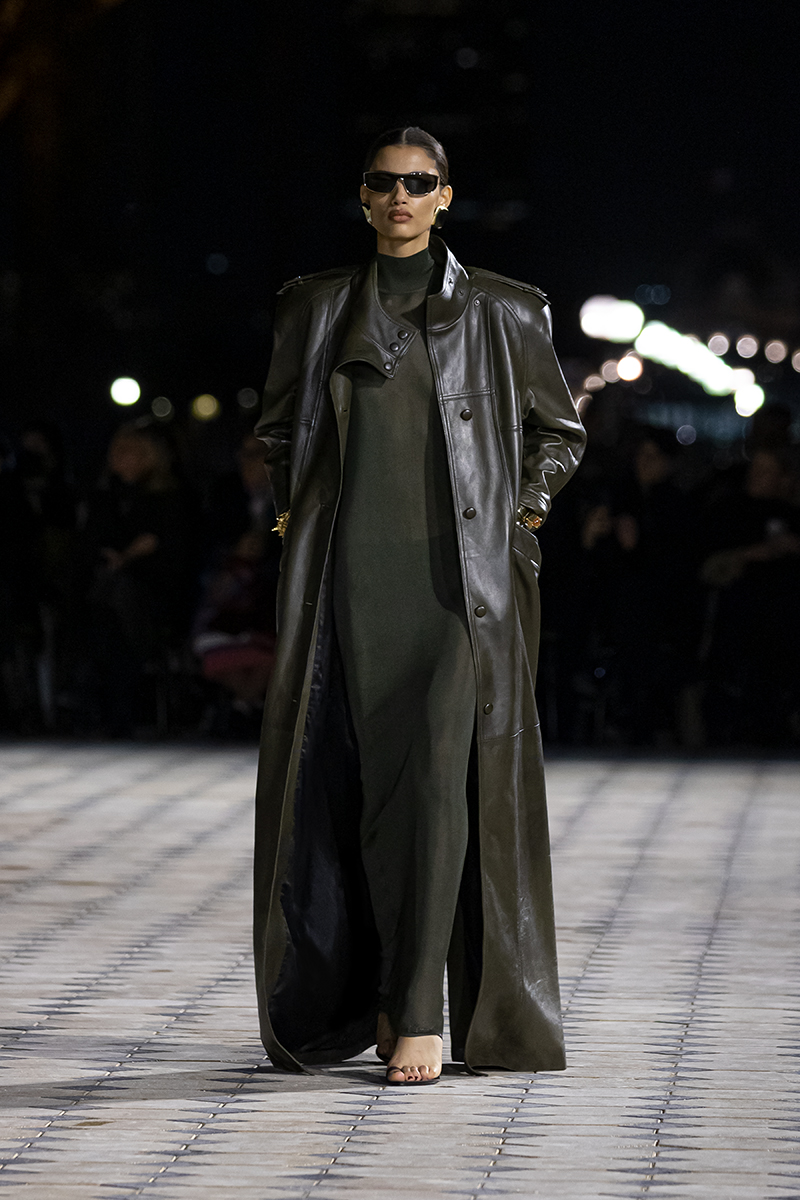 LOEWE
"For Loewe's SS23 menswear collection, creative director Jonathan Anderson brought to life the idea of chia plants and catswort sprouting out of shoes, pants and overcoats. For the women's collection, the anthurium was the centrepiece—in its glory of waxy petals and spotty spadix—as a giant fibreglass version standing tall in the middle of the show space, and on the bosom(s) and/or feet of the models. The show notes explain the inspiration as "the same erotic tension and precision of an anthurium flower: a product of nature that looks like an object of design, and treated as such." That same mindset led to the question of the reality of clothing, and Anderson's answer came in the form of quirky silhouettes and shapes. Short dresses were extra short; skirts included a neat Baroque-esque "engineered pannier" (but still short); sweater combos had a protruding neckline that covered up to the model's nose (did they forget to remove the cardboard typically found with stiff workshirts or perhaps it's a mask alternative?). For the accessories department, pumps appeared in varying comfy iterations: in pumped-up rubber or swimming in deflated, ruffle-like balloons. In similar energy, the upcoming season's handbags are a play of volume—the Puffer Goya bag looked absolutely squishable, while in contrast, the new Paseo bag is elongated and streamlined. In between all the fantastical creations, a glitch appeared—jumpers and pants emerge in 8-bit quality, causing the audience to wonder if the lines had been blurred between reality and the Minecraft servers. By the end, you can't deny that Anderson knows how to provoke—and evoke—with his designs. For me, the pixelated T-shirt is the way to go for SS23." —Rachel Au, managing editor
RUNWAY LOOKS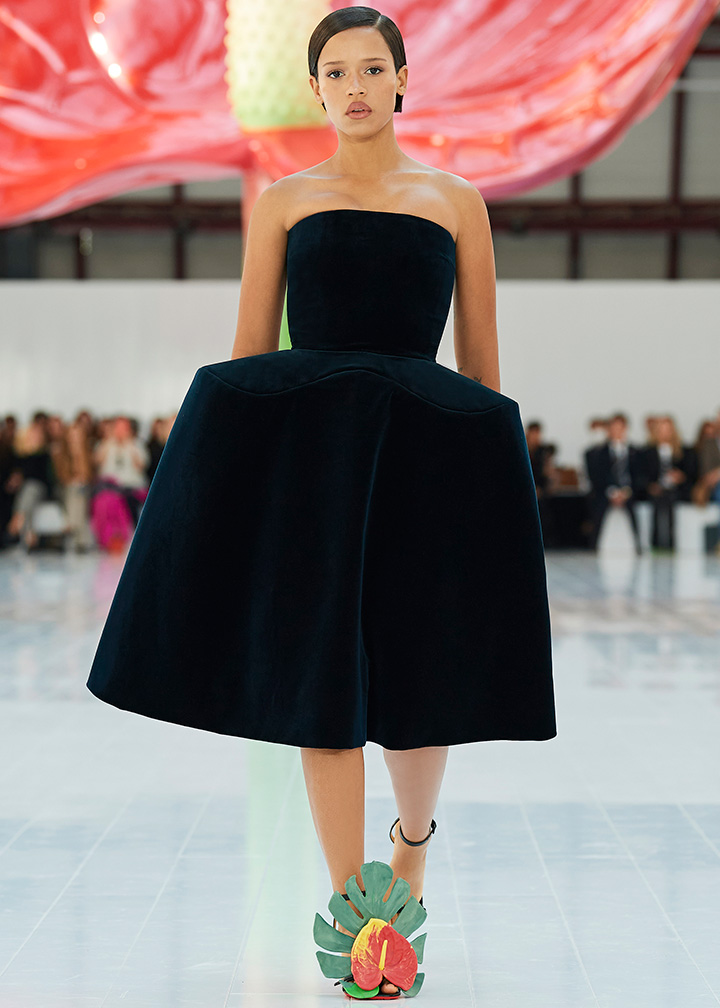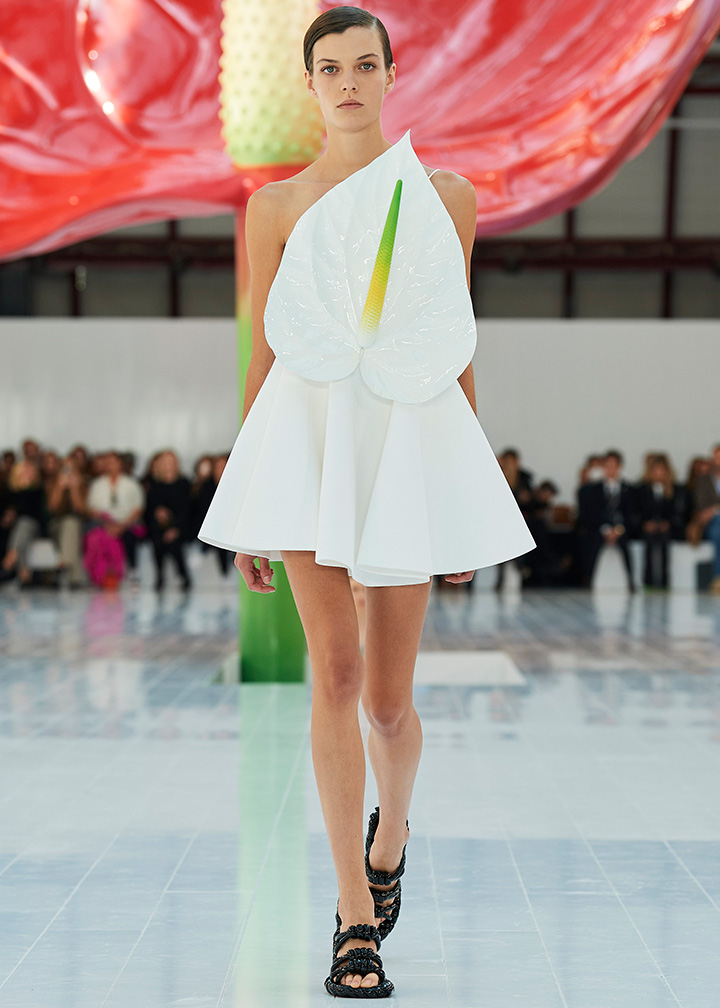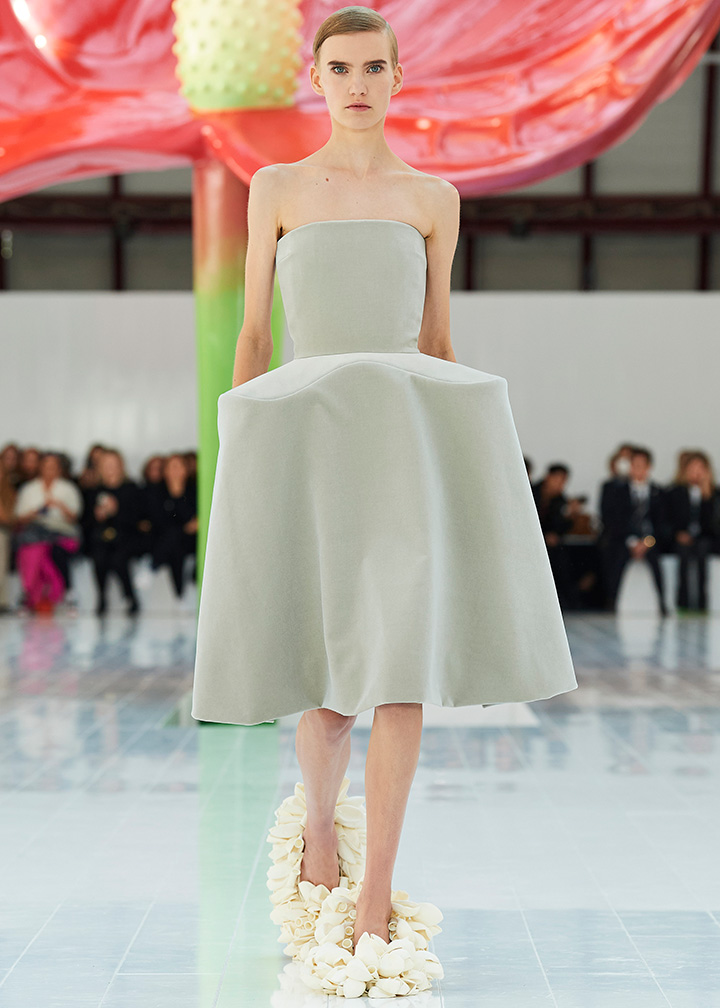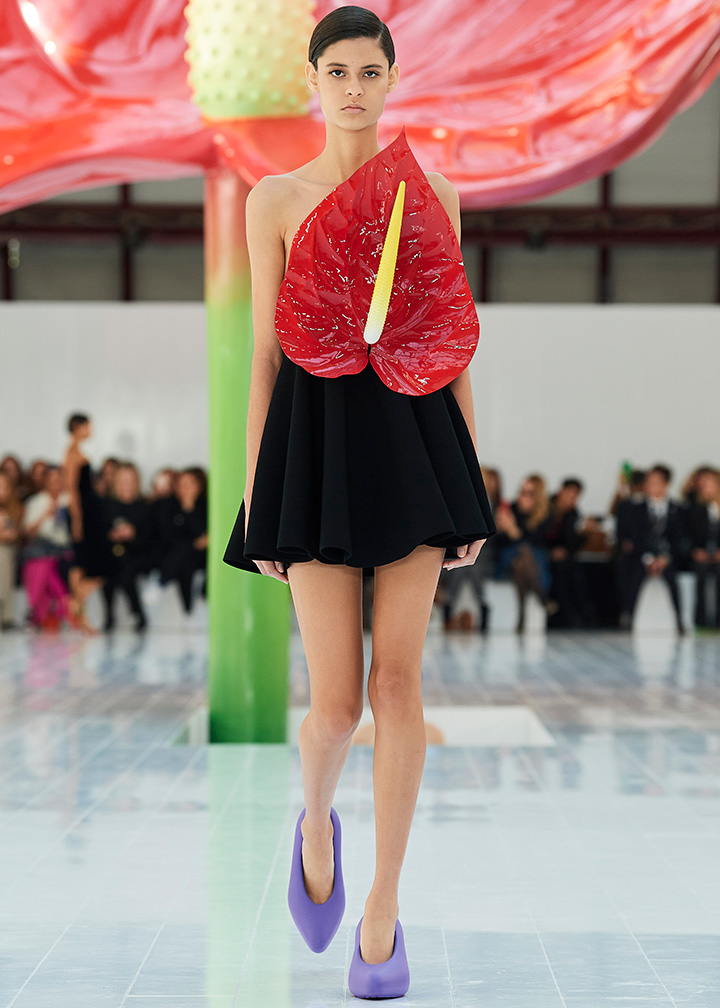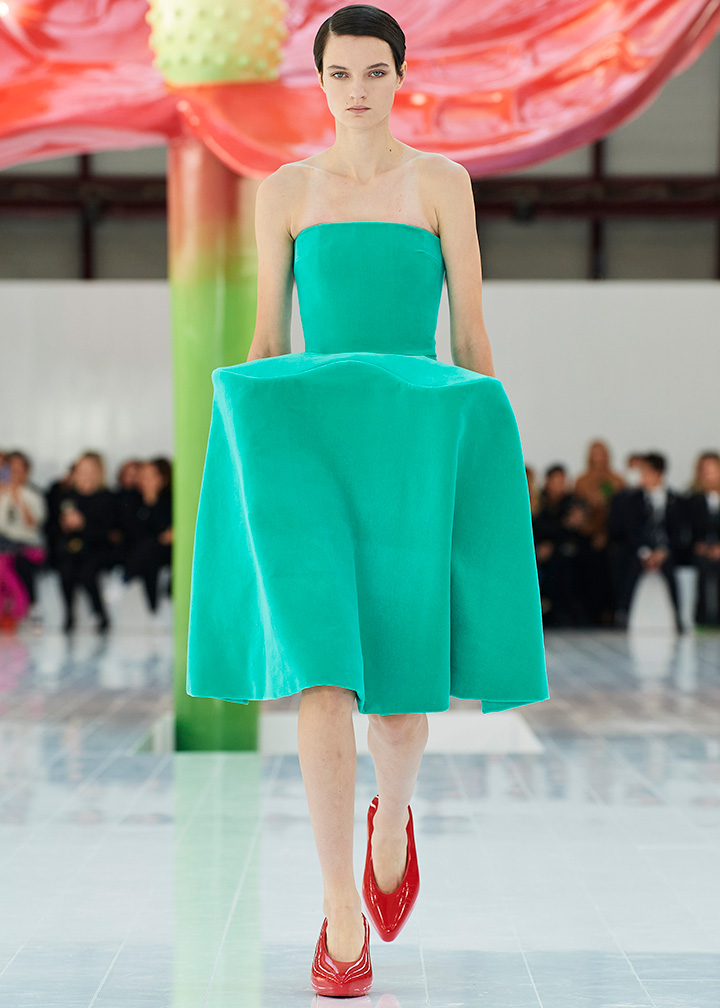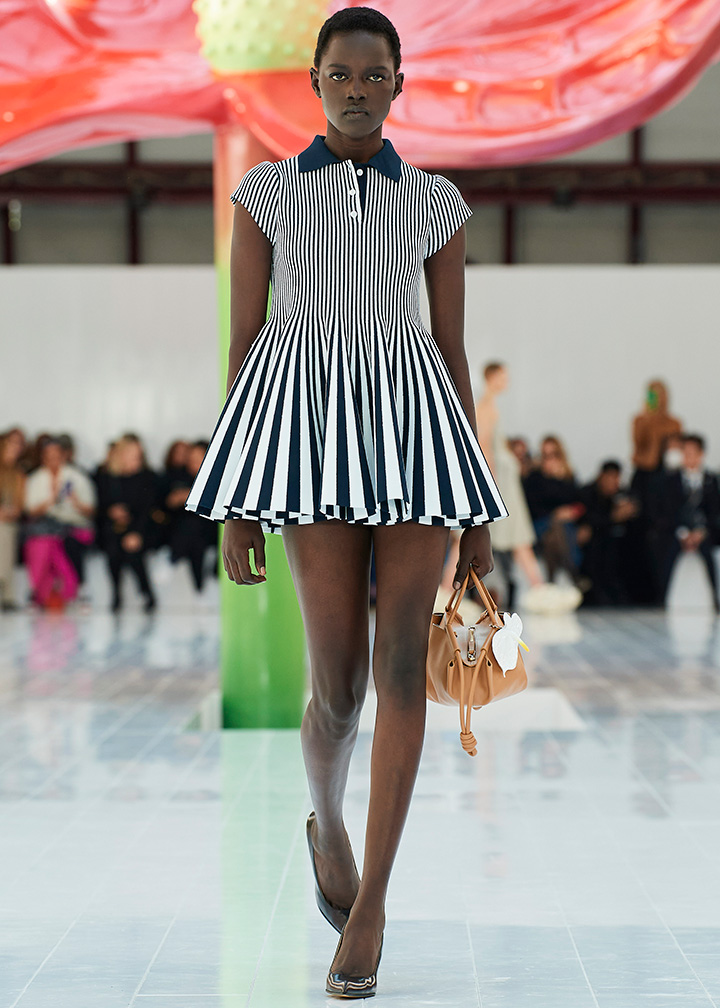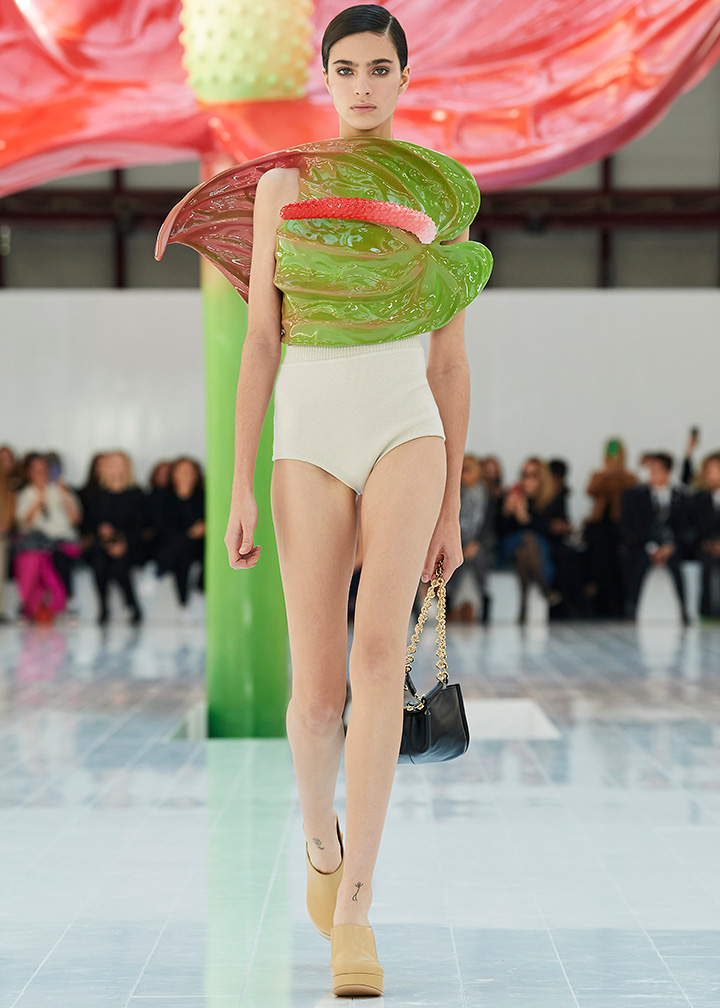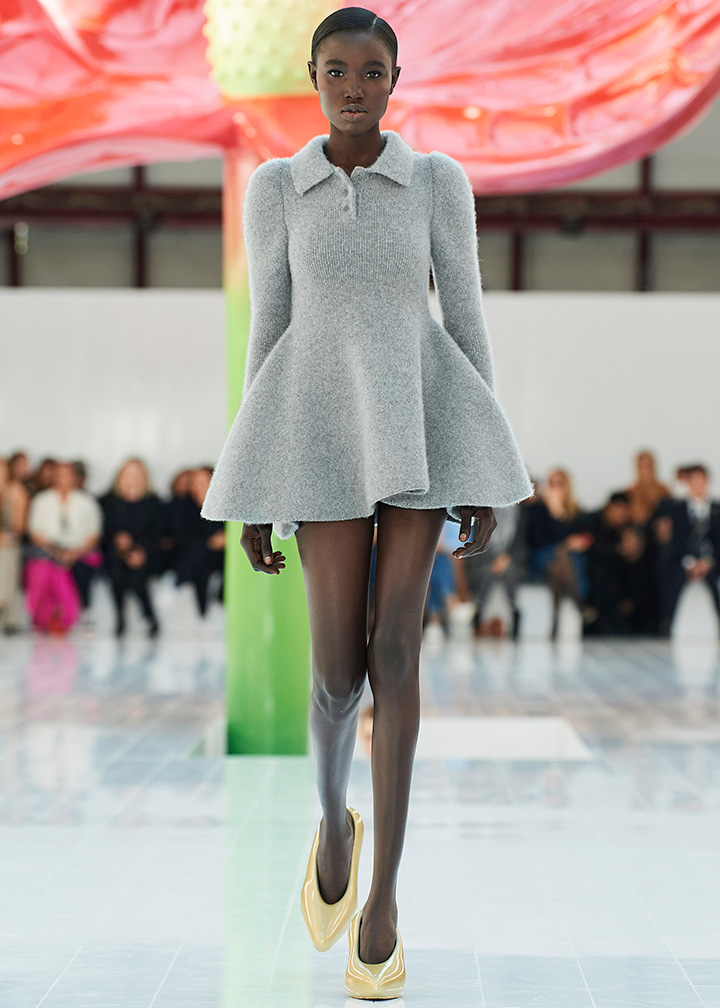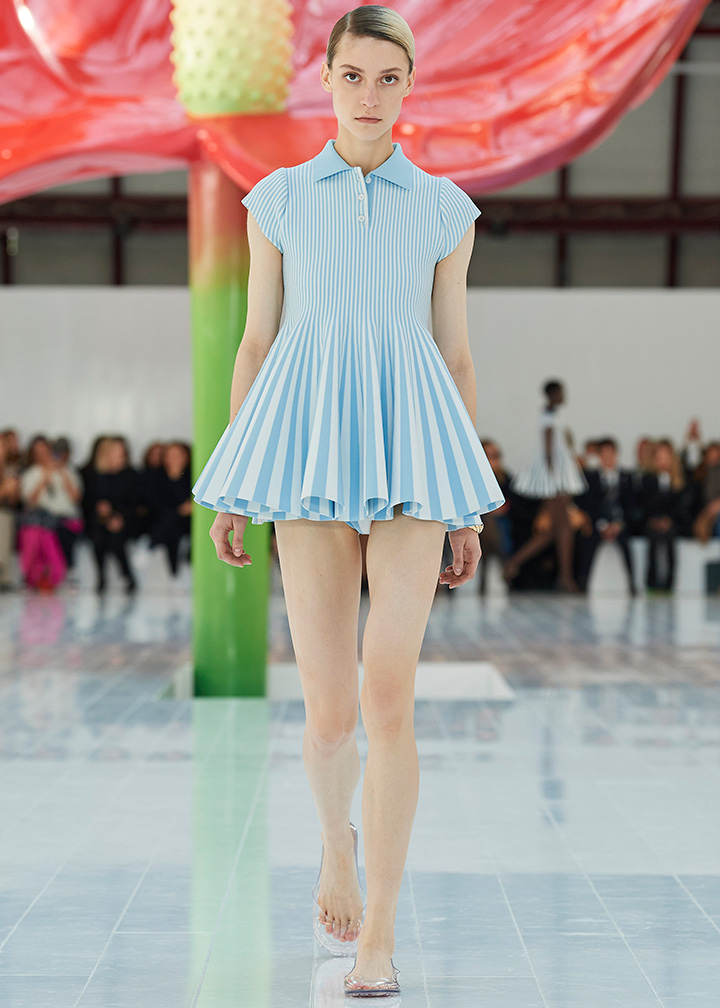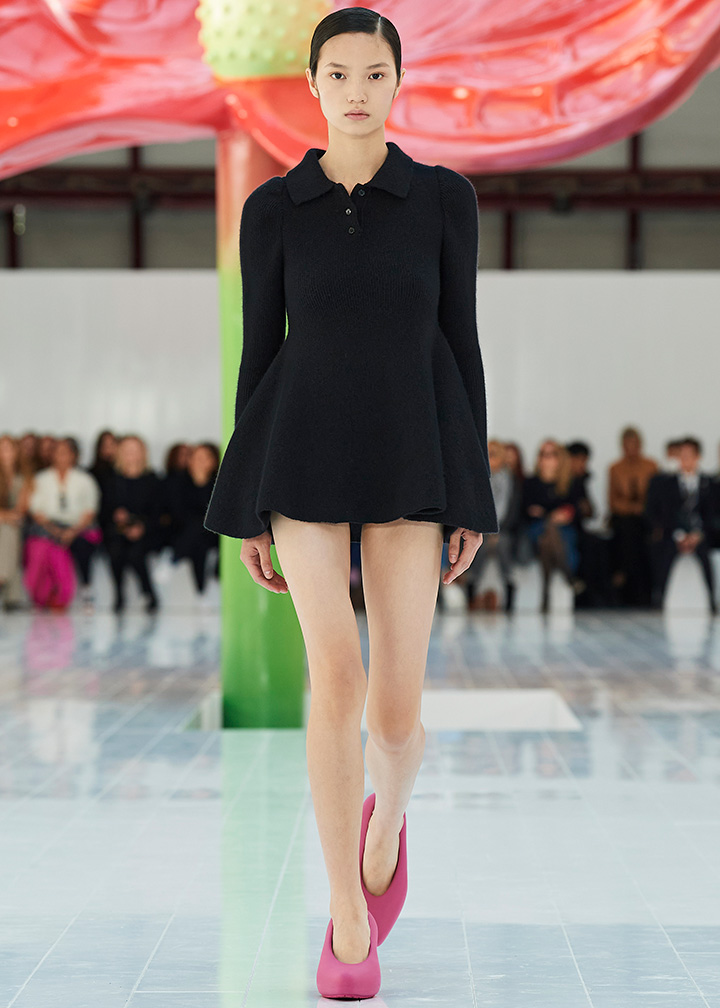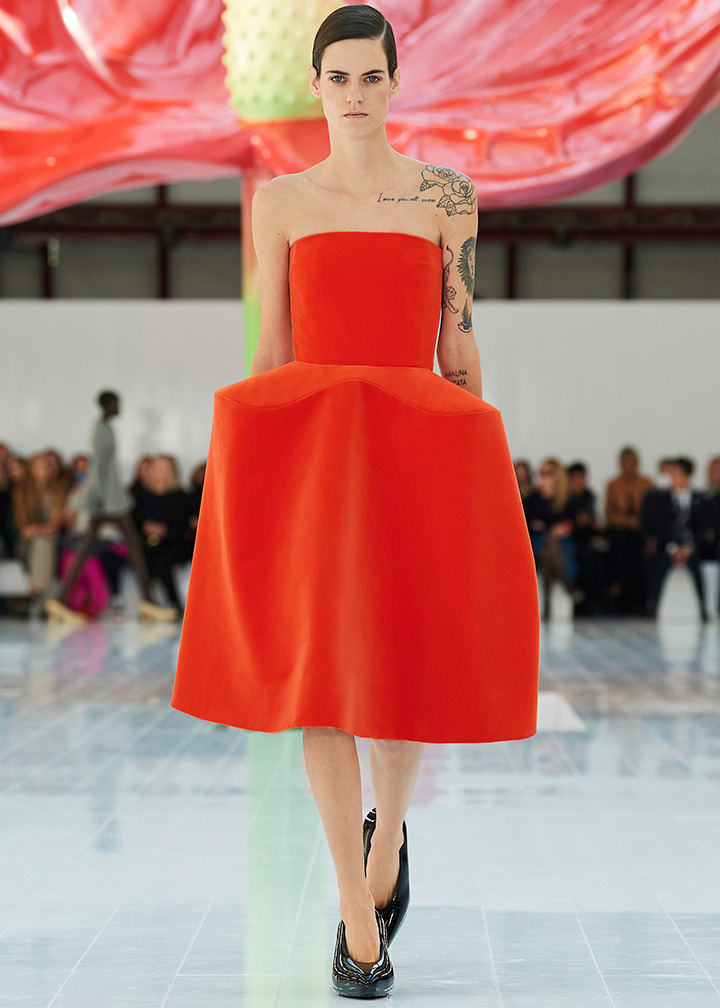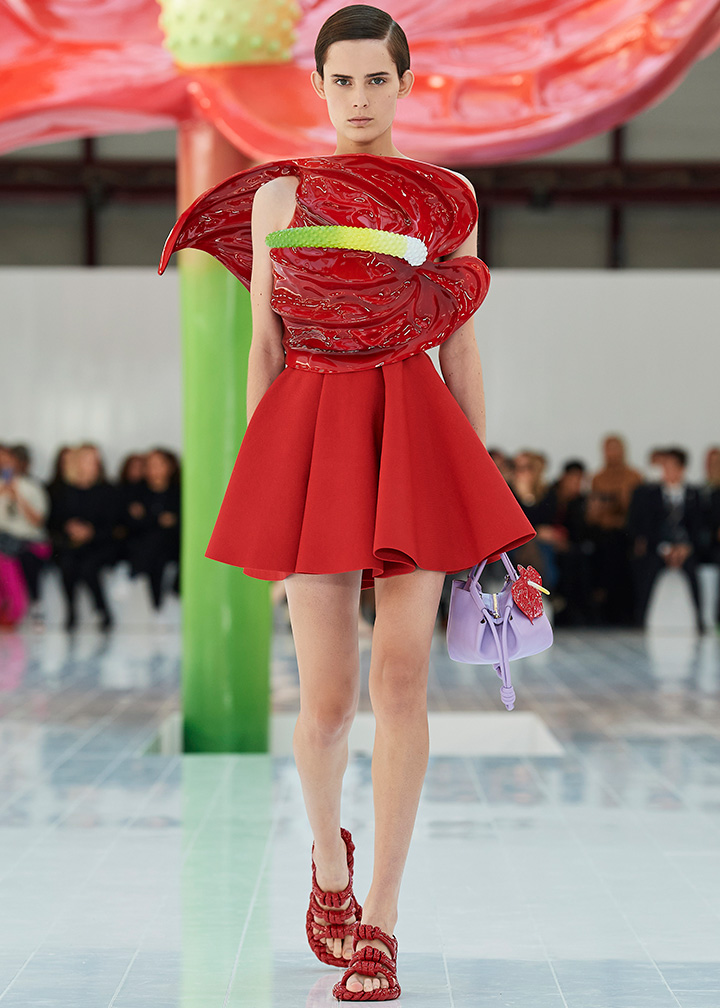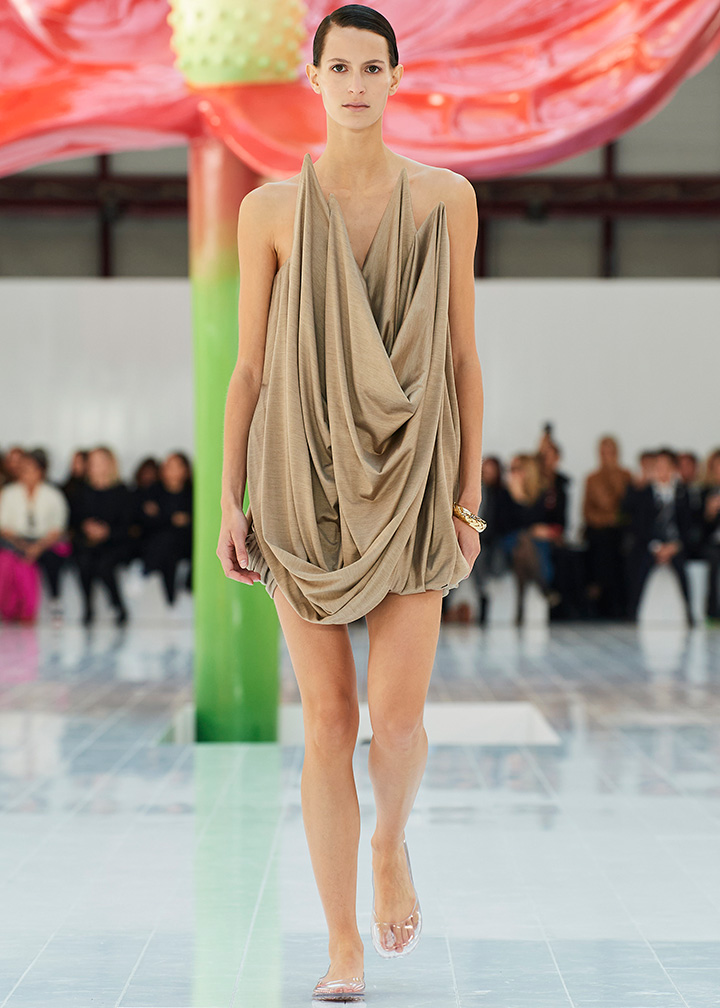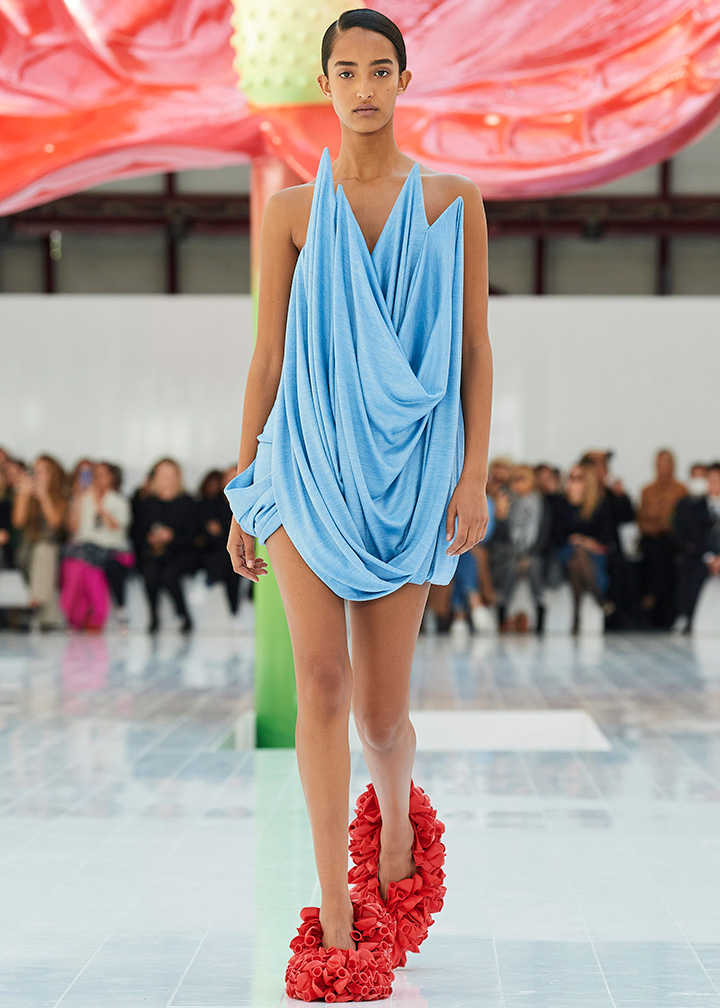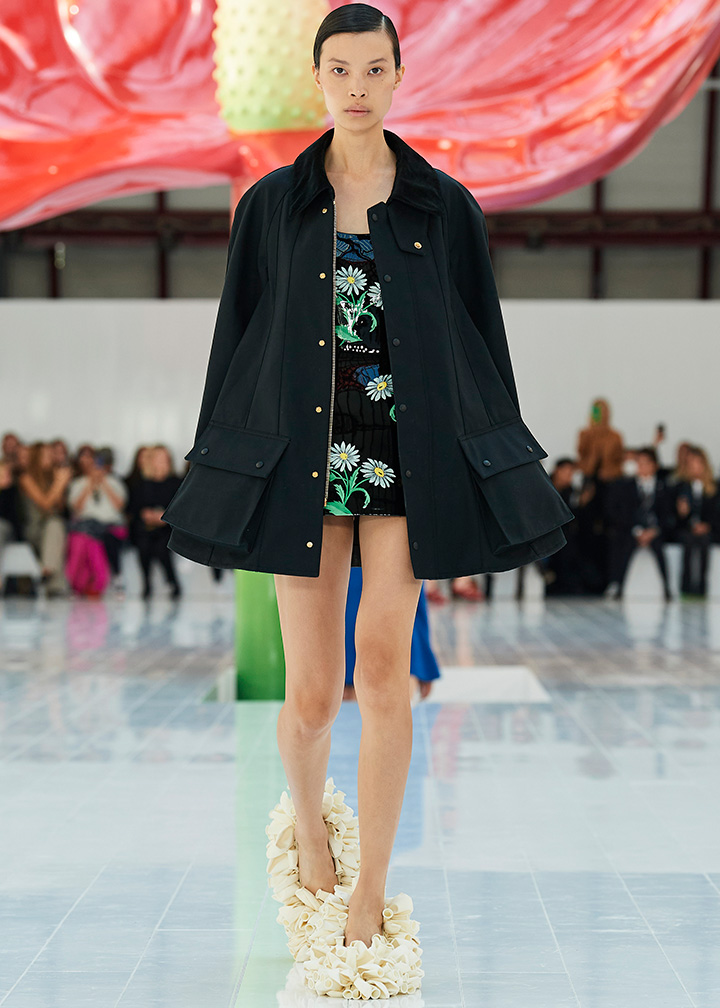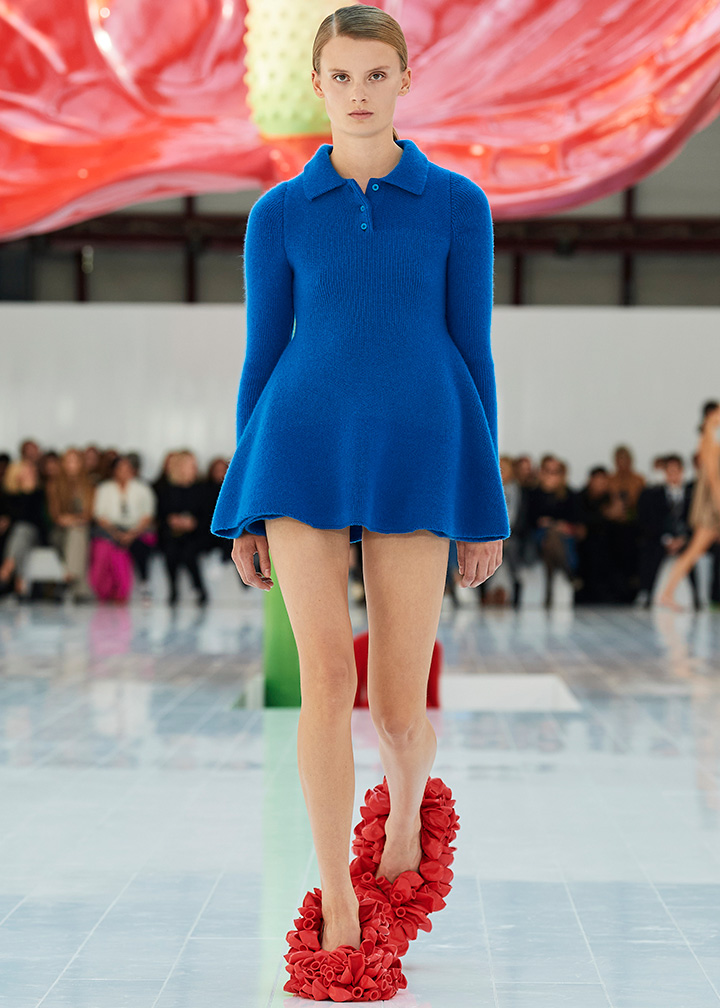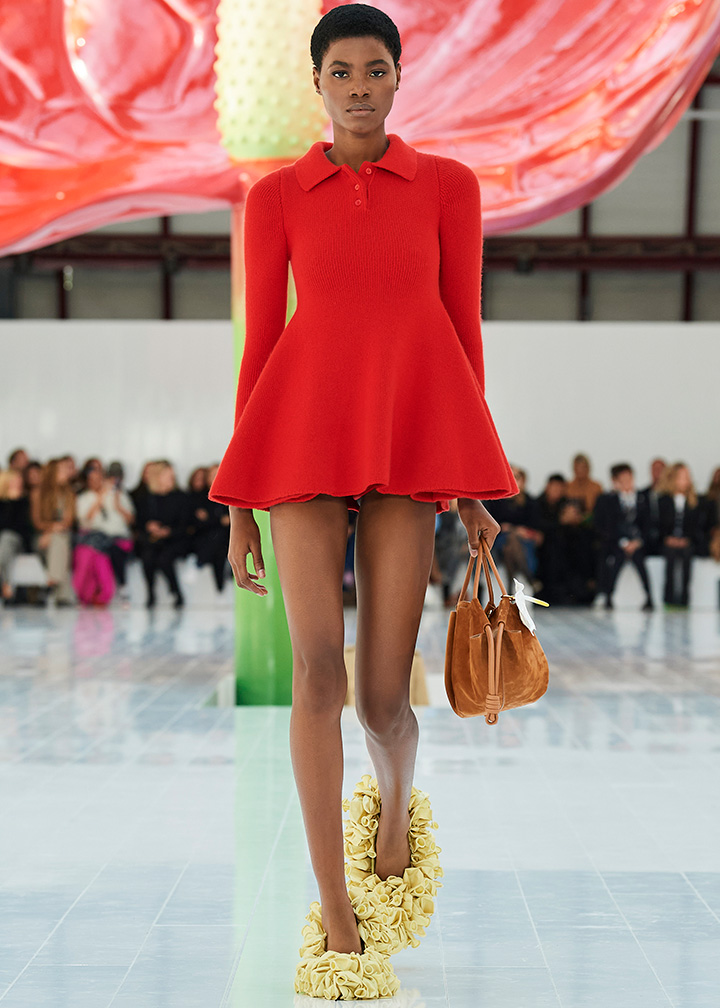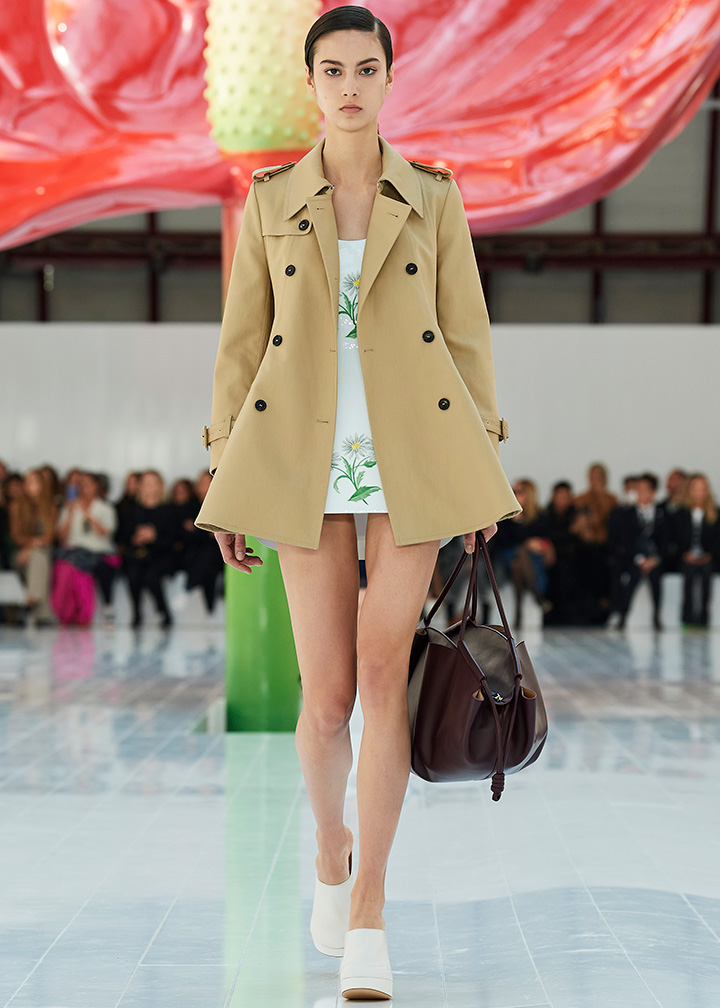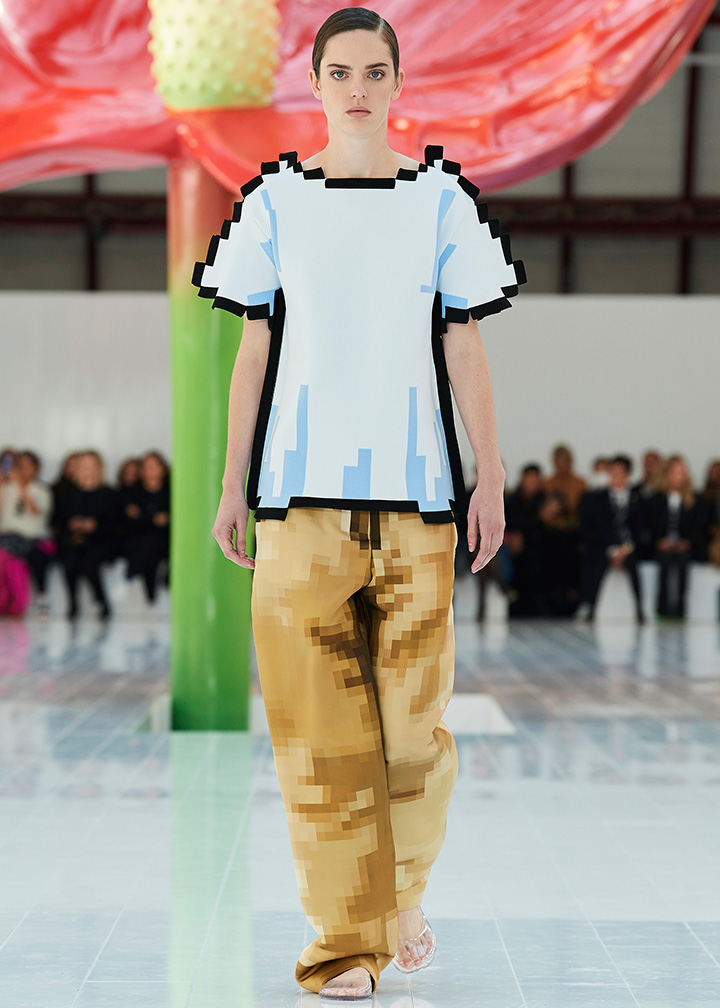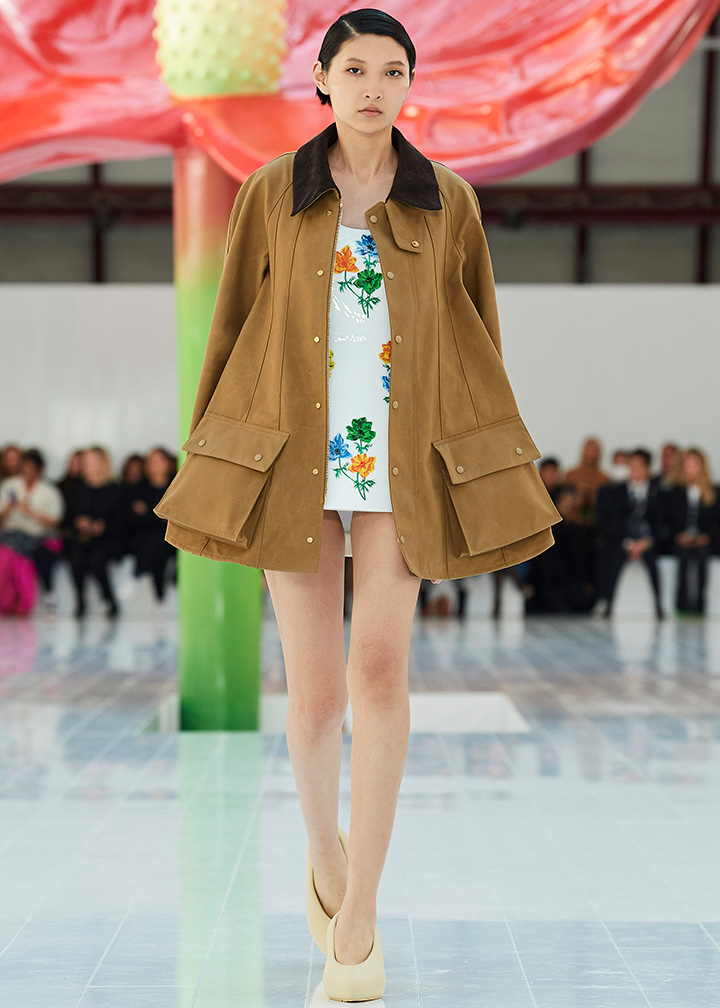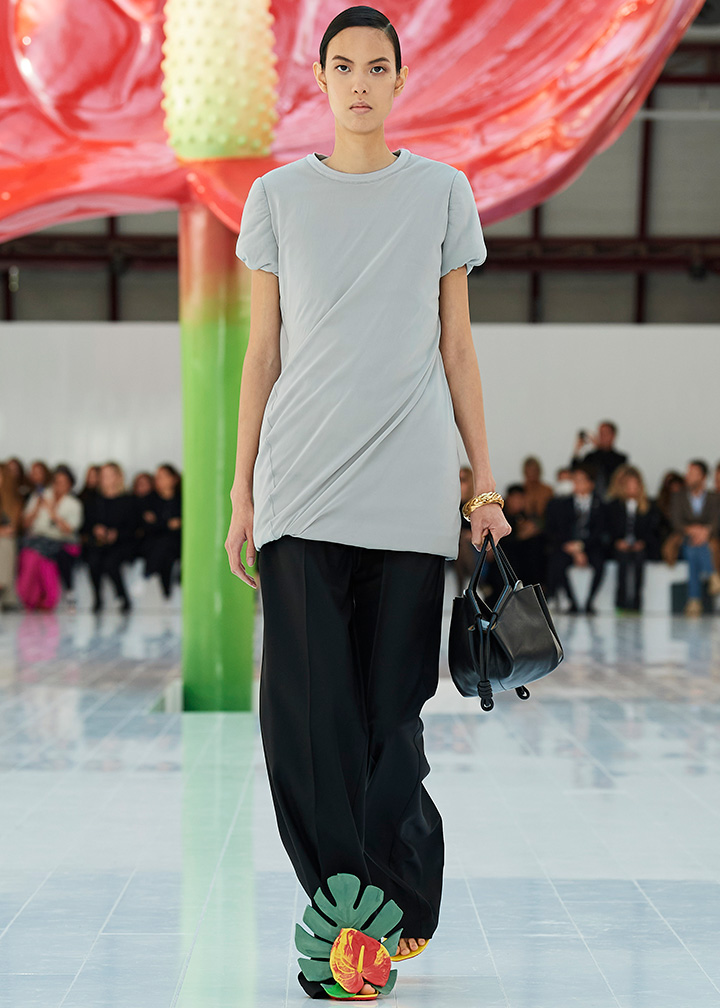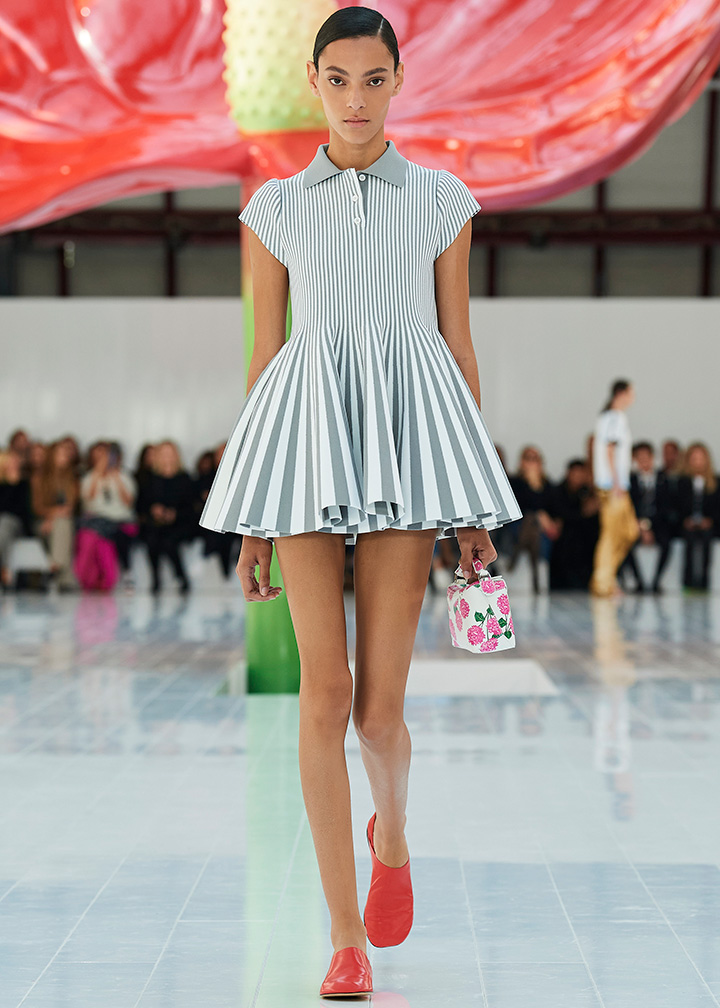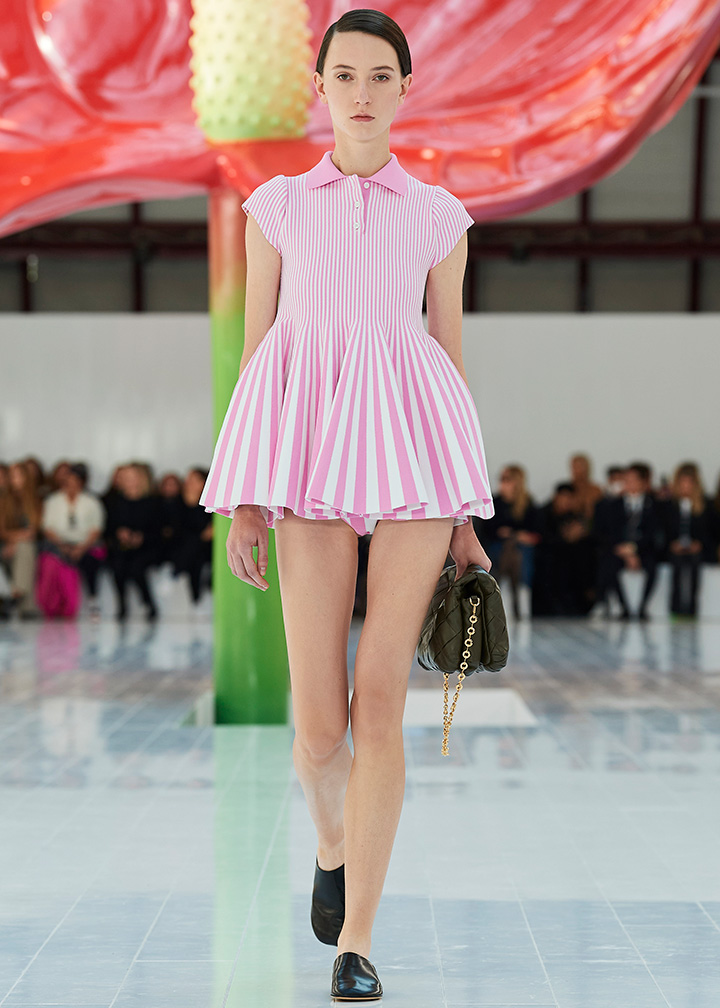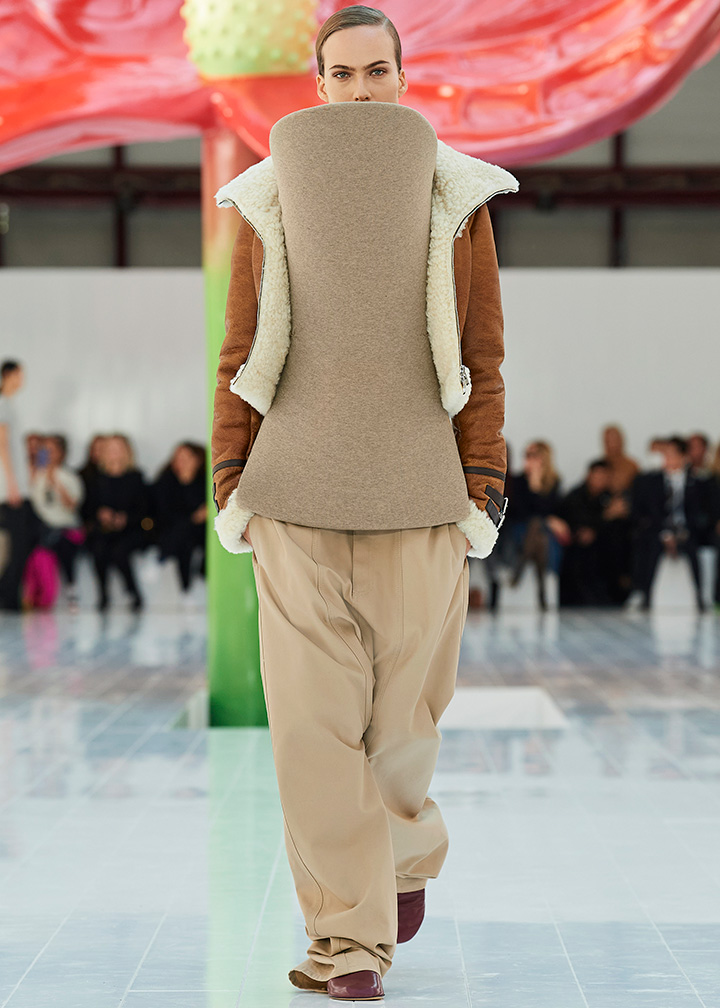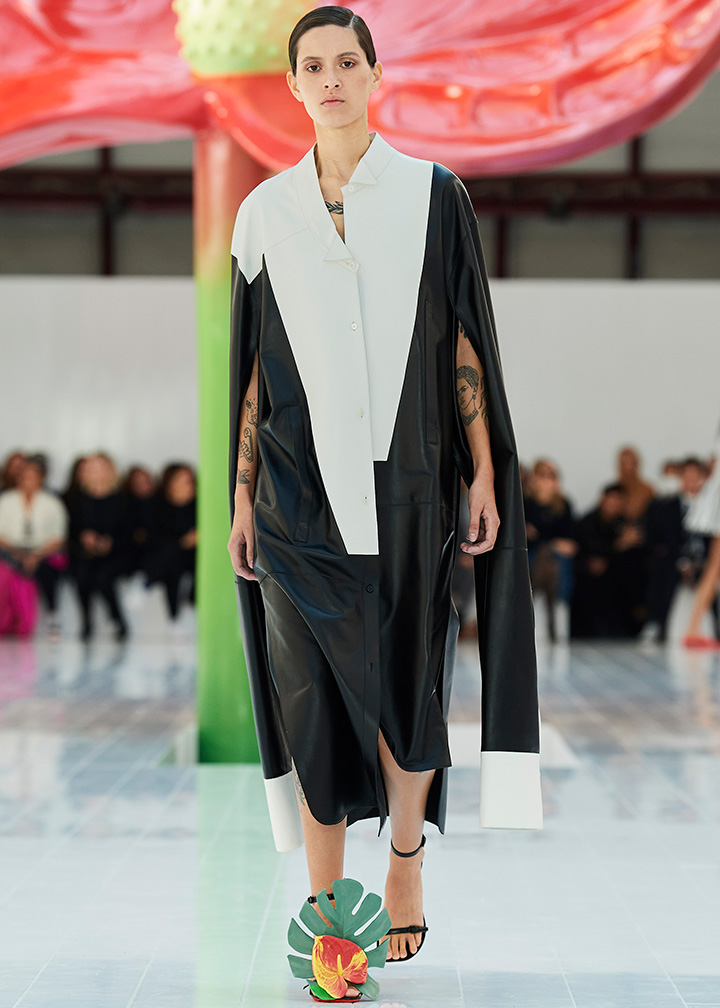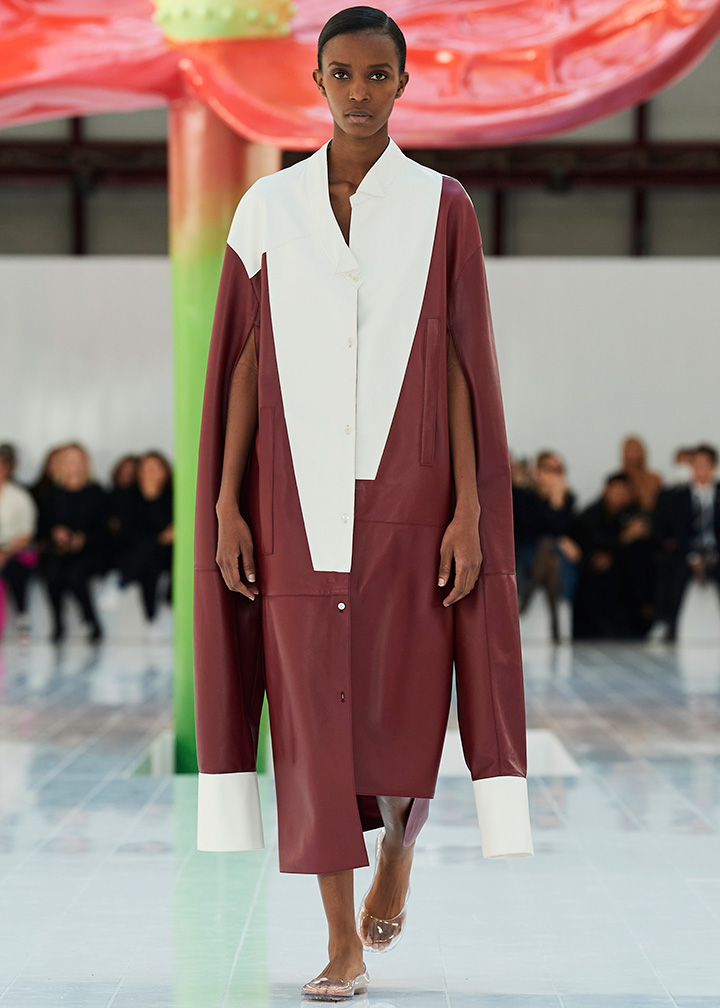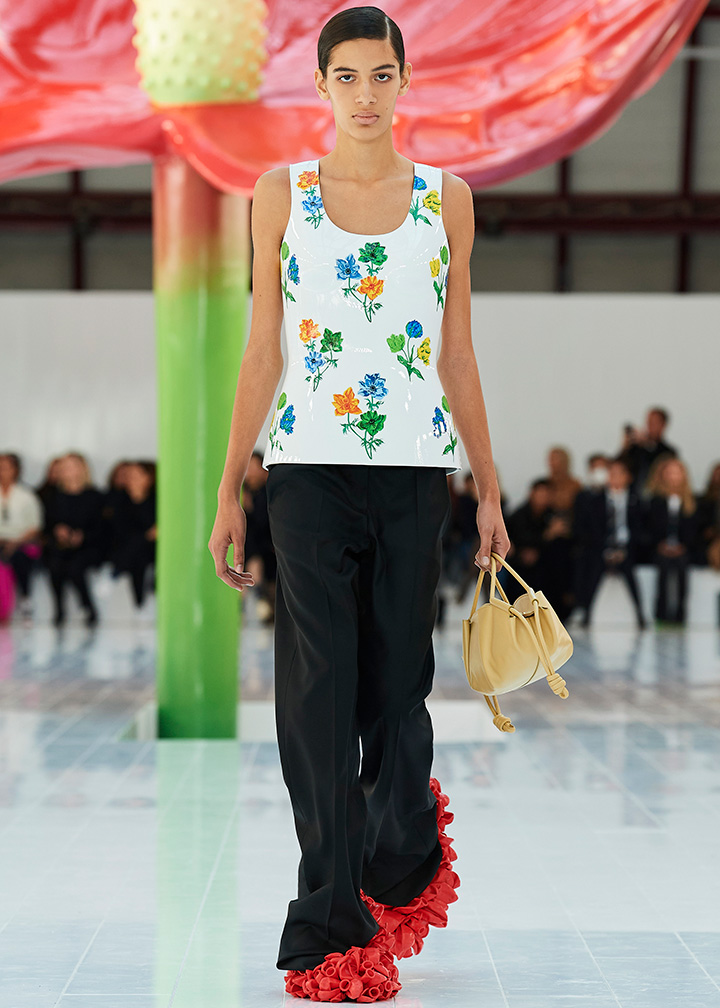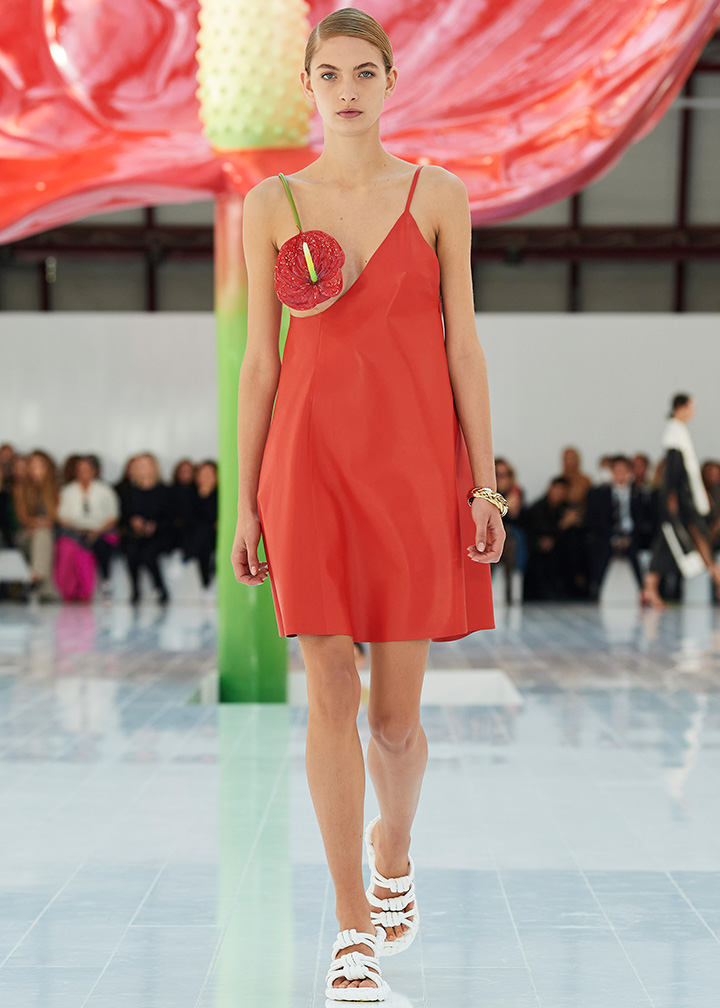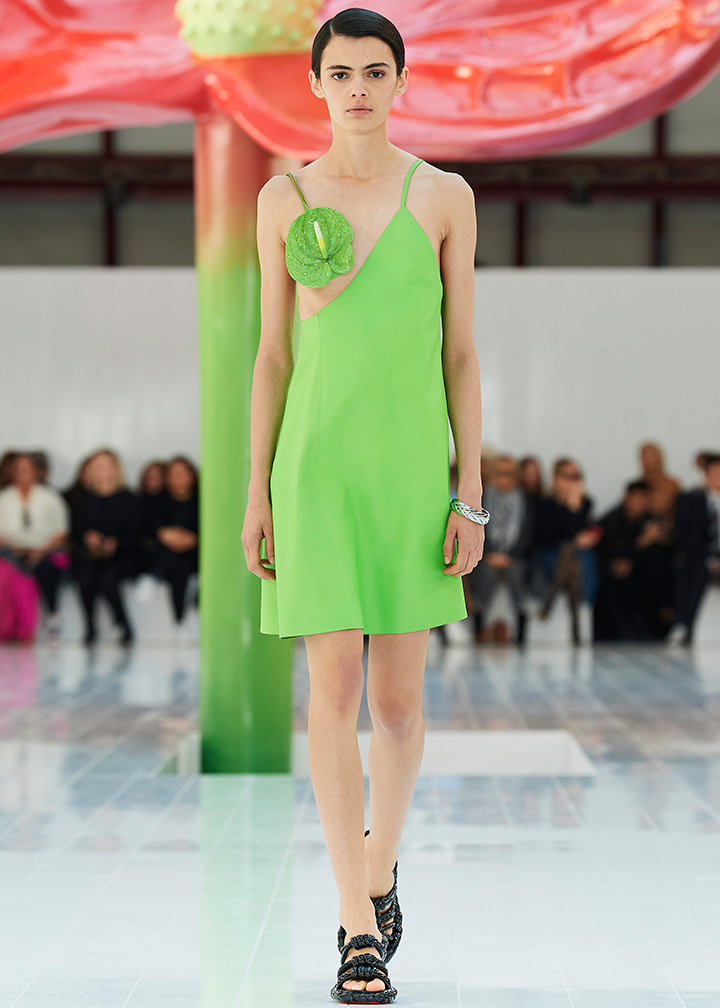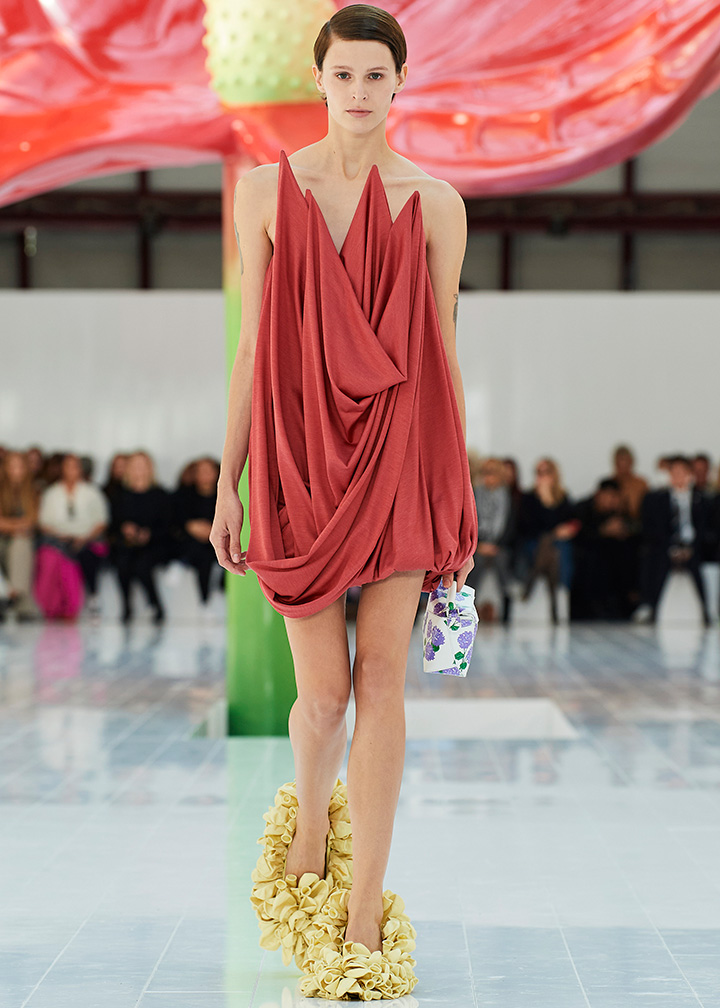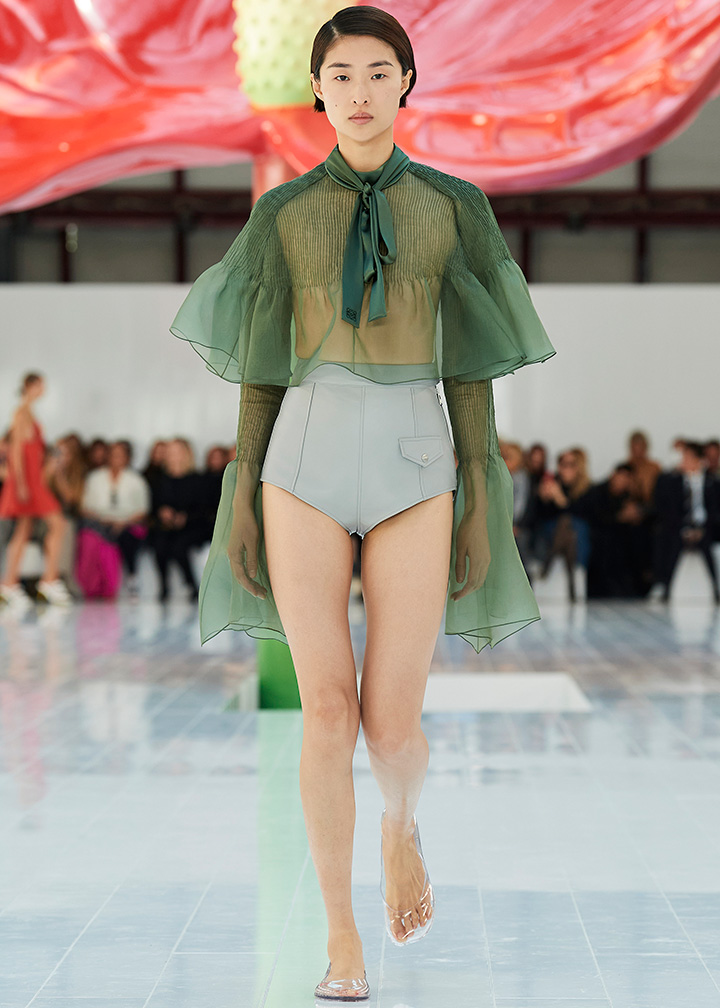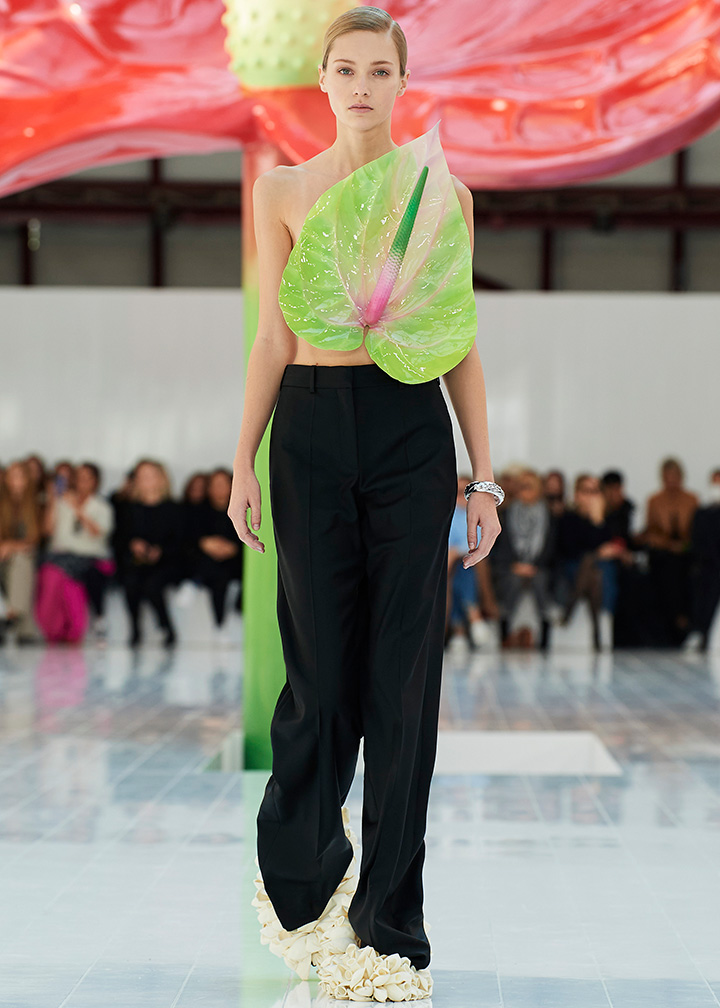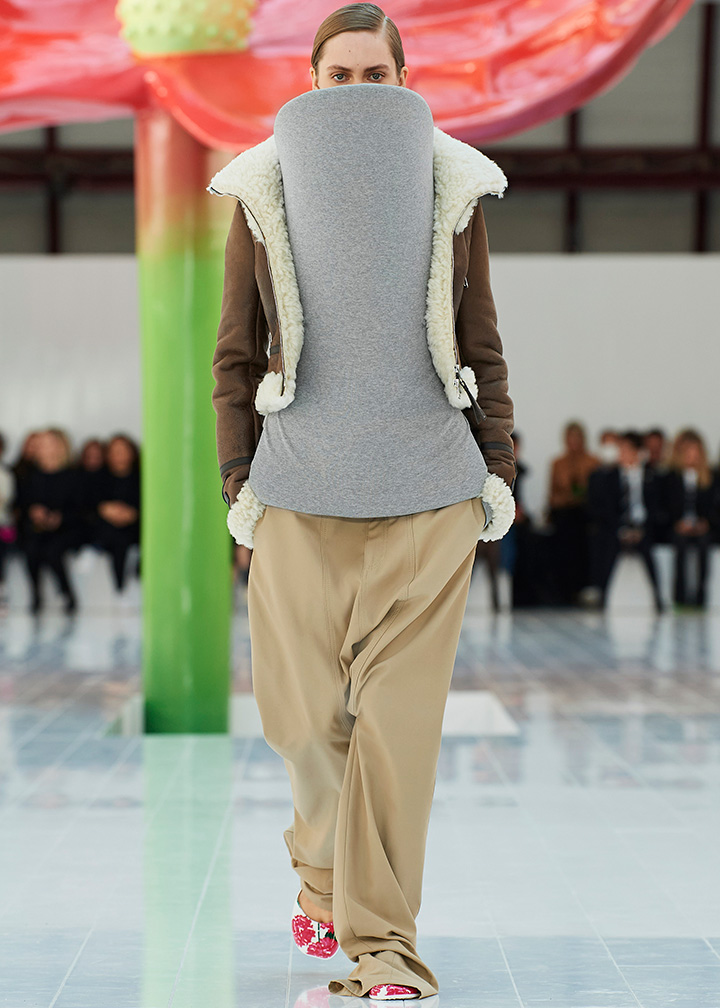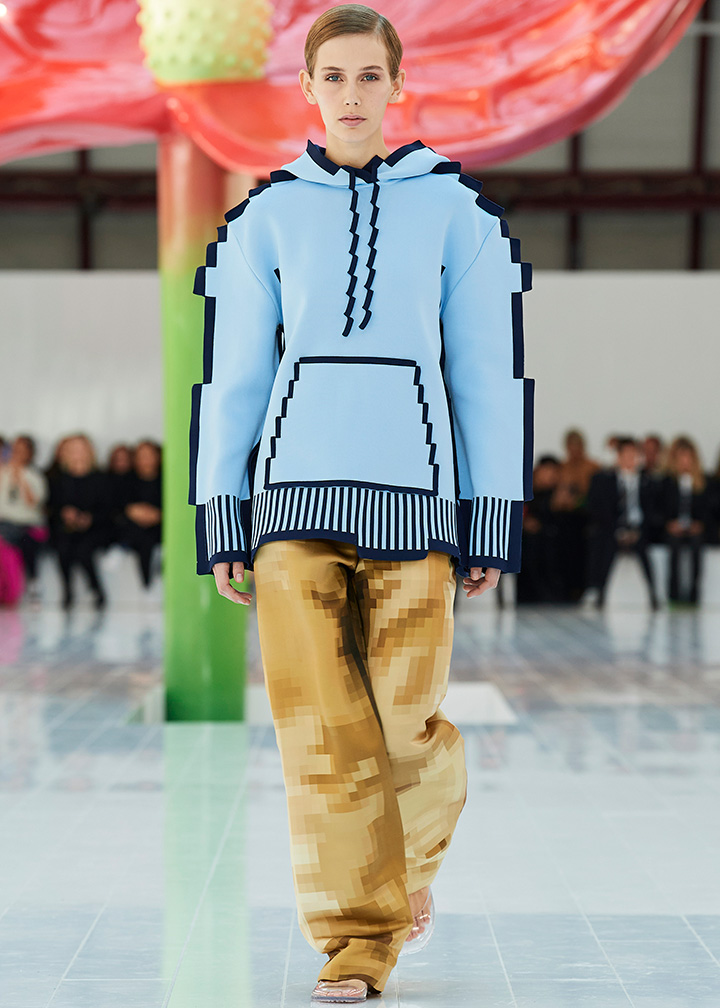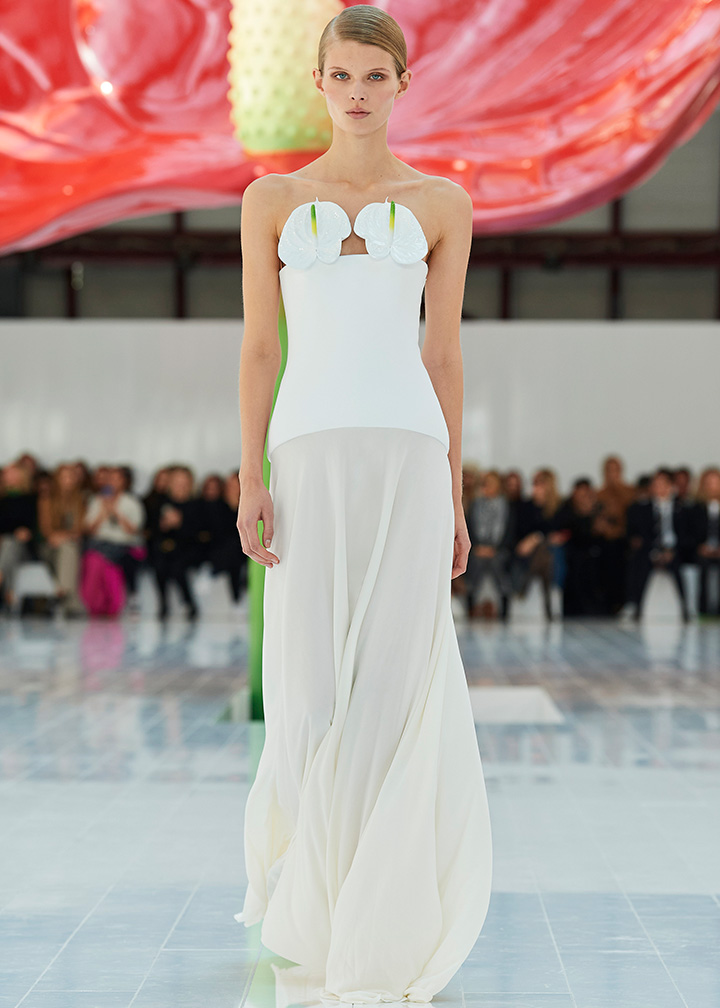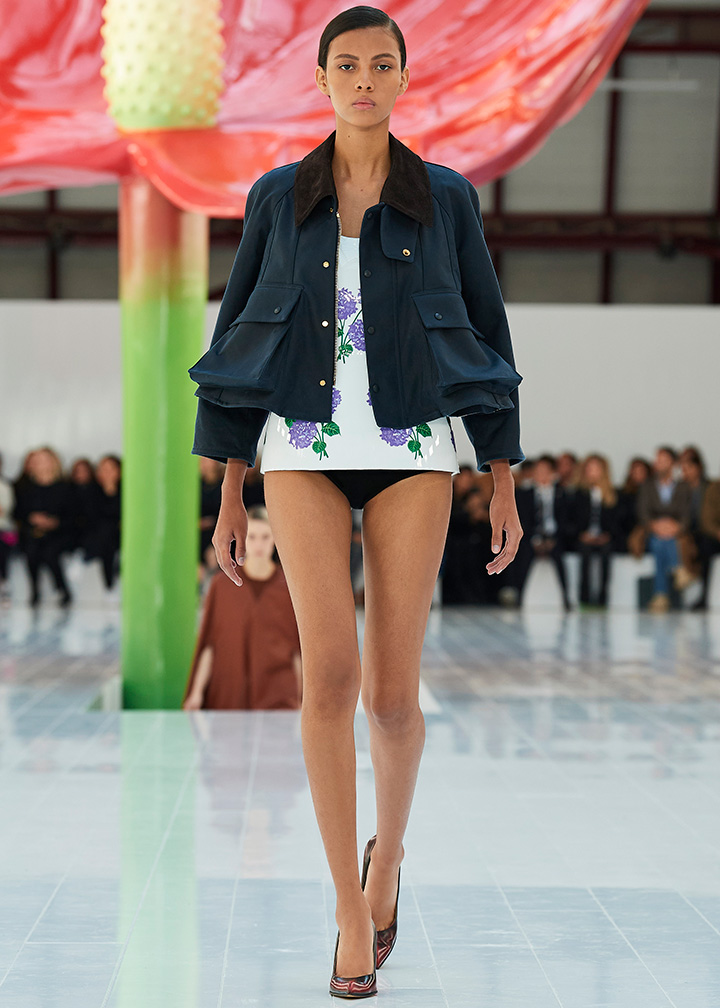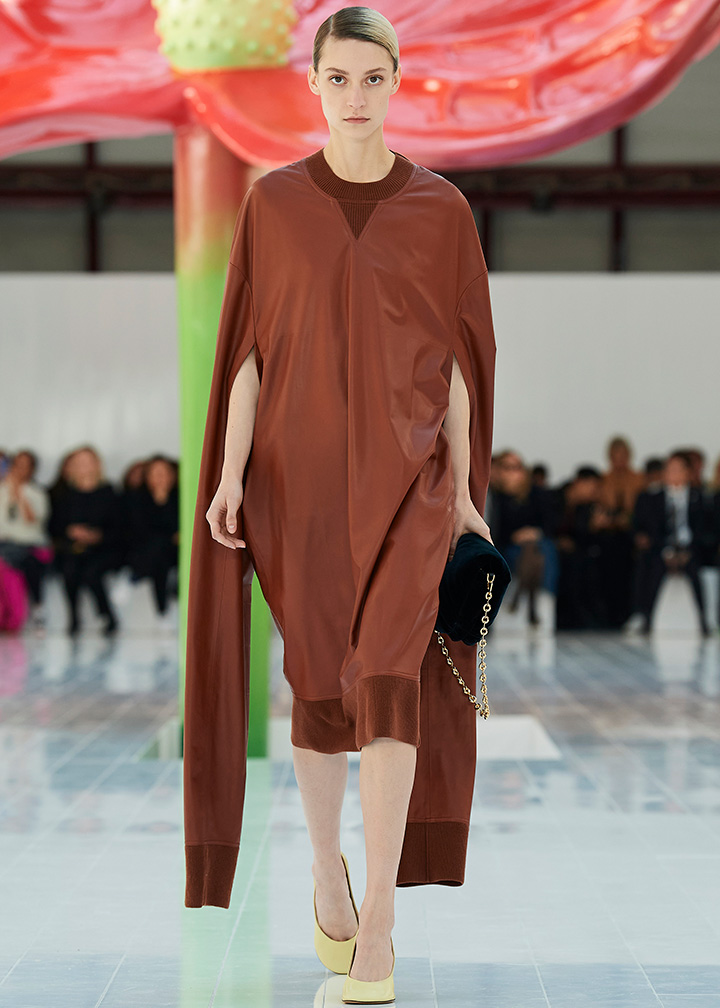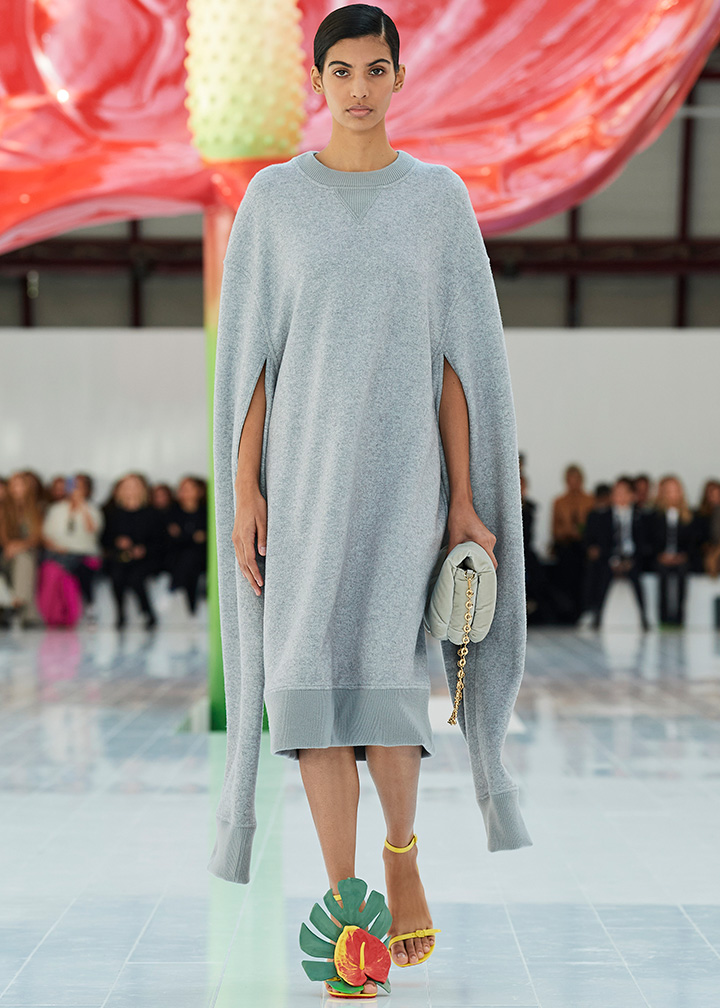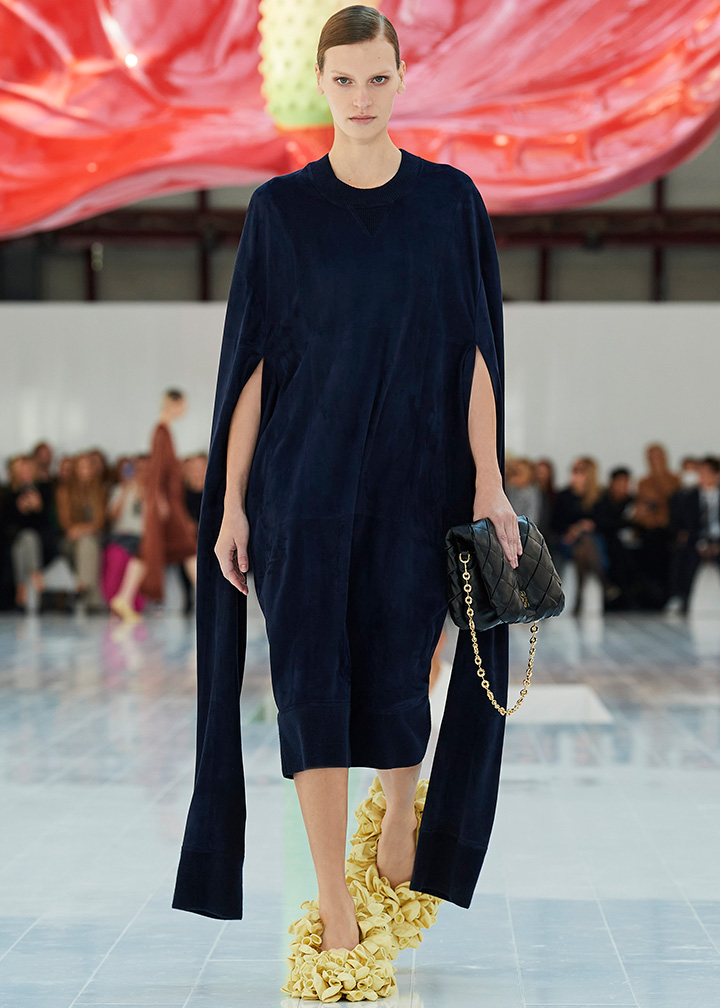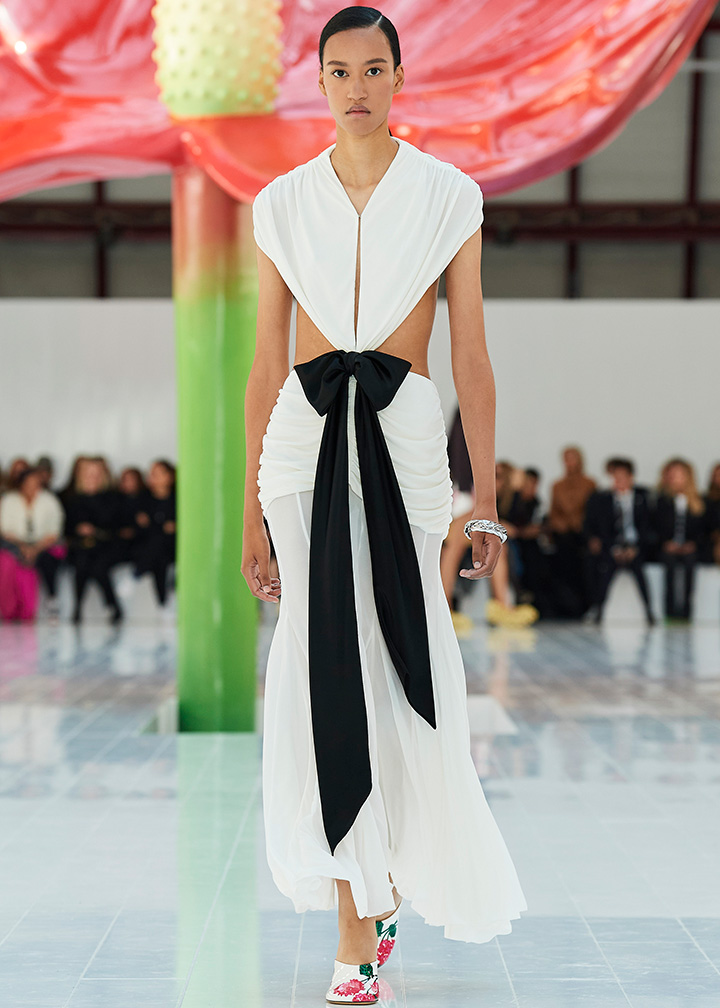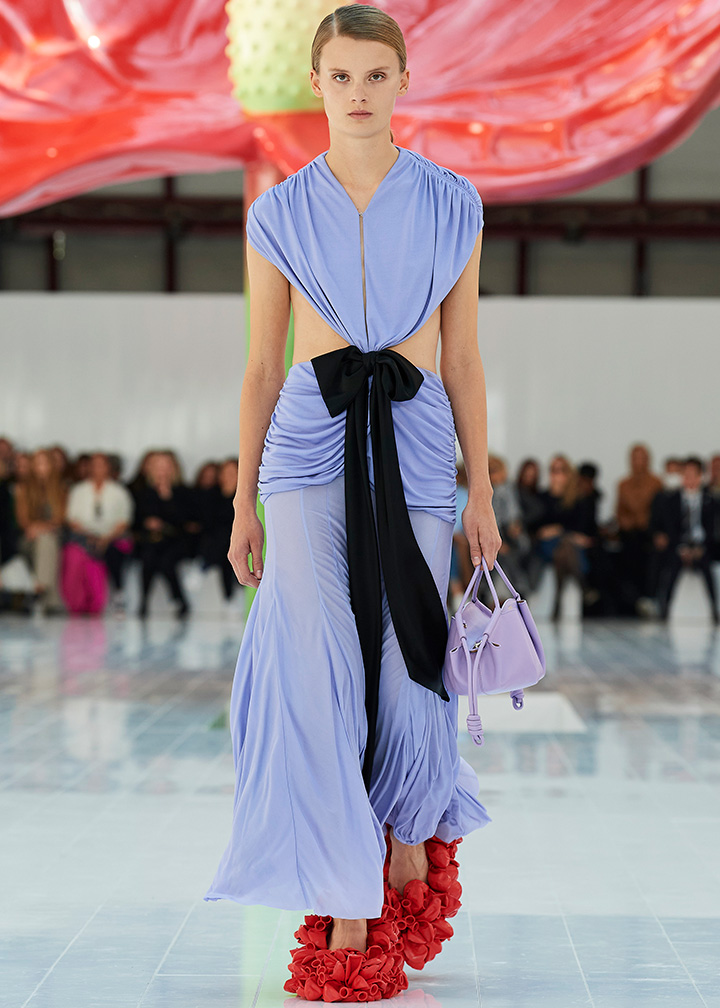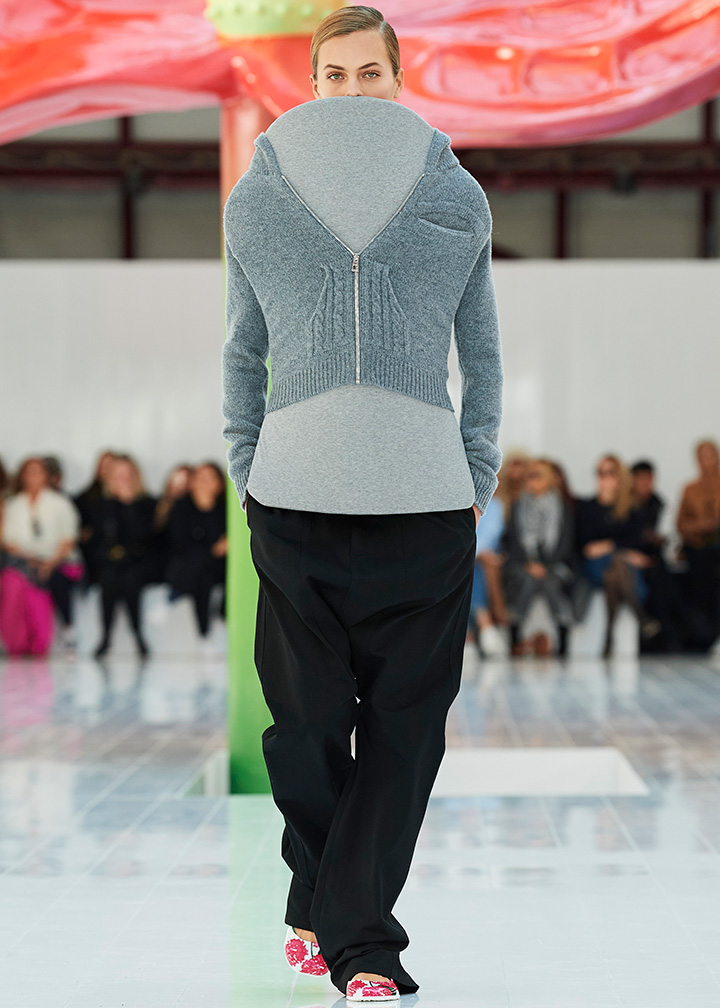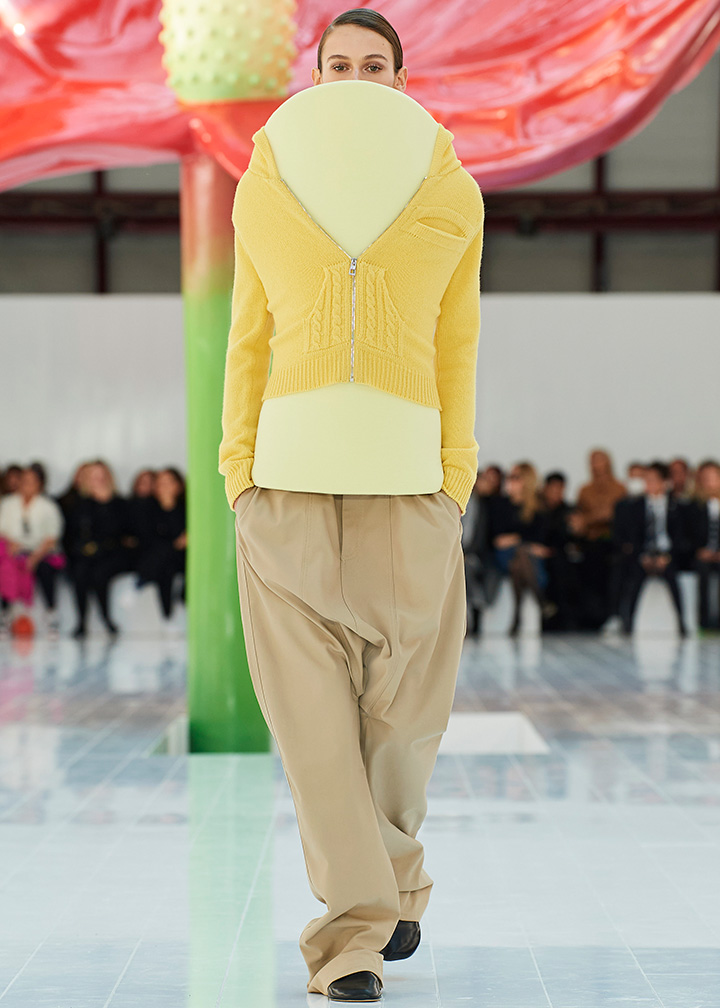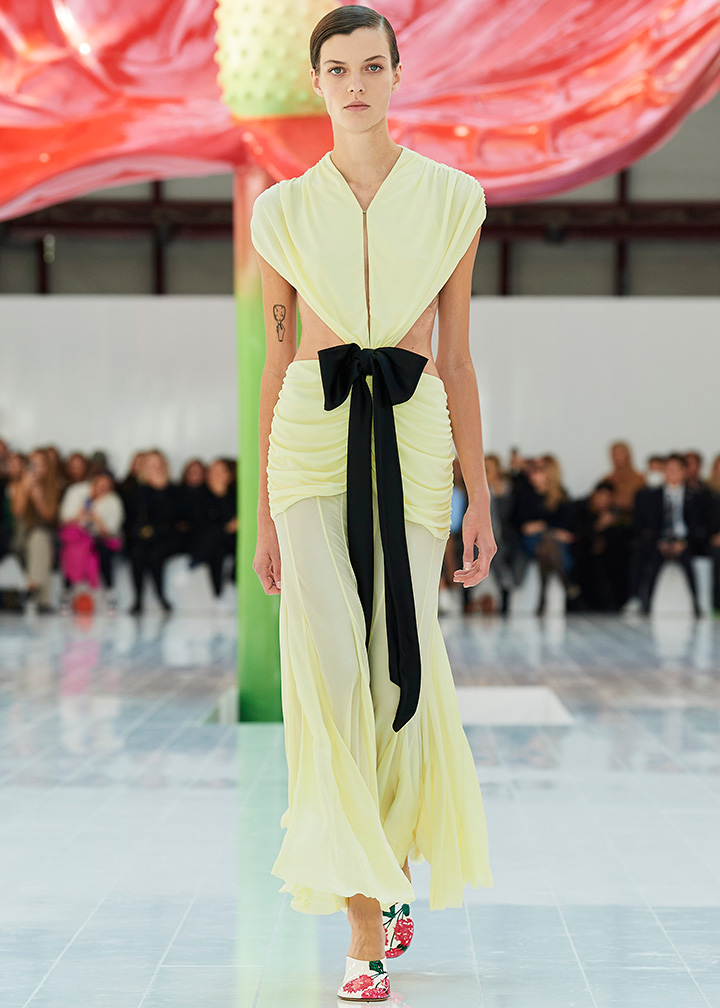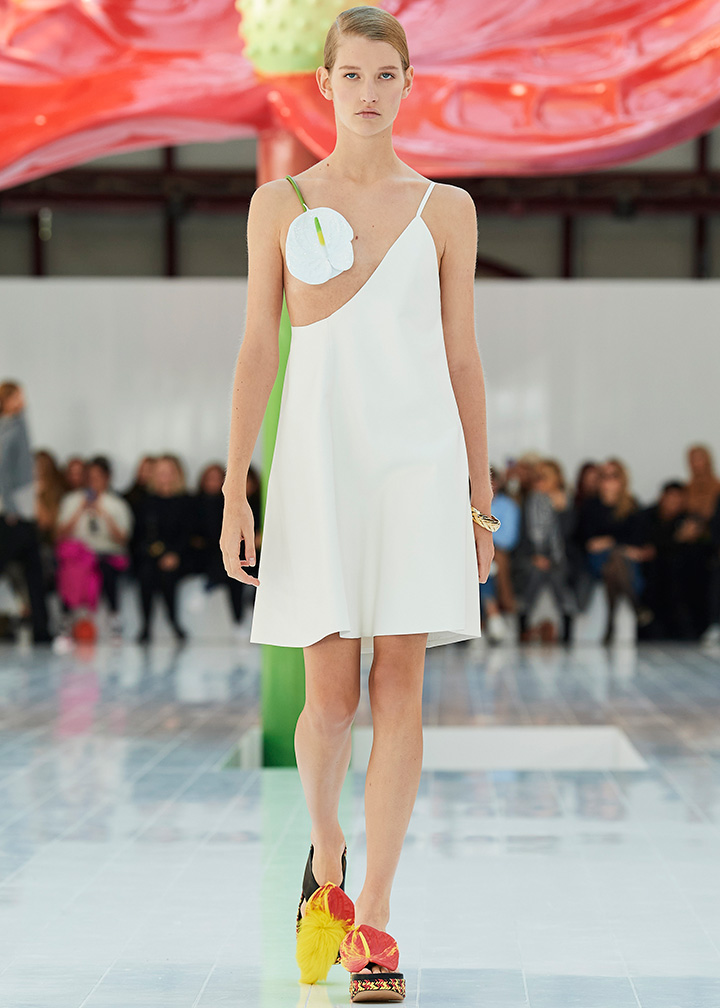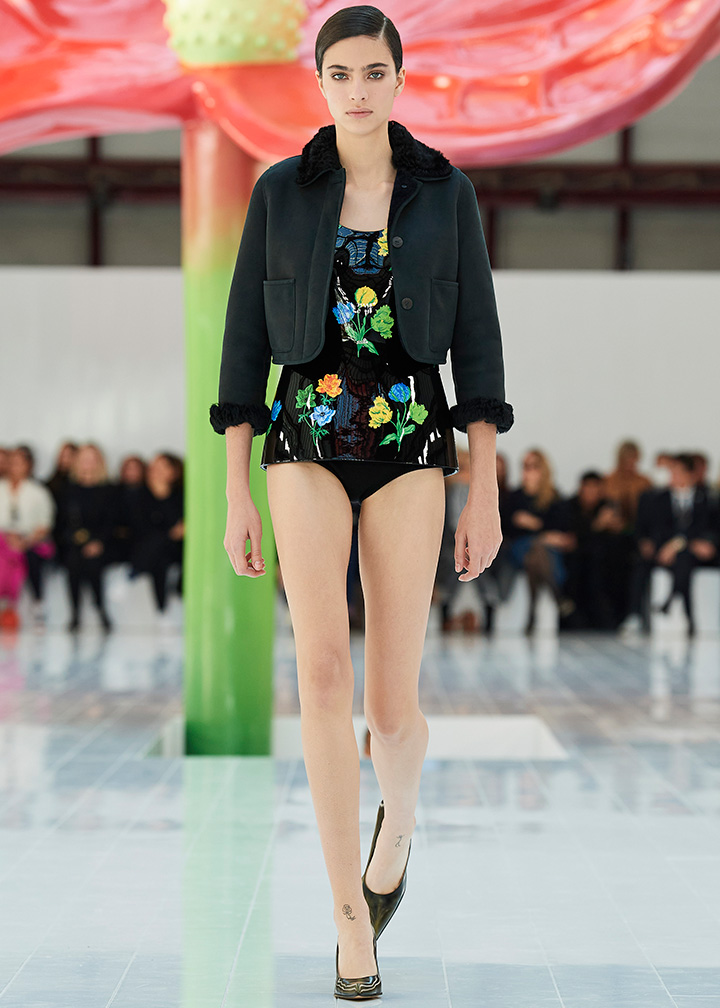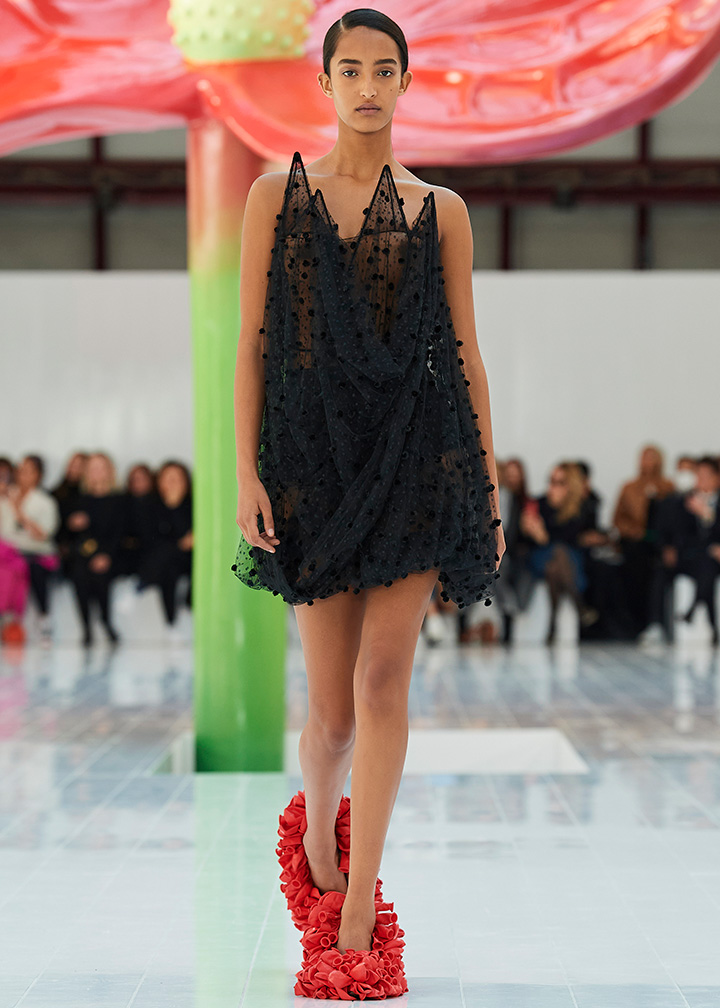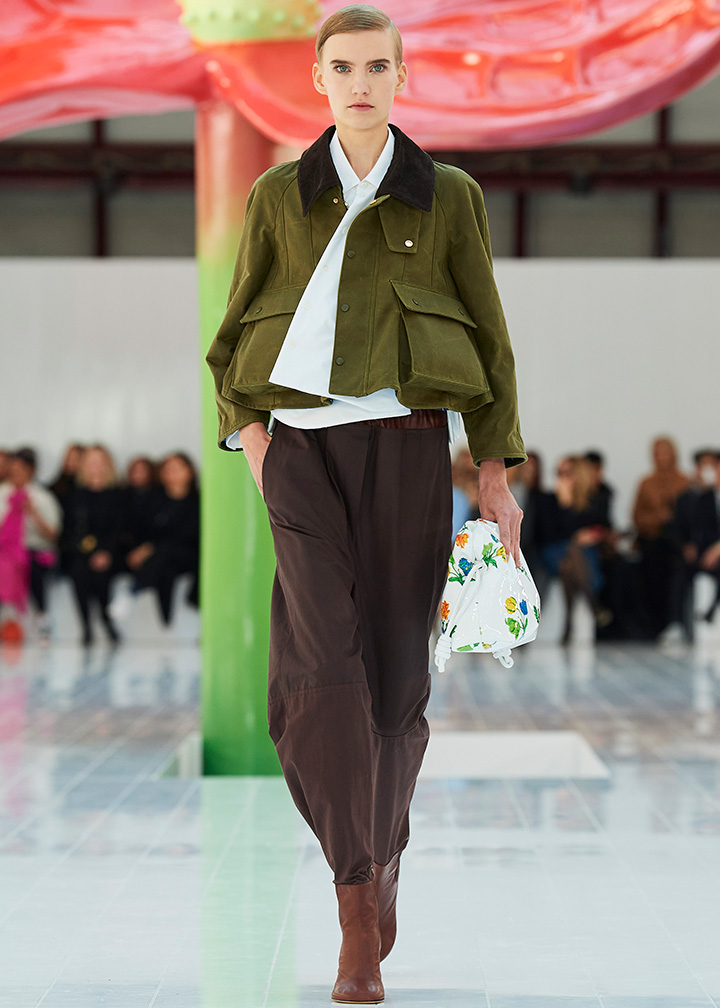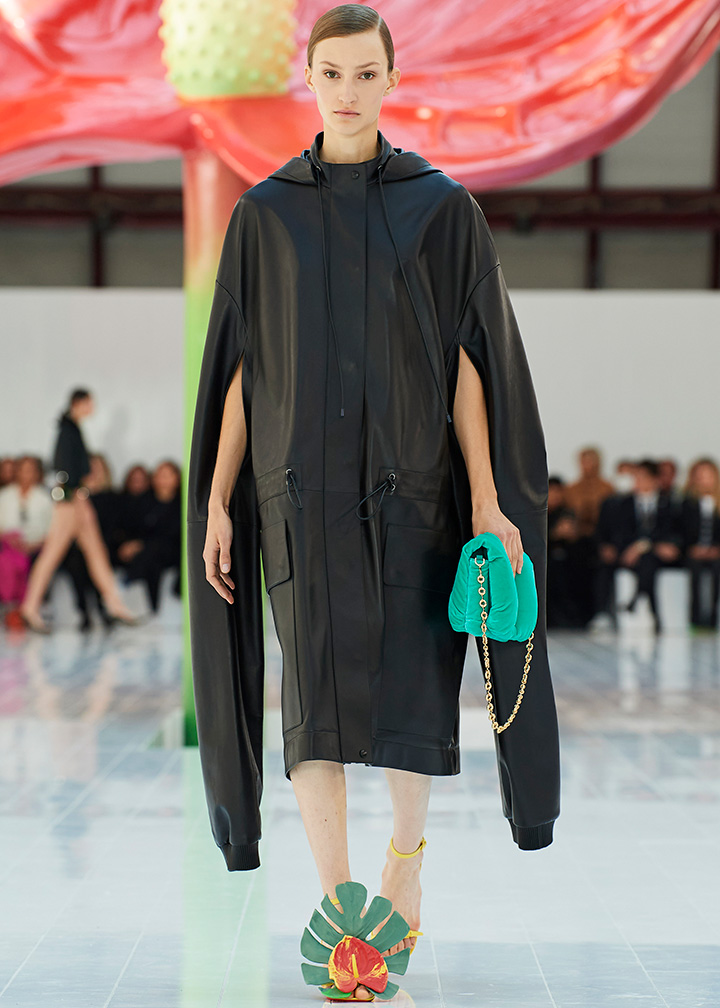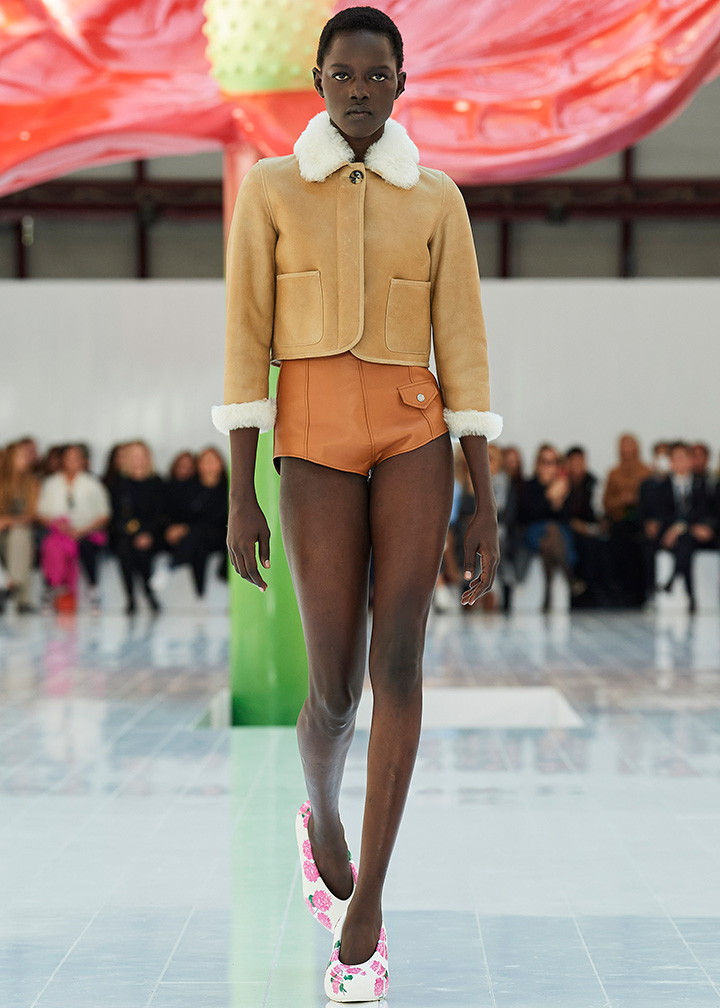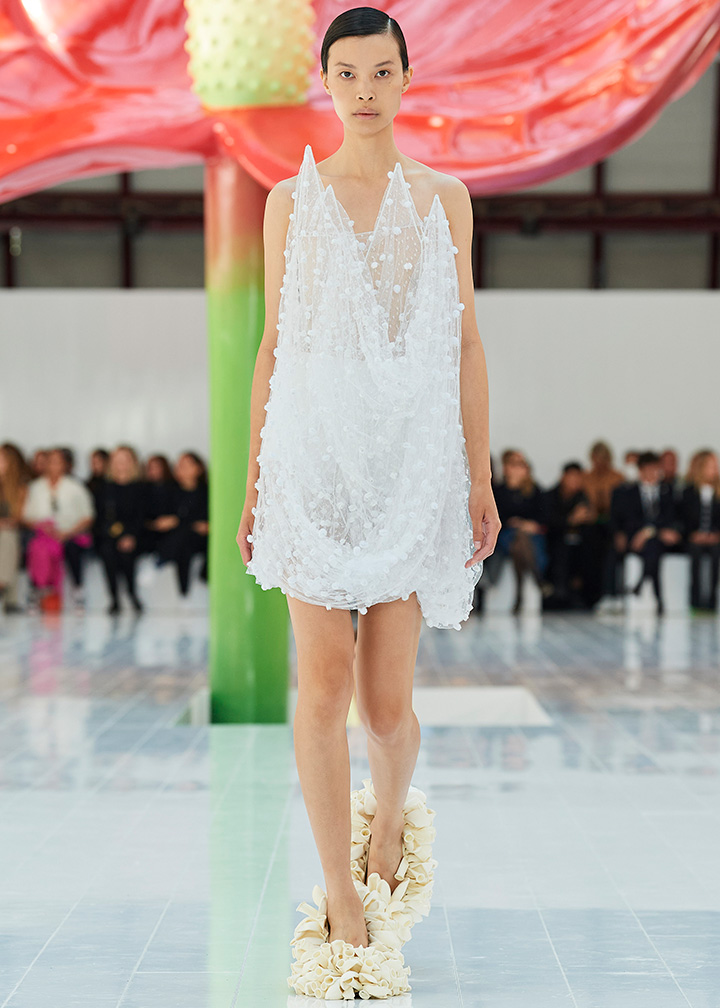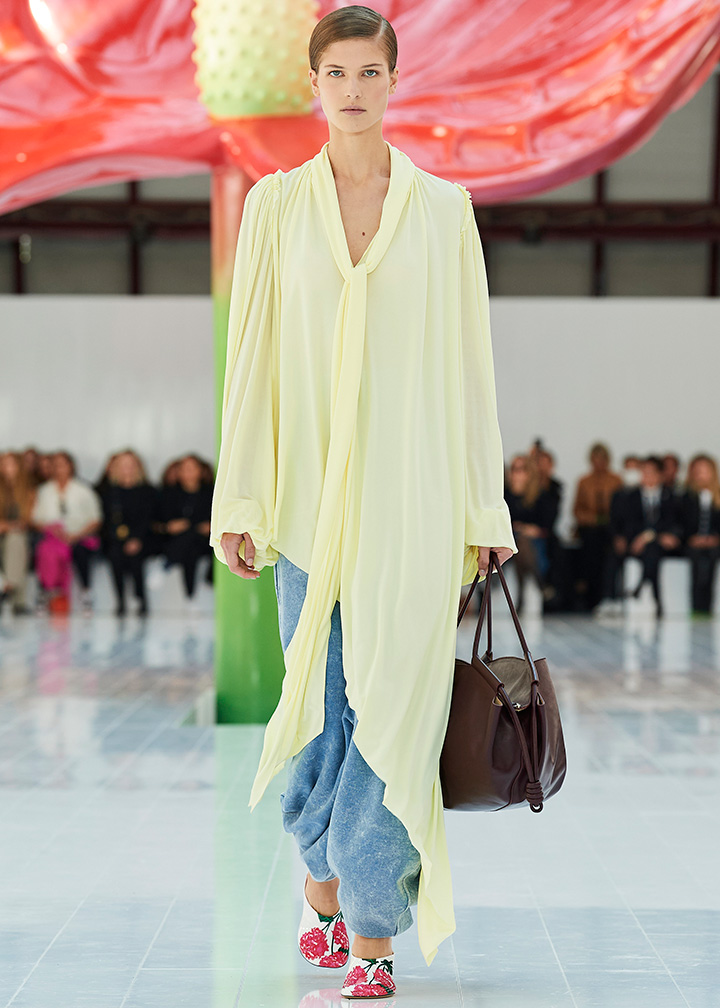 CHLOÉ
When: September 29, 2.00PM (8.00PM MYT)

BALENCIAGA
When: October 2, 11.30AM (5.30PM MYT)
"The scene begins with water and mud—a decrepit state of living brought to life by the hands of the ever-ingenious creative director of disruption. Demna's Balenciaga has always been a statement, an artistic commentary prominent for its themes of perplexities and the irony in the unjust in its rawest form. A vision that has long sparked fiery debates on the absurdities of his creations and creative direction, Demna's collections send out a message that confronts the rigid rules of fashion and pushes the boundaries of expression. For Balenciaga's SS23 collection titled 'The Mud Show', the message has never been clearer. Opening the runway was none other than Kanye West (who now goes by Ye), stomping down the dirt-piled runway in a military-inspired ensemble consisting of an oversized tactical jacket, baggy leather pants, a mouthguard, and a baseball cap pulled low to give us merely a glimpse of the man we're all familiar with. Right off the bat, the first piece is an embodiment of fascism, and what follows next paints a picture of its survivors and the non-conformists that have risen above the odds. A parade of models decked in facial modifications and blemished in battery makeup were sent out presenting a collection of baggy, oversized silhouettes, affirming the very Demna-esque collection at heart. The show is one that further cements the idea of how one can interweave the current state of the world into the seams of wearable pieces. Though not explicitly mentioned, each piece represents the counterculture and an anti-resistant allure, a thunderous state of vehemence made tangible by the man who has experienced, first-hand, the effects of war. Through its loud pieces, 'The Mud Show' offers a look into a dystopian future where life carries on, and the freedom to express our idiosyncratic identities are not confined by orthodox rules." — Phyll Wu, editorial assistant
RUNWAY LOOKS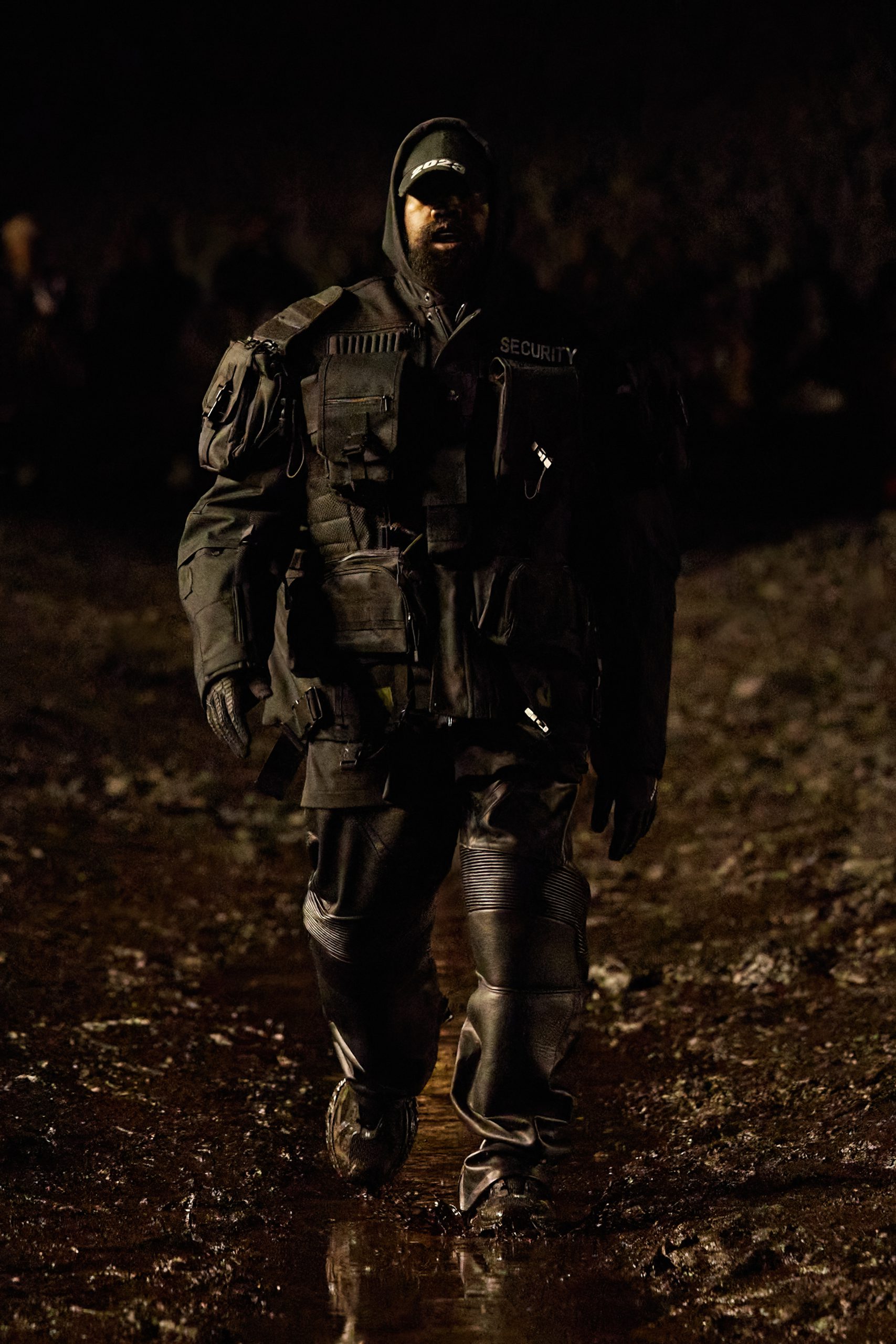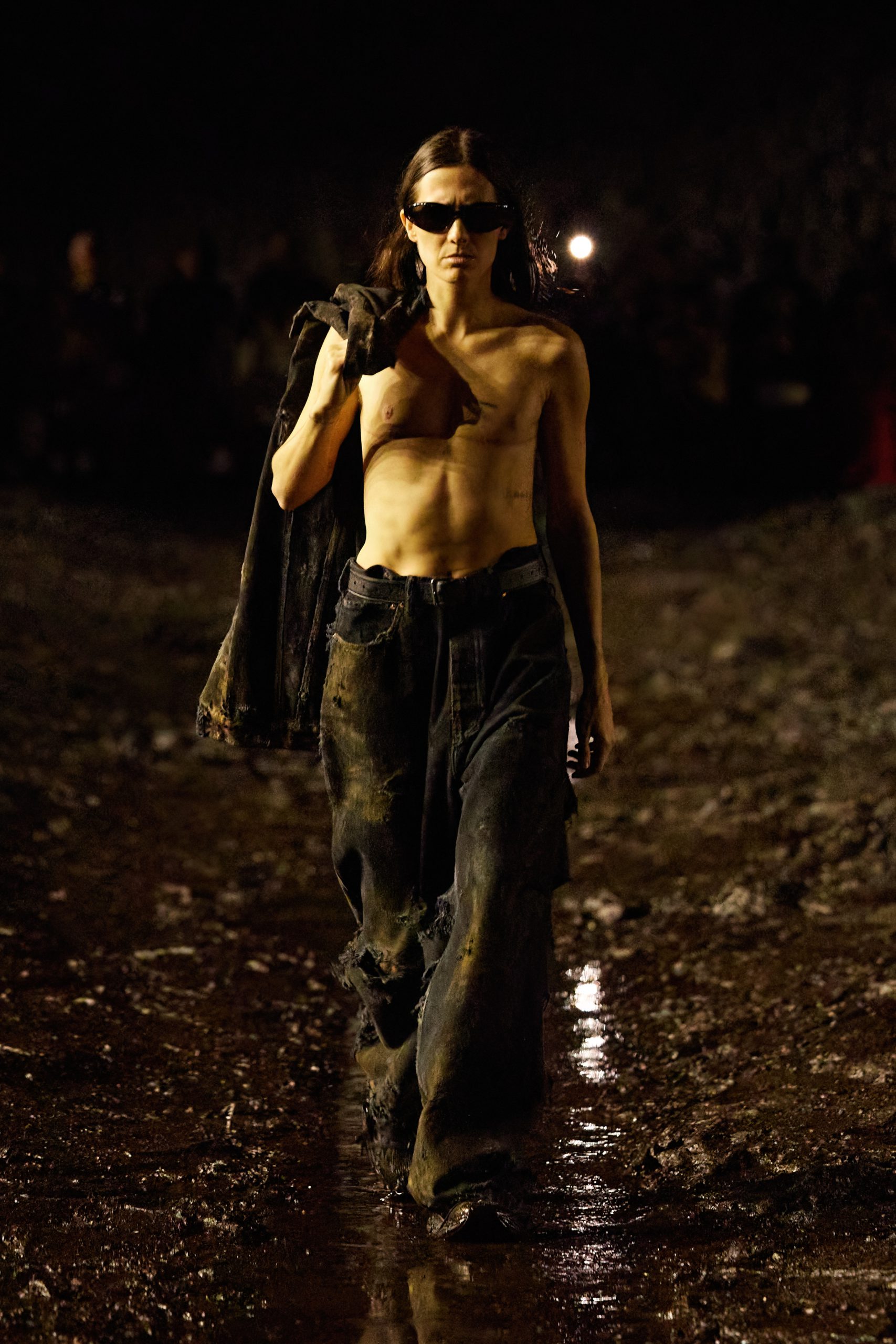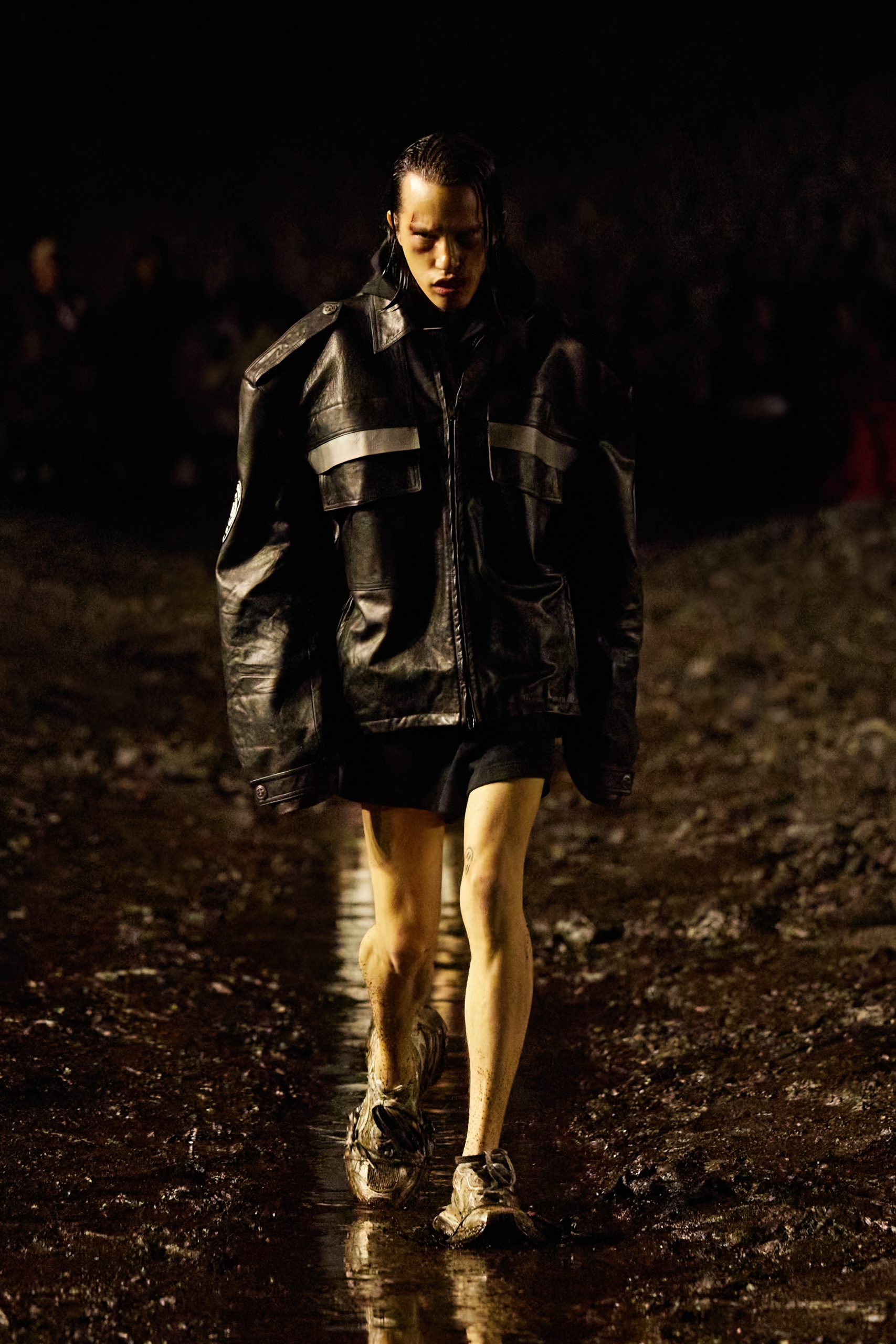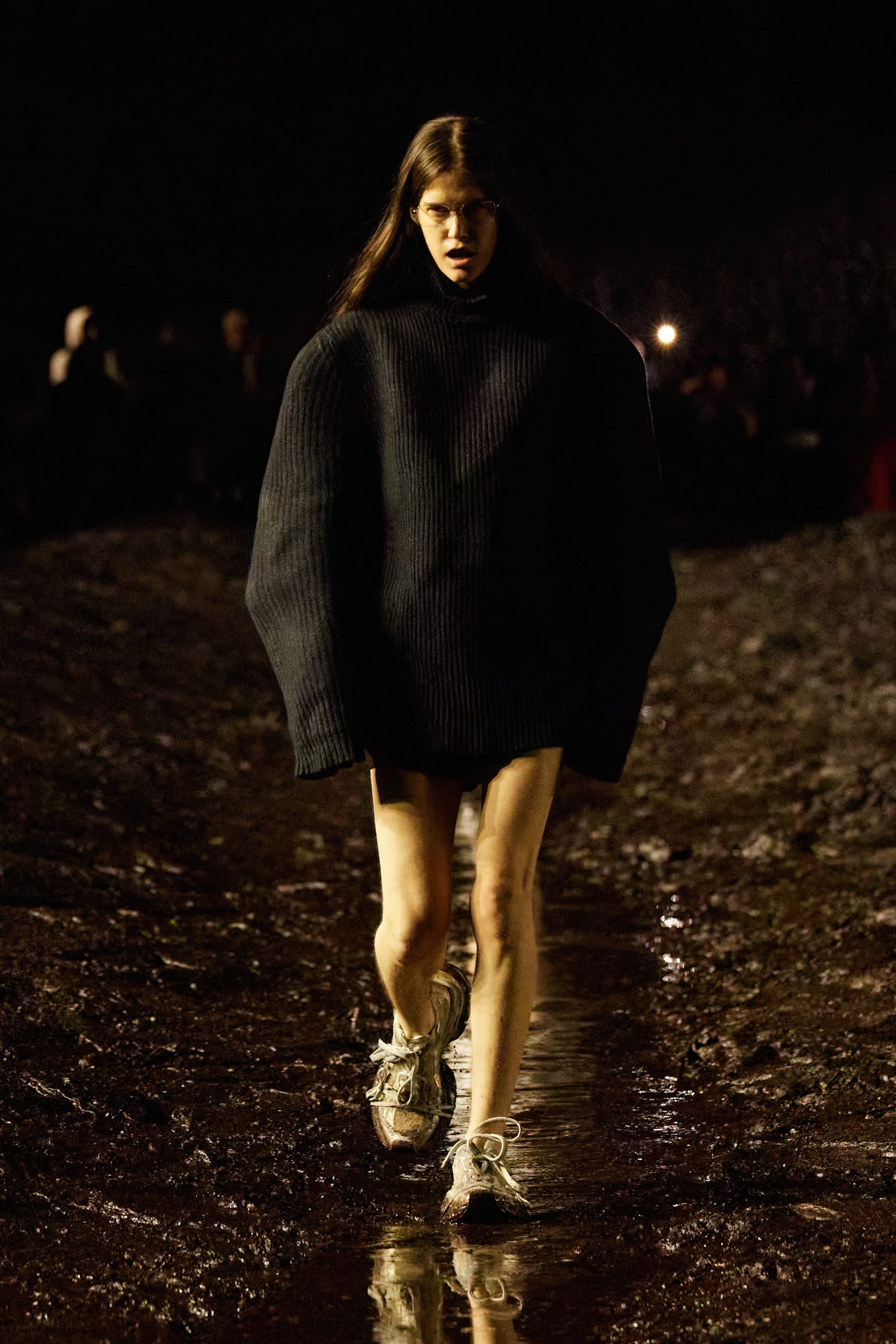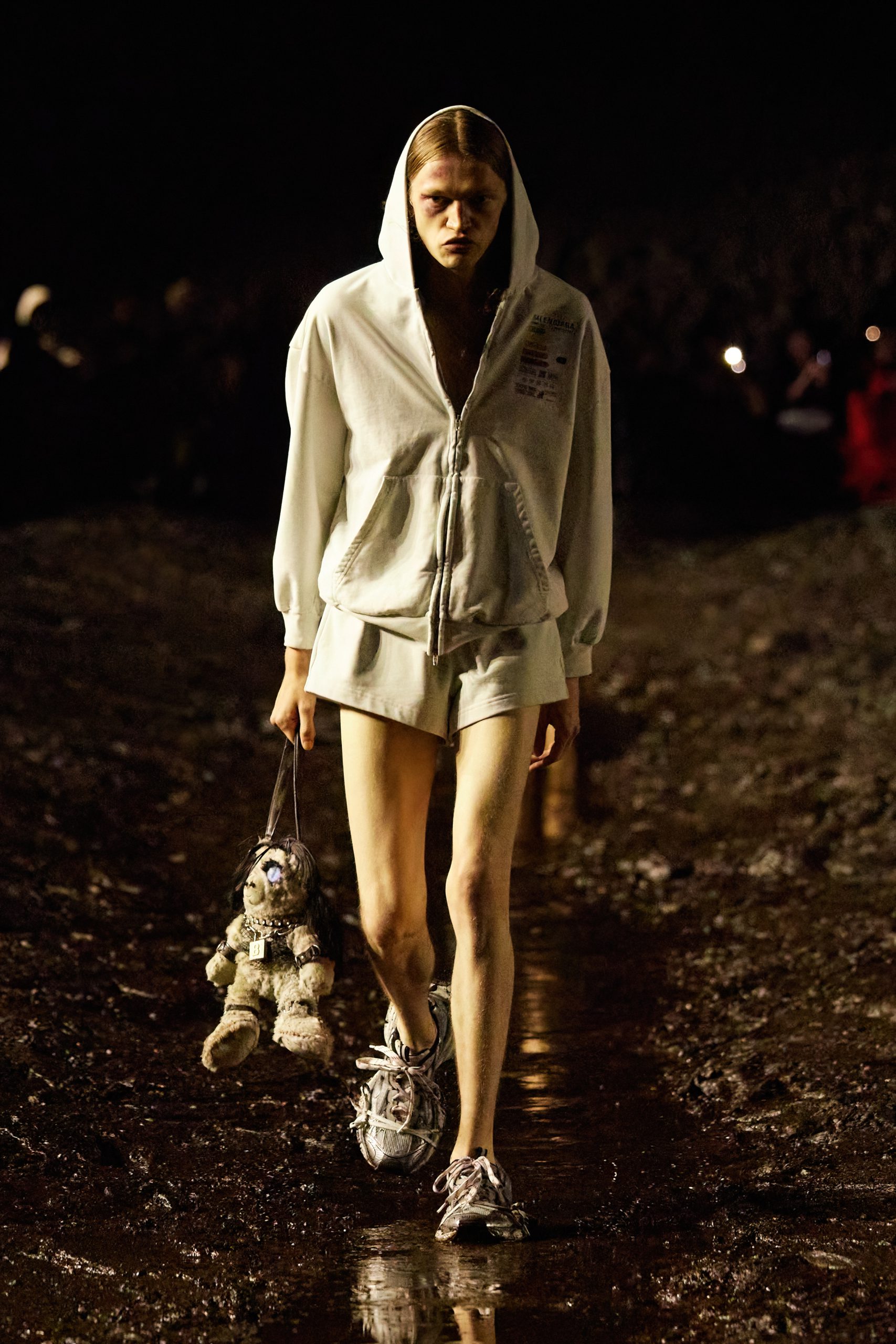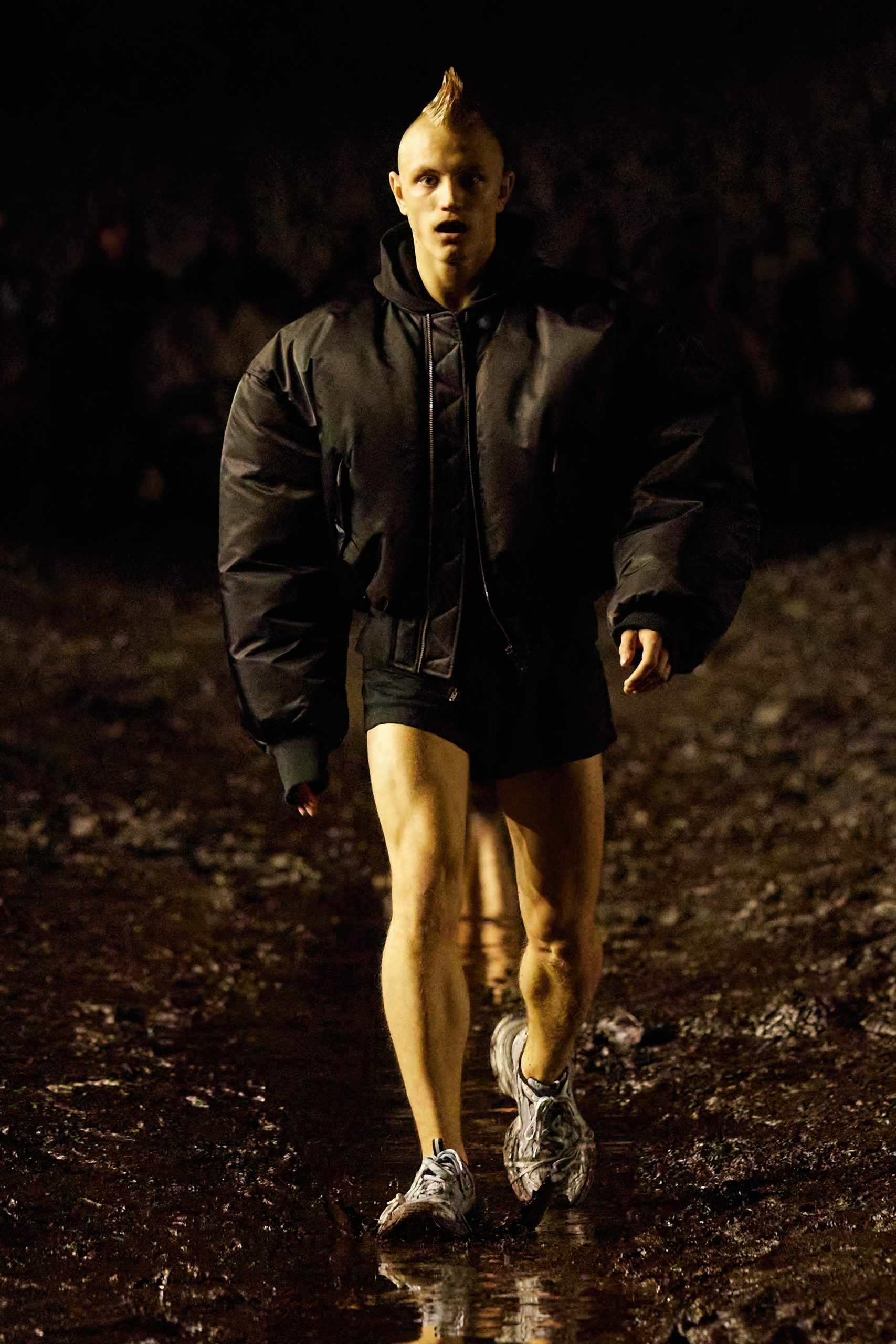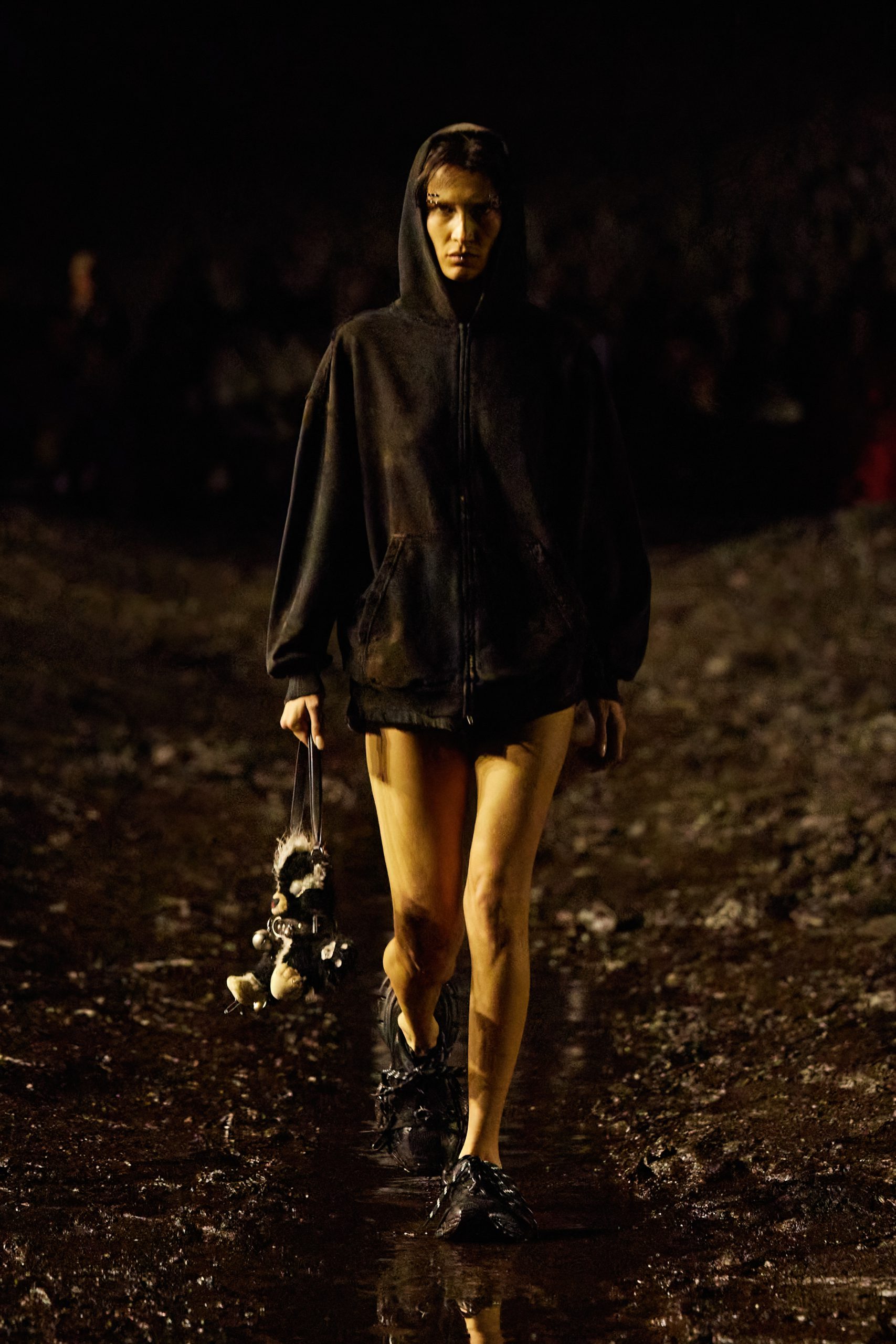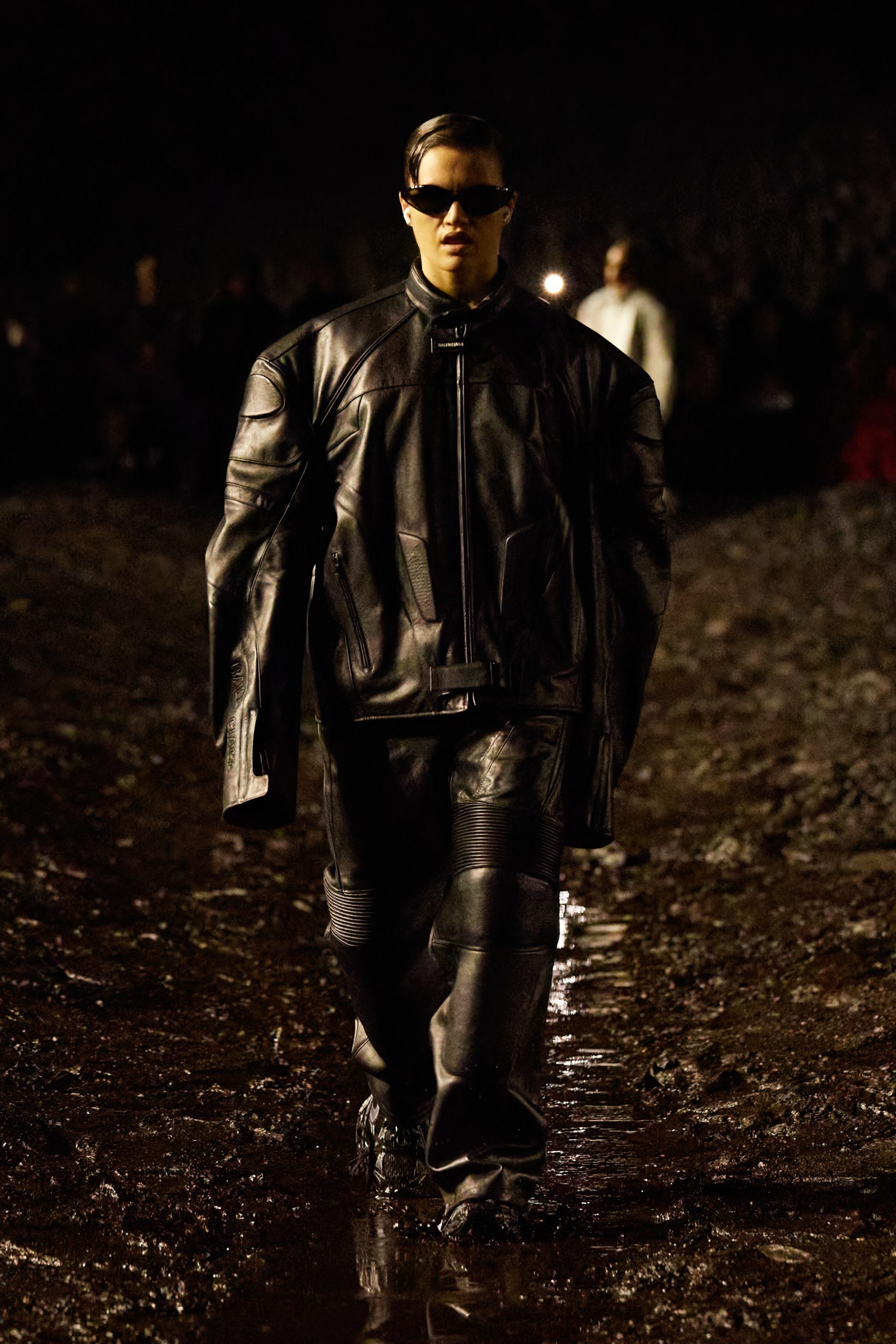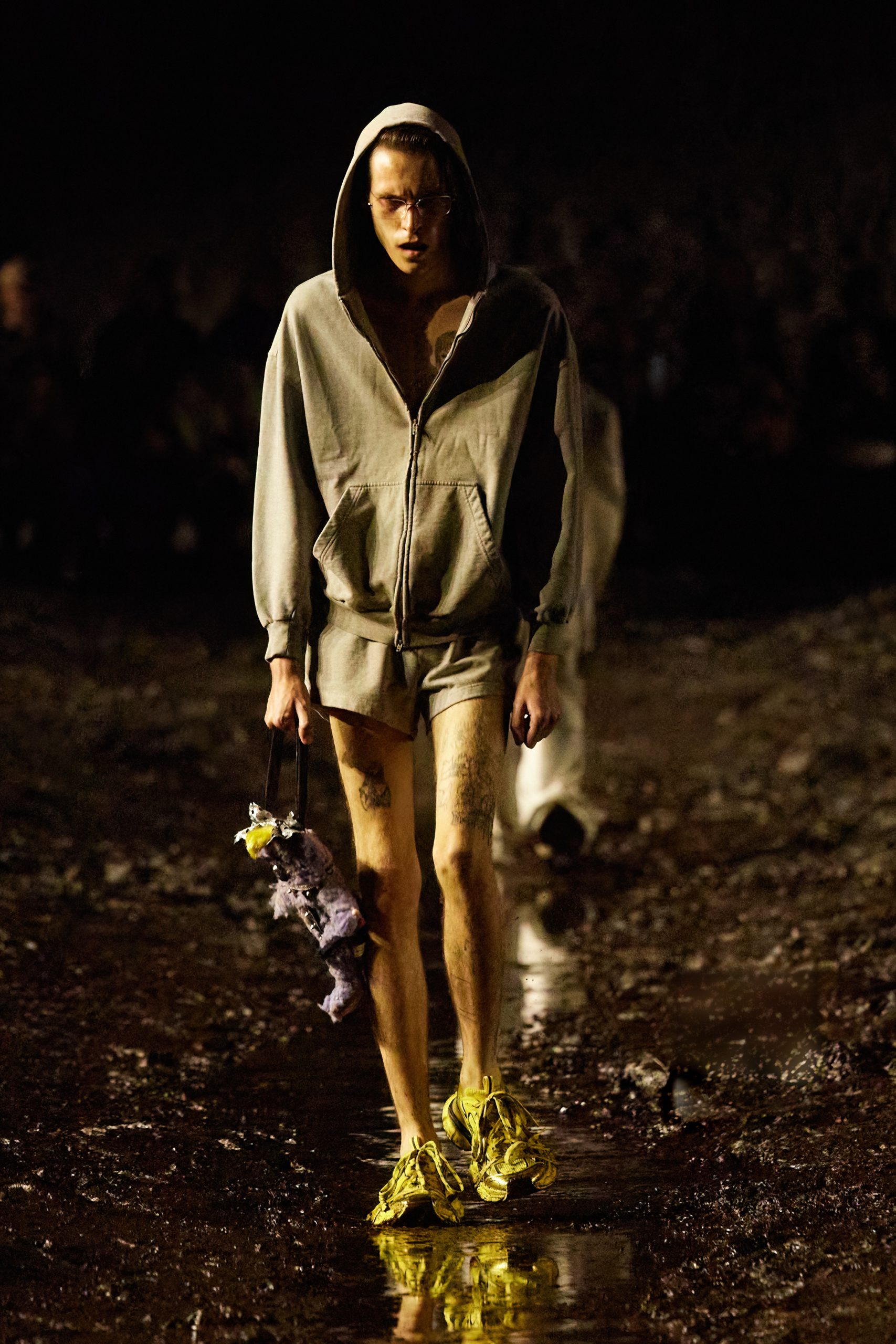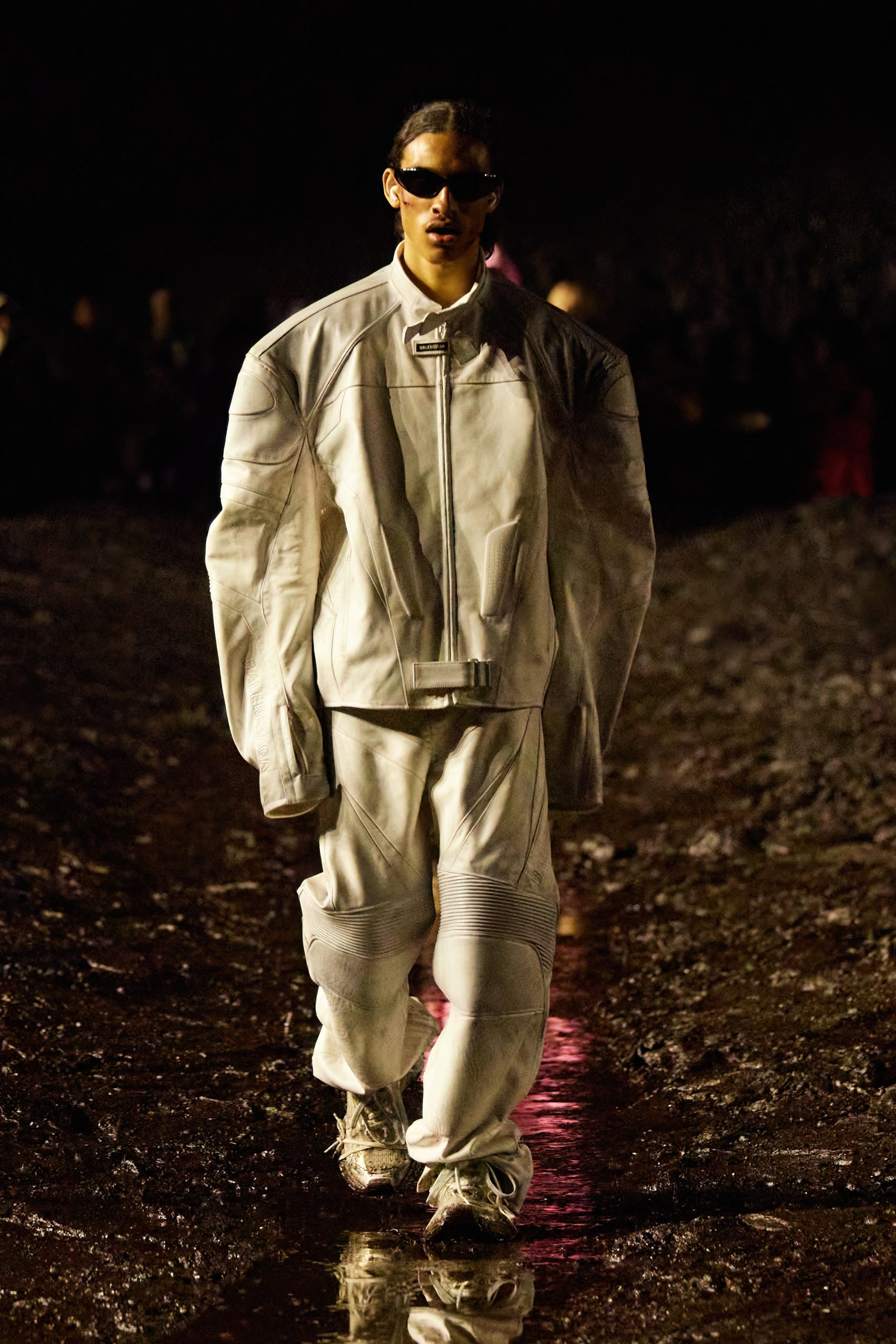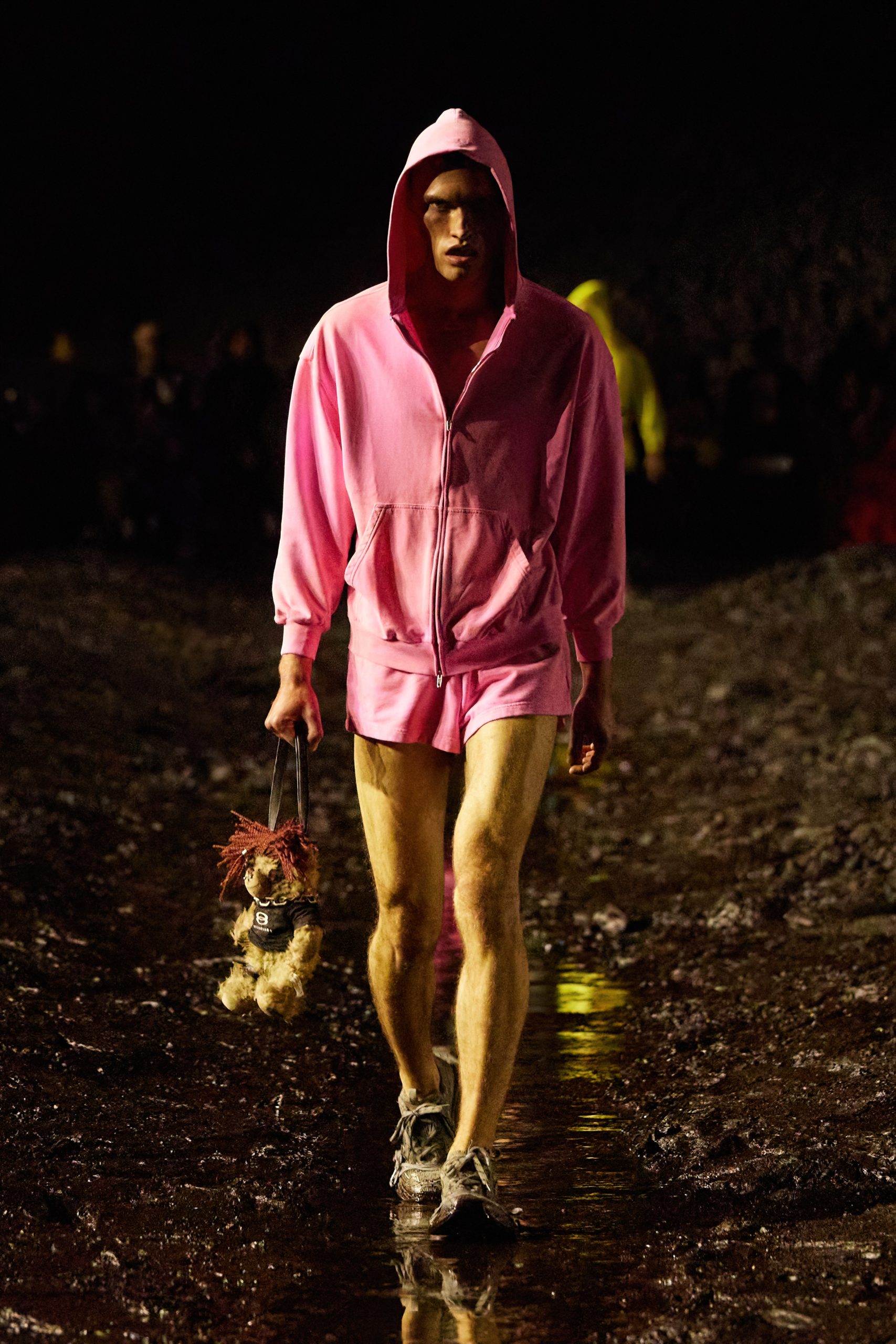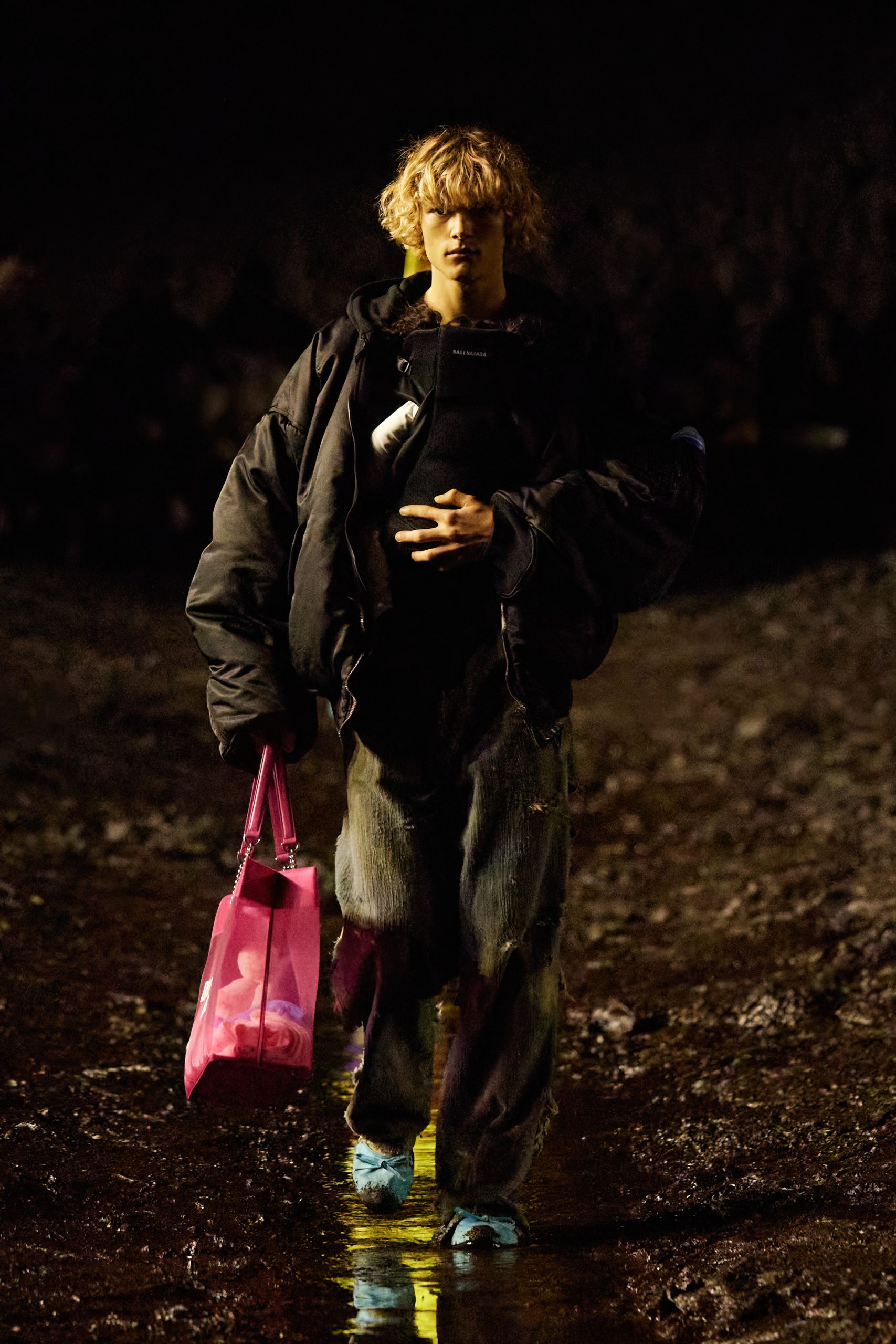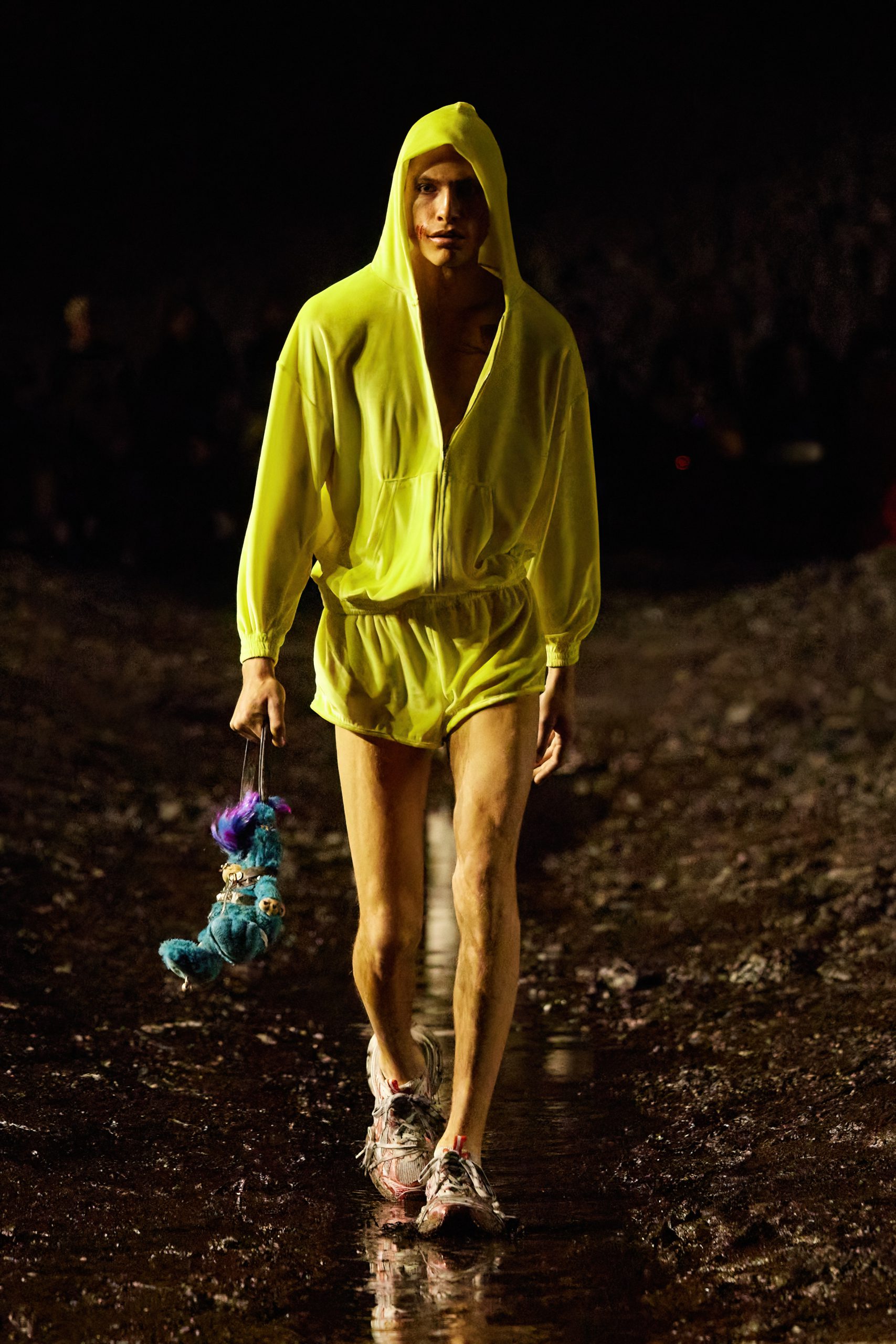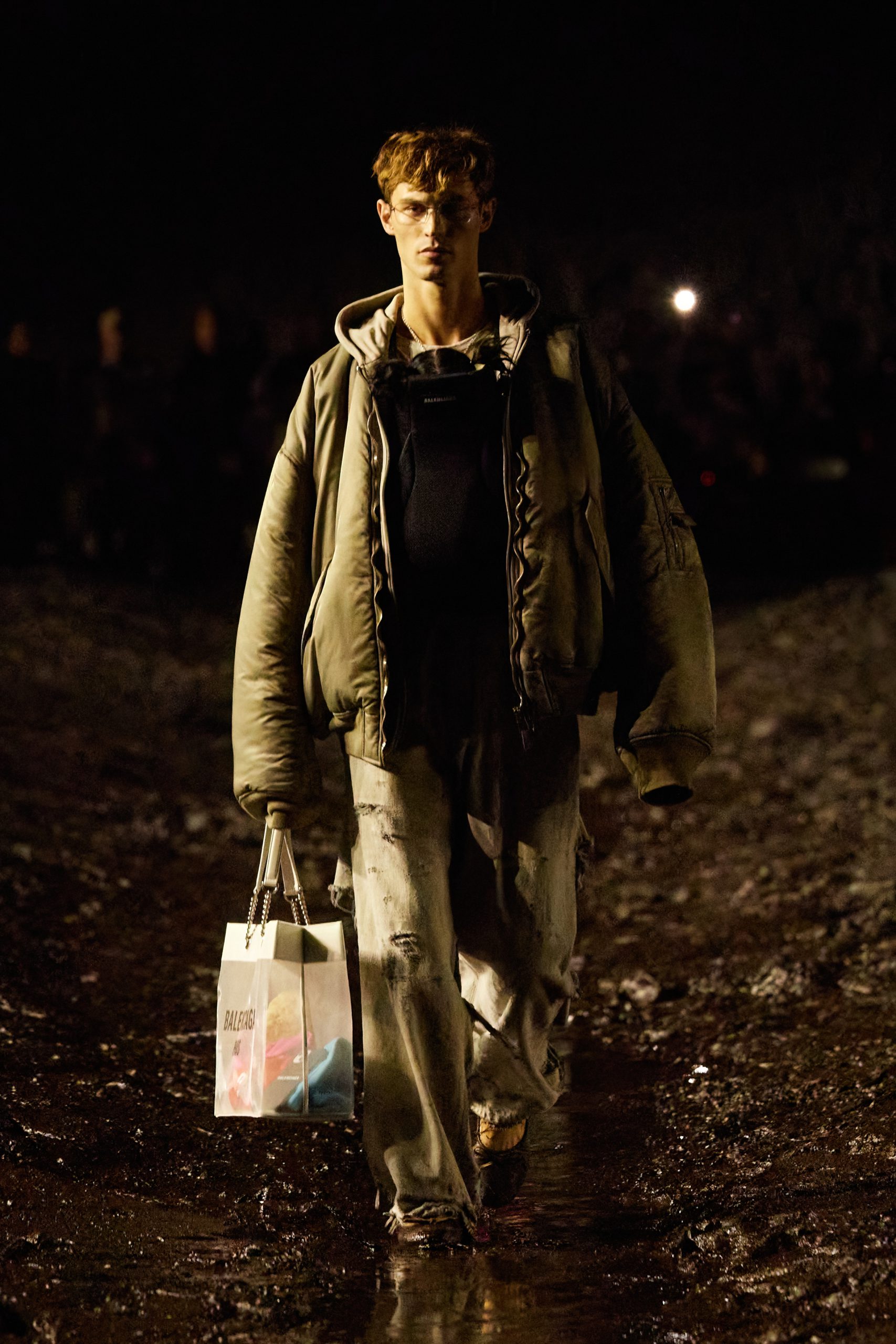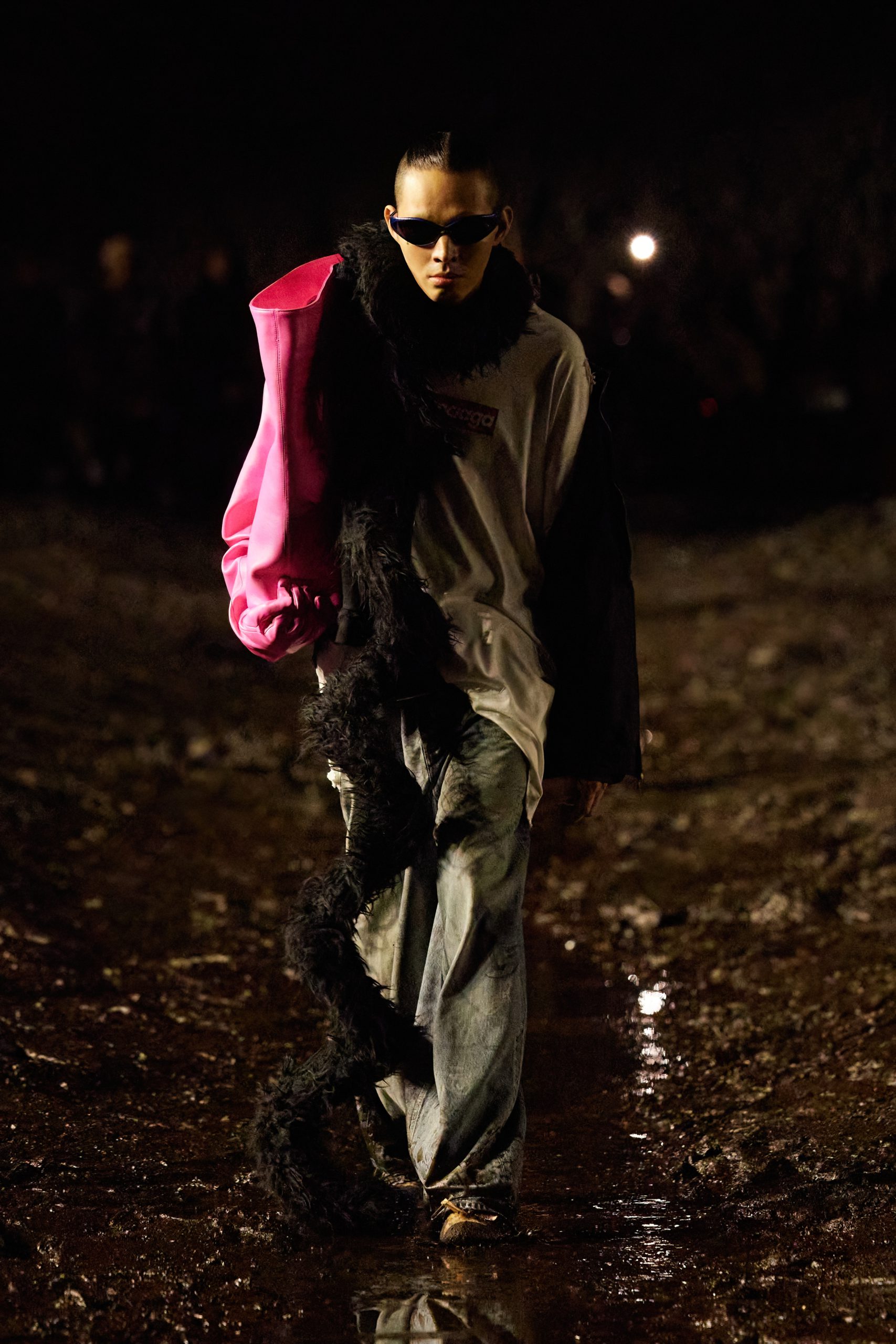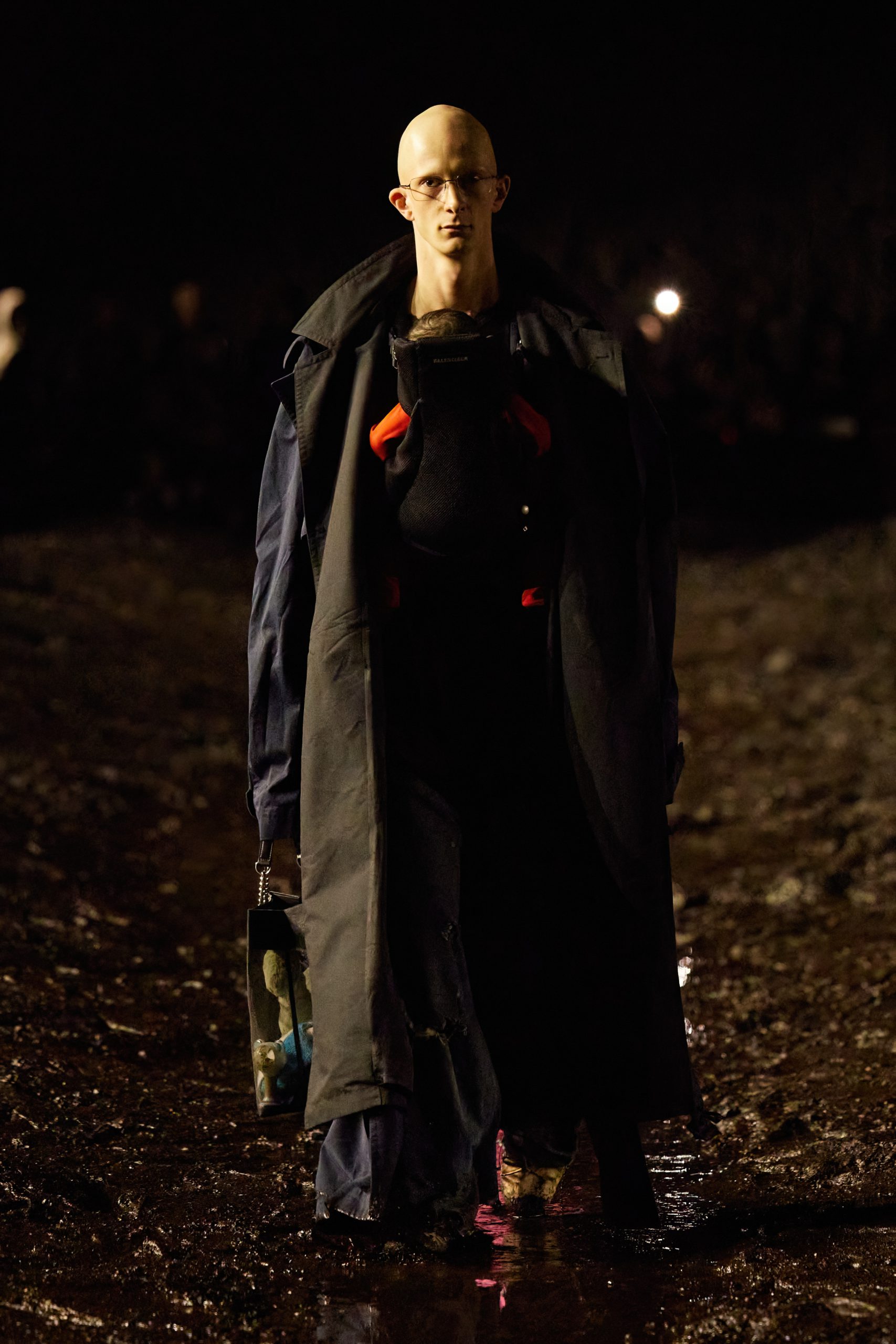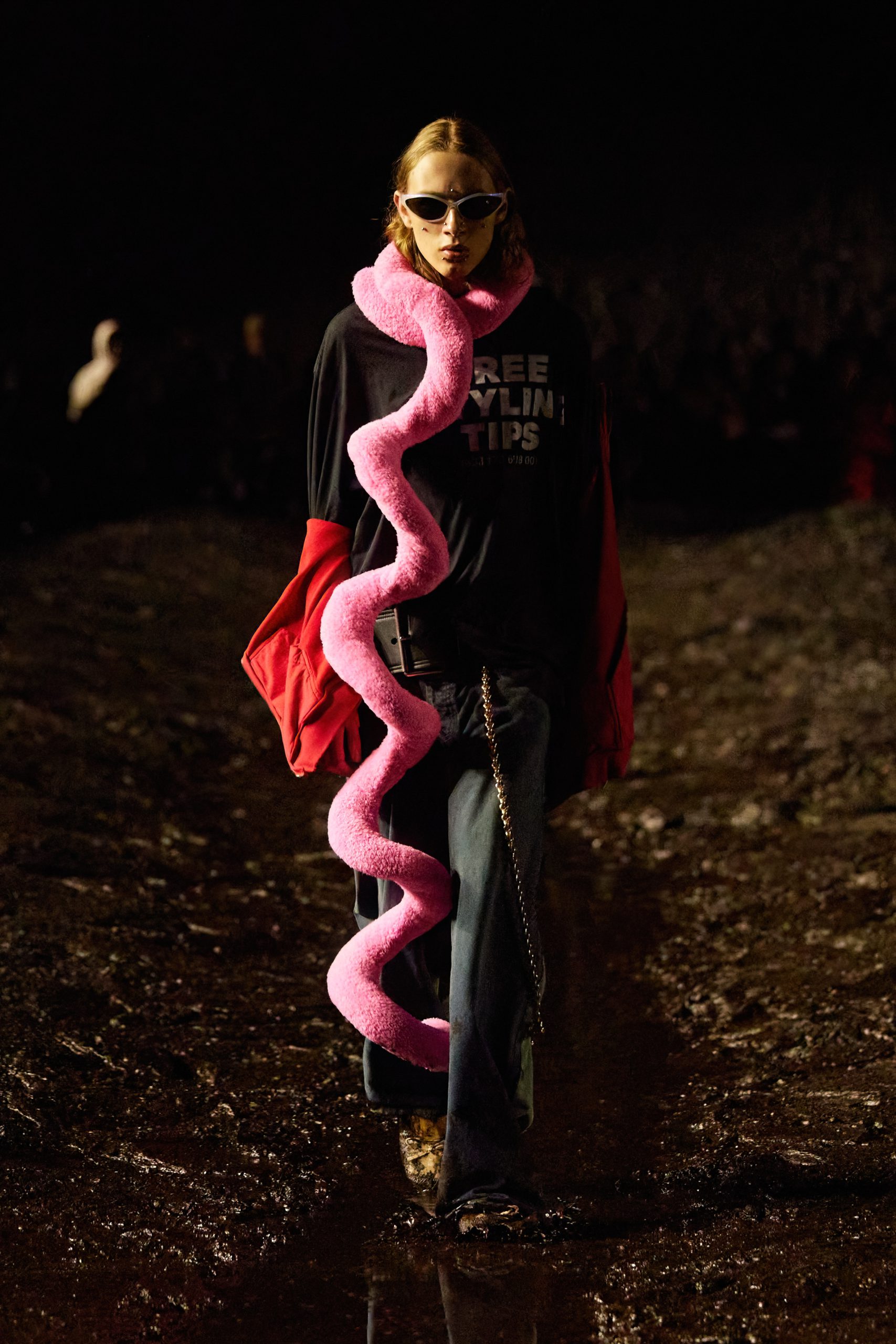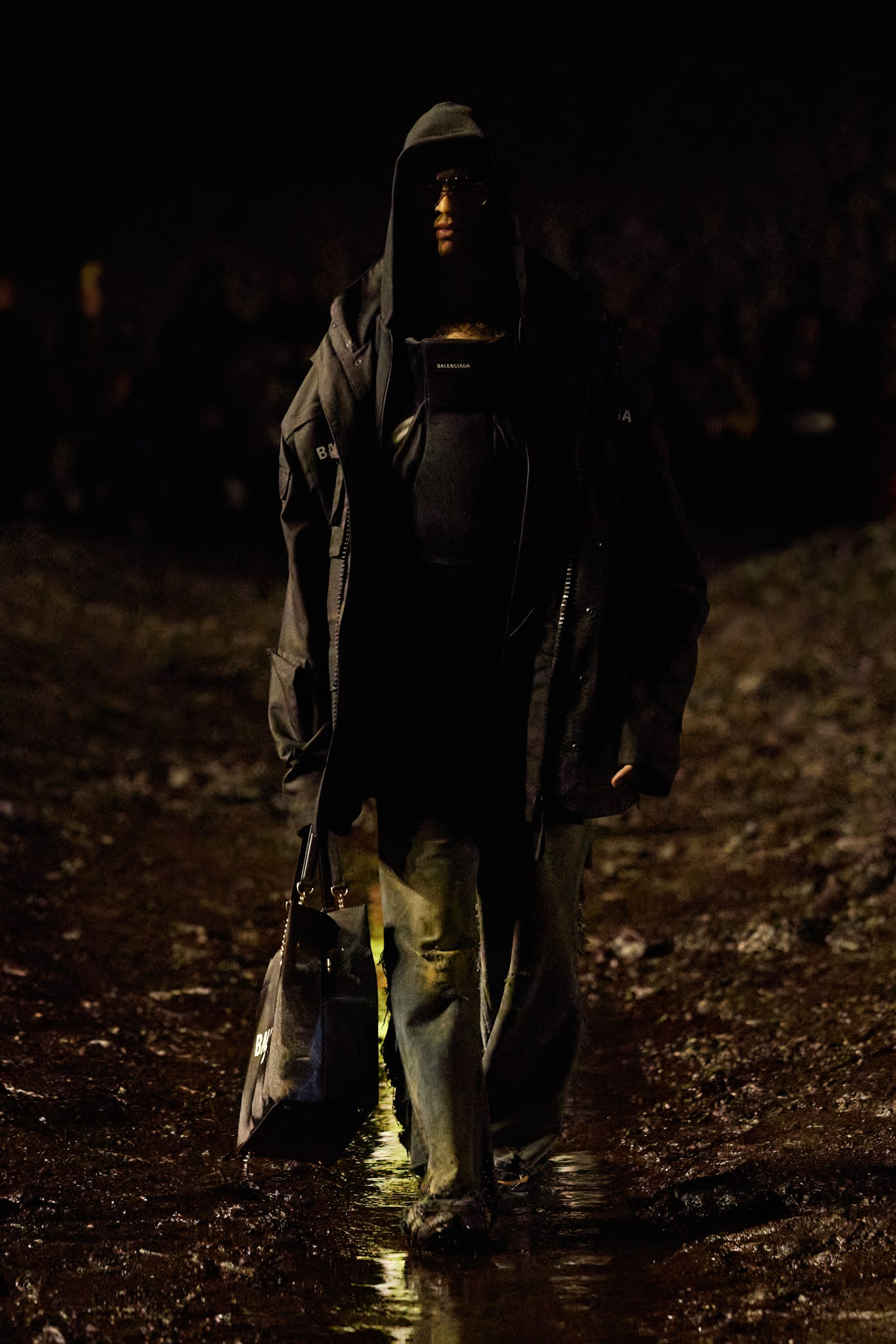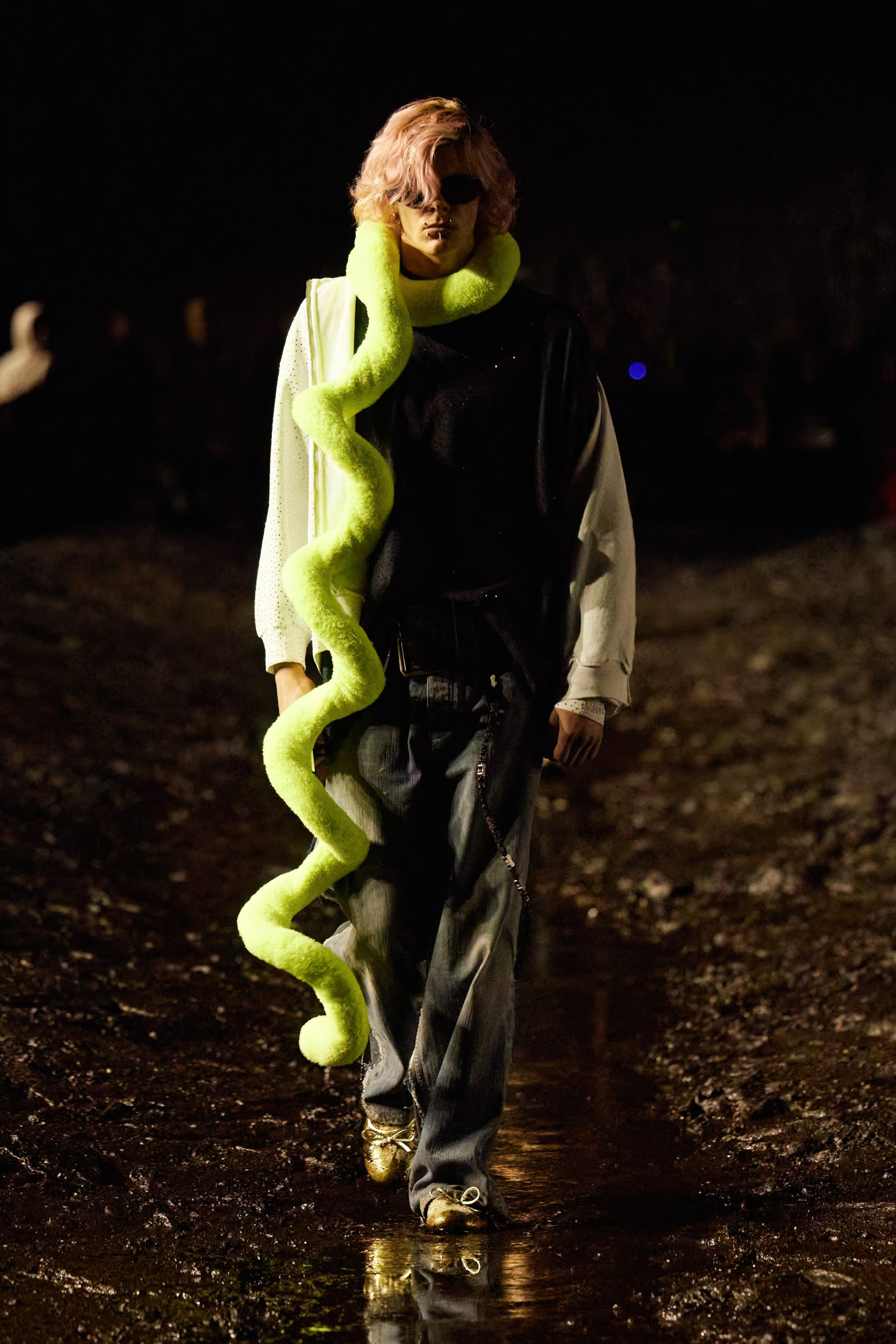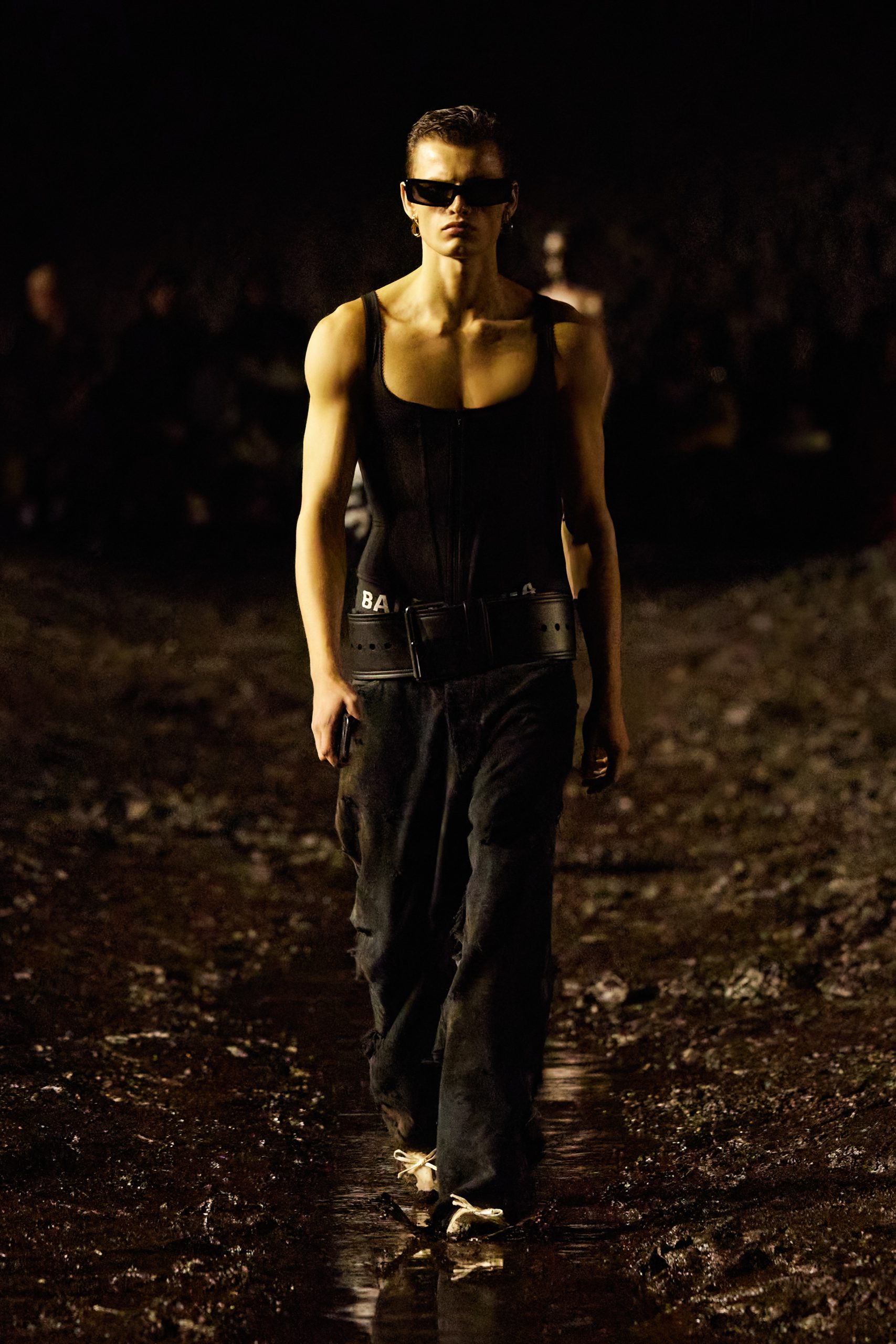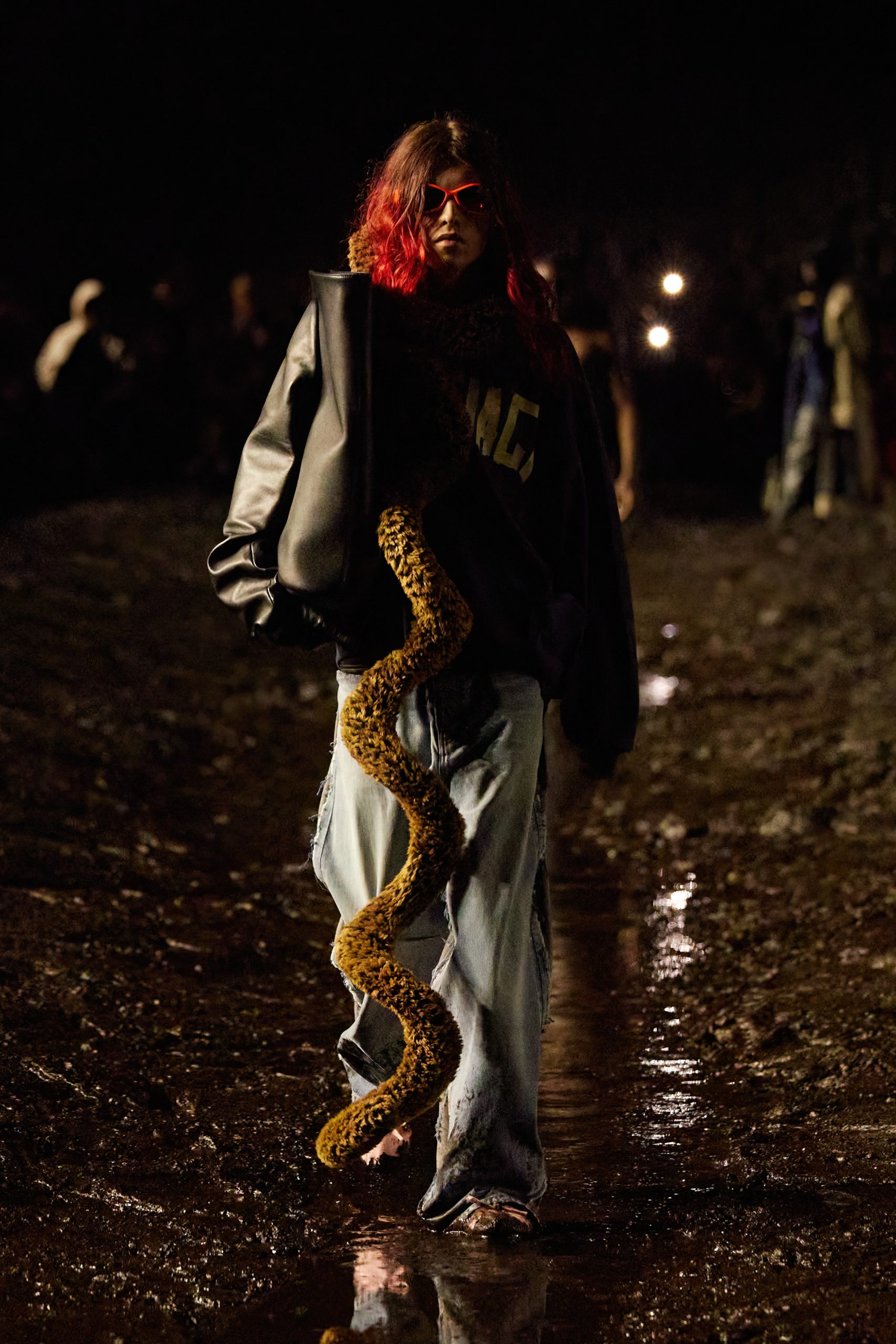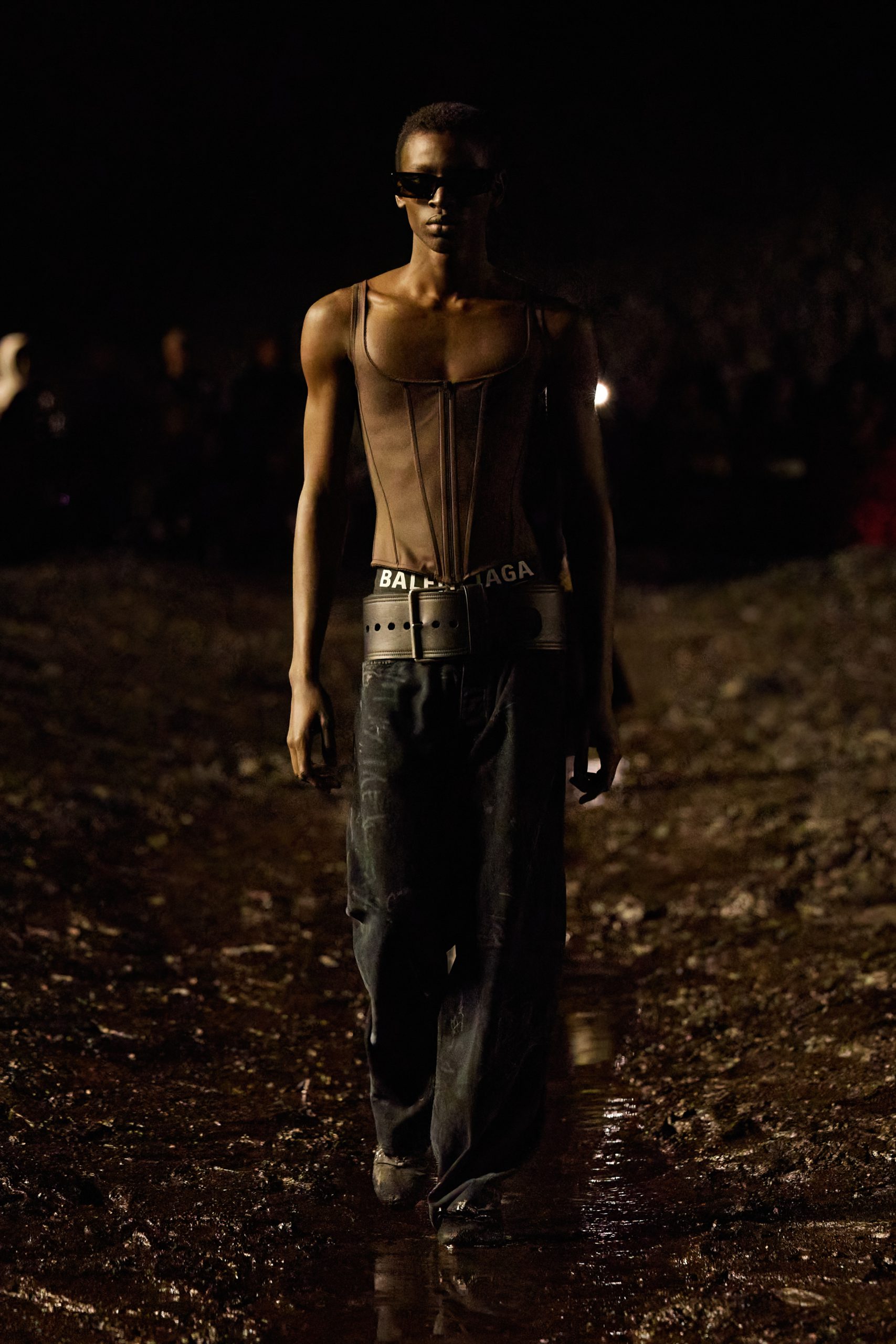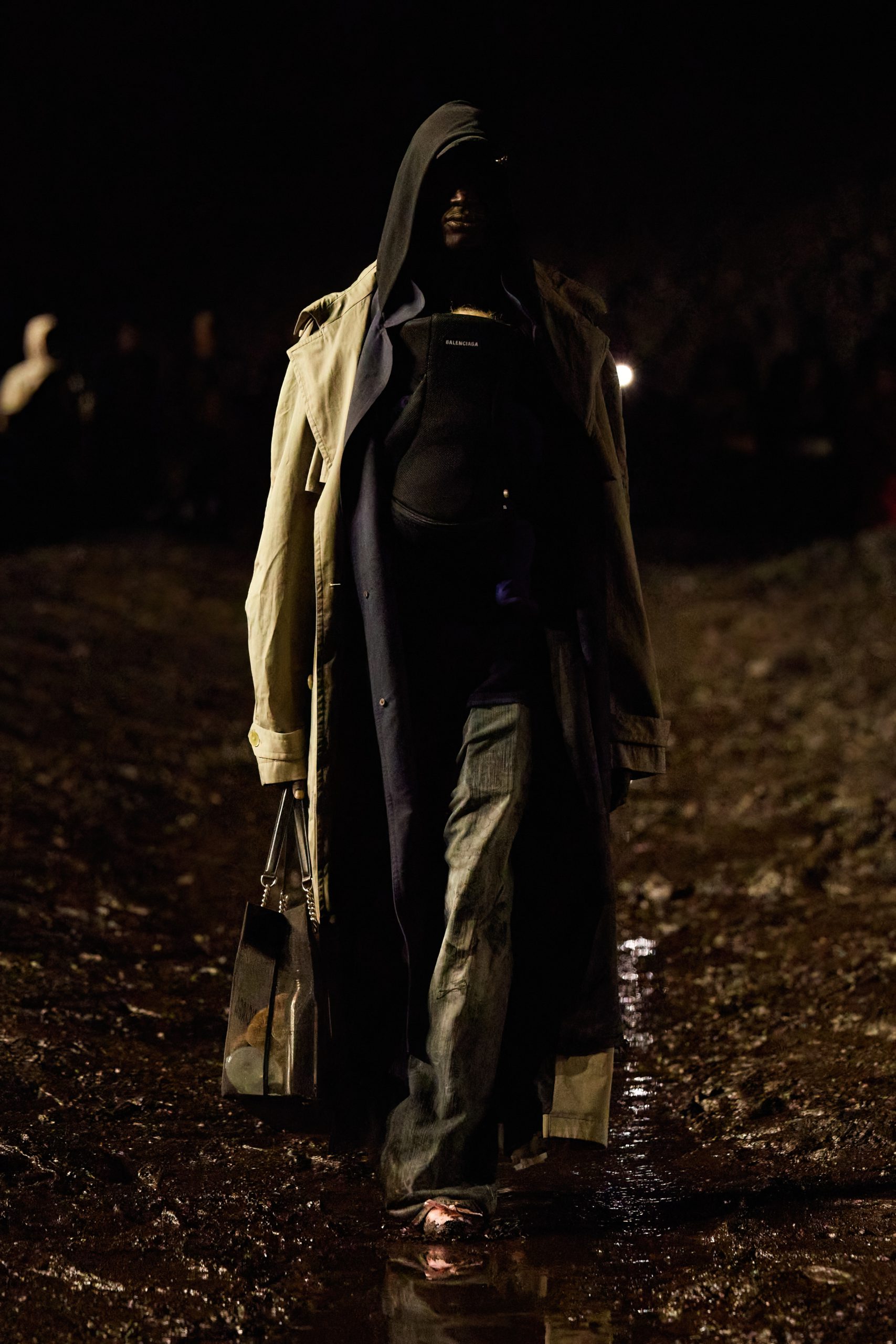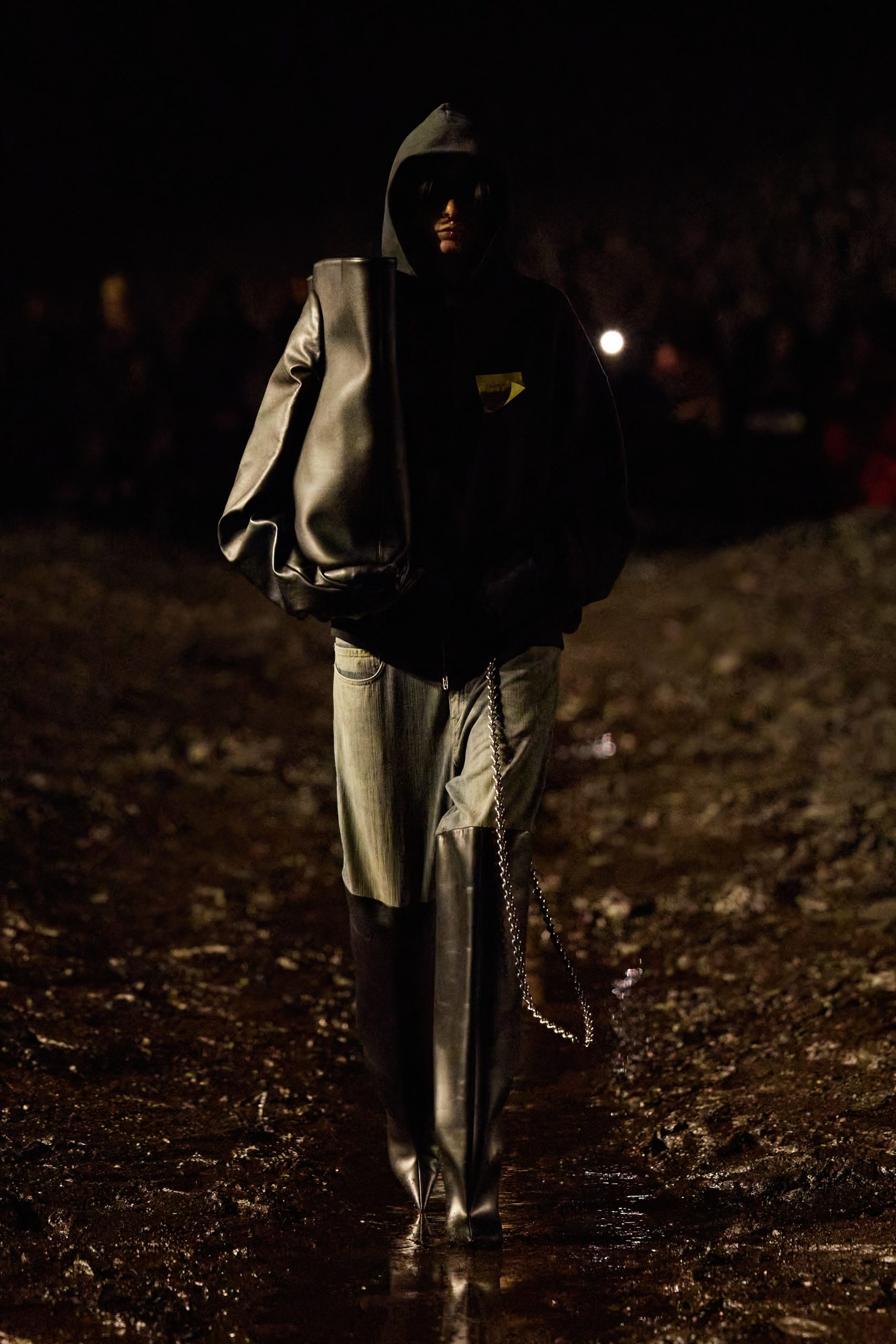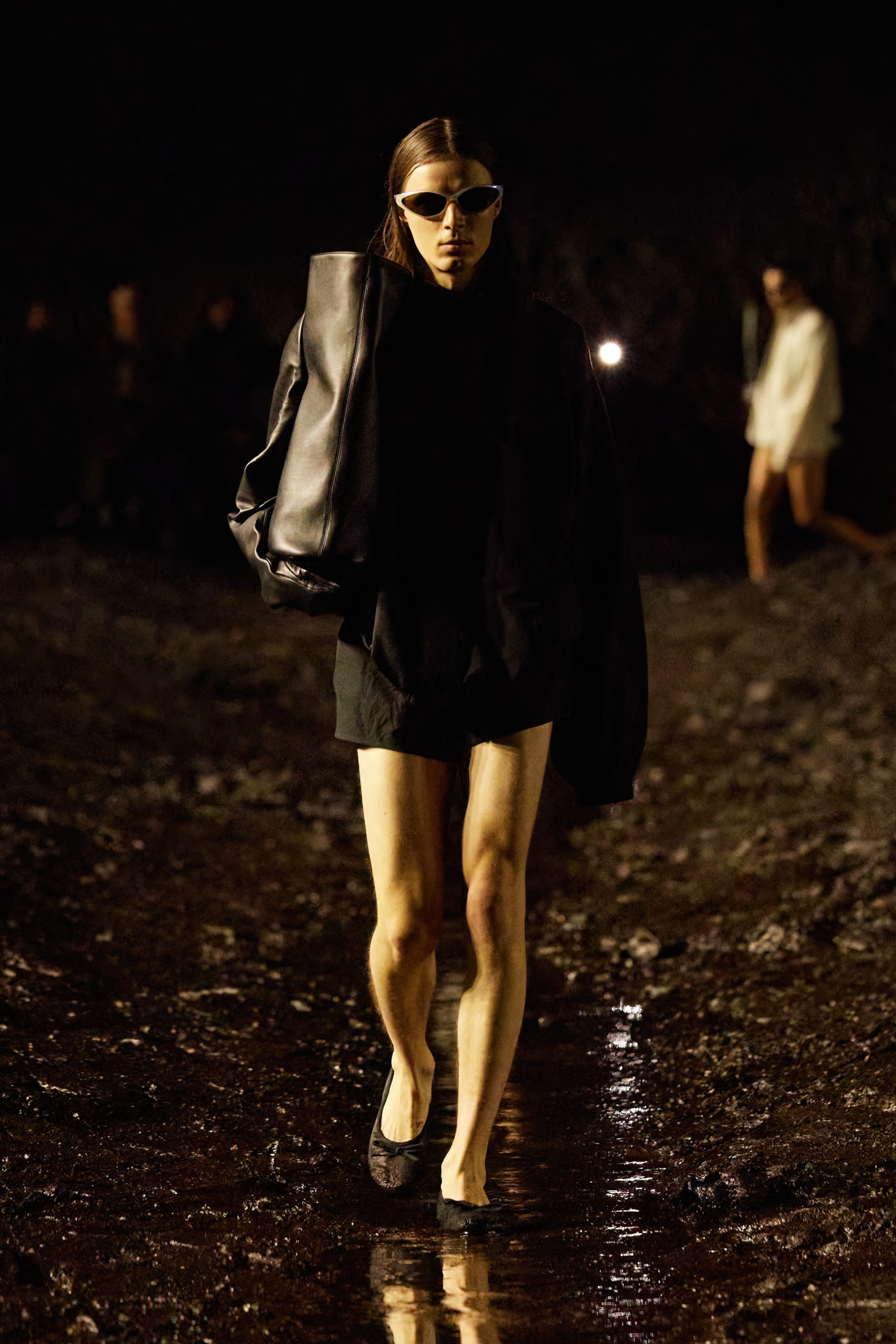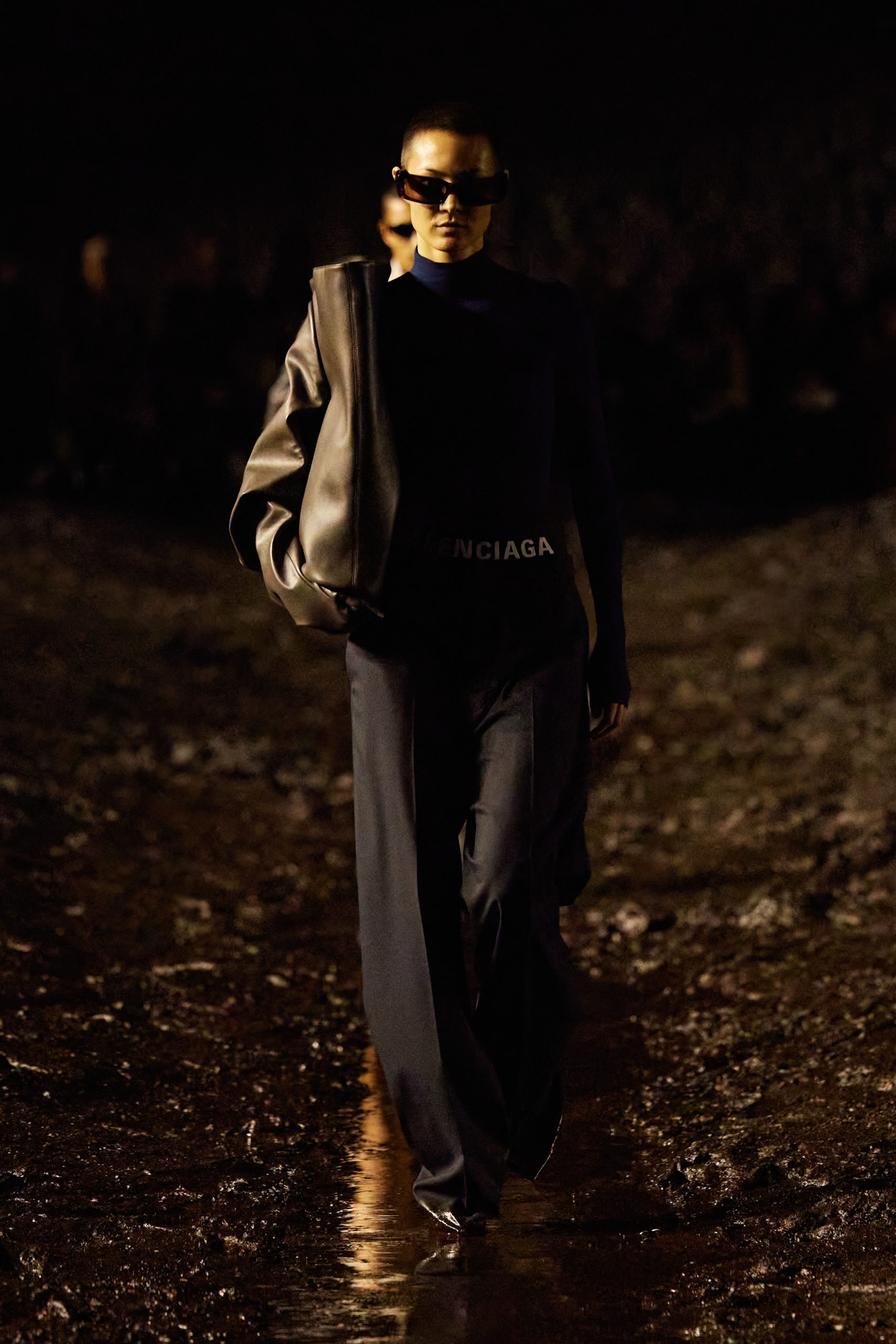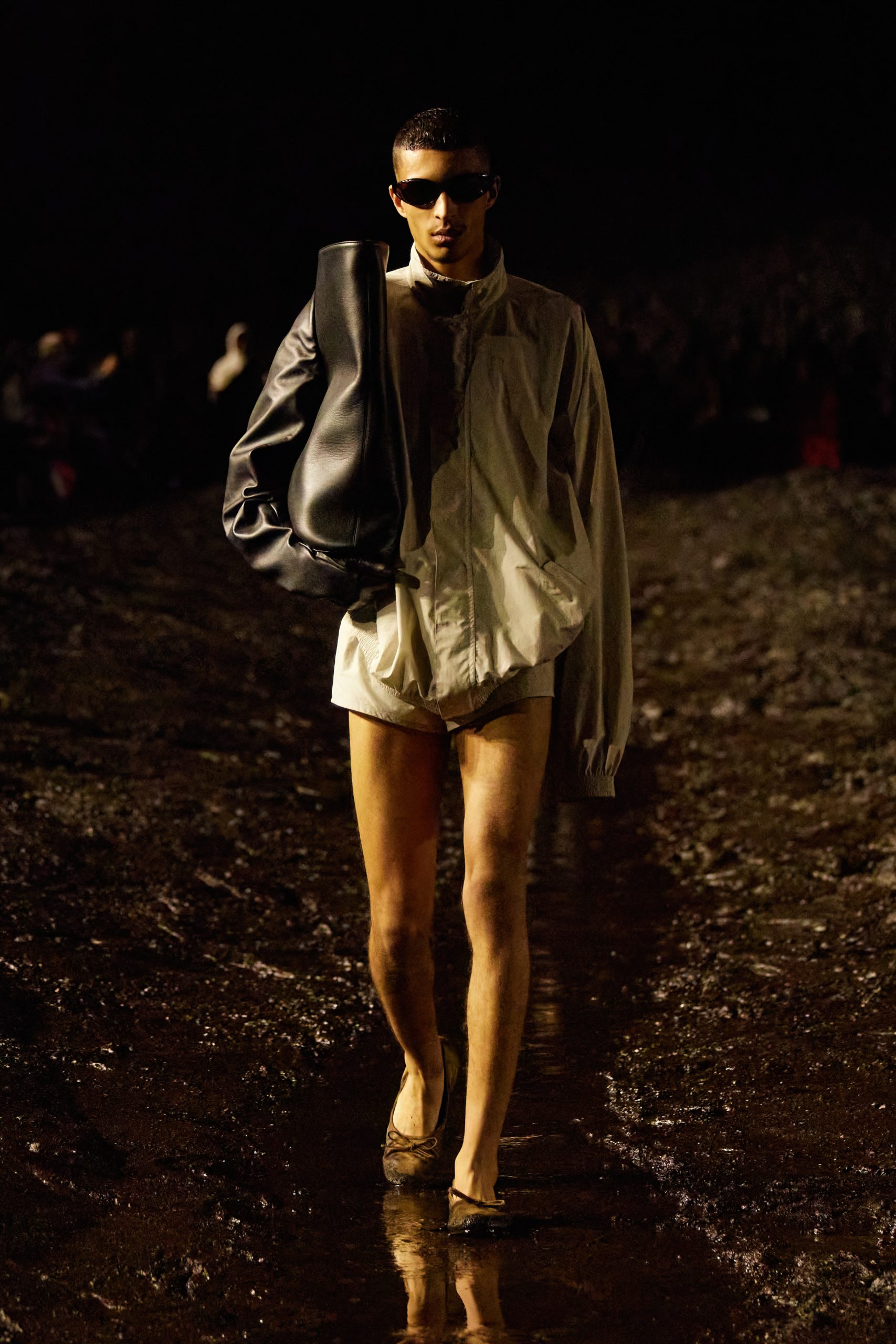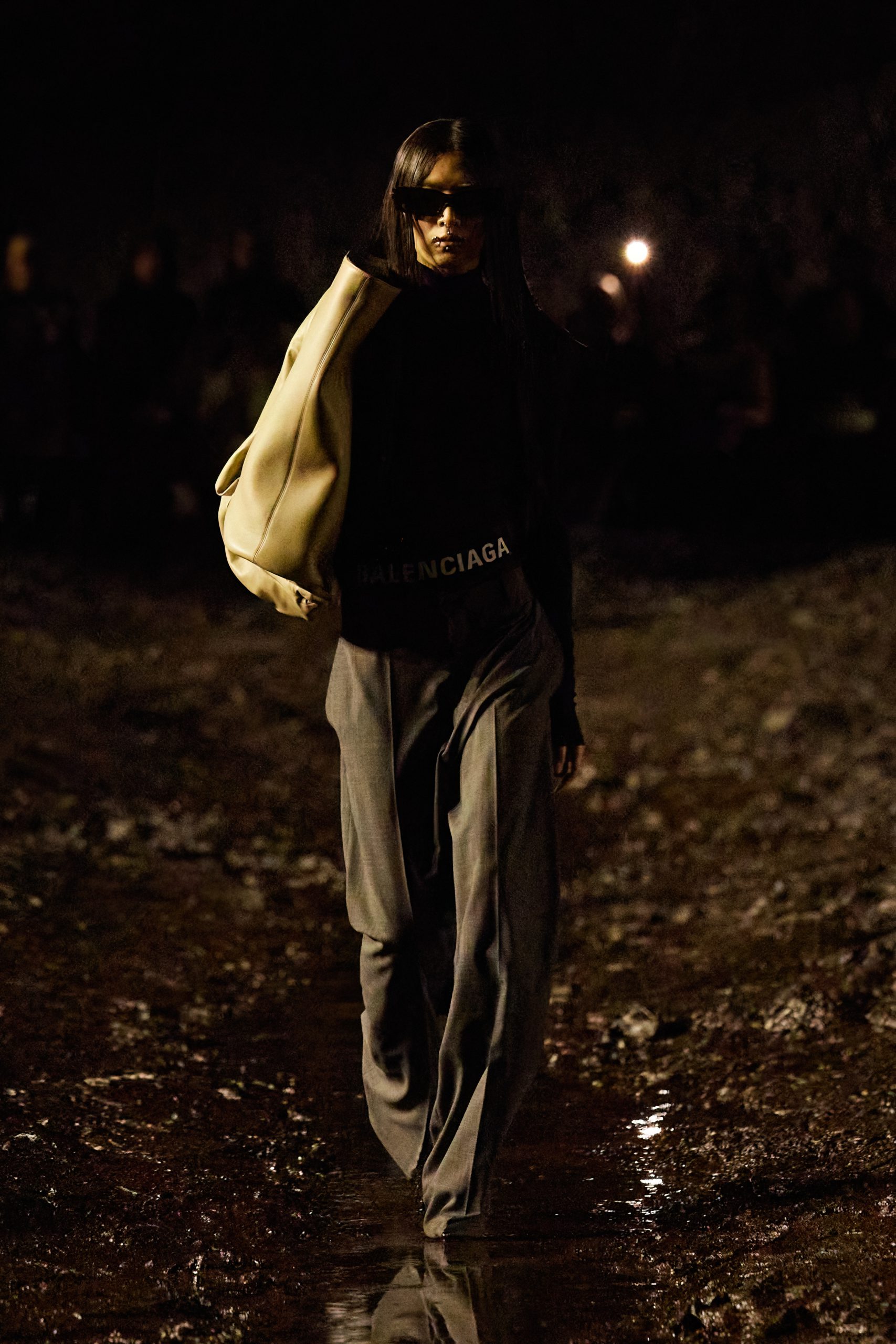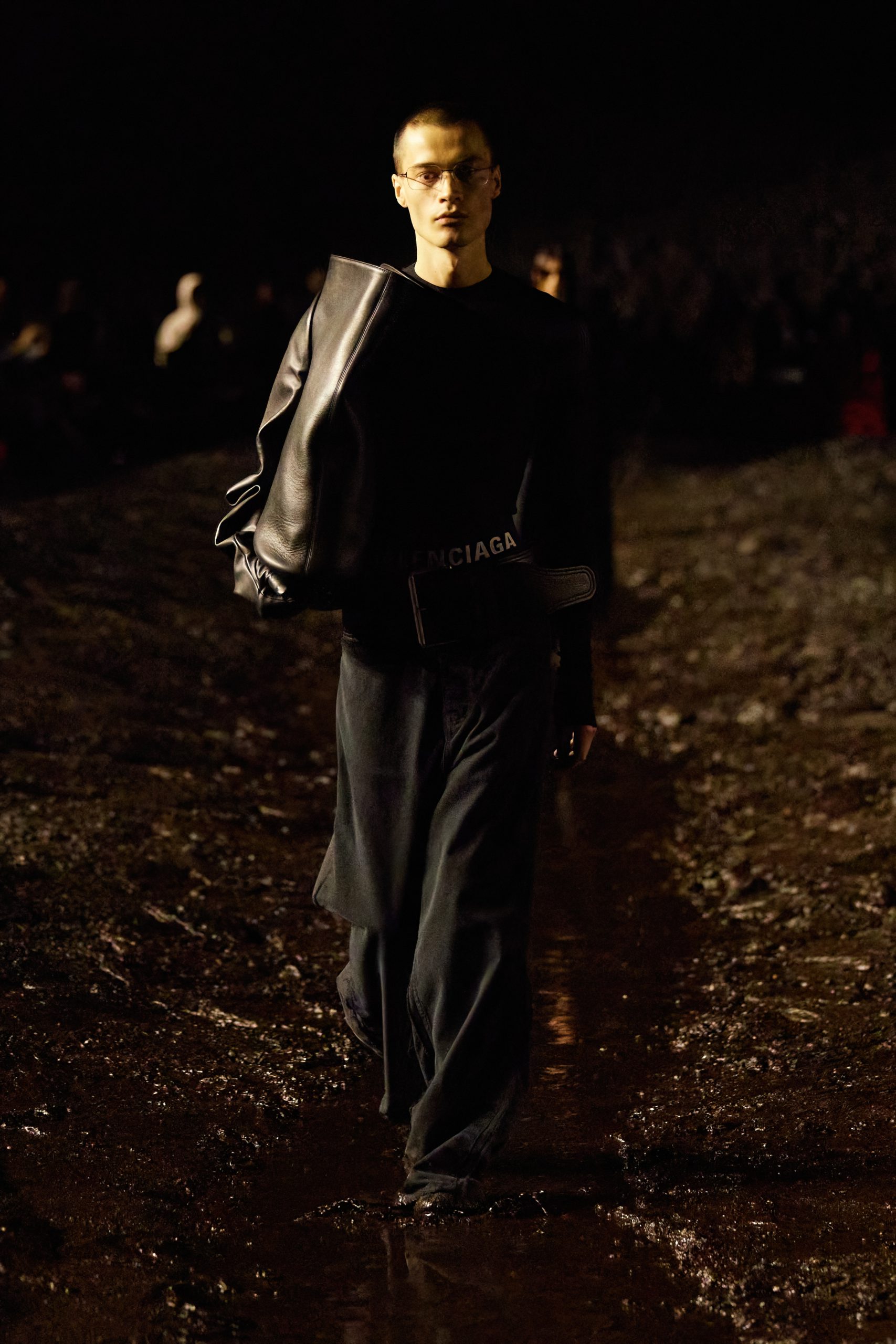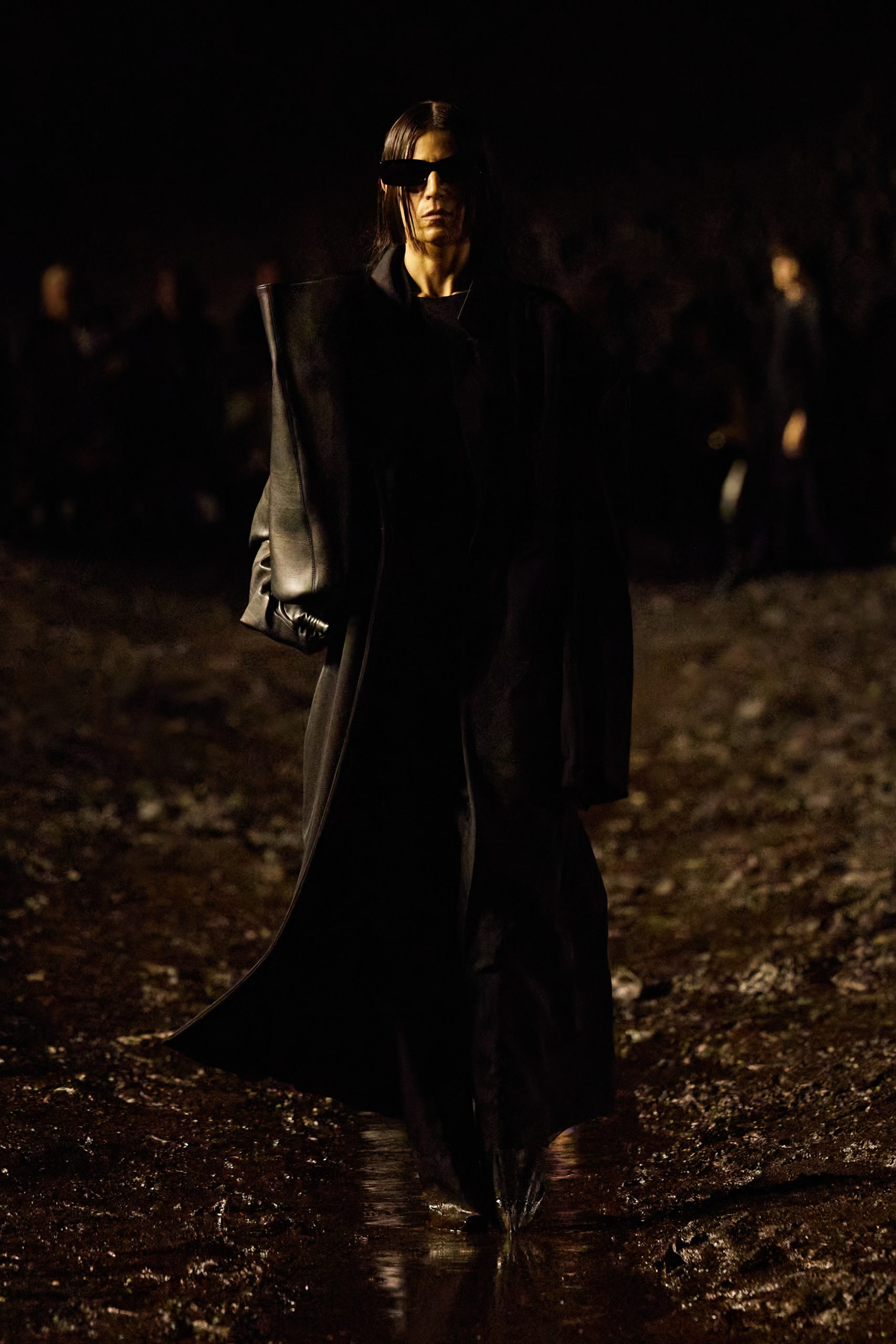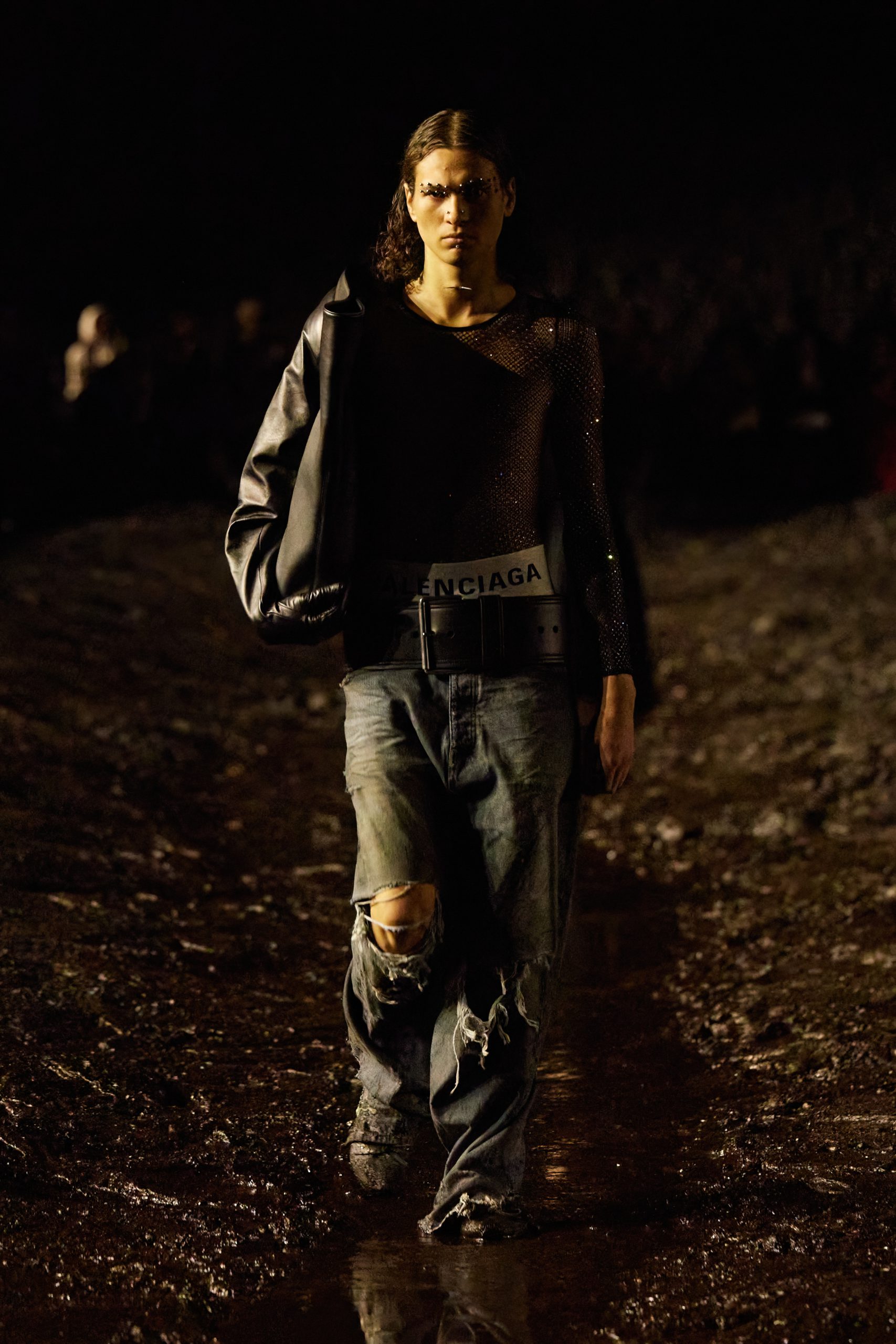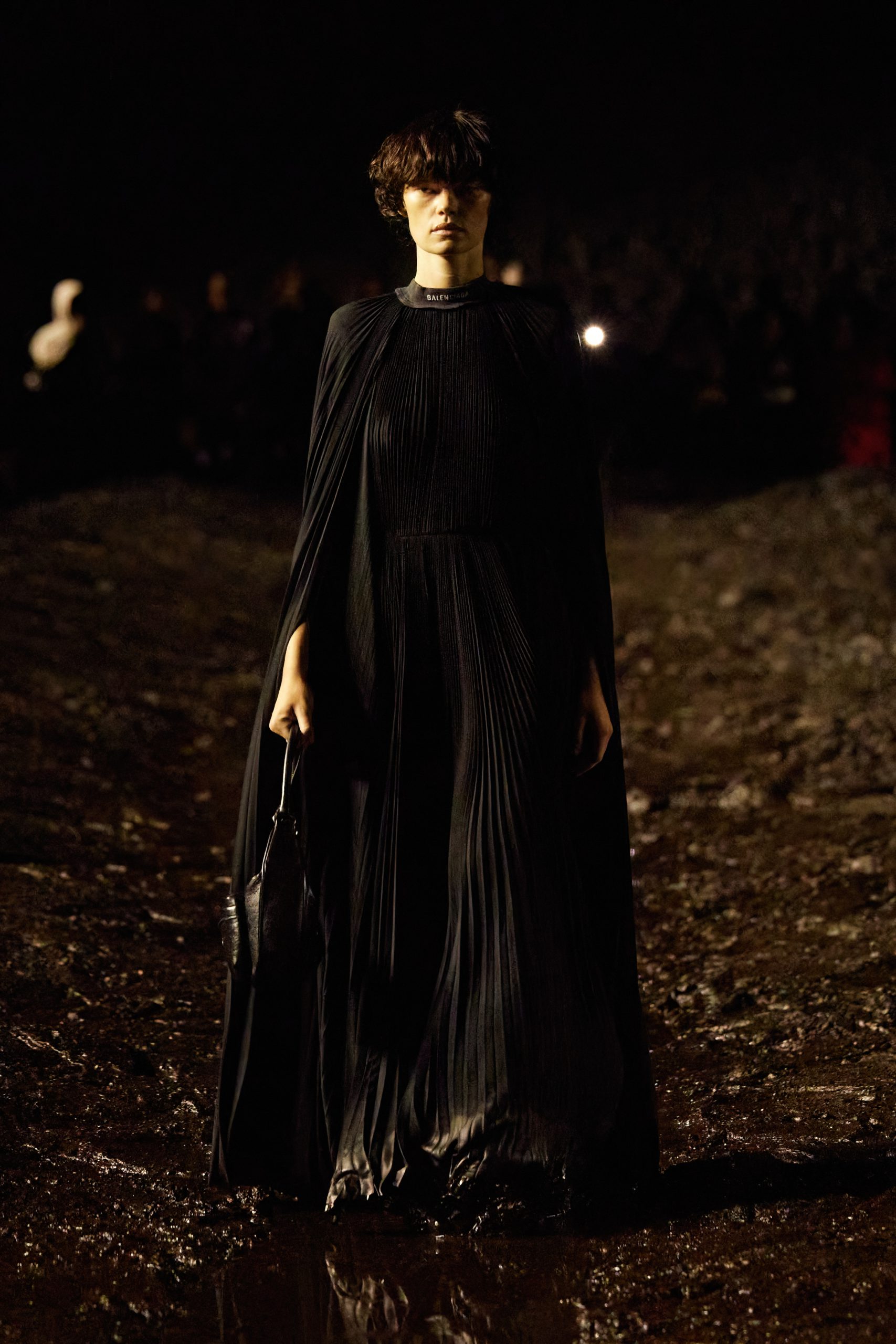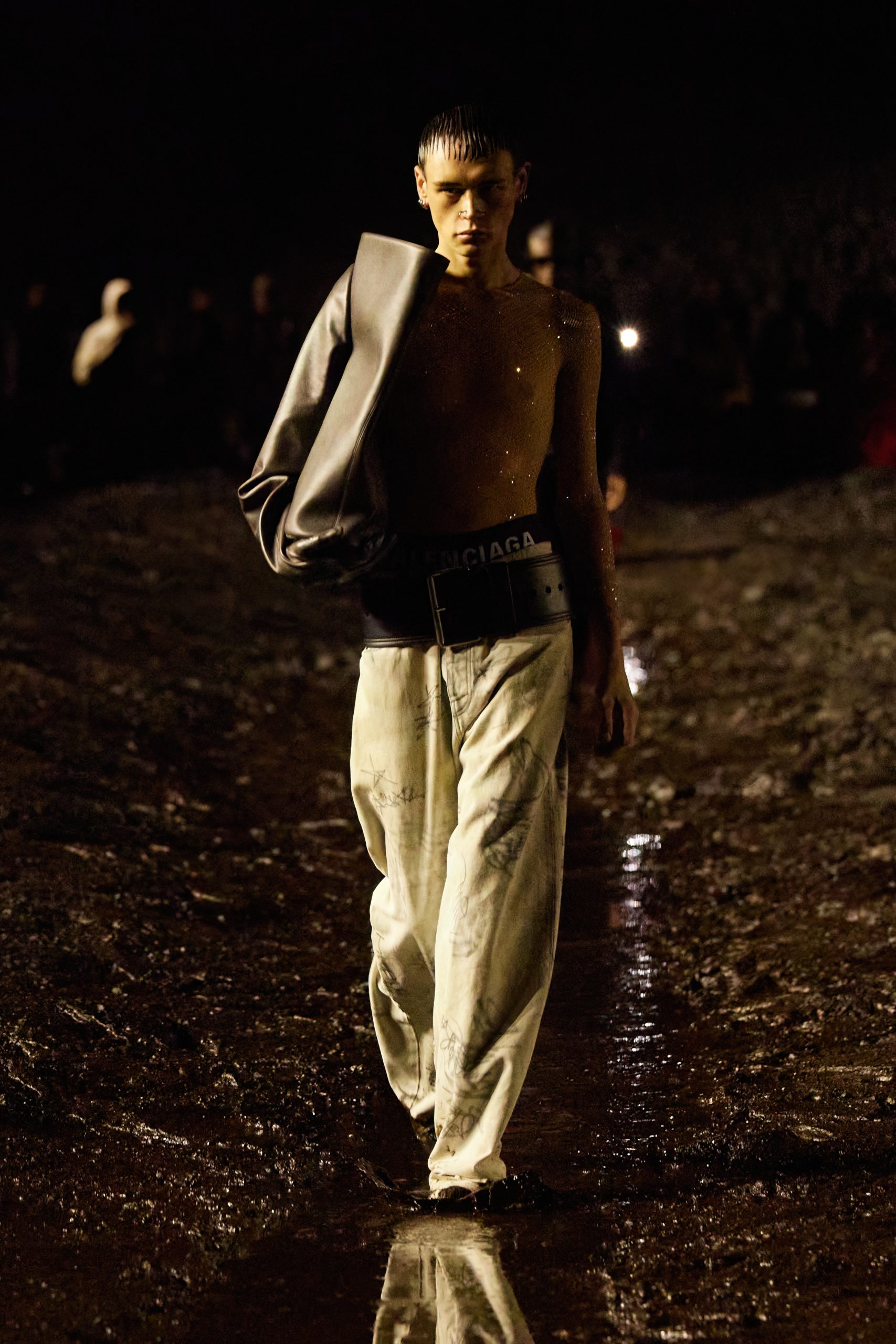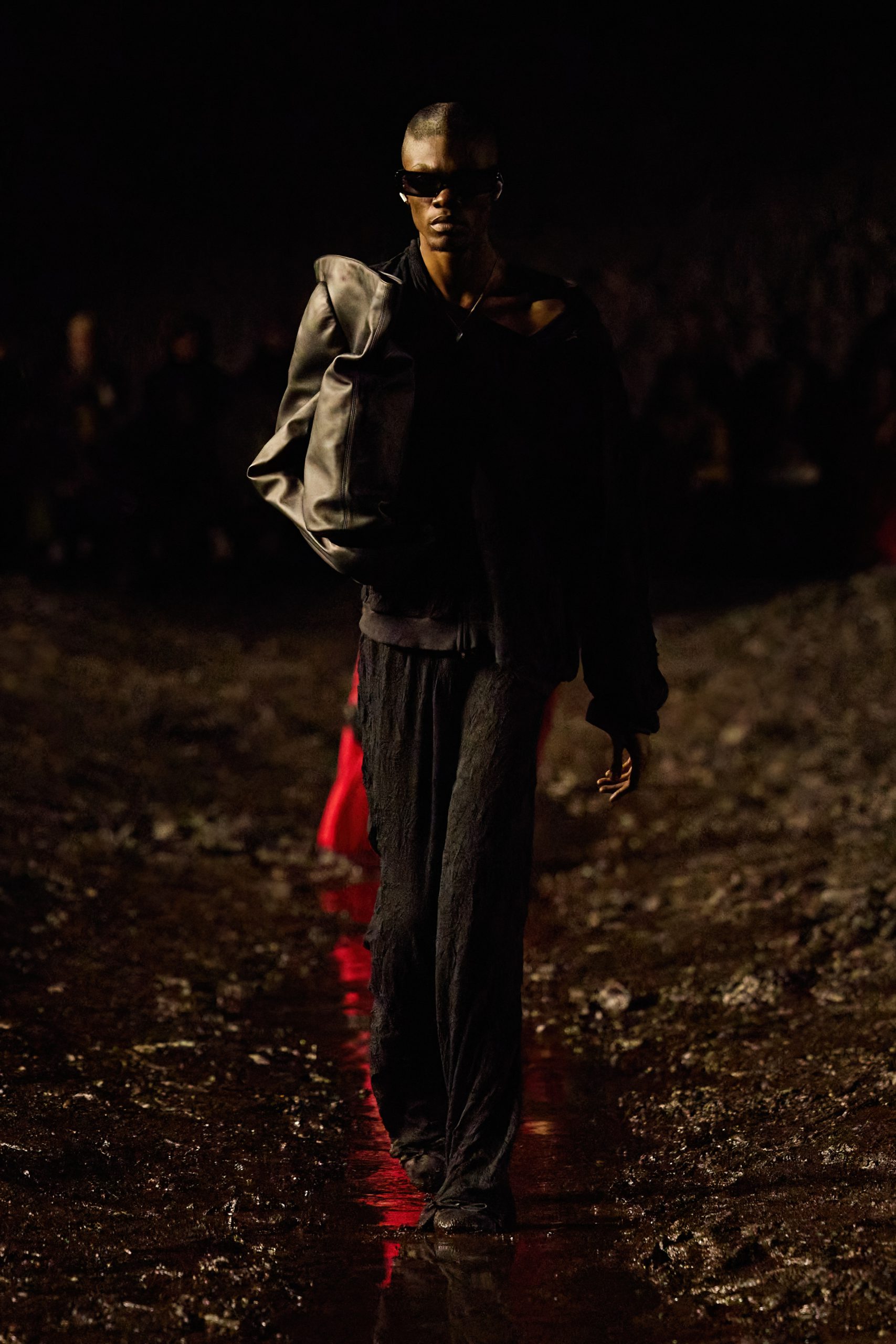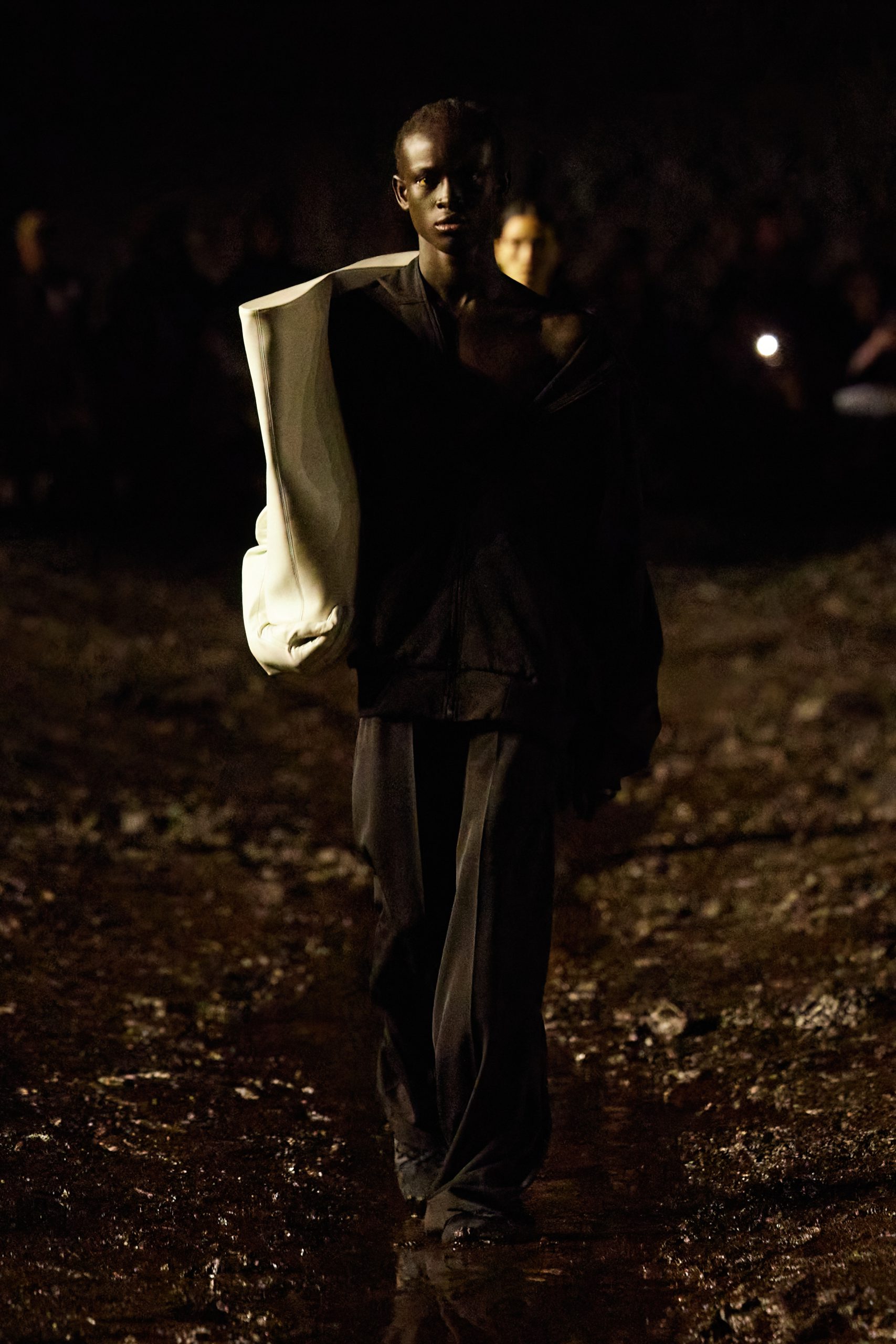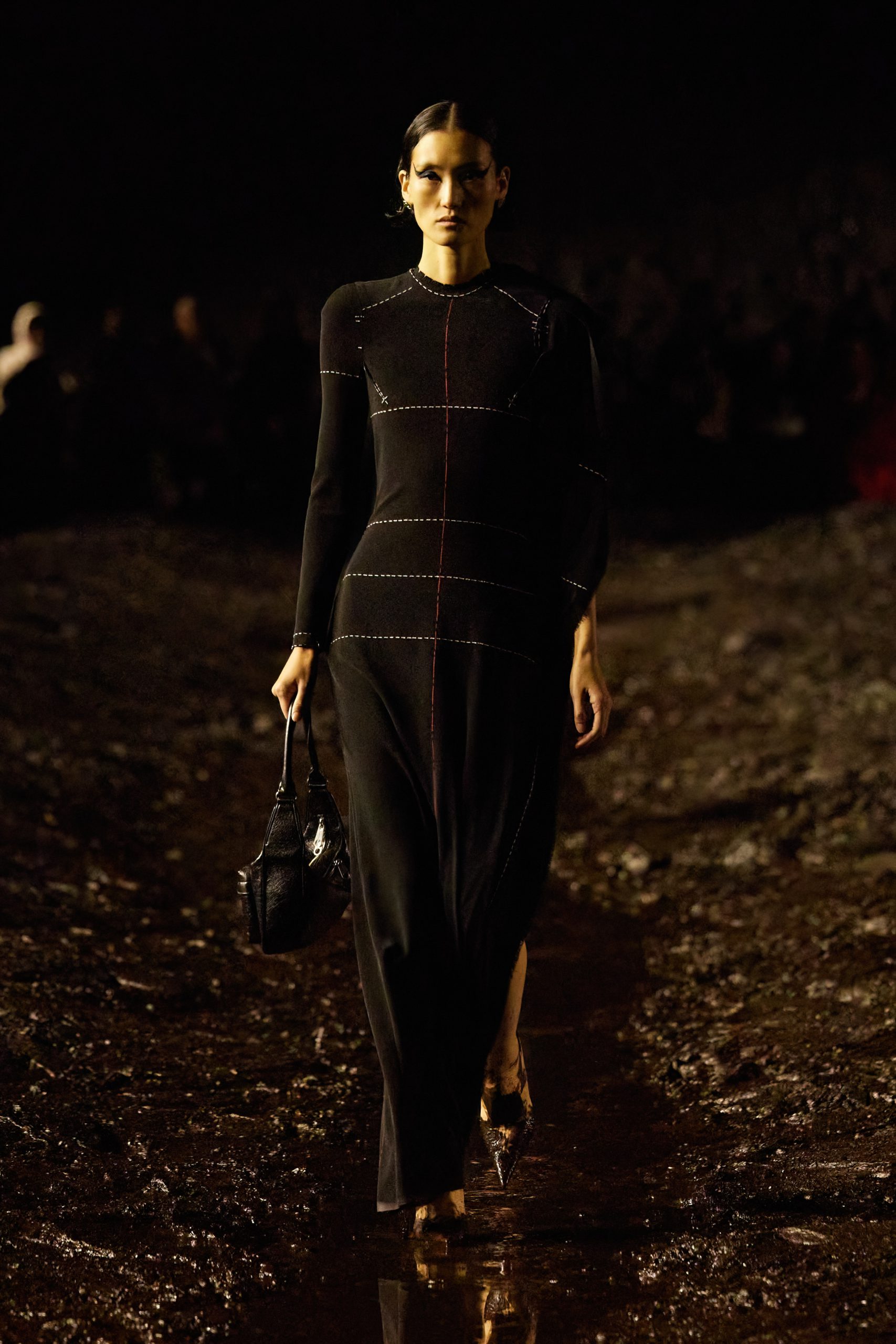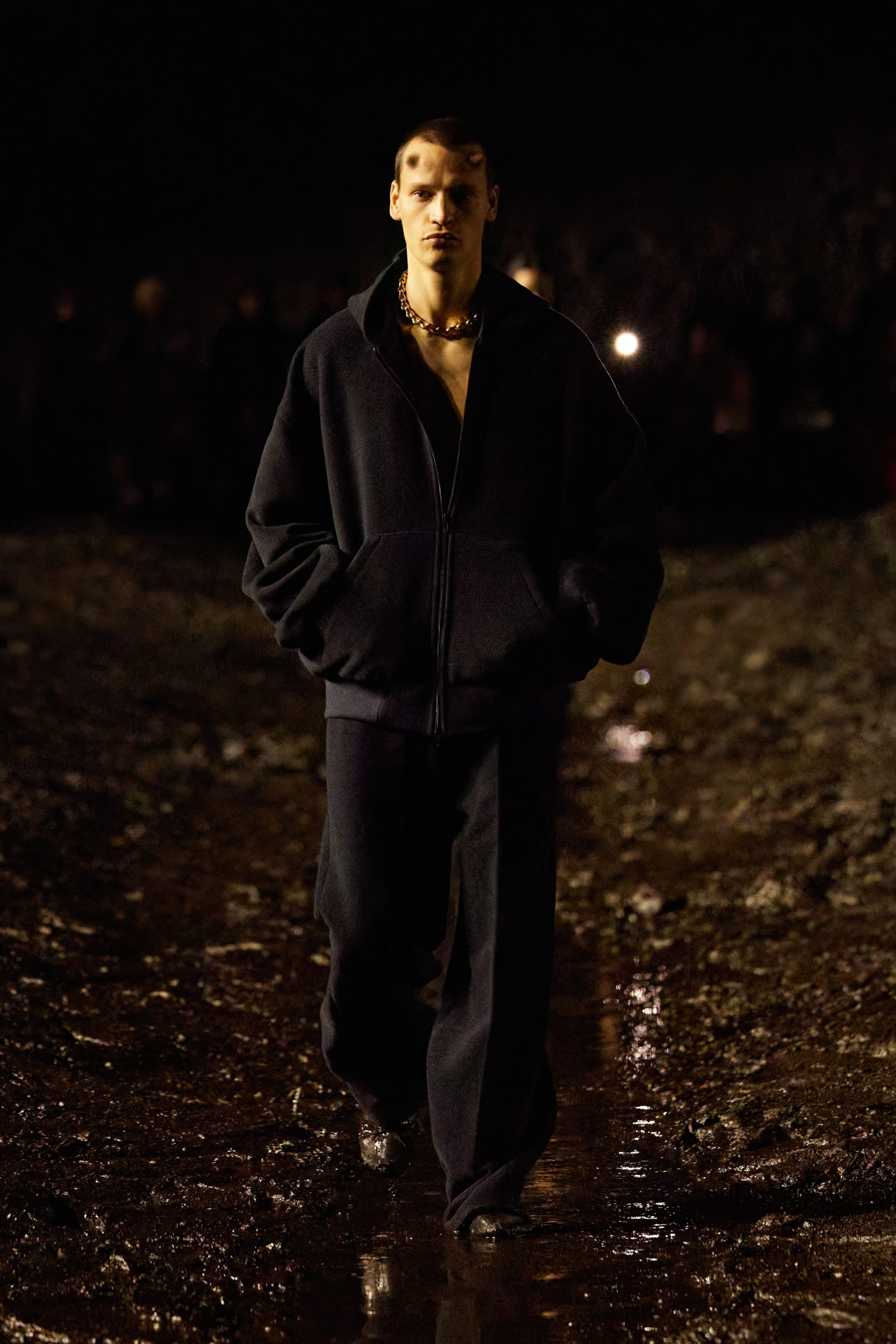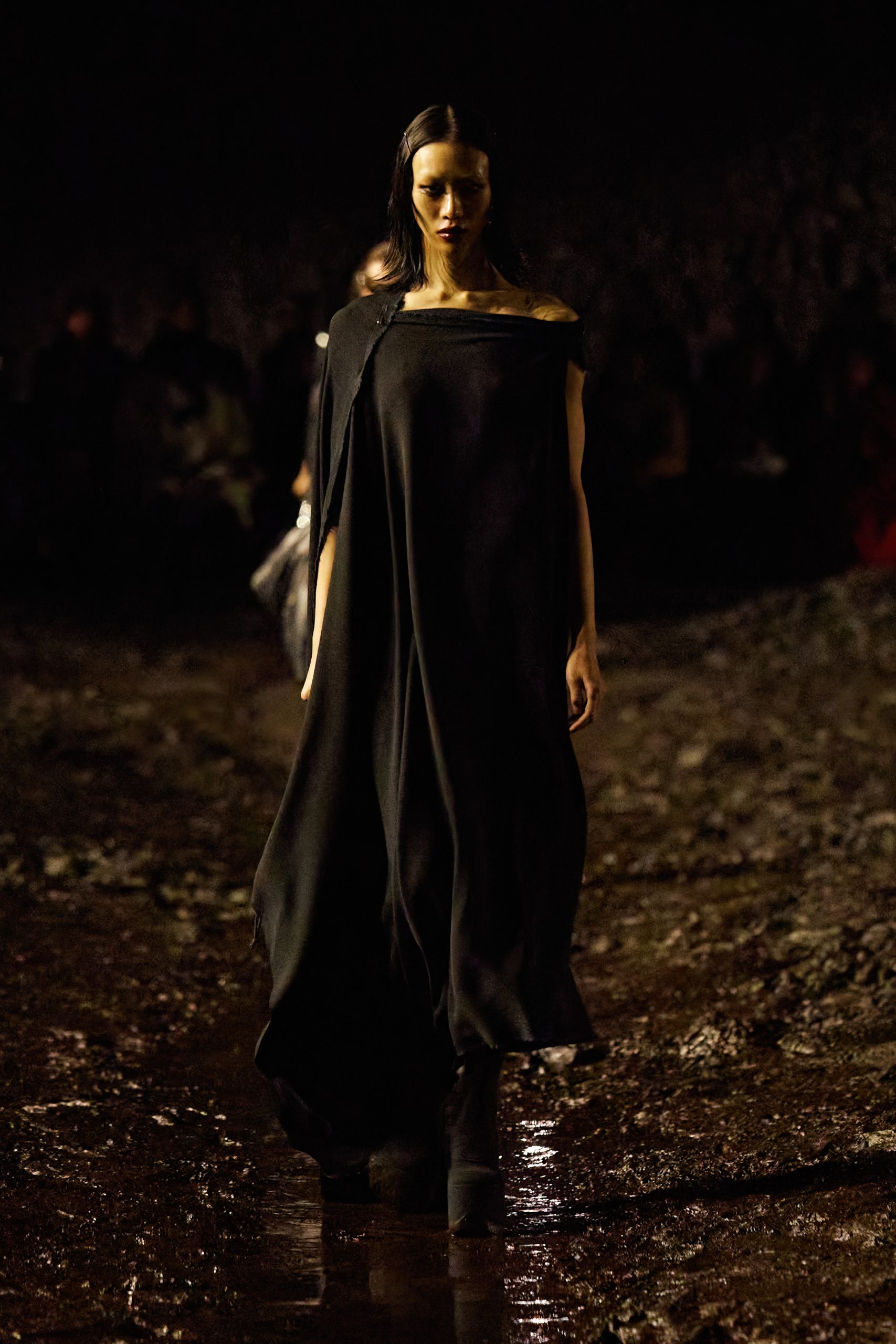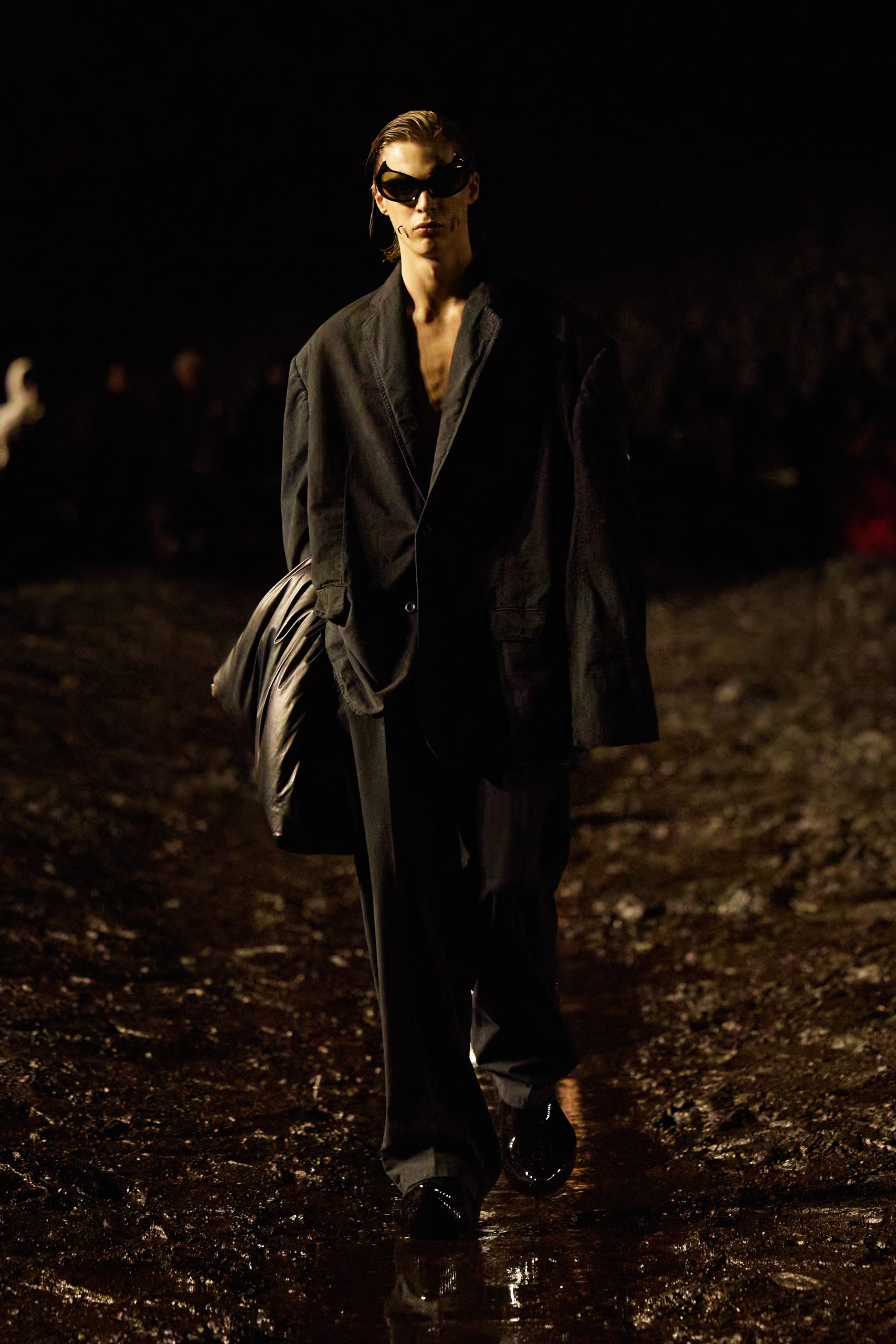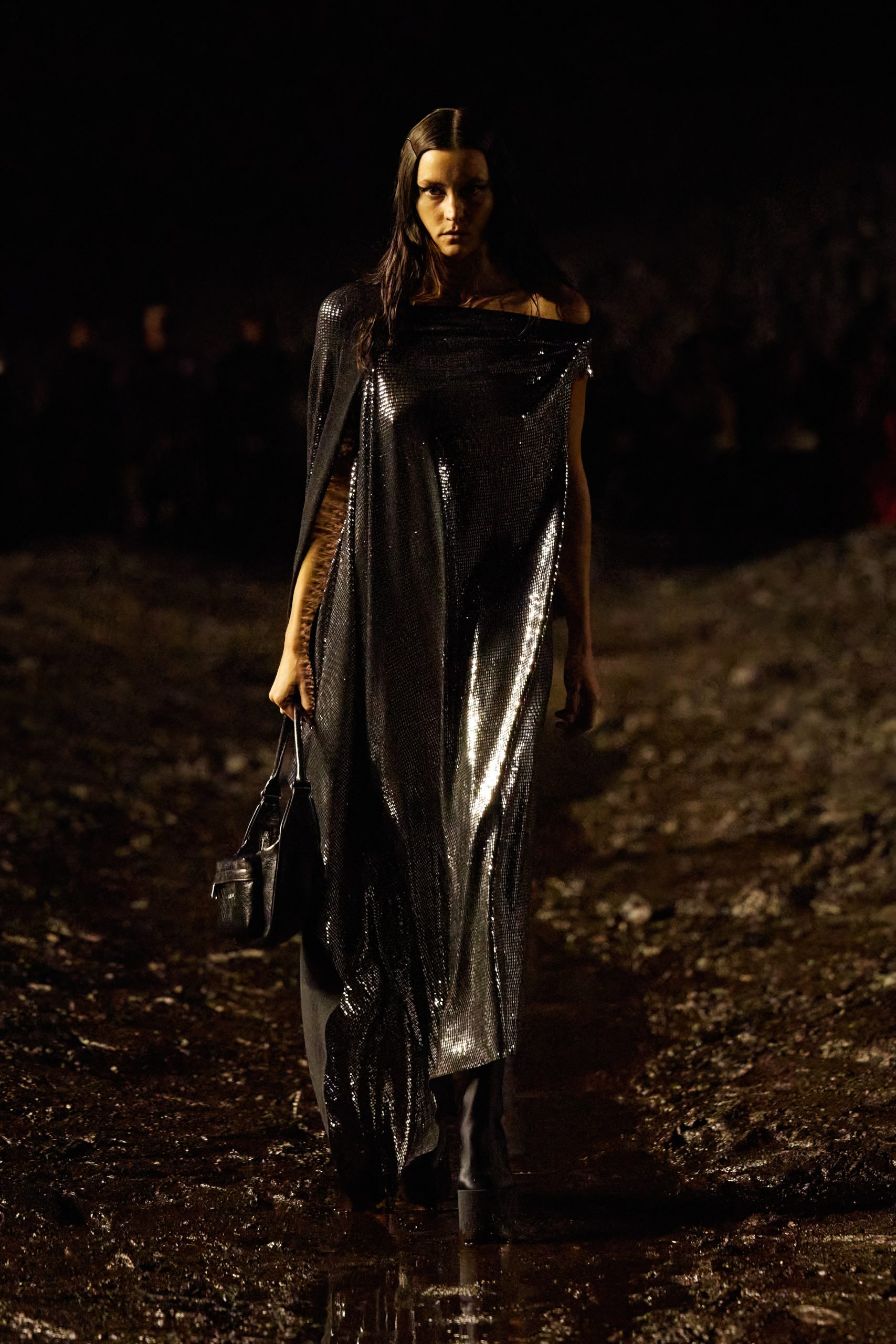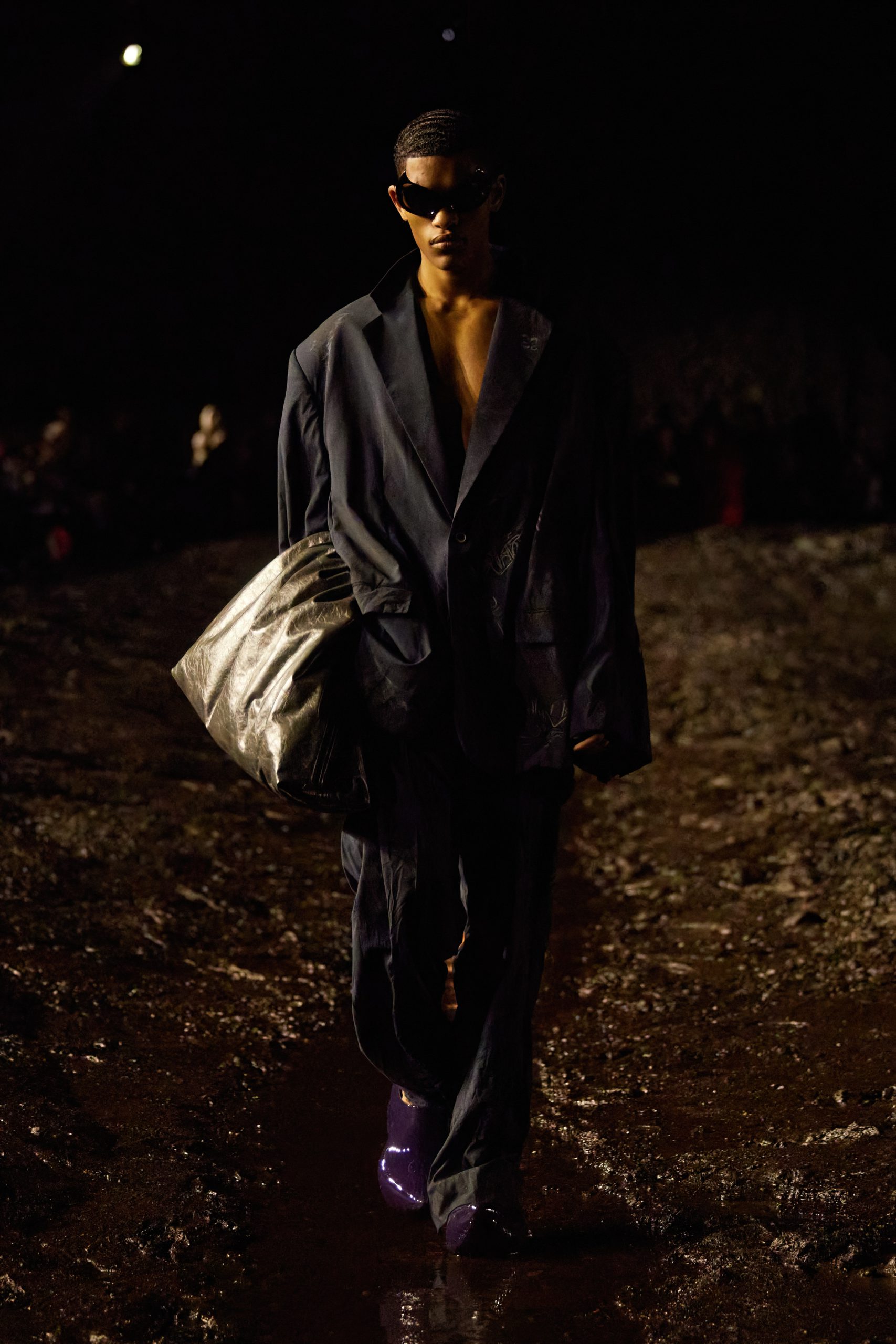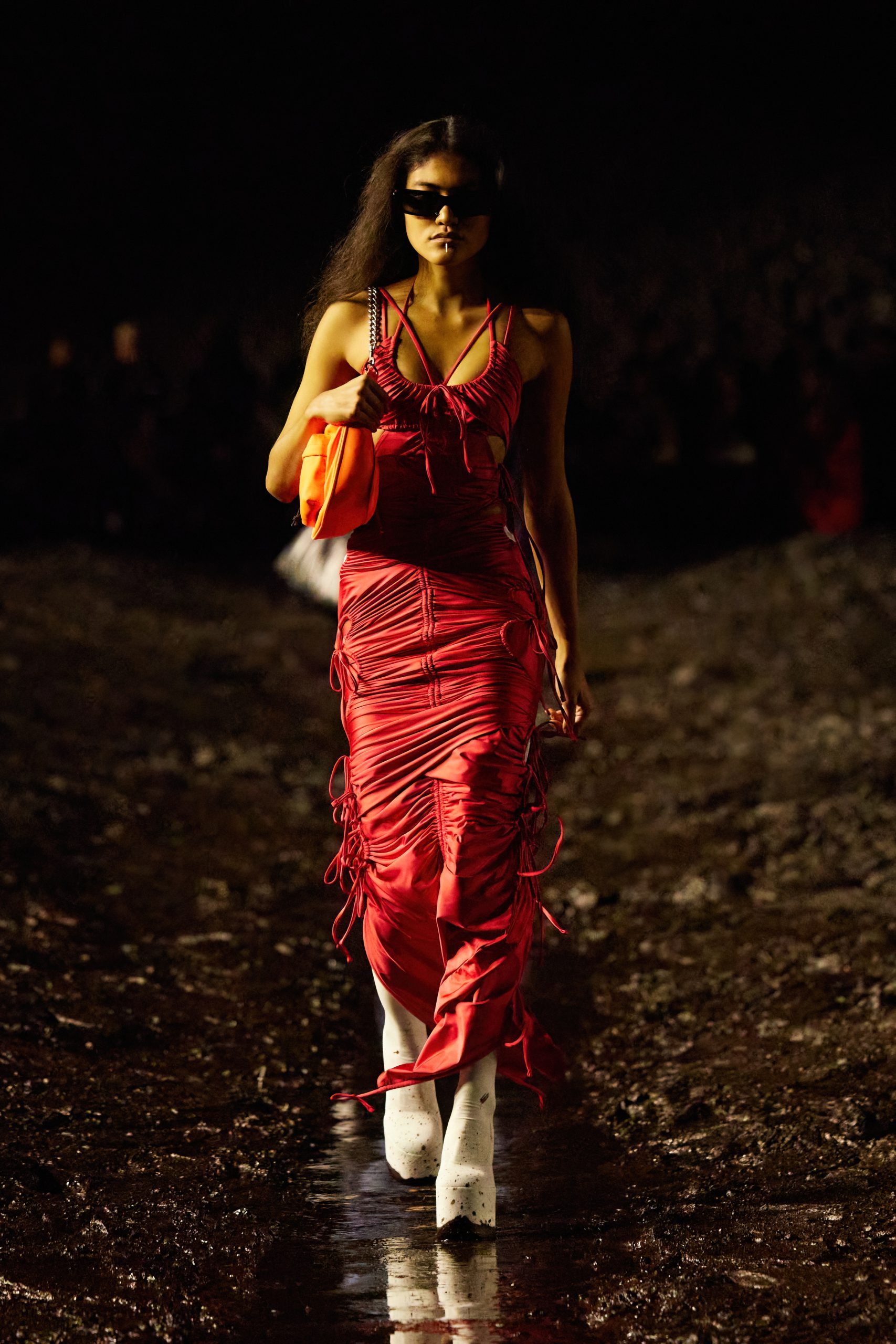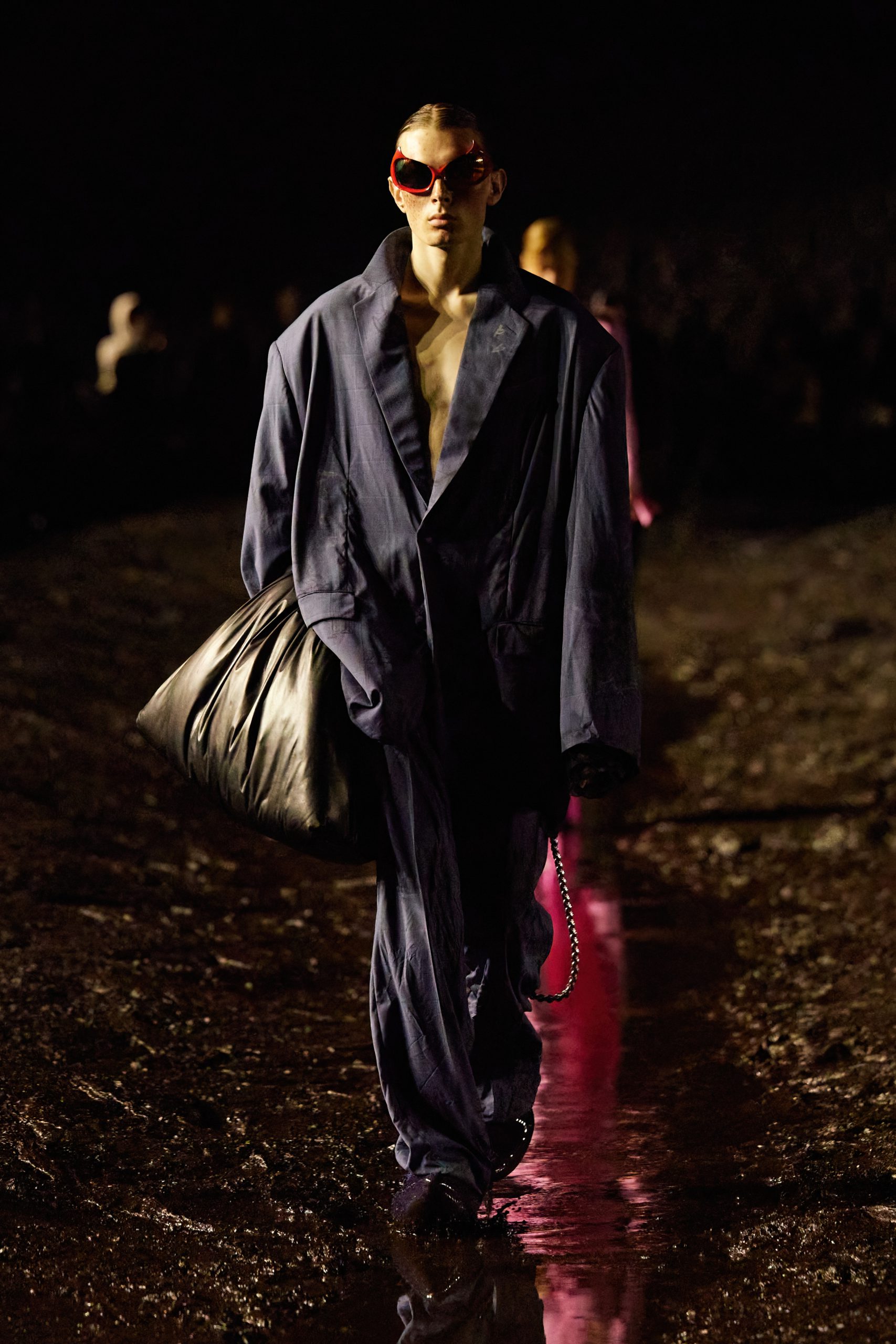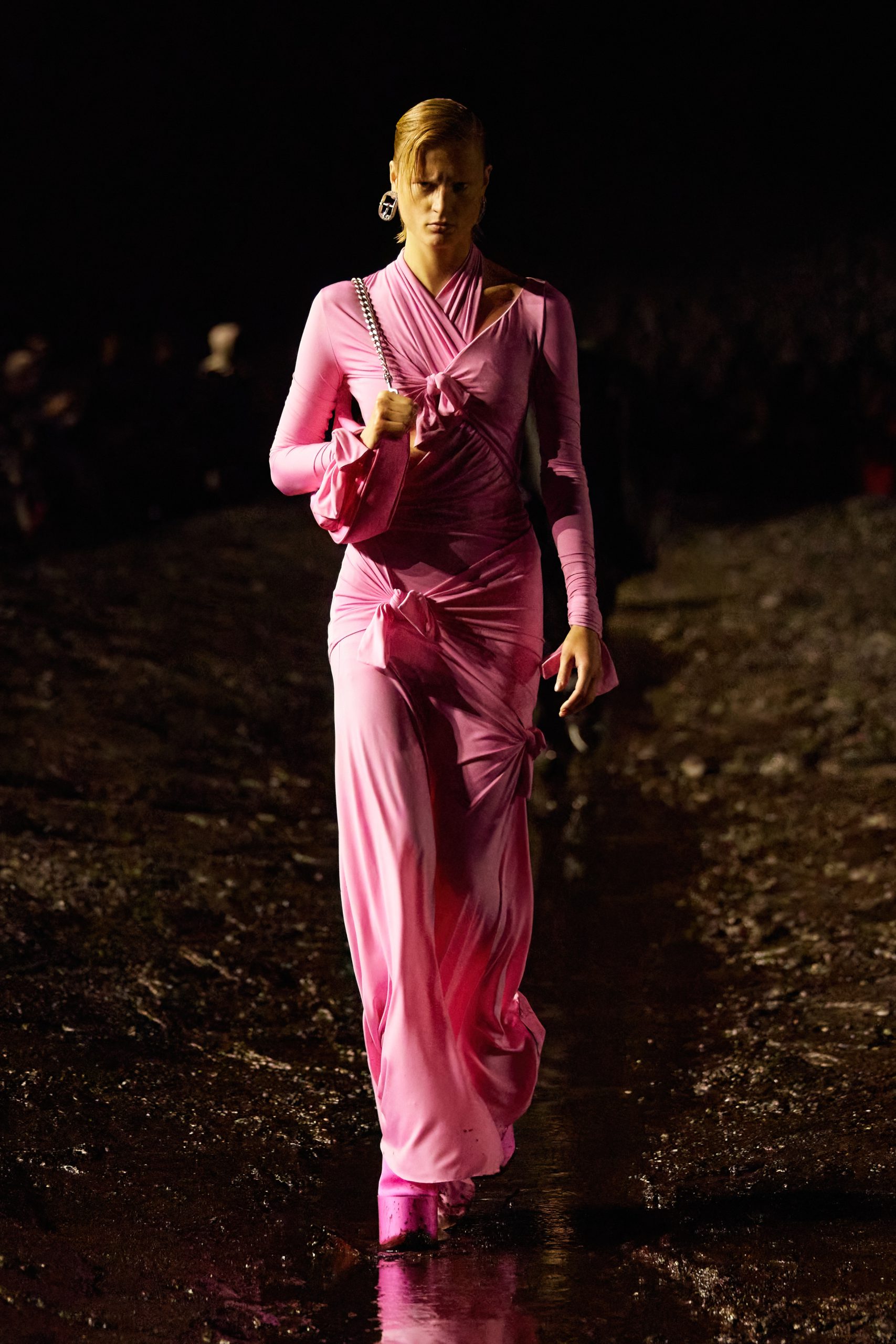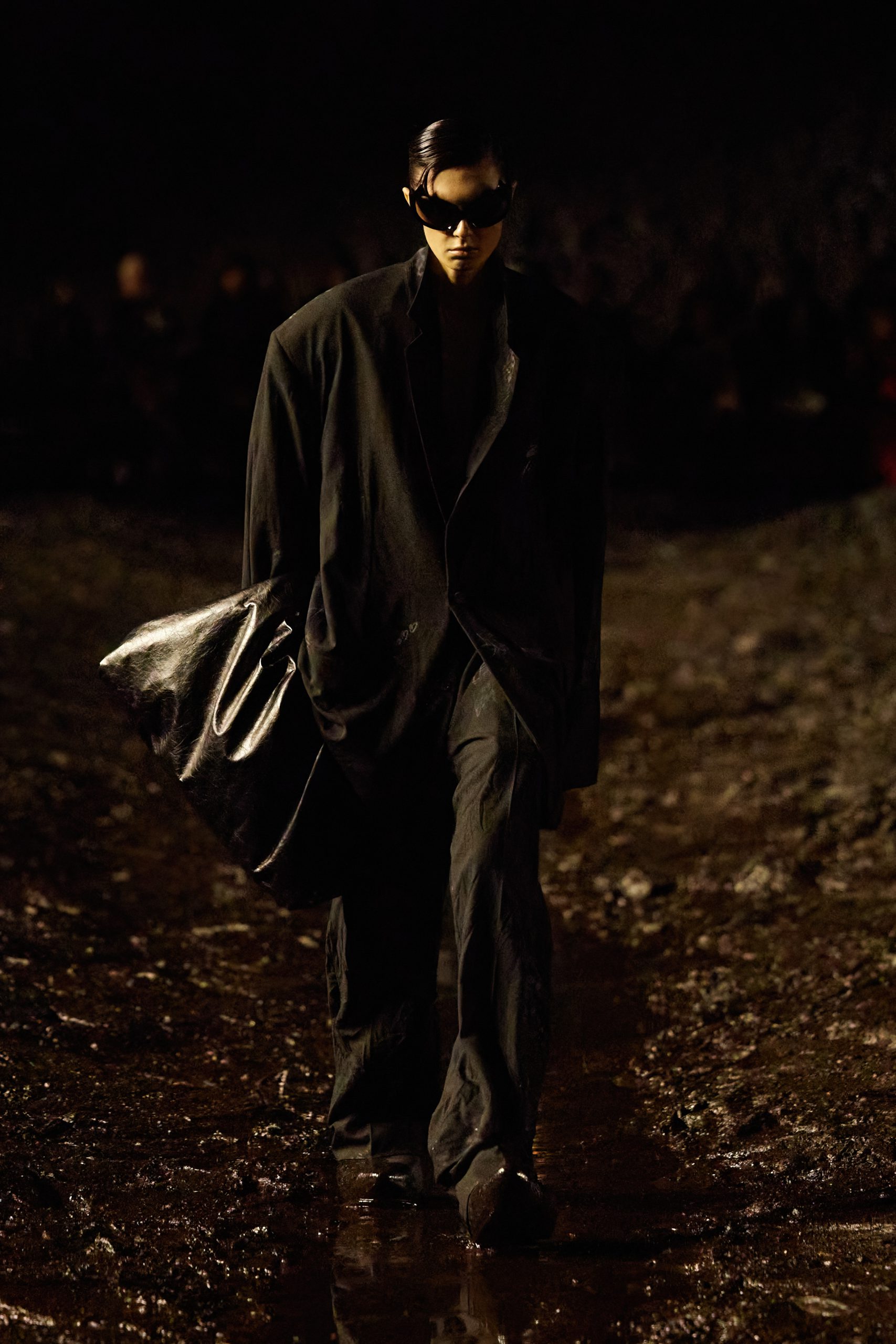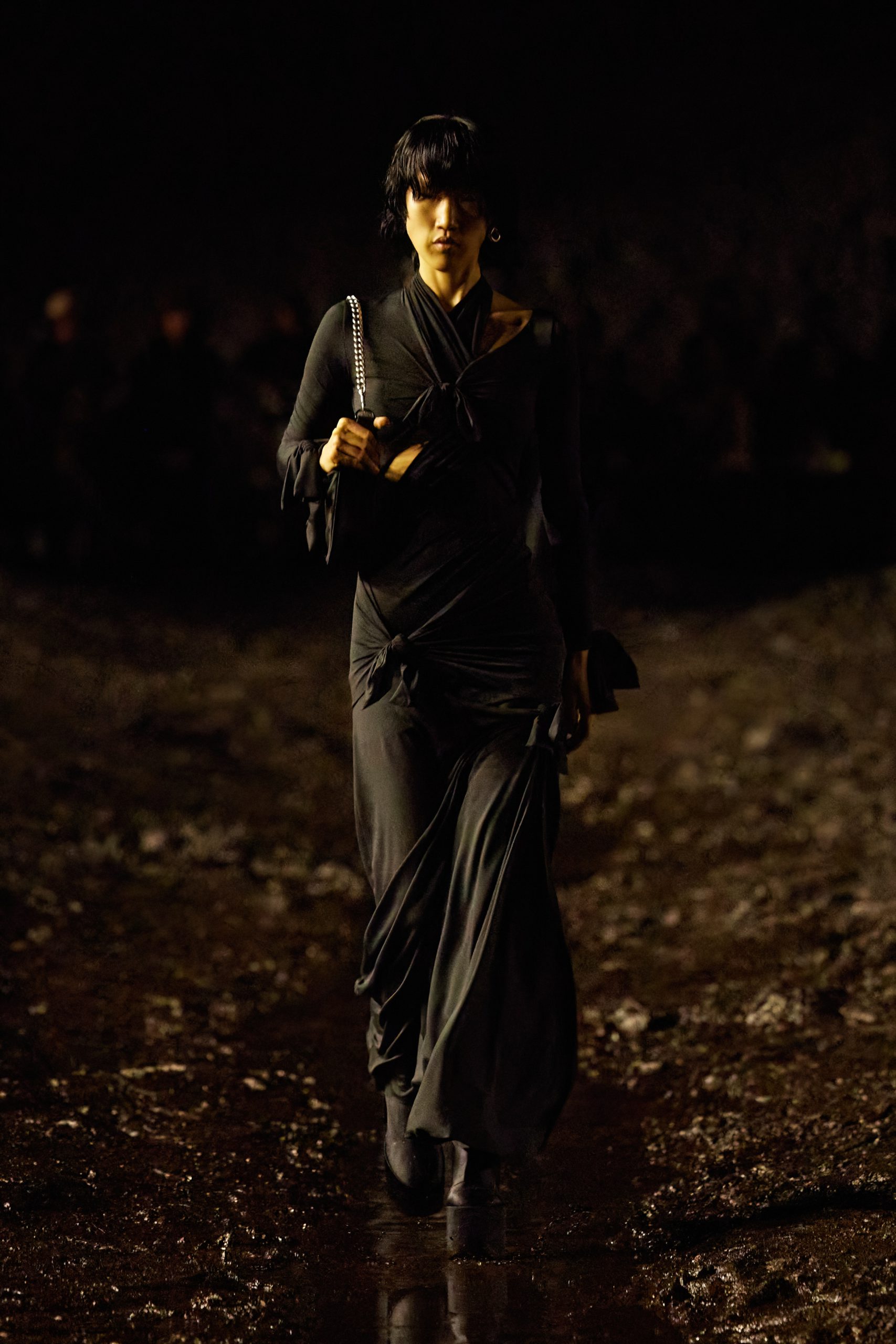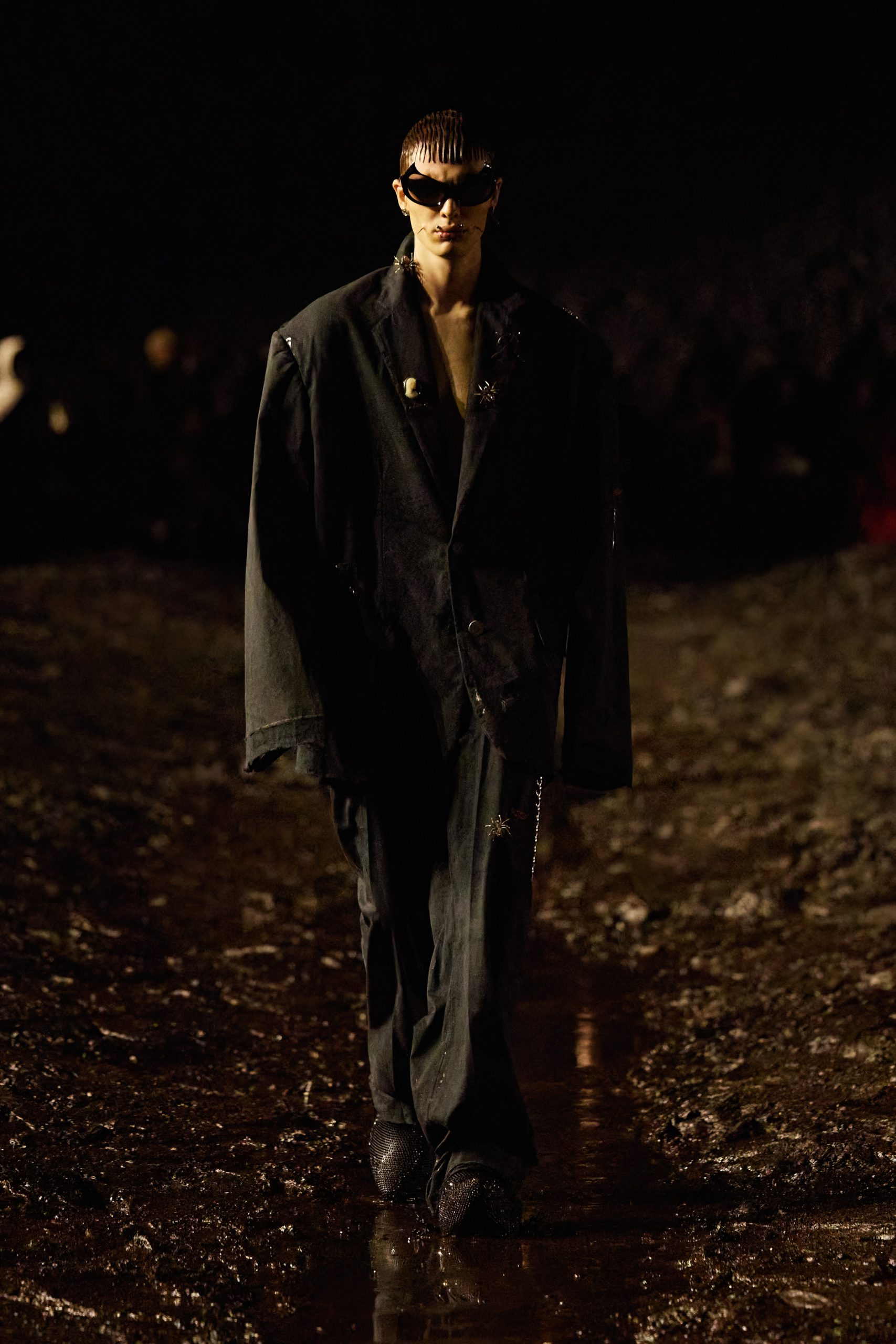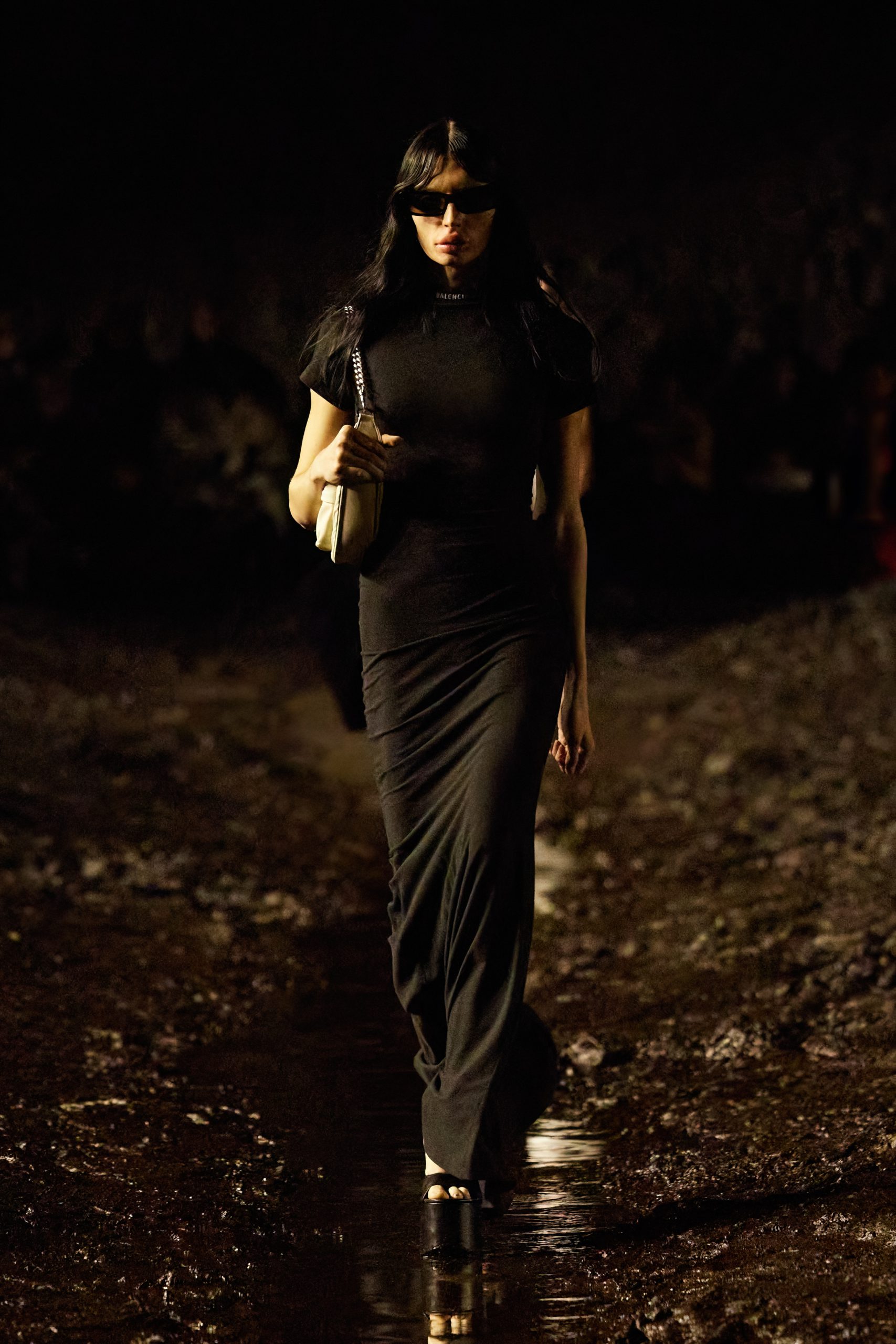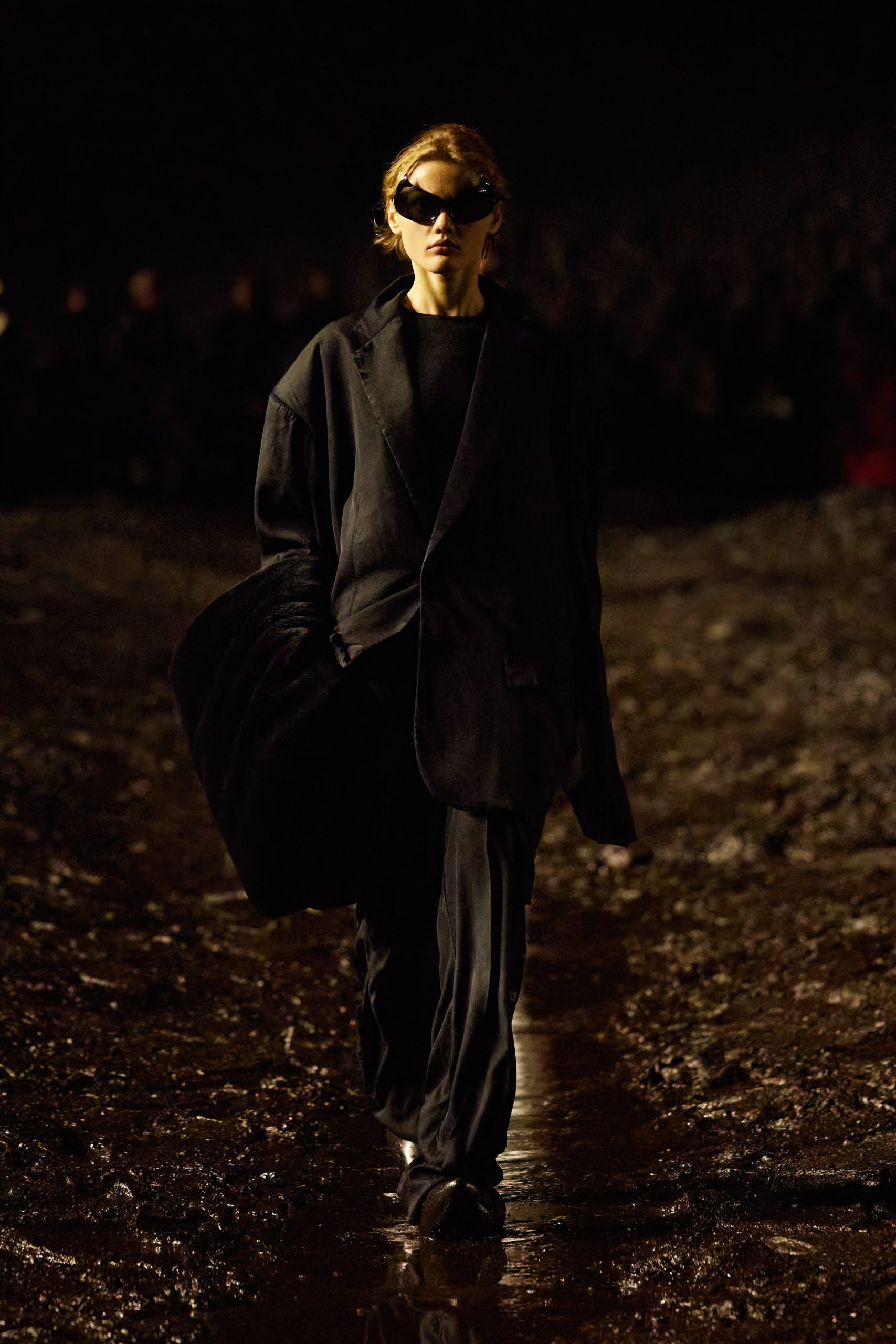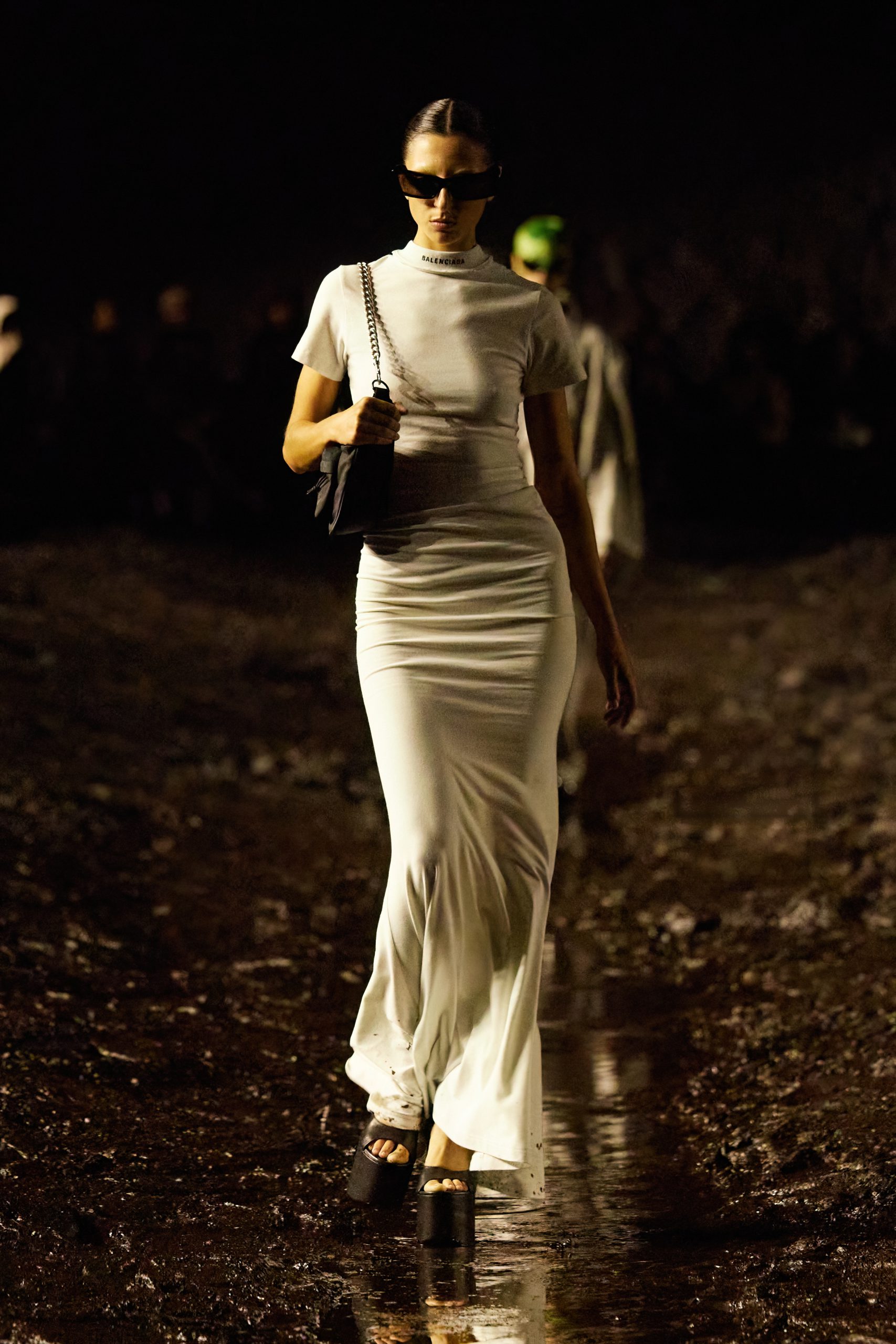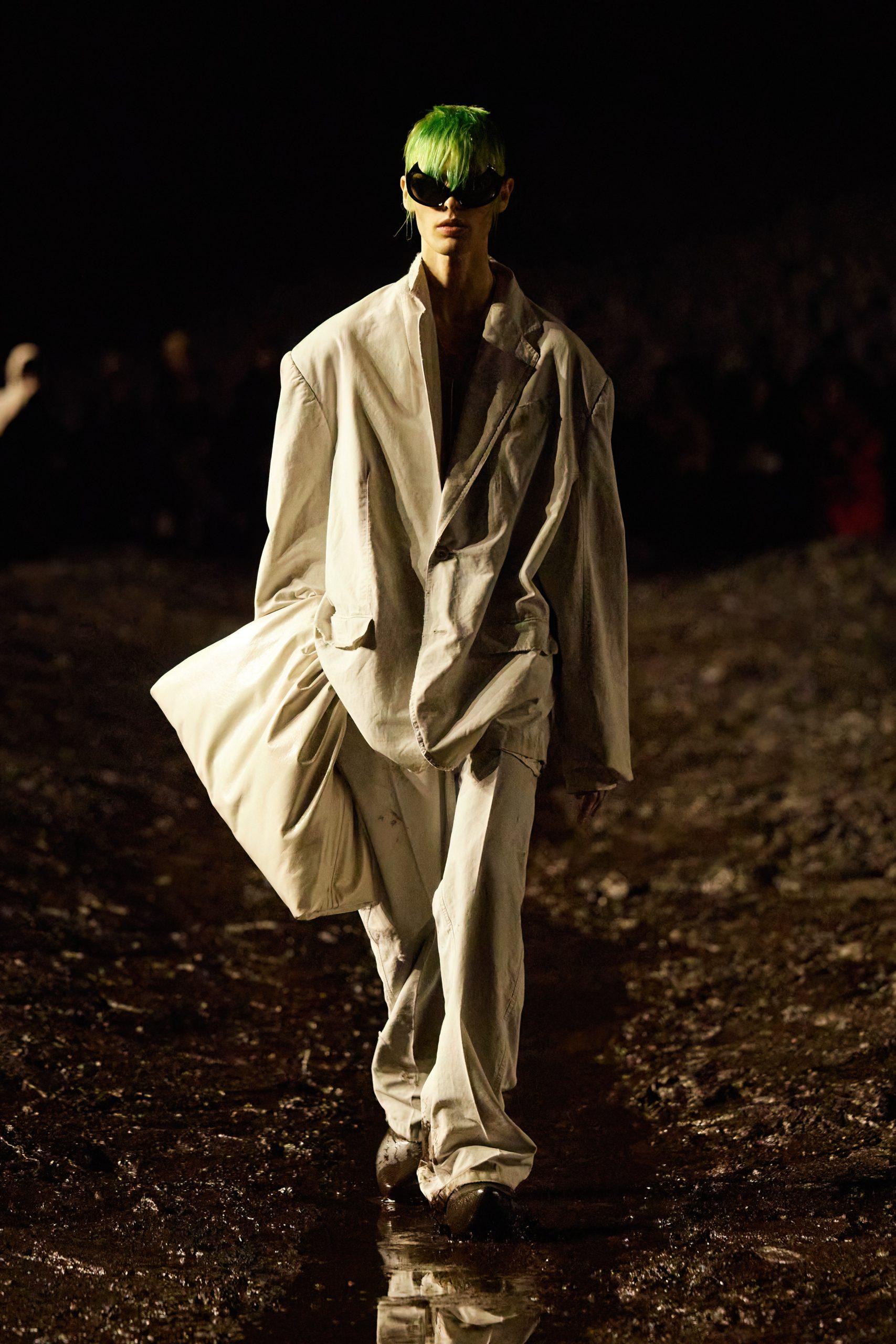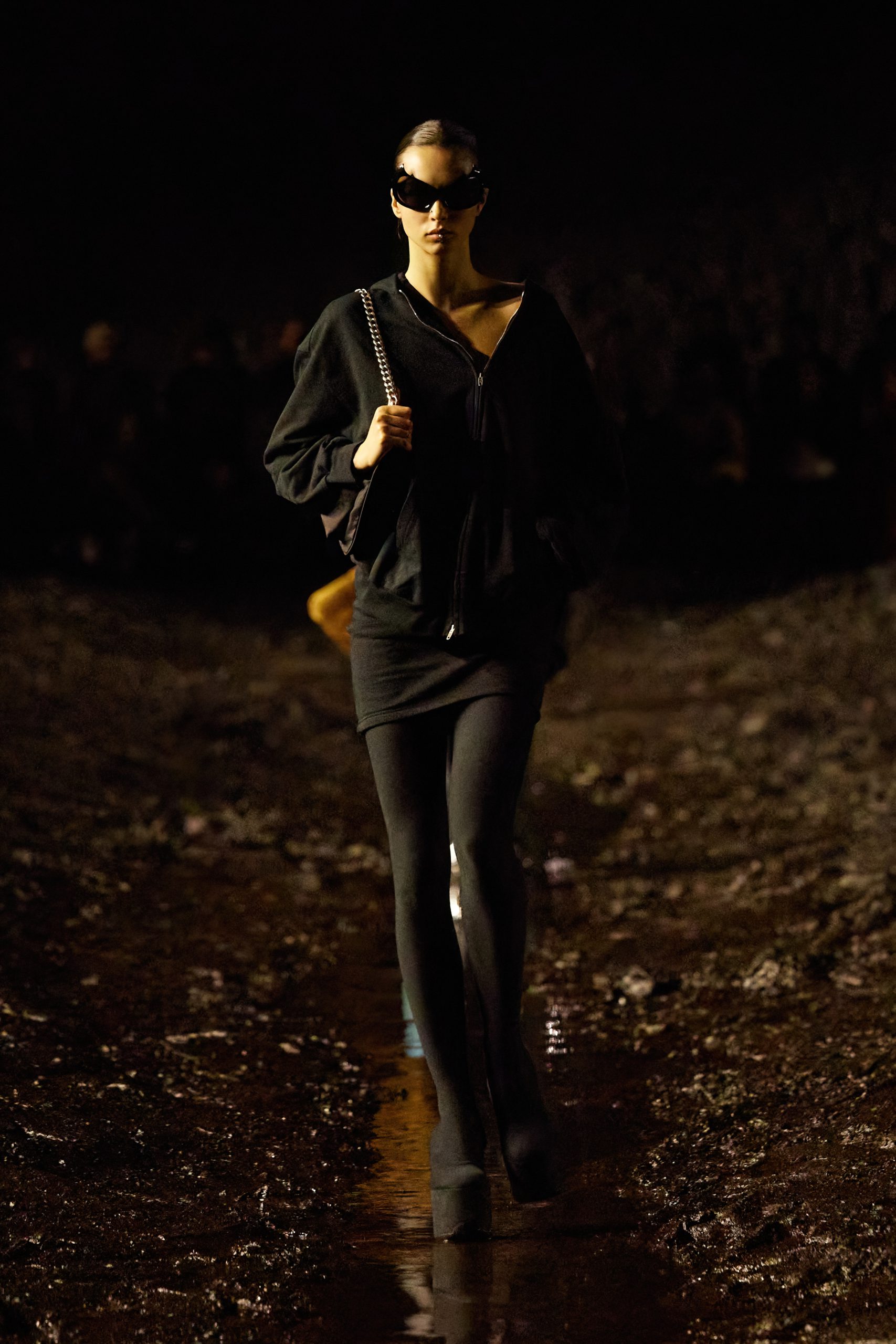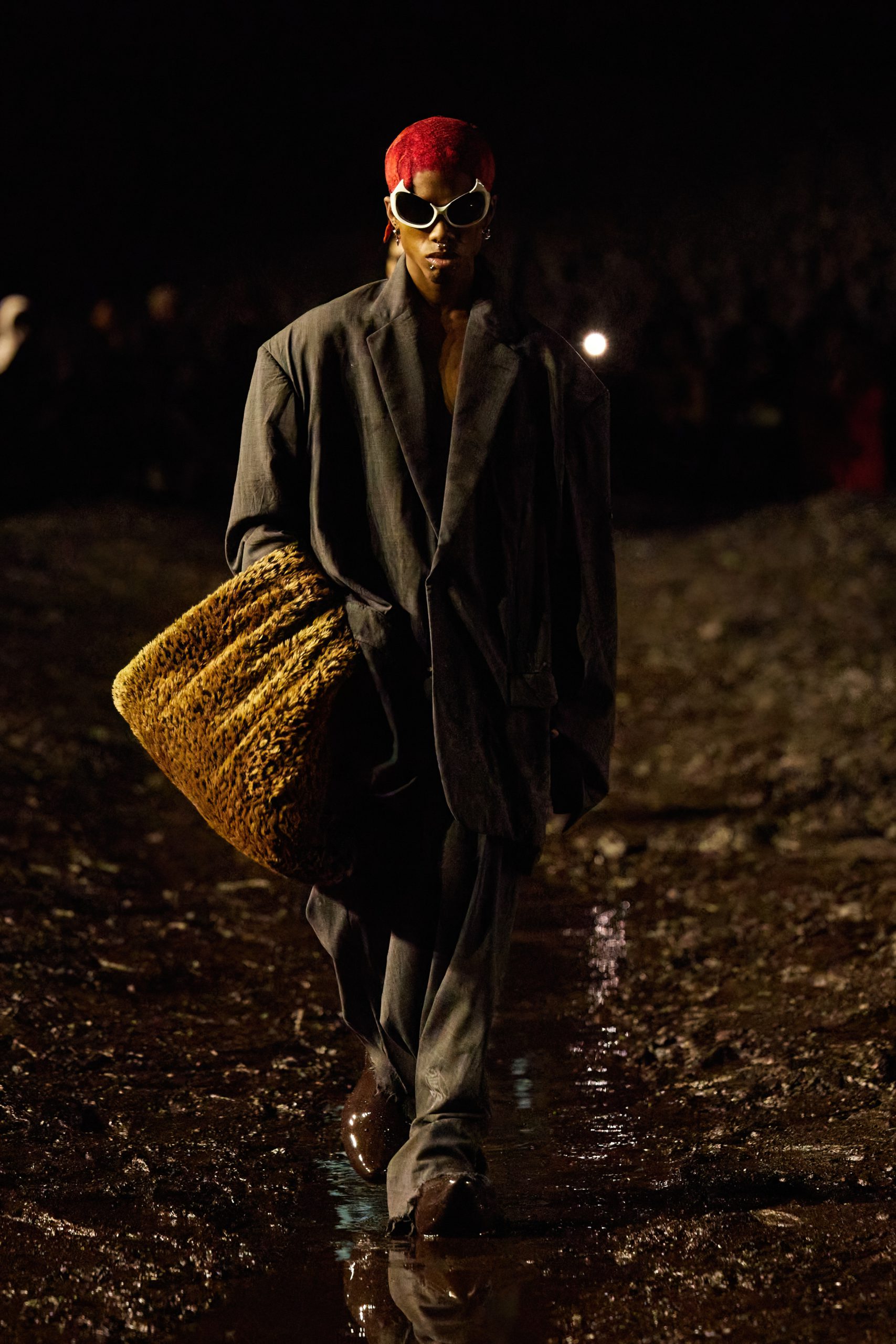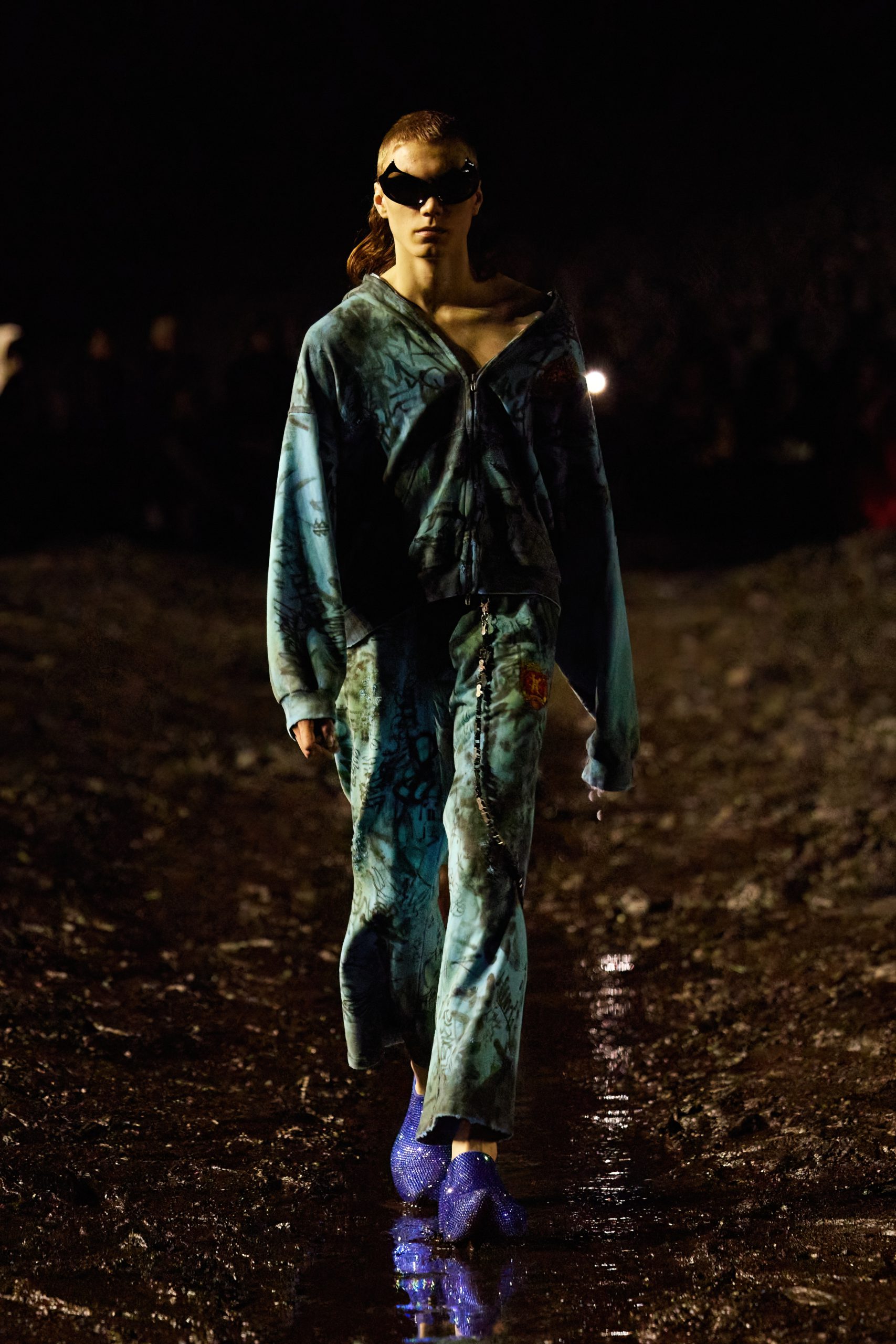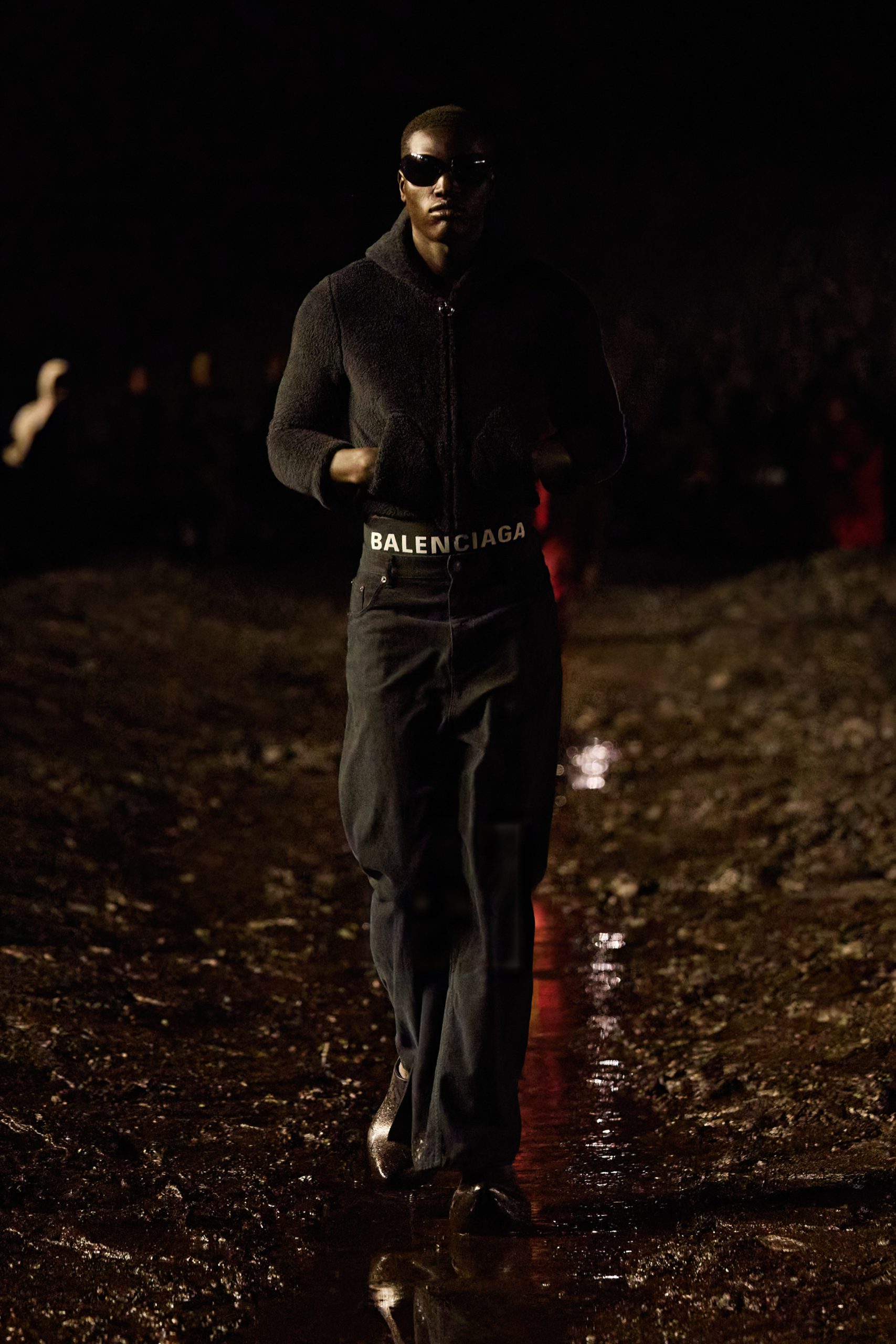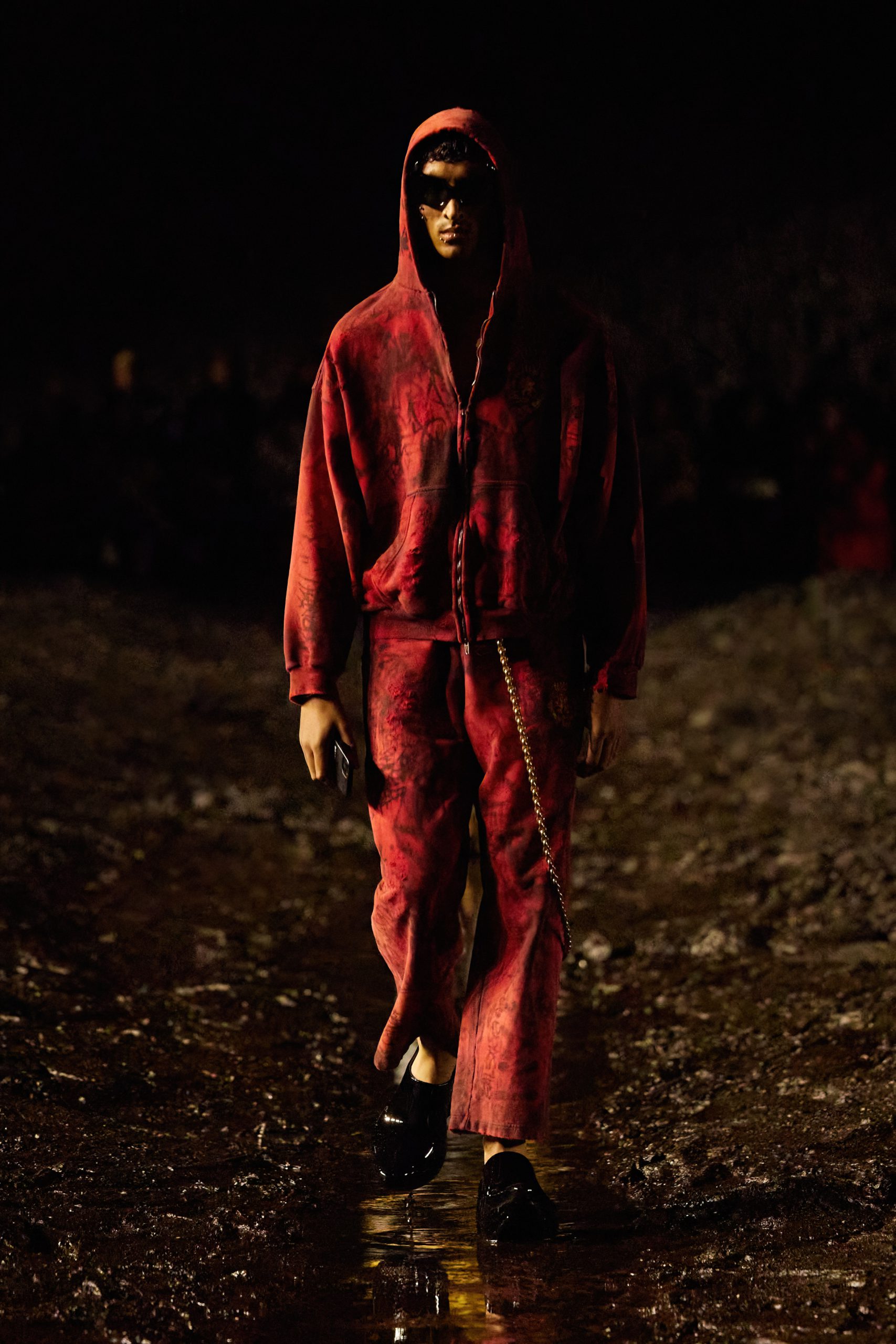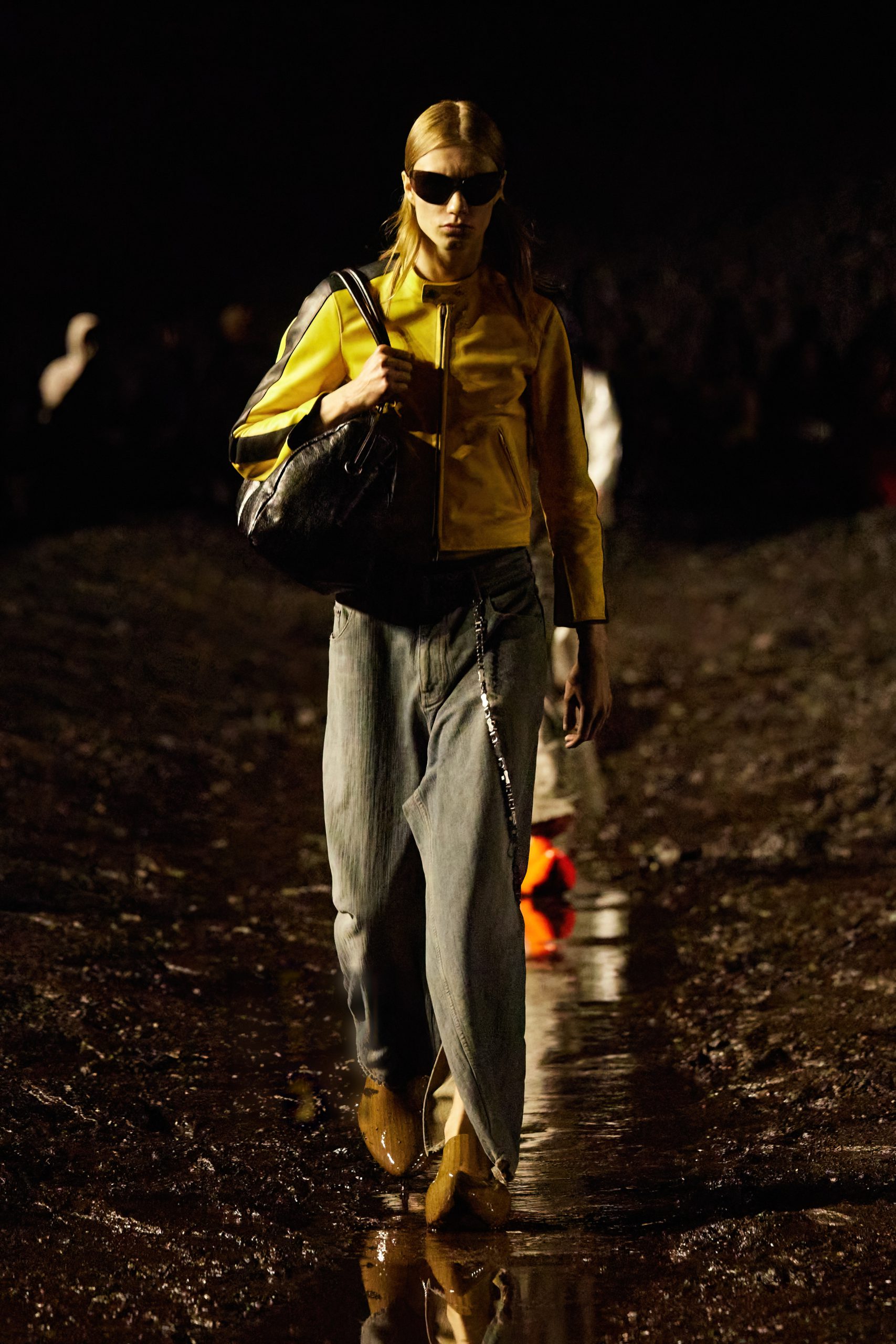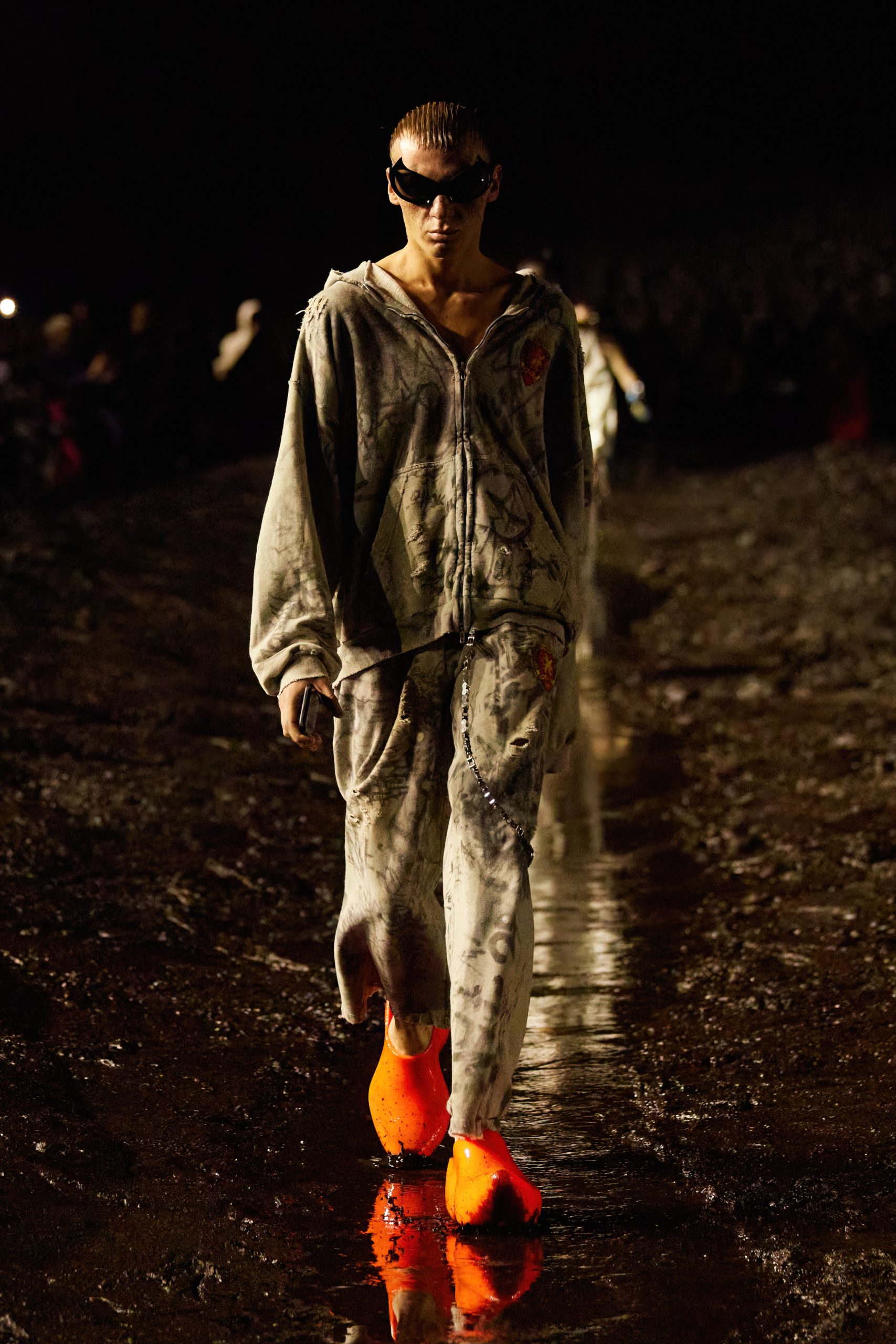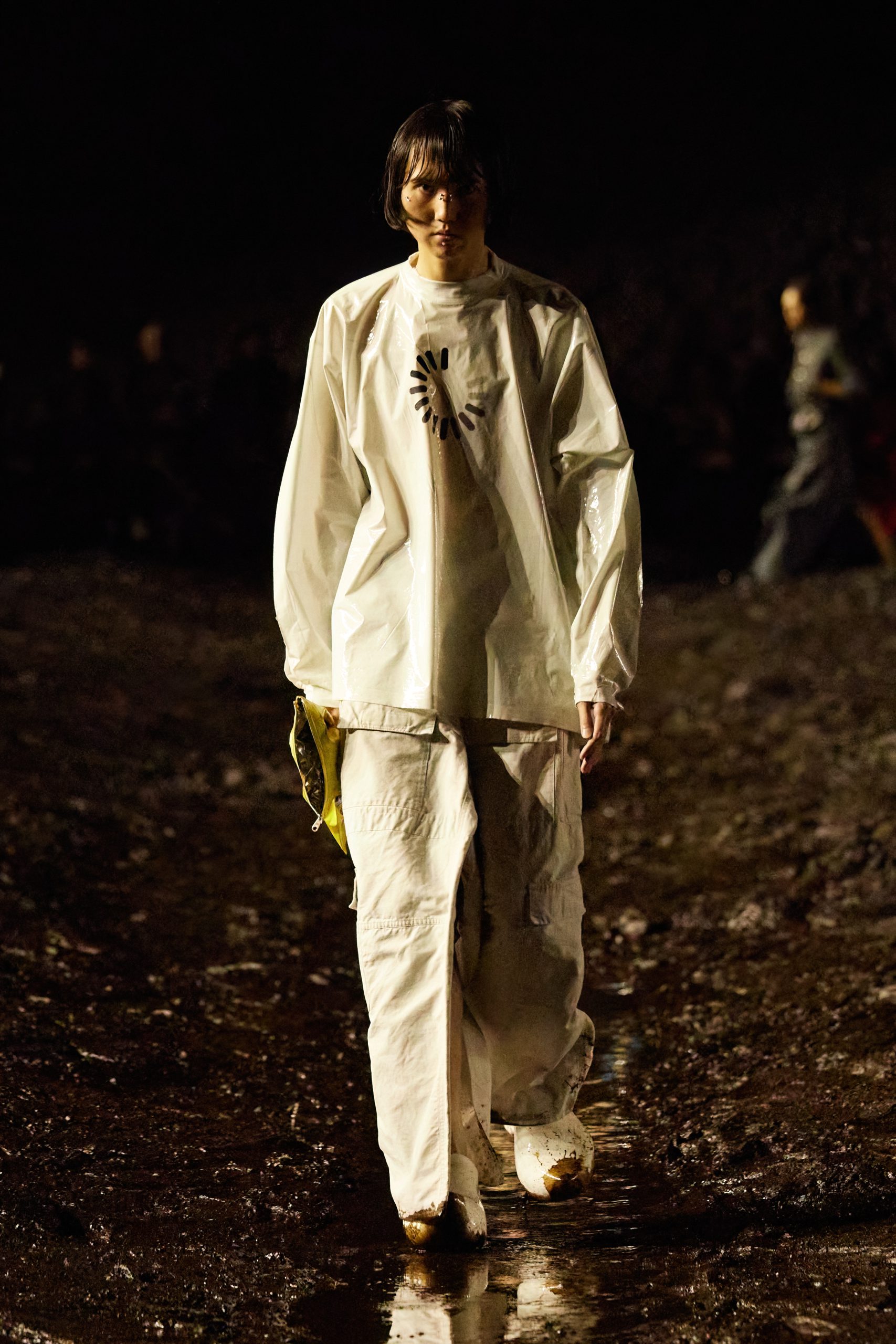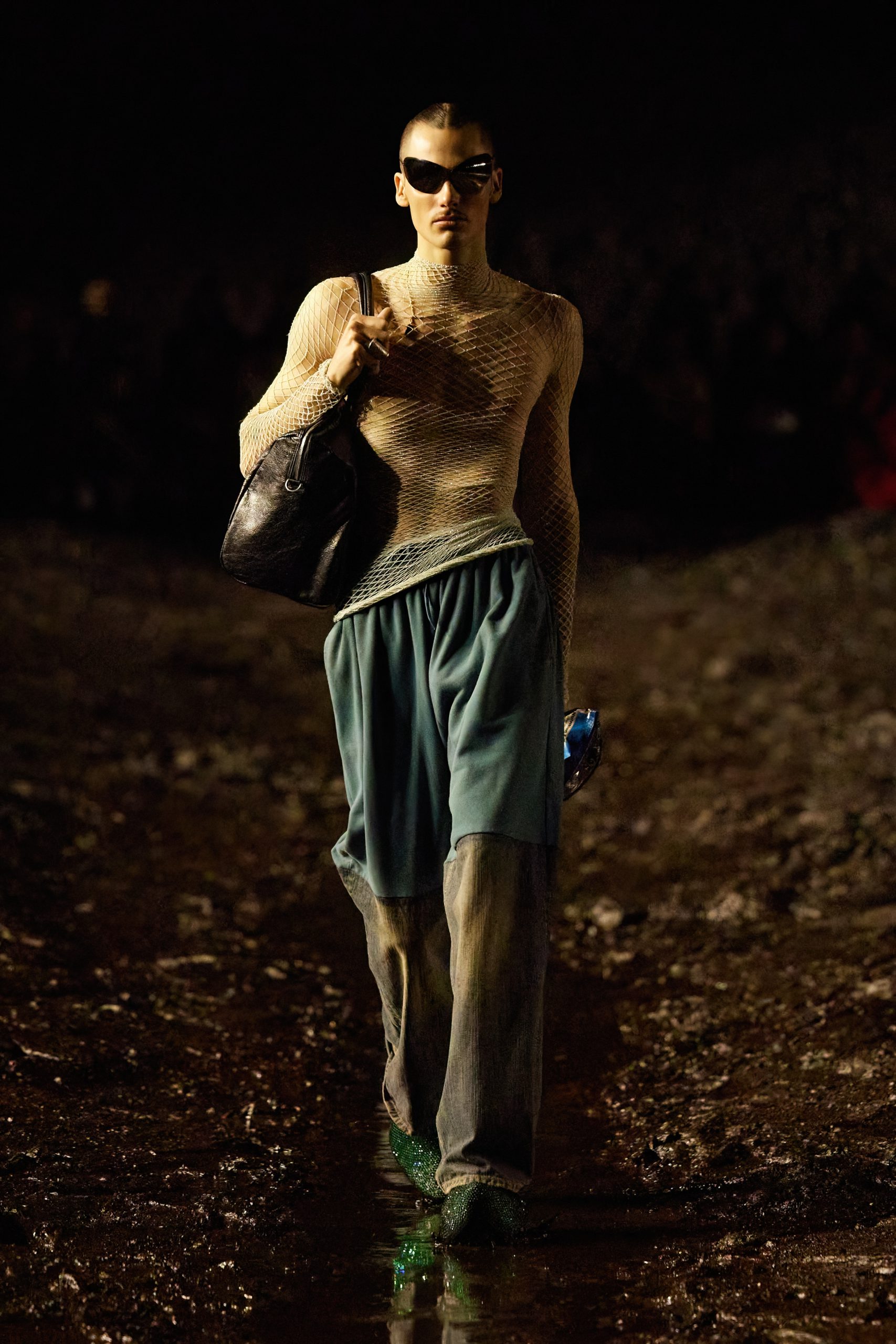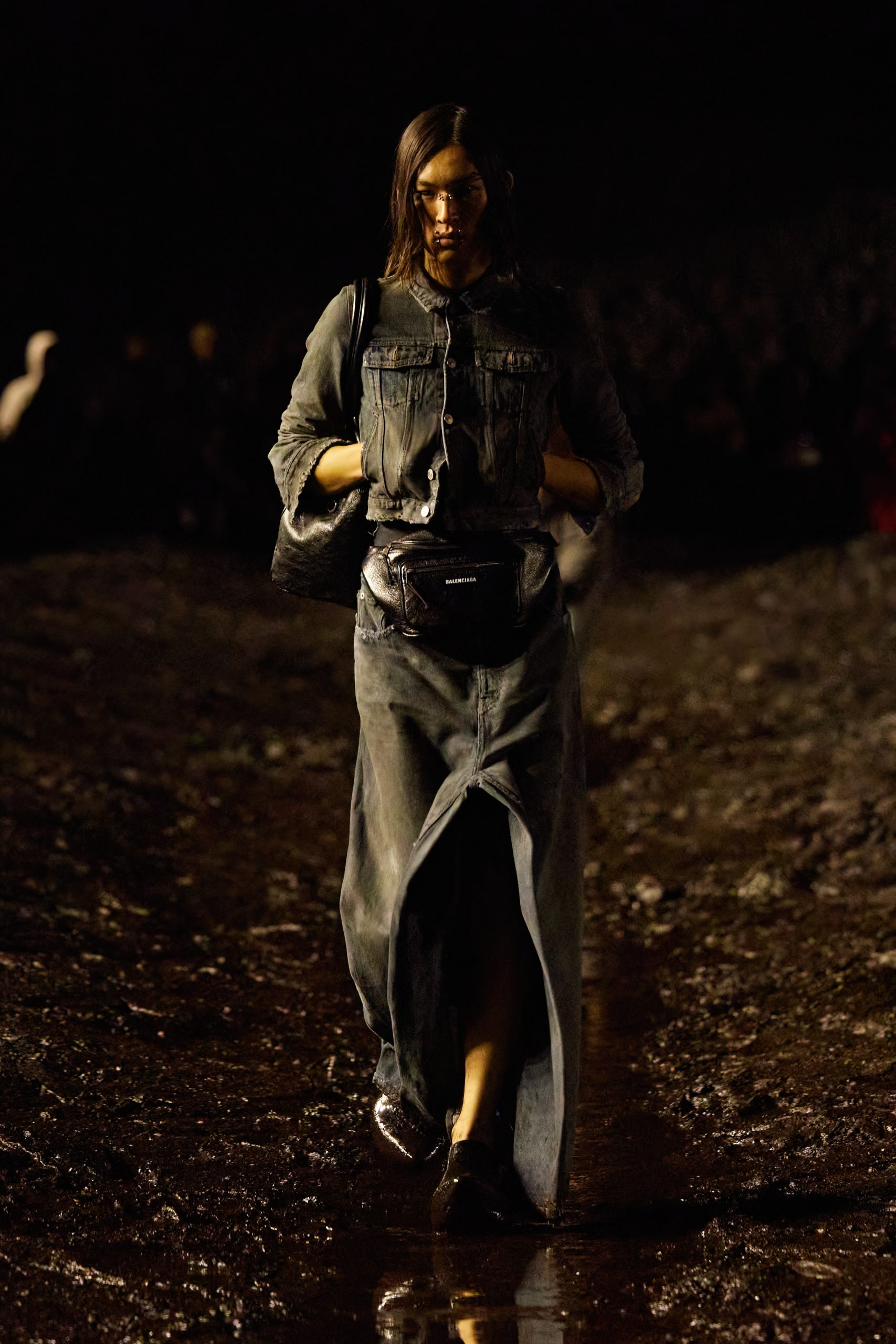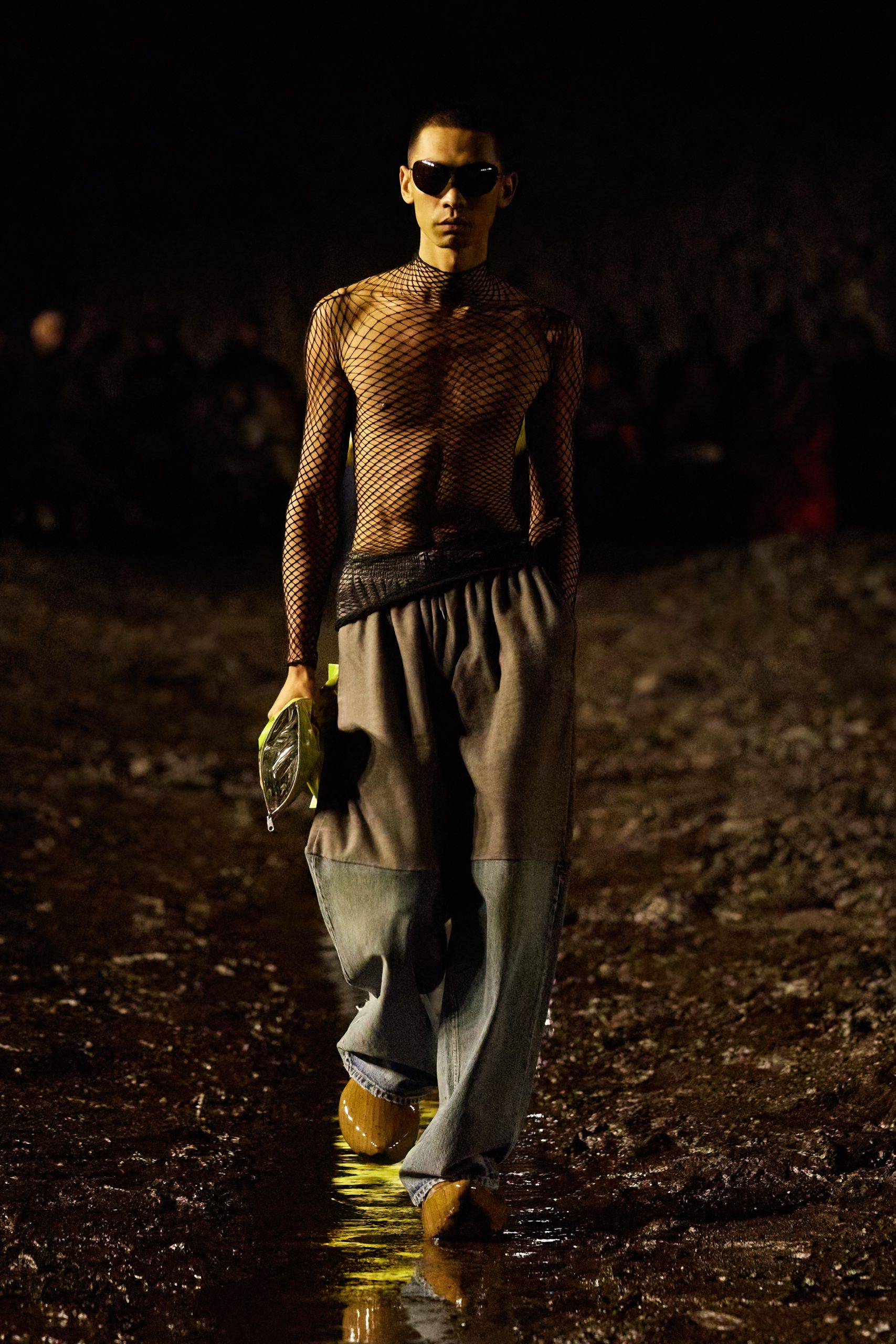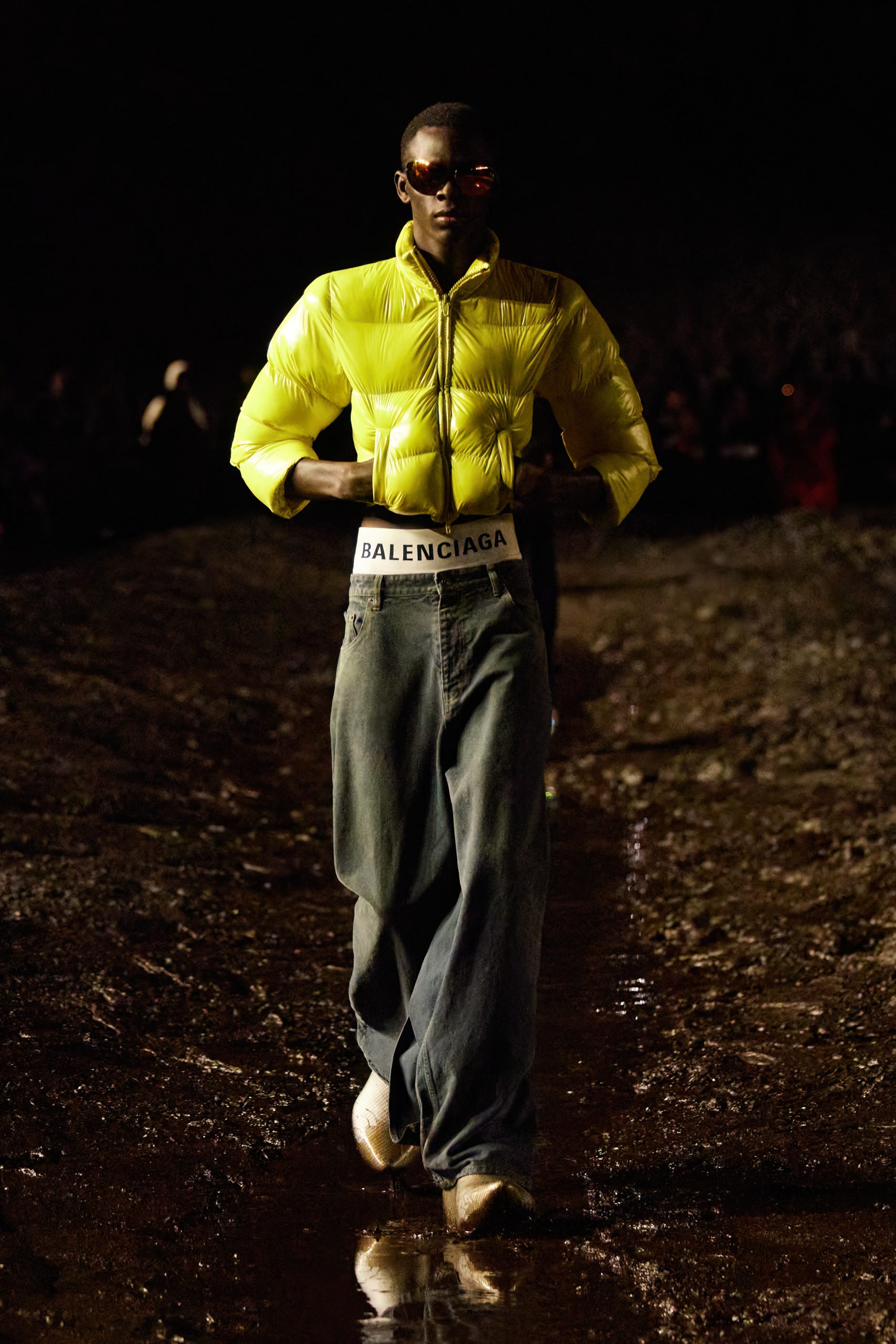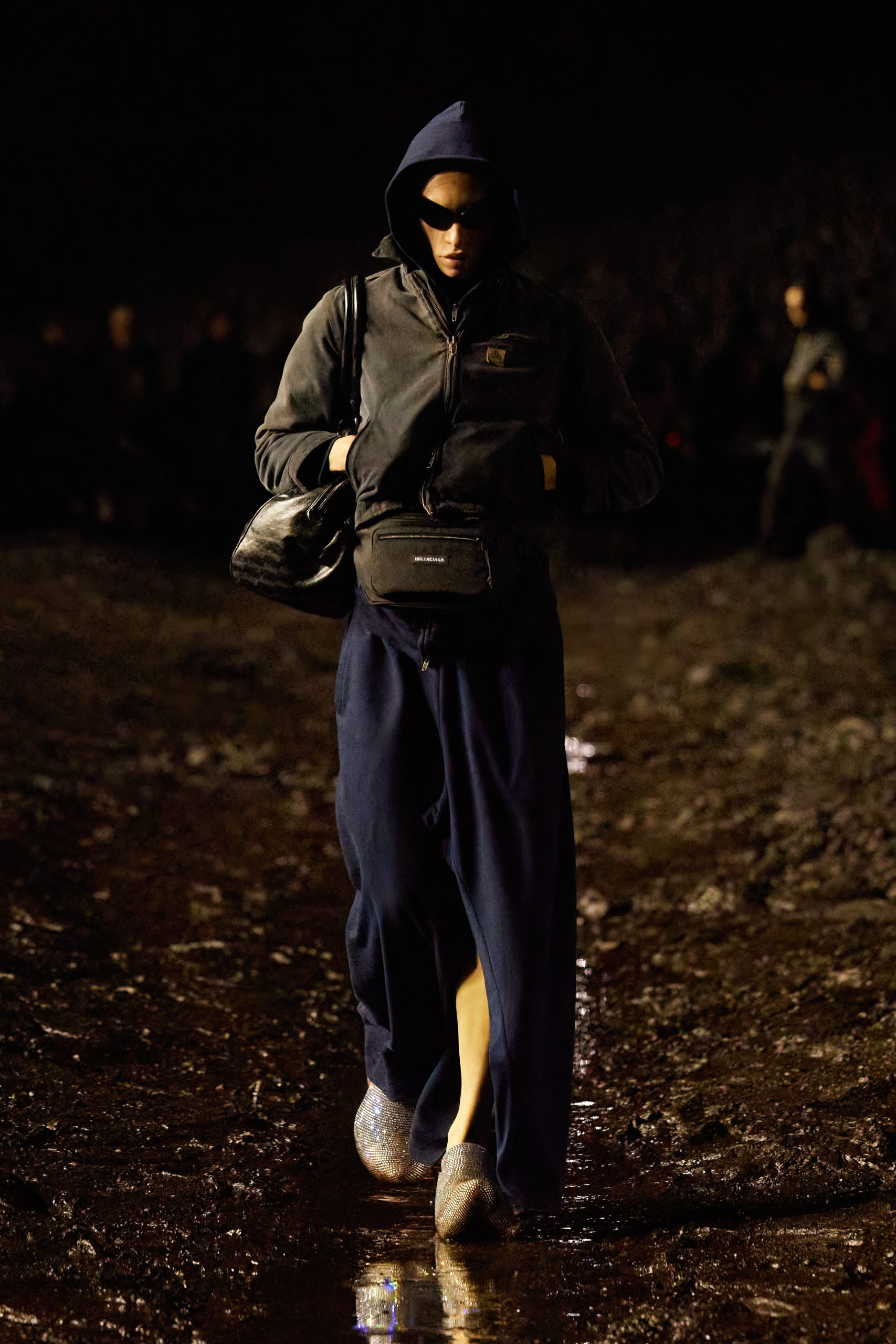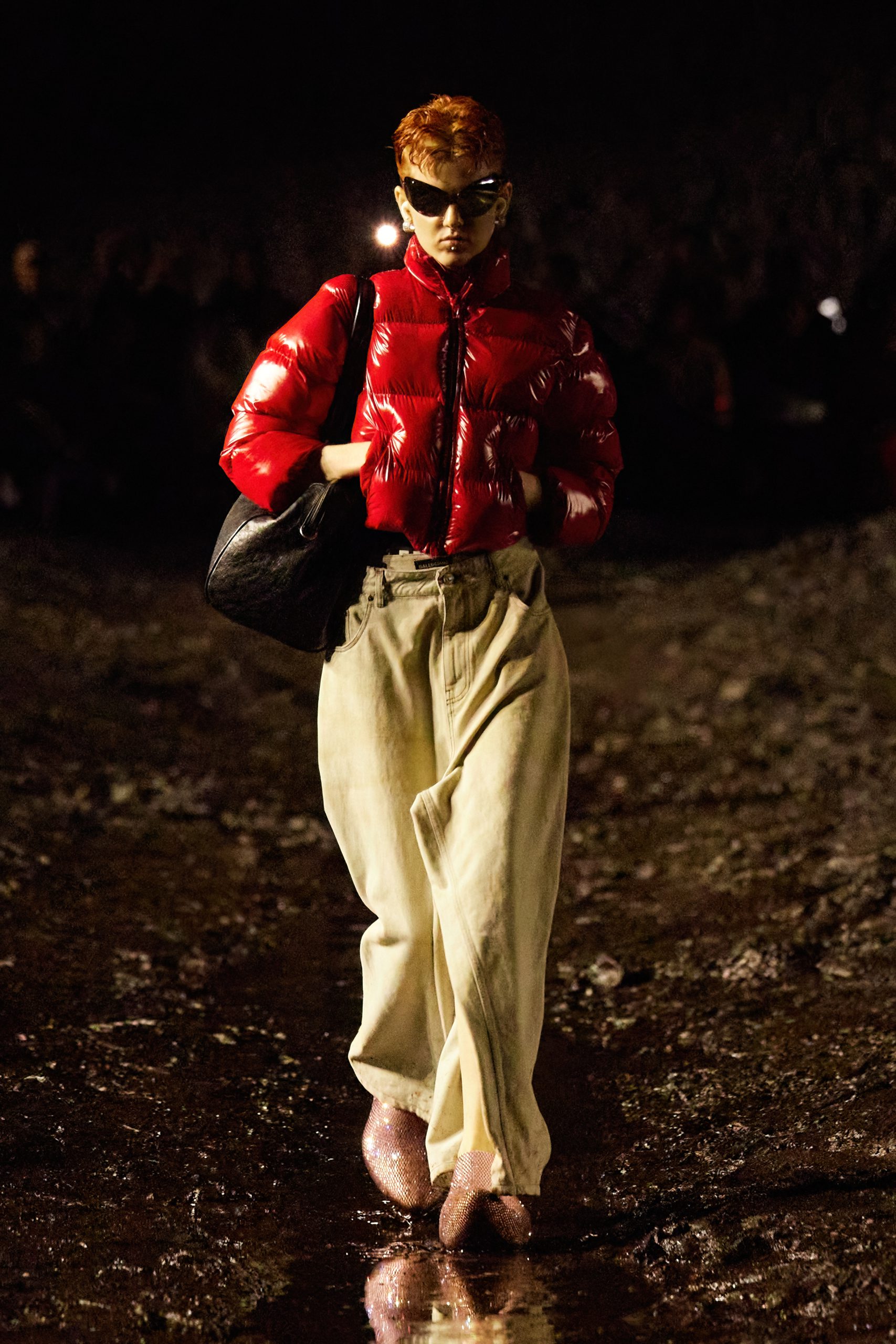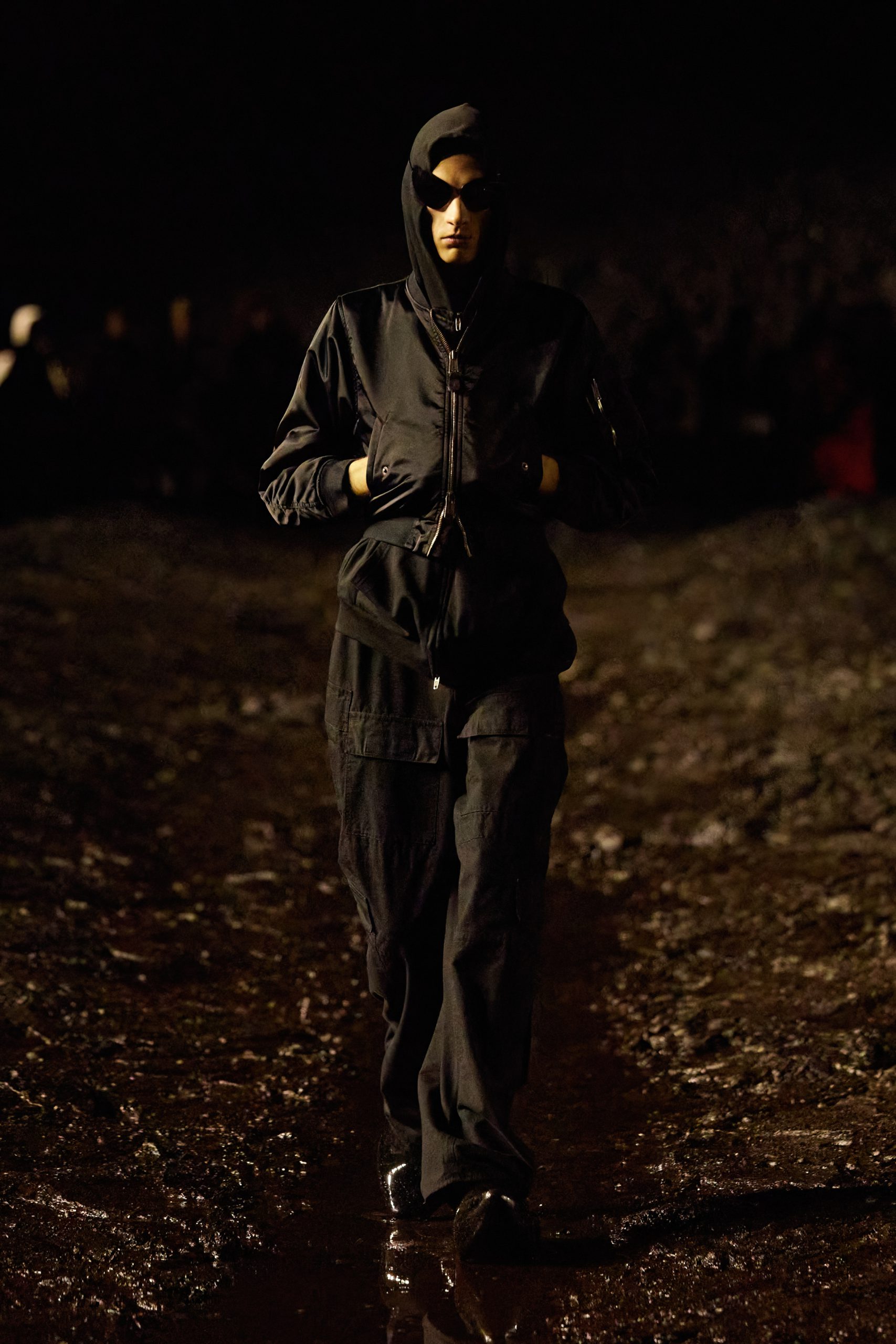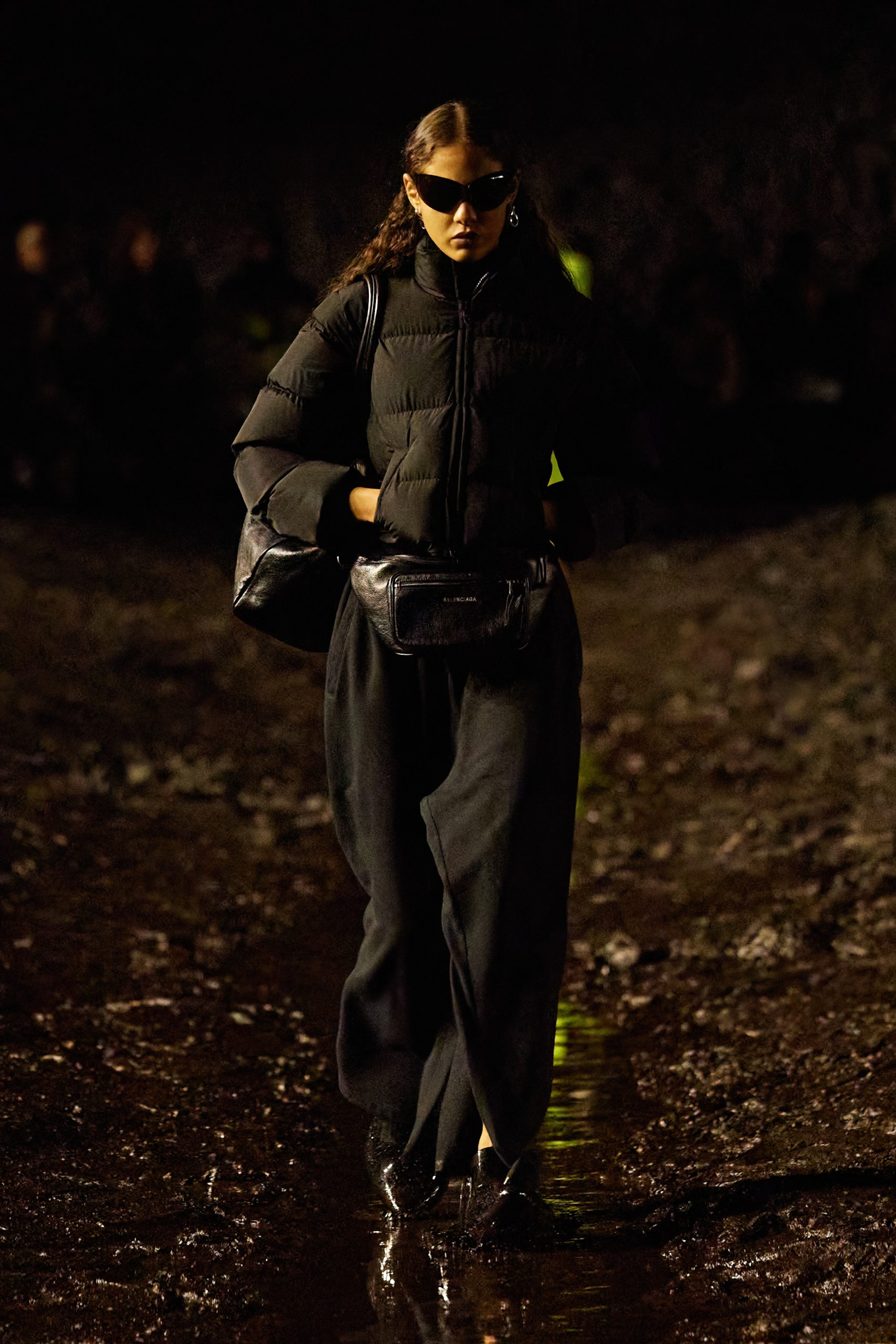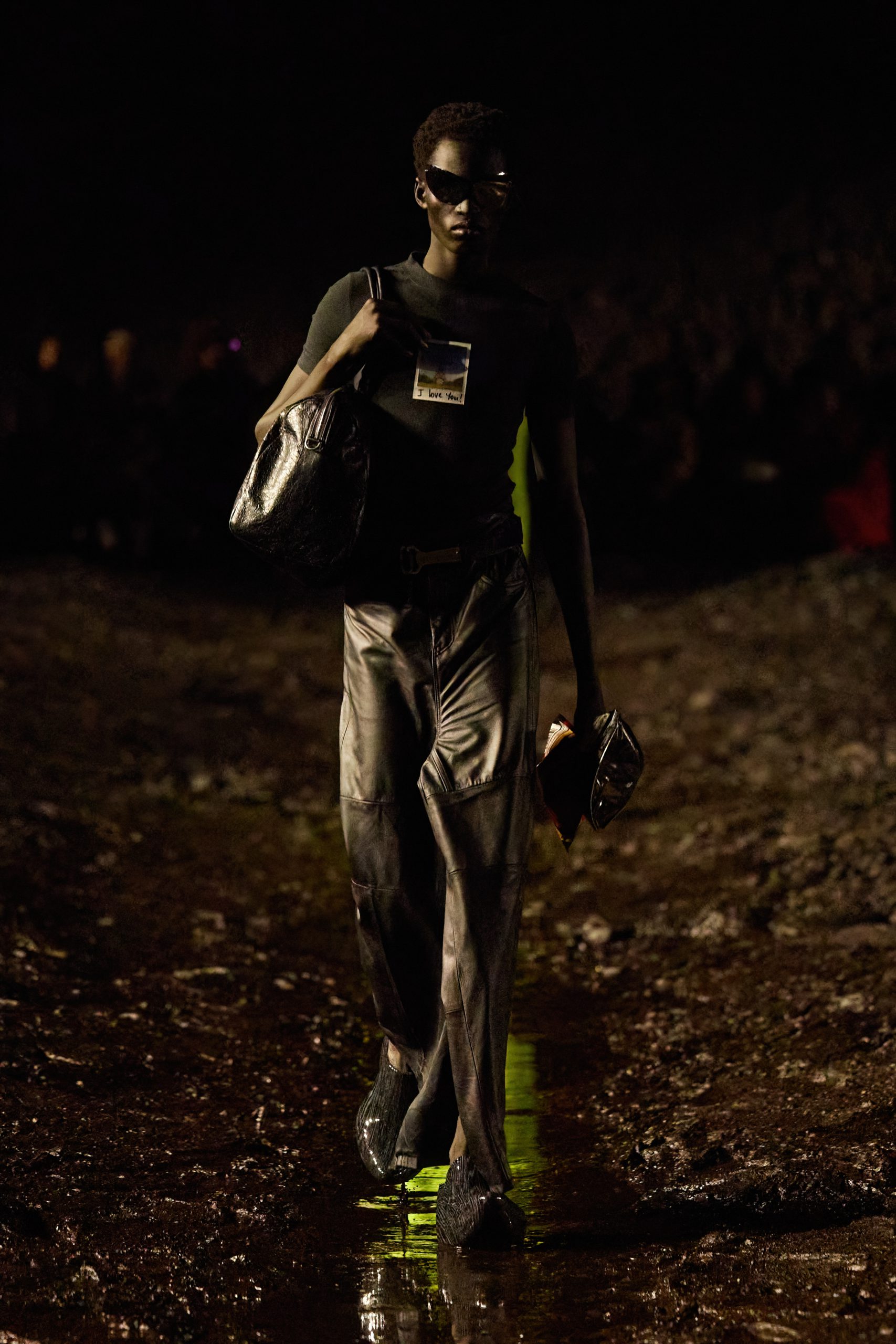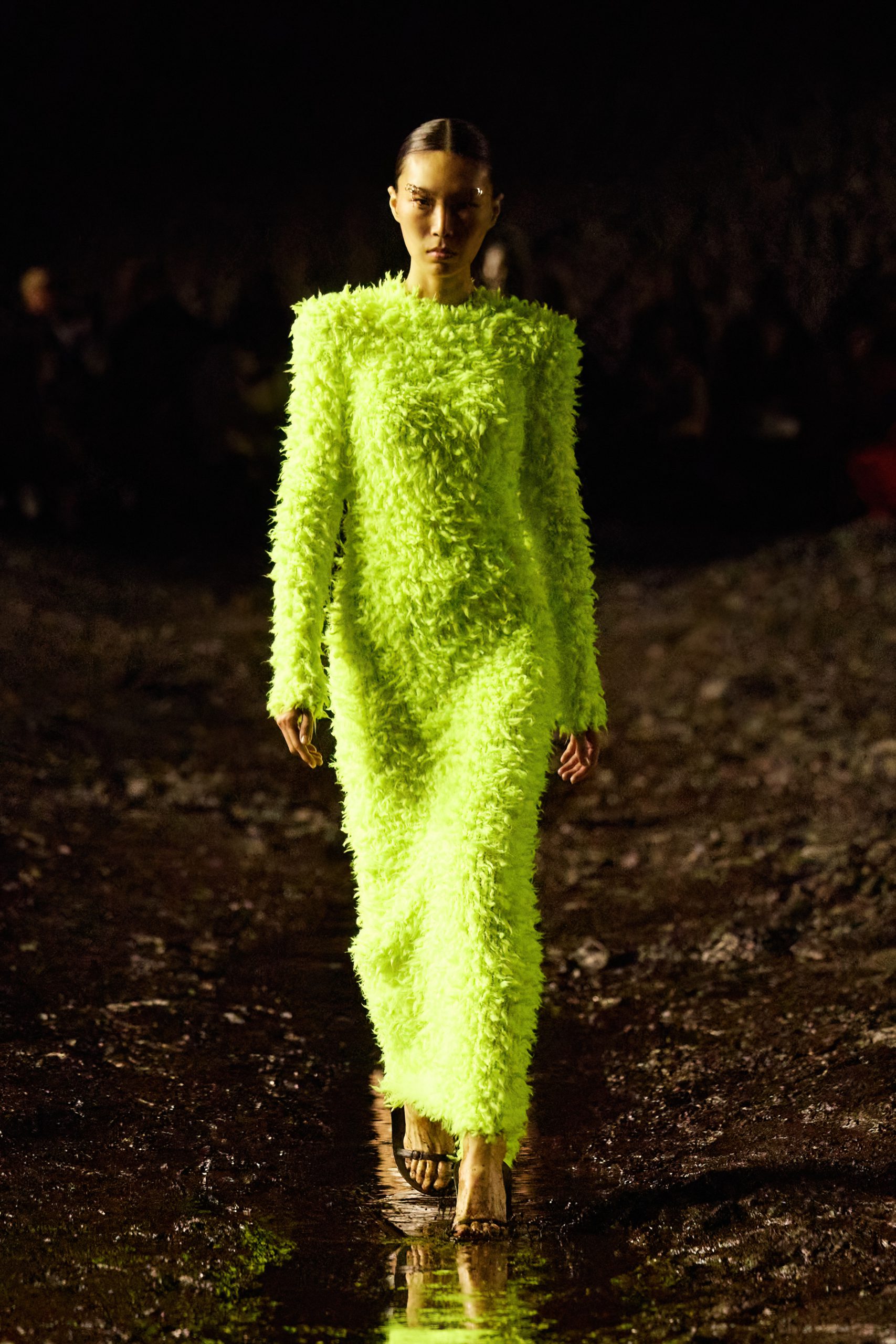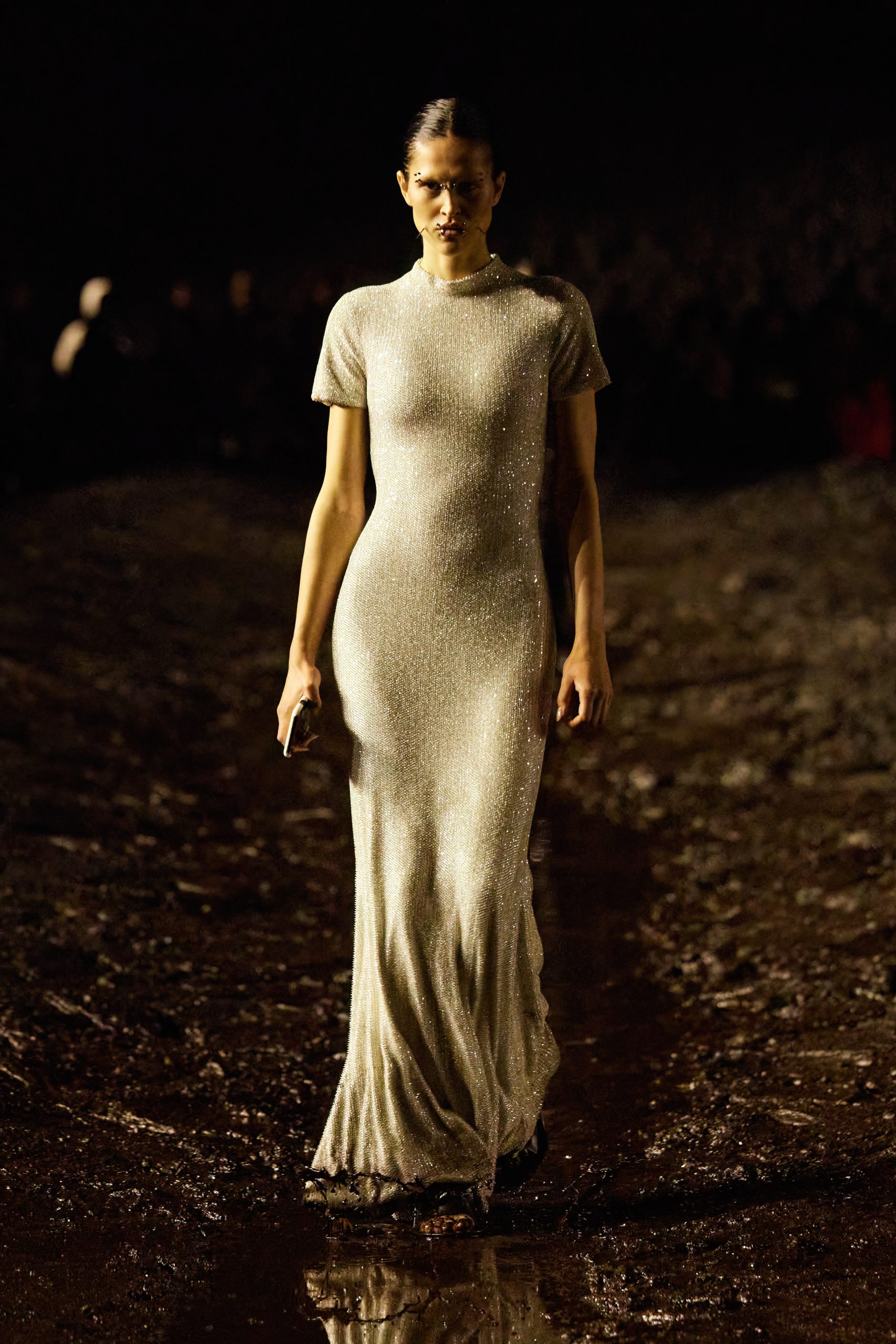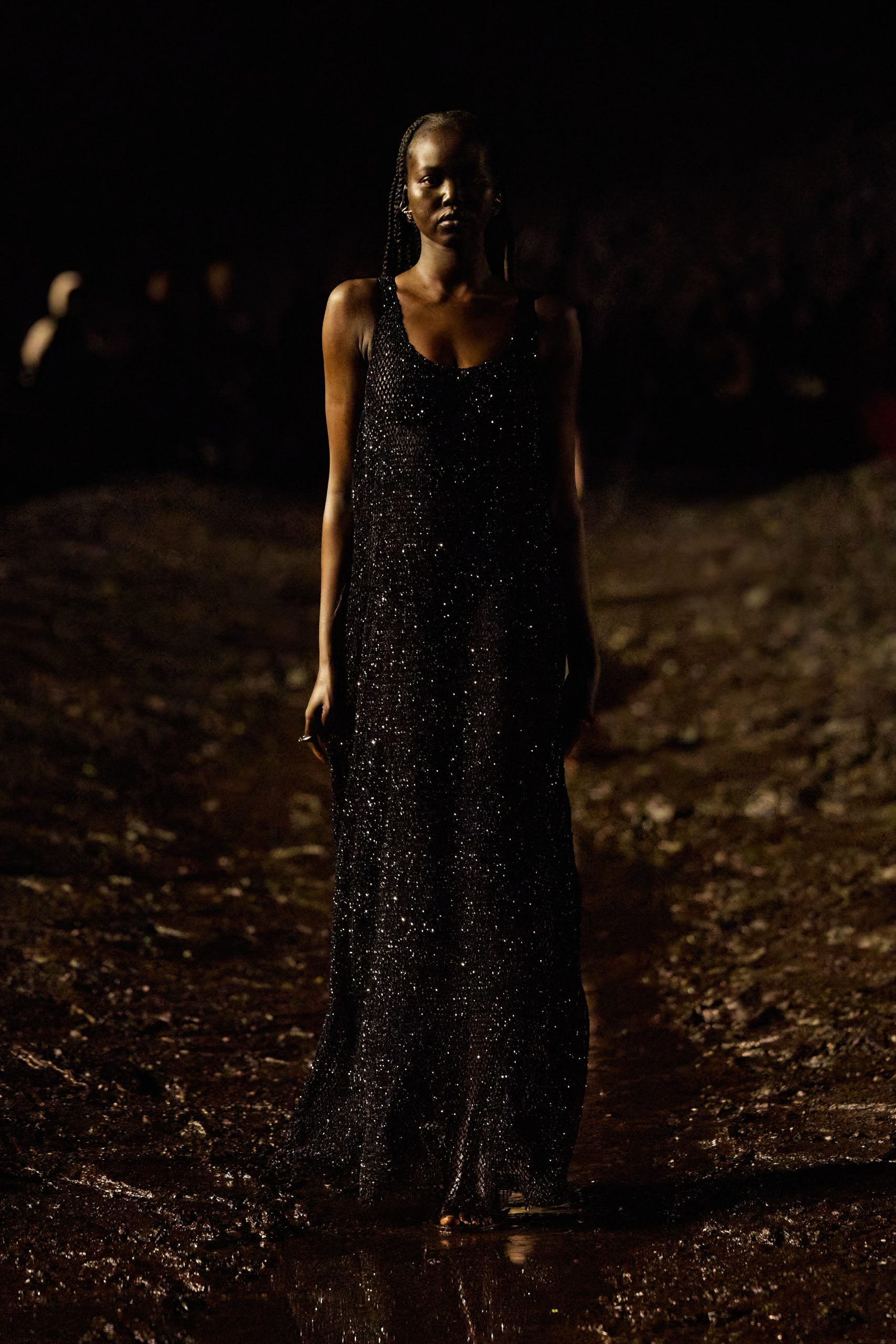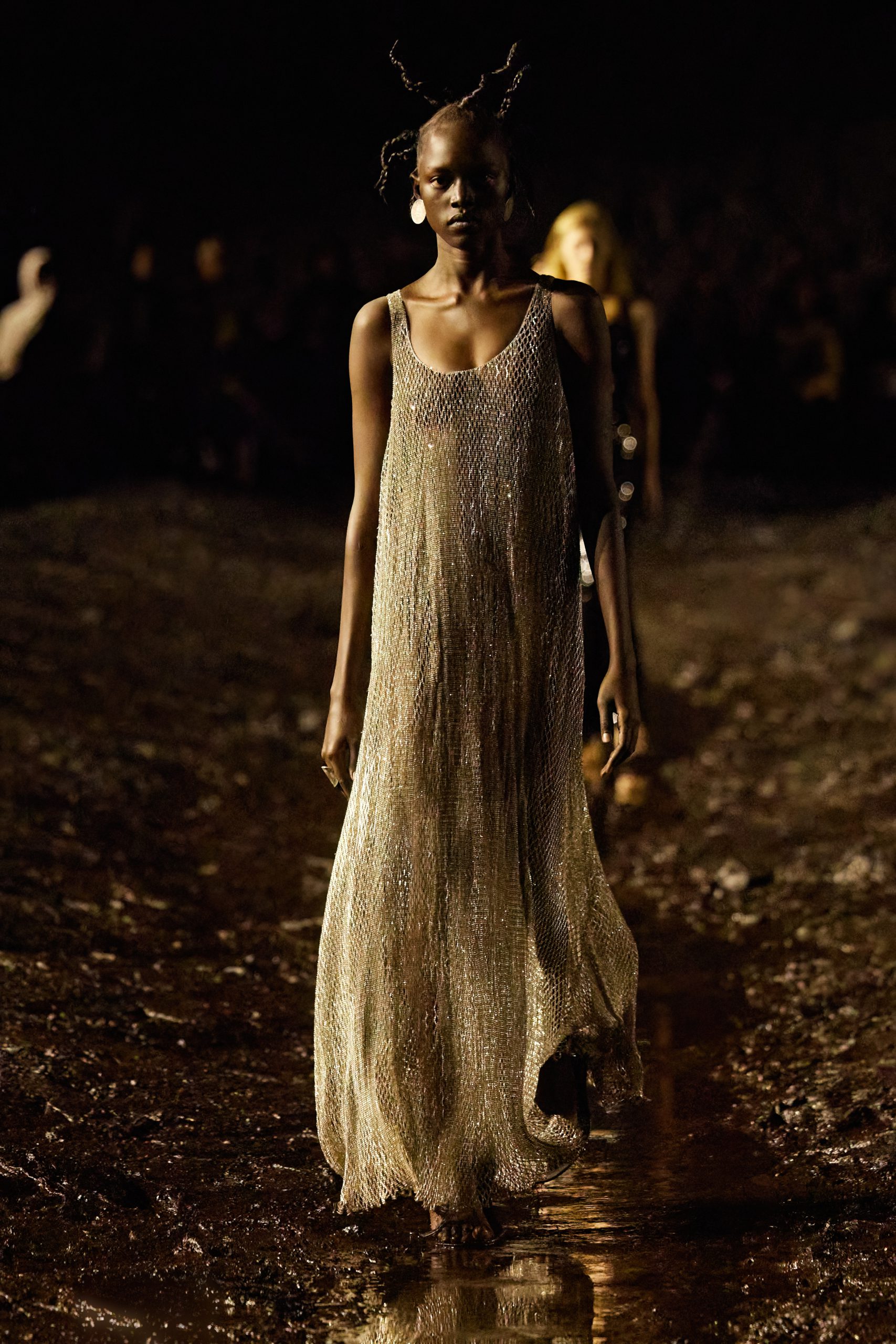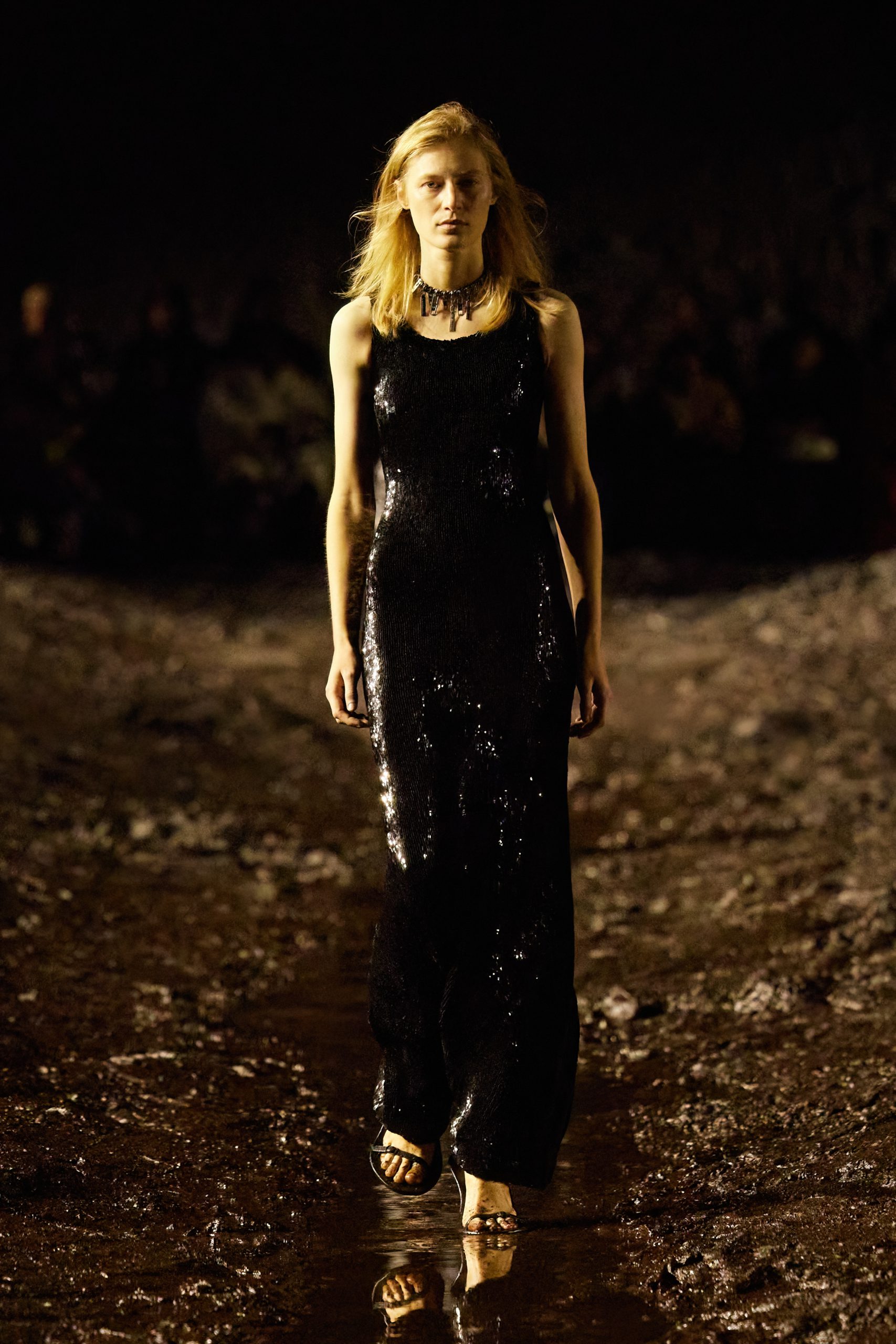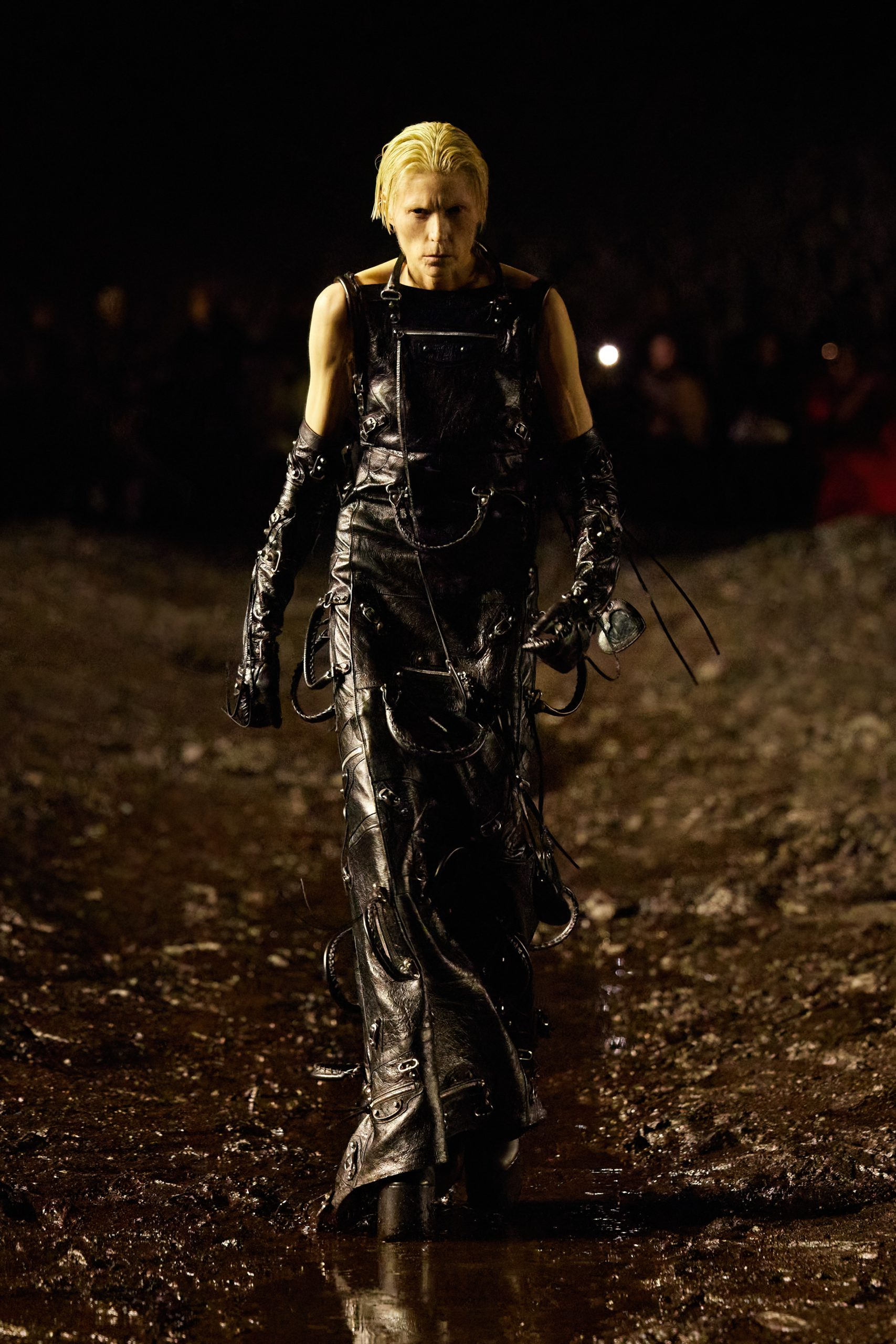 HERMÈS
When: October 1, 2.30PM (8.30PM MYT)
"Encompassed within a sandy dune that bustled in techno rhythms, creative director Nadège Vanhee-Cybulski looked to the toasty hues of the balmy desert as her muse this season—but with a thrilling pizzazz. Think rave festival, but for the ultra-rich. Diverting from the Maison's illustrious equestrian roots, Vanhee-Cybulski particularly aimed to capture the bivouac elements of a music festival by taking camping accoutrements and metamorphosing them into exquisite, wearable pieces. As the SS23 collection ushered out on the runway, we got to catch the concept fashioned on an earthy symphony of leather jumpsuits, hooded ponchos, windbreakers, and a tech-fabric raincoat accented with an underlayer of breathable mesh. Retaining the brand's posh elegance, an array of slim-line dresses with flowy silhouettes featured handy zips for a customisable look. The collection was certainly a fun shift from the brand's accustomed refined poise, and Vanhee-Cybulski delivered it flawlessly. While deviations from a house's established ethos are usually a hit or miss, Vanhee-Cybulski was able to present a neoteric collection that appeals to Hermès's newer, younger buyers without eliminating the mature characteristics that long-time clienteles expect. To conclude, the Hermès SS23 show was undeniably an exciting one to behold, and we can't wait to see what Nadège Vanhee-Cybulski will conjure up next season!" — Phyll Wu, editorial assistant
RUNWAY LOOKS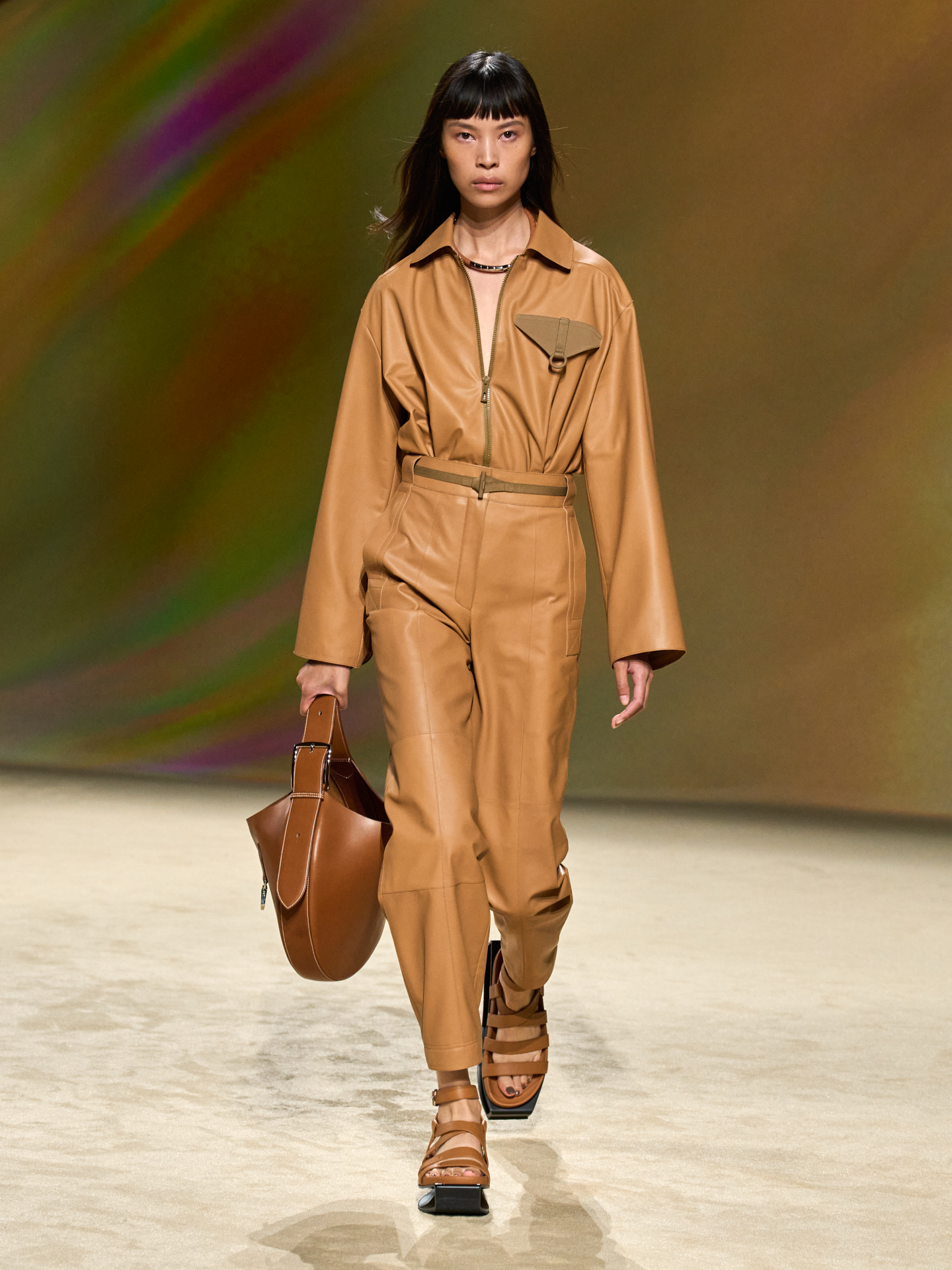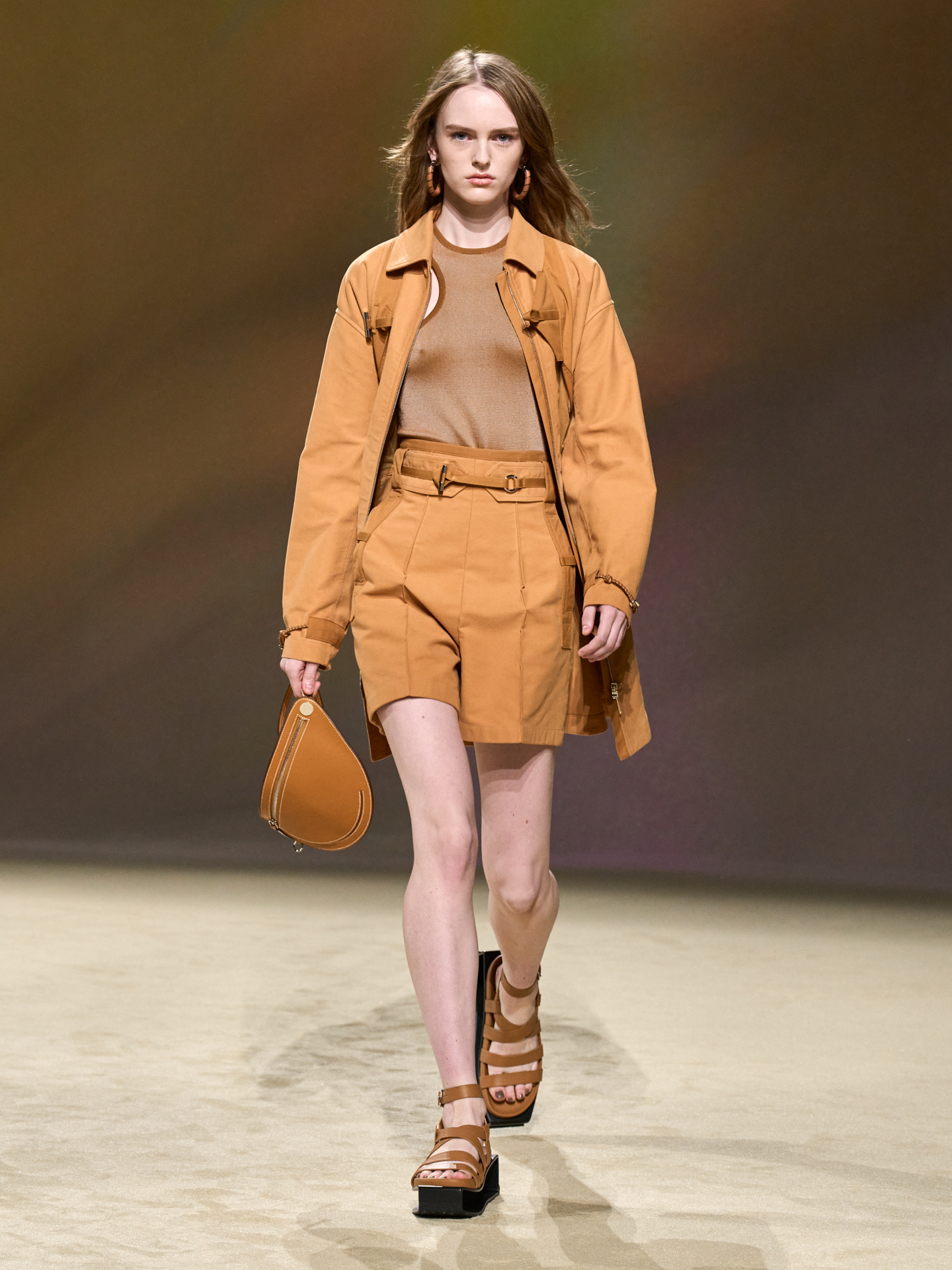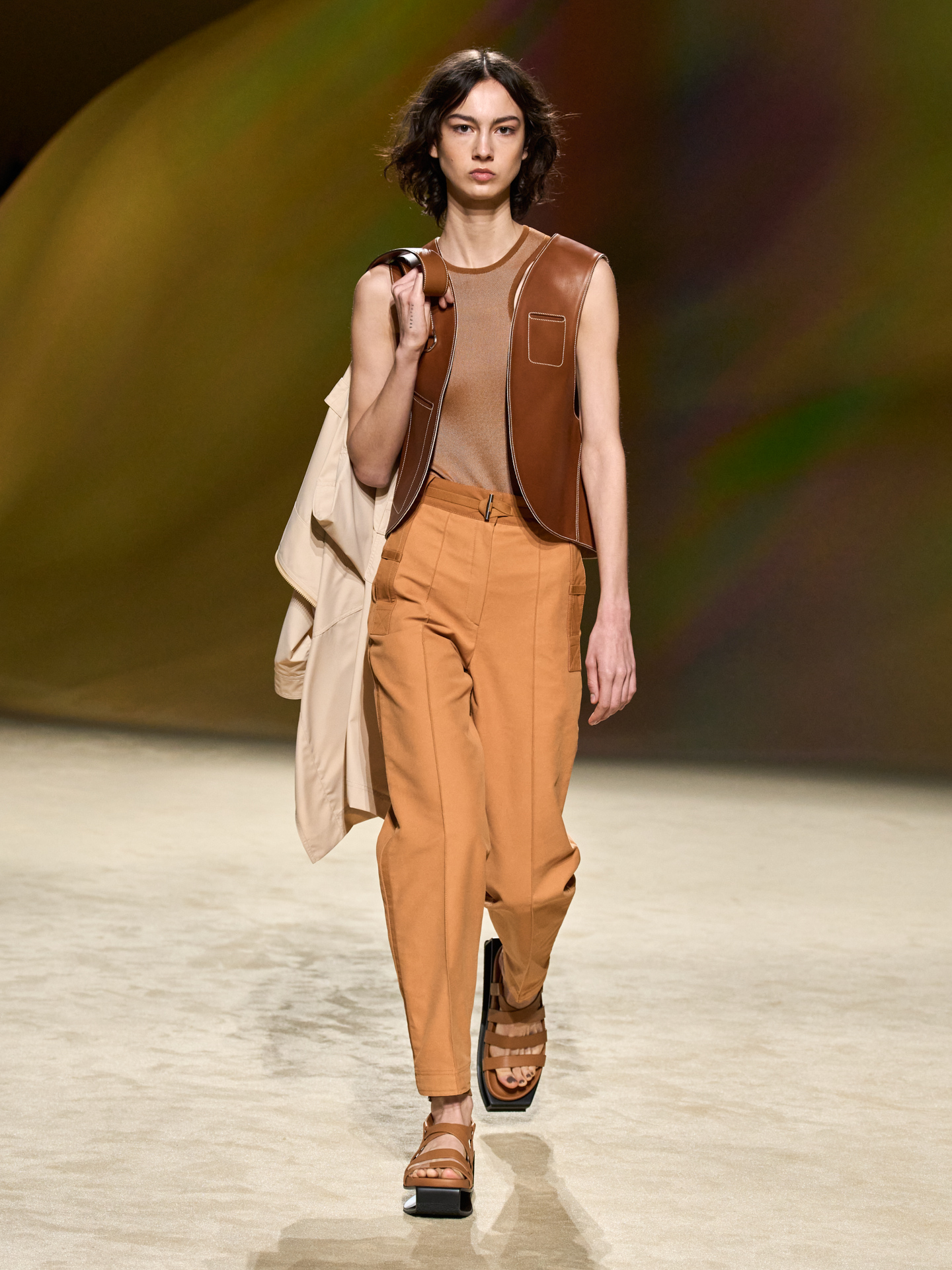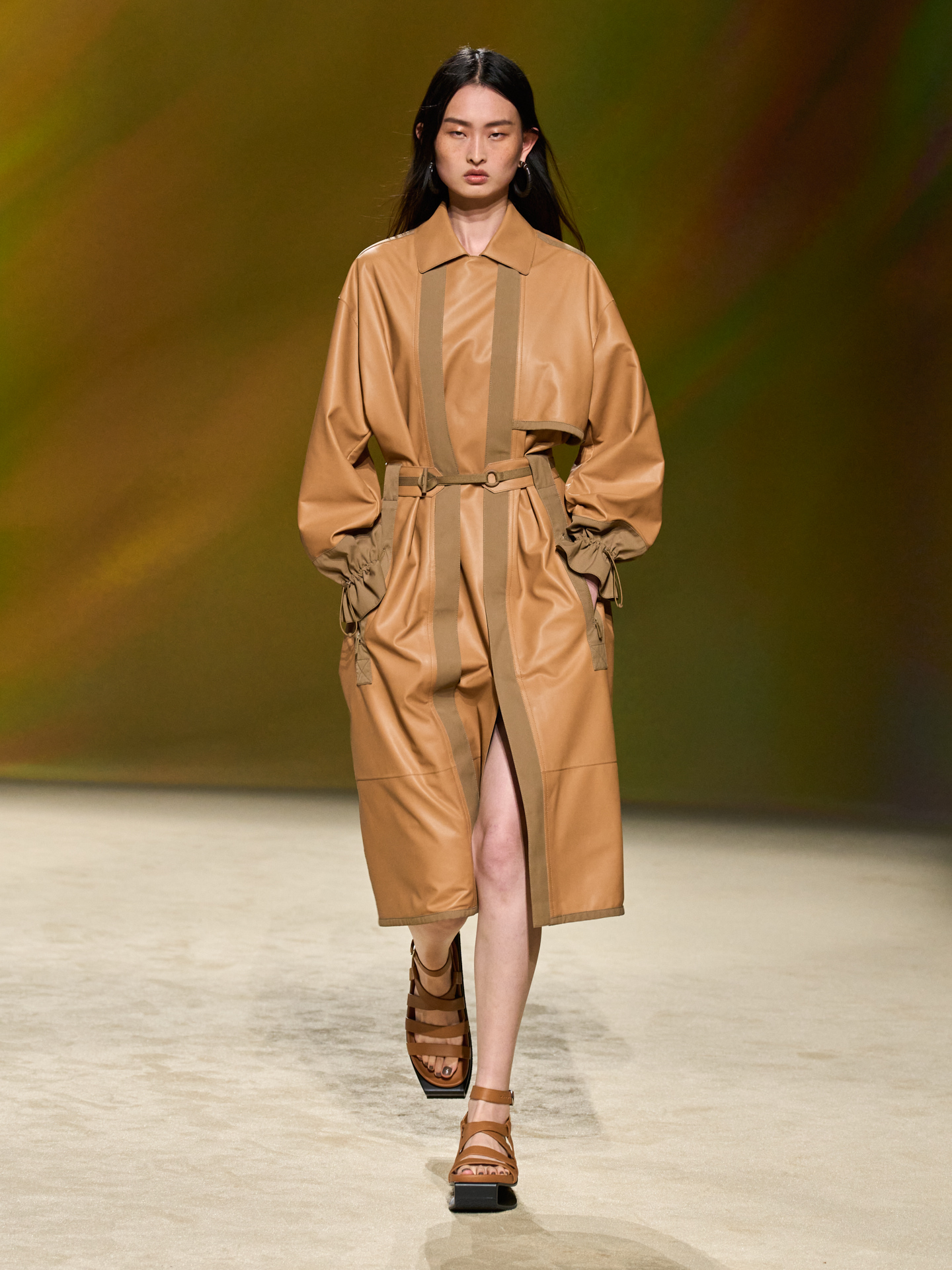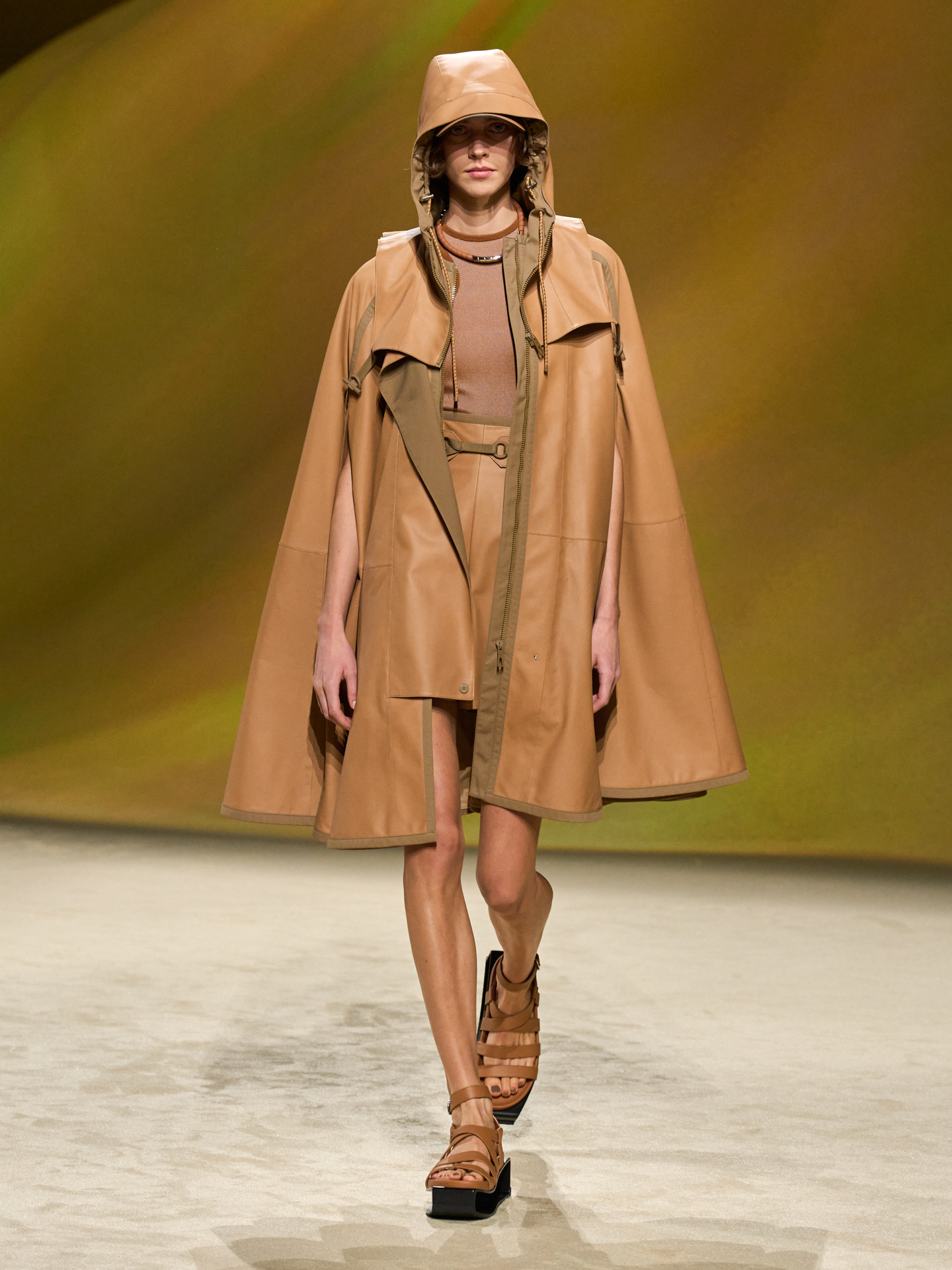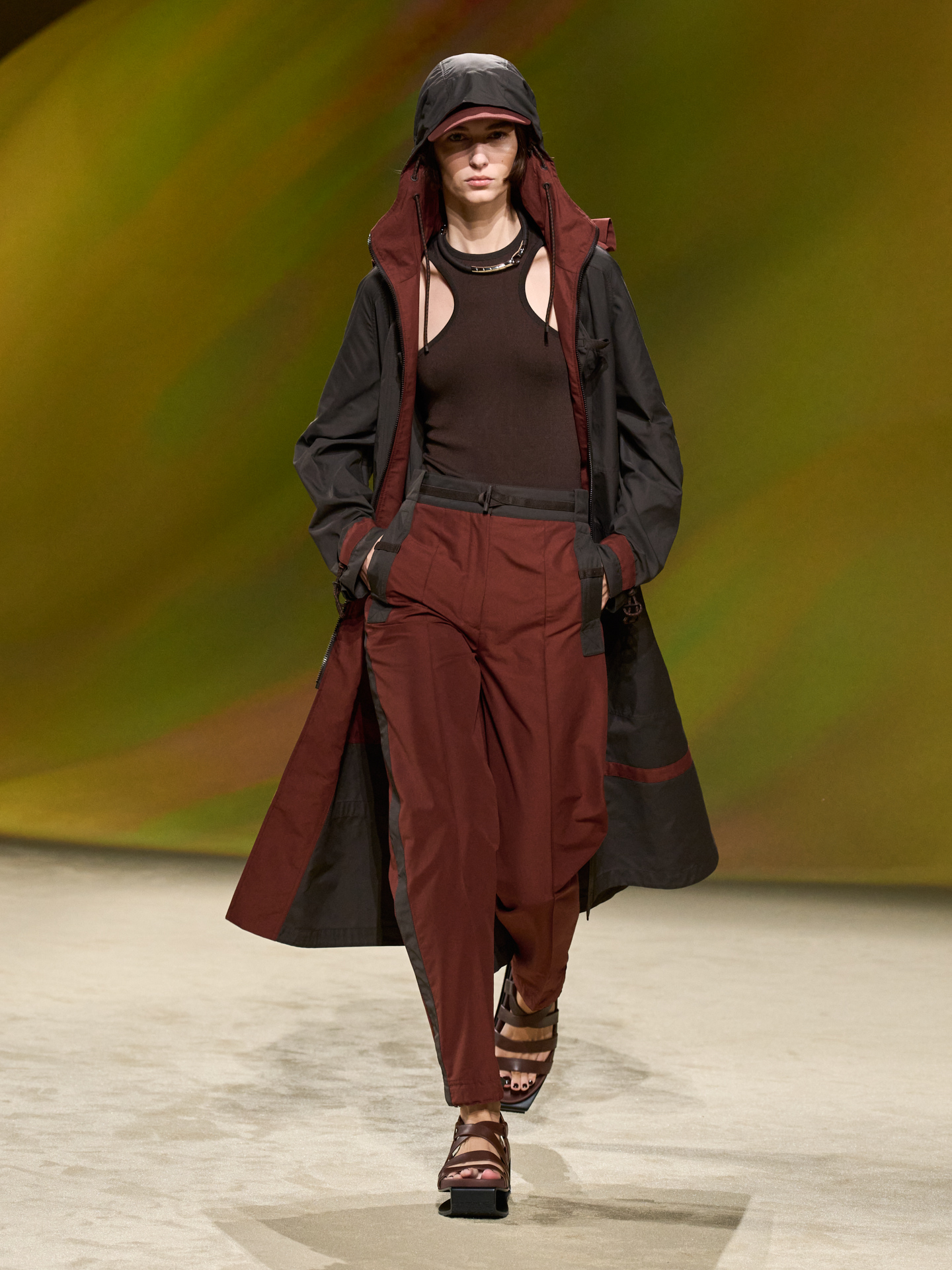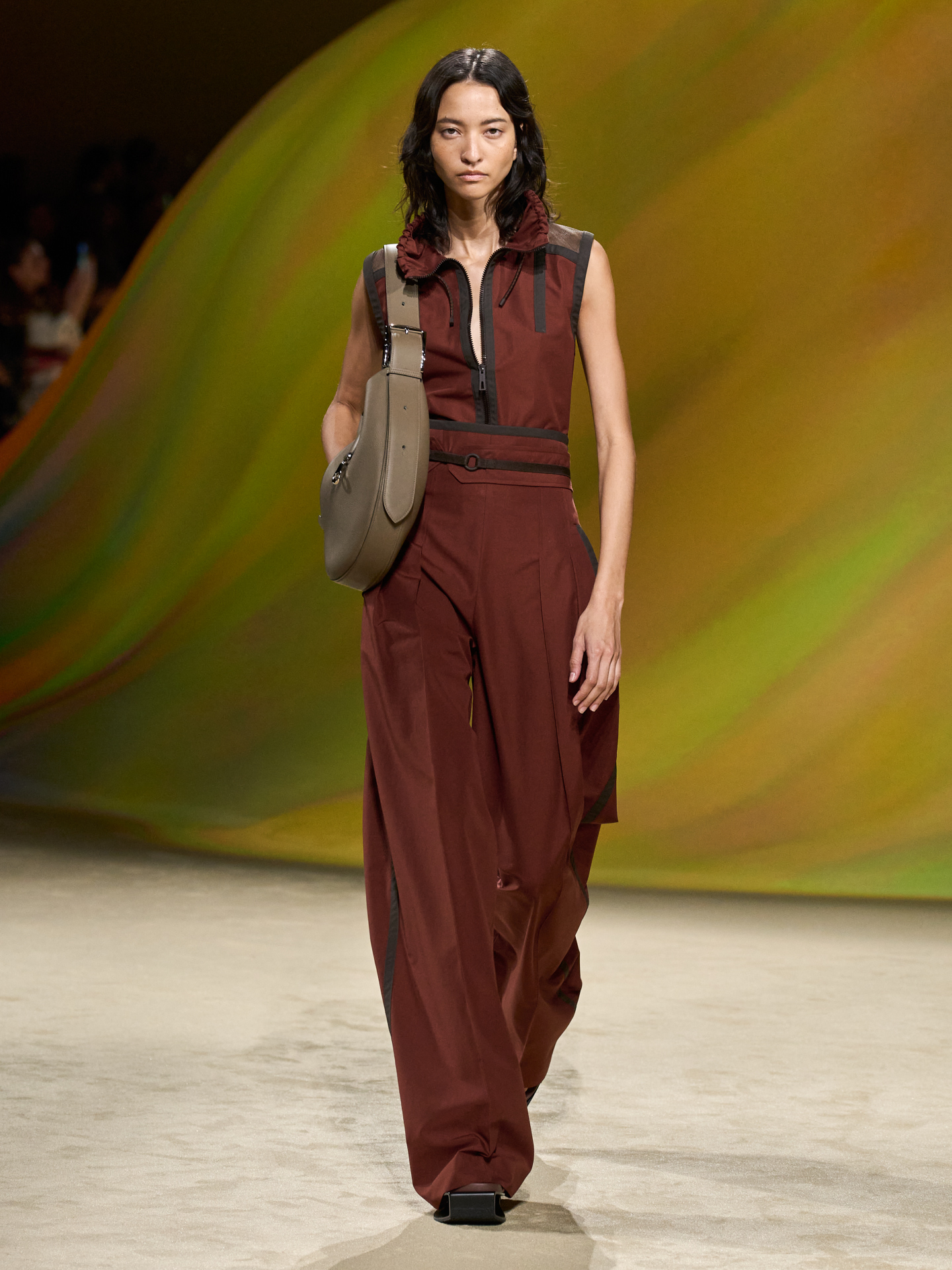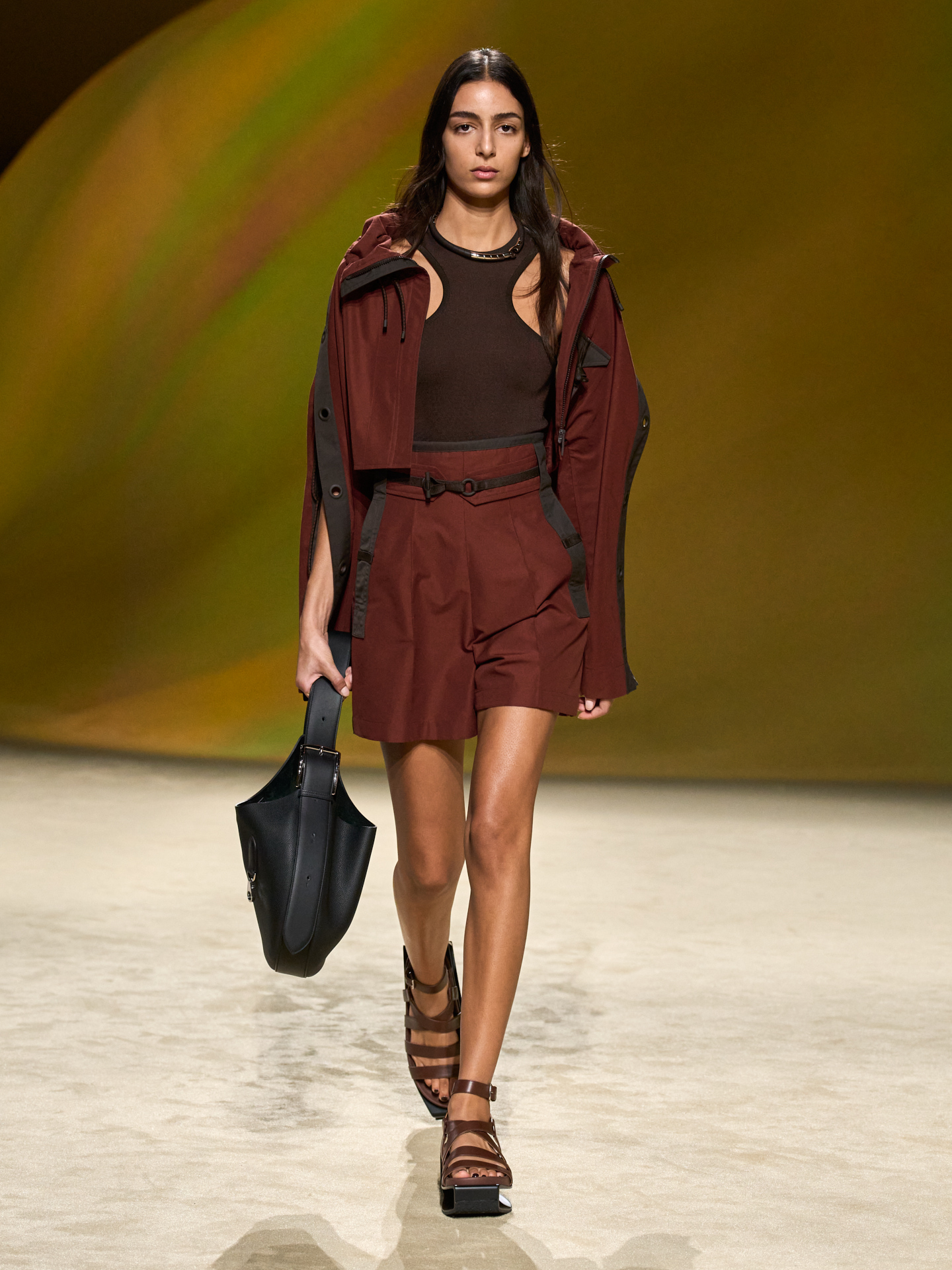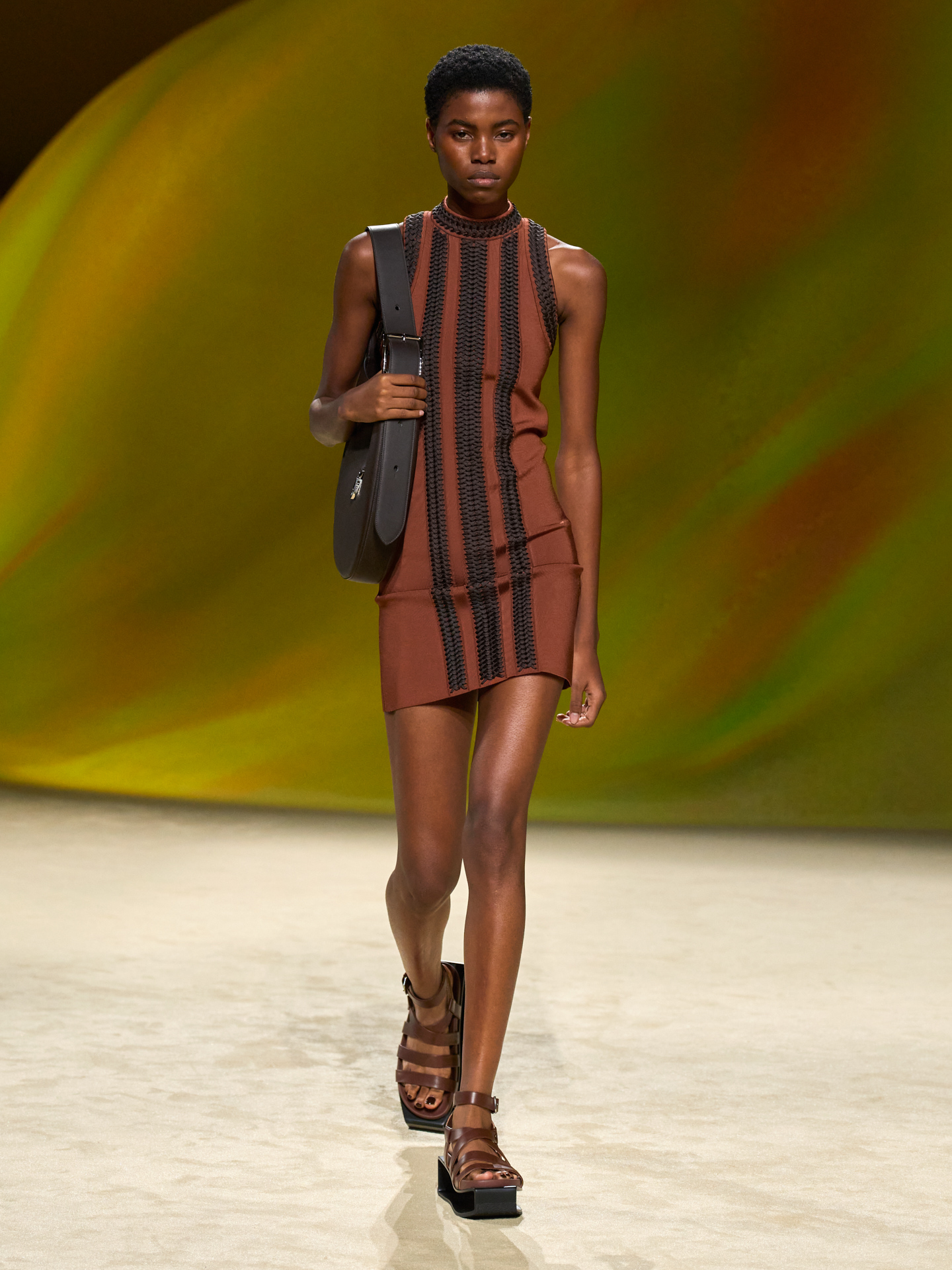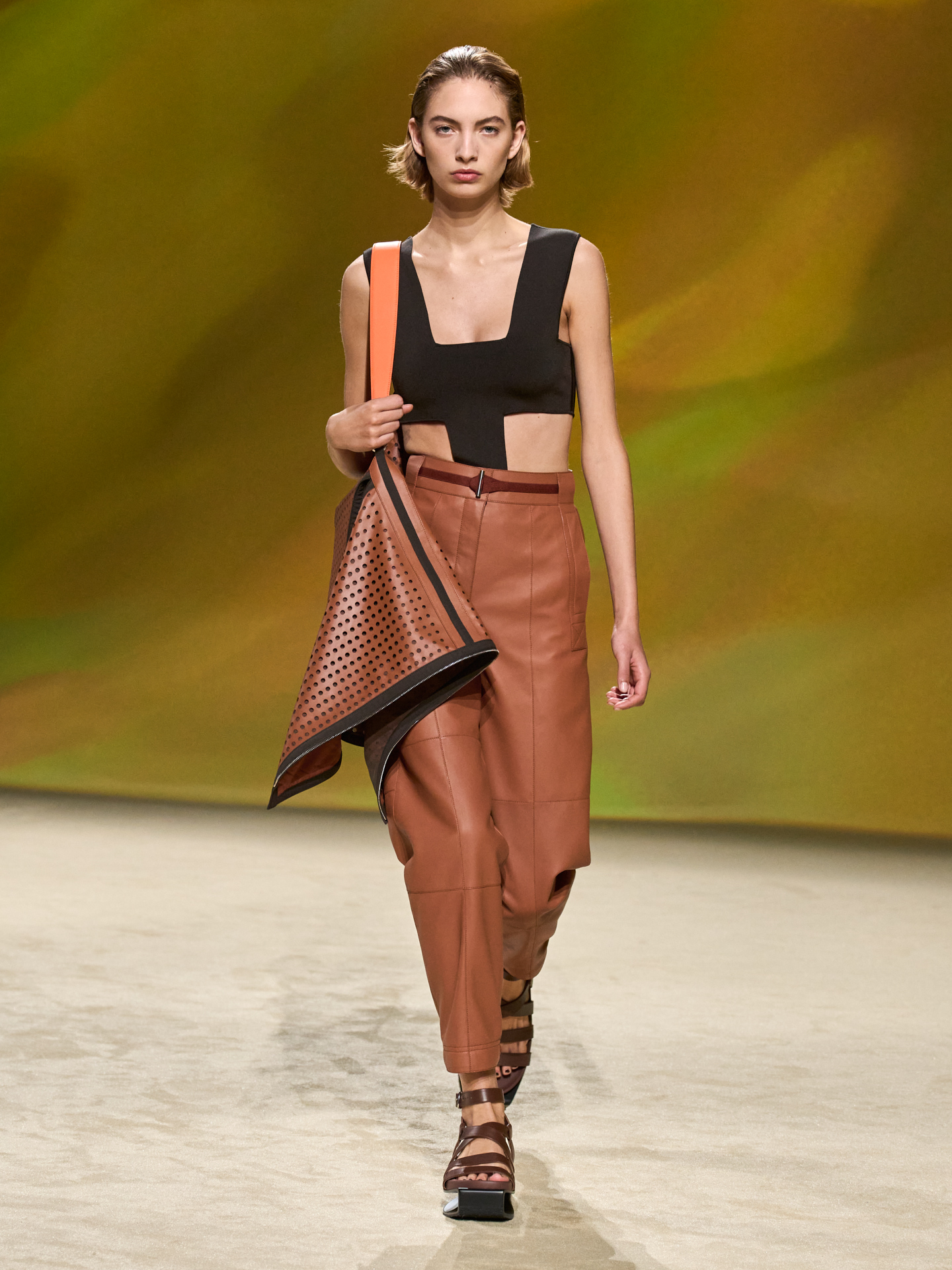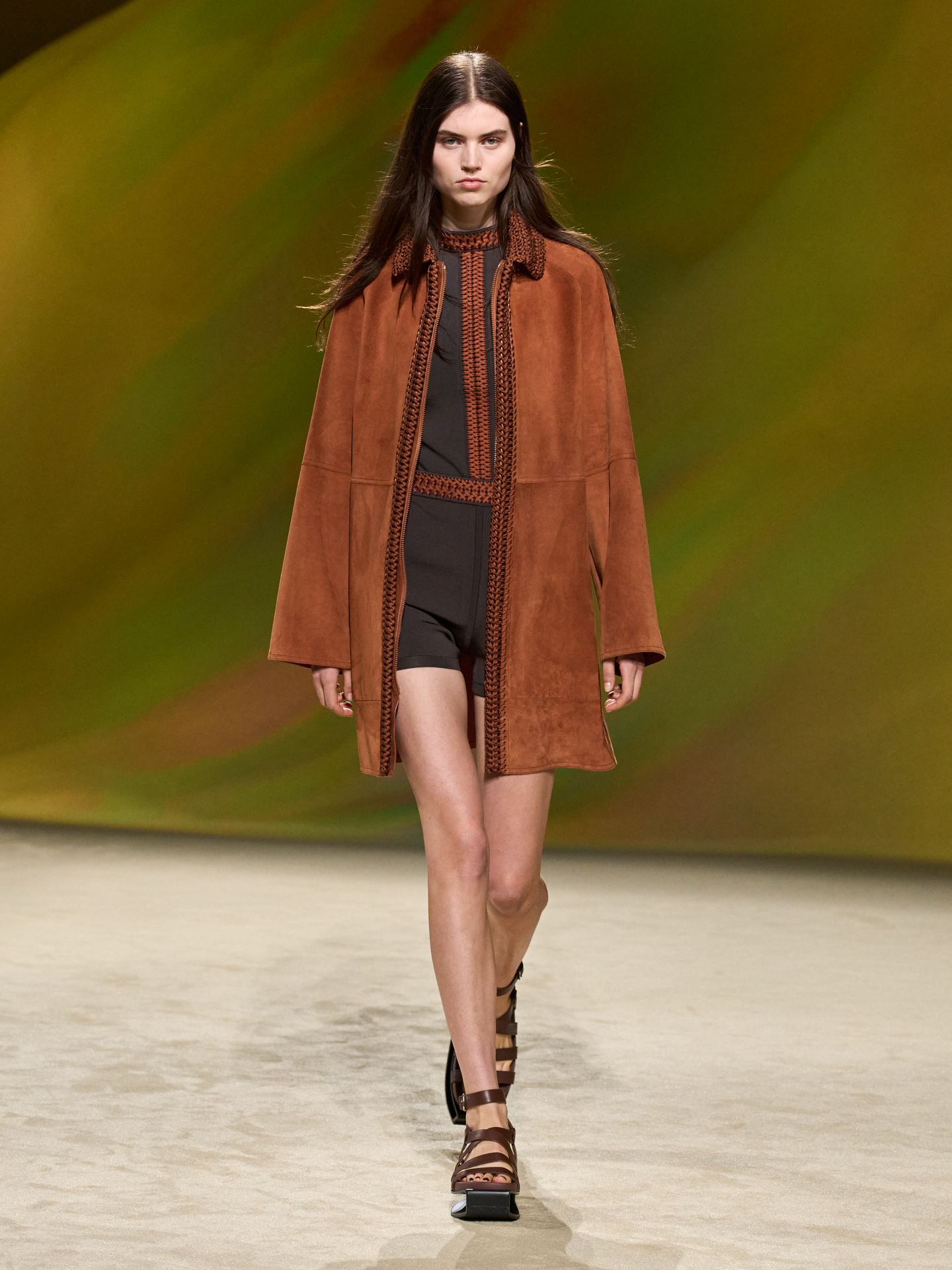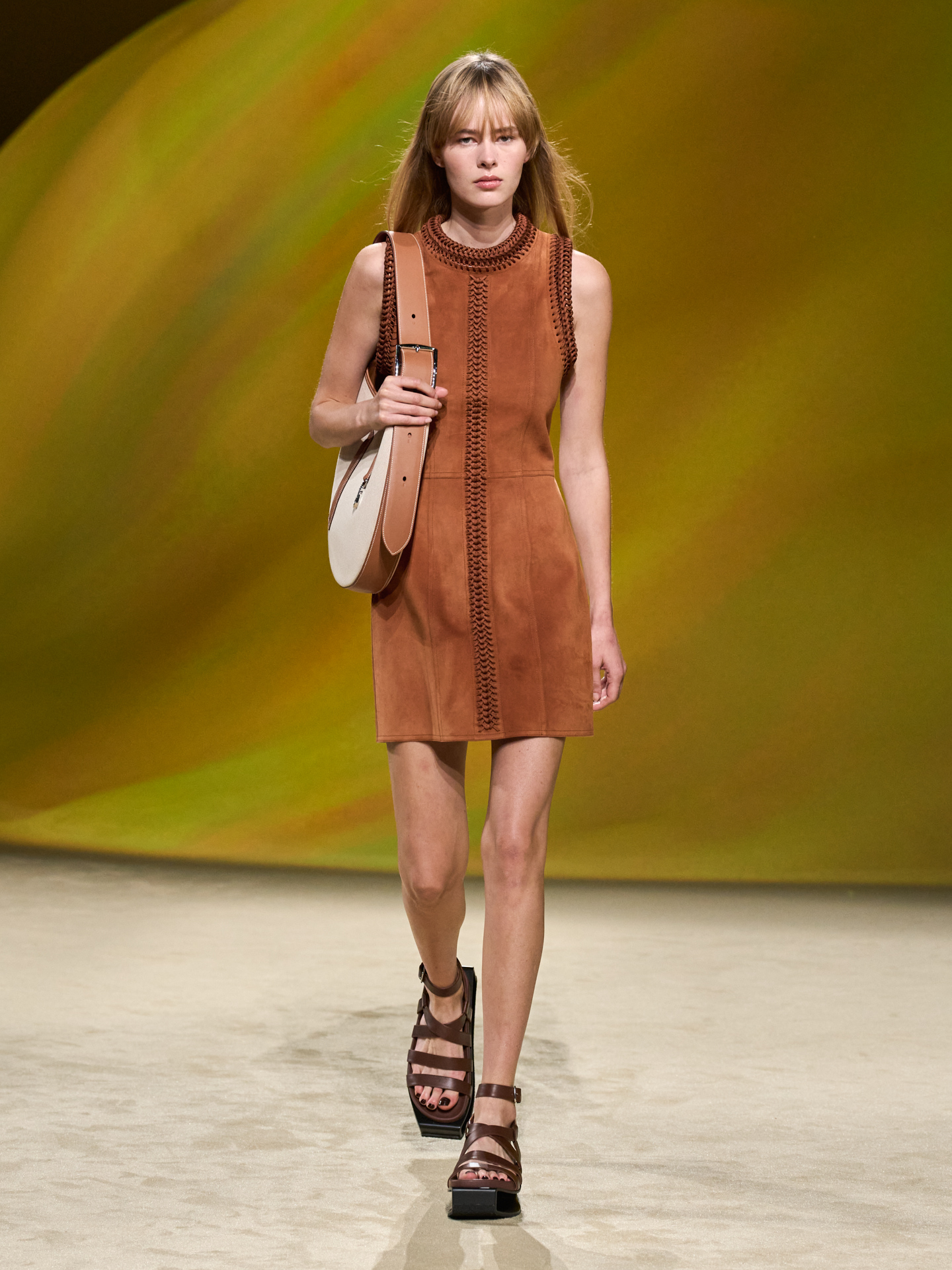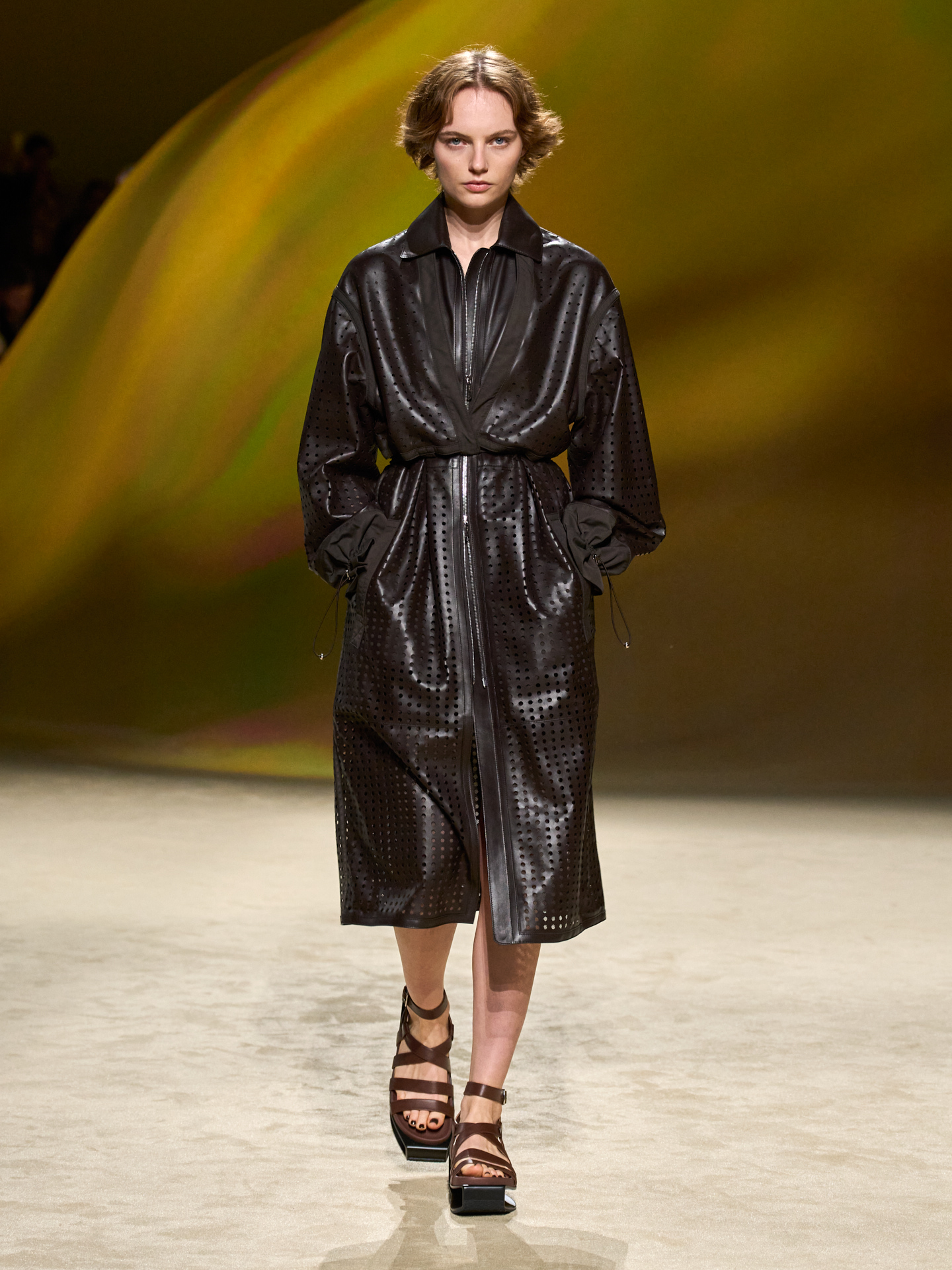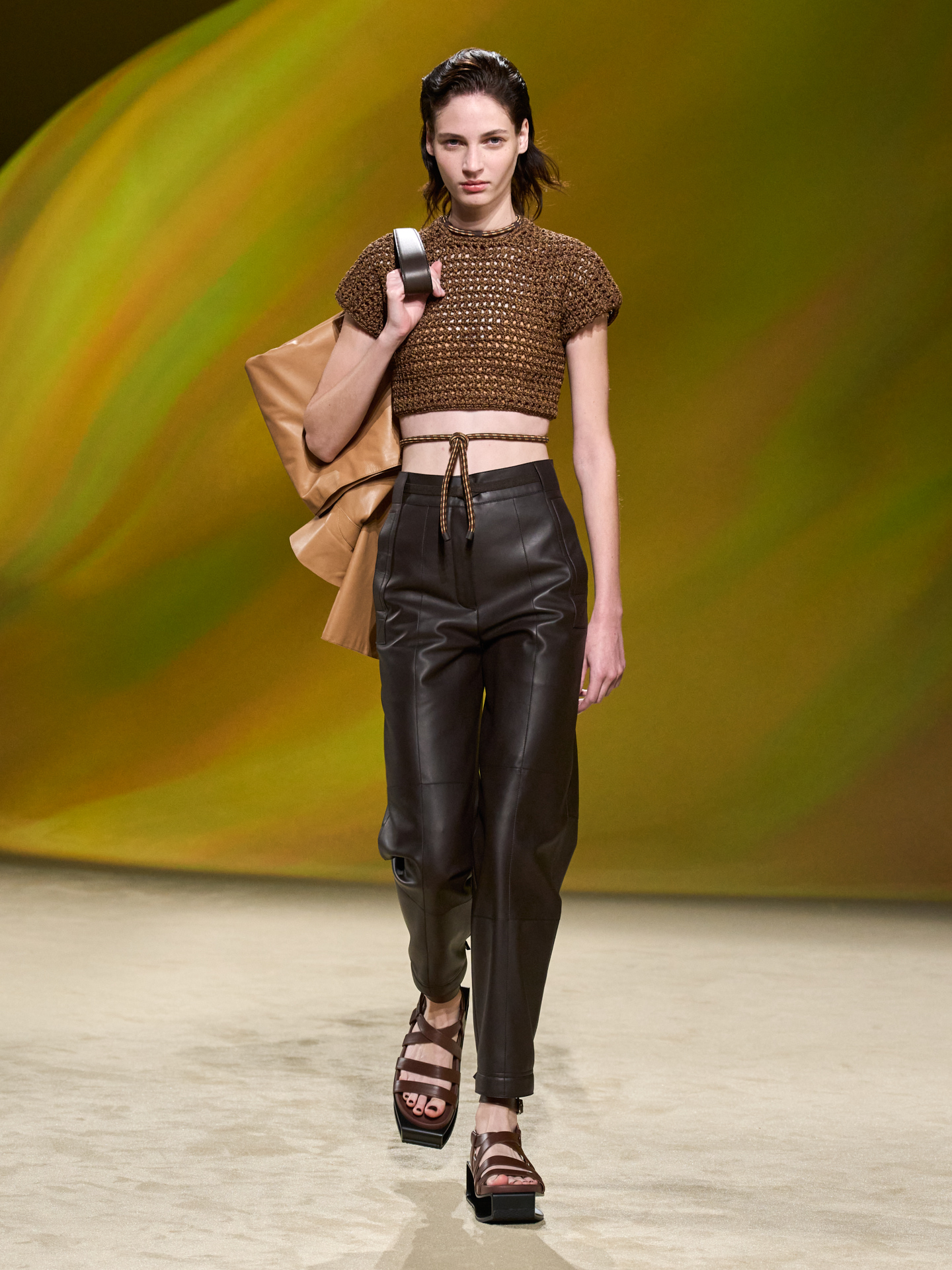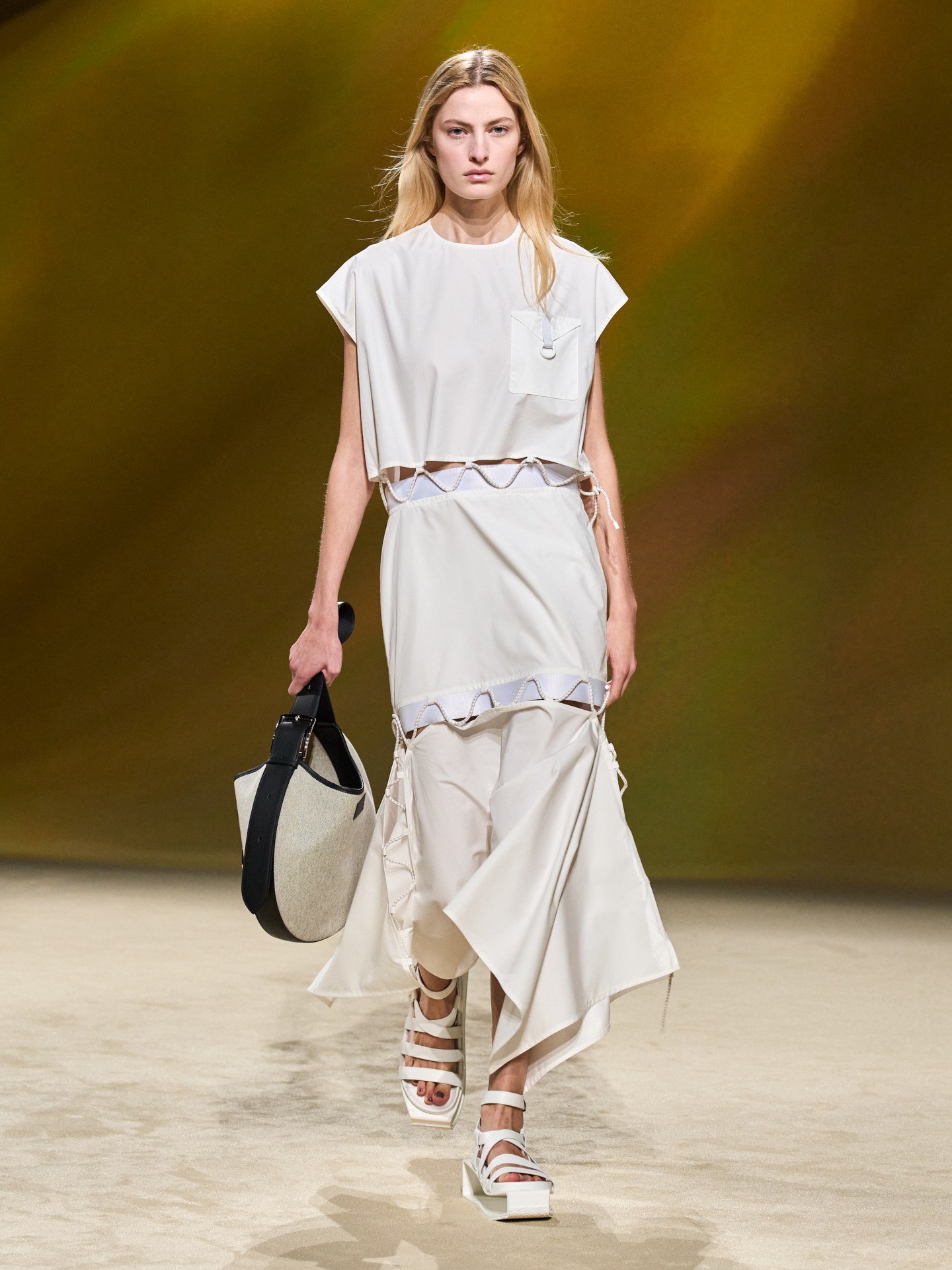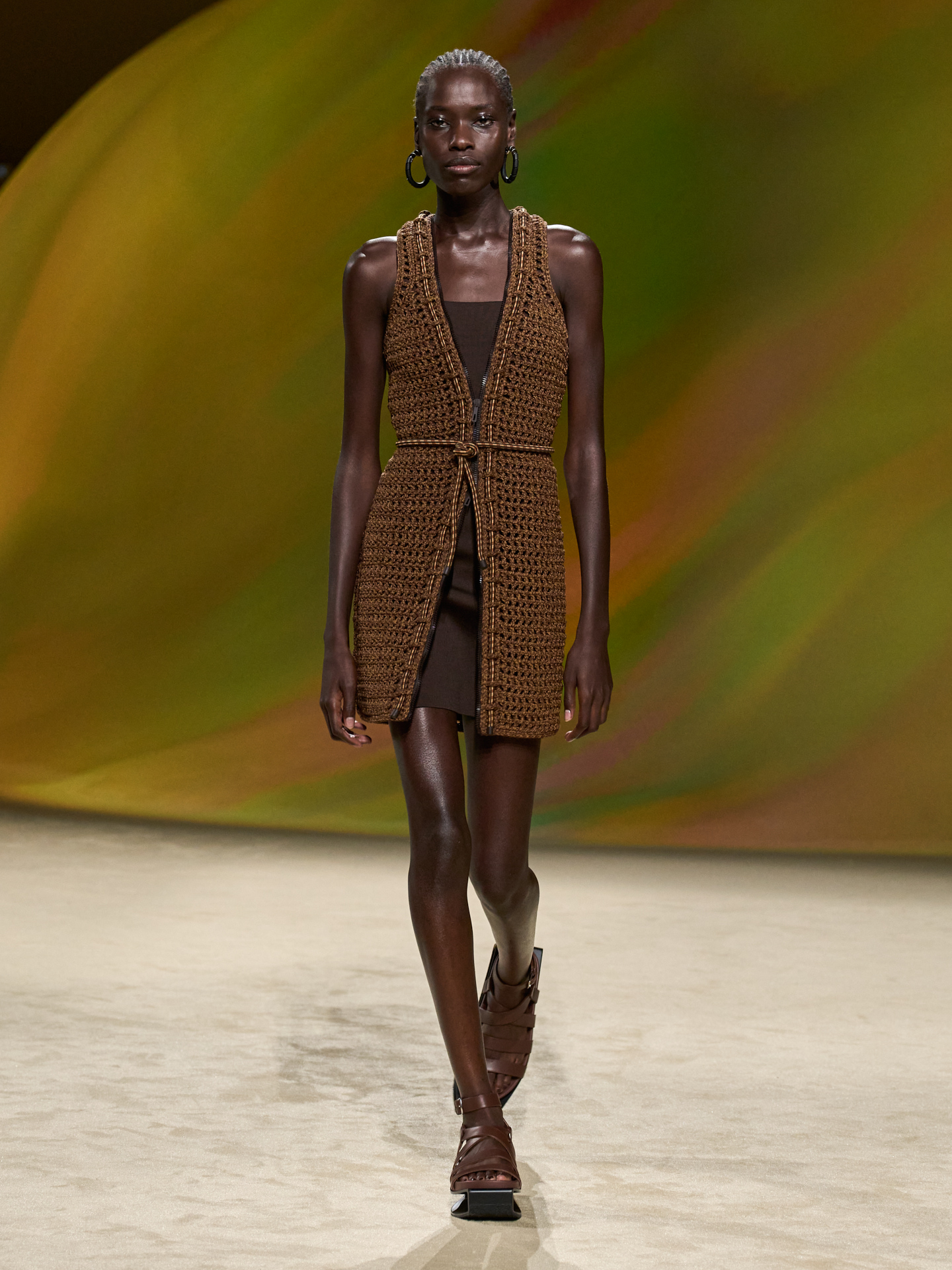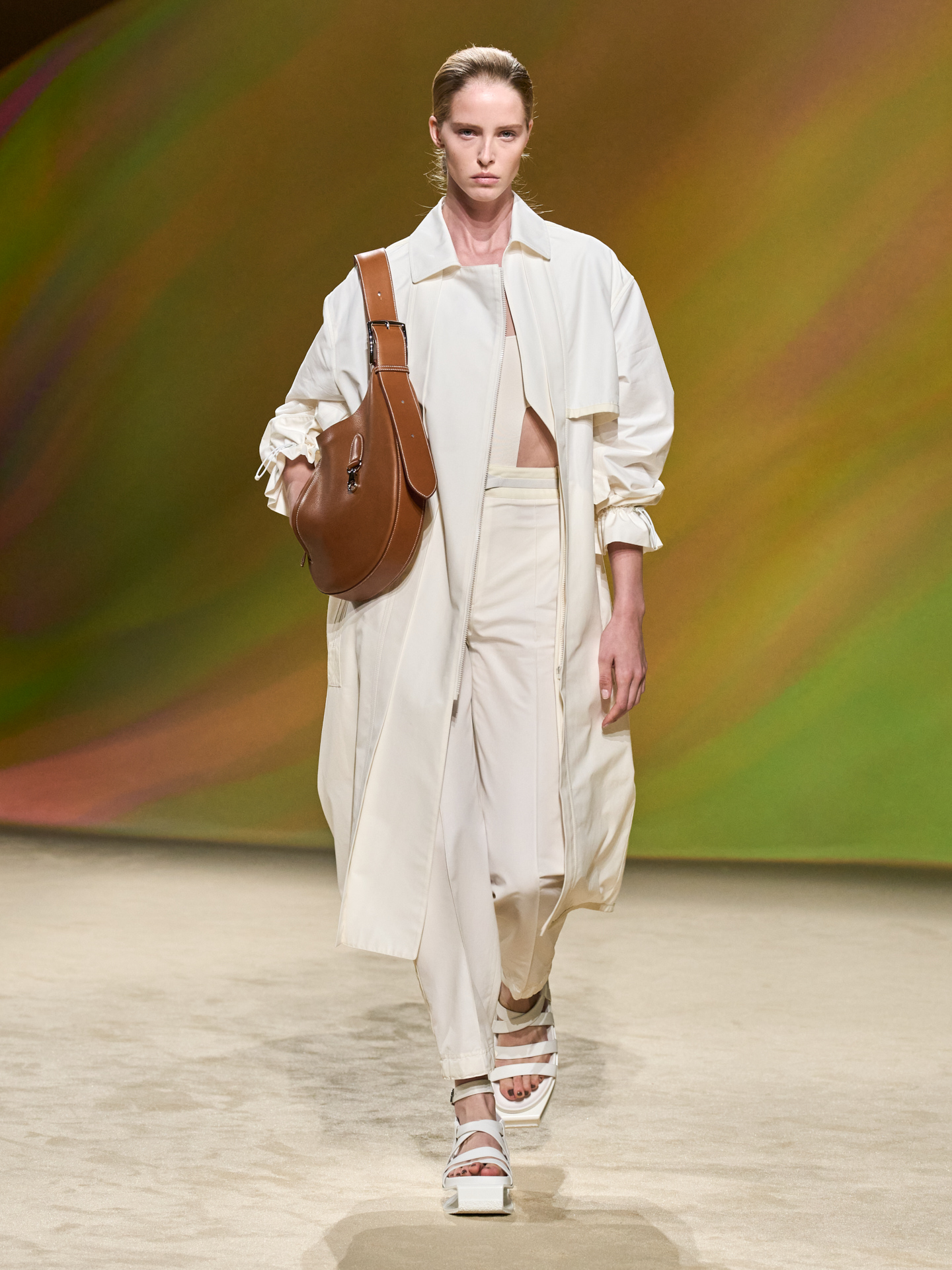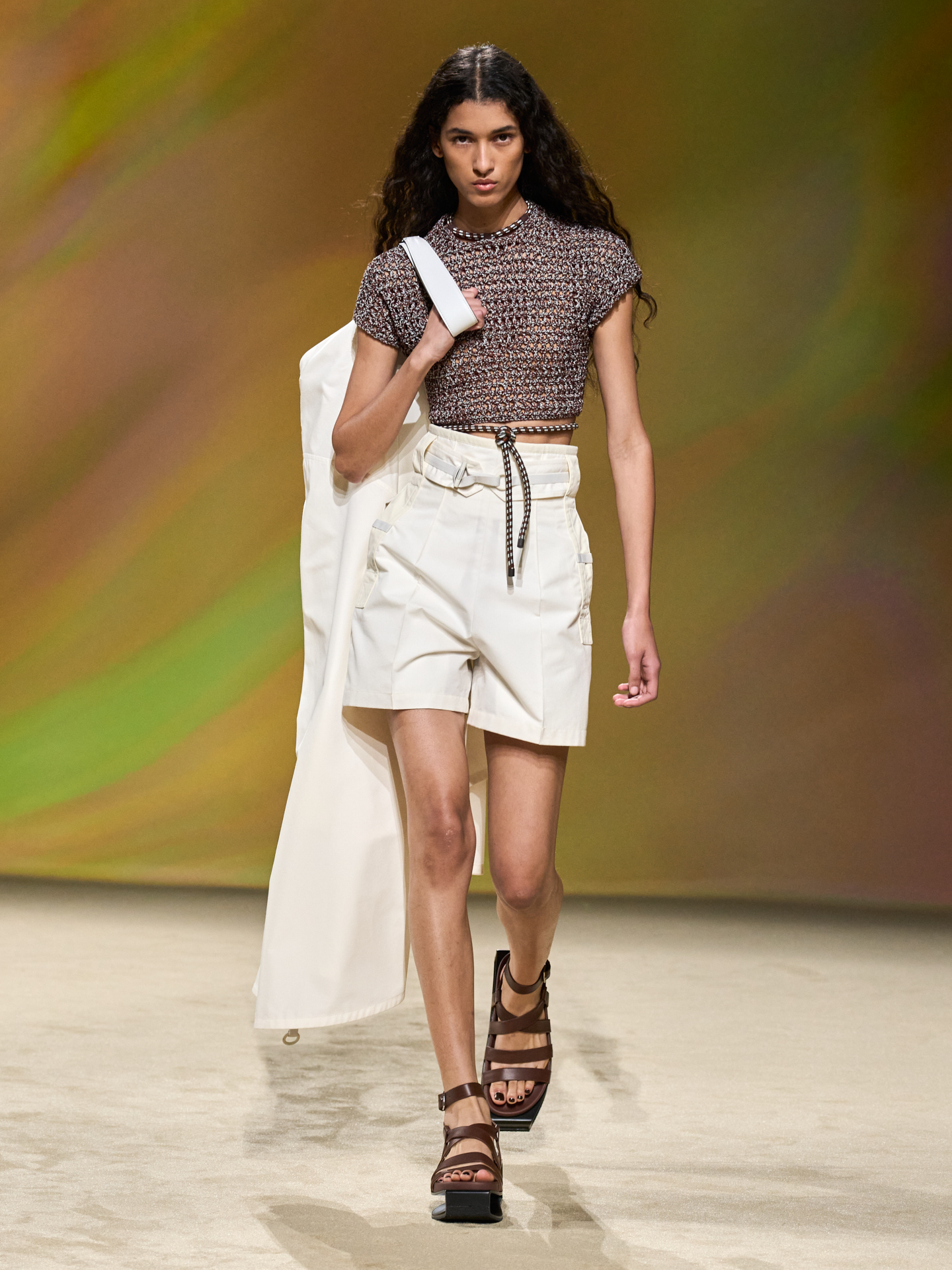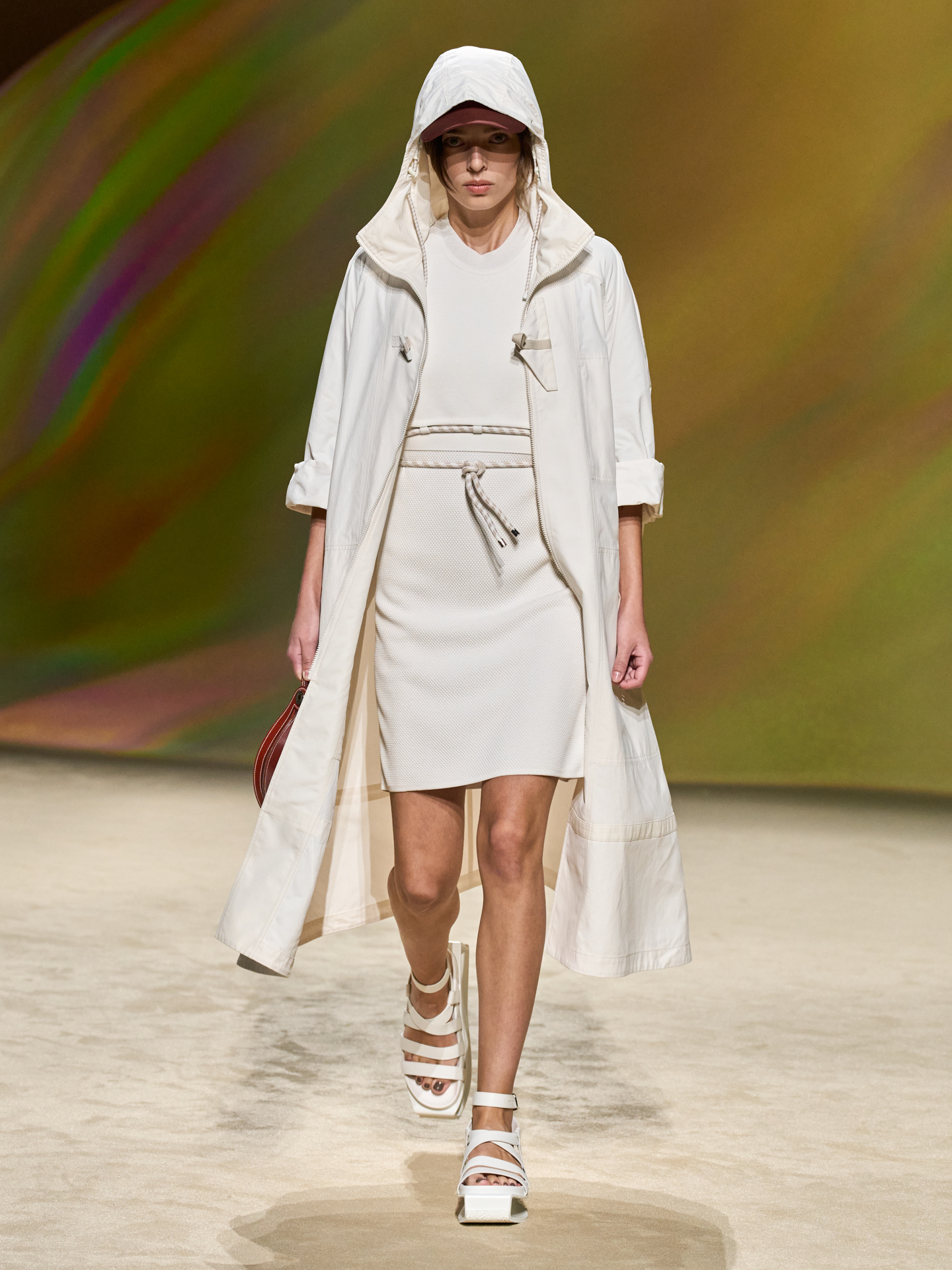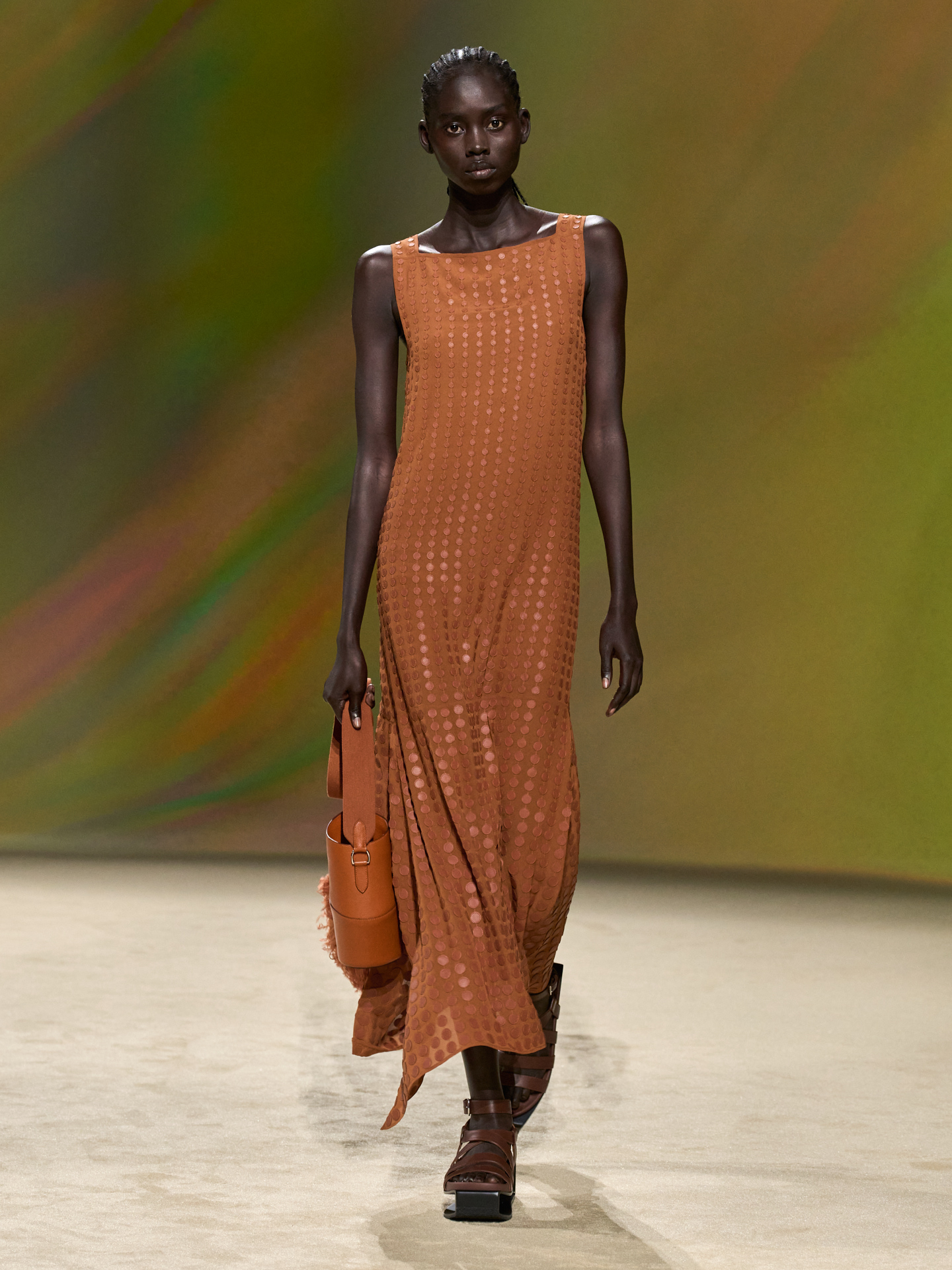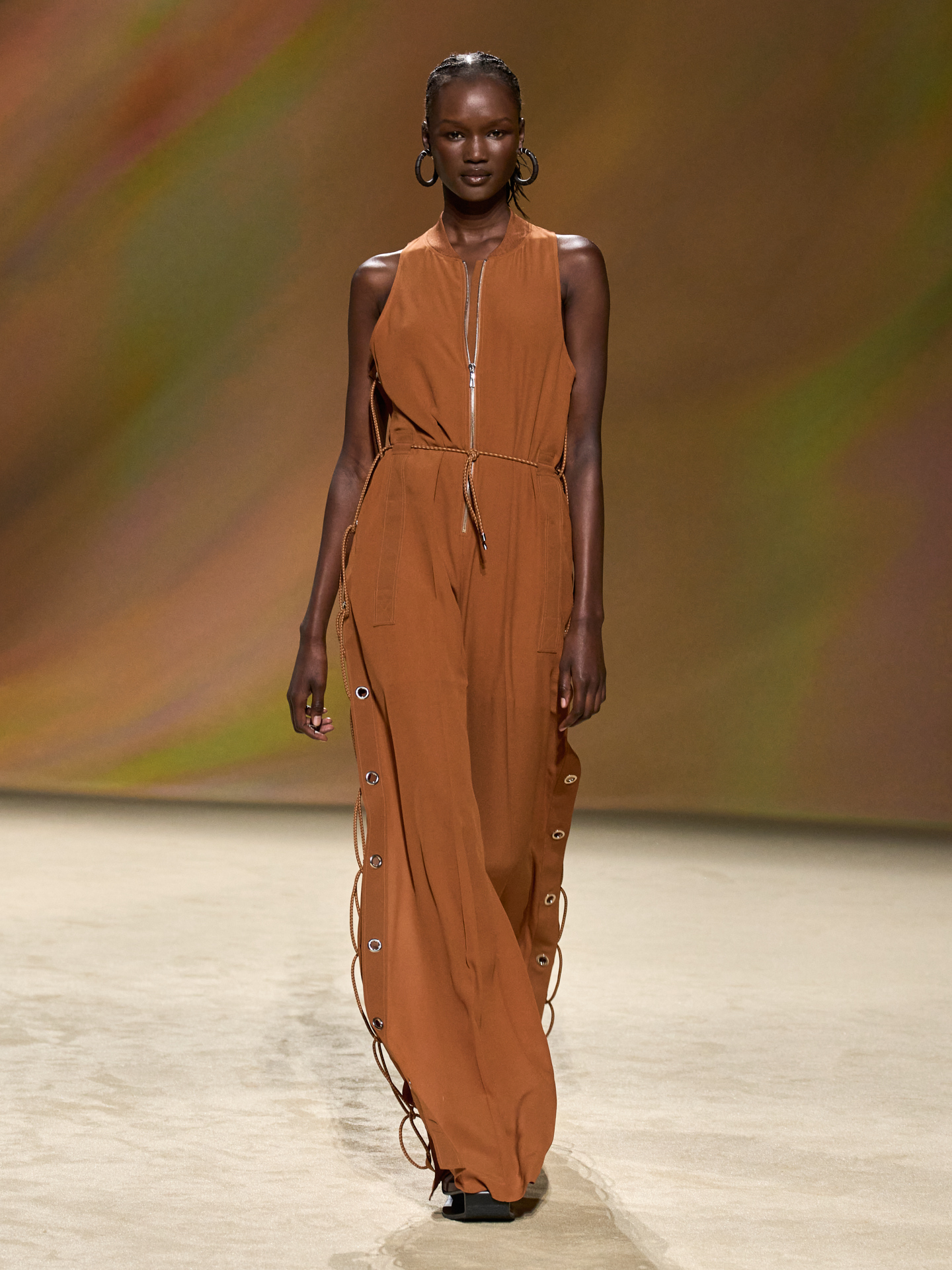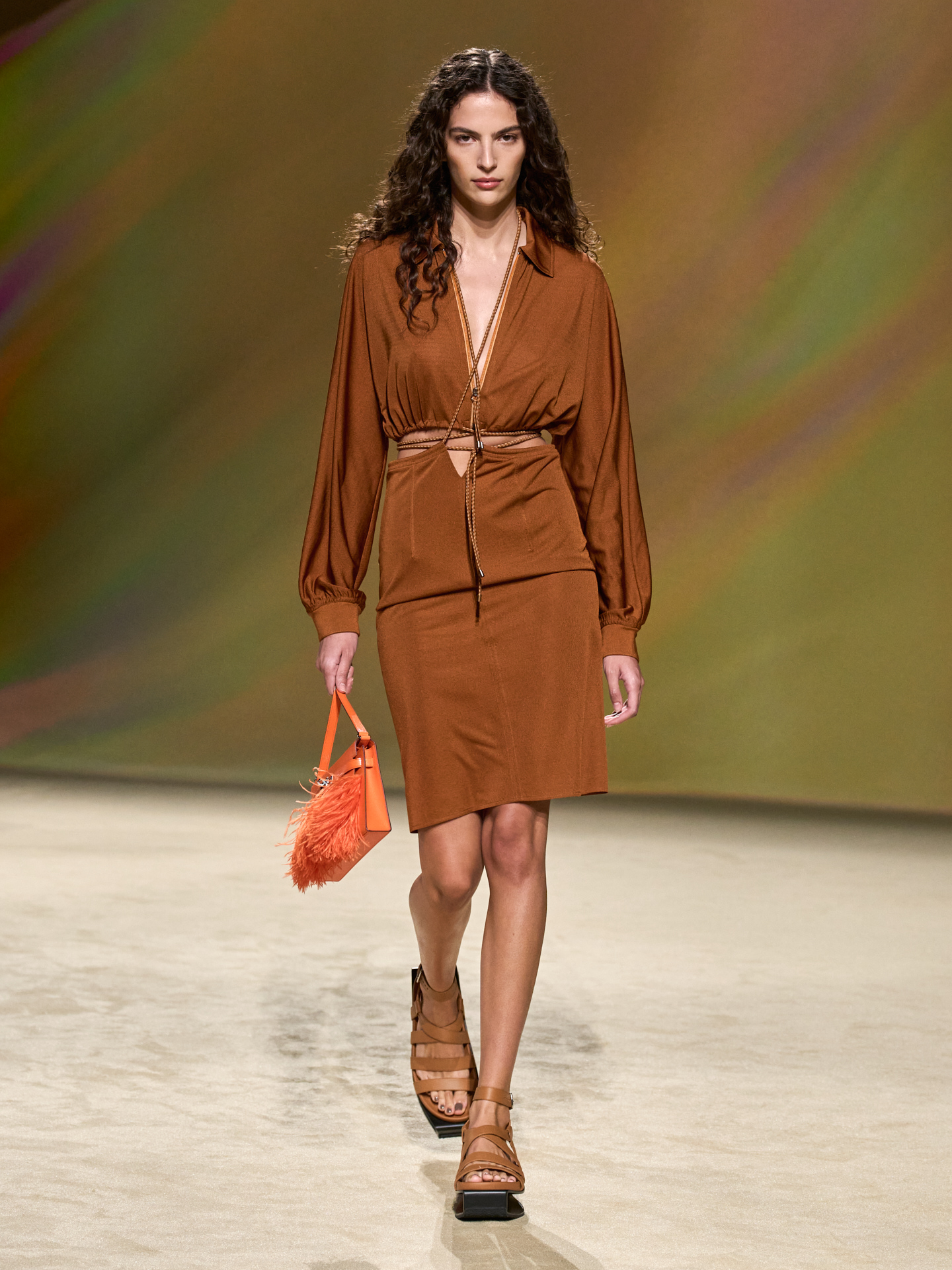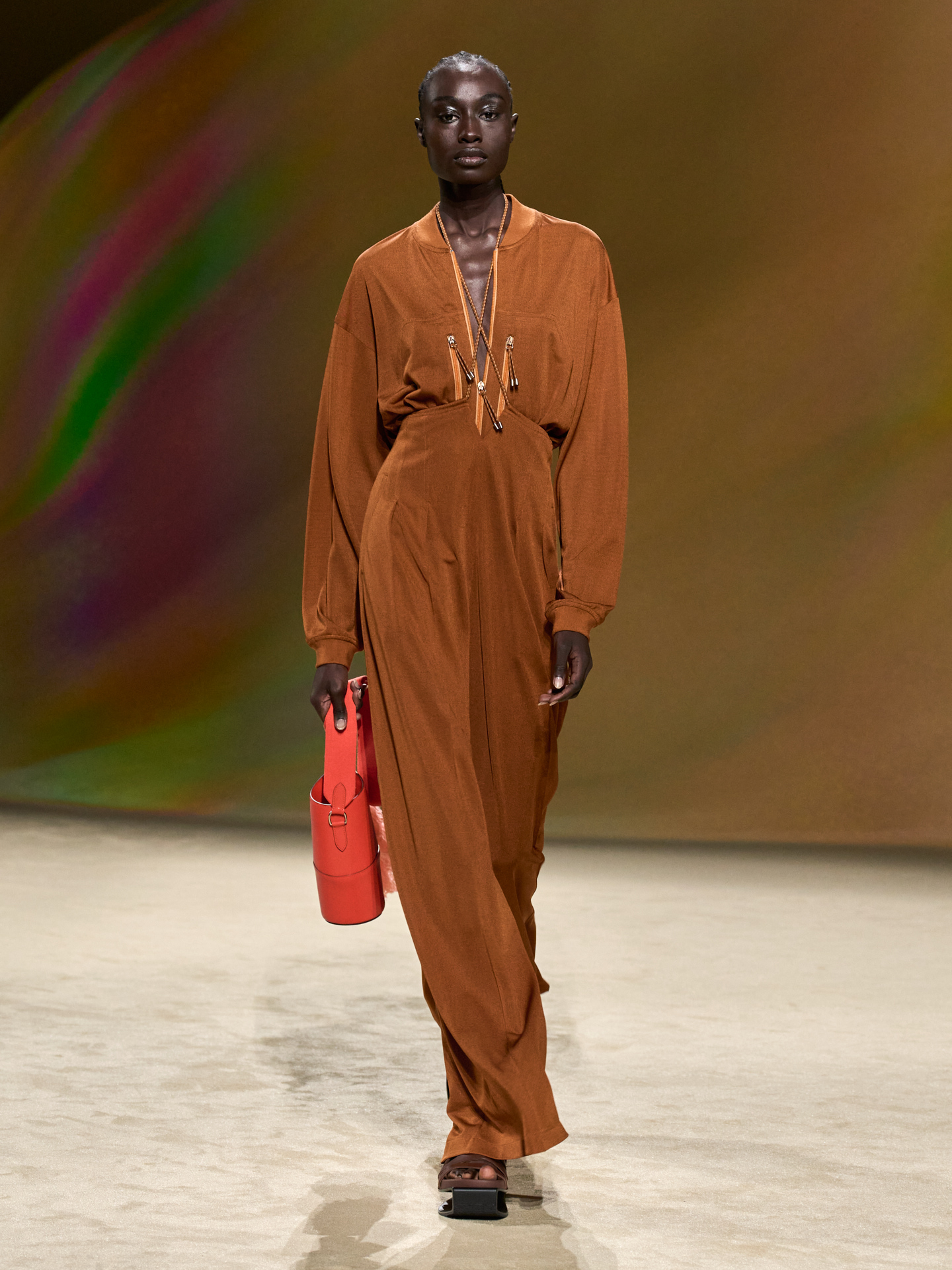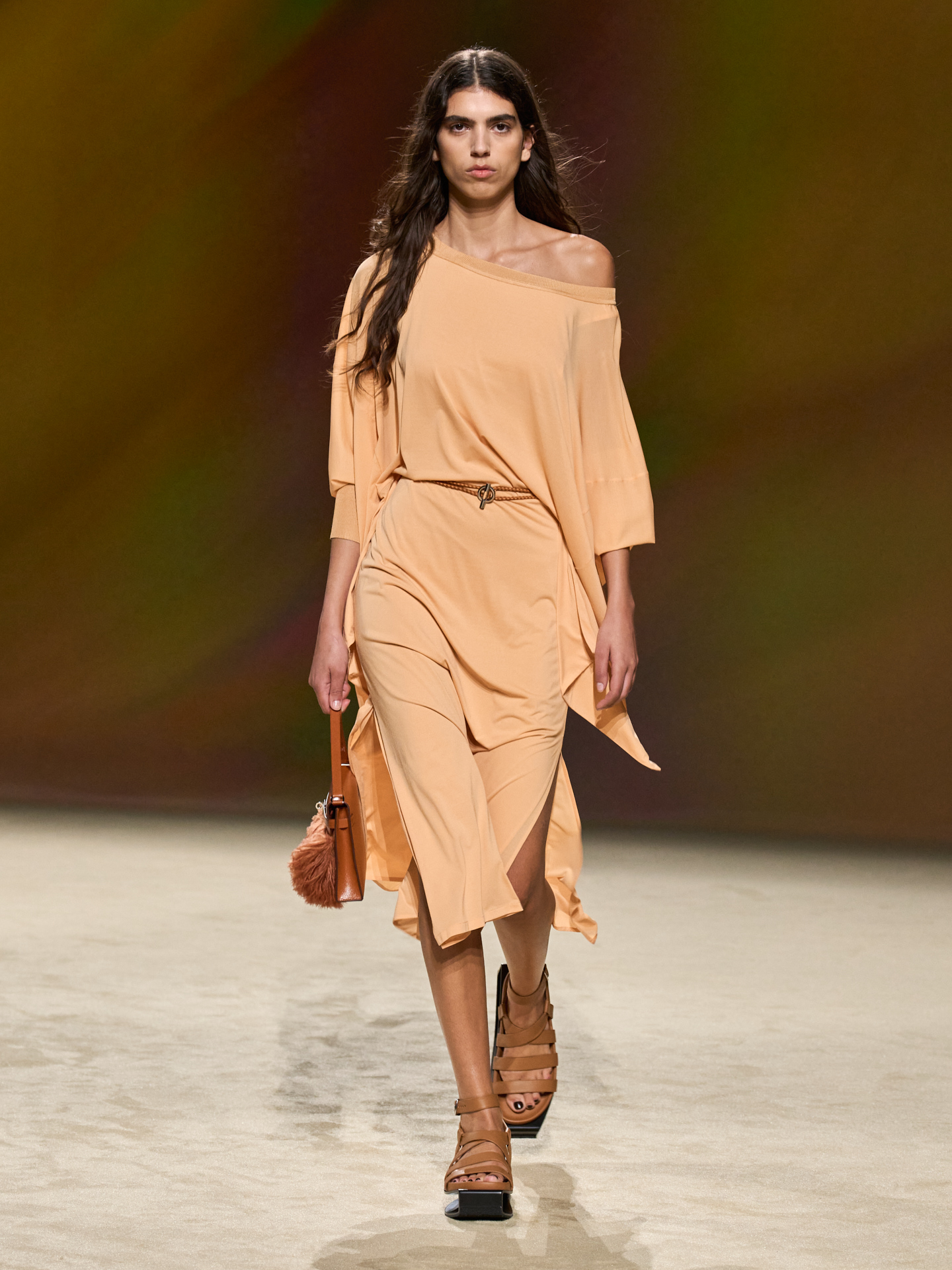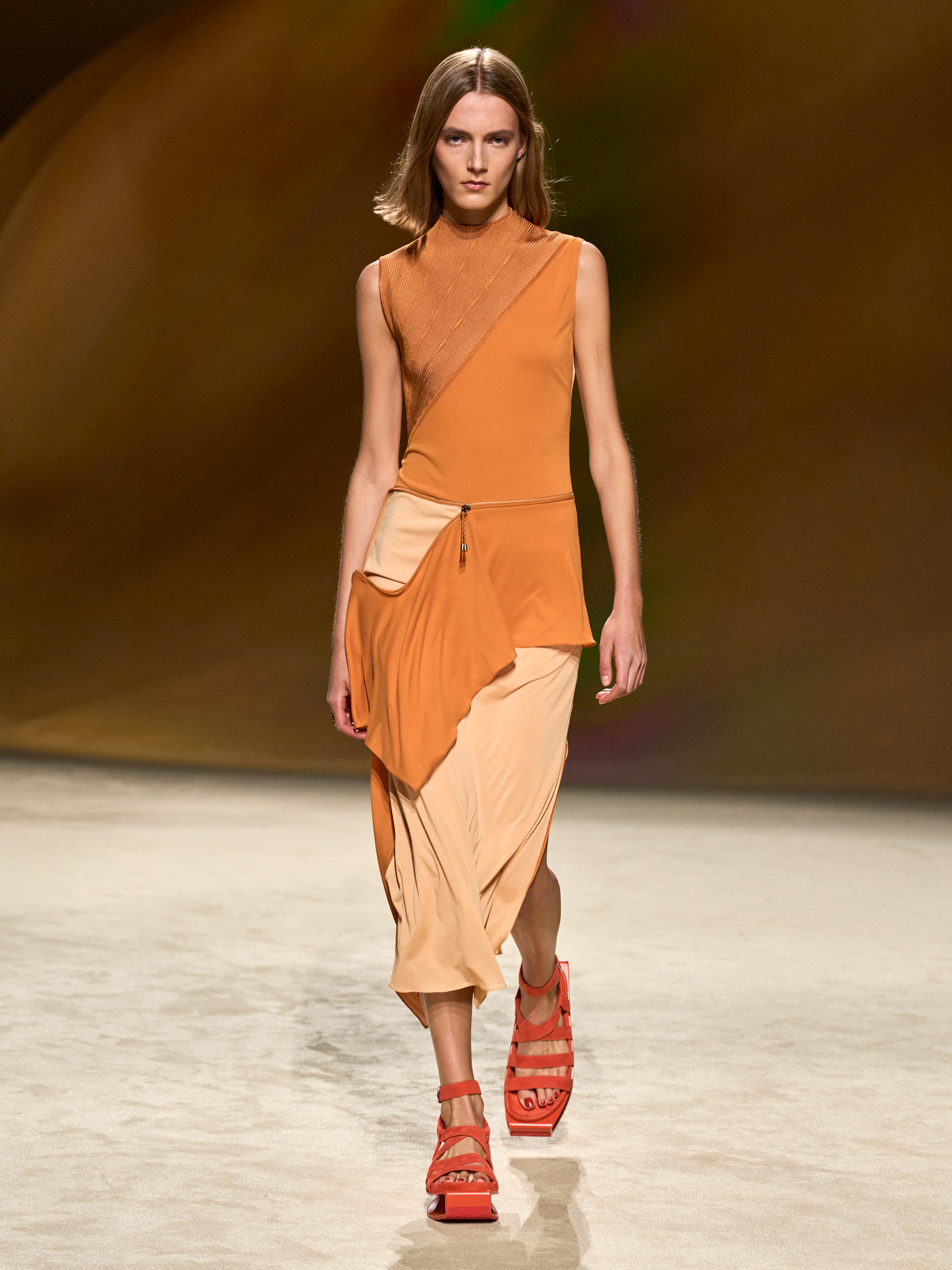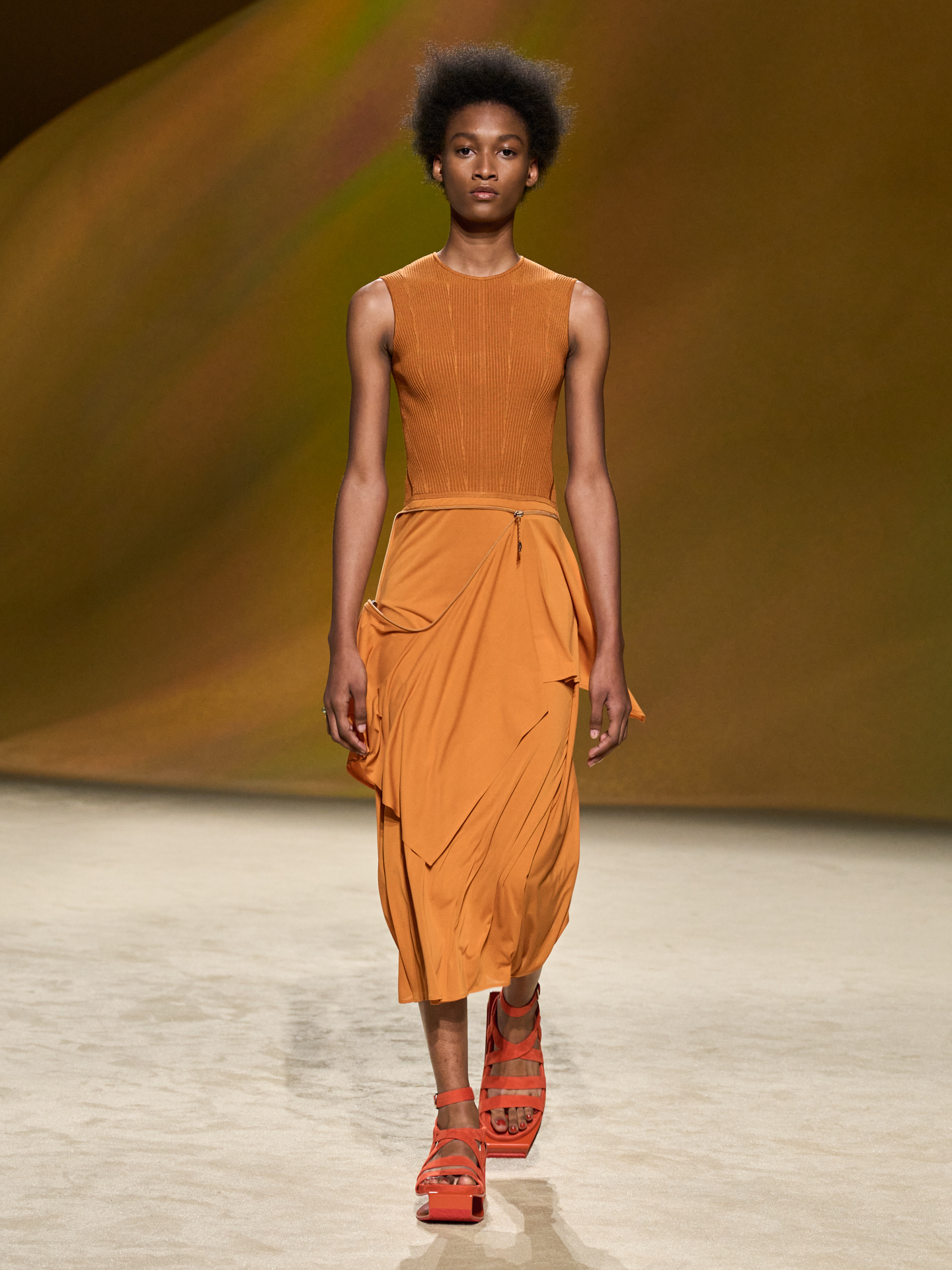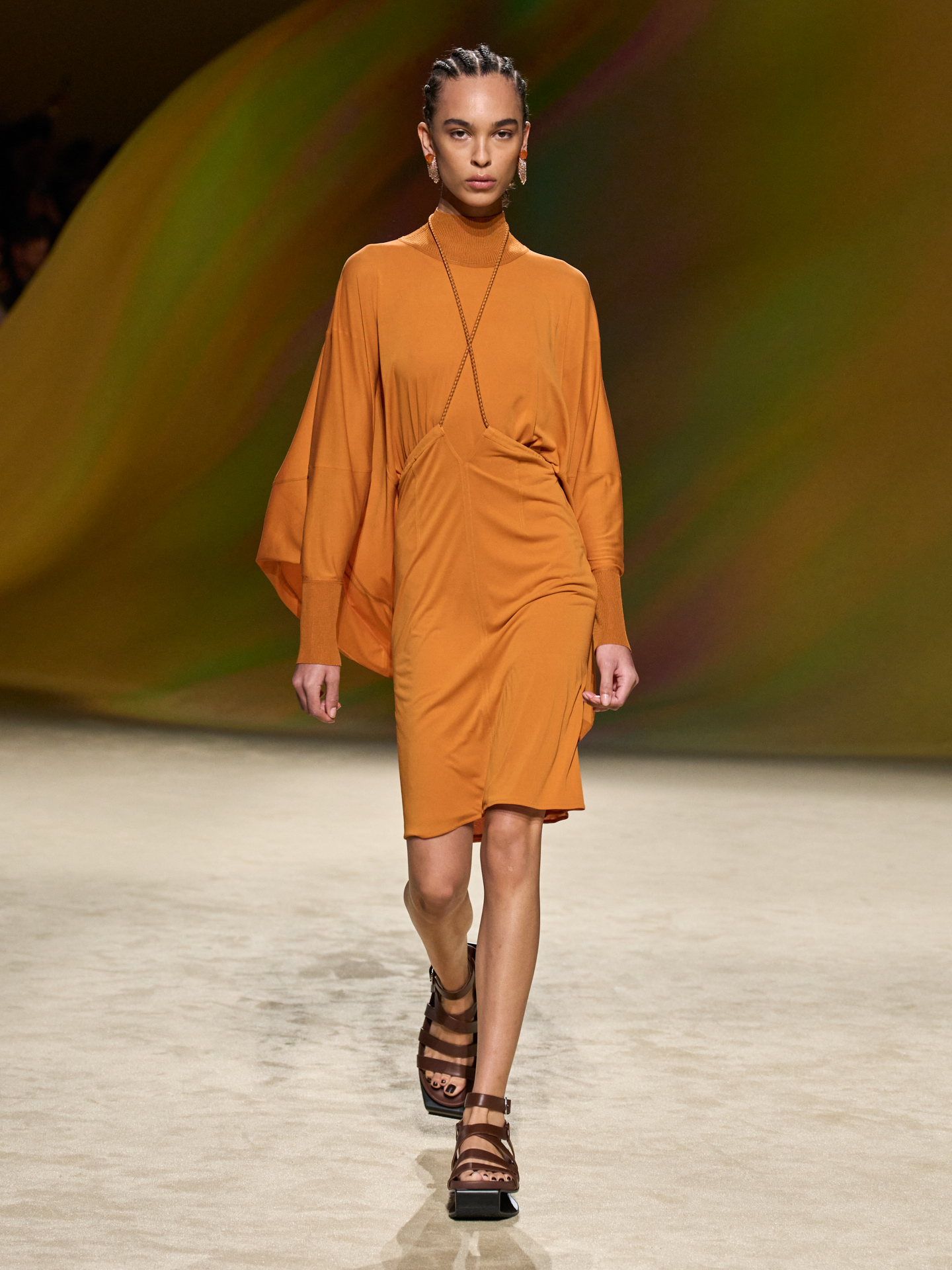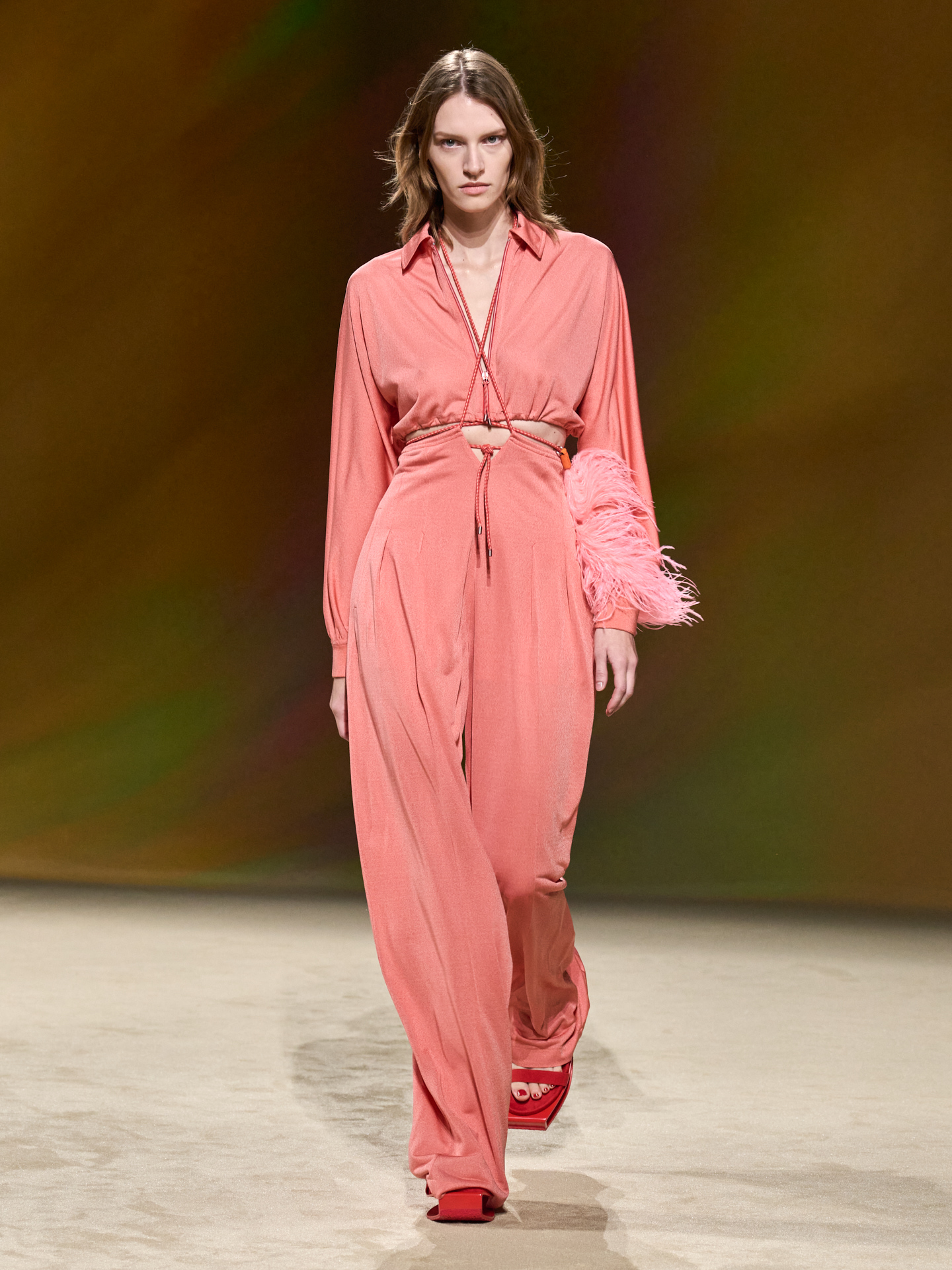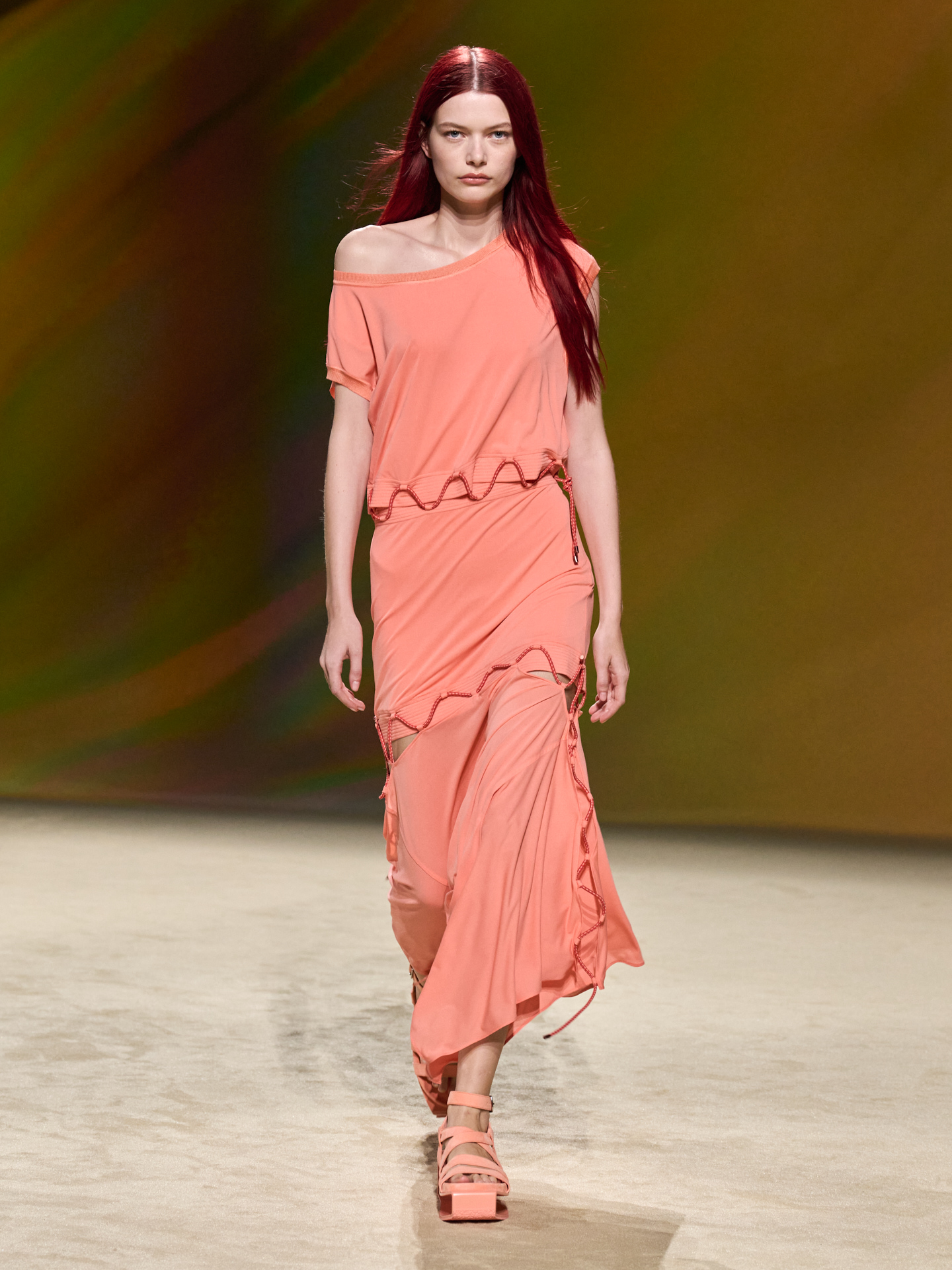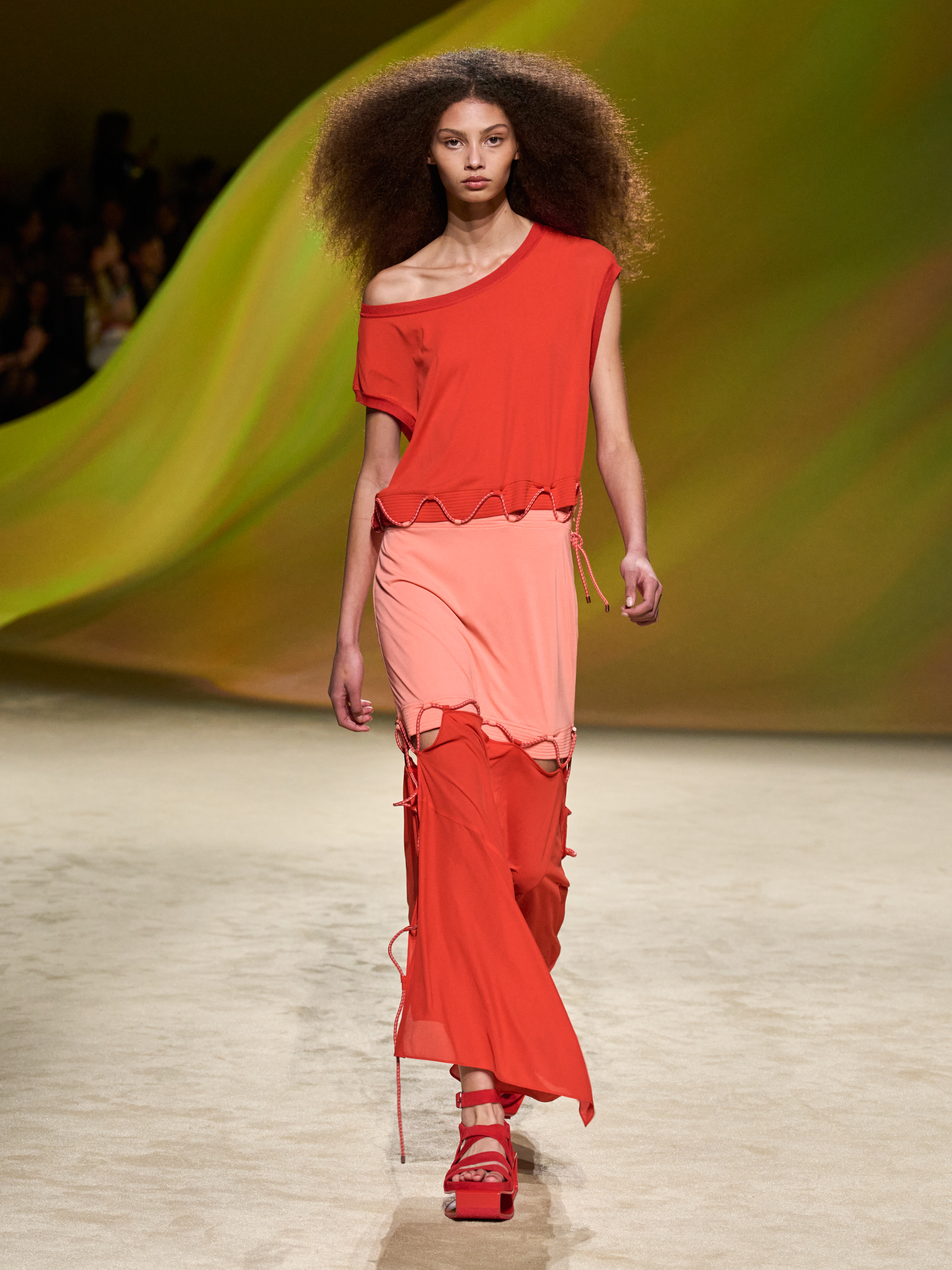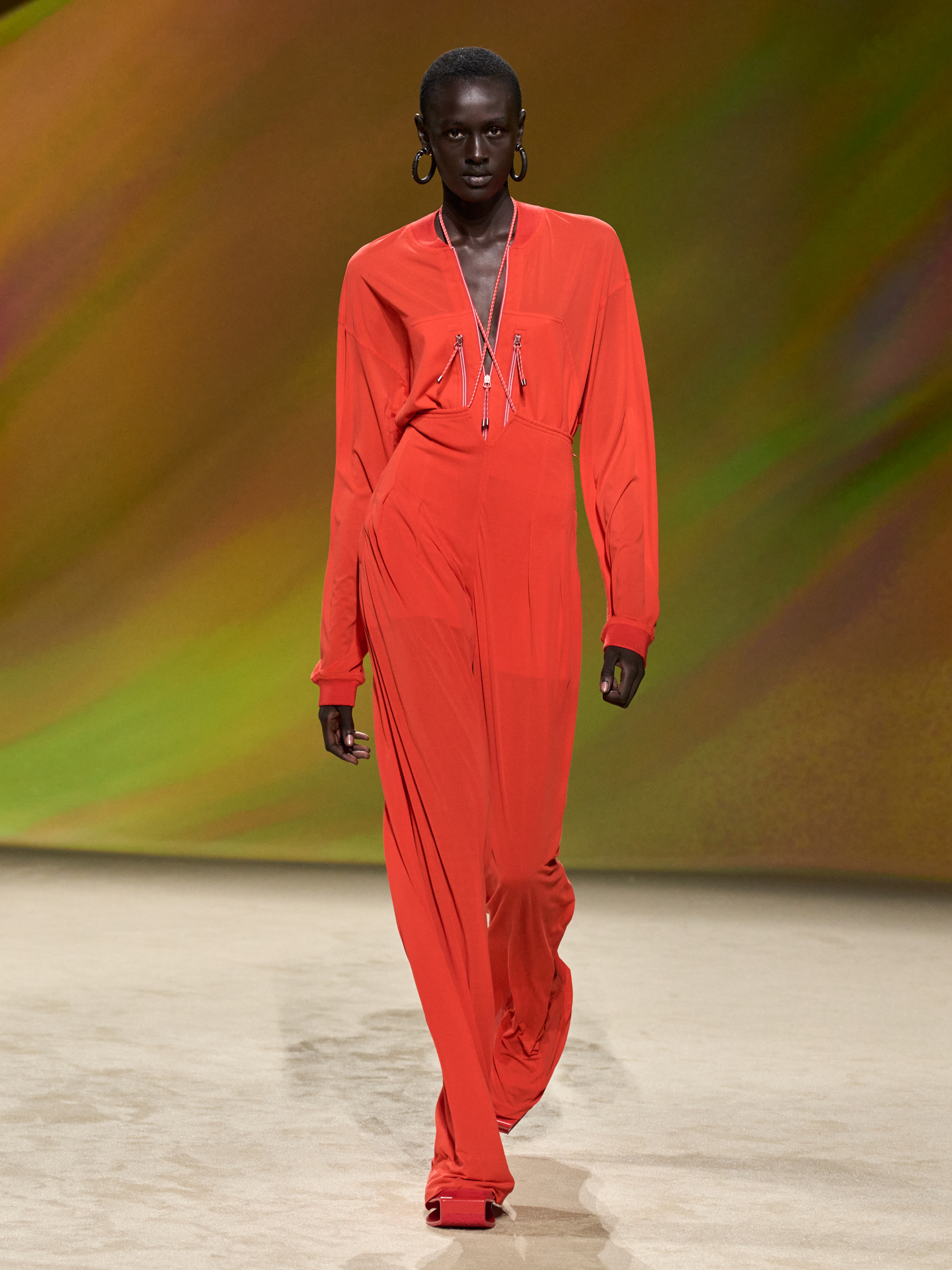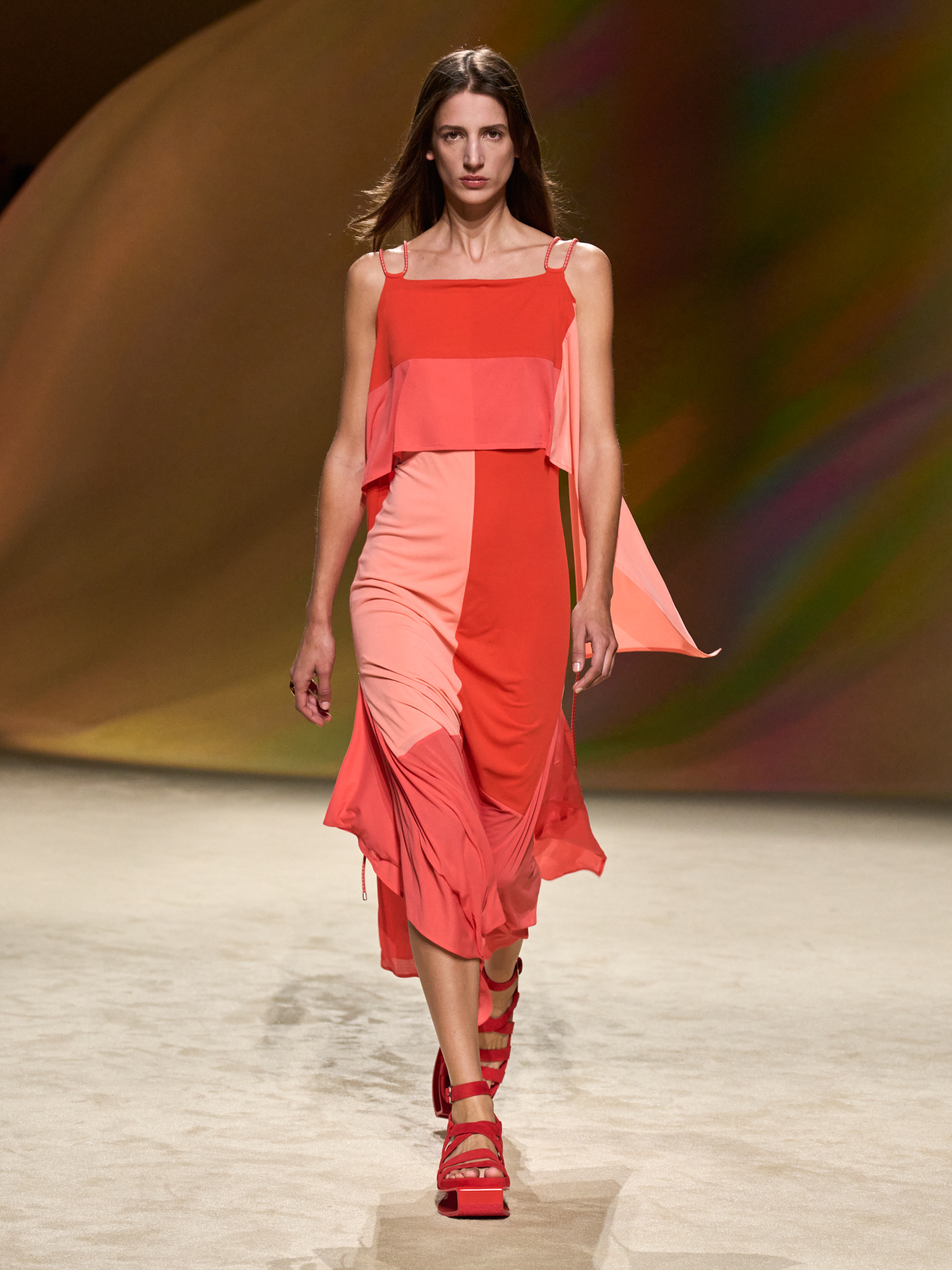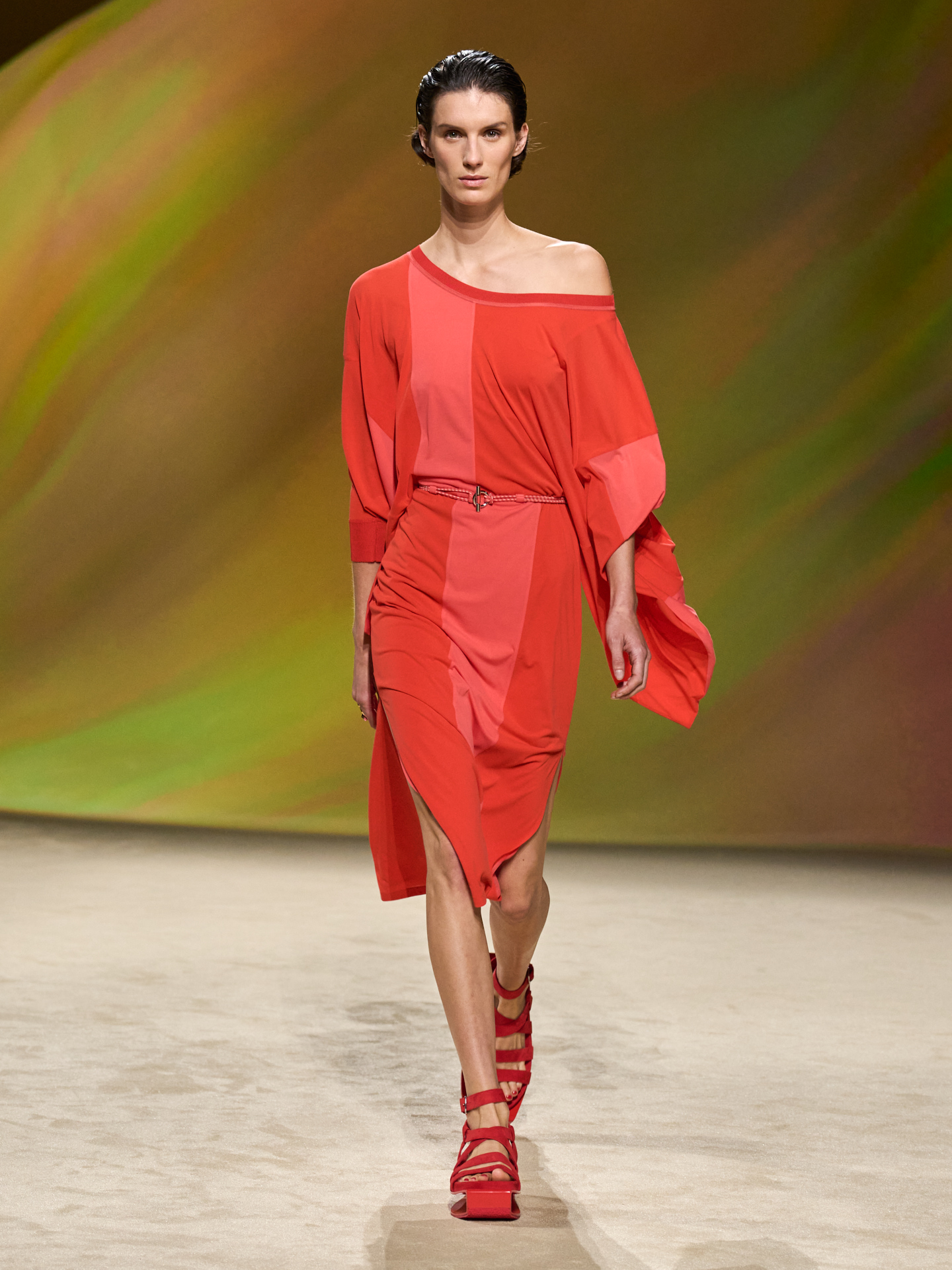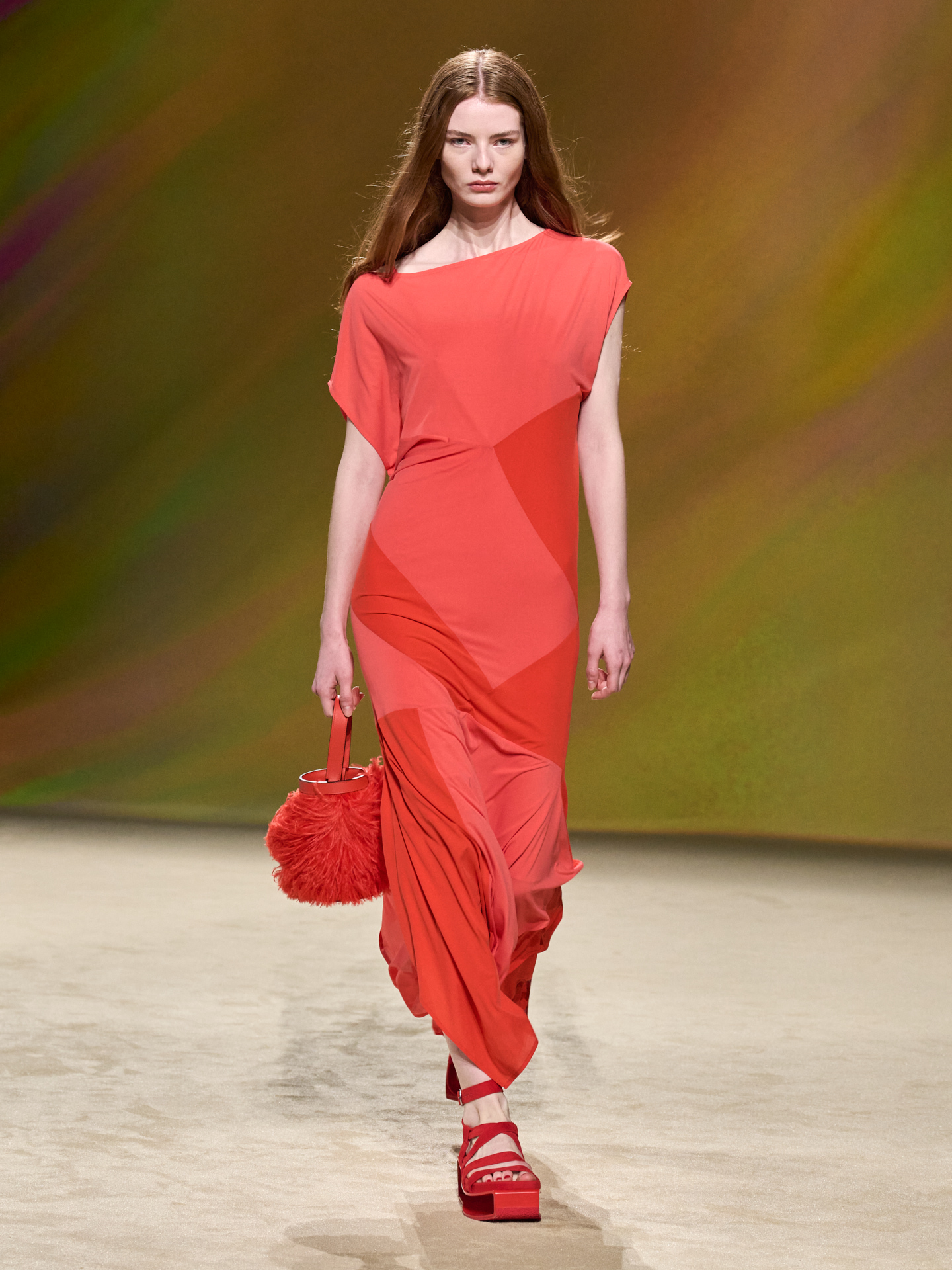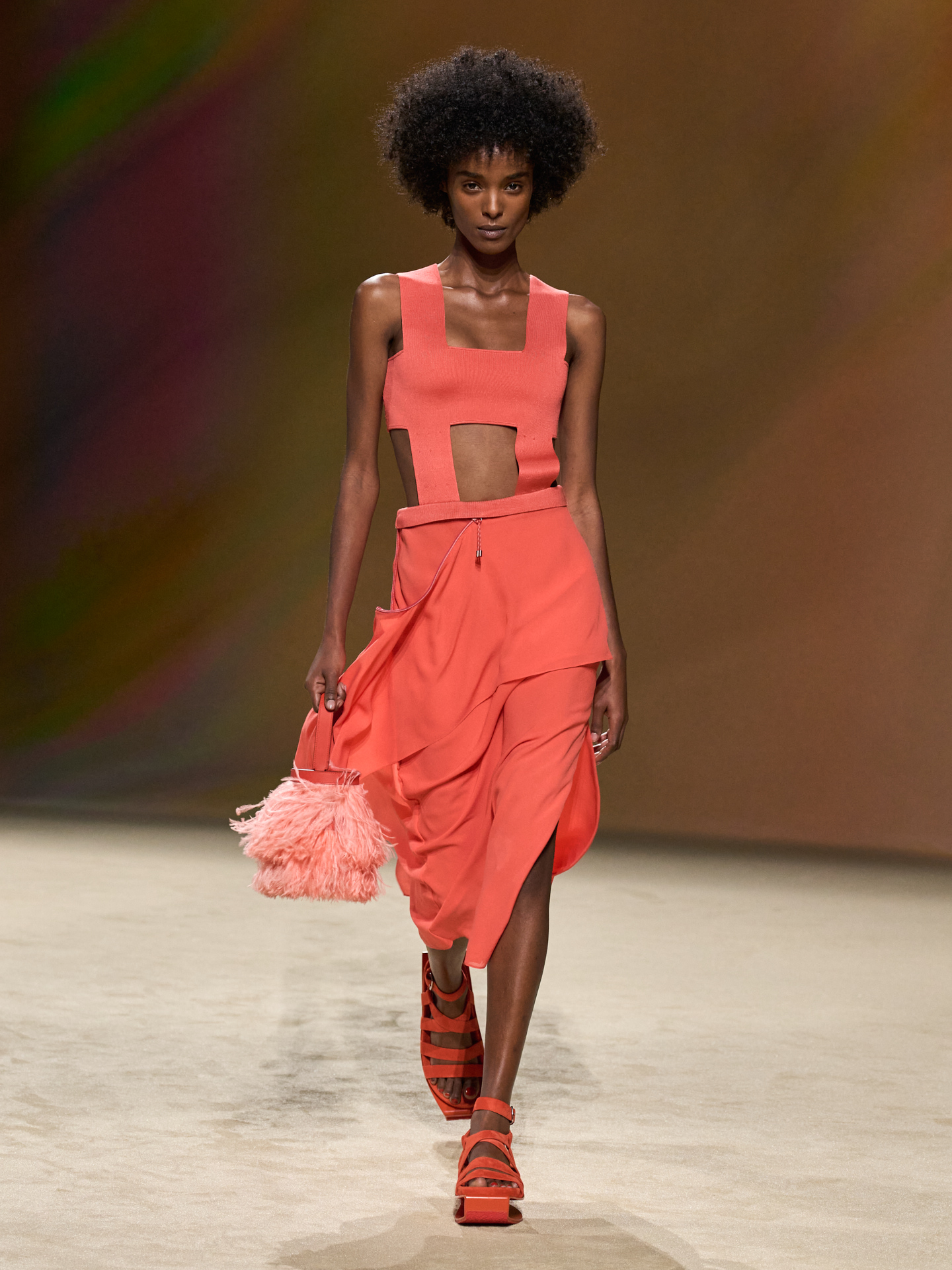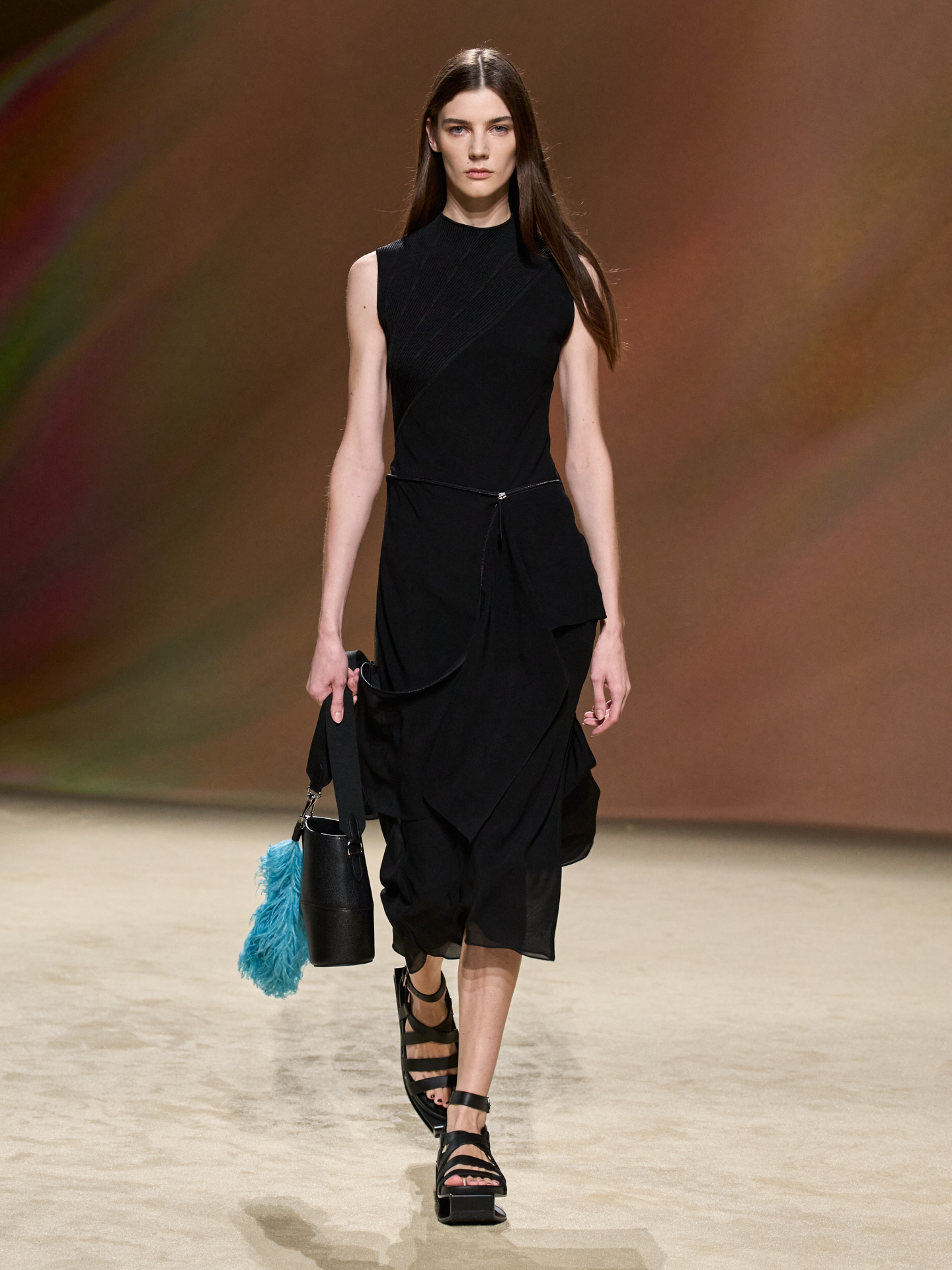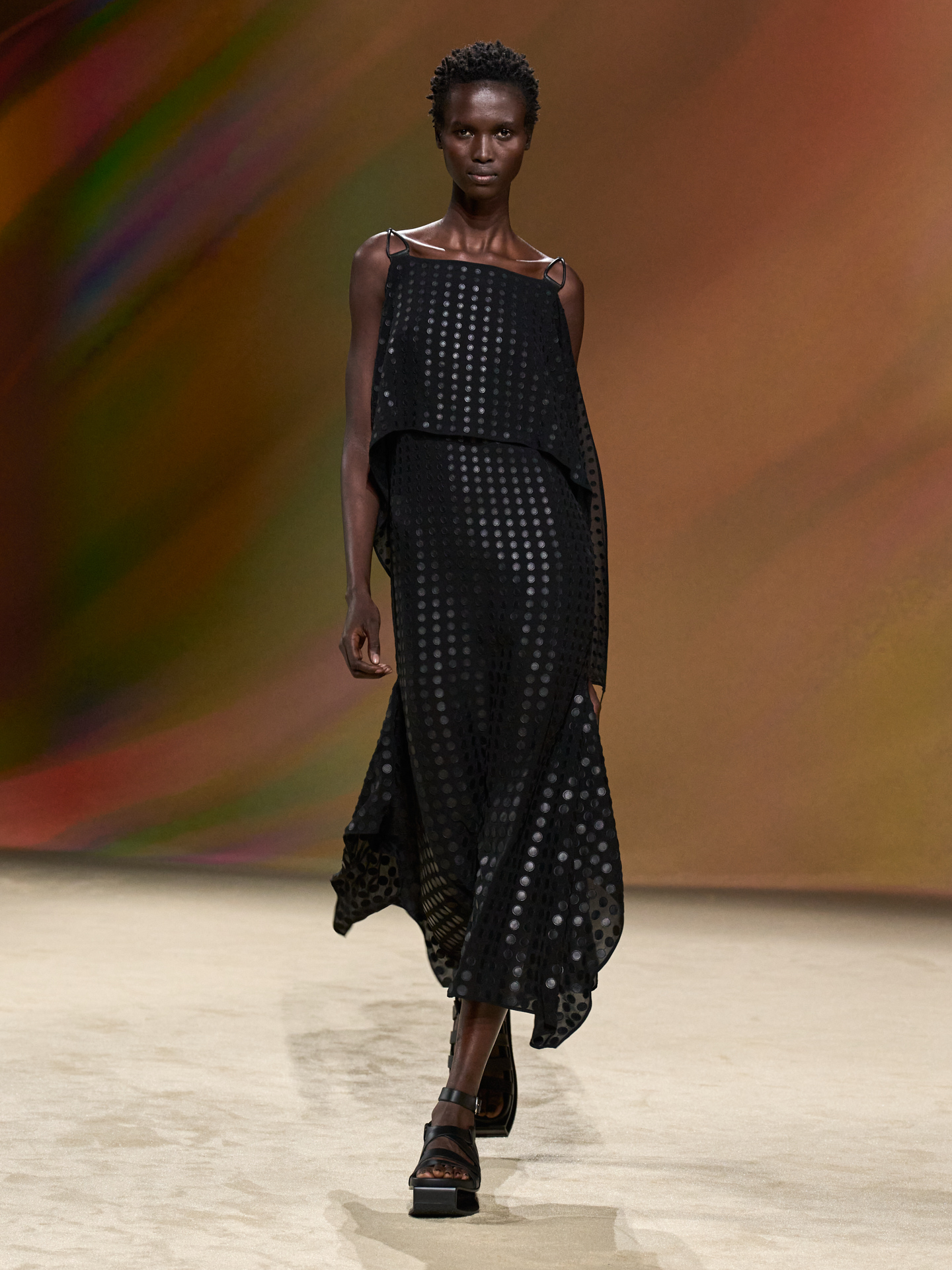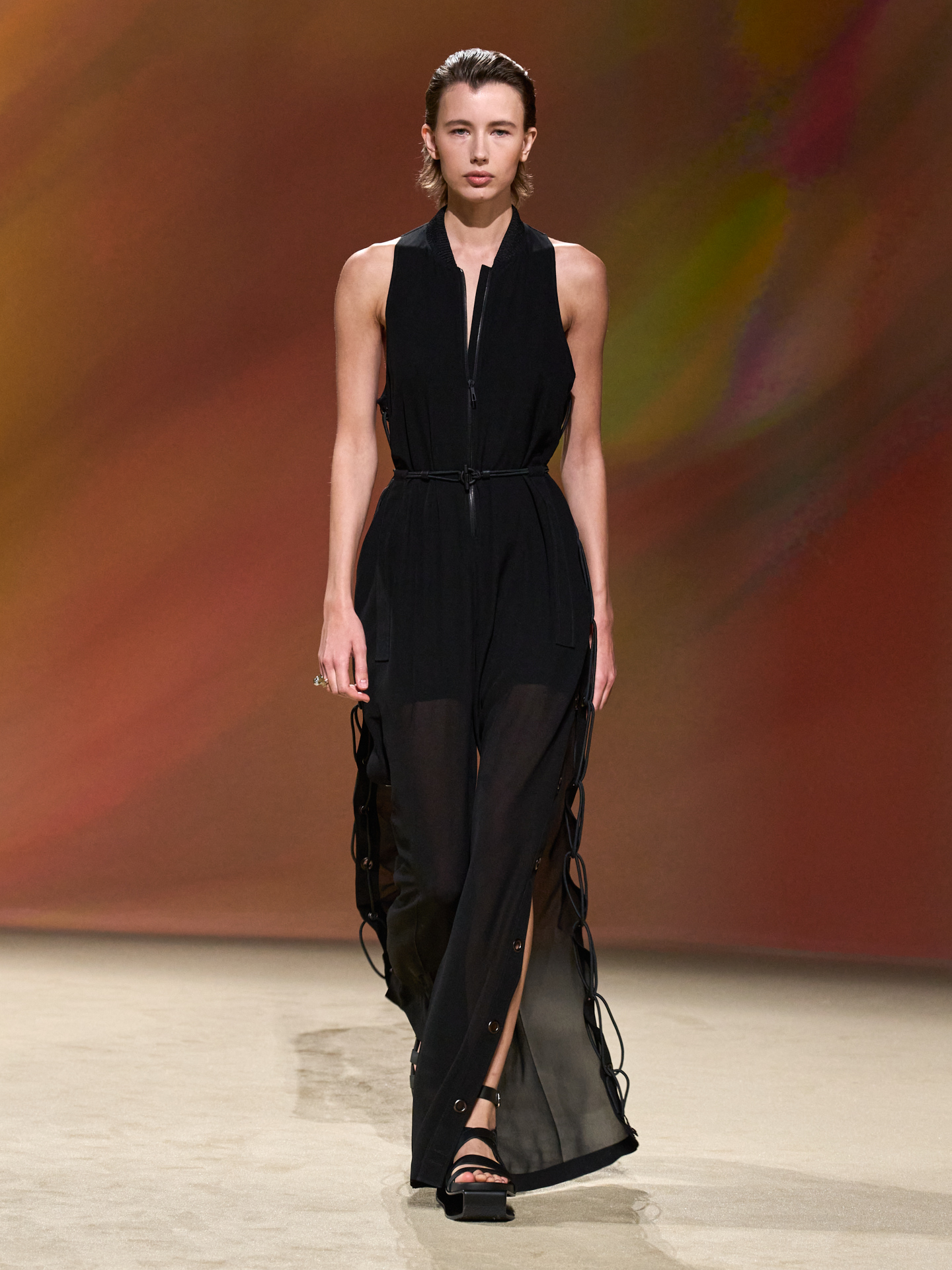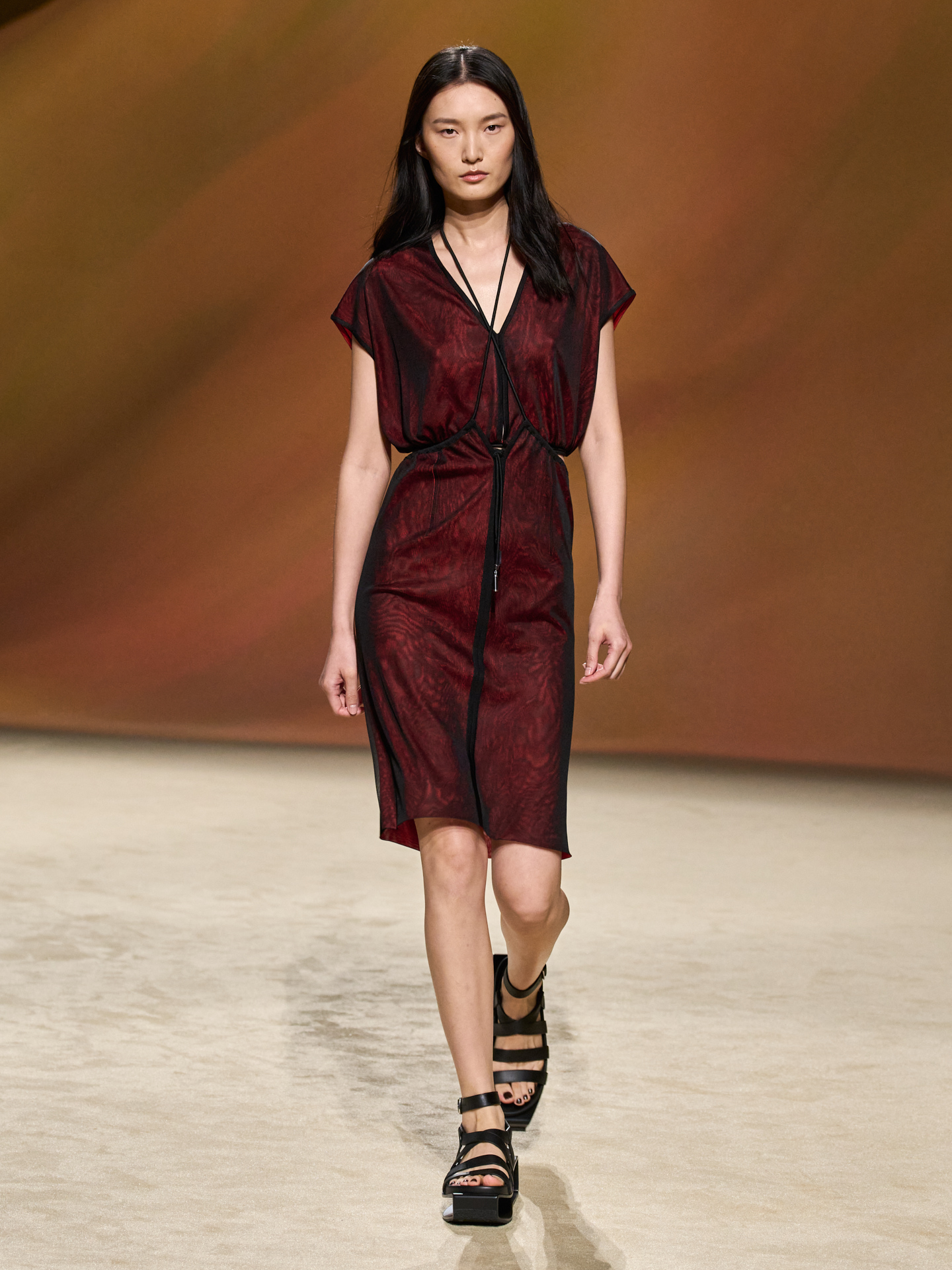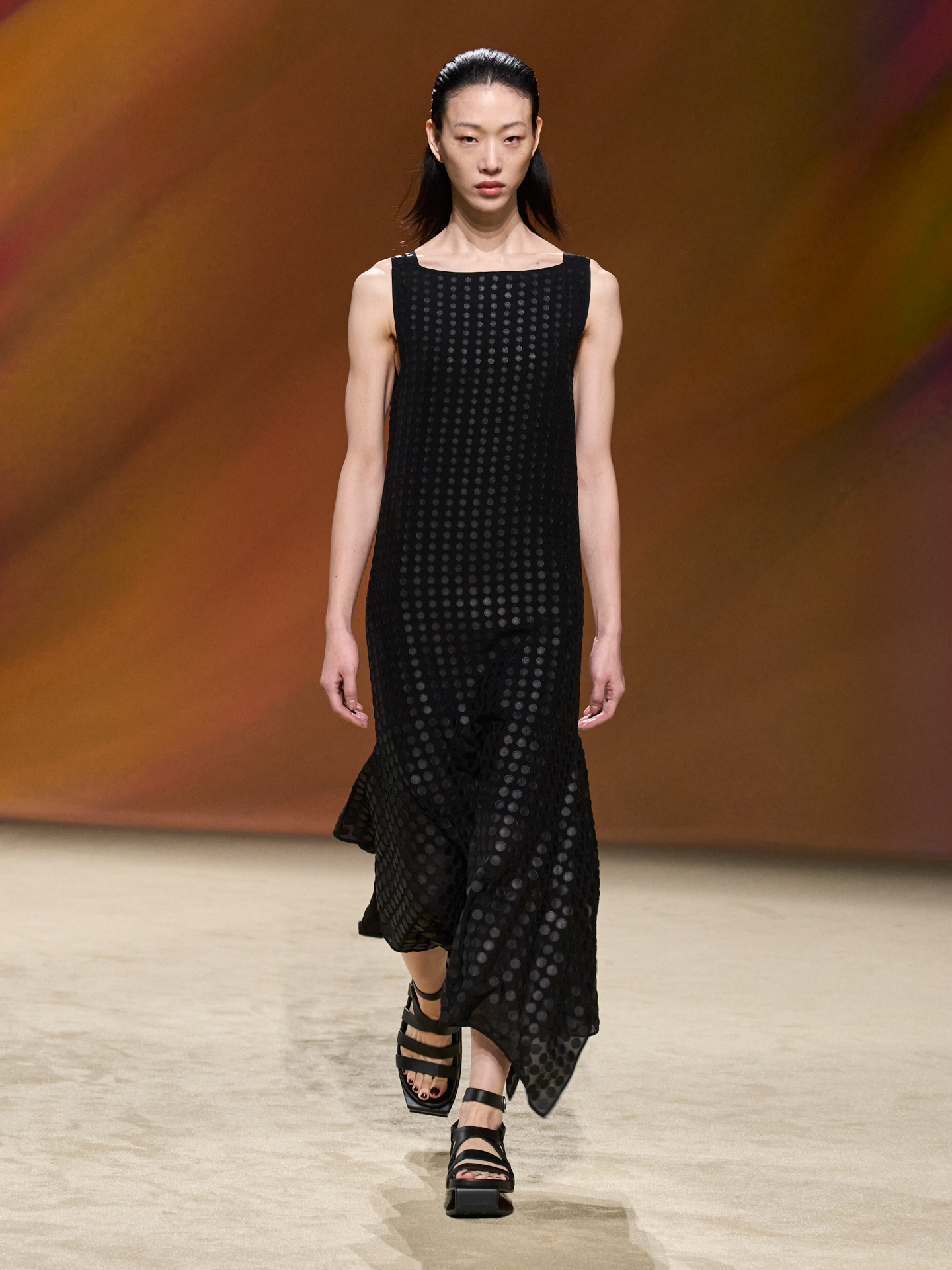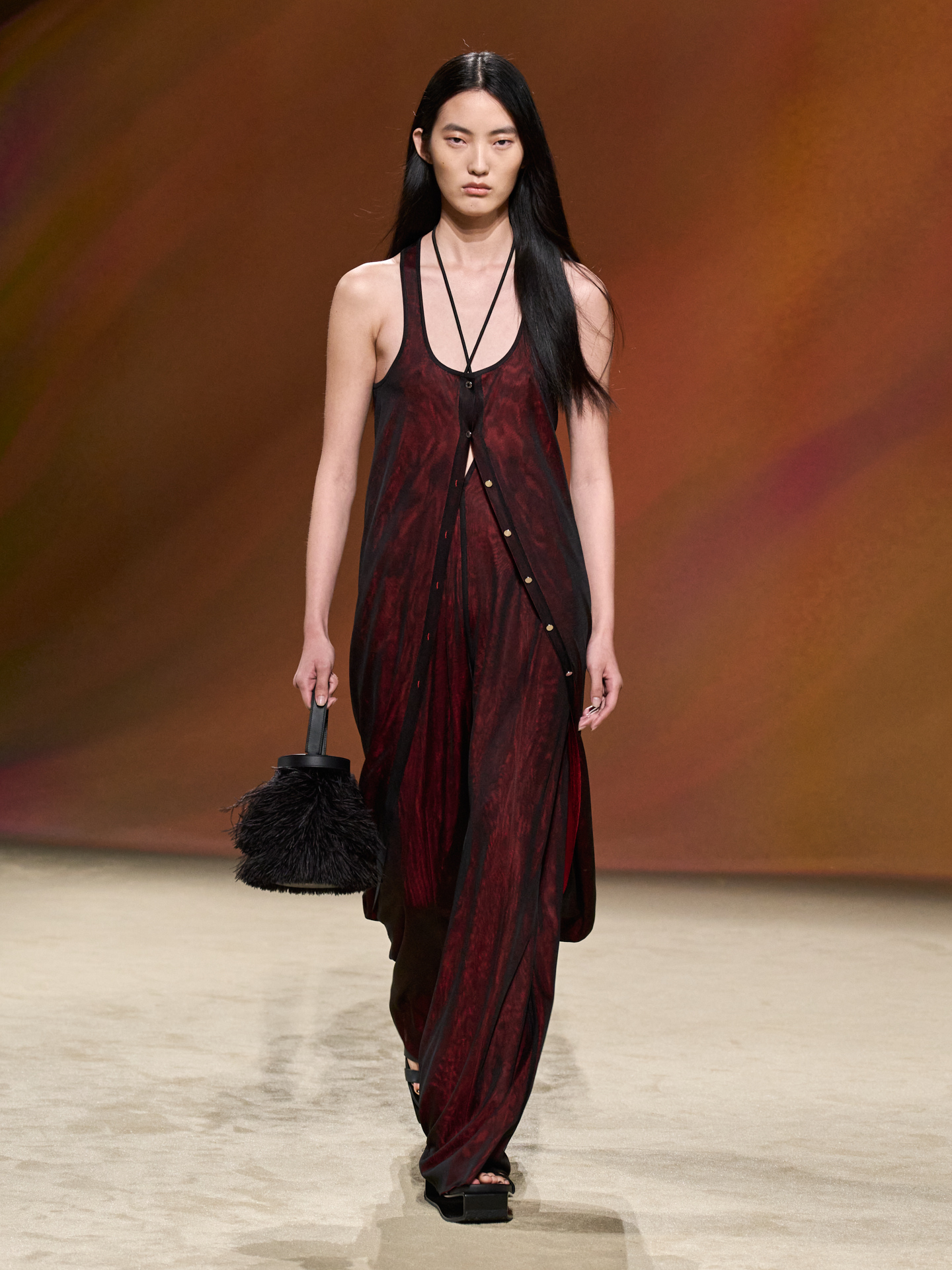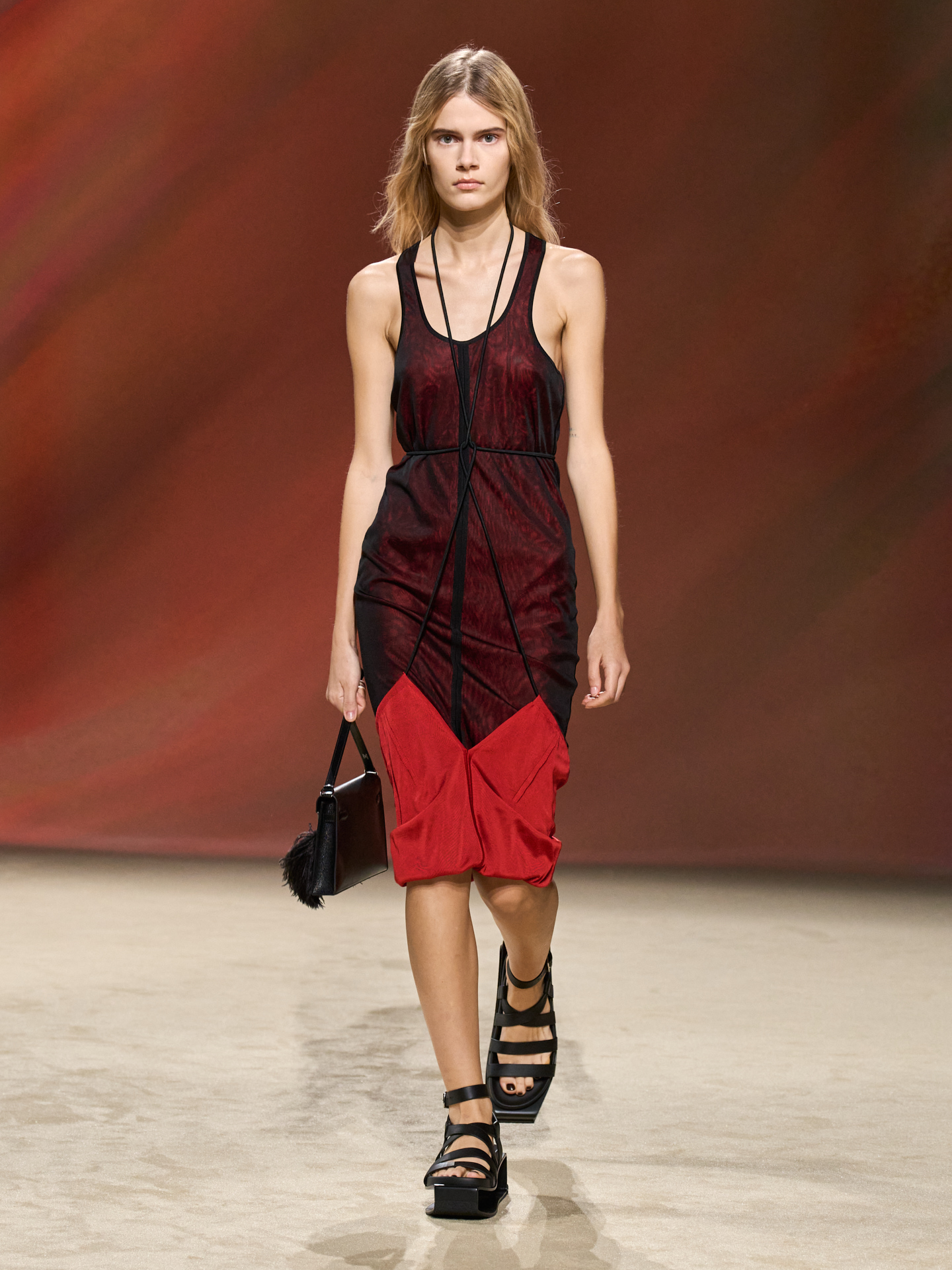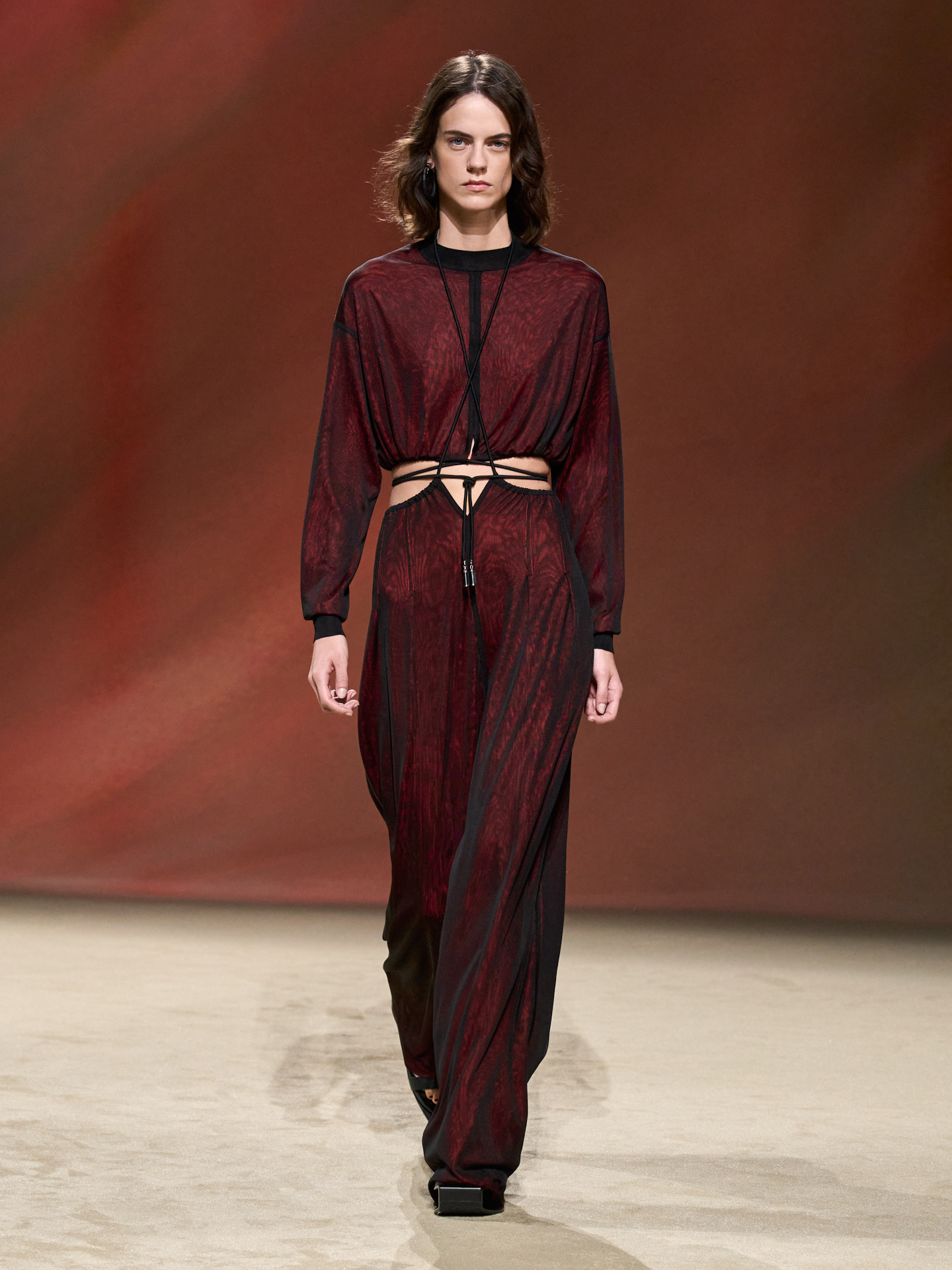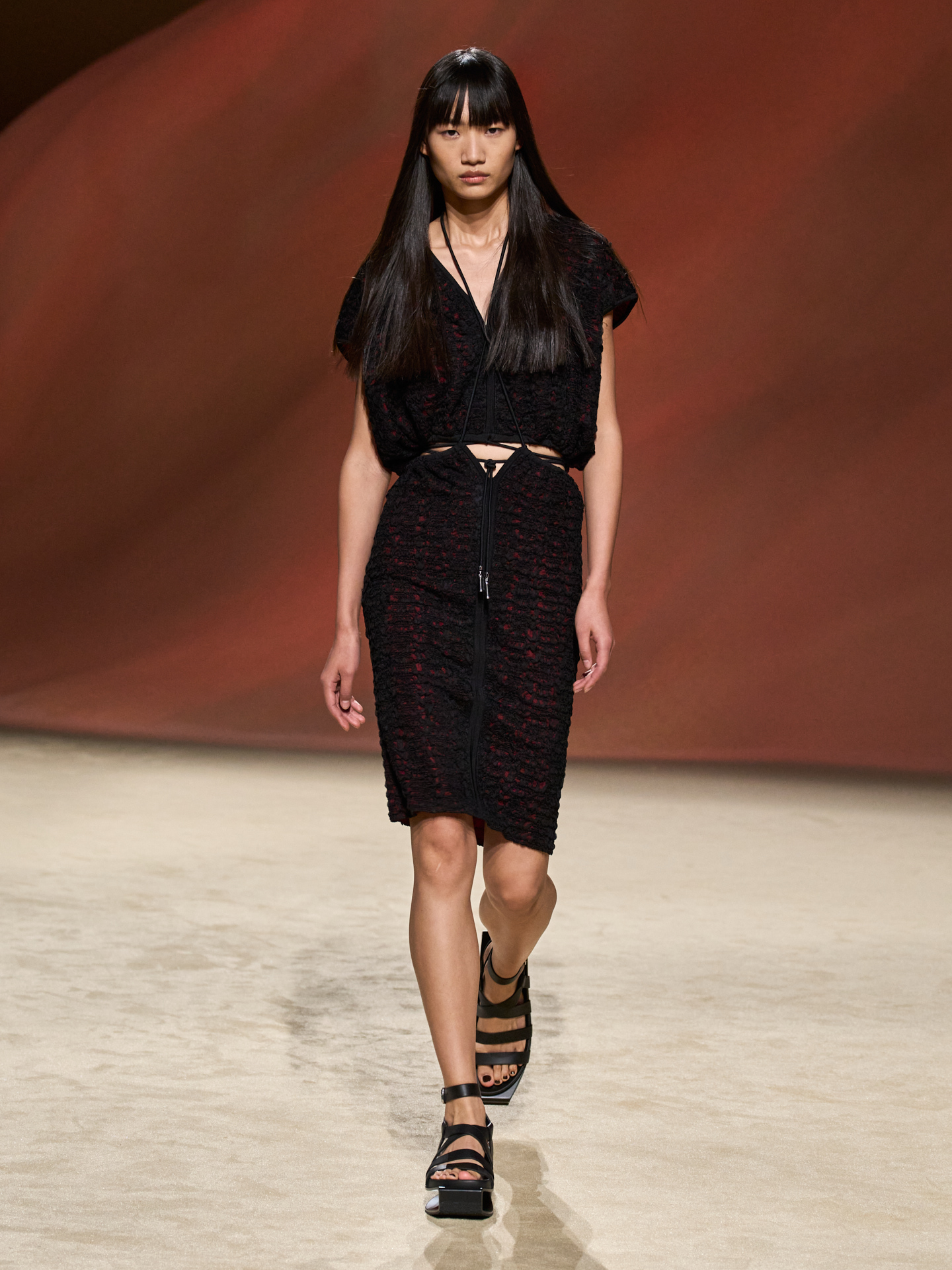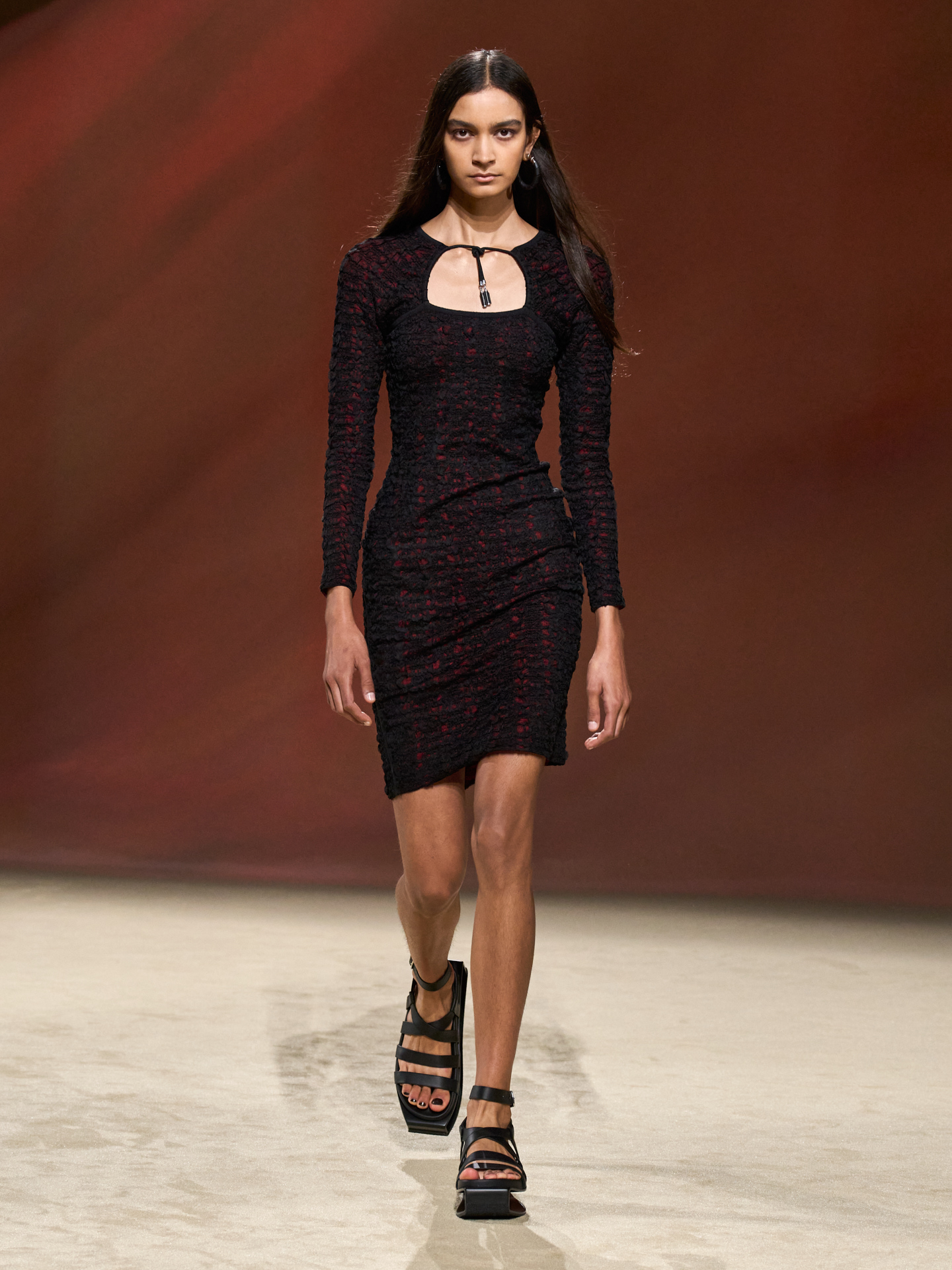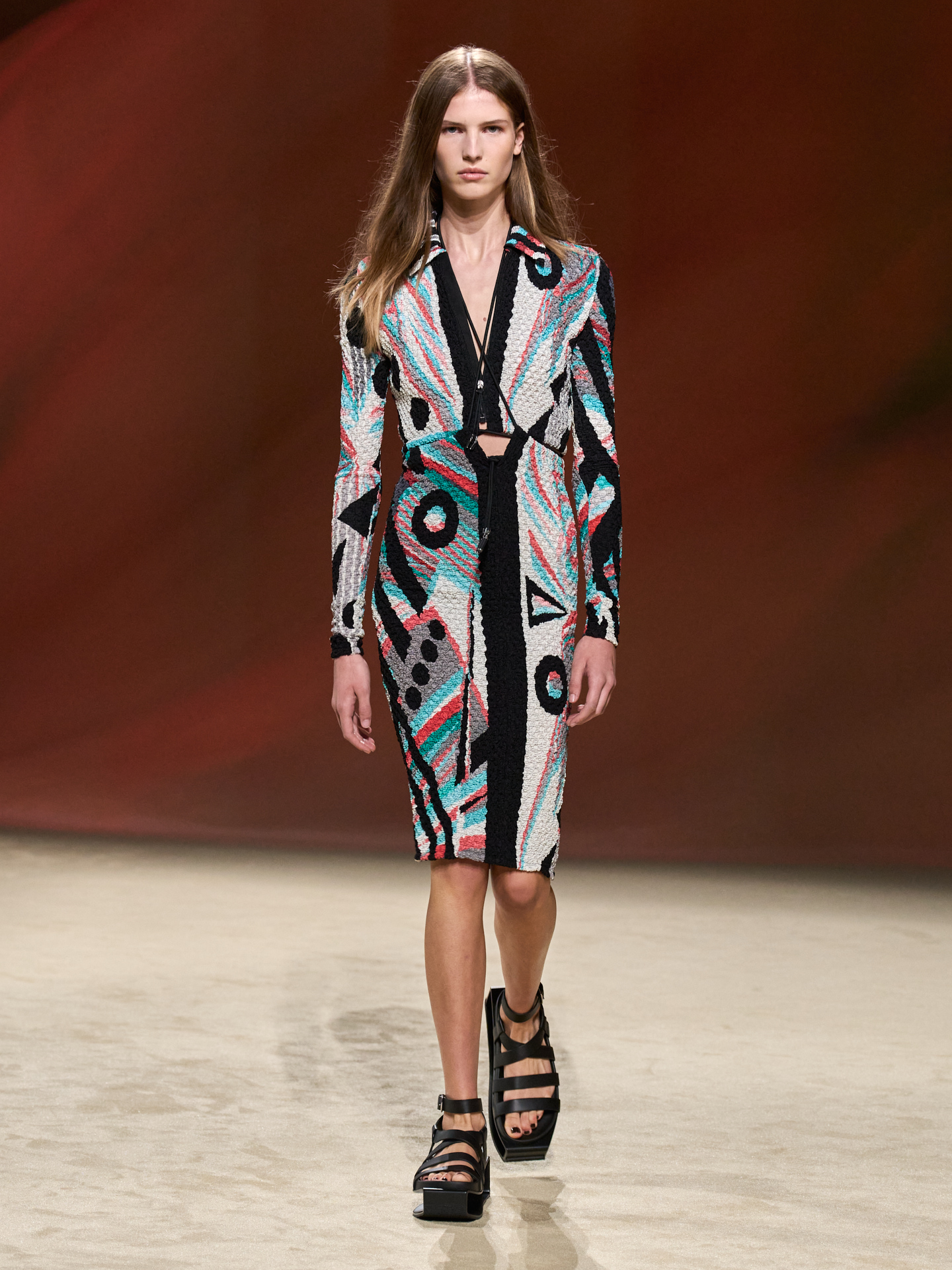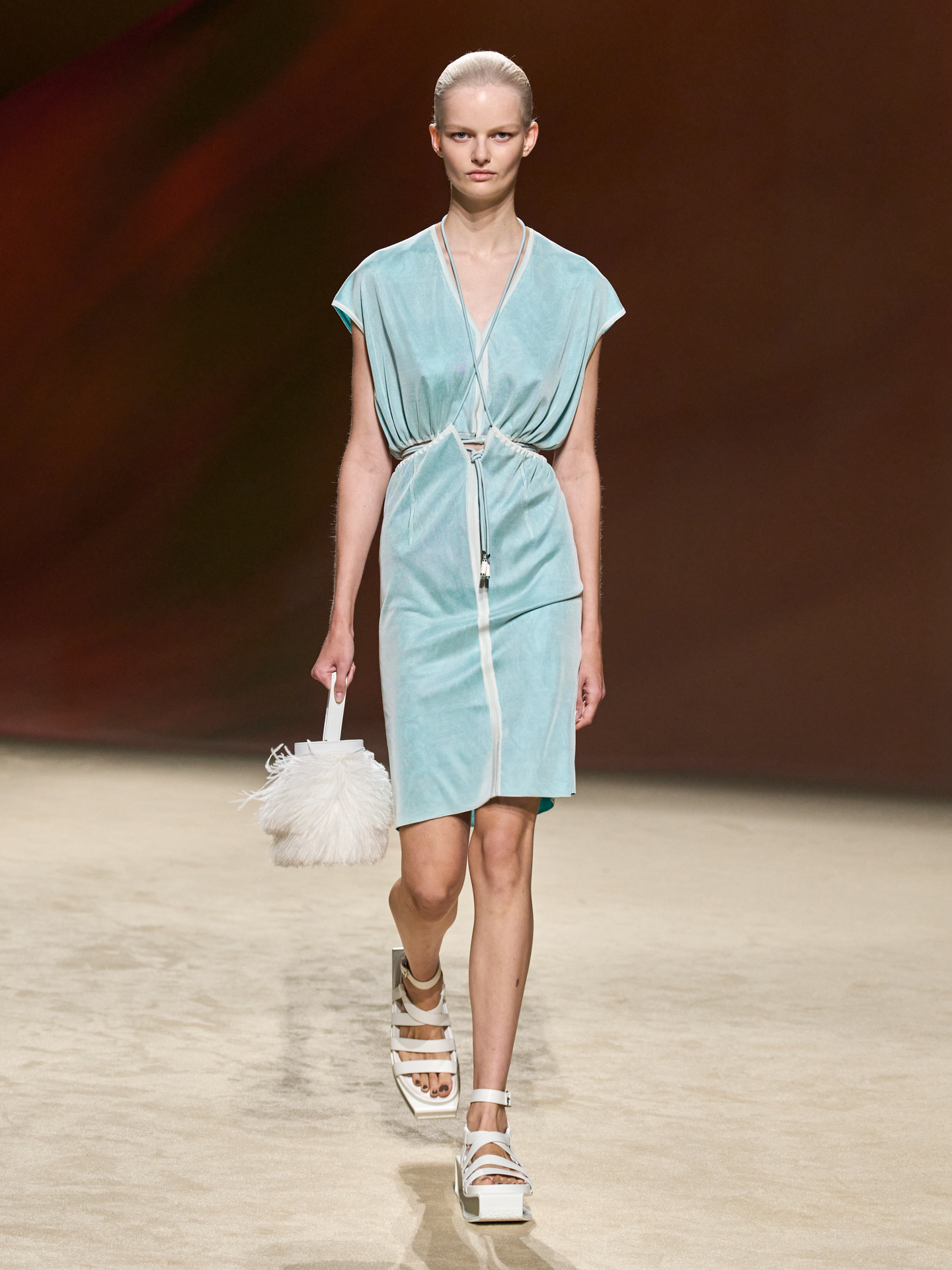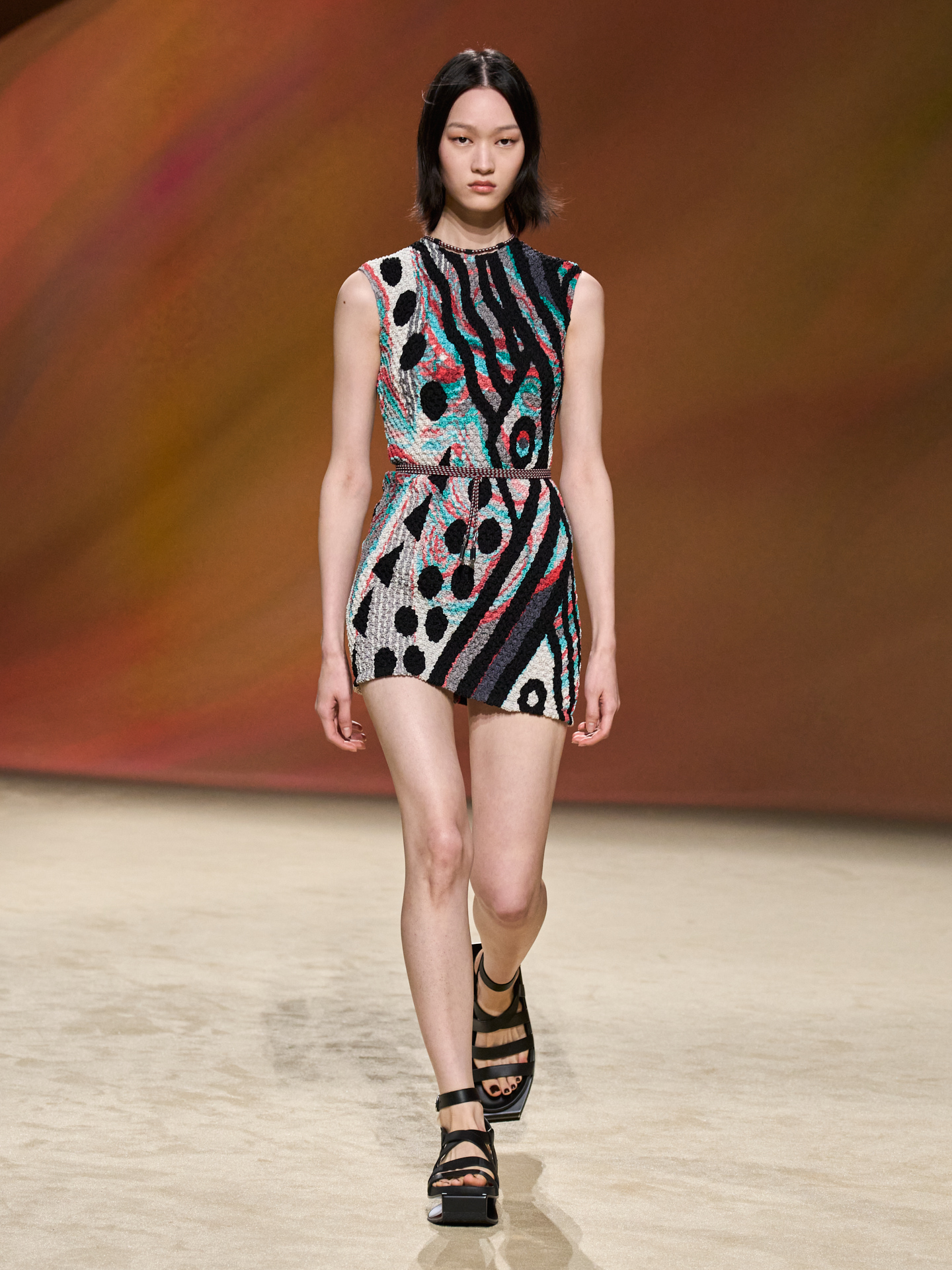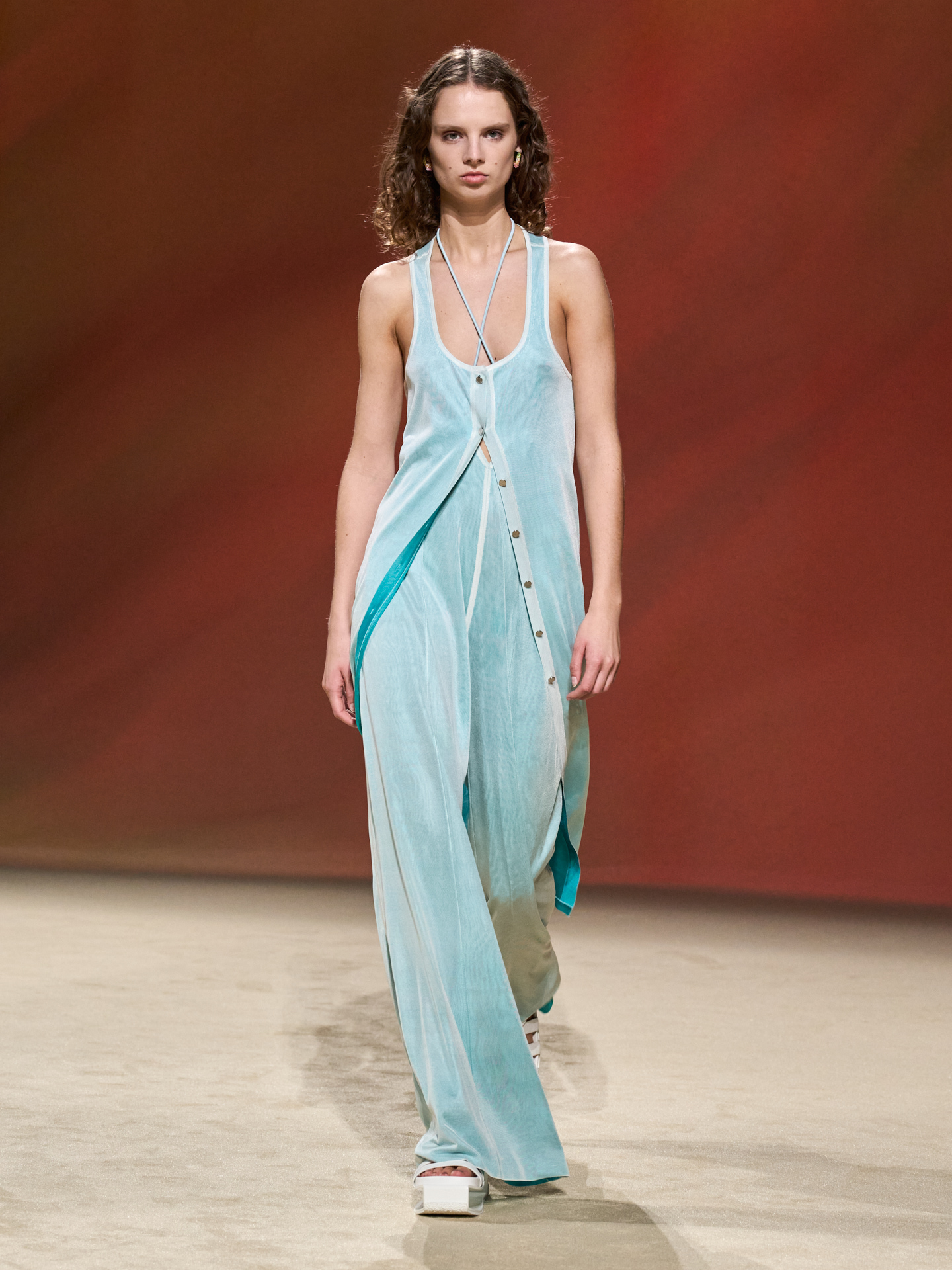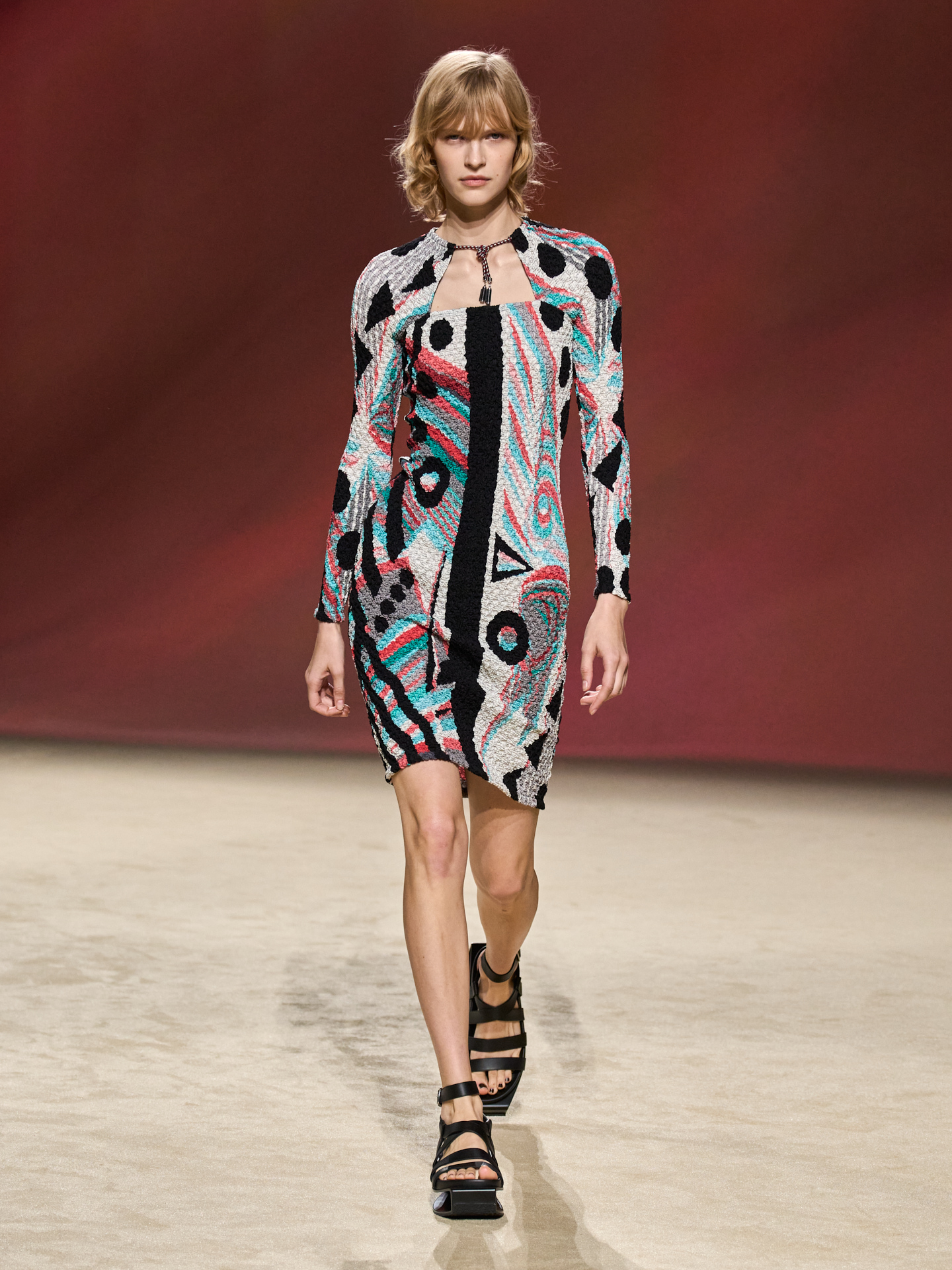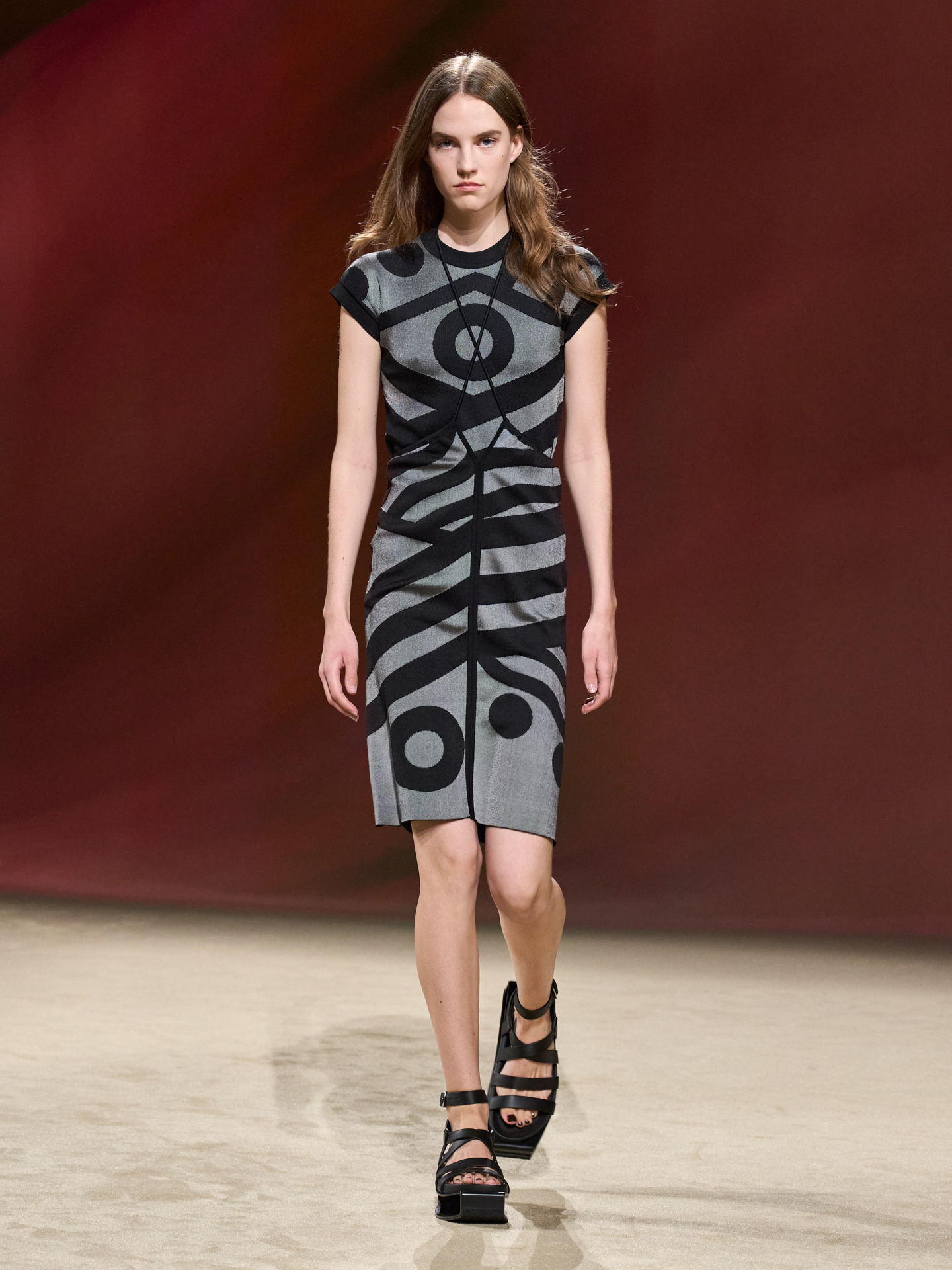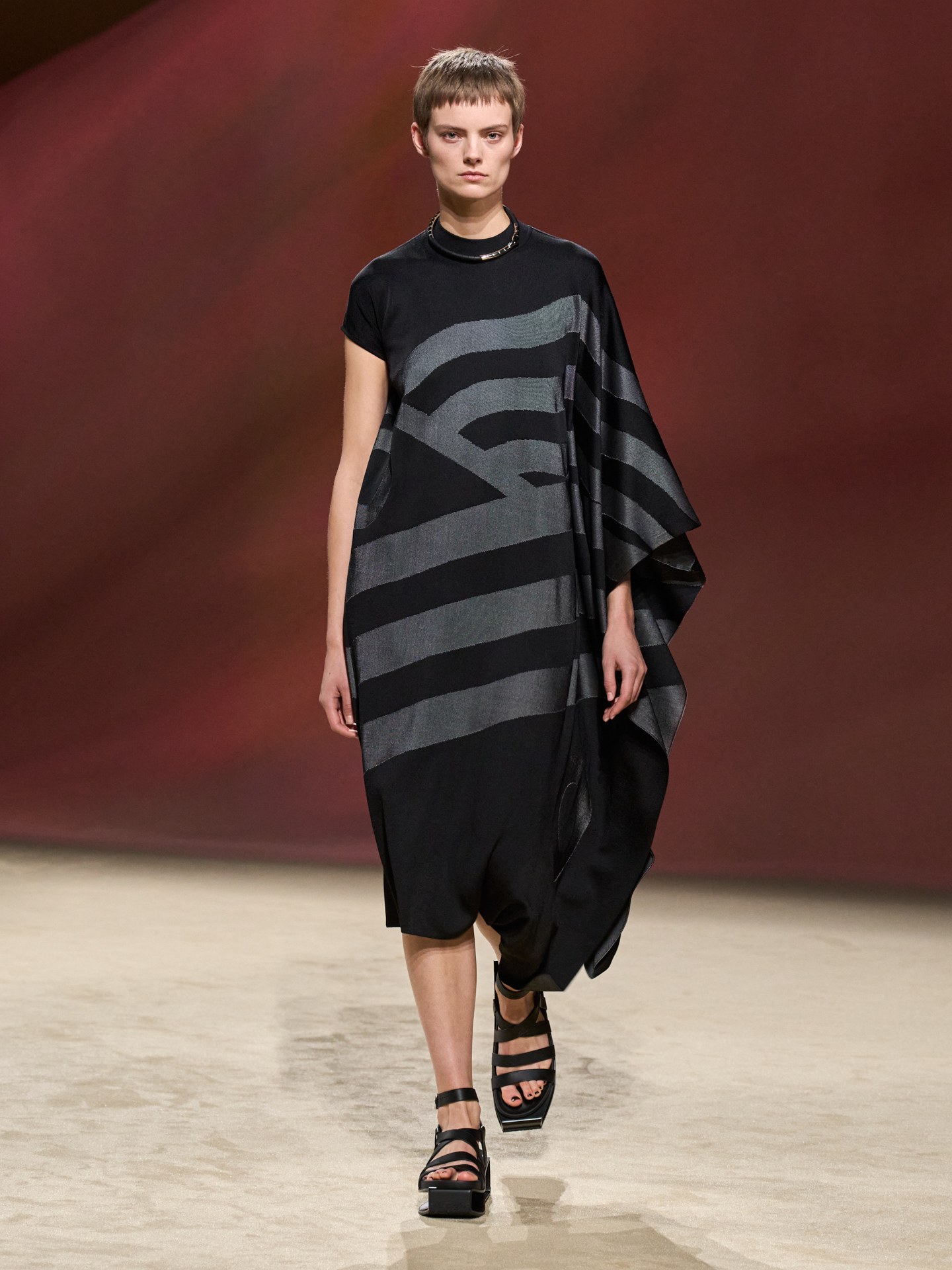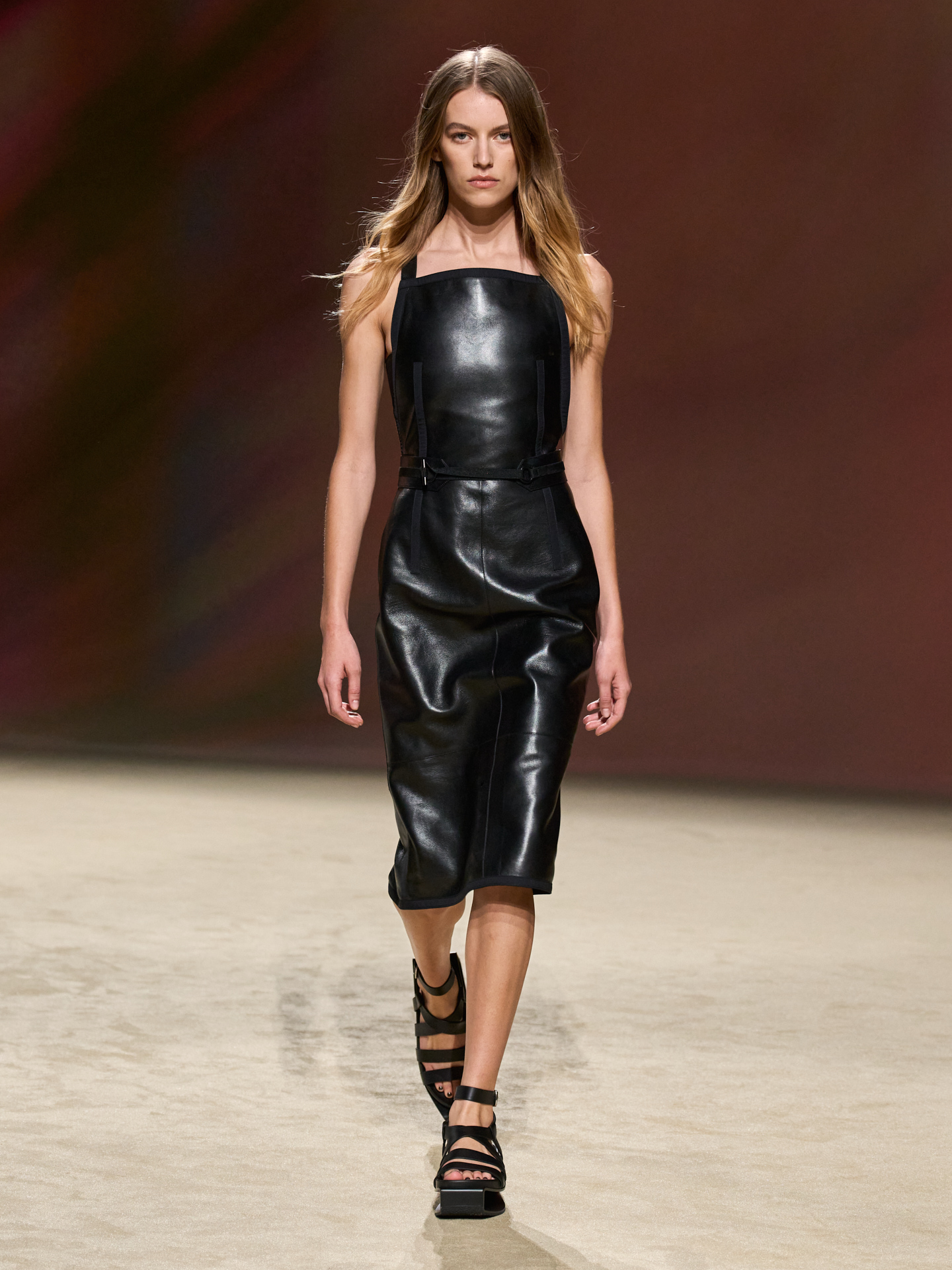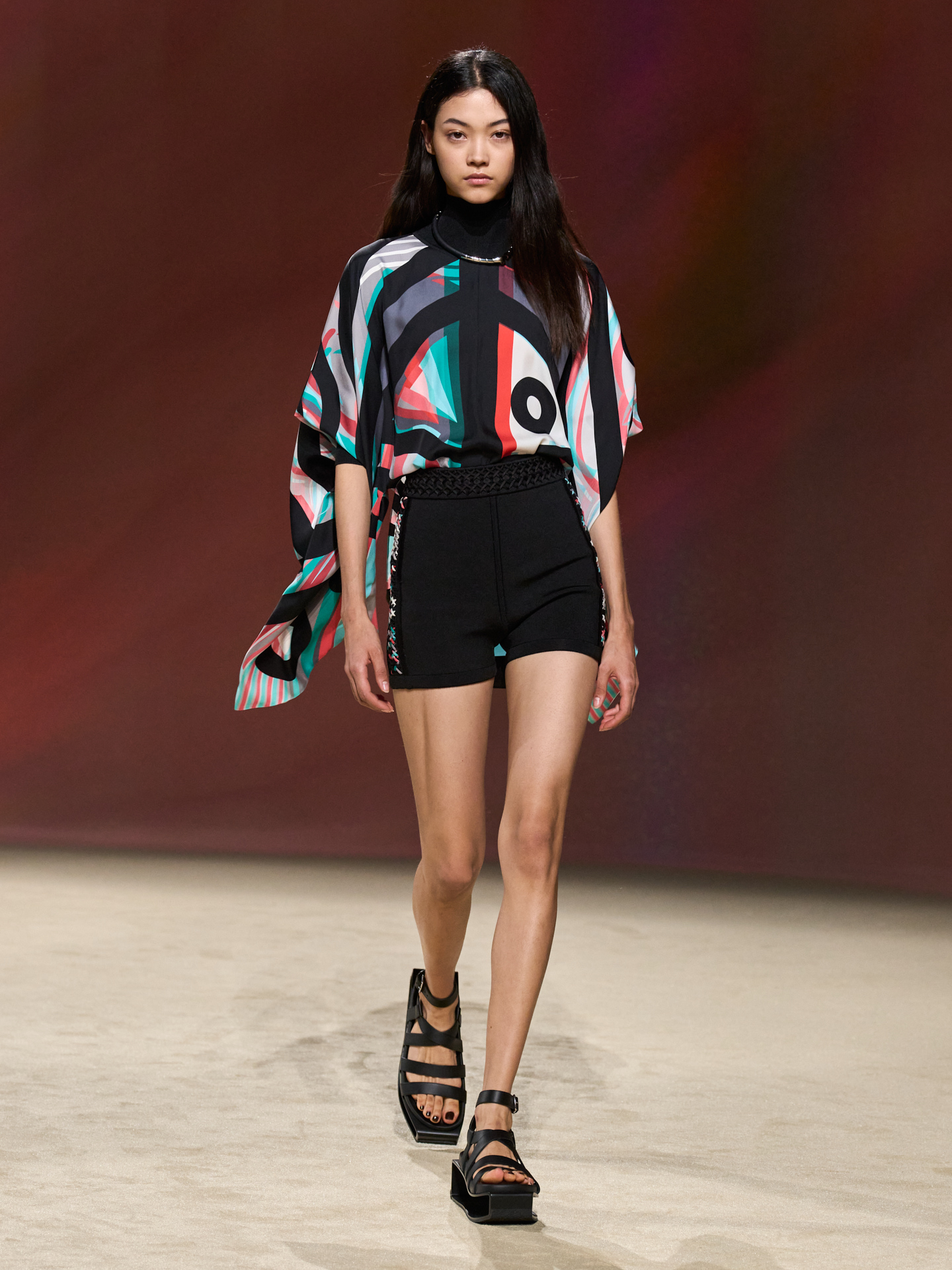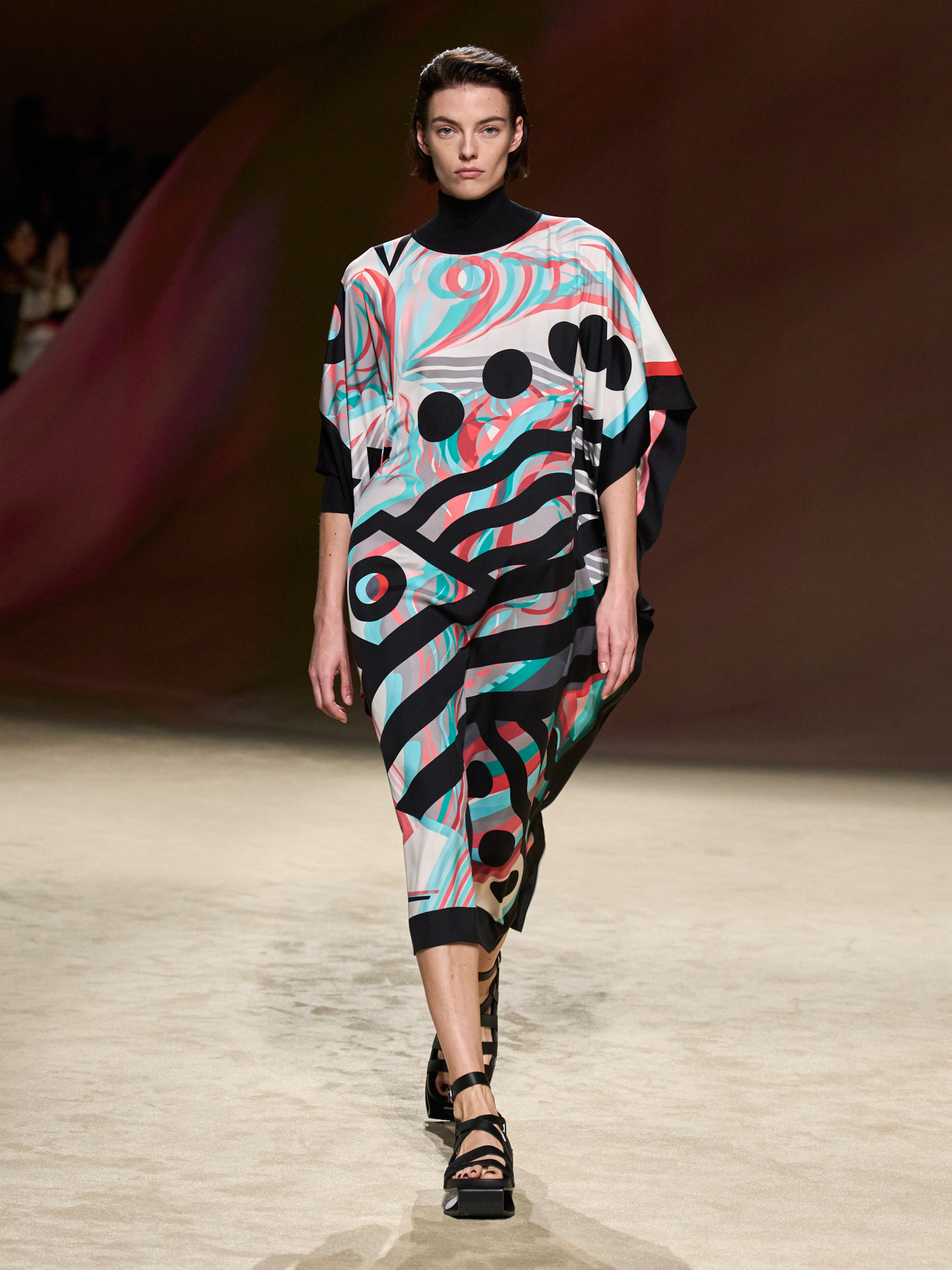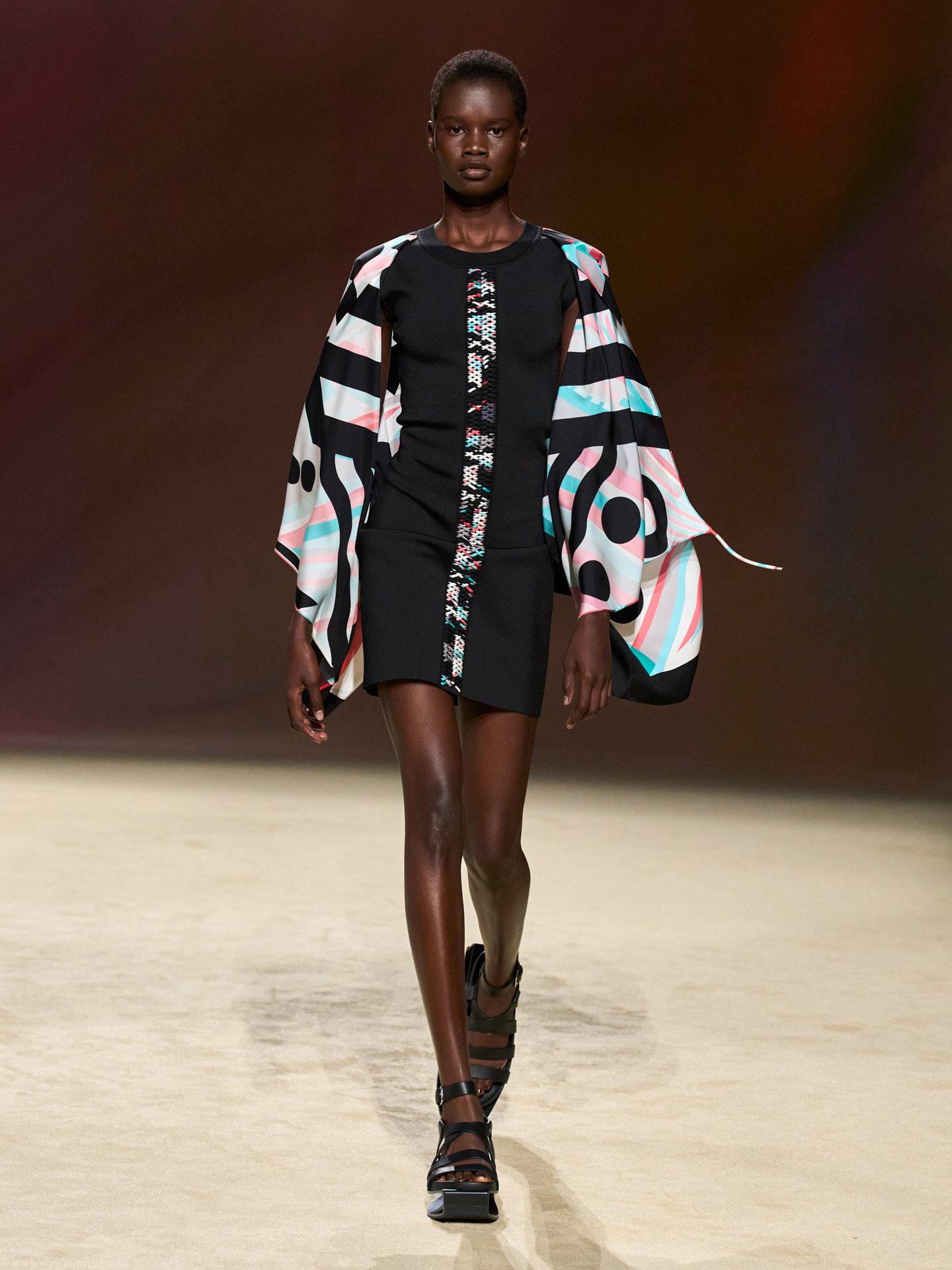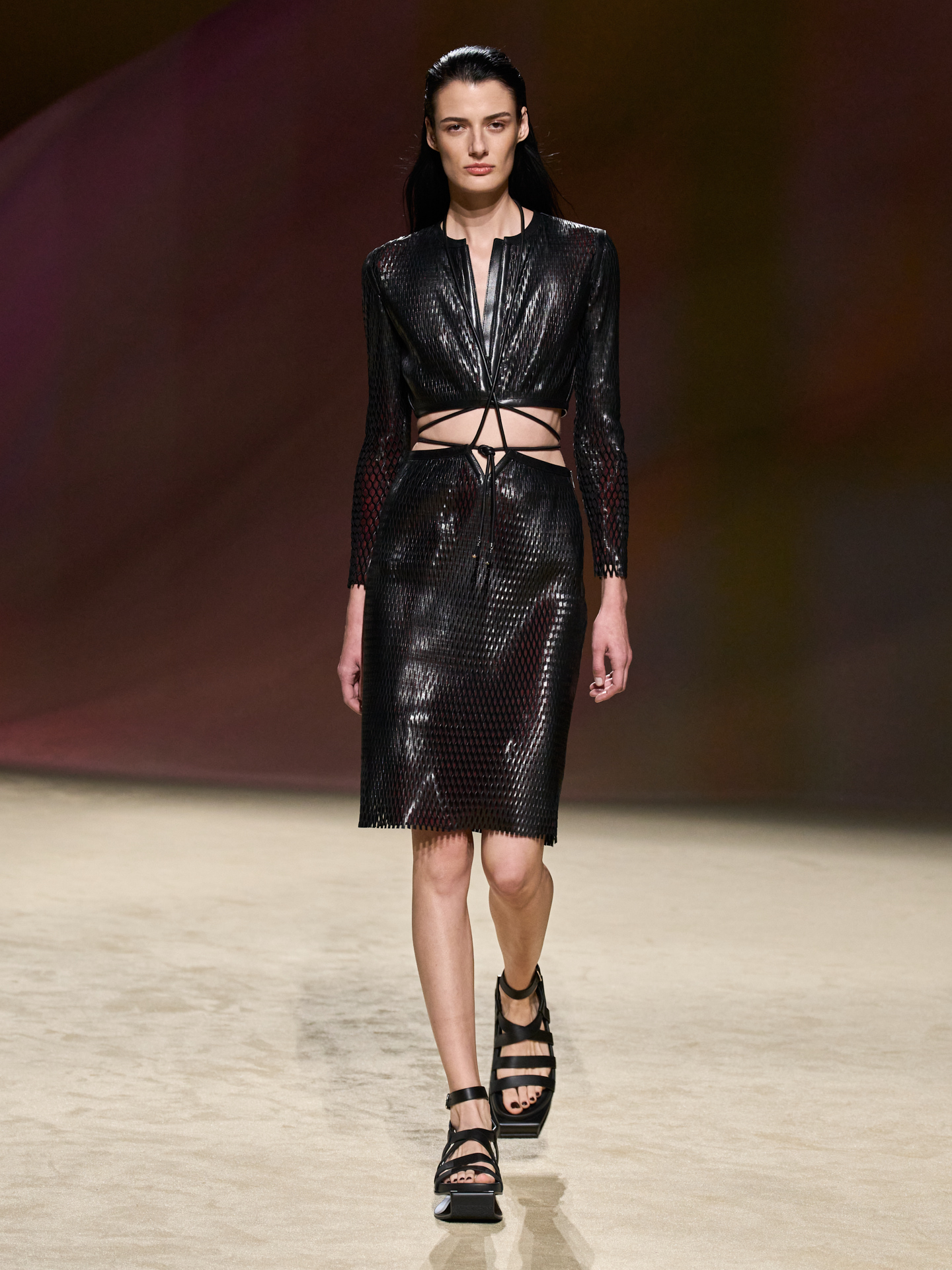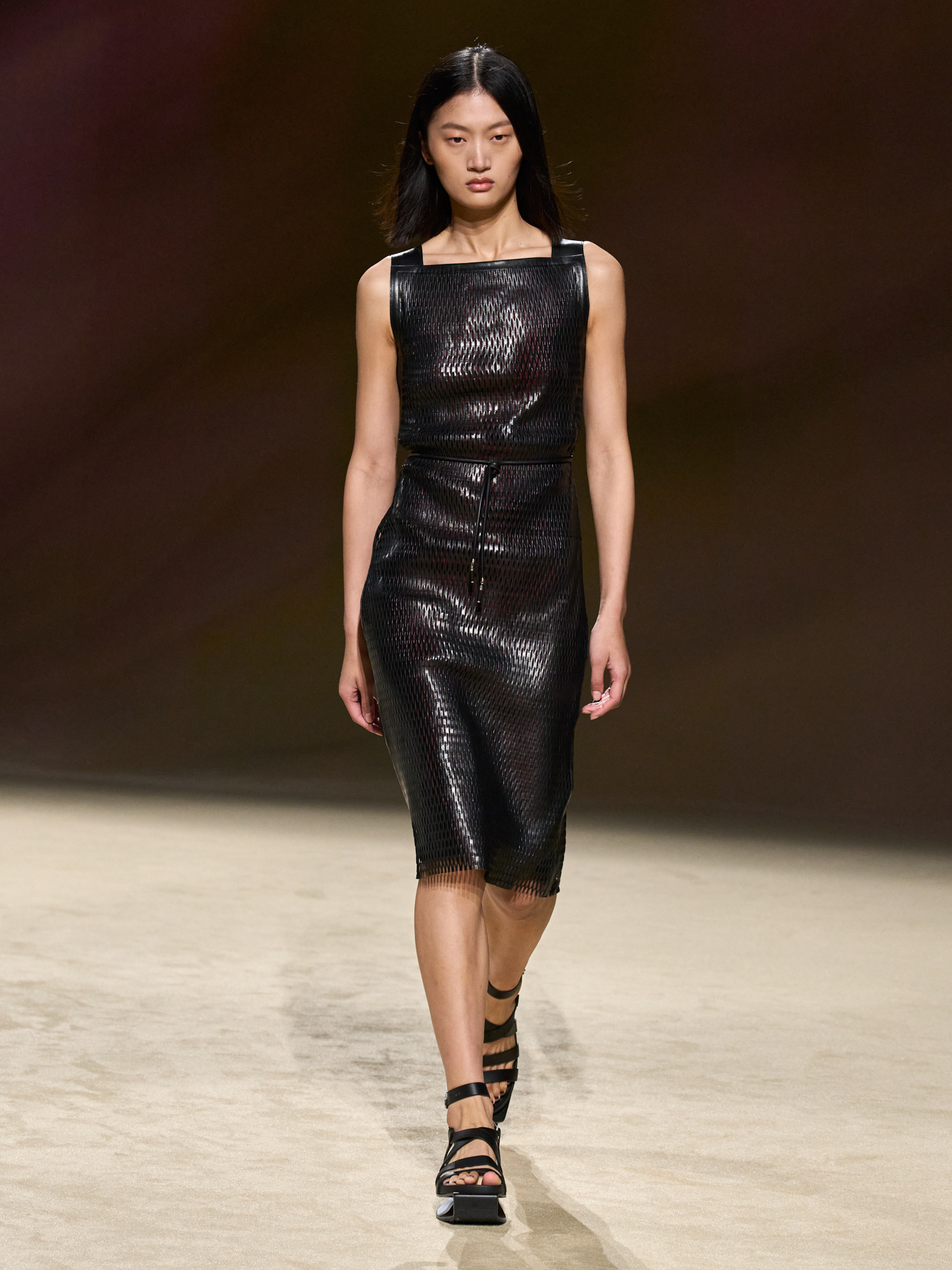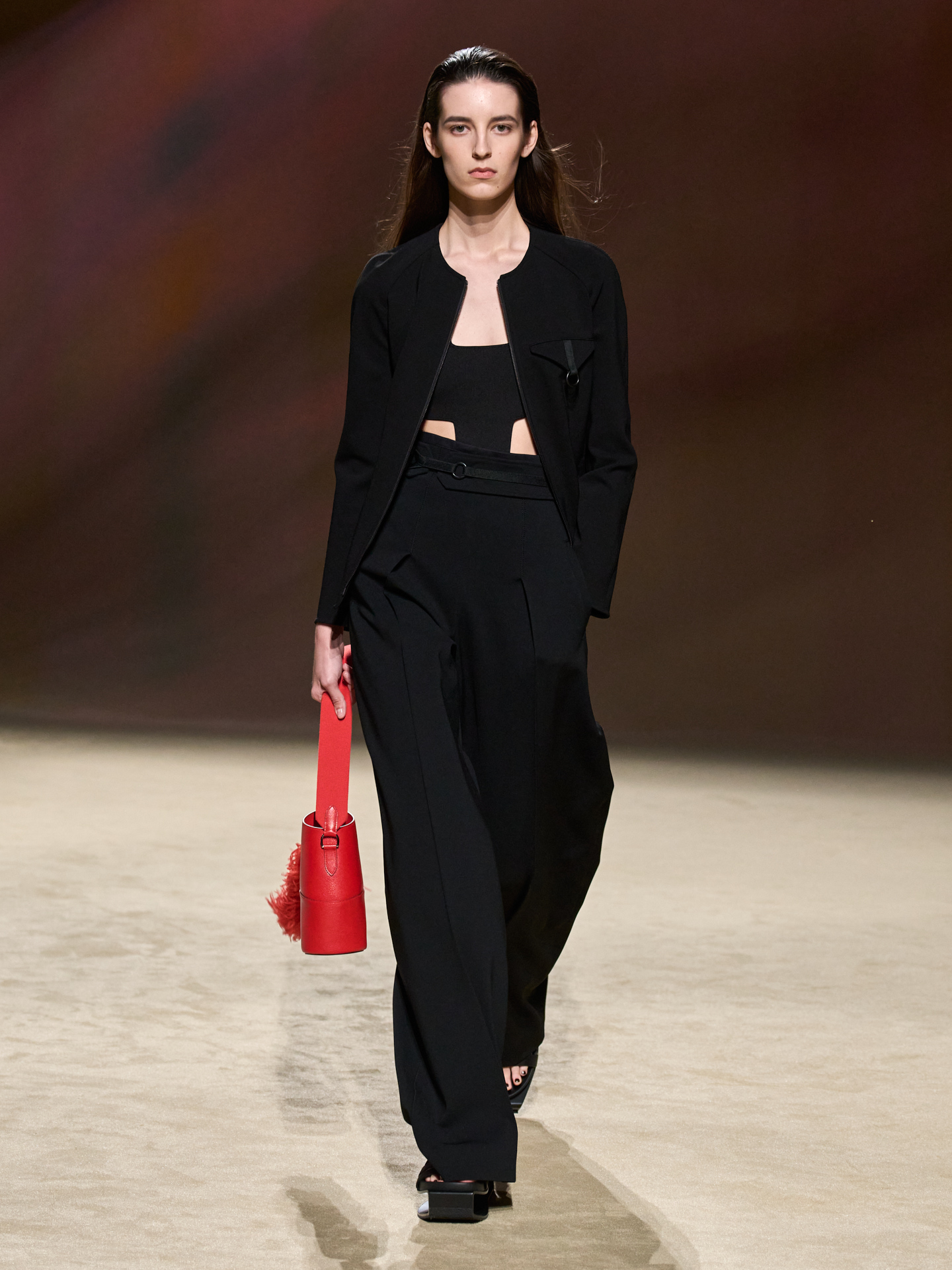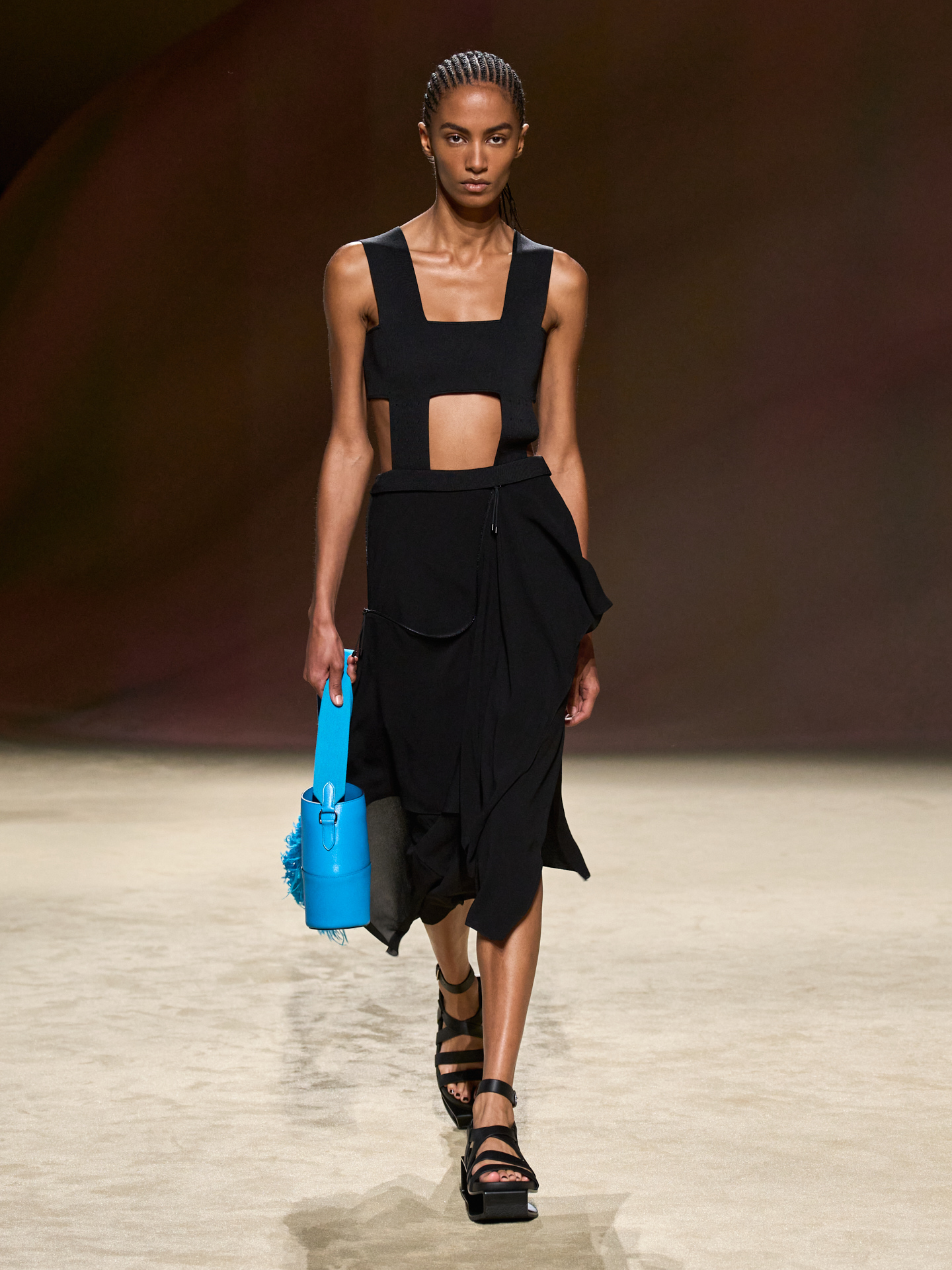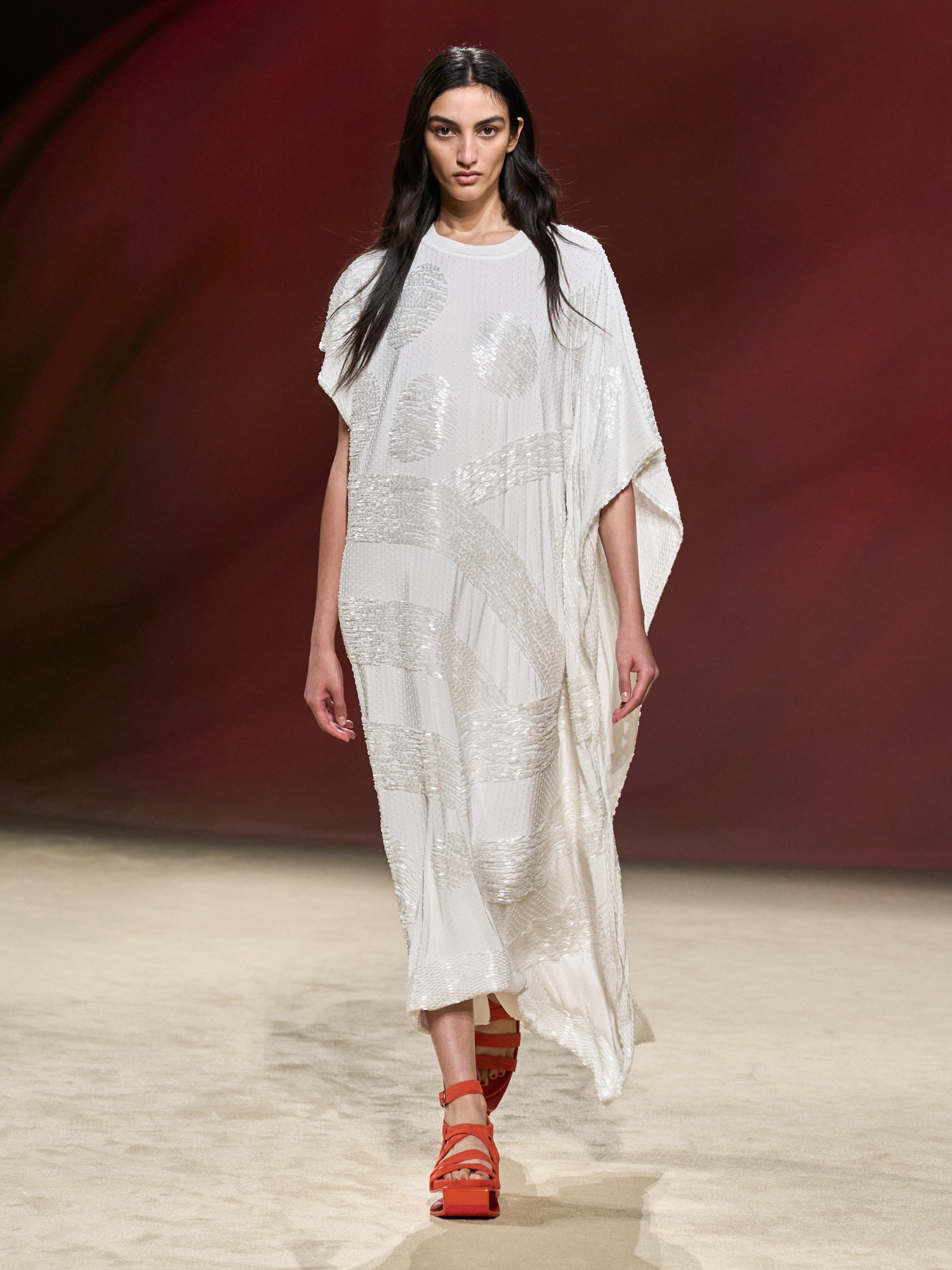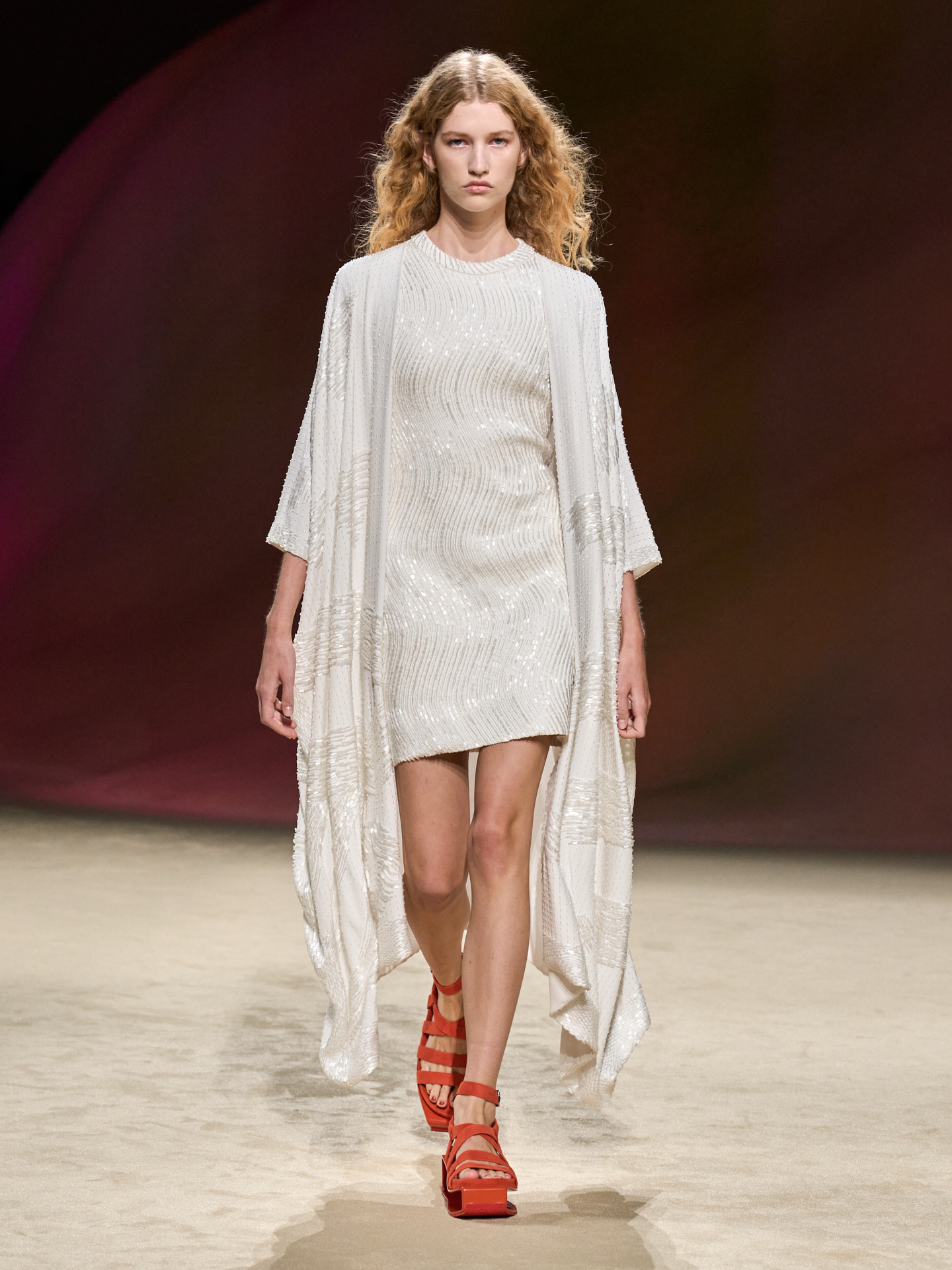 MIU MIU
When: October 4, 2.00PM (8.00PM MYT)
"It seems the Miu Miu girl is all grown up! And now, she's digging through her big sister's closet—Prada. Miu Miu is where creative director Miuccia Prada goes to have fun, to create pieces embodying the carefree, rebellious spirit of contemporary femininity that subverts the conventional and refined sophistication that we see at Prada. Nevertheless, the line between the two brands have always been blurred. While the core of Miu Miu has always been youthful and sensual, we still get elements of urbane and elegance that only highlights the duality of Miuccia Prada—which was especially encapsulated in Miu Miu's SS23 collection. The unforgettable miniskirts from the SS22 collection took on Prada's classic knee-length silhouette, and the matching belted bandeaus were reconstructed with cleaner, streamlined cuts. Stone-wash leather along with acid-wash denim were also prominent in this season's collection, and layering has never seen more layers—which, personally, I am obsessed with. Of course, I couldn't miss mentioning the giant pockets, one of the most notable details that referenced the men's SS03 collection. As a whole, SS23 was an amalgamation of Prada signatures and vintage Miu Miu with a twist of modern edge. The cherry on top if all? Icons FKA Twigs, Bella Hadid, and Emily Ratajkowski who walked the show. Thank you, Miuccia Prada! We couldn't have asked for more." — Phyll Wu, editorial assistant
RUNWAY LOOKS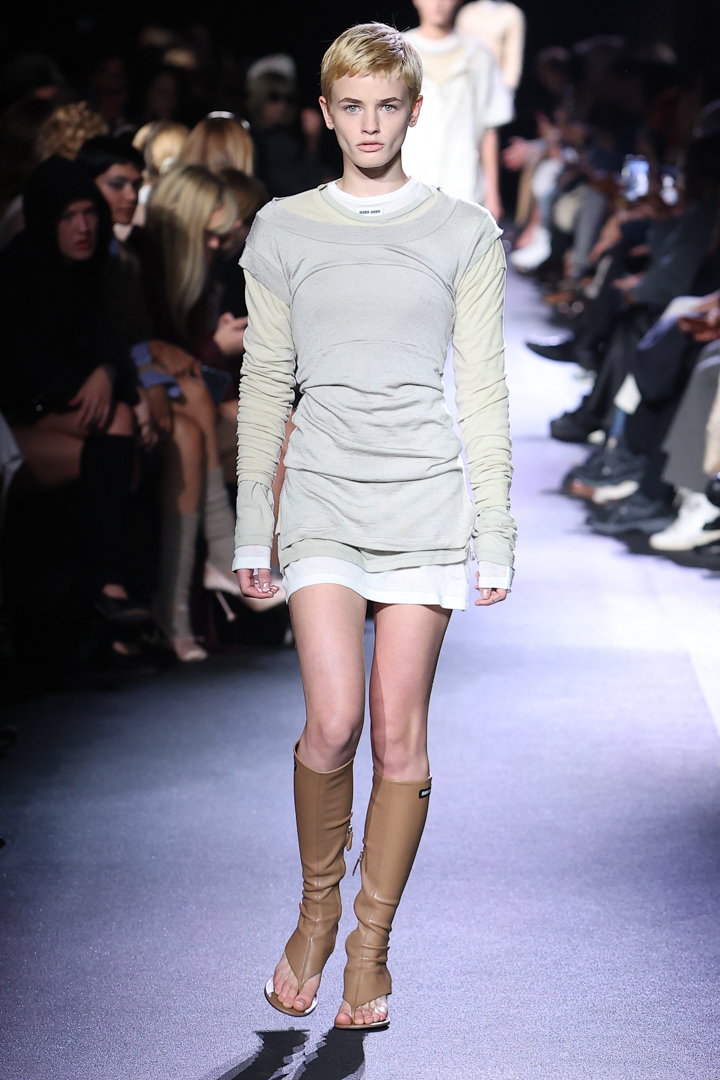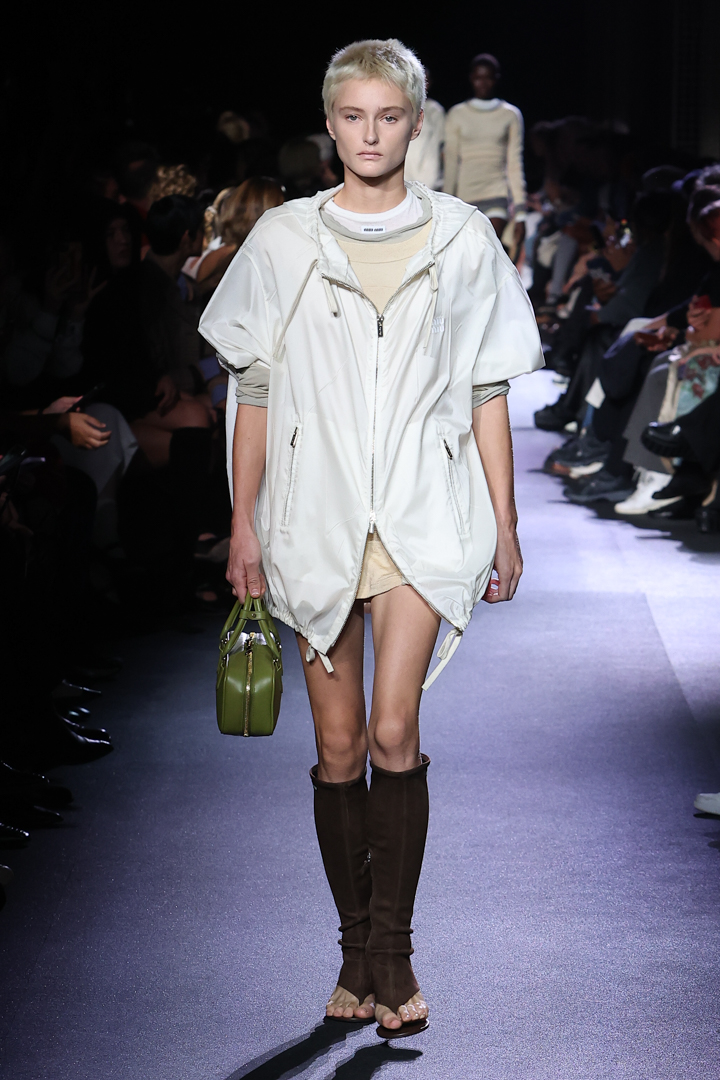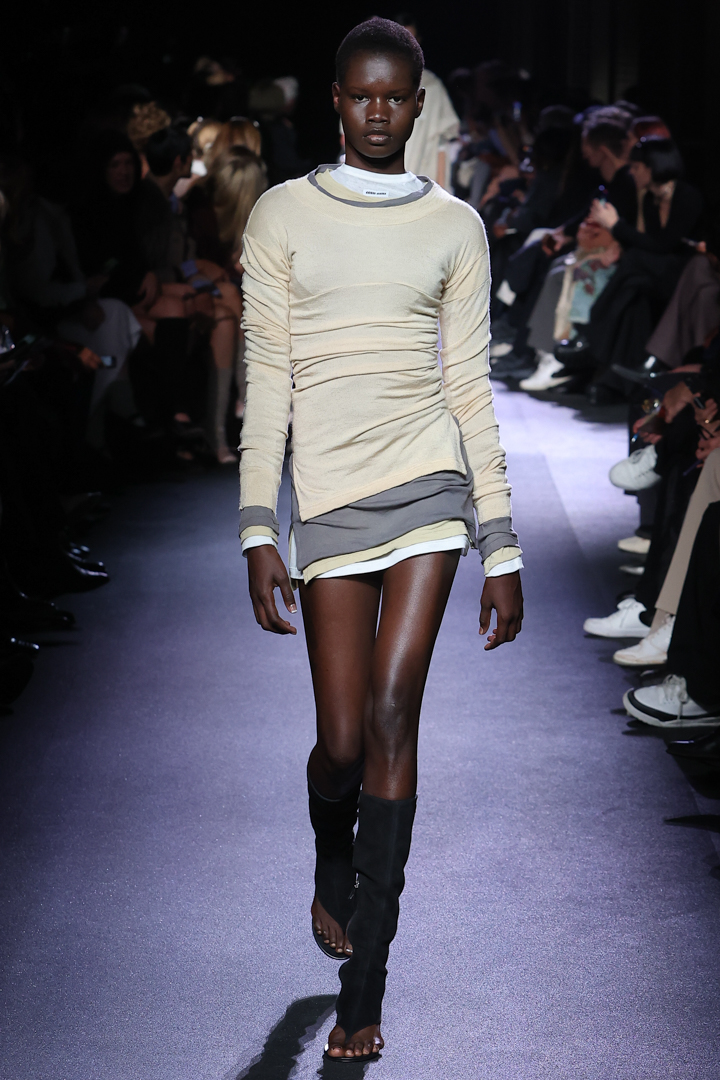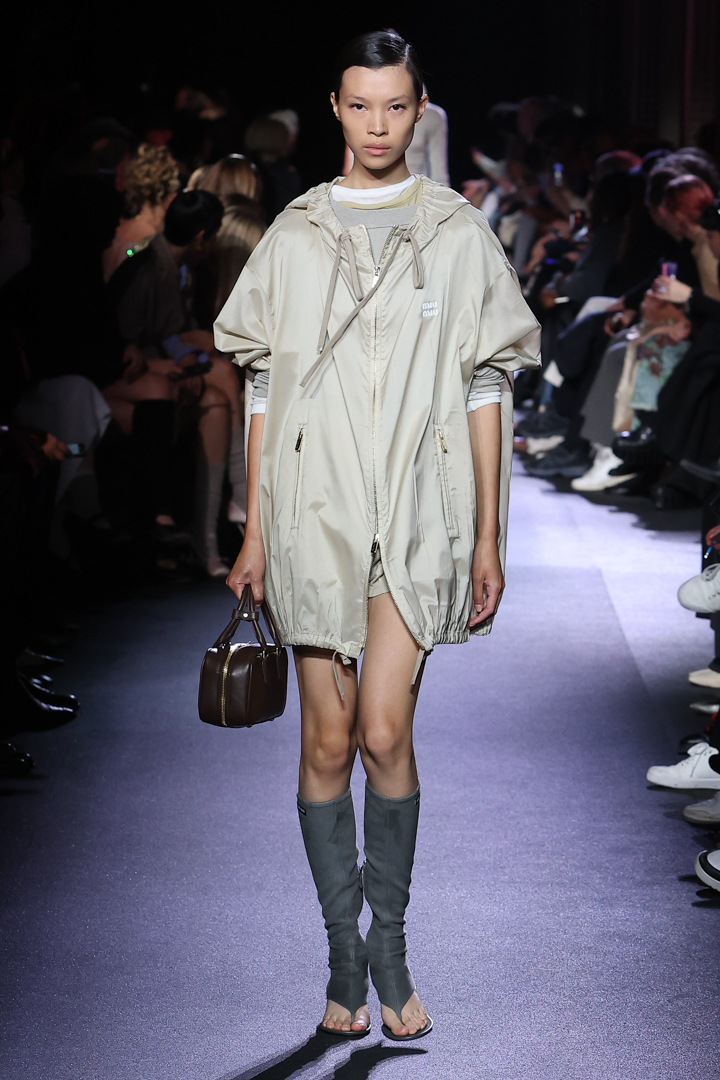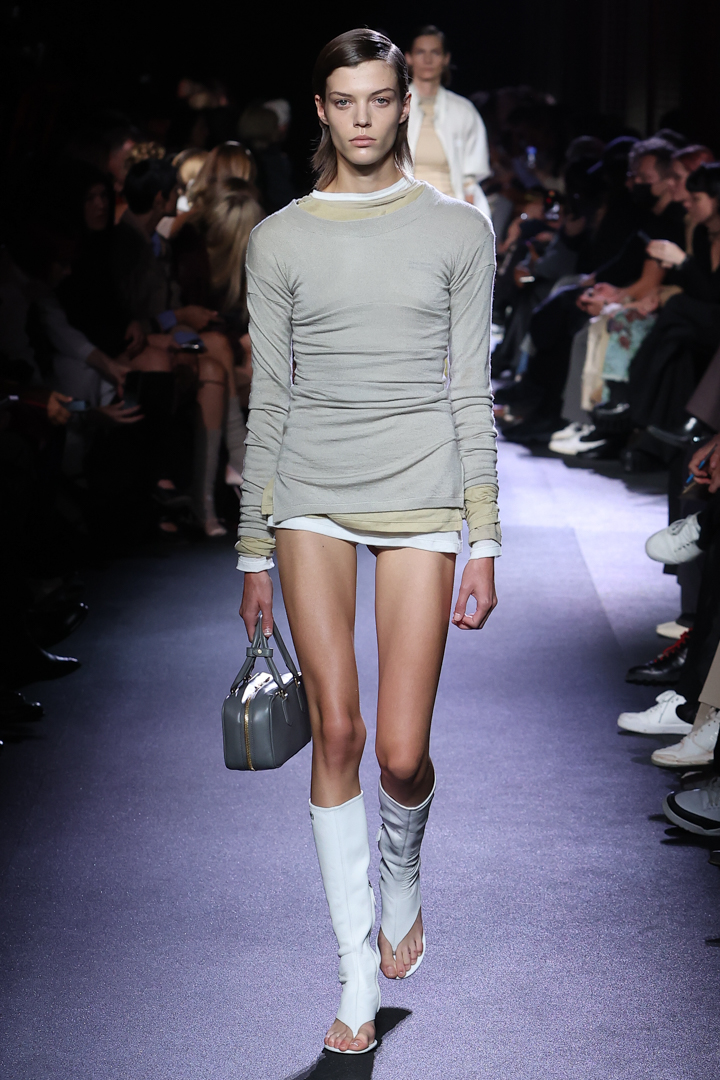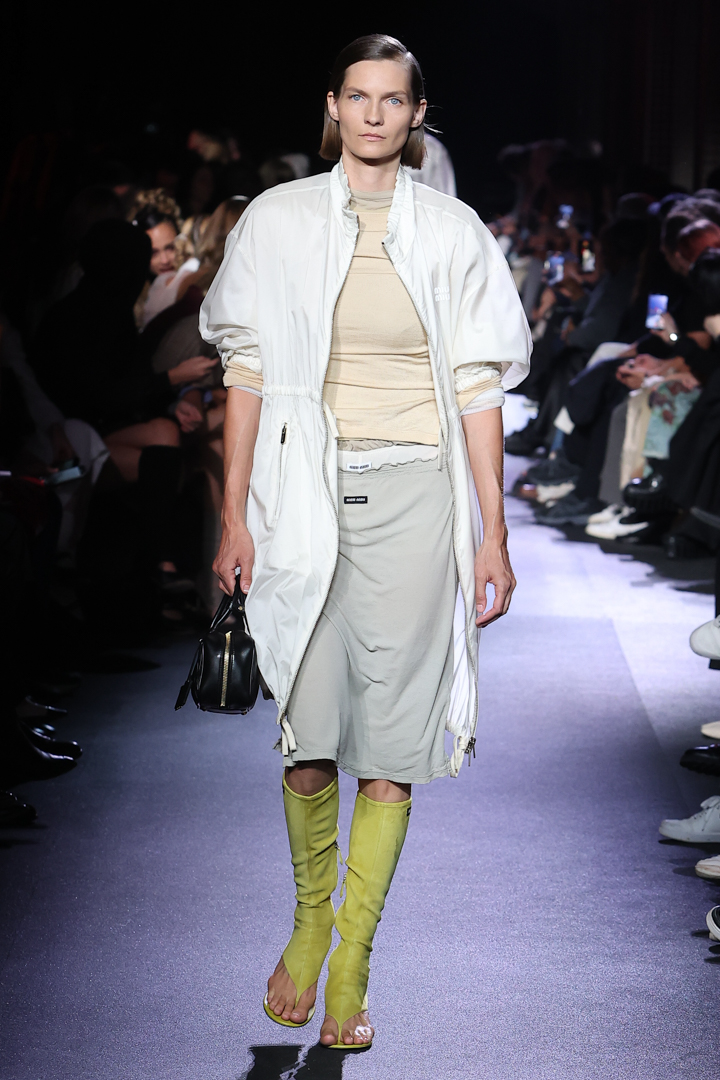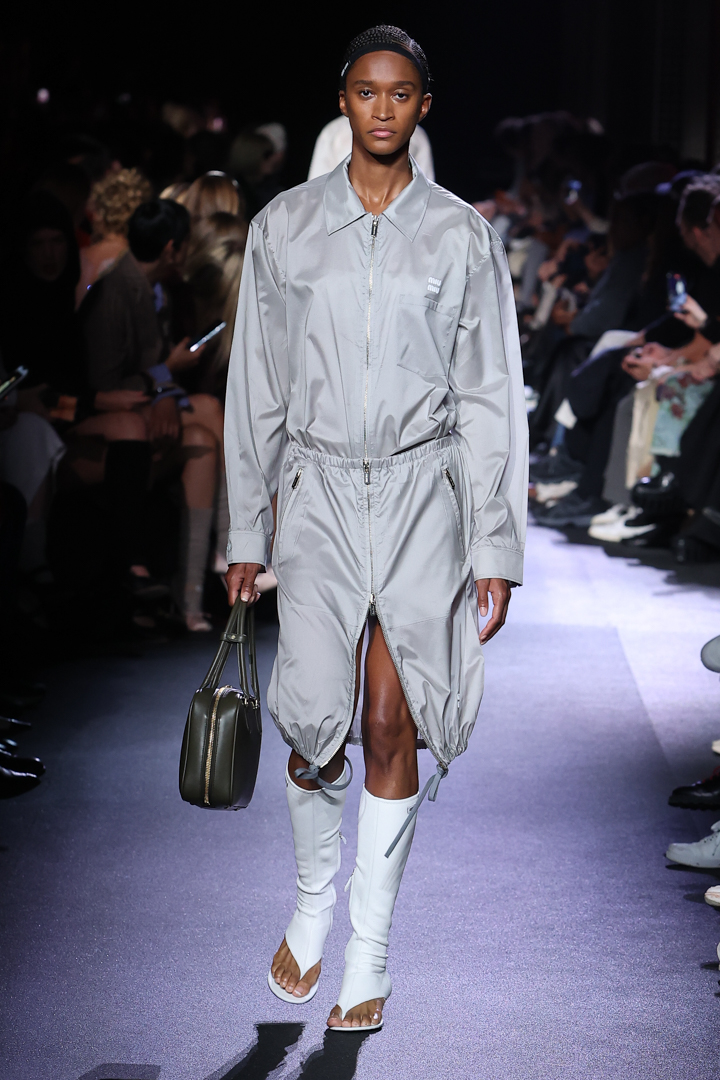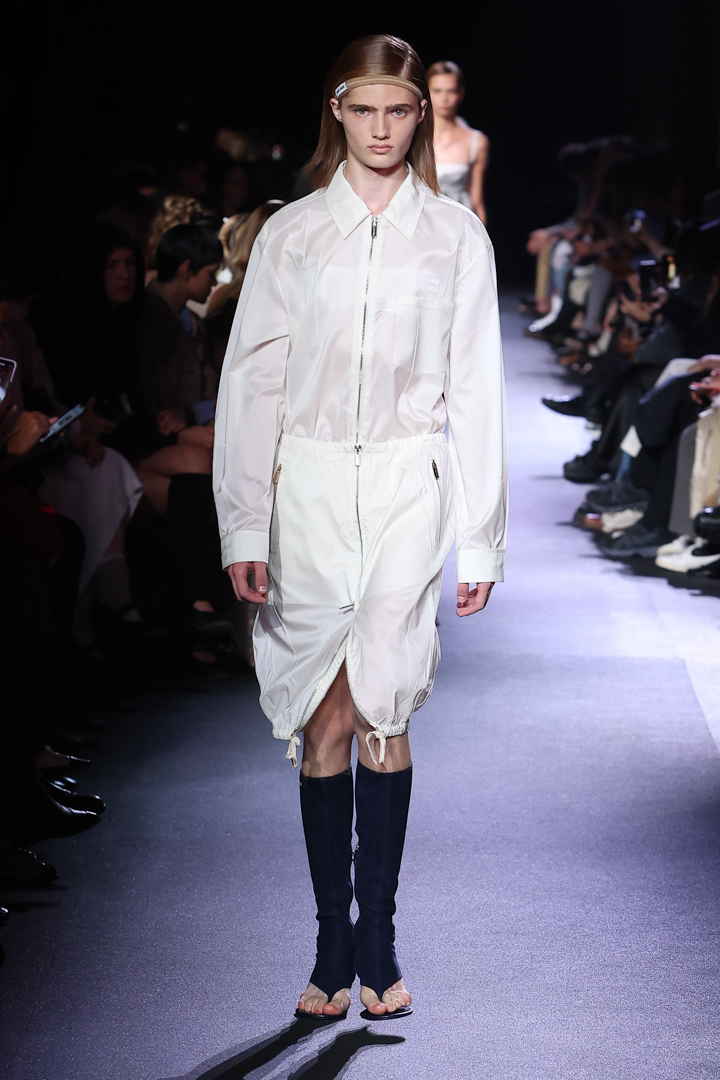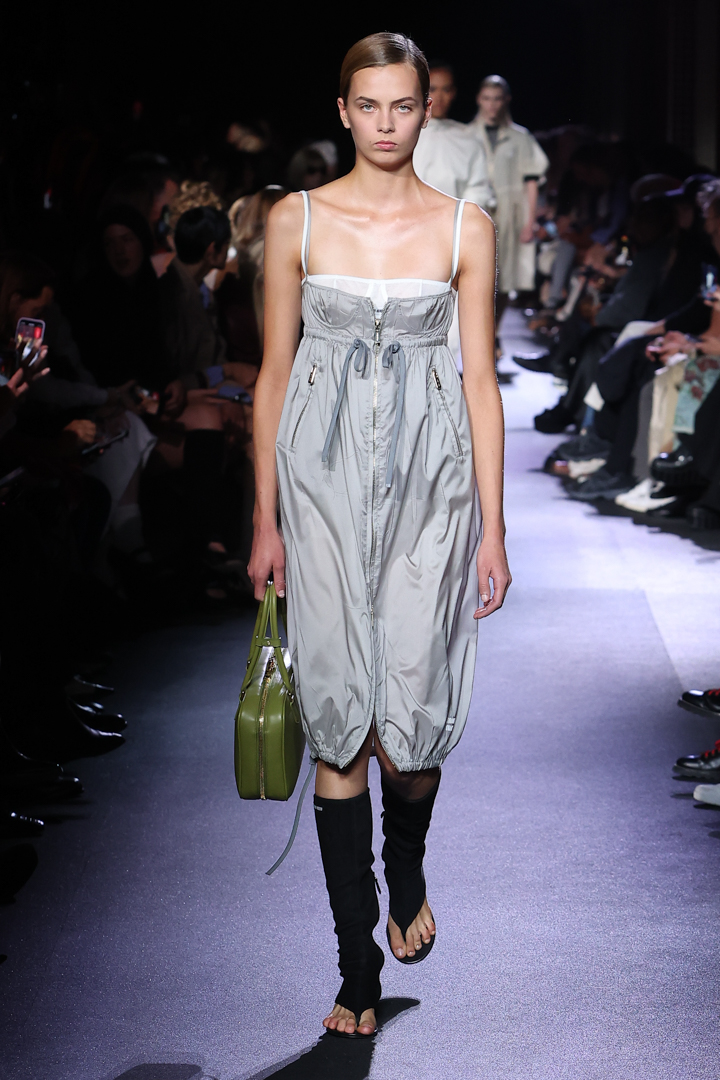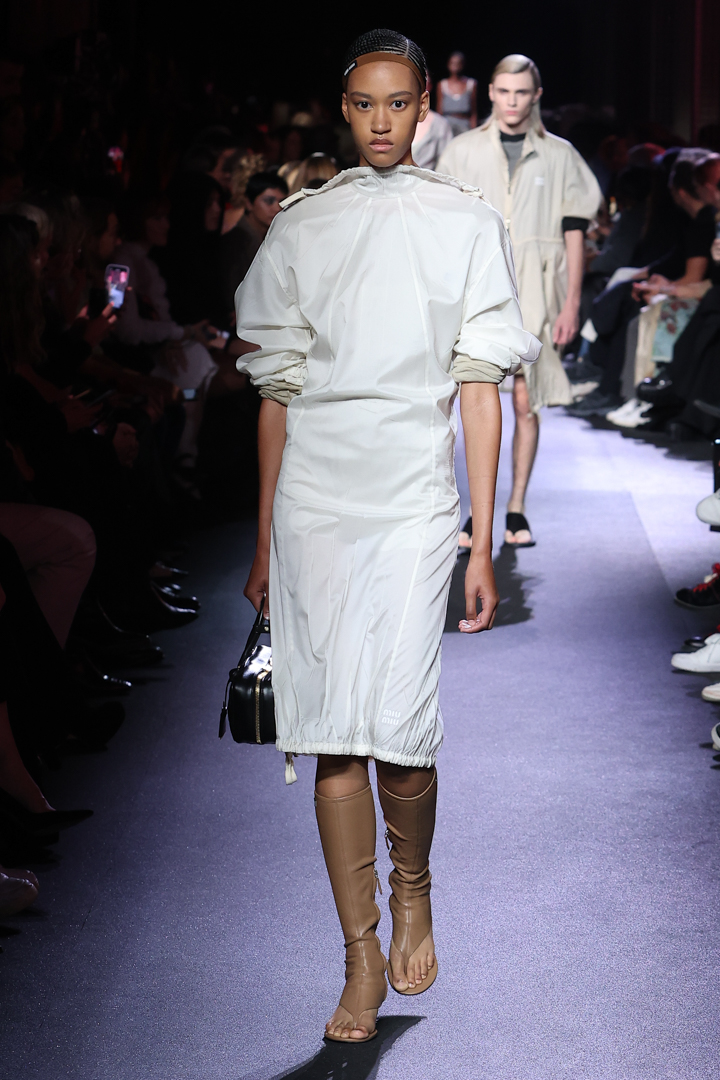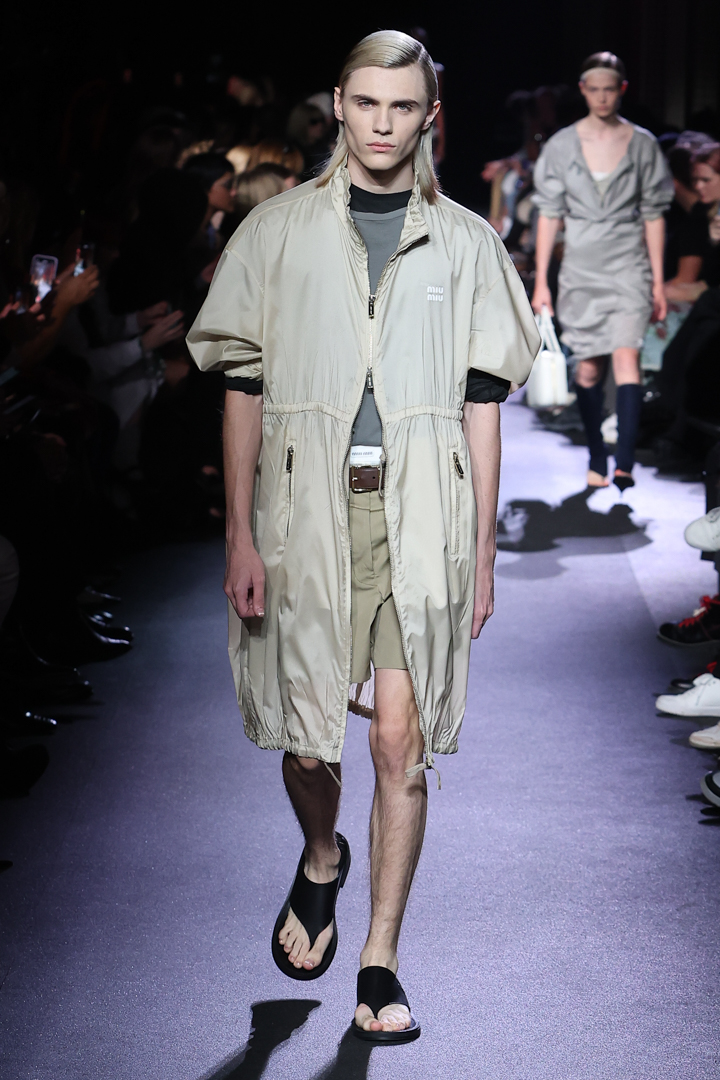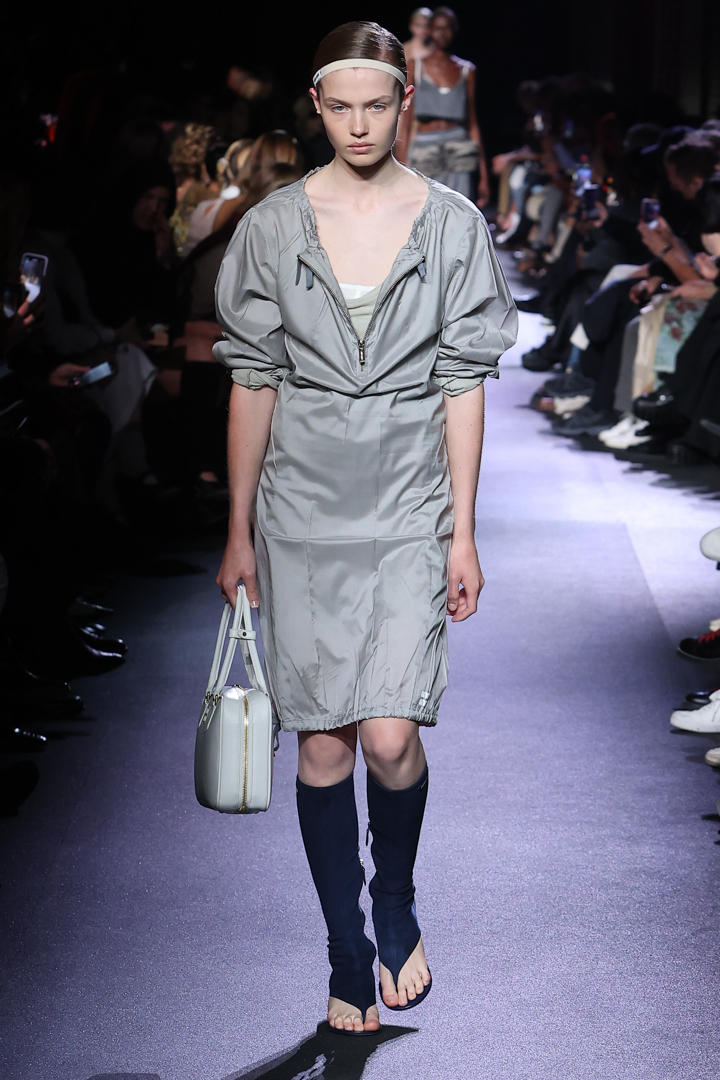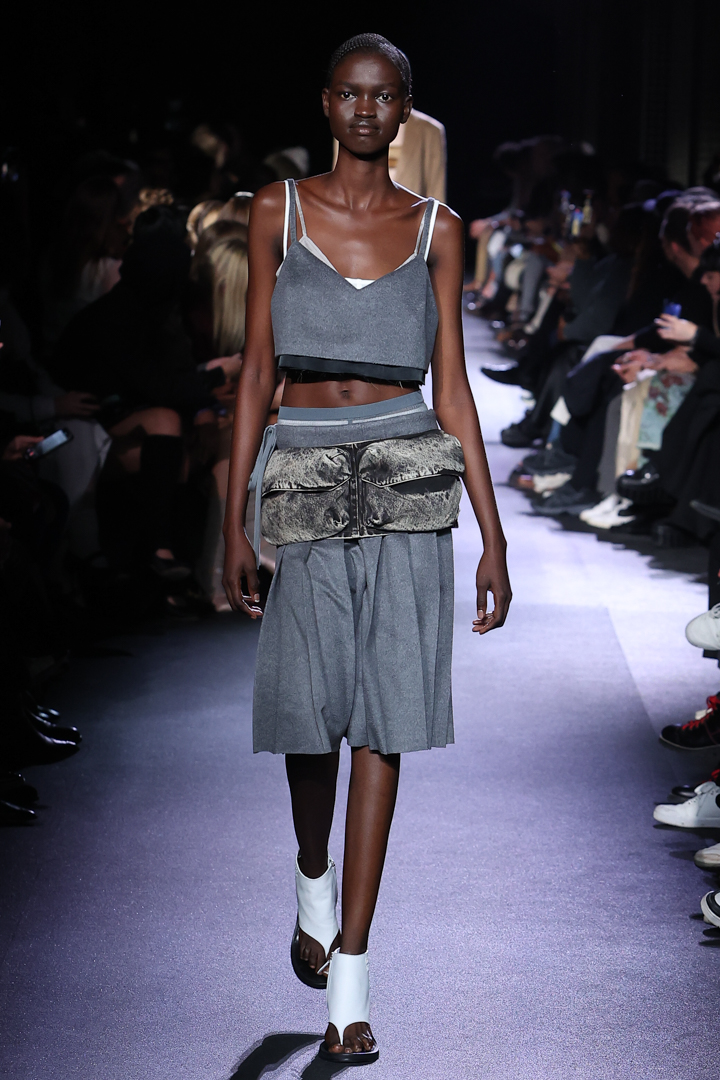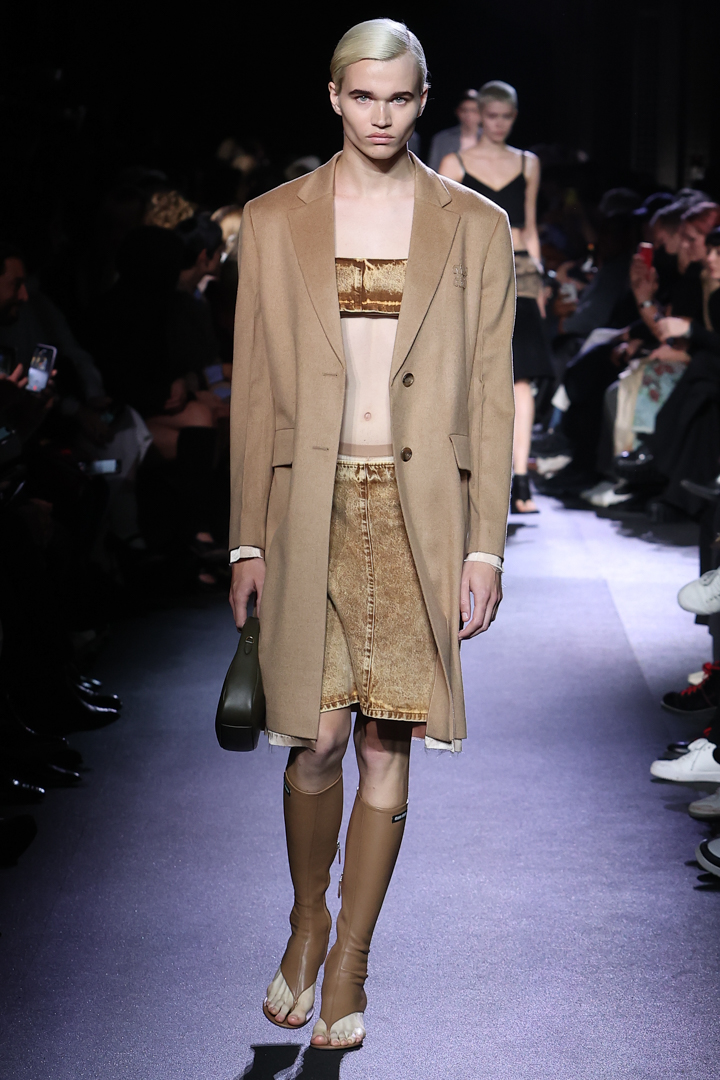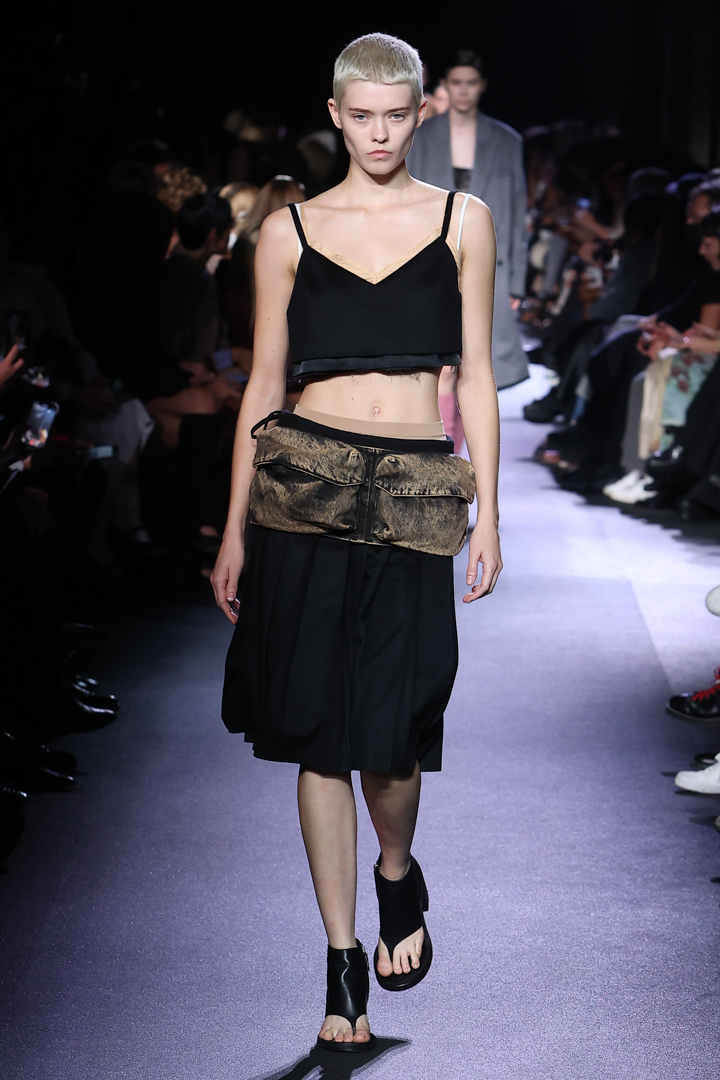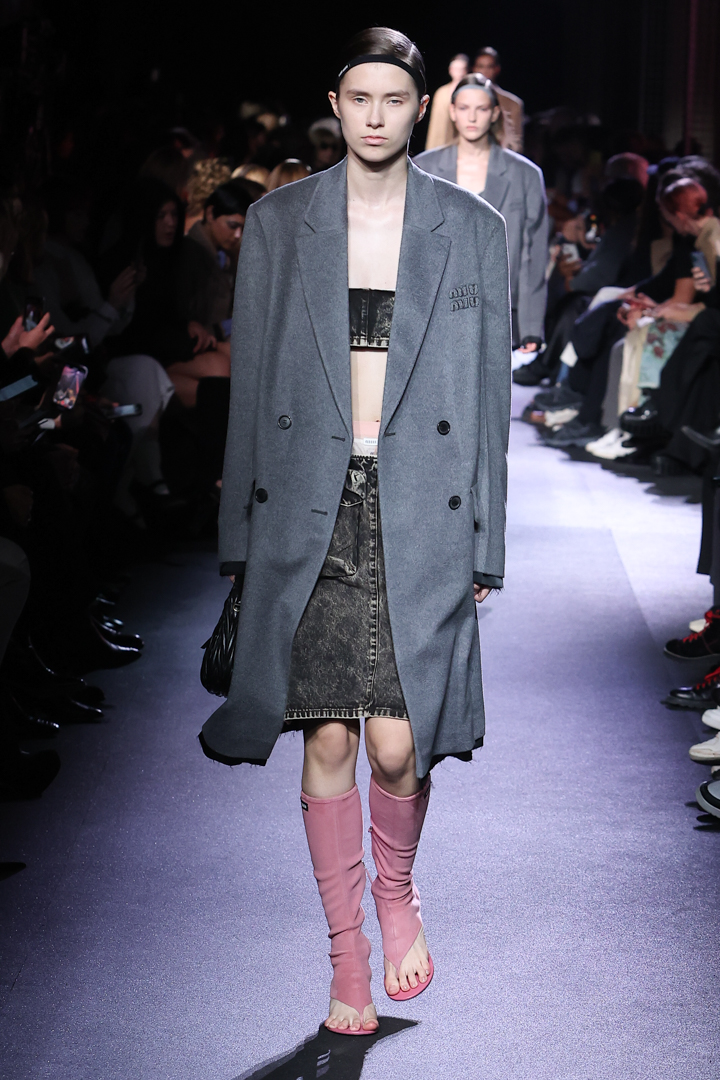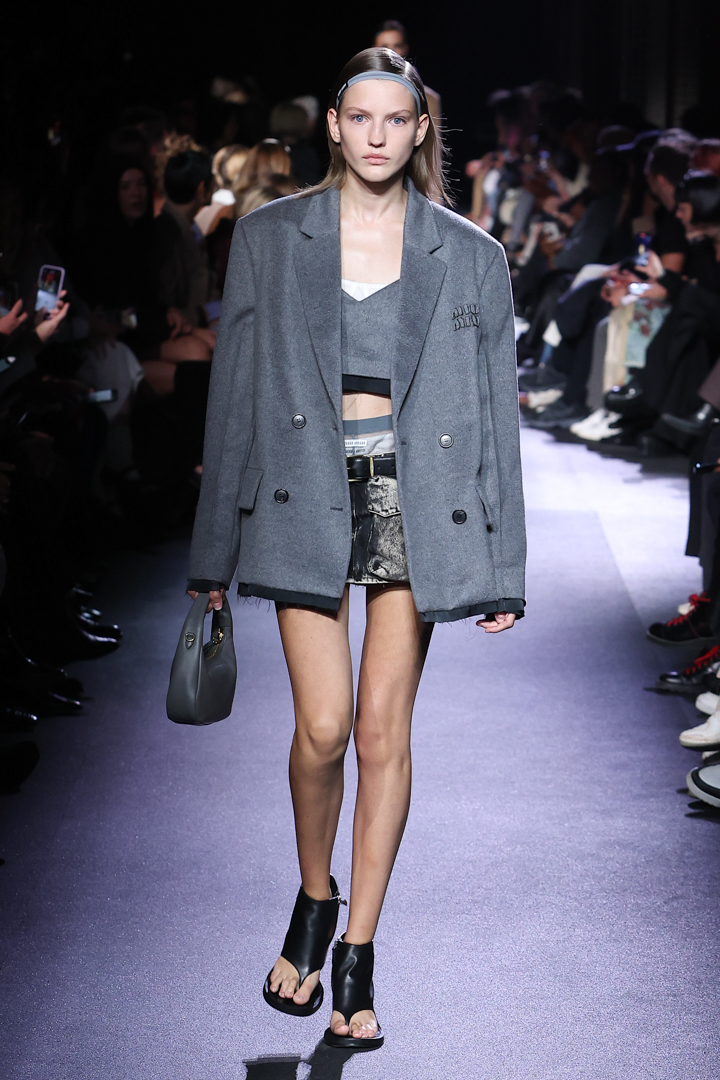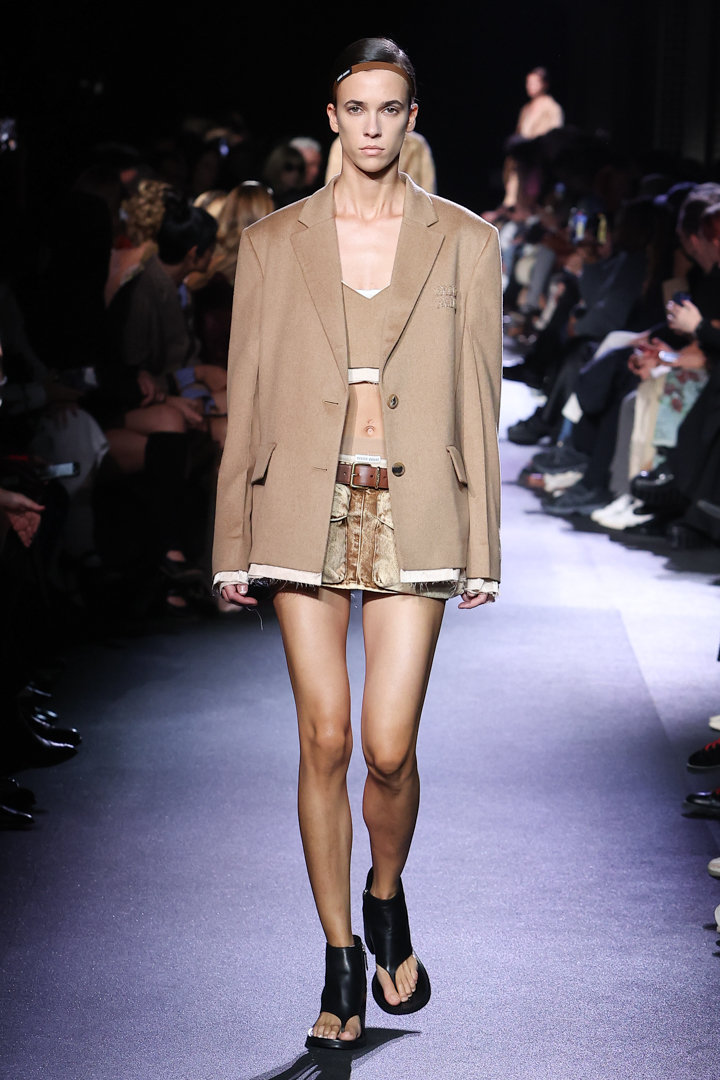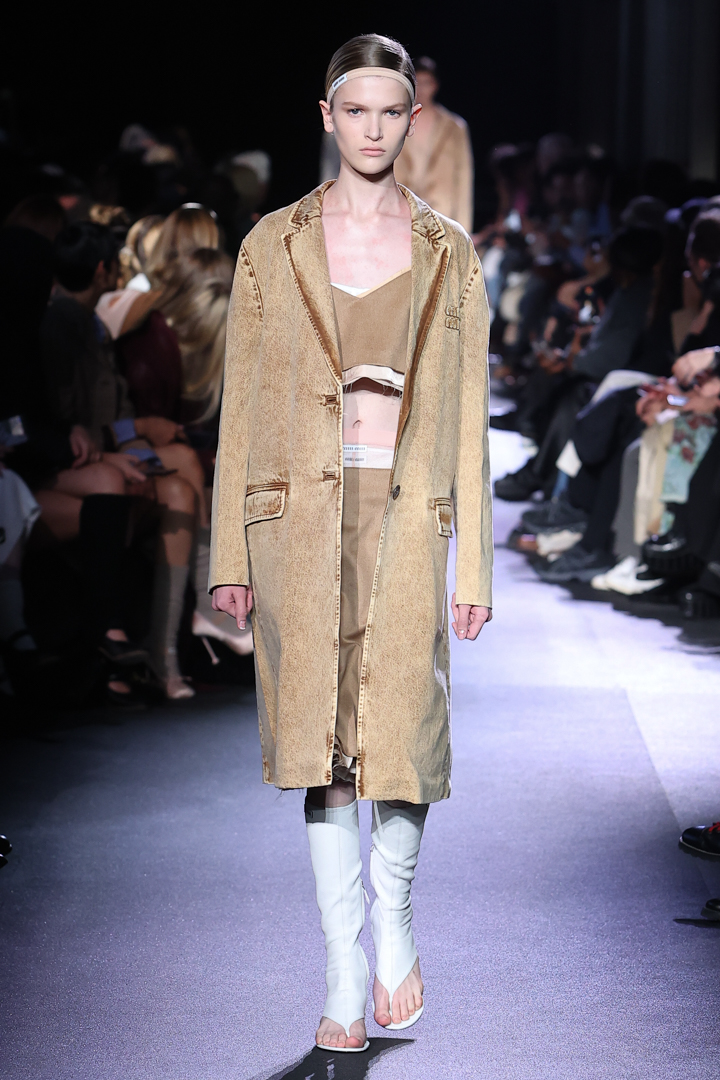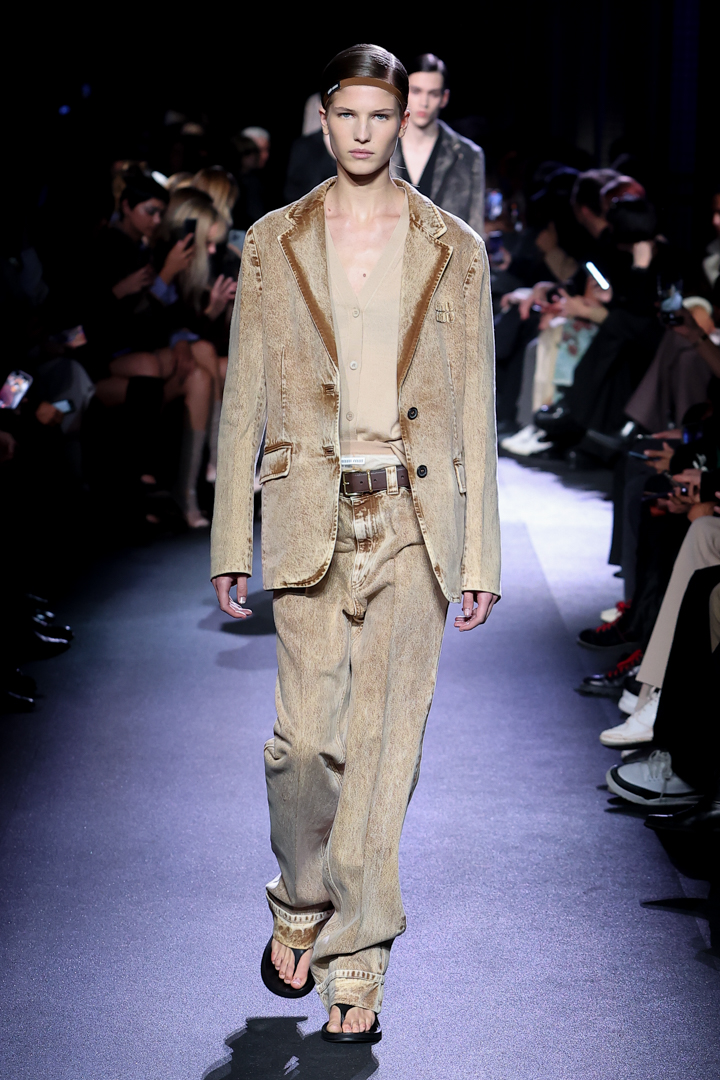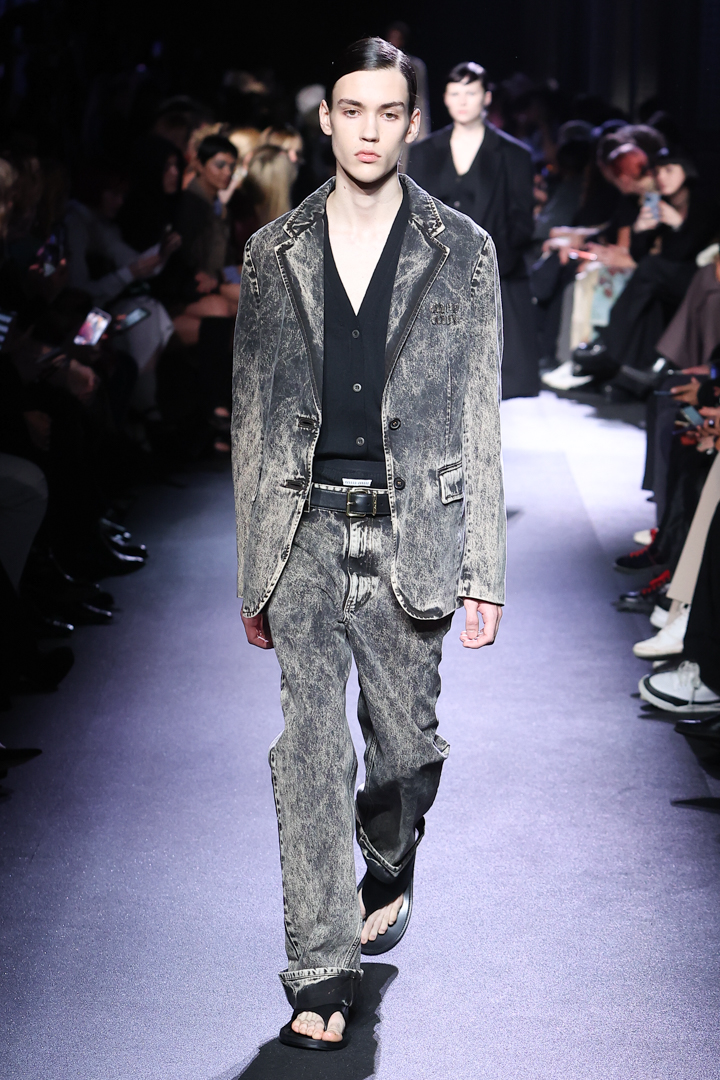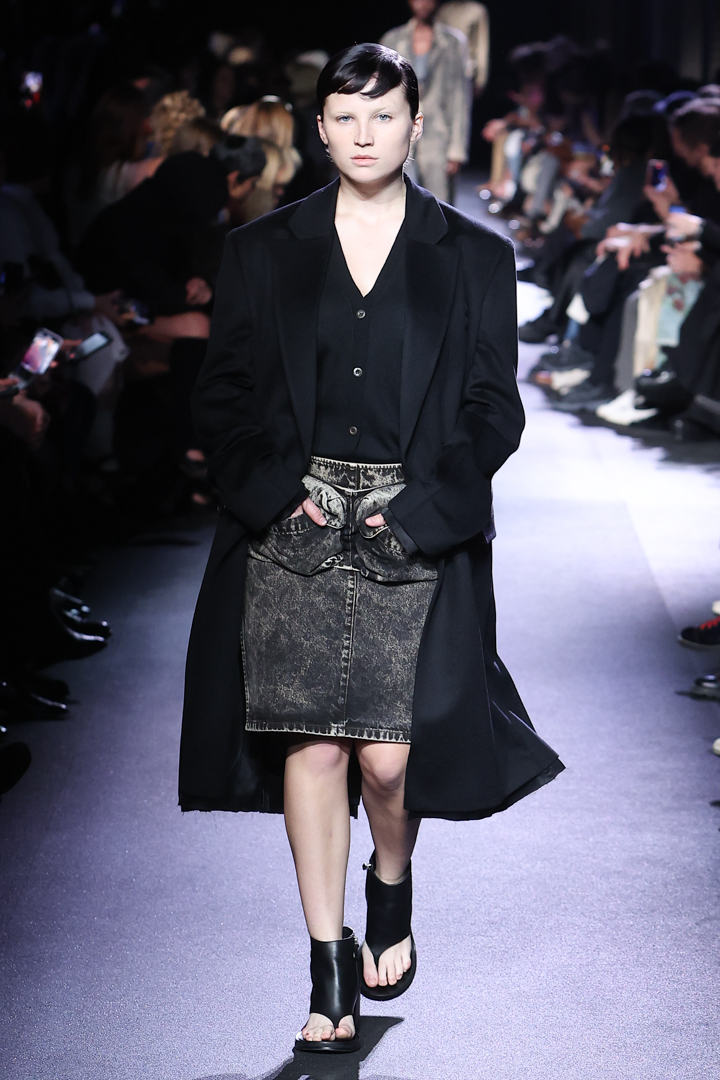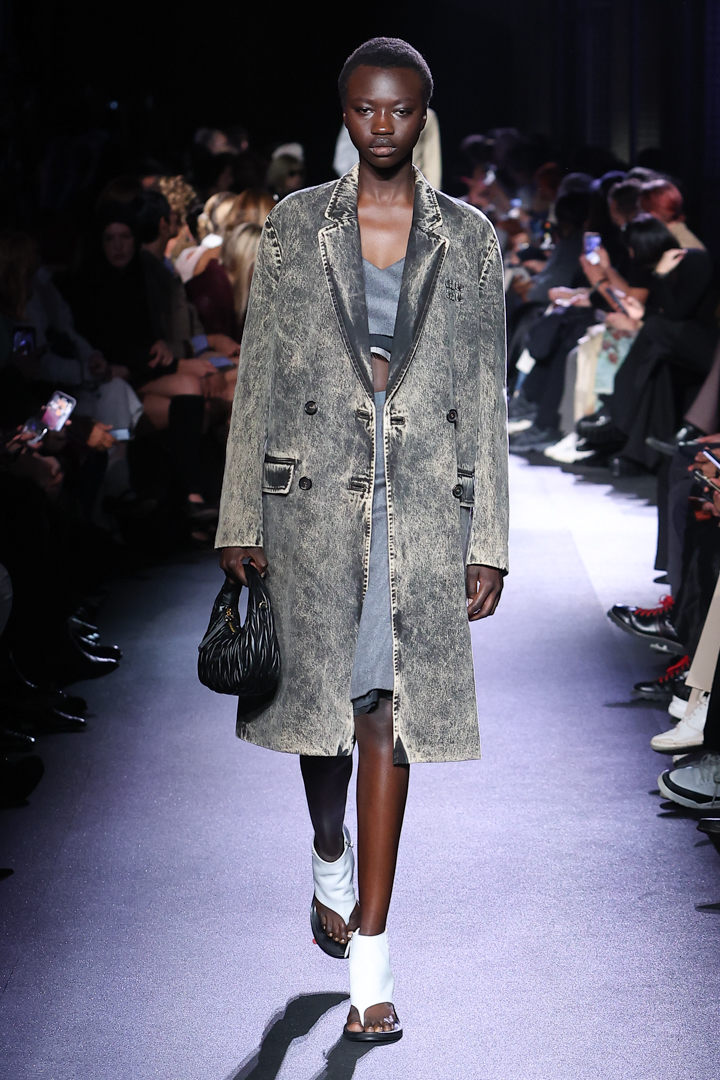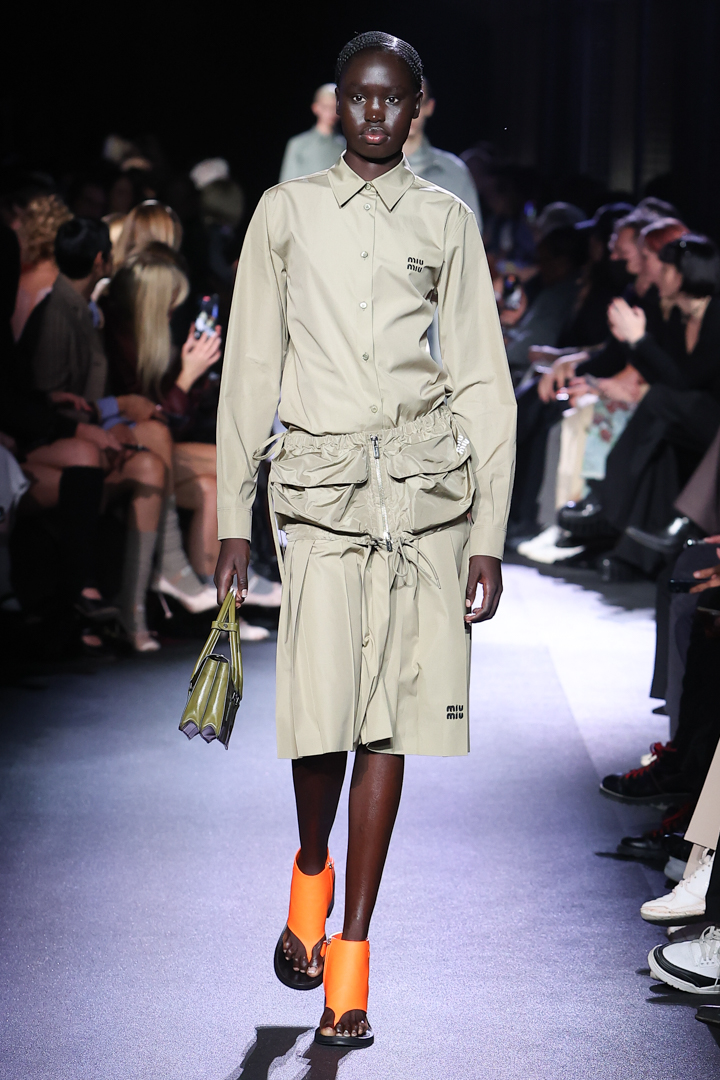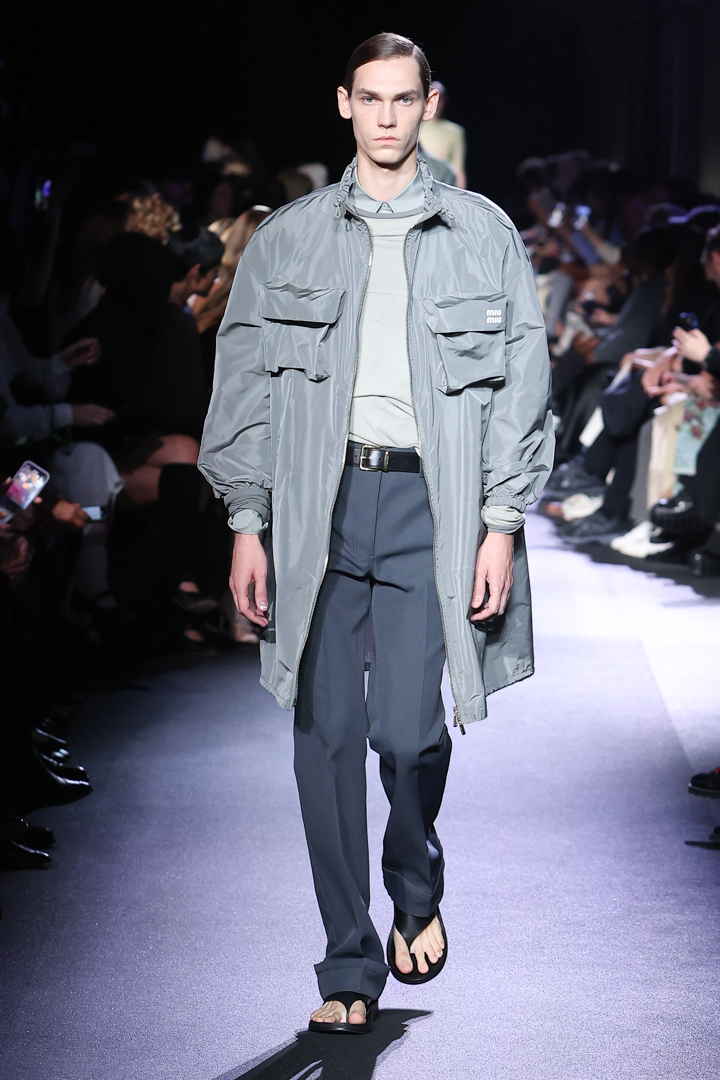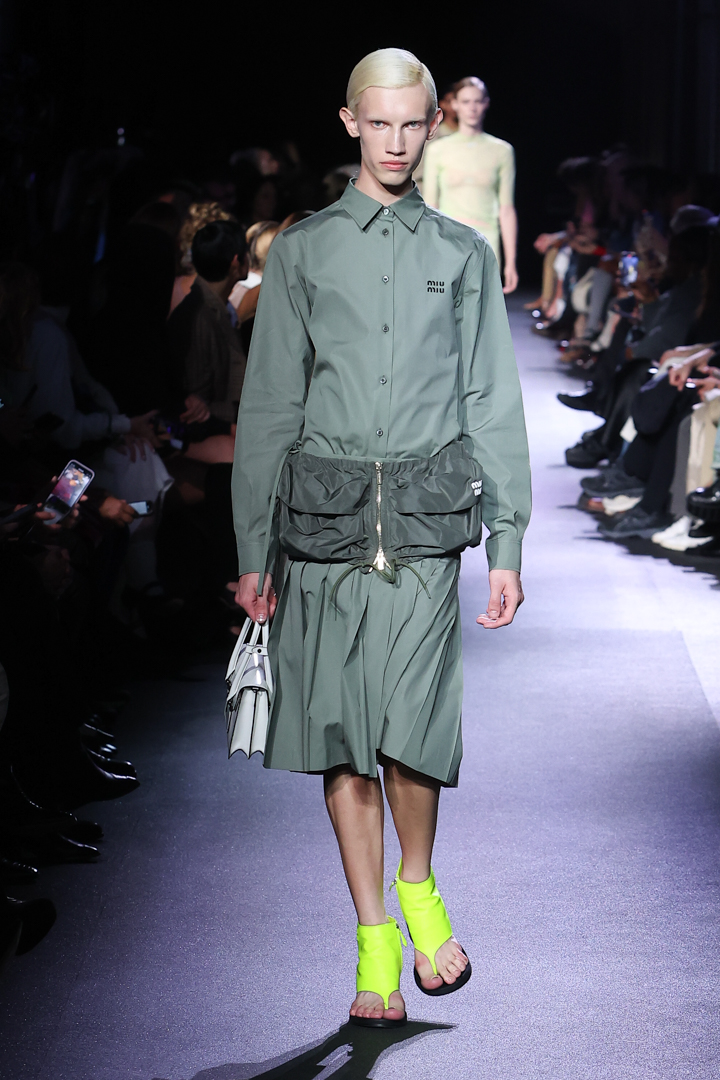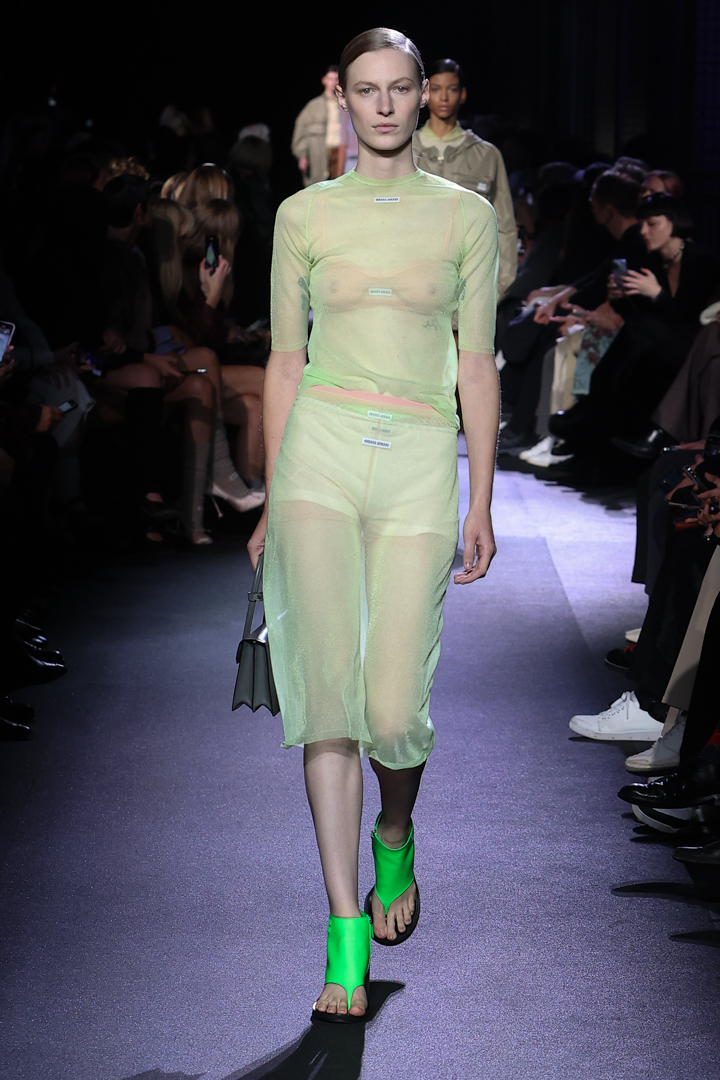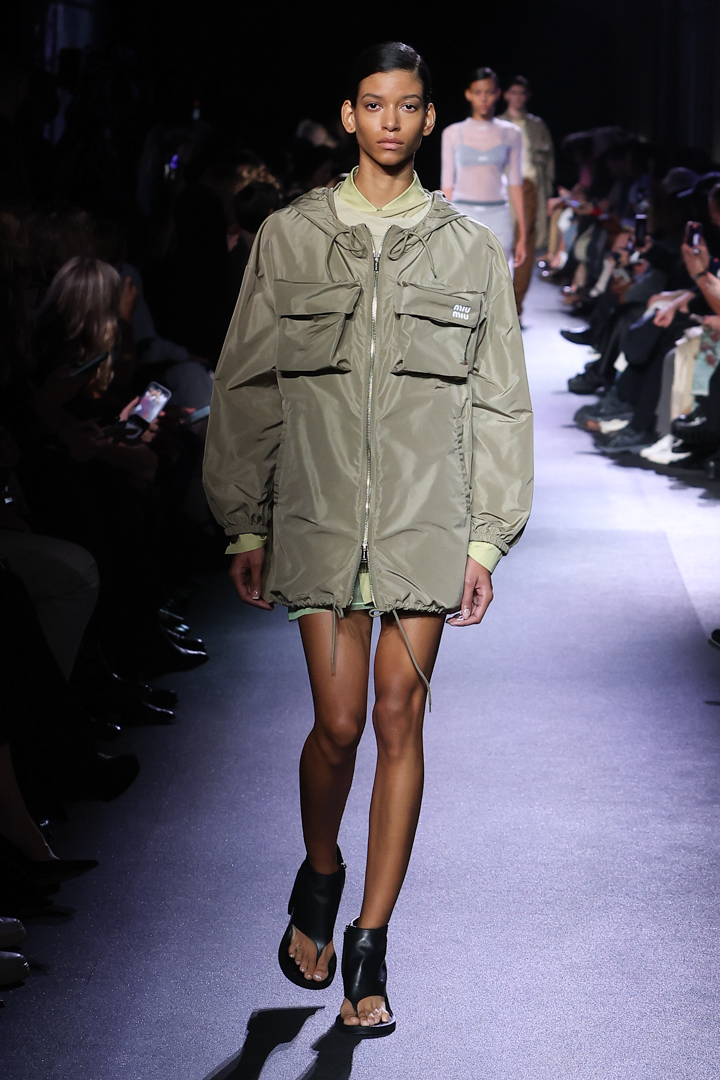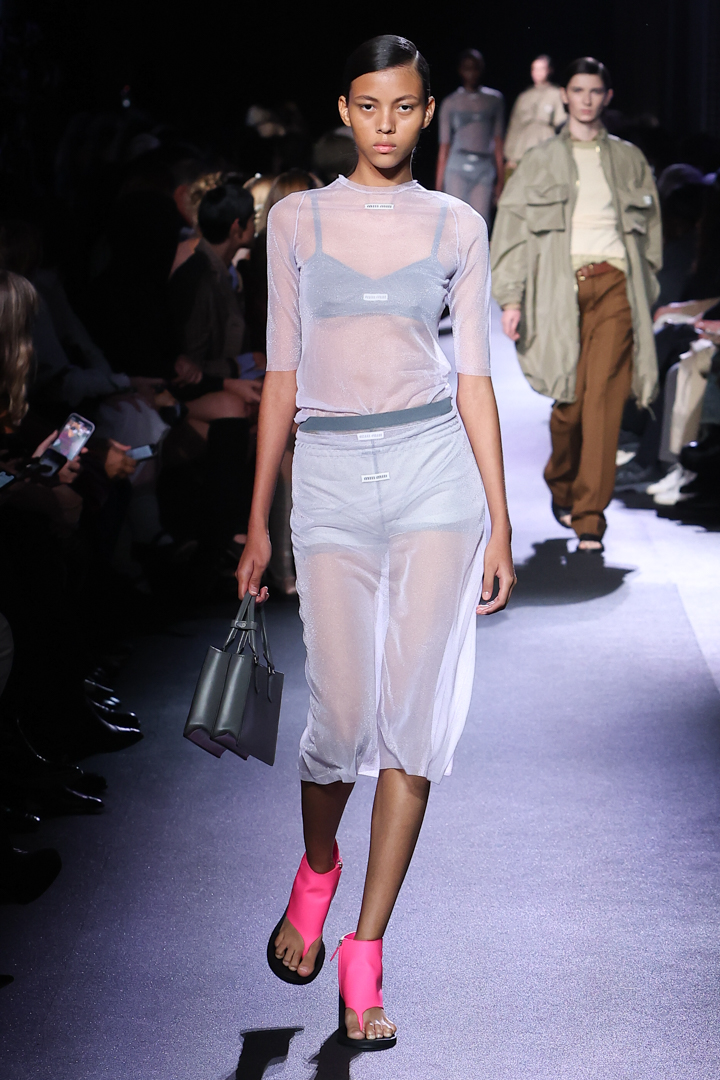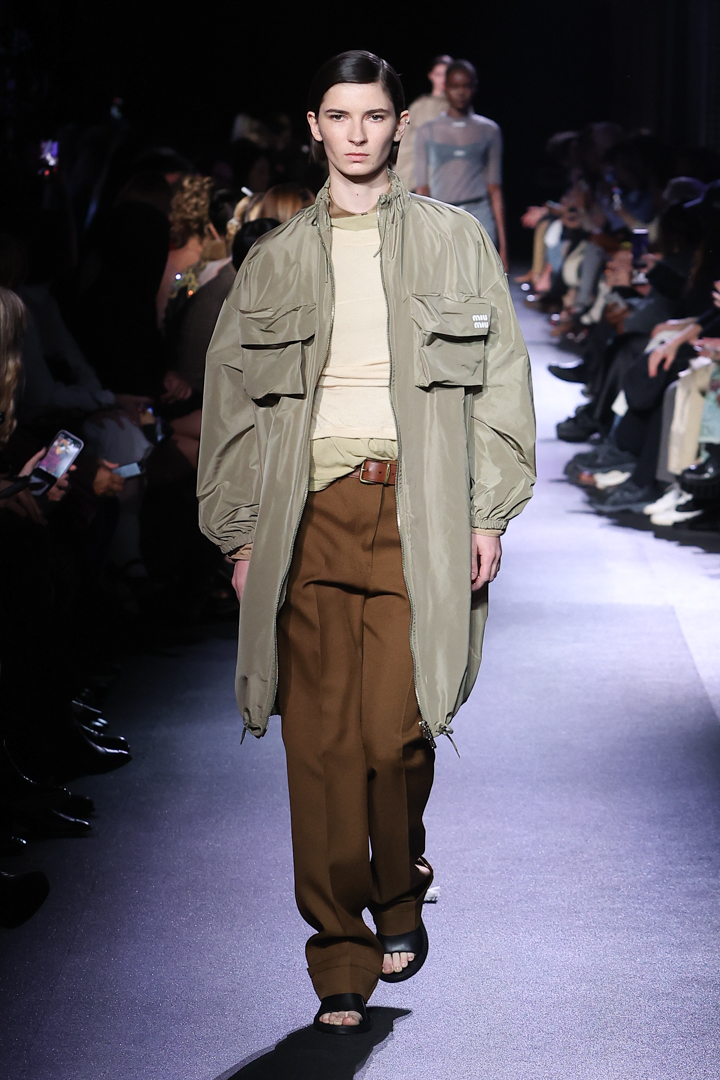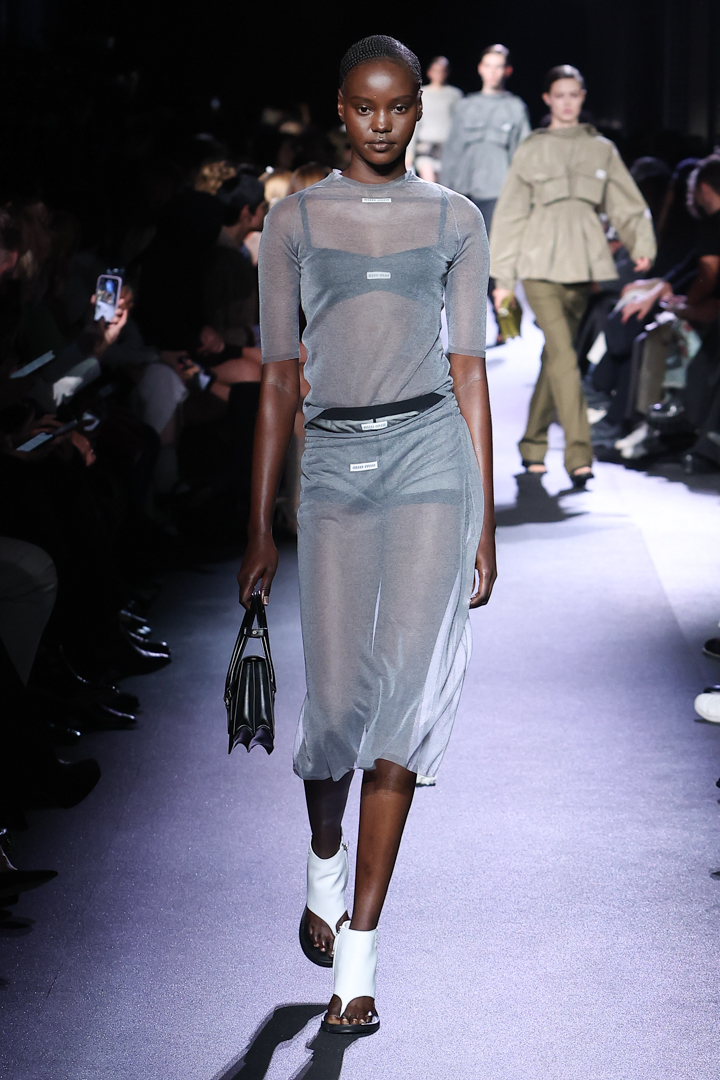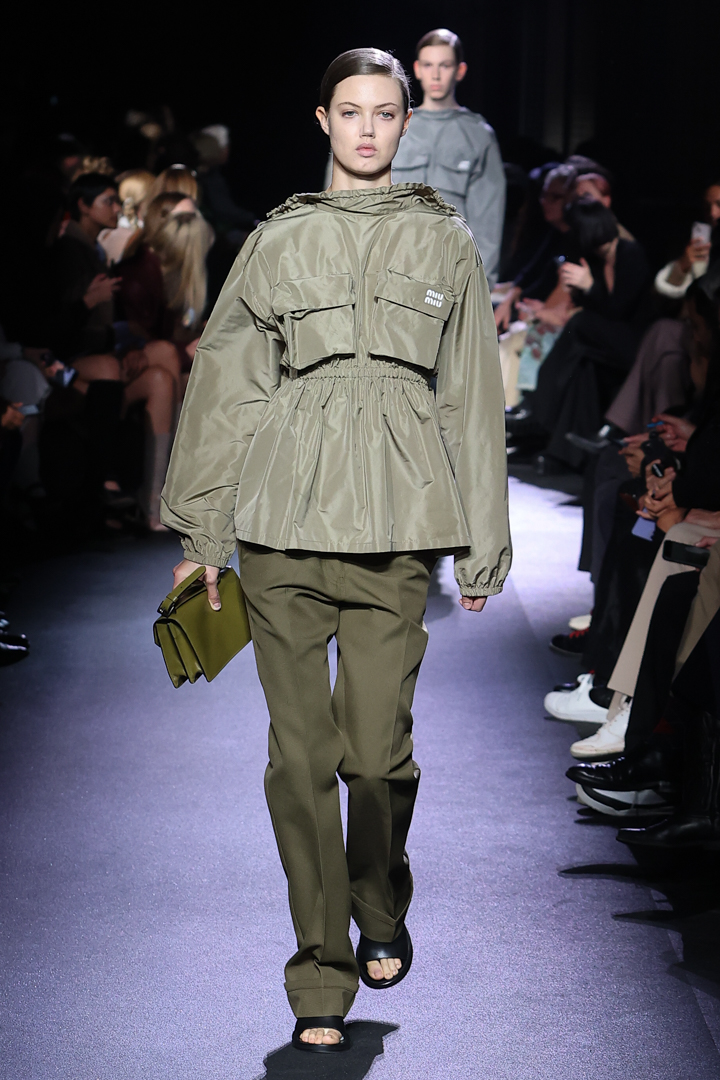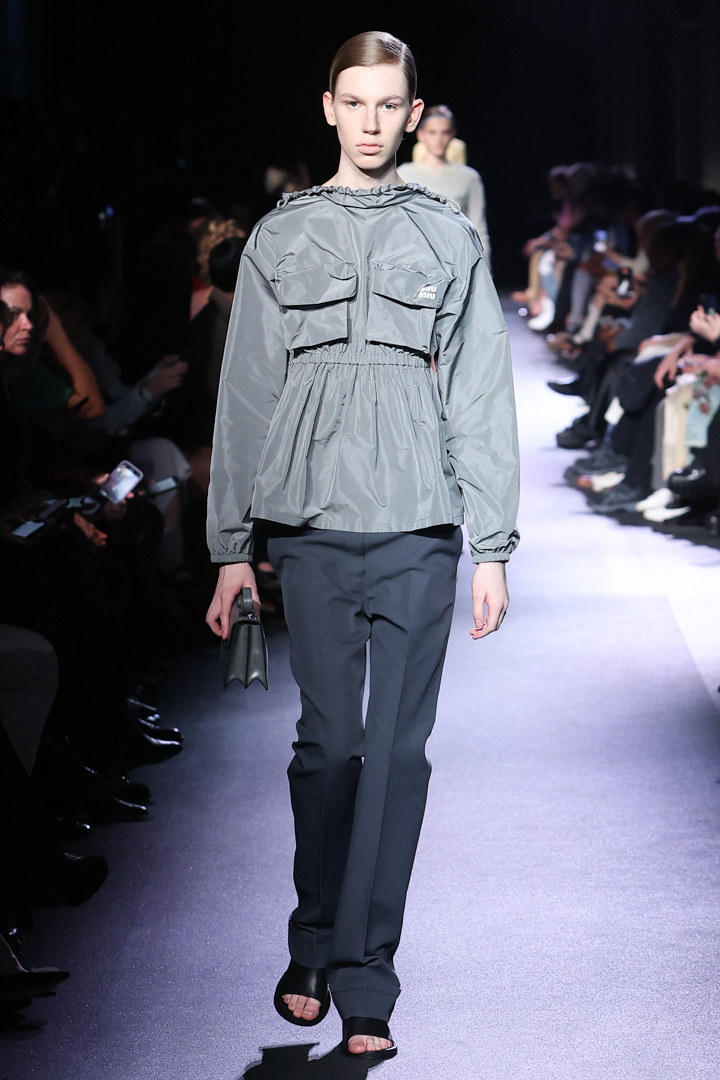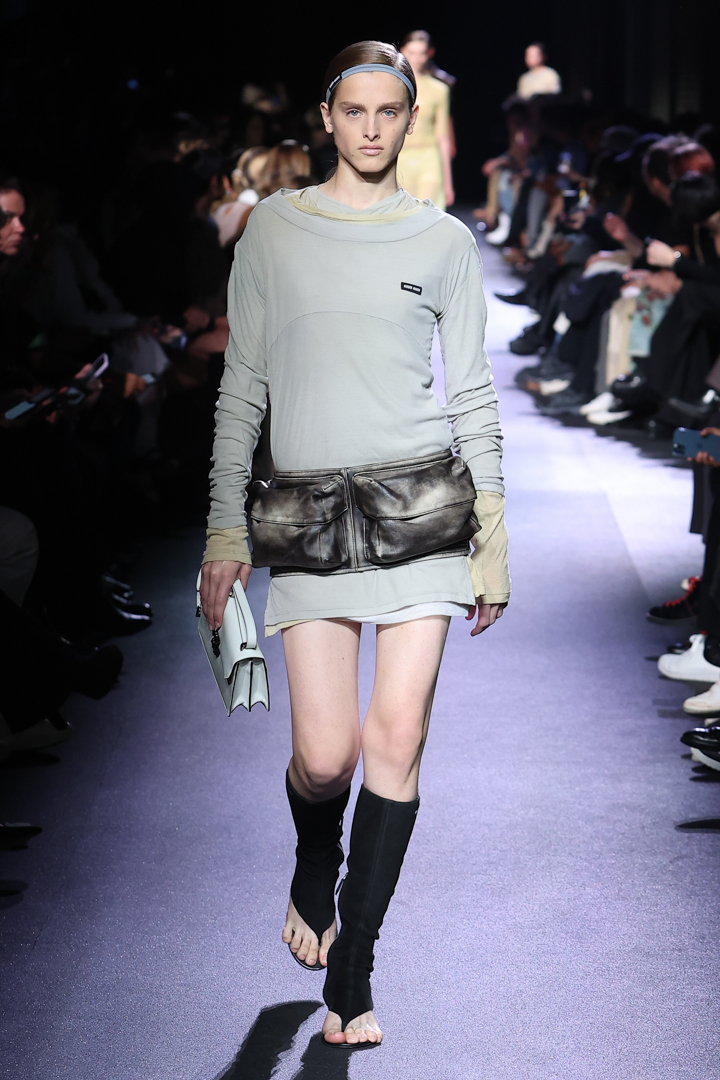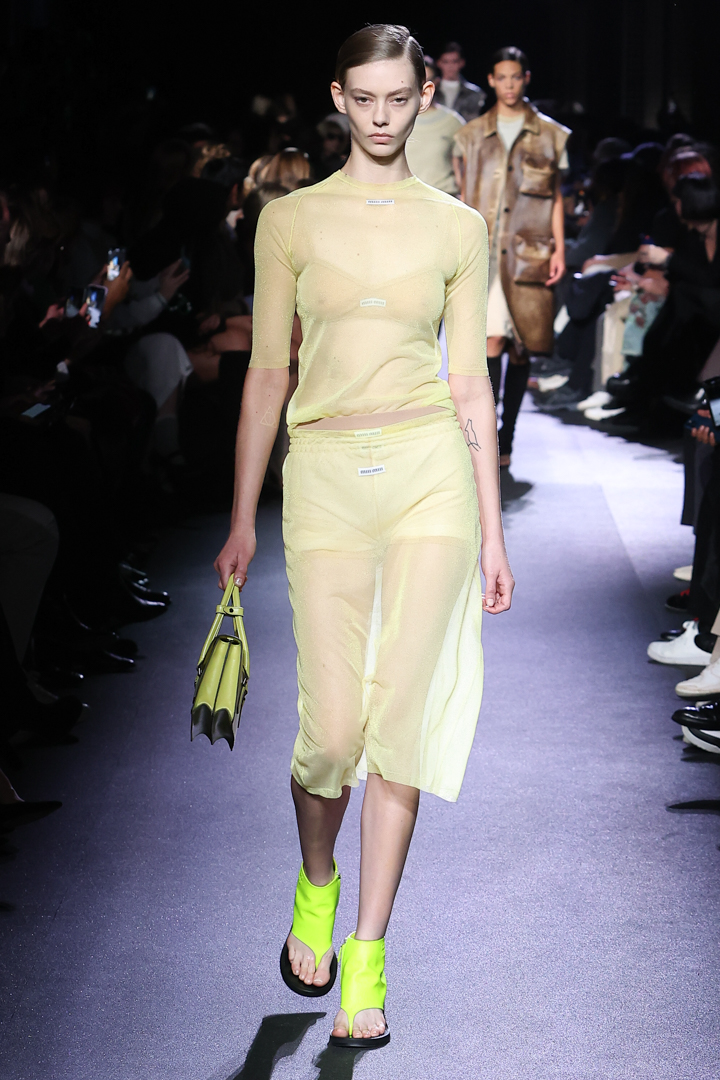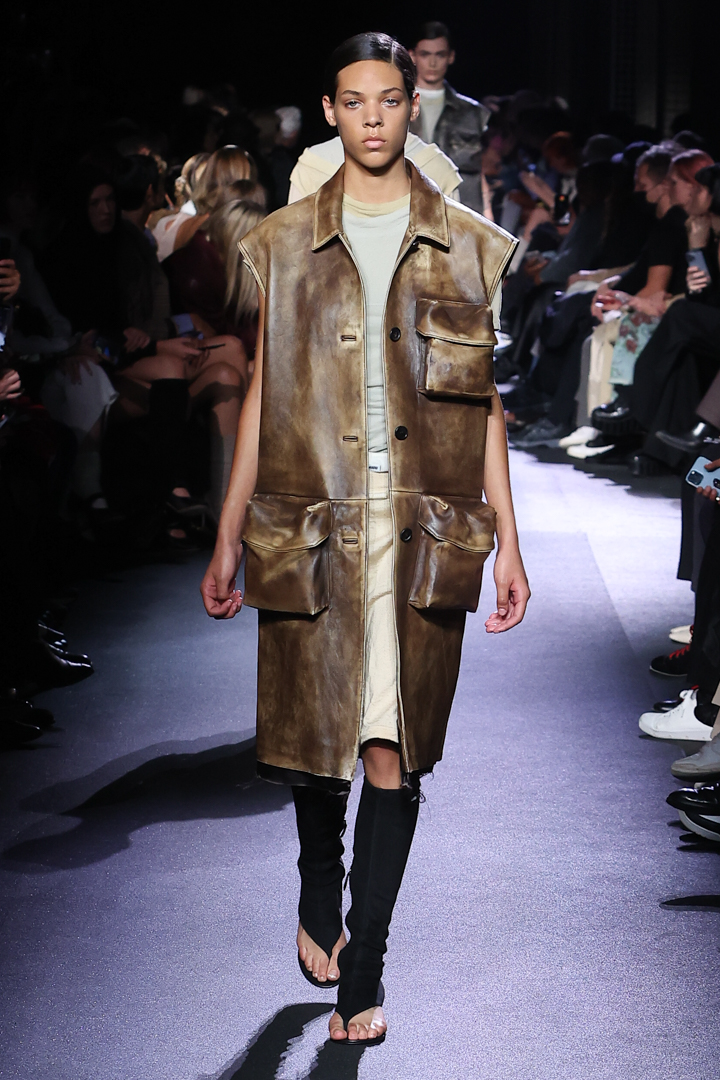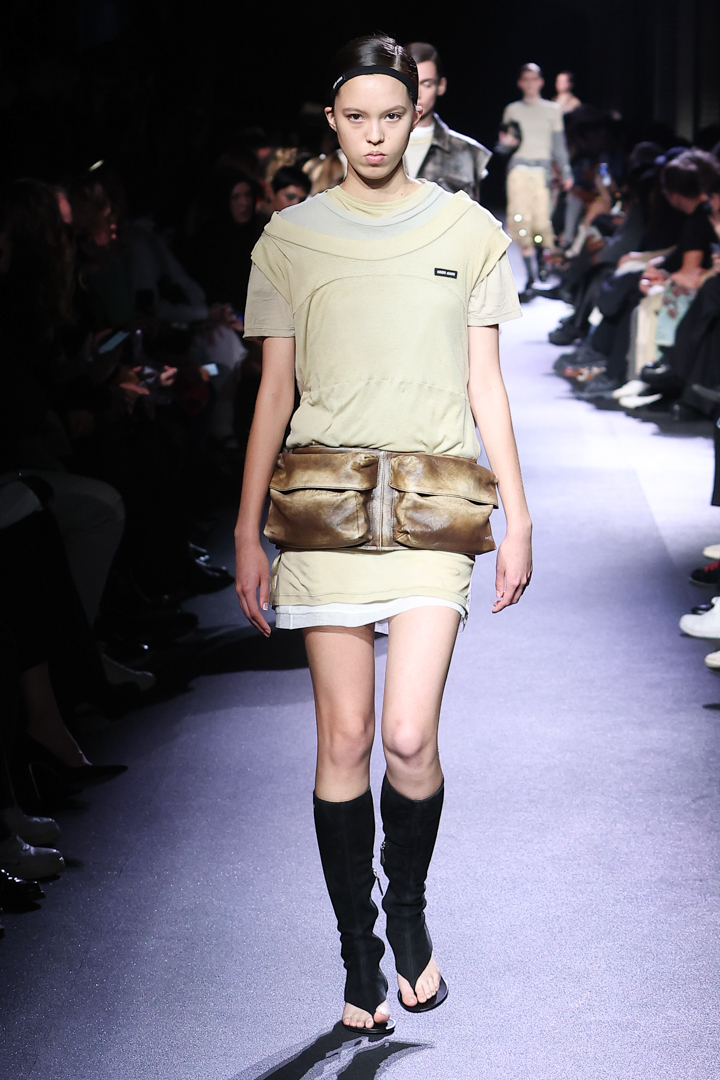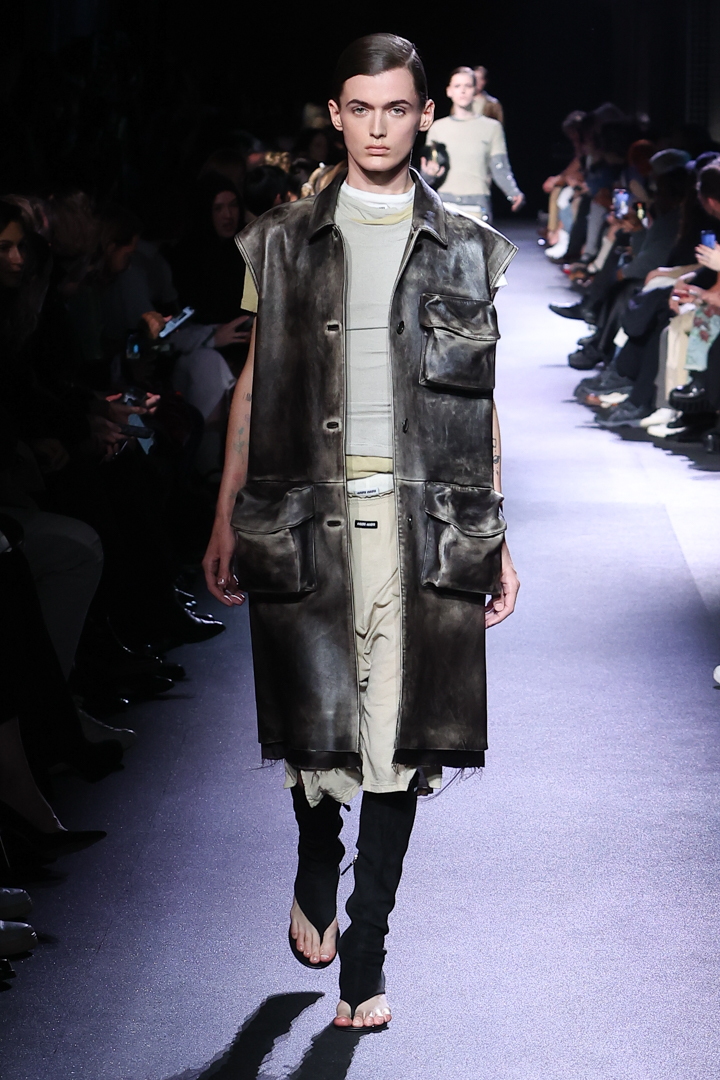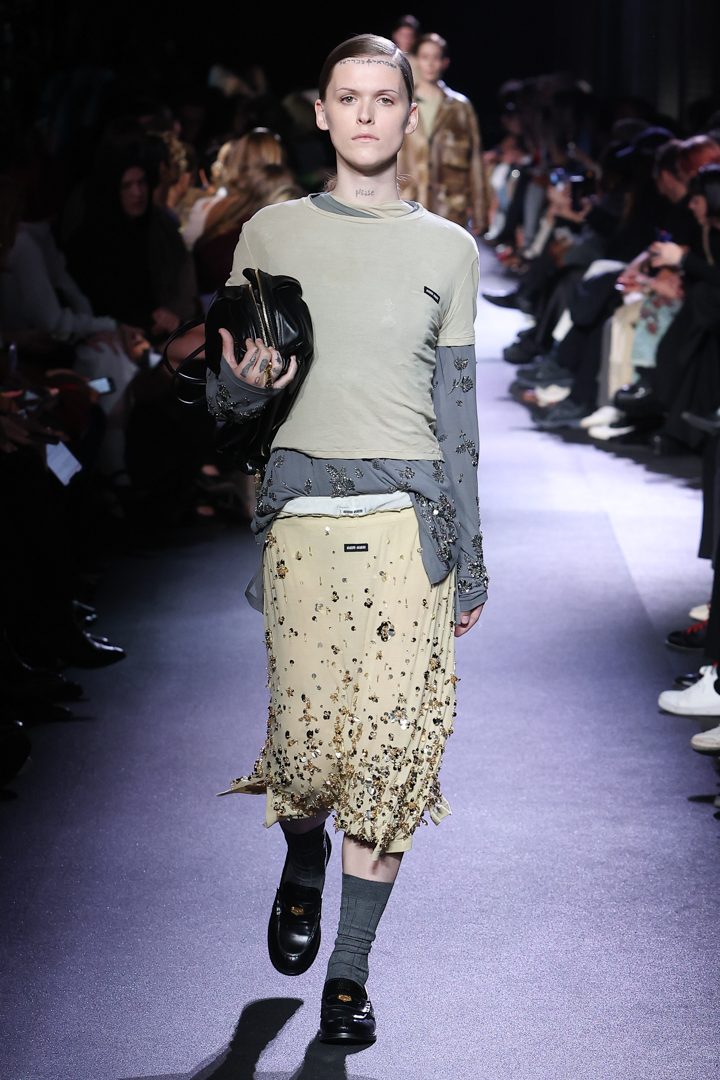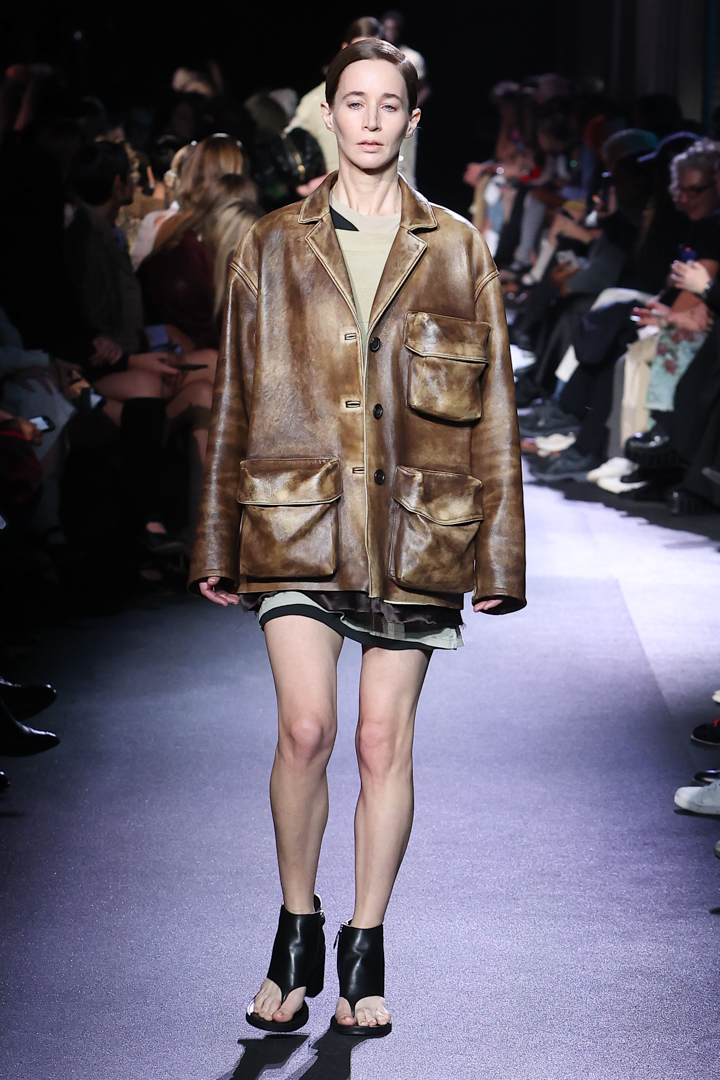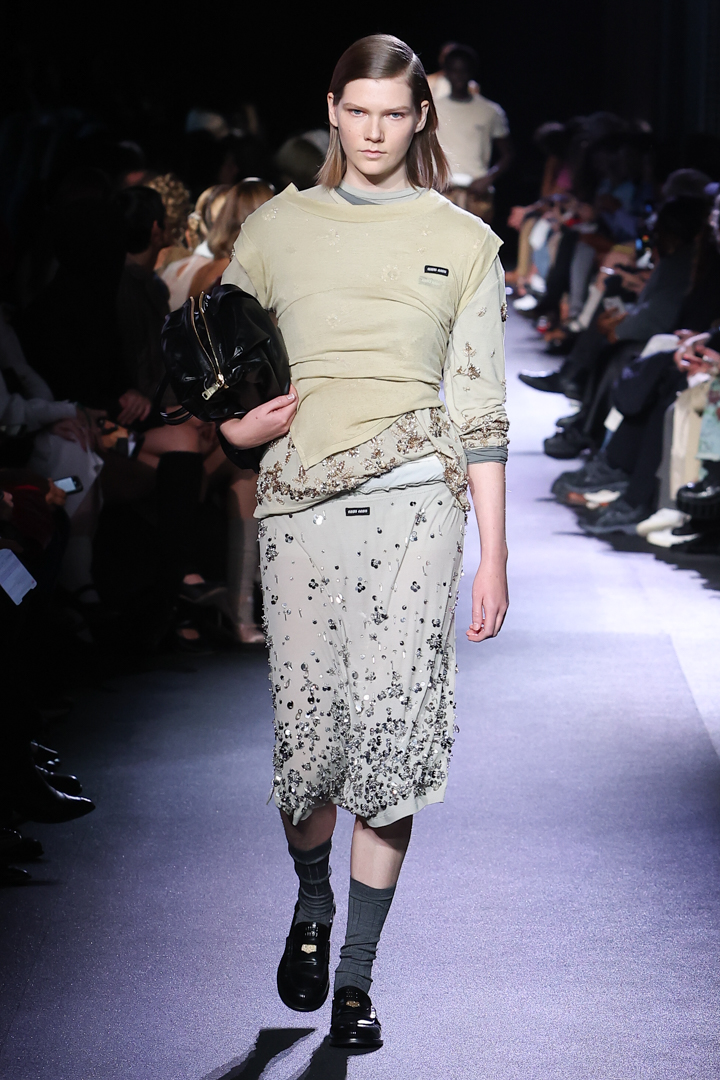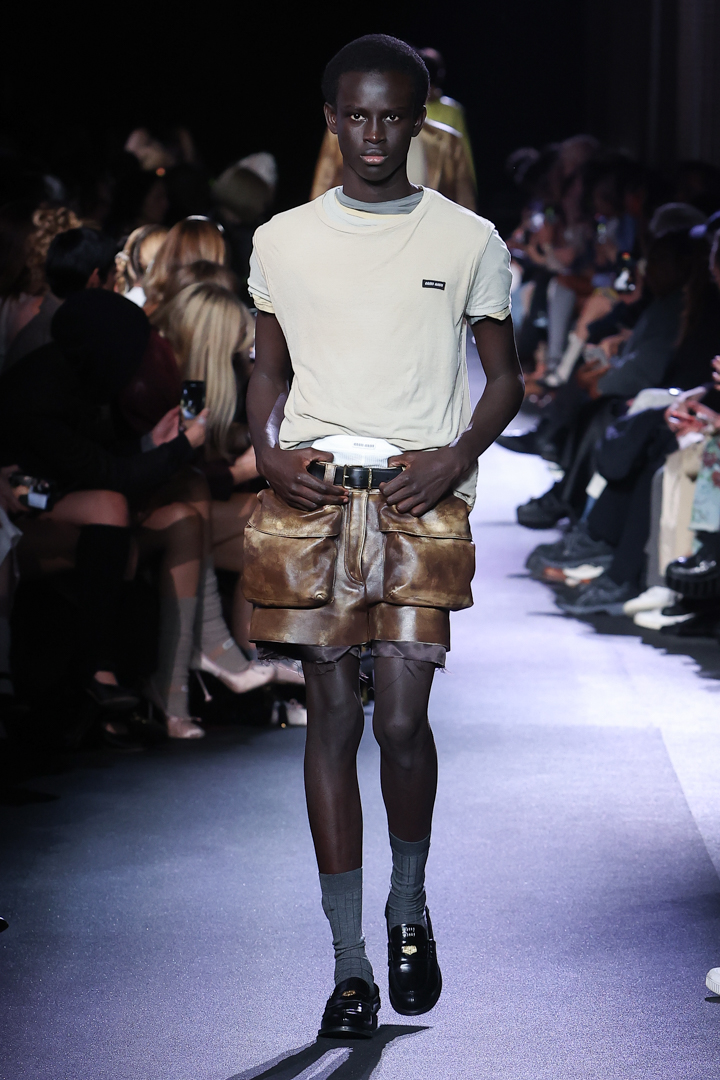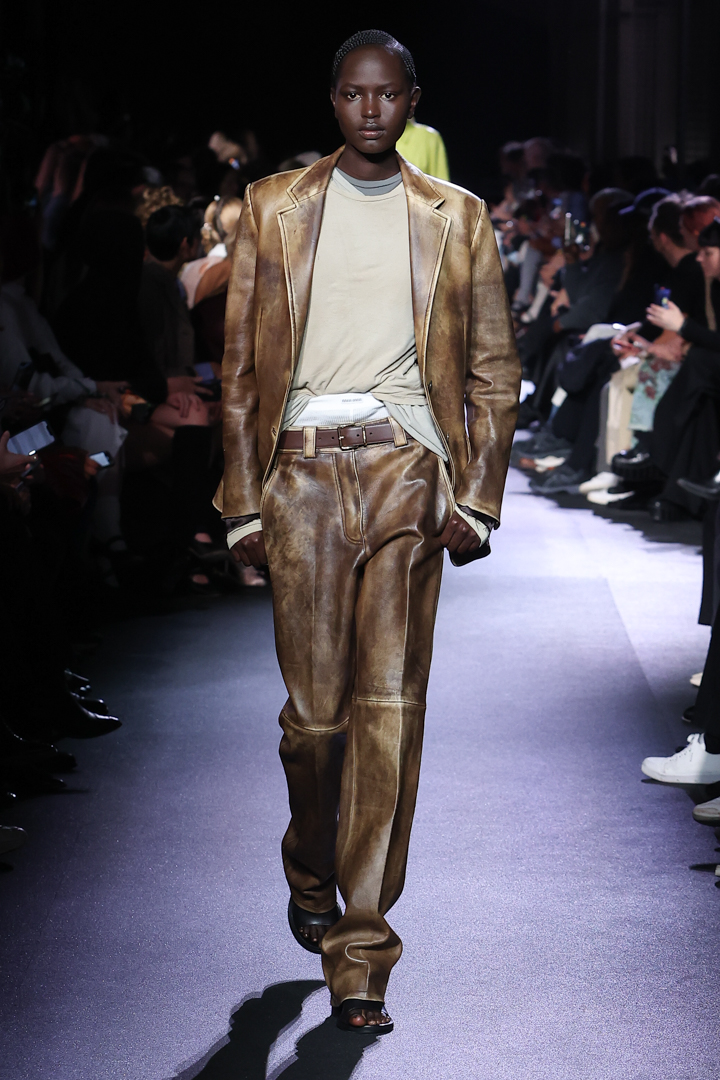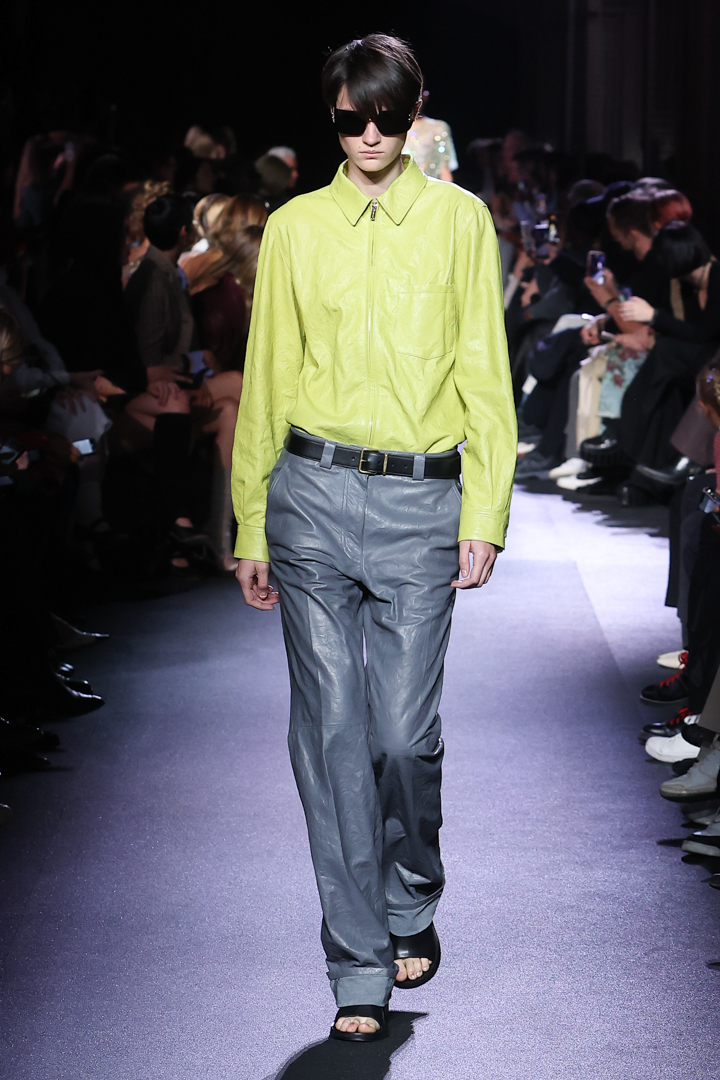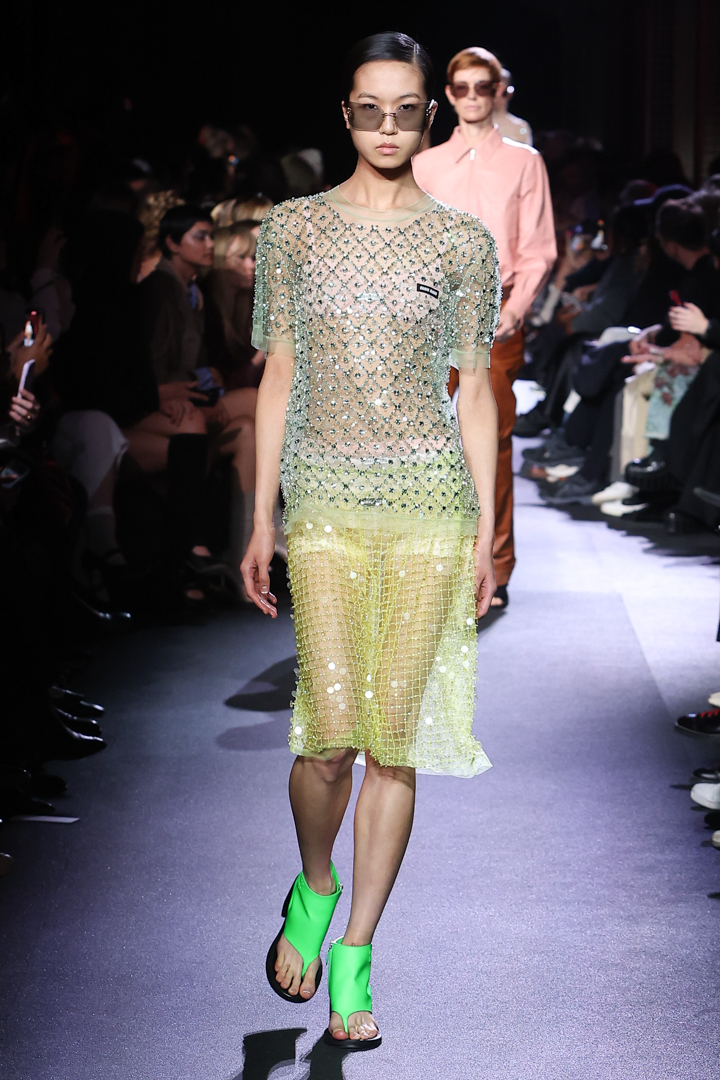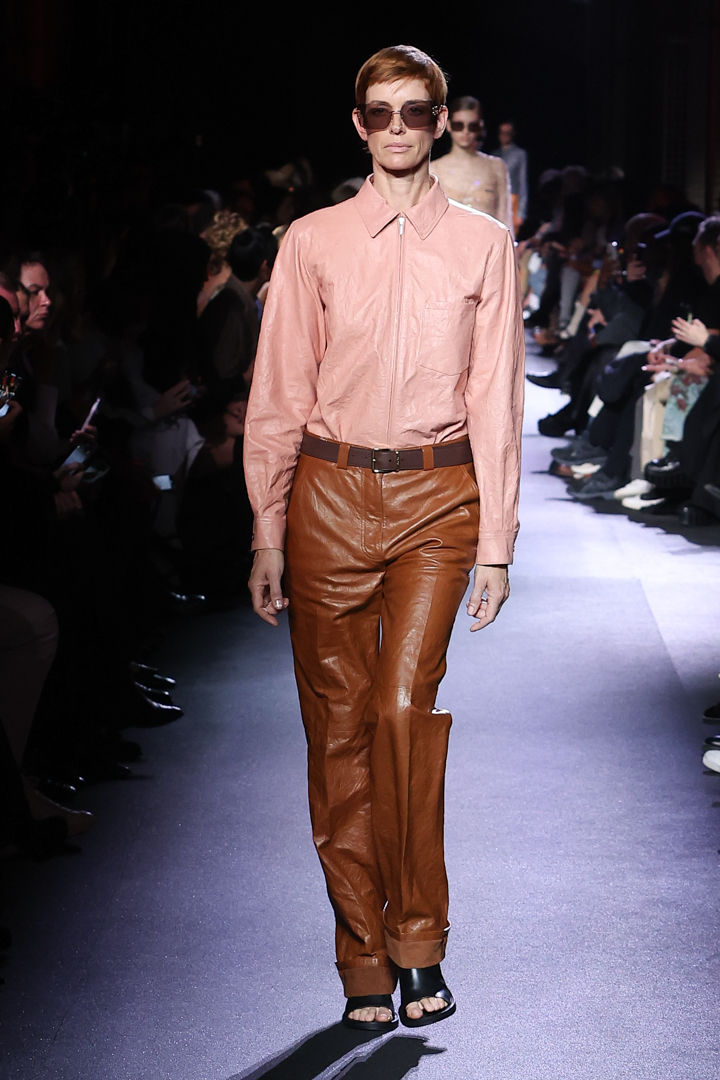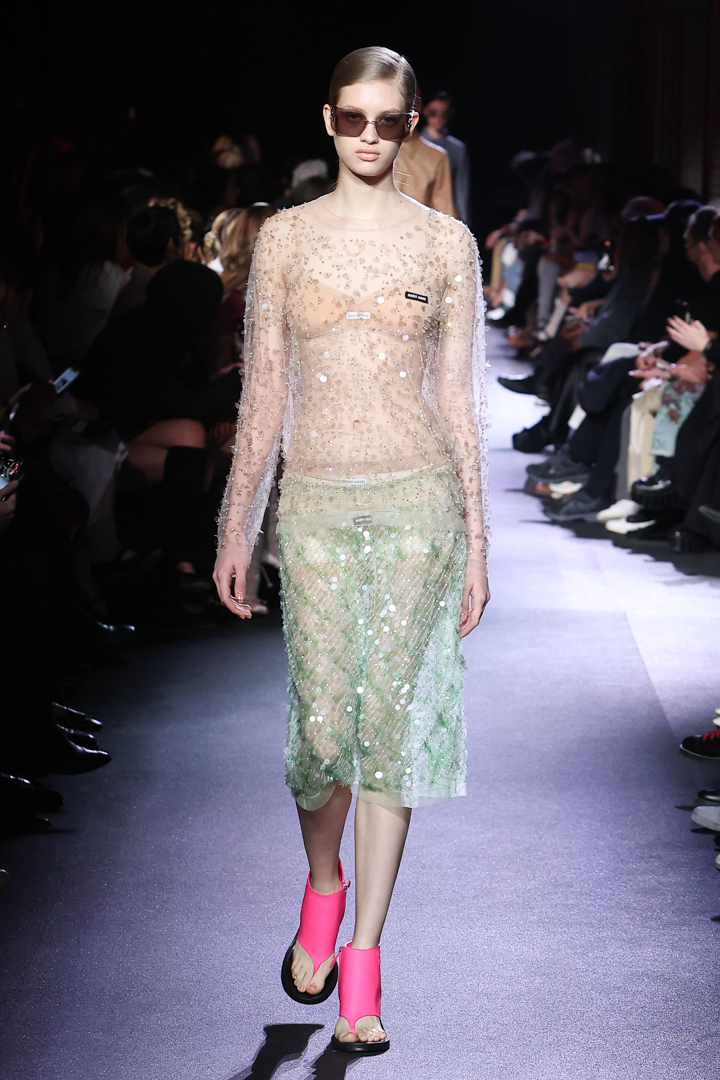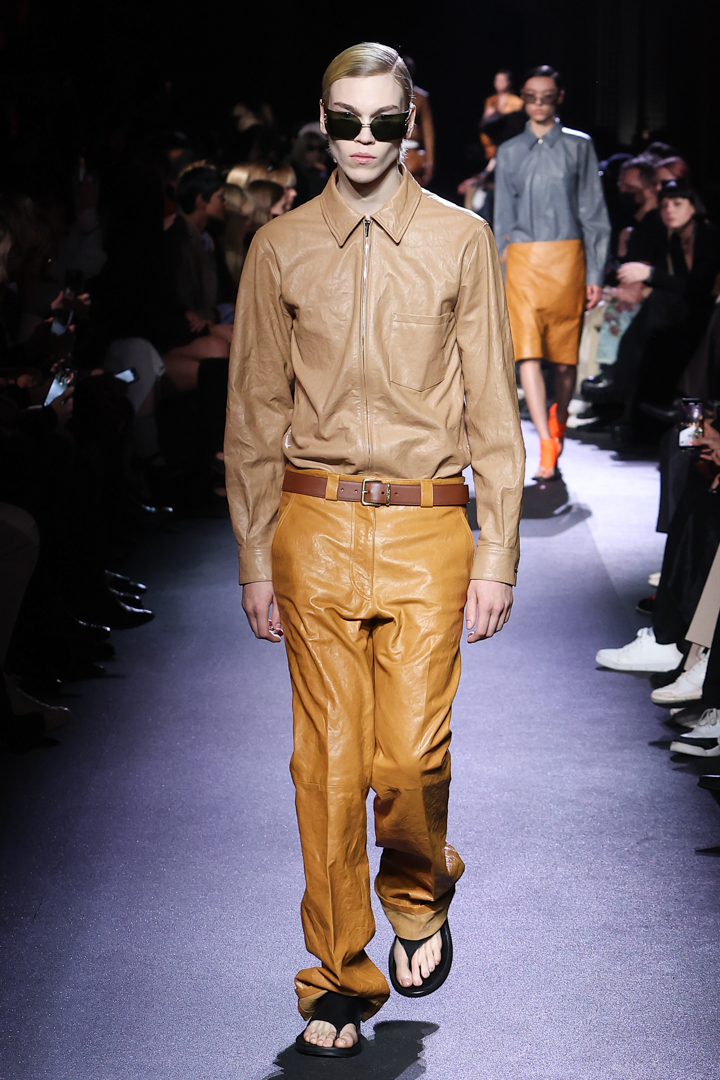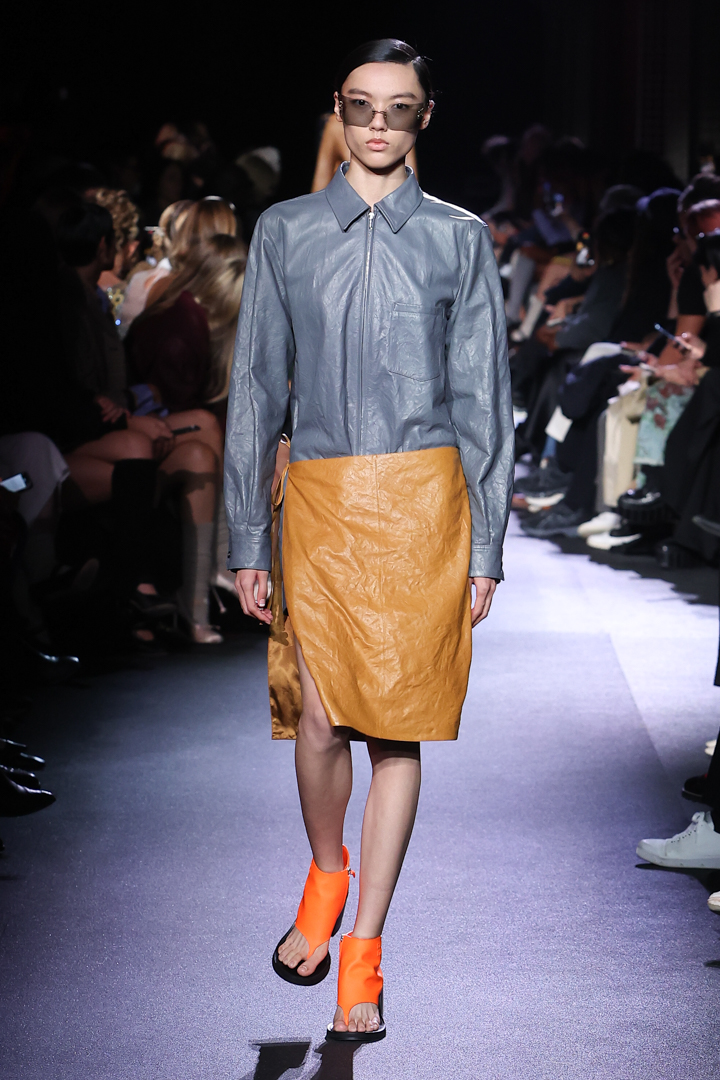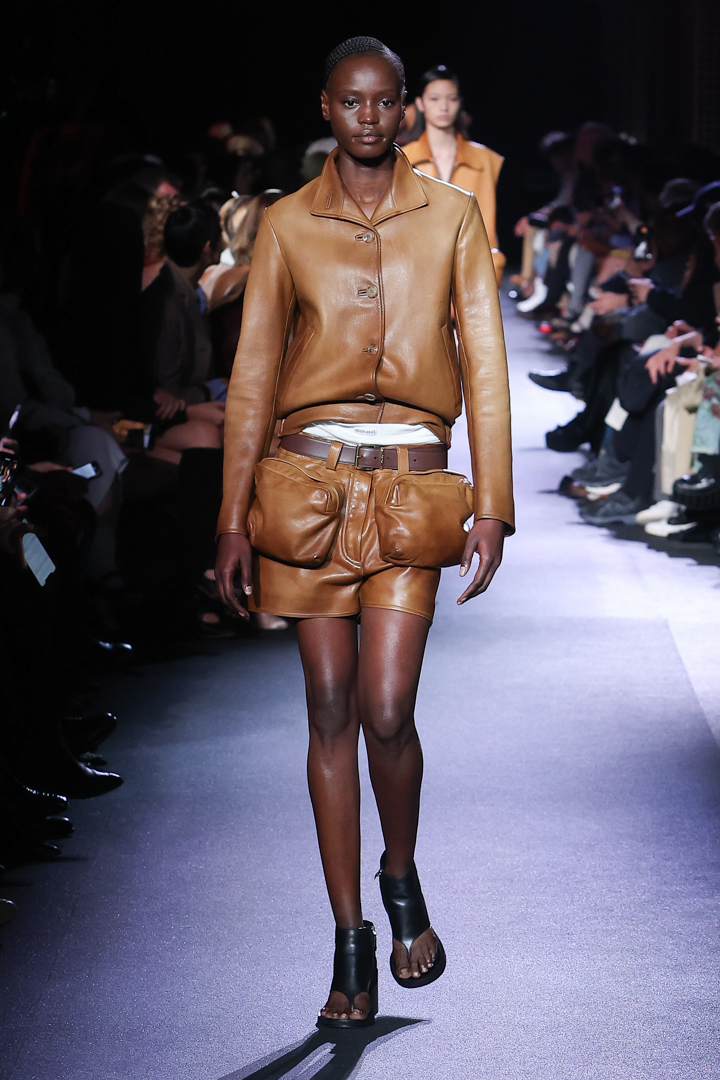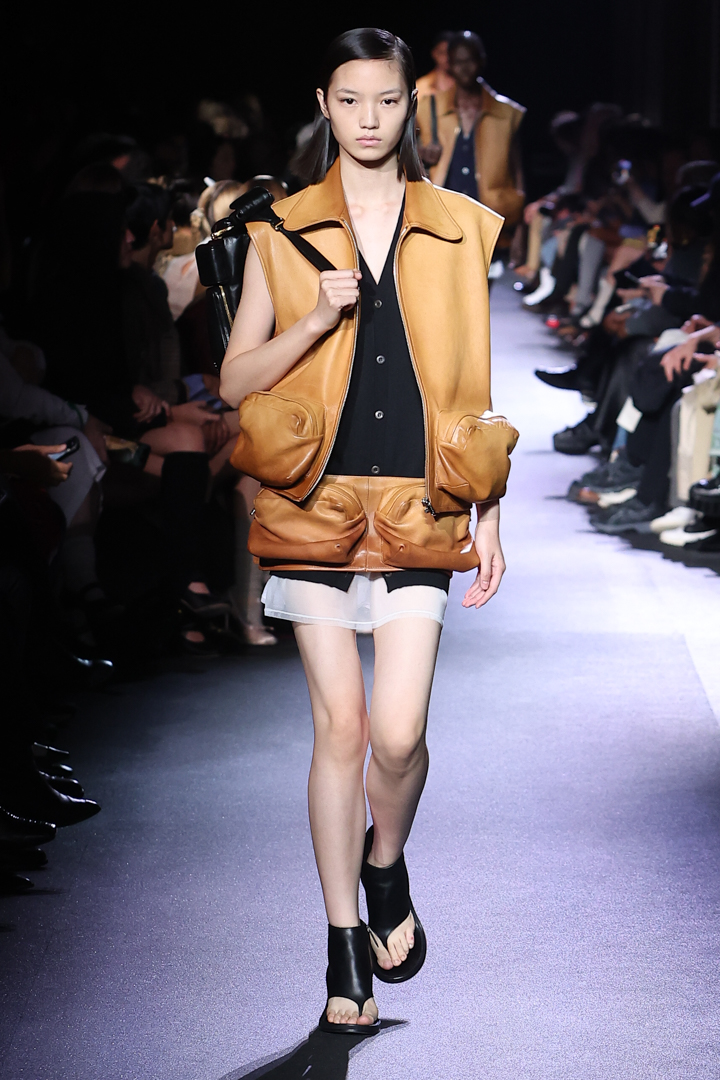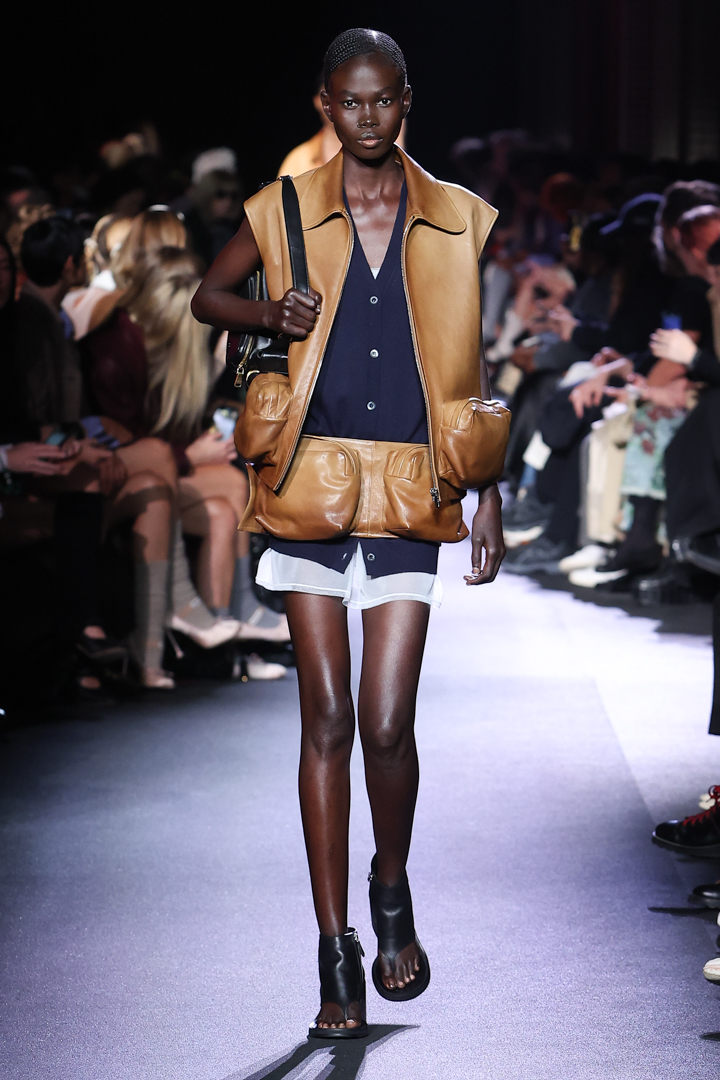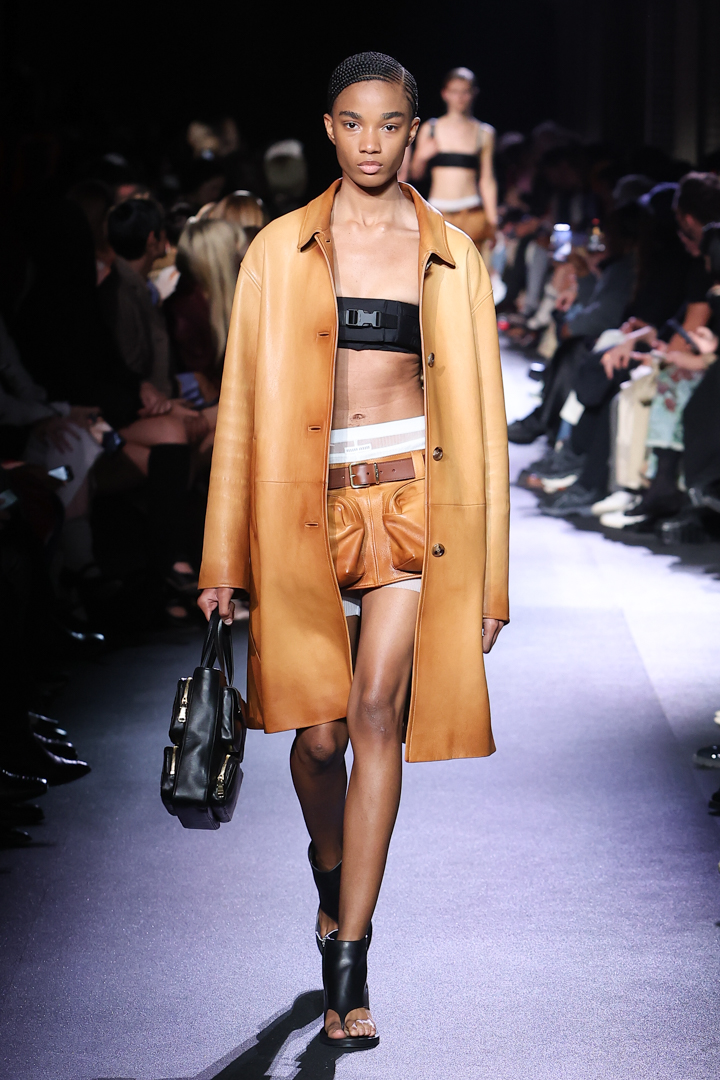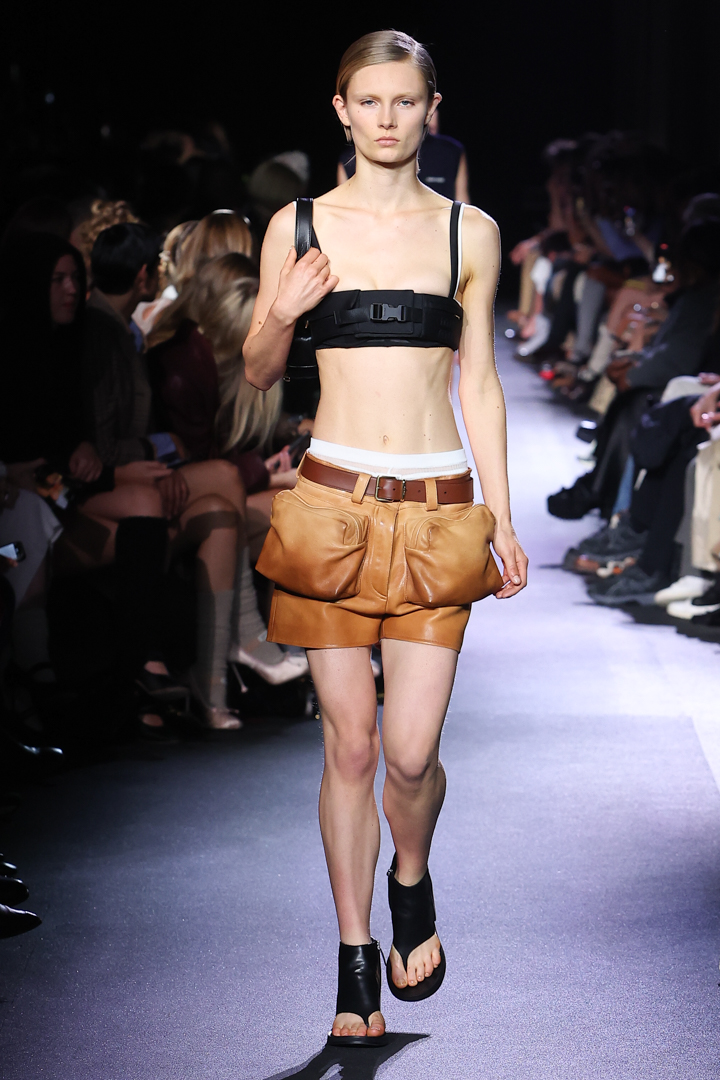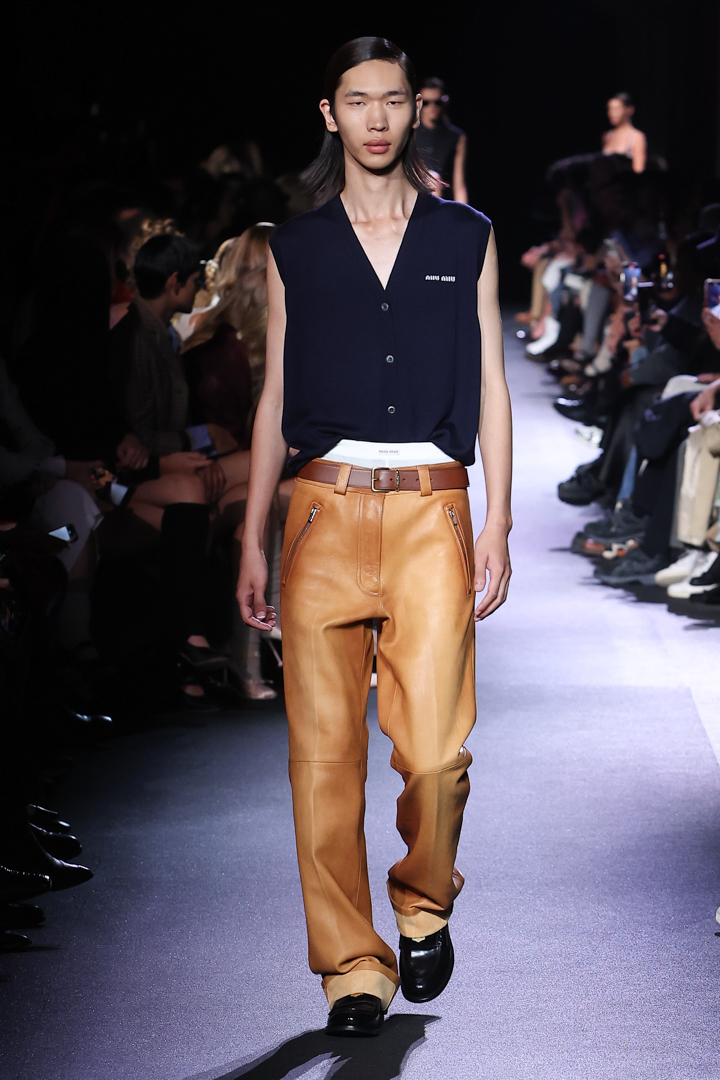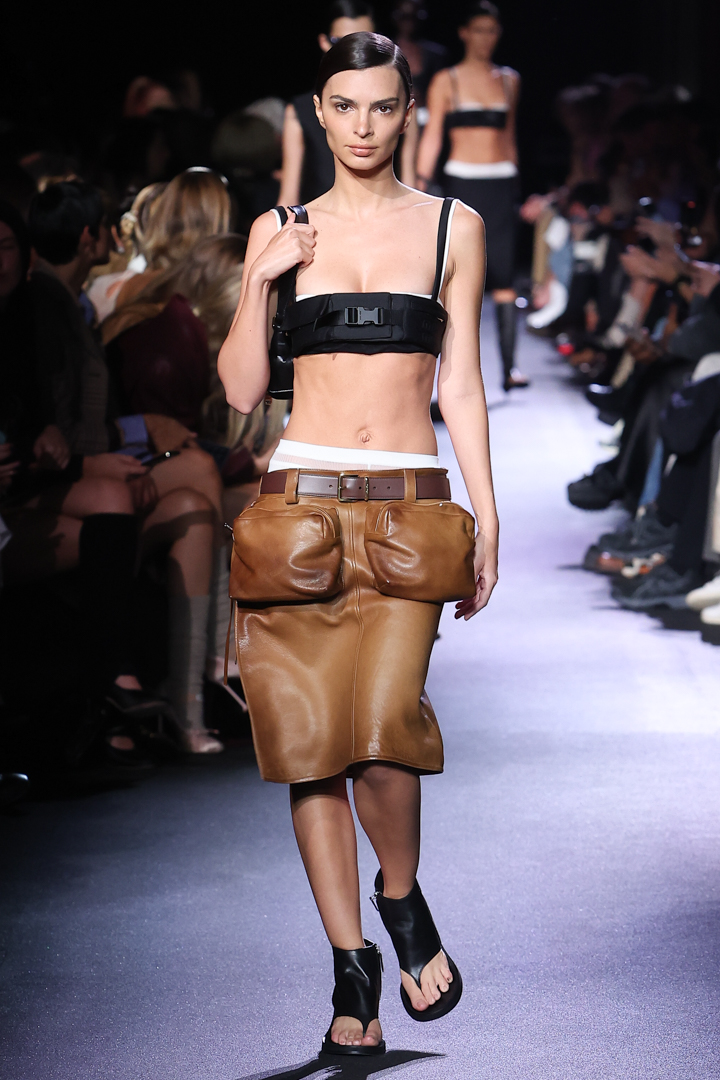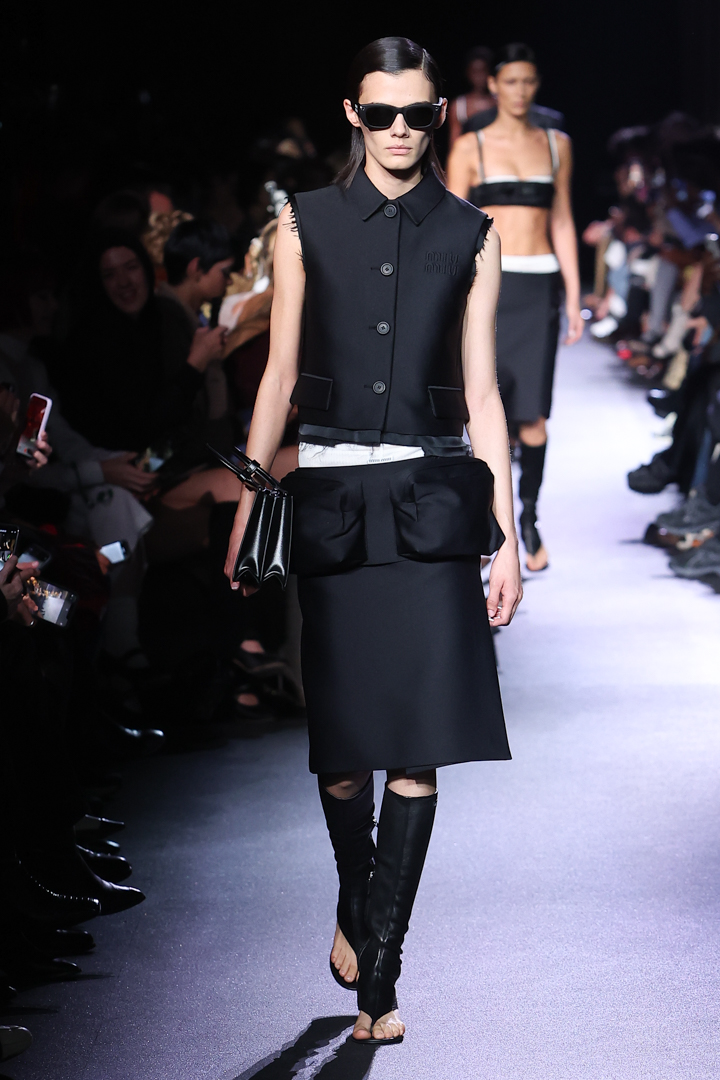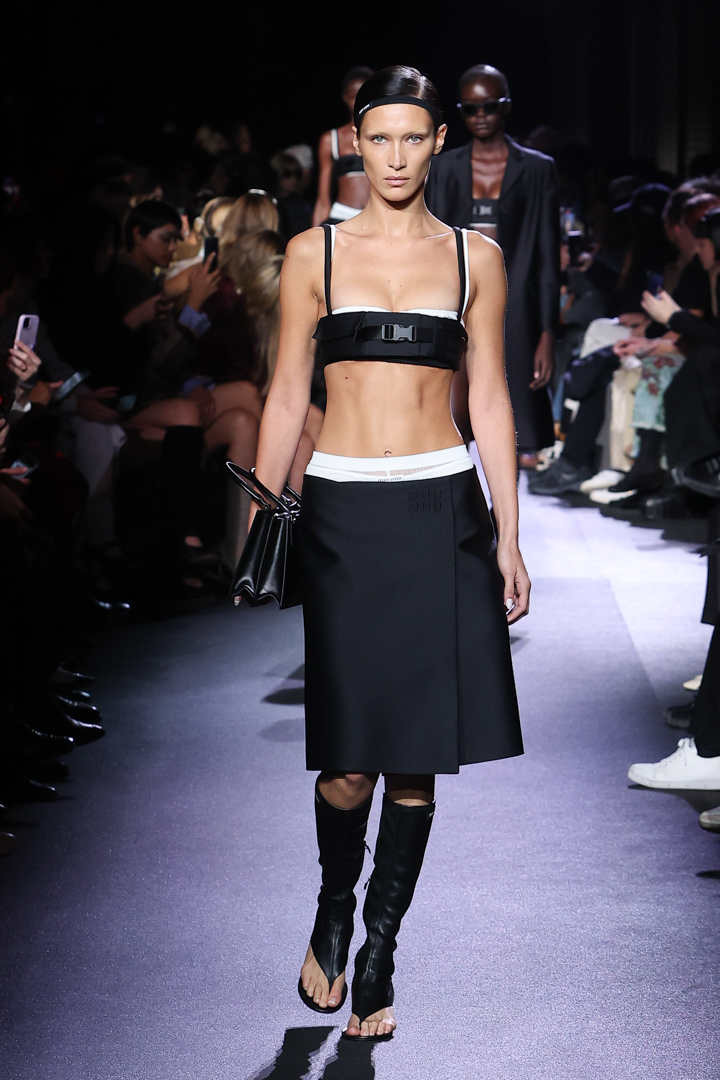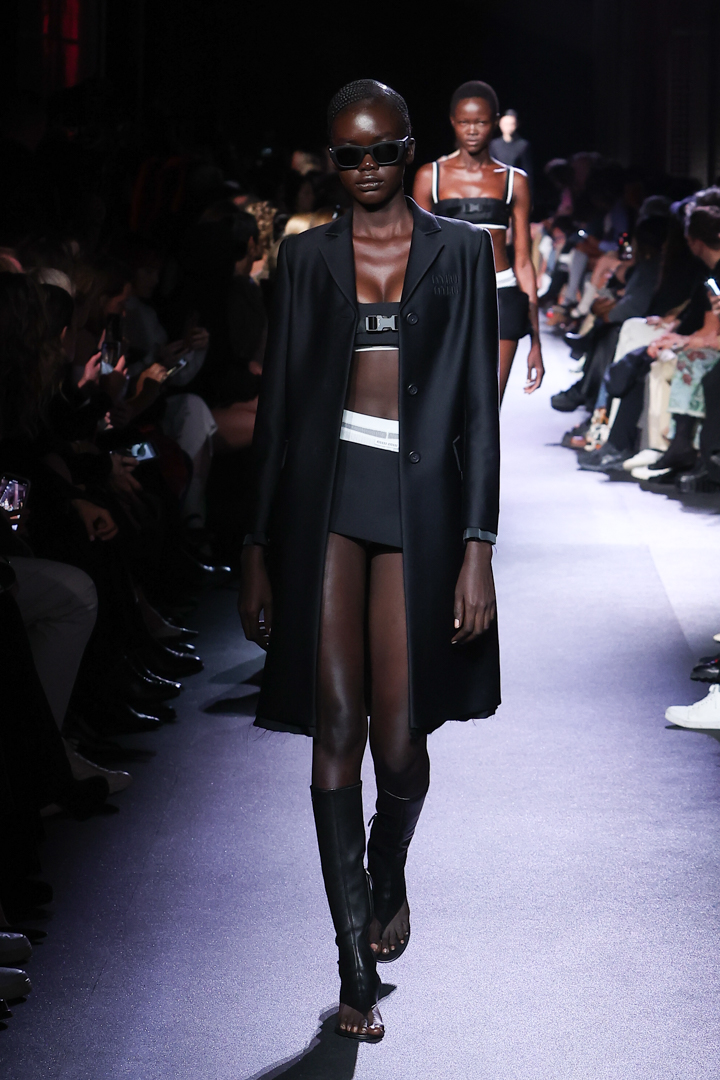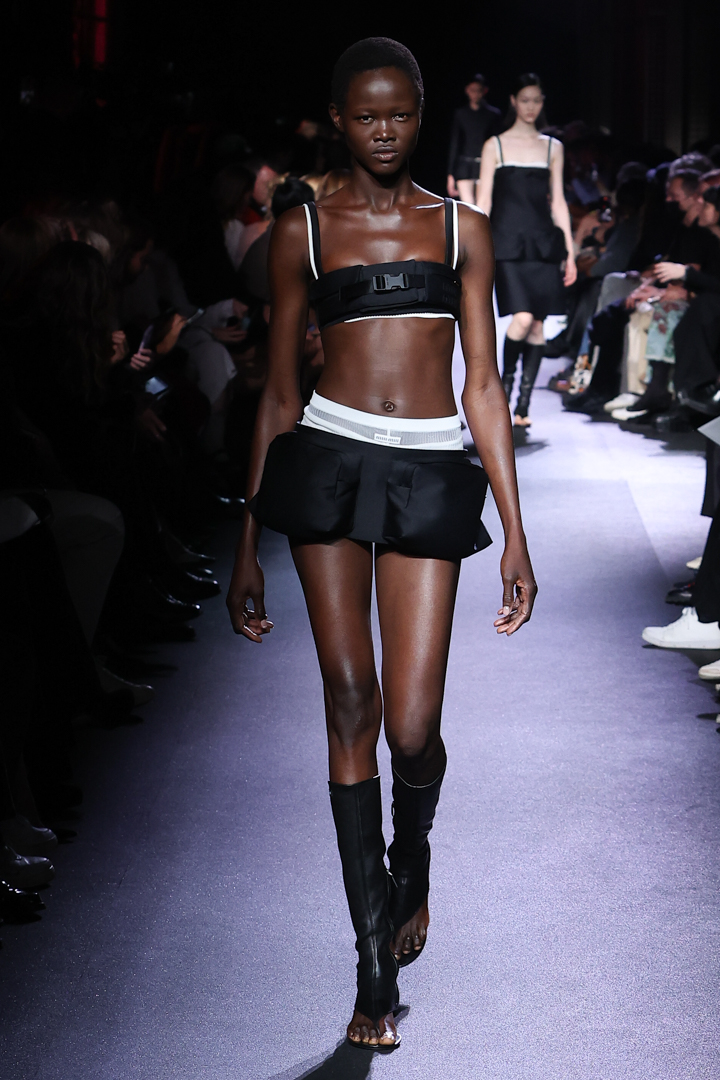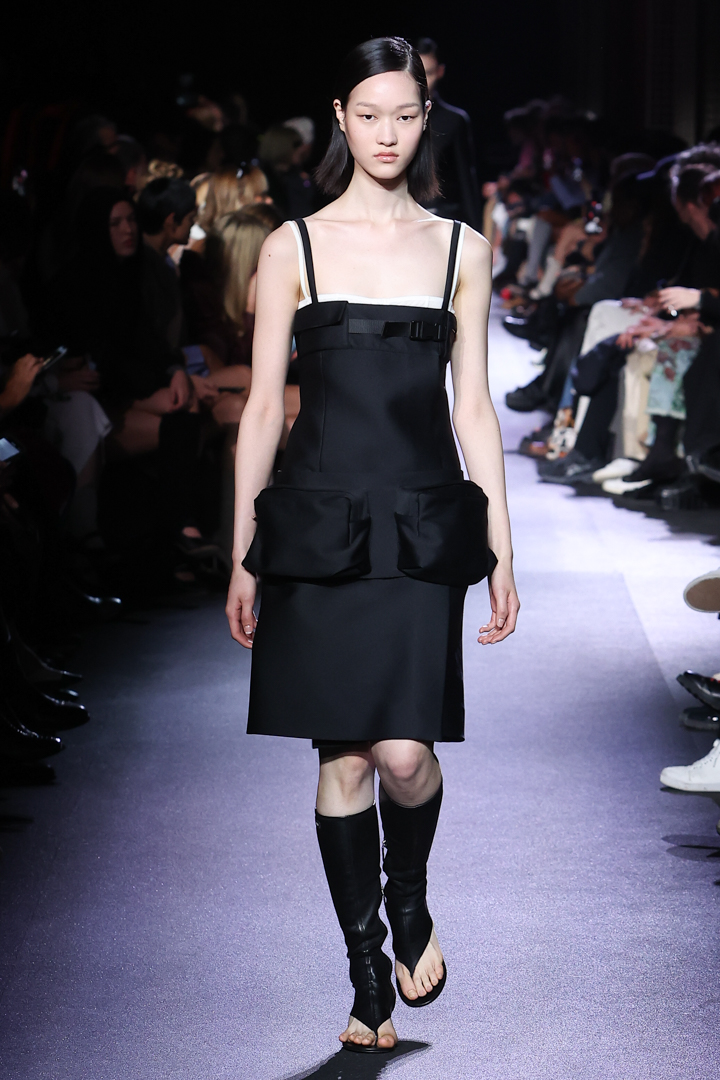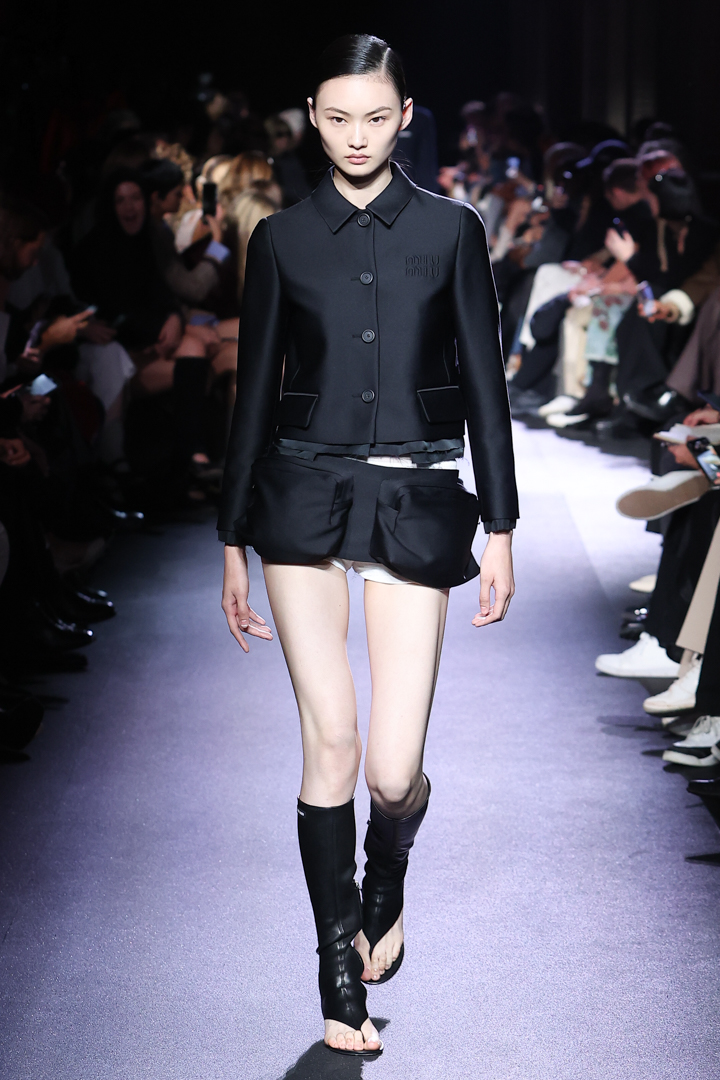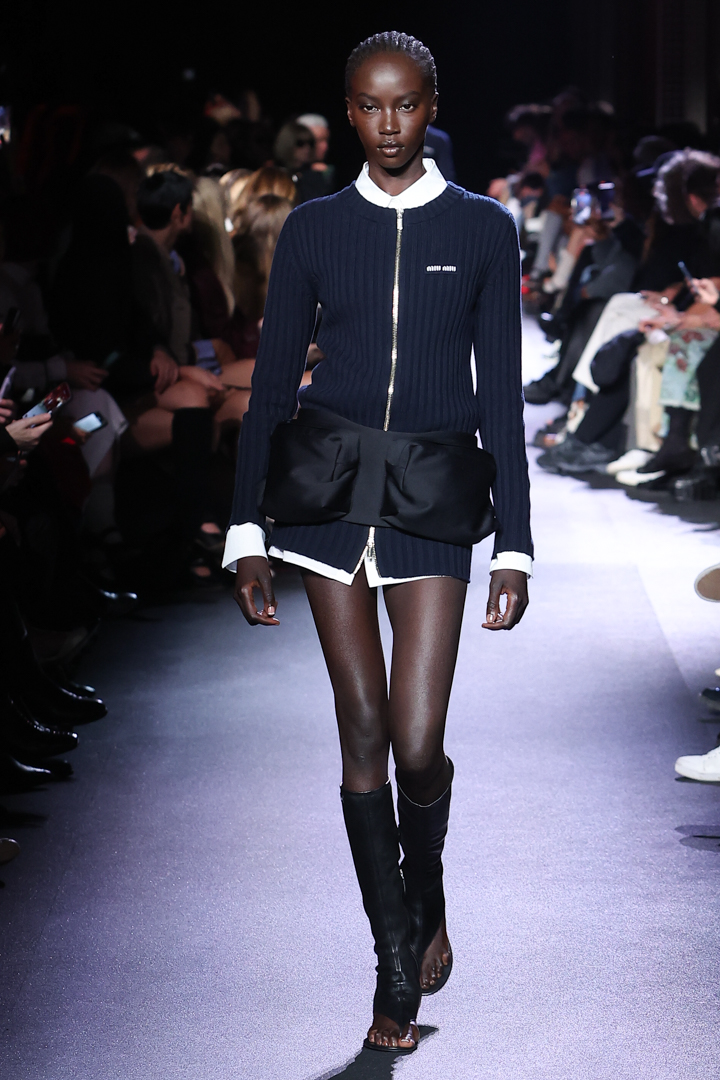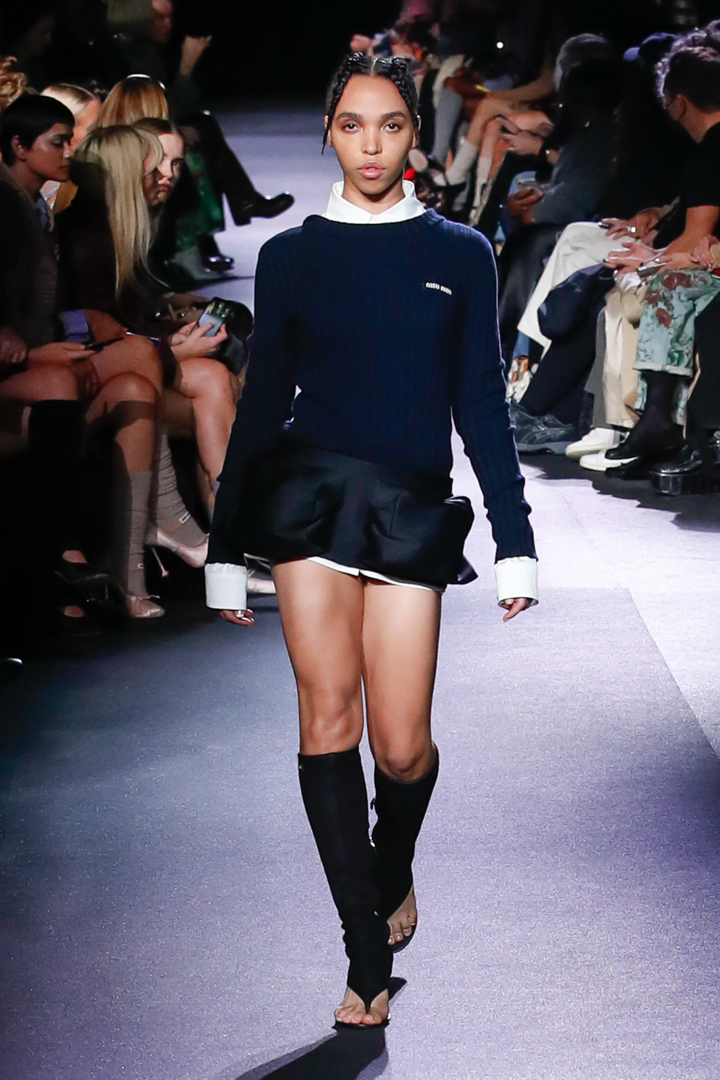 LOUIS VUITTON
When: October 4, 3.30PM (9.30PM MYT)
| | |
| --- | --- |
| SHARE THE STORY | |
| Explore More | |