You can always expect a great time at Riuh's events. Often curated to a theme, the next one that's happening on 30 and 31 March at Sentul Depot is no different except they're going back in time—a more retro time. Here's why it's going to be a new experience for you.
1. The workshops
You've probably done flower arrangements, watercolour painting and calligraphy. This weekend, you'll have the chance to be even more hands-on and learn something new. Besides a patchwork and food watercolour workshop—to complement the 70s theme—there'll be a Shibori Tie-Dye Workshop. How groovy is that?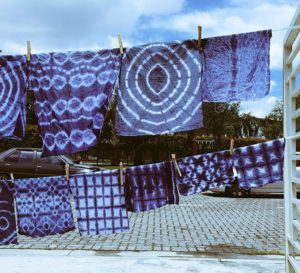 riuh rhapsody shibori tie dye workshop
But we've also got our eyes on the Ceramic Workshop by Bendang Studio. Just look at the some of the amazing things they've made on Instagram and tell us you're not excited either.
2. Tunes from the 70s performed live by local acts
Nothing like music to set the tone of the times. From the talented members of APU (Aseana Percussion Unit) to dance squad 2Twenty2 Studio to the increasingly-popular Encore Melaka to the soulful voice of Hsing, your ears are in for a treat.
3. A vinyl corner
Like every era, music was a huge thing in the 70s but vinyl records say it all. Whether you're a new or current collector, you might find a few records to add to your collection from Sifters Asia's vinyl corner.
4. Tarot Card Reading
What could the future possibly have in store for you? What is hidden at the back of your mind that's stopping you? Let the cards tell you—or rather, let Nickey (known as the Feisty Pisces) read it for you. Of course, you make your own future so in all good fun, Nickey's readings are meant to serve as a guidance for self-development and growth.
5. MyCreative Ventures Cookout BBQ Edition
Who doesn't love a cooking competition and things might really heat up. But rivalry aside—there'll be ten finalists—expect a mouthwatering array of juicy steaks, ribs, brisket, Nusantara grilled dishes, satay, ayam panggang and a whole lot more! All of these will be on sale for visitors while three well-known chefs will be the ones who have to make the difficult decision of crowning three winners.
6. In celebration of women: #ToMyYoungerSelf
What would you have told yourself five or ten years ago? That is the question, isn't it? In collaboration with The Picha Project, which is an all-ladies team, there'll be an inspiring exhibit featuring photos, artworks and stories from the initiative's #ToMyYoungerSelf campaign. In addition, visitors can also participate in a live painting session or share their messages to their younger self on a board that will be set up near the corner. While you're there, step over to the food area as The Picha Project will be giving a preview of a new series of food.
7. Go green
Time to stock up on your metal straws, beeswax wrap and so many other fantastic green products. Riuh is bringing in 25 green brands thanks to The Hive and Earth Heir in support of The Fashion Revolution Movement. Apart from getting some shopping done, you'll also be able to do a clothing swap and ponder on the question #whomademyclothes. That's where The Fashion Revolution Movement comes in; because, really, as much as we all love to shop, some of these clothes have a bigger story than style. One of them happened on 24 April 2013 in Dhaka, Bangladesh. It was a building called Rana Plaza that houses a number of garment factories. Poorly maintained without considering the welfare of the people working in it, the building collapsed on that date and 1,138 people were killed and many more, injured. There are more stories like these and if you're interested, stop by the Green Area at Riuh Rhapsody this weekend.
That sums up some of the major highlights of Riuh Rhapsody that's happening this 30 and 31 March For the full list of vendors, food trucks and more, head over to Riuh's Facebook. 
| | |
| --- | --- |
| SHARE THE STORY | |
| Explore More | |