Undoubtedly the current it-girl of the Hollywood scene, Jenna Ortega has become an overnight sensation through the worldwide hit Netflix series, Wednesday. Even though the show premiered on 23 November, it continues to dominate the streaming platform and has garnered a total of 1.19 billion hours viewed.
Whilst the show reignited interest in familiar faces such as Gwendoline Christie, Catherine Zeta-Jones and Christina Ricci, it was Ortega who received particular praise for her deadpan and sarcastic portrayal of the iconic Addams Family's only daughter. That, and her exceptional dancing skills was just the icing on the cold, black cake. 
Audiences have been curious about the viral star since the Tim Burton-directed series aired, so here are seven facts about Wednesday star Jenna Ortega that may surprise you.
1. She auditioned for Wednesday in bloody makeup
View this post on Instagram
In a move that sounds like it came out of Wednesday Addams' playbook, Ortega auditioned for the role of the titular character while covered in fake blood from the filming of the acclaimed horror film X. In an interview with Wired, the actress revealed that she was meant to audition over Zoom with Tim Burton, but because she didn't have time to take the gory makeup off, she decided to hop on the call anyway. 
"When I met with Tim Burton for Wednesday, I had stage blood and glycerin sweat in my hair and a massive cut on my face and had been up for over 24 hours," Ortega stated. In a stroke of serendipitous luck, she added, "I got on Zoom and he actually laughed. It made me laugh. I thought it was endearing." Her phenomenal acting aside, we're sure that Burton came out of that long-distance call knowing they had found their gothic star.
2. Her acting career started when she was only nine years old
View this post on Instagram
It's easy to see Ortega's rise to stardom as sudden and surprising; however, the 20-year-old already has multiple acting credentials under her belt. In fact, her acting career started at the tender age of nine. According to IMBD, she was first discovered after her mother posted a video of her on Facebook. Since then, the child actress landed her first minor role in 2012 in the series The Baby Bug. She's also had roles in CSI: NY, Days of Our Lives, Iron Man 3, and Yes Day before landing a major role as the protagonist in Disney's Stuck in the Middle series.
3. Ortega is a proud ambassador of UNAIDS
View this post on Instagram
Chances are you've gone on Ortega's Instagram (which currently boasts 34 million followers) after the show and realised that the actress only has Planned Parenthood linked in her otherwise bare bio. Not one to shy away from social issues and breaking taboos, Ortega is also a proud ambassador of the NGO UNAIDS, which she works closely with in honour of her late grandfather who passed away from AIDS. In a speech at WE Day in 2017, Ortega said, "I want to help eliminate the stigma of AIDS and get people talking about it. Make it normal. Bring it up. It's a disease that affects all of us."
4. She wrote a book 
View this post on Instagram
Adding to her list of impressive talents and skills, the young star is also a published author! At only 18 years old, Ortega released her first book in 2020 titled It's All Love: Reflections For Your Heart & Soul. The autobiography details personal accounts of her life and explores topics of faith, mental health, and more. From this, it may not surprise you that like Wednesday Addams who is penning her own novel, Ortega also loves writing. In her interview with Byrdie, she revealed, "I love to write. I write all the time, I'll write about whatever. I'll write essays or I'll write scripts, it doesn't really matter but it's a great way to unwind."
5. Ortega learned the cello for Wednesday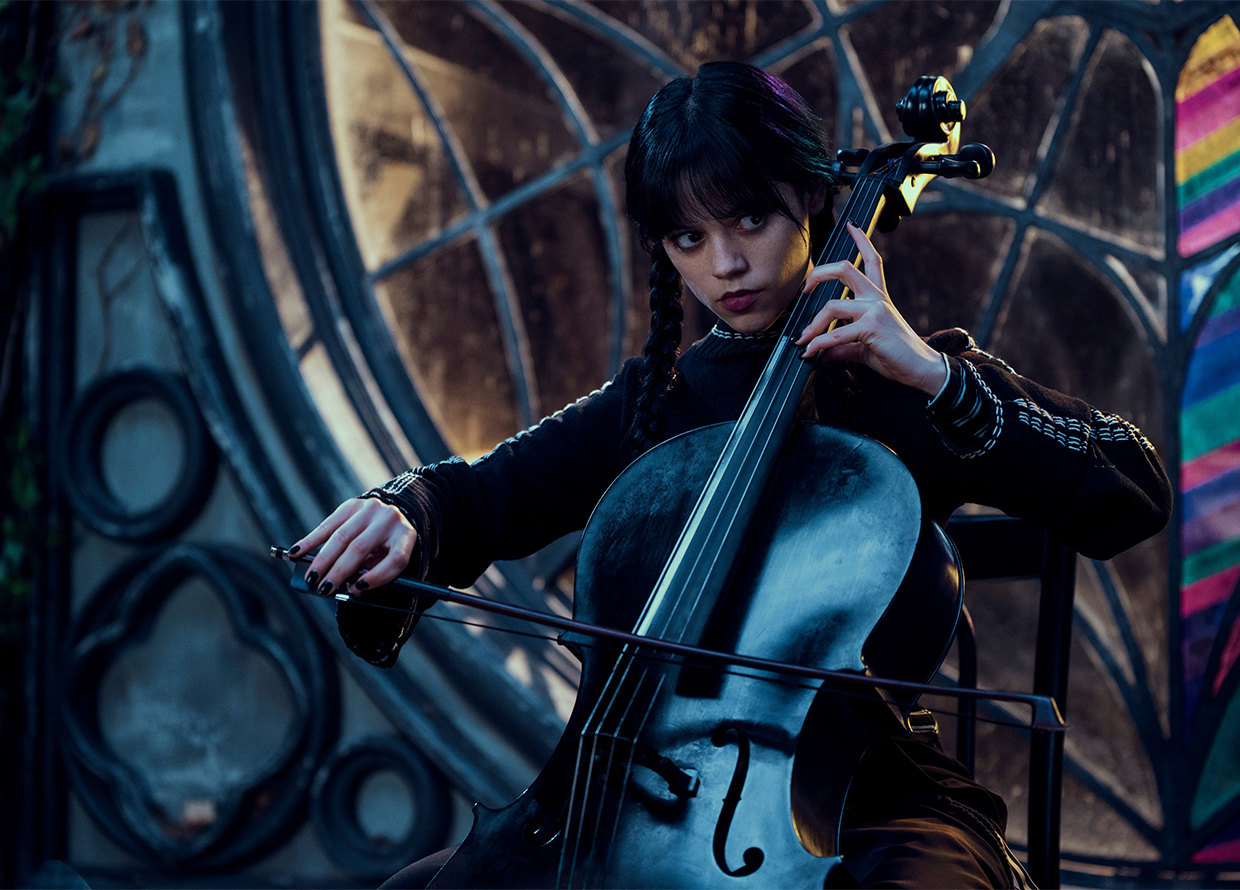 Excuse the pun but it's clear the cello plays an instrumental part in the drama. From its feature in the iconic Addams Family theme song to some of the more memorable scenes in the series where Wednesday is in the zone strumming away on the large string instrument, the cello and Wednesday go hand in hand. To make sure it looked authentic on screen, Ortega learned to play the cello two months before shooting started. In the same interview with Wired, she revealed how she fell in love with the instrument, "I probably couldn't play too well now just because I've been away from home so much working, but it is something that I want to continue to pursue. I have immense respect for anybody who plays the cello, I think it's such a delightful instrument." Other skills she picked up to prepare for her titular role include fencing, archery, canoeing and even learning how to speak German.
6. She has made many strides for Latina representation
View this post on Instagram
Ortega is a proud Latina actress and she has no qualms making that known. At the age of 12, she was able to play the younger version of protagonist, Jane Villanueva, in the hit series Jane The Virgin. This was significant for the actress as she looked up to Golden Globe-winner Gina Rodriguez and cited her as an inspiration at the beginning of her career. Further, Ortega was the voice of Isabel in Disney's animated series, Elena of Avalor, which introduces Disney's first Latina princess. 
Perhaps her most impressive feat thus far is starring as Wednesday Addams as a Latina. Although there was backlash when the casting was first revealed, Ortega remained unfazed and steadfast in the character change. She revealed to PopBuzz, "Wednesday is technically a Latina character and that's never been represented…So for me, any time that I have an opportunity to represent my community, I want that to be seen."
7. Ortega is a scream queen
View this post on Instagram
While there may have been initial protests over Ortega's casting, fans of the actress weren't surprised that she was starring in yet another gothic role—after all, this is not Ortega's first time dipping her toes into the macabre. In fact, she is considered 2022's scream queen. Conquering the horror genre this year (and showcasing some impressive screaming chops) with features such as Scream 5, X, and American Carnage, Wednesday is the latest addition to the Final Girl's repertoire in the horror gothic genre.  
For more reads on your favourite film and TV stars, head here.
| | |
| --- | --- |
| SHARE THE STORY | |
| Explore More | |