Fashion
Style spotlight on Netflix's 'Wednesday': The revival and modernisation of classic goth fashion
"Wednesday's child is full of woe"
Images courtesy of Netflix, Paramount Pictures, respective brands, ssense, and net-a-porter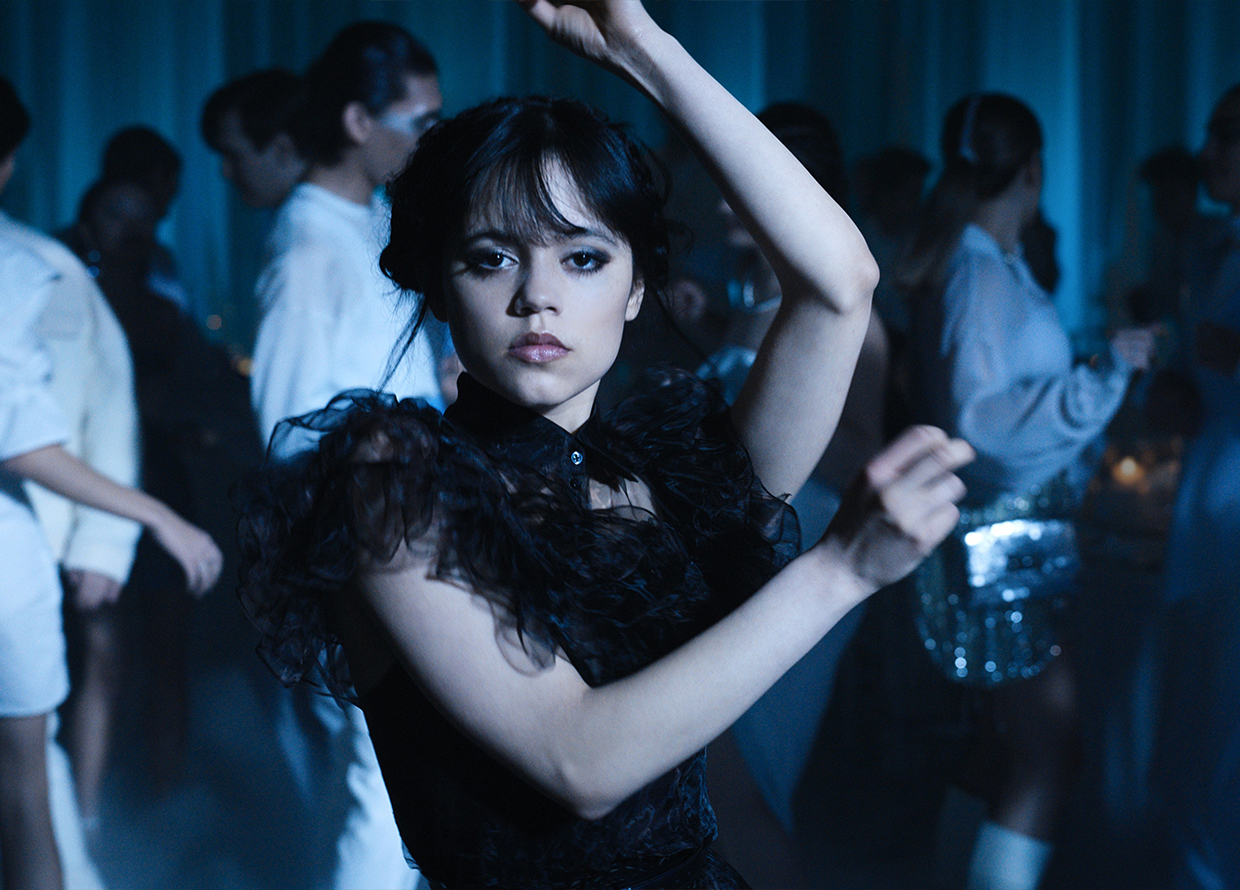 There is nothing quite like the Addams family. Weird, kooky, mysterious and broody, the unmistakable fictional clan has left an ever-lasting mark on the world of fashion and pop culture that only grows more palpable by the year. Even if you've never indulged in a single episode of the infamous franchise, just its name alone will spark a clear, distinct image of the Addams in your head. And at the front and centre of that image: Wednesday Addams, the OG goth style icon.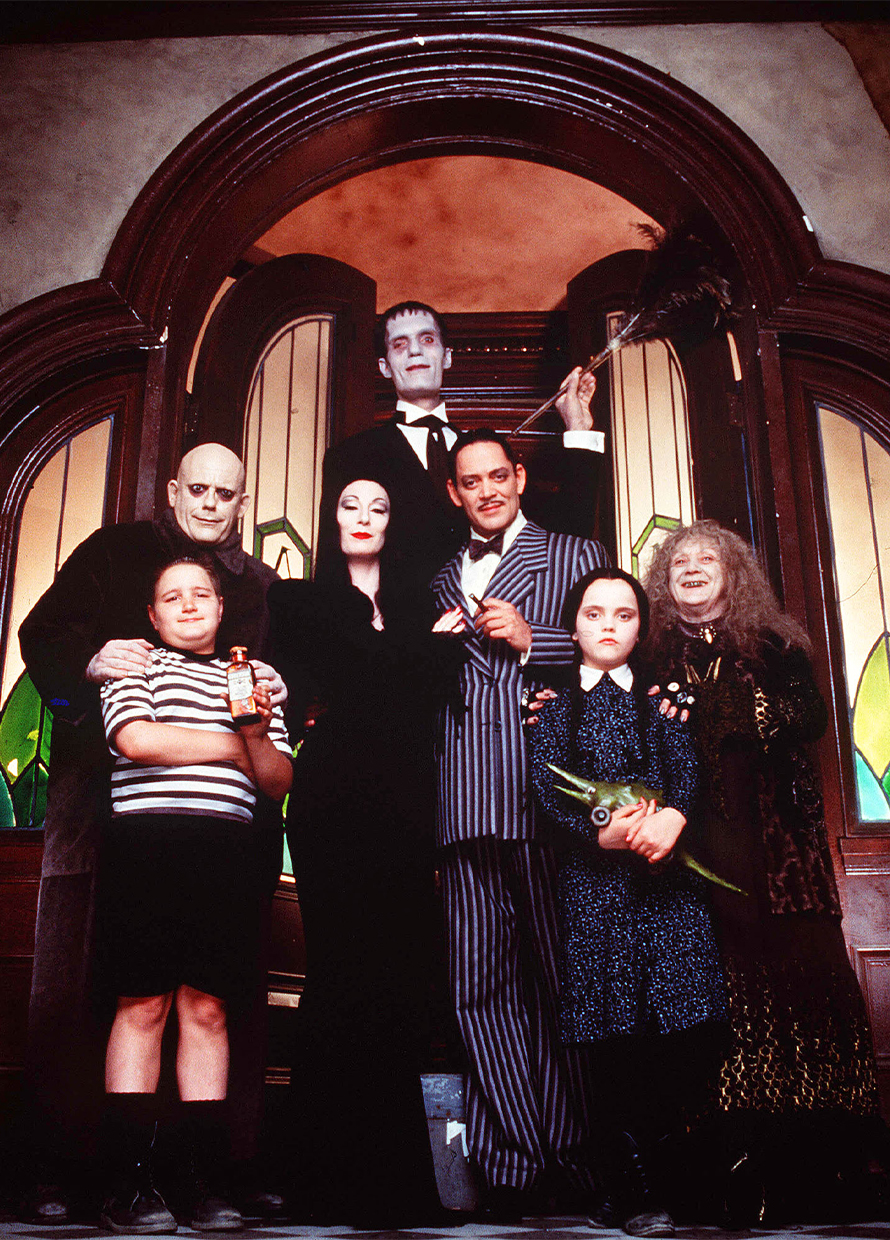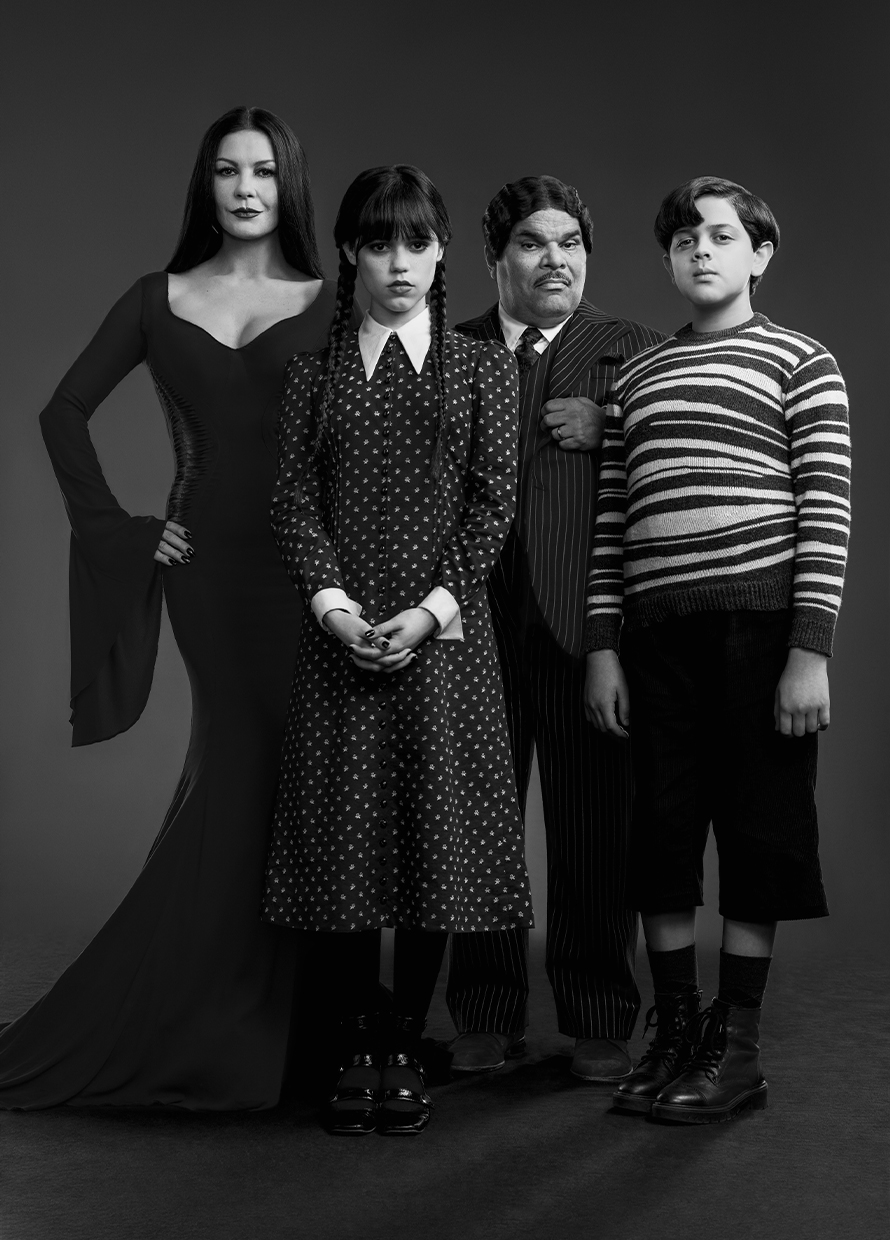 Addams' closet is pretty much the exemplification of the dark academia aesthetic that's been all the rage on TikTok in recent years. In the many iterations that the Addams daughter has gone through since the fictional clan was introduced over eight decades ago, each has basically retained the same look that we're all too familiar with. Pigtails, white-collared black dress, pale complexion, a deadpan stare—you get the gist. Defined by Christina Ricci's Wednesday Addams from the 1991 classic series, it's a look we can bet a million dollars on that we'll catch at least more than once on Halloween. She's almost like Santa, but for the spooky holiday.
Read: TikTok's "Dead Girl" makeup trend comes to life in 'Wednesday'—here's how to get Jenna Ortega's look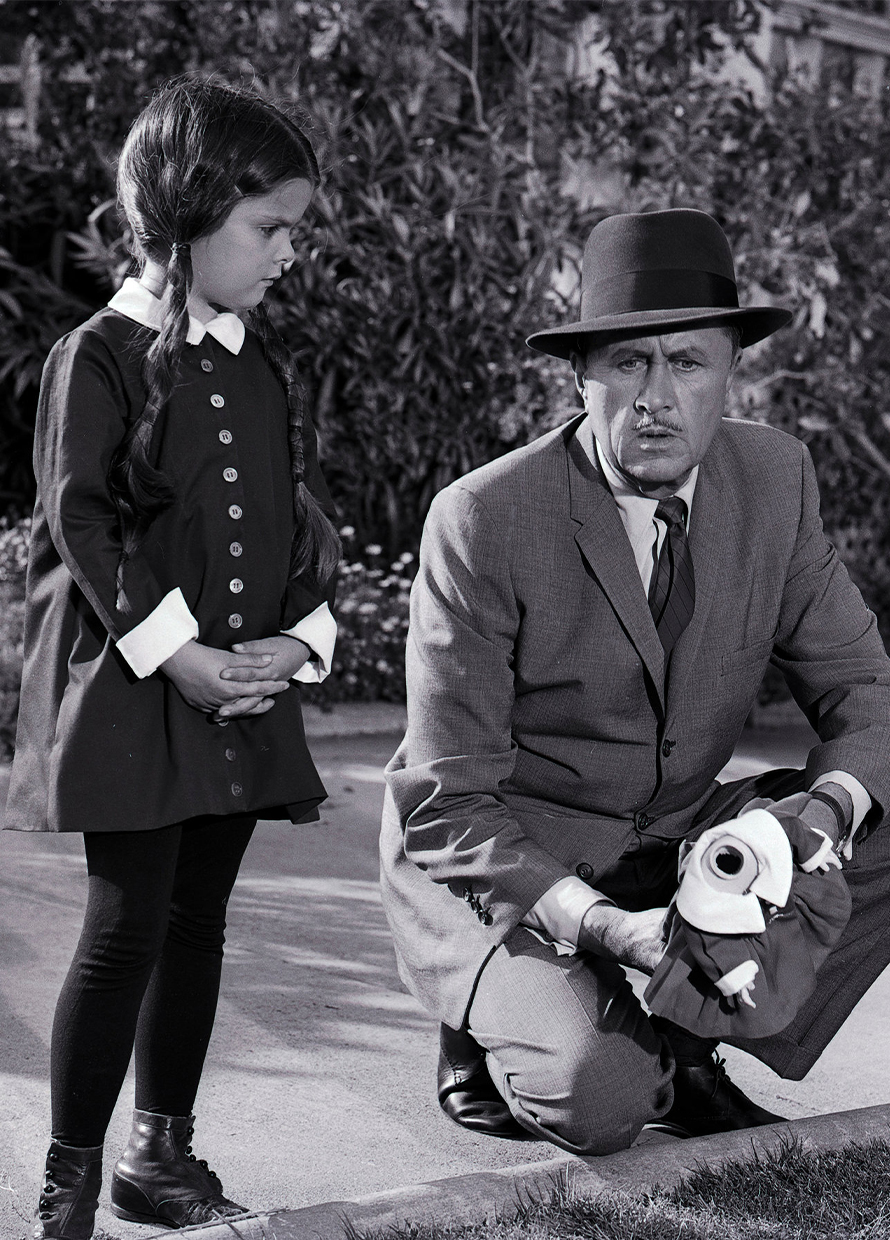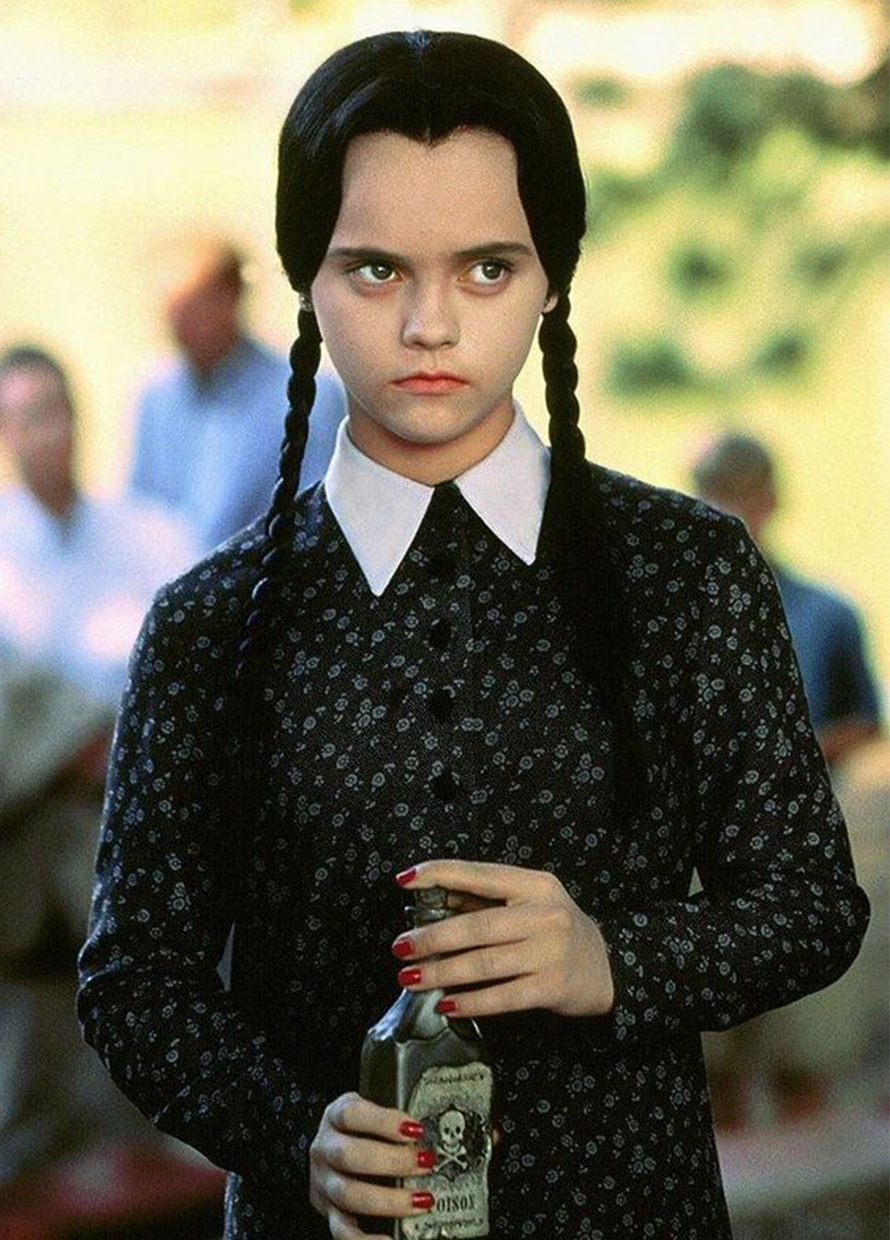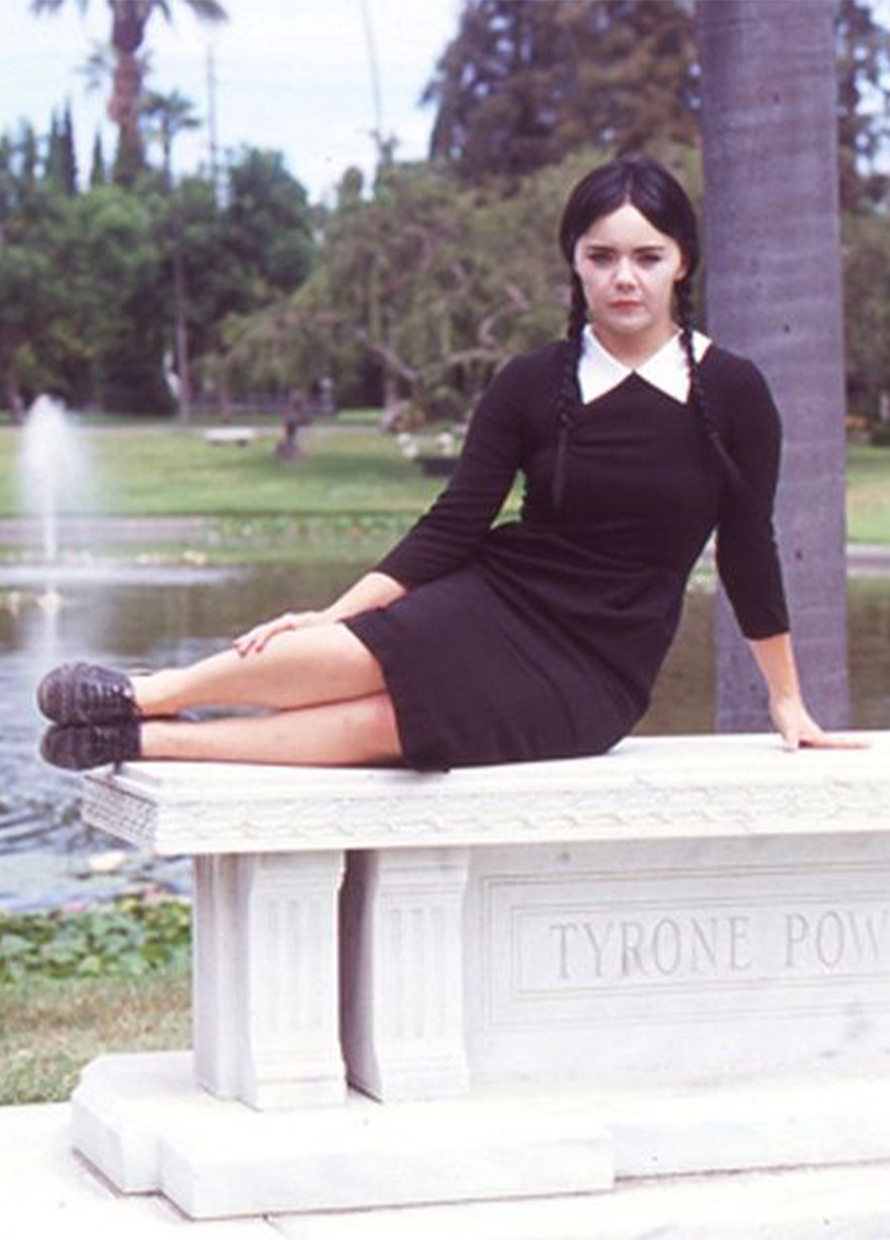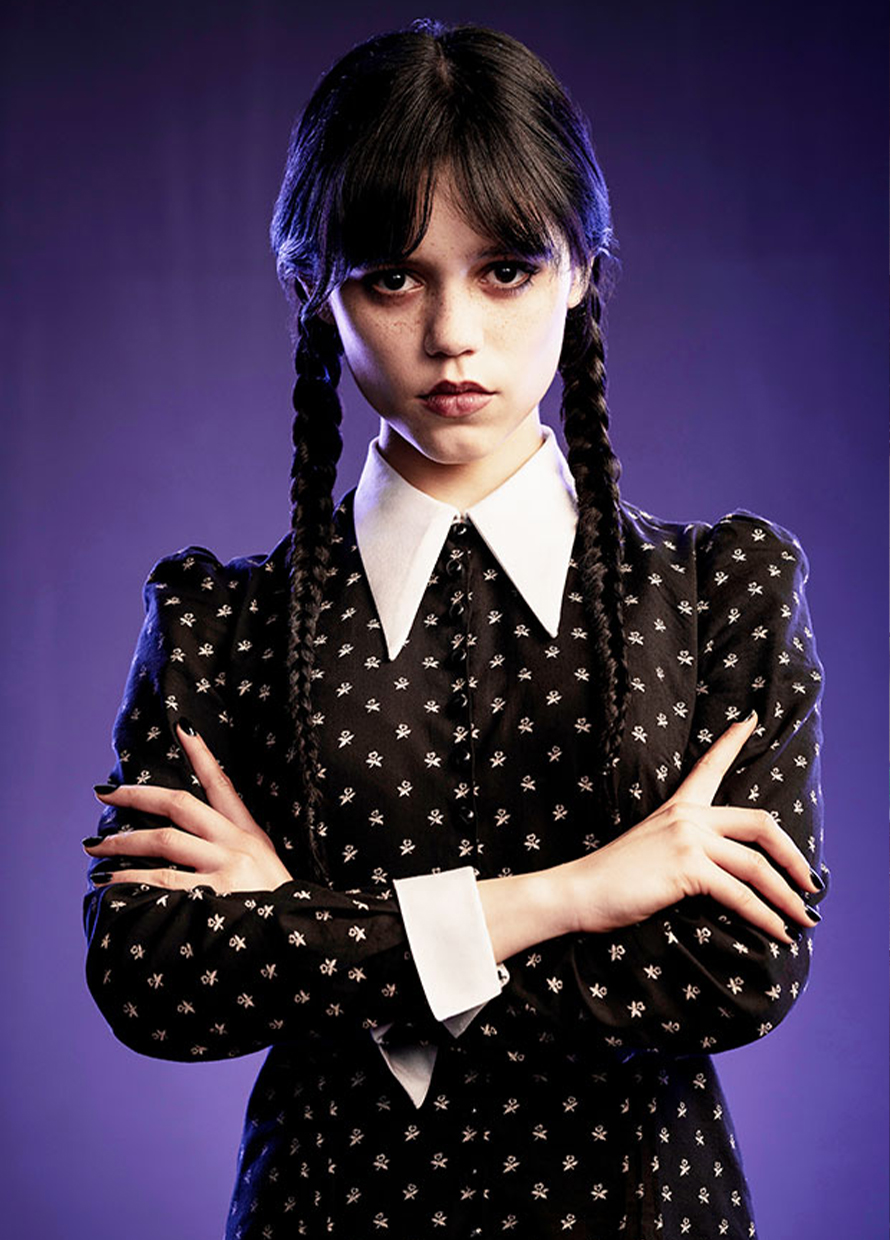 In what seems way overdue, the beloved sardonic teen has finally received her very own Netflix show titled Wednesday, directed by the one and only Tim Burton and starring Jenna Ortega as the titular character—and we all know that it has become an instant hit (as it should).
Within the first week of its release, the series amassed 341.23 million hours of views on Netflix, breaking the record for the most viewing time in a single week for an English-language series on the streaming platform. Twelve days into its run, the number has skyrocketed to a whopping 752.52 million hours viewed, further cementing her gothic legacy in the 21st century. And, of course, her wardrobe was one of the most prominent highlights of the show, courtesy of Oscar-winning costume designer Colleen Atwood whose credits include Memoirs of a Geisha, Sleepy Hallow, and Edward Scissorhands.
While we could never get sick of her trademark ensemble, Atwood wanted to spice things up for Wednesday, expanding her signature wardrobe with an assemblage of designer pieces that got all the fashion fanatics squealing with excitement. In conversation with DigitalSpy, Atwood explained that her plan was "to start by establishing who each character was at the core before infusing it with her own vision," and she couldn't have done it more flawlessly.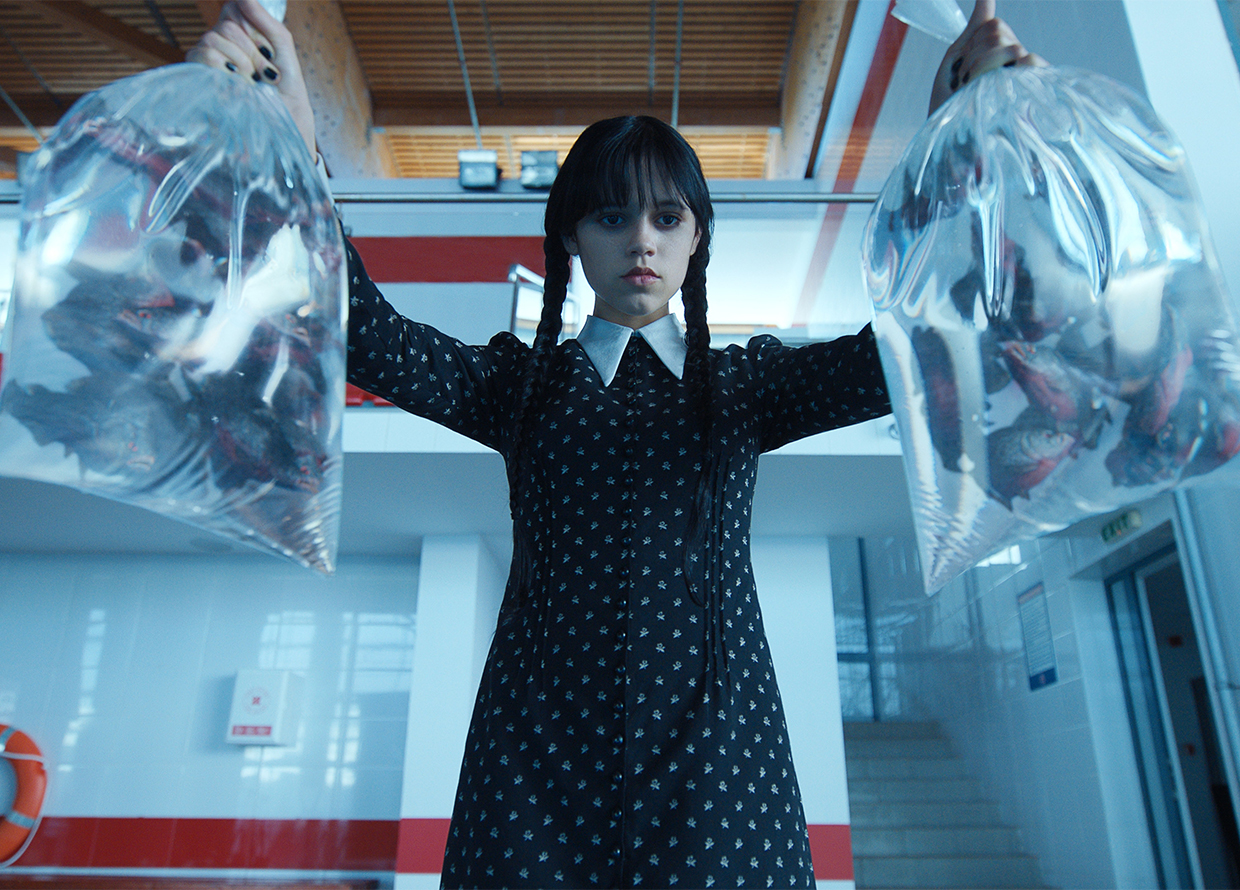 Her first outfit was, as expected, the white-collared dress. Speaking to Variety, Atwood elaborates, "With Wednesday, we can nail the iconic look right away with a nod to the original pointed collar, little print dress and modernised platform shoes, and then put her in an environment that she totally contrasts with: an American happy-time public school. Then you've given the nod to all that's come before."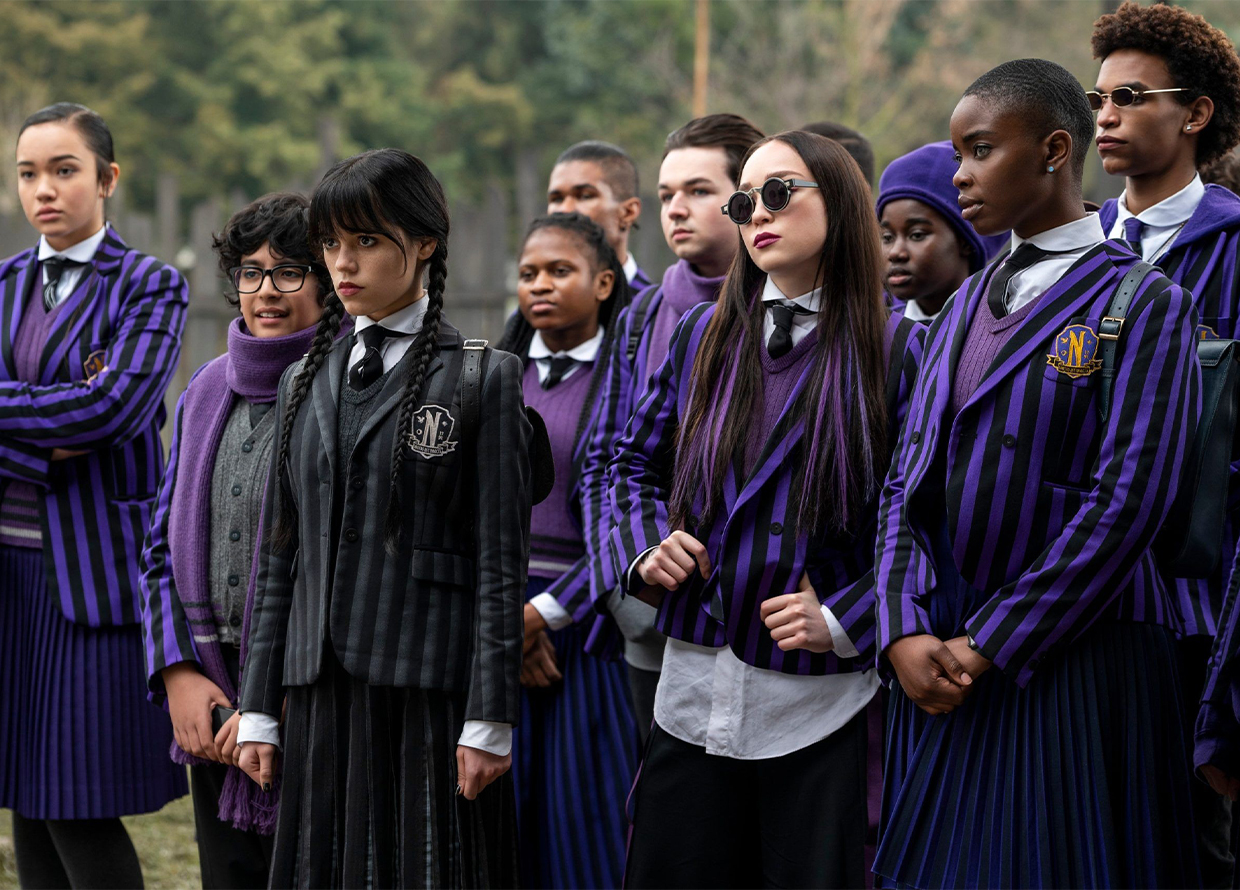 As the show focused on the gloomy teen's time in Nevermore Academy, her black dress was later replaced by a custom-made uniform in her signature colour that set her apart from her peers, completed with a pair of Silent D Black Platform Oxfords and Cambridge Satchel Company Black Double Buckle Square Leather Backpack. In her downtime, we get to see Addams in an assemblage of various looks that added more depth to her enigmatic character.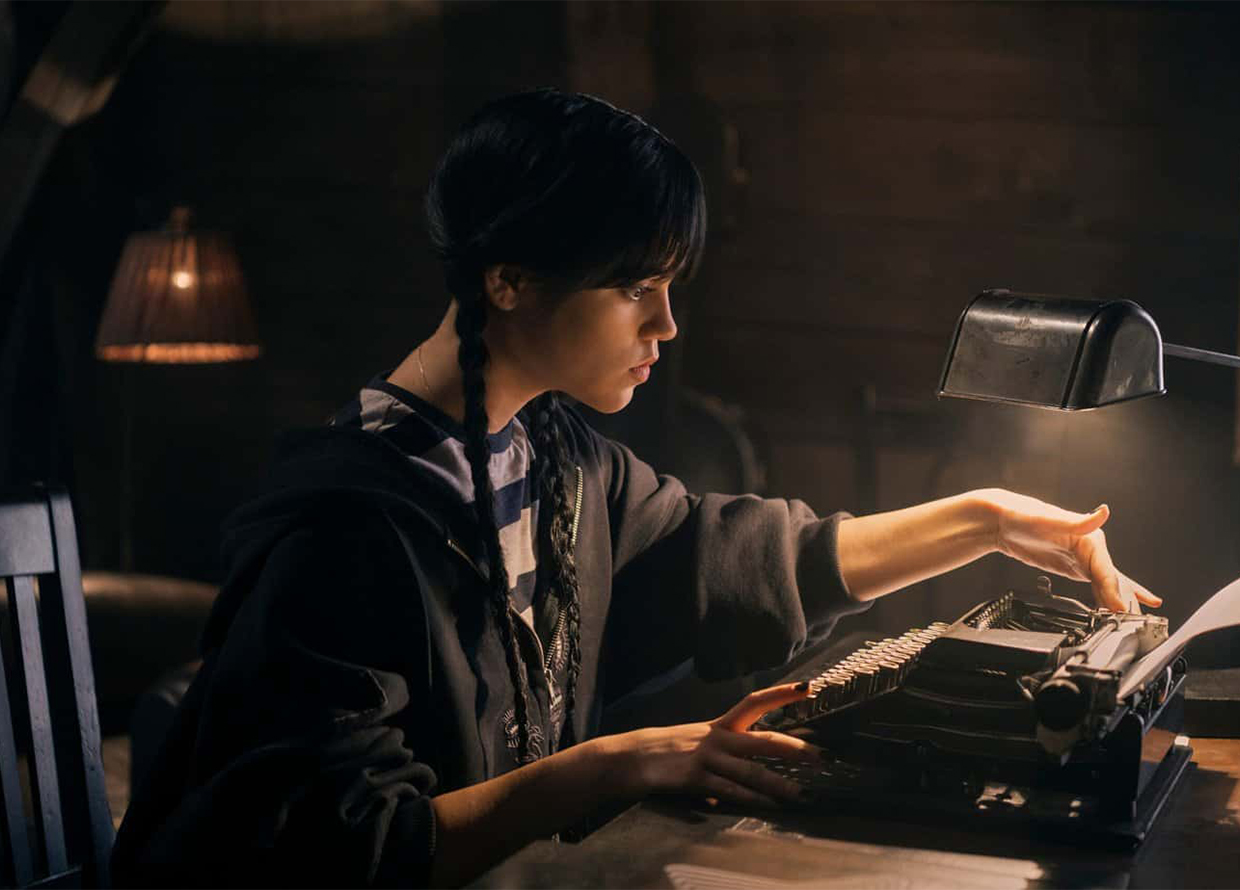 Stripes were a repeated print in Addams' sartorial choices, which is no surprise for a Tim Burton series, but it was certainly a different look for her in particular. Above, she's fashioned in an oversized black zip-up hoodie sweatshirt over a loose-fit striped shirt—an ensemble that we never thought we'd see on Wednesday Addams.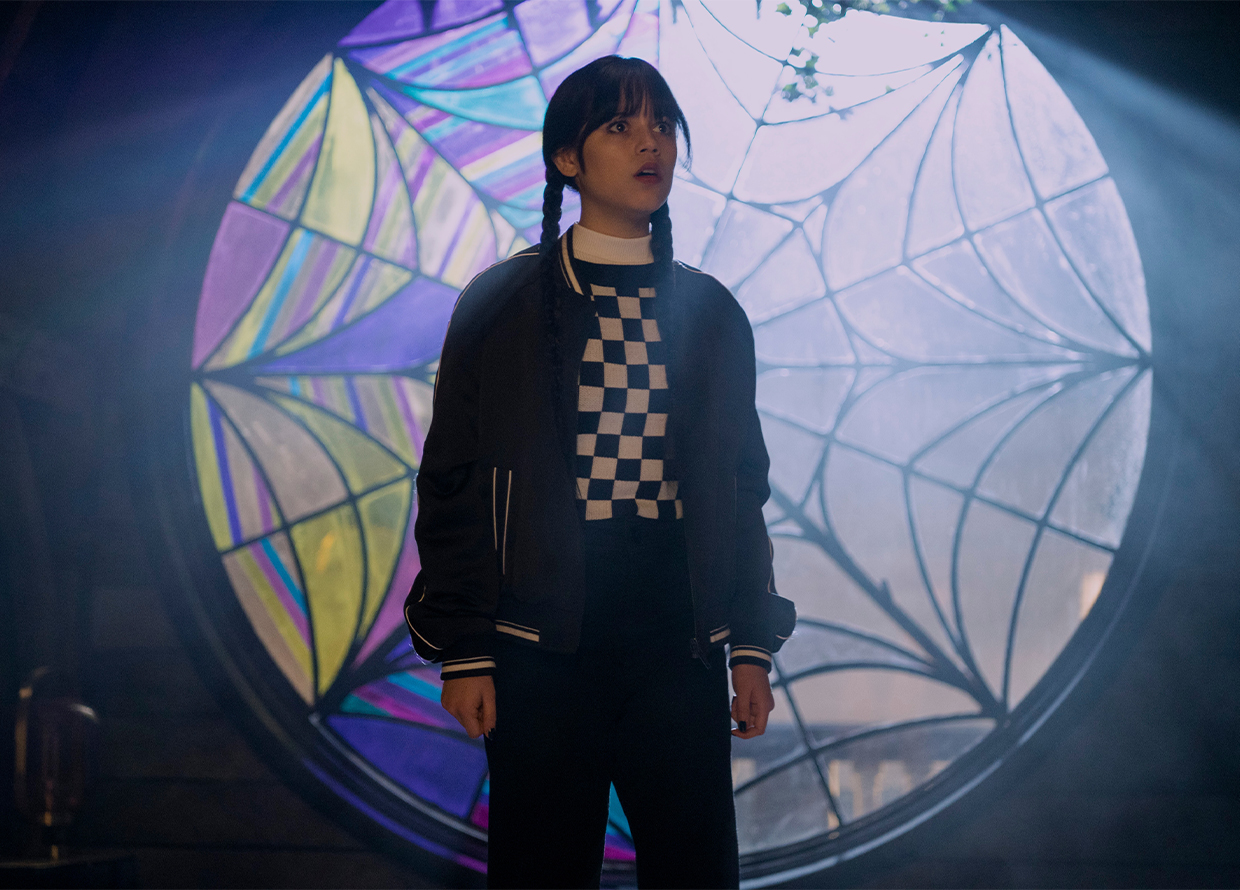 Checks were another print that was unexpected on Addams, but we can all agree that we absolutely need to see more of it. Her striped and checkered ensembles offered us a different side of her that we have never seen before, as her signature looks usually featured sharp and clean details. In a way, her loose-fitted and oversized looks gave her a softer, laid-back appeal that only makes her character even more lovable.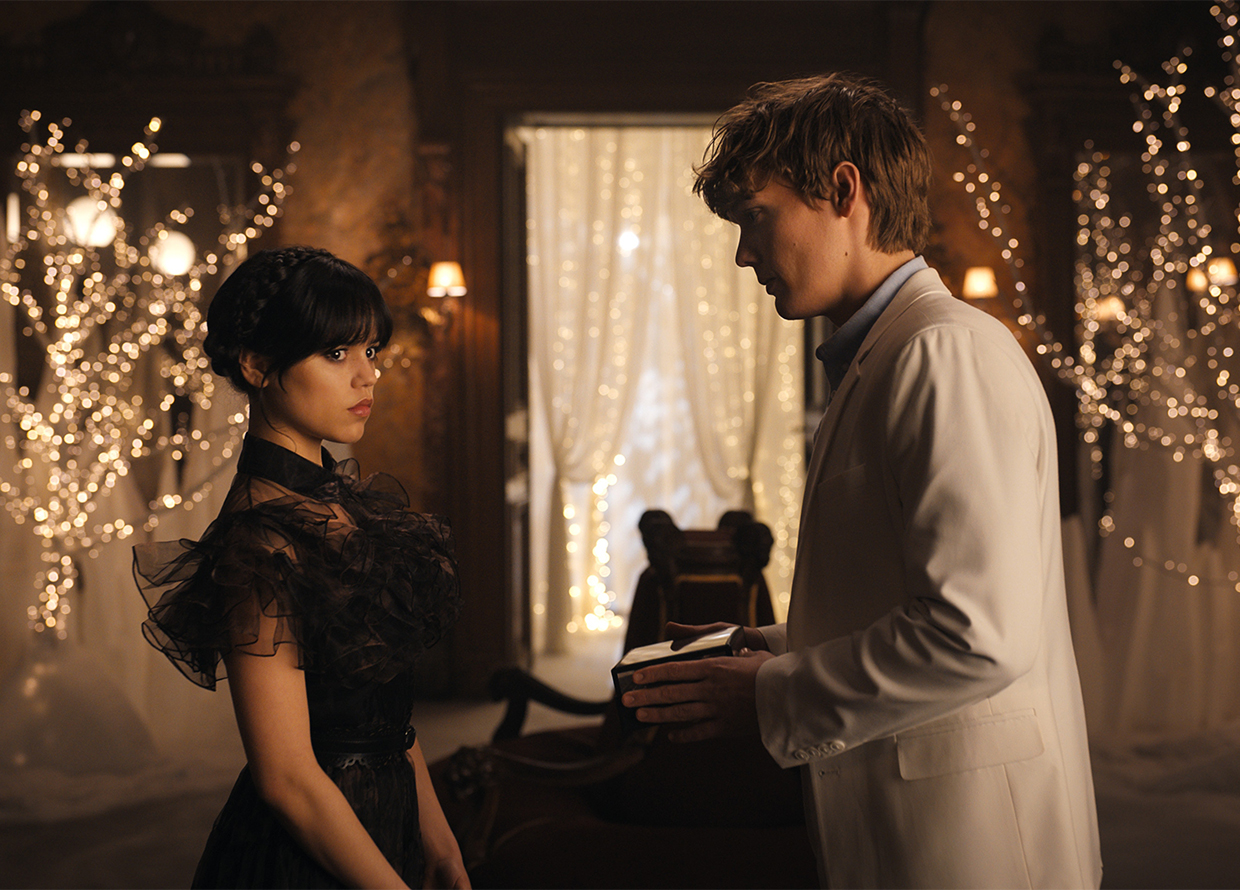 And finally, the Rave'N ball dress. Secured by her handy companion, Thing, with a "five-finger discount", Addams donned a stunning black ruffled dress from Alaïa's AW20 RTW collection—it was easily the best look in the entire show. Atwood revealed in an interview with IndieWire that she initially assumed she would have to make the dress from scratch, until she stumbled upon the Alaïa piece on a mannequin at Bond Street in London. It wasn't the perfect dress solely because it matched Addams' aesthetic, but because it also captured her character's growth throughout the series in its details.
"The fabric was [one] I was familiar with because I've used it in dance costumes. You don't see it that well on camera, but it's tie-dyed. It wasn't just solid black [but] was black with kind of an earth-brown colour in it, so it caught light in a really nice way for a black item," she explained.
Just *chef's kiss*. 
Shop the look
Want to channel the goth icon? Below, we've rounded up 20 stylish pieces that Wednesday herself would add to cart.
For more fashion reads, click here.
| | |
| --- | --- |
| SHARE THE STORY | |
| Explore More | |