Film, TV + Theatre
BURO TV Guide March: 'Bridgerton Season 2', 'Pachinko', 'The Adam Project' and more
Your monthly streaming guide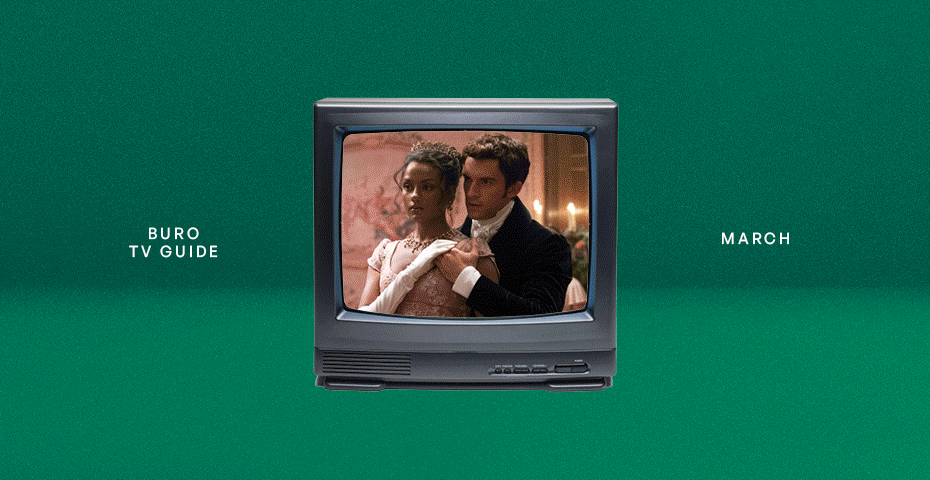 New month, new watchlist: March's lineup of new releases will be sure to keep you entertained. From sea-faring adventures with pirates, to a journey through Imperial Japan through the eyes of a Korean immigrant family, to clandestine romance and gossip in Regency England—make sure to tune into these must-watch shows on your favourite streaming platforms.
1) Worst Roommate Ever
When and where: 1 March 2022 on Netflix
Watch if: You have your own nightmarish roommate experiences
Netflix and Blumhouse Television's new crime docuseries tells the stories of seemingly harmless roommates turned into true nightmares—and we don't just mean not doing the dishes. Across five episodes, the series unveils the tales of unsuspecting victims who went into new living arrangements expecting everything to go smoothly, only to encounter terrors living just down the hallway. From con artists to stone-cold murderers, these four accounts of terrifying roommates will have you on the edge of your seat… and wary of who you move in with next.
2) The Pirates: The Last Royal Treasure
When and where: 2 March 2022 on Netflix
Who's in it: Kang Ha-neul, Han Hyo-joo, Lee Kwang-soo
Watch if: You're down for some swash-buckling action
If you've watched the 2014 film The Pirates, then you'll definitely want to see its spiritual sequel. And if you've not, The Pirates: The Last Royal Treasure promises a thrilling adventure nonetheless. Set in the Joseon Dynasty, a band of fierce pirates set out to brave the deep, dark seas in search of a priceless sunken treasure that belongs to the royal family. However, the unpredictable forces of mother nature and obstacles in the form of other bandits and sword-wielding foes prove a difficult task to overcome, and the pirates must persevere in solving the mystery of the hidden treasure if they are to sail to victory.
3) The Adam Project
When and where: 11 March 2022 on Netflix
Who's in it: Ryan Reynolds, Jennifer Garner, Walker Scobell
Watch if: You wish you could time travel to meet your younger self
Young Adam Reed (Walker Scobell) is a kid struggling to navigate life in the wake of his father's death. He gets into fights regularly at school, worrying his mother, Ellie (Jennifer Garner). However, life still seems as mundane as it gets until Adam investigates an unusual crash landing in his town and stumbles across the pilot, who he quickly figures out is Adam himself from the future. This older version (Ryan Reynolds) is a time-travelling pilot, hailing from a nearly unfathomable future where technology and science exceed all modern expectations. Using this bizarre time-travelling ability, the older Adam teams up with his younger self and his late father to face his past and save the future.
4) The Last Days of Ptolemy Grey
When and where: 11 March 2022 on Apple TV+
Who's in it: Samuel L. Jackson, Dominique Fishback, Cynthia Kaye McWilliams
Watch if: You've experienced the pain of not being able to remember something
Based on the novel of the same name by Walter Mosley, Samuel L.Jackson stars in this drama series as Ptolemy Grey, a dementia-stricken older man who's been sidelined and neglected by his loved ones. Things seem to be headed even further downhill when an ailing Grey is left without his caretaker and his condition appears to be deteriorating rapidly, until he is assigned to the care of the orphaned teen, Robyn (Dominique Fishback). When they discover a brilliant memory-restoring treatment, there is hope that Grey will be able to take back control of his life as the one-time cure promises to restore all Grey has ever known. But with truth comes new mysteries—a healed Grey must now go on a journey to explore riddles from his past, and what they mean for his present and future.
5) Eternally Confused and Eager for Love
When and where: 18 March 2022 on Netflix
Who's in it: Jim Sarbh, Suchitra Pillai, Vihaan Samat
Watch if: *You're* eternally confused and eager for love
Most, if not all of us, have experienced a time where it was awkward and uncomfortable to put ourselves out there in the dating world, and the gawky 24-year-old Ray is no exception to that. Despite his attempts to present himself confidently to his love interests, the voice of an imaginary wizard gets in the way of his pursuits and more often than not, he's met with another disappointment. It gets to a point where Ray's friends and family are desperate for him to find love and settle down, all giving their two cents on how he can do better to spark romance. With an overload of tips and information, Ray goes on a journey to figure out what works for him and to finally find the girl of his dreams in this light-hearted rom-com series.
6) Pachinko
When and where: 25 March 2022 on Apple TV+
Who's in it: Lee Minho, Youn Yuh-jung, Anna Sawai
Watch if: The novel of the same name is one of your favourite reads of all time
Told through three different languages (Korean, English, and Japanese), this highly anticipated series follows Sunja (Kim Min Ha, Jeon Yu Na, and Youn Yuh-jung) through her lifetime, starting as a young teen living in a Japanese occupied Korea who falls in love with a mysterious and powerful man, Koh Hansu (Lee Minho). Upon learning that she is pregnant and Hansu is actually married, she accepts the offer to leave Korea for Imperial Japan by marrying a gentle minister. In a land and era that's hostile to Korean immigrants, Sunja and her new family must learn how to overcome hardships and survive in a time of war and hatred. As Sunja's deepest secret from her teenage years seeps into the lives of her children, the truth may just prove too big to remain concealed as the years go by. To be honest, we'd watch this just for the star-studded cast!
7) Bridgerton Season 2
When and where: 25 March 2022 on Netflix
Who's in it: Jonathan Bailey, Simone Ashley, Nicola Coughlan
Watch if: You've (not so patiently) awaited updates to Lady Whistledown's next gossip on the ton
Welcome back to The Ton, where after a hectic first season of romance, secrets and gossip, all eyes are now on Lord Anthony Bridgerton to find the perfect Lady to settle down with. However, that mission is easier said than done, as Anthony's attempts to find a dazzling debutante that meets all his standards seems an impossible task. Luckily for him, there may be luck (and love) on the cards, when India-hailing sisters Kate and Edwina Sharma arrive for the season. Anthony begins courting Edwina, but as her sister Kate catches on to the Lord's not-so-righteous intentions, she does all she can to prevent the match. As Anthony and Kate bicker, the two are slowly drawn closer to one another, but what looks to be a season of unexpected love is bound to be shaken when Lady Whistledown returns to stir a little trouble.
| | |
| --- | --- |
| SHARE THE STORY | |
| Explore More | |