Coldplay has broadened its horizons from 'A Sky Full of Stars' to 'My Universe' with BTS. After months of speculation, the K-pop boy group and British rock band have finally released their anticipated collaboration. The song, written and sung in both English and Korean, will appear on Coldplay's upcoming Music of the Spheres LP album due out on October 15.
In an interview with Apple Music, Chris Martin of Coldplay revealed that the song was inspired by a "loving text". He explained: "It had been in my mind for a while that someone had said BTS were wondering if we'd do a song for them or something like that. And the phrase, 'My universe,' in this text was like, 'Oh, that's a cool song title." Once Coldplay had a song perfect for BTS, the band went to Seoul to discuss the cross-cultural collaboration.
Taking into consideration the possibility that you're more familiar with one group than the other, here's a quick run-through of both groups:
BTS
From humble beginnings to becoming the world's biggest boy band, BTS has crafted an empire well beyond the confines of K-pop. The band first made its debut in 2013 and has seven members Jin, Suga, J-Hope, RM, Jimin, V, and Jungkook. The group's name is an acronym for Bangtan Sonyeondan— or 'Bulletproof Boy Scouts' in English; symbolic of the group's endurance and versatility. Their second album, Wings, sold 1 million copies in South Korea alone. BTS became the first K-Pop act to remain on the Billboard 200 chart for a whole year and collectively, they've won over 380 awards.
Most recently, they accompanied President Moon Jae-in of South Korea to the United Nation's headquarters in New York, as the special presidential envoy for future generations and culture—delivering a seven-minute speech as part of their diplomatic duties.
Coldplay
In their earlier days, Coldplay was known as an alternative rock band, but over the years, their albums and singles have leaned towards pop. With hits like 'Viva La Vida', 'Fix You', 'Paradise', and 'Something Like This', the band is known for soulful lyrics and an eclectic musical style. Coldplay has four members—Chris Martin, Jonny Buckland, Guy Berryman, and Will Champion—but considers their creative director, Phil Harvey, to be the fifth member. After releasing 'Yellow' in 2000, they became a sensation and went on to release their first studio album, Parachutes. It was the most successful album for the band, earning over $19.5 million in sales.
My Universe
A song about love and embracing differences, Coldplay and BTS are uniting native English and Korean speakers through music with 'My Universe'. Produced by Max Martin, the single was released by Atlantic Records on September 24 accompanied by an official lyric video, which amassed over 6 million times on YouTube within four hours of premiering.
A documentary titled Inside My Universe will be out on September 26 at 8pm (Malaysia time). There will also be two more versions of the song: A 'Supernova 7 Mix' remix and an acoustic version, which will both be released on September 27 at 7am (Malaysia Time). An official music video is still in the works.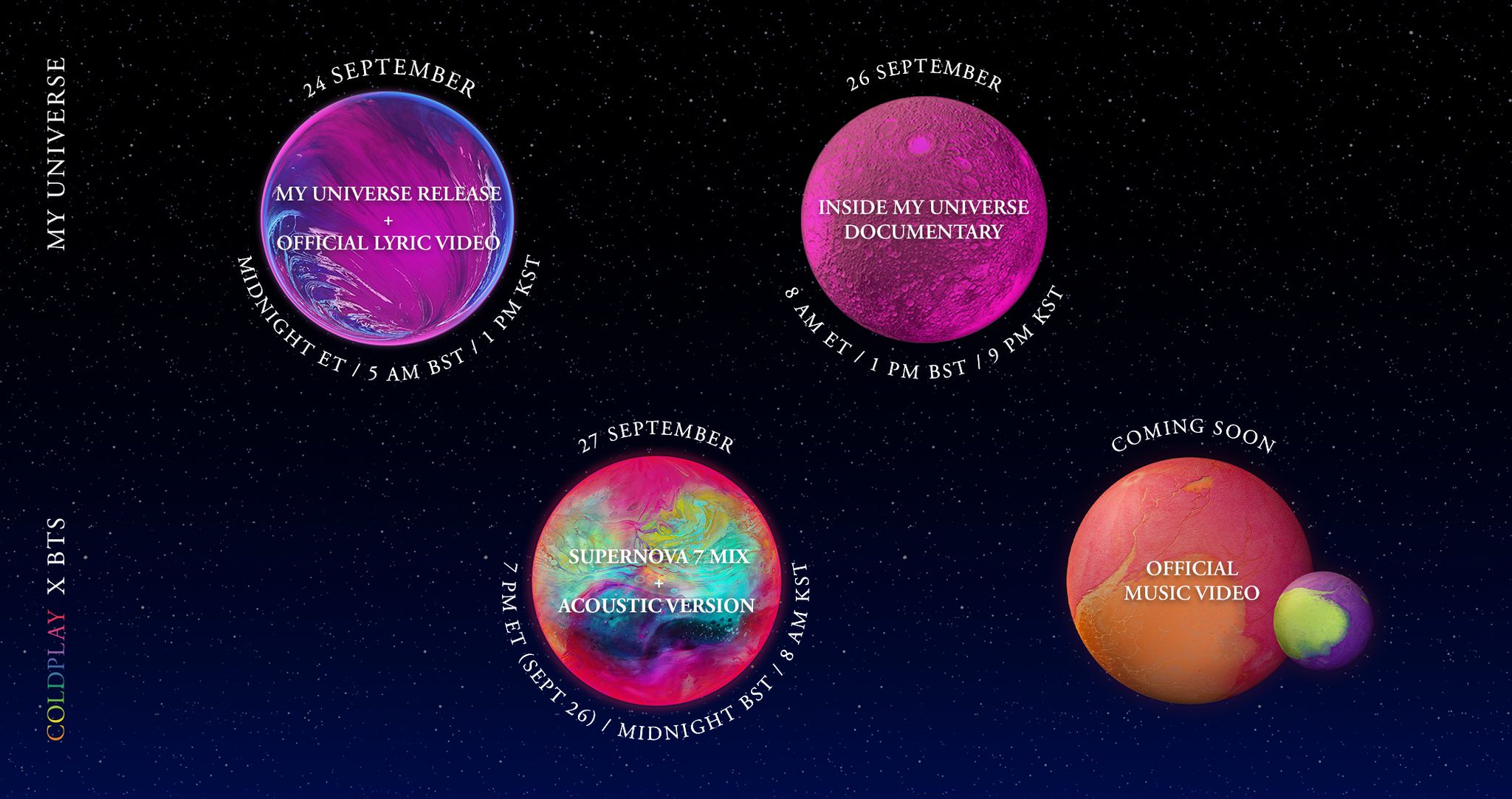 Within hours of its release, the song hit #1 on iTunes in 62 different countries and trended on YouTube in 31 countries! 
ARMY and fans of Coldplay on Twitter are over the moon at this collaboration—and new-found friendship between both bands.
Chris Martin singing the Korean lyrics to 'My Universe' at the Apollo Theater sure hits different:
BTS and Coldplay certainly know how to harmonise: 
We are all for this friendship:
BTS and Coldplay understood the assignment and gave us representation at its finest: 
Congratulations to Coldplay and BTS for this beautiful message of love, friendship and acceptance!
READ ALSO: 6 Things you may have missed in Blackpink Lisa's solo music video and album