Looking to provide your facial contours with a subtle lift but not a fan of invasive measures? If extensive v-shaping programmes and youth-in-a-jar skincare products can't quite cut it for you, peruse these three treatments—from a facelift therapy to v-shaping serums and face creams:
Intense Facelift Therapy with HIFU, AsterSpring
"Like its name suggests, HIFU—high intensity focused ultrasound—uses focused ultrasound energy to target deep layers of the skin and thus, stimulates the natural production of more collagen. The best part is that it's non-invasive and requires zero downtime. Halfway through the treatment, my therapist handed me a mirror and lo and behold—one side of my face was more lifted than the other, resulting in quite a distinctive appearance.
"Does it hurt? There are three levels where each level determines the depth of the layer it targets beneath the surface of the skin. I went with 3mm (4.5mm is the highest) and had braced myself for some form of discomfort. The treatment was more bearable than I expected; if you've tried laser treatments before, this is definitely less painful and feels more like a rubber band flicking all over your skin. Of course, it also depends on the area—the skin around the eyes are usually thinner so it's probably more painful there than around the jaw or cheeks.
"At the end of the 60-minute treatment (no extraction or masks when doing HIFU therapy), my face definitely felt tighter and more lifted. When it comes reducing to fine lines and wrinkles, the full effects would take a couple of weeks to kick in as the treatment stimulates collagen production. That, coupled with continuous application of anti-ageing products should help with the progress.
"My therapist added it was best to avoid hydrating products as well as this would revert the whole process. AsterSpring currently has 10 HIFU machines that are equipped with the latest technology from Korea and promises minimal discomfort and high efficiency, compared to previous versions." – Rachel Au, Editor
Intense Facelift Therapy with HIFU (RM3,300) is available at all AsterSpring outlets
Doctor Babor Lifting Cellular V-Shape Serum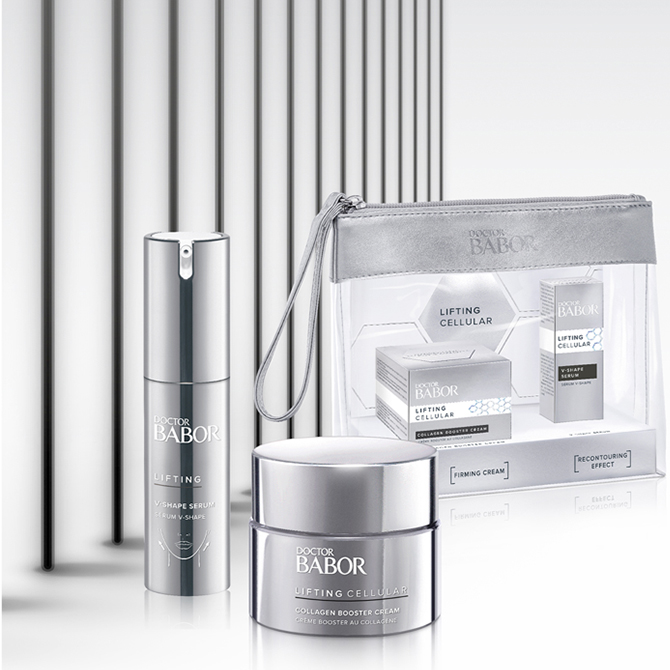 "My first impression of this product was just 'Do I really need a serum for my neck?'. After asking around, it turns out I definitely do. Your neck is where the first signs of ageing begin to show, and keeping on top of your skincare routine is imperative in delaying the ageing process.
"Doctor Babor's V-Shape Serum is tailored for 'intensive tightening, firming and recontouring of the chin line', and it has active ingredients that help promote the synthesis of collagen to restore the skin's firmness. The serum's texture is very light and watery, and it is fragrance-free, so there's no need to fret for your sensitive skin. Plus, it's such a simple addition to your routine that you have virtually no reason to skip it.
"While I can't say that I've seen a massive difference IRL since I've used it, I've noticed that my jawline looks slightly more defined and tapered in pictures—and this is not with the help of FaceTune. Tip: take a before and after picture to keep up with your progress in getting a V-shaped visage." – Redzhanna Jazmin, Editorial Assistant
Belif Youth Creator-Age Knockdown V Cream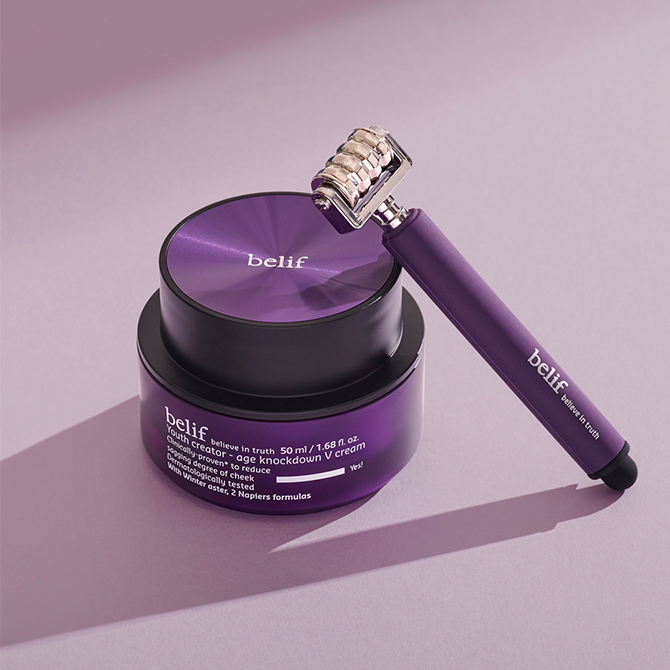 "I've heard of Belif's bestselling True Cream Aqua Bomb—a cult favourite for its lightweight gel texture and hydrating properties—so I was curious to find out how the new Age Knockdown V Cream from its anti-ageing range, Youth Creator, would fare.
"Made with Belif's Napiers anti-ageing and original formula alongside special herbs to facilitate the delivery of oxygen to the skin, the V Cream is said to reduce sagging skin and improve skin elasticity. First thoughts: the cream's texture is seemingly rich (especially if you first swatch it) but it absorbs really easily into the skin. The scent isn't too overwhelming (no synthetic fragrances, BTW!)—in fact therapeutic when massaged onto the skin.
"When it comes to lifting or anti-ageing skincare, the way you apply it makes a world of difference. If you're going to be patting the product in a couple of seconds without letting it absorb properly, you probably shouldn't expect evident results. Belif's fact sheet came with useful tips on accupressure and V-firming face massaging techniques, and I gotta say that it really did wonders in giving my face a lifted appearance.
"A couple of useful tips on lifting your jawline: make a 'V' with your index and middle fingers and glide it up from the centre of your chin to the earlobes as you apply the cream. Always remember the upwards and outwards (from the centre of your face) is the way to go!" – Loh Wei Yeen, Deputy Editor
Belif Youth Creator-Age Knockdown V Cream (RM340.90) is available here
For more skincare tips, click here.
| | |
| --- | --- |
| SHARE THE STORY | |
| Explore More | |