Philippe d'Ornano of Sisley Paris on Sisleÿa La Cure, the brand's most anticipated anti-ageing launch of 2020
How can you tap into the Fountain of Youth without having to go under the knife or opt for minimally-invasive methods? Sisley's latest technological breakthrough, Sisleÿa L'Intégral Anti-Âge La Cure, is your answer. This intensive skin-rejuvenating program reportedly promises results in just four weeks, thanks to the savvy science behind it.   
We had a chat with Philippe d'Ornano, president and founder of Sisley Paris, on what sets Sisleÿa La Cure apart from the brand's existing anti-ageing products:
How is Sisleÿa La Cure different from Sisley's previous anti-ageing ranges?
"Sisleÿa La Cure is the ultimate result of nearly 30 years of research on global anti-ageing with the Sisleÿa line. We started to work at the end of the '80s on this idea of global anti-ageing. The challenge was: how do we treat all the factors that provoke the ageing of the skin? We needed to identify these factors (whether genetic or épigenetic) and we needed the best natural actives to work on each of them.
"With the Sisleÿa line—and especially Sisleÿa L'Intégral Anti-Âge, we aimed to provide a super efficient global answer. La Cure incorporates the latest discovery on the energy of the cells, and is the ideal booster treatment. It is an intensive program for a very specific use—to restore the vitality of the skin at the source of the cell energy; that's also why it's a 'cure'. You can use it for four weeks, in addition to your usual treatments, and it will give your skin a full blast of energy."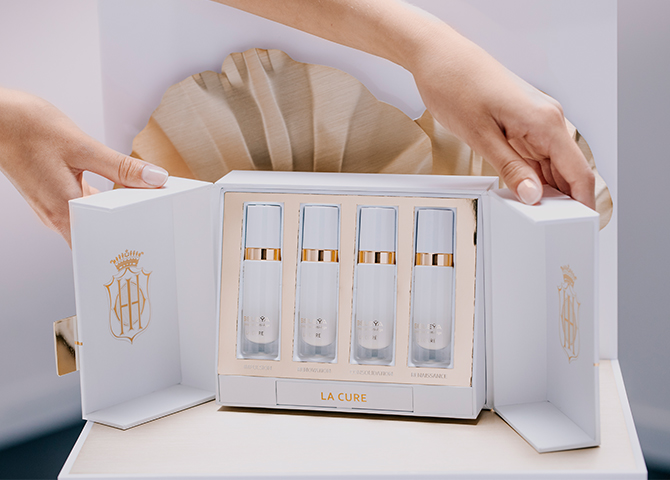 Autophagy, the body's innate ability to adequately clear out damaged cells, is impaired over time as the body undergoes its natural ageing process. Could you elaborate on how Sisleÿa's La Cure program affects this vital process?
"In four weeks, Sisleÿa La Cure will fully restore the skin's life force and youth by acting on the three lines of defence: Protection, Rescue and Elimination—or Mitophagy—of the mitochondria.
"First of all, La Cure protects the mitochondria by activating their natural antioxidant system and stimulating their production of ATP. To do this, we chose Ginkgo Biloba leaf extract combined with vitamin E acetate.
"La Cure then reconnects the network and repairs the damaged mitochondria thanks to Mariposa Blanca rhizome extract. The cell is supplied with energy once more. La Cure rebuilds the network required to rebalance the mitochondrial damage.
"Lastly, thanks to the complex of Peony extract and longevity sugar, La Cure helps the cell to get rid of defective mitochondria by restarting mitophagy.
"The mitochondria are then once again able to produce clean energy in sufficient quantities to help restore the cell's energy balance and help it to work optimally."
What are the stages of the program and the active ingredients that make it effective?
"The skin is a great ecosystem that is able to regenerate itself every month thanks to the energy that runs through and fuels its cells daily.
"Sisleÿa La Cure was programmed to last the exact same time that it takes to re-stimulate the skin's mechanisms—and to ensure very good results. Each one of the four bottles unlocks the mechanisms that allow the skin to renew and regenerate itself by acting gradually to restore to its maximum youth potential.
"After 28 days of La Cure, the skin is transformed. Wrinkles are visibly reduced and the skin recovers the density, elasticity and radiance of youthful skin."
How often should Sisleÿa La Cure be used?
"Sisleÿa La Cure is the ideal product to use once or twice a year if you can afford it—at the changes of season or when you feel that your skin really needs a boost. You can feel and see when your skin needs special attention as soon as it shows signs of fatigue or stress—it is dull and lacks energy. It's then great to take a break from your regular routine and give your skin a real energy boost."
Is it only suitable for matured skin?
"It is an anti-ageing product so you'll see stronger results if you are aged 30 and above. You will also have good results if you are younger than that. But I would say that the best results appear on people over 30 years old, when the process of skin ageing begins."
Is there a particular skincare routine you would recommend to supplement this treatment program?
"La Cure is perfect to use by itself on well-cleansed skin. It provides great comfort for all skin types. But for people looking for even greater comfort, it's possible to apply their daily skin care on top of La Cure (All Day All Year, Sisleÿa cream, etc).
"The product is also accompanied by a specific application technique that can be done in the morning and evening at home throughout the four-week program to get even greater results. The texture is particularly good for a massage and it allows a real moment of well-being."
What breakthroughs did you have with anti-ageing technology?
"Sisleÿa helps you—through different factors—to stimulate all the natural functions of your skin. Your skin is programmed to protect you but this remarkable ecosystem starts to work less well as you age. All the work that the Sisleÿa range is doing is to re-stimulate the mechanisms of the skin so it will work as well as it used to when it was younger. That is the technology and that is how we get these results."
Sisleÿa L'Intégral Anti-Âge La Cure (RM3,980) is now available at all Sisley counters.