Makeup
How to cover acne and scarring with makeup on all skin tones, according to Keke Palmer and a pro makeup artist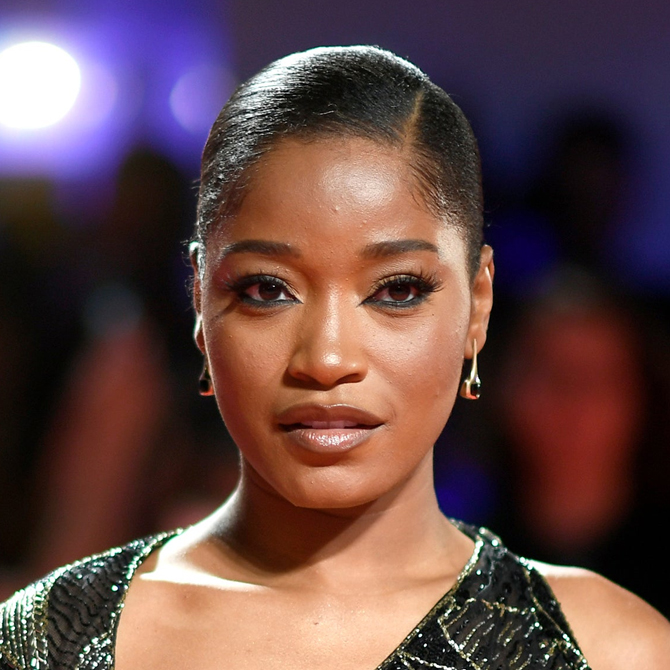 To all you lovely people out there struggling with your skin—you're not alone. Acne is a lot of things, but easy isn't one of them. Aesthetics aside, acne can be extremely painful and disheartening, especially when it is hormonal. That's why we've done countless guides and self-investigations into the best remedies for acne out there. However, one place we've failed to go before is acne coverage.
If you're a fan of Keke Palmer's, you'll know that she recently came forward about her struggles with polycystic ovarian syndrome (PCOS). She posted a completely makeup-free selfie to her Instagram and got candid about the PCOS-induced hormonal acne that she has been suffering from.
"PCOS has been attacking me from the inside out my entire life and I had no idea," says Palmer. "My acne has been so bad that people in my field offered to pay for me to get it fixed."
READ: Keke Palmer gets real about her PCOS-induced acne
"I've tried everything," she continues. "I did accutane twice. People say drink water, have a better diet, but I did all that, I ate all the "right" things, my blood tests were fine, but it took me taking a personal look into my family history of diabetes and obesity to understand what was actually happening with me."
While her post received resounding support from fans—especially those with similar experiences—many were surprised to discover that Palmer was struggling with acne at all. From her red carpet pictures and Instagram posts, you would almost never know that she had severe acne in the first place, and it all comes down to a great makeup routine.
READ: How to shade match foundation and concealer to deep skin tones
Lucky for all of us on the acne boat, Palmer shared her routine to Instagram, stating: "I've been dealing with acne and struggling with coverage for a really long time. I don't think there's any shame in it."
In summary, the official Keke Palmer routine goes a little like this:
Prep the skin with ample hydrationKeke used: Aquaphor and Caudalie Beauty Elixir
Colour correct areas of hyperpigmentationKeke used: The orange colour corrector from MAC Studio Fix Correction Palette
Follow up on problem areas and spot conceal with a concealer lighter than your natural skin toneKeke used: NARS Concealer in the shade Medium 2 Ginger
Stipple foundation all over the face with a BeautyblenderKeke used: MAC Pro Longwear Foundation NC 50
Set the skin with powder—keep your skin as matte as possible to avoid highlighting texture on the skinKeke used: MAC Dark Mineralizing Skin Finish Studio Fix in the shade NW 58, the Lancôme Absolute powder in the shade Absolute Almonds, and the Ben Nye 6B01
Smooth down any flakes or bits of texture with a little moisturiser and powder mixed together, and pat down with more powder to set
In the tutorial, Palmer also detailed that her acne-induced hyperpigmentation and scarring was never tacked properly by on-set makeup artists, saying: "When I was younger in my movies, they would use whatever was the darkest colour of my acne scars and if you watched [the films] you could see that I was [several] different shades at once. I had to learn how to do my makeup on my own so I could make sure I felt happy and comfortable."
That's what we're here to help you do today. To corroborate Palmer's tutorial, we spoke to Yuna's makeup artist Cat Yong to glean some extra tips of acne coverage. Here's what she said:
What kind of products would you recommend for acne-prone skin that has a lot of texture and scarring?
"In my opinion, you should always go for cream foundations, especially if the acne or scarring is very obvious on the skin. Cream consistencies work best for covering up acne because the texture is often thicker and higher coverage, but it won't cling to dry spots as much. In addition to that, cream and liquid concealers will also help to cover up any dark spots."
What are some of the techniques you use when covering acne with makeup?
Conceal the acne areas using a small brush and a cream concealer that is lighter than your skin tone. This helps to tone the redness down in the area
Go in with a concealer that is one or two tones darker than your foundation and spot conceal to even up the acne area and its surroundings
Set your concealer with a fluffy brush dipped in a powder foundation that matches your skin tone
What are some steps you can take to further prevent breakouts?
"Maintaining good hygiene with your makeup tools is very important. Always wash your brushes, sponges and/or powder puffs after every use. This is to prevent the germs and bacteria from growing!
"To wash them, you can use normal bar soap to wash the tools/sponges—try to avoid alcohol-based removers like wet wipes and brush cleaners as they might be sensitising to problematic skin.
READ: The definitive guide to cleaning every beauty tool in your vanity
"Remember: if you have sensitive or problems skin like acne breakouts, always double cleanse your face after makeup. It is very important! Here are the steps I recommend:1) Cleansing water to remove the whole face and base 2) Cleansing milk for the first cleanse3) Your regular daily face cleanser for the second cleanse
"Aside from deep cleansing your face, you have to take extra care of the foods you're eating daily. Try to limit your intake of spicy, oily, and deep-fried foods. You can also try taking some skin supplements if you can.
"Also, be careful of the skincare and makeup you use. If you feel like a product is causing breakouts or sensitivity, stop using the products immediately! Of course, if your skin condition isn't improving, it's best to consult a skin doctor to prevent scarring."
This interview has been edited for clarity and length. For more acne-busting stories like this, click here for our acne guide.
| | |
| --- | --- |
| SHARE THE STORY | |
| Explore More | |