Alicia Keys also reveals the first three products in Keys Soulcare, Debby Ryan gets shagged and more
All aboard the Hollywood train! This week was full of headlines, and we can't wait to get you caught up. Find out how George Clooney keeps his (mini) mane in check, get the scoop on JLo Beauty and Keys Soulcare, and find out what your favourite celebrities have done to their hair this time.
All this and more ahead!
This week in reveals
---
JLo Beauty's entire product range has been revealed
The moment we've all been waiting for has arrived. The full lineup for JLo Beauty's January 1st drop has been revealed. Find all the details on the JLo Beauty website, or for the TL;DR version, read on!
That JLo Glow Serum—this multitasking facial serum tightens and lifts while boosting radiance.
The Blockbuster Non-stop Wonder Cream—to nourish, brighten, smooth and plump skin and get you red-carpet ready.
That Limitless Glow Multitasking Mask—saturated with the glow serum, it works to tighten and lift.
That Big Screen Broad Spectrum SPF30 Moisturiser—so you can stay hydrated and sun protected all at once!
That Hit Single Gel Cream Cleanser—for a brightening, detoxifying clean on the skin.
That Fresh Take Eye Cream—to mask your dark circles, soften fine lines and boost your glow.
That Star Filter Instant Complexion Booster—because you can never glow too much.
Will you be copping the drop come 1st January?
Alicia Keys releases the first three Keys Soulcare products
For those of you who have been following the Keys Soulcare launch, you'll be pleased to find that all the juicy details are finally here—the brand shared the first three products to Instagram earlier this week.

"@AliciaKeys starts with the Sage + Oat Milk Candle, then calls on the Skin Transformation Cream and Obsidian Facial Roller to nourish the skin. Created with our board-certified dermatologist, each offering is clean, cruelty-free, and good for all skin types."
Anyone else's soul already feeling relaxed?
Find out more on the Keys Soulcare website.
This week in hair
---
George Clooney cuts his hair with a glorified vacuum cleaner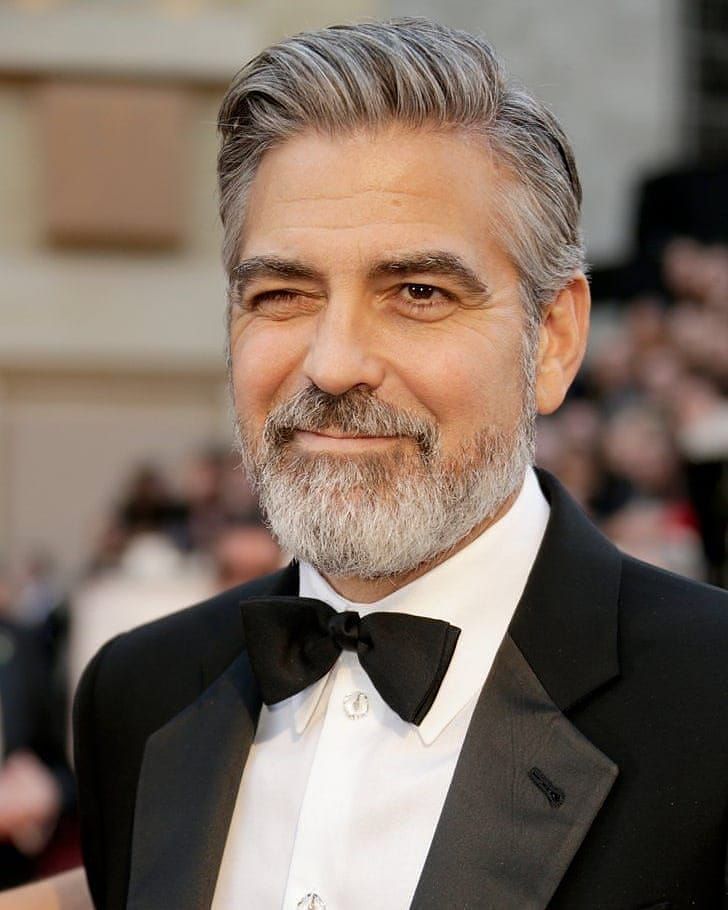 Men, if you're looking for a nifty way to cut your hair at home, George Clooney has you covered. The seasoned actor has apparently been cutting his own hair for the last 25 years, according to an interview with CBS from earlier this week. The secret to his red carpet-ready DIY cuts? The Flowbee. That's right—Academy Award winner George Clooney cuts his own hair with a product he bought from an '80s infomercial.
Both a vacuum and a clipper all-in-one, Clooney says that it's both user-friendly and effective. Don't believe us? Here's the endorsement from the man himself: "It comes with a vacuum cleaner and the clippers? Yeah. I still have it... Listen, man, it works!"
READ: Tried and tested: How to cut your own hair at home (men)
We just wish he'd spilled the details on this earlier this year—the device sounds like a holy grail for quarantiners unable to get to the salon. Watch the device in action below:
Kristen Bell wants to know whether she should get a perm
The The Good Place star took to Instagram to share her post-wig 'do, which is equal parts fun and fabulous, if you ask us. In her caption, she said: "I'm in a wig for my current movie. When I take my braided hair out at the end of the week, this is what I get. And I am INTO IT. Do I need to get a perm???"
First thing's first—we're into it too, girl. However, with regards to whether she should get a perm, we'd say she'd benefit more from a crimper or waver—you just wouldn't get that wave from a perm. That said, if she was looking for the same volume with a few ringlets in the mix, we're on Team Perm!
PS: Can we talk about how incredible her skin is? How is she 40 years old?
READ: How to maintain your digital perm — from conditioning to styling tips
Ciara gets a full '60s fringe
If you needed some hair inspo this week, you've found it. In a sea of '70s mullets, Ciara's taking the throwback trend one step further, going back to '60s with her new bangs. We love how they add drama, drawing attention to her dark eyes and framing her face. Not to mention—her dramatic, voluminous tresses are streaked with honey-blonde highlights, which compliment her deep skin tone beautifully. 
Some commenters likened her look to that of the Pink Ladies in Grease (1979), and we have to agree! The retro look is going down as one of our favourites from this year, along with the slew of mullets we've seen. Speaking of which...
Debby Ryan is the latest celeb to get a mullet
Mullet alert! Debby Ryan has shed the lengths on her hair and bought into the '70s shag trend. She shared a behind-the-scenes look of the cut in progress, which was undoubtedly the handiwork of hairstylist and hair care entrepreneur Kristin Ess. According to Ess' comment on the post, Ryan has been through a fair number of "180º changes", so a big chop was well overdue.
Although the mullet remains a controversial hairstyle, it seems that fans and friends of Ryan's seem to dig her new 'do. With her killer makeover, the actress joins the likes of Miley Cyrus, Maisie Williams, Rihanna, and more on 'Mullet Bay'.
READ: Celebeauty: Hailey Bieber is unrecognisable with bleached brows, Rihanna brings back the mullet and more
This week in body and wellness
---
Keke Palmer gets candid about the reality of PCOS
The actress and singer took to Instagram to share an unfiltered snap of her natural skin, along with the news of her recent diagnosis—she has PCOS. In an open letter to the public, Palmer details her struggles with the reproductive disorder:
"Hey you guys, for some of you this may be TMI, but for me my platform has always been used for things much greater than me. Poly Cystic Ovarian Syndrome has been attacking me from the inside out my entire life and I had no idea. My acne has been so bad that people in my field offered to pay for me to get it fixed. I tried EVERYTHING. I did Accutane TWICE. People say drink water, have a better diet, but I did all that, I ate all the "right" things, my blood tests were fine. But it took ME taking a personal look into my family that has a history of diabetes and obesity, to understand what was ACTUALLY happening with me. And unfortunately doctors are people and if you don't "look the part" they may not think that's your problem. They may not even suggest it if you "look healthy" whatever that means! I came to a doctor in tears once and all they offered was a measles vaccine... Exactly.

"I'm posting this to say that it's okay and we can help ourselves. My skin has made me sad many nights but I do not give up on myself. I know this is not me and my body has been looking for help. I do not have a medical degree but I did the research and took what I learned to a doctor and that led them to a proper diagnosis. I'm not saying trust web md for everything haha but what I am saying is no one can help us like we can help ourselves.

"This especially makes me sad because my family struggled for years and no doctor could help them, they actually mislead them and just took their money. It's only because of what my family sacrificed that allows me to even have the resources to share the information I'm sharing with you! Their fight out of poverty gave me a better life and I just want to share what I learn.

"The least harmful thing PCOS can bring is acne. To all the people struggling with this please know you're not alone and that you are still so f*cking fine! MY ACNE AINT NEVER STOPPED ME. But we don't have accept this. Now I can really help KEKE! And I love her so it's ON.

"Pray for me on this journey and I will pray for you too. I'm not afraid to show myself to the world and you shouldn't be either."
Find more beauty stories here.