Also, find out what's Yuna's perfect holiday meal, and the two cities she's yearning to travel to once the pandemic is over
As one of the few Malaysian singers who are making waves across the globe, Yuna needs no introduction. Having been based in Los Angeles for the last decade, (no) thanks to the pandemic, the artist has spent a majority of 2020 back home in KL, but that didn't stop her from participating in one of her most exciting projects of the year. The singer-songwriter—alongside some of the biggest names in the industry including Jennifer Lopez, Michael B. Jordan, and Kiko Mizuhara—is one of the stars who's featured in Coach's Holiday 2020 campaign, titled Holiday is Where You Find It.
Following the release of the imagery and videos, we hopped on a virtual call with Yuna to get a better insight into her collaboration with the brand, where she also lets us in on her plans for the festivities, the biggest lesson she's learnt this year, and more.
Tell us more about the campaign shoot. How did this come about, and how do you feel about being featured alongside Jennifer Lopez, Michael B. Jordan, Kiko Mizuhara, and more?
I've been working with Coach Malaysia since Spring 2016 back in New York, and I've always enjoyed working with the brand. Previously, I haven't been around much; now that I'm back home, when the opportunity came, I said "I'm in, let's do it" without thinking twice. This was shot in Malaysia and directed by the Coach US team via Zoom. It was definitely a new experience for me, but it's a lot of fun. And hey, we get to tell people that this was shot in Cyberjaya (laughs).
I'm really happy to be a part of this campaign with familiar faces like Kiko (Mizuhara) whom I met at the AW'20 show during New York Fashion Week earlier this year, Quincy (Brown), and JLo, of course. It's pretty surreal to see myself being featured alongside these talented individuals. We've been talking about this for months, and now that it's finally here, we get to see it, enjoy it, and share it. I'm just very excited about this whole thing.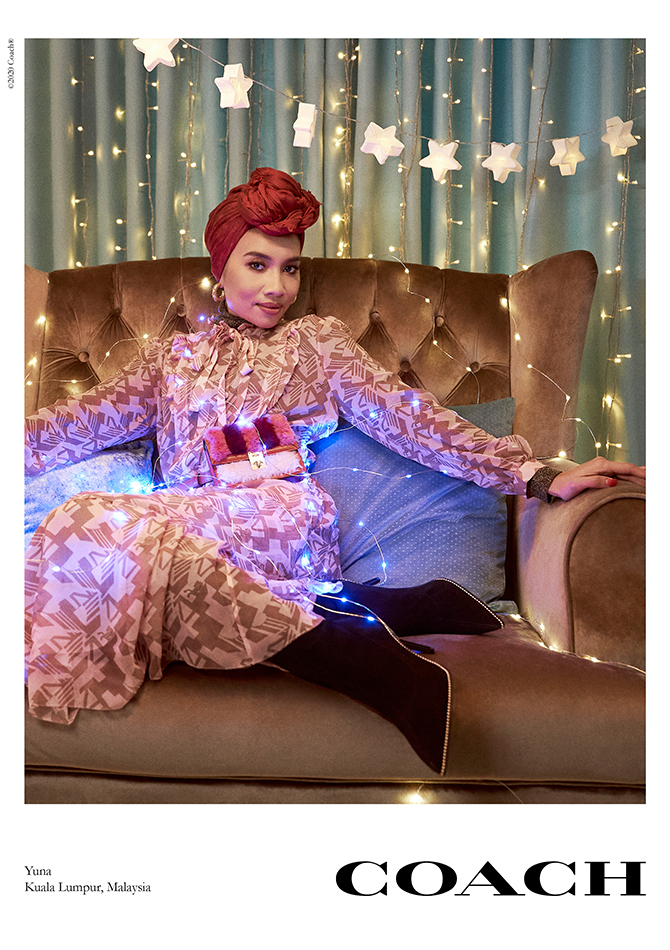 How do you feel about being the first Malaysian and the first Hijabi to be featured in an international fashion brand's global campaign?
It means a lot to me. Growing up, I didn't have anybody who looks like me that I can look up to, except for my mum. I always felt like there's no place in the fashion world for someone like me but today, I proved myself wrong. I'm really happy that Coach gave me an opportunity to be myself and also inspire other girls who've always felt like they're different—that being themselves doesn't pay off.
I feel very blessed to be able to do what I do, and hopefully, that will inspire others to be original and be yourself. You are beautiful and you are enough. I hope that the message will come through via this campaign.
You've worked with a slew of luxury fashion labels over the years. What does Coach mean to you as a brand?
Coach is basically my family. I've met the team in the US, and they're super open and nice. The brand is accessible—it's inclusive and it's for everyone. This is a brand that I love working with, and I love the fact that they like working with me as well.
What's the synergy like between Yuna and Coach?
I only work with brands that I love and brands that believe in what I do. Because believe it or not, a lot of people didn't—and still don't—believe in the "Yuna" brand. Coach has always been supportive since day one, and the Malaysian team has always looked out for me, and rooted for me in whatever that I do.
It's important for a partnership to be organic. I've been in working relationships with brands that felt forced, and with Coach, there's mutual respect in everything they want to do with me creatively, and that definitely inspire me to do better. I hope that by working with me, the brand has also learned something from me as well.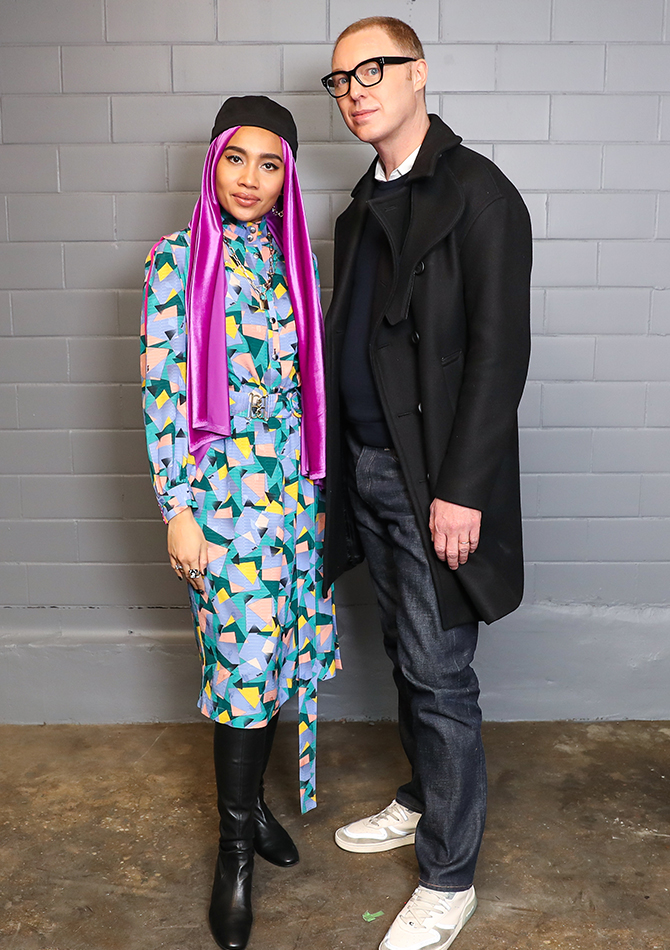 How do you usually spend your holidays?
Netflix! (Laughs). I spent most of my time in the last nine to 10 years being away from my family, so whenever there's a holiday, I definitely have to come back to Malaysia. So the term "holiday" means family time to me. We eat, we laugh, we talk, we catch up, we visit our relatives… That's my definition of "holiday", just doing normal things like hanging out with my cats or going to the mamak.
The theme of the Coach campaign this year is "Holiday is Where You Find It", but where will your dream holiday be once the pandemic is over?
I just had this discussion with my husband—we told ourselves that we have to go to Japan again. We were in Tokyo last year for a short while to promote my album Rouge, and we loved it. So we'd want to go back and travel a little further than Tokyo. We also want to go to Mexico City. I miss our second home in Los Angeles, so once we can travel, I'll definitely go back to LA and see where we can go from there.
What's your perfect festive food and what's on your holiday wishlist this year?
I love Japanese food. On my birthday, I specifically requested for Japanese food, so we had sushi takeaway at home, and it was heaven for me. But I think banana leaf rice makes me the happiest. It's impossible to find it in LA, so can you imagine how long I've been away from it in the last decade? Banana leaf rice with crab curry and fried chicken on the side—that's the perfect holiday food.
Present-wise, I love bags—not the tiny ones though. I bring my laptop everywhere I go, so I'm still finding the perfect backpack. Hint hint! Either that or a classy tote for a 34-year-old woman like me (laughs).
What's the biggest lesson you've learnt in 2020?
No matter how successful or how great you think you are, 2020 is just a slap in the face. For me, I've always felt like work is the number one priority—I've been working since I was 19. And because I enjoy it, and it's my life, I didn't know when to stop.
But with the pandemic, and having to experience losses in the family, the biggest lesson for me is to not take life for granted. Losing my brother-in-law was a wake-up call for all of us. He's such an icon, and we looked up to him. His passing really took a hit on us as a family.
You always have to take time to focus on other important things like your health and your family. I'm a workaholic, and I was initially very anxious about not being in LA. But now, I get to relax and be with my family and my cats, and just enjoy the normal things in life.
With 2020 wrapping up, what are your hopes for 2021, and what are some of the plans you have for next year?
2020 is the year of panicking and adapting. Hopefully, in 2021, we'll be able to finally get back into the groove again. I'm back to being an independent artist, so that's very exciting to me. I've released two songs during lockdown, and I'm currently working on a new full-length album—and I have the ownership to them so it's a huge deal to me.
I'm also thinking about coming out with my own beauty line, but for now, I'm trying to focus on my music. I'm a touring artist—I don't know when I'll be able to tour again, but I'm also figuring out more ways to play for the fans, such as the virtual concert that I did from Aquaria KLCC on December 3.
Related: Watch: The best Holiday 2020 campaigns to kickstart your countdown to the festivities