It's no secret: K-beauty has taken over the world. In fact, from multi-step skincare routines to perfectly on-trend dye jobs, the world of Korean beauty is so vast that it can get overwhelming—that's where we come in. Whether you're crushing hard on your favourite K-Drama stars and you're looking to recreate their signature looks (or you're just a bit of a Koreaboo), we're here to keep you ahead of the trends when it comes to the world's greatest beauty hotspot.
We spoke to Sunny, the Senior Director of Leekaja Beauty Salon to glean her top tips on all things K-hair. Ahead, find everything you need to know about perming, dyeing, DIY trend recreations, Korean hair care and more.
What do you think is so unique about Korean hair care and hairstyles?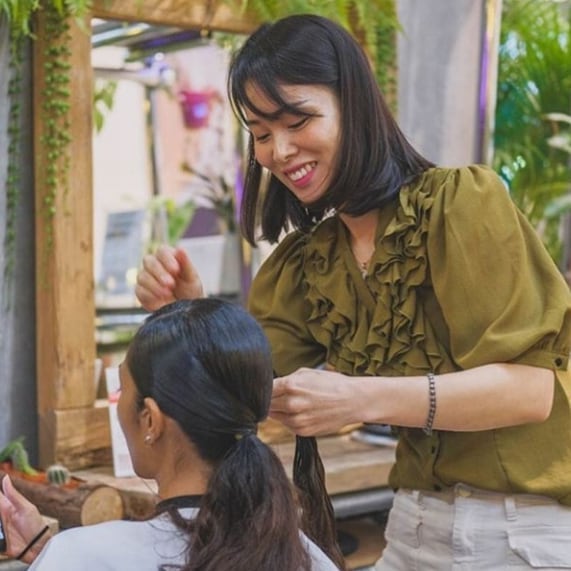 "K-beauty, in general, is years ahead of the Western beauty industry because of Korean innovation—Korean hair care products are far more advanced and there is always something new to try such as hair steam packs, hair essences, scalp scalers, and so much more.
"As for the hairstyles, Koreans tend to focus on naturalness. Just like their youthful makeup looks, the trending hairstyles are popular because they make people look so effortlessly put together. We always see soft, loose, bouncy curls on Korean celebrities (hence the popularity of S-Curl and C-Curl perms), but it doesn't stop them from experimenting with creative colours!
"When we Korean hairstylists do hair, we always consider the things that are often overlooked by other hairstylists such as skin shades and undertones, which is why the most popular Korean celebrities rock pastel colours and not bright, neon colours."
What are the biggest Korean hair trends in KL (and out) right now?
View this post on Instagram
"Recently, many of our clients have been requesting to have curtain bangs inspired by Blackpink's Jisoo. The two-tone hair colour has been quite popular too ever since the hairstyle was debuted by Jennie Kim in the 'How You Like That' music video. Since the trend started in Korea, a lot of Malaysians have been requesting to have big curls or S-curls too, which is achievable through Leekaja's Korean Perm.
READ: 3 Beauty lessons I learned from Blackpink's new music video 'Ice Cream'
"Curtain bangs and Aegyo bangs have been getting traction as of late because it's become quite a signature look for Blackpink's Lisa. I also think that the Japanese Hime cut—a style wherein blunt chunks of hair frame the face and slim down the jawline—will be popular this year."
READ: Trend Forecast: The jaw-dropping Japanese 'Hime Cut' is going to be everywhere this year
Are there any hair trends you hate?
View this post on Instagram
"Honestly, I love the diversity of hairstyles and I think everyone looks good when they wear their hair with confidence so I can't really say that I dislike any hairstyle trends! As long as people take care of their hair by doing regular treatments that nourish their hair; that makes me happy as someone so passionate about the art of hairstyling."
Perfectly curled hair is highly sought after, and the most permanent way to get gorgeous curls is to get a perm. What do you want people to know before they perm their hair?
View this post on Instagram
"Firstly, their hair has to be in good condition to be considered a candidate for a perm because we, at Leekaja, don't recommend perms for hair that has already been damaged. And after getting a perm, it is important to take care of permed hair by doing weekly hair masks or having the hair reconditioned with Leekaja's Tokio Inkarami Treatment. Personally, I recommend the Naturia Keratin & Aloe Nourishing Mask for at-home, weekly treatments."
READ: 11 Hair masks you need to reincarnate your dead, damaged tresses
It's also important to know exactly what you're asking for—could you walk our readers through the differences between each
type of perm?
View this post on Instagram
"Heating perms originated from Korea and there are two types: The Setting Perm and the Digital Perm (also known as Korean perm). These two types of perm use the same formula but we use different machines to achieve different results. Setting perm is the first generation and digital perm is the second generation."
READ: How to maintain your digital perm — from conditioning to styling tips
How can we recreate the look of the Korean perm at home with just hot tools or rollers?
View this post on Instagram
TIP #1: Be cautious, especially when working with hot tools for the first time"Curling irons get very hot and can be dangerous if an accident ever happens."
TIP #2: Use the right tool"I recommend using a 32mm curling iron. Alternatively, for at-home experimenters, I highly recommend the Dyson Airwrap because it doesn't get as hot as traditional curling irons but does the job just as well."
READ: Wei Yeen Weighs In: How to use the Dyson Airwrap Styler to create three #PowerWoman hairdos
TIP #3: Be careful with your sectioning"When people curl their hair on their own, they usually come out with uneven curls, so it's important to remember to section the hair into different, equal parts to ensure that each hair part is curled.
TIP #4: Keep the hairspray on-hand"After curling your hair, hairspray can be used to lock the curls in, or even to style it further."
What do you want people to know before they bleach or dye their hair?
View this post on Instagram
"It is expected that your hair will definitely be dry after bleaching and dyeing, and the colour will inevitably fade out with every wash. But the straw texture that comes from the dryness is easily preventable with targeted hair care treatments like Leekaja's Signature Cinderella Treatment, which is a treatment designed for severely damaged hair.
"And if you want your hair colour to stay longer, I recommend using blue shampoo or colour shampoo, depending on your hair colour. My personal favourite is the Inebrya Ice Cream Shampoo.
Are there any other hair care treatments you would recommend for those with damaged hair?
View this post on Instagram
"We have several different reparative treatments at Leekaja to address all levels of damage since everyone has a different hair history. My personal favourite is the Miracle Aqua Treatment because aside from not using heat processing, it has a cooling effect from the frozen device we use, which makes it absolutely perfect for the hot and humid Malaysian weather!
What advice do you have for people looking to touch up their dye jobs at home?
View this post on Instagram
READ: How to apply hair colour on your own — 5 lessons I've learned from my DIY hair dye jobs
"I strongly don't recommend colouring your own hair at home to avoid uneven colouring. I often get clients requesting me to rescue their hair from their at-home dye jobs! So, it's best to get it done at a salon to start with—that way you don't end up spending money on your hair colour twice, and your hair doesn't have to go through the chemical processing twice, either."
What advice do you have for people looking to cut their own curtain bangs at home?
View this post on Instagram
READ: I gave myself a haircut with the virtual help of a stylist and this is what happened
"Many of my clients have been trimming their own bangs at home during our MCO in Malaysia. It's quite easy when you've already had your bangs cut at a salon first, but if this is your first time, here are a few steps for you to follow:
1) Make a small triangle from your centre front hairpieces. The thickness of your bangs depends on the size of the triangle you make; the smaller the triangle, the thinner the bangs and vice versa.
2) Find your desired length then cut it slowly and carefully. Usually, first-time at-home cuts tend to be shorter than anticipated, so my tip is to cut the hair longer than your desired length first, then trim to adjust after."
Say I have 10 minutes to get ready in the morning, what would you recommend for a quick hair fix?
"Put your hair with Korean foam hair rollers before going to bed, then take it out the next morning. You will be surprised by nice curls!"
Follow Sunny on Instagram here. Leekaja Beauty Salon is located at G5-9, Robinsons, Shoppes at Four Seasons Place, 145, Jalan Ampang, 50450 Kuala Lumpur, Malaysia. Open from 10AM-8PM daily.
Find more hair stories like this here.
| | |
| --- | --- |
| SHARE THE STORY | |
| Explore More | |