Beauty
Wei Yeen Weighs In: How to use the Dyson Airwrap Styler to create three #PowerWoman hairdos
Flip that mane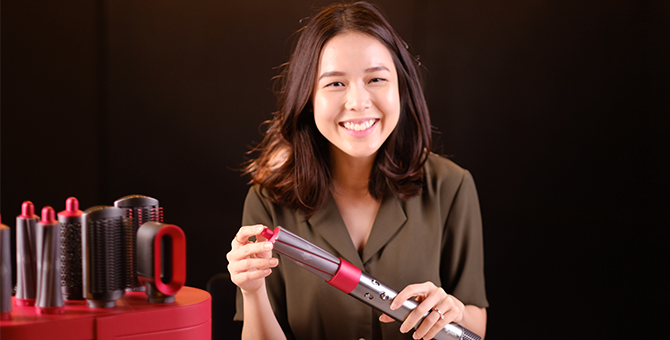 For any #PowerWoman out there who can barely find the time to style your hair into a presentable heap 'do before leaving the house—or kickstarting your day, fret not! Here's a piece of advice that may be useful in your future hairstyling endeavours: invest in a hairstyling tool that can give you maximum results in a minimum amount of time.
Personally, I feel you. How is it possible to wash, blow-dry, and style your locks without carving out a chunk of time (that I could better allocate for clocking in extra zzz's in the morning)? To my fellow females out there who have neither the dedication nor drive to do so, the aforementioned styler is pretty much your saviour at times like these.
I took the Dyson Airwrap Styler – Complete for a spin (on my locks) to find out if it's worth the hype and whether it can shave time off a busy woman's (aka me) schedule. While I've seen and heard of the Airwrap Styler's rave reviews, I was curious to know if it can truly give a beginner hair-enthusiast a head full of effortless waves or a sleek, straight lob.
Some background info:
I've used the Dyson Supersonic (and love it, tbh), but it was my first time trying out the Dyson Airwrap Styler to create a variety of looks. Not to mention, my styling repertoire only covers curling my hair with a hair straightener—far be it from me to say that I'm a whiz when it comes to creating cute looks for mid-length hair, but I gotta say that the Airwrap Styler is perfect for any beginner who's keen on fuss-free hairdos.
First thoughts: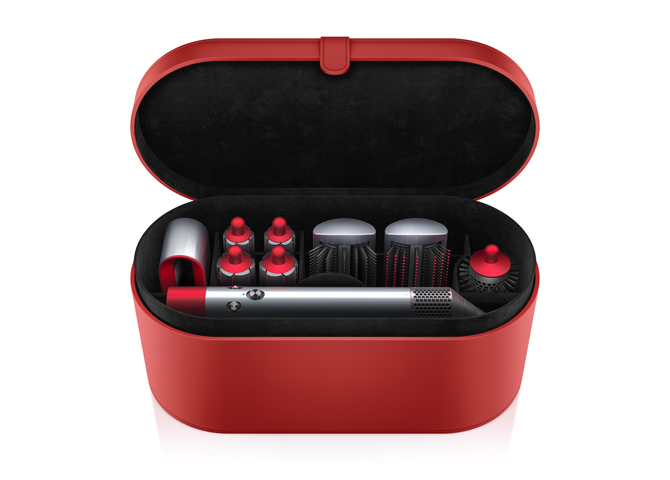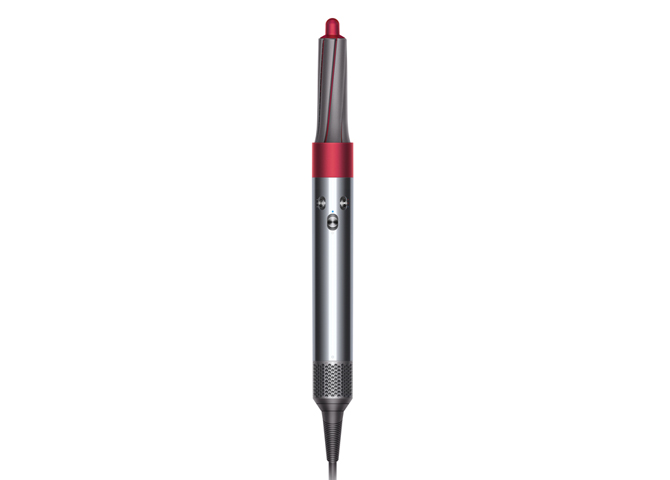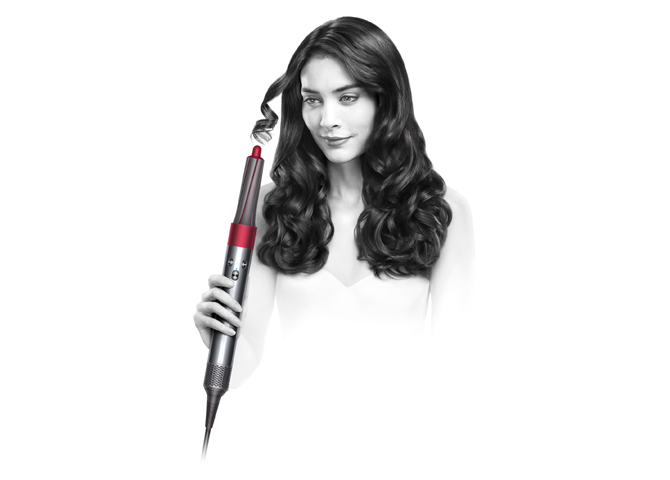 The device now comes in a new limited-edition colourway—Red/Nickel, a stunner that would fit in beautifully on your vanity. The features and specs are the same, and you can now find eight attachments coupled with a non-slip heat-resistant mat within the storage case as well.
30mm Airwrap barrels x2
40mm Airwrap barrels x2
Firm smoothing brush
Soft smoothing brush
Round volumising brush
Pre-styling dryer
The Airwrap Styler is relatively simple to use for beginners. Before shooting the video above, I only had three days to get used to the feel of it (eek!), but it felt pretty easy from the get go.
The device is amazingly light, so half-drying and styling my hair didn't feel too tiring on my arm and wrist. Plus, this is easily a must-have for frequent fliers as all you need is one Airwrap Styler with the rest of the (super light) attachments in your carry-on bag.
Takeaway
Like most technique-based routines, all you need to do is consistently practice (just use it on a daily basis!) and watch YouTube tutorials to better understand how to create the specific curls/hairdos according to your preference.
One thing I noticed was a lack of models with shorter tresses in the Airwrap Styler tutorials on Dyson's YouTube channel, but worry not—the Dyson Supersonic hairdryer is great alternative for those with shoulder-grazing tresses (check out Editor Rachel Au's in-depth guide here).
Worth mentioning is the 30mm and 40mm Airwrap barrels—the dynamic duo that can curl your hair while drying it quickly at the same time. The barrels have little arrows to indicate the direction that the hair should curl in, and both gave my hair bouncy coils that look very much like what I can get from a hair curler.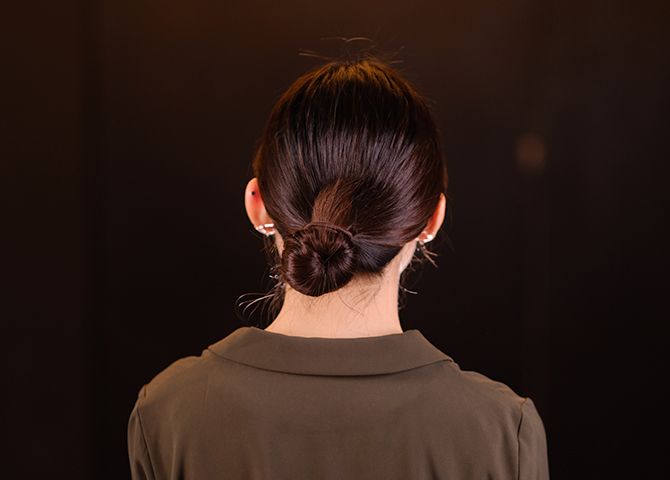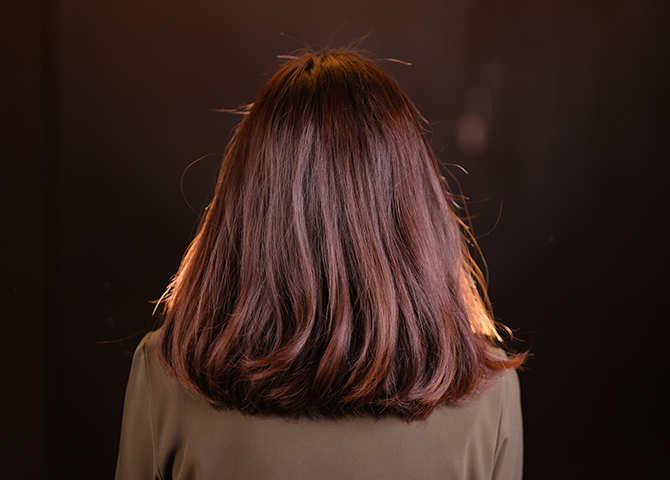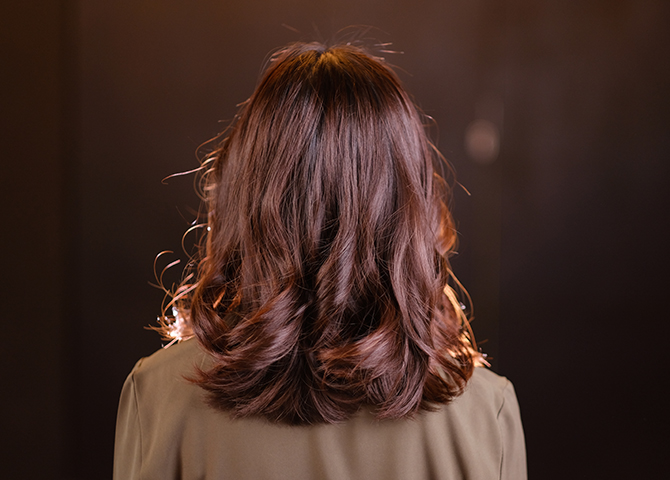 Styling wise, my hair looked and felt healthy even after styling it consecutively over two hours (for the purposes of this video), with no frizzy strands and flyaways in sight.
A minor gripe I have is that you'd probably need a lot more styling product for better hold for curls and voluminous waves, as those may not be as pronounced as what you typically get from a traditional heat-styling tool. But I love the volume it gives my mid-length hair, especially now that I can score a salon-worthy blowout from the comfort of my home.
Why not try this out for yourself? We'll be giving a lucky winner ONE Dyson Airwrap Styler (Red/Nickel) today and all you need to do is fill up the form and answer the question below!
The giveaway is now closed. Congratulations to the following winner:
Terms and conditions:
1. This giveaway ends 11:59pm, GMT+8, 22 March 2020. The winner(s) will be announced on 25 March 2020.
2. Employees of Buro Malaysia and its related corporations ("Indochine Media Ventures") or Buro Malaysia partners and/or sponsors for the giveaway (if applicable), and their immediate family members (including spouses, children, parents, brothers and sisters) are not eligible to participate in the giveaway.
3. Winners of this giveaway are chosen at random.
4. This giveaway is organised by Buro Malaysia (hereinafter referred to as the 'Organiser').
5. The prizes for this giveaway are neither exchangeable for cash nor transferable.
6. All persons ('Participants') taking part in this giveaway agree that these rules shall be binding on them, and that the entries in this giveaway, including their name and likeness, may be used without restriction in any future publicity material by the Organiser.
7. The Organiser reserves the right to amend these rules or terminate the giveaway at any time at its sole and absolute discretion. All decisions made by the Organiser under these rules shall be final and no discussion or correspondence will be entertained. The Organiser may, but is not required to, justify any decisions relating to this giveaway.
8. The Participant acknowledges that the interest and good reputation of the Organiser are of paramount importance. The Organiser reserves the right to disqualify a Participant from the giveaway, or to withdraw the prize if it is believed the Participant is in breach of its obligations under the rules. The Participants shall not by act or omission, directly or indirectly bring the Organiser into disrepute.
9. All entries are sent at the risk of the Participants and in the event that there are technical difficulties experienced arising out of the internet or from any associated equipment or internet security is compromised, the Organiser may at its sole and absolute discretion disqualify the entire entry and shall not accept any liability for doing so.
10. Giveaway entries may only be submitted via the stated medium of communication.
11. This giveaway is open to anyone above 18 years old.
12. Each entry must be completed in full. The Organiser reserves the right to disqualify any incomplete entries in its sole and absolute discretion.
13. Incomplete entries will be deemed void.
14. Winners will be notified by email.
15. Uses of 'aliases' shall be considered a form of deception and are prohibited.
16. The winner must produce their original IC / passport with legible IC / passport number in order to claim the prize. The winner may also be required to produce additional original proof of identity at the discretion of the Organiser.
17. All Prizes are accepted entirely at the risk of the winner, and the Organiser excludes all warranties in connection with the prize to the extent permitted by law.
18. All Participants release from, and indemnify the Organiser, its agencies, sponsors and representatives against all liability, cost, loss or expense arising out of acceptance of any prize or participation in the giveaway including (but not limited to) personal injury and damage to property and whether direct or consequential, foreseeable, due to some negligent act or omission or otherwise.
19. All personal particulars furnished are meant for identification purposes and will not be sold or given to any third parties. In the case of giveaways, our partners may wish to offer you services which require your personal particulars. These specific requests will be expressly stated within relevant giveaways, with a choice to opt out.
20. Inability to contact the winner by 29 March 2020 will result in disqualification and selection of an alternate winner.
21. Winners must collect their gifts from our office in Mont Kiara within 1 month of notification.
22. Prizes are final; no cash equivalent or alternative prize will be given. Prizes are non-transferable, non-exchangeable and strictly not for resale. If the winner is found to be selling the prize(s), the Organiser reserves the right to demand the return of the prize.
Credits:
Videography: Point 8ight
Styling and creative direction: Loh Wei Yeen
Editor: Rachel Au
Location: Nest Co-working Space, The Curve
The Dyson Airwrap Styler – Complete (Red/Nickel) retails for RM2,199 and is available at all Dyson Demo outlets and online at dyson.my.
| | |
| --- | --- |
| SHARE THE STORY | |
| Explore More | |