In case you missed it, I gave myself a fringe on BURO. Hangouts: Live last Thursday. I know—it sounds like a bad idea right off the bat, but surprisingly, it's only the third stupidest thing I've ever done. Yep—this isn't my first rodeo with an at-home haircut. In fact, I'm pretty accustomed to a DIY cut and colour, though I'll admit the results vary greatly. Not to mention, this is also an activity I tend to reserve for the wee hours of the morning, when I am less-than-lucid and my judgement is cloudy (otherwise, it wouldn't happen).
So, although I'm generally adept with a pair of scissors (apart from the occasional mishap), I was curious to see what my technique was missing. Cue in: Professional stylist Juno Ko, a talented man when armed with shears and a great instructor, who guided me through the whole process with the help of his trusty mannequin, Anna Wintour (no relation).
Watch it here:
Even if you're not following along the tutorial yourself, it's at least entertaining to watch me second guess myself for 30 minutes straight.
Step By Step:
If you need it in writing, we've done a complete guide on how to cut your own fringe properly before, and it covers all the steps that Juno takes me through in detail. However, there are a few things I missed, so here are 10 extra nuggets of hair wisdom that Juno imparted on me during our session.
10 Tips for an at-home haircut from a professional stylist:
Cutting your own bangs is fine, but don't you dare give yourself a full haircut
A fringe will suit you best if you have an oval, square or round face
Wet your hair to minimise mess and make cutting easier
When you're making the cut, remember to take your time and go in small sections (do not get scissor happy)
Always go back in and point cut your fringe (and your layers) to feather them out and add texture
Check that everything is even and symmetrical as you go along—be meticulous, lest you end up with a case of wonky fringe
Make quick work of styling your bangs with nothing more than your fingers and a hairdryer—ruffling through your fringe as you go creates texture (Alternatively: do what I did and get a hairdryer that doubles as a round brush)
Trim your bangs every two weeks to maintain the length, observing the same techniques as shown in the video
To grow out your bangs (once you eventually regret cutting them): Sleep well, eat well and use lots of hair tonic
Why are you even doing this yourself? Just go to a professional.
The big reveal: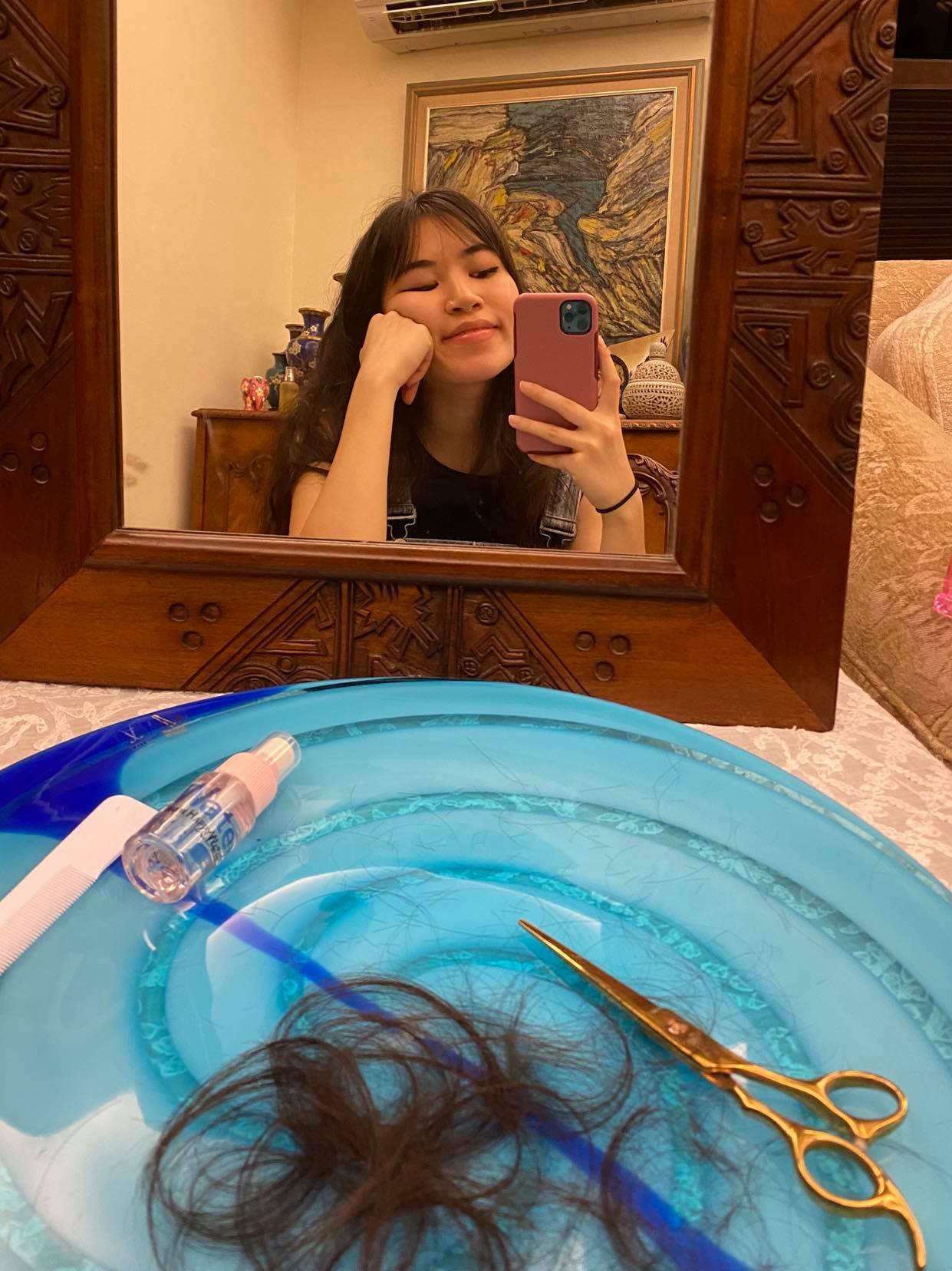 As you can (hopefully) see, we went for some lovely tapered, eyebrow-length curtain bangs, with face-framing pieces. I'll say it—I think that overall, they turned out pretty well. They're nice and versatile, so depending on how I style them they can be worn to the side, parted or straight down. The hair falls at a nice length, where my vision isn't impaired but my unruly brows are, and the face framing pieces along the side add a nice blend between bangs-to-length.
Overall, I'm thankful that I had Juno there to double check my work as we went along and guide me towards the fringe I was actually going for. My impatience and haphazardness are usually the reason things usually go wrong with my DIY haircuts (the philosophy is that hair grows and everything's fine); so, having someone to remind me that I need to work in sections and take my time rather than go straight from 0 to 100 probably saved me from a month (or so) of bad hair days.
All in all, a DIY haircut is daunting, but also definitely achievable… as long as you follow these simple rules to a T. What do you think—will you be attempting a DIY fringe anytime soon?
| | |
| --- | --- |
| SHARE THE STORY | |
| Explore More | |