Just a few months ago, we announced that TWICE's MINA had been named the latest global ambassador for SK-II and that she had debuted her new role with the self-directed PITERA™ and Me campaign. In the first video from the campaign, we got to take a sneak peek into MINA's life, where she shared her hopes for her new beginning with the PITERA™ Essence. We fell in love with her candid and bubbly personality as she laid out her plans for the future (Spoiler alert: Knitting and travelling are just two things on her to-do list!).
Well, the PITERA™ and Me series has returned, and, in its latest instalment, we checked back in with MINA as she shares the progress of her skin transformation with the PITERA™ Essence. In short: So far, so good!
This first video from the series chronicles the starlet's first impressions of the cult-favourite essence loved by millions worldwide, and it's filled with relatable moments. For any fellow Gen Zs who believe that a good skincare routine can wait, MINA is here to change your mind, just as how the PITERA™ Essence changed hers.
"I thought that SK-II was a brand for adults, so I wondered if it was too early for me to use it," she recalls. "But after I tried to use it, I felt that I had to start using it now." Why? In her words, "it's important to start right now for my future ahead."
For the record, she's entirely right. Skin concerns such as hyperpigmentation and premature ageing may seem like a distant concern for Gen Zs, but truth be told, a good skincare routine is an investment best adopted as early as possible. Aside from improving the quality of your skin in the short-term, great skincare will better your odds of ageing gracefully in the future too. And, of course, there's really no better companion for your journey to Crystal Clear Skin than the PITERA™ Essence. How so? Well, you're about to see the receipts.
In the next self-directed clip, MINA finally begins her 'PITERA™ and Me' journey, and the results so far are jaw-dropping. Not only is she glowing, but her skin looks absolutely flawless—so much so that it's genuinely hard to believe that she's completely bare-faced in these videos.
According to MINA, her main skin concern is "extreme dryness" within her skin; an issue that is only exacerbated by her hectic work schedule. "What I expect from the PITERA™ Essence is whether it will help the dryness," she declares. As it stands, the best-selling essence has far exceeded her expectations (and, judging by what we can see from the clip, has put her right on track to Crystal Clear Skin): "It's lightweight but feels like it's absorbed into the skin. It feels mochi-mochi. It's amazing, it's perfect."
Seeing MINA's incredible results has been so inspiring that Team BURO has decided to embark on our own #PITERAandMe journey. We're thrilled to see how our skin will change with our new PITERA™ Essence routine, and we urge you to join us on this journey, too. If you're keen on kickstarting your #PITERAandMe experience, you can score the SK-II PITERA™ Essence here!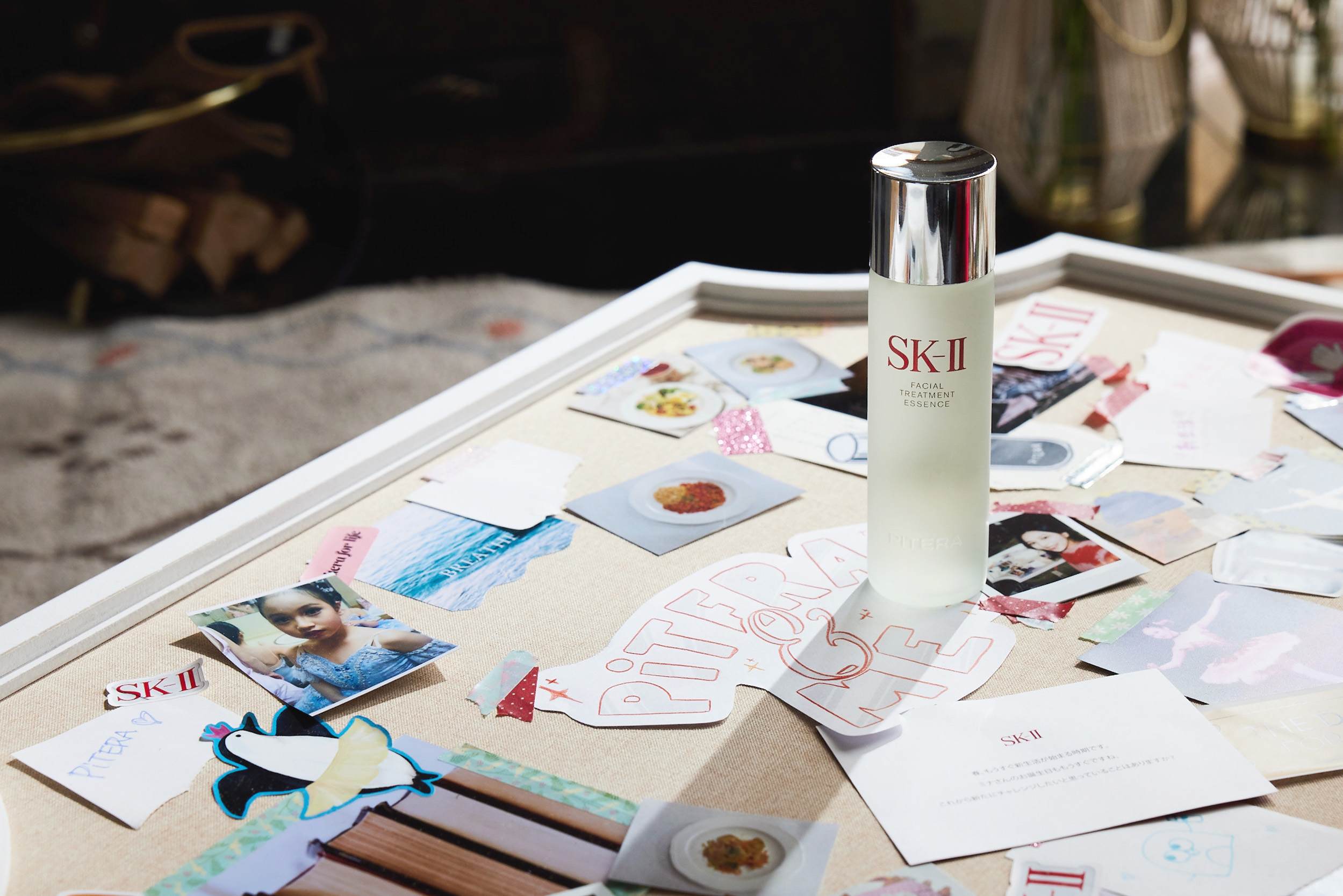 About the PITERA™ Facial Treatment Essence
SK-II's beloved PITERA™ Facial Treatment Essence has definitely earned its reputation as the "Miracle Water". Used and loved by millions of women worldwide, its lightweight and nourishing formula is a cult-favourite among beauty aficionados thanks to its incredible transformative effects on the skin—most of which are thanks to the brand's star ingredient, PITERA™.
The SK-II-exclusive ingredient is made from the fermentation of a unique yeast strain and mimics the skin's Natural Moisturising Factors (NMF), enhancing the natural function of our skin. In addition, it claims to help moderate the skin's renewal cycle and promote healthy skin turnover, leaving you looking smoother, dewier, and more youthful.
Find out more about the #PITERAandME campaign here and watch the videos here.
This article was written in collaboration with SK-II. Find more beauty news here.

| | |
| --- | --- |
| SHARE THE STORY | |
| Explore More | |