Beauty
Virtue Labs' Melisse Shaban on beauty science, the spark of the industry and inclusivity in hair care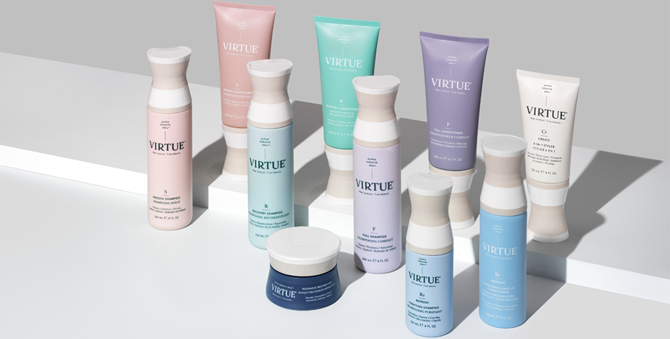 Bad hair day? Thinning hair? Dry, split ends? Frizzfest? No more. Let us introduce you to Virtue Labs, the first haircare brand to utilise real human keratin that smoothes, defrizzes and repairs your hair. Far from a fluke, the basis behind the beauty is purely scientific: Made for women, by a woman.
Welcome to the era of your best hair yet—we talked to Melisse Shaban, the founder and CEO of cult beauty brand Virtue Labs, to glean some hair care wisdom. Ahead, she explains what makes Virtue's formula so effective:
It's refreshing to see a beauty brand so heavily rooted in the science of beauty. Your trademark ingredient is human keratin—can you detail its necessity in hair care?
"Really, Virtue's whole reason for being is this breakthrough technology which was never intended for use in hair care at all. Alpha Keratin 60ku® is a patented form of a human keratin protein that was developed in the study of regenerative medicine to help severely wounded military soldiers.
"Contrary to other 'keratins' you might have heard of, which are highly processed animal by-product (like sheep wool or feathers), this is a unique protein that is derived from human hair, and carefully extracted to remain whole and fully functional.
"Because it is essentially hair, it 'sees' the cracks of damage, and goes where it's needed to repave and heal the damage to give you your healthiest, most beautiful hair possible. It was seeing the amazing results this technology has on damaged hair that made me want to share it with the world.
"We did a lot of clinical studies with the ingredient, even before we started formulating the final products, and were blown away by what we saw. After five uses, Virtue products with Alpha Keratin 60ku deliver up to: 67 per cent reduction in frizz; 95 per cent split end reparation; 22 per cent increase in thickness; and 138 per cent increase in colour vibrancy."
Could you elaborate on the science behind the keratin extraction process? How exactly is it extracted in its pure form?
"Well, I can't tell you exactly how we do it because that would betray our trade secrets. But we start with clean, ethically-sourced hair that has never been coloured or chemically treated and use a patented extraction and purification process to create Alpha Keratin 60ku®, which is keratin in its purest, most potent form. This is a fully-functional protein that is virtually identical to the protein that makes up about 90 per cent of your hair. It is completely unique in hair care."
How did you discover that there were novel uses for keratin in beauty specifically?
"It was a bit of a fluke, really. And it wasn't me [who discovered it]. Dr Luke Burnett, the chief scientist behind the development of this technology, is a retired Colonel from the U.S. Army. After two tours in Iraq, he made it his mission back home to find ways to speed healing and improve quality of life for wounded soldiers, and it was all based on this newly patented form of a human keratin protein that he had pioneered the development of.
View this post on Instagram
"An intern, a young woman PhD candidate working in his lab, had family members in the beauty industry, and she asked if she could perform some experiments on the side using left over material—she had heard of 'keratin' in hair care and wanted to test and see if this particular keratin protein could also have benefits for hair repair.
"A few experiments later, they liked what they saw, but hair care was not their mission or their expertise. That's when I was called in to take a look, really as a favour for a friend. Seeing the extraordinary results that this technology has on damaged hair made me want to share it with the world. And about four years after that, Virtue was born."
You've had an impressive, long-standing career in the beauty industry. What makes the industry special to you?
| | |
| --- | --- |
| SHARE THE STORY | |
| Explore More | |