When asked about her definition of beauty, the local drag queen was stumped when she tried to come up with an answer.
"I don't want to set a standard for anyone because beauty is dynamic," Carmen Rose replied in an email. A member of the Coven Collective and co-founder of monthly KL-based party Shagrilla of Queer, she's one of the emerging voices of a generation inspiring strength and togetherness in the local LGBTQ+ scene, while serving otherworldly looks and fierce performances through fashion and makeup. "Just like drag, beauty is something you define for yourself—it lies in the eyes of the beholder."
If you watch RuPaul's Drag Race, you'll know there are plenty of beauty (and life) lessons to learn from the queens on the popular American reality competition. From feeling OTT fabulous to perfecting the art of the contour, they've also taught us the power of self-expression and the importance of staying true to yourself. As RuPaul says, "If you don't love yourself, how in the hell you gonna love somebody else?"
The drag community's influence on beauty trends, language and pop culture is deeper than the credit it's given. In fact, drag queens were contouring, baking and highlighting well before any of the Kardashians-Jenners or beauty influencers.
With a history rooted in theatre, the term 'drag' originated in ancient times as early as Shakespearean acts and Beijing opera to refer to performers dressing in clothing typically worn by the opposite sex. Since women were not allowed on stage, male actors would dress as women to fill the void, using makeup to accentuate their faces and emotions under brightly-flared stage lights.
Over time, drag began to take on more of an individual form of entertainment, making its way into American vaudeville performances and gaining popularity in the scene of underground gay bars from the 1920s onwards. Despite law enforcement crackdowns on the LGBTQ+ community, the culture flourished over the following decades and provided a safe space for the community to enjoy and express themselves freely. In 1969, the Stonewall Riots, led by trans women of colour like Marsha P Johnson and Sylvia Rivera, signified what is largely believed to be the start of the modern gay rights movement in the United States, and the rest of the world—now commemorated through Pride every year in the month of June.
Today, thanks to the international popularity of RuPaul's, the once-fringe subculture has catapulted into the mainstream. Since its 2009 premiere, the show, which sees contestants compete in a variety of weekly challenges including acting, designing outfits, comedy and more to be crowned the best drag show performer, is now bigger than ever. RuPaul's has won 13 Emmys to date, expanded into international versions in the UK and Canada and season 12 ratings continue to show no signs of slowing down. Queens like Shangela, Violet Chachki and Aquaria have become actors and celebrities in their own right, while the cultural phenomenon is embedded in various aspects of our lives, from beauty and everyday language (where do you think the language of shade and T came from?) to internet behaviour and the 2019 Met Gala.
No doubt, the gender-bending form is all about the art of transformation through fashion and makeup. But glamour and sparkle aside, it's also a cultural tool for self-expression and has been a powerful vehicle for challenging conventional notions of gender and beauty since day one. By providing a safe space for people to experiment and explore, drag creates a world where all identities are welcomed, accepted and celebrated.
Unbeknownst to many, Malaysia's drag scene is alive, and growing. The rising generation of local queens like Carmen Rose and increasing popularity of queer parties is evidence of that. While the community is free to live their best lives on social media, many of them are still subject to online hate and harassment.
Their recent 'Pass the Brush' challenge, a testament to their makeup mastery and a show of solidarity during the MCO period, ended in the constant battle against online criticism to fight for acceptance and inclusion to be themselves. Even so, the community won't back down and continues to fight for their rights in order to carve out their space within society.
Below, we interviewed Carmen Rose about her experiences as a drag artist in Malaysia, beauty routines and the importance of standing up for yourself and your community:
How did you get into drag?
"I started off my early 20s equipped with curiosity with regards to my gender identity. After moving out and having my own place, I was at a stage where I finally had the freedom to further explore my gender. Consequently, I bought my first wig from Times Square, the cheapest MAC red lipstick I could find, and a foundation that didn't even match my skin tone.
"The idea of Carmen Rose was birthed after I realize that I did not conform to what society thought of what gender is. For several years, I've been privately recording myself perform on PhotoBooth before I took a brief hiatus. All this happened before I knew of RuPaul's Drag Race, which has elevated drag culture around the world. In 2018, I started taking my drag more seriously after mustering the courage to take my performance on stage in front of a live audience. The rest is Herstory!"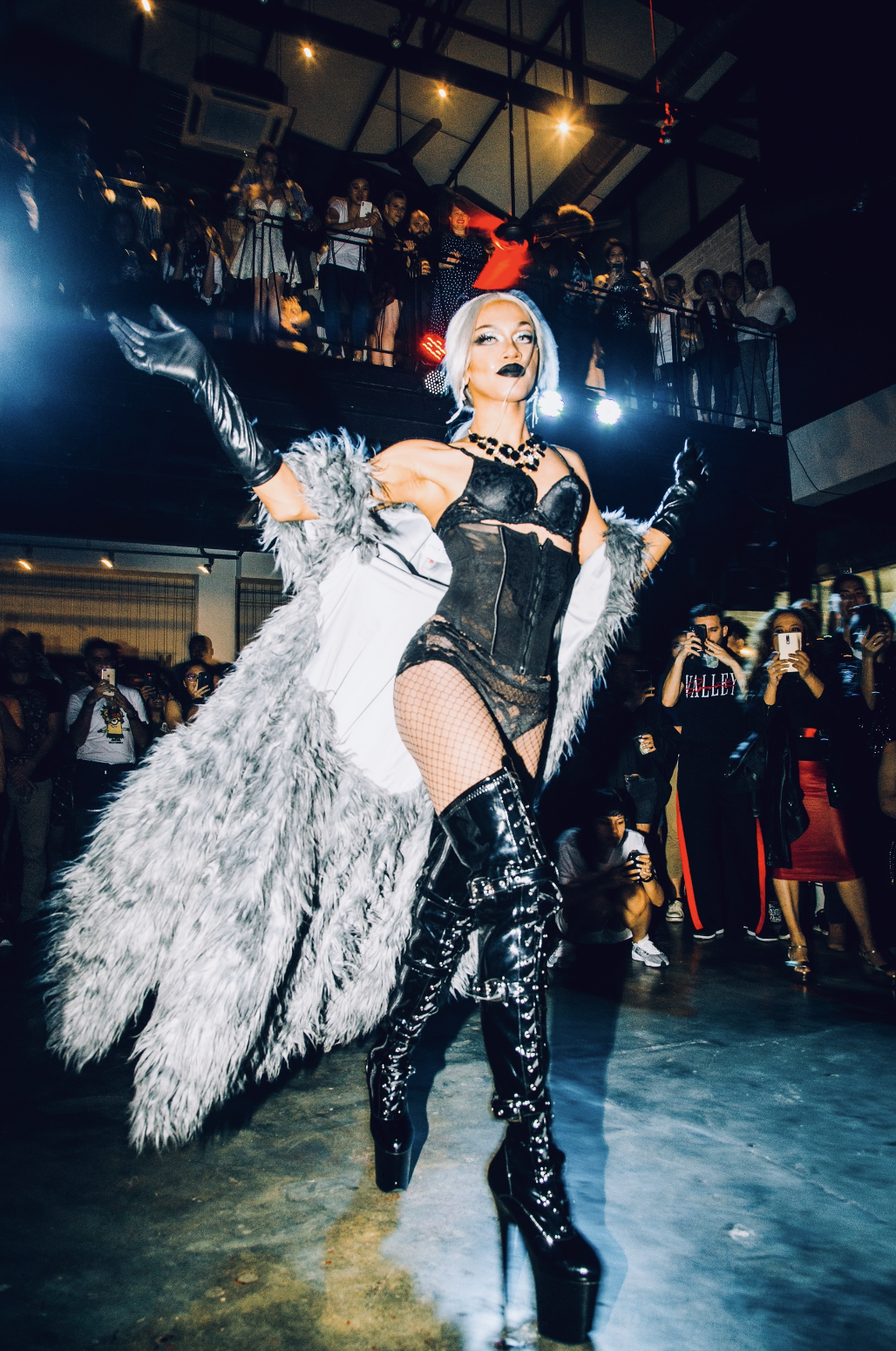 What was it like growing up queer in Malaysia?
"As far as I can remember, I've always been the most feminine boy and have always been bullied for it. But at the time, I didn't understand the reason behind the bullying and wasn't too affected by it. It didn't bother me when they called me names like "pondan" until it did. Fast forward to my college years, I started accepting myself and leaving toxic people behind (the best choice I've ever made). Resorting to art and humour were a few of the ways I coped with the constant reminder that my existence as a gay individual was not welcomed by society.
"Today, I am so grateful to be surrounded by queer people who uplift me in what I do and straight people who aren't focused on my sexuality but rather my art. I'm forever thankful for that. It may take time to unlearn all the homophobic sentiments that you were taught, but it takes no effort to be kind to another fellow human being."
How did Shagrilla of Queer come about?
"JonnyVicious had an idea of fusing techno music and drag queens into one party and since then, it became a collective effort to make this party a success. It's a collaboration between me, JonnyVicious, Kumela Kumslut, Acne Scar, Cik Teh Botol, and Peter (who is in charge of PR). We wanted to bring something different to the queer scene in KL on top of the many other queer parties here."
What does makeup mean to you and how did you learn to do it?
"Makeup has allowed me to conceal the insecurities I have about myself. It's an uplifting, decorative cosmetics to dive into. It's also a transformation tool to accentuate one's physical traits or entirely change the way you look. Since drag makeup is more of an exaggeration and a challenge to completely transform oneself, YouTube is the platform that has helped me a lot in improving my skills. It's a rich source of inspiration for everyone out there who is thinking of dipping their toes in the water."
When do you feel most empowered?
"Sometimes standing up for myself can be one of the hardest things to do. I'm not a confrontational person, therefore being able to do that makes me feel most empowered. My activism and my fight for equality have been driven further since I started my drag persona. Given the platform I've amassed so far, I feel a lot more responsible to be part of this fight along with my friends to speak up against the injustice and inequality towards LGBTQ+ individuals.
"We have a collective drive to fight for what feels right and we build each other up. Having that sense of belonging has really helped me, not just with my drag but also my own personal growth. Seeing other queer artists also helps me to feel more empowered. I want to be part of that group that inspires those who are still finding their voice and sense of belonging. This would not happen if it was a one-man show. I really want to stress the importance of having a community that accepts you and treats you as an equal, not as an enemy or an inhibitor to your growth."
What's your day-to-day beauty routine like?
"I like to keep my daily routine simple. My morning beauty routine consists of splashing my face with lukewarm water—open those pores—and then washing it with a gentle rose gel cleanser. Most people choose to skip the next step but I use toners to remove any access dirt that might be on my skin and—I just googled this—it helps return the skin's pH and acts as a delivery system for antioxidants. After toning, I go straight into moisturising my skin. I would usually apply an antioxidant serum but I currently can't afford it. Sunscreen is the last step but we're all staying in during the pandemic, so at the moment, I skip this step."My night-time routine is similar to my morning routine except before splashing my face with water, I use cleansing oil to dissolve and get rid of the day's grime, oil, (or makeup). After that, I wash my face with a gentle cleanser to remove any excess sebum and dirt. And then toning, moisturiser, Netflix, and sleep."
Who inspires you?
"I draw my inspiration from pop culture and through my own personal experiences. I try not to limit myself with who or what inspires me because some days it may be a drag queen (like Aquaria for example) or it can be any one of my closest friends, and, on other days, it could be just regular, household things around me like a ball of red yarn, or a string of lights."
Any essential beauty tips/rules to share?
"It's not easy feeling greasy but having oily skin does come with added benefits. While ageing is nothing to shy away from, having oily skin wards off wrinkles which means you tend to age slower. With that being said, cut back on over-scrubbing and over-cleansing your face because you don't want to strip away the natural essential oils because then it will cause your oil production into overdrive, which can also cause acne. Hydrating and moisturising your skin is also an important step you shouldn't skip!"
What do you wish people would understand more about the LGBTQ+ community?
"For the longest time, we've been doing things behind the scenes, told that we shouldn't speak up and to enjoy our "lifestyle" privately. Some of us can afford to be complacent but some of us are tired of pandering to irrational ideals. We want to exist just as much as everyone is free to express themselves. That's why some drag queens are using their platforms to let our voices be heard. It's a privilege and as a budding drag queen here, I would also like to use it for good.
"I wish for people to have an open mind when trying to understand our community and to take the time to listen to our stories. We should listen with the intent to understand, not the intent to react. Your belief is yours, but our existence is also our reality. We're not asking you to derail from your beliefs, because there are people in our community who holds on to that too. We're simply asking you to understand that we are human beings just as much as you are. We too, are Malaysians just as much as you are."
| | |
| --- | --- |
| SHARE THE STORY | |
| Explore More | |