Beauty
Dior Beauty's Peter Philips on Rouge Dior going refillable, his favourite lipstick shade for Asian skin tones, and more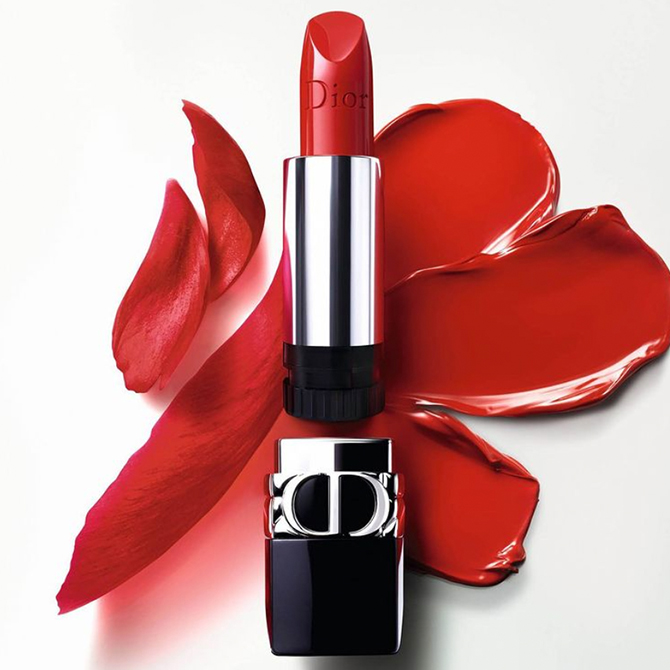 It's 2021 and if you thought that lipsticks could be taking a backseat in this new decade, you'll be tempted to change your mind after giving this story a once-over. While we're all obsessed with skincare solutions and eye makeup, Dior Beauty is shining the spotlight at one of its most iconic products' Rouge Dior.
It's been more than 70 years since Rouge Dior took the lipstick scene by storm. A classic red that's arguably the most flattering shade for most skin tones, Rouge Dior was seen as a luxury objet d'art back when it launched. This year, the French maison has relaunched the entire Rouge Dior collection, now with 75 shades in four finishes that could be worn in a multitude of ways.
"We want to make sure that we can provide any shade and texture for any woman," says Peter Philips, creative and image director for Dior Makeup. "We worked on the formula of the lip liners and lipsticks just to make it even more easy to apply, more smooth, more intensive—everything you expect from a lipstick is what we have in this beautiful packaging."
Ahead, Philips dishes on the challenges behind pushing for Rouge Dior's new refillable (!) packaging, his go-to shades for every scenario you can imagine, and how makeup can serve as a beacon of hope in a pandemic:
What sparked the idea behind refillable lipstick cases at Dior Beauty?
"It's been one of my personal battles since a long time ago, to work on eco-friendly, recyclable packaging. I've been here for six and a half years and we've been working on that, step by step. I call it a battle because in a big, global brand with counters and boutiques worldwide, it's complicated to change an entire system overnight. It took a while to get there because it means investing in technology, rethinking distribution, etc. At the same time, I can use the inspiration of the new launch as an extra reason to push for refillable cases.
"When Rouge Dior lipstick was launched in the 1950s, it was refillable. You could buy the object as a luxury item, and then buy the refill lipsticks. So it was easy to push this concept for 2021. It's almost a no-brainer—these days, you have to think about concepts like that. It's not even a marketing concept anymore, it's a reality now. We also did the refillable concept with our cushion compacts, so it's just small steps we are taking to get there."
View this post on Instagram
If you could pick one favourite shade from this new Rouge Dior collection, what would it be?
"Well, we have 75 shades, so it's a big challenge. I love each one of them. If I had to pick a lipstick as an object, I love 999 because it's the one shade we did in four finishes, so it's a special icon for us. But for application, it depends on who is wearing it. Rouge Dior 999 might look good on you but not on someone else, so that's where this whole range comes in handy. You can find something that suits your complexion and lifestyle."
READ: Why the latest Rouge Dior Ultra Rouge will be your new red lipstick obsession
What lip shades would you recommend for Asian skin tones?
"Brick reds complement Asian skin tones very well. They blend in nicely—you can wear it as a lip stain or a perfectly drawn lip. A few shades that are really good for Asian skin tones is 720, a gorgeous metallic; and a velvet in 84—it's a gorgeous velvet because you can apply it as a more controlled lip, or as a lip stain that's very blurred. If you want a beautiful pink (it always uplifts your complexion), we have a few shades as well. In general, those are great shades for an Asian woman."
What were some of the challenges behind redesigning the Rouge Dior collection?
"For this range, we upgraded and fine-tuned the formula by adding more natural ingredients such as floral extracts. Packaging wise, we were thinking about how can we integrate more eco-friendly ways to continue what we've been doing. If our clients use the refill system, we produce a quarter less plastic and use one-third less energy than before. Now that is a big step. It's just baby steps we are taking—like how we learn to walk and then run. Our mission is to give tools to women to look beautiful, feel beautiful, and to make sure the tools aren't complicated—it should be easy!"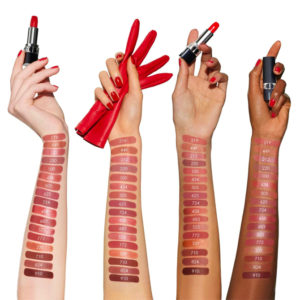 Could you please help us a pick Rouge Dior shade for a few scenarios:
A dinner with your partner's parents (to give a perfect impression):
"I would suggest a lip stain. Don't make it too perfectly drawn because in my opinion, it might give an impression that it looks like you spend too much time on yourself for this dinner. You don't want to suggest to your mother-in-law that you spend too much time on yourself! I would suggest a soft pink for a young, fresher look—like spring blossom."
A NYE party out with your BFF:
"I would go with 999, or any one of our shades in a metallic finish. It feels comfortable and nourishing but you can an extra boost of shine which is always nice for radiant smiles (and great for selfies)."
First day of work after a long weekend out:
"I would go with a well-drawn lip so all your attention goes to your mouth and no one will notice your under eye circles!"
READ: All the (unexpected) details from spending the day with Cara Delevingne
While 999 is the most classic shade, but if you had to pick a movie or song to describe 999, what would you choose?
"In French, 'rouge' means red, but it also means lipstick. It's a wordplay and it's also an iconic shade for us. The objet d'art, the application, the history of 'rouge' in French—it's all symbolic to us.
"The first movie that pops in my mind is In The Mood For Love; actress Maggie Cheung always looked immaculate in there. The lighting is perfect and she always wears a perfect red lipstick. Another movie I'm thinking is Dangerous Liaisons—it plays in a different era but the lipstick is part of a woman's armour. At the end, when the woman loses her battle (rightfully), there is a scene where she swipes her lipstick off. You see the power of lipstick then—when she swipes it off, her armour falls off and you witness her fragility and defeat."
"Our mission is to give tools to women to look beautiful, feel beautiful, and to make sure the tools aren't complicated." – Peter Philips
View this post on Instagram
In your opinion, should wearing lipsticks still be important as we have to cover it up under face masks most of the time?
<
| | |
| --- | --- |
| SHARE THE STORY | |
| Explore More | |