Makeup
Here's how to get those ethereal, Pinterest-worthy eyeshadow looks to show up on deep skin tones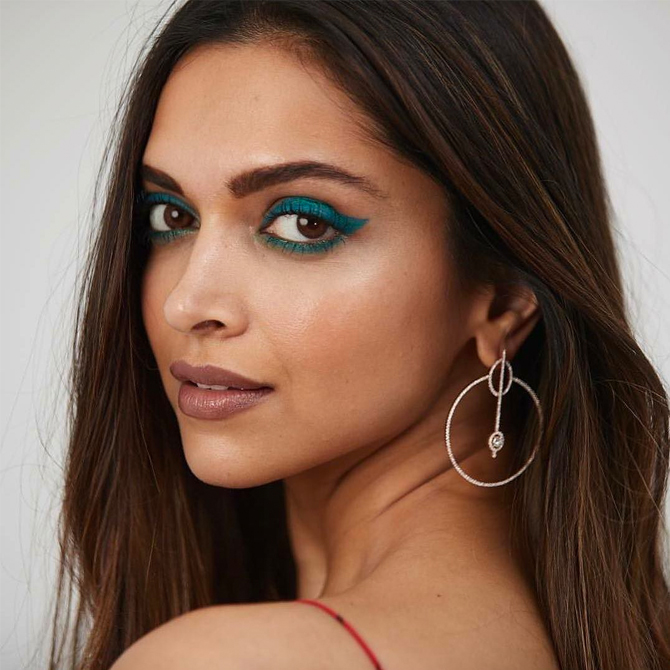 There's nothing more satisfying than scrolling through Instagram for inspiration and saving a bunch of beautiful makeup looks for you to try on yourself later. Unfortunately, getting those truly Insta-worthy eyeshadow looks is a near-impossible feat unless you really know your way around your makeup hacks, especially if you're a black or brown girl.
Granted, there has been a lot more inclusivity in the beauty game in recent years as more black- and brown-owned beauty brands create products with deeper skin tones in mind. However, for the most part, the selection is pretty slim in this neck of the world. Plus, even the most vibrant of shadows can always use a little oomph for bigger impact. That's what we're delving into today.
Ahead, find our top beauty hacks to getting your eyeshadow to stand out on your skin.
PS: Though we wrote this for ladies with deeper skin tones, these tips also work on lighter skin tones!
Hack #1: Using eyeshadow primer
---
So, this isn't a hack per se, but it's definitely one of the more effective ways to get your eyeshadow popping. An added plus? You probably have some of this stuff on you already.
The general idea is that primer gives you a sticky base for your eyeshadow to adhere to while creating a white cast to make the colour show up more. This method works like a charm and has the added benefit of long-lasting wear. The only thing you'll need to keep in mind is that you need to be precise with the application: the white cast isn't too forgiving on deeper skin tones.
TIP: Use a transition colour (a colour that is very close to either your natural skin tone or your foundation colour) over the edges of your primer to make the blend more seamless.
TRY: Urban Decay Primer Potion
Hack #2: Cream or liquid eyeshadows
---
If you thought primer was a good shout, you're in for a ride. Cream or liquid eyeshadow is an even better way to get your eyeshadow looking as vibrant as possible. Like primer, cream and liquid eyeshadows provide a base for your powder eyeshadow to stick to, only with the added benefit of pretty colours. The non-powdery consistency also makes them perfect for oily eyelids—no creasing or rubbing away, especially if you set it with a powder shadow over the top.
You can apply them as is or layer them under a powder eyeshadow that matches. The match doesn't have to be identical—similar families of colours will work perfectly, such as blue on blue or pink on pink.
TRY: Clarins Ombre Satin Cream Eyeshadow
Hack #3: Grease paint
---
This may seem like a bit of a rogue suggestion, but trust us on this one. This tip comes directly from seasoned makeup artist Bea Sweet, who is responsible for some of FKA Twigs' best looks. According to the makeup artist, grease paint is probably behind some of your favourite looks, and it works on all skin tones (but especially deep skin tones).
"I use the tiniest bit and buff it out very finely so it has a tiny 'tack' to it and the 'grease' part is barely there," says Sweet. "I either colour match to the shade I'm applying or I'll go a little lighter if I want a graduated edge."
However, though it truly is a great tip, you'll need to take special care in not applying too much. Below, you can see what happens if you use too much grease—it ends up absorbing too much powder. Now, this may be what you're going for, but if it isn't then we strongly advise you proceed with caution.
TRY: Kryolan Supracolor FP 12 Colour Face & Body Grease Paint
Hack #4: Lipstick
---
View this post on Instagram
For this hack, you can use any lipstick you like. If it suits your lips, it's bound to look good all over your face. Use it on its own or find a matching pigment to wash over and you've got yourself a great monochrome look on your hands. It really does work, too—the lipsticks are typically tacky enough to keep your eyeshadows stuck on and the base pigment allows for some killer colour layering.
Plus, if you're not feeling the nudes or the reds, try branching out to more unconventional colours like blue, purple or green. The best part is that lipsticks come in all different shades and they layer beautifully under your powder shadows.
READ: 1 Product, 2 ways: How to get your money's worth from your beauty bag
Hack #5: Eye drops and loose pigments
---
View this post on Instagram
You're probably wondering why we're suggesting eye drops as opposed to just water. Here's the thing—while water and eyeshadow can certainly boost the opacity of the pigment, it tends to end up very messy and short-lived.
Eye drops have two critical ingredients in them: Water and glycerine. Mixing these two things with your loose pigments or your powder eyeshadows creates a nice creamy base while boosting the pigment, which makes it apply much cleaner. It's not a perfect hack, but it works a charm in a pinch.
While these hacks won't work for everyone (as is the case with all kinds of makeup), trial and error is your best friend. Which look are you going to go for?
Find more makeup hacks right here.
| | |
| --- | --- |
| SHARE THE STORY | |
| Explore More | |