The celebs just won't quit with the headlines—ahead, find Joe Jonas, Kaia Gerber and Megan Thee Stallion's latest 'dos, along with the best summer nail art inspo courtesy of Hailey Bieber and Madelaine Petsch. Plus, some body positivity news to brighten your week!
This week in hair
Joe Jonas goes platinum blonde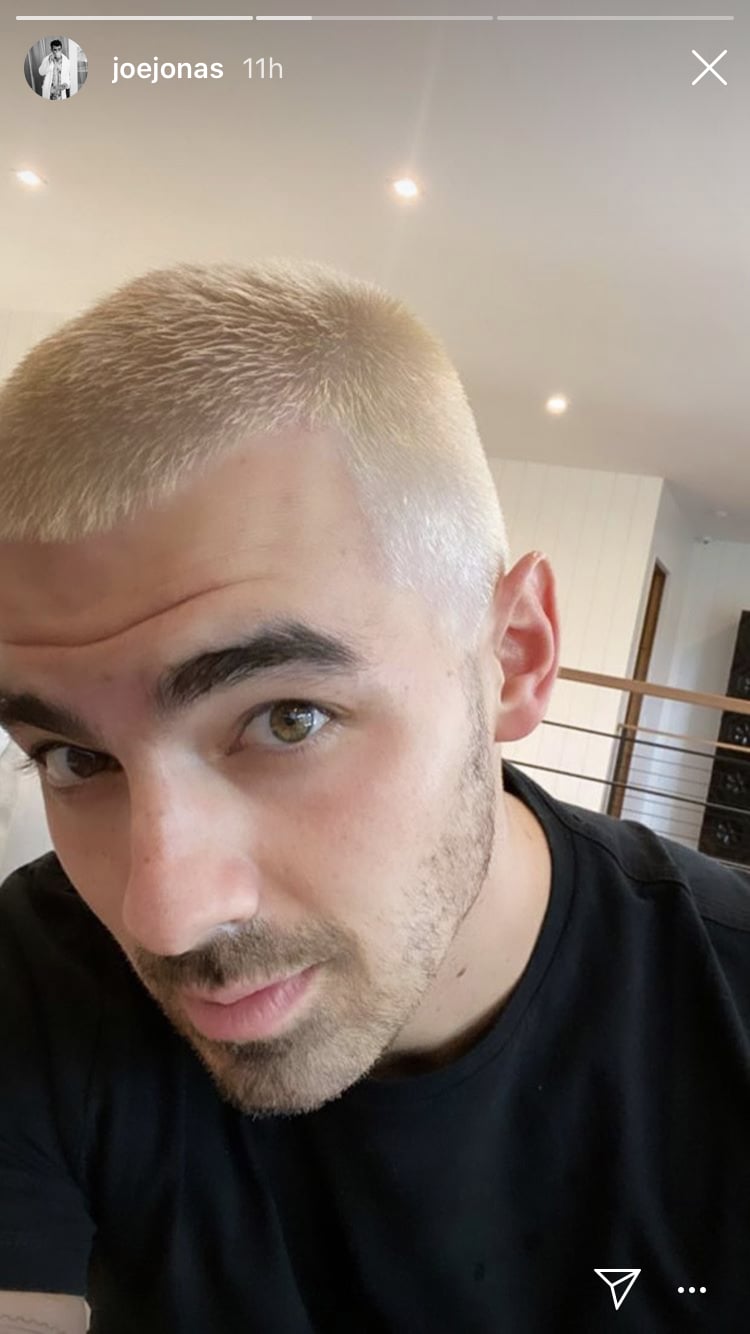 The Jonas Brother has debuted a big switch-up in his hair roster, going brighter and blonder than we have ever seen before. To us, the look is a huge win; we're getting major Zayn Malik circa 2015 vibes (if you know, you know). We reckon it's the eyebrow, beard and buzzcut combo that's ringing those bells (honestly, they could be twins).
The big makeover comes just a few weeks after the birth of his baby daughter, Willa.
Kaia Gerber goes punk pink
She's not the first celeb to try this colour on for size, and she most definitely will not be the last. That said, we can't imagine anyone nailing the 'punk' part of this makeover quite as well as she has. Well, except for her inspiration—Kurt Cobain.
The model didn't work alone on this one, either; with the help of renowned celebrity hairstylist Guido Palau, she smeared the pink on section-by-section until the deed was done. It looks like we're not the only ones who love the look—Marc Jacobs himself gave his seal of approval, saying "That was so much fun! Love the pink. I have plans to go Lilac."
Watch her go pink here!
View this post on Instagram
Megan Thee Stallion's '60s take on blue hair is our next night-out look
Blue hair doesn't always have to be punk. The WAP singer showed us how to perfectly marry cool and classy with this '60s-inspired coloured 'do. The curled-out ends, the barrette and the silky smooth finish is a great way to bring an air of vintage to an impossibly cool blue, and we'd say she's absolutely nailing it.
Throw in a perfectly-lined pout, larger-than-life lashes and the perfect contour and you have yourself a winner!
This week in nails
Madelaine Petsch's French tip is the best twist on a classic yet
The colourblocking? The shapework? The long (but not too long) nail? We may have just found our favourite iteration of the French tip ever. Out are the tacky-adjacent Y2K-era acrylics; in are the Gen-Z takes on it. Think of it this way—this look is essentially just if Euphoria makeup was a manicure. That's right; we said it.
This look could totally work on shorter nails too—and while we're on the topic, you should check out our short-nail design mood board.
Hailey Bieber takes on the negative space manicure trend in the best way
This summer has seen a plethora of these manicures popping up left, right and centre—and for good reason too! The negative space manicure is the perfect subtle accent for any set of pincers.
Typically, we'll be seeing anything from dots, to stripes, and dashes intricately painted on a set, but Mrs Bieber has opted for a delicate set of yellow daisies. We, personally, think that this mani is the perfect swan song for summer 2020—what about you?
This week in natural beauty
Tess Holliday claps back at fat shamers in a poignant post
We've all heard of Strawberry Dress—it's the Lirika Matoshi dress that has cropped up all over Twitter, Instagram and TikTok recently, and it is, quite literally, anyone's dream dress. Here are just a few of the memes we saw.
However, it's not the first time we've seen this dress. Plus-sized model Tess Holliday was one of the first to sport the look, wearing it out to the Grammy's earlier this year.
However—instead of people raving about the garment the way they are now—they, in her words, "had me on worst dressed lists when I wore it in January to the Grammys, but now bc a bunch of skinny ppl wore it on TikTok everyone cares. To sum it up: our society hates fat people, especially when we are winning. Thank you @lirika.matoshi & @meaghanpoconnor for making me feel like a princess 7 months ago."
She's not wrong in saying that fashion is judged purely by the bodies that wear it—and we applaud her for telling it like it is.
Ashley Tisdale gets candid about removing her breast implants
View this post on Instagram
The Disney alumni opened up on Instagram about her breast implants, explaining why she had them removed as well as the journey she's been on. Here's what the caption reads:
"Hey guys, this is probably the most personal post I've ever shared. As you know, I've been very open about my mental health journey and feel that this is equally important. Years ago I underwent breast enhancement surgery. Prior to the surgery, I constantly felt my body was less than, and thought this change would make me feel more whole and more secure about myself. And for a short period of time…it did," Tisdale begins.
"But little by little I began struggling with minor health issues that just were not adding up—food sensitivities as well as gut issues (full story on @frenshe) that I thought could be caused by my implants. So, last winter I decided to undergo implant removal. This journey has been one of growth, self discovery, self acceptance and most importantly self-love. This picture above was taken two months after my explant surgery and I think you can tell just how happy I am to finally be fully me," she explains.
It's refreshing to see a celeb being so transparent—we're glad she's in a better headspace and that she's finally feeling more secure.
For more beauty news, click here.
| | |
| --- | --- |
| SHARE THE STORY | |
| Explore More | |