Congratulations! You're engaged. You're probably basking in the warm smug glow of love with your honey—isn't it bliss? Enjoy the feeling, because things are about to get busy.
Once you officially start planning your big day, you're going to come to the sober realisation that there just isn't enough time in the world.
Venues, dresses, cakes, dates, flowers, decorations, guest lists, and beauty prep? In the midst of all of the bridal stress, you're guaranteed to forget a few details. That's where we come in.
To make sure that no beauty-related stone goes unturned, we've put together a beauty checklist to get you looking positively bridal for your big day—from what to do to when to do it. Heed our advice ahead and there shan't be a hair out of place nor a brow untamed:
READ: #BUROBrides: The only wedding planner you'll ever need
Save the date: So, it may not be the final date you settle on (that's up to your venue of choice and circumstance), but having at least a vague idea of when you'd like to tie the knot will help the planning process along.
Book a wedding planner: It may be a year away, but there is a lot to do. To alleviate a bit of the stress, offload some of the heavy-lifting to a professional wedding planner—you'll thank us later!
Set the venue: This may not seem relevant to a beauty checklist, but it is. Knowing where you're having your wedding is imperative to planning your big day beauty look. Are you going to the beach or having a snowy Russian destination wedding? The way you prep your face and plan your look is completely dependent on your venue. Plus, flights and hotels are cheaper when booked in advance (if you're planning a destination wedding).
Save up: Weddings are expensive. Enough said.
Think about your theme: Deciding on a theme will keep everything cohesive, and help you plan your look better. It's best to decide this sooner than later because things like dresses and destinations require planning in advance.
Research your dream dress (and jewellery): Like with the theme, knowing (at least roughly) what your dress silhouette and type of jewellery are will make your wedding planning a tad easier.
Book hair and makeup*: If you're getting married on a popular date, or are gunning for a particularly popular hairstylist or makeup artist, keep in mind that you will have a lot of competition for appointments. Book their slots ASAP. *This only applies if you're super keen and have a very clear picture of what you want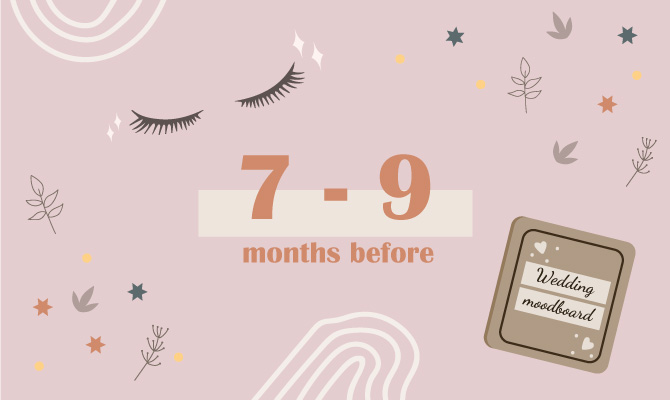 Put together your beauty moodboard: Now that you've locked your venue and theme down along with a rough idea of your wedding dress, have a think about your whole beauty ~lewk~. Create a moodboard, think about what you'd like to emulate from all the royal weddings past, research some stylists that you think could make you feel your best, and book yourself in for some consultation appointments! You'll have a lot of other things on your plate so think of this as your 'relaxation time' activity.
Eyelash extension trials: If you're thinking of getting them done for the wedding, make sure you give them a trial run beforehand so you'll know whether you definitely like the results—and so that you can find a studio that you trust.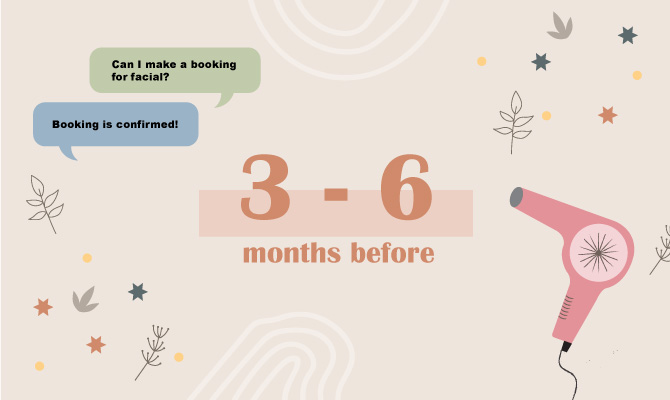 Book your bridal hairstylist and makeup artist: So, you've been around and tried a few stylists on for size, and you've found The One—Do. Not. Let. Them. Go. As your fiancé cuffed you, cuff your beauty squad too.
Book your pre-wedding haircut and colour: Try to book an appointment slot two weeks before your big day—this way, if your cut and colour aren't up to par with your expectations, you'll have a little leeway to fix it.
Book your pre-wedding facial: Start booking your facial appointment date a month before the wedding. This may seem a little too pre-emptive, but this will mean that your skin looks its best in time for the wedding. Even a gentle facial can cause your skin to break out, so doing it a month ahead gives your skin time to heal.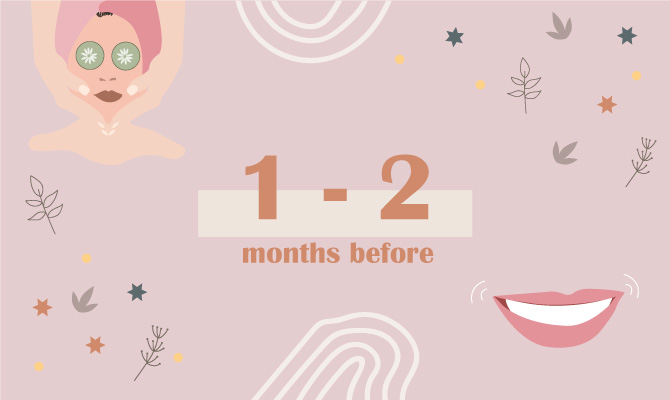 Whiten your teeth: This one isn't necessary, but should you want a particularly bright smile for your wedding day, now is the time to do it.
Go for your facial: Also, definitely avoid using any new beauty products or trying out new treatments too close to the date—you want to avoid any surprise allergic reactions at all costs.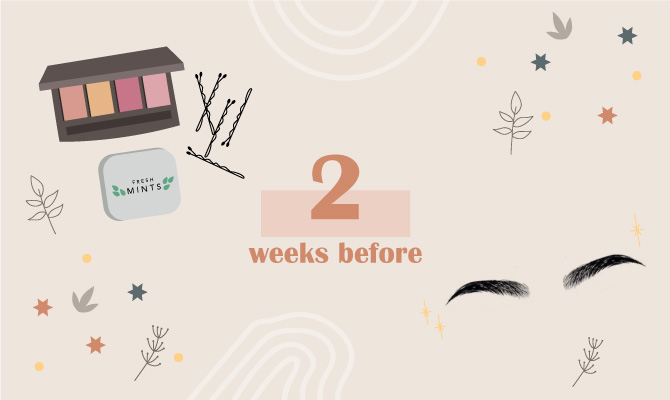 Get your cut and colour: Two weeks is the sweet spot; your hair doesn't grow out enough that your roots show on your big day, but if the haircut goes wrong, you have time to fix it. Remember: use your regular stylist (who you value and trust) to avoid hair disasters.
Score a bangin' set of brows: Doing your brows two weeks beforehand means that you'll have time to grow them out a little if they turn out botched. Alternatively, if they turn out as planned, you can easily touch them up as and when. Again, use your regular brow stylist to avoid unwanted (and unfixable) surprises.
Put your Emergency Bridal Beauty Kit together: Things can go wrong at any point, so it's important to have a contingency plan.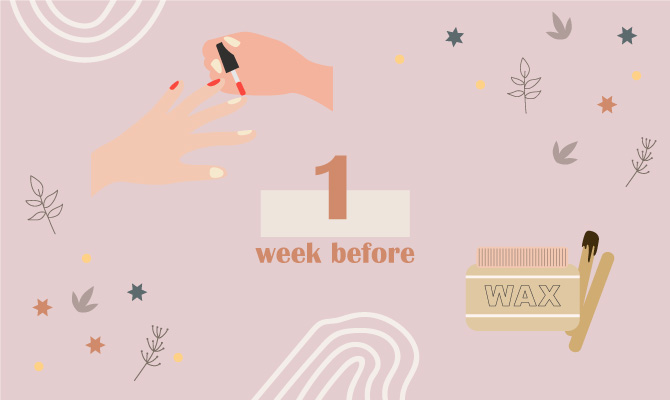 Prep your nails: This way, they won't grow out before the big day and the chances of them breaking or chipping are lower as they are still fresh.
Get waxed (if you want to): If you'd like to be smooth from top to toe, this is the time to get waxed.
Put your lashes on: Hopefully, you've given your eyelash extensions or lifts a go in advance and are returning to your regular salon. This is the right time to get them done to make sure they're full and fluttery in time for your big day!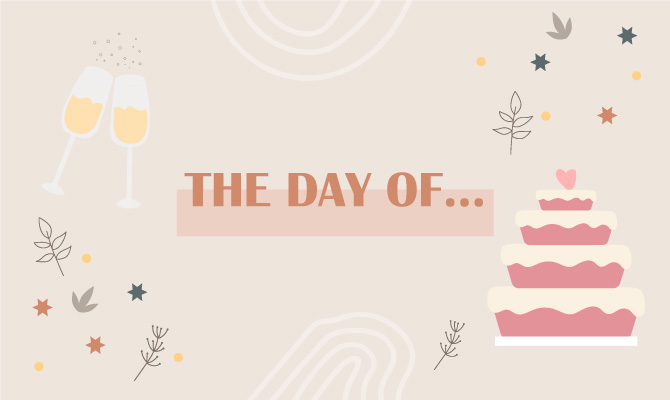 Get your hair and makeup done: It's all coming together.
Breathe: Remember that nothing is ever set in stone—don't freak out if something doesn't turn out according to plan. Go with the motions and don't forget to enjoy your own wedding.
Get Hitched!
Find more wedding stories like this here.