Ever envied and coveted the graceful silhouette of a ballet dancer? That's where Xtend Barre gets its name, by combining elements of dance, ballet and Pilates in one workout. Fuelled with adrenaline-pumping steps, Xtend Barre "chisels" the body while strengthening and lengthening it.
The Buro 24/7 Malaysia team took over Urban Spring's wellness studio for a fast-paced workout led by none other than Patricia Knudsen. Also joining us in our workout was TV personalities Sarah Lian and Aishah Sinclair. Check out what the team went through for Xtend Barre and watch the video below!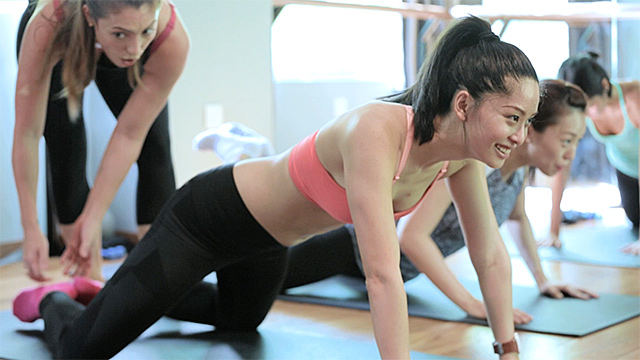 Cai Mei Khoo, Editor-in-Chief
I was already doing Pilates when I first heard of Barre. Billed as a cross between Pilates and ballet, I was curious to try it out especially since Carine Roitfeld swears by ballet. While it's meant to be a full body workout, I find that barre works my thighs, glutes and core the most – first timers may have a bit of trouble taking the stairs the next day. All in all, a good, fun workout.
Rating: 4/5

Susan Lee, Digital Marketing Manager
These days, every girl wants more than just a workout, and when you infuse ballet with Pilates, that's exactly what you get. I have always been more of a studio workout sort of person and have enjoyed dance all my life. I used to dance when I was much younger but somehow along the way I stopped due to my busy schedule. When Barre was locally introduced, I'd never been more excited about a workout. It helps sculpt your body and gives you that long chiselled silhouette while improving your flexibility as well. Not quite convinced? Check out our video, go for a class and you will know what I'm talking about.
Rating: 5/5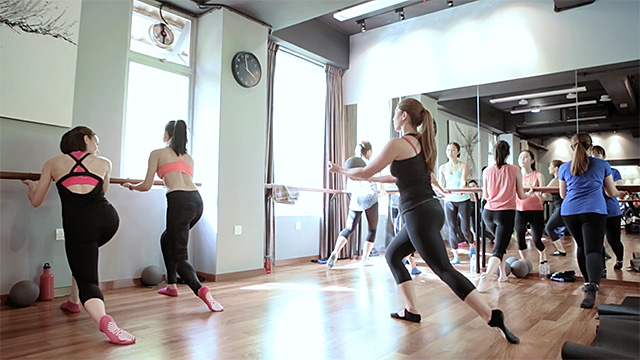 Yi Suen Chong, Digital Designer
Being an active runner myself, I've always been interested in trying out new workouts that could potentially help with my running, and Barre definitely had some moves that could help strengthen those muscles! It's also perfect for a ballerina wannabe. However, with a wobbly right knee, I do admit that some parts of the class were a bit challenging for me. Imagine doing squats while you're on your tippy toes, and squeezing a ball in between your thighs (with Pat K in the background going, "SQUEEZE!") while tip-toeing still! I'm still undecided on which is more difficult: running a half marathon, or doing a Barre workout?
Rating: 4.5/5

Wei Yeen Loh, Fashion and Beauty Writer
I am actually a fan of Barre and I was quite psyched to sign up for this session (more so than a hardcore round of functional training, at least.) What I didn't expect was the sheer intensity of merely carrying out various forms of squats at Pat K's class. But it wasn't the type of workout that had me calling quits 20 minutes into it; it was in fact the opposite: Xtend Barre truly worked me out and tested my strength and speed, and I am more determined now than ever to work hard on my coordination skills (which were quite appalling). The post-workout ache was the kind that made me feel like I perhaps did gain a teeny bit of muscle – which is the whole point of it, right?
Rating: 4.5/5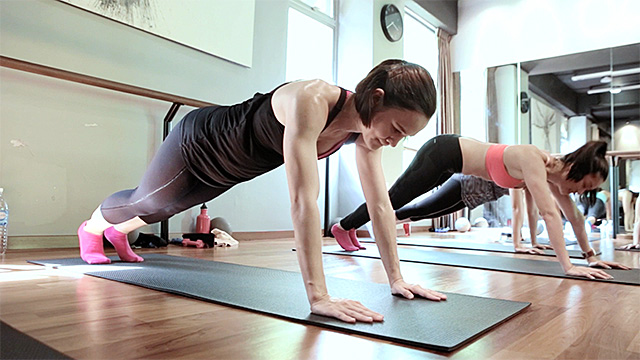 Jessica Fang, Culture Writer
Having not worked out in a very long time, duration of which I shall not disclose, Barre was an interesting start to the new year. Fast-paced, high-intensity, and jam-packed with pumping, hopping, twisting, squeezing and every other movement that sends every inch of your body into a frenzy, Barre was sort-of a culture shock for me. Needless to say, my body ached for the next two days – even if I did, admittedly, take a 10 minute breather in the middle of the class. It may have been absolute torture for me, but I feel that if I kept working at this, I would be like a ninja dancing superwoman with killer glutes.
Rating: 4/5

Urban Spring is located on Jalan Bangkung, Bangsar. Find out more about the wellness studio here.
Related stories:
#FitnessFridays: Team workout at Fuel Athletics
Fast fitness: Five 5-minute workouts
Choosing the right fitness tracker for you
| | |
| --- | --- |
| SHARE THE STORY | |
| Explore More | |