If you can't find the time or budget to join a gym or fitness center, the Nike+ Training Club (N+TC) app is the perfect solution. Ever since its introduction, the N+TC app has been getting raved reviews as a personal trainer in your pocket with workouts (over 100) by real pros—the Nike Master Trainers.
The N+TC app, however, isn't catered to solely helping you get lean and toned. Similar to the experience you'd get at a gym, the app has become a community of friends with the same goal who motivates one another.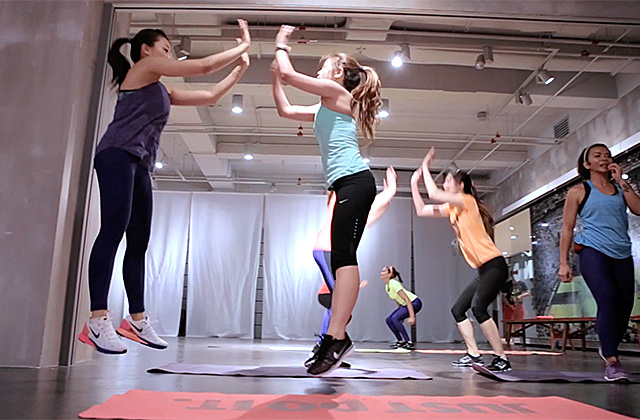 Thanks to the folks at Nike Malaysia, they organised a fun, but intense, session for the Buro 24/7 Malaysia team along with Patricia Knudsen, Azura Zainal, Farah Ann and Katrina Ann to try it out with Malaysia's first and only Nike Master Trainer Emelda Vincent leading the exercises. Check out how we fared in the video below!
Cai Mei Khoo, Editor-in-Chief
High-intensity interval training (HIIT) is the perfect workout for those who are strapped for time. In about 15 minutes, our trainer Emelda, managed to cram in a full body workout that included planks, squat jumps, single leg squats and sit-ups, which had me all sweaty a few minutes in. We worked out in pairs which made the workout a little more fun. It was also a great preview to what is available on the N+TC app, which I tried a few days later—I'll definitely be using it to create a workout programme.
Rating: 4.5/5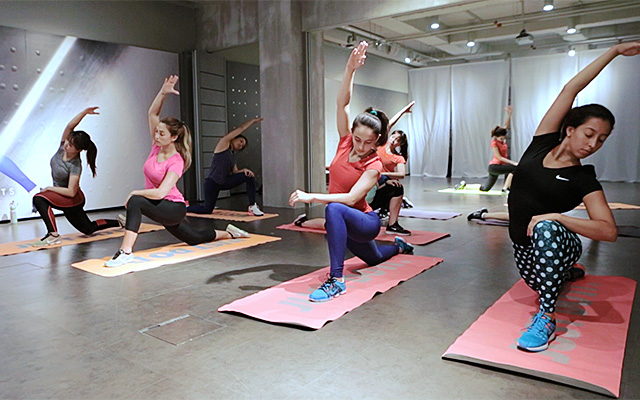 Su Fen Tan, Editorial Assistant
When Emelda told us the workout session will only be 15 minutes just so we can have a taste of what the Nike+ Training Club app has to offer, I thought to myself: "okay, this should be fairly light and easy". Little did I know that was all the time it took to really work up a sweat. By the end of it, my thigh muscles were begging for mercy—the ache (the good kind of pain) that followed in the next few days is probably a reminder that I should be working out more consistently. All in all, I thought that the short and intense workout was a really great way to start the week.
Rating: 4.5/5

Susan Lee, Digital Marketing Manager
I've heard a lot about the N+TC app before this and have used it once or twice. I found it a little difficult to use because I wasn't entirely sure how to navigate it. But after this session, I learnt that there are many features within the app that I could take advantage of. It does feel like a personal trainer; you can programme your own workout based on the Master Trainer's recommendations on the app. The best part is if you have an Apple TV, you can use the AirPort to sync it and enjoy a full workout session in the comfort of your own home. I definitely recommend this to those who have a busy lifestyle yet want a short but impactful workout. Let's do this together!
Rating: 4.5/5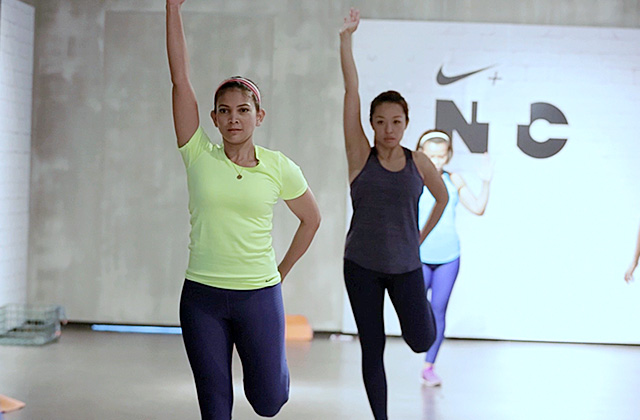 Yi Suen Chong, Digital Designer
I'm an avid fan of Utah Lee, Hong Kong's Nike Master Trainer (check out her Instagram @utahlee and drool over her strong physique, people!) so I was thrilled when Cai Mei informed us that we will be joining Nike Malaysia for an N+TC session! All in all, it was a fun partner-workout; it was good to have someone to work out with as we encouraged each other when we were out of breath, trying to do that last rep of jump squat. Hopefully Nike could organise more N+TC workouts and make it available to the public!
Rating: 4/5

Rachel Au, Lifestyle Writer
I've actually downloaded the N+TC app a year ago but never really got to try it because I'm just one of those people who don't exercise. Hence, this was a good opportunity which quickly turned into feelings of despair for my thighs halfway through the 15-minute session. I'd say it's intense but you can really feel the effects from the exercises and since it was a partner-workout, Azura really helped motivate me to push on a little harder. Overall, though my thighs still feel like jelly three to four days later, I highly recommend it! I might even try working out with the app over the weekend (although I might take it down a notch till my muscles get used to the idea of actually stretching and moving).
Rating: 4/5

The Nike+ Training Club app is available on both the App Store and Google Play.
Related stories:
#FitnessFridays: The team tries out Xtend Barre at Urban Spring
#FitnessFridays: Team workout at Fuel Athletics
| | |
| --- | --- |
| SHARE THE STORY | |
| Explore More | |