Beauty
#FitnessFriday: Team tries Sanguis at House Atlas Strength & Training Facility
HIIT-ing a new gym in town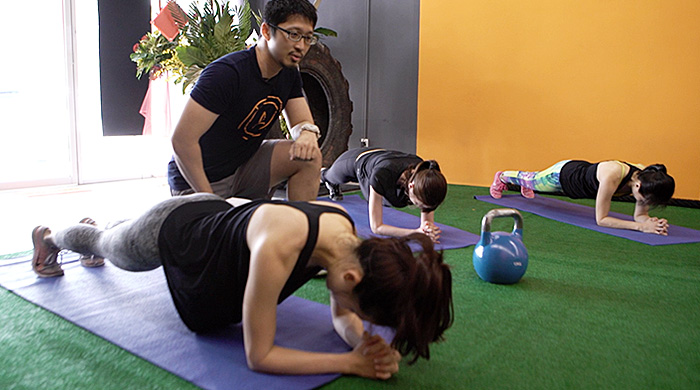 Last month's #FitnessFriday was pretty chill so this time, we decided to amp up the intensity (and burn off all the food we ate during the #BuroRoadTrip). House Atlas Strength & Training Facility, located at Zenith Corporate Park in Kelana Jaya is a new gym that officially launched a week ago. Started by a group of fitness enthusiasts who had prior working experience at one of the local big gyms, House Atlas offers five specialty classes as well as personal one-on-one training. Intrigued by the Latin-inspired names, we decided to try Sanguis, a HIIT workout for the overall body.
Watch the video below to see how we fared and read on for our testimonials.
Gwen Ong, Deputy Editor
When I found out that the team was booked in to try out a HIIT class, I was filled with trepidation. The word 'intense' was all I could think of. Oh, it was intense alright! The Sanguis class started off easy with warm up and stretches before you're put right smack into strength training that involves planks, squats, mountain climbers, burpees, high jumps and more. If you remember from my last episode of #FitnessFriday, I really dislike doing leg work. But here's the thing, even with my minimal leg strength I could do most of the workouts thanks to the encouraging trainers at House Atlas. They were patient in showing us the right moves and dispensed useful instructions on how we can up our fitness level. It was reassuring to know that I could actually do it!
Rating: 4/5

Jasmine Leong, Senior Fashion Writer
There seems to be a lot of "firsts" since I've joined Buro but the one activity that I was least looking forward to is definitely the infamous #FitnessFridays. After several failed attempts at bailing out, I finally made it to House Atlas on that (unfortunate) Monday morning. Upon meeting Sebastian, our coach of the day, we immediately jumped right into a series of warm-ups, and slowly progressed into the Sanguis workout. It wasn't so bad, I thought to myself. But not long after, we started to do the slightly tougher workouts (like back-to-back burpees and planking!) with (very short) breaks in between—I could feel the soreness in my arms and legs. Although I had to sit out for a couple of workouts and was unsure of how to perfect my postures, Sebastian and the rest of the trainers at House Atlas were really helpful and encouraging. And while it is hard to believe, I'd have to say I thoroughly enjoyed the simple workout session, even for a beginner (read: weakling) like myself. I wouldn't mind going back for another round but perhaps, I'll wait for my sore muscles to heal first.
Rating: 3/5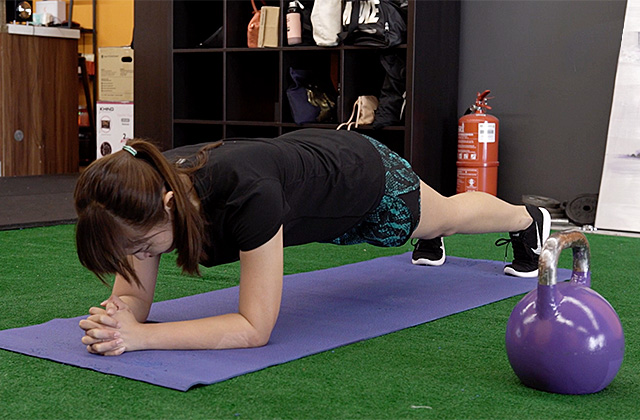 Wei Yeen Loh, Fashion and Beauty Writer
HIIT and I have a love-hate relationship—despite how much I enjoy working up a sweat and feeling the burn the day after, the mere 20 to 30 minutes of training can make me feel all sorts of emotions, ranging from enthusiastically motivated to utterly tired. That said, our session at House Atlas had me feeling as though I'd worked out for hours with mere planks, duck walks (squat-walking), mountain climbers and burpees. Coach Sebastian and his crew gave us thorough instructions and helpful assistance, and I would definitely consider going back to explore their other classes including one core-blasting workout that I just might need.
Rating: 4/5

Su Fen Tan, Writer
I share Wei Yeen's sentiments when it comes to HIIT. "Why did I agree to this again" is always the thought that runs through my mind during a workout, but after that, it feels good knowing that I've pushed myself—the aches that come after is a testament of that (besides being a sign that I should work out more). When I saw that the Sanguis class was described as a "high-intensity strength and conditioning" session, I didn't think my poor stamina would be up for it, but I'm glad I didn't back out. The crew at House Atlas is approachable and helpful—they were at hand to correct our forms or postures where necessary while making sure that those of us with lower fitness levels (read: me!) could keep up with the workout.
Rating: 4/5

Yi Suen Chong, Digital Designer
I'm a HIIT convert ever since our #FitnessFriday session at Firestation.fit so I was thrilled that we were going to try out Sanguis at House Atlas. Upon entering the gym, I noticed that there weren't any treadmills (gasp!) but I was soon convinced that cardio machines were not needed to work up a sweat. The workout that Maestro Sebastian put us through was short, but he made sure it was still intense by randomly adding in burpees while we were doing short sprints, and squat jumps while we were doing a duck-walk—those made our heart rate shoot up! All in all, I thoroughly enjoyed our session. Sebastian and the other trainers were friendly and helpful, and it was clear that they're all very passionate about what they do. You will definitely be in good hands when you train there.
Rating: 4/5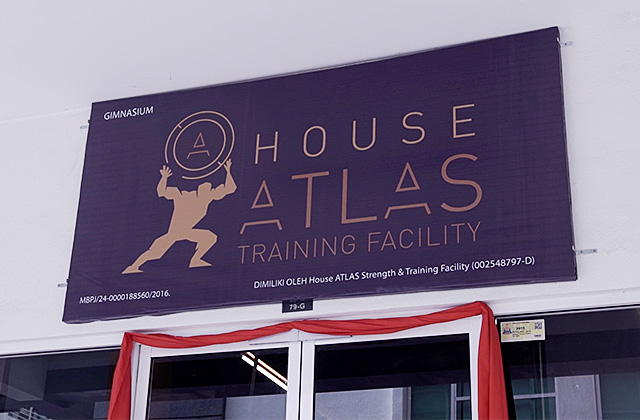 House Atlas Strength & Training Facility is located at 79G, Block G, Zenith Corporate Park in Kelana Jaya. Check them out on Facebook.
Related stories:
#FitnessFridays: Team workout at Fuel Athletics
#FitnessFridays: Team HIIT workout at Firestation.fit
#FitnessFriday: Team tries Body 360 workout at Cross Muay Thai
| | |
| --- | --- |
| SHARE THE STORY | |
| Explore More | |