As people become more accustomed to yoga, some would become a little adventurous at discovering the various styles formed out there. For our #FitnessFriday series, we've tried Fly Yoga and Inversions and Arm Balancing Yoga, and to add to our list of unique flow classes is Budokon. Offered at Organica Studios, it's considered a modern yoga style that combines the classic practice with martial arts and animal locomotion—at a slightly faster pace than usual. Watch the video to see what we mean and read on for the team's testimonials.
Cai Mei Khoo, Editor-in-Chief
Before this class, I've never heard of Budokon yoga (is that from Street Fighter?). Given that it's a mix of martial arts movements and animal locomotion, I expected quicker, disjointed movements, perhaps in the forms of some punches and kicks. So I was pleasantly surprised at how the class was conducted in a gentle, continuous flow, almost like a dance. We did a series of the different warrior poses, linked in an elegant sequence, which helped me ease into each pose slowly. I also enjoyed the animal locomotion bit—it may look easy doing the chimpanzee walk but it really got my thighs burning. A great class after a long day of work, or if you're looking to mix up your yoga routine.
Rating: 5/5

Gwen Ong, Deputy Editor
I've never been one who is considered nimble, much less flexible. Hence, I've never enjoyed yoga, not until I tried Budokon at Organica Studios that is. It was my first time learning about this form of yoga that incorporates a few aspects of martial arts and it intrigued the kung fu kid in me. It was all about respect and mindfulness; I like how both forms of practices blend together seamlessly. Tony had a zen-like presence about him and he made the class easy to follow with his clear instructions. I've a long way to go before I can be as bendy as the yogi himself but I think I might have found a form of yoga that I enjoy doing.
Rating: 4/5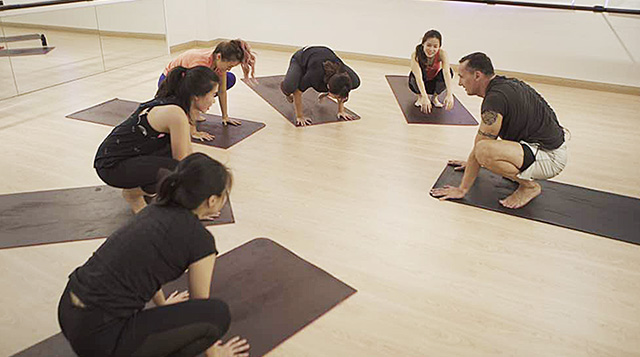 Rachel Au, Senior Lifestyle Writer
Budokon sounds nothing like an easy-going flow session. It sounds more like a form of martial arts. I was close. The class began with positioning ourselves in a traditional kneeling position commonly seen in Japanese martial arts—hands on the lap, then placing them on the floor in front of you, and then forehead to hand. Very zen-like. Next, we gently, yet swiftly, go into a few poses that reminded me of Tai Chi and karate. Later when I mentioned this to Tony, he referenced the moves to influences from several types of martial arts but first and foremost, ninjutsu. By the first quarter of the class, I was already dripping in sweat but what made me decide my huge approval for Budokon happened during the third quarter of the class—during the animal locomotion. It was awkward to try and jump around like chimpanzees but it was such a good workout for my quads. I liked that it's a combination of promoting a good flow through the body and mind while working out my muscles at the same time. It's definitely my kind of yoga style.
Rating: 4/5

Loh Wei Yeen, Fashion & Beauty Writer
Source: https://www.buro247.my/lifestyle/health-fitness/pound-at-sole-to-soul-dance-studio-kl.html
I went into this Budokon class with an open mind—it's not every day that you come across a form of yoga that's inspired by martial arts and animal locomotion. As the class began, it dawned upon me that this seriously isn't your typical yoga sesh—it's as though someone hit the fast forward button with the addition of Tai Chi moves. One thing I was glad for was the ultra zen vibes emanated by our instructor Tony. He was patient and thoroughly instructional, resulting in a smooth flow during the session that wasn't too hasty or stagnant. I personally am not a fan of deliberate yoga moves (two whole minutes in Warrior II? No thank you), so this was definitely right up my alley. But rapid 'chimpanzee' moves that had us squat-hopping while working our quads out? Bring it. Can you tell that Budokon is my new favourite form of yoga?
Rating: 5/5

Yi Suen Chong, Art Director
Source: https://www.buro247.my/lifestyle/health-fitness/pound-at-sole-to-soul-dance-studio-kl.html
I've never heard of Budokon yoga before and I hadn't the slightest idea of what it would entail. A quick read on the intro off Organica Studios' website told me that it's a combination of yoga and martial arts. That was enough to intrigue me. How is it possible to combine two very contrasting natures together? I immediately understood within minutes of our session with Tony. The class was conducted at a slightly faster pace than a usual yoga session so it's especially good for those who dislike holding a certain pose for a set number of minutes. As we swiftly flow from one movement to another, Tony gave very detailed instructions and was patient. For me, the killer move was definitely the chimpanzee/gorilla walk—judging by how sore my hip flexors were the next day. Overall, it was a fun yet invigorating style of yoga and I would recommend it to those who are looking for something beyond the traditional kind.
Rating: 4/5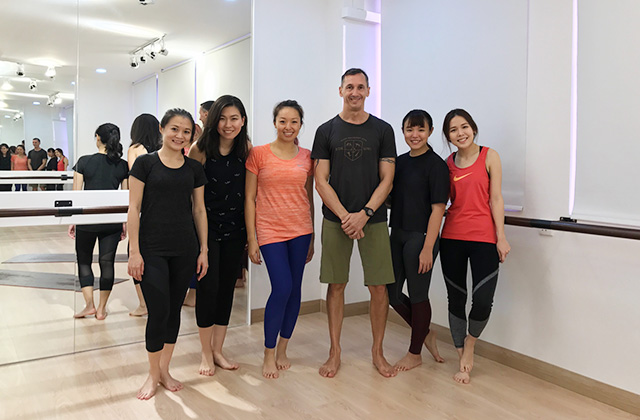 Organica Studios is located at Jalan Telawi, Bangsar. Find out more about them on their website.
Related stories:
#FitnessFriday: Team challenges Fly Yoga at Aravind Yoga Studio
#FitnessFriday: Team attempts Inversion Yoga at BE Urban Wellness
| | |
| --- | --- |
| SHARE THE STORY | |
| Explore More | |