With these jewels on, you'll be shining in gold, diamonds, mother-of-pearl and luck
Last year, Van Cleef & Arpels' symbolic Alhambra collection celebrated its 50th anniversary, a significant milestone that saw the launch of an all-new range of the Maison's iconic jewellery of luck in the intense reflections of guilloché yellow gold; a sophisticated shine that radiates from within the beaded borders of the luminous clover-shaped jewels with evocative lines borne of the traditional engraving technique that is guilloché (used by the brand since the 1910s).
"To be lucky, you have to believe in luck" — Jacques Arpels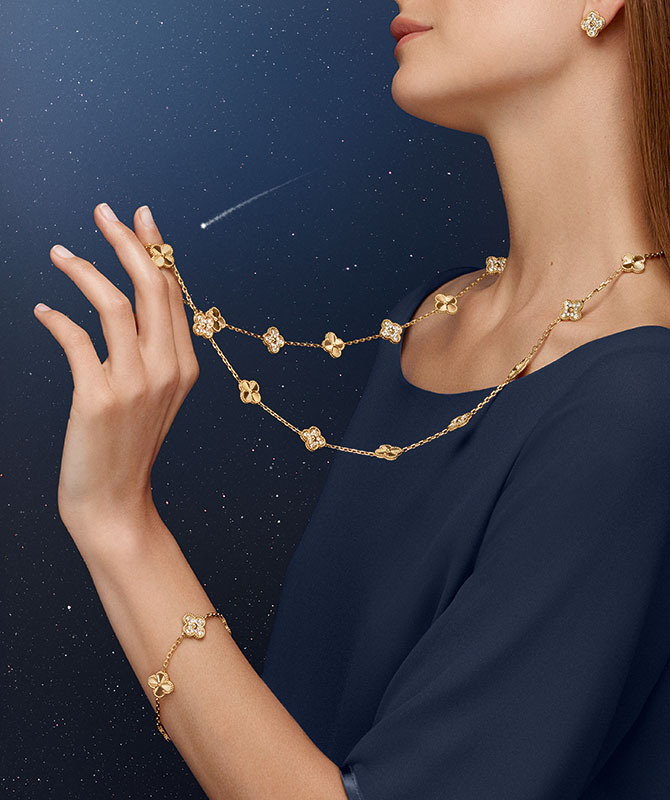 READ MORE... Postcard from Marrakech: Celebrating Van Cleef & Arpels' Alhambra collection
Today, the garden of Alhambra grows with more guilloché creations—new jewellery and timepieces that gleam with the warmth of the precious metal blending harmoniously with the sparkle of diamonds and/or gold mother-of-pearl. New to the timeless Vintage Alhambra line are a 20-motif long necklace and a 5-motif bracelet in yellow gold and diamonds, as well as a single pendant with the guilloché motif taking centre stage.
In the timepiece department, two new Sweet Alhambra beauties enrich the collection with their radiant glow. One that will not look out of place for everyday wear, the first rendition features a guilloché gold dial paired with an alligator skin bracelet. Simple and elegant. The bracelet is easily interchangeable, and is available in a variety of colours for your outfit-matching pleasure.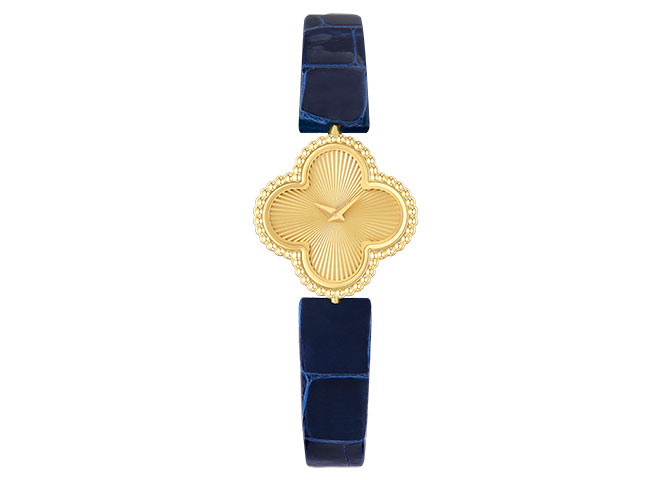 Then there is the alluring jewellery watch, emanating sparkling brilliance from every angle with the alternating motifs of gold, diamonds and gold mother-of-pearl surrounding the guilloché gold dial. Together they make up shimmering masterpieces that look ravishing now, and will no doubt remain so for years to come.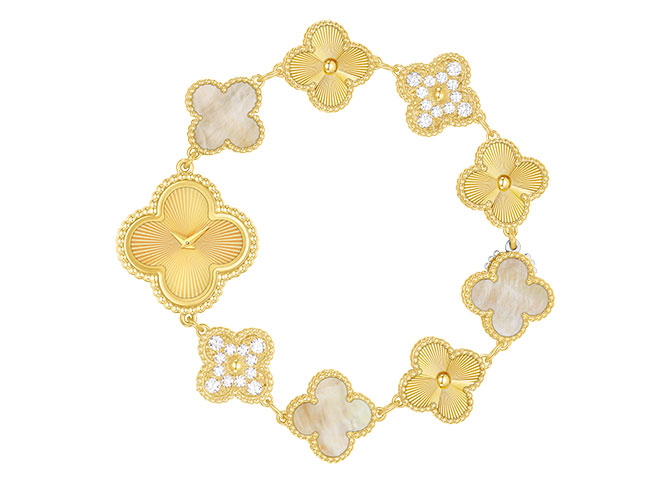 Looking to admire the new Alhambra creations in person? Here's a little PSA to take note of: In September 2019, the Van Cleef & Arpels boutique in Malaysia will be relocated from Starhill Gallery to its new home in Pavilion.