To celebrate the milestone anniversary, Van Cleef & Arpels unveils captivating new creations of the now-iconic four-leaf clover motif
"To be lucky, you have to believe in luck," Jacques Arpels used to say. A luck lover, Jacques used to gather four-leaf clovers in his garden and gifted them to colleagues along with the poem 'Don't Quit' as encouragement. This belief in luck intertwines harmoniously with nature—Van Cleef & Arpels' other main source of inspiration—in the Alhambra collection, which was introduced by the Maison for the very first time in 1968.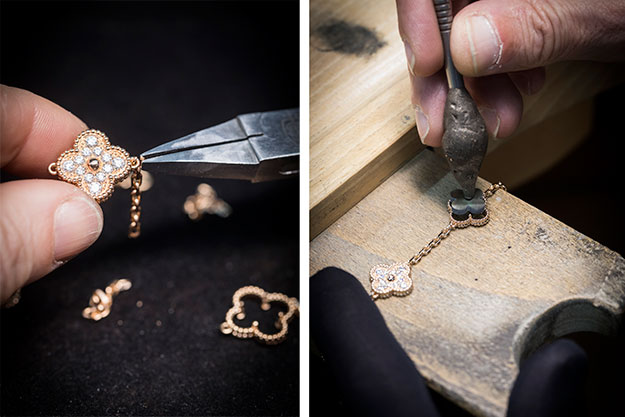 50 years after the first Alhambra long necklace was created, the four-leaf clover-inspired motif remains as timeless as ever. In homage of the elegant icon of luck, Van Cleef & Arpels presents a series of new creations that stay true to the emblematic collection's original aesthetic.
The know-how of the Maison's savoir-faire shines in the exquisite selection of materials. Grey mother-of-pearl gives an iridescent glow with diamonds on delicate pink gold, while the cool tones of white gold and diamond bring out the deep black allure of onyx.
A further four limited-edition models in two distinct styles were unveiled—a tribute to the precious materials that once embellished the collection in the past. Vintage Alhambra long necklace and bracelet in yellow gold are set with either rock crystals, or a combination of diamonds and lapis lazuli.