Technology
Review: How the new iPad Pro and Apple Freeform improved my creativity at work and home
The future at your fingertips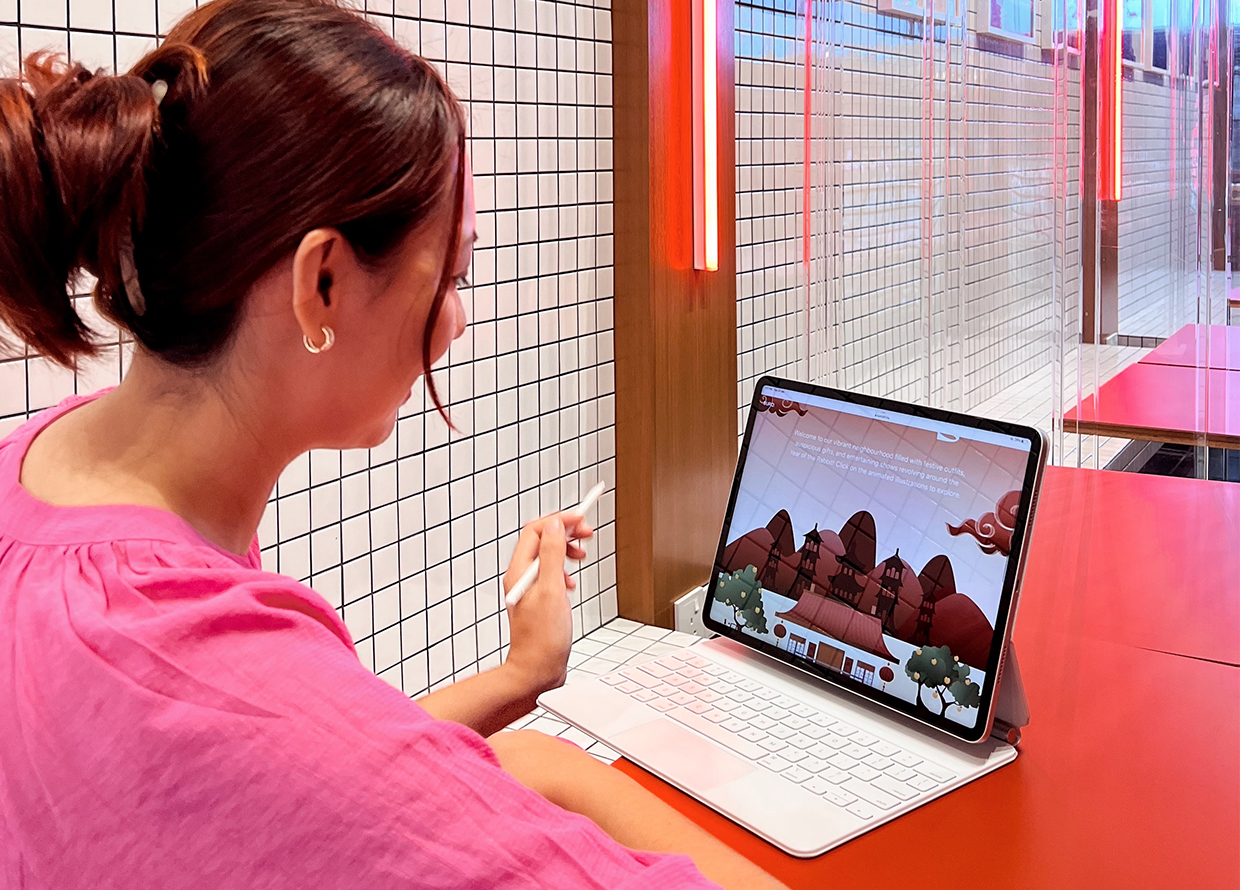 As someone who has a non-traditional occupation, where I'm not expected to be at the office every day from nine to six, I can easily find work inspiration anywhere, whether it's at an aesthetically pleasing coffee shop, the grand lobby of a five-star hotel or even inside a Grab car on the way to events. Seeing how I constantly need my devices with me all the time to do my job, I was pretty content with the convenience and efficiency of my Macbook Air, coupled with the iPhone 13 Pro. However, it wasn't until I was offered to review the latest iPad Pro supercharged by the M2 chip—offering the world's most advanced mobile display, superfast wireless connectivity and a spectacular ecosystem of compelling pro apps—that I noticed a complete change in the way I work and find motivation in day-to-day experiences. The following are some of my favourite features of the device, which I'd like to share with you.
Like a laptop, but way better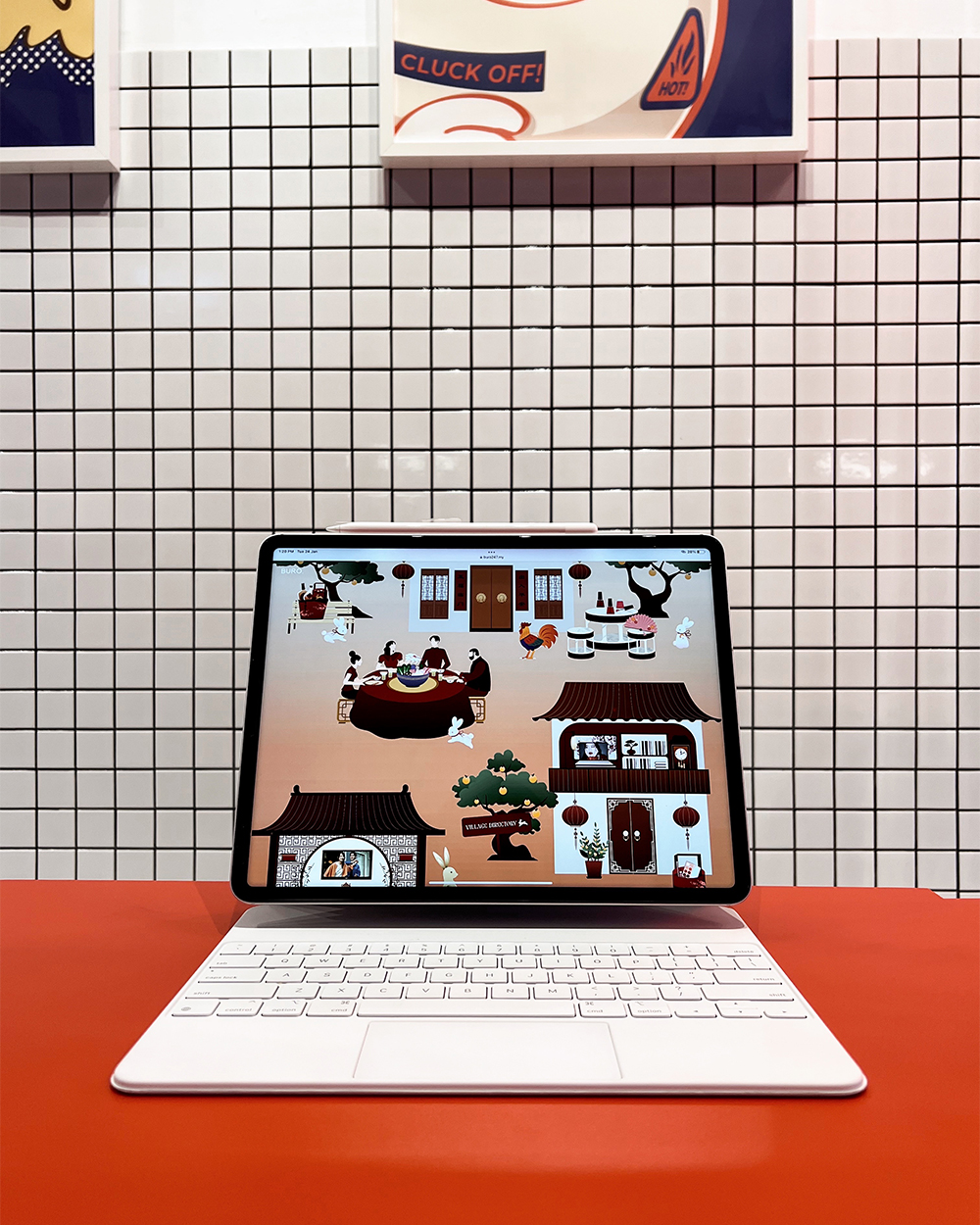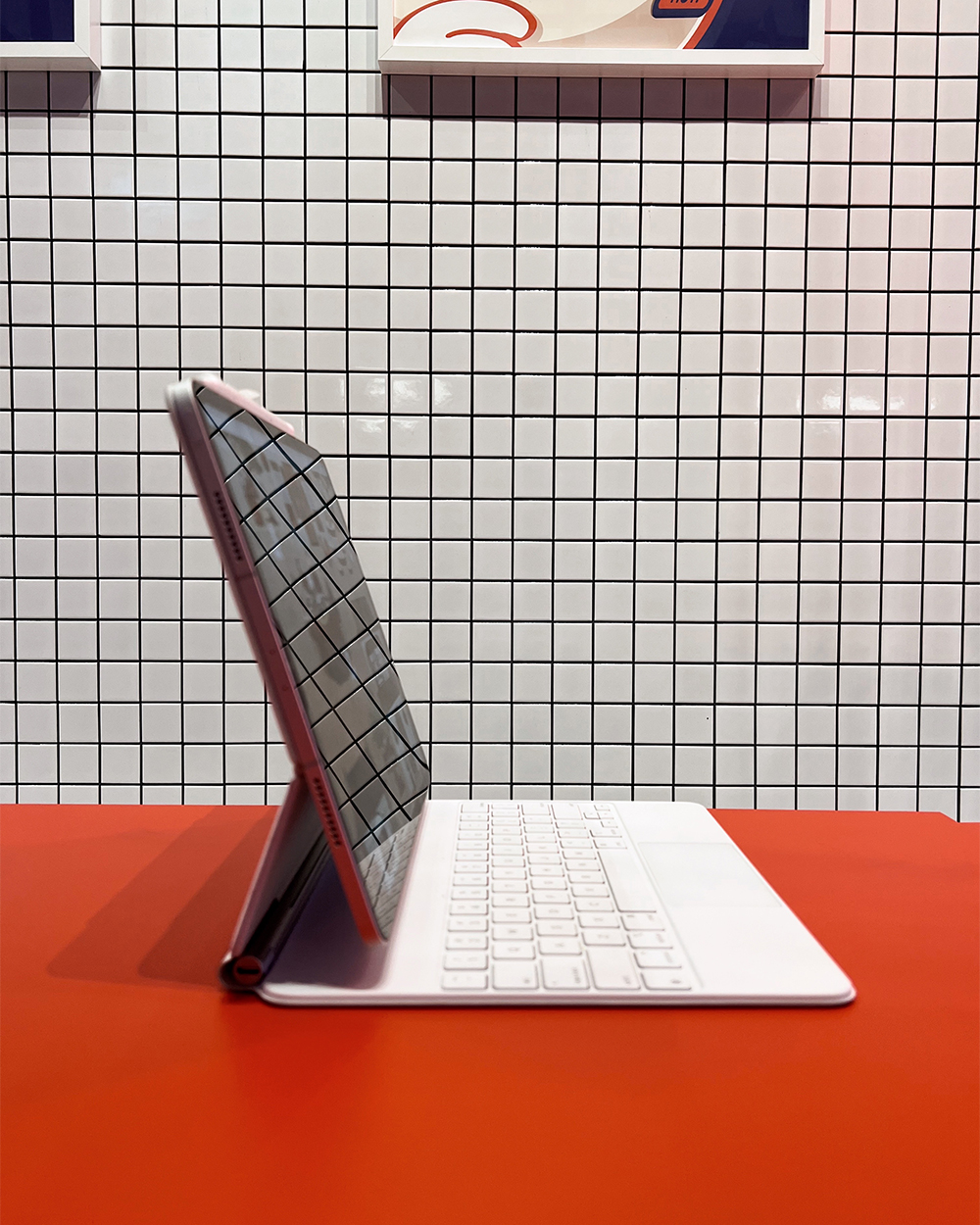 I primarily use my laptop to write and create presentations or storyboards, so one of the first features I had to check out for myself was the convenience of writing on the iPad Pro. Coming with the Magic Keyboard (sold separately), the iPad attaches to it magnetically, floating right on top for a futuristic feel. Aesthetically, it looks fantastic and makes a far better style accessory when I'm out in public compared to a laptop. The typing experience on the keyboard is smooth, soft and seamless, although the trackpad is much smaller and takes some time to get used to. For a more versatile and less restrictive experience, I can easily detach the iPad from the keyboard and pass the device around as I do my presentations at meetings, so that's definitely a massive bonus. However, the iPad Pro and Magic Keyboard combined is thicker and heavier than my Macbook Air, weighing around 1.4kgs, so if you're going to be out and lugging this everywhere all day, you will feel tired by the end of it.
Seamless switching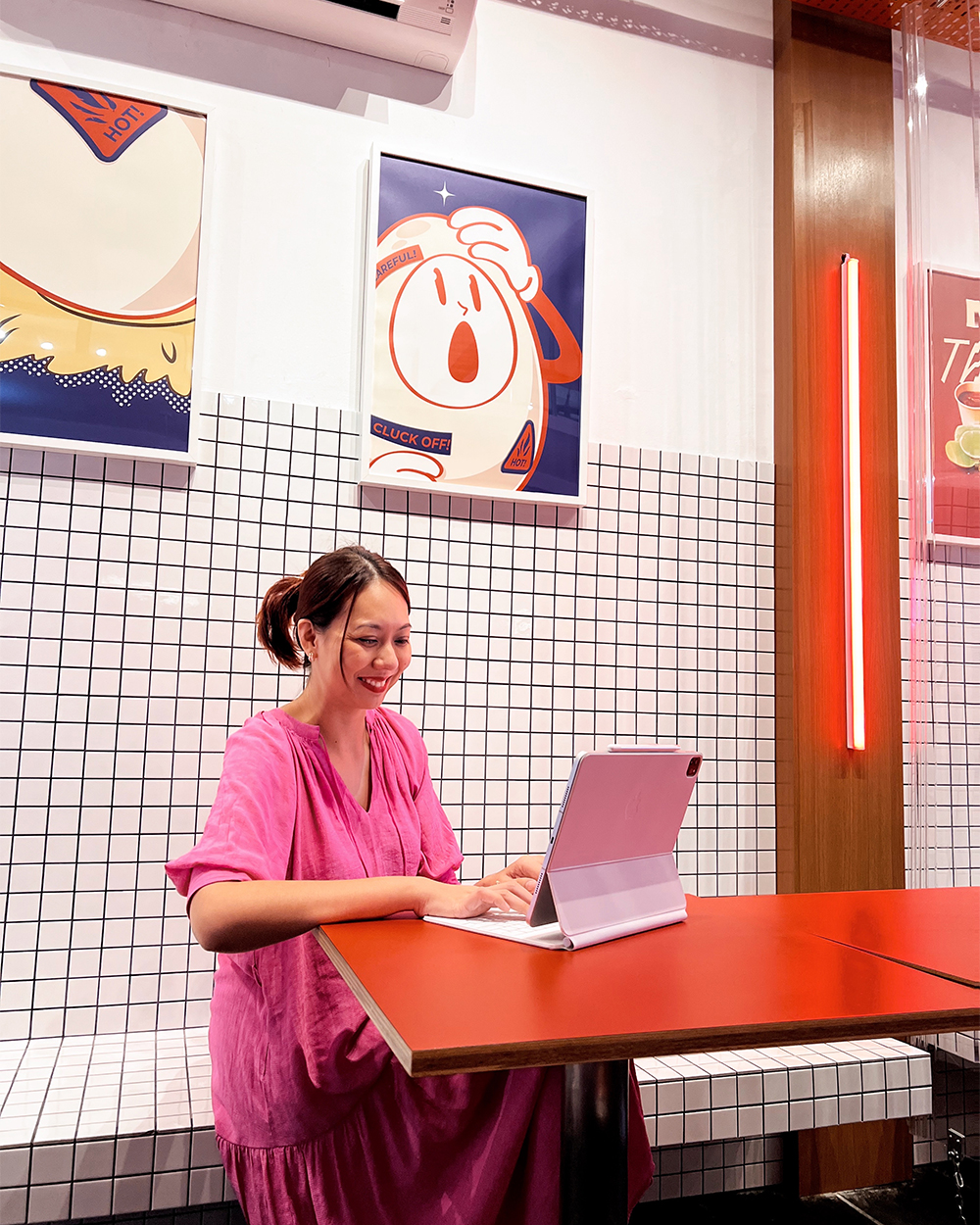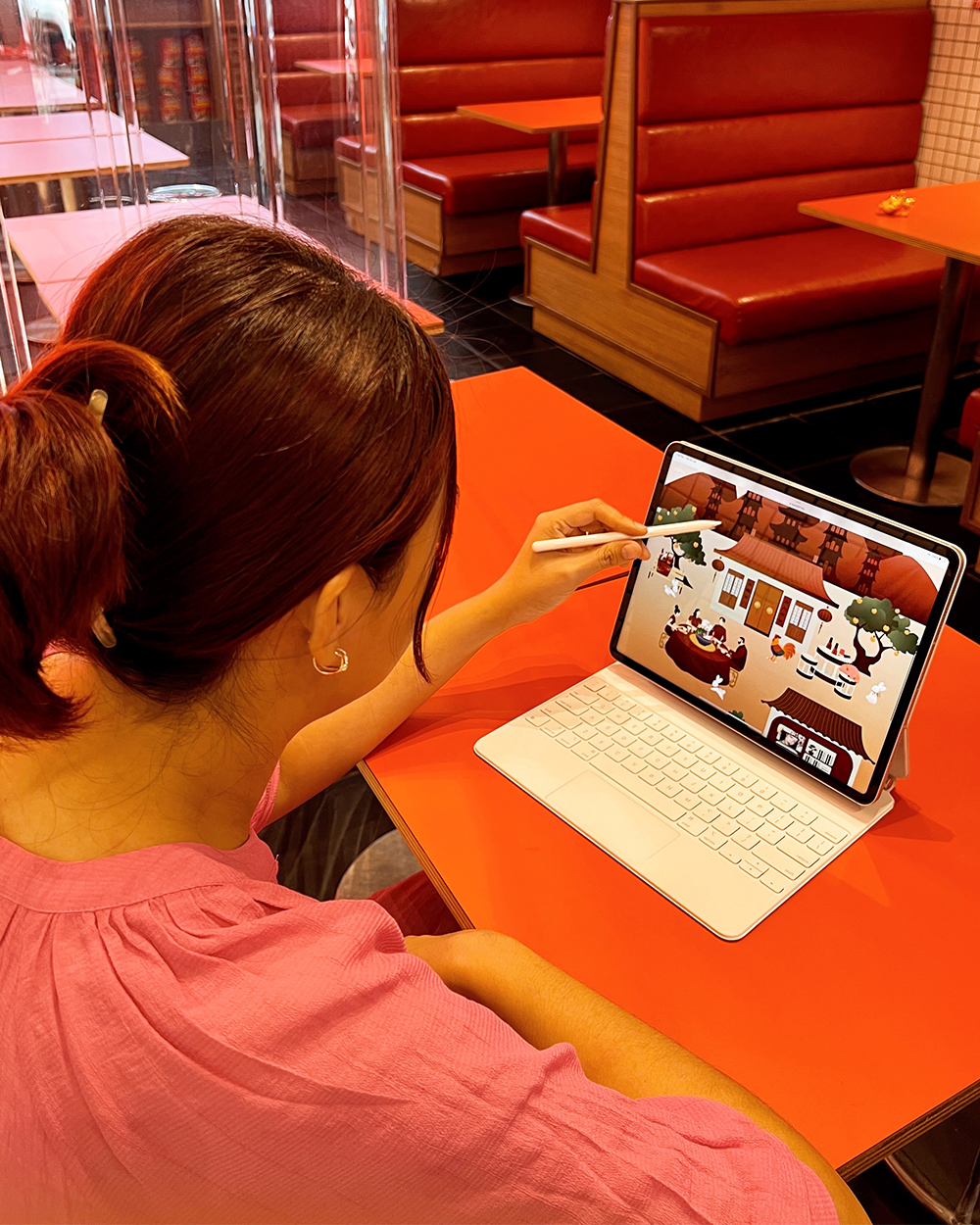 The Stage Manager feature on iPadOS 16 allows you to work as you would on a laptop. Well, not precisely, but it will enable you to automatically organise apps and windows, which you can resize, move around, overlay on top of the other, and switch between tasks. It's multitasking at its best! On a full external display, you can have up to four apps open on the iPad and four on the external. 
The M2 power
One of the most significant selling points of the iPad Pro is the new M2 chip, which offers even more performance capabilities and power efficiency. It is said to be 15 per cent faster than its predecessor, while delivering up to 35 per cent faster graphics for the most demanding workflow. The image quality on the 12.9-inch liquid retina XDR display is simply exceptional, with clear and vibrant true-to-life details. The iPad Pro also features a 12MP camera and 10MP ultra-wide camera. All in all, including additional support for ProRes video capture, you can now capture, edit and publish high-quality videos from a single device.
Enhanced creativity with the Apple Pencil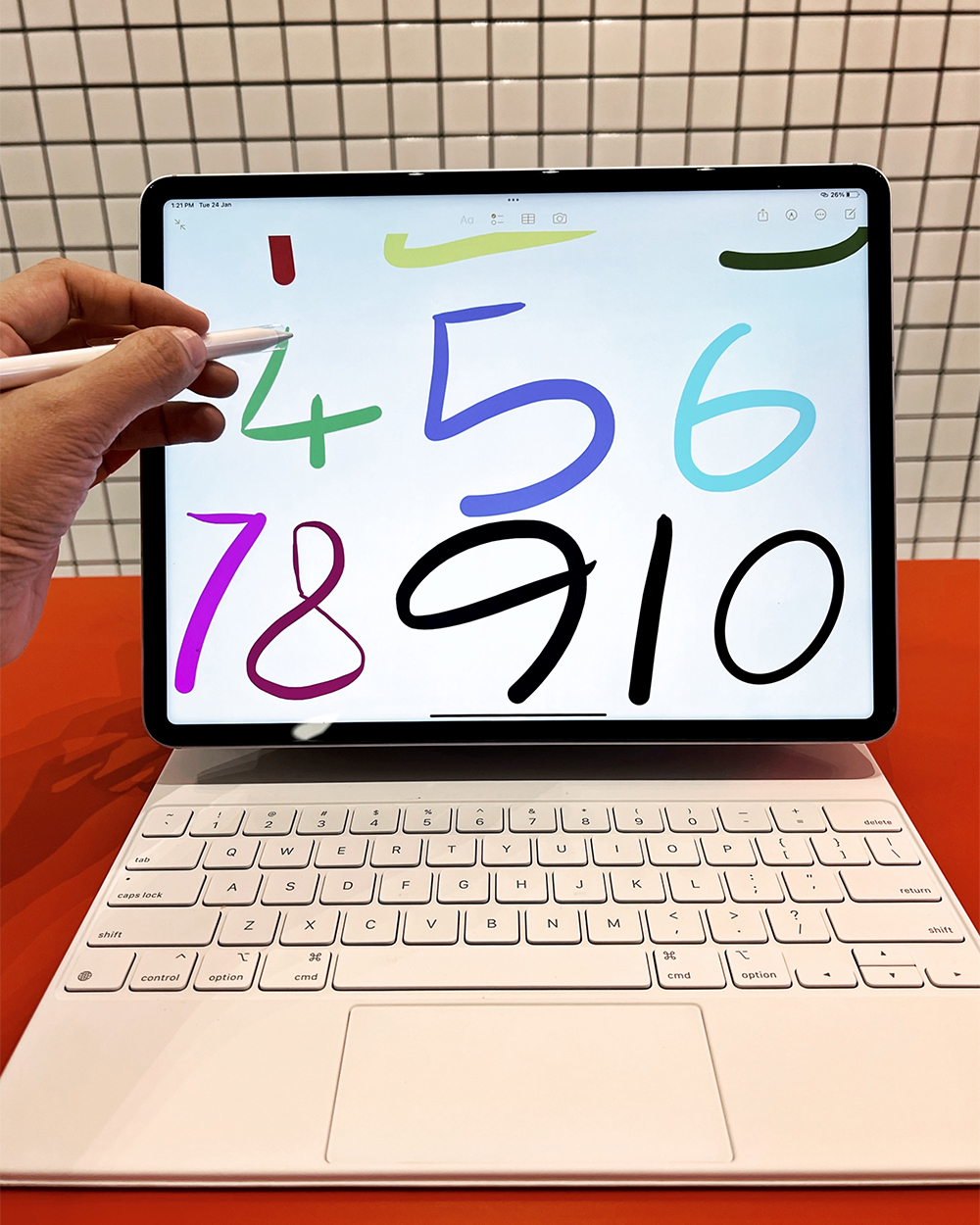 On top of the keyboard, using the Apple Pencil (sold separately) is an added bonus of the iPad Pro. With the latest Hover update, writing and sketching are taken wholly to another level. The pencil offers many drawing possibilities you'd never have thought of doing with a regular pen and paper. It recognises tilting and pressure, and is overall super responsive. With Hover detected up to 12mm above the display, you'll get a preview of the mark you want to make, allowing for better precision in your drawings. I find it very useful to instantly jot down notes or draw a creative concept as and when I get inspiration on the spot.
Planning with Apple's Freefrom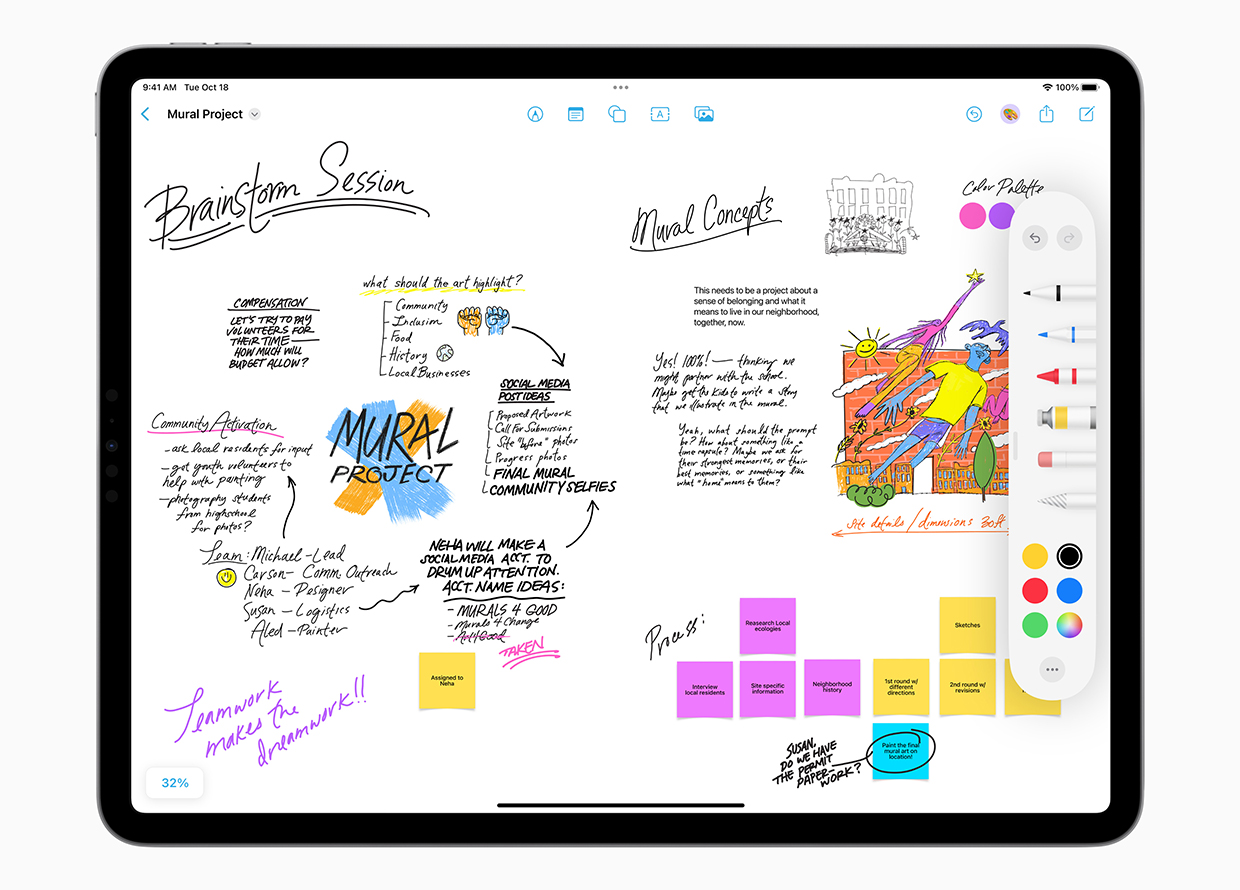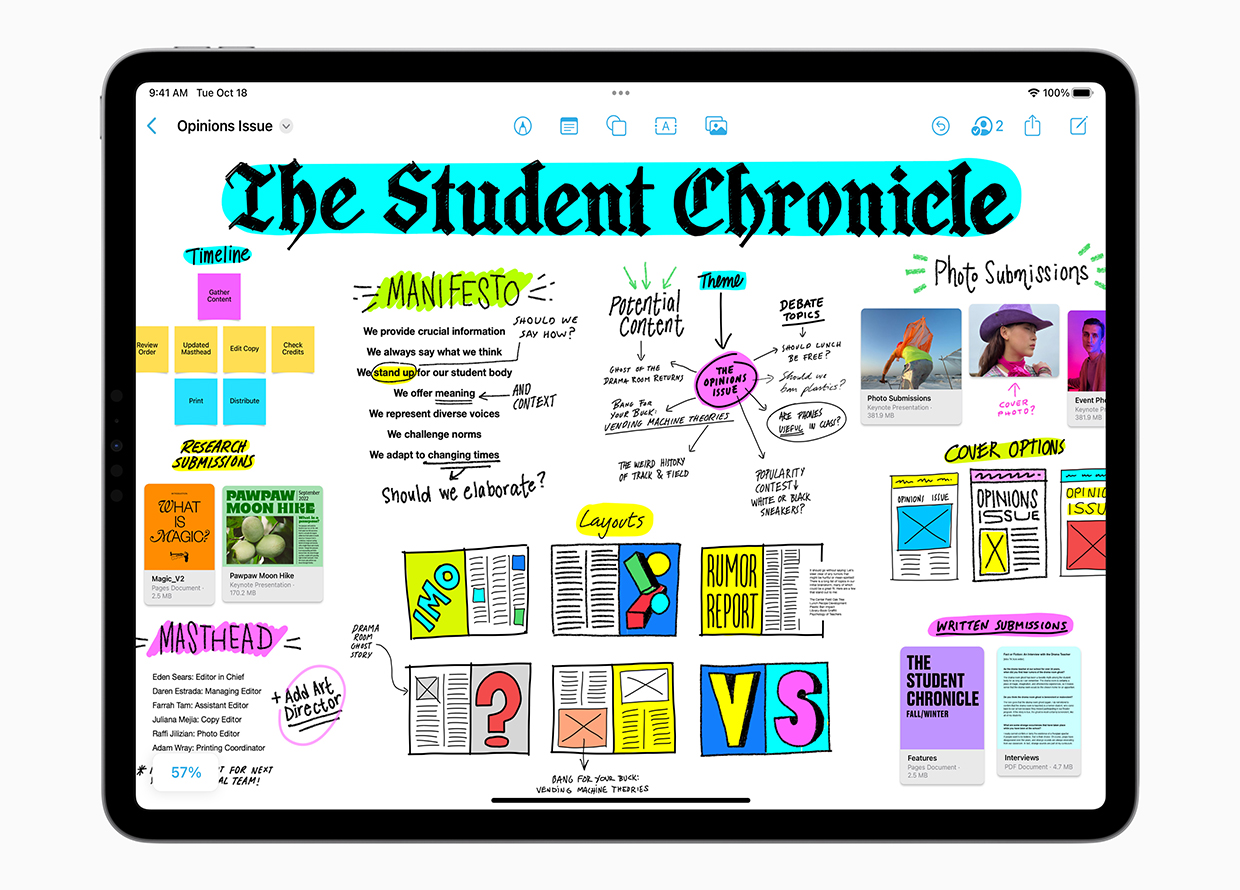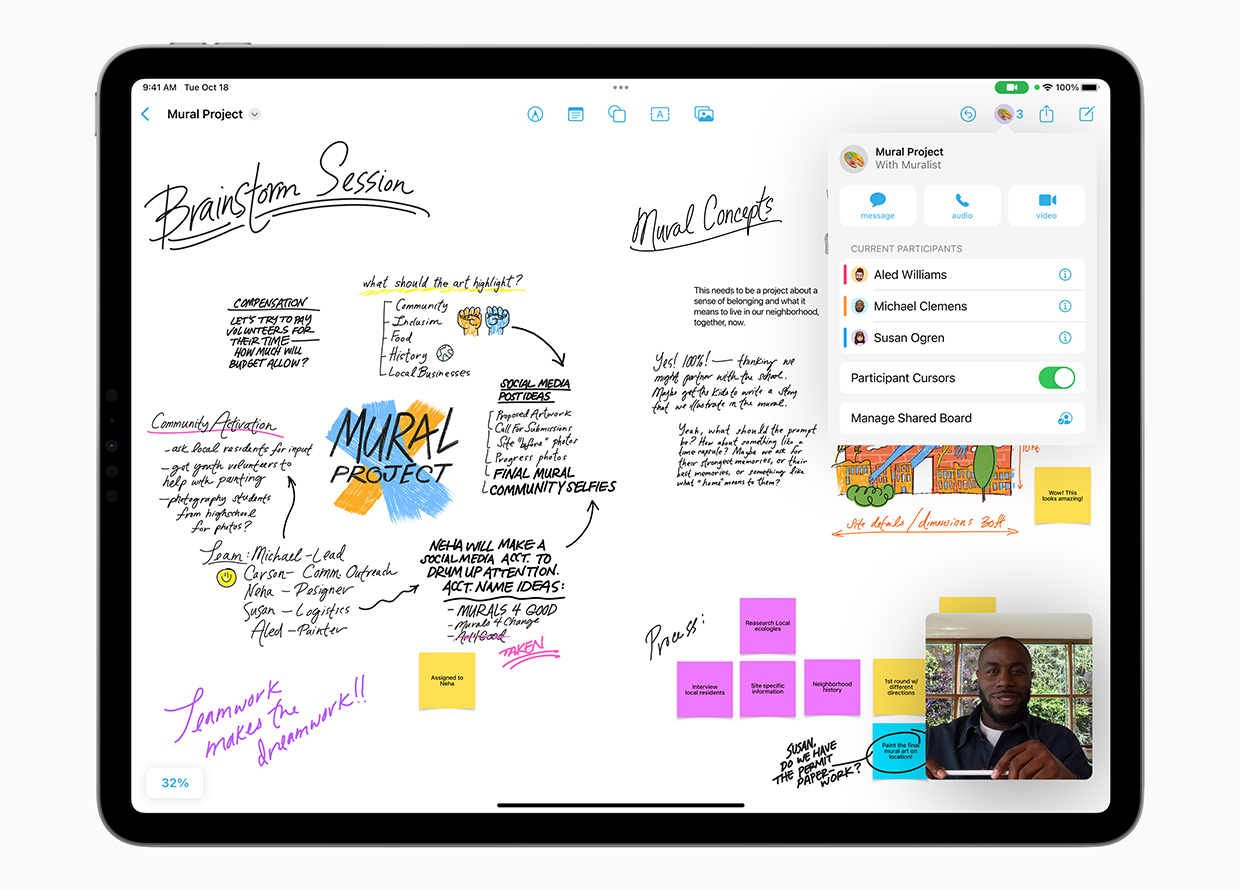 New to the Apple-verse is Freeform, a consolidated workplace that lets you and your teammates gather for the perfect whiteboard and brainstorming experience in one place. Simply put, think of it as an endless empty canvas that you can access online, but elevated—you can draw, add shapes, images, layers and arrows that move intuitively with your pictures, and create infinite mindmaps as the canvas expands. Access it from anywhere on your Apple device to sketch ideas on the go, add a wide range of files, and preview them inline without ever leaving the board. Designed with collaboration in mind, you can even FaceTime one another to visually share ideas. I've found it particularly useful planning an upcoming family trip to London; we've worked out our budgets, driving routes, places of interest and attractions, where to eat, on-the-road playlists and more on our Freeform doc and are constantly updating it when a new idea comes along.
The bottom line:
Despite the many conveniences that this device has brought me, I'd say that the iPad Pro with M2 chip is more suited to professionals who are able to make full use of the performance and creativity features of the device, whereas a regular user like me would be perfectly happy with the previous iPad with the M1 chip. Having said that, if you're willing to splurge some RM5,000++, this is definitely the best tablet there is out on the market.
For the full specs of the iPad Pro M2 chip, click here.
For more tech reviews, click here.
| | |
| --- | --- |
| SHARE THE STORY | |
| Explore More | |