How does the HP Spectre x360 2021 (Intel Evo) fare in terms of design, display, and performance for your WFH needs (and beyond)? Read on for my full review
Despite the government's decision to relax some SOPs, we're better off avoiding conventional offices (read: confined spaces) for at least a couple more months until we've reached herd immunity and are better equipped against the Delta variant (and its equally destructive counterparts).
Regardless of when that may be, one thing's for sure: a pandemic of this size and impact has changed the way we look at remote work for good. As a recruitment study titled 'Laws of Attraction' indicates, the majority of Malaysians—from Baby Boomers to Gen Zs alike—are receptive towards a WFH arrangement. Even after the WFH mandate lifts, the Malaysian Employers Federation has advised employers to consider allowing certain employees to WFH depending on the nature of the job.
Now, the question is this: are you ready to adopt a long-term WFH lifestyle? While some may be fortunate to be granted a work laptop or device, others may have to invest in one to perform their work tasks productively—especially if your existing device is well over the average lifespan of five years. And let's be real, work isn't the only good reason to buy a laptop when virtually everything (pun intended) takes place online these days.
There's a handful of decent options in the market today, not the least of which is the HP Spectre x360 2021 (Intel Evo), which ticks the boxes in terms of design, display, and performance, plus a few extra perks. Read on for my full review of this 2-in-1 convertible laptop.
Design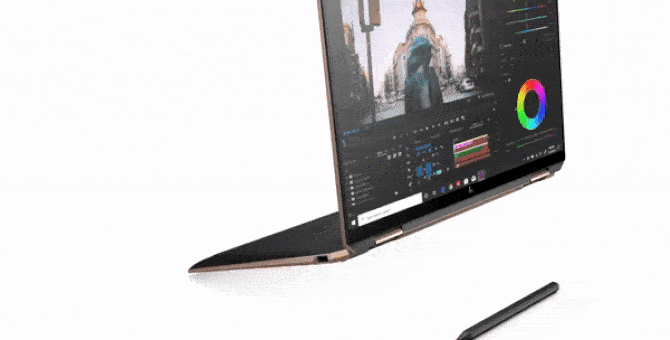 Right off the bat, the HP Spectre x360 arrives a little more compact that I had anticipated…in a good way. I'm used to 13-inch screens, but the slim, elegant machine I have in my hands is more lightweight and compact (keyword: travel-friendly) than most. No wonder it's dubbed the world's smallest convertible, with a 90 per cent screen-to-body ratio. Granted, this may not seem like the most important feature in a WFH context; but it's definitely a plus point if you're one to move around the house often (like from the bed to the desk to the couch), or for the next time you can travel or work from a café.
The next thing to catch my immediate attention is its unique, gem-cut design that utterly exudes luxury. My silver review unit is arguably the most classic option, but there's also the Poseidon Blue and Nightfall Black variants for those who prefer a dark finish.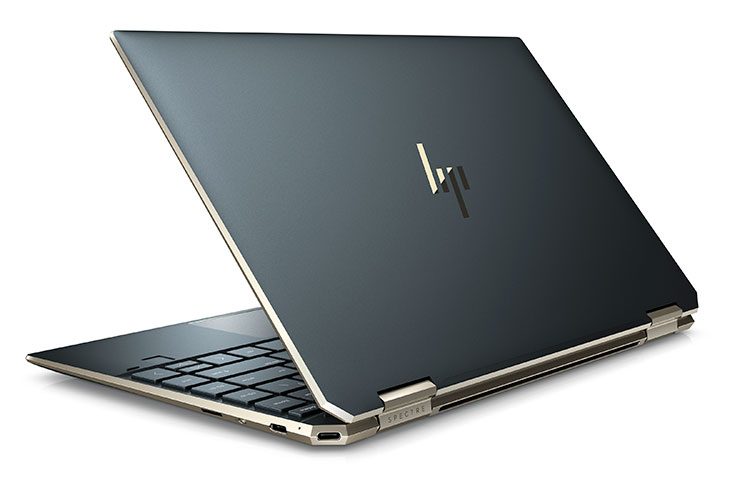 The left and right chiselled edges fit the power button and a Thunderbolt 4/USB-Type C port respectively, in addition to a USB 3.1 Type A drop-jaw port, a 3.5mm audio jack, and an additional Thunderbolt 4 port. There's also a microSD card reader and a webcam switch that provides peace of mind when it comes to camera security.
For its petite size, the HP Spectre x360 feels very sturdy thanks to its all-aluminium built. The 360-degree dual hinges are stiff yet flexible, assuring me that I can switch easily from laptop to tablet mode without much force or concerns over floppiness. So far so good.
Audio, camera and display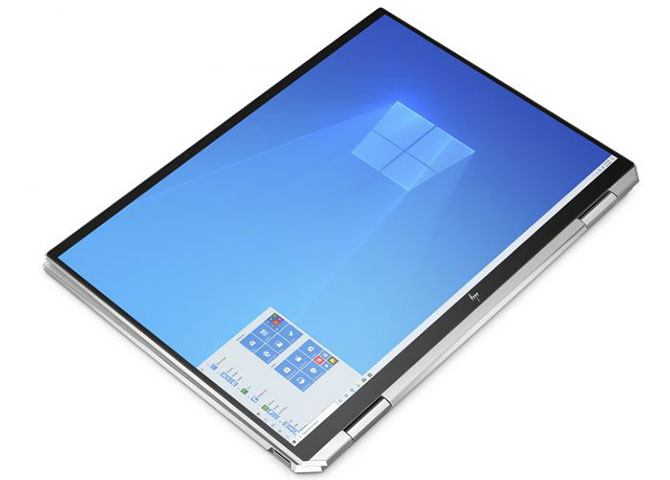 One of the key features that contributes to the HP Spectre x360's sleek form factor is the edge-to-edge display. Equipped with Intel® Iris® Xe graphics, the 13.3-inch FHD IPS WLED model I test out presents sharp and vibrant colours with minimal glare, even though my work desk is near a window with plenty of sunlight coming in. Being a convertible laptop, the touchscreen feature means I can easily browse, surf and perform tasks without using an external mouse. This is something I greatly appreciate since a lot of my work involves multitasking between tabs, folders, and softwares.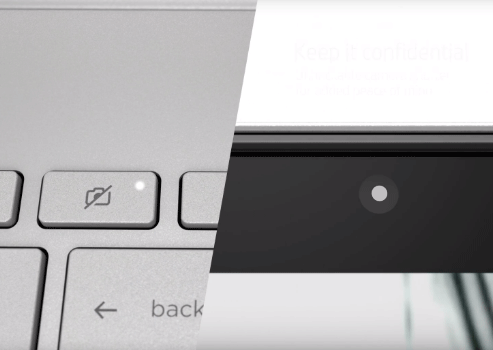 Given the impressive display, it's disappointing that the webcam doesn't do it justice with its 720p resolution. That's relatively low for a premium 2021 model (the same grievances consumers have with the MacBook). Under indoor lighting, some of my features appeared blurred out and my face looked more cool-toned than normal. It fared poorer in low-light conditions, with a lot of digital noise going on. On the bright side, there's that built-in camera switch I mentioned earlier, plus a mute button to easily turn on/off your microphone during video calls—both of which help to, well, avoid awkward situations.
In terms of audio, the laptop comes fitted with Bang and Olufsen quad speakers. Two are positioned on the top deck for normal laptop usage and two are on the bottom for media presentation and tablet mode. They aren't outstanding, but they'll provide enough range and a decent bass for the average user to play a variety of bops and bangers, from Ed Sheeran's 'Bad Habits' to everything else on this travel-inspired playlist. (I reckon serious music enthusiasts will prefer headphones anyway.)
From a writer's perspective, I also have to add that the HP Spectre x360's keyboard was one of the best laptop keyboards I've used. The keycaps are wide, the travel distance is great for someone like me who's a slightly loud typer, and the switches are comfortable for a full day of typing.
Battery and performance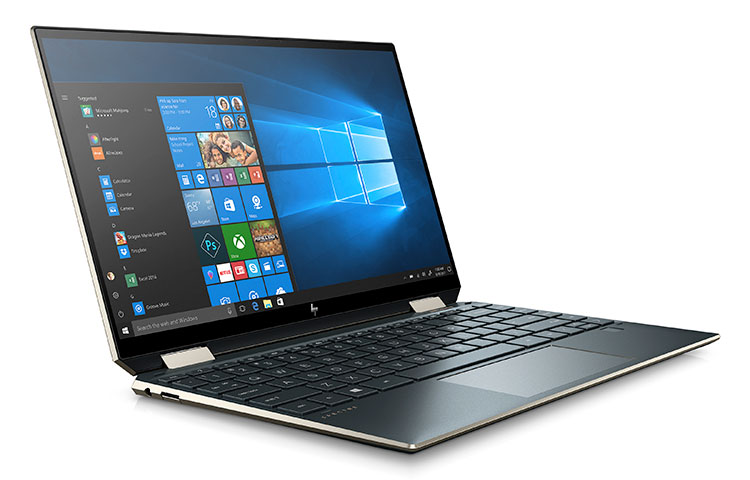 Now let's talk performance. The HP Spectre x360 2021 edition boasts the new Intel Evo platform, paired with 11th Gen Intel® Core™ processors and 16GB of RAM. I was able to perform several computing tasks, browse multiple tabs on the Internet, play Spotify, attend virtual events and meetings, binge-watch Netflix and Disney+ Hotstar (at different times, of course—alas, I'm only human), and play Overcooked smoothly with no noticeable lags. The only thing I'd nitpick on from my experience is the few times when the fans started whirring, though that didn't really affect execution.
As for battery life, I was pleasantly surprised that I managed to clock in at least nine hours doing the aforementioned tasks, while staying logged onto BURO Malaysia's "virtual office" (note: we use a template on Gather Town that takes up quite a bit of RAM). There was even enough juice for me to catch half of Harry Potter and The Prisoner of Azkaban over a Discord call before I had to plug it into the power source.
Speaking of charging, the HP Spectre x360 gains half of its battery with just a 30-minute charge. That's about the time I need for my evening shower after a day's work, which works out for me to unplug it after and convert it into a standing tablet on my bed for Netflix time. All work and no play makes this writer a dull girl, after all.
Overall verdict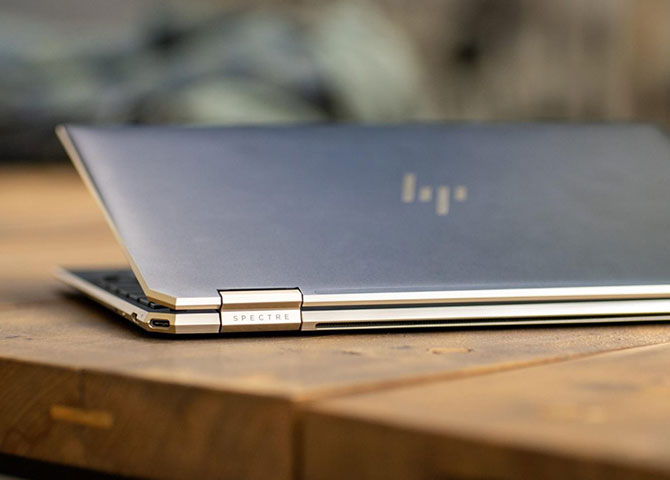 As I mentioned at the start of the article, the HP Spectre x360 (2021) hits the nail on the head where it matters. It features a stunning, travel-friendly design; a smooth, clear display with added versatility in tablet mode; and powerful processors backed by long battery life. If you can excuse the webcam quality and loud fans, it's a solid choice for not just your WFH needs, but also for all-around personal use and entertainment. 
The HP Spectre x360 (Intel Evo) is available at authorised reseller partners as well as HP's online stores on Lazada and Shopee. Prices start from RM5,699.
For more information, visit HP Malaysia's website.
Read more gadget reviews and updates here.