We live in an age where WhatsApp, Zoom and Google Meet have become the go-to platforms for both work and social interactions. While nothing beats in-person conversations—unless you're trying to avoid someone—we're grateful to have online options that make WFH meetings and personal catch-ups possible.
With that said, the aforementioned platforms are not without limitations. It's not just the audio and Internet lags or the awkward silences in between that are frustrating. When you've gone through meetings after meetings with faces and presentations shoved in your face through small rectangular boxes on another bigger rectangular box (read: screen), you're bound to get jaded after some time. There's even a term for it: 'Zoom fatigue' (no hate to Zoom; this applies across all video conferencing platforms).
What if there was an alternative to make virtual meetings more bearable, or dare we say, enthusing? Well, wonder no more—here are seven virtual reality spaces that are reimagining video conferences of yesteryear for tech-savvy users of today.
Gather Town—Meet in 8-bit worlds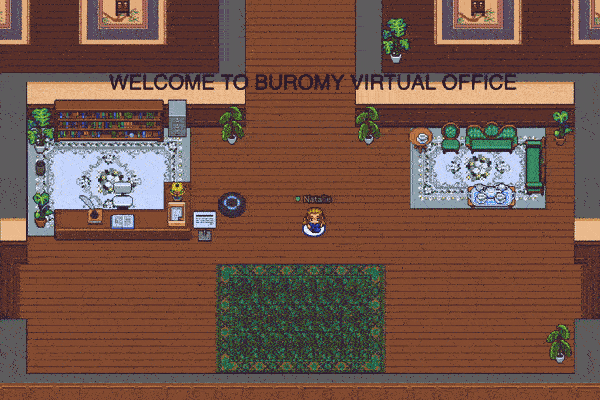 One of the more popular options today, Gather Town (formerly known as Online Town) is sort of a cross between Zoom and an 8-bit videogame. It allows you to create themed virtual spaces from scratch or based on a reasonable selection of templates, which include office complexes, conference rooms, schools, islands, castles, and more. As the platform operates on a browser (preferably Chrome for the best performance), users can easily switch between different spaces by keeping multiple tabs on.
Each user will appear as a pixelated avatar to navigate rooms, interact with objects (which can be embedded with a file, link, game, image, video, and more), or chat with colleagues, friends and communities within each world. Like Zoom, you can easily turn on/off your camera and microphone, share your screen, and use the chat box. What's cooler, however, is that you can also have private conversations with one or more users within the same world, by entering a 'private space' together or simply moving away from other users. This is called spatial technology—a recurring term you'll see for other platforms on this list. For a fun games night activity, there are also escape rooms you can explore together!
For more information or to try the platform, visit gather.town.
Kumospace—Customise your own virtual space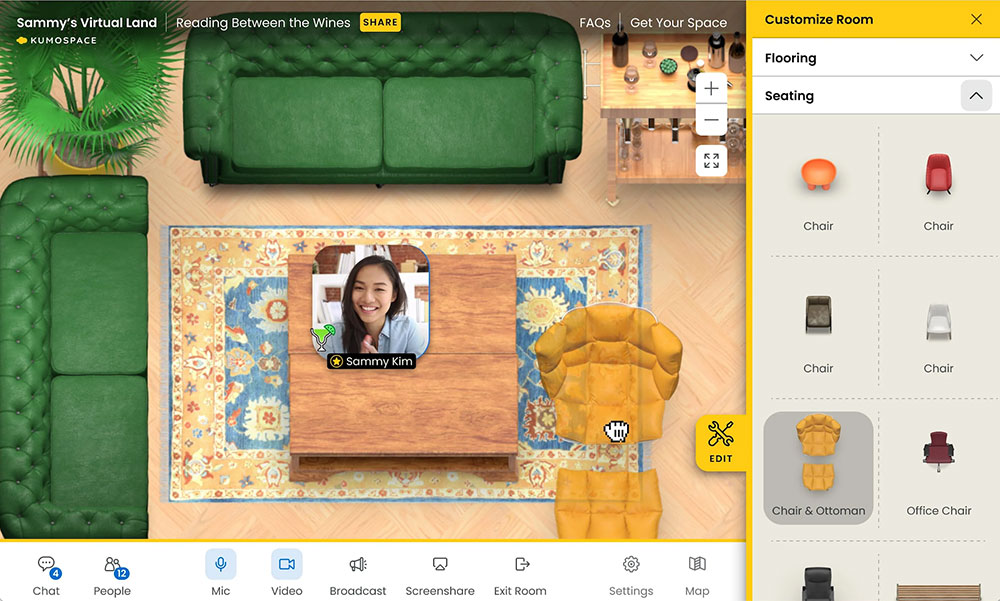 Kumospace is another popular platform for both work and play in a virtual yet realistic setting. It allows you to build Custom Spaces from scratch or add personalised touches to pre-made templates, such as logos, music, furniture, YouTube videos, and so many other cool elements. Features include video conferencing, spatial audio, screen share, chat, broadcast, and protected spaces, so users can see who's online and easily interact with one or more other users within the same virtual space.
In addition, Kumospace allows multiple users to co-host virtual events, which is ideal for special occasions, interactive workshops, or even formal presentations. The platform offers new "drops" every week, including virtual furniture and apps, to help keep spaces fresh and fun—like a simulation game of sorts.
For more information or to try Kumospace, visit kumospace.com. 
Mozilla Hubs—Experience virtual reality scenes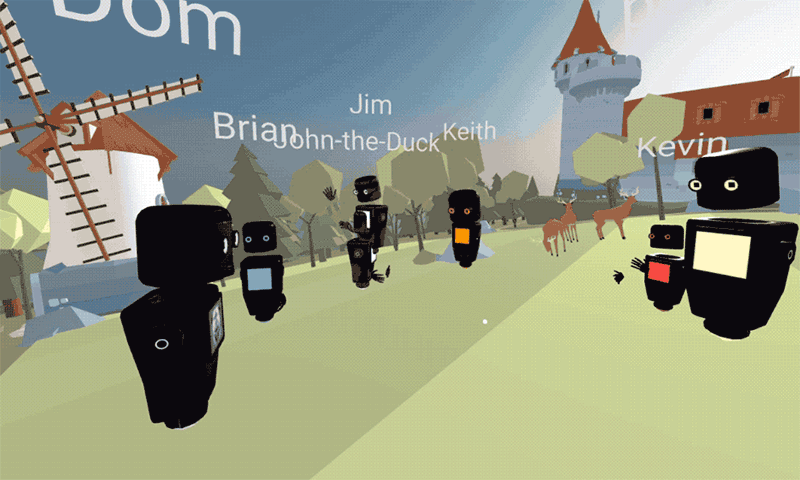 For an alternative virtual reality experience, there's Mozilla Hubs—or simply, Hubs. Created by the guys behind Firefox, Hubs is optimised for VR devices but perfectly operational on desktop or mobile browsers, although some may find it nauseating. You can create 3D virtual 'scenes' such as an outdoor festival, museum, or even a mad scientist's house and invite others into the room via a shared link.
Unlike Gather Town, the scenes are not fixed to a room, so you can always change the scene without having to create a new room for the same group of users. You can make use of the 'billboards' in each scene to broadcast your audio or video to the whole room, or simply drop PDF files, images, audio and video clips, drawings, and even 3D models (glb format) anywhere around the room.
For more information or to try Hubs, visit hubs.mozilla.com.
Wonder—Network with like-minded users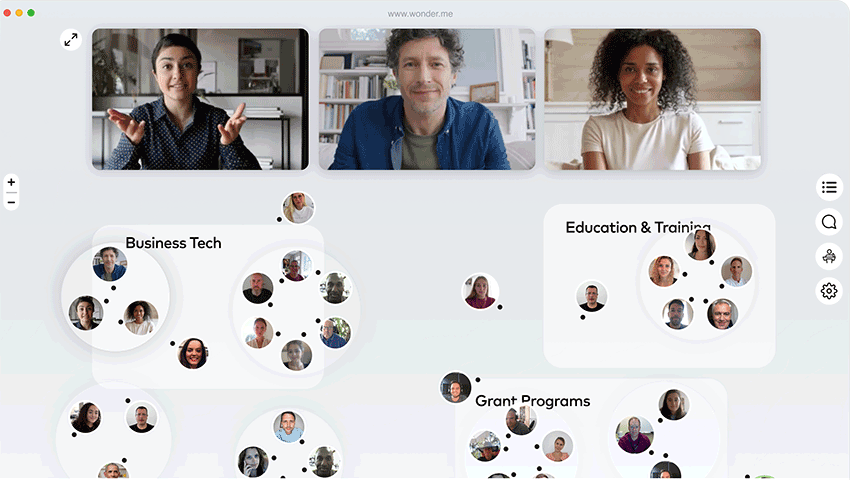 If you're going for something straightforward that's more suitable for professional settings and networking events, Wonder fits the bill. There are no special templates or worlds to explore—just a simple room with optional "room areas" defined by boxes, which give the space some structure. For example, the host for a room designed for an investment talk may split room areas into stocks, cryptocurrency, NFTs, etc. so users can navigate to the area that fits their interests and meet like-minded people.
Each room can host up to 1,500 users at a time. Users appear in small bubbles with static profile images, which makes it easy to see more faces on the screen at a glance. Video chats will appear only when two or more users are within proximity, with the option of 'locking' the chat to maintain privacy. However, interactions are limited to text (using the chatbox), audio, and video, so you can't share files, images and the like.
For more information or to try the platform, visit wonder.me.
Here—Brainstorm ideas on a canvas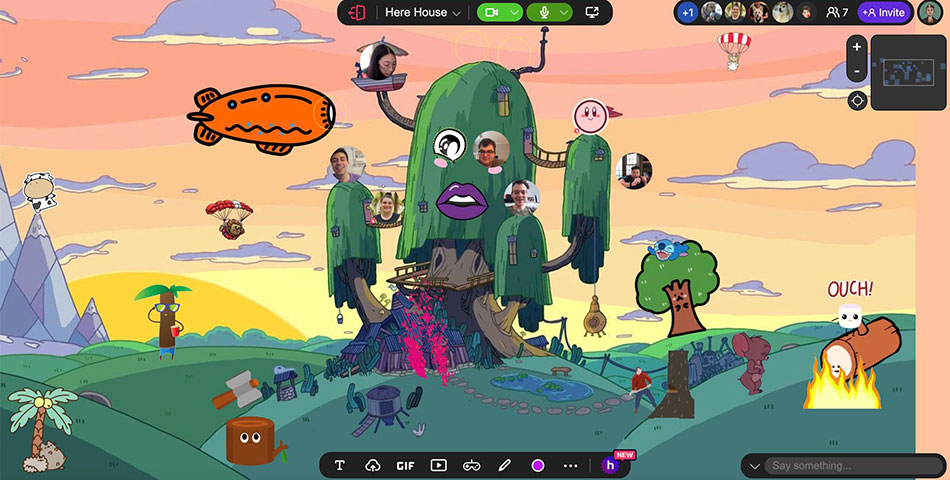 Think of Here as a virtual scrapbook of sorts, where each room serves as a canvas for users to pin images, videos, documents, text, GIFs, games, doodles, and so on. Each user will appear in a circular bubble with their profile image/video (depending on whether the camera is turned on).
<
There's a wide variety of templates to play around with, from moodboards and workshops to movie themes and date night settings. These templates will appear as a 2D background with pre-selected GIFs and elements, which users can add, edit, delete, or move around the canvas as they please. Work/professional templates are rather limited though, but it may still be worth considering for brainstorming sessions or if you're in creative industries. Otherwise, try it for games night and chill hangouts!
For more information or to try the platform, visit here.fm.
Topia—Hangout in illustrated worlds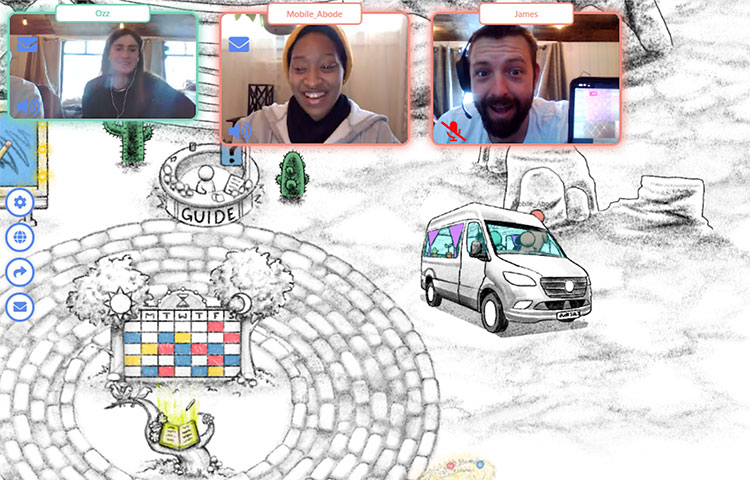 Topia is another option to create your own virtual world, especially if you're fond of children's book illustrations (in a good way!). The template selection isn't extensive, but there are plenty of assets to add on to your world later on. You can build virtual offices, holiday-themed settings, festivals, towns, or wherever your imagination takes you.
Like the rest of the platforms above, it uses spatial technology, so audio and video chats fade in and out as you approach or walk away from another user. Only admins of each world can add elements, links, and videos, but anyone can be assigned an admin role by the creator of each world. However, the options for collaboration and file sharing are quite limited and navigation responses aren't as smooth as we'd like (in our experience), so there's still room for improvement for now.
For more information or to try the platform, visit topia.io.
Branch—Interact in virtual offices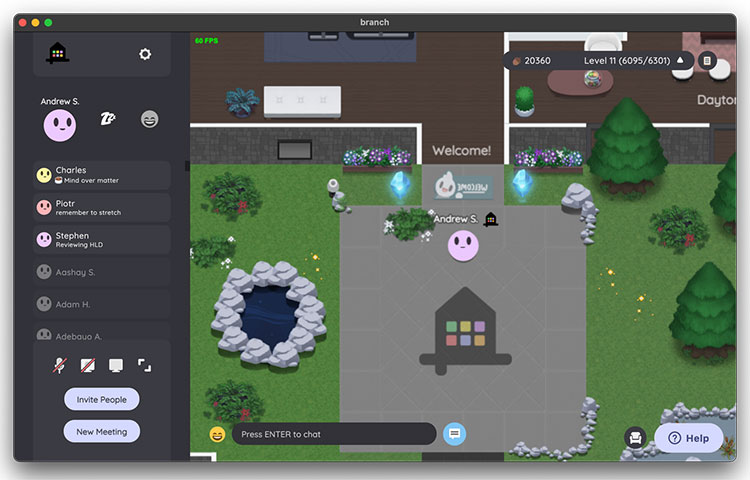 Branch combines the fun and experiences of a virtual world with an easy-to-use interface that's passive enough that you won't have to spend much time briefing friends and/or colleagues on what's what. Developed by two co-founders who used to run Minecraft servers, Branch currently only allows you to create a 'branch' from a ready-made virtual office template or from scratch. Users can embed videos on the TVs and computers in each room, draw on whiteboards via the integrated Excalidraw+ app, converse via the live chat box, and share their screens for presentations.
Each user in a branch appears as a coloured talking emoji, which captures the look and feel of live interactions. Spatial technology allows audio and video chats to pop up only when you're near other users. For more privacy, users can gather in a room and close the door, which bars anyone else from entering (though knocking is allowed, like in the real world). To gamify the experience, users can also complete daily tasks to earn acorns and level up.
For more information or to try the platform, visit nation.branchbeta.com.
| | |
| --- | --- |
| SHARE THE STORY | |
| Explore More | |