How do you upgrade a vacuum that's already at the top of its game? Dyson's answer is to add a laser, and it's more than just a gimmick
Have you ever gazed at the sunlight streaming into your home and noticed these dust particles floating in it? I have, and I wished there was a machine equivalent to a black hole that would continuously suck up every dust particle in my house. The closest is a vacuum, but I imagine something more automatic—like a reverse diffuser. Rant aside, that very sight was what inspired Dyson engineers to implement their vacuum cleaners with laser detect technology. Hence, the Dyson V12 Detect Slim (or, in other countries, the V15). Read on for a breakdown of my review.
LASER DUST DETECTION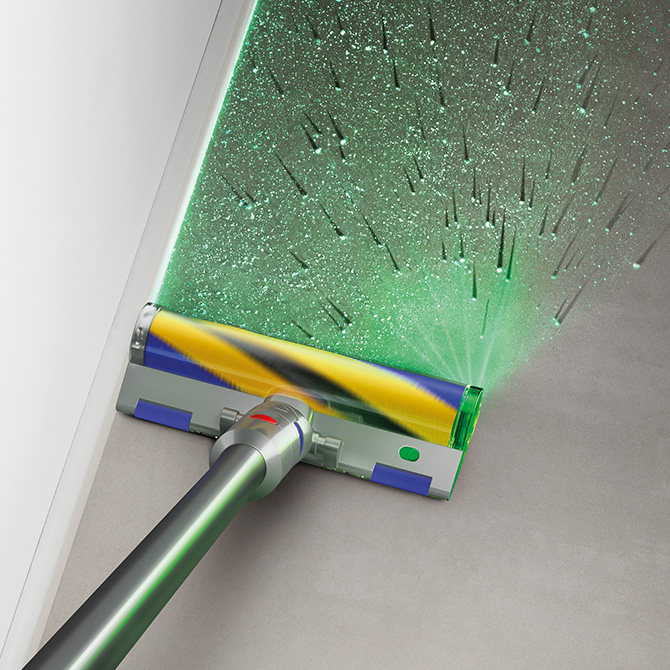 Some might think it a gimmick, but like most, if not all, of Dyson's machines, every tech and piece built within serves a purpose. The precisely-angled—1.5-degree angle plus 7.3mm off the floor—green laser diode integrated into the Fluffy cleaner head is designed to reveal "hidden dust" as small as 10 microns that would otherwise go unnoticed. To illustrate, the diameter of a human red blood cell or the thickness of a plastic cling wrap is 10 microns.
While the green laser helps you spot particles as small as 10 microns, the entire Dyson V12 Detect Slim, with 150 air watts of powerful suction and five-stage filtration, can suck up 99.99 per cent of dust particles as tiny as 0.3 microns. If you think about it, that includes bacteria and allergens, although the other Dyson vacuum cleaners offer a similar level of deep cleaning.
And so, when it comes to capturing bacteria and allergens, Dyson has long gained my trust. However, the laser detect technology has proven extremely useful for a pet owner like myself. Having two cats, I never realised how much they shed until I used a Dyson vacuum cleaner. The Dyson Omni-glide revealed a whole bin of pet fur after just one round on the carpet. The Dyson V12 Detect Slim, on the other hand, reveals them all on the floor (which is everywhere), along with the tiniest speck of dust particles. The only issue is that the green laser is visible in dark areas like under the couch or in the dark, like at night, with the lights switched off. Of course, it was probably built with the former in mind, but it's almost addictive for the OCD me to capture them all under the green light and watch the vacuum reveal an almost speck-less floor.
SCIENTIFIC PROOF OF EVERYTHING THAT GOT SUCKED UP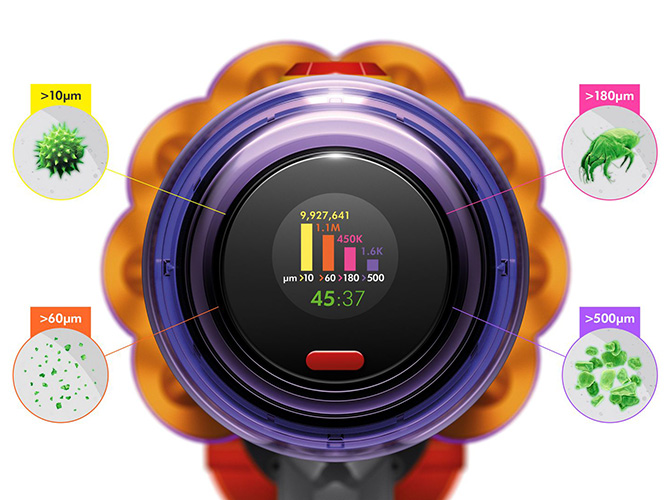 To further prove that the Dyson V12 Detect Slim's laser detect technology isn't just a fanciful feature, the vacuum is also equipped with an acoustic piezo sensor. This sensor calculates the size and quantity of the microscopic particles 15,000 times a second. The results are then showcased on the LCD screen at the back of the vacuum, and the amount might shock you—at least, it did for me. From pollen and pet allergens to mould spores and dust mites to particles the size of sugar and fleas, the numbers could easily jump to five, six or even seven figures. The numbers can always be reset by simply re-attaching the click-in battery. In addition, the LCD screen also shows you the remaining run time, alerts and cleaning mode.
ANTI-TANGLE TECHNOLOGY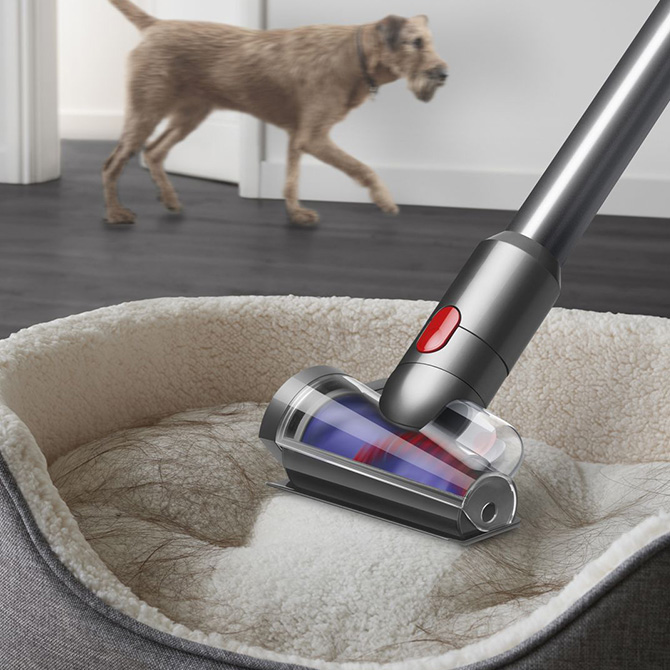 As a pre-existing Dyson user prior to testing out the Dyson V12 Detect Slim, I can attest that the worst part about cleaning out the Dyson vacuums is hair tangled up on the Fluffy cleaner head. It's difficult and almost impossible to remove every strand altogether. For the Dyson V12 Detect Slim, however, the problem is made obsolete with the new anti-tangle hair screw tool. Whether it's human or pet hair, of any hair type, the conical brush bar simply spirals hair off and into the bin. If you're purposefully cleaning a pet bed, for example, then it works because you merely attach this tool versus the Fluffy cleaner head. But if you're doing a general clean, the Direct Drive Cleaner Head is equipped with de-tangling technology.
OTHER PROS OF THE DYSON V12 DETECT SLIM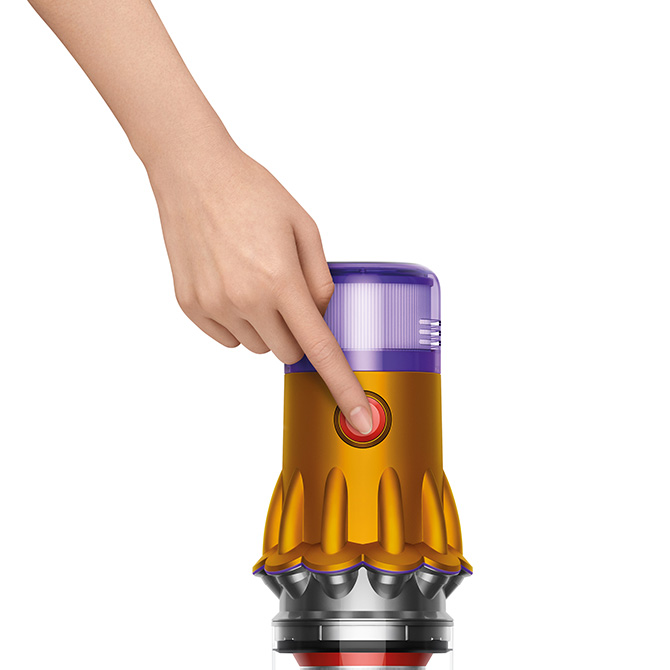 Like the other Dyson vacuums, there are three cleaning modes: Eco (for an everyday clean that offers 60 minutes of fade-free suction), Auto (averages at 45 minutes of run time), and Boost (for the more difficult surfaces such as carpets, rugs and mattresses). I prefer to keep it on Auto since the acoustic piezo sensor automatically adjusts the suction power based on the dust concentration levels.
The single press power button on the barrel is another much-appreciated function compared to the older models where you have to keep the finger on the trigger as you clean. Plus, it's cordless, slim and lightweight, proving easy to use even for low angles such as under the coffee table or chair.
CONS OF THE DYSON V12 DETECT SLIM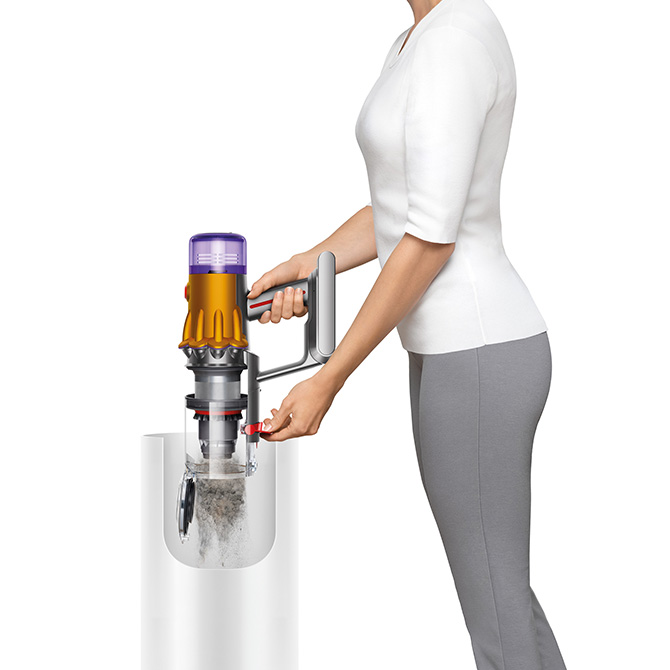 On the note of its slim and lightweight build comes a slight compromise: a humble-sized bin at 0.35L, which is the same as the Dyson Omni-glide. In contrast, the bigger Dyson V11 Absolute+ offers a 0.54L bin, while the non-locally available Dyson V15 has a 0.2-gallon bin (approximately 0.9L). I live in a two-storey terrace house, and if I were to vacuum twice a week, I would need to empty the bin about three to four times. Previously with the Dyson V11 Absolute, it would just be once or twice.
IS THE DYSON V12 DETECT SLIM FOR YOU?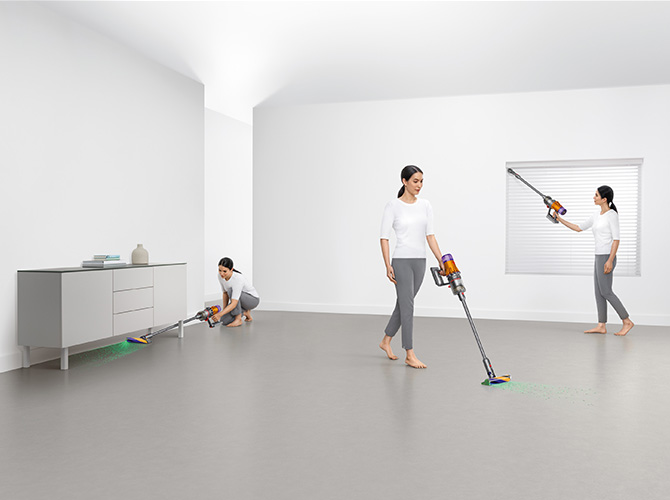 I'm generally satisfied with the Dyson V12 Detect Slim's suction power (150 air watts with 11 cyclones), but for those who prefer something more powerful, note that the Dyson V11 Absolute+ delivers 185 air watts with 14 cyclones. Considering its size and build, I would recommend the Dyson V12 Detect Slim to anyone living in an apartment or a single- or double-storey terrace house. However, if you live in a double-storey terrace house like myself, be prepared to detach and attach the bin a few times to empty it. If you prefer Auto mode, expect the battery to run out mid-way when you're thoroughly cleaning the whole house. Alternatively, you can purchase another click-in battery for uninterrupted use. Overall, the laser detect technology does make the Dyson V12 Detect Slim worth it. In my case, it also makes house chores more fun. There, I said it.
The Dyson V12 Detect Slim Total Clean retails at RM3,599 and is available at www.dyson.my, Dyson Demo stores at The Gardens Mall and Mid Valley Southkey, and Dyson Service Centre & Store @ TTDI.