Dyson's latest V11 vacuum doesn't look vastly different from its last one... so what's new? Here's my quick review after a month with it
In a world of fast-paced technology advancements and a myriad of gadgets for (almost) every purpose and budget, it's easy to forget that home appliances are also, essentially, tech gadgets. More so when it's a product by a company such as Dyson that has spent countless hours (and dollars) into meticulous research for every aspect and part—even the tiniest component—of a product. And they have many of those. I know because I visited Dyson's research and development facility as well as its Advanced Manufacturing facility—both located in Singapore. Besides R&D, the former also houses a semi-anechoic chamber that tests the sound of every product; that it's pleasing to the ears while maintaining performance.
The latter facility specifically manufactures and assembles the "heart" aka the digital motors for every Dyson product, be it the Supersonic hairdryer, the Airwrap styler or the cord-free vacuum cleaners such as the V11 (which is the name of the motor itself). Fun fact: A completed Dyson digital motor is produced every 2.6 seconds, and each is built and assembled using dozens of highly automated robotic arms. Precision is key while perfection is the goal. And that brings us back to the Dyson V11 vacuum; and its pride and joy—its new digital motor which the company feels signifies the end of corded products as it's lightweight and yet still does its job.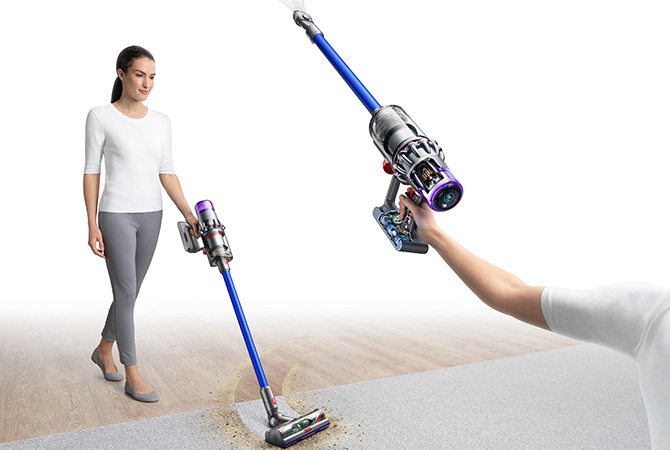 So how well does the Dyson V11 Absolute do its job? My review: Pretty great, actually. Official numbers from Dyson claim it captures 99.97% of particles as small as 0.3 microns (read: bacteria, pollen and the like); and it runs for up to 60 minutes of fade-free floor cleaning thanks to its super powerful battery. Performance-wise, it works splendidly but so did its predecessors. The difference goes beyond a powerful digital motor (20 percent more suction power than the Dyson Cyclone V10) and battery pack. The difference is that it's also called an intelligent vacuum and Dyson isn't just saying it. It's true.
Is it usually a hassle to physically change cleaner heads according to your floor type? Or potentially just face some resistance? The High Torque cleaner head with Dynamic Load Sensor (DLS) system takes care of that by automatically switching gears between carpet and hard floors upon detection. Is it hard to figure out why your vacuum isn't working like it should? The new LCD screen will answer all your questions, displaying not just the cleaning modes (Eco, Auto and Boost) and remaining run time in real time, but also whether it's time to clean the filters; if there are any blockages (and how to clear them); and if the filter isn't connected properly. Is operating a vacuum, changing its multiple attachments and disposing the dust bag often some of the many reasons you rather pick the traditional broom? Dyson's vacuums and its throng of attachments (for every kind of corners and floor textures) operate with a simple push and click. Align the parts together and click them together. Done. Point the V11 into a dustbin, pull the red lever and the flap quickly opens to "shoot" out everything it has sucked up straight into the bin. Done.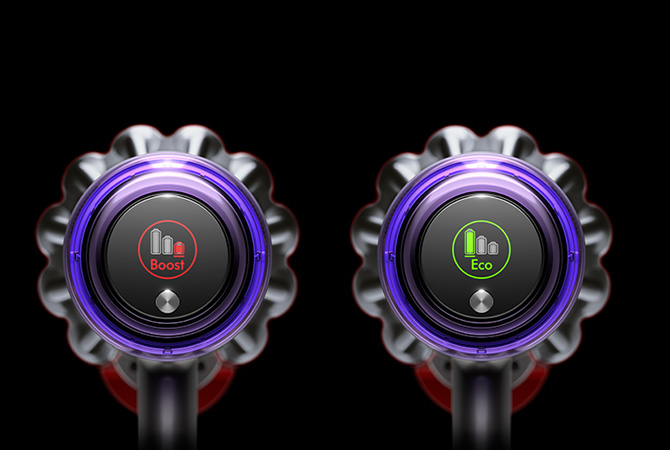 Essentially, the Dyson V11 Absolute cord-free vacuum is a dream come true but there's still definitely room for improvement. For starters, pressing on the trigger to use is easy but not ideal if you're cleaning for 20 to 30 minutes straight. More so if you're lifting it to clean anywhere off the floor—because, with that big battery pack, comes a bit of a weight. Personally, those are probably the only two gripes I have with the V11. Noise-wise, it's considerably softer but don't expect it to a quiet beast either. At the very least, it's not hurtful to the ears. If you're looking for cons on the V11, you can tell I'm having difficulty reporting any. Let's just say: I finally enjoy vacuuming over sweeping the floors. And since it's also handheld, I can literally vacuum everywhere. It sparks joy so I think Marie Kondo will let me keep it.
The Dyson V11 Absolute cord-free vacuum is now available at RM3,399 from shop.dyson.my, the Dyson Demo at The Gardens Mall and major departmental and electrical stores.
The giveaway is now closed. Congratulations to the following winner:
GIVEAWAY ALERT: You can win a unit of the Dyson V11 Absolute cord-free vacuum right here by following the steps below:
1. Hit the "Like" button and "Follow" Buro Malaysia's Facebook Page
2. Like this Facebook Post
3. Fill up the Giveaway Form as shown below
4. Share the Facebook Post with the
#BuroGiveaway
(Be sure your share settings are on Public)
5. Drop us a comment after completing the above steps!
Create your own user feedback survey
Terms & Conditions
The giveaway runs from Today, 1 August 2019 till Thursday, 15 August 2019. Winners will be announced on Monday, 19 August 2019 on this page. By joining this giveaway, you will be automatically subscribed to our Buro Malaysia e-newsletter. Other terms and conditions apply*.

1. Employees of Buro Malaysia and its related corporations ("Indochine Media Ventures") or Buro Malaysia partners and/or sponsors for the giveaway (if applicable), and their immediate family members (including spouses, children, parents, brothers and sisters) are not eligible to participate in the giveaway.
2. Winner of this giveaway is chosen at random.
3. This giveaway is organised by Buro Malaysia (hereinafter referred to as the 'Organiser').
4. The prizes for this giveaway are neither exchangeable for cash nor transferable.
5. All persons ('Participants') taking part in this giveaway agree that these rules shall be binding on them, and that the entries in this giveaway, including their name and likeness, may be used without restriction in any future publicity material by the Organiser.
6. The Organiser reserves the right to amend these rules or terminate the giveaway at any time at its sole and absolute discretion. All decisions made by the Organiser under these rules shall be final and no discussion or correspondence will be entertained. The Organiser may, but is not required to, justify any decisions relating to this giveaway.
7. The Participant acknowledges that the interest and good reputation of the Organiser are of paramount importance. The Organiser reserves the right to disqualify a Participant from the giveaway, or to withdraw the prize if it is believed the Participant is in breach of its obligations under the rules. The Participants shall not by act or omission, directly or indirectly bring the Organiser into disrepute.
8. All entries are sent at the risk of the Participants and in the event that there are technical difficulties experienced arising out of the internet or from any associated equipment or internet security is compromised, the Organiser may at its sole and absolute discretion disqualify the entire entry and shall not accept any liability doing so.
9. Giveaway entries may only be submitted via the stated medium of communication.
10. This giveaway is open to anyone above 18 years old.
11. Each entry must be completed in full. The Organiser reserves the right to disqualify any incomplete entries in its sole and absolute discretion.
12. Participants shall only submit one entry and multiple entries of the same shall be treated as 'spam' and shall be ignored.
13. Incomplete entries will be deemed void.
14. Winners will be notified by email.
15. Uses of 'aliases' shall be considered a form of deception and are prohibited.
16. The winner must produce their original IC / passport with legible IC / passport number in order to claim the prize. The winner may also be required to produce additional original proof of identity at the discretion of the Organiser.
17. All Prizes are accepted entirely at the risk of the winner, and the Organiser excludes all warranties in connection with the prize to the extent permitted by law.
18. All Participants release from, and indemnify the Organiser, its agencies, sponsors and representatives against, all liability, cost, loss or expense arising out of acceptance of any prize or participation in the giveaway including (but not limited to) personal injury and damage to property and whether direct or consequential, foreseeable, due to some negligent act or omission or otherwise.
19. All personal particulars furnished are meant for identification purposes and will not be sold or given to any third parties. In the case of giveaways, our partners may wish to offer you services which require your personal particulars. These specific requests will be expressly stated within relevant giveaways, with a choice to opt out.
20. Inability to contact the winner by Thursday, 22 August 2019 will result in disqualification and selection of an alternate winner.
21. Winners must collect their gifts from our office in Mont Kiara within 1 month of notification.
22. Prizes are final; no cash equivalent or alternative prize will be given. Prizes are non-transferable, non-exchangeable and strictly not for resale. If the winner is found to be selling the prize(s), the Organiser reserves the right to demand the return of the prize.