Dyson Malaysia has just released the new Dyson Omni-glide+ cordless vacuum, and I was among the few to have first dibs to review it
By now, most people would already be familiar with Dyson vacuums. I have, after all, given my one-minute Tick Tock Tech Talk reviews on the Dyson Digital Slim Fluffy Extra and the Dyson V11 Absolute. So unless the brand launches a robot vacuum, I thought I wouldn't be too impressed with what they had to share next. But, it turns out, I had to eat my words like how the vacuums eat dust bunnies.
The Dyson Omni-glide vacuum puts itself in a new territory in familiar waters. At a glance, it looks similar to its predecessors. You can spot that red-and-blue Fluffy cleaner head, the red click-and-lock buttons, the dash of purple and the clear bin, and how it's cordless. And yet not quite because the most obvious difference is that there are two counter-rotating brush bars as one new omnidirectional Fluffy cleaner head. It's a first for Dyson, which they added was designed for Asian households (hard floors being more common than carpeted ones).
Does it change the cleaning game? Quite a bit for this Konmari enthusiast (a clean house sparks joy!). Let me break it down, based on my experience of using all three of the Dyson vacuums mentioned above:
View this post on Instagram
It's lighter and smaller in build
Compared to the higher-end V11 Absolute model, the Dyson Omni-glide weighs almost a whole kilogram lighter at 1.9kg. This is mostly thanks to the new design—the battery pack now sits in the handle, so the weight is more balanced. Granted, it's also a tad shorter. So if you previously felt that the Dyson vacuums were too bulky for you or your home, the Dyson Omni-glide would fit in nicely. Plus, due to its size, it can easily be transformed into a handheld cord-free vacuum too.
However, that affects the bin capacity and battery
The Dyson V11 Absolute (0.54L bin volume) runs for up to 60 minutes (4.5 hours charge time)
The Digital Slim Fluffy Extra (0.3L bin volume), up to 40 minutes (3.5 hours charge time)
The Dyson Omni-glide (0.2L bin volume), up to 20 minutes (3.5 hours charge time).
On the bright side, the Dyson Omni-glide, like the Digital Slim Fluffy Extra, has a removable battery, so you do have the option to purchase a second battery pack. As for the bin capacity, in comparison, it is half of the V11's, but realistically, it's more than enough for cleaning an average two-storey terrace house.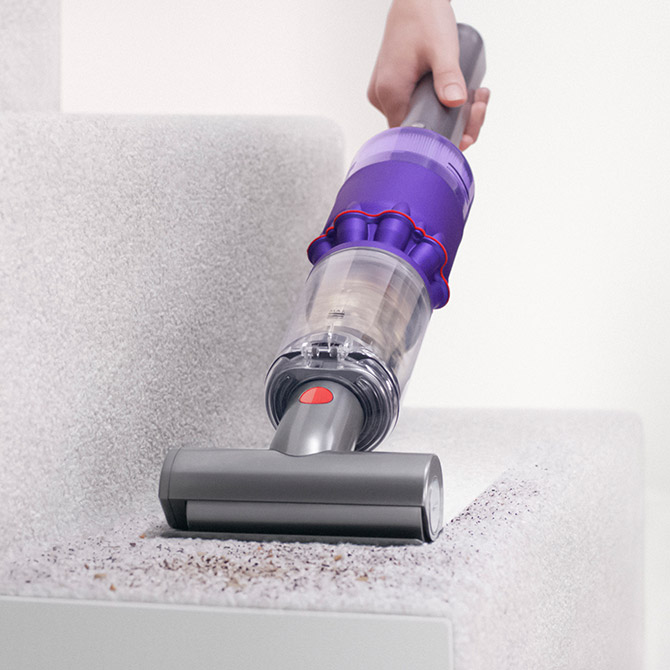 What's the deal with the omnidirectional Fluffy cleaner head?
You can literally move it however you like—forwards, backwards, sideways—which works well for tight spaces too. It's almost instinctive! Due to its in-line format, you can easily place the machine flat on the floor for the areas under the sofa or between furniture too. In some ways, it's almost like a robot vacuum, I guess.
It's still a powerful vacuum with no loss of suction
The Dyson Hyperdymium motor spins at up to 105,000 rpm, and the engineers have retained the Dyson five-stage filtration proprietary technology, despite the more compact build. Essentially, just know that it's still able to pick up 99.99 per cent of particles, down to the finest dust (as small as 0.3 microns, which is 100 times finer than human hair). What comes out is just clean air—cleaner than the air inside your house, in fact—thanks to the eight radial cyclones. I can attest to this. Having two cats, I never realised how much of their fur drops around the house until I did a one-time sweep with the Dyson Omni-glide around my living room, and the bin picked up a ball of fluff the size of a ping pong ball.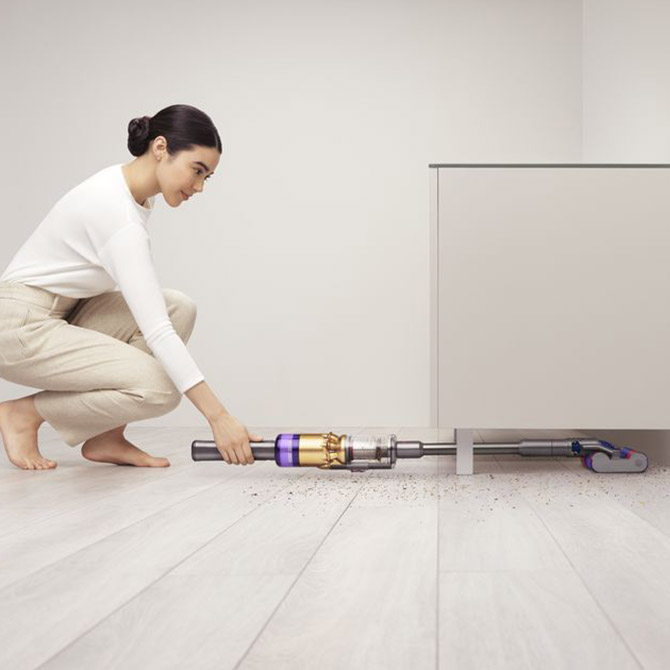 Dyson's first button-operated cordless vacuum
The classic trigger that I 'complained' about in the last two reviews is finally replaced with a power button (and a second Max button). And what a joy it is to swivel the vacuum around obstacles without having to apply pressure to the trigger.
It comes with the essential attachments
Besides the omnidirectional Fluffy cleaner head and wand, there's also the combination tool, mini motorised tool, combination tool, worktop tool and the popular light pipe crevice tool. In my opinion, that's really all you need. However, note that not all attachments will be compatible with the older Dyson vacuum models as the Omni-glide was designed from scratch.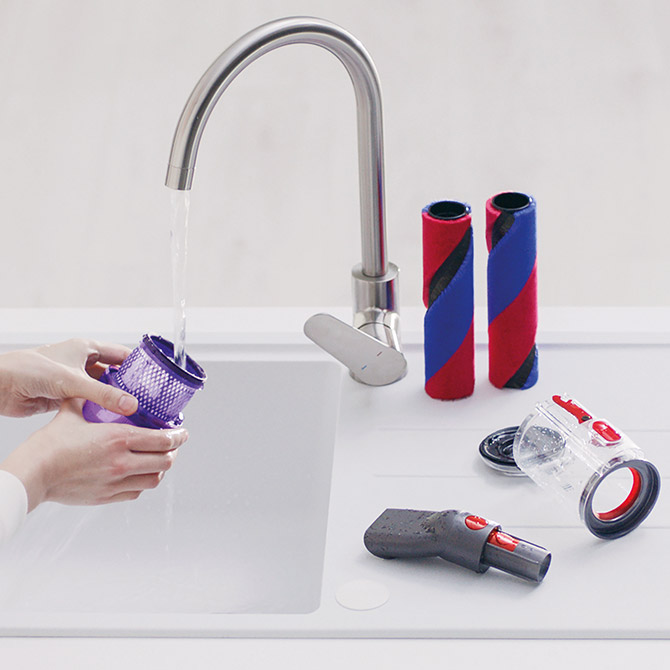 It's easy to clean the machine that cleans for you
Like its predecessors, the Dyson Omni-glide utilises an ejection mechanism to dispose of everything it caught in its bin. If said bin is looking dusty, just remove it and wash it with water. In fact, the filter, Fluffy cleaner head and any tools without electronic components can all be washed, and then left out to dry before attaching them all back.
Who is the Dyson Omni-glide for?
Dyson designed the Omni-glide cordless vacuum especially for frequent cleaning use and for hard floors. And true enough, due to its entirely new design and form, vacuuming doesn't seem much of a chore (or workout). Don't judge—but seeing the amount of dust and debris it picks up is immensely satisfying. And if you have a habit of vacuuming every few days, the shorter run time and bin volume are more than sufficient. My only complaint is the lack of a digital screen—though there's probably nowhere to place it—that would have been able to indicate the remaining run or charge time. However, bear in mind that it might not be so suitable if you live in a large house, in part due to its shorter length. For that, the V11 Absolute would be a better fit. Otherwise, those living in a city apartment will find it a worthy investment.
The Dyson Omni-glide + vacuum is priced at RM2,199 and is available now on Dyson Malaysia's website.
| | |
| --- | --- |
| SHARE THE STORY | |
| Explore More | |