Technology
BURO Giveaway: Win the LG Puricare Self Service Tankless Water Purifier worth up to RM8,000 this Malaysia Day
Your lucky day
FEATURED IMAGES: SARAH TAI FOR BURO MALAYSIA | IN-TEXT IMAGES: LG ELECTRONICS MALAYSIA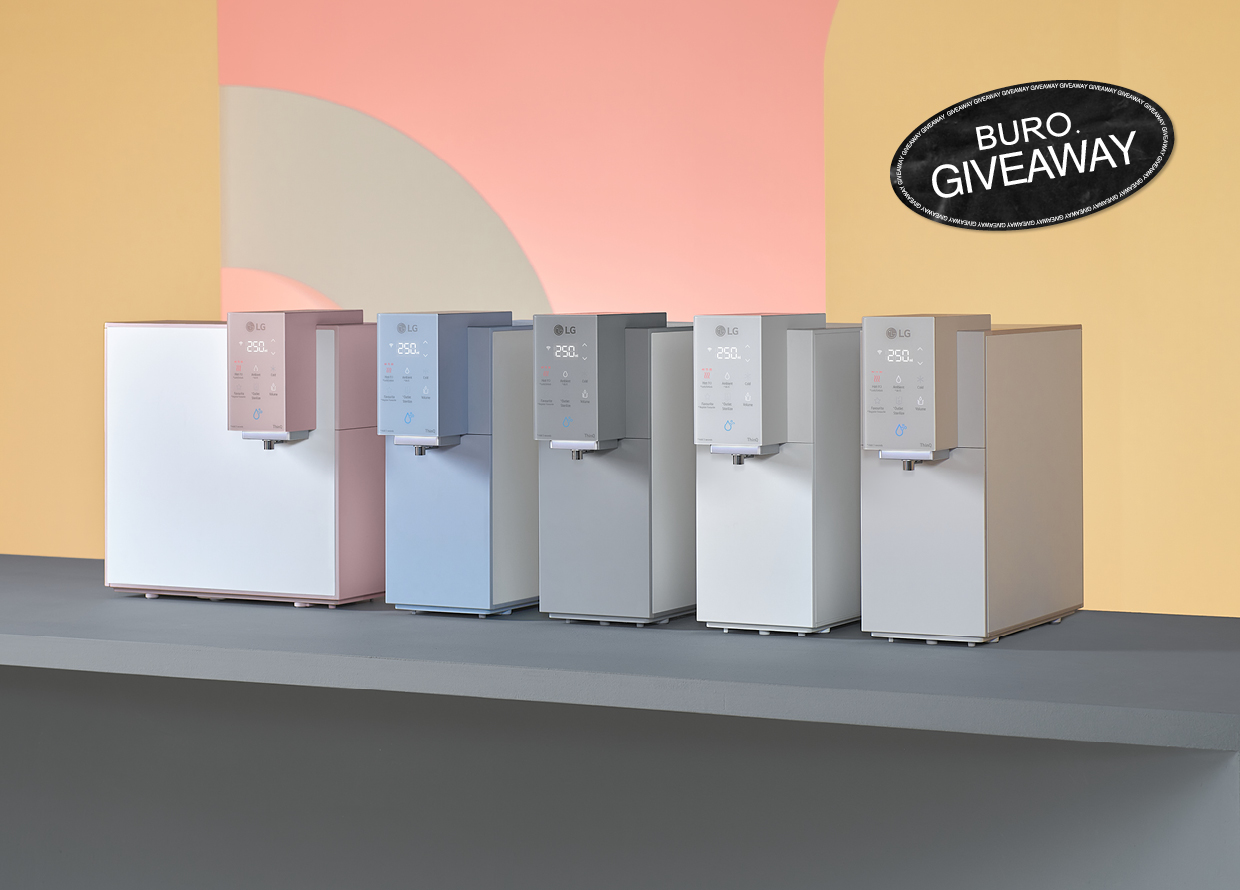 With August come and gone, we look to September to once again remind us Malaysians of our country's long-fought freedom and independence. As Malaysia Day approaches on 16 September, let us make the celebrations even more special with a giveaway that's thoughtful, practical and convenient for everyday usage. With the brand new LG PuriCare™ Self Service Tankless Water Purifier l Objet Collection, you can treat yourself or your loved ones with the gift of clean-tasting and safe water! Read on ahead for more details on why you should try your luck at snagging this appliance:
LG PuriCare™ Self Service Tankless Water Purifier l Objet Collection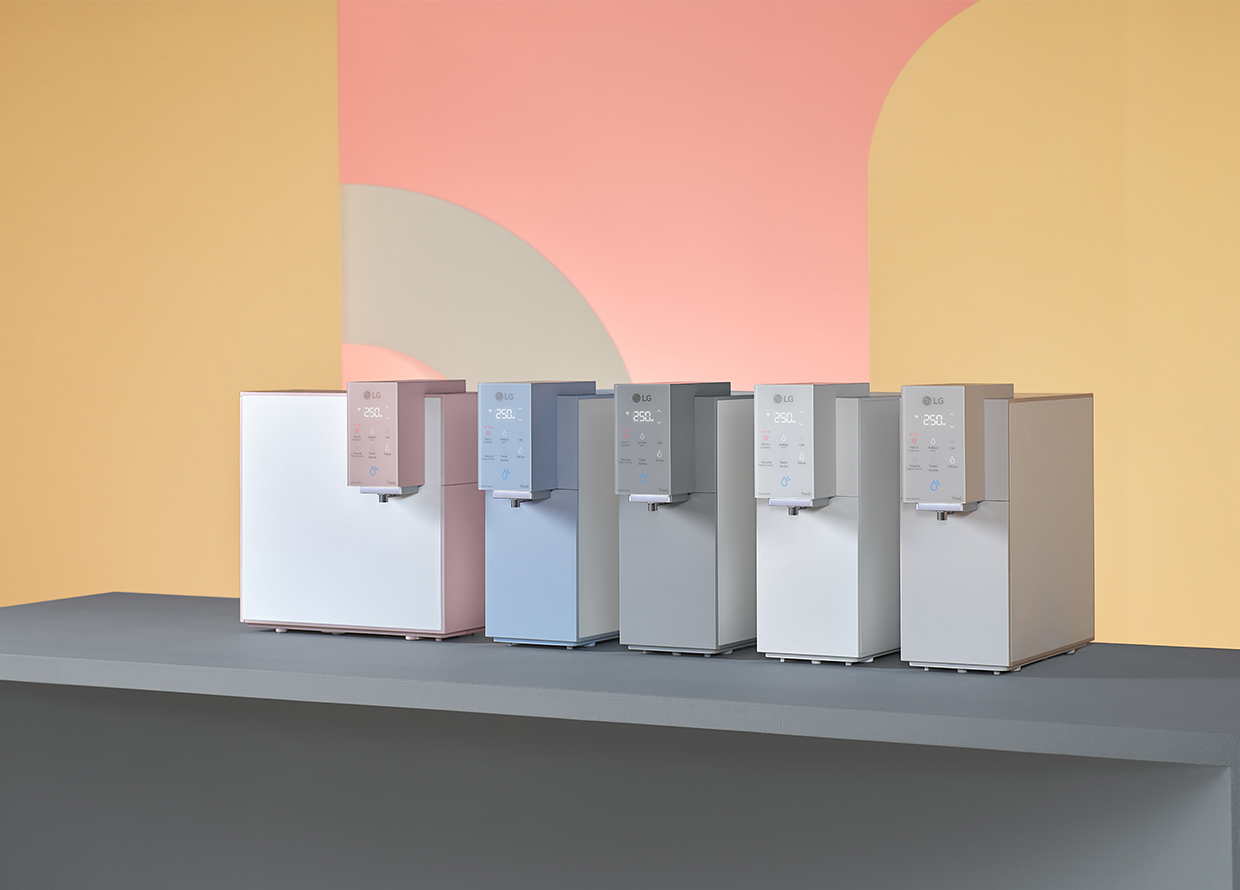 As part of LG Electronics Malaysia's latest Objet Collection first launched on 22 August, this nifty smart device takes the role of a water purifier to the next level. Long gone are the days of bulky water purifiers that take up too much countertop space; now, the idea of an advanced water purifier and aesthetically pleasing design are no longer mutually exclusive. 
Combining advanced purification technology and exquisite designs, the LG PuriCare™ Self Service Tankless Water Purifier offers safe, filtered water whilst also serving as a beautiful statement piece to your home at the same time. The appliance comes in five refreshing shades to elevate your abode: Calming Cream White, Calming Beige, Calming Pebble Grey, Calming Pink, and Calming Cream Sky.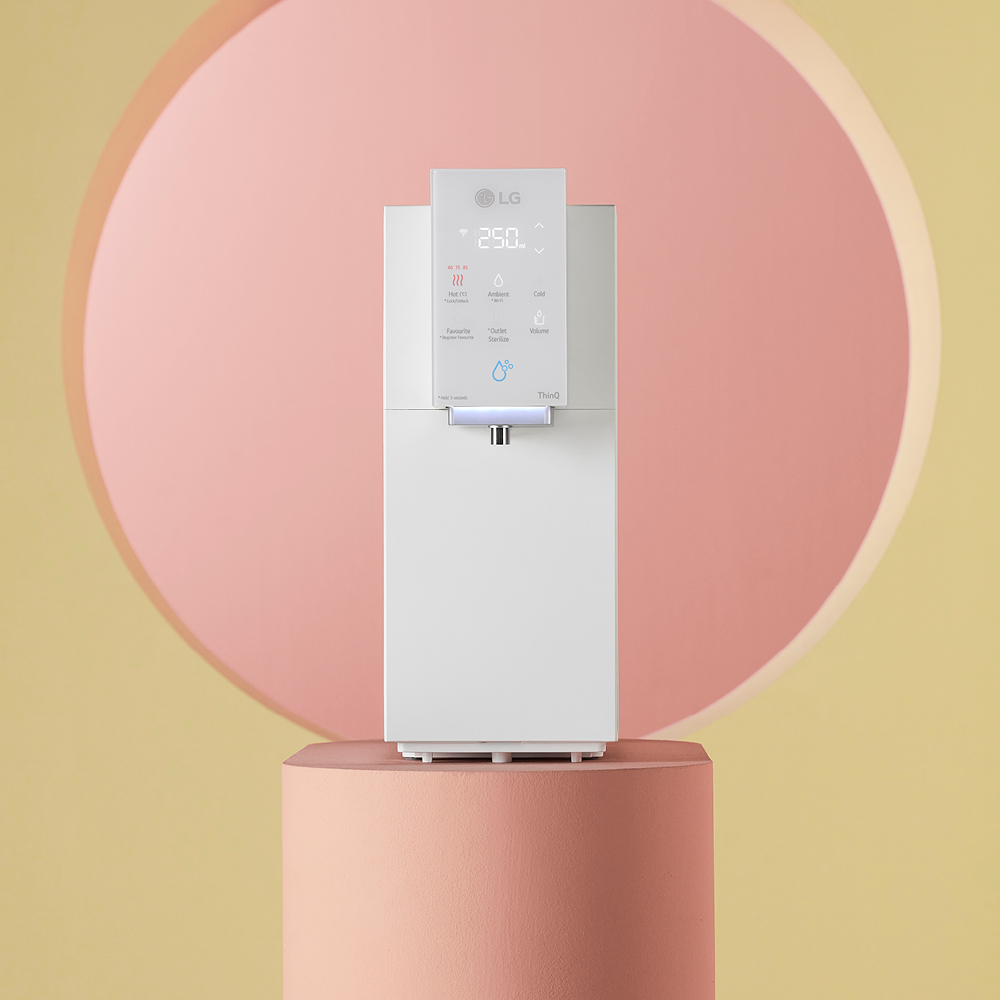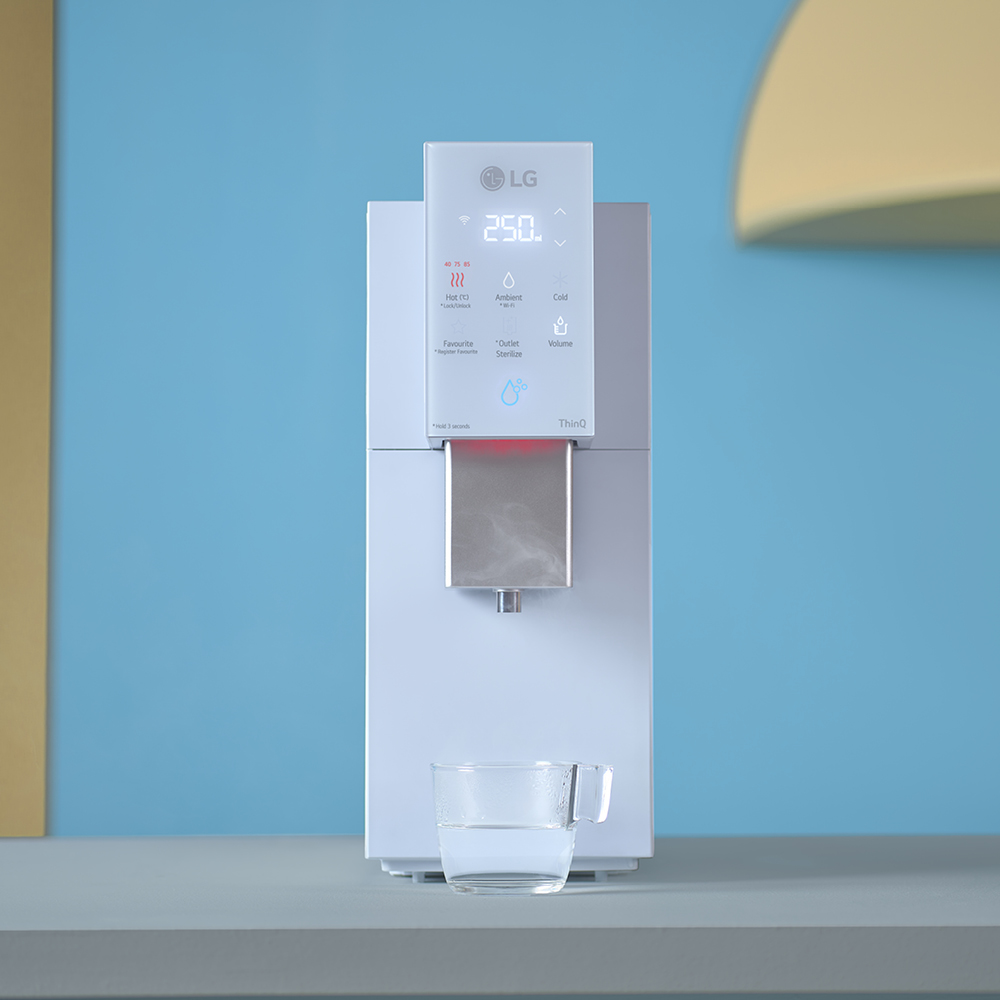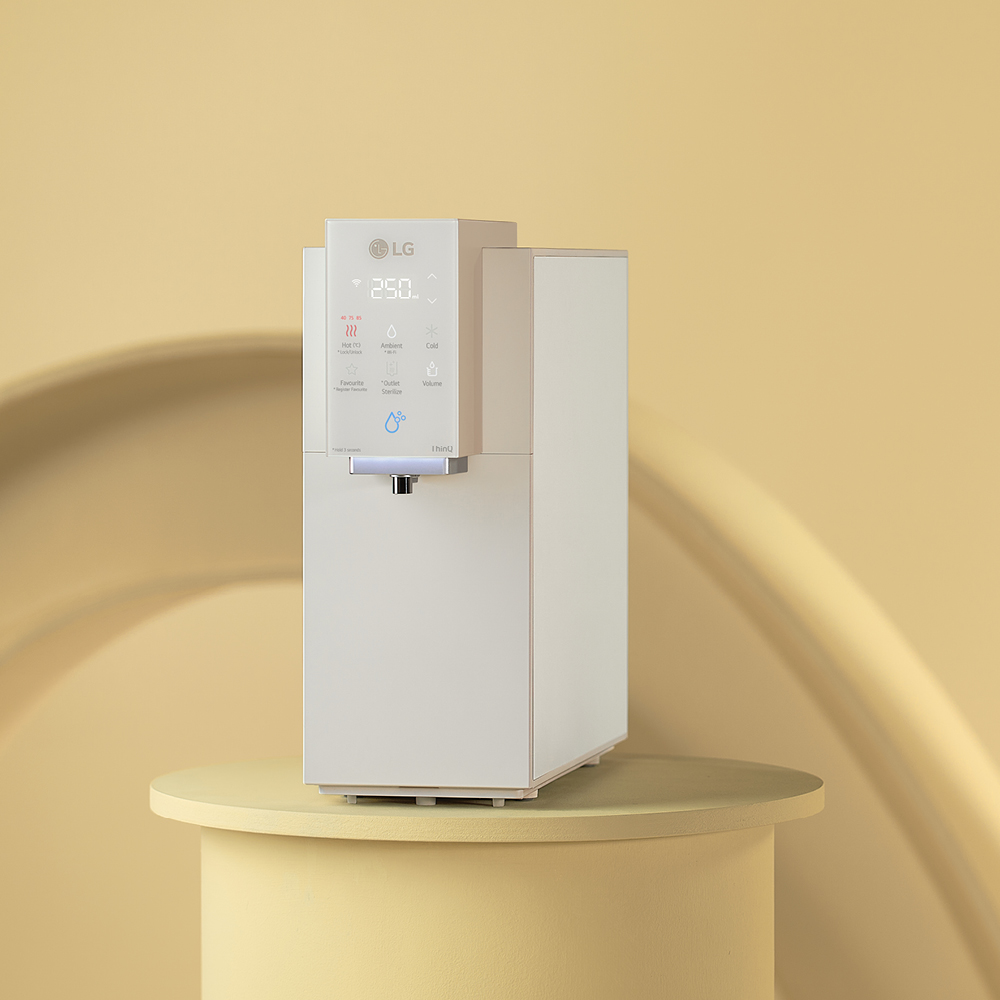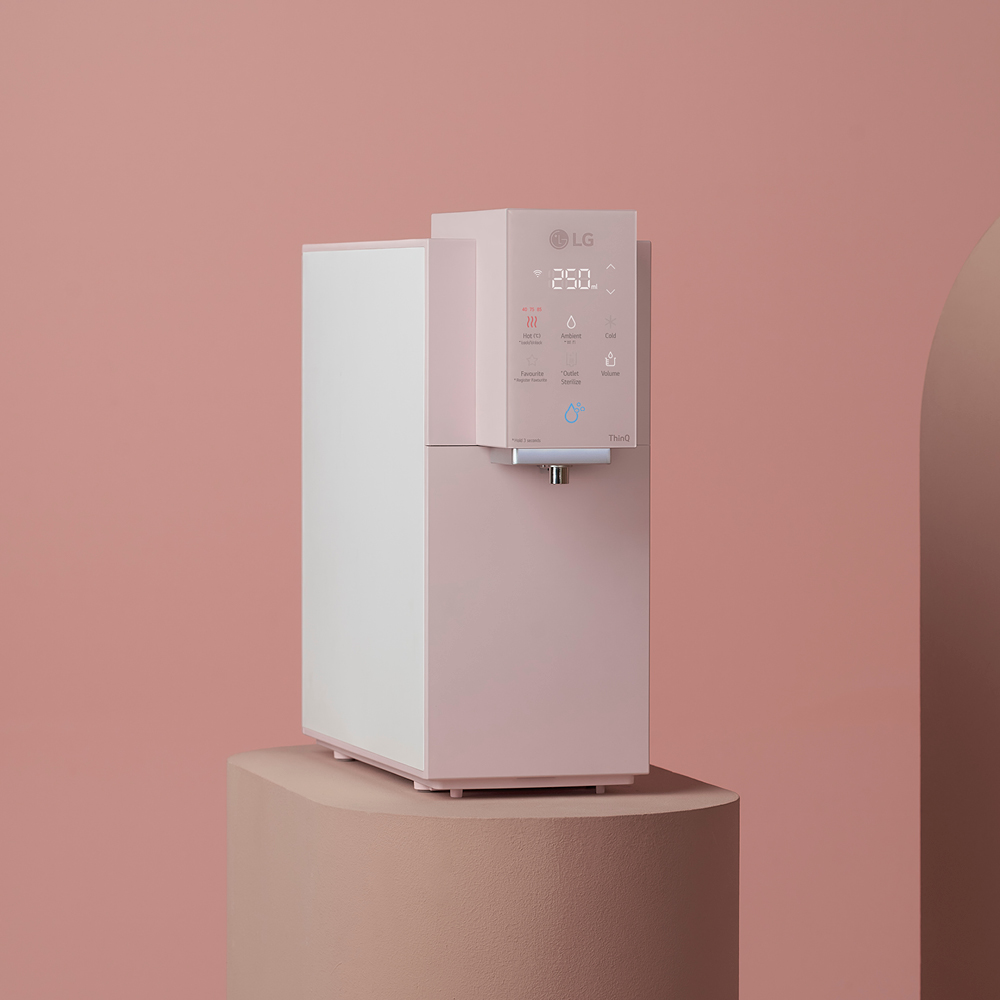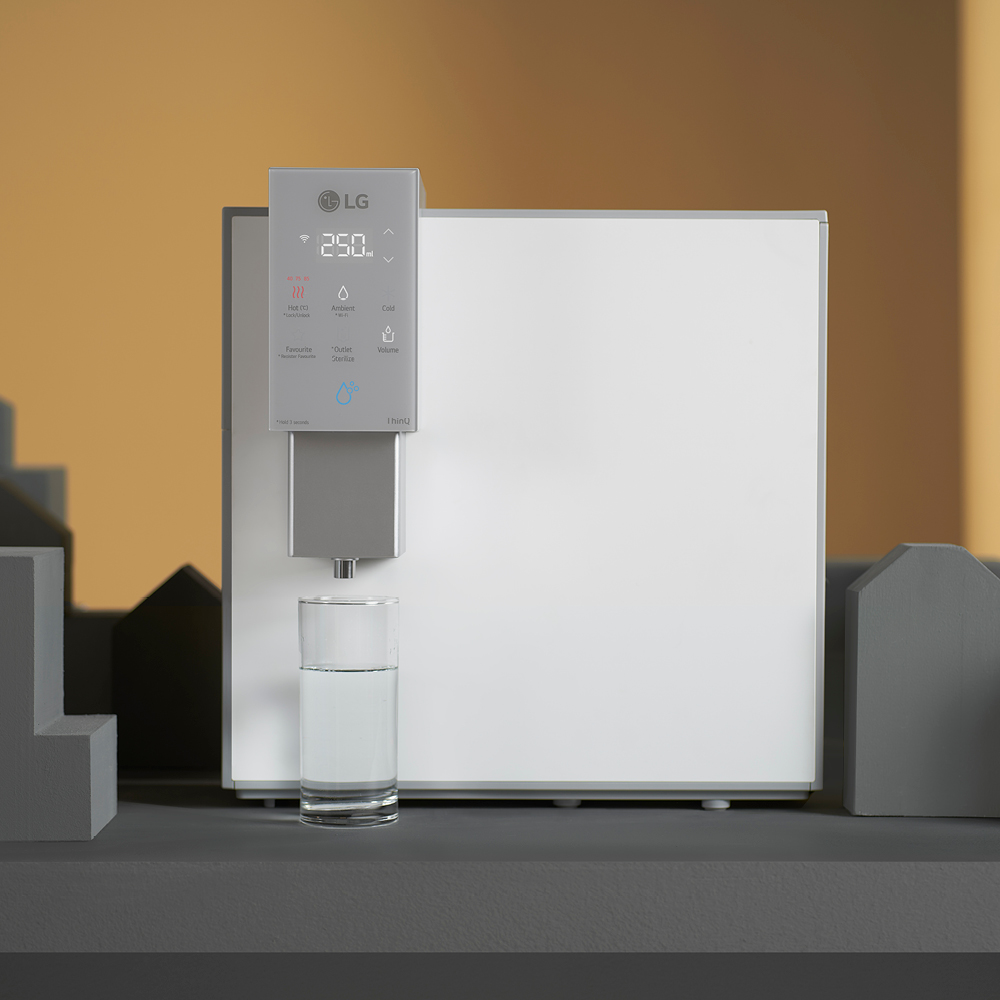 Apart from its eye-catching design, the LG PuriCare Self-Service Tankless Water Purifier boasts an array of cutting-edge purification technology. This includes its advanced Four-Stage All Puri Filter System that removes nine types of heavy metals, 99.99 per cent of norovirus, and other harmful contaminants. 
Further, there are several functions that enhance the user experience. For example, replacing filters has never been easier and more efficient than with the innovative Self-Service Filter Subscription. A convenience exclusive to LG customers and the first of its kind in the market, the subscription delivers new filters every six months right to your doorstep. The filters also come with a simple twist and pull mechanism and an automatic sterilisation function which sterilises the water outlet every hour, making it easy for you to enjoy uninterrupted clean water.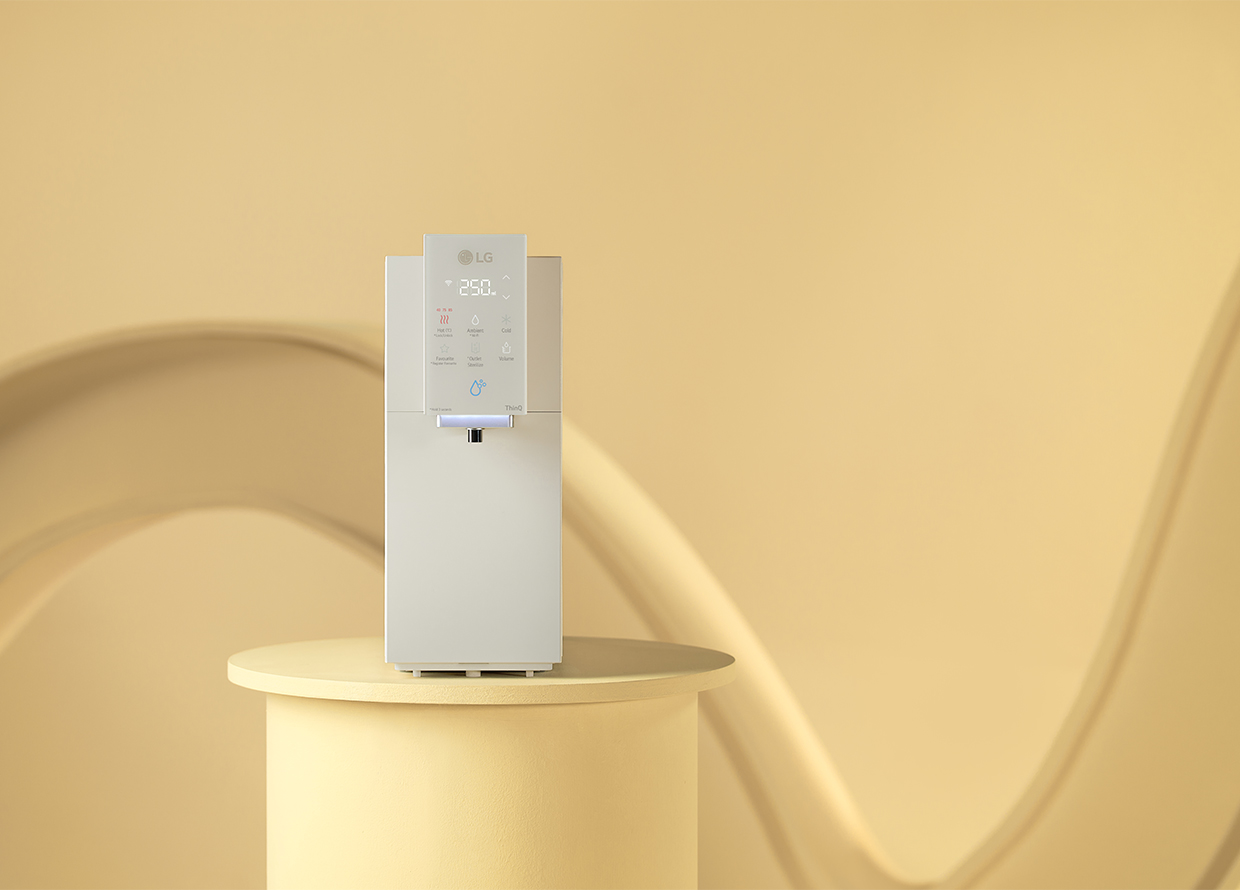 In addition, a user-friendly touch display panel allows for precise water temperature adjustments. The appliance also comes with a range of volume settings from 120ml to 1000ml. There is also an automatic up-and-down moving tap feature that can accommodate various cup heights, eliminating splashes and ensuring safety. Lastly, the smart water purifier can also be connected via the LG ThinQ mobile application for easy one-touch controls.
Two winners will have the chance to win the LG PuriCare™ Self Service Tankless Water Purifier l Objet Collection worth RM4,000 each.
HOW TO ENTER
1) Follow BURO Malaysia's Facebook & Instagram
2) Like our Instagram post
3) Fill up the giveaway form below
4) Share this post to your IG story for a bonus entry! (Make sure the post is public!)
1. This giveaway ends 11:59pm, GMT+8, 24 September 2023. The winner(s) will be announced on 27 September 2023.
2. Employees of Buro Malaysia and its related corporations ("Indochine Media Ventures") or Buro Malaysia partners and/or sponsors for the giveaway (if applicable), and their immediate family members (including spouses, children, parents, brothers and sisters) are not eligible to participate in the giveaway.
3. Winners of this giveaway are chosen at random.
4. This giveaway is organised by Buro Malaysia (hereinafter referred to as the 'Organiser').
5. The prizes for this giveaway are neither exchangeable for cash nor transferable.
6. All persons ('Participants') taking part in this giveaway agree that these rules shall be binding on them, and that the entries in this giveaway, including their name and likeness, may be used without restriction in any future publicity material by the Organiser.
7. The Organiser reserves the right to amend these rules or terminate the giveaway at any time at its sole and absolute discretion. All decisions made by the Organiser under these rules shall be final and no discussion or correspondence will be entertained. The Organiser may, but is not required to, justify any decisions relating to this giveaway.
8. The Participant acknowledges that the interest and good reputation of the Organiser are of paramount importance. The Organiser reserves the right to disqualify a Participant from the giveaway, or to withdraw the prize if it is believed the Participant is in breach of its obligations under the rules. The Participants shall not by act or omission, directly or indirectly bring the Organiser into disrepute.
9. All entries are sent at the risk of the Participants and in the event that there are technical difficulties experienced arising out of the internet or from any associated equipment or internet security is compromised, the Organiser may at its sole and absolute discretion disqualify the entire entry and shall not accept any liability for doing so.
10. Giveaway entries may only be submitted via the stated medium of communication.
11. This giveaway is open to anyone above 18 years old.
12. Each entry must be completed in full. The Organiser reserves the right to disqualify any incomplete entries in its sole and absolute discretion.
13. Incomplete entries will be deemed void.
14. Winners will be notified by email.
15. Uses of 'aliases' shall be considered a form of deception and are prohibited.
16. The winner must produce their original IC / passport with a legible IC / passport number in order to claim the prize. The winner may also be required to produce additional original proof of identity at the discretion of the Organiser.
17. All Prizes are accepted entirely at the risk of the winner, and the Organiser excludes all warranties in connection with the prize to the extent permitted by law.
18. All Participants release from, and indemnify the Organiser, its agencies, sponsors and representatives against all liability, cost, loss or expense arising out of acceptance of any prize or participation in the giveaway including (but not limited to) personal injury and damage to property and whether direct or consequential, foreseeable, due to some negligent act or omission or otherwise.
19. All personal particulars furnished are meant for identification purposes and will not be sold or given to any third parties. In the case of giveaways, our partners may wish to offer you services which require your personal particulars. These specific requests will be expressly stated within relevant giveaways, with a choice to opt out.
20. Inability to contact the winner by 29 September 2023 will result in disqualification and selection of an alternate winner.
21. Winners must collect their gifts from our office in Mont Kiara within 1 month of notification.
22. Prizes are final; no cash equivalent or alternative prize will be given. Prizes are non-transferable, non-exchangeable and strictly not for resale. If the winner is found to be selling the prize(s), the Organiser reserves the right to demand the return of the prize.
| | |
| --- | --- |
| SHARE THE STORY | |
| Explore More | |