It's a big month for Malaysia! To celebrate the joyous occasion, we're giving away nine luxe treats worth over RM11,500! Continue reading for all the details.
As you know, August is a meaningful month where we commemorate our country's independence and our forefathers who bravely fought for freedom. At this time of the year, Malaysian flags are raised high all across the country, with passionate patriots counting down to celebrate the special day of the month. We want to make this celebration extra memorable for you, so we've prepared a series of prizes consisting of exquisite stays, great food, and top-quality coffee for nine lucky winners only! Join this giveaway to stand a chance at winning a fantastic gift that'll end your month with a bang. Here's what you can expect:
De'Longhi La Specialista Prestigio-Pump Espresso Coffee Machine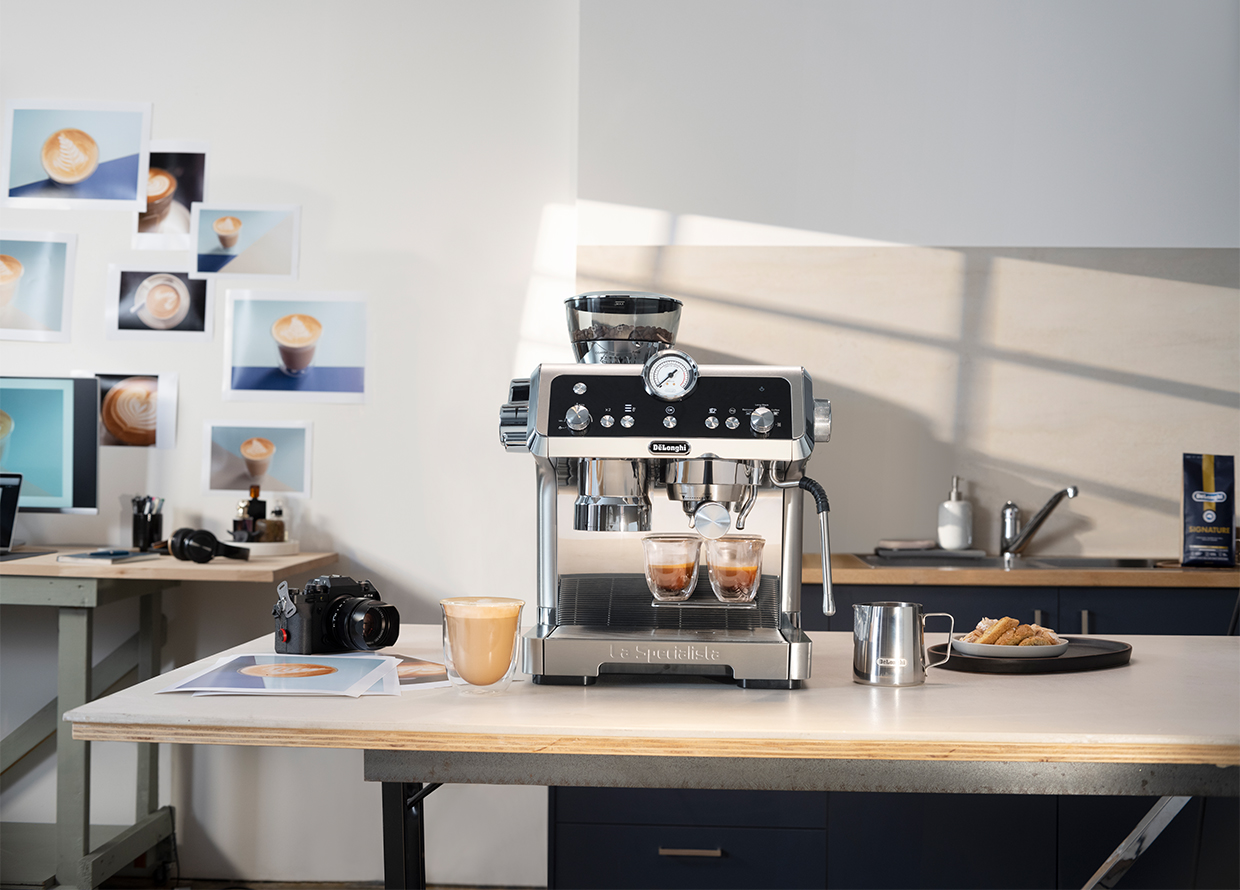 If you're a caffeine addict, you'd definitely love this professional coffee machine from De'Longhi. Enjoy cafe-quality coffee from the comforts of your own home, with you being your own barista and crafting the cup of coffee to your liking. This machine is equipped with three pre-set recipes that'll please your palate with a pure aroma of either Espresso, Coffee, or Americano.
The pump espresso coffee machine includes innovative technology that calibrates your coffee beans with engineered precision and delivers the optimal pressure without any mess for the perfect shot. Better yet, you can play around with its My LatteArt steam wand that'll awaken your artistic abilities and train your latte art skills.
One winner will get the De'Longhi La Specialista Prestigio-Pump Espresso Coffee Machine worth RM4,999.
For more information on the De'Longhi La Specialista Prestigio, click here.
2-day, 1-night stay in Sunway Resort Hotel's Deluxe Room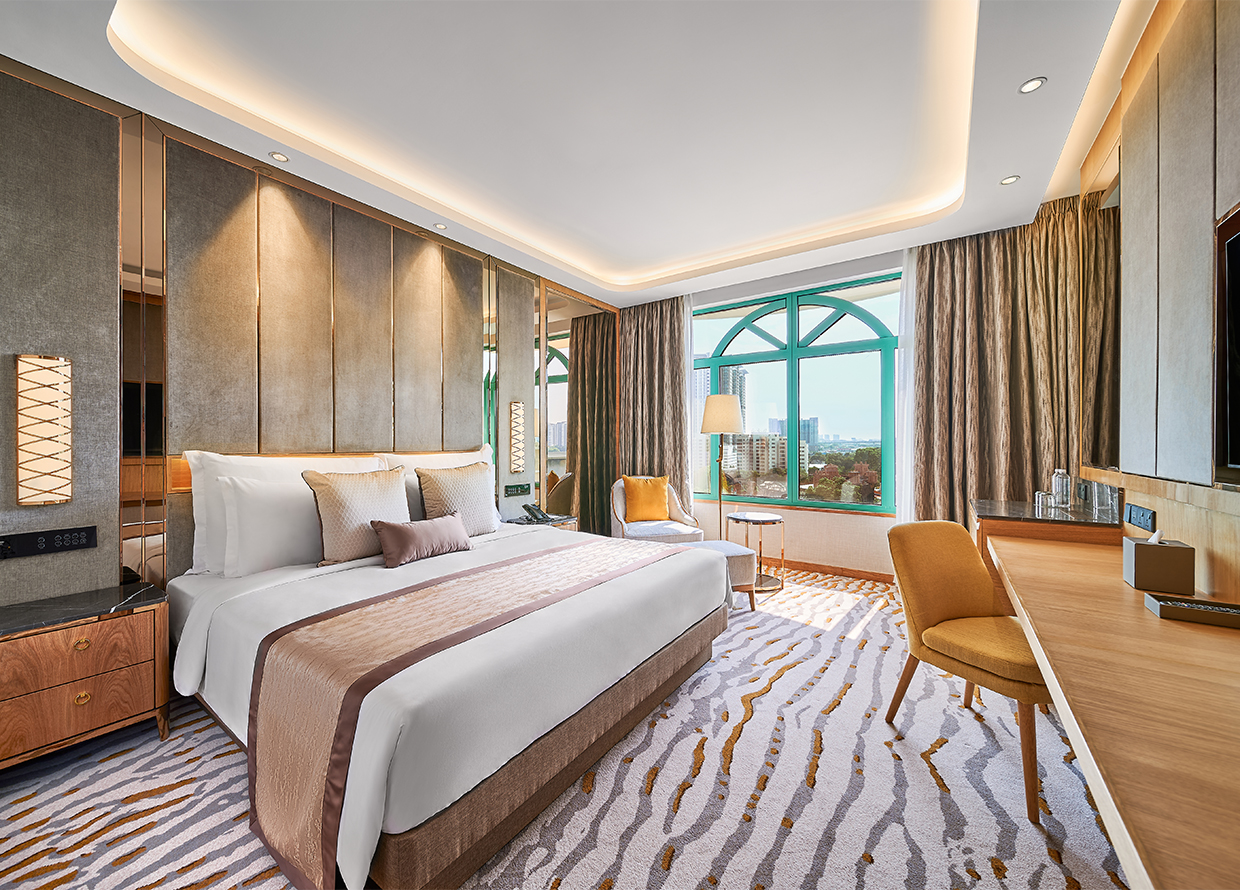 Spend quality time in the spacious and luxurious Deluxe room and reconnect with your loved ones away from the hustle and bustle of the city. Designed with an elegant interior that pleases the senses, the space is also furnished with amenities that'll ensure a delightful stay for those who want some private time to themselves. From sleep-inducing beds and a 50-inch TV, to a walk-in chemotherapy shower, the room will pamper you with all the things you need for a delightful stay.
Six winners will get a 2-day, 1-night stay at Sunway Resort Hotel's Deluxe Room (breakfast included) for two pax worth RM670 each.
For more details about the room, click here.
The Ritzy Afternoon Tea at Ritz-Carlton, Kuala Lumpur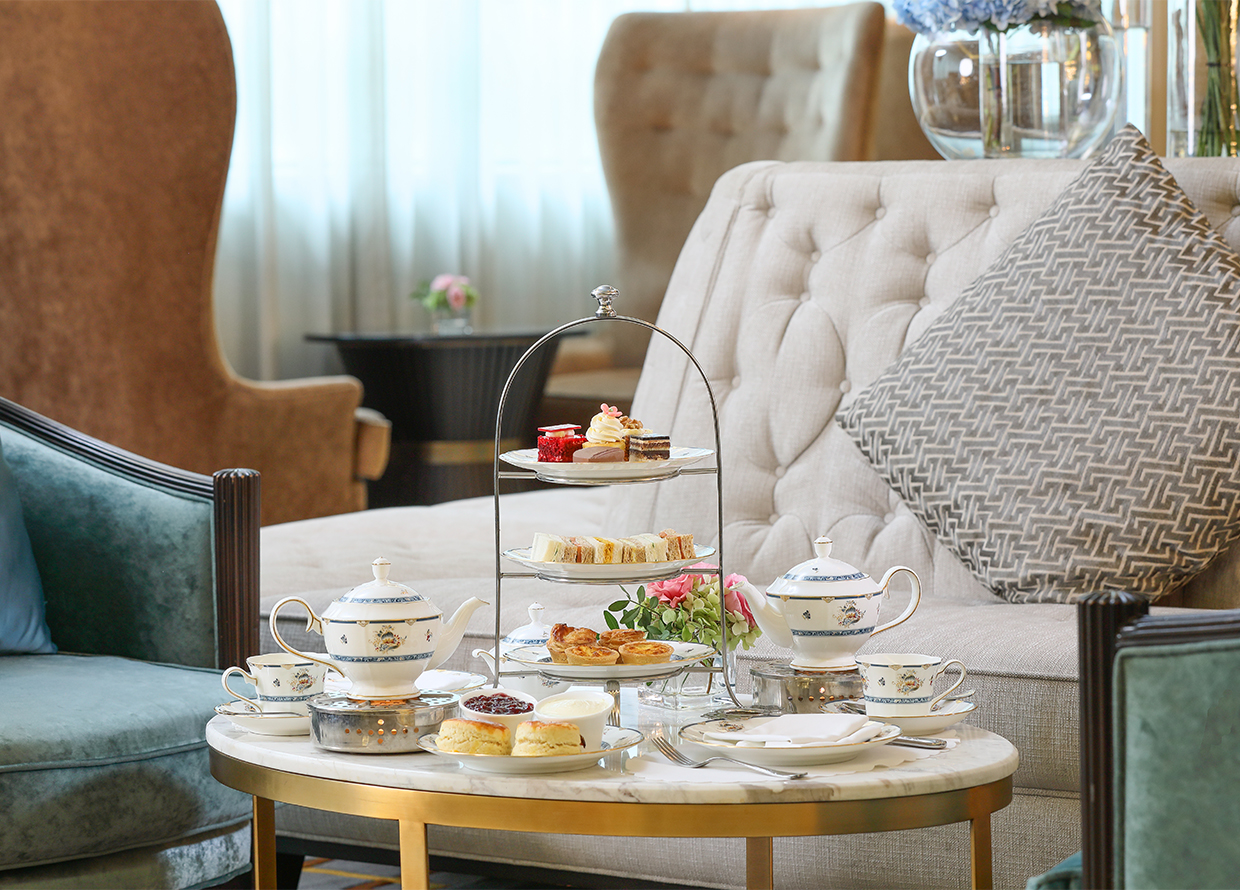 You're in for a treat with the establishment's signature afternoon tea that'll present you with an elegant spread of bites, from sweet to savoury. Expect an array of classic favourites like chicken pies, veggie quiches and finger sandwiches made with the freshest ingredients. Moving on to sweets, you'll see freshly baked scones that are served alongside butter, cream and fruit jams, cakes, chocolates, as well as shortcakes that'll leave you wanting more.
Two winners will get the Ritzy Afternoon Tea, worth RM371.20 each.
Mr Ma's Afternoon Tea and You Chill, We Grill dinner for two at Hotel Stripes Kuala Lumpur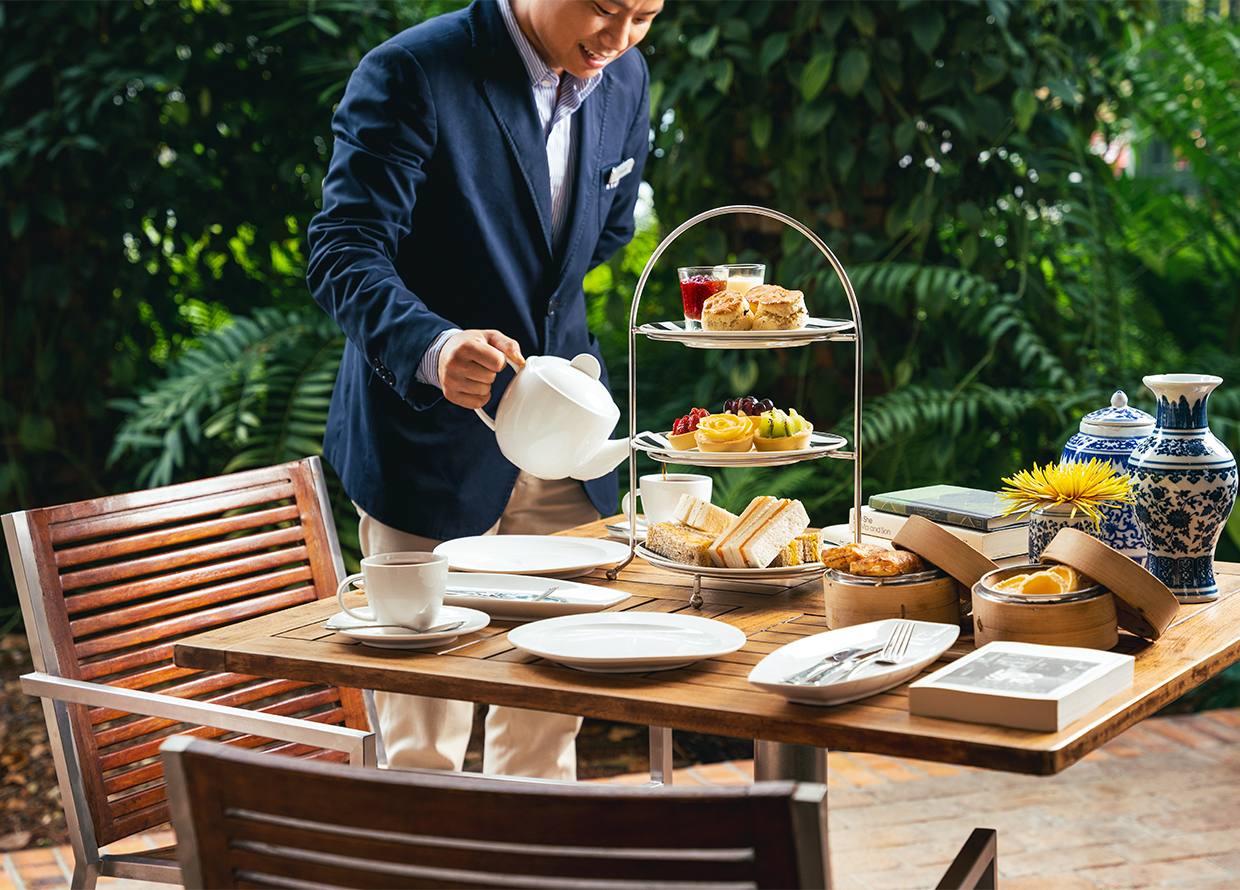 This experience is an intriguing fusion of Bloomsbury, London's rich heritage, with the multi-faceted charms of Kuala Lumpur. From warm scones, fresh fruit tarts and savoury puffs, to a delectable selection of sandwiches—this afternoon tea session is jam-packed with an assortment of flavours that offers a transcontinental delight, mixing both the classics and contemporary.
Two winners will get the Mr Ma's Afternoon Tea experience worth RM301.60 each.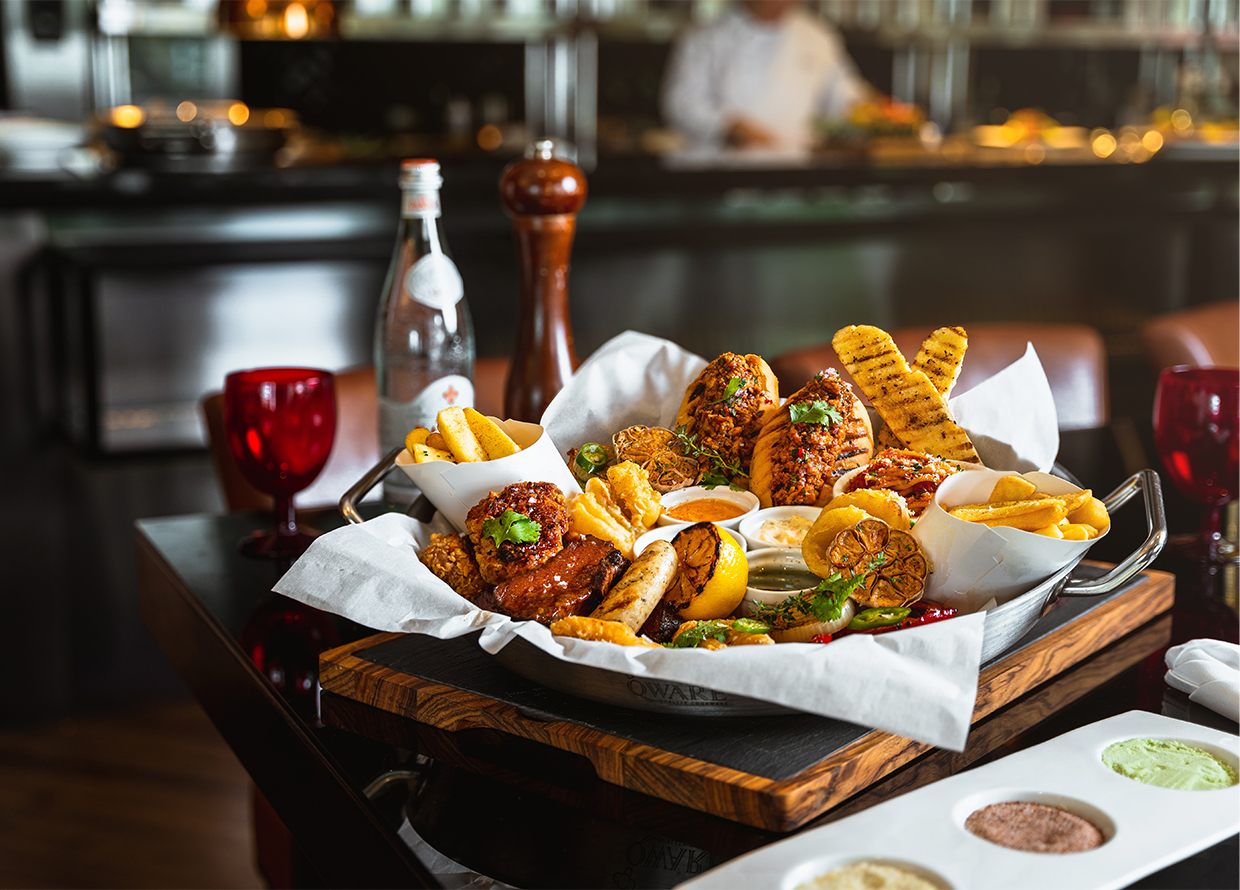 Get ready for an explosion of flavours at this grill. Step into the diner and be welcomed by a fruity and fizzy drink that whets your appetite. Then, be spoiled by a variety of mains, ranging from black pepper beef ribs, lamb, and fried chicken to fish and chips and chilli dogs. If you want something lighter to start your meal with, there's also a selection of veggies such as vegetable kebabs, grilled corn, and salad jars, along with small bites like fries, onion rings and garlic bread. It is truly an American-style grill that pleases eaters who prefer warm and hearty meals. 
Two winners will get the You Chill, We Grill Dinner, worth RM278.40 each.
The Happening Weekend Dinner and Summertime Buffet Lunch for two at Shook! at The Starhill Dining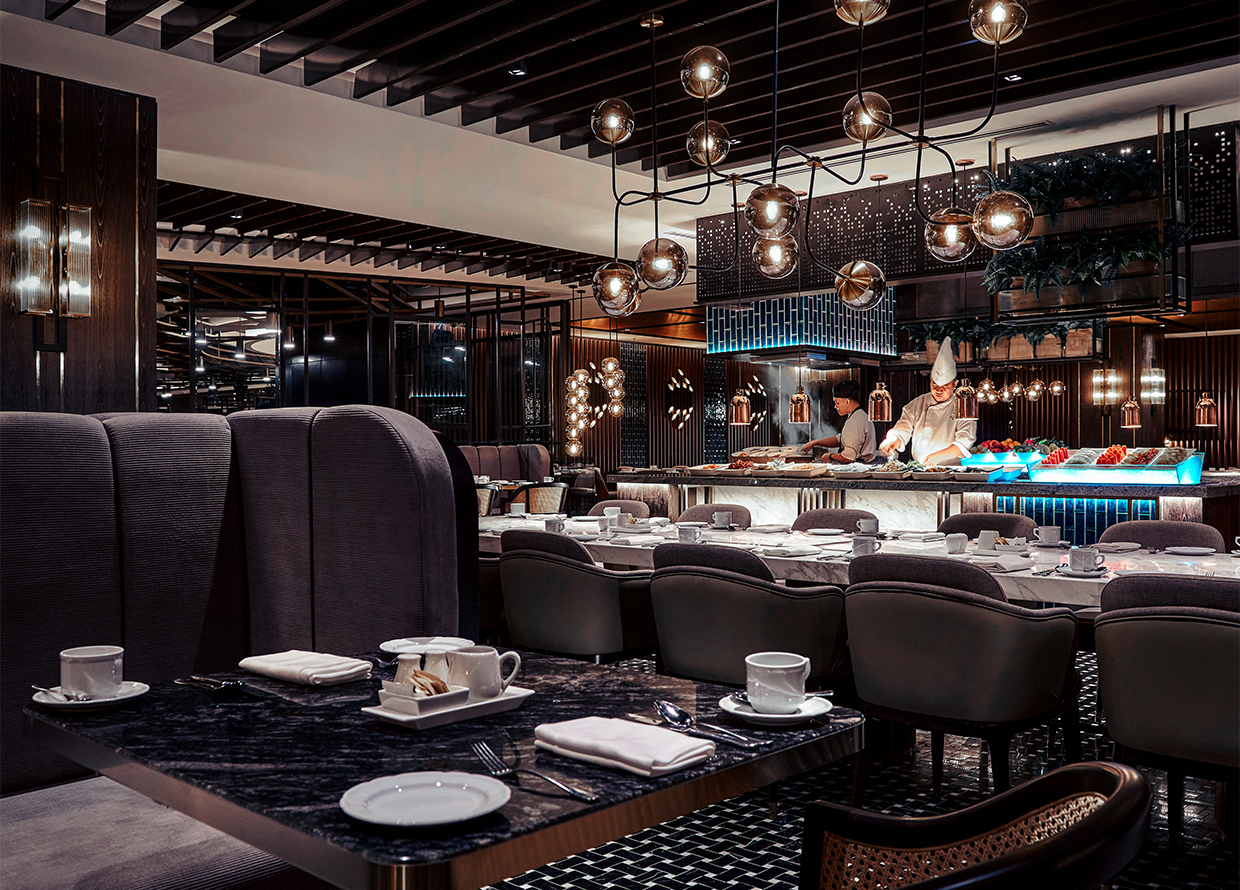 Indulge in a romantic dinner for two with a delectable fusion menu inspired by Southern Thai cuisine, using fresh Hokkaido produce served in Agemono dishes. Devour the reimagined grilled delights, served with the finest cuts and curated dishes that'll please your taste buds. Putting a sweet ending to the meal is a variety of New York-inspired desserts, which pay homage to the bustling Big Apple.
Two winners will get The Happening Weekend Dinner, worth RM580 each.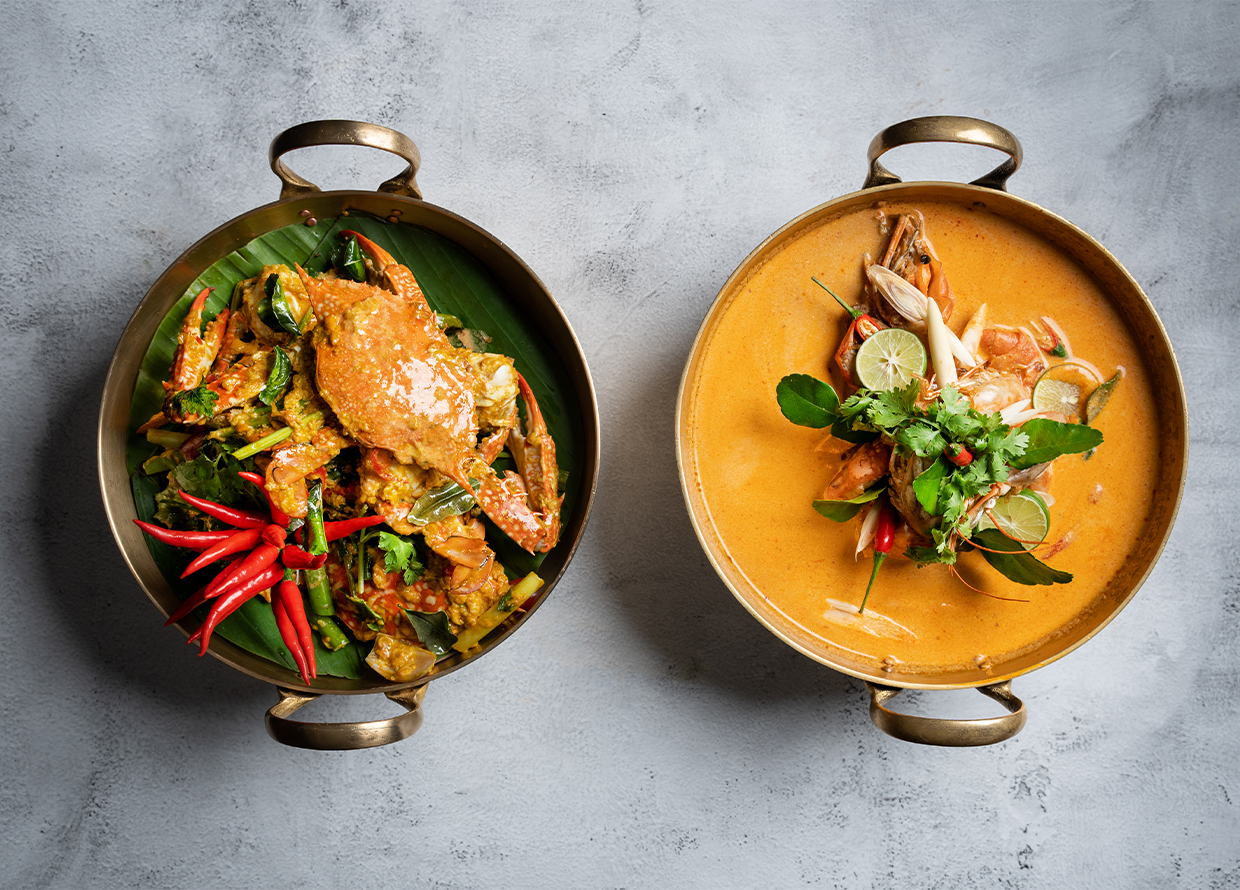 A feast for the kings, this all-you-can-eat buffet presents an array of dishes prepared with in-season ingredients. Kickstart your meal with some soup and bread or salad, then move on to the variety of main courses, from pasta to a selection of staple food from all around Asia. Still not enough? Fill your tummy to the max at the table of desserts and small bites that'll be a perfect ending to your meal.
Two winners will get the Summertime Buffet Lunch, worth RM46 each.
The giveaway is now closed. Congratulations to the following winners, kindly check your email!
1 x De'Longhi La Specialista Prestigio-Pump Espresso Coffee Machine
1 x 2-day, 1-night stay in Sunway Resort Hotel's Deluxe Room 
Foo Kar Mun
Quennie Tan
Loga Sivananthan
Farah Syazrah
Geraldine Chan
Lee Yen Ling
1 x The Ritzy Afternoon Tea at Ritz-Carlton, Kuala Lumpur
1 x Mr Ma's Afternoon Tea for two at Hotel Stripes Kuala Lumpur
1 x You Chill, We Grill dinner for two at Hotel Stripes Kuala Lumpur
1 x The Happening Weekend Dinner for two at Shook! at The Starhill Dining
Batrisyia Binti Husna
Jagdev Singh
1 x Summertime Buffet Lunch for two at Shook! at The Starhill Dining
HOW TO ENTER
1) Follow BURO Malaysia's Facebook & Instagram
2) Like our Instagram post
3) Fill up the giveaway form below
4) Share this post to your IG story for a bonus entry! (Make sure the post is public!)
1. This giveaway ends 11:59pm, GMT+8, 3 September 2023. The winner(s) will be announced on 6 September 2023.
2. Employees of BURO Malaysia and its related corporations ("Indochine Media Ventures") or BURO Malaysia partners and/or sponsors for the giveaway (if applicable), and their immediate family members (including spouses, children, parents, brothers and sisters) are not eligible to participate in the giveaway.
3. Winners of this giveaway are chosen at random.
4. This giveaway is organised by BURO Malaysia (hereinafter referred to as the 'Organiser').
5. The prizes for this giveaway are neither exchangeable for cash nor transferable.
6. All persons ('Participants') taking part in this giveaway agree that these rules shall be binding on them, and that the entries in this giveaway, including their name and likeness, may be used without restriction in any future publicity material by the Organiser.
7. The Organiser reserves the right to amend these rules or terminate the giveaway at any time at its sole and absolute discretion. All decisions made by the Organiser under these rules shall be final and no discussion or correspondence will be entertained. The Organiser may, but is not required to, justify any decisions relating to this giveaway.
8. The Participant acknowledges that the interest and good reputation of the Organiser are of paramount importance. The Organiser reserves the right to disqualify a Participant from the giveaway, or to withdraw the prize if it is believed the Participant is in breach of its obligations under the rules. The Participants shall not by act or omission, directly or indirectly bring the Organiser into disrepute.
9. All entries are sent at the risk of the Participants and in the event that there are technical difficulties experienced arising out of the internet or from any associated equipment or internet security is compromised, the Organiser may at its sole and absolute discretion disqualify the entire entry and shall not accept any liability for doing so.
10. Giveaway entries may only be submitted via the stated medium of communication.
11. This giveaway is open to anyone above 18 years old.
12. Each entry must be completed in full. The Organiser reserves the right to disqualify any incomplete entries in its sole and absolute discretion.
13. Incomplete entries will be deemed void.
14. Winners will be notified by email.
15. Uses of 'aliases' shall be considered a form of deception and are prohibited.
16. The winner must produce their original IC / passport with a legible IC / passport number in order to claim the prize. The winner may also be required to produce additional original proof of identity at the discretion of the Organiser.
17. All Prizes are accepted entirely at the risk of the winner, and the Organiser excludes all warranties in connection with the prize to the extent permitted by law.
18. All Participants release from, and indemnify the Organiser, its agencies, sponsors and representatives against all liability, cost, loss or expense arising out of acceptance of any prize or participation in the giveaway including (but not limited to) personal injury and damage to property and whether direct or consequential, foreseeable, due to some negligent act or omission or otherwise.
19. All personal particulars furnished are meant for identification purposes and will not be sold or given to any third parties. In the case of giveaways, our partners may wish to offer you services which require your personal particulars. These specific requests will be expressly stated within relevant giveaways, with a choice to opt out.
20. Inability to contact the winner by 8 September 2023 will result in disqualification and selection of an alternate winner.
21. Winners must collect their gifts from our office in Mont Kiara within 1 month of notification.
22. Prizes are final; no cash equivalent or alternative prize will be given. Prizes are non-transferable, non-exchangeable and strictly not for resale. If the winner is found to be selling the prize(s), the Organiser reserves the right to demand the return of the prize.
23. The possession of alcohol to individuals below 21 years or professing the religion of Islam is prohibited.
| | |
| --- | --- |
| SHARE THE STORY | |
| Explore More | |