Lifestyle
Prince Harry and Meghan to 'step back' from the royal family, all the celebrities who donated millions to the Australian wildfire relief efforts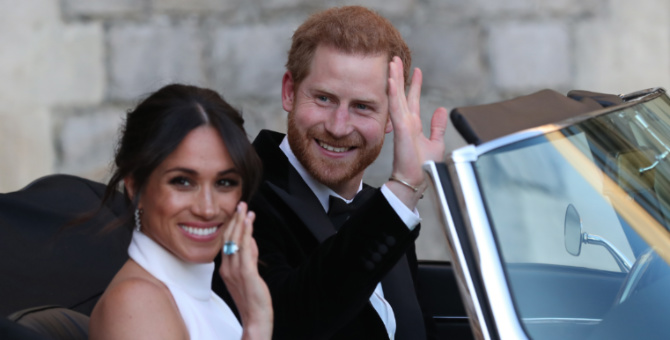 Hello, pop culture junkies! Welcome back to another episode of Pop Culture Catch-Up podcast as we discuss the biggest news of the week in the entertainment circle. This week's headlines include: Prince Harry and Meghan's 'step back' from the royal family, Awkwafina's iconic win at the Golden Globe, and Selena Gomez's latest album release since 2015. Now on to the top trending news:
Prince Harry and Meghan's 'step back' from the royal family
Since officially being part of the British royal family, Meghan Markle has been placed under intense media scrutiny, with the public adding fuel to the flames with comments on her every move. It certainly wasn't a surprise when the royal couple released an announcement on putting their royal duties on hold.
In their latest Instagram post, Prince Harry and Meghan stated that, "We intend to step back as 'senior' members of the Royal Family and work to become financially independent, while continuing to fully support Her Majesty The Queen." However, the Duke and Duchess of Sussex aren't exactly quitting their royal duties, further adding that they will still "collaborate" with Queen Elizabeth, the Commonwealth, and other relevant parties.
Related article: Everything you need to know about Prince Harry and Meghan's decision to 'step back' from the royal family
---
Celebrities lent their financial support to the Australian wildfire relief efforts
Despite everyone's hopes for the new year to kick off on a positive note, the Australian bushfires are unfortunately throwing a damper on that. Reports show that the fires are still ravaging large parts of the country, affecting not only the wildlife close to extinction, but also the lives of families and firefighters. The latest news on the raging fire revealed over 800 million animals have perished in the state of New South Wales alone. With the fires still burning rapidly at this rate, it is said that the death count for the Australian wildlife is estimated to reach a billion. This is evidently a warning of the world's future climate crisis if preventative measures aren't taken.
The world responded to the bushfire crisis with open arms. Celebrities who offered generous donations include Australian comedian Celeste Barber who raised $50 million for the bushfire crisis, Leonardo DiCaprio's environmental organisation, Earth Alliance's $3-million pledge to the relief efforts, and Kylie Jenner and Chris Hemsworth's respective donations of $1 million. Other celebrities who donated include singer Pink, Metallica, Serena Williams, Ellen Degeneres, Selena Gomez, Nicole Kidman, Elton John and Lizzo.
Related article: Malaysians, here's how you can help Australia's bushfire victims
---
Timothée Chalamet to play Bob Dylan in James Mangold's upcoming biopic film
The Call Me by Your Name actor has clinched a slew of quality roles in Hollywood films lately, from David Michôd's The King (2019) to Wes Anderson's The French Dispatch (2020). Chalamet is reportedly the lead choice of film director James Mangold's new biopic on music icon Bob Dylan.
The untitled film will follow Dylan's astonishing biography and impressive transformation from a folk singer guitar to a rock 'n' roll musician. Seems like everything is just peachy for Timmy's career.
---
Awkwafina wins Golden Globe Award for Best Actress
The born-and-raised New Yorker is making history for Asian communities and young girls at home. She is the first Asian-American woman to sweep a Golden Globe Award for Best Actress in a Motion Picture—Comedy or Musical.
Awkwafina, whose real name is Nora Lum, received the award for her leading role in an indie family drama, The Farewell, and thanked not only her family, but also the movie's director and writer, Lulu Wang, during her acceptance speech.
---
Selena Gomez releases latest album, Rare
The singer has finally dropped her latest album, Rare, five years after her last album release. Gomez previously shared that the album is very personal to her, noting that the process of song-writing was her journey to peace.
In an interview with WSJ Magazine, her close friend and pop star Taylor Swift commented on her Rare: "This is the first time I've heard her truly channel the details of her emotional experience." In addition to that, Swift also said that she's proud of how Gomez became a stronger individual after taking time off to deal with her personal struggles over the years.
Her latest album includes a total of 10 tracks, including the poignant Lose You To Love Me, Ring, Vulnerable, Crowded Room (feat. 6LACK), Kinda Crazy, Fun, Cut You Off, and A Sweeter Place (feat. Kid Cudi).
---
ATEEZ releases 'Answer' music video
Rising K-pop band ATEEZ is certainly not slowing things down to make their way to fame and success. Earlier this month, the eight-member Korean boy band released their first single, Answer, with an official music video, an exciting precursor to the band's latest album. The new album, Treasure Epilogue: Action To Answer, comprises four new songs including Horizon, Star 1117, Precious, and Outro: Long Journey.
Previous article: Justin Bieber makes solo comeback with "Yummy", Big Bang to perform at Coachella 2020
| | |
| --- | --- |
| SHARE THE STORY | |
| Explore More | |