There are now more reasons (a.k.a dishes) to have lunch at Nobu Kuala Lumpur as the restaurant has introduced a new Prix-Fixe menu
You can always expect a crowd at Nobu Kuala Lumpur. Since its opening, the restaurant has introduced an array of specials to suit everyone's needs as well as desires for something different; such as the Nobu High Tea and Nobu To-Go. The latest offering comes as a complement to its growing popularity as a lunch spot: a new Prix-Fixe menu.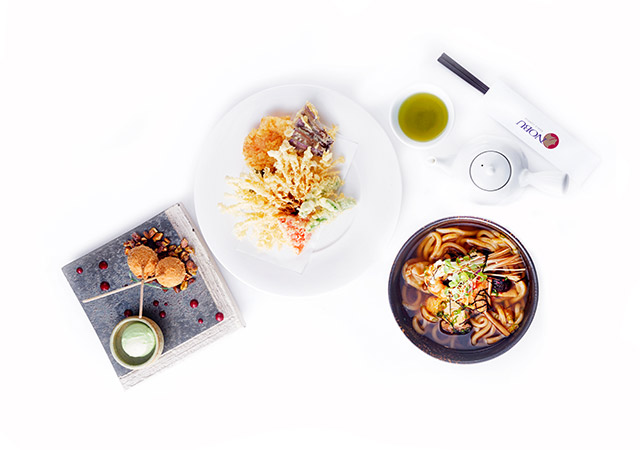 With the Prix-Fixe menu, guests will be able to order some of Nobu's most popular signature dishes—some of the recommendations include the Salmon New Style Sashimi, Yellow Tail Jalapeno and Salmon Antichucho Donburi—for lunch that were previously available exclusively for dinner. It's a 3-course menu entailing a variety of options for the appetiser and main, and a dessert chosen by Executive Chef Philip Leong. The full Prix-Fixe menu is as follows:
1st Course - APPETISERS
Salmon New Style Sashimi
Yellow Tail Jalapeno
Seafood Ceviche
Butter Lettuce Dry Miso
Steamed Mixed Vegetable with Shisho Salsa
Shitake Salad With Spicy Lemon Dressing
Soft Shell Crab Kara-age
2nd course - MAIN 
Assorted Mushroom Toban Yaki
Shrimp Spicy Garlic
Salmon Antichucho Donburi
Salmon Oyako Donburi
Mixed Tempura Udon
Grilled Chicken Truffle Teriyaki
Tenderloin Wasabi Pepper Sauce
3rd Course - DESSERT
Banana Harumaki
Sata-Andagi
Green Tea Fiji Shaved Ice
Suntory Whisky Cappucino
Nobu Kuala Lumpur's Prix-Fixe menu is available at RM165++ per person and comes with a complimentary glass of green tea. For enquiries or to make a reservation, cal 03 2164 5084 or WhatsApp 019 389 5085.
Related stories:
24 Questions with Nobu KL's Chef Philip Leong on Ipoh
#BuroDiningGuide: 7 places to try for your Asian fix
#BuroDiningGuide: 7 Go-to places for a satisfying lunch fix