Lifestyle
GE15 Malaysia: Everything you need to know as a voter
Mark your calendars
Featured Images: Amos Yip for BURO Malaysia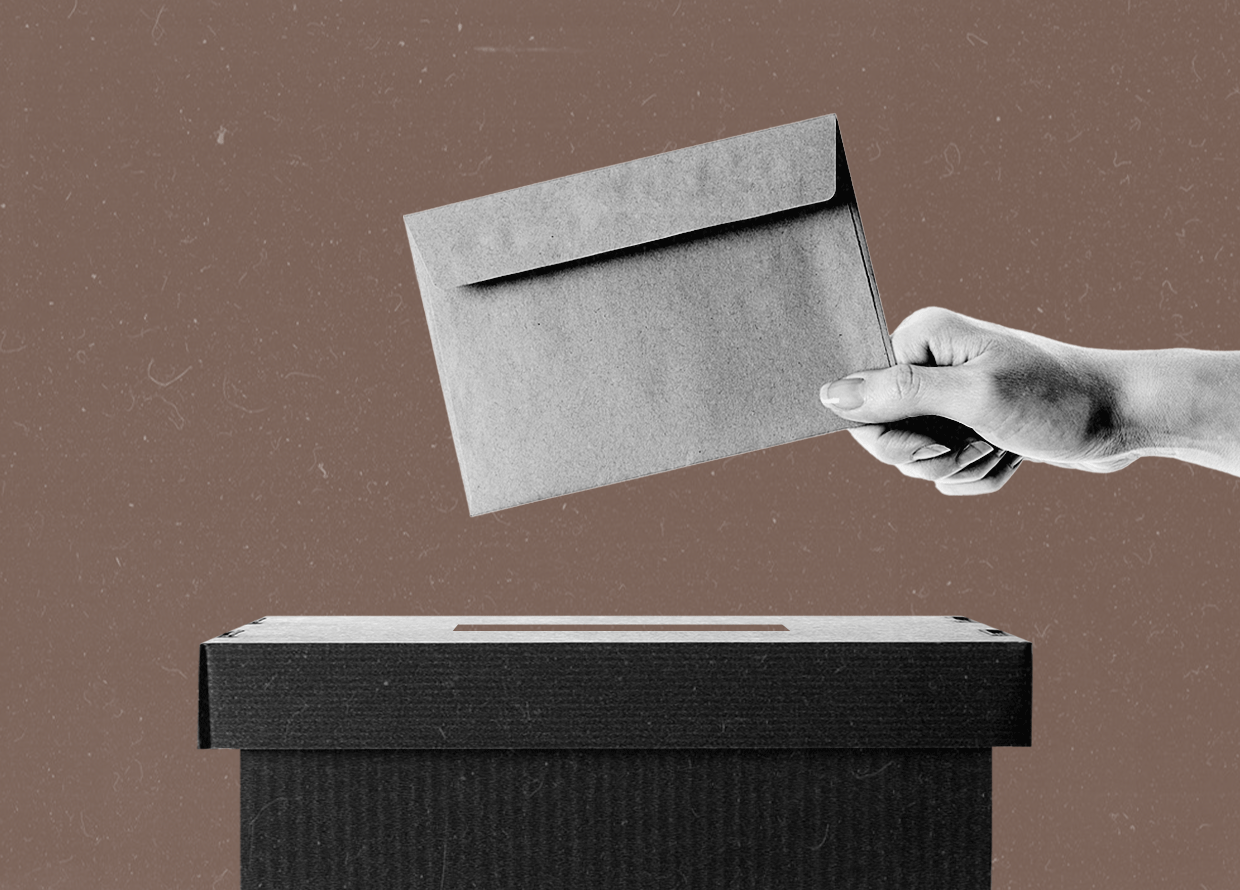 [Update: This article was originally published on 20 October 2022 and has been updated on 16 November 2022 with guidelines for Covid-19 positive voters.]
Following the announcement of Budget 2023, Malaysia's parliament was dissolved on 10 October—leaving Malaysians in anticipation of a general election. Under the constitution, an election must be held within 60 days from the day parliament is dissolved, which means that it should take place no later than 9 December, 2022. 
Today (20 October), the Election Commission (EC) announced that polling day for the country's 15th general election (GE15) will be held on 19 November. Meanwhile, the nomination date has been set for 5 November and campaigning will last for 14 days. 
As of 9 October, Malaysia has 21,173,638 million voters, comprising 20,905,366 ordinary voters, 146,737 armed forces personnel and their spouses; 118,794 police personnel and their spouses; as well as 2,741 absentee overseas voters, according to the latest gazetted electoral roll. If you're a Malaysian aged 18 or older, here's everything you need to know to exercise your democratic right to vote for GE15. 
How to check if you are registered
View this post on Instagram
After the gazette of the Undi18 Bill in 2021, the electoral role automatically grants voting rights to all Malaysians aged 18 years and older. You will no longer be required to visit the EC's office or register at a mobile booth. Upon turning 18, your voting information should be registered in the electoral roll 16 days after the following month of your birthday by default.
You can check your status online through the MySPR Semak portal, through the SPR mobile app (available on the App Store and Google Play), or by calling the SPR hotline (+603 8892 7200). On the MySPR Semak portal, simply fill in your identical card (MyKad) number and the captcha to check your voting status. You should be able to find information about your locality, voting location, state legislative assembly (Dewan Undangan Negeri or DUN for short), parliament, and state. 
How to change your polling constituency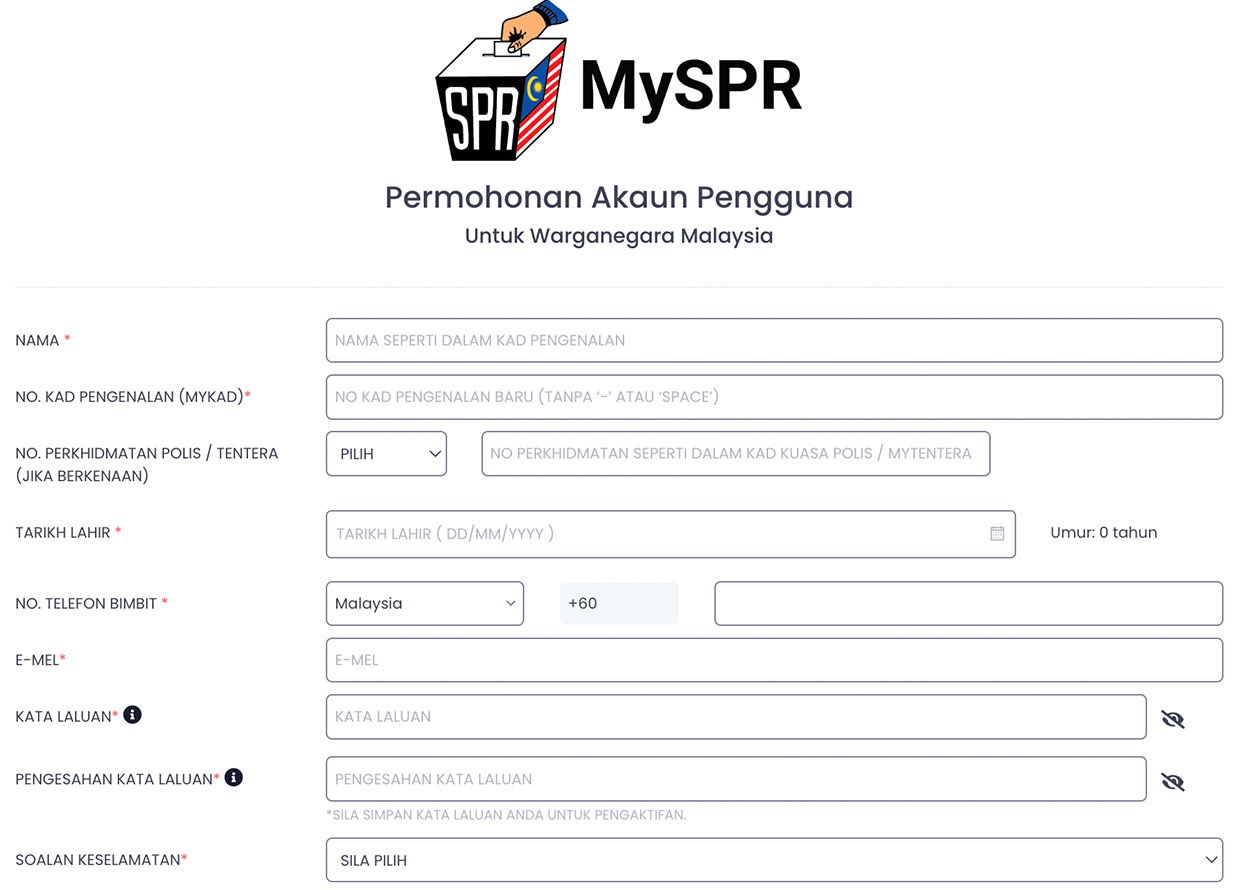 If you would like to change your voting location or electoral division, you will need to create an SPR account. [Note: being registered as a voter does not mean you already have an SPR account.] To register, follow these steps:
Visit the

MySPR Daftar portal

and click on "Permohonan Akaun Baharu" (request to create an account).

Key in your name, IC number, birthday, phone number, email, password, and set a security question. 

Upload a picture of your IC along with a selfie for verification purposes. Fill in the captcha and agree with the terms and conditions.

Check your email and click on the link provided by the SPR to obtain a TAC number and activate your account.

Once you've logged into your account, you will be able to update your address if the registered address is different from your current residence by filling in Form A. 
However, you won't be able to change your voting constituency in time for GE15 because voter lists are finalised monthly. Alternatively, you may update your address on the voter list at post offices or at the Election Commission branches. You will need to provide proof of domicile and have your address on MyKad updated. 
How to register for postal voting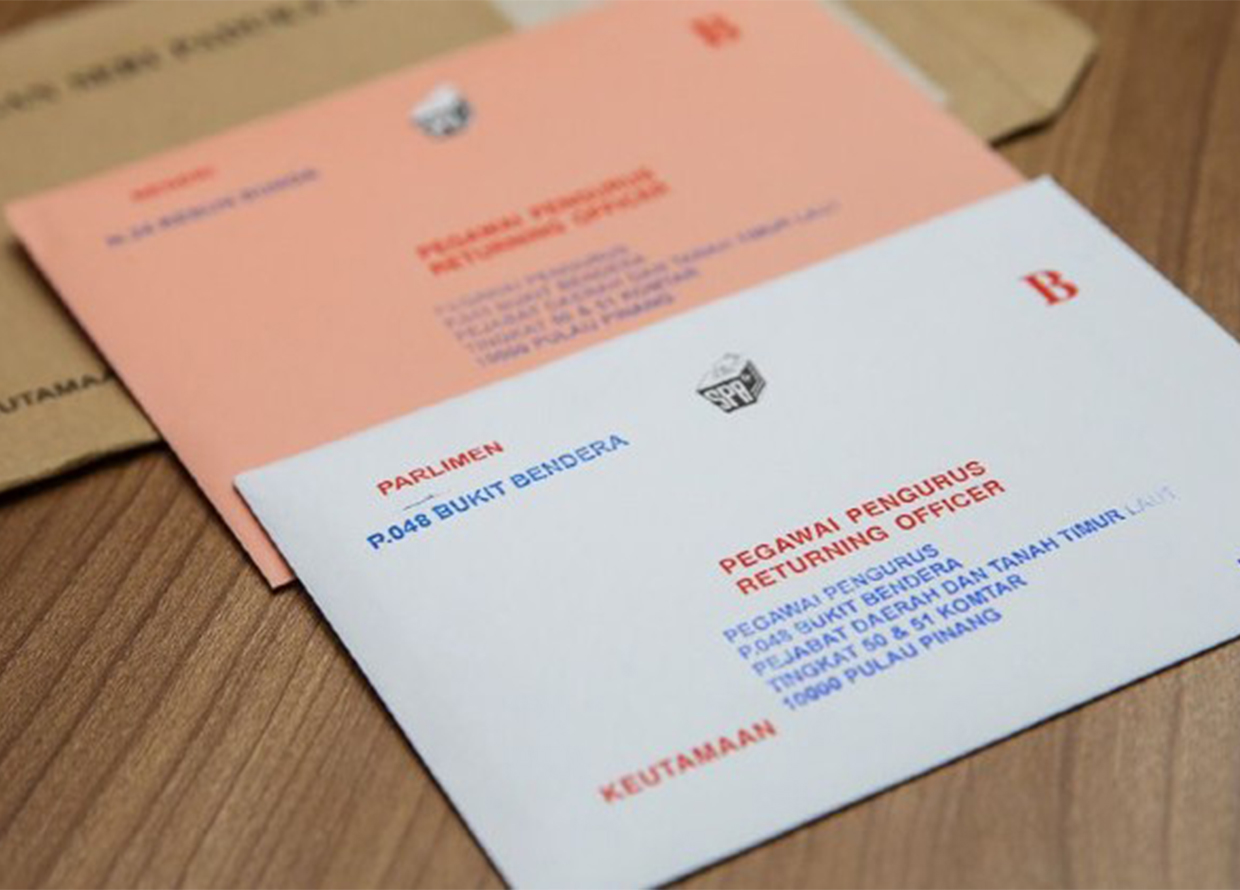 As soon as the parliament was dissolved on 10 October 2022, the EC began to accept postal voting applications. Malaysians residing overseas may apply online by logging into their SPR account (following the aforementioned steps above) and clicking on 'Permohonan Undi Pos'. Important: ensure that your mailing address is correct as your ballot will be posted to the address provided. Applications for postal voters close on 23 October 2022. 
Meanwhile, domestic postal voters applications from election staff/EC officers, police, armed forces personnel, and media will be closed on 2 November 2022; whereas voters from agencies/organisations will have until 26 October 2022. 
After receiving your postal ballot paper kit in the mail, you will have to mark the ballot, fill in a form, and insert the ballot into an envelope. You will then have to deliver your marked ballot via courier service at your own cost. Remember to post the ballot as soon as possible in order to meet the deadline. 
Where to cast your vote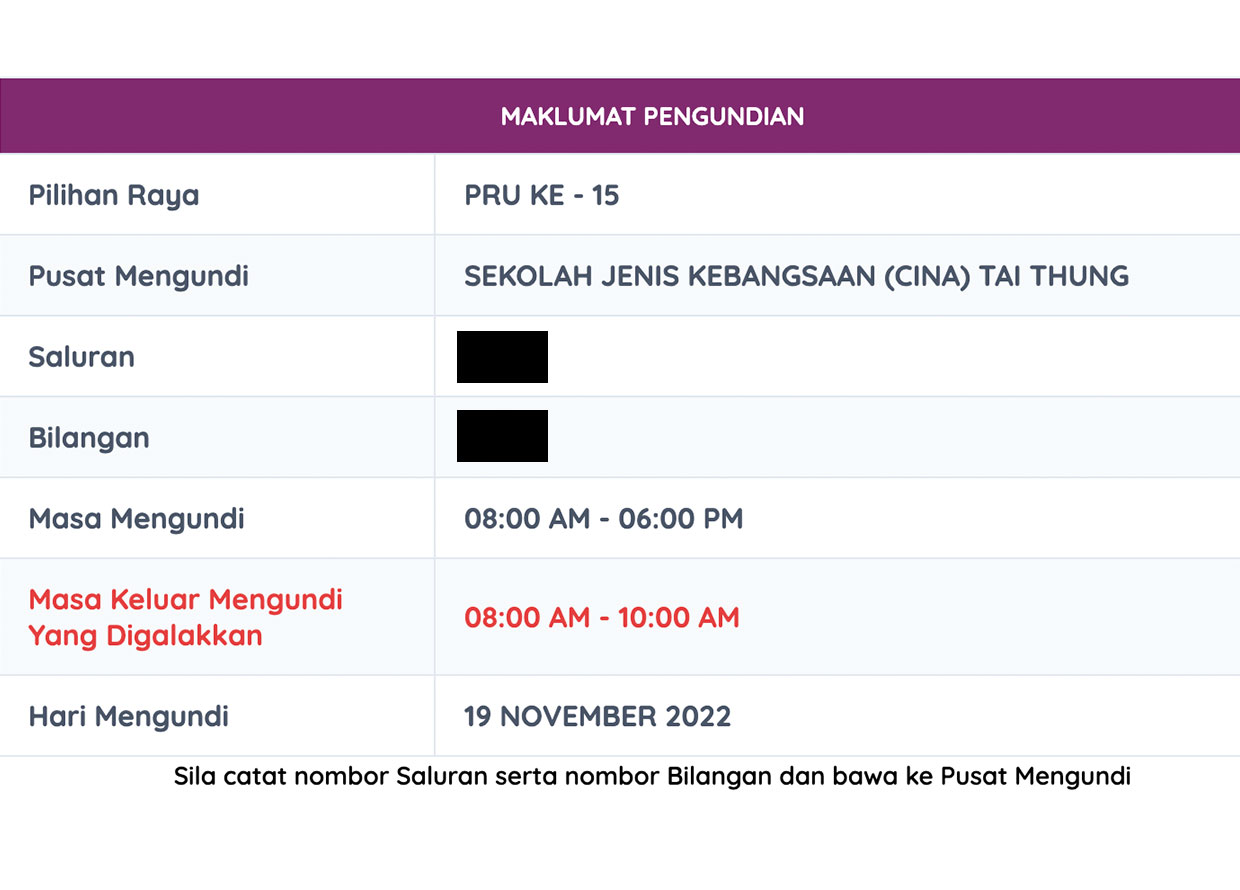 In total, there will be 8,958 ordinary polling centres with 38,348 voting streams, as well as 578 early voting centres. The polling stations will be announced closer to election day and are usually at a school or community hall located near you. You may check your polling station online.
[Update: the exact polling stations and suggested polling times have been updated on the SPR website on 31 October 2022.]
What are the dos and don'ts on polling day
Dos
Bring along your IC to the polling station. 

Check if your voting ballots have a serial number and certified stamp, and make sure there are no markings.

Put your mobile phone on silent upon arriving at the polling station.
Don'ts
Don't wear any clothes or paraphernalia with party logos on it.

Don't take ballot papers out of or bring them into polling stations.

Don't loiter around polling stations after casting your ballot. 

Don't use your phone while voting or share a photo of your vote on social media as the latter constitutes a violation of Section 5(2) and Section 5(3) of the Elections Offences Act 1954.
*Note: While having nail polish on your fingernails should not affect your right as a voter, you are advised to avoid getting your nails painted before GE15 because they will be stained with indelible ink. This is to prevent electoral fraud such as double voting. 
READ: The big debate: Should you wear nail polish when casting your vote?
[UPDATE] Additional dos and don't for those who are Covid-19 positive
The Health Ministry has announced via Twitter that Covid-19 positive individuals will still be allowed to vote in GE15, but are required to follow these guidelines:
Dos
Wear a mask to the polling station (note: this is not required for those who test negative for Covid-19, but highly recommended).

Fill up the health form sent to you via a text message on the eve of polling.

Report your health status to the Health Ministry official stationed at the entrance of the polling station. The official will then check the Covid-19 risk status on your MySejahtera profile. You will be given priority to vote in order to avoid contact with other voters.

Bring along a hand sanitiser and practise good hand hygiene at your polling station.
Practise social distancing from others while voting.
Don'ts
Don't take public transport or ride-sharing services to your polling station. (You will have to commute in your own private vehicle.)
Don't stop anywhere before and after visiting the polling station. You are required to return home immediately after casting your ballot.
What are the steps to vote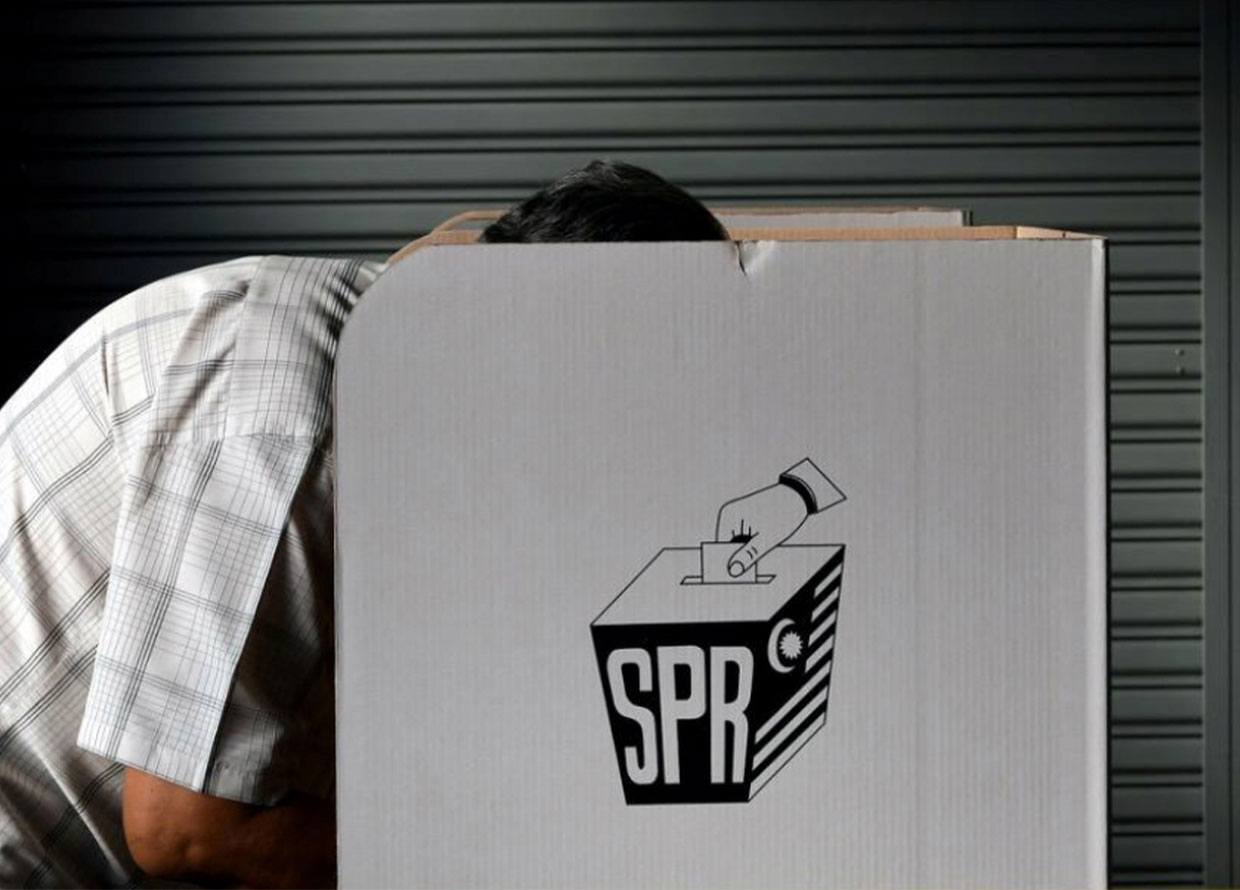 Whether you're a first-time voter or need a quick refresher, here's what the voting process will look like during polling day:
Line up for a ballot box at your polling station. 

Election ushers will cross your name from a voter list, hand you a ballot, and mark your fingers with ink.

Ensure there are no markings on your ballot as this will disqualify your vote. Call the EC officer if you noticed any markings on your ballot.

To vote, mark an X in the column next to your chosen candidate.

Place the ballot slip into the ballot box and you're done!
How many seats are contested
In total, there will be 222 parliamentary seats up for grabs for GE15, as well as 42 state seats in Pahang, 15 state seats in Perlis, 59 state seats in Perak, and one state seat in Sabah. 
Typically, state and parliamentary elections are held at the same time in Malaysia. However, this is the first time in the country's history whereby most states will be sitting out of the general election. Only 117 state assembly seats will be decided in GE15, down from 576 in the 2018 election. The states of Sabah, Sarawak, Johor, and Malacca did not dissolve their legislative assemblies as their terms have not yet reached maturity.
On the other hand, Kelantan, Terengganu, Kedah, Selangor, Negeri Sembilan, and Penang have opted not to dissolve their legislatures for now.
What happens after voting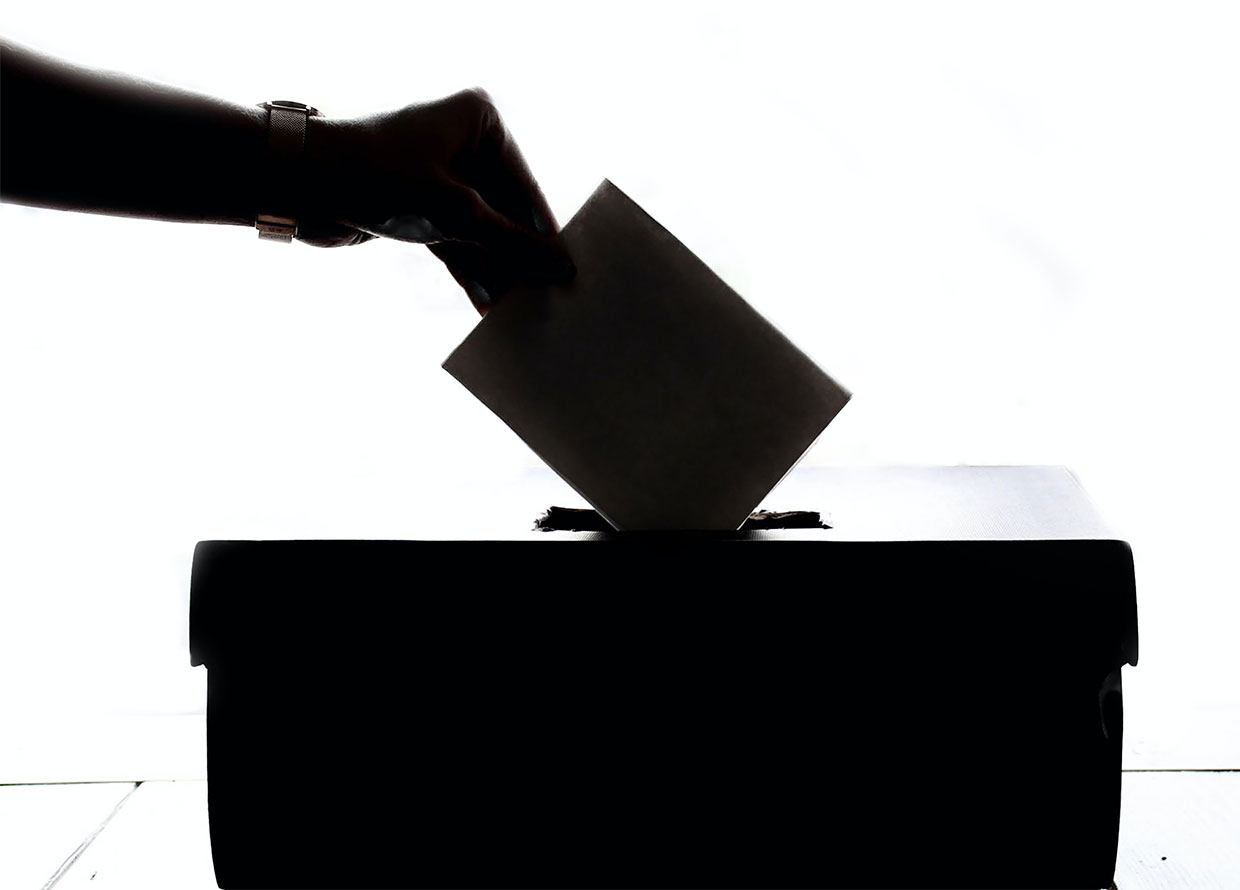 Voting will take place between 8am and 6pm in Peninsular Malaysia and between 7.30am and 5.30pm in Sabah and Sarawak. Once voting is over, votes will be counted in front of scrutineers comprising representatives of the candidates. After the counting is completed, the head of the polling station and scrutineers will sign Form 14 to finalise the results. A returning officer (officer in charge of an election) will collect the form to tally the results. The party or coalition that wins a simple majority of 112 seats will form the next government.
For more information and enquiries, visit the SPR website here or contact the SPR hotline (+603 8892 7200)
READ MORE:
GE15: The clueless voter's guide to the parties and coalitions in Malaysia
| | |
| --- | --- |
| SHARE THE STORY | |
| Explore More | |