Lifestyle
"Coronavirus, stop": 38 Celebrities and public figures who have tested positive for COVID-19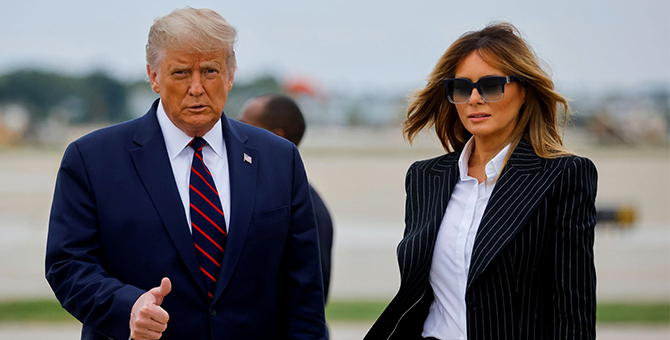 As the COVID-19 pandemic continues to worsen, it is only normal that more and more people are going to come in contact with the virus. This roundup highlights the celebrities and public figures that have tested positive for coronavirus… so far—from music and sports to film and politics.
1. Prince Charles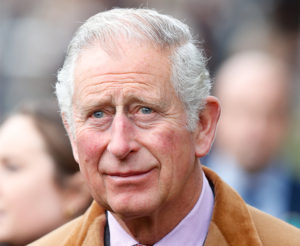 Prince Charles
The United Kingdom's Clarence House announced today (25 March 2020) that the Prince of Wales has tested positive for coronavirus. A spokesman for Prince Charles said that the 71-year-old royal remains in good health even though he is displaying mild symptoms. Both Prince Charles and Camilia, the Duchess of Cornwall, had their tests carried out by the National Health Service (NHS) in Aberdeenshire. Fortunately, Camilia does not have the virus. The royal pair are self-isolating at their home in Scotland.
2 & 3. Tom Hanks and Rita Wilson
The Hollywood power couple first announced that they were tested positive for coronavirus on 12 March 2020. They were both on the Gold Coast in Australia for the pre-production of Baz Luhrmann's untitled Elvis Presley biopic—which has now been halted. Rita Wilson was performing in Sydney and Brisbane prior to the diagnosis. Hanks said in his Instagram post: "We felt a bit tired, like we had colds, and some body aches. To play things right, as is needed in the world right now, we were tested for the coronavirus, and were found to be positive". Good news is that both Tom Hanks and Rita Wilson have been released from the hospital and are now in self-quarantine at their home in Australia. Rita posted a performance of Broken Man on Instagram (here) with the caption: "People aren't perfect. Gotta love them flaws and all".
4. Olga Kurylenko
The Ukrainian-born actress announced that she tested positive for COVID-19 on Instagram. The former Bond girl—she starred in Quantum of Solace with Daniel Craig—said that she was "ill for almost a week" with "fever and fatigue" as her main symptoms. While she doesn't know where she could have gotten infected, Olga revealed that she got tested for coronavirus in a hospital in London when her body temperature broke the 39º Celsius mark; a swab was taken from her throat. Fortunately, it is also known that her fever is now gone. Her advice: take vitamins and supplements to strengthen immune system.
5. Idris Elba
— Idris Elba (@idriselba) March 16, 2020
In a two-minute video on Twitter, the 47-year-old British actor announced that he was tested positive for coronavirus. "I didn't have any symptoms. I got tested because I realised I was exposed to someone who tested positive. I found out last Friday that they were tested positive. I quarantined myself and got myself tested immediately". In the video, he also urges everyone "to think about social distancing and washing your hands". During a live stream, Idris Elba told fans that he decided to get tested right away because he was about to start filming a new project and would be around many people. His wife Sabrina Dhowre Elba has been tested and is also positive.
6. Jackie Wong
— BERNAMA (@bernamadotcom) March 16, 2020
The Malaysian athlete has also tested positive for COVID-19—confirmed by the Malaysia Athletics Federation (MAF). Currently under observation at Sibu Hospital, the 28-year-old athlete holds the national record in hammer throw. Minister of Youth and Sport, Reezal Merican Naina Merican, said in a press statement that: Jackie Wong "is believed to have contracted it from his father, who was also diagnosed with COVID-19".
7. Kevin Durant
— Brooklyn Nets (@BrooklynNets) March 17, 2020
The basketball player (currently of NBA's Brooklyn Nets) has also tested positive for coronavirus. According to a statement from the team, Kevin Durant is now under isolation and cared for by team physicians. It was also revealed that Kevin is one of four players from the Brooklyn Nets that are positive. This announcement comes after the NBA decided to suspend the season amid concerns surrounding the coronavirus pandemic.
8. Kristofer Hivju
The Game of Thrones star—he played Tormund Giantsbane in the HBO series—revealed his positive diagnosis on Instagram. He said that he only had mild symptoms of cold and is self-isolating at home. The Norwegian actor used the time to emphasise the importance of social distancing, saying "I urge all of you to be extremely careful; wash your hands, keep 1.5 metres distance from others, go in quarantine; just do everything you can to stop the virus from spreading". The actor will be appearing in the second season of Netflix's The Witcher and will play Nevellen—scheduled for a 2021 release but production is put on hold for now.
9. Sophie Grégoire Trudeau
— Justin Trudeau (@JustinTrudeau) March 13, 2020
Known for her charity work focusing mainly on women's and children's issues, Sophie Trudeau is also the spouse of Canadian Prime Minister, Justin Trudeau. It was revealed by the Prime Minister's Office that she has tested positive for coronavirus. Sophie Trudeau had mild flu-like symptoms after a speaking engagement in London's The SSE Arena in the United Kingdom. "Although I'm experiencing uncomfortable symptoms of the virus, I will be back on my feet soon. Being in quarantine at home is nothing compared to other Canadian families who might be going through this and for those facing more serious health concerns," she said. Meanwhile, Justin Trudeau is said to be in good health but he will be under isolation for 14 days as a precautionary measure.
10. Mikel Arteta
The Spanish footballer was the first English Premier League (EPL) figure to reveal his positive coronavirus diagnosis. The entire Arsenal squad was placed in quarantine and all EPL matches were suspended. Good news is that the former Everton midfielder and current head coach of Arsenal is doing better. Arteta urges everyone to "respect and protect each other by following the guidelines" and also praised the Premier League's decision to suspend matches.
11. Andrew Watt
The music producer—who has worked with Cardi B, Post Malone, and Ozzy Osbourne—shared his harrowing diagnosis on Instagram. He began with, "Yesterday I was given the results that I am positive for COVID-19. I wanted to tell you all about my journey getting here in an effort to bring awareness to the severity of what's happening in the world". He also said that, on the morning of 6 March, he felt like he was "hit by a bus" and "couldn't move out of bed for days". He rushed to the emergency room after dry coughs began. As you can see from the post above, Watt had to beg to be treated and was tested eventually by a private doctor. The 29-year-old producer feels better now but still has difficulty breathing; he still has to use an oxygen machine. He urges everyone to take the pandemic seriously and to stop having the "I'm young. This can't affect me" mentality.
12. Harvey Weinstein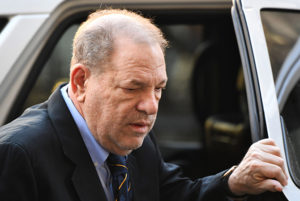 Harvey Weinstein
The former film producer—serving a 23-year sentence for rape and sexual assault—has tested positive for coronavirus in a prison in New York. Harvey Weinstein is now in medical isolation at the Wende Correctional Facility and is one of two inmates at the facility to have tested positive for COVID-19. It is alsi know that Harvey was transferred to Wende from Rikers Island; more than 38 people including corrections officers and inmates have tested positive for the novel coronavirus.
13. Colton Underwood
The former Bachelor star announced that he has tested positive for coronavirus on Instagram. In the video, he said: "For anyone out there that is hesitant to self quarantine… please do yourself and your loved ones a favour and stay home". When it comes to his symptoms, he told fans that he "can't even walk up a flight of stairs without being out of breath or going to the bathroom without having to sit down because [he's] exhausted". At the moment, Colton is resting at girlfriend Cassie Randolph's house. Colton also reminded everyone that "it was important for young people to know… that young people get it".
14. Charlotte Lawrence
— Charlotte Lawrence (@charlottelawr) March 18, 2020
Another star that has, unfortunately, contracted the novel coronavirus is the Joke's On You singer. The 19-year-old musician told fans about her diagnosis on Twitter. What she said in her post is very important: "So this is not me asking for prayers, for love, for sweet messages. This is me pleading for you all to protect those less able to survive this virus. Stay inside. Please. Whether you feel sick or not, stay inside. Think about your parents. Think about your grandparents. I love so many people who might have a very rough time getting through this. Think about someone else getting your loved ones sick because they didn't listen, because they thought they knew better. Because they were selfish". She also told fans that she's feeling fine.
15. Daniel Dae Kim
The Lost and Hawaii Five-O actor is one of the latest stars to have tested positive for COVID-19. He was in New York for the filming of New Amsterdam and got tested back in Honolulu, Hawaii. On Instagram, he said that he felt a scratchy sensation in his throat and "quarantined myself in a room in the house and tried to rest on my own. But later that night, I felt tightness in my chest, body aches, and my temperature started to rise". His advide for everyone is "follow the guidelines. Socially distance, self-isolate, stop touching your face, and of course, wash your hands". Daniel Dae Kim also spoke about the discrimination against people of Asian descent in the 10-minute video.
16. Debi Mazar
On 21 March, the Entourage and Younger actress took to Instagram to announce her positive diagnosis. She started by saying that her entire family (husband and two daughters) were down with fever, headaches, sore throat, body aches, ringing in the ears, and dry cough about a month before her test. However, she also said that she woke up on 15 March "with all those same symptoms but super intense body aches". Detailling her symptoms, Debi told fans that her lungs are heavy but she can still breathe. At the moment, Debi and her family are under quarantine for 14 days.
17. Andy Cohen
"After a few days of self-quarantine, and not feeling great, I have tested positive for coronavirus", the Watch What Happens Live host said on Instagram when revealing his diagnosis. He continued with: "I want to thank all the medical professionals who are working tirelessly for all of us, and urge everybody to stay home and take care of themselves". Andy Cohen also mentioned that he will focus on getting better and that he won't be doing the show for now.
18. Paulo Dybala
— Paulo Dybala (@PauDybala_JR) March 21, 2020
The Juventus player has also tested positive for coronavirus. The Argentine forward announced the diagnosis on Twitter. His girlfriend, Oriana, has also tested positive for COVID-19. They are now self-isolating at home and are feeling fine. Paulo Dybala is the third player at Juventus, an Italian football giant, to test positive—the other two are defender Daniele Rugani and midfielder Blaise Matuidi.
19. Marouane Fellaini
— Marouane Fellaini (@Fellaini) March 22, 2020
The Shandong Luneng and former Manchester United player—who is in isolation at Jinan hospital—is the latest football star to have tested positive. The Belgian midfielder said on Twitter that he "hope[s] to return to the game as soon as possible". According to the football club, "the official test confirmed that the player Fellaini has tested positive for coronavirus during the quarantine observation period. During this period, the player's body temperature has been normal and there are no other discomforts". Marouane is said to be the only player in the Chinese Super League to be positive.
20. Prince Albert II of Monaco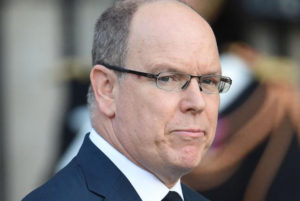 Prince Albert II of Monaco
A spokesperson for the palace said that the 62-year-old ruler's health—although tested positive—is fine and that there is nothing to worry about. The head of state of Monaco is still working in his private apartments in spite of his diagnosis. In the statement, the palace added this: "His Serene Highness urges the people of Monaco to respect the measures of confinement and to limit contact with others to a minimum".
21. Floyd Cardoz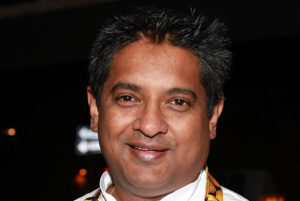 Floyd Cardoz
The renowed celebrity chef and winner of Top Chef Masters in 2011 was tested positive for coronavirus and has passed away as a result (26 March). He was 59. Floyd Cardoz fell ill after returning to his home in the United States from Mumbai where he attended an anniversary party at Bombay Canteen and the opening of Bombay Sweet Shop. He ran restaurants such as Bombay Bread Bar, Tabla, O Pedro, and North End Grill throughout his successful career. Floyd Cardoz is credited as the first to bring native Indian cuisine to fine dining in the US.
22. Ken Shimura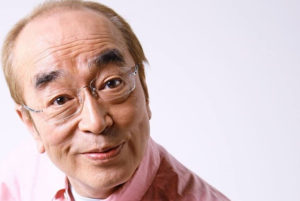 Ken Shimura
Japanese comedian Ken Shimura is the first prominent figure in Japan's entertainment scene to have tested positive for COVID-19. Although his condition isn't critical, the veteran was hospitalised for pneumonia prior to the coronavirus diagnosis. The 70-year-old comedian was slated to be in God of Cinema by Yoji Yamada but filming has now been suspended.
Update (30 March 2020): Ken Shimura has passed away from coronavirus complications. He suffered from pneumonia-like symptoms before his death.
23. Lucian Grainge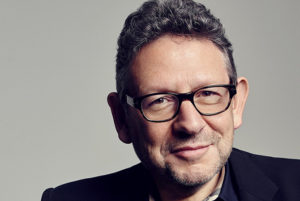 Lucian Grainge
The Chairman and CEO of Universal Music is another public figure that has tested positive for coronavirus. Currently, he is hospitalised and receiving treatment at the UCLA Medical Centre in Los Angeles.
24. Rachel Matthews
Another actress to reveal her coronavirus diagnosis is the Frozen 2 star' she voiced Honeymaren. She took to Instagram Stories to talk about her experience. The 26-year-old actress said that she first decided to get tested after coming in contact with someone who's confirmed to be positive. Her symptoms include body chills, fatigue, headache, sore throat, dry cough, pain in her lungs, shortness of breath, and loss of appetite. Rachel Matthew urged everyone to "rest, drink lots of liquids, and self-quarantine".
25. Aaron Tveit
On his Instagram, Aaron Tveit—who starred in Les Misérables and Gossip Girl—spoke about being positive with COVID-19. He was the lead in Moulin Rouge! The Musical (playing Christian) before Broadway was shut down on 12 March. He said, "I consider myself extremely lucky that my symptoms have been very mild—cold like with no fever—as so many are experiencing much more serious symptoms, because this is a very dangerous virus. One thing I have been experiencing is the loss of taste and smell".
26. Boris Johnson
— Boris Johnson #StayHomeSaveLives (@BorisJohnson) March 27, 2020
The Prime Minister of the United Kingdom revealed his positive diagnosis on his Twitter account. He said in the post: "Over the last 24 hours I have developed mild symptoms and tested positive for coronavirus.
| | |
| --- | --- |
| SHARE THE STORY | |
| Explore More | |