When Volvo unveiled the XC40 Recharge Pure Electric on our shores in March, it generated a lot of buzz among EV proponents (and even skeptics). Not only was it the marque's first fully electric vehicle to be offered in Malaysia, but it was also the first locally-assembled EV launched in the market. 
Within three months, the company announced that the 2022 model was sold out—with 400 units ordered and 120 already accounted for. (Last we checked, it's still available to order online though). As we await news on the 2023 facelift, it's worth looking at what makes it worth the hype and what we hope to see improved. Read on for my thoughts on the Volvo XC40 Recharge Pure Electric ahead.
UNDERSTATED DESIGN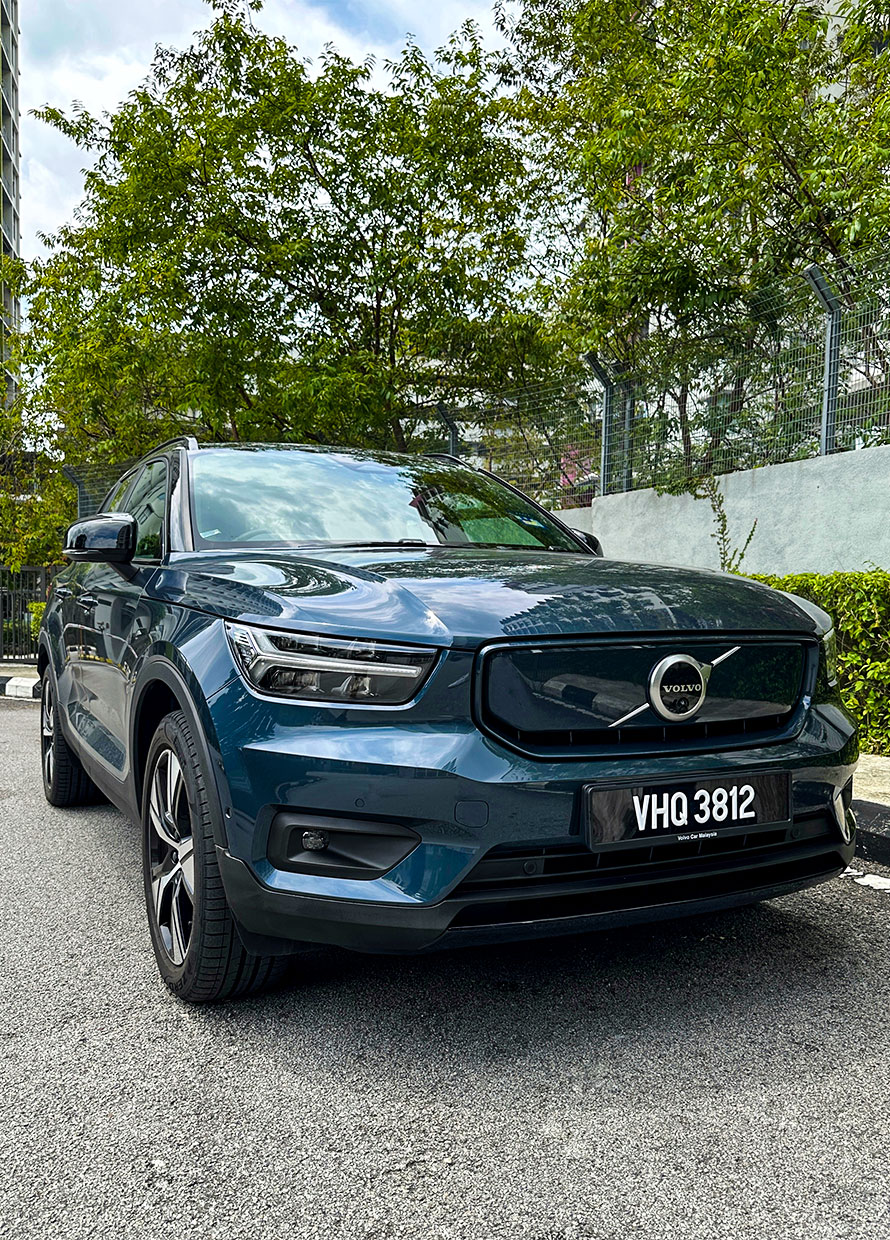 While other EVs tend to have a futuristic look, the XC40 Recharge EV is largely identical to its ICE and plug-in hybrid variants. The car is easily identifiable by its boxy silhouette, "Thor's Hammer" LED daytime running lights, integrated gloss black roof rails, and vertical taillights. The only noticeable exterior differences include the covered front grille (giving it a more understated appearance), "Recharge" script on the C-pillar, and the charging door on the left front fender. 
Personally, I think the car's features stand out best in the Crystal White and Sage Green paints. Since colour is a matter of preference, at least you have five options to choose from (my loaned unit had a Denim Blue coat).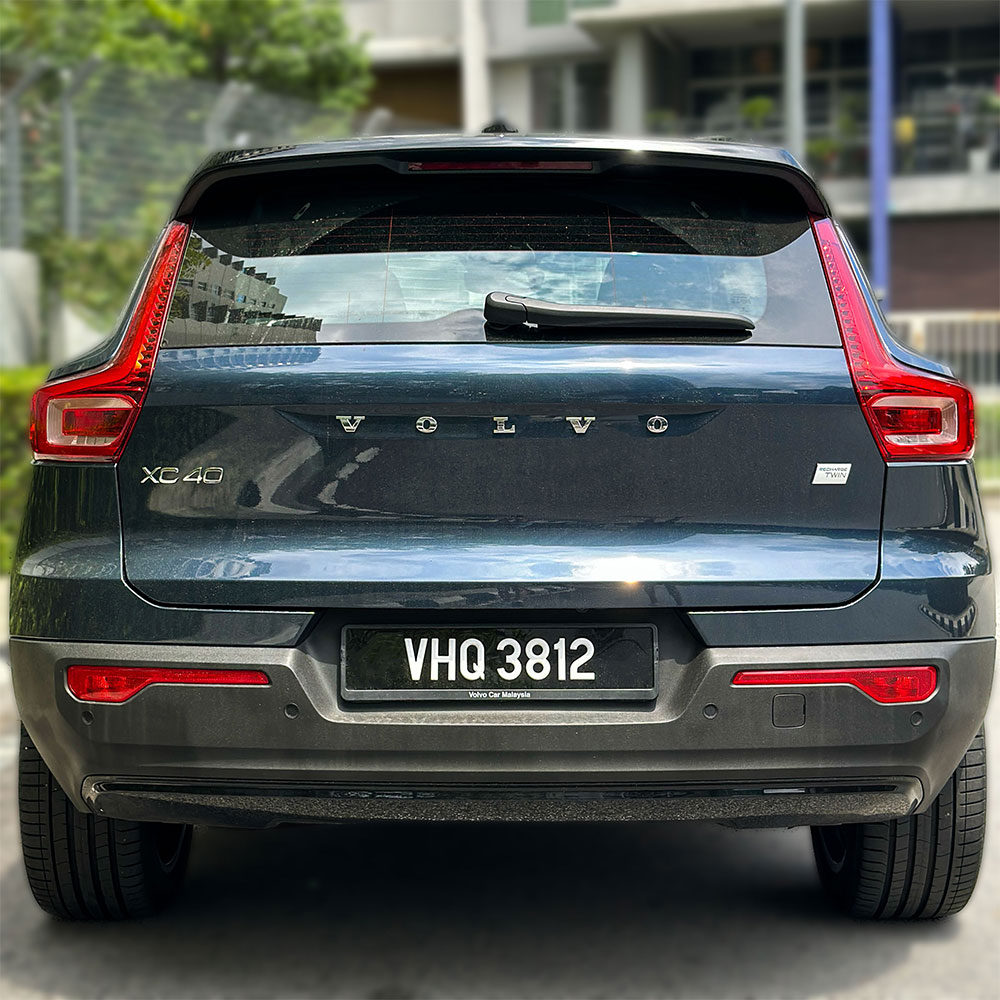 BASIC INTERIORS
Likewise, the interiors are familiar—complete with leather upholstery, chrome air vents, and a small litter bin for those concerned with car hygiene. What's different is the fact that there's no power button. Simply enter the car (with keyless entry), get into gear, and drive away. It's really effortless and quiet—you can barely hear the engine when driving. The tire noise is noticeable at times, but this is easily muted by the thumping 13-speaker Harman Kardon audio system.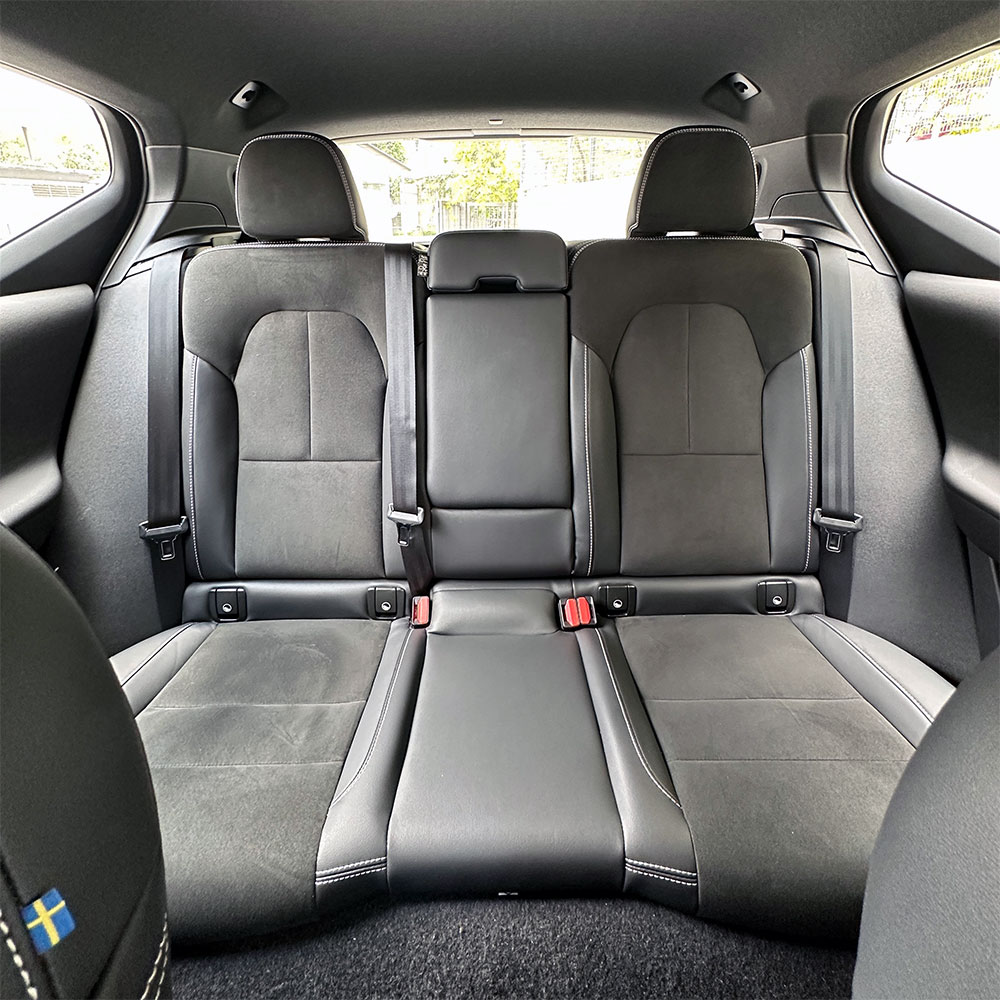 When it comes to comfort, I had no complaints in the driver or front passenger seat, except maybe the stiff suspension. Unfortunately, my companions in the back (all fully-grown adults) reported slight discomfort due to the tight legroom and upright seats. This is something to consider if you're planning long drives with adult passengers; but if you're mostly driving solo, fetching the kids to school, or getting groceries, then you should have nothing to worry about. 
Speaking of groceries, there's 418 litres of boot space at your disposal, with additional room underneath for charging cables. Oh, and there's an extra 31-litre trunk in front (also called a "frunk") where the engine would be for extra storage.
USER-FRIENDLY SYSTEMS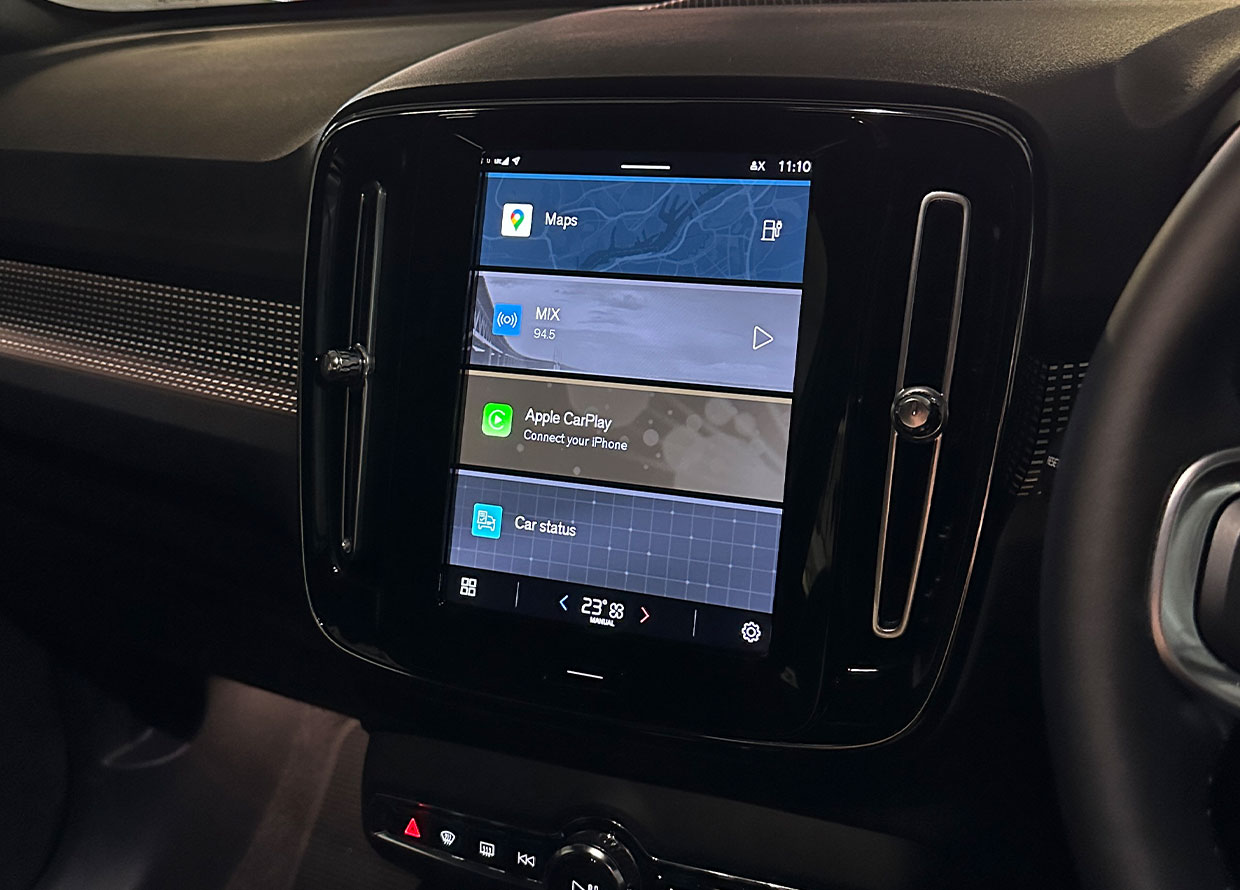 Also new in the cabin is the 9-inch Android-powered infotainment system, which comes with basic Google Play apps including Google Assistant and Google Maps. Compared to other EV's advanced systems, it feels relatively straightforward and user-friendly. You can easily check your range, adjust climate controls, and tweak driver assist preferences like the one-pedal drive (more on this later) without pressing too many buttons. If you're already tech-savvy though, you may find it lacking customisable options. 
I particularly appreciate the Google Maps feature that shows the estimated battery percentage upon arrival at your destination, making it easier to plan ahead. Plus, the navigation is integrated into the 12.3-inch instrument display so it's conveniently within the driver's field of view. On the other hand, I do hope to see wireless support for Apple CarPlay and Android Auto in the facelift because the current wired access just feels outdated for a premium car. 
SILENT POWER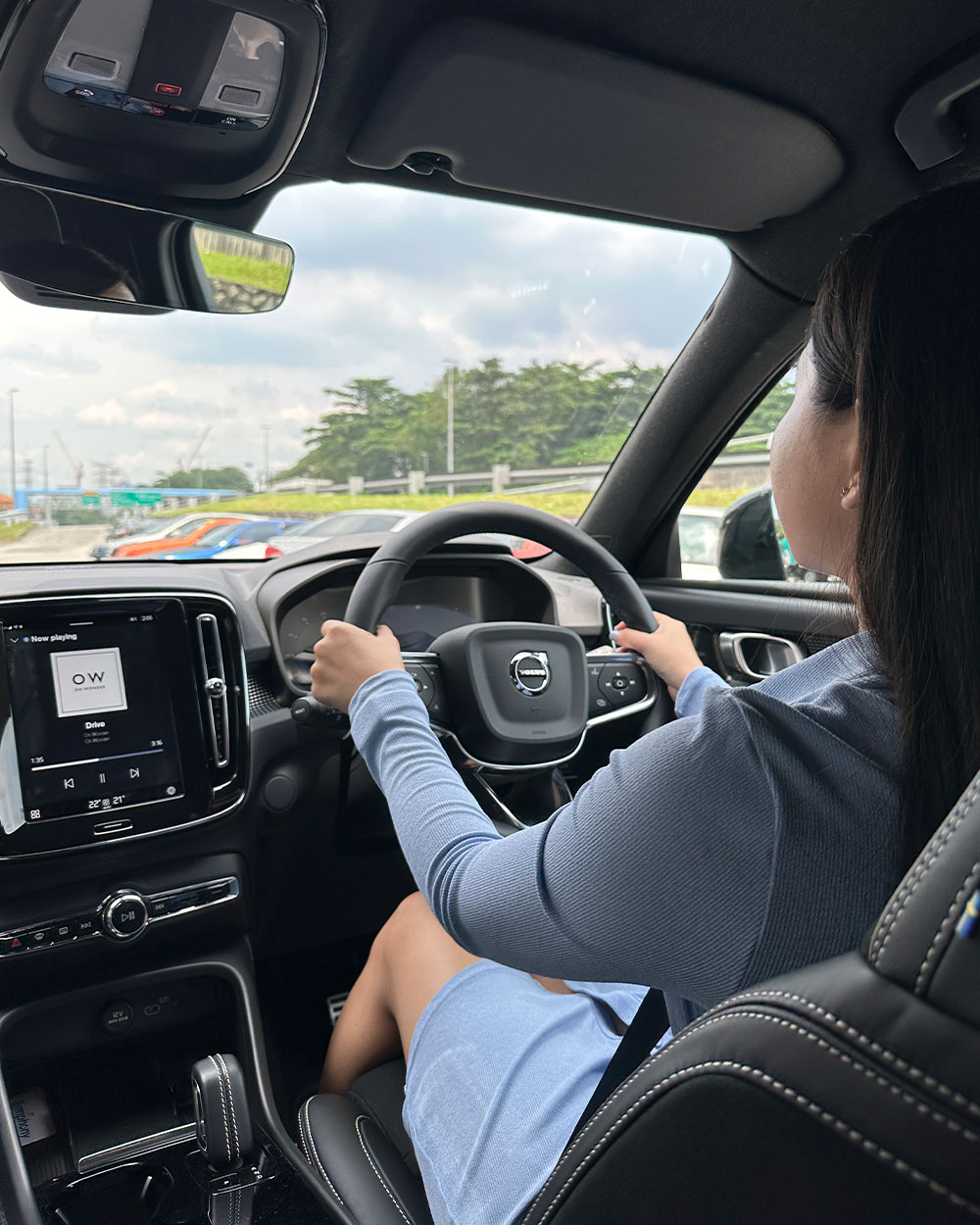 Earlier, I mentioned that the XC40 Recharge is quiet on the roads. Now throw in its 408 maximum horsepower and 660 Nm of torque and you'll get the picture of this EV's silent power. With that output, it's capable of sprinting from 0-100km/h in just 4.9 seconds at a top speed of 180km/h. It's responsive to say the least, but not in an aggressive way since it's still a fairly heavy SUV weighing over two tonnes.
In line with Volvo's safety vision, the car comes with a range of driving assistance systems including autonomous emergency braking, blind spot assist, and lane keeping assist, to name a few. These generally work fine, but can get a little tricky on Malaysian roads where lane markings are sometimes blurry or non-existent. On another note, the one-pedal drive takes some getting used to—and I find it can be more of a hazard when slowing down in corners, especially coupled with how light the steering is. 
DECENT RANGE
True story: After driving the BMW iX up to Janda Baik in August (which has slightly longer range), I initially had plans to go as far as Desaru Coast with the Volvo XC40 Recharge. Regrettably, with four hours and a distance of 400km between KL and the resort destination (assuming no detours), I ultimately decided against it to save myself from range anxiety or needing to prolong my journey to recharge the car. Besides, with only the three-pin charger in the trunk and considering the limited fast-charging infrastructure along the way, it honestly seemed like too much hassle. 
With that said, I did manage to make a separate trip to Genting Highlands and back with rather impressive statistics. Starting at only 40 per cent of charge from KL (near the city center), I made it all the way to Genting Skyworlds with 25 per cent left. I won't lie, I was glancing at the dashboard every few minutes on the way down to check on the battery percentage, but I was pleasantly surprised when I returned home with—get this—30 per cent of charge. 
No, that's not a typo or bad math. It simply says something about the regenerative braking system, which converts kinetic energy and feeds it back to the battery. For context, I was driving with my foot either off the pedal or on the brakes (with one-pedal drive mode off) most of the journey down, and this helped to boost the battery and range.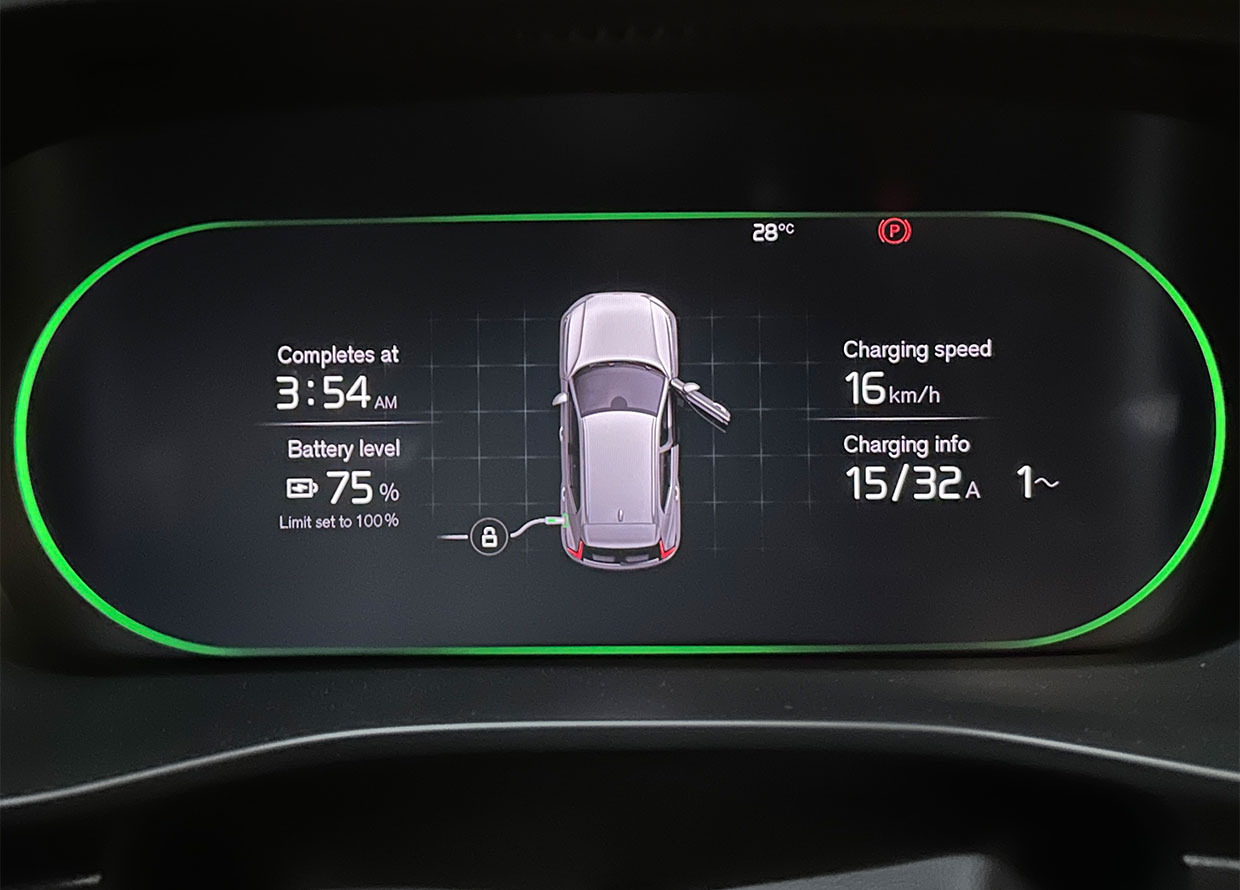 Charging time typically depends on several factors, including ambient temperature, current battery temperature, equipment, battery condition, and car condition. With the standard three-pin domestic charger, Volvo says it takes roughly 36 hours to get the battery from zero to full charge. If you'd rather get a full charge overnight for peace of mind, a wallbox is your best bet. Alternatively, public DC charging stations should take about 68 minutes with a 50kW charger, or 37 minutes with a 150kW charger. I wasn't able to test this properly, so we'll have to take the Swede's word for it.
VERDICT
Back to the big question: Should you buy the Volvo XC40 Recharge Pure Electric? All things considered, it is a powerful EV with a respectable range for its SUV segment. Nevertheless, there are areas for improvement, especially in terms of comfort and handling. If you can look past these and you're willing to brave the somewhat lacking charging infrastructure in Malaysia for the cost savings, then this could be the premium compact EV for you.
The Volvo XC40 Recharge Pure Electric is priced at RM 278,888. For more information, visit volvo.com/my. 
Find more motoring stories here.
| | |
| --- | --- |
| SHARE THE STORY | |
| Explore More | |